AirPods are encased in a sleek, unmistakeable design, but that can also mean they feel a bit plain. To add some flare to your AirPods, you can personalize them with an engraving of a quote, emoji, nickname, or just about anything, to really make them yours!
Whether you're buying customized AirPods for yourself or for a gift, to give you some inspo and thought-starters, we've gathered some of the best AirPods engraving ideas!
Looking for more ways to make your Apple products personalized and aesthetic? Join our mailing list!
Clever & Funny Engraving Ideas for AirPods
Get creative and personalize your new AirPods with a bit of humor. It'll always be a great conversation starter, or will just add some fun to your day. You can even play into memes like the "rich people" or dental floss ones.
Engraving Ideas:
Dental Floss
Dog Chew Toy
Not Dishwasher Safe
Hey! Listen.
No Strings Attached
Samsung Galaxy Buds
I can't hear you
I'm rich now
AirPods Generation 4
I don't speak broke
Broke Repellent
They don't fall out
Okay just hear me out
Property of Tim Apple
Air Jordans
No engraving, thanks!
Your engraving
This is temporary, right?
Inspirational Quote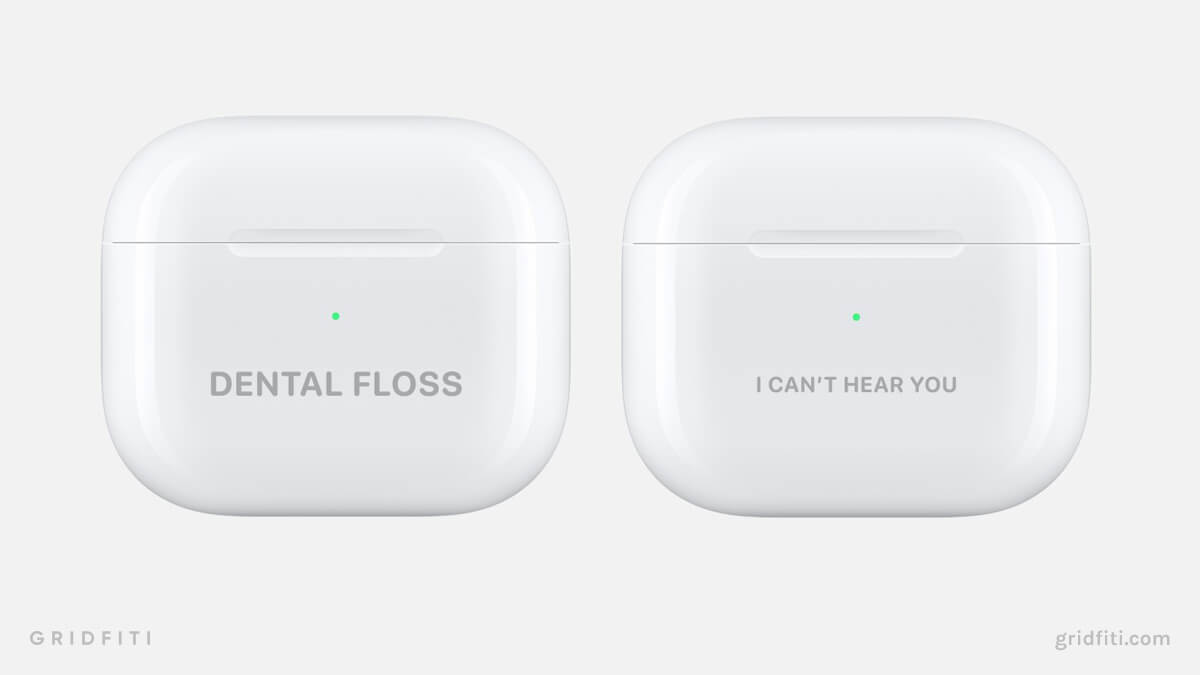 Song & Album Names
If you're getting AirPods, chances are you're listening to music for a good amount of time that you're wearing them. Show your love for your favorite song or album playing through them with a themed engraving! With the engraving character limit, it'll be tough to fit lyrics, but there are plenty of shorter songs and album names that can fit.
Engraving Ideas:
Out of Time
Starboy / Stargirl
WAIT FOR U
HUMBLE.
Peaches
No Limit
After Hours
Life is Good
Rich Flex
Honestly, nvm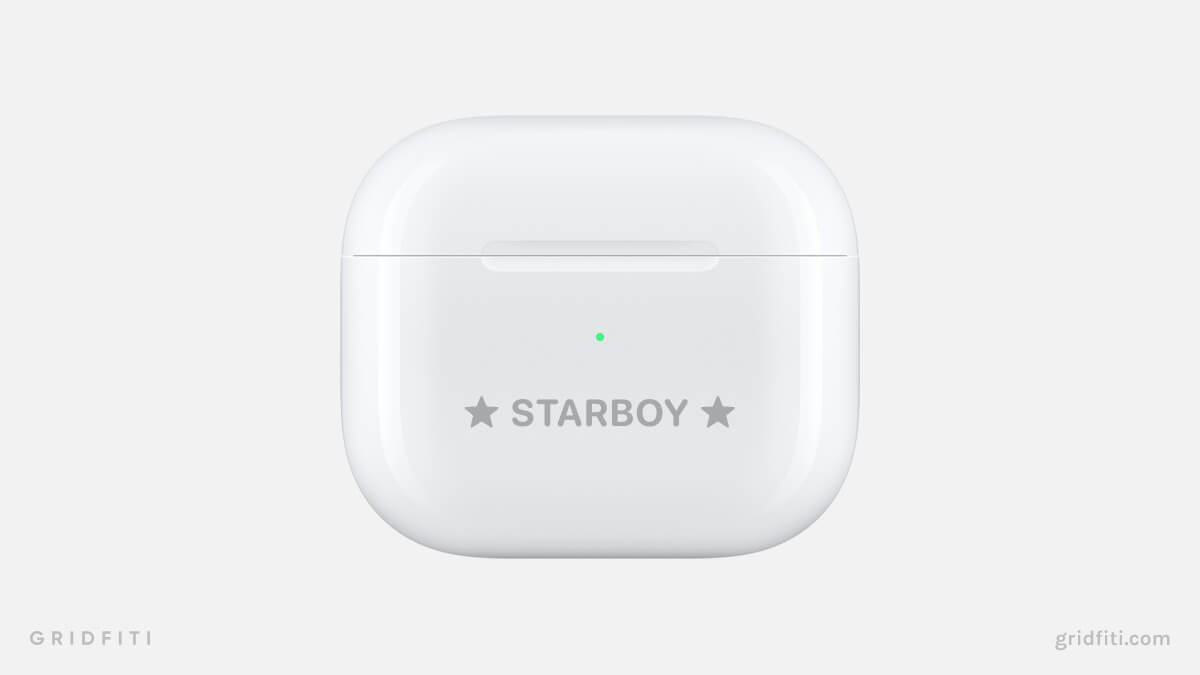 Emoji Engraving Ideas for AirPods
Apple allows you to engrave emojis to your AirPods – but the kicker is that the emojis are a set collection that differ from the standard Apple emojis on your Apple keyboard. Here are the emojis that Apple allow you to engrave into your AirPods: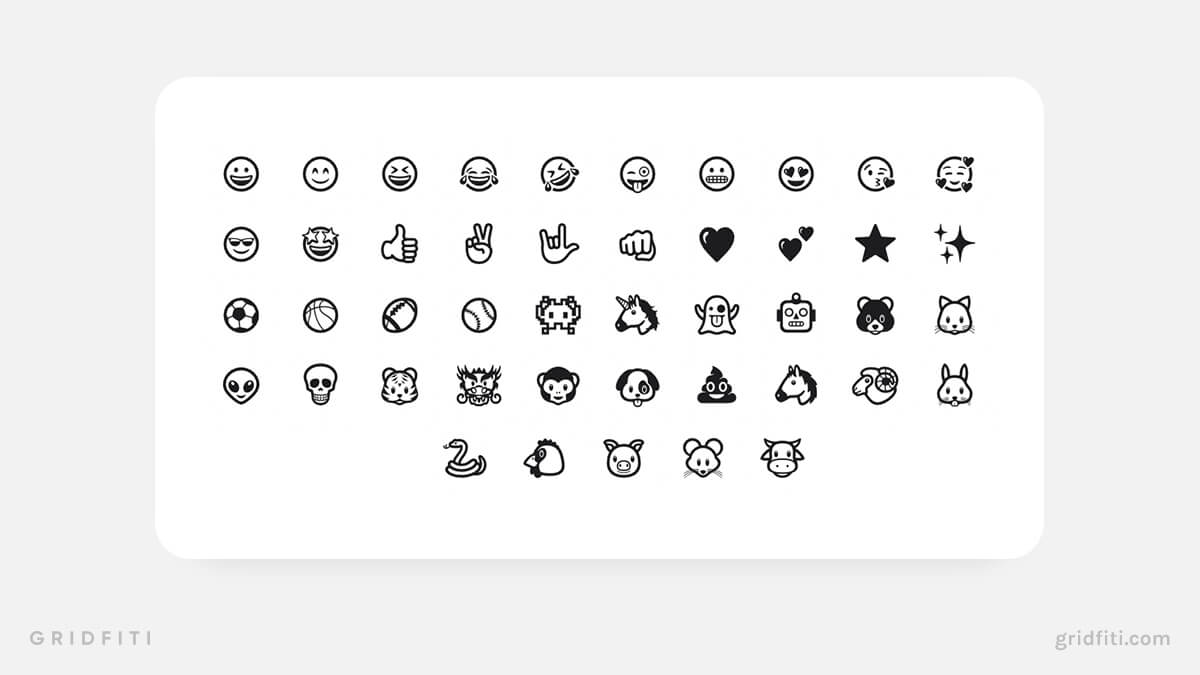 Cute & Aesthetic Emoji Engraving Ideas for AirPods
Aesthetic emojis are completely subjective, but if you're not sure where to start and are looking to cute-up your AirPods engraving, check out the hearts, star, sparkle, or animals. You can go with a single emoji for simplicity, or mix and match to create your own custom combo.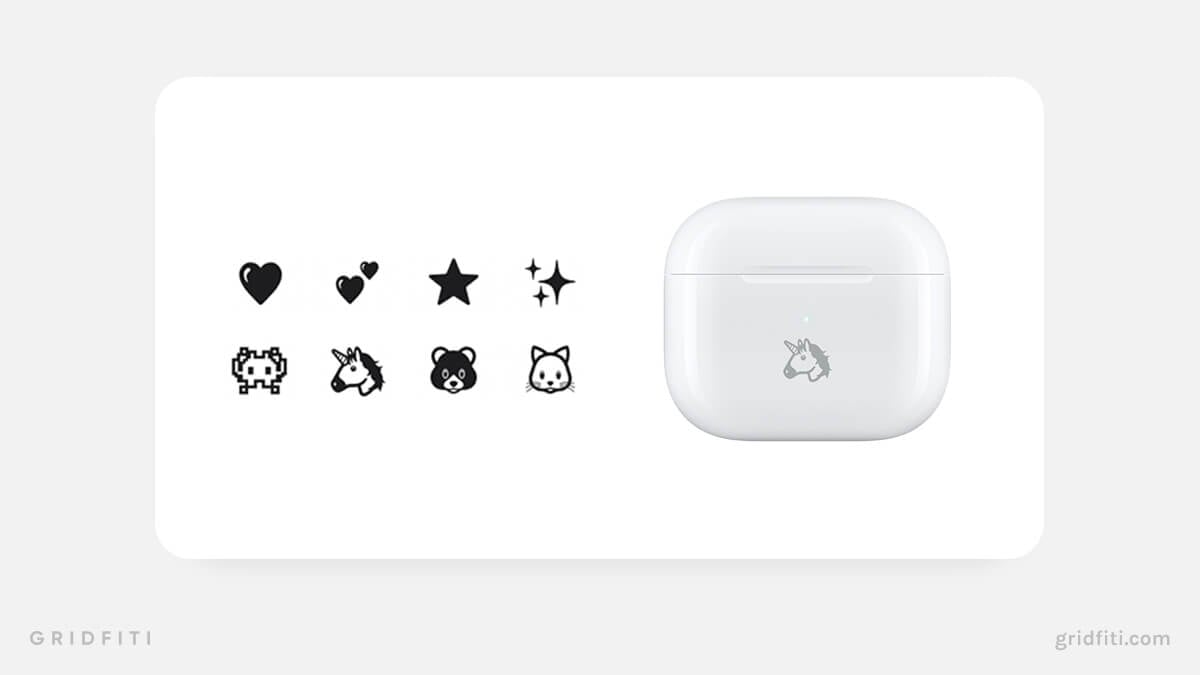 Engraving Your Memoji
Did you know you can engrave your own Memoji on your AirPods too? To do so, you just need to order via the Apple Store app on your phone. Head to the AirPods product in the app, and when you are at engraving options, you'll see a 3rd 'Memoji' tab to pick and preview different expressions. You can even pick from Apple's default animal Memojis for something cute and playful.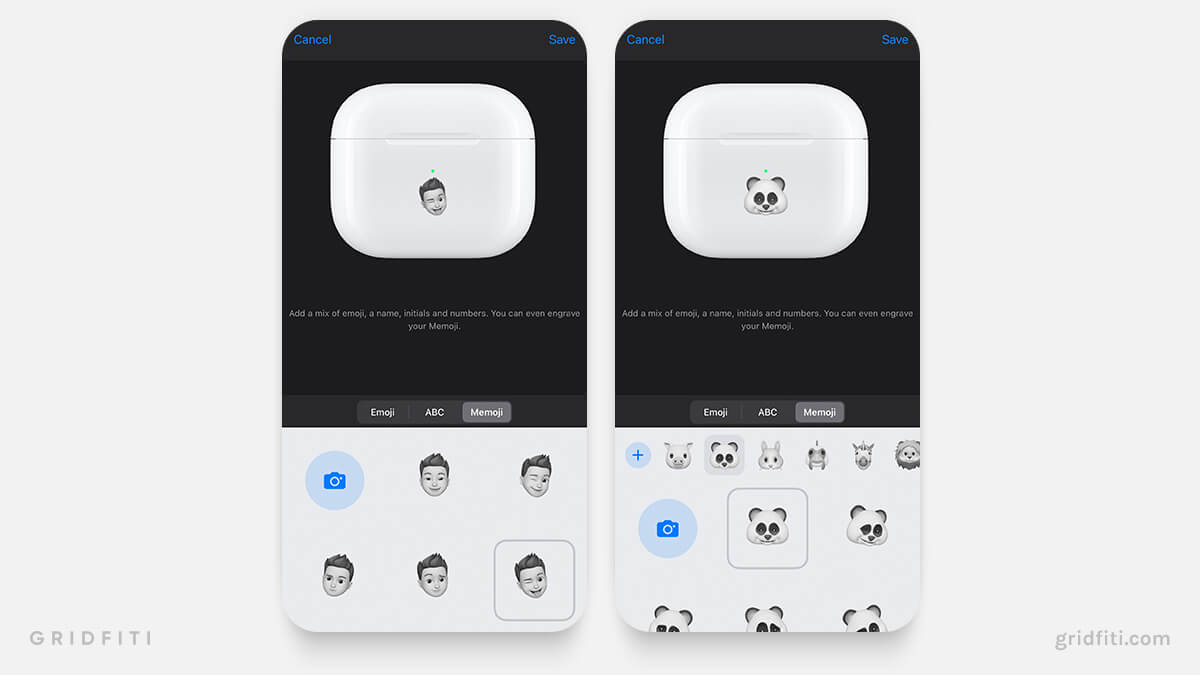 Your Name or Monogram
What's a more timeless engraving than your own name? Whether it's your nickname or monogram with initials, make your AirPods truly yours with any of these name-themed ideas for your engraving.
Engraving Ideas:
<Your initials>
i<Name>
iBelong to <Name>
Property of <Your Initials>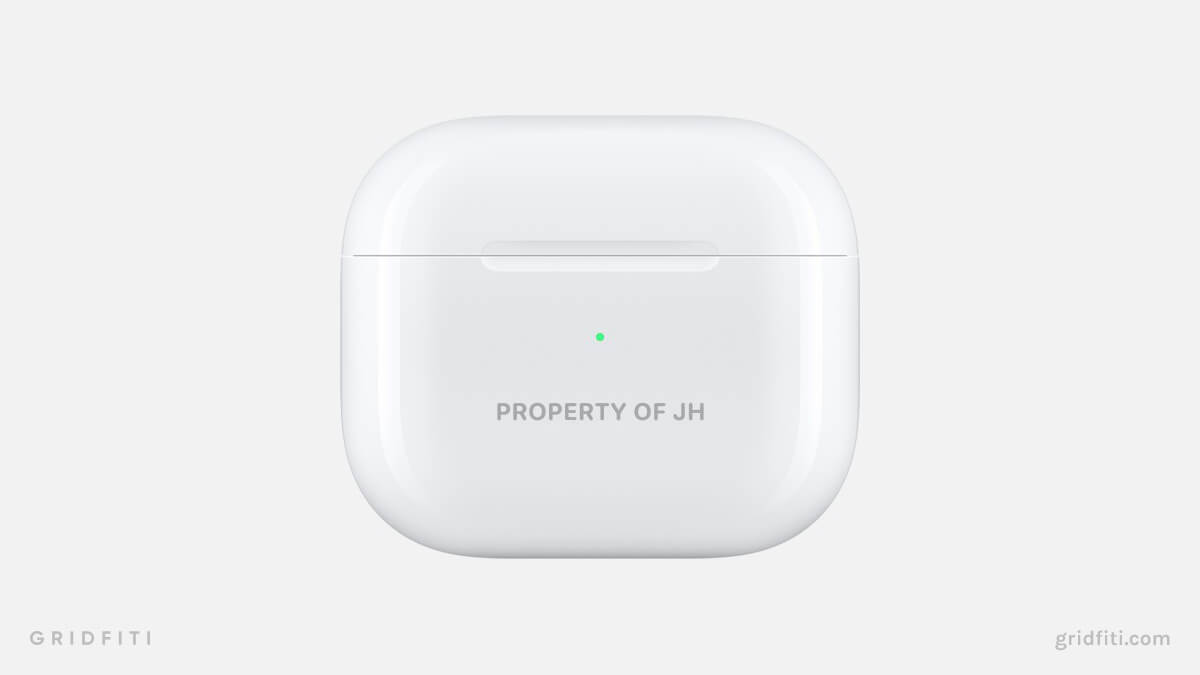 Phone Number, Name, or Email Address
One of the most common engravings when it comes to AirPods is having either your phone number, full name, or email address engraved. This is done in case the AirPods are misplaced or lost and they need to find their way back to you! Using your email address is likely the better choice, since it's less restrictive and can be sent/received from anywhere compared to a phone number.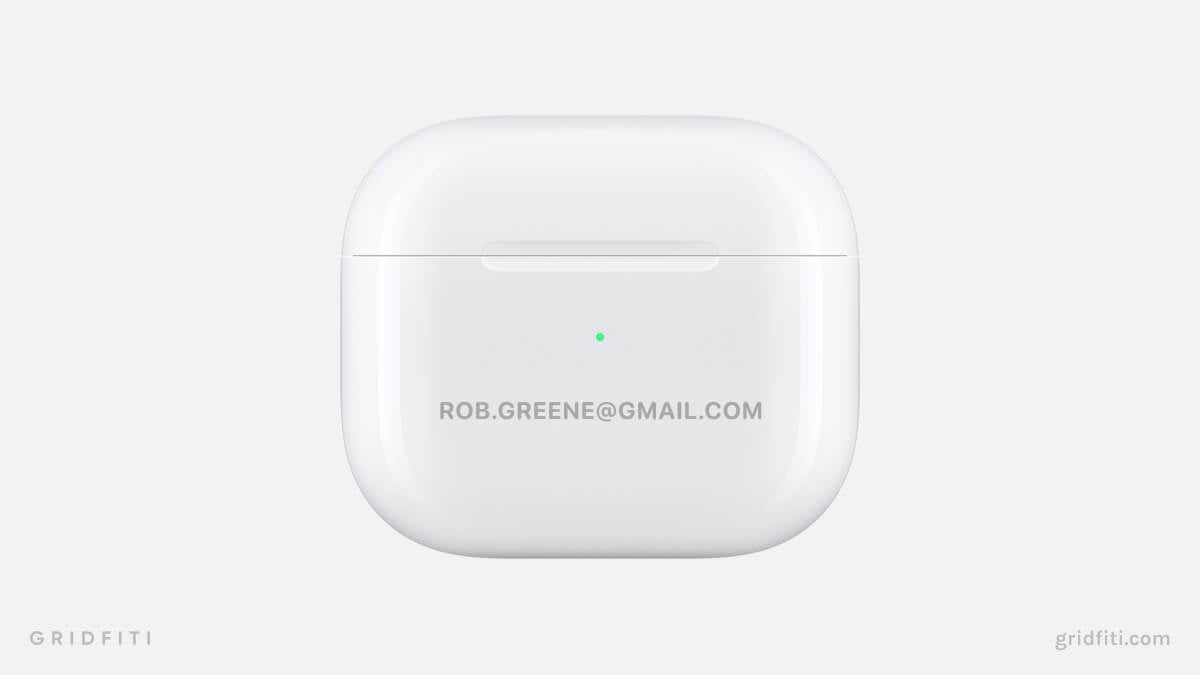 Commonly Asked AirPods Engraving Questions
Pros & Cons of Engraving AirPods
Pros
Personalizes your AirPods to be uniquely yours
Adds character to the AirPods
Used as a way for owners to retrieve lost AirPods
Cons
Lowers resale value
Unchangeable later on
Cannot be exchanged (but can be returned online)
How many characters for AirPods engraving?
12 characters limit for AirPods (2nd generation)
20 characters limit for AirPods (3rd generation)
20 characters limit for AirPods Pro
13 characters limit for AirPods Max
Where are the AirPods engravings on the products?
For AirPods 2nd gen, 3rd gen, and Pro, the engraving is on the front of the case. For AirPods Max, the engraving is on the top of the left ear cup.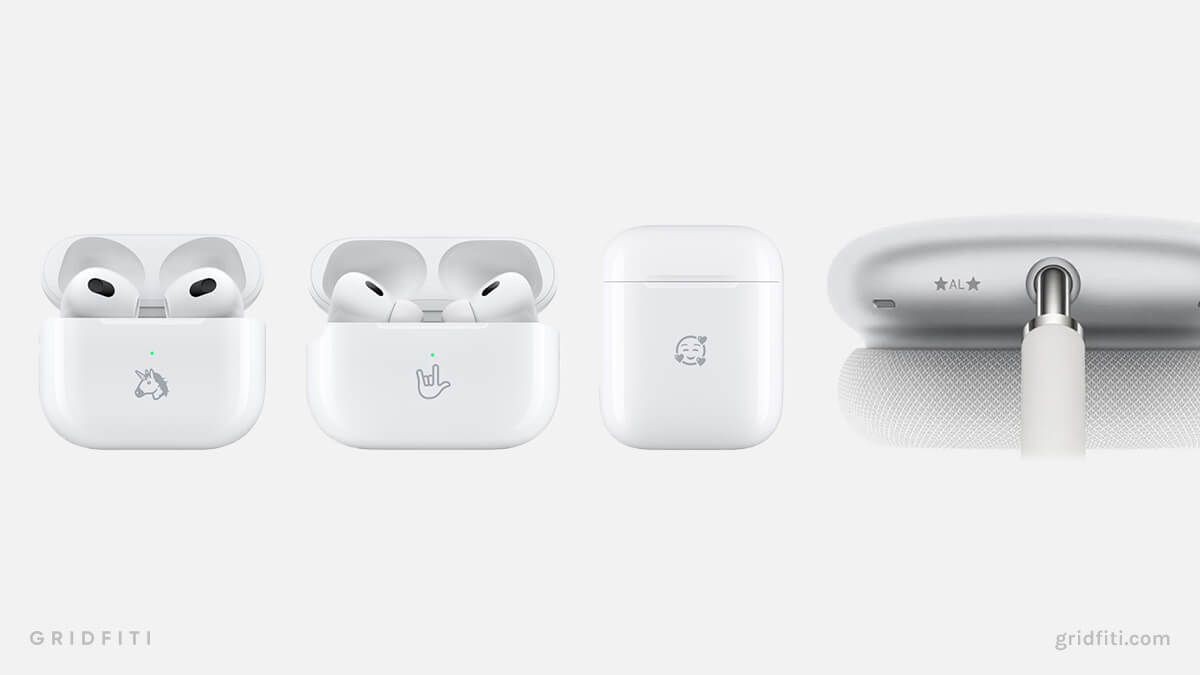 Which AirPods can you engrave?
You can engrave all AirPods including the regular AirPods (2nd & 3rd generation), AirPods Pro, and AirPods Max models.
To order engraved AirPods, head over here to Apple's engraving order page.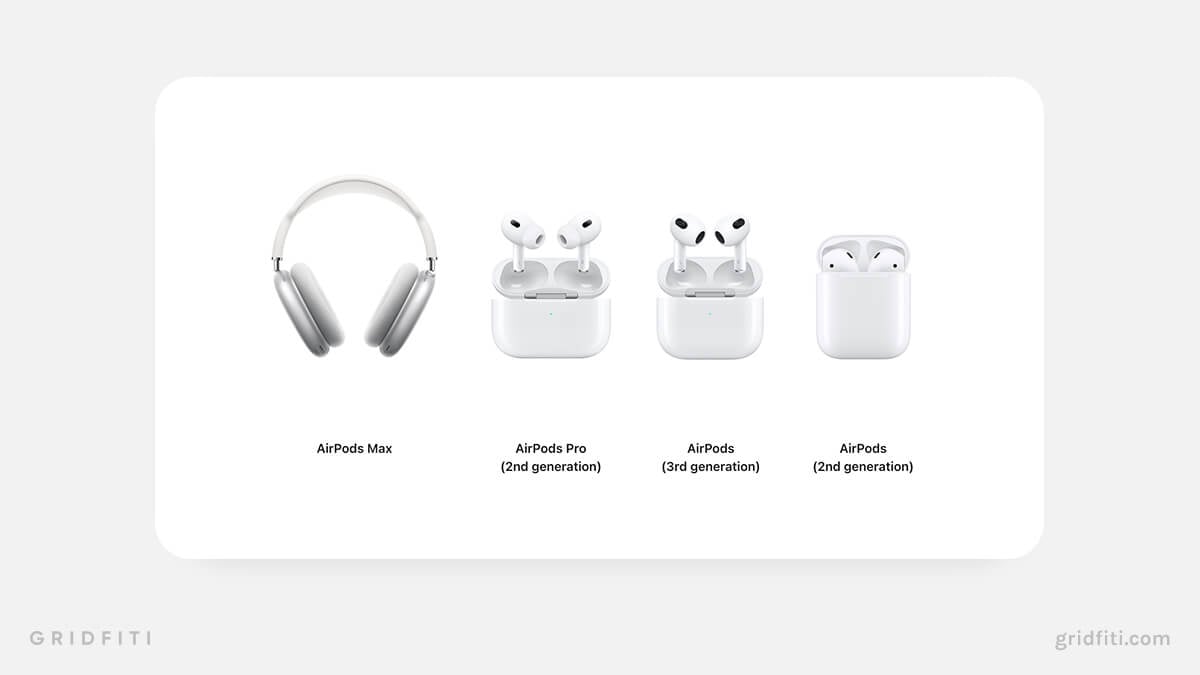 Can you return engraved AirPods?
Yes! Returns are the same for engraved Apple products. As long as it's within the return time window, which is typically 14 days for Apple products.
A couple things to note:
You cannot exchange AirPods that are engraved, only return.
Returns are online only and not in-store.
See Apple's return policy here for the latest information.
Can you engrave AirPods after purchase? Where can I get my AirPods engraved?
You cannot engrave AirPods after purchase, as it's all done on Apple's website at the purchase stage. If you want to engrave AirPods you already own, you can use a third party service, but warning: this may void your AirPods' warranty.
What font is used on AirPods engravings?
SF Pro (aka San Francisco) is Apple's brand font, so it's no surprise this is their pick for engravings. The font used on AirPods and AirPods Pro engravings is SF Pro Rounded Bold, and AirPods Max engravings are in SF Pro Rounded Light. All engravings are in all-caps for legibility reasons.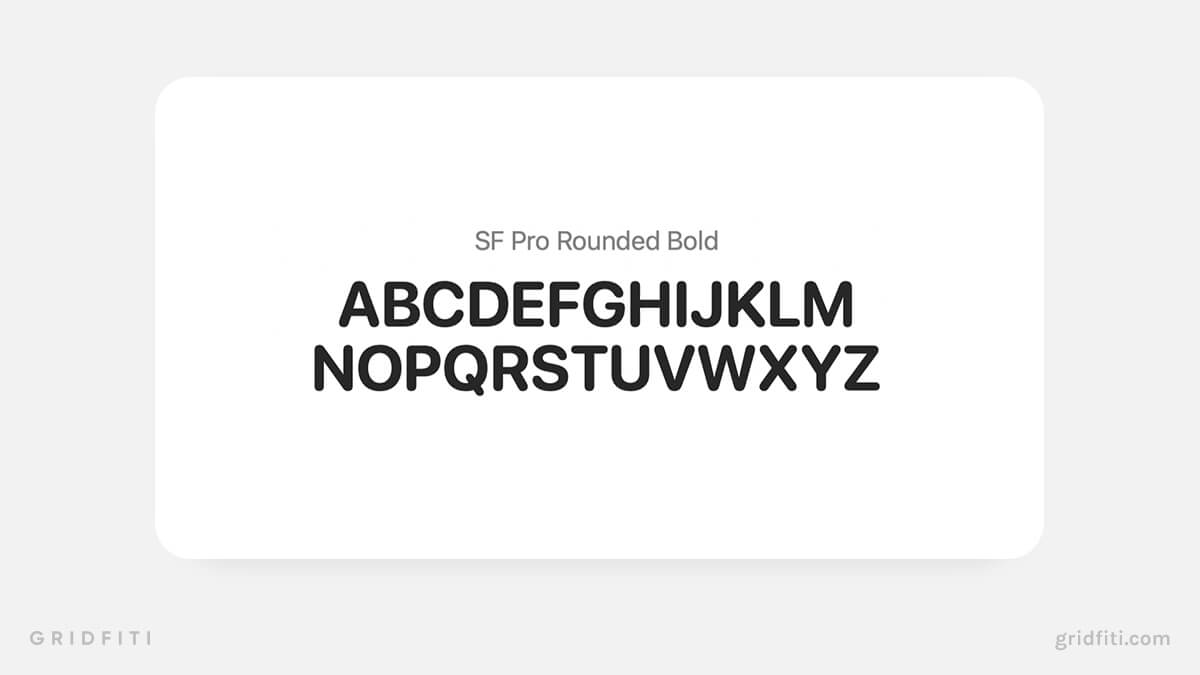 What do you have engraved on your Apple products? What other AirPods engraving ideas are we missing from the list? Let us know down in the comments below!
Gridfiti is supported by its audience – when you buy something using the retail links in our posts, we may earn a small commission at no additional cost to you. Read more about our affiliate disclaimer.