For its compact and lightweight build, quick setup, robust features, and the vlogger-beloved swivel screen, the Canon M50 has become the vlogging camera of choice for creators from all over.
We've seen the vlogs they capture, from Emma Chamberlain's, to Jatie Vlogs', and more – but what lenses are being used to do the capturing? We got you for the best Canon M50 lenses, for landscapes, portraits, and more!
Want more photography and gear guides? Join our mailing list 📮
Best Canon M50 Lens for Portraits
When looking for a portrait lens, you'll want to look for a low aperture-capable one for shallow depth-of-field – providing you with clear separation between your subject and the background, and not to mention producing dreamy bokeh.
With the camera's 1.6x crop factor, the 22mm and 32mm are great portrait options for the M50 – and work out to be the equivalent of the go-to focal lengths of 35mm and 50mm respectively on a full frame body.
Lens Recommendations: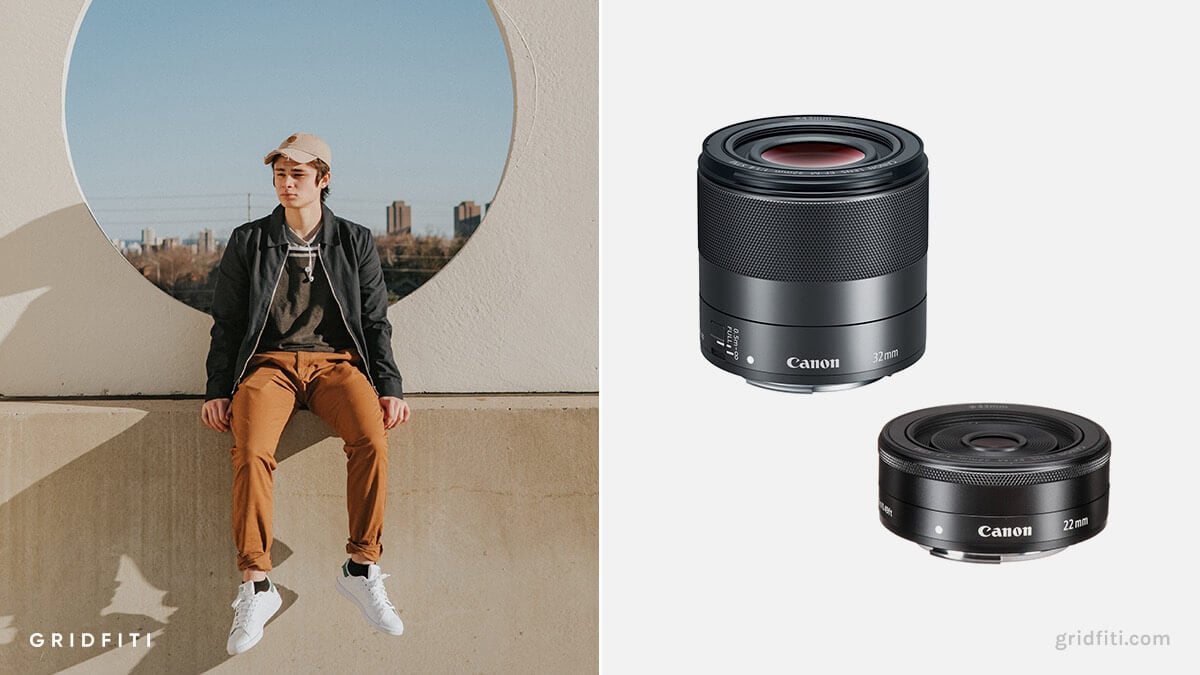 Best Canon M50 Lens for Landscape
Landscapes come in all shapes and sizes, and after long journeys to get to the perfect spot, you never want to be caught without the right gear to get the shot. For landscape photography, you want the trifecta of a wide, a standard zoom, and a telephoto.
When it comes to these types lenses in an M50 context, the 22mm serves as a great prime lens to capture wider lengths at lower apertures. The 15-45mm gets you in the same range and beyond, with zoom allowing for more versatility and precise composition. With the 1.6x crop factor, this lens is equivalent to approx. 24-70mm on a full frame – a staple in any travel and landscape photographer's bag. Finally, on the telephoto front, the 55-200mm offers a whopping range and zoom level to zero in on your subject and capture unique compositions within the vistas before you (equivalent to 88-320mm on a full frame camera!)
Lens Recommendations: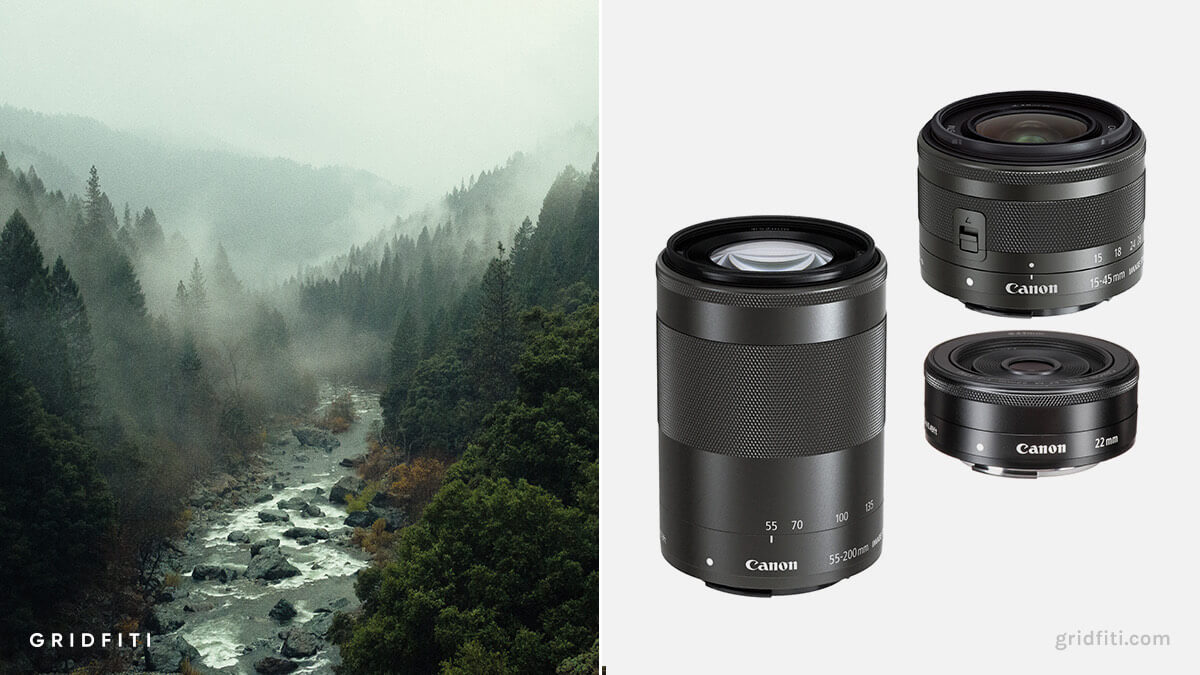 Best Canon M50 Lens for Video
From low aperture primes for shallow depth-of-field and low light performance, to zoom lenses offering versatility and image stabilization – these are the lenses that will help you capture the best footage with your Canon M50!
The prime lenses are sure to record sharp footage and be your go-to in low-light – whereas the 18-150mm's zoom will provide great flexibility to adjust to what's going on at the spin of a ring!
Lens Recommendations: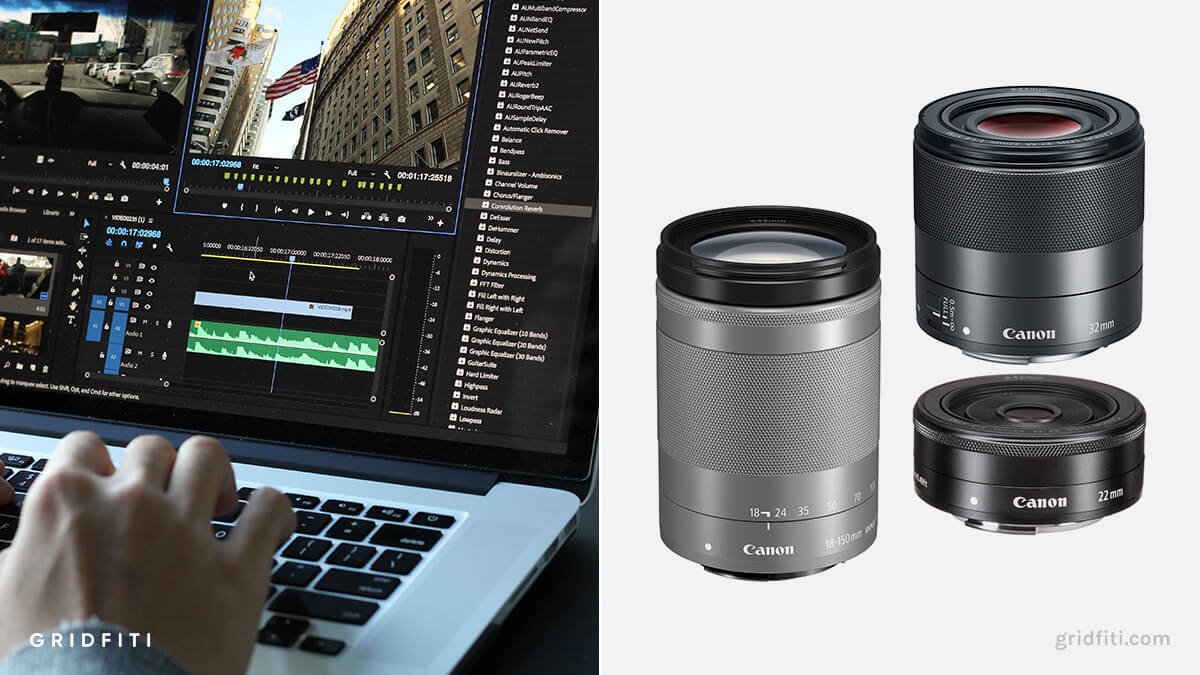 Canon M50 Lens for Vlogging
Used by Emma Chamberlain herself, the 15-45mm Canon M50 lens reigns supreme as one of the top lenses for vlogging. The lens offers a ton of versatility for wide capture, whether you're vlogging yourself in the city, at home, in the car, or wherever else you're documenting your adventures!
When it comes to wide prime lenses, the 22mm f/2 is great for capturing it all, but makes for an even more lightweight and low-profile setup to bring anywhere. If you're looking for more vlogging lenses beyond the M50, don't miss our guide on the best lenses for vlogging.
Lens Recommendations: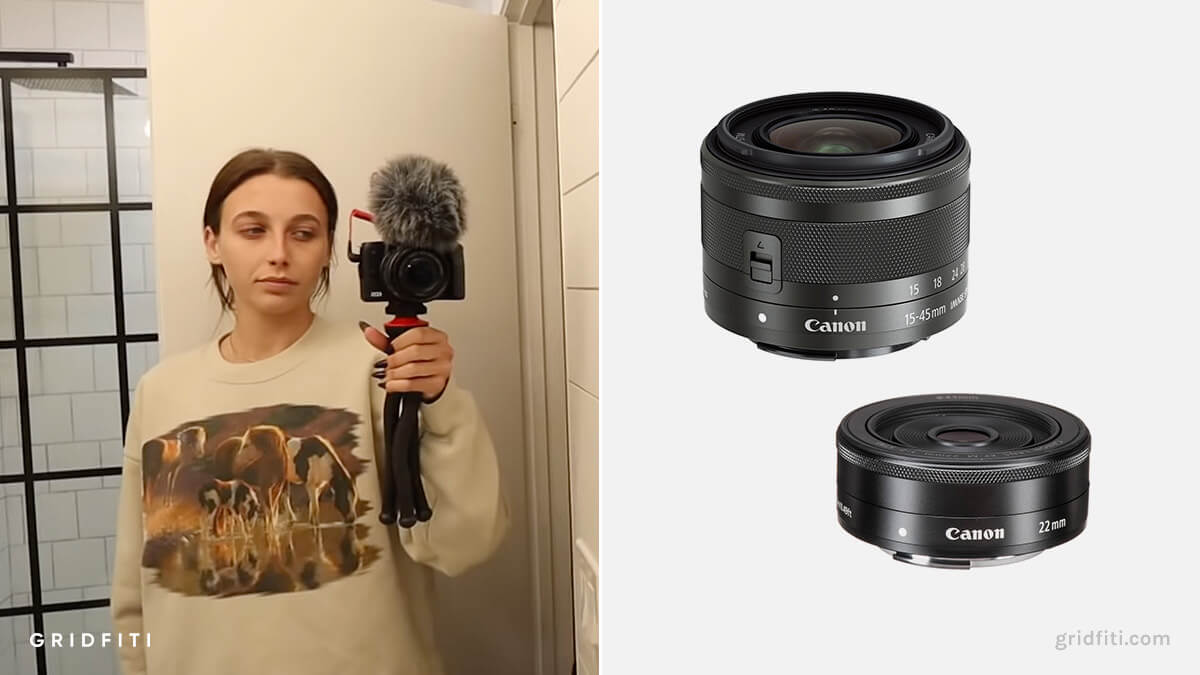 Image via Emma Chamberlain
Canon M50 Lens for B-Roll
Some of the best B-roll footage we see is captured on larger, full-frame setups, and often with a prime or low aperture lens to capture cinematic footage with a shallow depth-of-field.
On the Canon M50's APS-C crop sensor with a 1.6x crop factor, some M50 lenses can achieve those similar focal lengths you'll see on full-frame B-roll capture. We recommend the M50's 32mm f/1.4 for its longer focal length (50mm equivalent with a 1.6x crop) and low aperture, and the 18-150mm f/3.5-6.3 for its versatility for capturing cinematic footage of all kinds.
Lens Recommendations: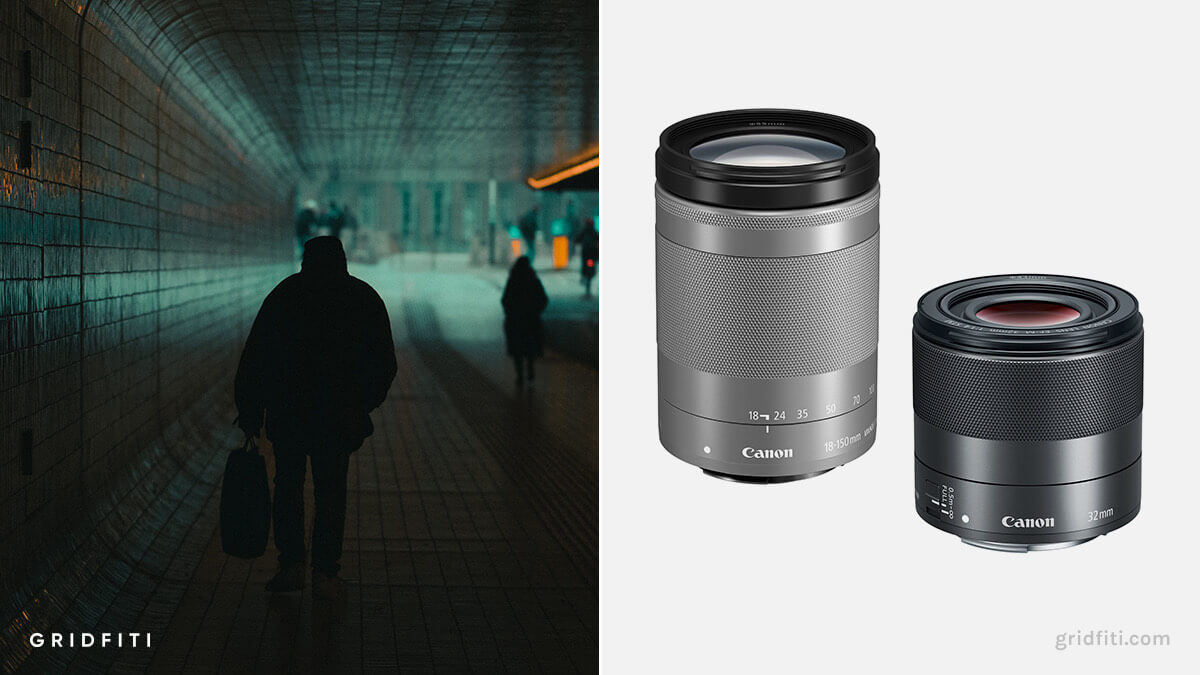 Best Canon M50 Lens for Travel
For all it can do in its small package, the Canon M50 is a great travel camera – and there's no doubt that there are great travel lenses for it to capture all your adventures!
For travel photos, you'll need a wide array of focal lengths and apertures to capture everything you come across, whether it's people, landscapes, architecture or anything else. This set of prime, mid-range, and telephoto options make for great lenses to fit all your travel needs!
Lens Recommendations: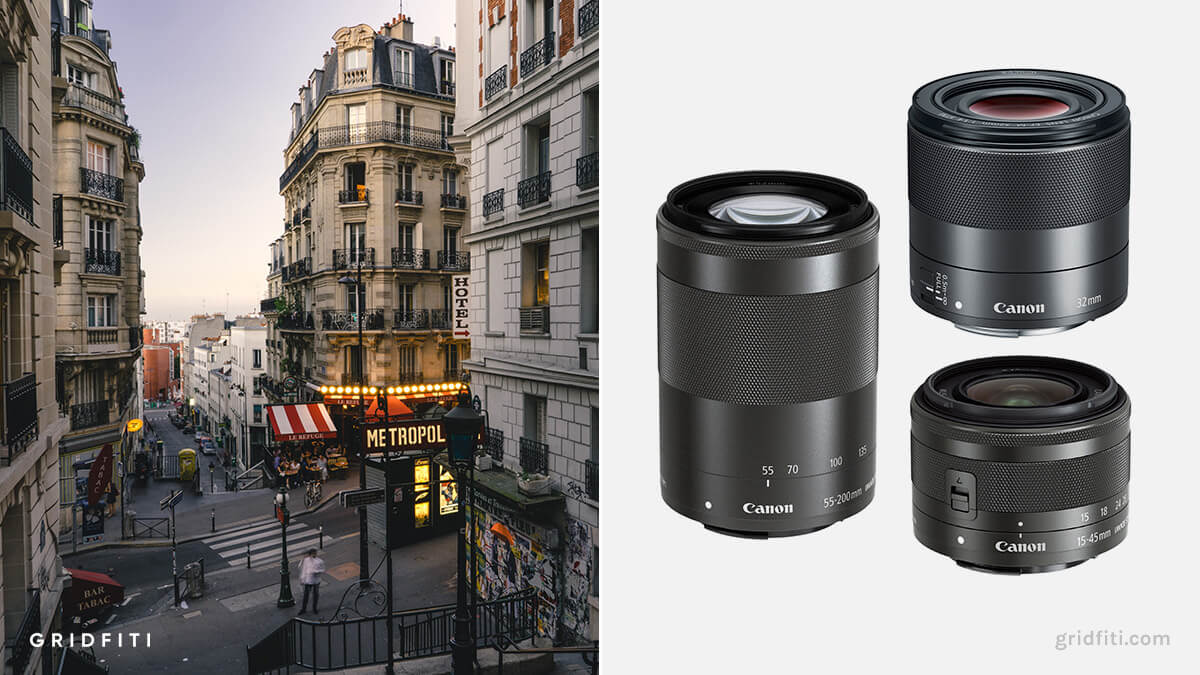 Do you have a favorite lens for your Canon M50? Let us know in the comments below! Make sure to follow us on Instagram @gridfiti and @gearspread for more photography and gear content.
Gridfiti is supported by its audience – when you buy something using the retail links in our posts, we may earn a small commission at no additional cost to you. We only recommend products we would use ourselves and recommend to our friends and family. Read more about our affiliate disclaimer.