Keep your mental health in check by logging your mood in a daily Notion template. Whether you're feeling stressed or at your best – keeping track of your mood can help you reflect week by week and give you a better understanding of what brings you down, and what lifts you up!
To help you pick the right template for your needs, we've curated the best Notion mood trackers to help you log and journal your everyday feelings and well-being!
Want more Notion templates and updates? Join our mailing list, and check out our several other Notion template round-ups!

Sign up for Notion here! Free for personal use, students, and educators.
Notion Mood Journal Template – Monthly Mood Overview
Check in with your emotions and your inner self with this aesthetically pleasing Notion mood tracker and journal template! With an overview of your daily moods across the month, this mood diary will help you become more self aware of your emotions.
For more journal templates, check out our round-up showcasing the best Notion journal templates!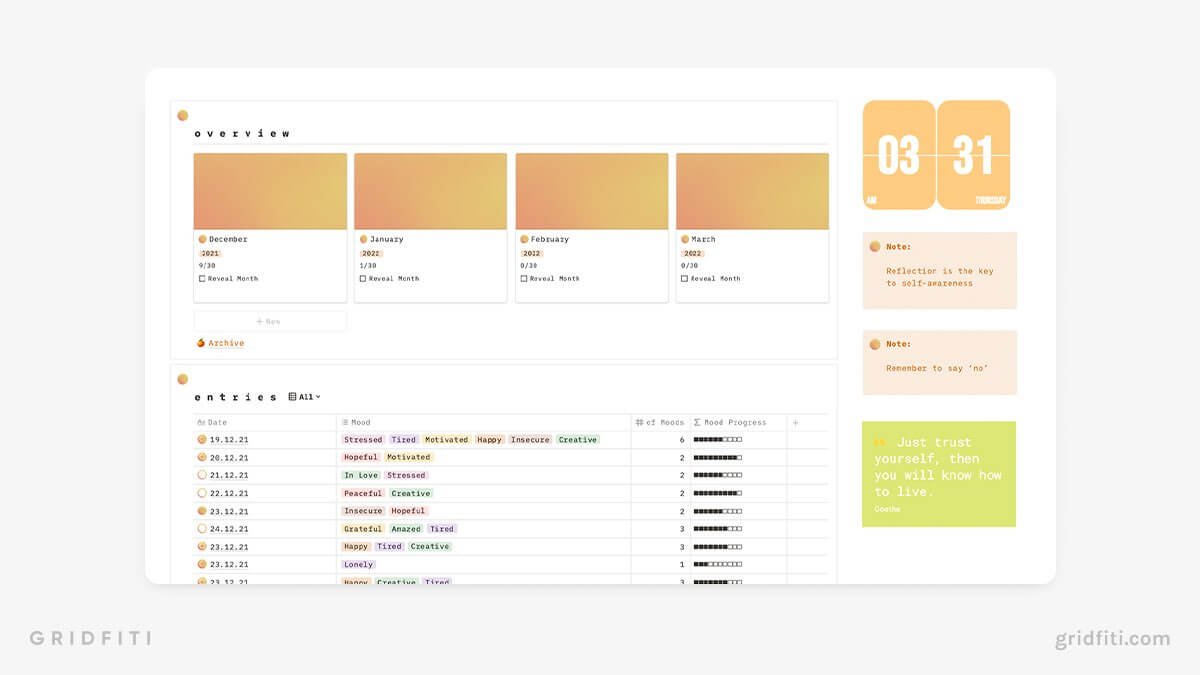 Basic Notion Mood Tracker Template
Track your daily emotions, mood, health, stress levels, energy, and more with this minimal Notion mood tracker template. Our schedules can fill up quickly, and it's always nice to take a step back and reflect on our feelings and emotions – especially when they're organized in Notion.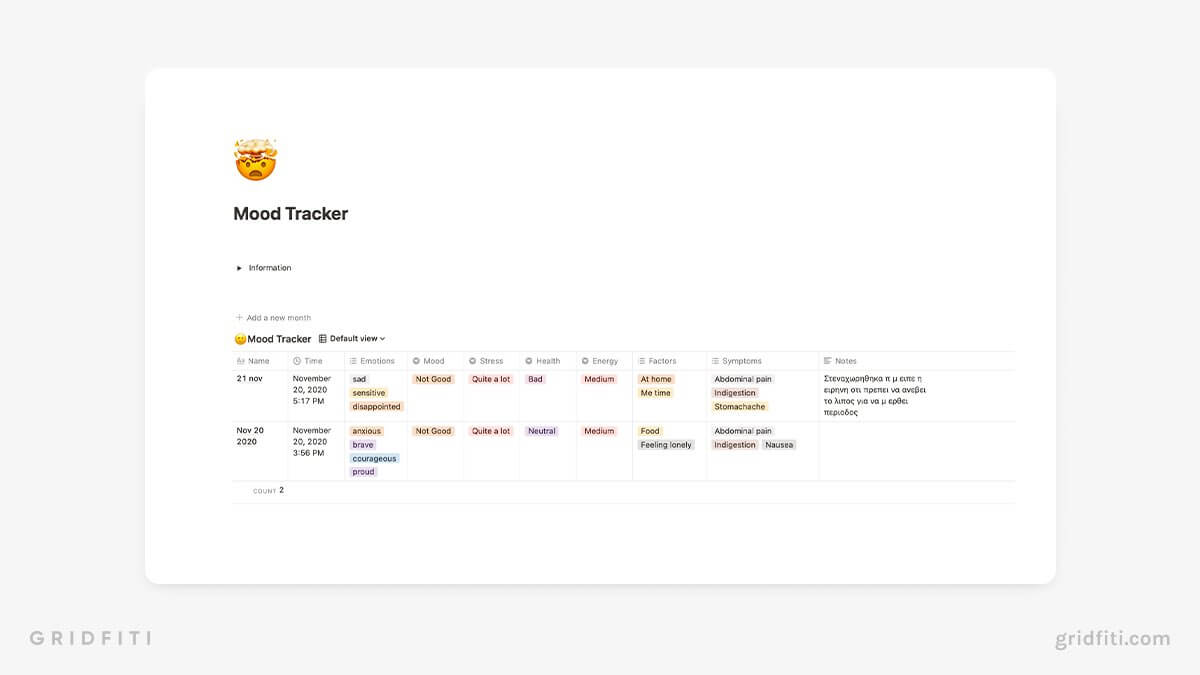 Basic Notion Mood Tracker & Rating Journal
This simple Notion table lets you rate both your morning and evening moods, while tracking your sleep, and quickly journaling your day!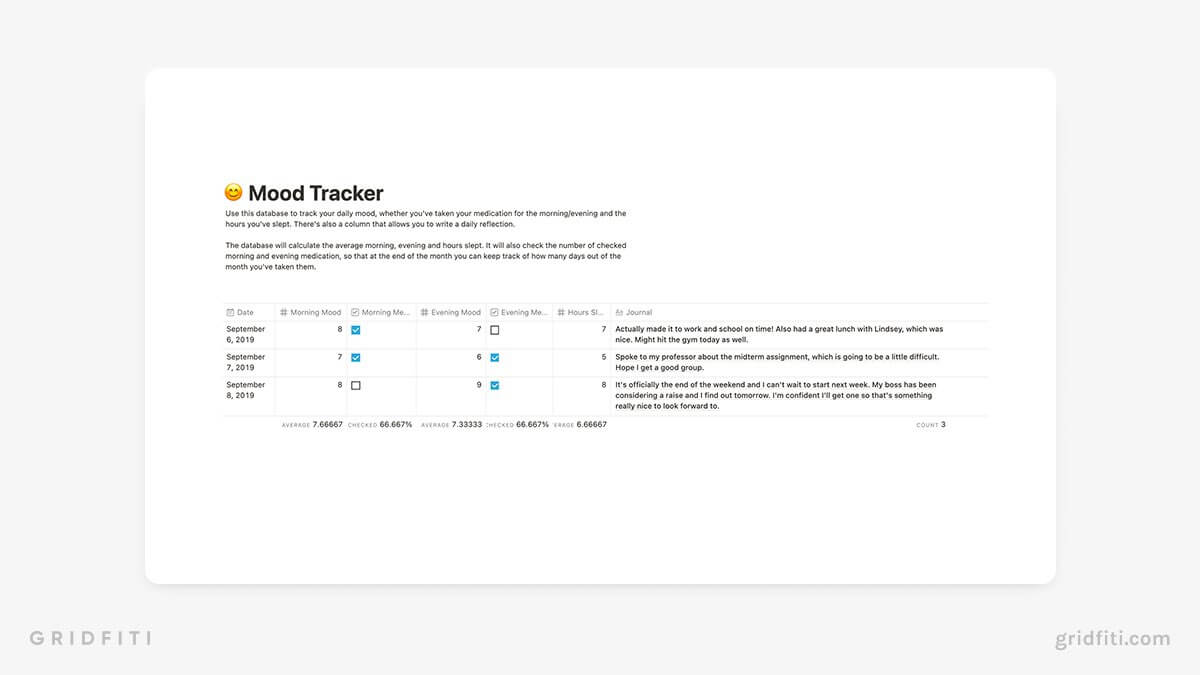 Mood Journal Tracker for Notion – Calendar View
This Mood Journal Tracker is a simple journal that allows you to record your daily focus, thoughts, and reflections – all with a calendar view so you can see your overall wellbeing at a glance. Log your feelings, rate your days, and analyze your emotions at the end of every month to see how you felt during that period of time!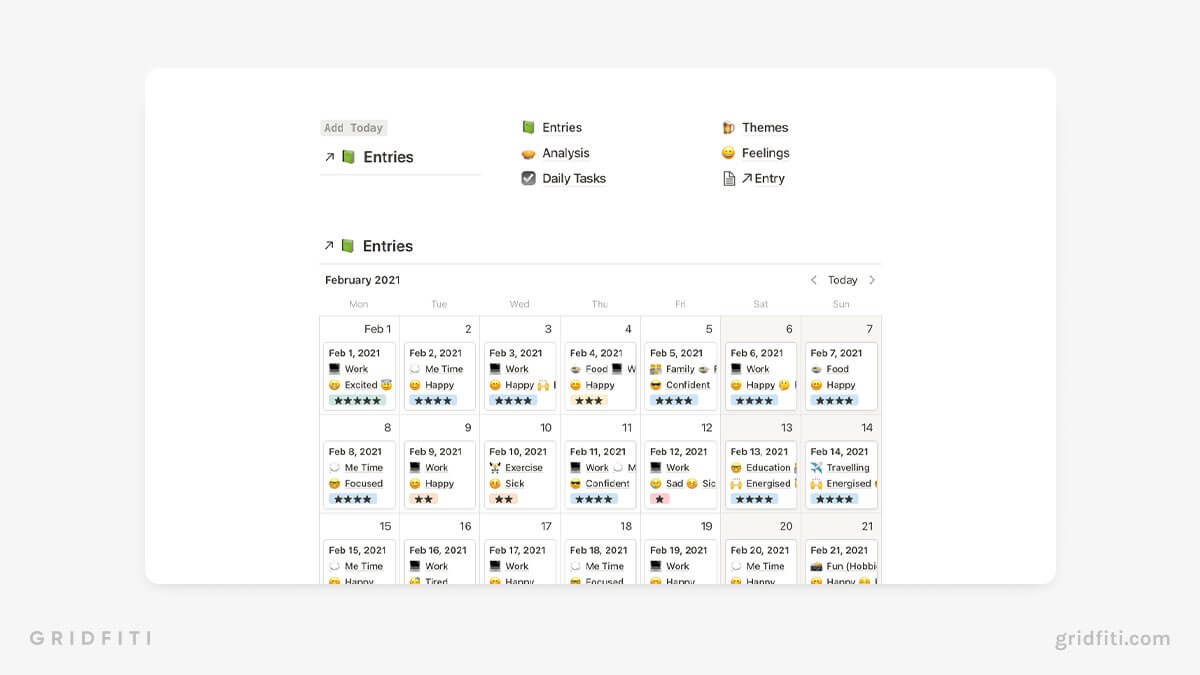 Which Notion mood tracker template are you using? Do you have any other recommendations for Notion mood trackers to use? Let us know in the comments below!
Gridfiti is supported by its audience – when you buy something using the retail links in our posts, we may earn a small commission at no additional cost to you. We only recommend products we would use ourselves and recommend to our friends and family. Read more about our affiliate disclaimer.