Mood trackers are essential for helping us understand how our moods change over time and how different circumstances in our lives affect our mental well-being. They're especially useful if you have a mental health condition, as they can help you pinpoint what you find triggers your anxiety or depression. Mood trackers are the perfect place to really "feel" your feelings.
Many people track their moods through journals. But if you're not much of a pen-and-paper person, you'll find plenty of mood tracker apps, websites, and extensions where you can practice self-care. Here's a look at some of the best mood trackers on the web!
Want more tools and resources in the aesthetic realm? Join our newsletter!
Aesthetic Mood Tracker Apps
Track your mood on the go with an app. You'll find no shortage of aesthetic mood tracking apps available, from apps that gamify your mood tracking to apps with in-depth kawaii journaling options. Check out a few of our favorite aesthetic mood tracker apps below!
Daylio
Daylio is ideal if you don't have time to sit down and write about your daily moods and activities. When logging your day-to-day on Daylio, you simply pick emojis and icons to indicate how you feel and what you've been up to. View your logs and monthly and yearly stats to see your progress.
It's one of the best customizable mood tracker apps around, with changeable icons and color schemes to fit your aesthetic.
Features and highlights
Track your moods, social life, hobbies, chores, and more
Set goals and reminders to stay on track with personal improvement
Journal without having to write a word — track your activities and mood using a huge database of icons and emojis
Change icons and color schemes to match your aesthetic
Gamify your tracker by earning achievements
View yearly and monthly statistics based on your logs
Drawbacks and limitations
Customization options, including many icons and themes, are only available to Premium members
Pricing
Daylio Basic – Free
Daylio Premium – $2.99/month or $23.99/year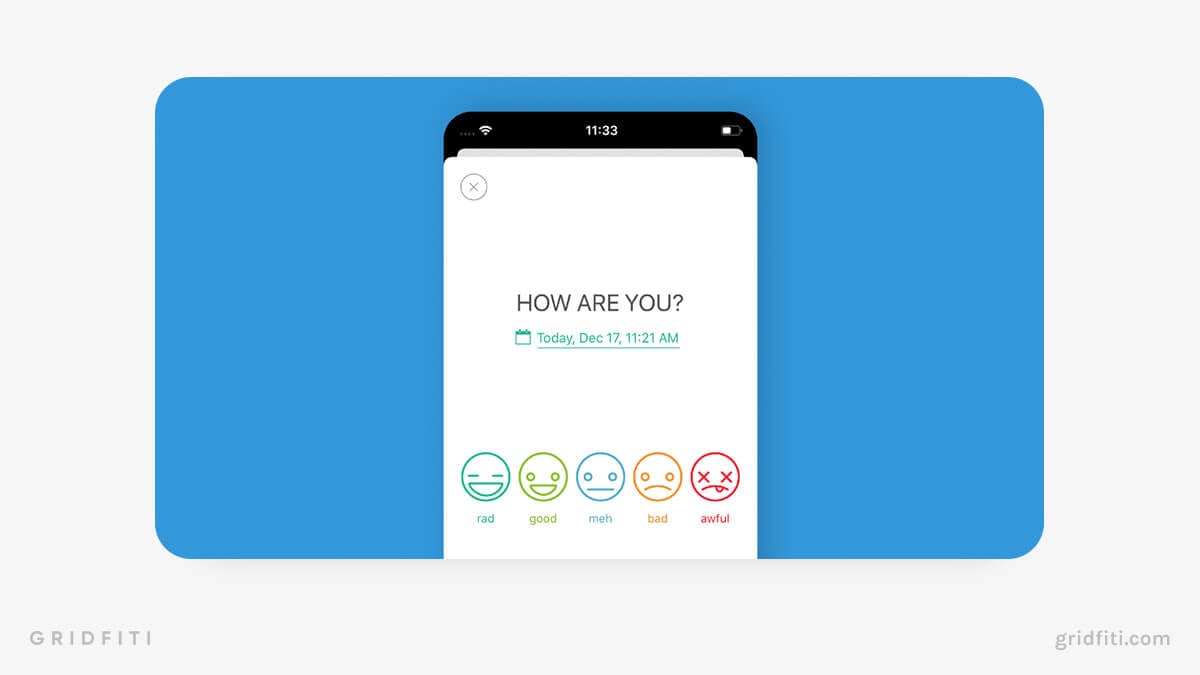 Bearable
Bearable is the app for you if you're trying to track how your health affects your mood. Sync Bearable with your Health app, and Bearable will relate your health data to your mood and well-being.
Bearable is a hassle-free way of seeing the connection between your mood and health. Use the calendar to make general notes about your mood. View stats on your symptoms, mood, and sleep patterns through the Insights tab.
Features and highlights
Sync up your Apple Health app to get a comprehensive picture of your well-being
Enjoy a visually pleasing app layout complete with calendar
Customize your homepage widgets to suit your needs
View insights and correlations between your mood, symptoms, diet, and more
Drawbacks and limitations
Lack of color and theme customization options
Geared mainly towards health — not for general mood and activity tracking
Pricing
Bearable Basic – Free
Bearable Premium (Android) – $4.99/month or $18.99/year
Bearable Premium (Apple) – $6.99/month or $34.99/year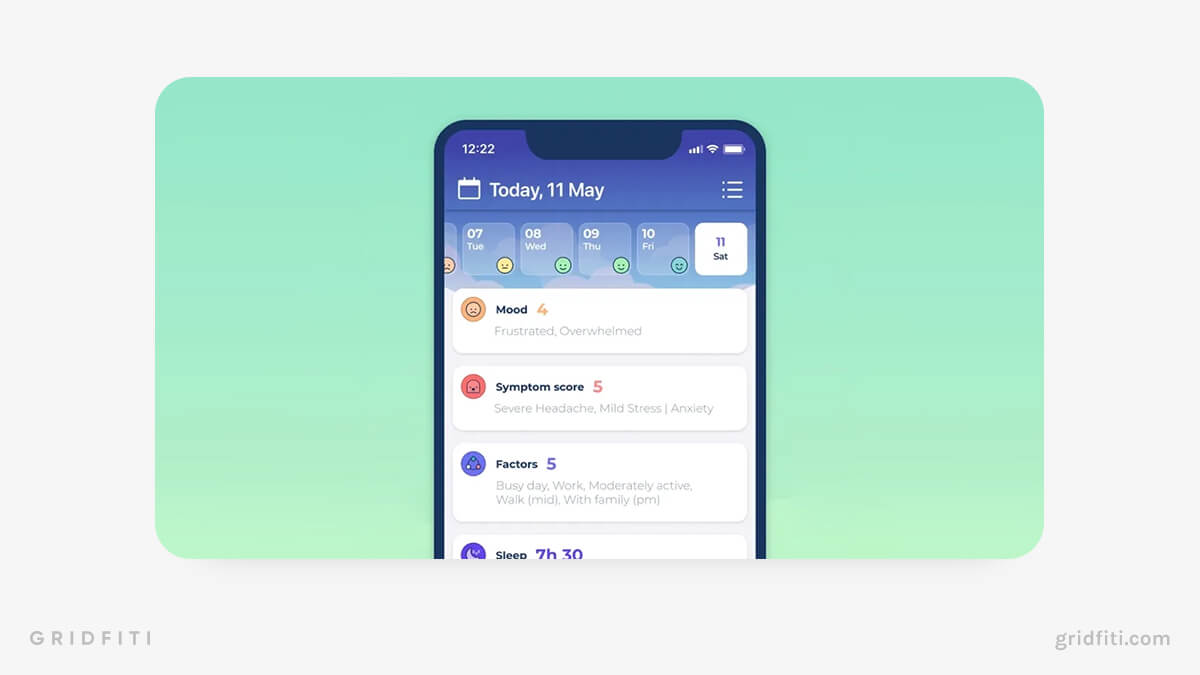 Finch
Motivate yourself to track your well-being by caring for an adorable virtual bird companion. Called "birbs", these virtual pets will go on adventures whenever you track your mood. Increase your friendship with your birb by checking in, chatting, and petting.
Take clinical quizzes to improve your understanding of your mental health, note your daily reflections, or partake in yoga all through the Finch app.
Features and highlights
Gamify self-care by caring for a virtual pet
Customize the name, color, and traits of your birb
Unlock clothing, appearances, and furniture for your birb
Add the Finch widget to your home screen to keep tabs on your birb
Join friends through the Tree Town and build a birb community
Drawbacks and limitations
Stats on well-being limited compared to some other apps
Pop-ups and busy backgrounds can make the app feel overwhelming
Pricing
Finch Basic – Free
Finch Plus – $39.99/year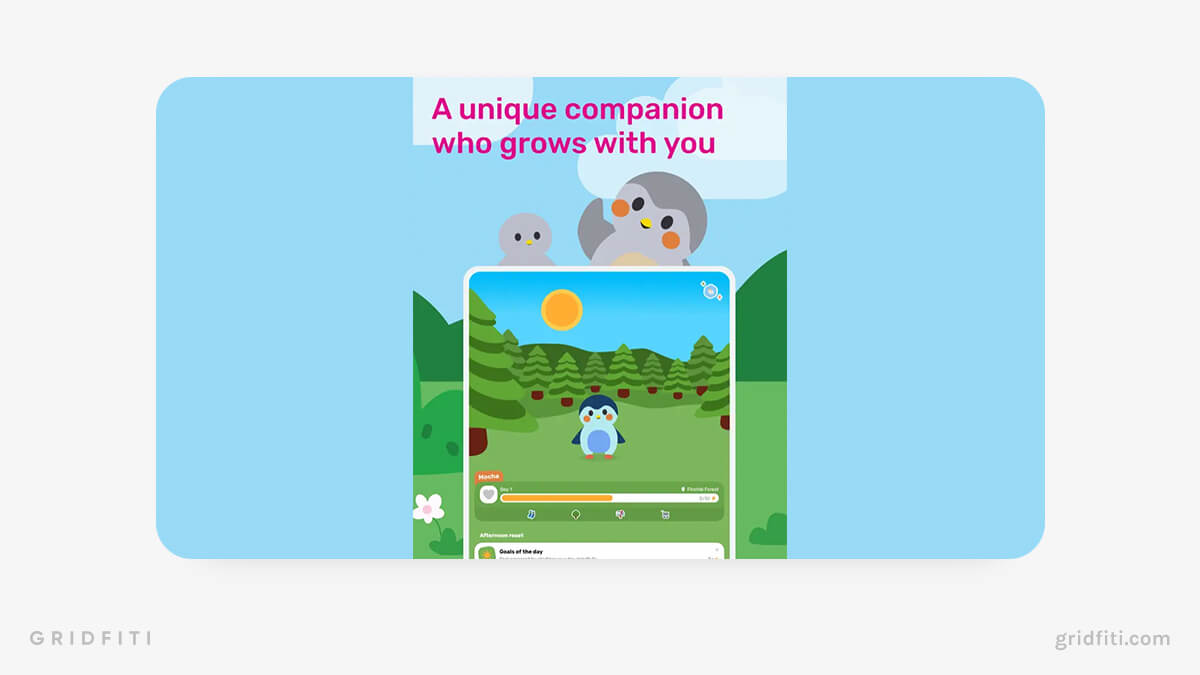 Reflectly – Journal & AI Diary
Reflectly is one of the best-looking mood-tracking apps, with its customizable color schemes, aesthetic inspirational quotes, and sleek overall design. It markets itself as the world's first intelligent journal — using AI to feel more personal when tracking your moods.
Complete as many mood check-ins as you want daily, add voice notes, and upload pictures to illustrate your day. With its AI, Reflectly asks personalized questions in your diary to aid reflection and self-improvement.
Features and highlights
AI diary helps to personalize your mood tracker
View stats based on your mood check-ins
Customize your color scheme and motivation feed
Add voice notes and photos to your entries for a personalized touch
Homescreen widget with inspirational quotes to fit in with your zen aesthetic
Drawbacks and limitations
Some tracking features and unlimited journaling are only available with Premium
Pricing
Reflectly Basic – Free
Reflectly Premium – $9.99/month or $59.99/year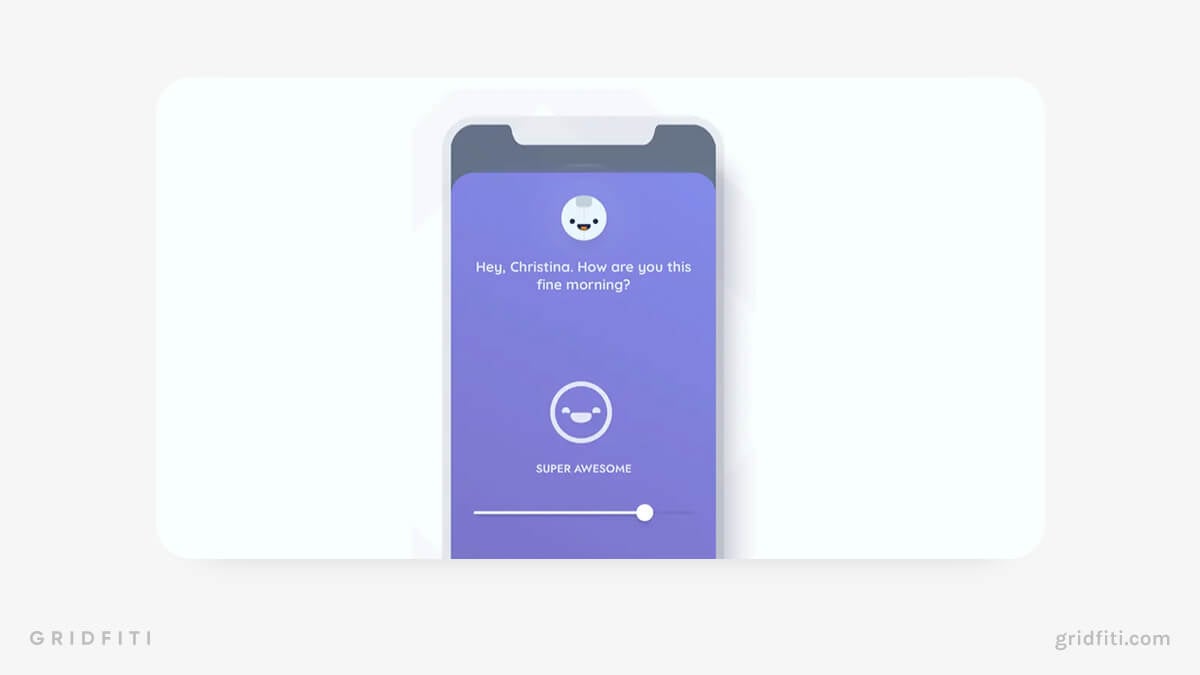 Emolog
Emolog is a simple way of tracking your mood. Mark each day on your calendar with a fun animated emoji showing how you feel. Add a note about your mood and view stats on which emoji you use the most to get an idea of your overall mental well-being.
Features and highlights
A simple mood-tracking app that doesn't take itself too seriously
Mark each day with a unique animated emoji
Add notes on your mood to each emoji
Views stats on which emojis you've used most
Add a vibrant widget to your home screen for easy mood-tracking
Drawbacks and limitations
No free version — only a 30-day free trial
A large number of emojis locked behind a paywall
Lack of statistics and in-depth mood tracking
Pricing
Prices vary – $15.99/unlimited pass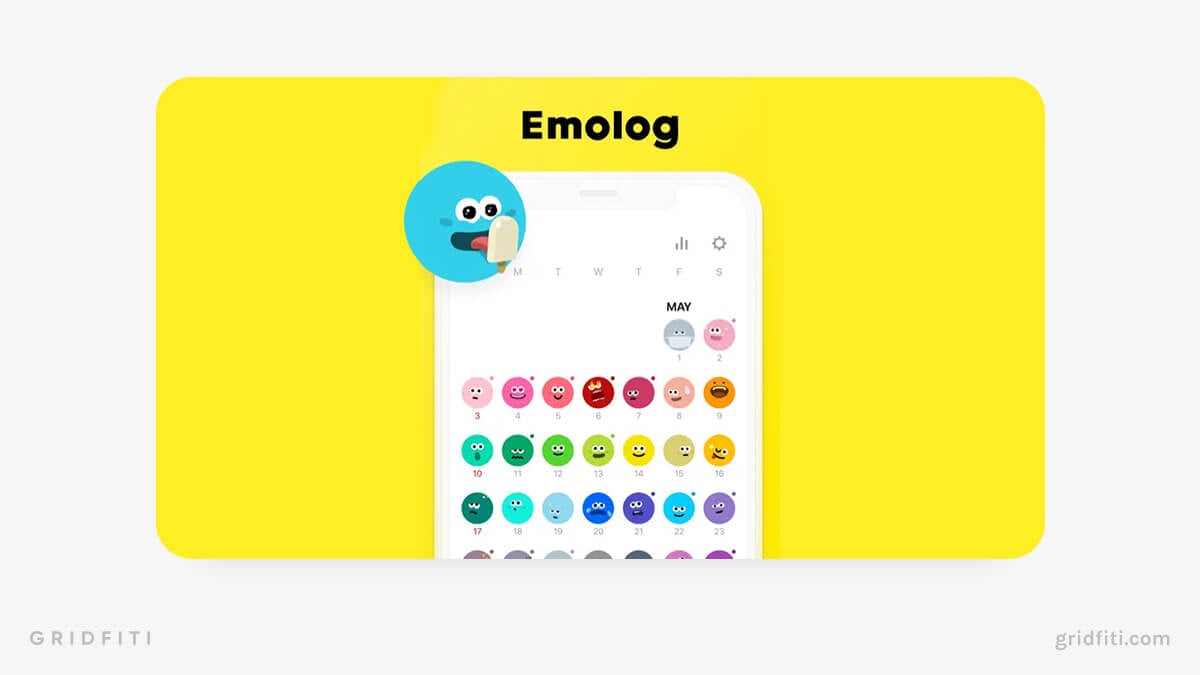 MOODA
MOODA is a mood-tracking app with a unique vibe thanks to its hand-drawn retro aesthetic. Pick an emoji that illustrates your daily mood and write about your feelings in your journal.
You can also add a photo to a Polaroid frame to remember your daily adventures. MOODA provides plenty of customization options and a widget to brighten your home screen.
Features and highlights
A simple tracking app that tracks your mood using a calendar with emojis, notes, and pictures
Customize your background color and font
Cute hand-drawn aesthetic
Add the MOODA widget to your home screen for easy tracking
Drawbacks and limitations
Lacks statistics to help you view your progress
Pricing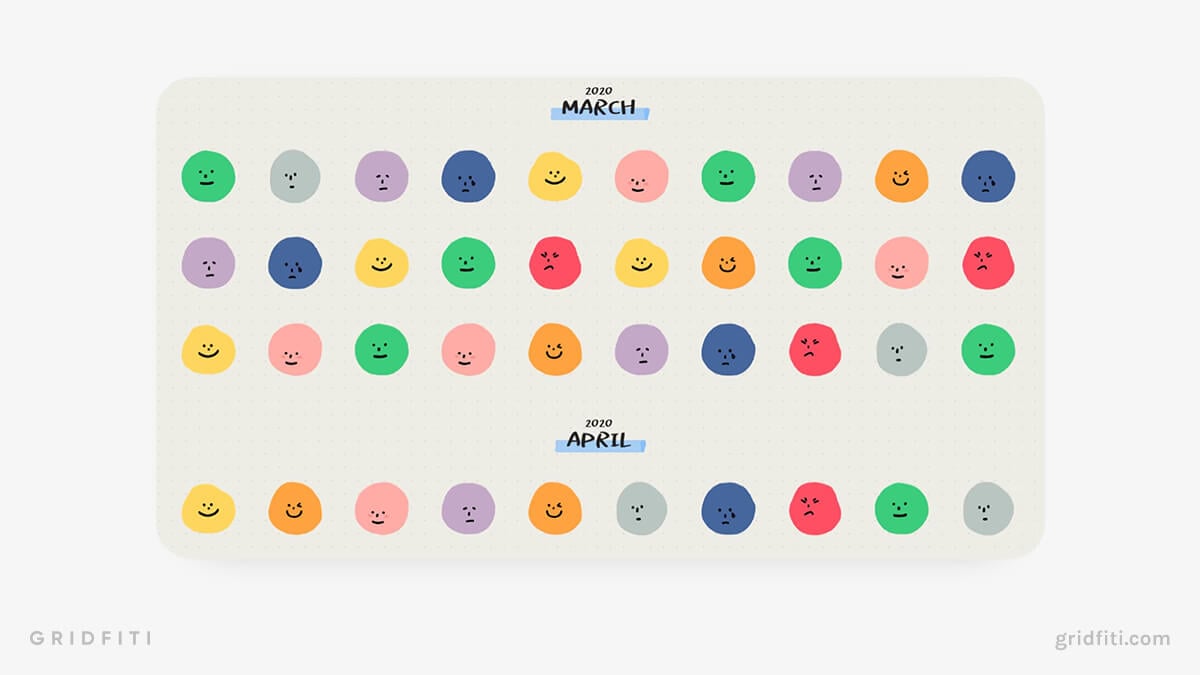 Doing Doing – Digital Mood Journal
With its gray, black, and white color scheme, Doing Doing works well with any minimalistic or monochromatic aesthetic. Simply create to-do lists for each day.
After completing your to-do list, pick one of six emojis to show your mood and write a note about how your day is going. Add the Doing Doing widget to your home screen to keep close tabs on your daily grind.
Features and highlights
Mimics a real notepad — add items to your daily to-do lists
Each to-do list lets you set your mood and describe how your day's going
Customizable font family and size
Homescreen widget to track your to-do list
Drawbacks and limitations
Geared towards general bullet journaling rather than mood tracking
Limited mood-tracking features, including statistics
Pricing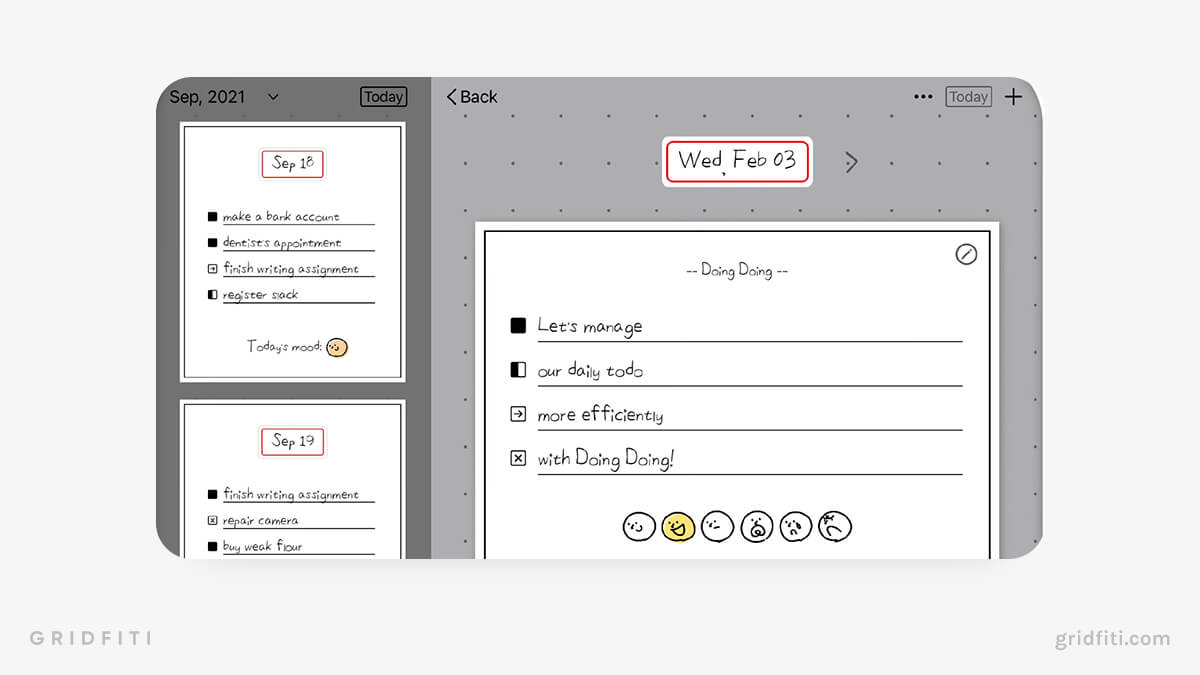 Moodnotes
Moodnotes is designed with support from psychologists and design experts. It uses cognitive behavioral therapy (CBT) and positive psychology to improve your mental well-being.
Once you download the app and answer a few questions, you'll receive a personalized, expert-approved 7-day plan to follow. Track your mood and memories with the camera feature, which scans your face for your mood. Read mental health articles written by professionals, learn how to avoid falling into "thinking traps", and get unique insights into your specific mood.
Features and highlights
Uses CBT and advice from psychologists to improve your mood
Track your moods and memories throughout the day
Read hundreds of articles by mental health experts
"Notable insights" give you an in-depth look at your mood
Personalized and in-depth statistics on your progress
Drawbacks and limitations
All features other than mood journaling are only for Premium users
Pricing
Moodnotes Basic – Free
Moodnotes Premium – $39.99/year or $9.99/month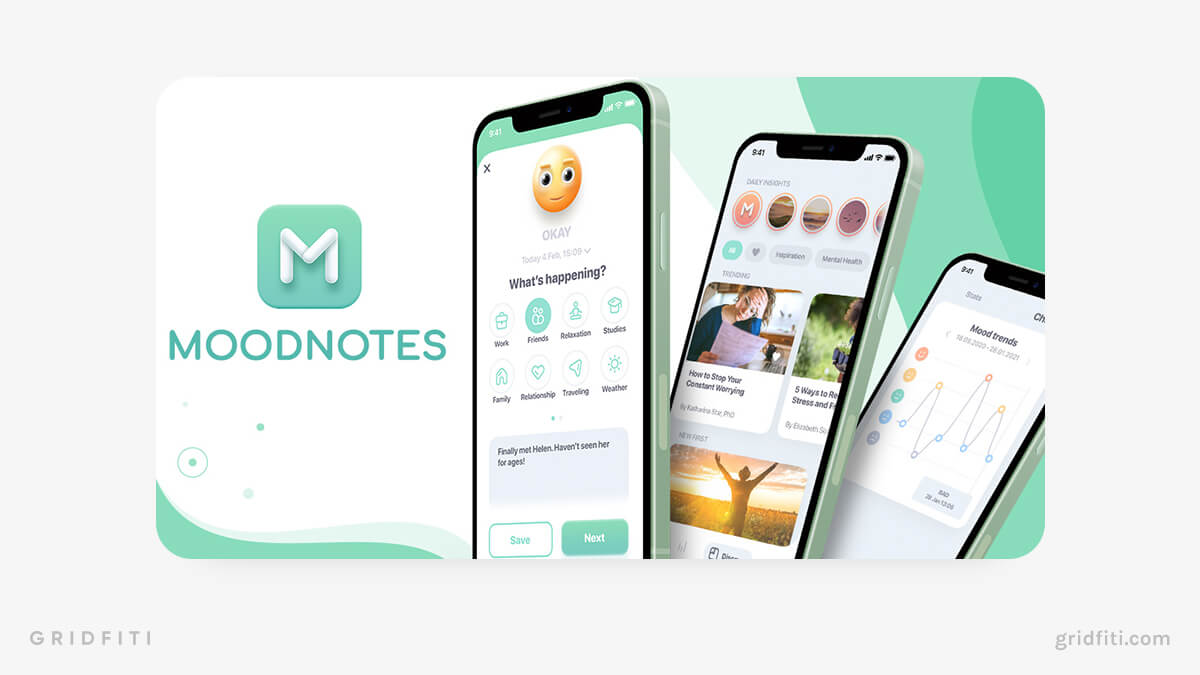 Mininote – Cute Notes & Diary
Kawaii-ify your life with the Mininote app. Mininote lets you create notes and templates to track your moods, complete with cute stickers, tapes, and emoticons.
One highlight of Mininote is it lets you draw your own emoticons in case the premade options don't fit your current mood. Access the Mininote Universe and download emojis, stickers, and templates made by other users. Mininote is a diary and mood tracking app with seemingly endless creativity options and is perfect for an artsy kawaii aesthetic.
Features and highlights
Adorable and highly customizable journaling features
Make your own emoticons and templates to convey your mood and style
Download templates, emojis, and stickers created by other users
Decorative widget makes diary and mood tracking a breeze
Drawbacks and limitations
No stats to track your progress
Lots of ads in the free version of the app
Pricing
Mininote Basic – Free
Mininote VIP – $9.99/one-time purchase, $1.99/month, $4.99/year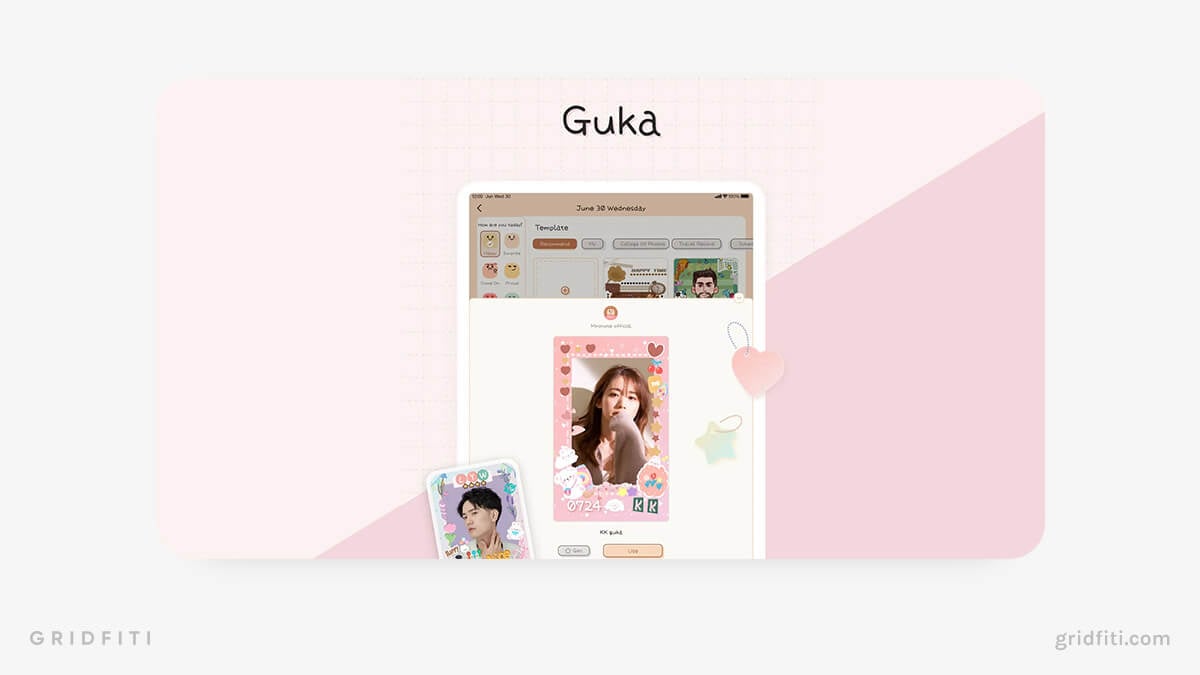 DailyBean
Make mood tracking simple with the DailyBean app. Track your day-to-day on a monthly calendar. Pick a colorful emoji to reflect your mood, then log your sleep, social life, and emotions on one clear, easy-to-navigate page.
Keep tabs on your mood flow through the stats page, which lays out your info on easy-to-understand line and bar graphs. DailyBean isn't the most customizable app around, but it's perfect for a simple aesthetic with a splash of color.
Features and highlights
Straightforward layout makes tracking your moods quick and easy
Stats on mood flows are thoughtfully laid out and easy to understand
Choose from dozens of re-namable emotions to convey your mood
Upload photos, make notes, and track your sleep
Drawbacks and limitations
No free version of app — only a 7-day free trial
Additional fee for more emoticons
Pricing
$17.99/year or $1.99/month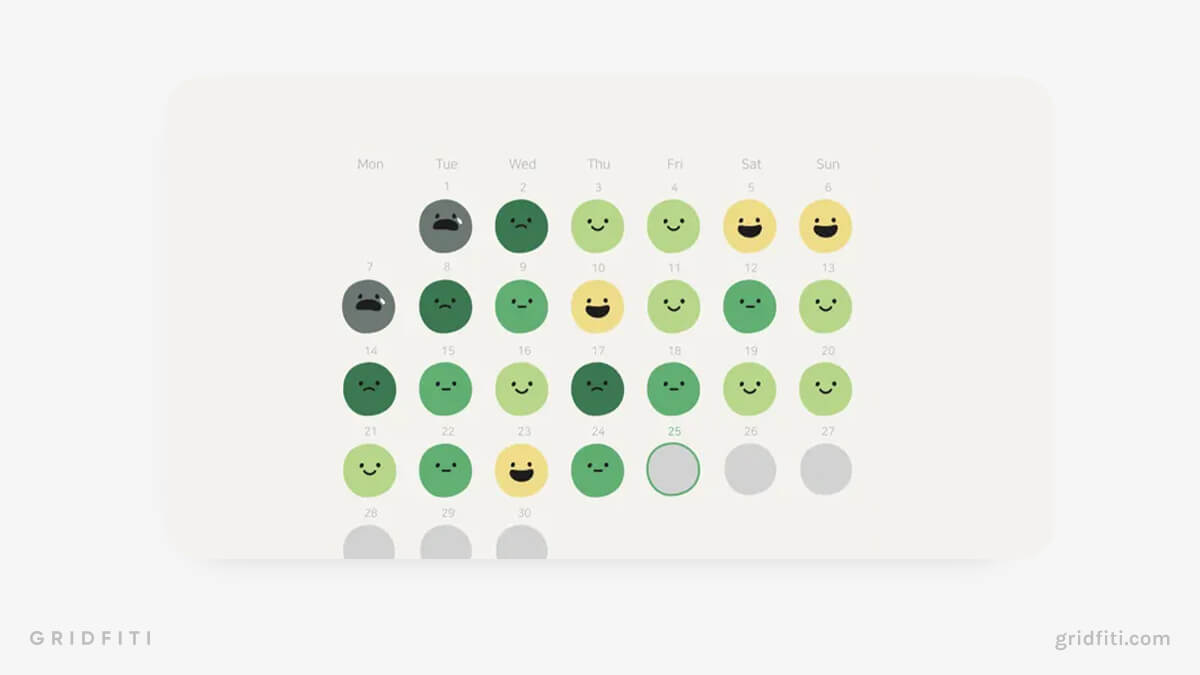 Aesthetic Mood Tracker Chrome Extensions
Prefer to track your mood while you're browsing the web on your laptop or desktop? Several Chrome Extensions let you track your mood through your browser and come complete with adorable designs and tons of features. Scroll down to check out a couple of our favorites.
Coffeelings
Check out the Coffeelings mood tracker extension if your aesthetic jibes with java. Coffeelings lets you choose between five different star ratings depicting your mood.
Each rating has a distinct coffee shade — the darker the shade, the worse your mood. After a few weeks of tracking your mood, you'll have an easy-to-interpret mood-tracking calendar.
Features and highlights
Cute coffee-themed aesthetic
Easy to track mood flows with the coffee-shaded calendar
Make notes about your mood
Drawbacks and limitations
Limited number of moods to choose from
Unable to track other factors affecting mood
Pricing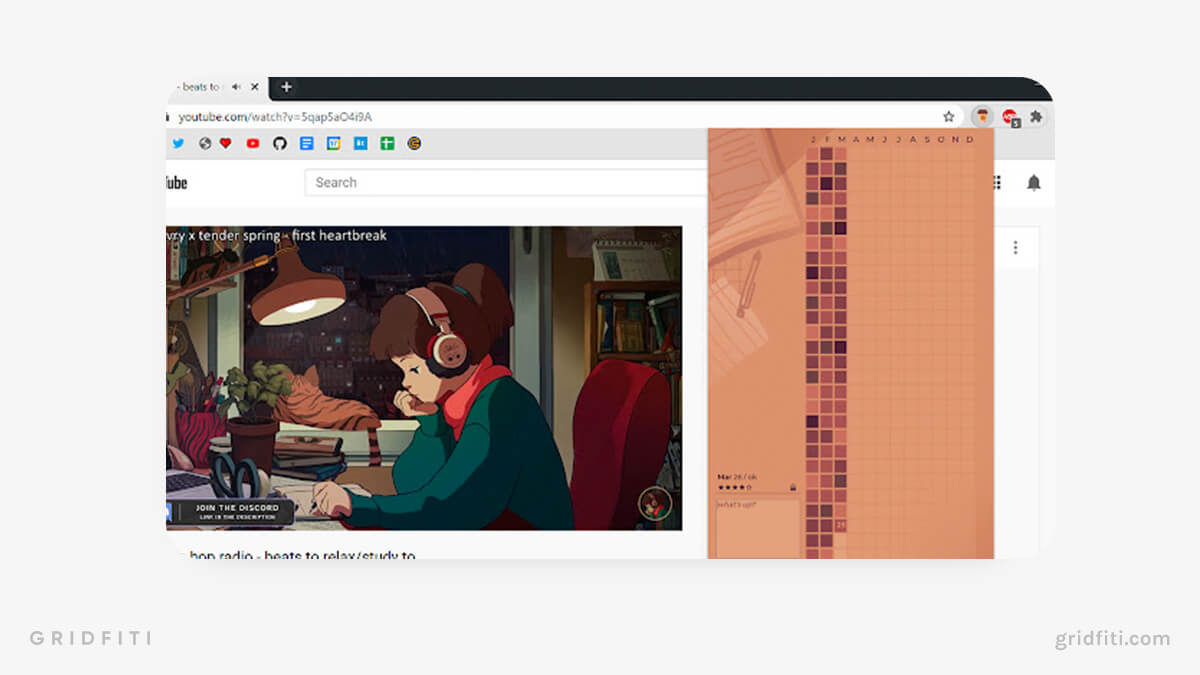 Thyself
Searching for an in-depth Chrome extension mood tracker? Thyself lets you track your mood, mental health, and mindfulness through your browser. Thyself is unique as it checks in with you at regular intervals to see how you feel at any given moment.
Once you choose your feelings from a wheel of emojis, you can state your daily intentions and self-care to-do list. You can also practice mindfulness by using Thyself's journal prompt and breathing exercises. Thyself has a team feature that lets you invite your friends and colleagues to check in with you and receive mood boosters.
Features and highlights
Uniquely checks in with you regularly to track your mood
Customize which emojis you use to align with your moods
Track your daily intentions and self-care
Practice mindfulness with journal prompts and breathing exercises
Invite friends and colleagues to share their moods
Drawbacks and limitations
Thyself's check-ins might be intrusive if you're in a deep workflow
Lack of aesthetic customization options
Pricing
Thyself Basic – Free
Thyself Premium – $3/month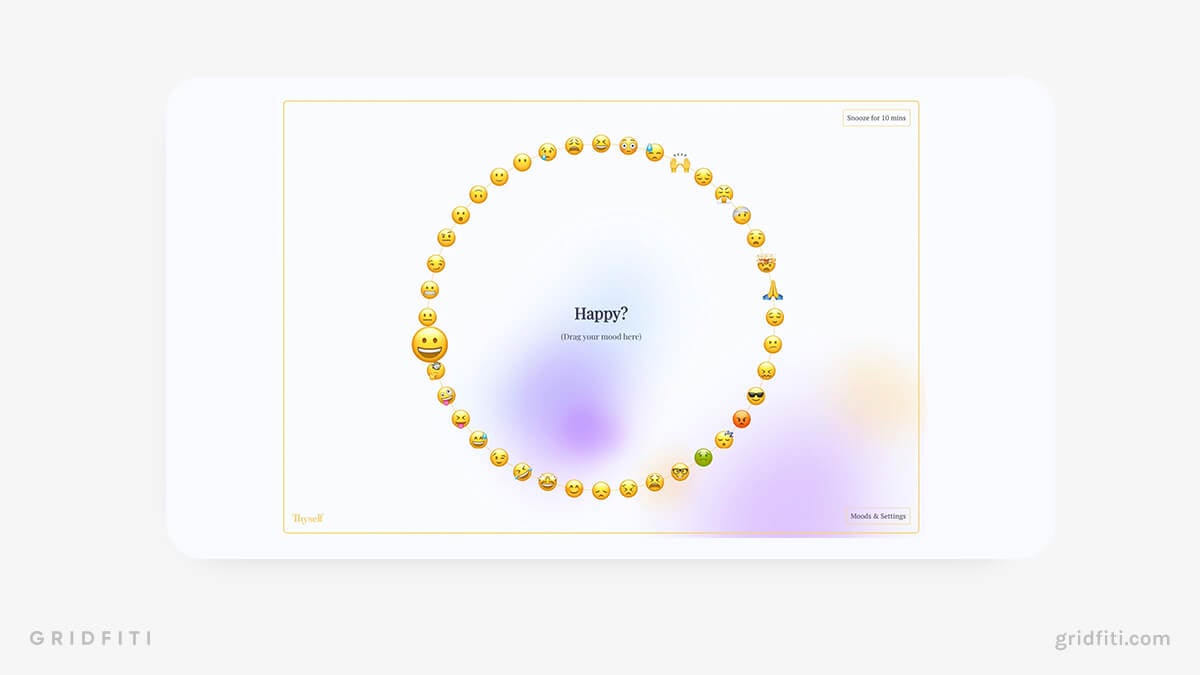 Aesthetic Mood Tracker Digital Templates
Aesthetic digital templates give you ultimate creative control over how you track your mood. Edit, add, and improve a digital template to fit your needs, or shop around for the perfect template for your aesthetic. Scroll down to see some of the best mood tracker templates for Notion, GoodNotes, and Google Sheets & Excel!
Notion
For more templates like these, don't miss our full round-up on Notion mood tracker templates.
Templates: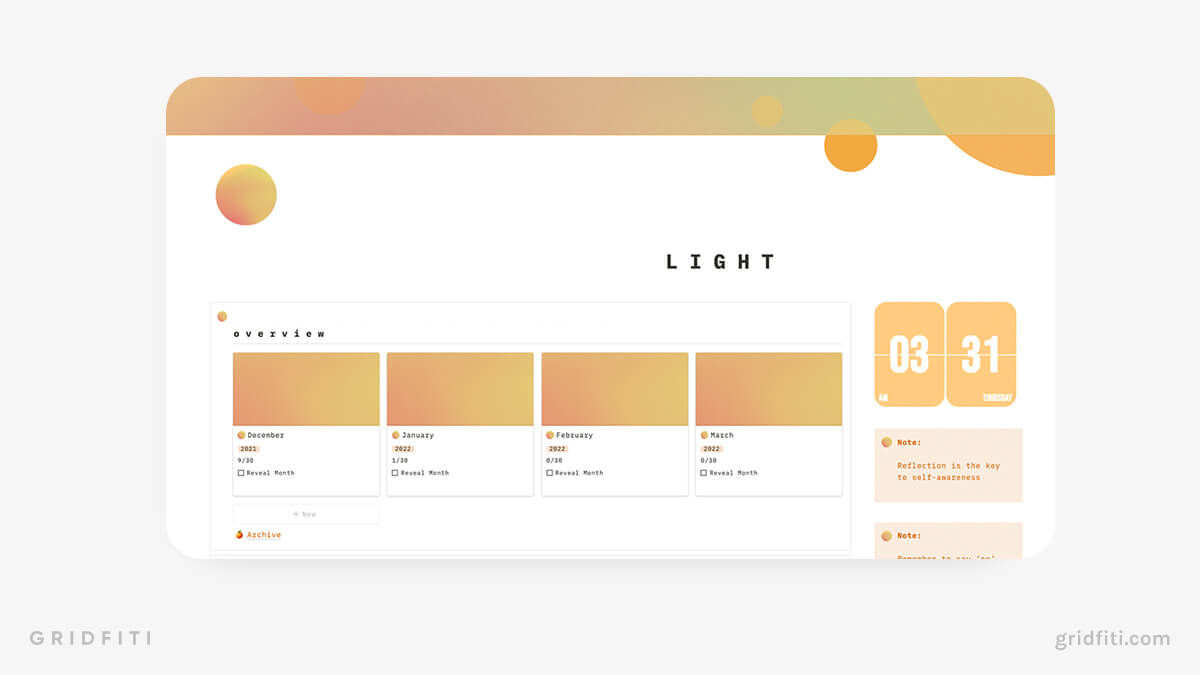 GoodNotes
Templates: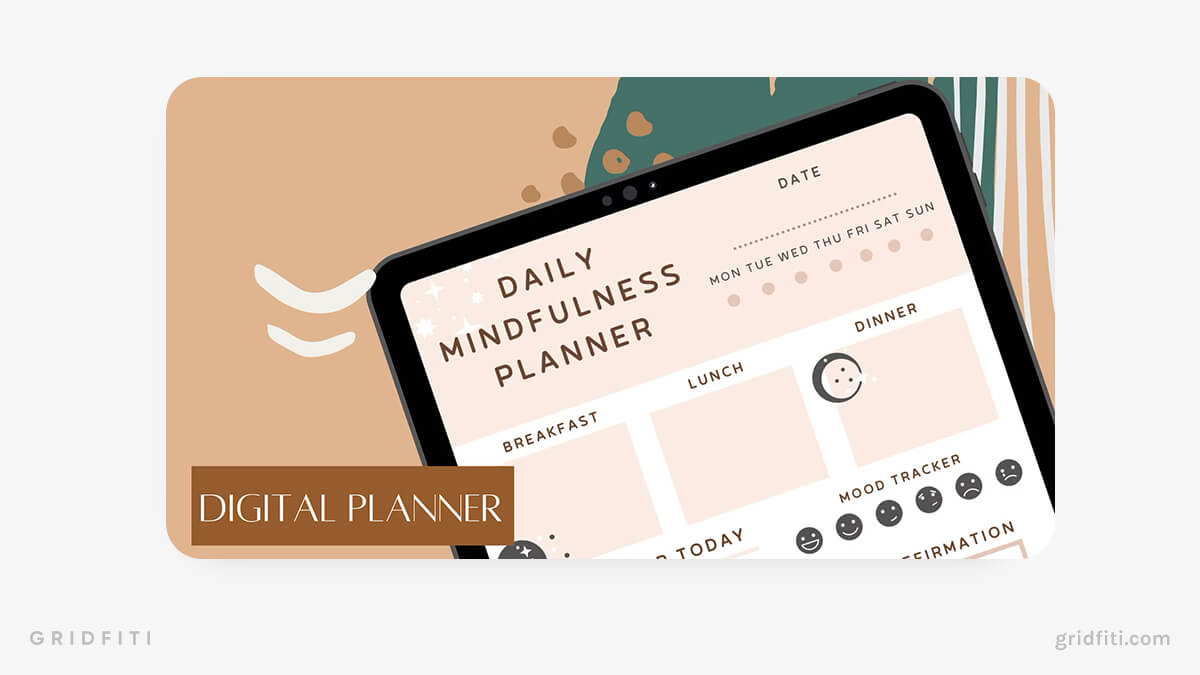 Google Sheets & Excel
Templates: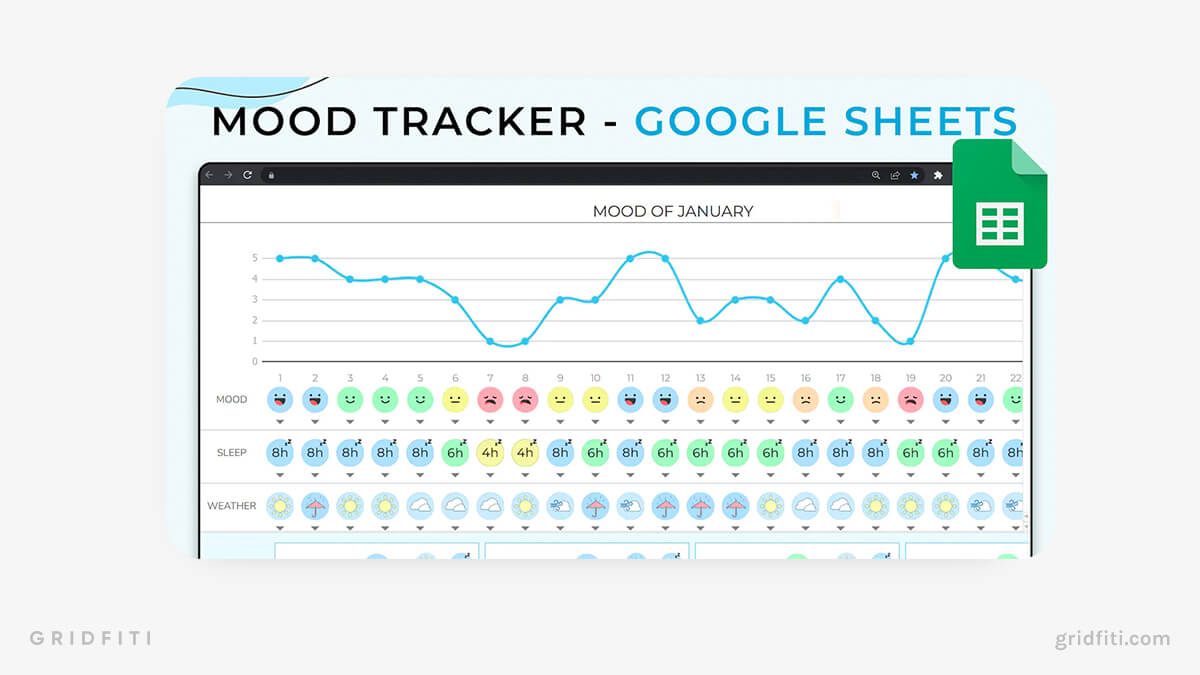 Which mood tracker app or tool do you see yourself using? Any great aesthetic mood trackers we've missed? Let us know in the comments below!
Gridfiti is supported by its audience – when you buy something using the retail links in our posts, we may earn a small commission at no additional cost to you. Read more about our affiliate disclaimer.