Keeping a mental track record of your fitness progress can be cumbersome – but with a Notion workout template, you can track your fitness goals and progression easily from any device!
Whether you're new to working out and want to improve your wellness or you're a fitness vet following an intensive regimen, we've curated the best Notion workout templates to suit every skill level and fitness goal!
---
Looking for more productivity tips and tools? Subscribe to The Flow — our quick, snappy, value-packed focus and recharge newsletter. Also, don't miss our several other Notion template round-ups and guides!
---
All-in-One Life OS Template with Workout Tracker
A place to track your workouts by stats, fitness progress, have your favorite workout programs for quick gym access, and store workout playlists? Say no more! Life OS by yours truly includes a dedicated Fitness & Workouts section to track your workouts by date, location, sets, reps, time, calories burned, weight lifted – whether you want to plan an upcoming workout, or log an existing workout as you go. If you're on a fitness journey to lose or gain weight, you can also monitor your progress with stats and photos to stay motivated!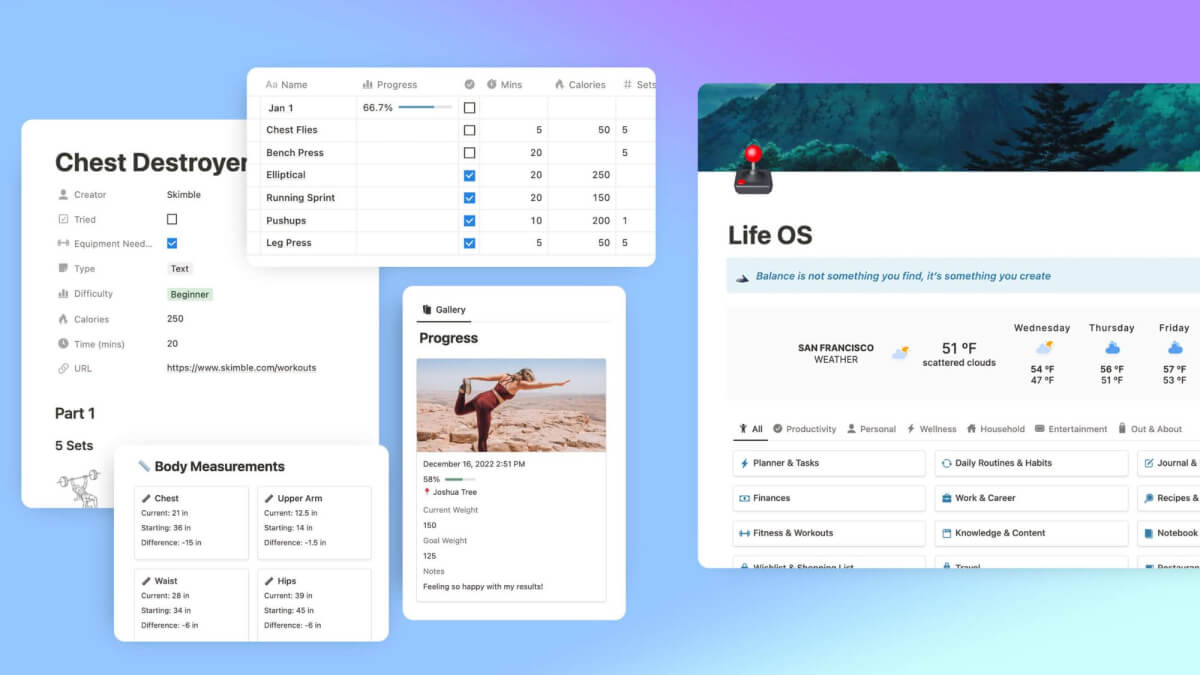 The Ultimate Notion Workout Tracker
Plan your workouts and track your progress with the robust Ultimate Notion Workout Tracker template! With this full workout operating system, you'll get a bodybuilding hub, workout tracker, body measurements tracker, pre and post-workout routines, competitions and races manager, and so much more!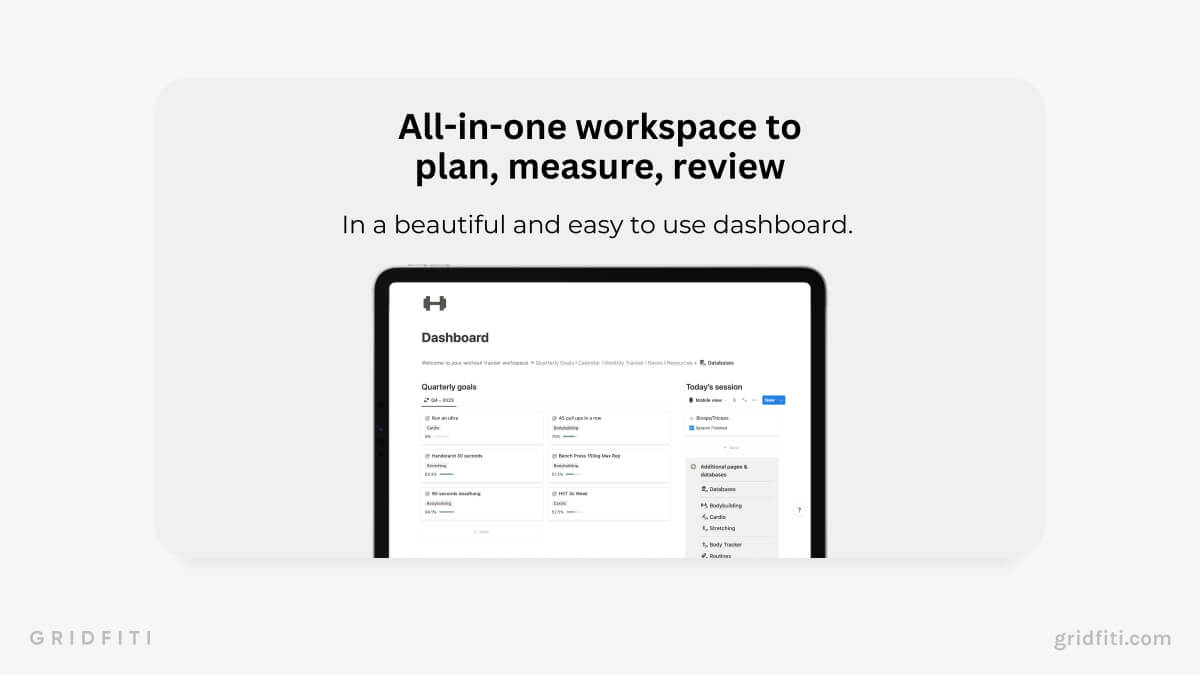 Notion x Fitness
Notion x Fitness focuses on all aspects of your health, letting you manage your diet, create the perfect workout plan, and track your weight. It's one of the best Notion workout templates around, with over 100 hand-picked exercises covering cardio, strength, and flexibility training. Plus, Notion x Fitness has a version designed specifically for mobile so you can track your fitness on the go!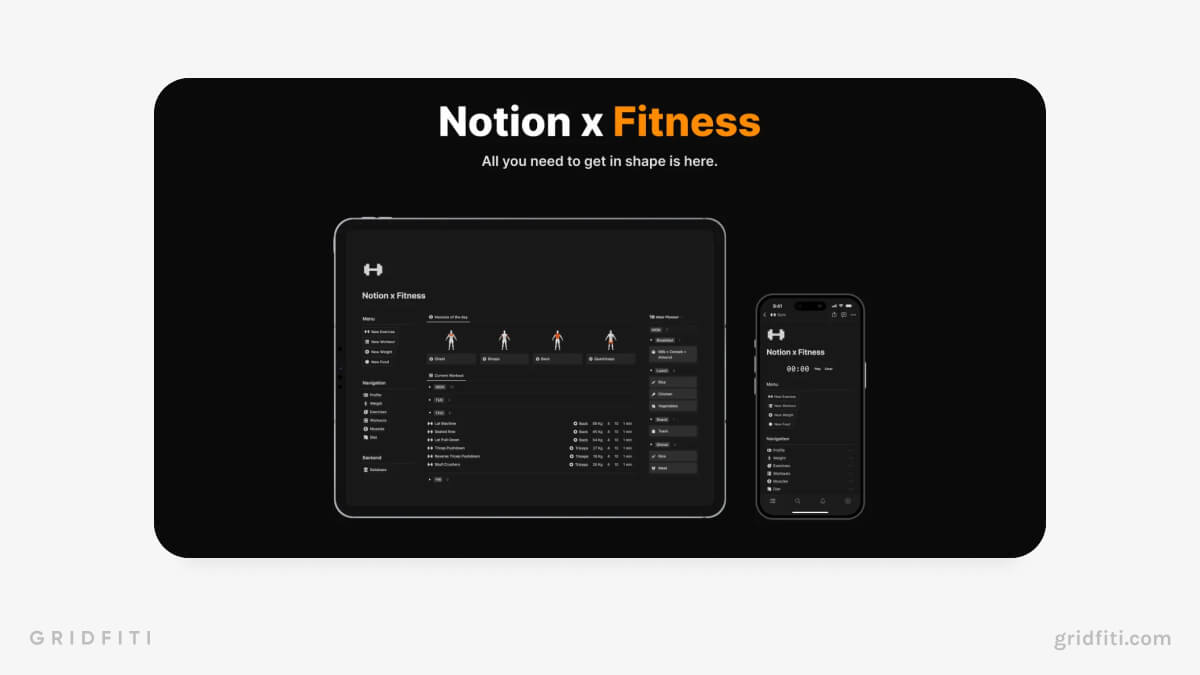 Body Lab – Nutrition & Fitness Management System
Dive deep into the science behind fitness right in Notion with Body Lab. View useful statistics about your health, from your BMI to your daily calorie intake. This template includes a free weight loss chart to make reaching your exercise goals easier.
Body Lab also has a starter database of 30 exercises which lets you quickly calculate calories burned. Track your steps, add journal entries and other details about your workouts, and build your photo gallery for extra inspiration!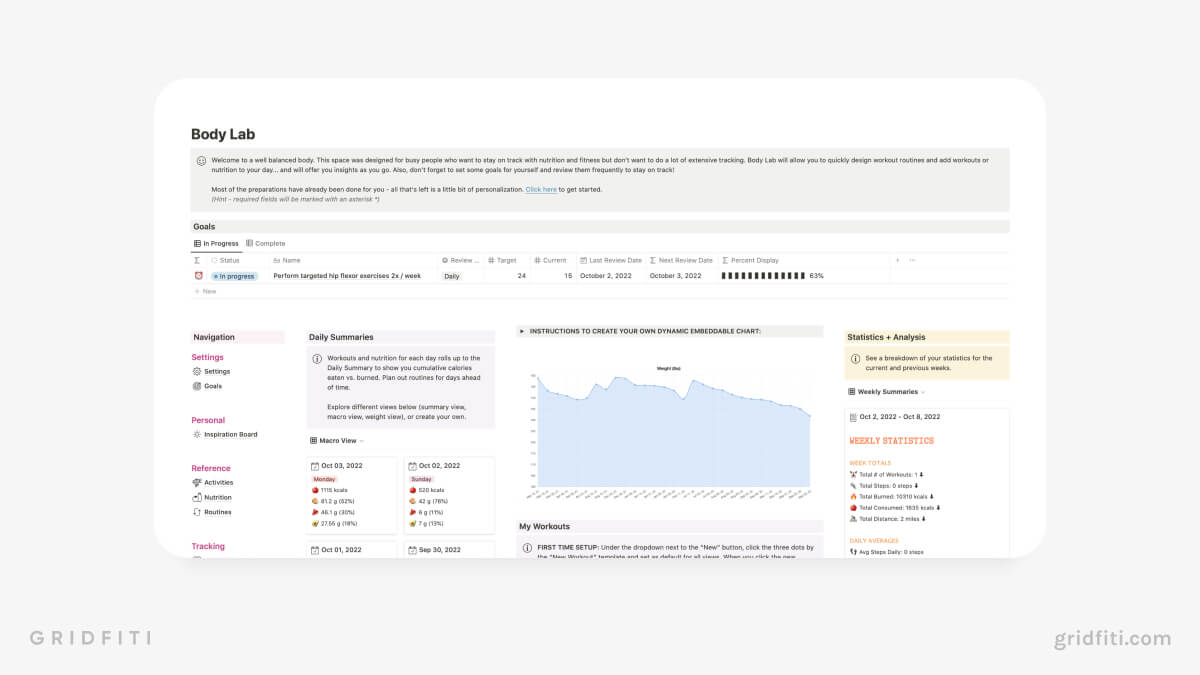 Beastmode Notion Workout OS
Track your strength and body training in this Notion workout operating system! The Beastmode OS includes 180+ illustrated exercises, progression planning, an integrated training report, and more. This template makes great use of Notion's database features – making everything seamlessly connected and calculated for you, especially in the workout and progress databases.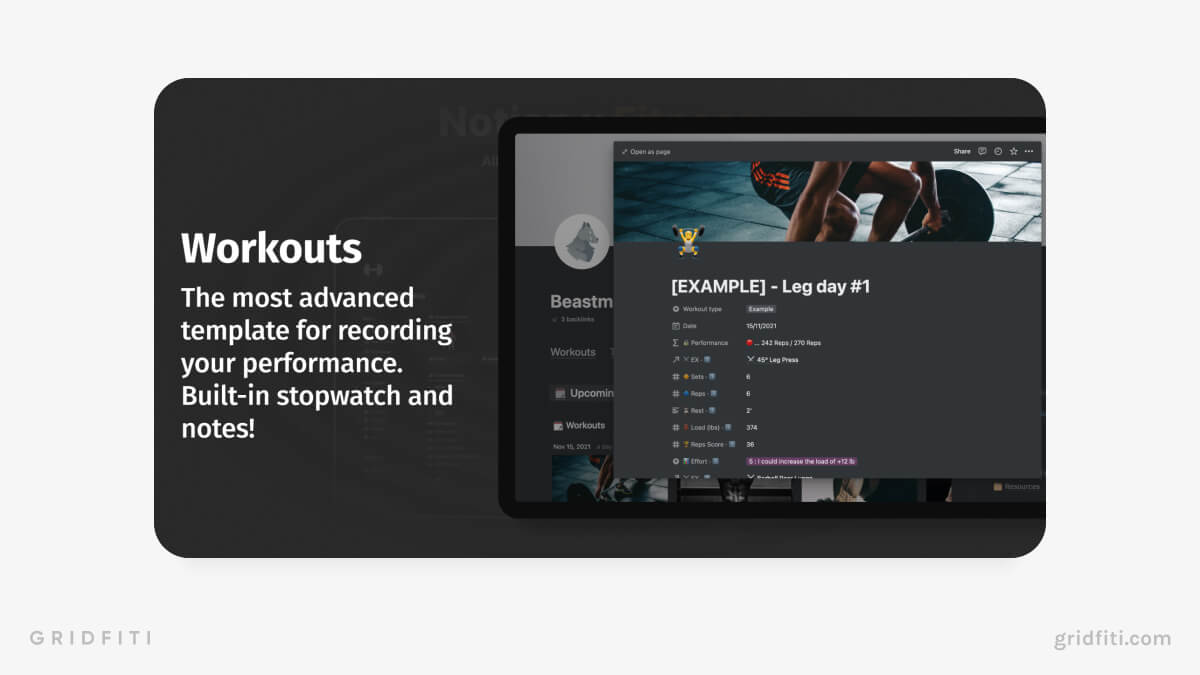 Workout Compass: Daily Workout Planner – Notion Exercise Template
Visualize and plan your workouts with this daily workout planner template in Notion. Using this template, you'll be able to learn 32 new exercises, track your workouts, set time intervals and get an overview of the impact on your different muscle groups – all to help you reach your strength and conditioning goals.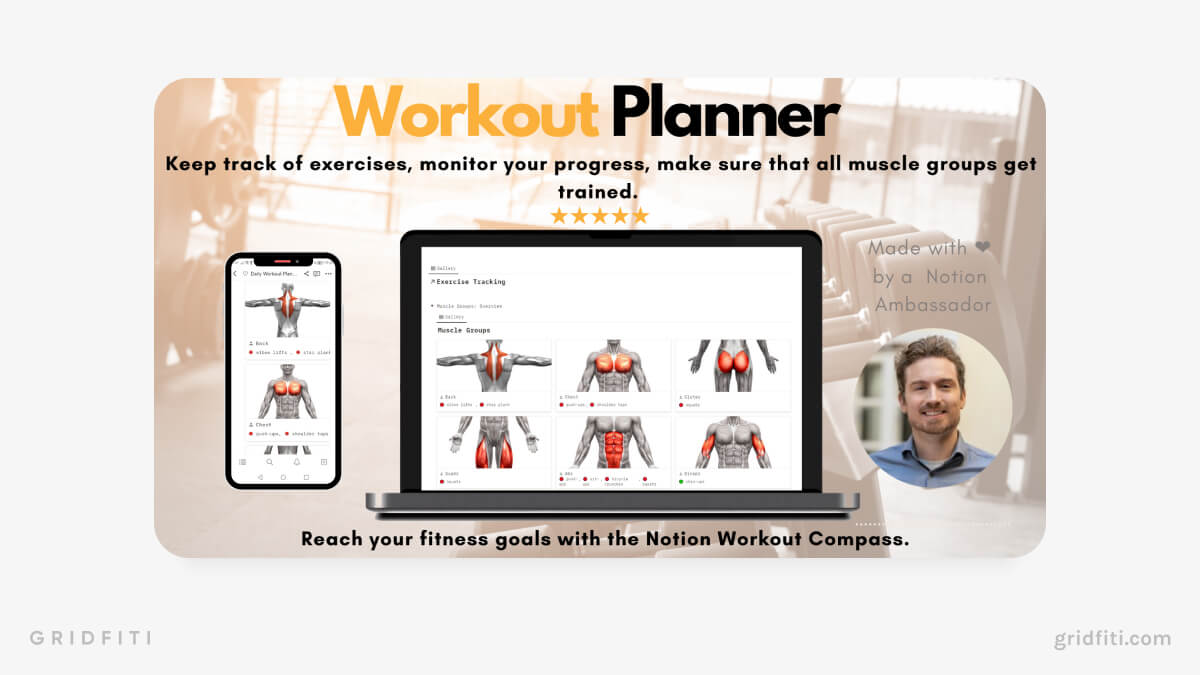 Health Hub OS
Track everything wellness-related right in your Notion workspace with the ultimate health operating system: Health Hub OS! This Notion OS consists of over 15 unique templates and 10 different health trackers that are easily customizable and organized – all packaged in a minimal dashboard. Use the physical log to track your workouts, diet, calories, and more.
For more health templates, check out our blog post featuring the best Notion health templates!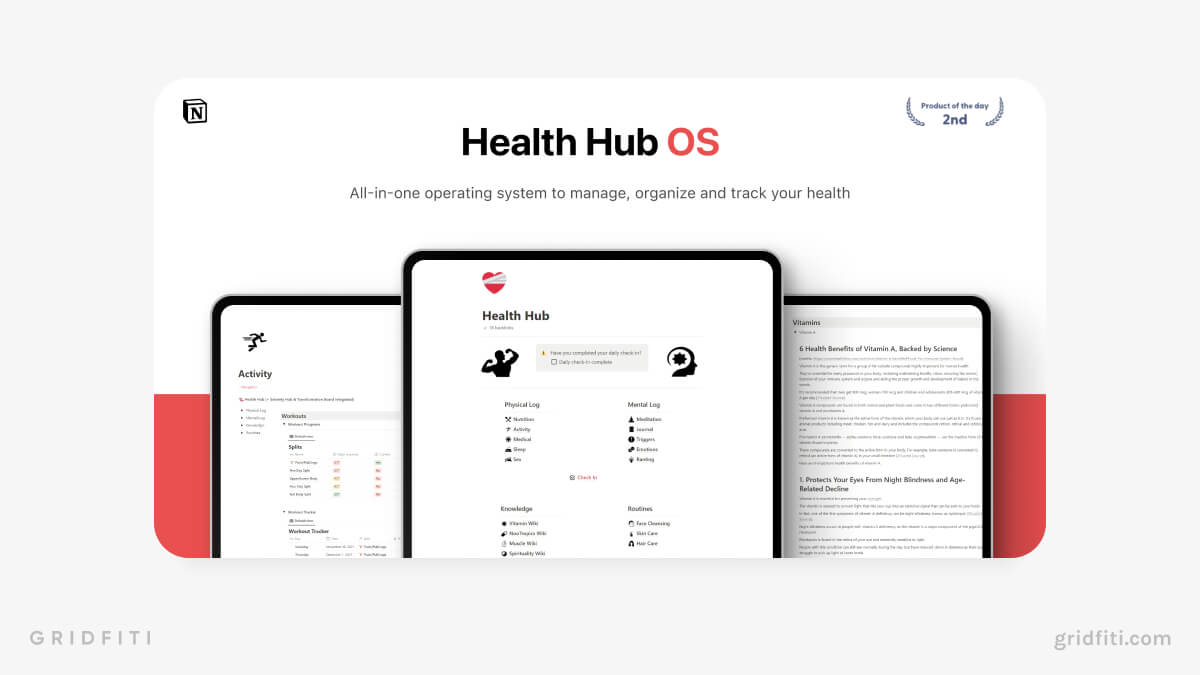 Ultimate Workout System Notion Template
With the Ultimate Workout System template, you'll be able to plan and track your workouts – while also learning a complete 6-day split resistance training program, complete with YouTube links and notes to make sure you're maximizing your physical activity.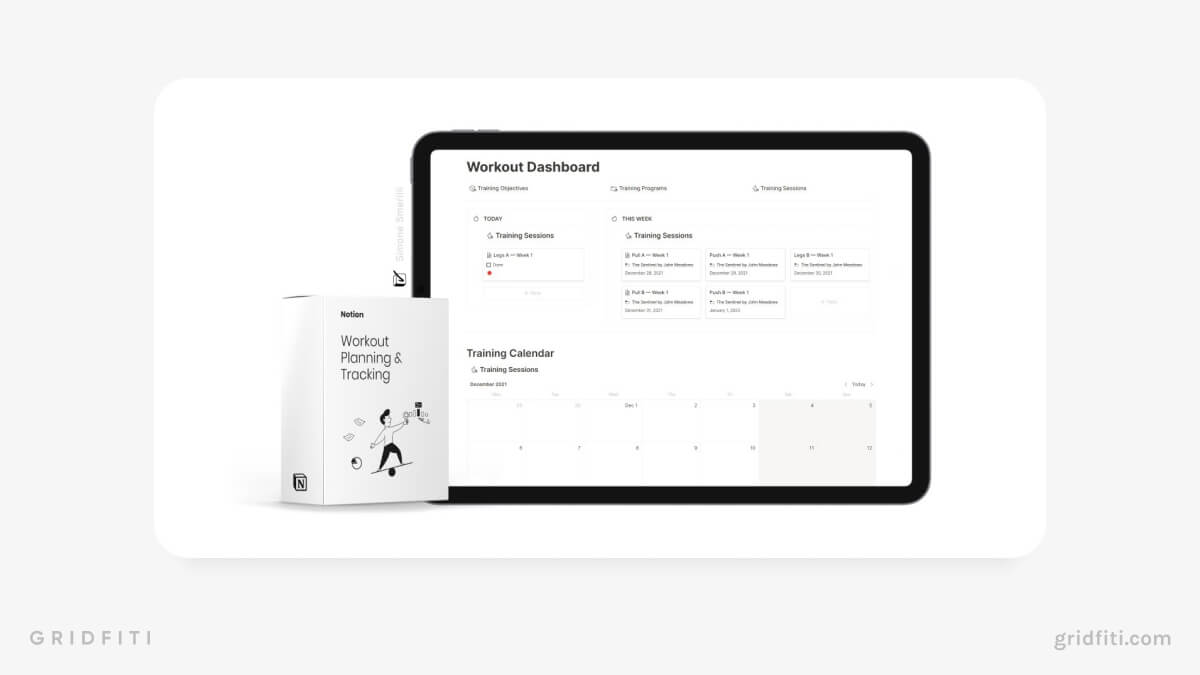 Workout Pro – Advanced Fitness Template
Workout Pro lets you get super granular with your workout routine. Plan your workouts for the entire year using the intuitive calendar view, and set up workout periods focusing on different activities and exercises.
Review your progress and past activities to know how much you should increase your load to make noticeable gains. And if you need more guidance, you can check out the Resources page complete with helpful videos to guide you on your fitness journey.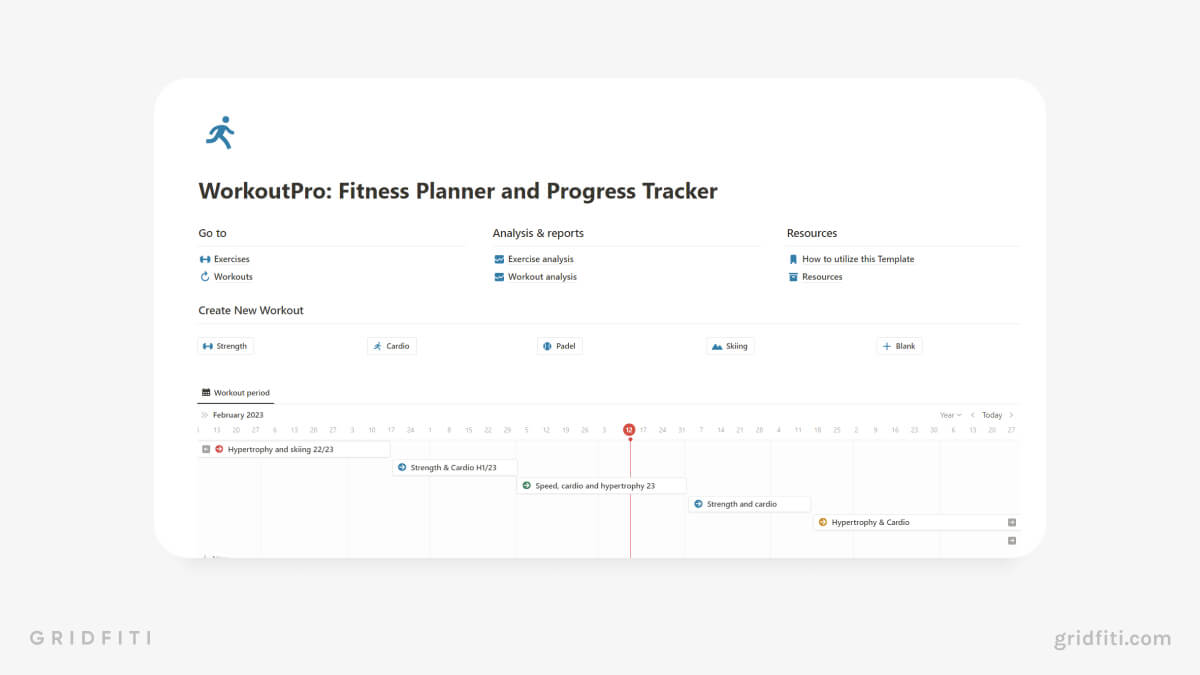 Fitness Tracker Template
Planning to get in shape but unsure where to start? The Fitness Tracker Template is a great Notion gym template for beginners, with 20 predesigned workout routines and a library for storing your favorite activities.
Sort your workout schedule by day, week, month, or year, use the motivation board and journal to set goals and reflect on your workout journey, and more!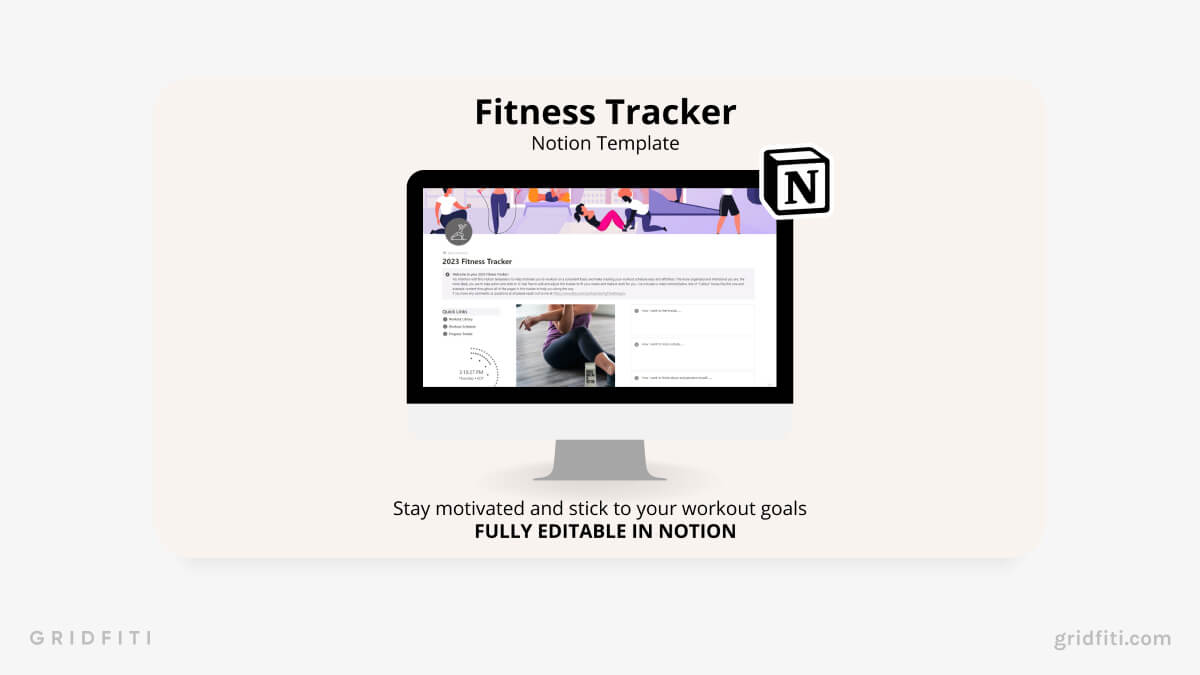 Aesthetic Green Fitness Dashboard
The Aesthetic Green Fitness Dashboard is your one-stop shop for getting in shape. No more skipping leg day — this fitness template features over 20 PNG icons for sorting exercises by muscle group so you can easily see what's up next.
Annotate each workout with weight, reps, rests, and more. Use the calendar view to make a schedule and get individual goals. Plus, you can switch up your aesthetic with icons, covers, and color palettes.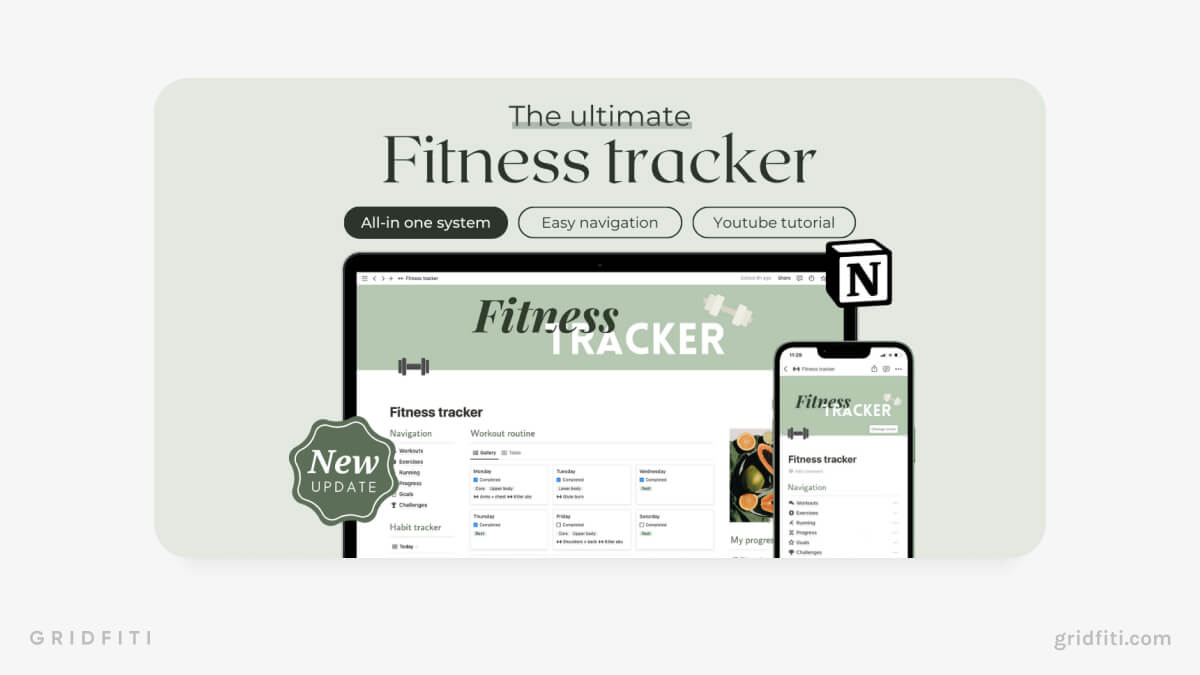 Workout Tracker Dashboard
The Workout Tracker Dashboard is perfect for on-the-go training, with a few bells and whistles to motivate you further. Gamify your exercise with a leveling-up system tied to your completed workouts, and use the food tracker to stay on track with your diet.
Videos and illustrations accompany each exercise to ensure you perform reps correctly and safely. While at the gym, view your upcoming exercises and set a custom rest timer right from Notion.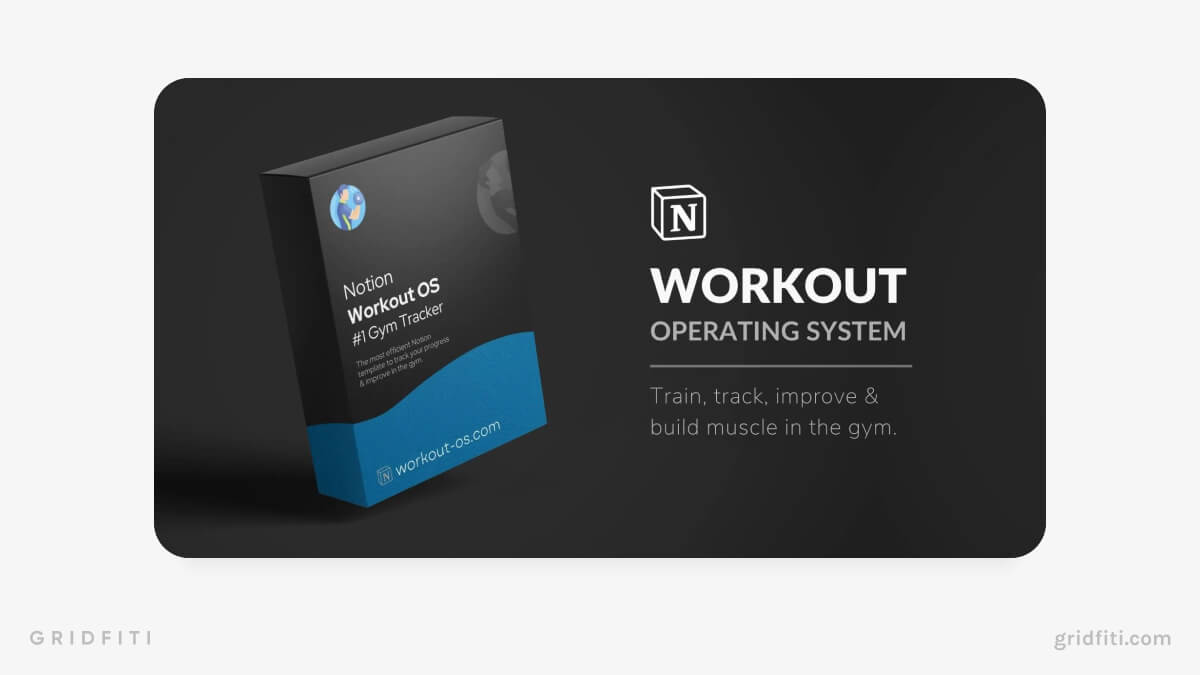 Obsidian Life OS
The Obsidian template is an all-in-one personal workflow Notion system designed to help you understand and accomplish your goals with tangible action items. It includes an entire health section with templates to track your workout plans, body health, and workout routines!
Check out our full round-up of Notion Life OS templates for more!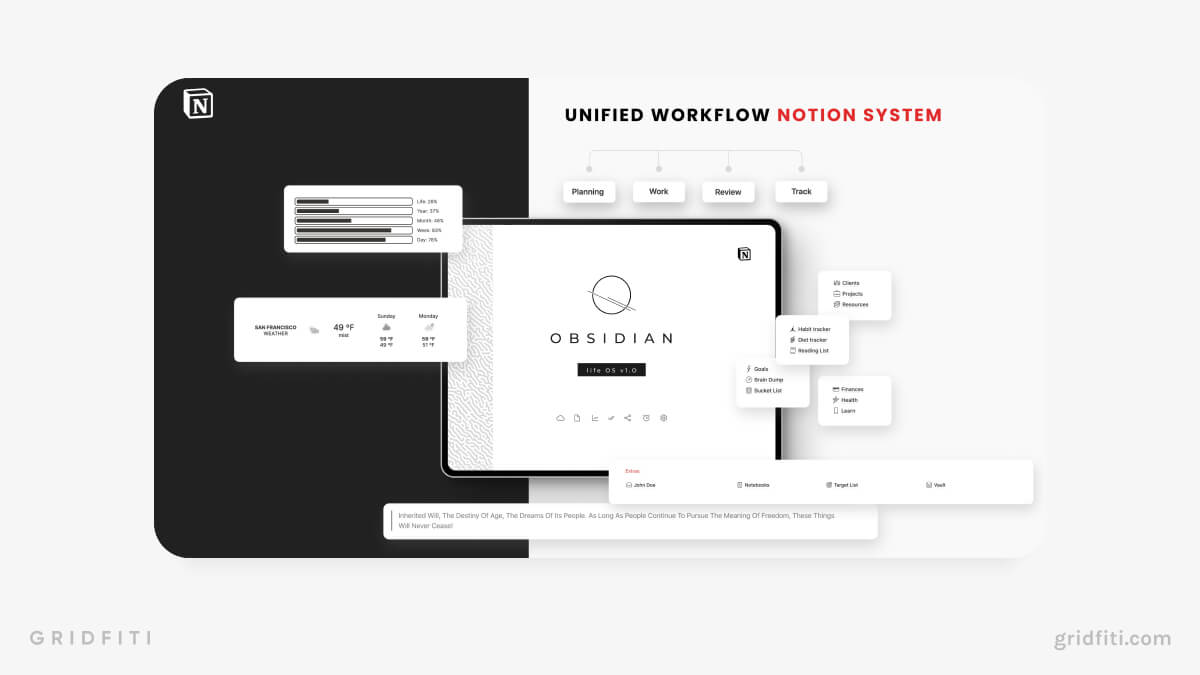 Food & Sports Diary
The Food & Sports Diary is ideal for all things nutrition, with a massive database of 1,100 foods sourced from FoodData Central with accompanying nutritional values built in. Create weekly meal plans and a collection of your favorite recipes. Once your nutrition is sorted, switch to the workout database of over 200 activities to devise a routine that suits you!
Check out our full round-up of Notion meal planner templates for more options like this.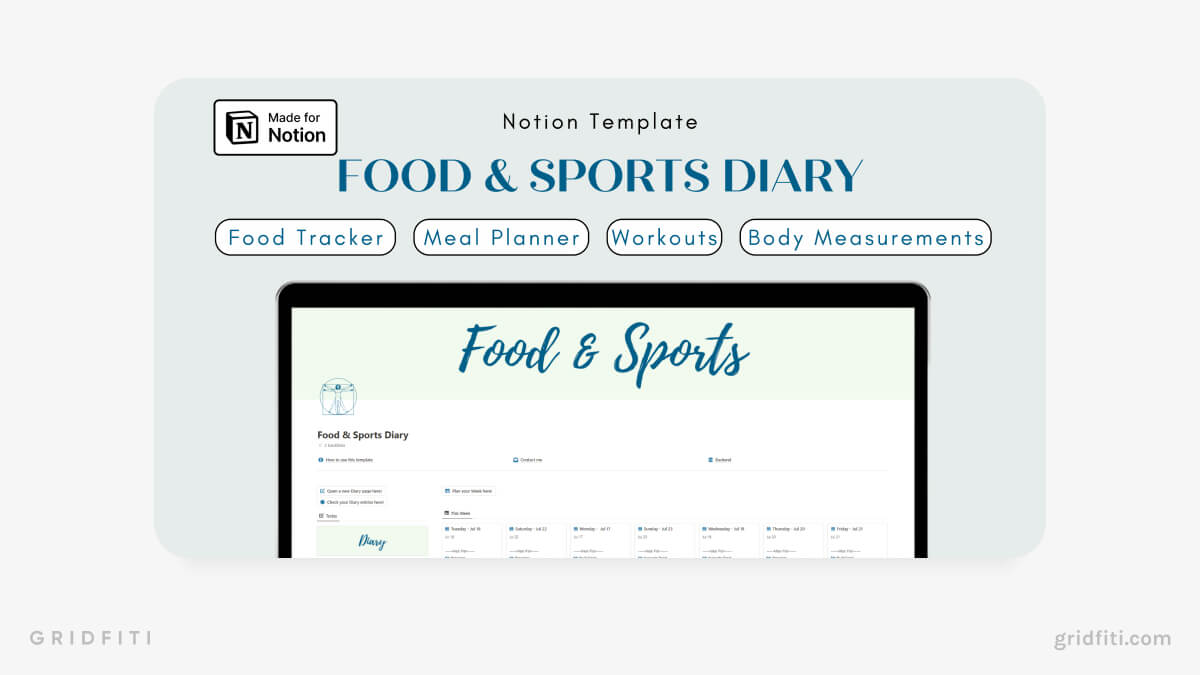 Running Race Tracker
Get those legs pumping with Running Race Tracker! The ultimate Notion fitness template for runners, Running Race Tracker lets you log all completed races, including distance, time completed, results, and much more.
Organize future races, from the status of the race to your accommodation and transportation details. Plus, you can track your triumphs by uploading pics of your medals to the trophy display!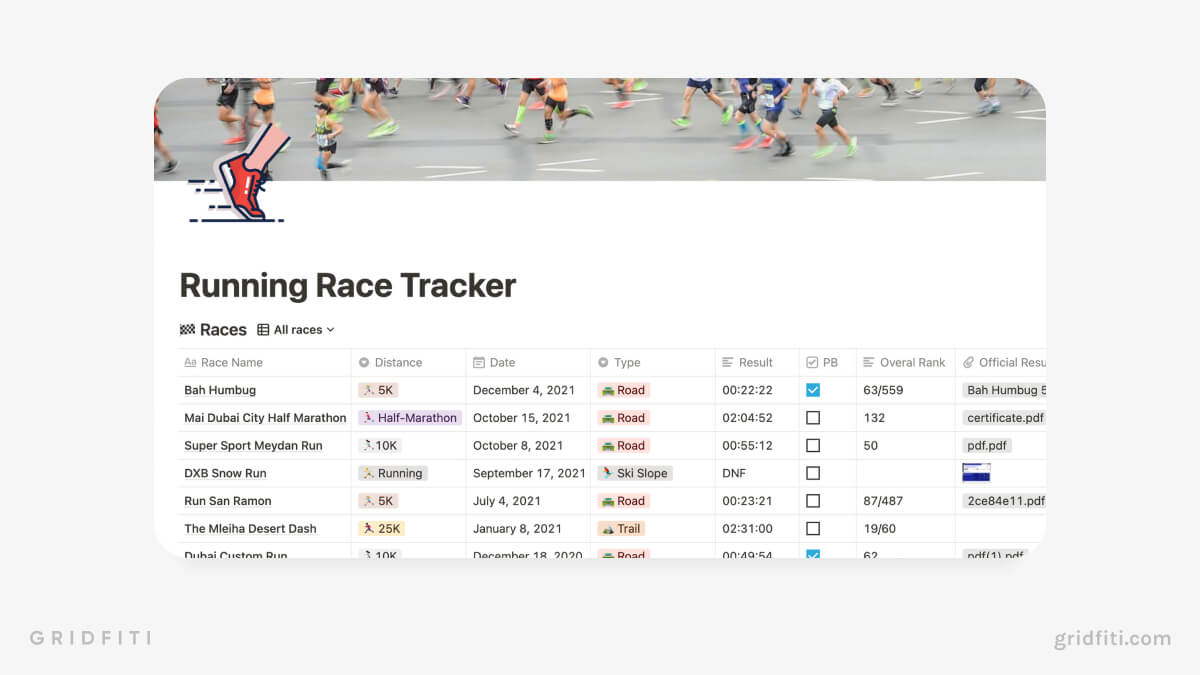 The Ultimate Yoga Planner
Find your center, practice mindfulness, and improve your physical well-being with the help of The Ultimate Yoga Planner. Discover a library of over 24 classes with info about their purposes, length, and intensity — perfect for beginners and experts alike. Set yoga goals, create weekly schedules, and track your progress across 6 customizable metrics.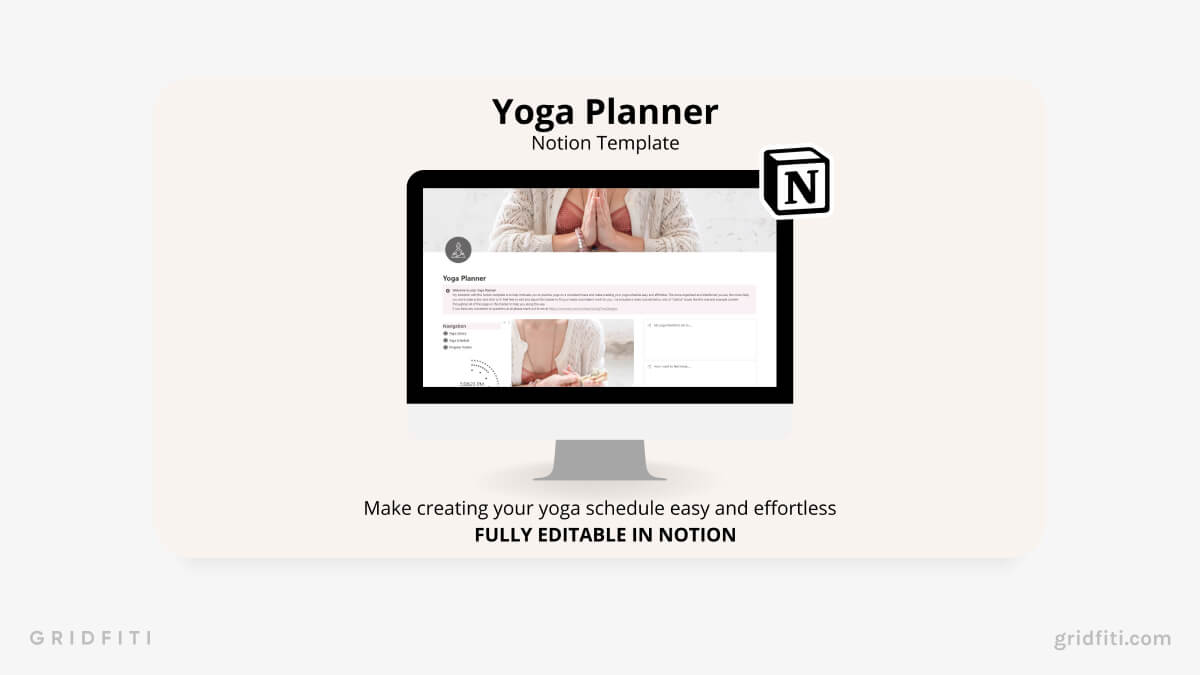 Weight Loss Tracker
Check out the Weight Loss Tracker if trimming down is the aim of your training. Determine your daily weight objectives, and Weight Loss Tracker will auto-update your weight loss and BMI (shown as a percentage towards your goal). Input your body measurements with a BMI guide for reference. Track your nutrition with 20 preloaded healthy meals complete with kcal, protein, and fat calculators.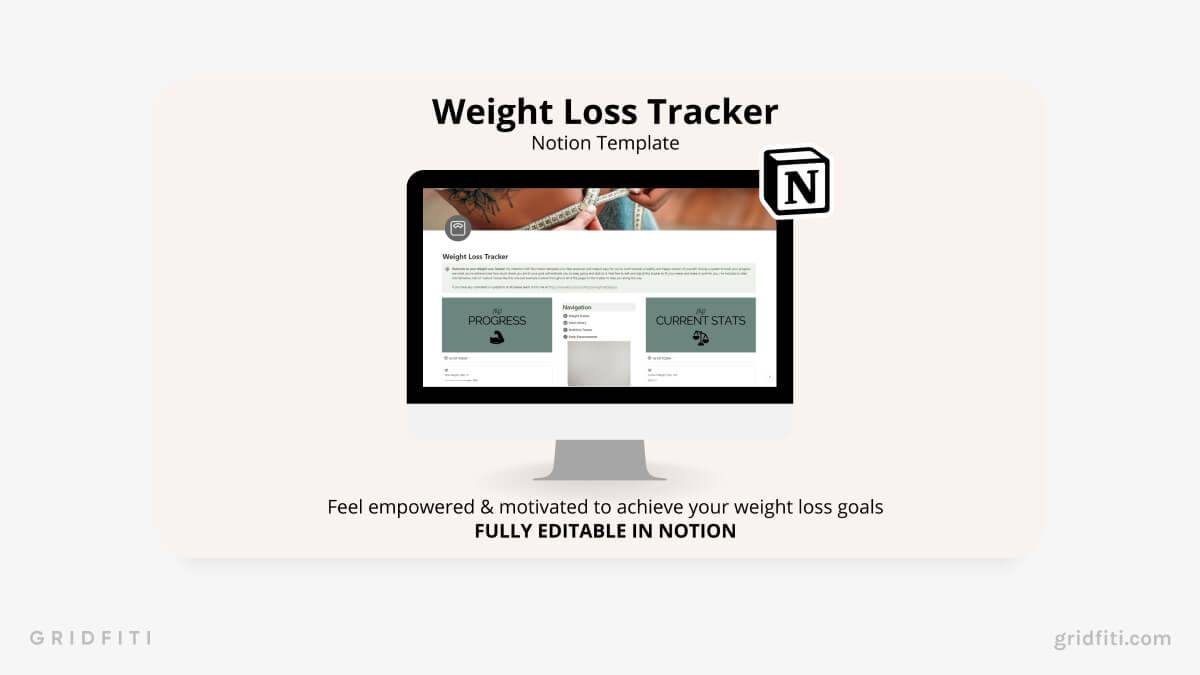 Free Notion Workout Templates
If you're still working out the kinks in your exercise routine, check out these free workout templates to find out if Notion is the right tool for achieving your fitness goals!
Aesthetic Health & Fitness Notion Tracker Template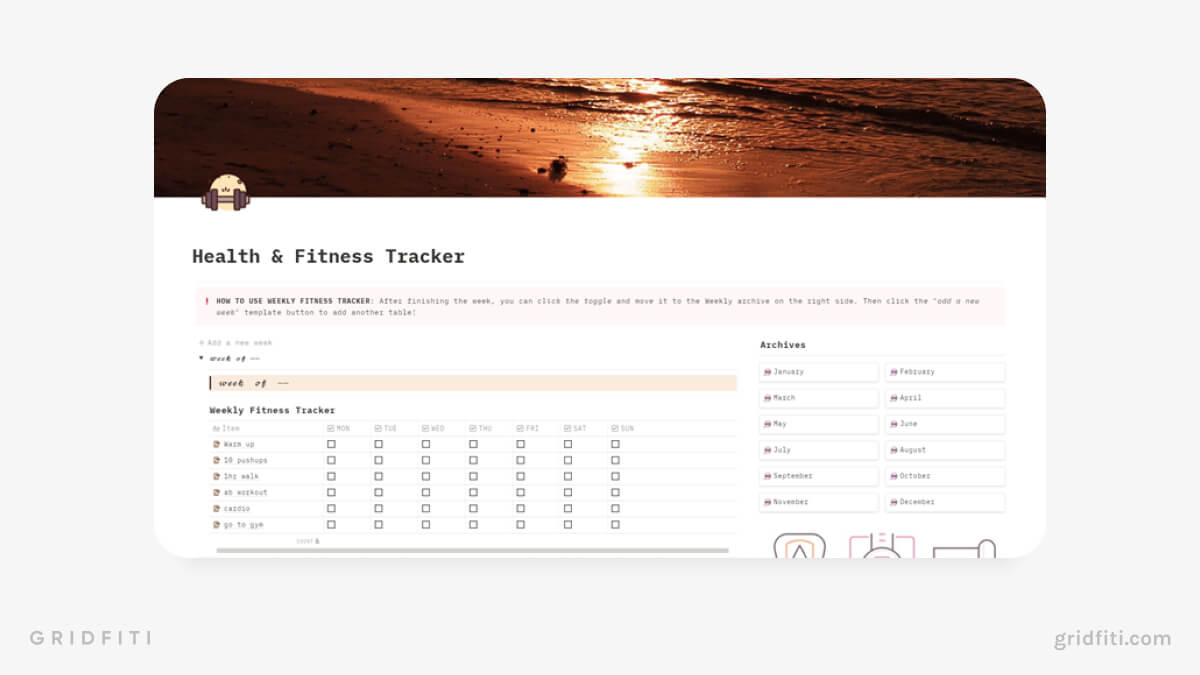 Notion Fitness Calendar Template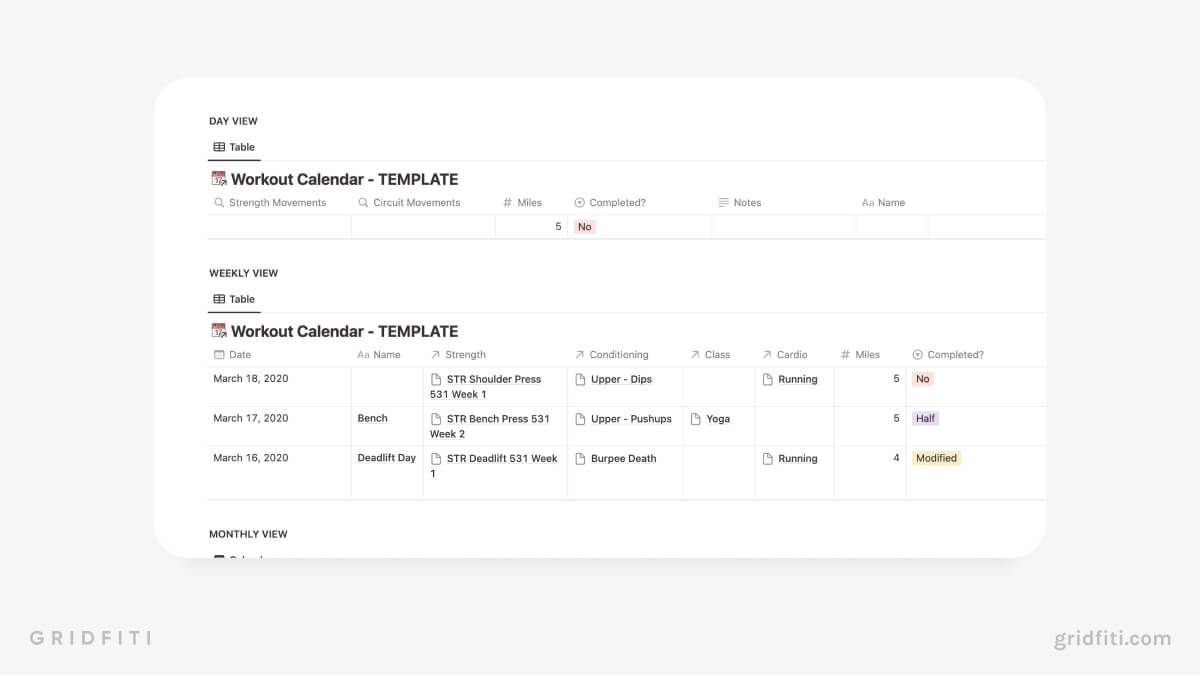 Powerful 30-Day Workout Challenge Template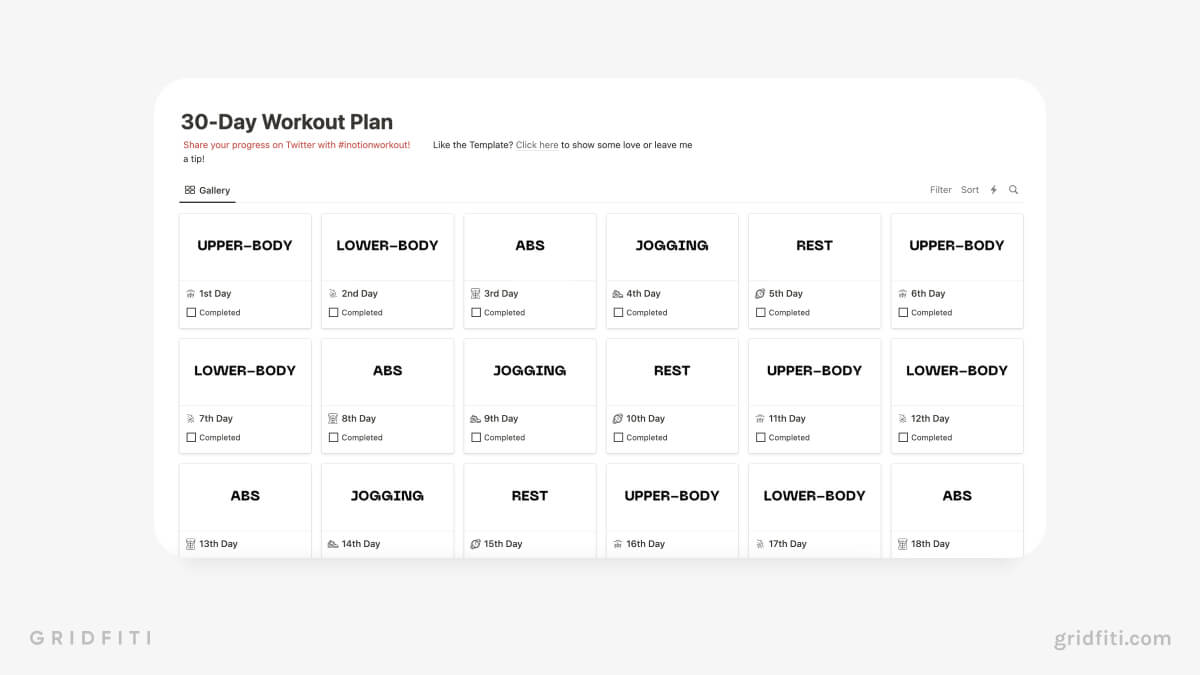 Calendar Workout Planner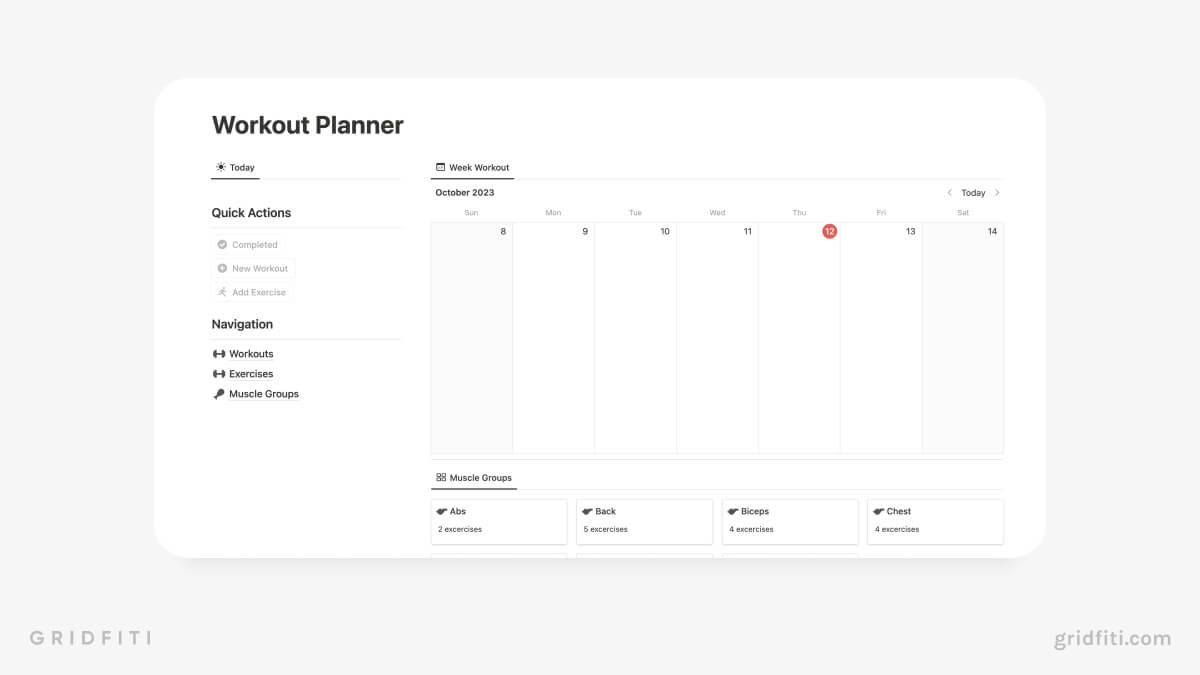 Minimal Workout Tracker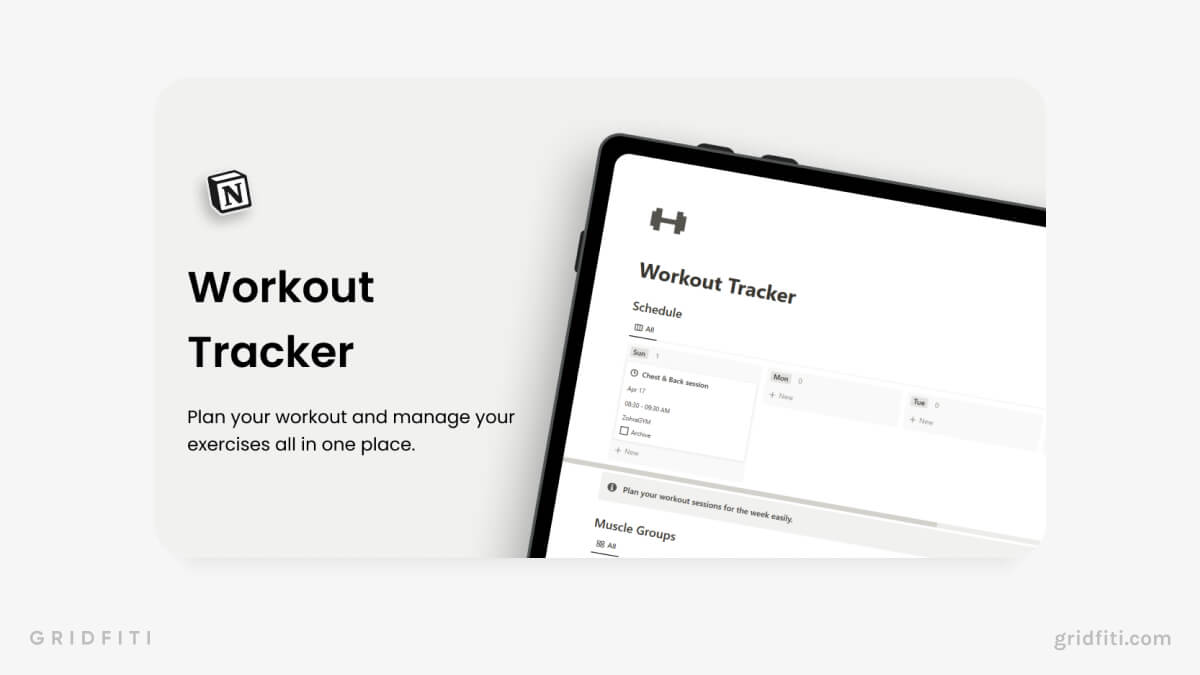 Bodyweight Workout Tracker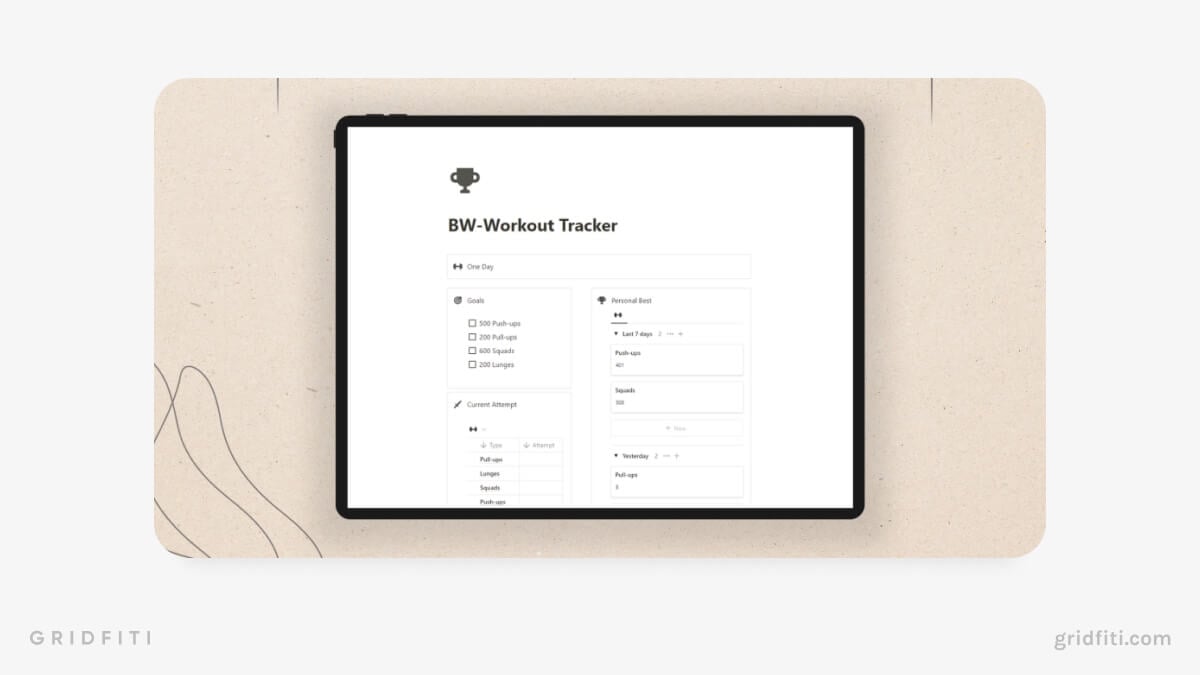 Workout Partner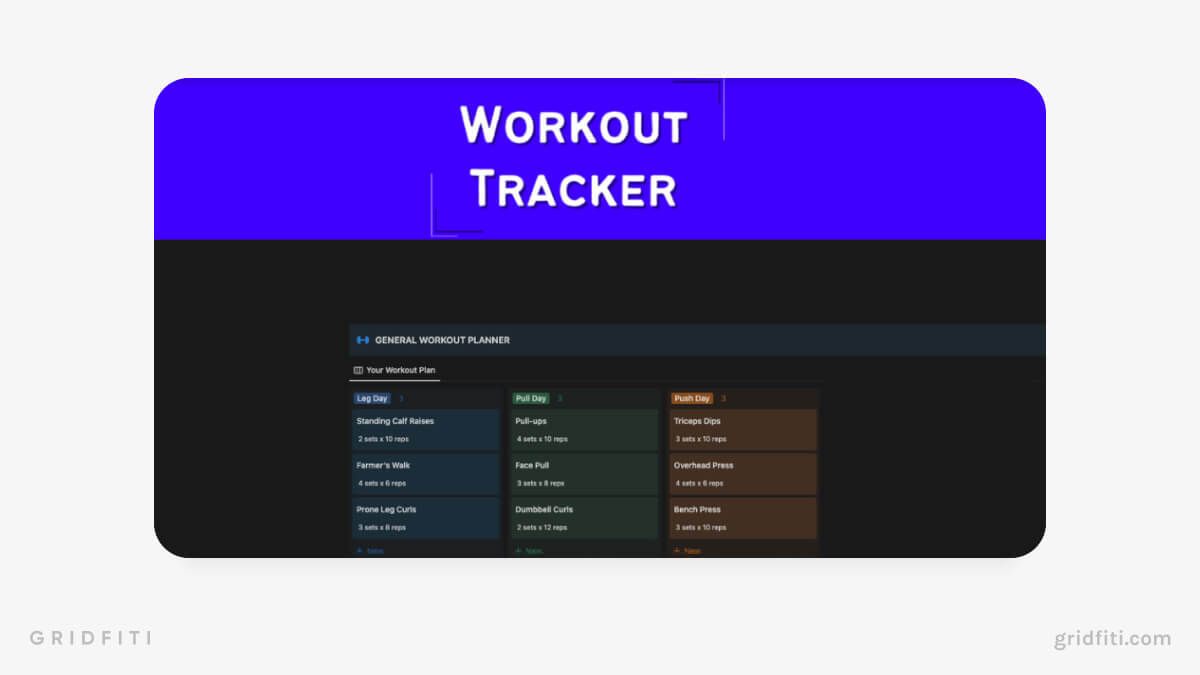 Workout Crusher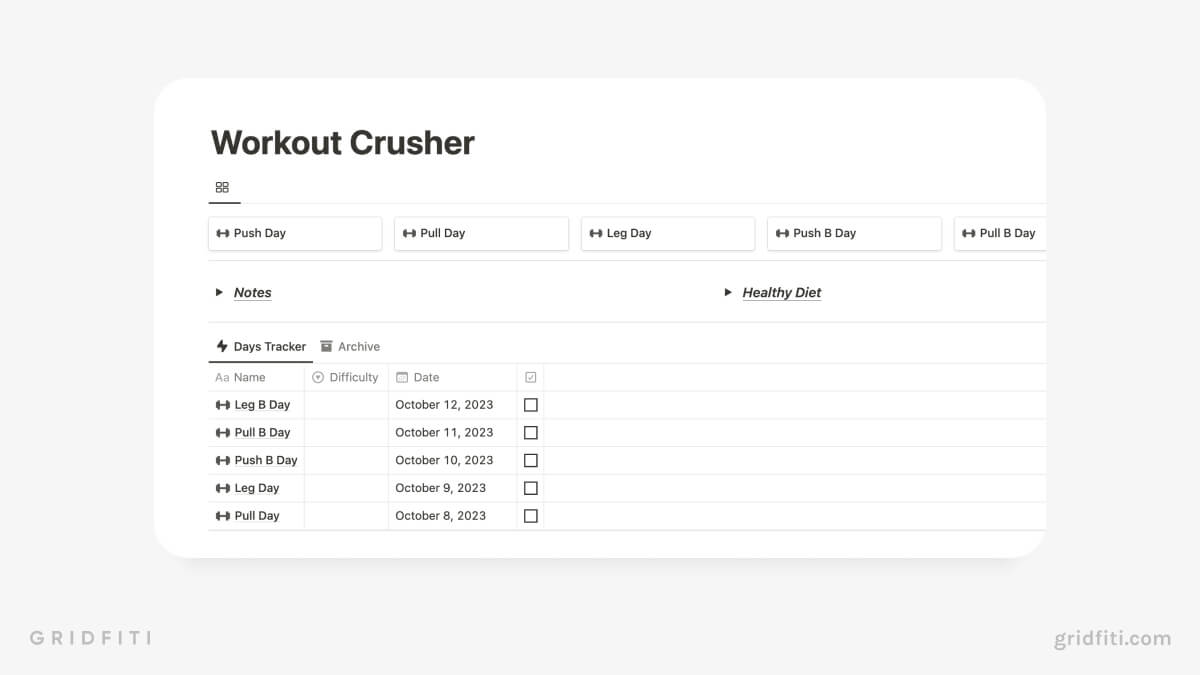 Bodyweight Workout Tracker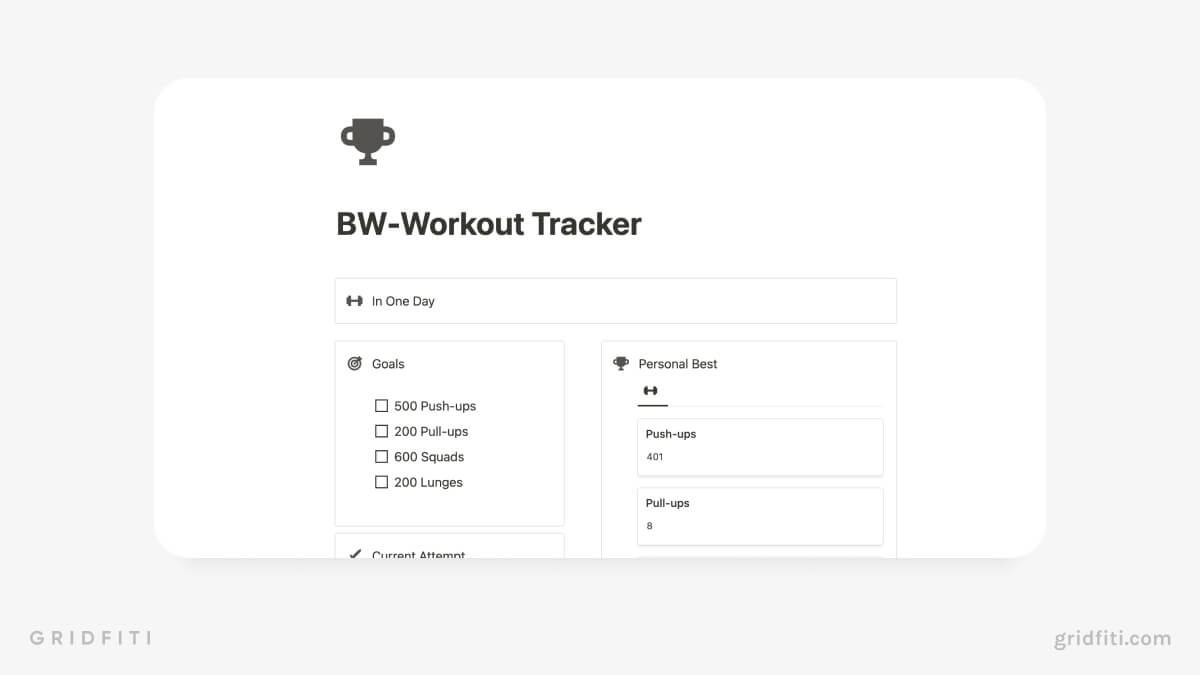 Simple Exercise Tracker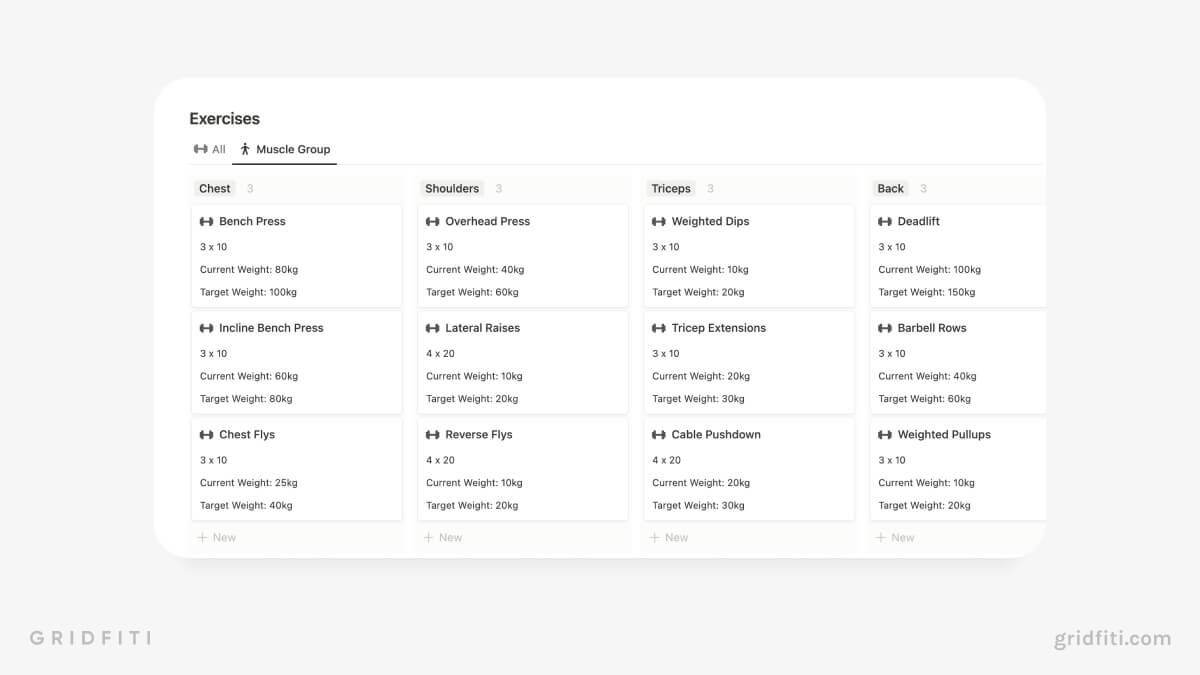 Nutrition & Fitness Dashboard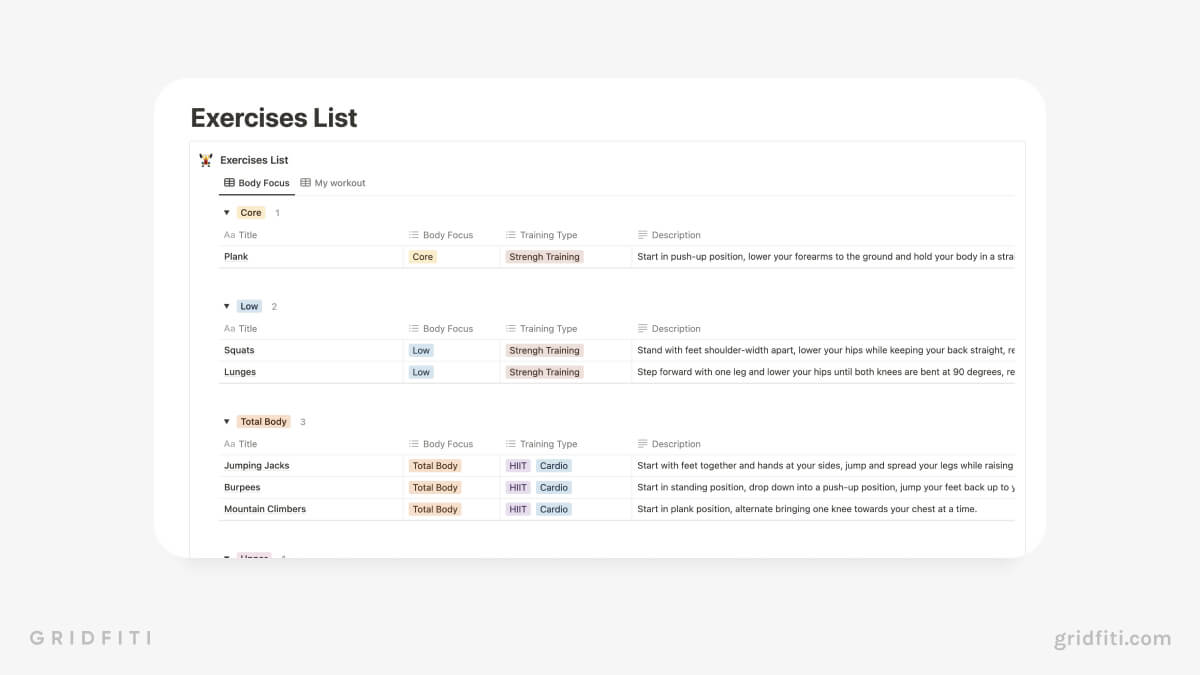 What Notion workout template are you using? Do you have any other recommendations for Notion fitness trackers to use? Let us know in the comments below!
Gridfiti is supported by its audience – when you buy something using the retail links in our posts, we may earn a small commission at no additional cost to you. Read more about our affiliate disclaimer.