With so many apps and documents out there, it's easy to lose track of your writing ideas, novel concepts, storyboards, and writing procedures.
Thanks to Notion, you can streamline everything in a single workspace, with templates available to help you start a blog, novel, fictional story, and so much more – from intro to conclusion, cover to cover!
To help you tighten up your writing process and bring your ideas to life, we've rounded-up the best Notion templates for writers! Let's jump in.
Want more Notion tips, tricks, and templates? Join our Notion mailing list below and check out our several other Notion guides and round-ups.

Sign up for Notion here! Free for personal use, students, and educators.
Notion for Writing Premium Template Pack
Every element of your writing life in one place – sounds great, doesn't it? Bring everything under one roof and streamline every aspect of your writing process all into one workspace with the Notion for Writing Template Pack. Whether you're writing blog posts or stories, this template pack helps you organize outlines, character sheets, research, word count tracking, project tracking, and so much more!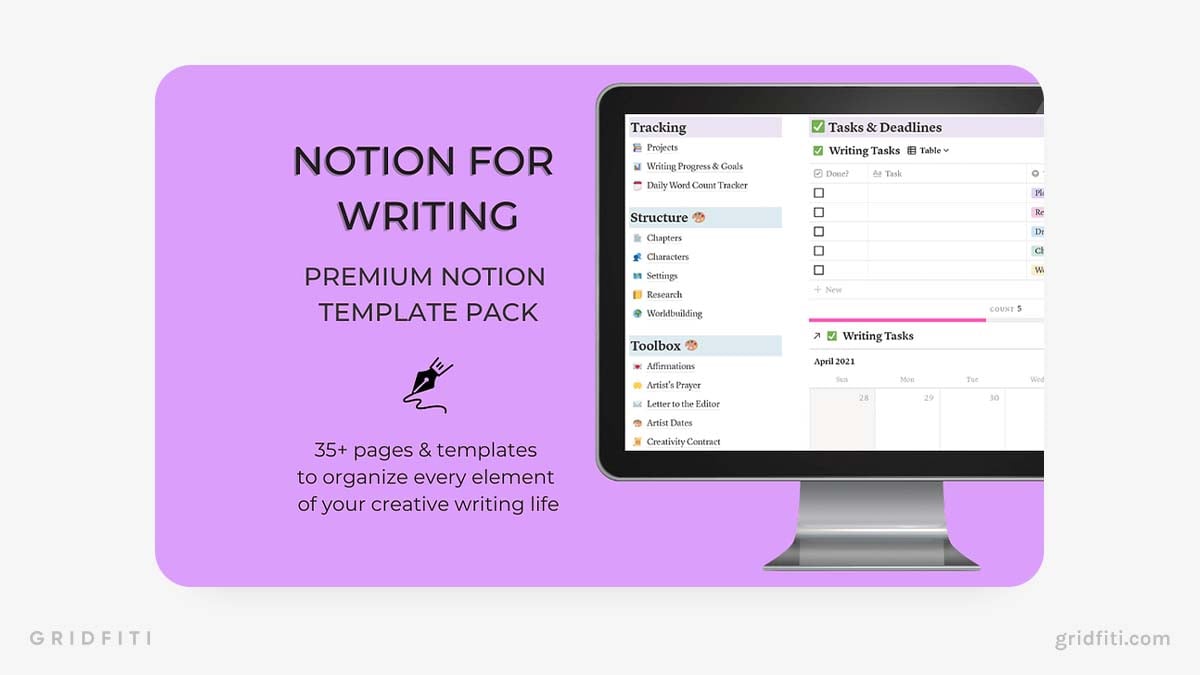 The Modern Writer, for Book Writing
A workspace to collect and refine all of your writing ideas and concepts, separating them by chapter, The Modern Writer template hones in on specifically book writing and storytelling. Create timelines, compendiums, and moodboards while writing your story – without leaving your workspace!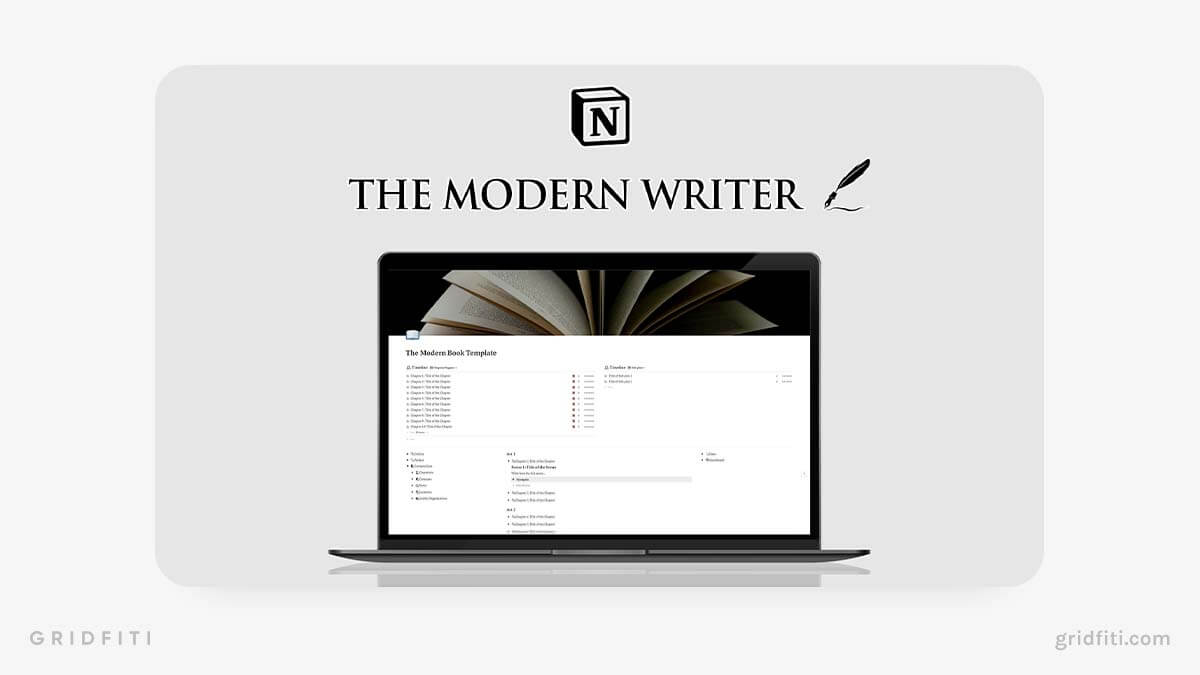 Notion for Blogging Template Kit
If writing online is your bread and butter, the Notion for blogging template kit gives you everything you need to create amazing blog content, and simplify every other element of managing your writing business!
Use the content creation hub to store blog and social content, the tasks template to stay on track with deadlines, the brand kit to keep your branding consistent, and lots more with the Premium Notion for Blogging Kit!
For more blogging resources, check out out round-up post featuring our favorite Notion blog templates!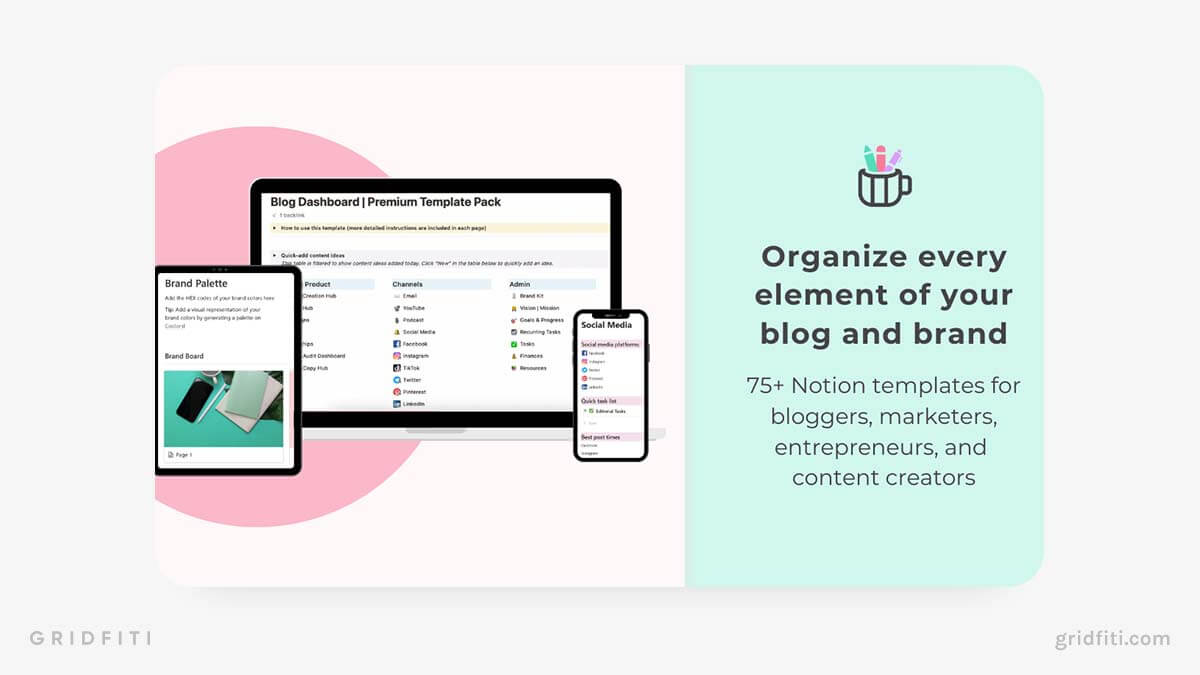 Storybook for Notion – Outlining Tool for Writers
Do you ever get that idea for an amazing story, but struggle to jot down all the details down and bring the concept to life? The Notion Storybook Template is the perfect outlining tool for writers, with features like multiple views for synopsis writing, outlining, story pacing, and more!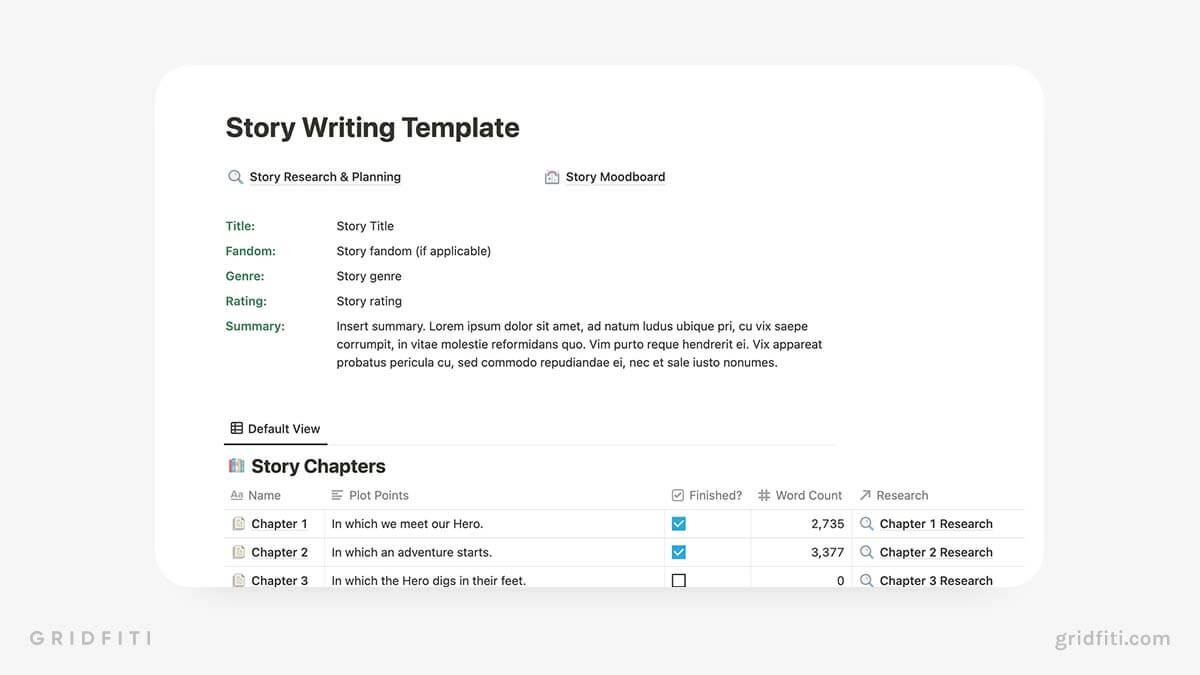 Simple Novel Notion Template
Track your novel writing process and reach your daily writing goals with this simple Novel Notion Template. Use this workspace to curate everything you need before writing, including a pre-write checklist, notes and resources, character profiles, cover ideas, and more!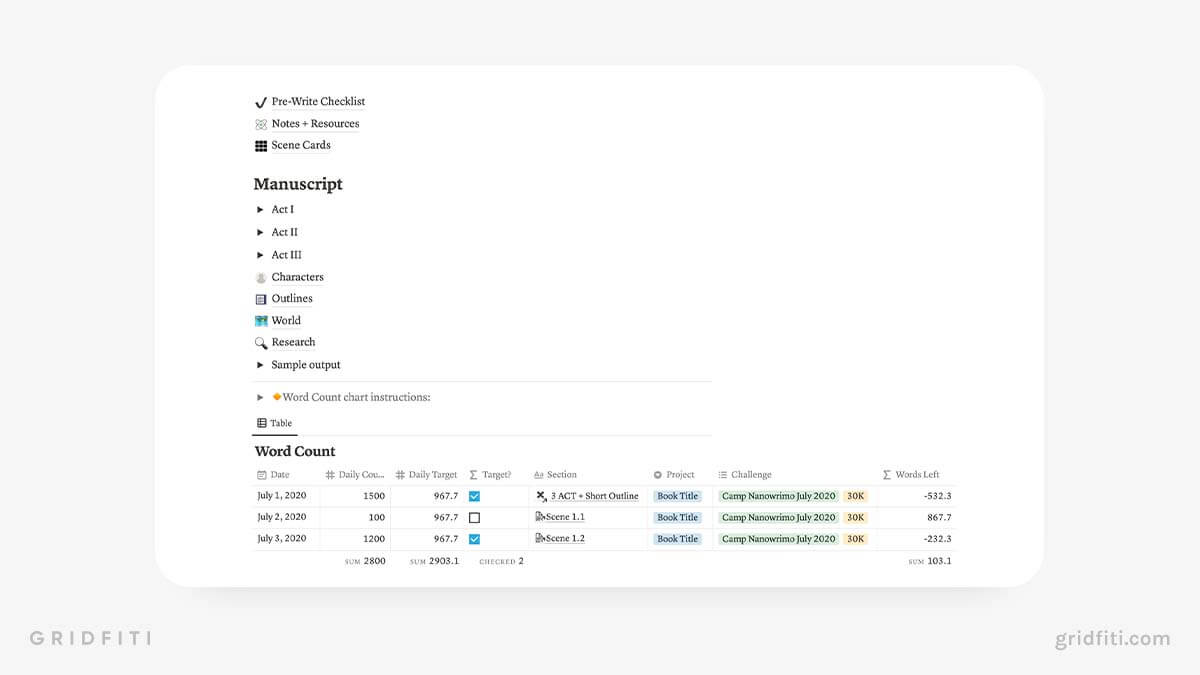 Aesthetic Notion Templates for Writers – Drafting, Revision, WIP
Tell your story from start to finish with these more simple, aesthetically pleasing dashboard templates for writers!
Templates Available: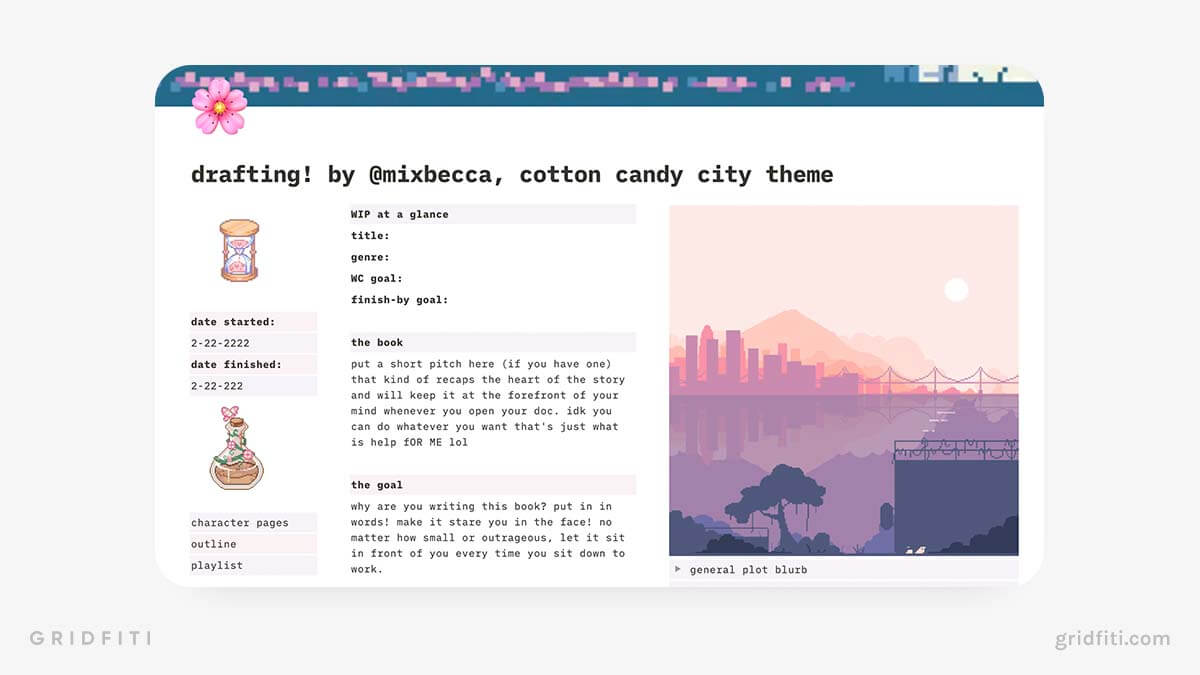 Writer's Knowledge Organizer
Store all your research and references in this Notion second brain template designed specifically for writers! Using the template, you can tag and organize your notes and learnings – making them easily accessible to gain clarity, inspo, and direction in your writing.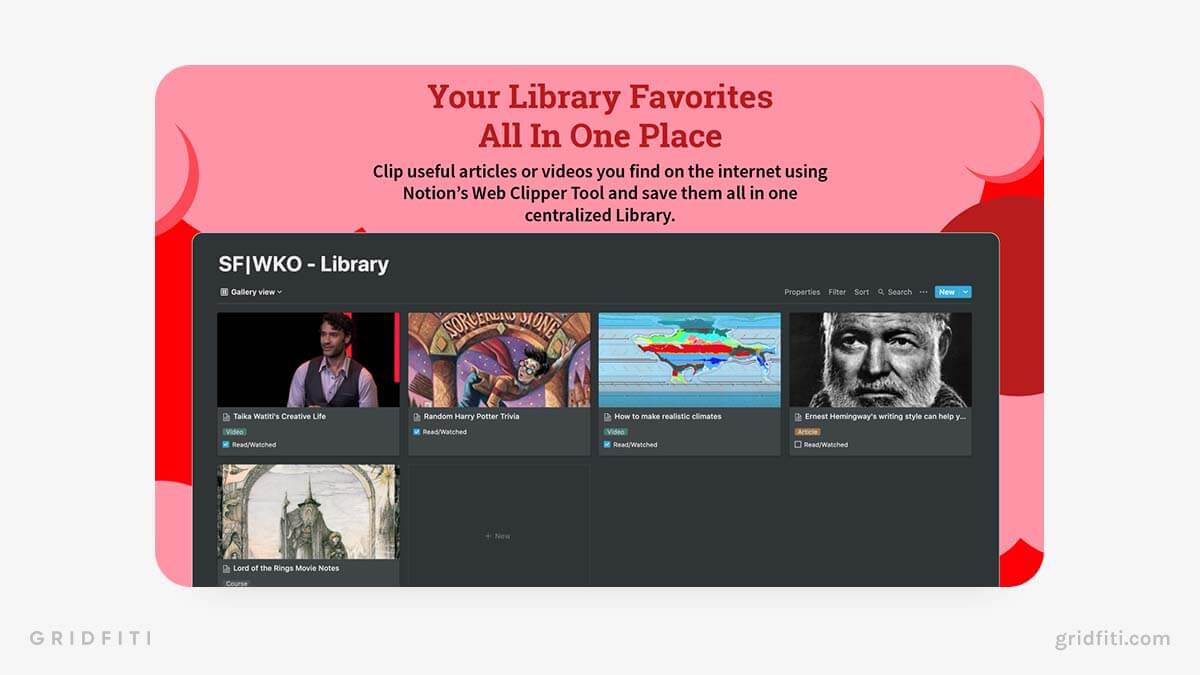 World Building Bible
Create your perfect fictional world and bring your story to life with the World Building Bible Notion template! If you're looking for a place to build character profiles, story settings, and centralize details about your fictional world – this is the template for you.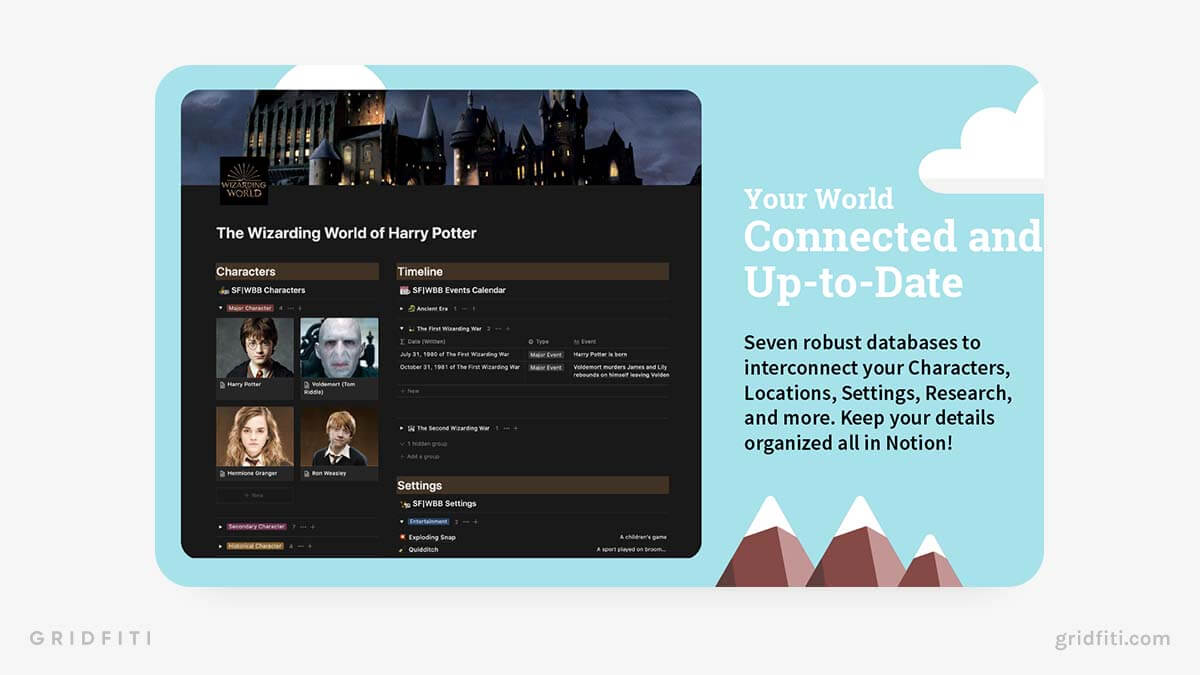 Fictional Story Timeline Template for Notion
Never write a story with plot holes or mismatched timelines again with the Fictional Story Timeline template! Gone are the days of re-reading your writing or relying on your memory to tell a clear, consistent story – with this template, keep track of your story's key events, locations, characters, and chapters.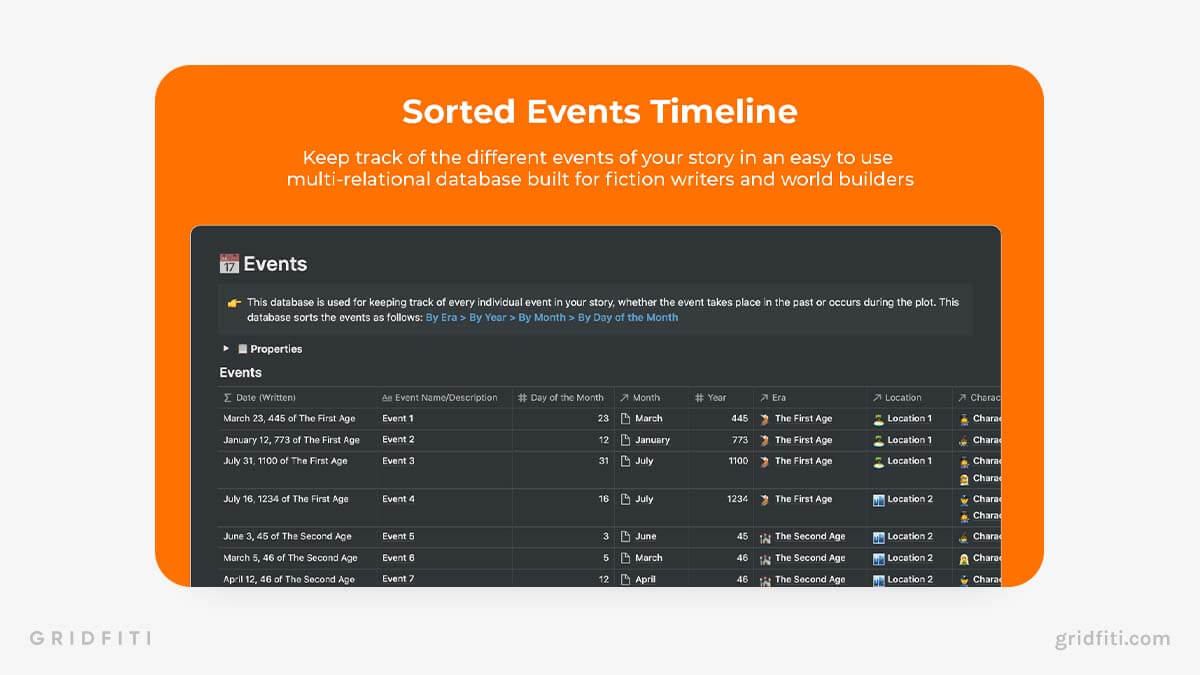 Character Builder – Notion Template for Writers
Create characters that are memorable and full of substance – ultimately characters that readers care about and can relate to. Use this Notion worksheet as a guide to help you create characters that have depth and dimension!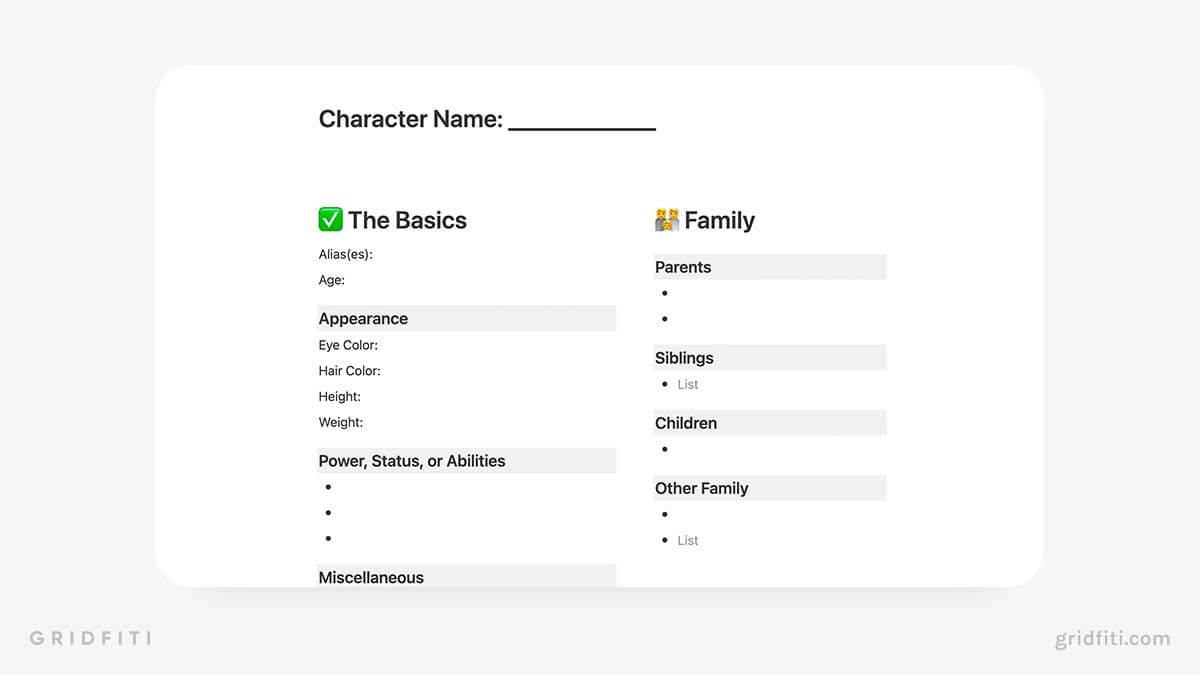 Simple Story Writing Process Template for Notion
Easily write and organize your story writing process in Notion with this simple story writing template! Keep track of your word count and refer to your chapter research in a simplified dashboard.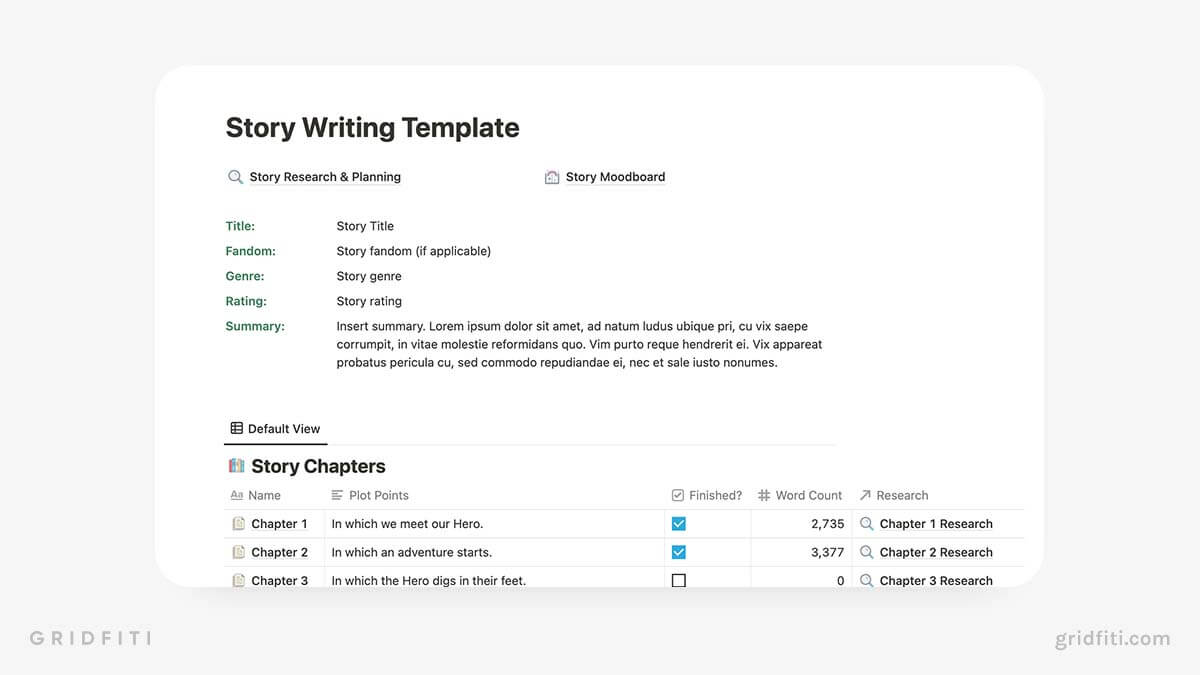 Simple Aesthetic Writer's Dashboard
Keep track of your writing progress and deadlines with the simple aesthetic writer's dashboard template – featuring a dreamy cloud-themed dashboard, storyboard list, sidebar for concepts and ideas, and more!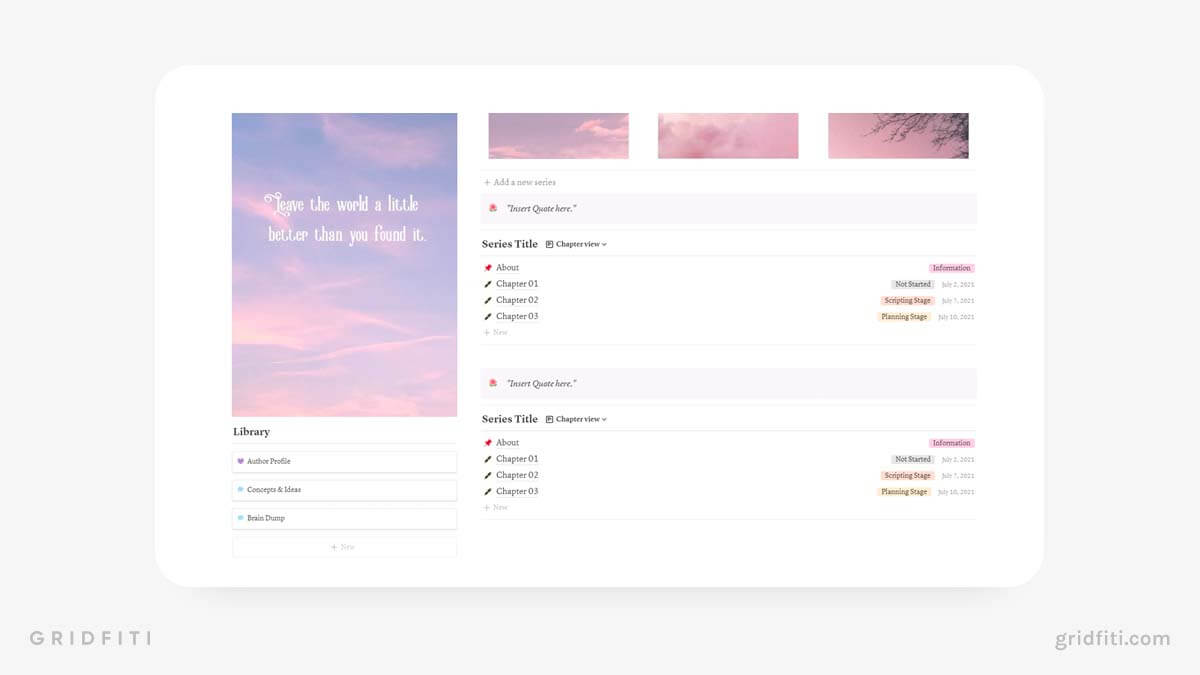 Are we missing any Notion writer templates? Do you have recommendations for Notion templates for writers to tell their stories with? Let us know in the comments below!
Gridfiti is supported by its audience – when you buy something using the retail links in our posts, we may earn a small commission at no additional cost to you. We only recommend products we would use ourselves and recommend to our friends and family. Read more about our affiliate disclaimer.