Tired of spending hours perfecting the edits to your beach photos? These presets will give your tropical vacation photos the proper mix of an earthy and vibrant beach look, while keeping edits cohesive across photos. Choose from a multitude of looks, ranging in textures, vibrancy, and overall color palette choices – check out our picks for the best beach Lightroom presets!
Want more preset guides and tips? Check out our several other preset blog posts, and join our mailing list below!
Natural Beach Preset Bundle For Lightroom Mobile
One of our favorite approaches to a beach preset is one that preserves the natural colors of the beach, with slight adjustments in tints, colors and lighting. That's what this Travel Lightroom preset bundle achieves, with its 10 custom presets for mobile. Apply it to your photos of the beach terrain, oceanside cliffs, portraits on the beach, and everything in between.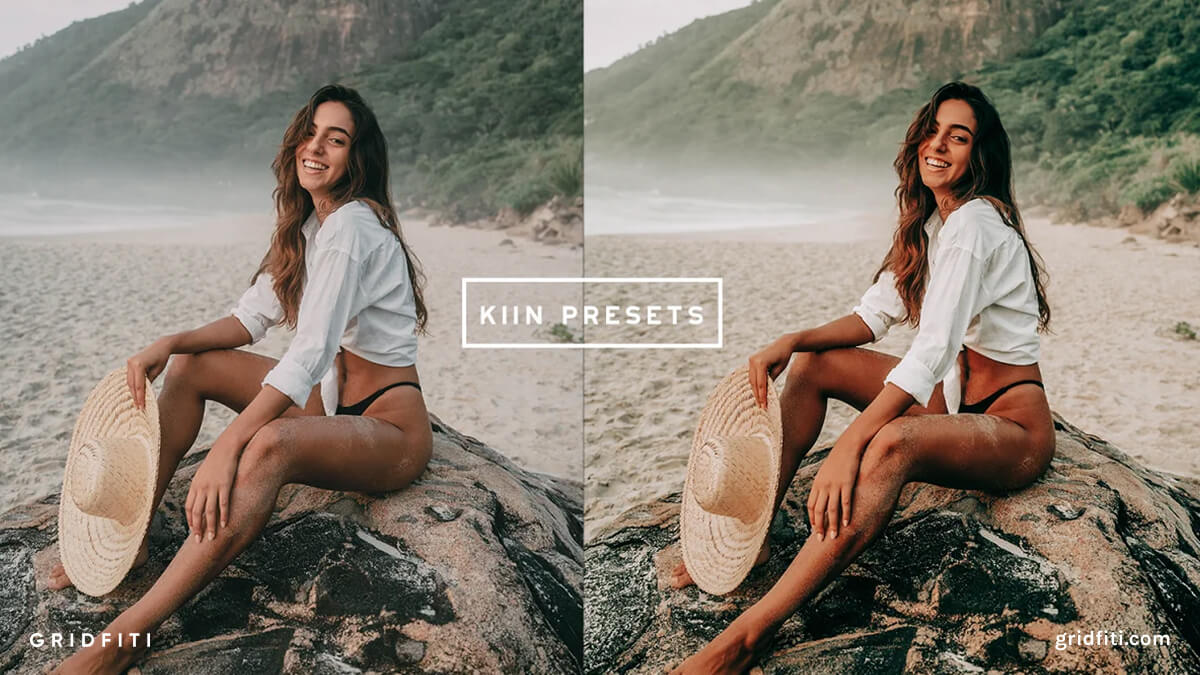 Portra 400 Preset for Beach Photos
We can't talk beaches without mentioning probably the most popular film stock used at beaches: Kodak's Portra 400! Give your beach photos that timeless Portra look with its warm tones, slight fade, grain texture, and dynamic exposure look. Check out the Essential Portra 400 Preset!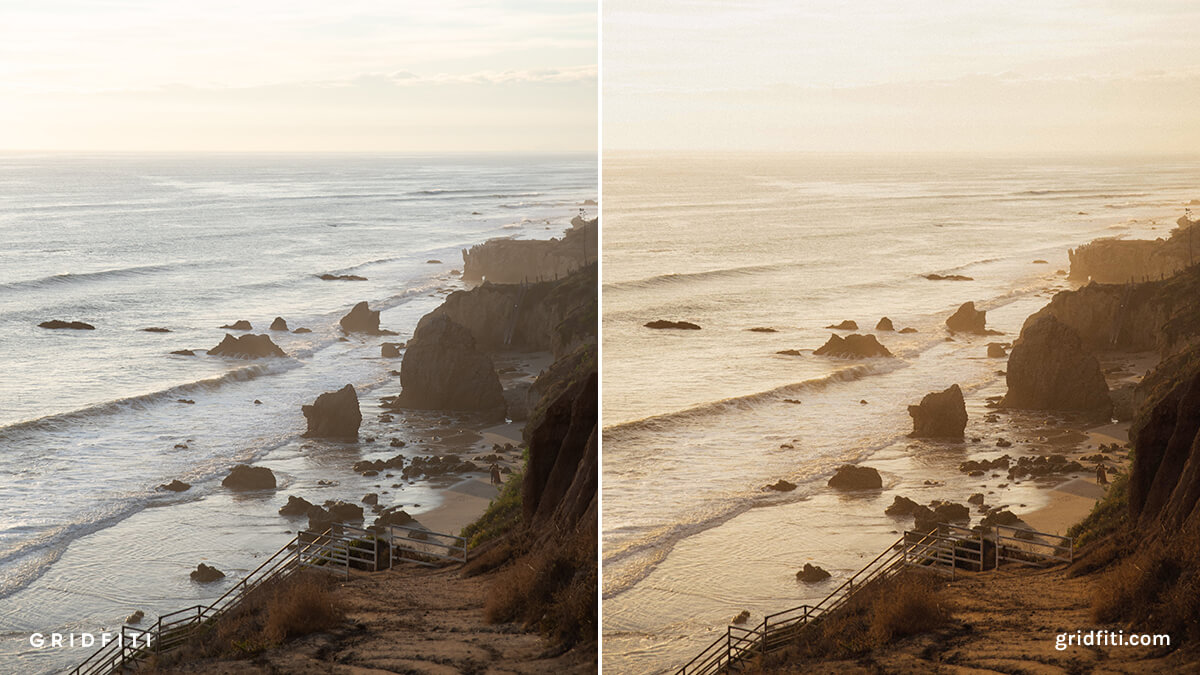 Vintage Presets for Beach Photos
Like photos uncovered from a lost roll of film, these vintage presets for your beach photos will take them back in time with its tasteful fades, grain texture and muted yet calming tones. Choose from the 6 presets to apply to your varying range of beach photos, whether they're of ocean waves, mountains along the ocean, portraits, or palm trees!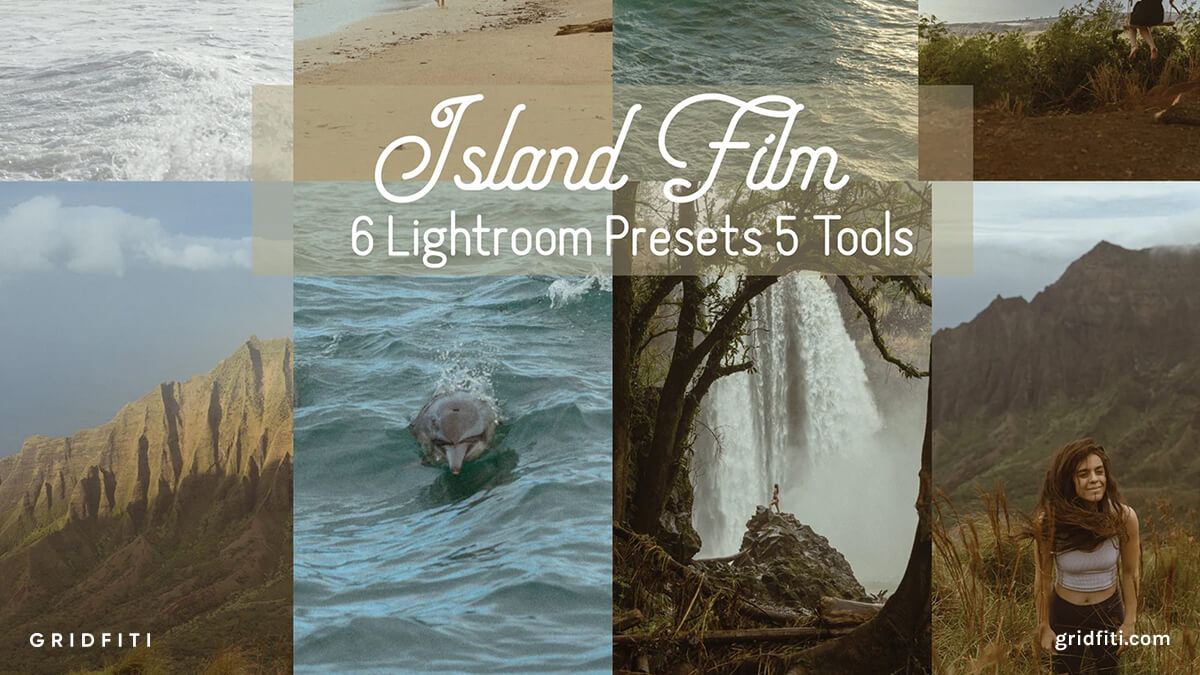 Light & Airy Honey Presets for Beach Photos
Take the light and airy, yet warm approach to your beach photos with the Honey Premium Lightroom preset bundle. You'll notice a lift in highlights, exposure, and softness with an increase in warmth – perfect for beach photos taken around golden hour, or where the color of your outfit or sand can use some warmth. It comes packed with 10 presets for mobile and desktop – check it out!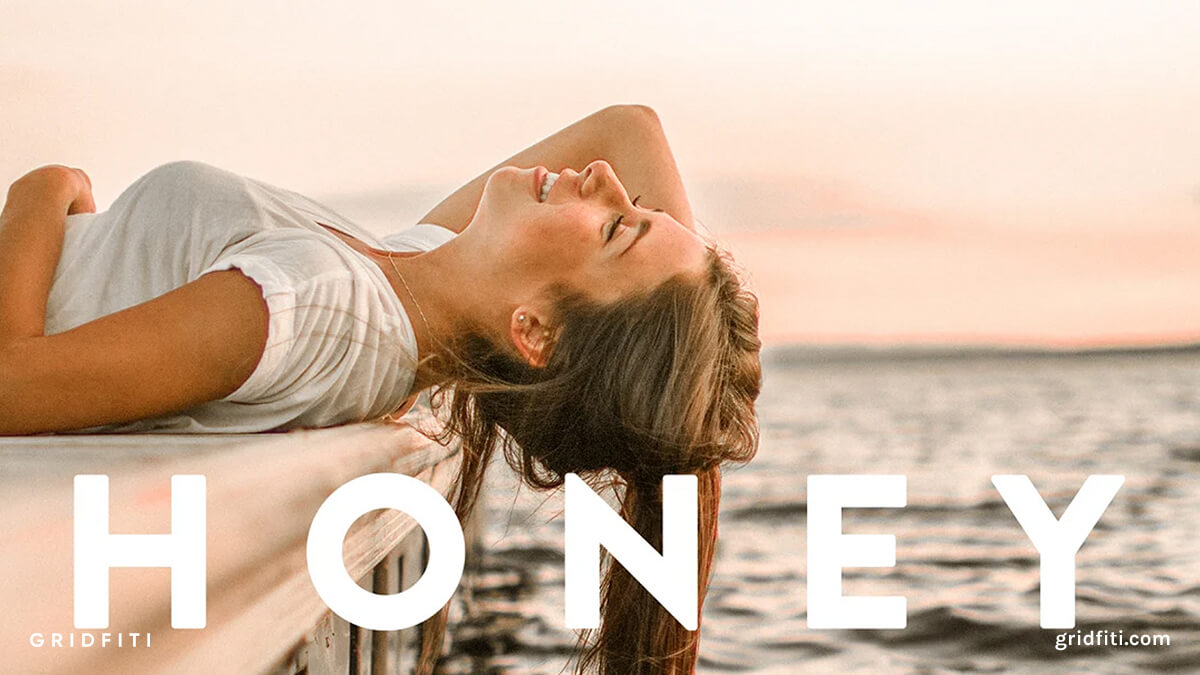 Natural Colors Preset For Beach Photos
Now hear us out here – some of the best presets you can apply to your beach photos are ones that are designed for portraits. Check out this Natural Lightroom preset bundle which is designed to take the natural tones within portrait images, and enhance them with several hue and saturation adjustments to give your photos a clean and natural look. The same principles of natural color enhancement can easily be applied to your photos of the beach too!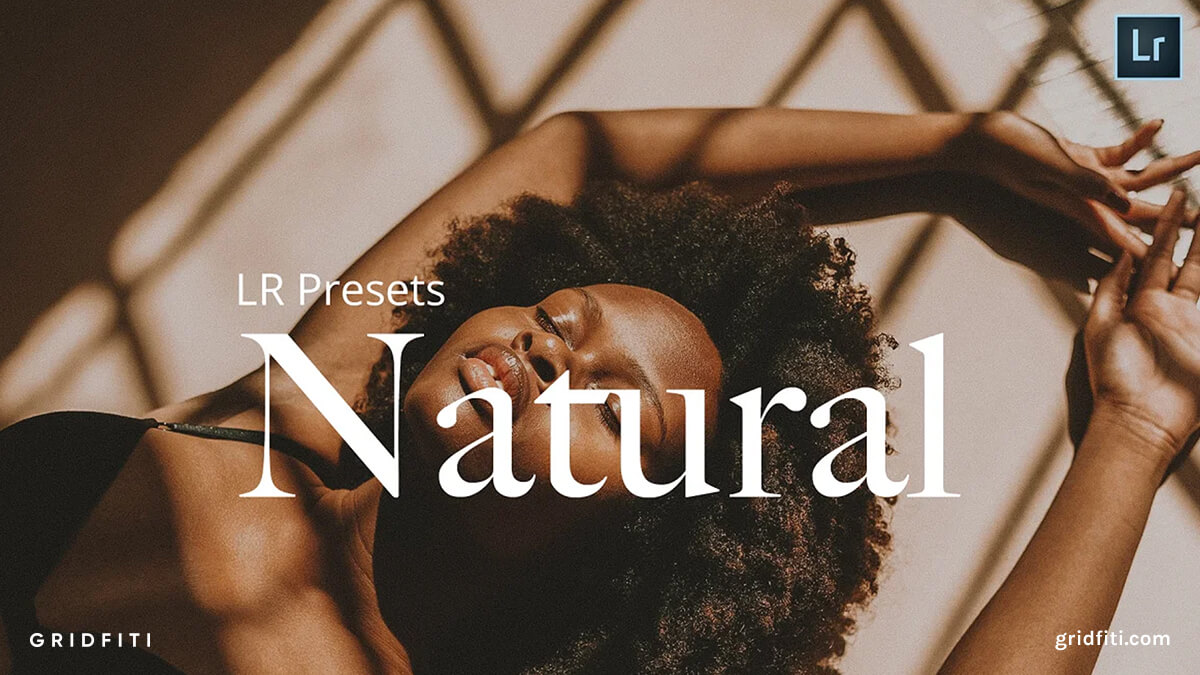 Fujifilm Preset for Beach Photos
We can't leave Fuji out of the mix of film emulation styles with beach photos. Check out this Fuji Fortia preset, which takes the famous tones of Fujifilm with their cooler tints, punchy contrast, and true-to-life colors. Transform your beach photos to a moody calm look with this unmistakable Fuji style.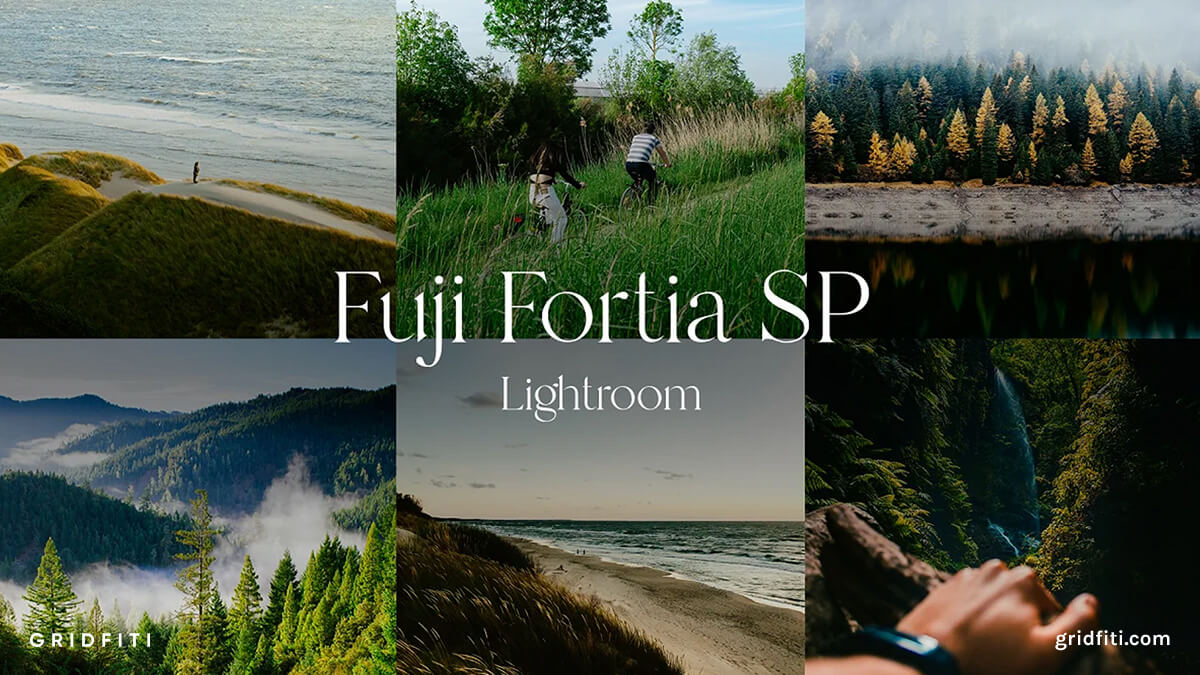 Pink Sky Preset For Beaches
Give your beach photos a dreamy pink pastel treatment with this preset pack! The warmth of the beach can be transformed into a nice light pink vibe, creating a calming mood in your images. This works best with bright photos of golden hour or light overcast. Get your beach photos looking tranquil and aesthetically pleasing with this 10-pack for Lightroom desktop and mobile.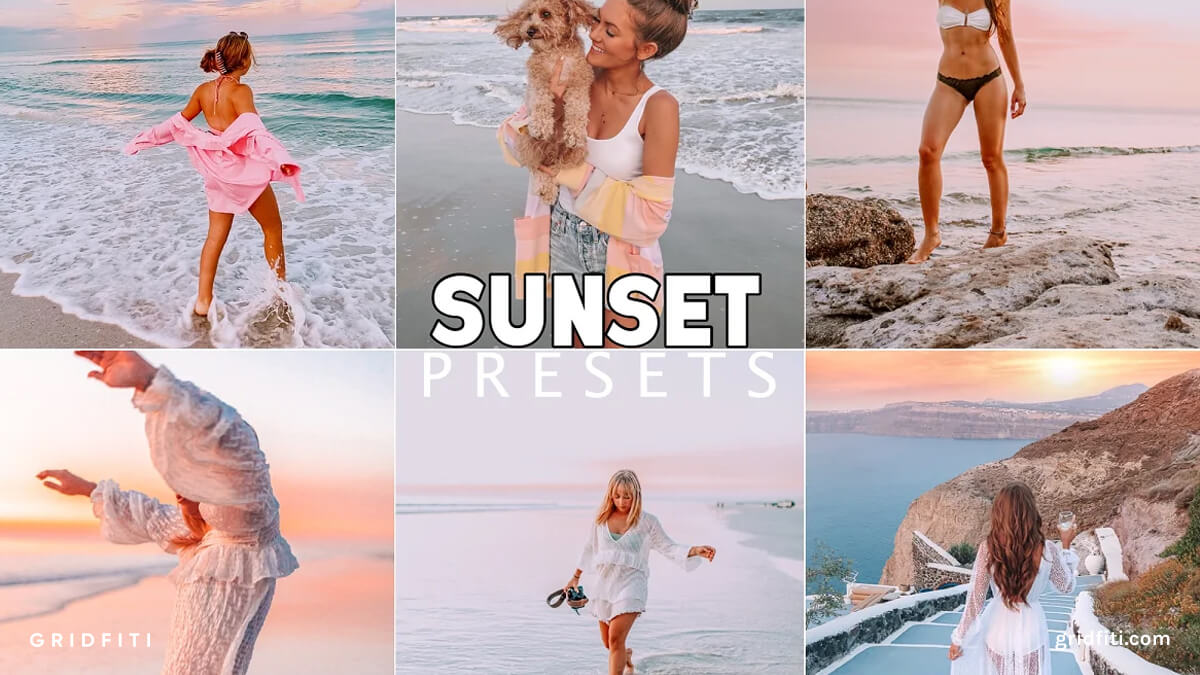 Dreamy Sunset Presets For The Beach
Take the vibrant route with the Dreamy Sunset preset pack. Sunsets almost feel synonymous with beaches – the colors and contrast that's added when the sun dips low makes for some of the most dramatic photos. With this color treatment, enhance your shots and bring out the best of the beach, ocean, and sky!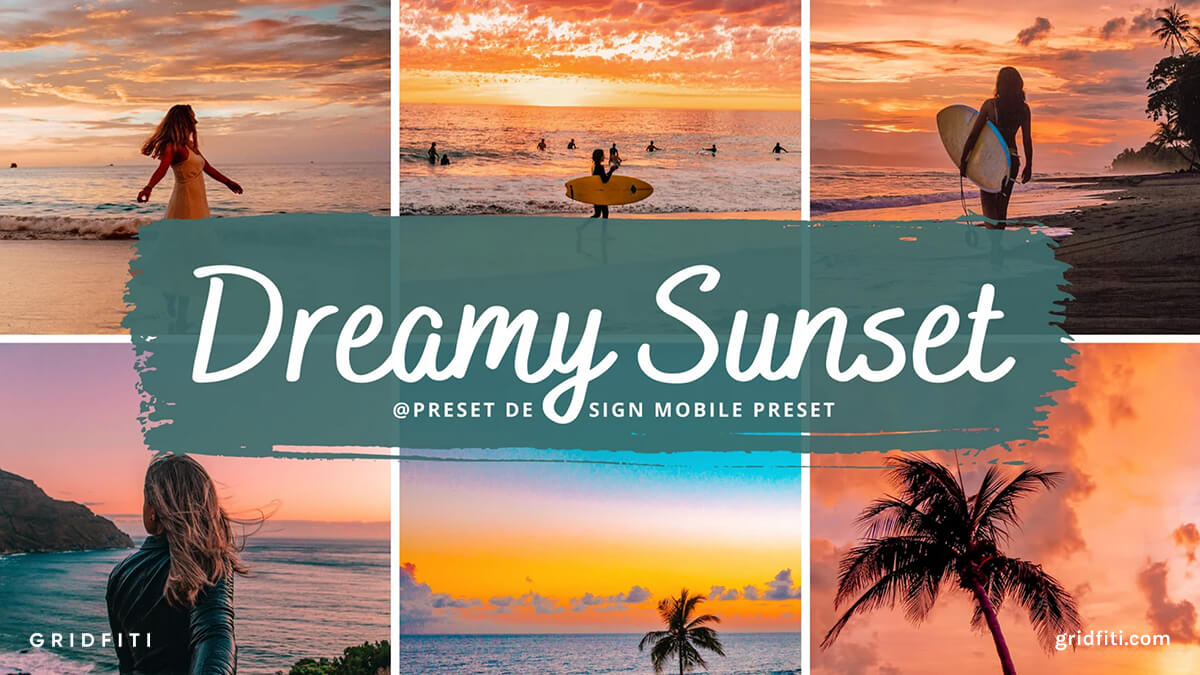 Which one of these beach Lightroom presets are your favorite? Do you prefer more vibrant beach shots, or more natural filmic shots? Let us know in the comments below!
Gridfiti is supported by its audience – when you buy something using the retail links in our posts, we may earn a small commission at no additional cost to you. Read more about our affiliate disclaimer.