Whether you're a real estate agent organizing showings, closing deals and liaising with clients, a type A house hunter, or a real estate investor growing your property portfolio – anyone involved in real estate knows there are too many things, and too little time.
Thankfully, Notion is one of the best places to centralize and organize your real estate information into a single workspace to save time and energy. The even better news? There are dozens of template creators who have already done most of the work for you building robust real estate systems!
We've gathered some of the very best Notion real estate templates and systems so you don't have to, let's check them out.
Want more Notion tips, tricks, and templates? Join our Notion mailing list below and check out our several other Notion guides and round-ups!
Looking for templates to help manage your Airbnb rentals? Check out our blog post rounding-up the best Notion Airbnb templates.
The Ultimate Notion Real Estate Investor's Dashboard
When investing in property, let alone multiple properties, there are dozens of elements to organize and keep track of. Thanks to the Ultimate Real Estate Investor's Dashboard, you can organize your entire real estate investment journey in one place! Track your property portfolio, transactions, insurance info, tenants and leasing, bills to pay, tasks and chores, contacts, and lots more!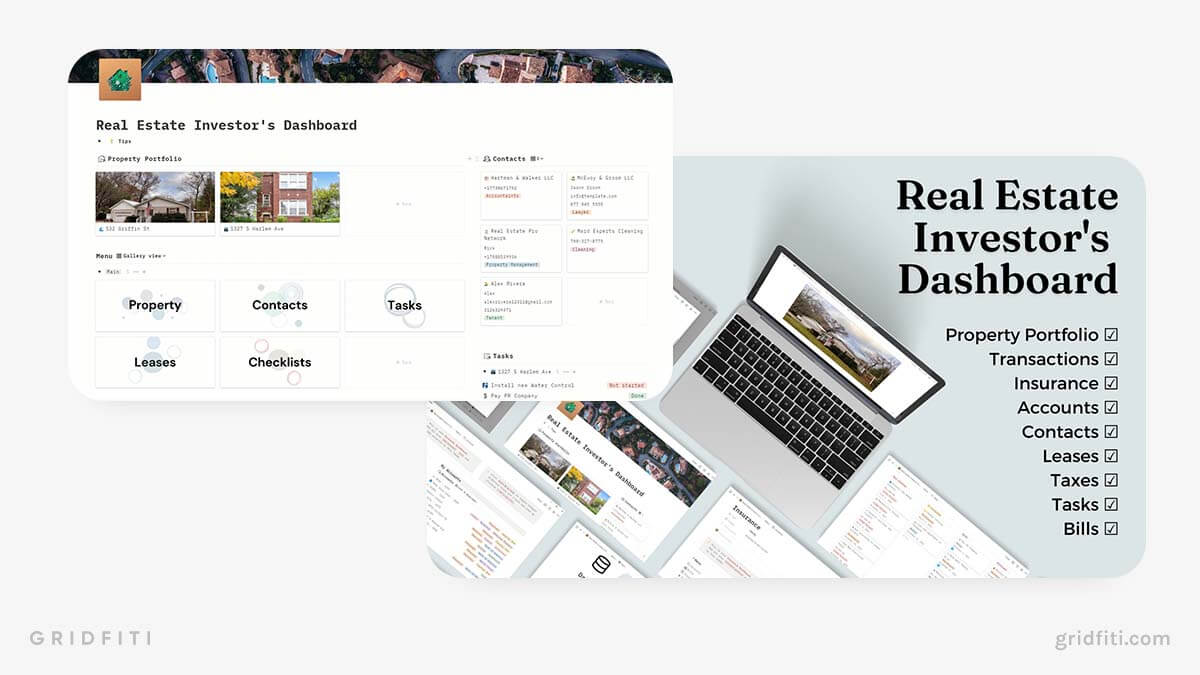 Advanced Real Estate CRM Notion Template
Based on a popular real estate CRM software, this template was built for realtors to store, organize, and track all their contacts in one place! Get a full view of all your interactions with customers and clients, while also tracking sellers, buyers, your properties, tasks, comms, and lots more.
Related: Best Notion CRM Templates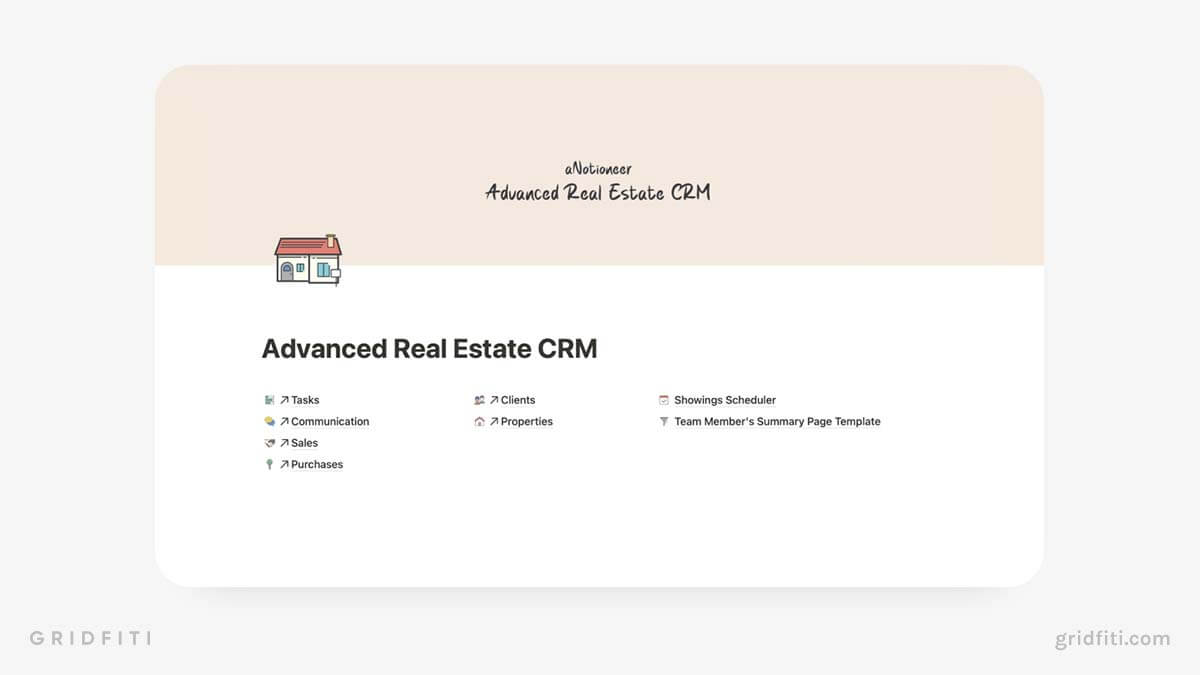 Notion House Hunting Template
On the hunt for your next home? The House Hunting Organizer template will remove the hassle from your search bring it all under one roof with a properties wishlist, property comparer (with price, distances, and more), and calendar to organize your viewings!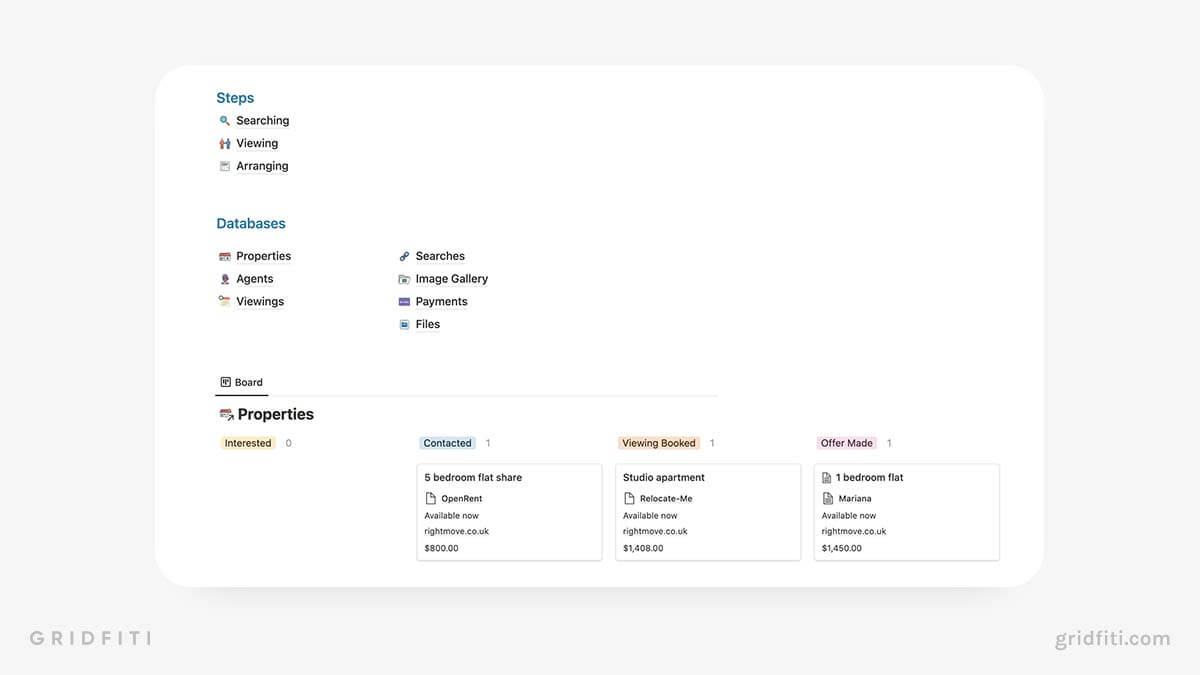 All-in-One Property Management Tool for Notion
iManage is an incredibly robust, all-in-one property management template designed to be by any real estate agent or landlord's side! Centralize your tasks and projects, income and expenses, contacts, insurance, contractors, and so much more in this dashboard system.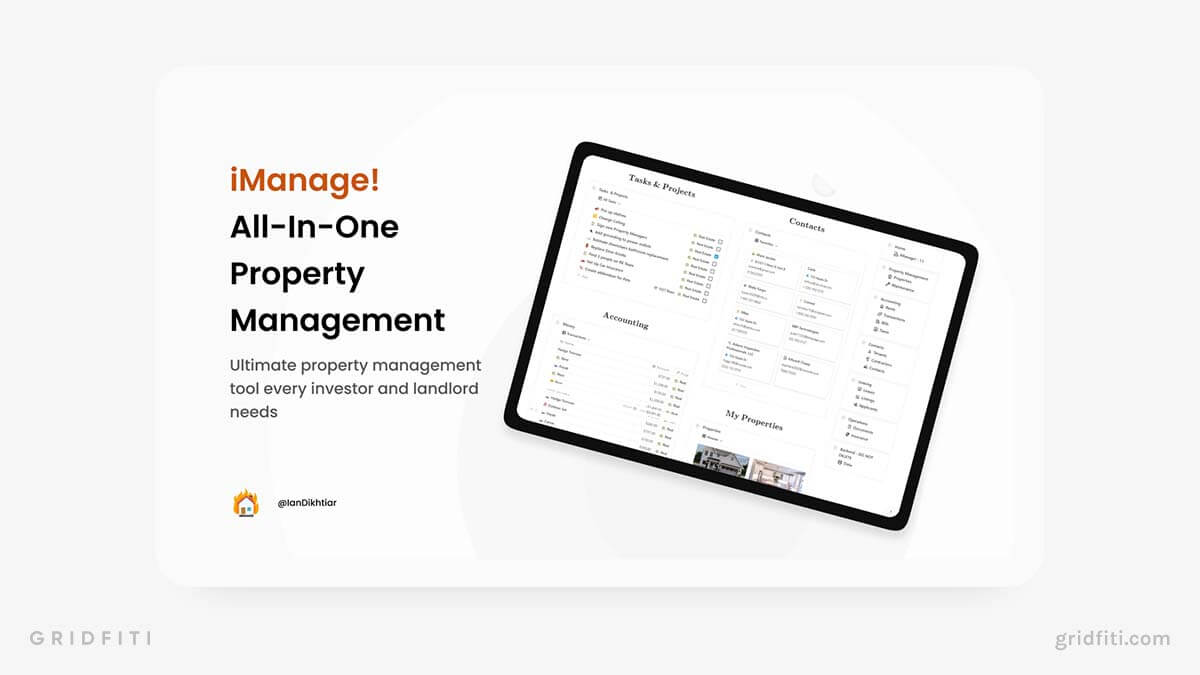 Enterprise OS – Company Management Template
Enterprise OS is a great template for any company to streamline and manage all their business functions – and Notionise even included a section optimized for real estate agencies! Featuring a section for loan quotes, CRM, transactions, invoices, salaries, and more, get more than just a real estate template with this all-in-one management system.
For more business related templates, check out our full round-up post featuring the best Notion business templates!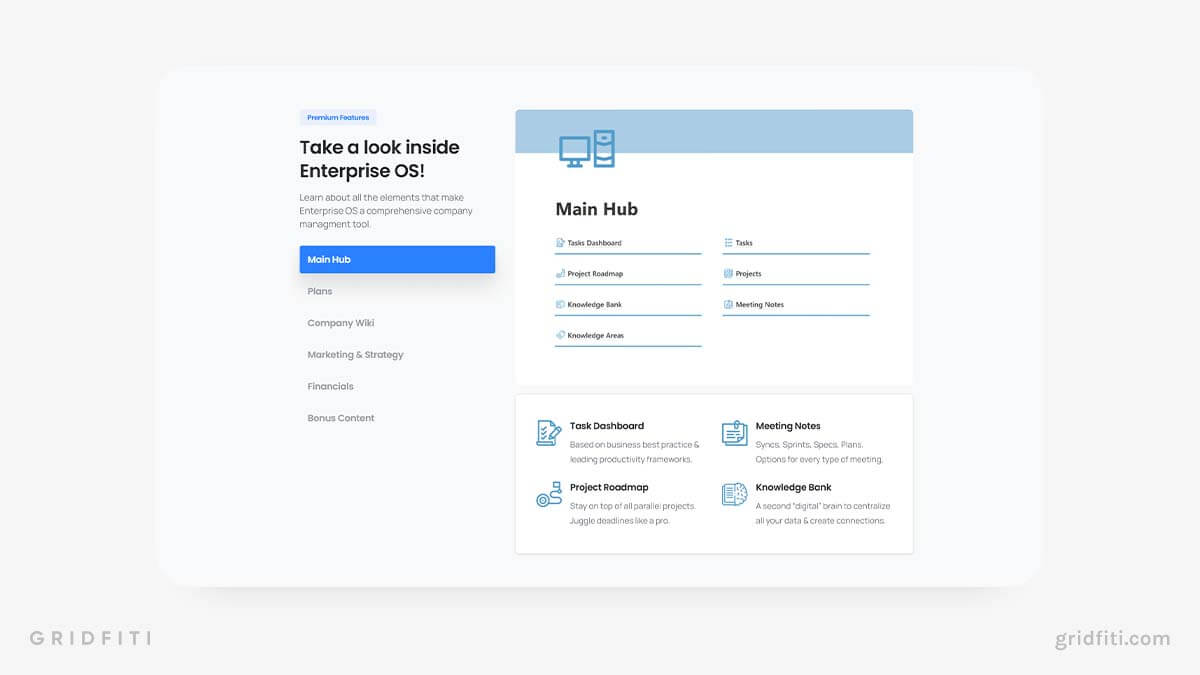 My Duplex – Real Estate Management Template for Notion
Anyone with a duplex knows that managing one can bring a lot of headaches – from separating personal and business expenses, to finding rental contracts, and remembering your trusted contractors. Thankfully, iManage's My Duplex template is here to save the day! Get a full overview of your duplex (units, tenants and important dates), track your finances, organize all your contacts, manage all your tasks – from small repairs to big projects, and keep leases all in one spot for easy access.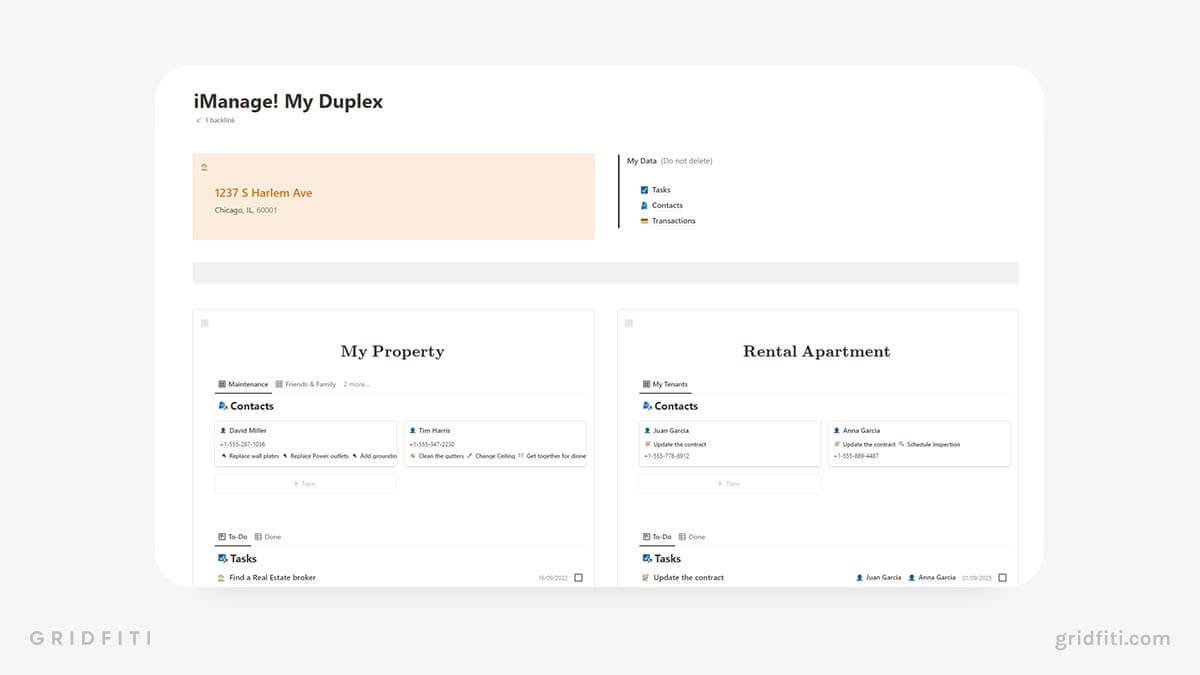 Real Estate Sales CRM Notion Template
In real estate sales, your contacts are everything – but there's no need to spend hundreds of dollars a year on CRM software when you can bring it all into Notion! Store all your existing contacts and easily add new ones, track leads from inquiry to sale, remind your team of follow-ups, gauge and prioritize your leads by temperature (cold, cool, warm, hot), and lots more all in a singular dashboard.
Related Post: Notion Sales Templates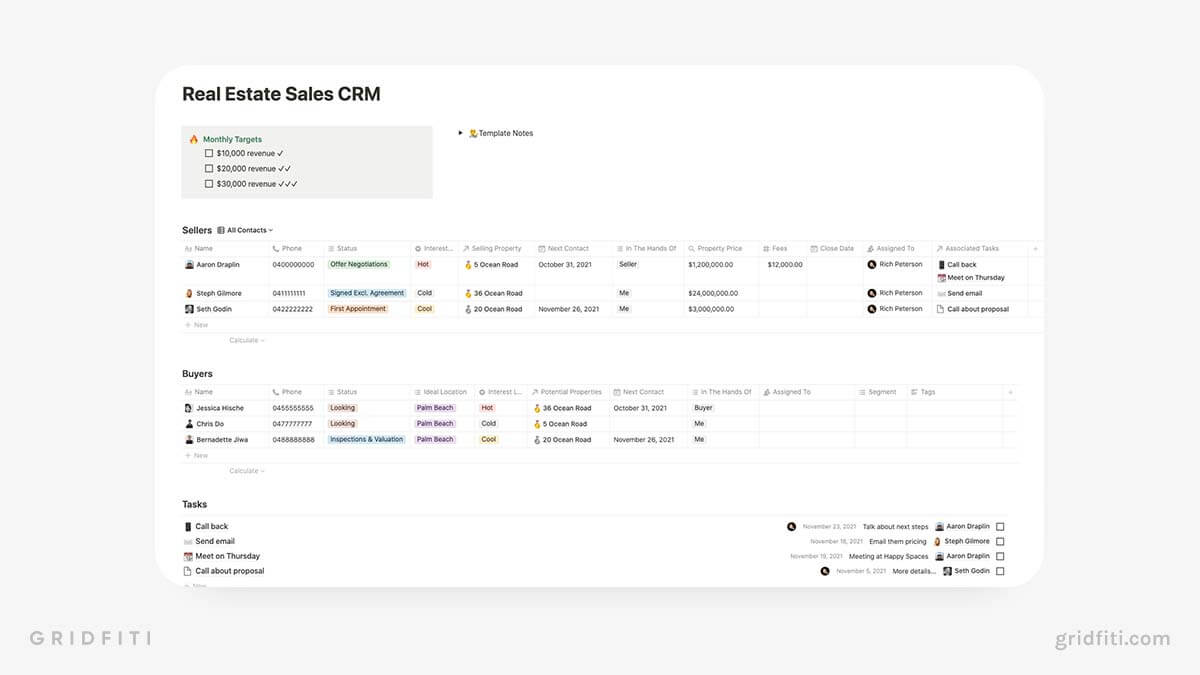 Real Estate Property Management CRM Notion Template
When managing a property, there are a ton of different people to be in touch with on the daily – and this template will help you organize it all into one place! Store and manage contact information for landlords, tenants, and contractors right in the template. Beyond that, connect tasks and notes with client records, track ongoing conversations, segment clients, and tons more.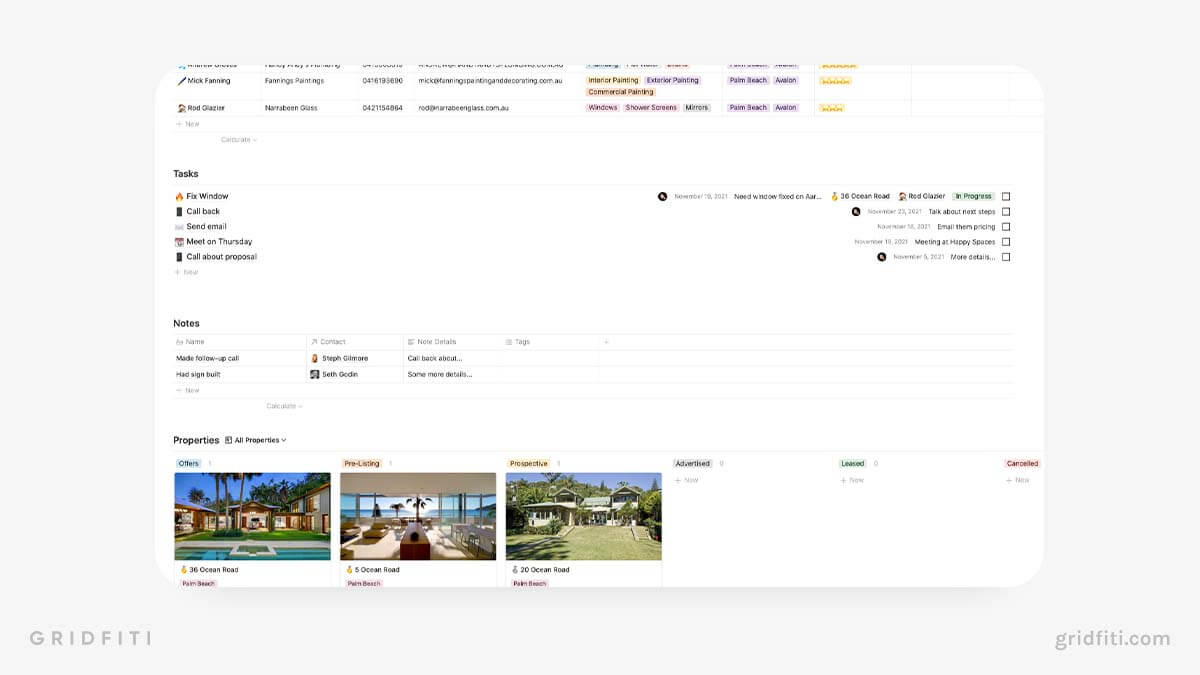 Real Estate Transaction Tracking Notion Template
This tracker template will help you centralize and organize all information relating to your real estate transactions – both on the seller and buyer side! Track all transaction status, property info, buyer and seller info, inspections and approvals, and lots more!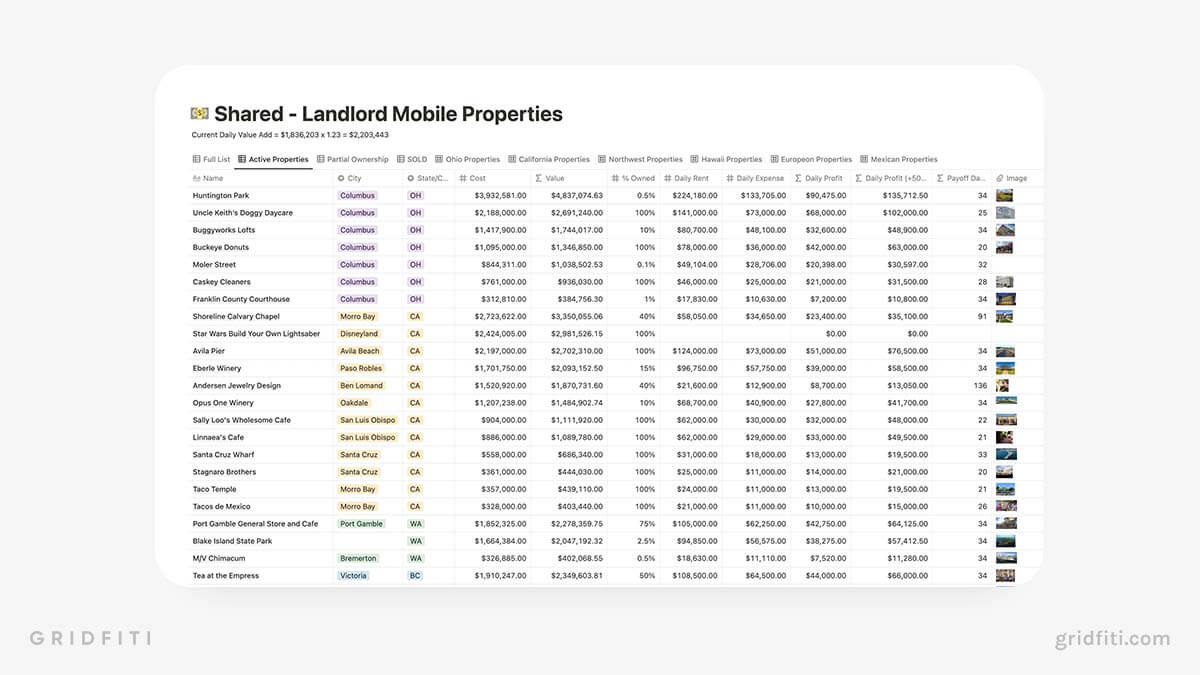 The Real Estate Planner Template (Listing Checklist, Weekly Planner & More)
This real estate planner template was made to help any real estate agent manage their day to day! Manage your tasks, clients, cash flow, leads, mileage, goals, and so much more all in one singular Notion dashboard.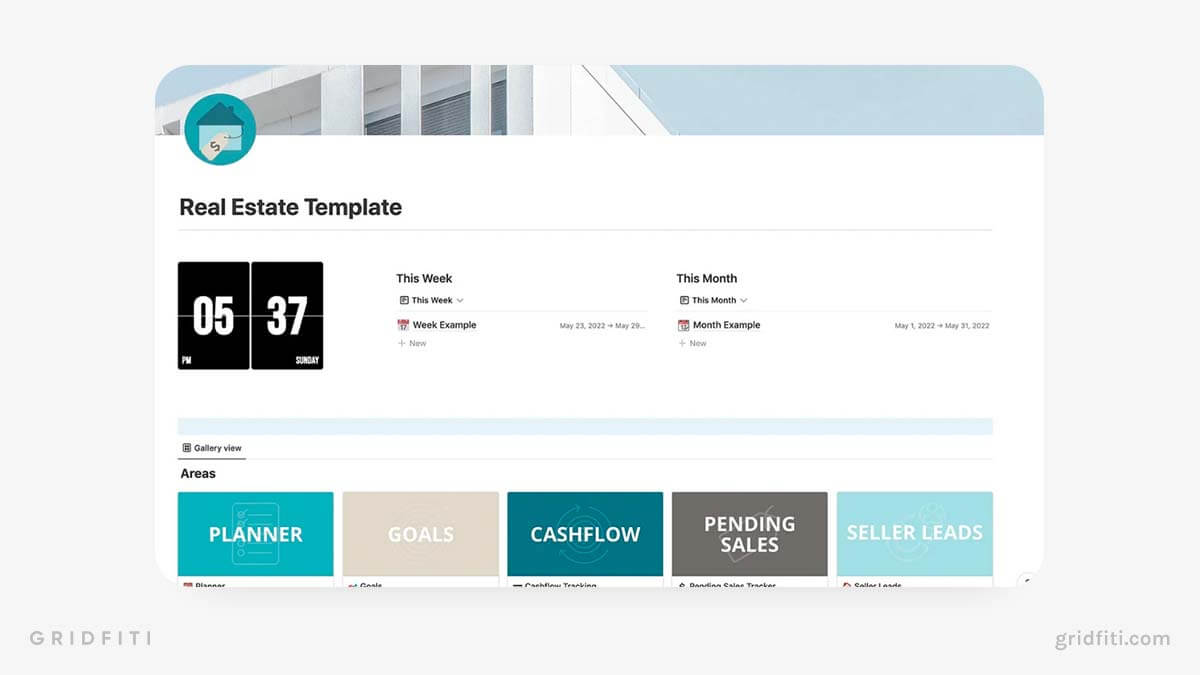 Simple House Hunting Template for Notion
Looking for a simple database to track your next prospective house or apartment? This one-page house hunting template will help you organize them all in one spot!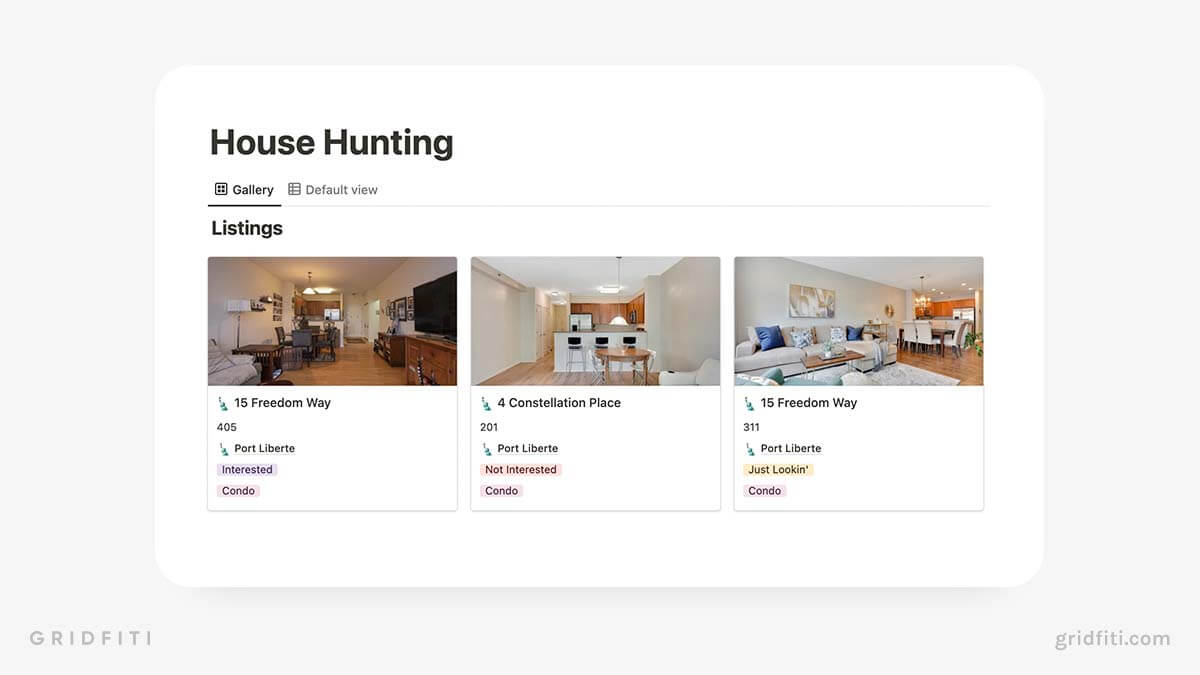 Simple Property Tracking Spreadsheet for Notion
If you're on the hunt for a single spreadsheet to track your properties, as well as profit and loss, this simple property tracker will do the trick!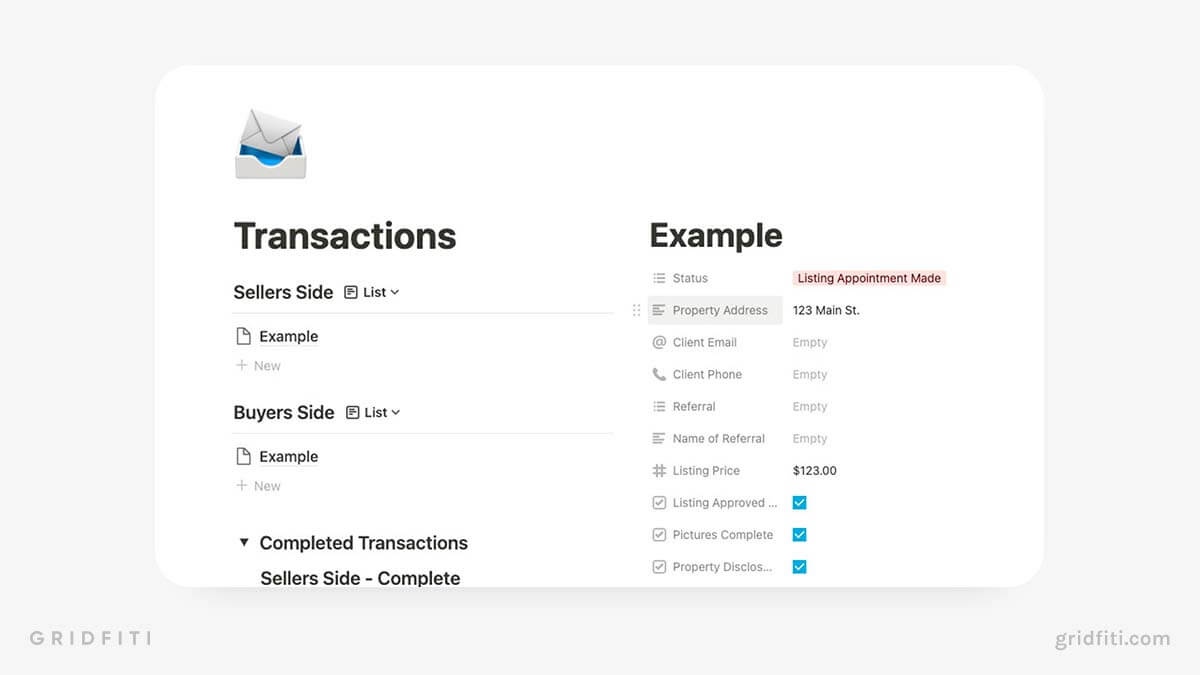 Notion Property Inquiries Template
Getting a lot of inquiries and need to organize them? This property inquiries database template has an easy-to-use spreadsheet setup to plug in and track all of the essential info!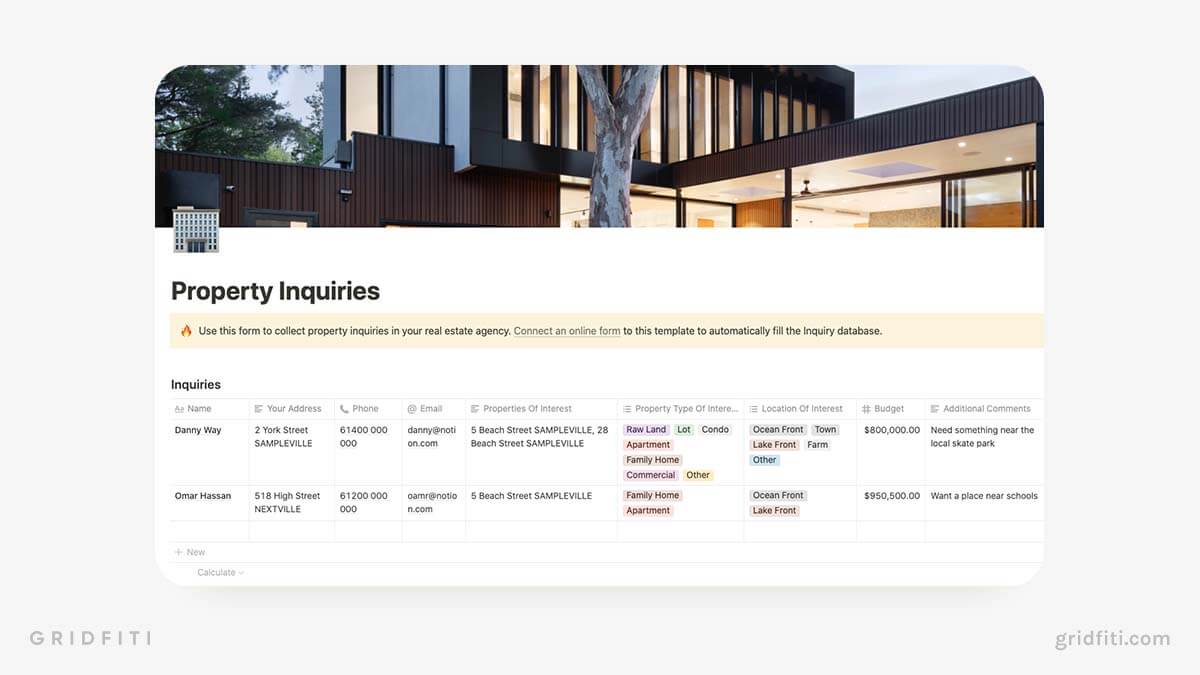 Tenant Rental Applications Template for Notion
Sporting a similar setup to the above property inquiries template, this spreadsheet will help you track prospective tenants for your rental properties! Track applicants' information, salary, dates, whether they have pets or not, and lots more!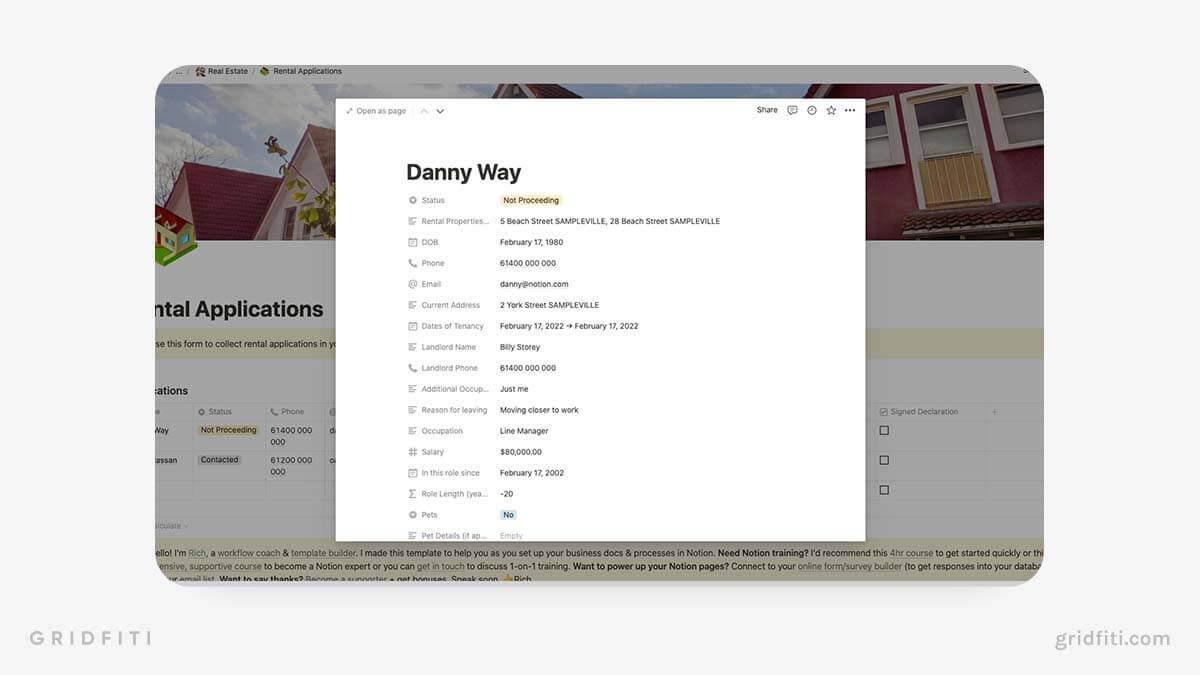 As someone in real estate, what sort of template are you on the hunt for? Any other great Notion real estate templates out there for us to add to the round-up? Let us know in the comments below!
Gridfiti is supported by its audience – when you buy something using the retail links in our posts, we may earn a small commission at no additional cost to you. Read more about our affiliate disclaimer.