"Can you really make money selling Notion templates?" It's a common question posted in Notion communities on Reddit and Twitter. The answer is yes, you absolutely can! Dozens of Notion creators already make $1,000 or more each month from their templates.
But you already know you can monetize your templates — you're just not sure how. Maybe you're unsure how to tell if your template is worth buying. Or maybe you're confident that your template will sell, but you need to brush up on your marketing skills to build your audience and establish your passive income stream.
No matter where you are in your journey to becoming a Notion seller, we've got you covered with a step-by-step guide on how (and where) to sell your templates. Let's get to it!
Want more Notion tips, tricks, and templates? Join our Notion mailing list below and check out our several other Notion guides and round-ups!
How to Make & Sell Notion Templates: Step-by-Step
We've both created and sold several Notion templates, so we know exactly what the process involves, and we've learned a lot from our own journey. To help you become a Notion seller, we've broken it down into 2 phases with 5 total steps:
Creating your Notion template
finding your Notion template idea
creating and designing your Notion template
finalizing your Notion template for launch
Selling your Notion template
launching your template into the world
marketing your template
How to Make a Notion Template
Finding your Notion template idea
During this phase, you'll brainstorm the type of template you'd like to create. We recommend creating a template that's related to something you're passionate or knowledgeable about. For example, if you're a keen cook, you might want to create a Notion meal planner template.
Here are a few questions to help you pinpoint the perfect template idea:
What am I passionate about or good at?
What problems does Notion already solve for me?
How are other people using Notion to solve this same problem?
Which Notion features do I find most useful for solving this problem?
How much time do I have to spend creating this template? (Be realistic!)
Am I confident that I'm proficient enough with Notion to build what I'm envisioning?
Creating and designing your Notion template
Now that you've got your idea, it's time to get your hands dirty and start creating!
Pro tip: The first version of your template should be a rough draft, not a finished product. Before you start building your template, make a quick list of the pages and blocks you'd like to include. This will save you some time and keep you on task. If you're a visual person, creating a makeshift wireframe using Notion blocks is a great place to start, too.
Don't worry too much about making your template perfect or even aesthetically pleasing on the first try. Remember, you can always go back and make it pretty later!
Once you've got the basic build complete, it's time to start designing. Add custom page headers and colorful icons to make your templates pop. Experiment with columns, widgets, and embeds to make your Notion templates more dynamic and interactive. And don't forget to test your templates on mobile, tablet, and desktop to ensure they appear properly (more on that in the next section).
Resources for designing your first Notion template: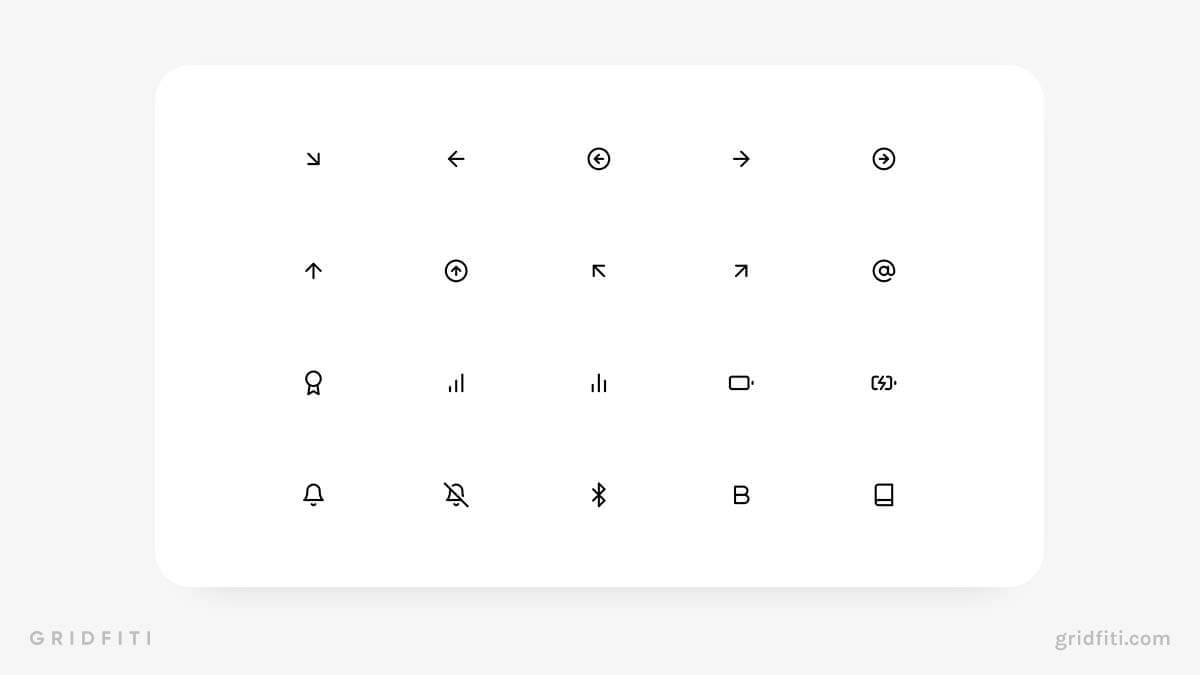 Finalizing your Notion template pre-launch
By now, you've created and polished your template, and you're probably super excited to launch it into the world.
But before you do, complete these pre-launch checks to ensure your template is fully functional:
Have I included text and/or video instructions for using the template on each page?
Are any page icons or covers missing or broken?
Does my template show up correctly on mobile, tablet, and desktop?
Have I shared it to the web and allowed duplication?
Are my databases set up correctly? (Double-check filters, sorts, groups, property names, and database templates.)
Once your template is complete, the last step is making sure it can be duplicated to users' workspaces! This step takes seconds, but the key is making sure you have the right settings both toggled on and off. Here's how to get your template share-ready.
How to share your Notion template to web
Click "Share" in the top-right corner of your template's main page. If your template has several sub-pages, make sure you're sharing the parent page that houses these sub-pages. Every page inside this shared page will be shared, too.
Toggle on "Share to Web". After this, you'll see a couple more options:

Ensure "Allow duplicate as template" is toggled on
Ensure all other options such as "Allow edits", "Allow comments", and "Search engine indexing" are toggled off

Once you've configured the correct settings, select "Copy" to the right of the URL. This will copy the template URL to your clipboard – which you'll use to add to your Gumroad product page, or whichever other marketplace you choose!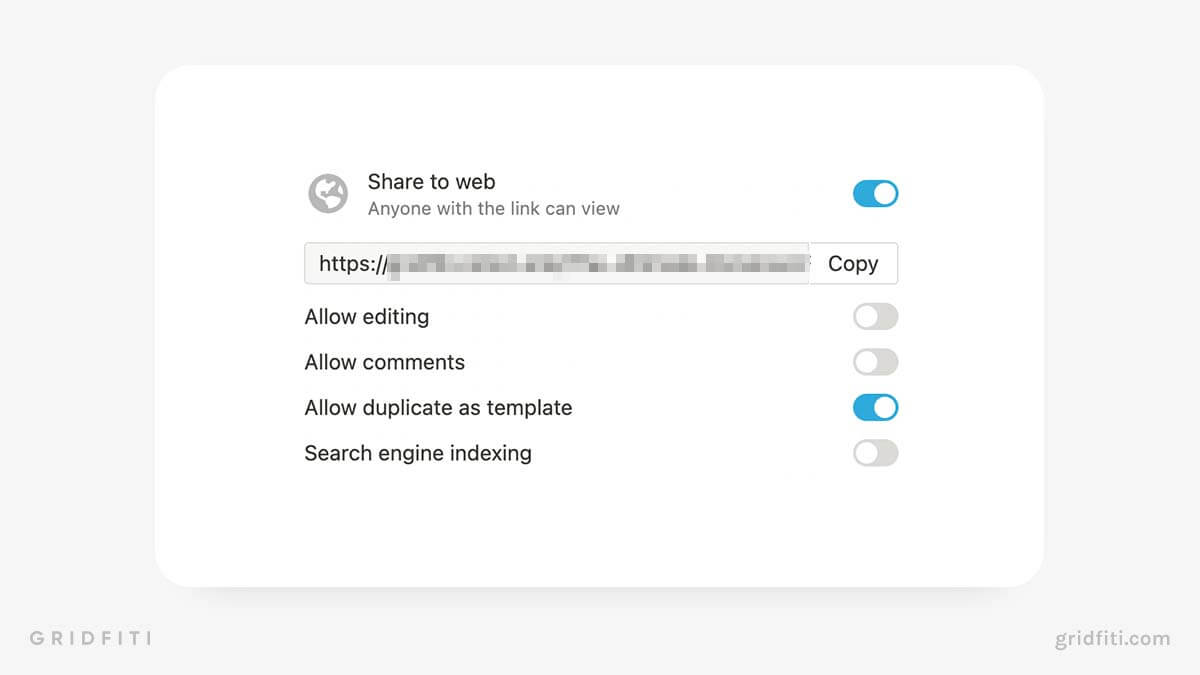 How to Sell a Notion Template
You've triple-checked your templates to ensure they're complete, and now you're ready to share it with the world. Congrats! This is a huge step, so take a moment to celebrate before moving on to the next step.
Launching your template
Now you're probably wondering, "Where do I sell my Notion templates?"
If you've already got your own website or shop, start there. This will let you avoid vendor fees, but you'll also need to foot the bill for website hosting and other expenses. Plus, you'll need some SEO savvy to ensure users can find your template, plus copywriting chops to turn readers into customers.
Notion marketplaces
Even if you have your own website, we recommend posting your template to multiple marketplaces to maximize reach and grow your audience. These marketplaces take the hassle out of selling your templates (Gumroad is our personal fave):
Gumroad
Ko-fi
Flurly
Etsy
AppSumo
Publishing your template to sell on Gumroad
Gumroad is the best place to sell your Notion templates for several reasons. Accepting payments through Gumroad is hassle-free and totally secure, which means more peace of mind for your customers and less admin work for you. Gumroad takes a cut of each sale (up to 10% depending on the payment method used), but the fee can be worth it!
New to Gumroad? Start selling your Notion templates on Gumroad in 5 easy steps:
Sign up for a Gumroad account.
Update your settings to add a payout method, set a currency (we recommend USD), link Gumroad with your Google Analytics Account, and more.
Create your first product. Give it a name, select "Digital product" under Type, then add a price.
On the "Product" screen, you can customize your product — upload your product description, add images, alternate versions, discount codes, and more.
IMPORTANT! In the "Content" section of your Gumroad product page, be sure to choose "Redirect to URL after purchase". Paste the URL to your public Notion template, then click "Test" to ensure it works.
You can update your product at any time after publishing, so don't fret if you forget to include something or make a typo in your product description.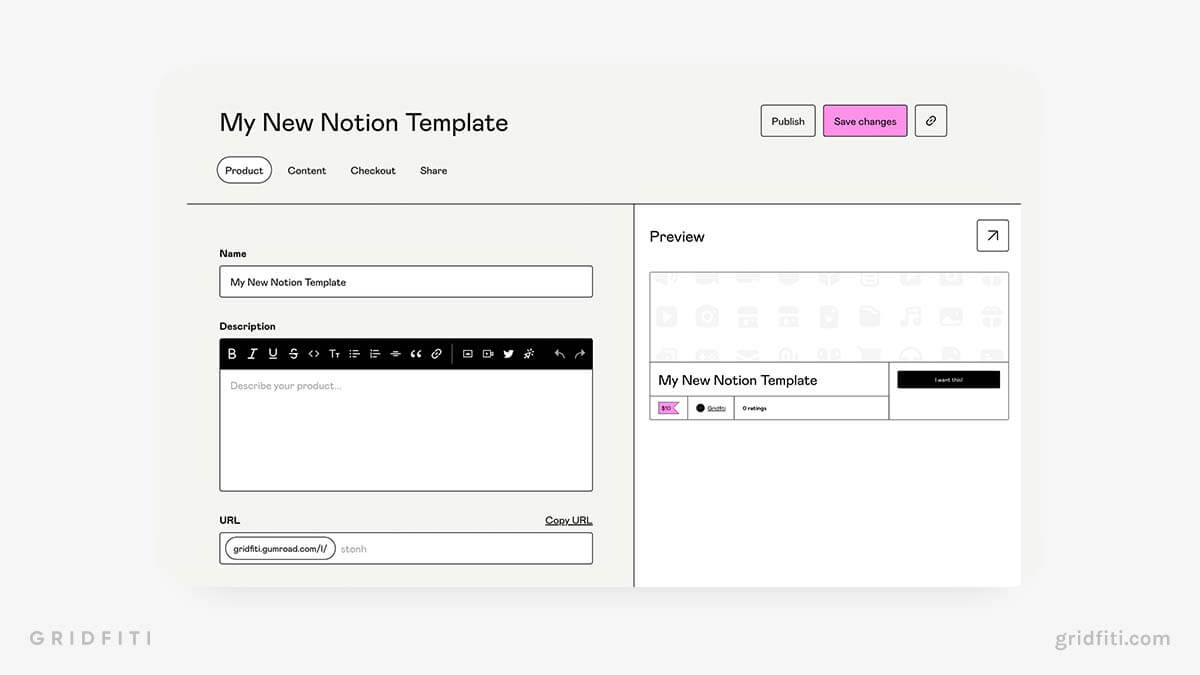 Marketing your template
Okay, so your template is out in the world — now you need to promote it to build your following and land some sales. No pressure!
Here are 5 tips for marketing your new Notion template. We've organized them by effort: low, medium, and high.
Engage with online communities.
Effort: Low
You'll find active Notioneers on Reddit and Discord. Be sure to check the rules before promoting your template — some communities prohibit self-promotion.
We recommend answering questions and networking with other Notion users in these communities instead of simply posting a link to your sales page. Remember, people are more likely to buy from people they know, like, and trust, so use these communities in a way that makes people know, like, and trust you!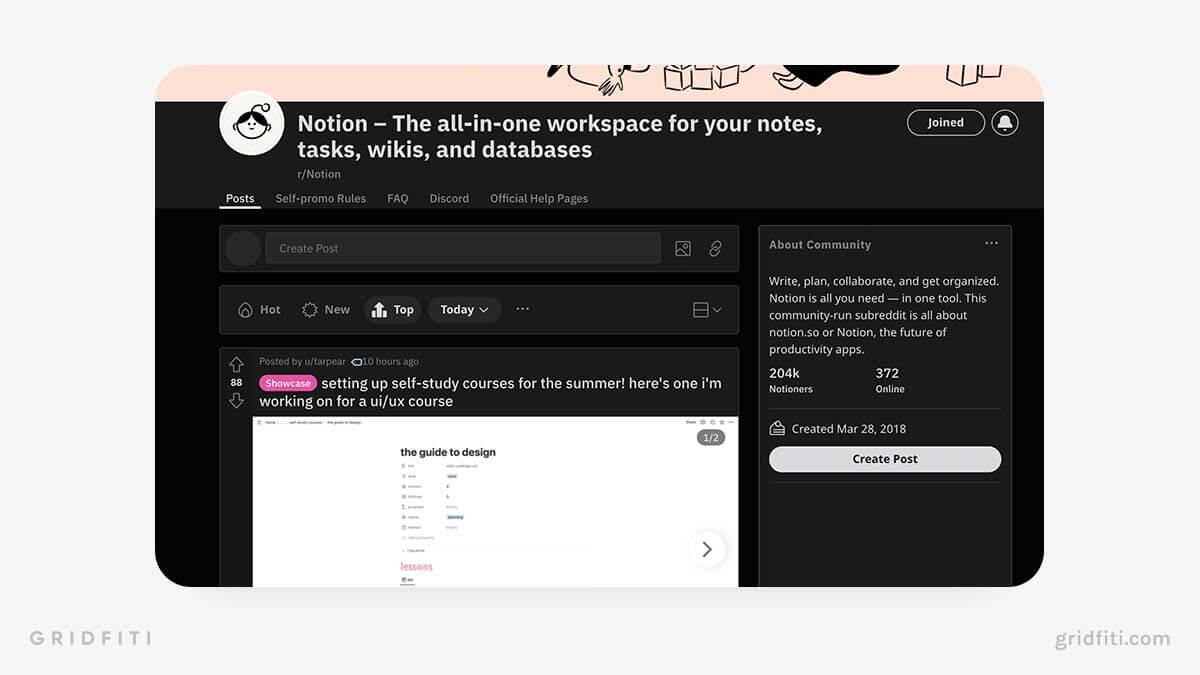 Apply to affiliate sites and programs.
Effort: Low
Several sites host paid Notion templates from creators. You may need to apply to be accepted, and each affiliate sale will incur a fee. But the small cut is well worth it — these sites have huge followings, which means more customers for you, with minimal effort on your part!
Here are some sites that host paid Notion templates:
Our blog, Gridfiti! Submit the template submission form with your Notion template details to be featured in front of our readers!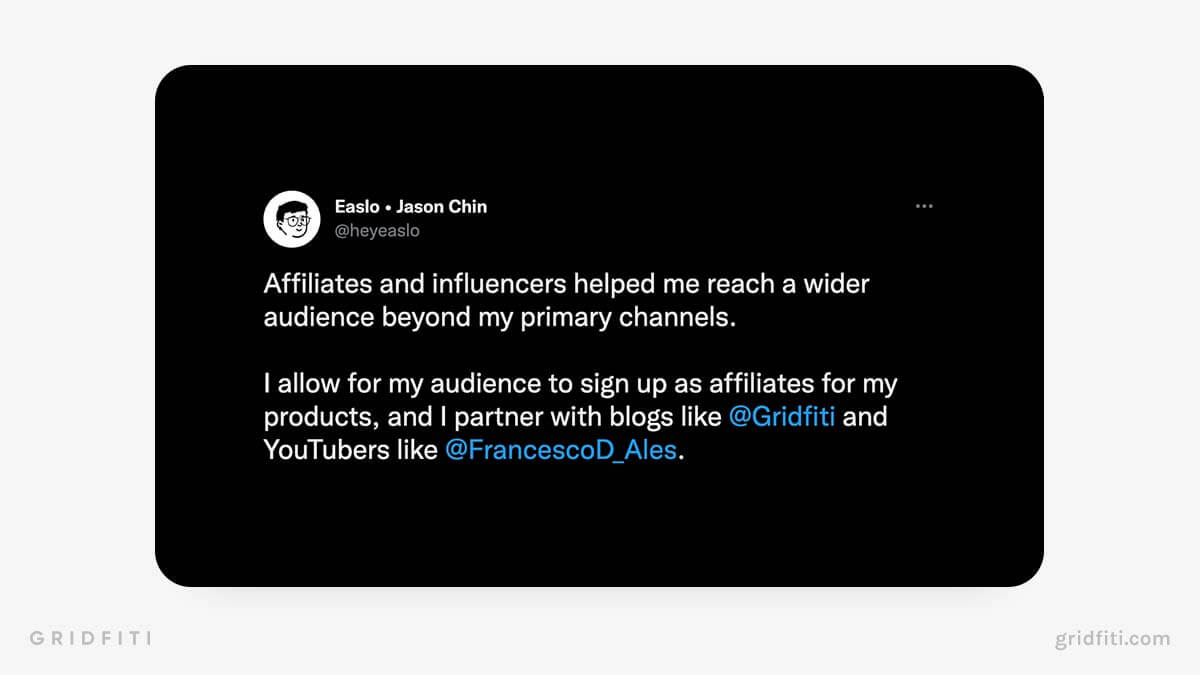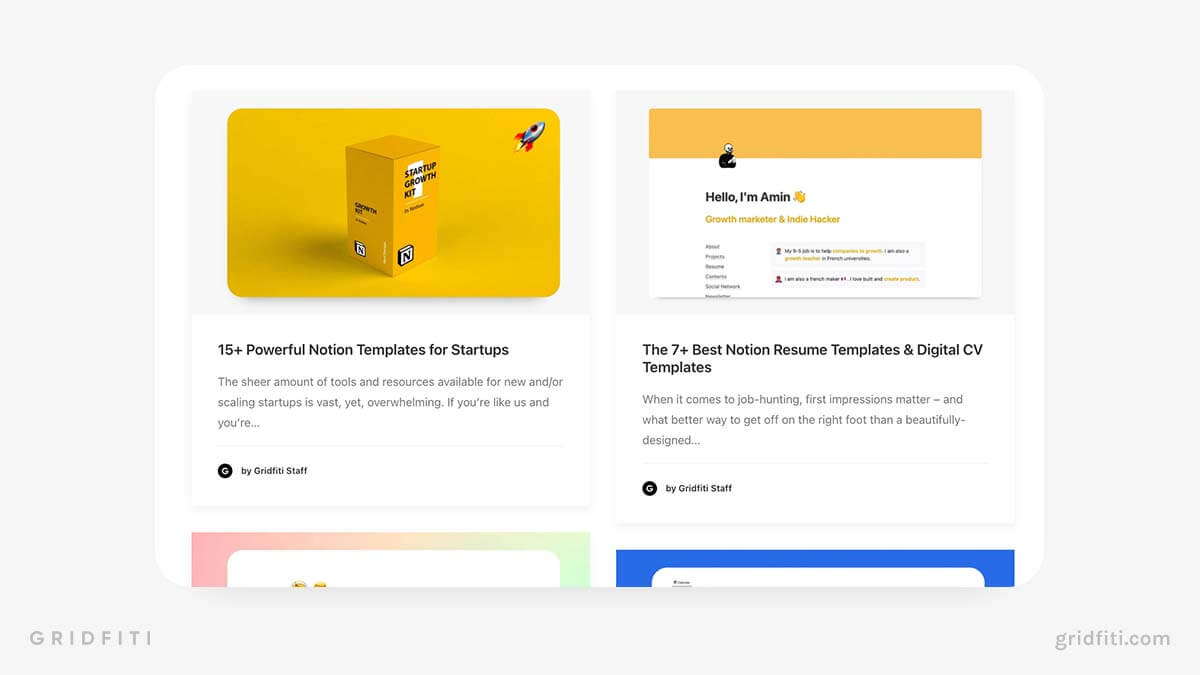 Promote your template on social media.
Effort: Medium
Twitter, Instagram, and Pinterest are great places to promote Notion templates. Use Canva to quickly create eye-catching graphics and videos that showcase your templates in all their glory. Be sure to use Notion hashtags to increase your post reach.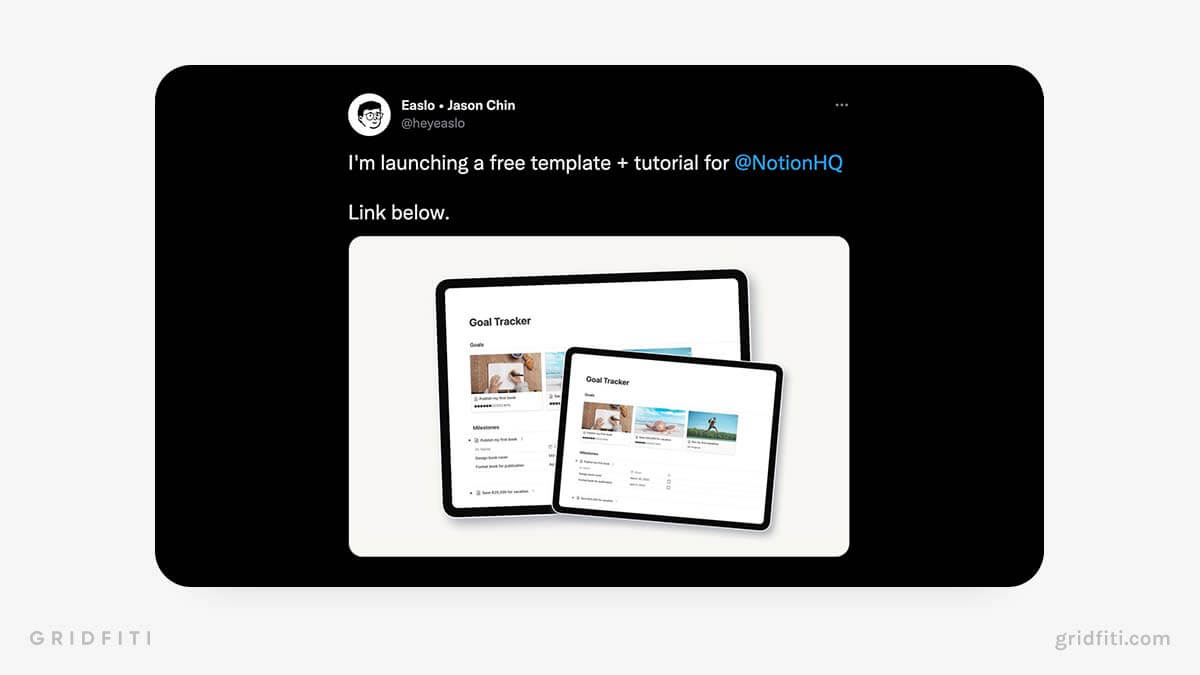 Create a search-optimized sales page for your template.
Effort: High
If you're selling a template bundle or high-value template, dust off your copywriting skills and design a landing page on your website. When writing your copy, hone in on exactly how your template benefits your buyers. Over time, you can come back and add customer testimonials and case studies to build trust with customers.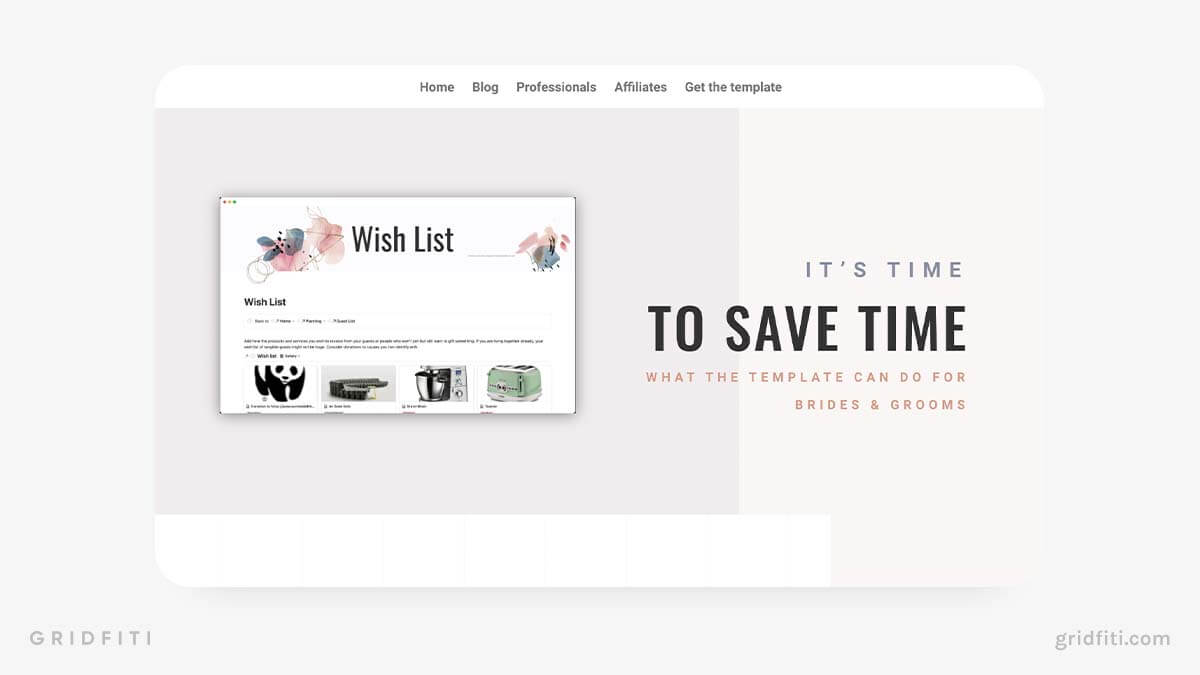 Post Notion content on YouTube.
Effort: High
YouTube is a popular hangout for Notioneers. You might want to post a walkthrough of your template or a tutorial to establish yourself as a Notion creator. Free tools like Canva make it easy for newbies to create video content easily and quickly. Don't forget to add a link to your product page in the video description — you'd be surprised at how well they convert!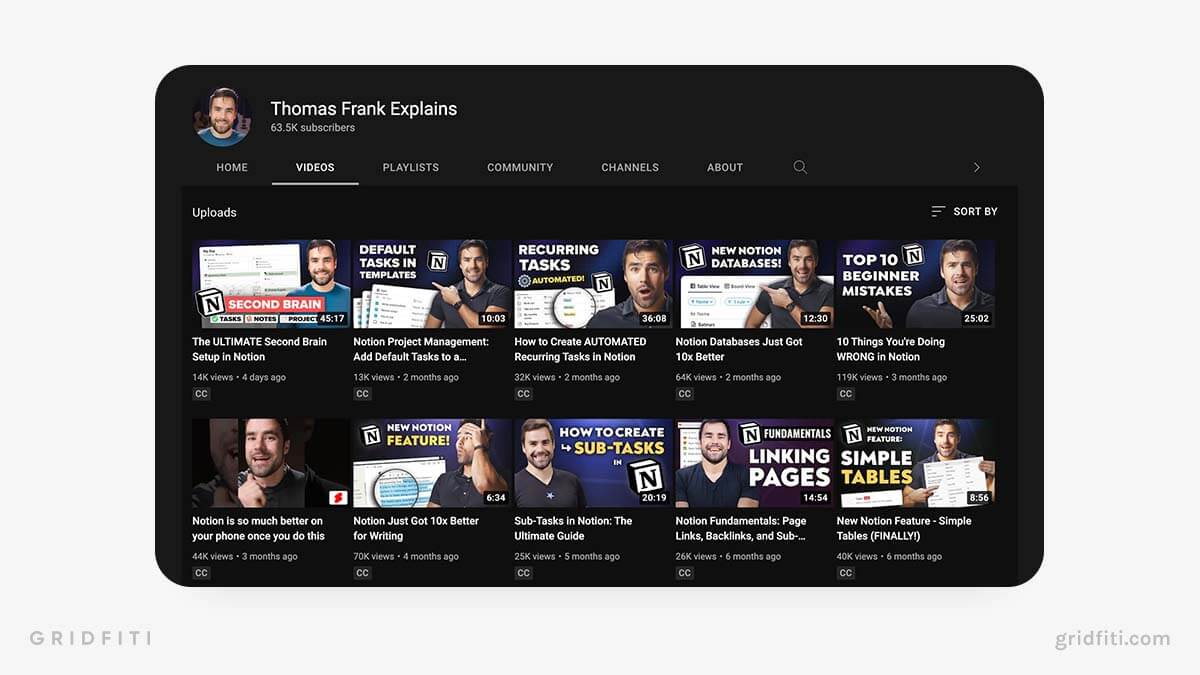 Getting inspired – Notion template creators
Racking your brain for a Notion template idea and coming up empty? Check out some of our favorite Notion template creators to see how far you can go with templates!
The Notion Bar
Twitter | Website
Mel Lee-Smith
LinkedIn | Website
Theresa
Twitter
Phillipp Stelzel
Twitter
Daniel Canosa
Twitter
Notion Coach
Twitter
Hugh Dawkins
Twitter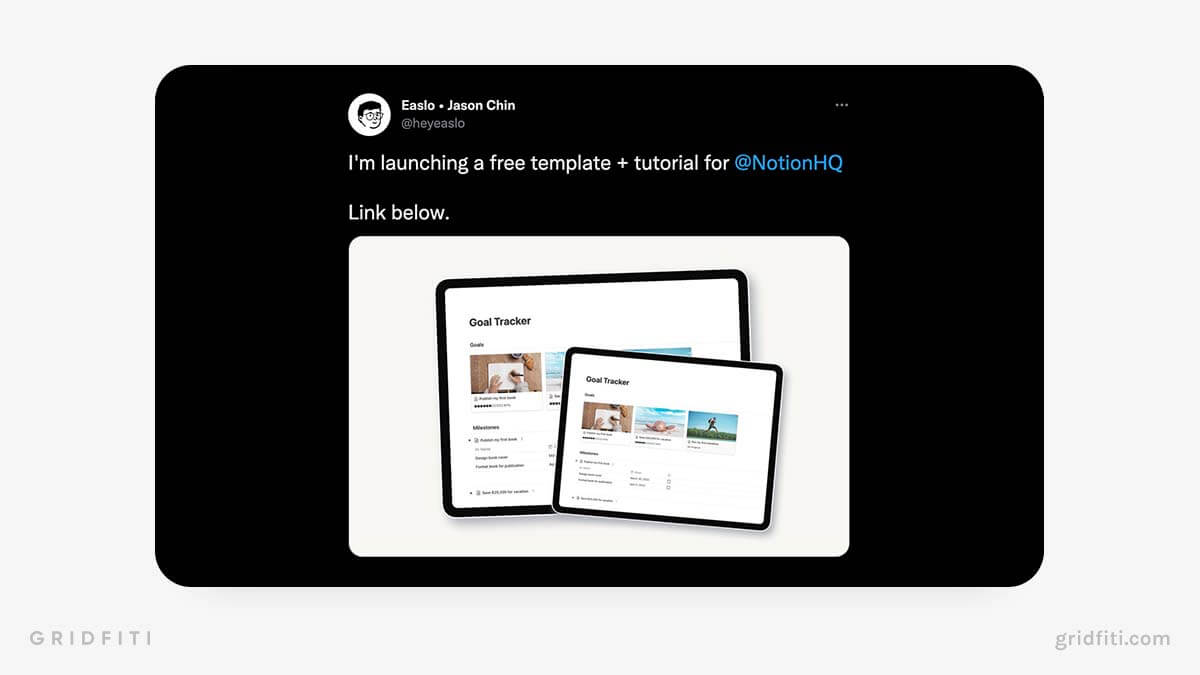 Notion Creator Courses for Selling Templates
Creating your template is only half the battle — you'll need some basic digital marketing skills to make money off your Notion templates. That's where Notion creator courses come in. To learn everything from best practices for email and social media promotion, to building your ideal customer avatar, check out some of our favorite Notion courses below!
For more courses, check out our full round-up post featuring the best Notion courses & training!
Notion Creator Course – How to Sell Notion Templates
From ideation to distribution, this bite-sized course covers everything you need to know about selling Notion templates in 7 short video lessons. It also comes with 3 handy Notion templates to help you manage your new side hustle.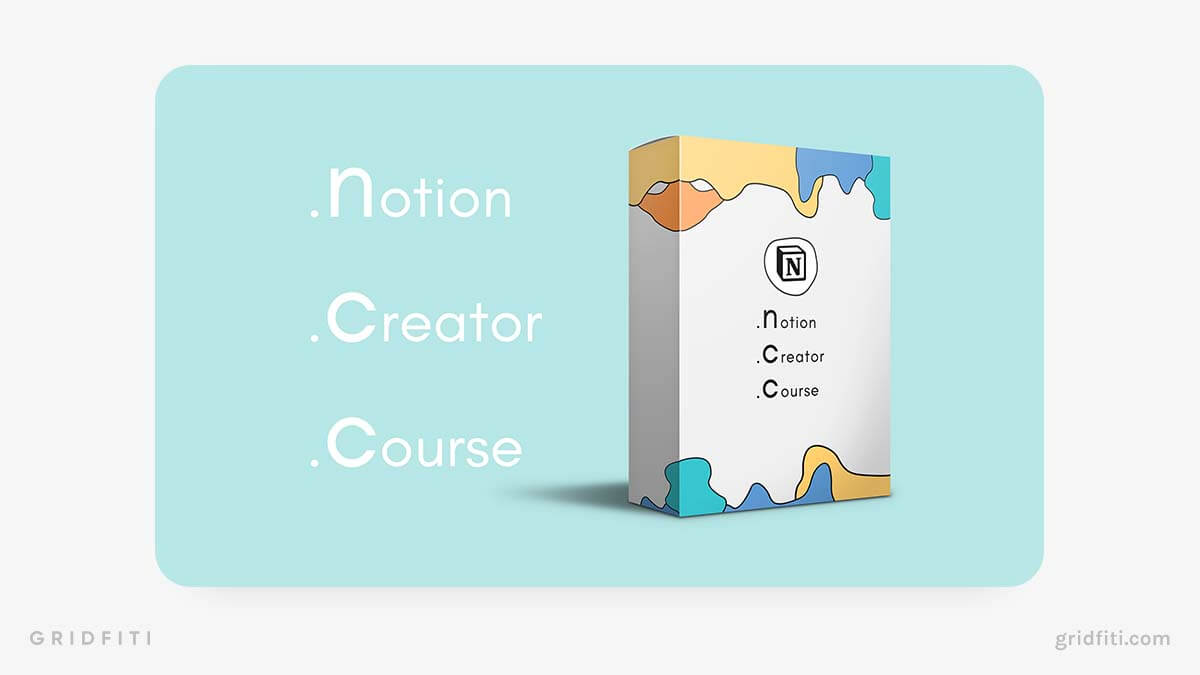 Notion Creator Playbook
Want to sell Notion templates but have zero marketing experience? The Notion Creator Playbook will guide you through the whole process from start to finish, from building your personal brand to crafting copy that converts.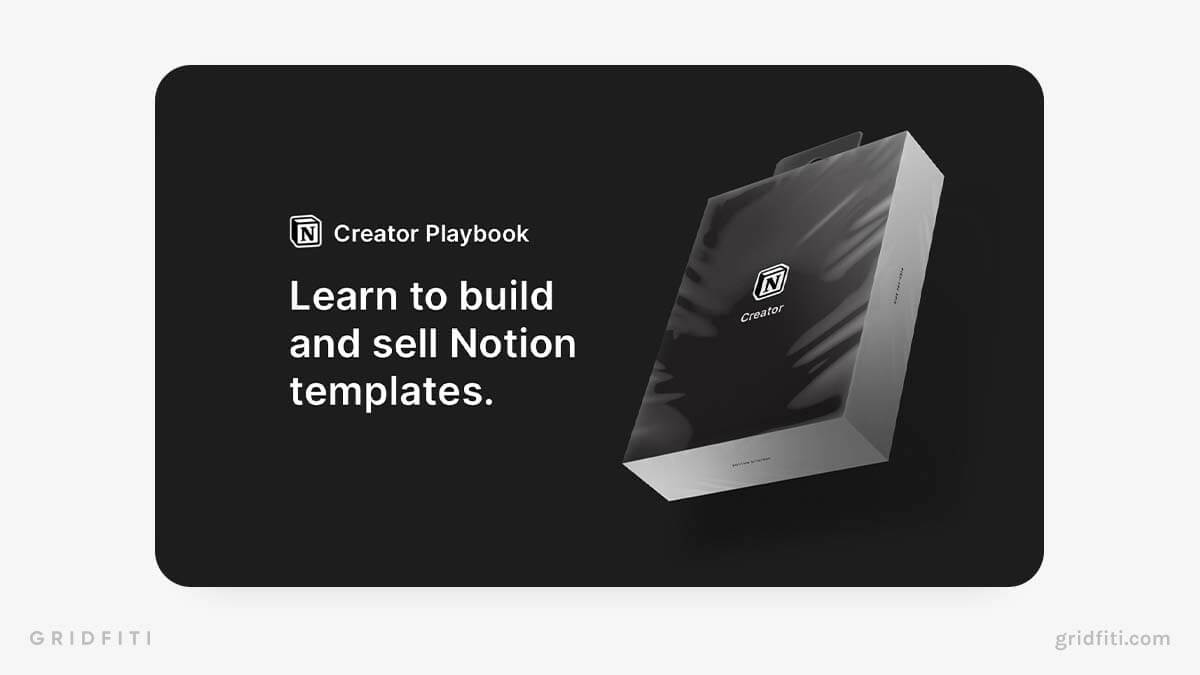 Notion Creator Bundle (+ Dashboard)
The Notion Creator Bundle and Dashboard includes checklists for designing and launching your templates, a system for tracking your income, and so much more. Brought to you by Notion expert Pascio, the dashboard also provides resources and communities for promoting your new template and growing your audience.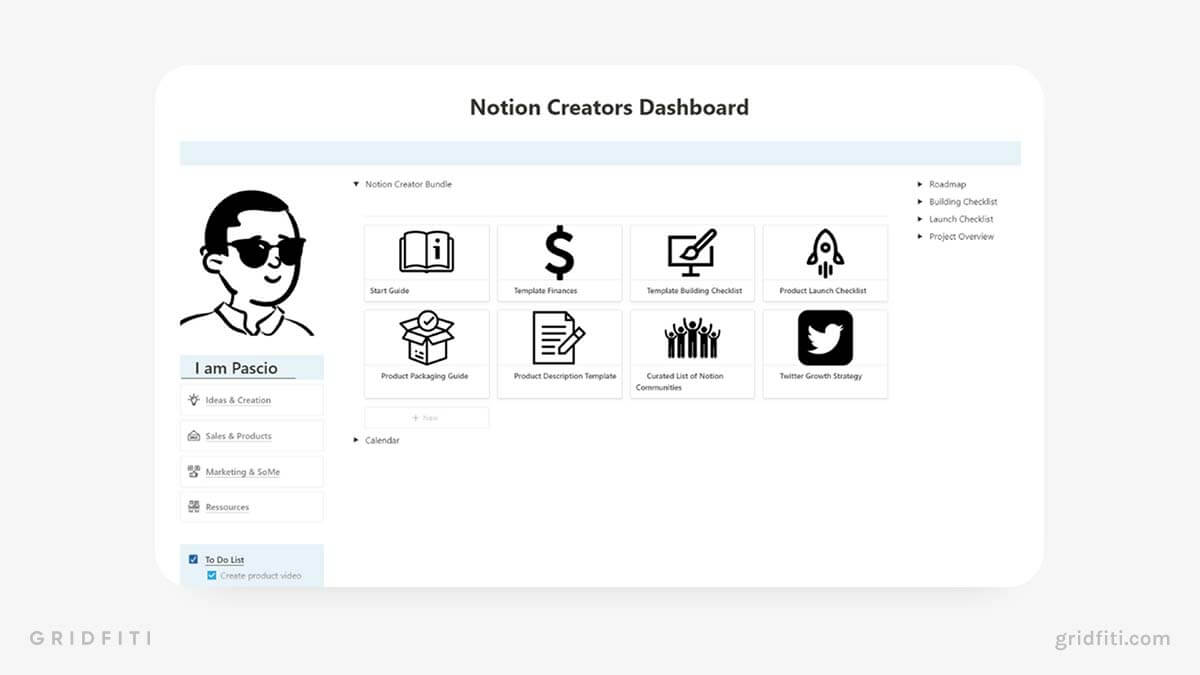 Selling Notion templates is a legit and lucrative way to make some serious bank. Now that you know how to create, design, and sell your template, it's time to start building!
Have a Notion template you've created and want to submit to our blog? Email us here with more about your template! If you're looking to learn more about the all-in-one productivity software, don't miss our other Notion blog posts.
Gridfiti is supported by its audience – when you buy something using the retail links in our posts, we may earn a small commission at no additional cost to you. Read more about our affiliate disclaimer.