Having a strong social media presence is a must in this day and age – but with so many platforms, it's incredibly time-consuming to plan and manage all your content at once.
Luckily, there are several social media templates built in Notion that make it easier for you to streamline your social media tasks: scheduling posts, organizing content, publishing checklists, and more.
To help you begin, we've rounded up the best Notion social media templates that will make it easier for you to manage and grow your social media channels!
Want more Notion templates and updates? Join our mailing list, and check out our several other Notion template round-ups!

Get the all-in-one Life OS template, the only Notion template you'll ever need — with over 25 integrated templates built in.
The Content Creator's Dashboard
Streamline your content planning, tracks brand deals, and simplify task management with the all-in-one content creator's dashboard that allows you to focus on building your audience.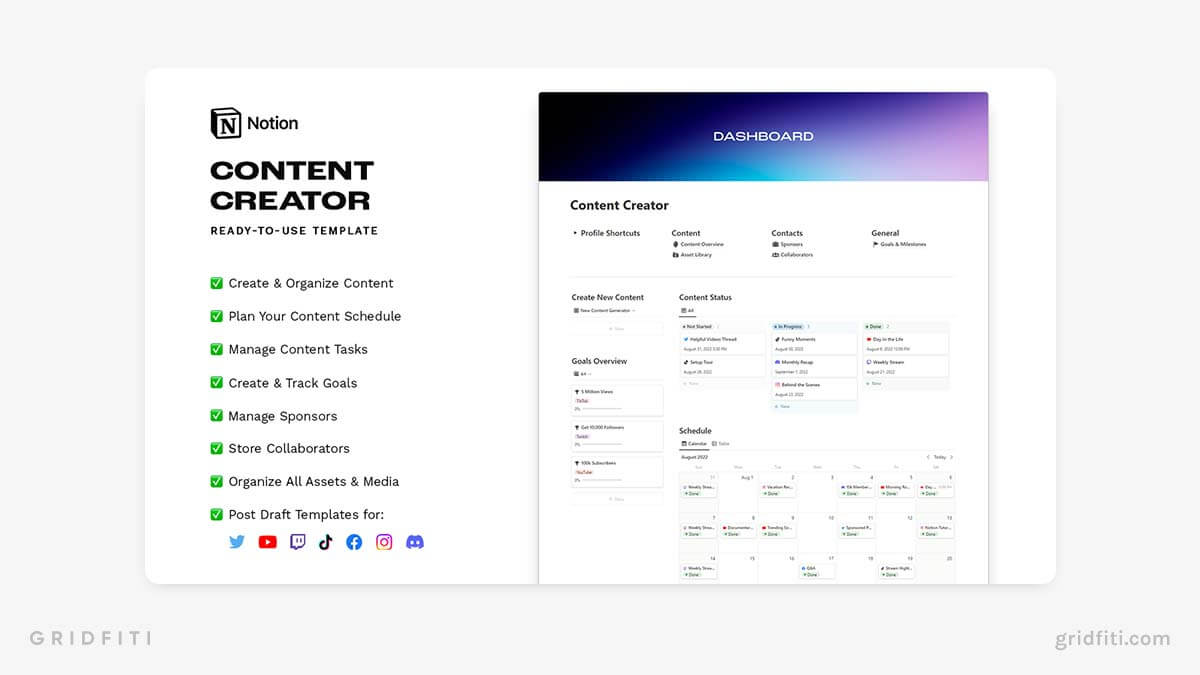 The Social Media Manager Template
Plan your social media content under one workspace and turn your Notion hub into your own social media manager hub! Manage posts, create content calendars, track social goals, build post templates, and lots more.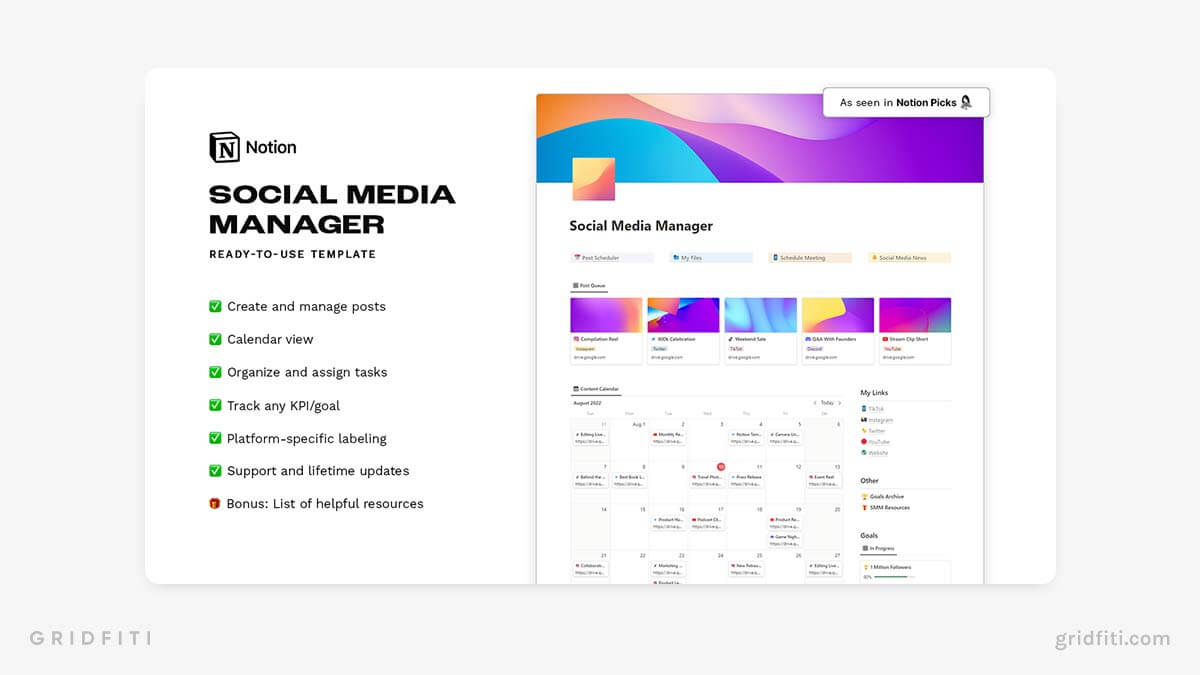 Notion Social Media Kit
The ultimate template to take your social media channels to the next level, this robust kit is built for all the major social media platforms – Instagram, Twitter, Facebook, LinkedIn, TikTok, YouTube, and Pinterest. This social media bundle includes in-depth social strategy template, a brand's story exercise, tips and tools, content planners, and even examples to grow your pages!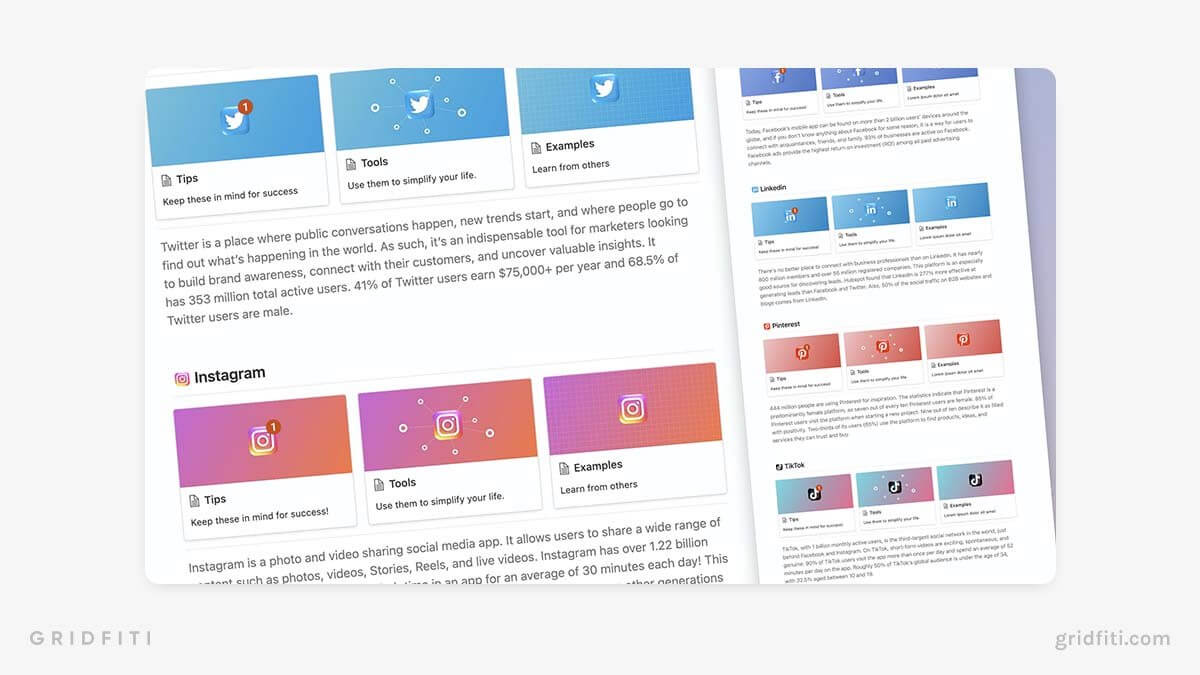 Notion Social Media Dashboard Template
Bring your social planning into Notion with this social media dashboard template designed with a customizable calendar, paid ad expense tracker, and pre-built templates for easy content creation! This dashboard includes five built-in templates for Facebook, Instagram, Twitter, Pinterest, and LinkedIn.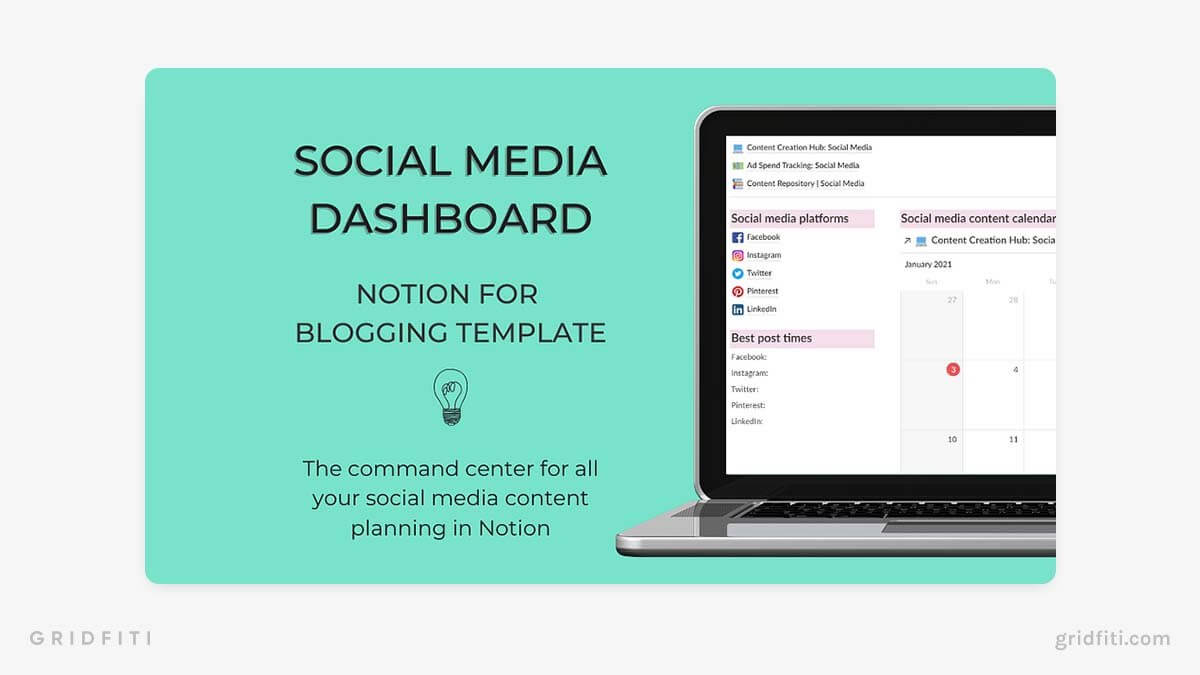 Notion Content Creation Hub Template
A central hub that houses all your blog, social media, email, video, and podcast content all in one database! Gone are the days of navigating through multiple apps for each platform – you can streamline your content creation all within your Notion workspace. The content hub includes 9 templates to help you create, plan, and post – in the most organized way possible.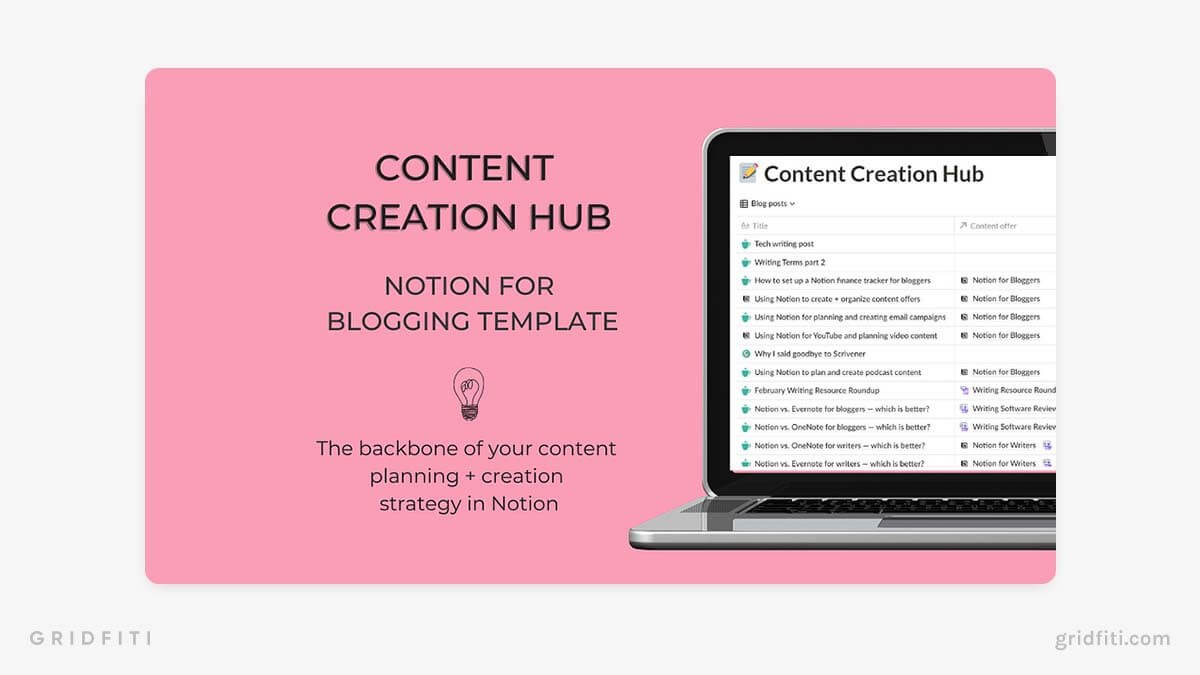 Social Media Planner Template
This social media planner template is the perfect tool for staying organized and on top of your social media content. With a universal calendar view, you can easily plan out your social media strategy and keep track of the content you've scheduled. The template's minimalist design makes it simple to manage all of your content in one place, so you can stay focused on your social media goals. This template is an essential tool for anyone looking to maximize the reach of their social media presence!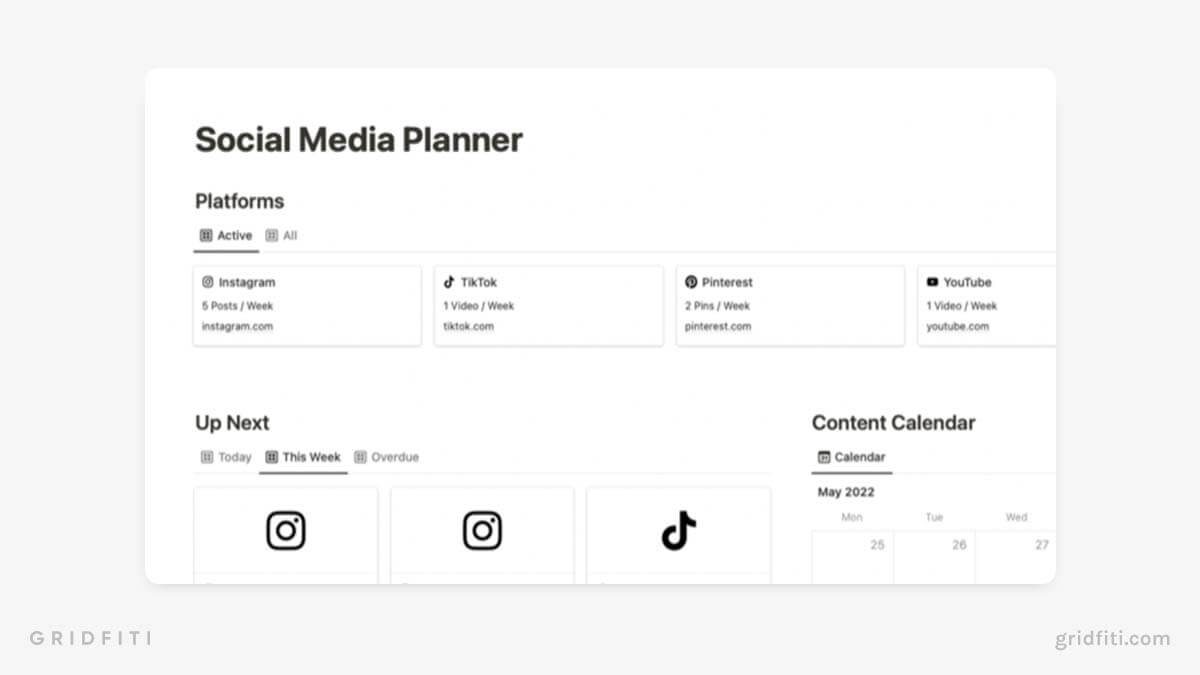 The Creator Studio for Twitter & Gumroad
If your main distribution channel is Twitter and you use Gumroad to sell your products, this is the template you need to organize all of your content! Use the Creator Studio to manage, track, arrange, and organize your ideas into a single workspace.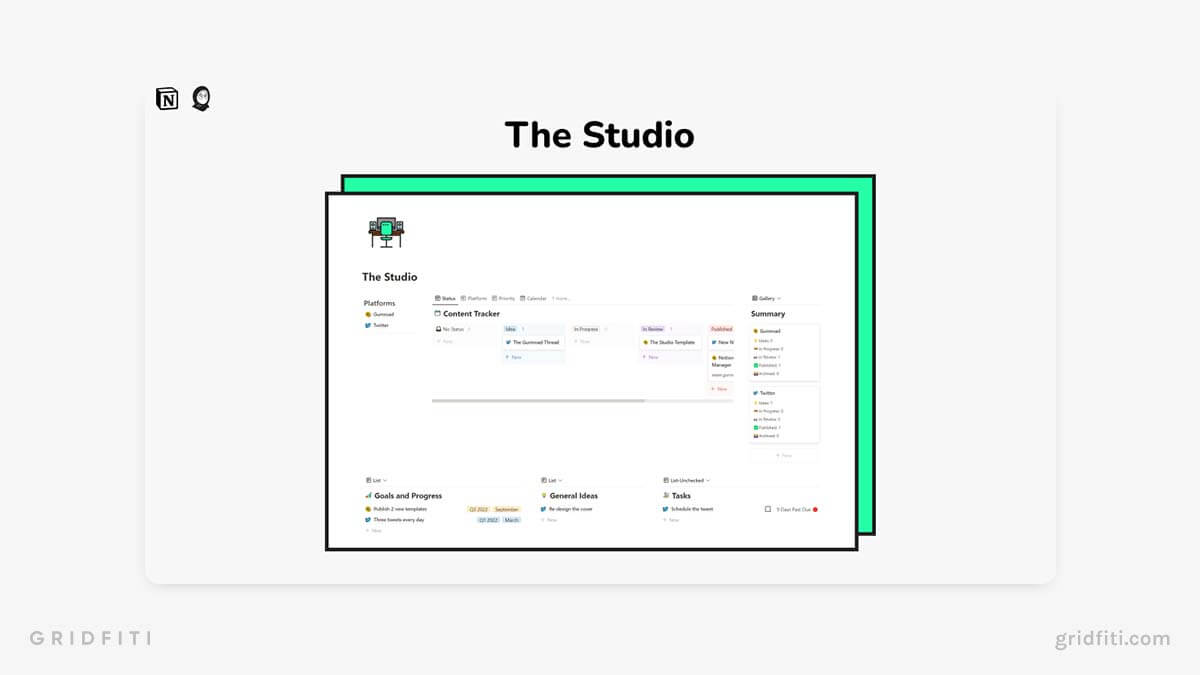 Notion Social Media Content Planner
Built for newsletters, YouTube, Instagram, and TikTok – take your ideas to publish-ready with this social media content planner!
For more email newsletter templates, check out our full round-up curating the best Notion newsletter templates!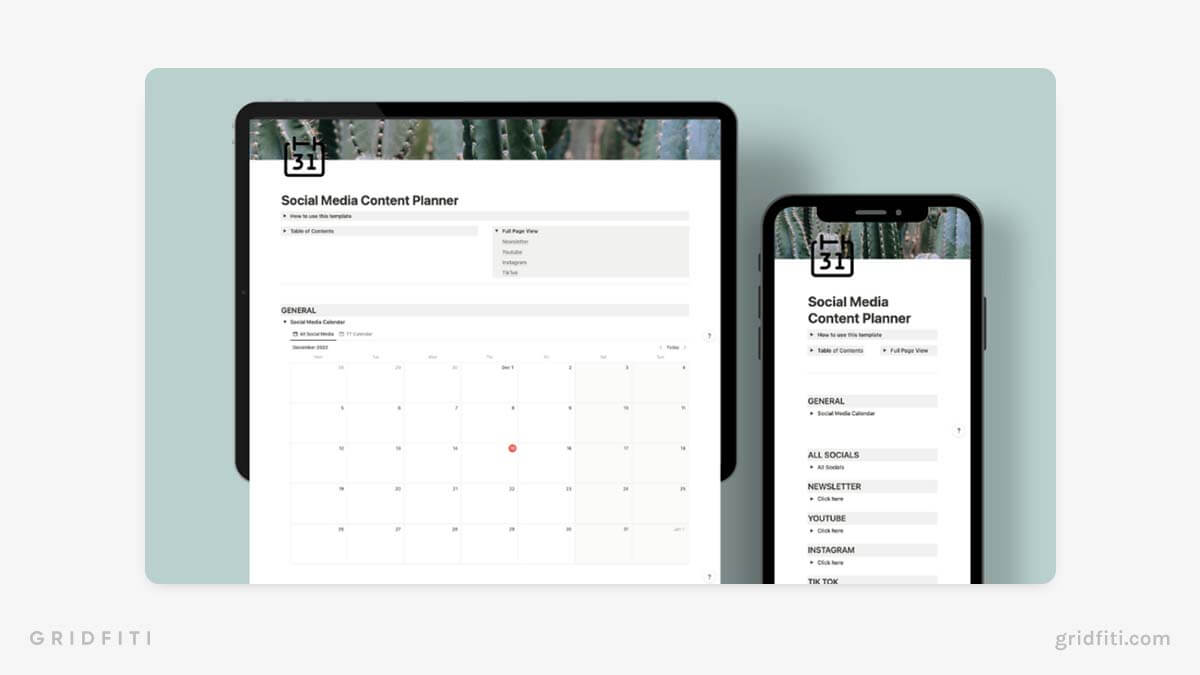 Create Lab – Production System for Content Creators
For content creators looking to manage everything under one console, use the Create Lab template to map out ideas, draft outlines, produce content, and schedule out your posts.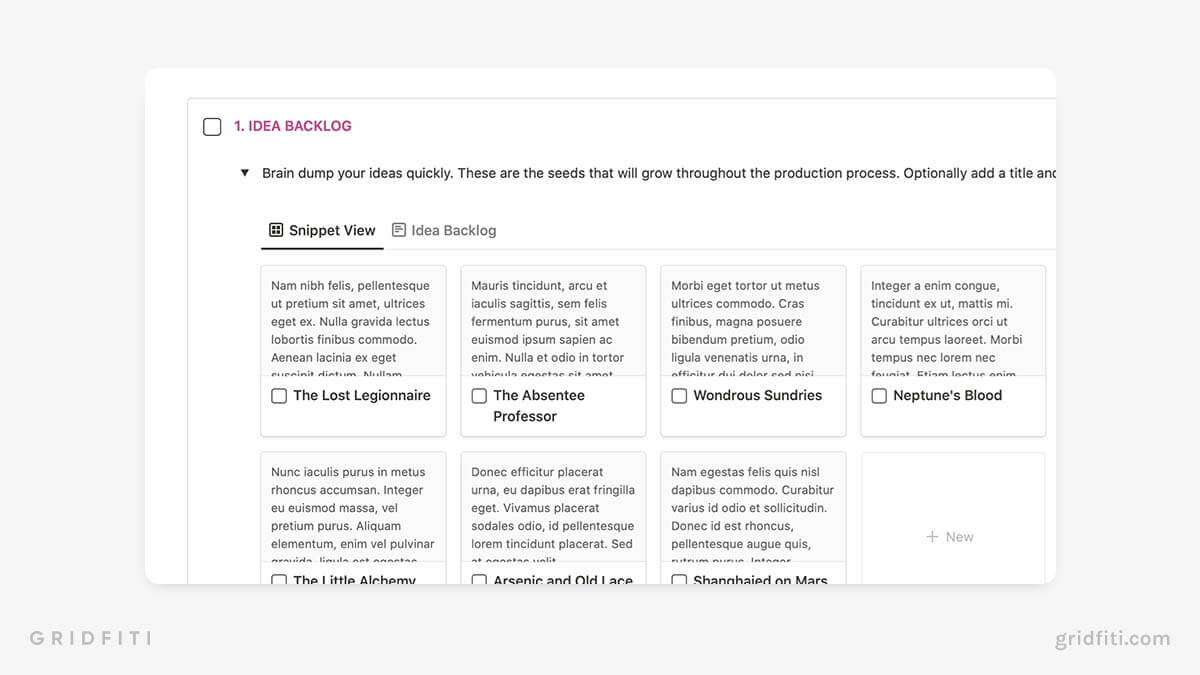 Simple Content Creation Notion Template
A simple system that allows you to view everything at a glance in a dashboard view and offers a creation pipeline dashboard to help you ideate, draft, write, edit, produce, publish, and promote your content.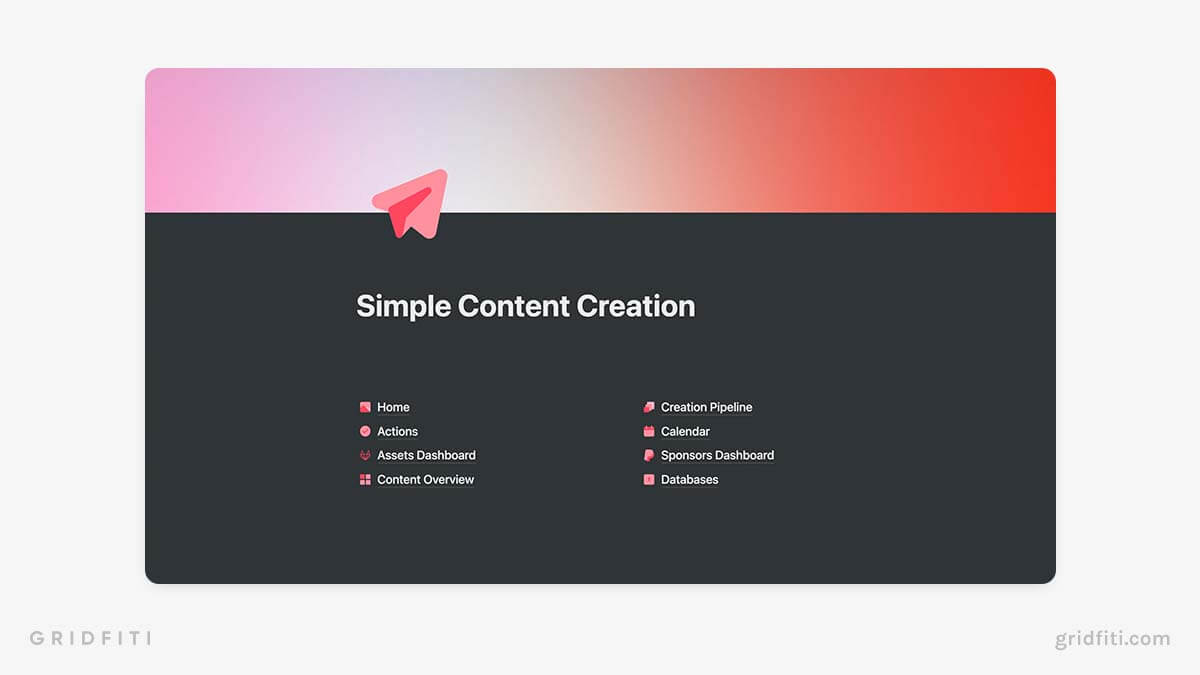 Twitter Operating System Template
Expand your presence on Twitter with the ultimate Notion Twitter OS template! In one place, you can curate, write, and grow your Twitter audience with the robust dashboard!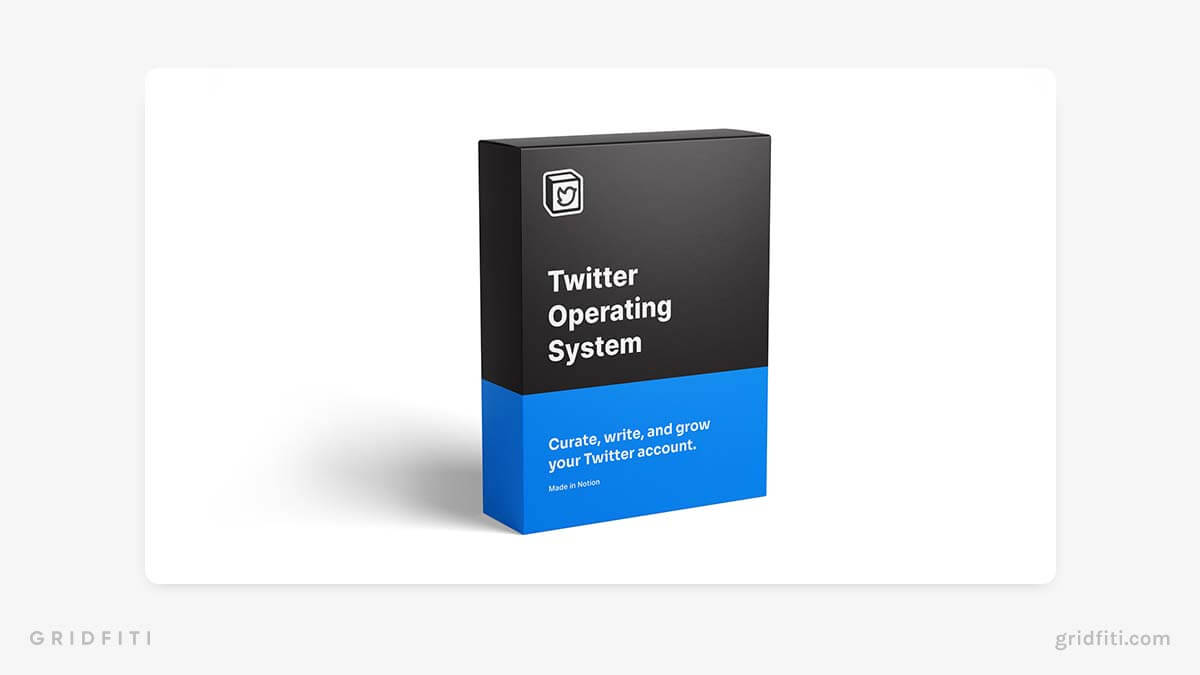 YouTube Notion Template – YouTube Content Mastery
If you're a video content creator that's focused on YouTube, this is the template for you! This template will set you up for success with a consistent video posting schedule, all while minimizing the typical stress that comes with being a YouTube creator. In the YouTube Content Mastery Notion Template, expect to find built-in templates for creating video scripts, content creation calendars, B-Roll lists, a publishing checklist for your videos, and more!
For more video templates, check out our full round-up featuring the best Notion YouTube templates!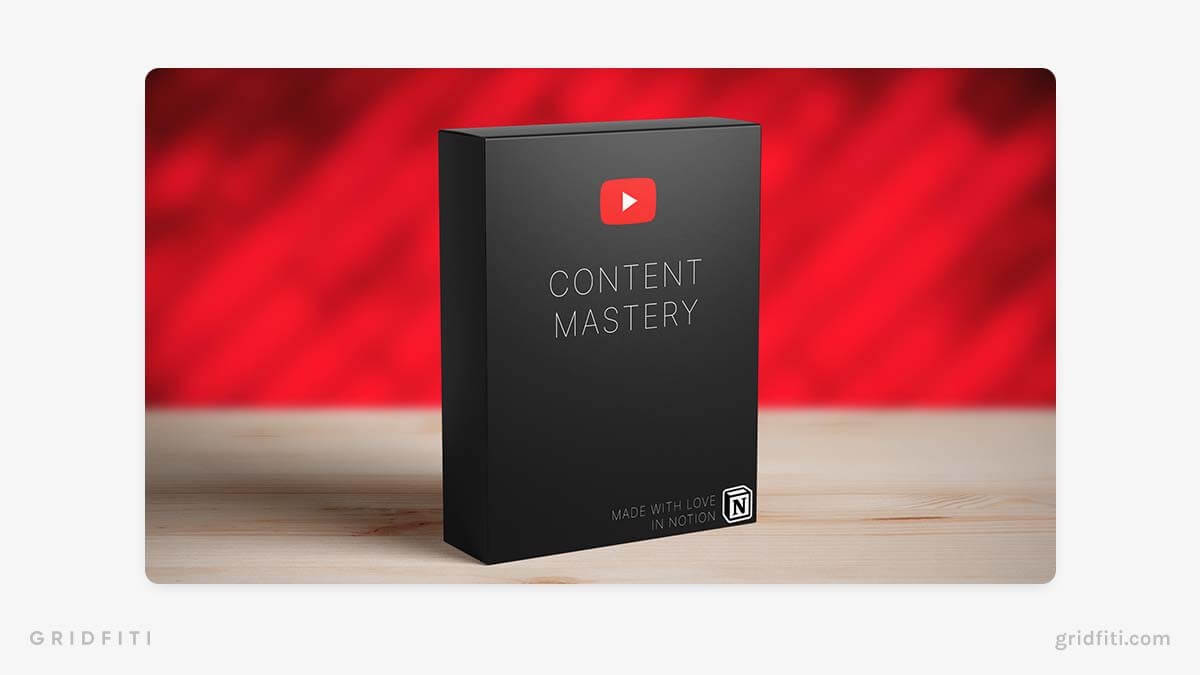 Notion Content Creation Workspace
The ultimate organization system for creators where you can curate, create, manage, publish, and repurpose your content from a centralized Notion content creation hub. The workspace includes 7 templates that will set you up for success and guide you to making the best possible content for each platform!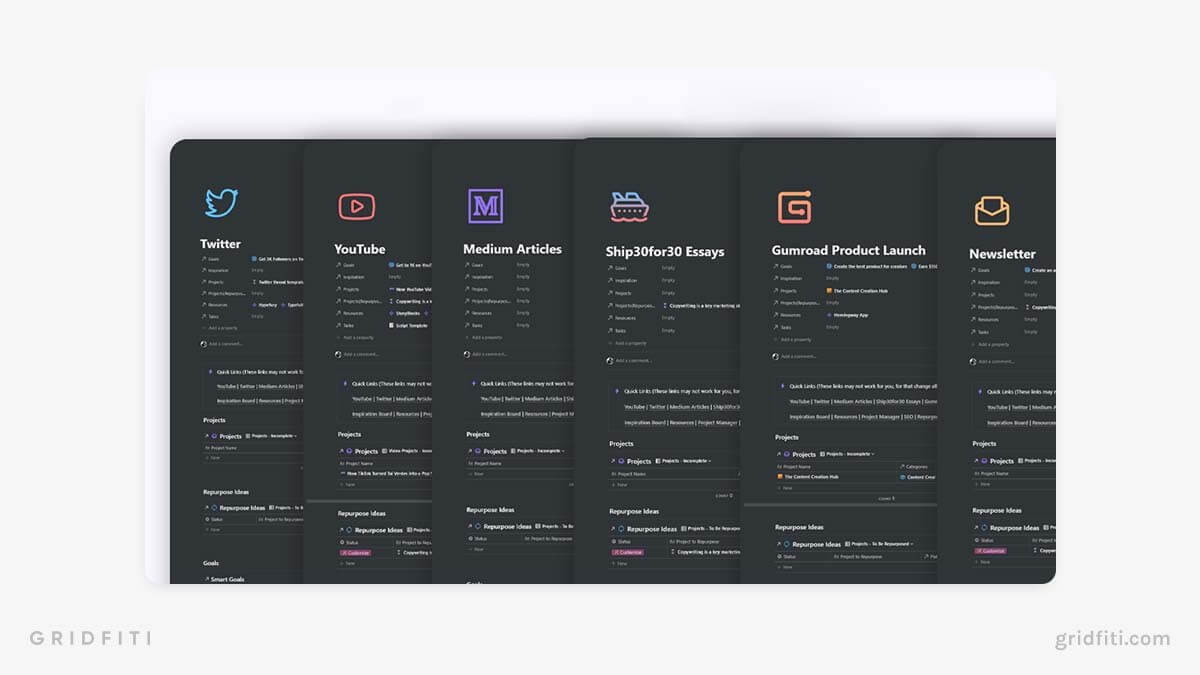 Simple Notion Content Calendar Template
This simple Notion social media calendar template can help you plan your posts by platform in (you guessed it) calendar or table view! For more calendar templates, check out our full round-up of the best Notion calendar templates.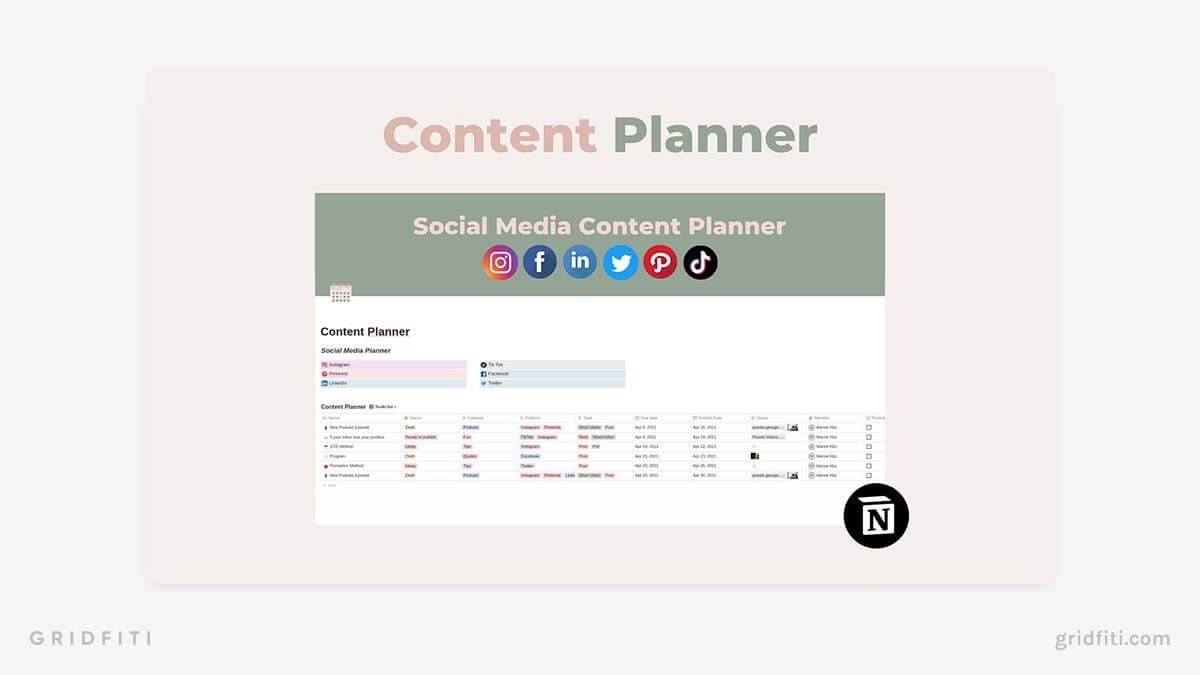 Notion Content Database Tracker
Keeping track of the hundreds of pieces of content you create is not an easy task – which is why Notion is the perfect place to monitor, tag, and track everything you create. Use this simple Notion content database to sort out your posts by date, topic, post type, and more!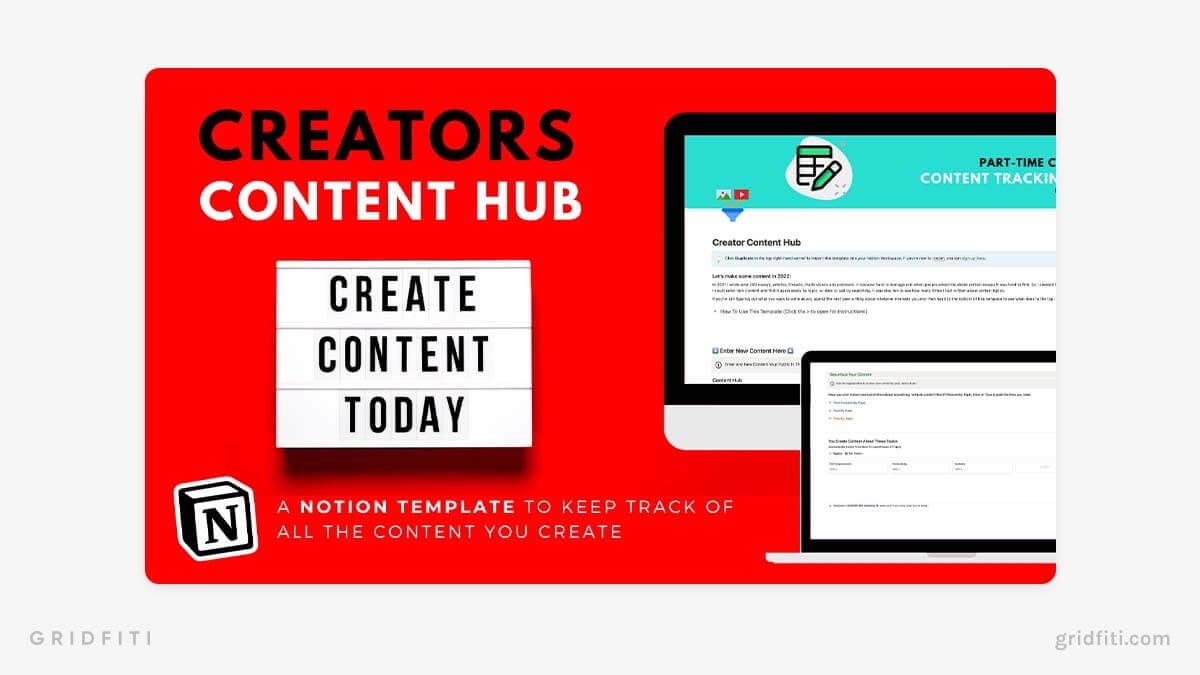 Which Notion social media templates do you use? Do you have any other social media templates or content creation templates for Notion to recommend? Let us know in the comments below!
Gridfiti is supported by its audience – when you buy something using the retail links in our posts, we may earn a small commission at no additional cost to you. We only recommend products we would use ourselves and recommend to our friends and family. Read more about our affiliate disclaimer.