On top of your work and professional life, managing your social media side hustle can be tricky. Luckily, Notion social media templates can make creating content calendars, growing engagement, and generating revenue a breeze.
Twitter is one of the most competitive social media platforms around, so you might need a helping hand to make your content stand out from the crowd. Scroll down for 16 of the best Notion Twitter templates to make your Twitter profile soar!
---
Looking for more productivity tips and tools? Subscribe to The Flow — our quick, snappy, value-packed focus and recharge newsletter. Also, don't miss our several other Notion template round-ups and guides!
---
Twitterpreneur OS
Twitterpreneur OS gives you all the tools needed to be the next big thing on Twitter. You won't be stuck for content anytime soon with over 800 ideas for Tweets, threads, and products.
With Twitterpreneur OS's content planner and CRM system, strategizing and managing social media is easier than ever. Plus, thanks to a trove of bookmarks, templates, and other resources, you'll can access loads of helpful industry insights at any time!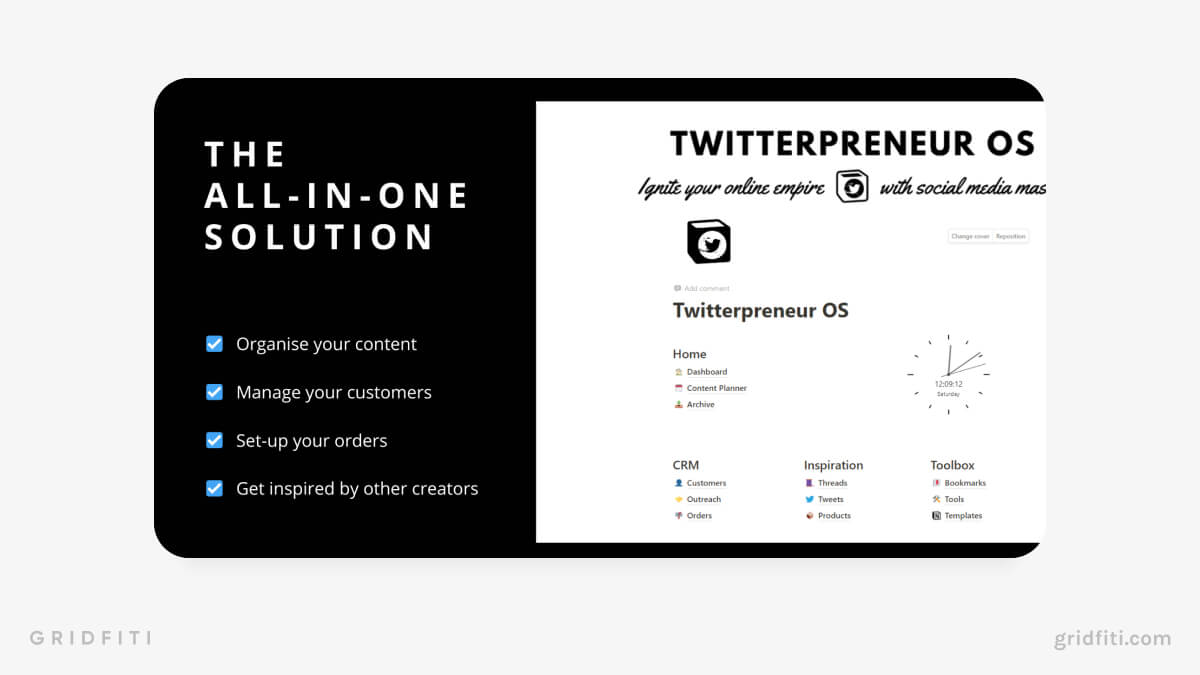 Automated Twitter CRM
Building relationships with other creators and tracking audience growth trends are key components of building a Twitter following. Automated Twitter CRM is a Notion Twitter template that automates tracking of other creators' Twitter growth tailored to your niche.
Track your Twitter publishing schedule, calculate engagement rates, and use Notion AI to rewrite Tweets swiftly.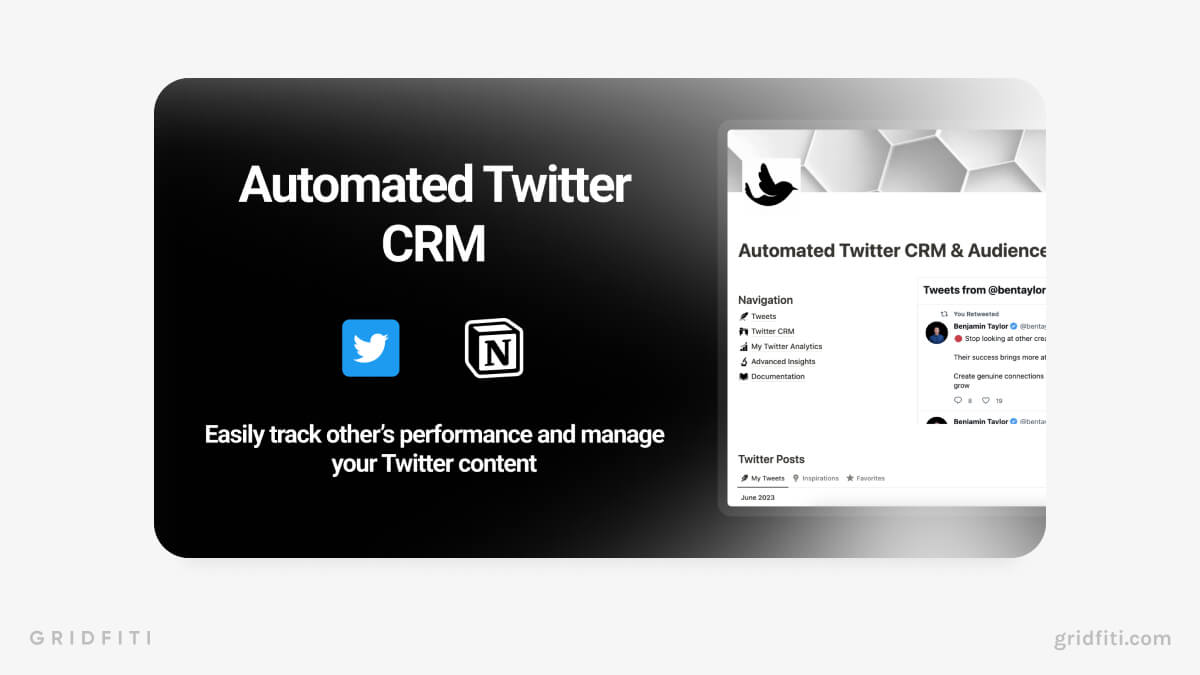 The Twitter Second Brain
Twitter Second Brain is a content planning and organization tool that'll make managing your Twitter account a breeze. Build a social media content calendar, create a database of bookmarked Tweets, write to-do lists, and employ top Twitter browser extensions. The Twitter Second Brain is one of the best second brain Notion templates for managing your Twitter feed.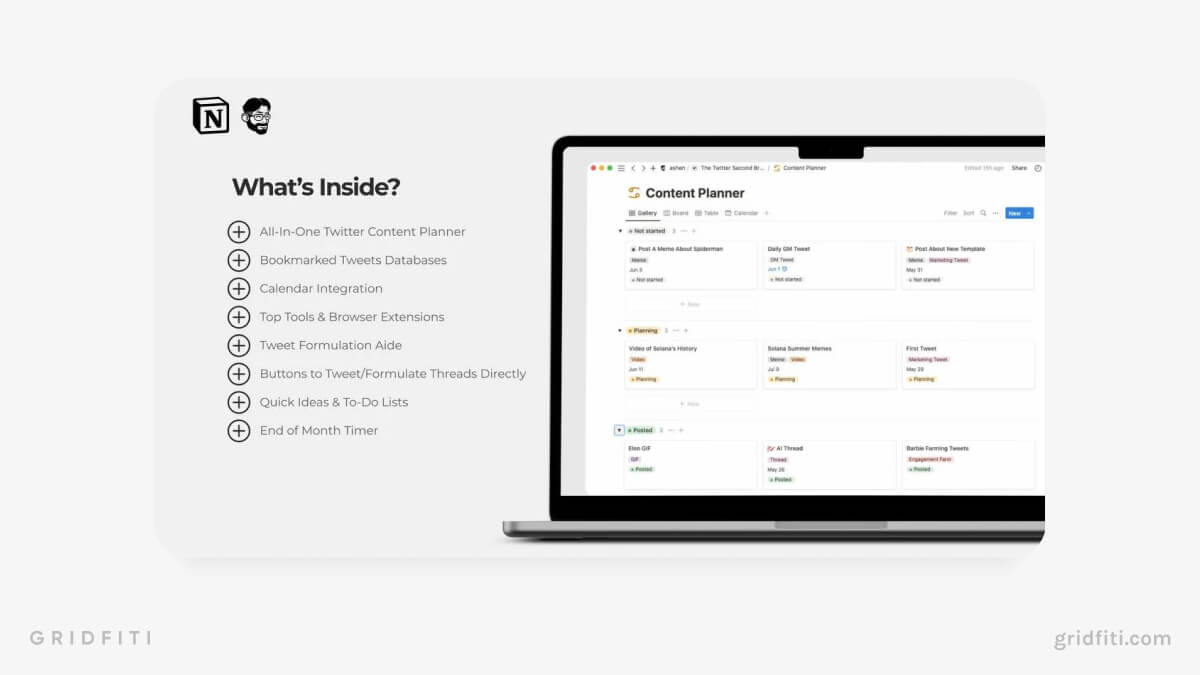 The Twitter Bible
The Twitter Bible from Pascio is a step-by-step walkthrough for growing your followers from 0 to 100,000. Each chapter guides you to a different milestone and teaches you everything about building a successful Twitter account, from writing your bio to producing quality content to understanding Twitter's algorithm.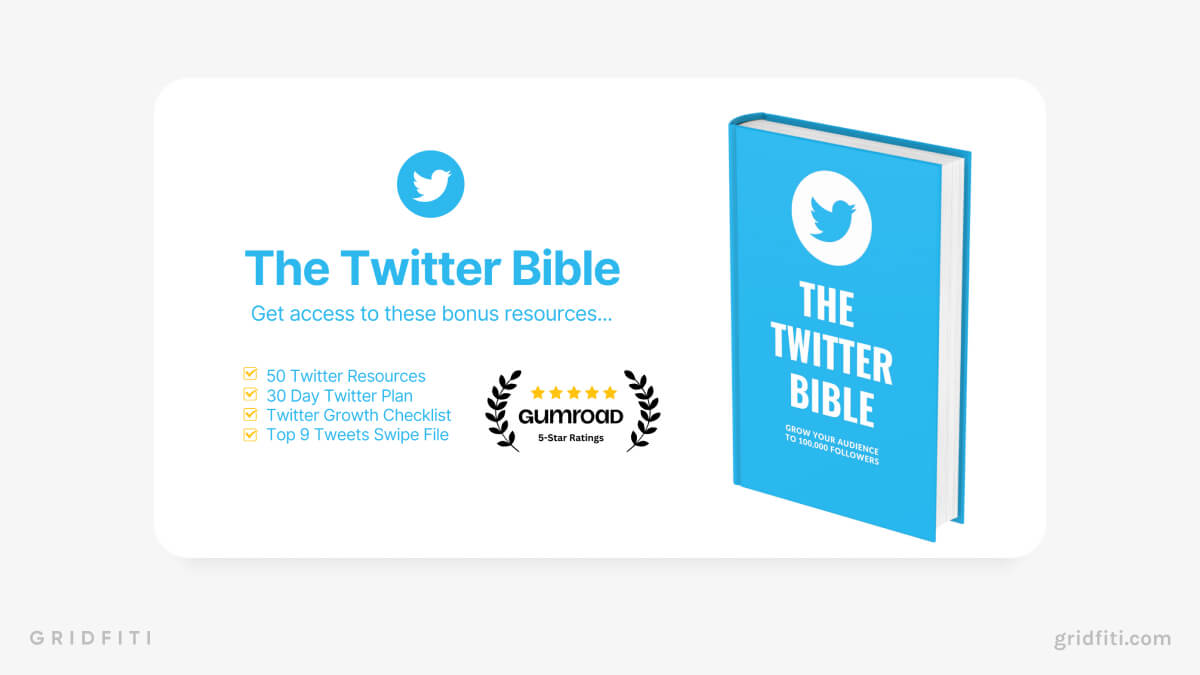 Twitter Fiesta Challenge Template
Twitter Fiesta Challenge Template is a 30-day challenge to level up your following and impressions. Access a Twitter success playbook, over 30 customizable Tweet hooks, and infinite content ideas to build the best account possible. With a content dash, growth checklist, and thread planner, it's way harder for crucial engagement to slip through the gaps.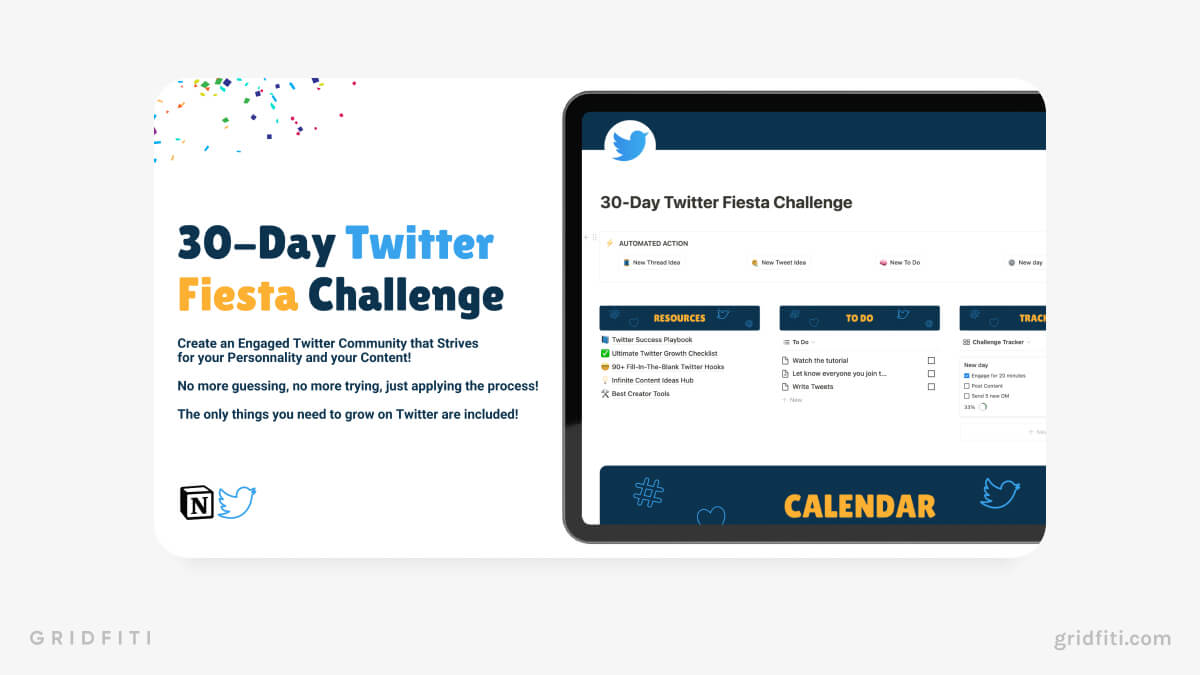 Notion Twitter Master Kit
Interested in turning your Twitter presence into profit? Enter Notion Twitter Master Kit. This Notion Twitter template aims to turn your account into a $100/day business. Learn how to leverage E-commerce, copywriting, lead generation, and advertising to moolah through Twitter!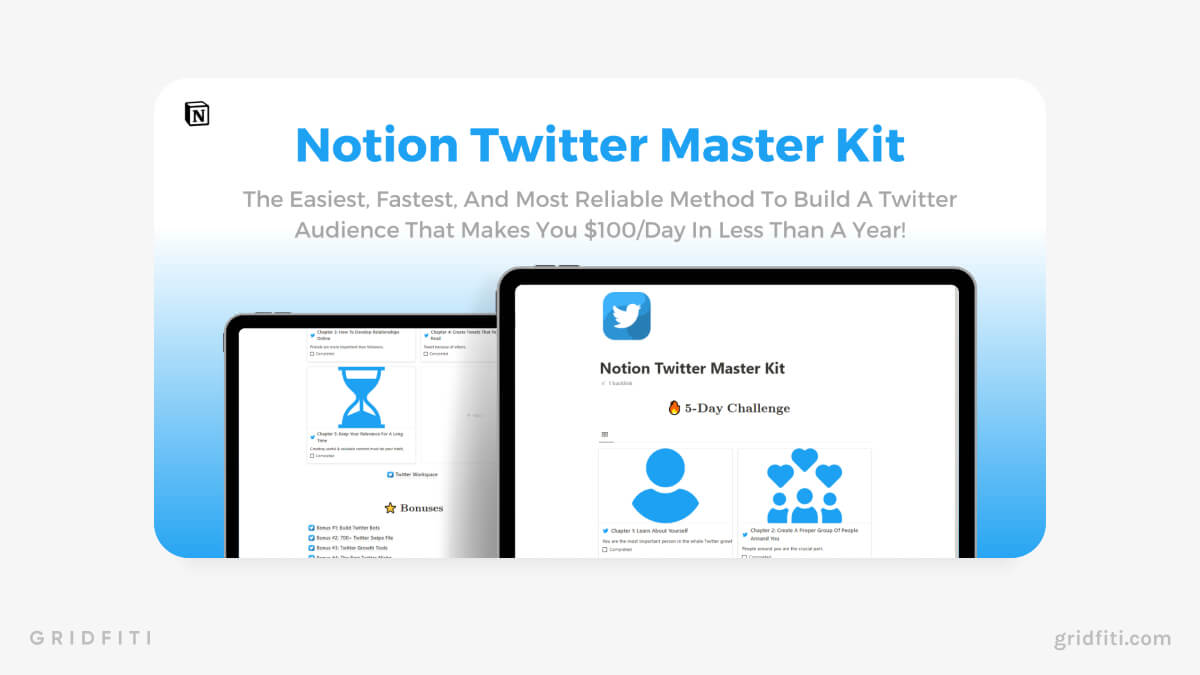 Twitter Content Planner
Twitter Content Planner is a comprehensive Twitter content manager complete with brain dumps, calendar views, and to-do lists. Use Twitter Content Planner's content frameworks to produce insightful and engaging posts. Switch between classic Twitter and new X aesthetics, depending on your personal preference.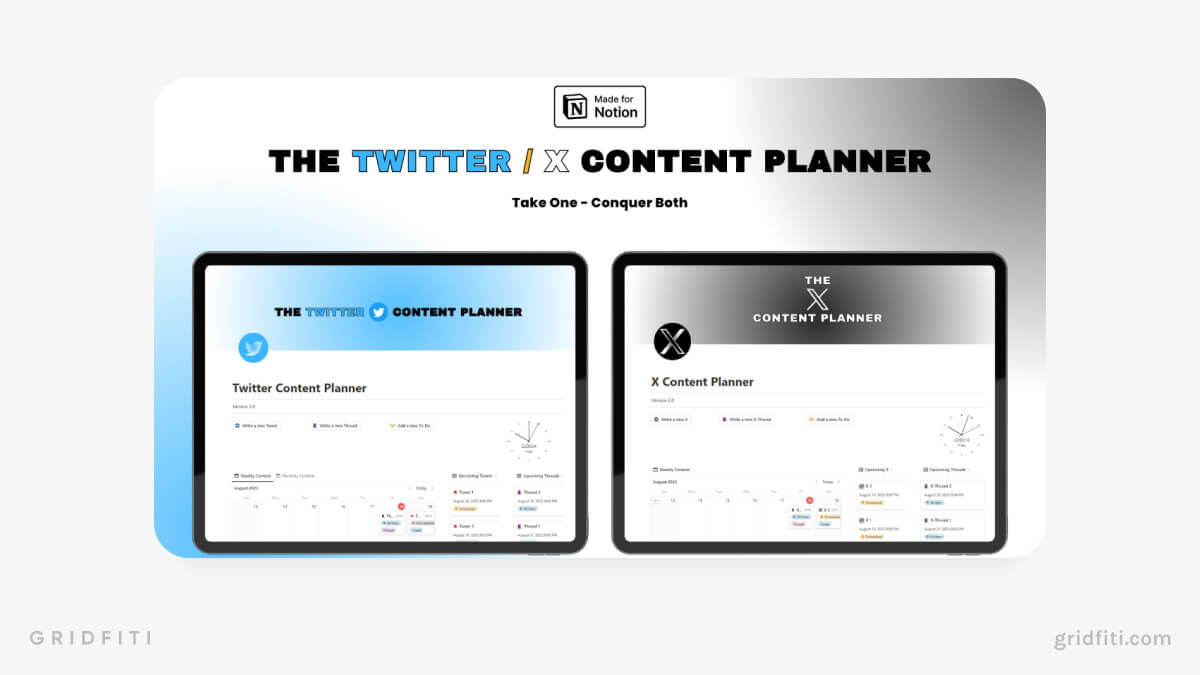 Tweet Master
With its straightforward design and aesthetic customization options, Tweet Master is ideal for managing your Twitter profile. View weekly and daily content plans and add new ideas with the click of a button! Organize your ideas and content into categories using custom tags. Use Twitter Master's symbol bank and custom icons to put a personal spin on your content calendar.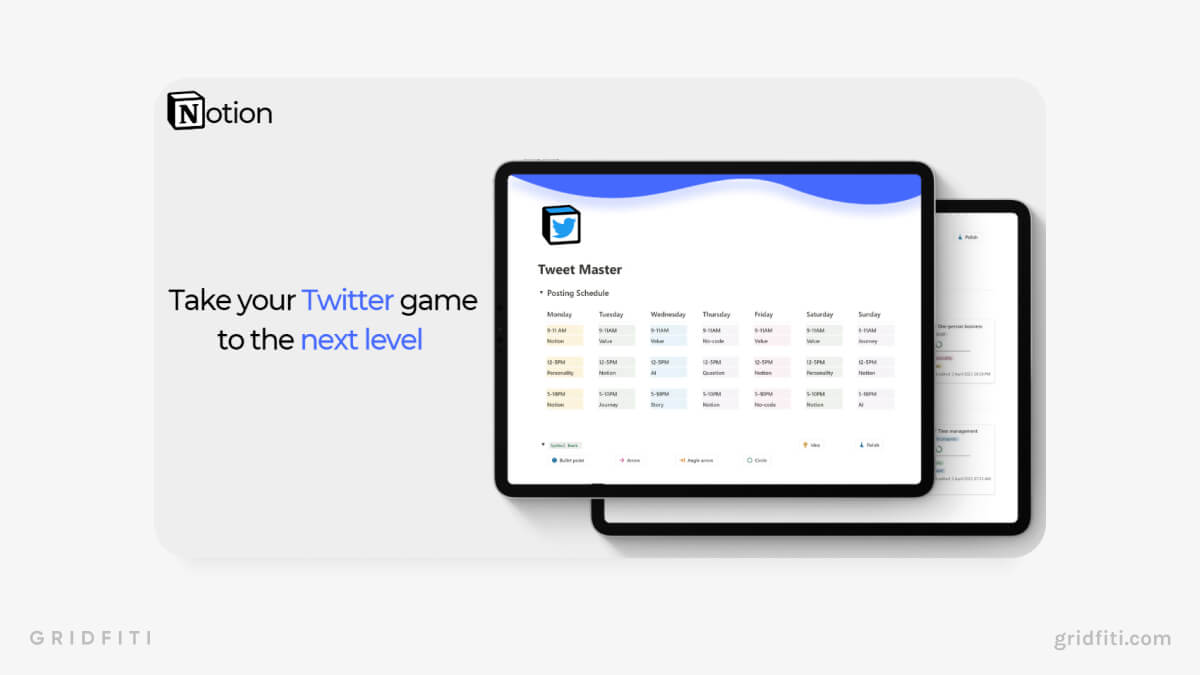 Twitter Analytics Hub
Twitter Analytics Hub lets you discover which Tweets perform best and create new content based on these results. View engagement, likes, replies, as well as specialty metrics for insights into your content quality, profile strength, and virality. Analyzing and deciding the best Tweets is a breeze with Twitter Analytics Hub.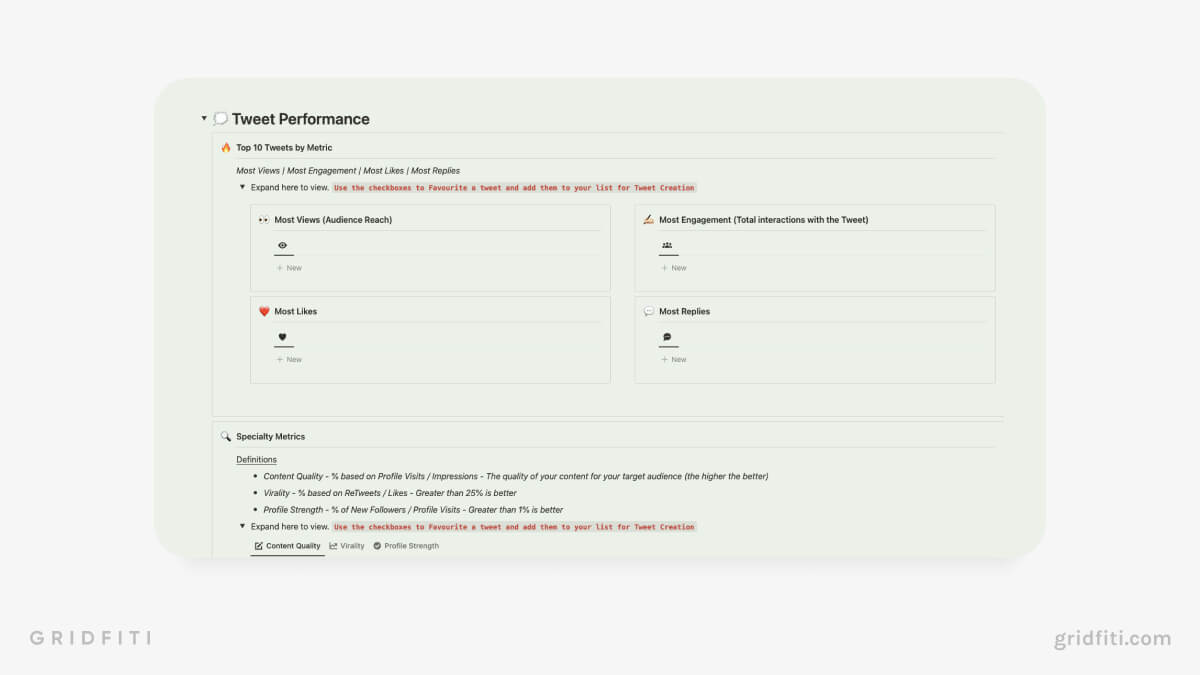 Free Notion Twitter Templates
If you have an existing Twitter content program, you might be unsure if switching to Notion is the right move. Suss out if Notion suits your strategy with these free Notion Twitter templates!
The Ultimate Twitter Growth Blueprint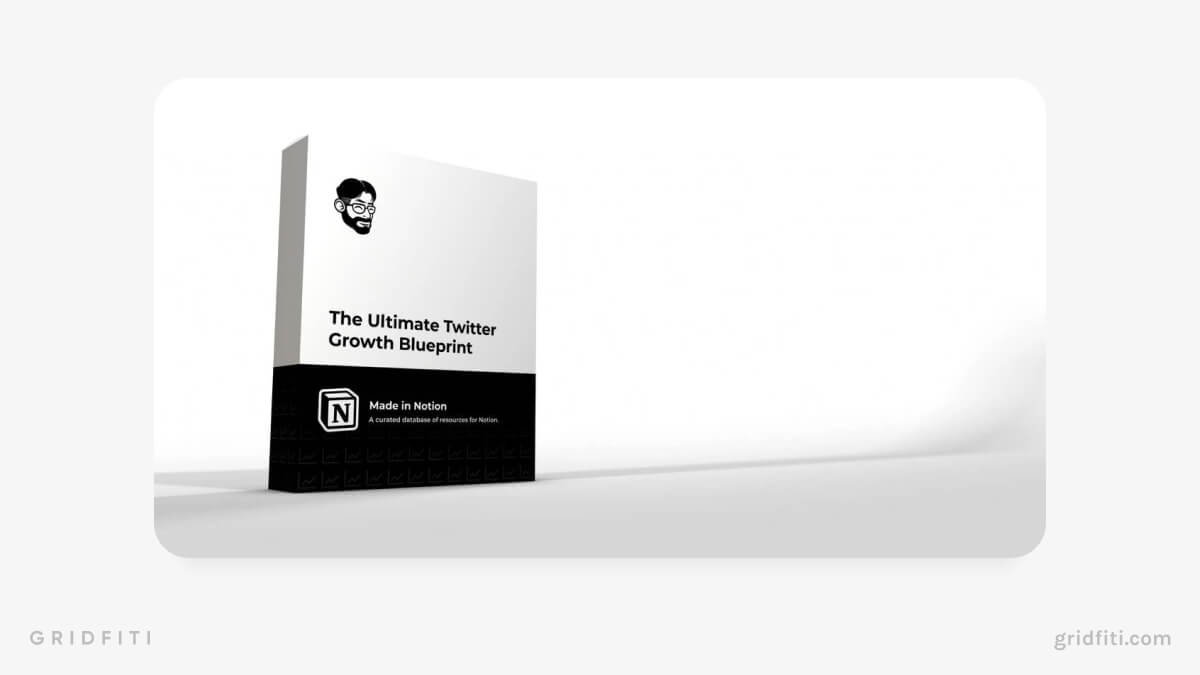 Twitter Swipe File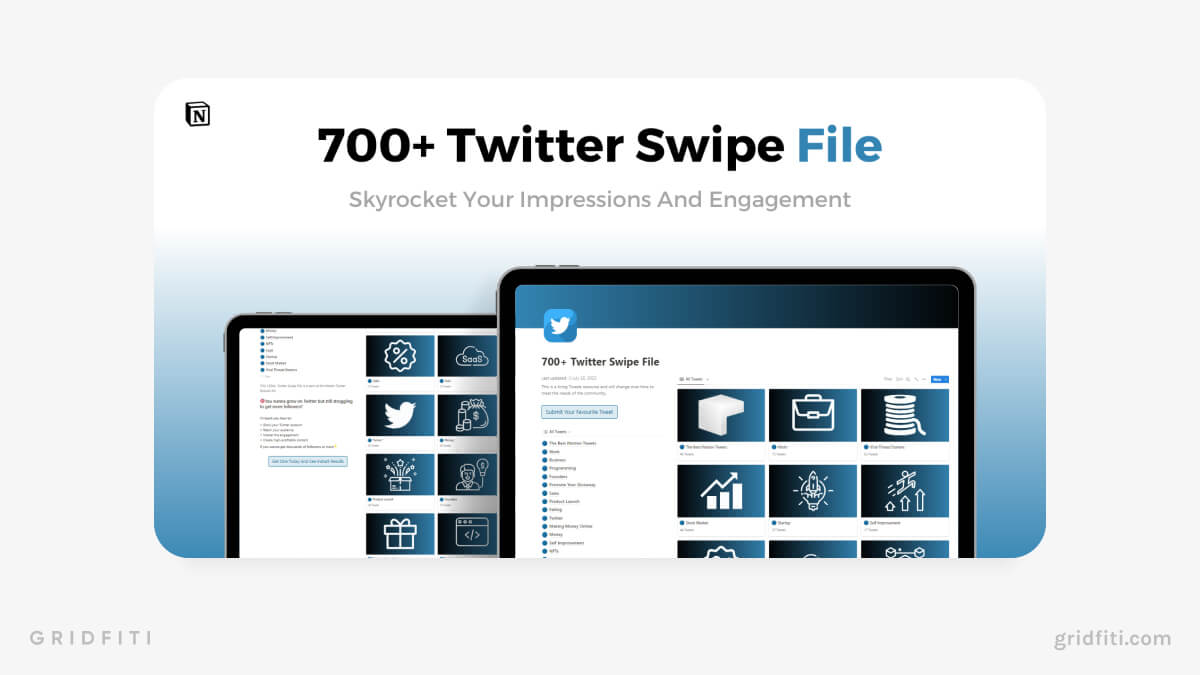 Simple Twitter Manager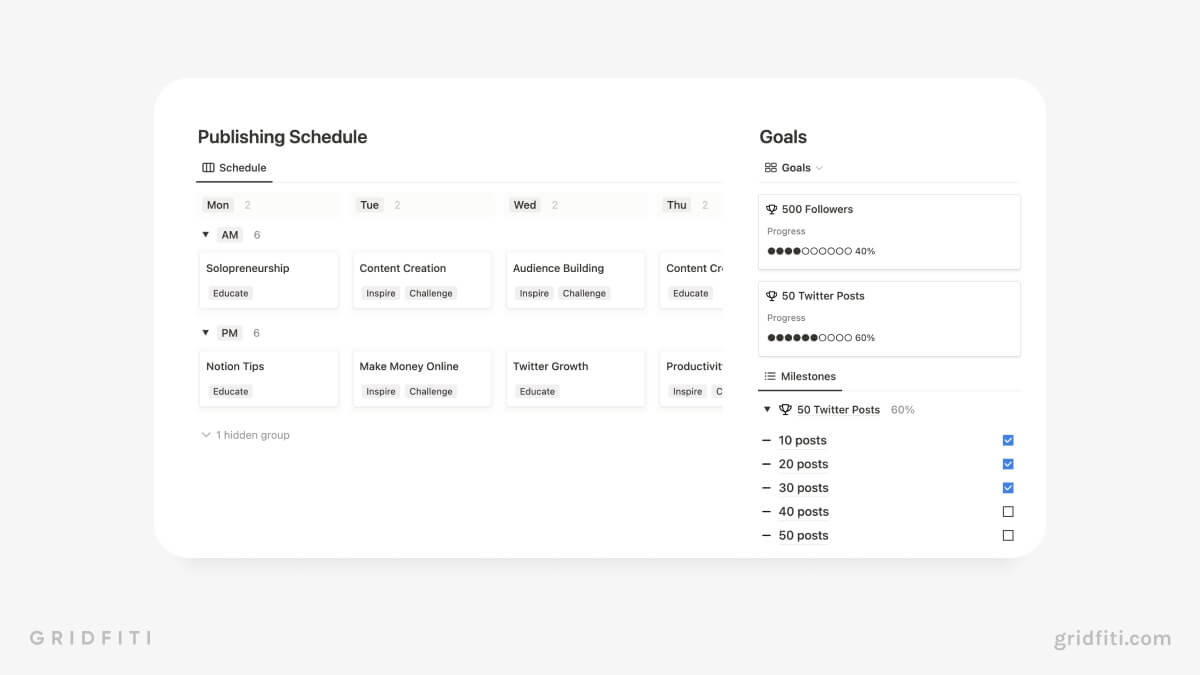 Twitter Thread Plan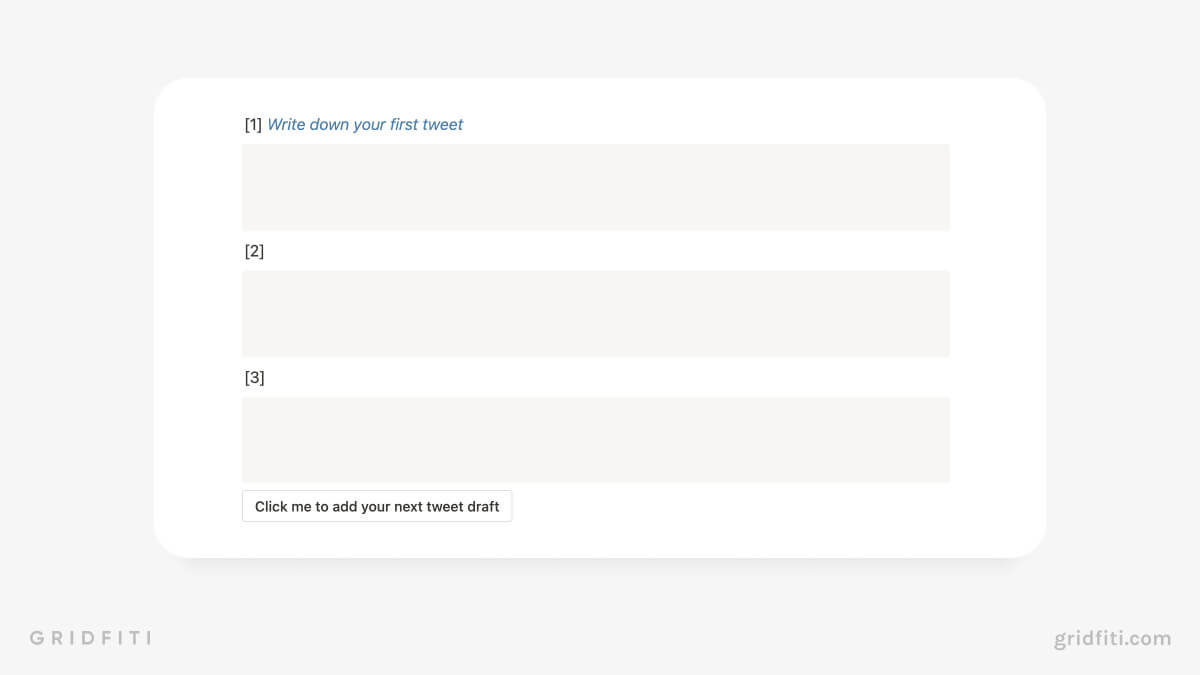 Simple Twitter Content Creation Hub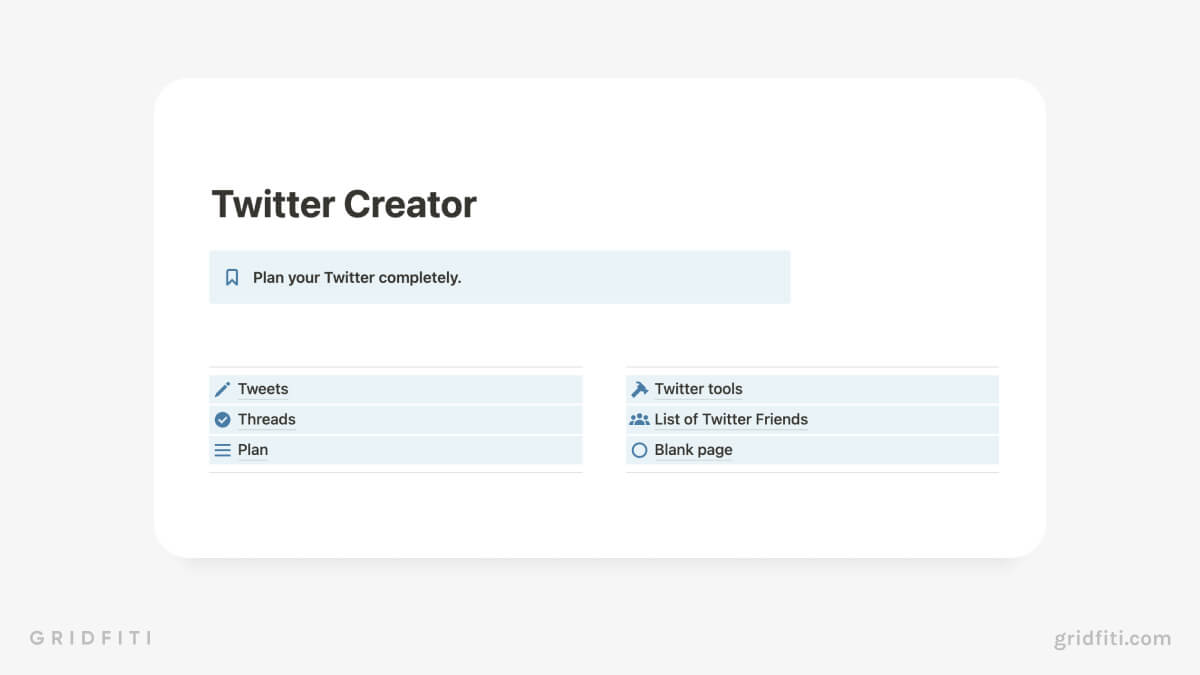 Fill-in-the-Blanks Twitter Hooks Template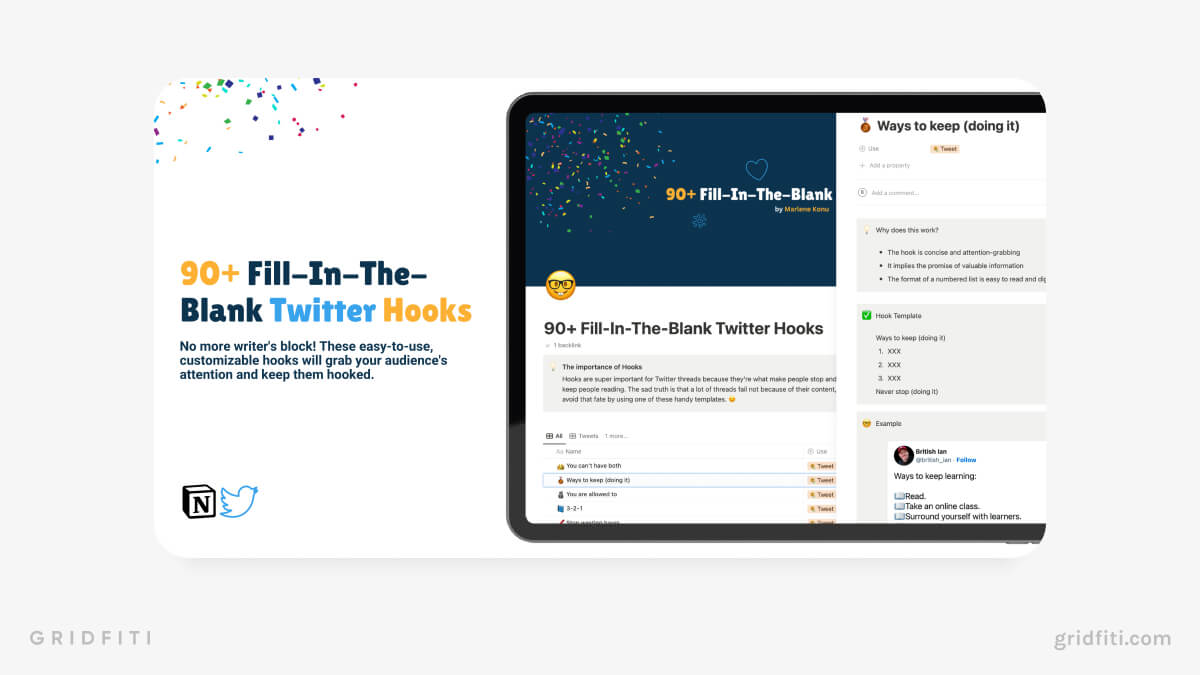 Twitter Growth Checklist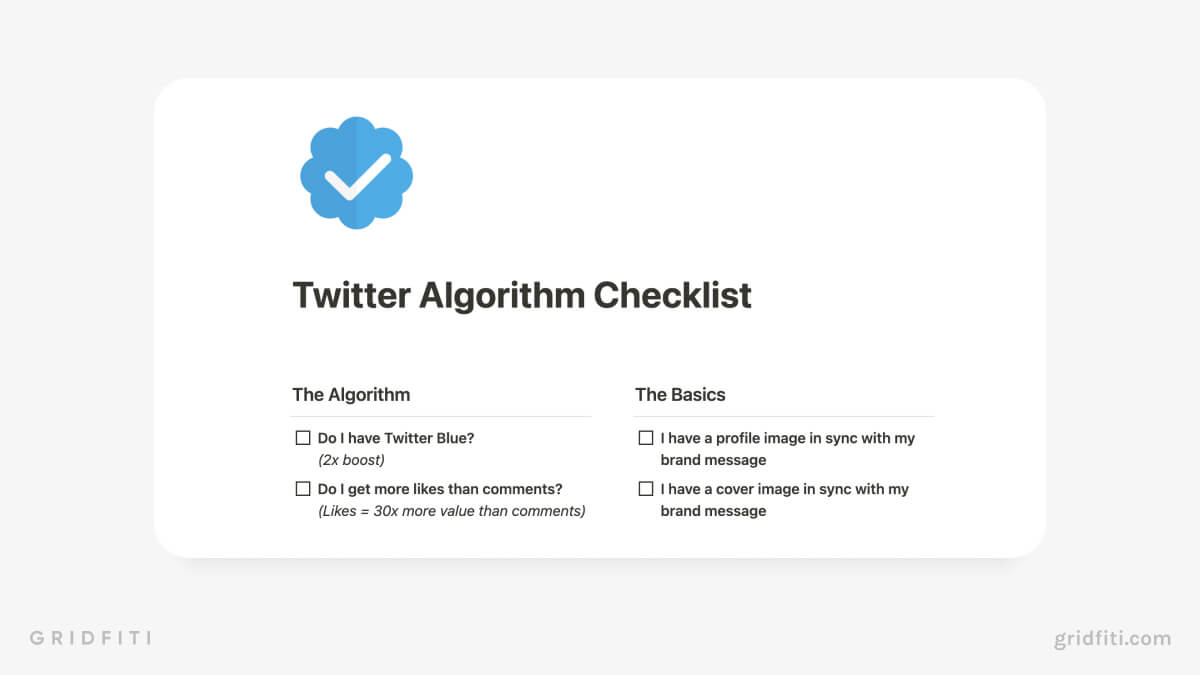 Which Notion Twitter template has helped you swell your social media following? Sound off in the comments below!
Gridfiti is supported by its audience – when you buy something using the retail links in our posts, we may earn a small commission at no additional cost to you. Read more about our affiliate disclaimer.