Having the perfect quote always in sight and in mind can keep you feeling positive, motivated, or just help you express yourself. Whether you want to create a database of great quotes from some of your favorite books, shows, or anywhere else in life — or automatically get served up great quotes every day with a widget, or even add quote-themed header images, we've gathered the best Notion quote templates, widgets, and covers to get the job done!
---
Looking for more productivity tips and tools? Subscribe to The Flow — our quick, snappy, value-packed focus and recharge newsletter. Also, don't miss our several other Notion template round-ups and guides!
---
Notion Quote Templates
When reading so many books, or watching so many shows and movies, it can be hard to track some of our favorite sayings. Whether you want to store quotes from your favorite characters, or even just day-to-day life, check out these templates will help you create a centralized database to never lose track of them again!
For more templates like these to store valuable information, don't miss our round-ups on Notion knowledge base templates and Notion second brain templates.
Notion Positive Daily Quote Template
With no external widgets or plugins required, this plug-and-play template will display a positive quote every day in your Notion dashboard! It's simple, lightweight, and highly customizable with placeholders to add your own quotes – a great way to get inspired by positive affirmations every day.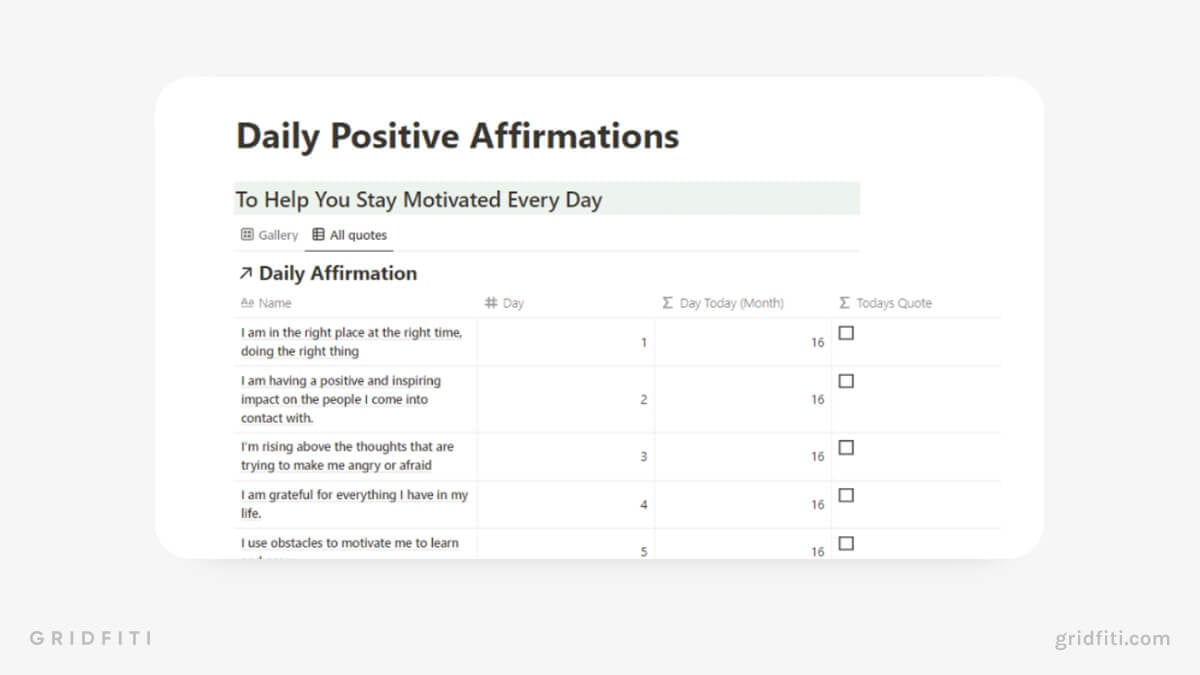 Reading List Tracker Template with Quote Journal
With the Ultimate Reading List Dashboard by yours truly — in addition to tracking all the books you've read, are reading, or want to read — you can jot down your favorite standout quotes as you're reading!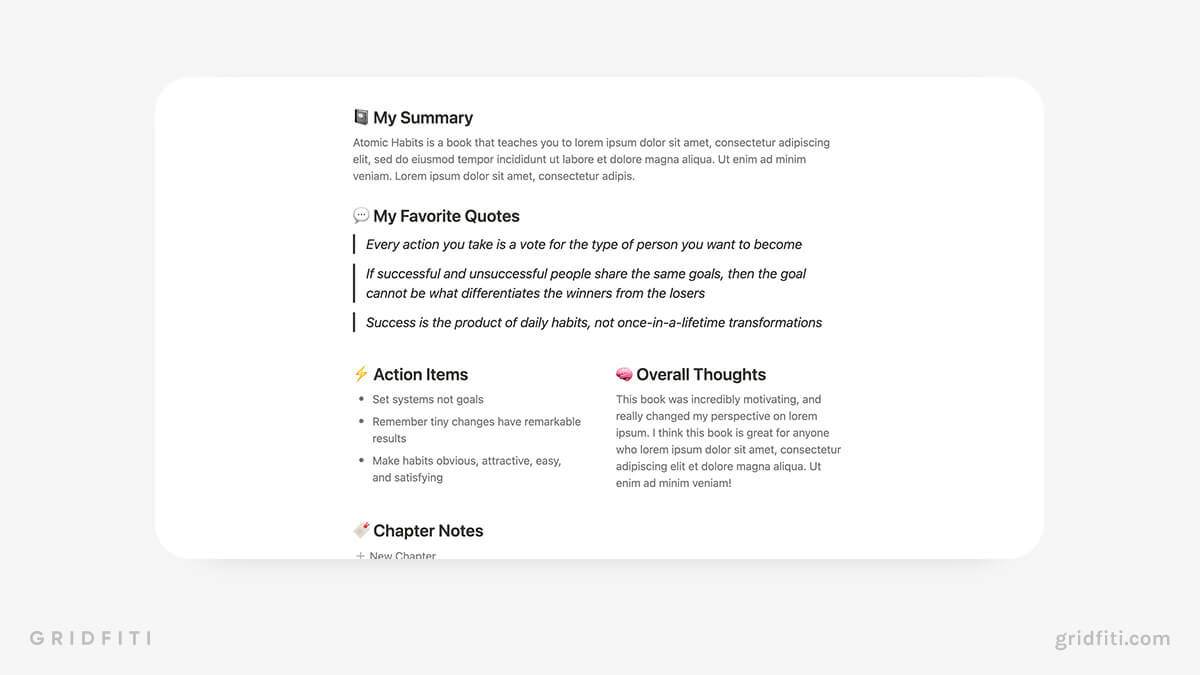 Simple Aesthetic Quotes Database Template
This simple and aesthetically pleasing quotes dashboard lets you store it all: quotes from your favorite anime and manga, books, games, movies, people, music, and more with a visual thumbnail navigation.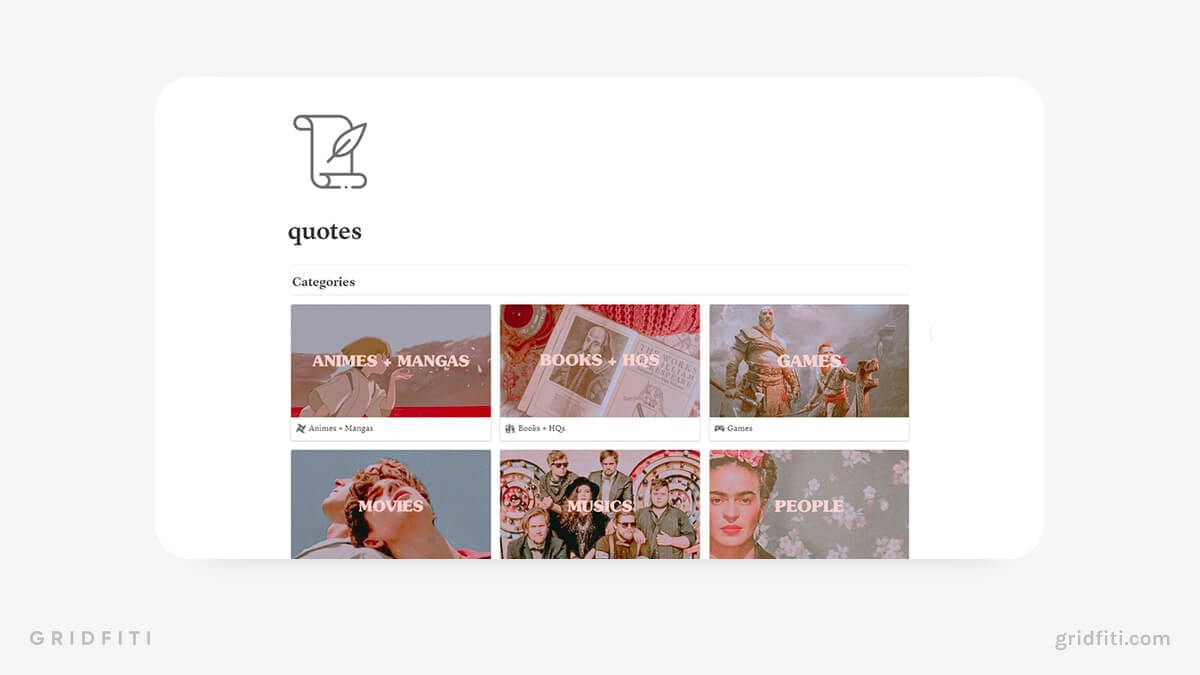 Motivational Random Quote Generator Template
Pulling from a centralized quotes database that serves up new quotes every minute, get dozens of motivational, leadership, and business quotes, as well as proverbs, with this template!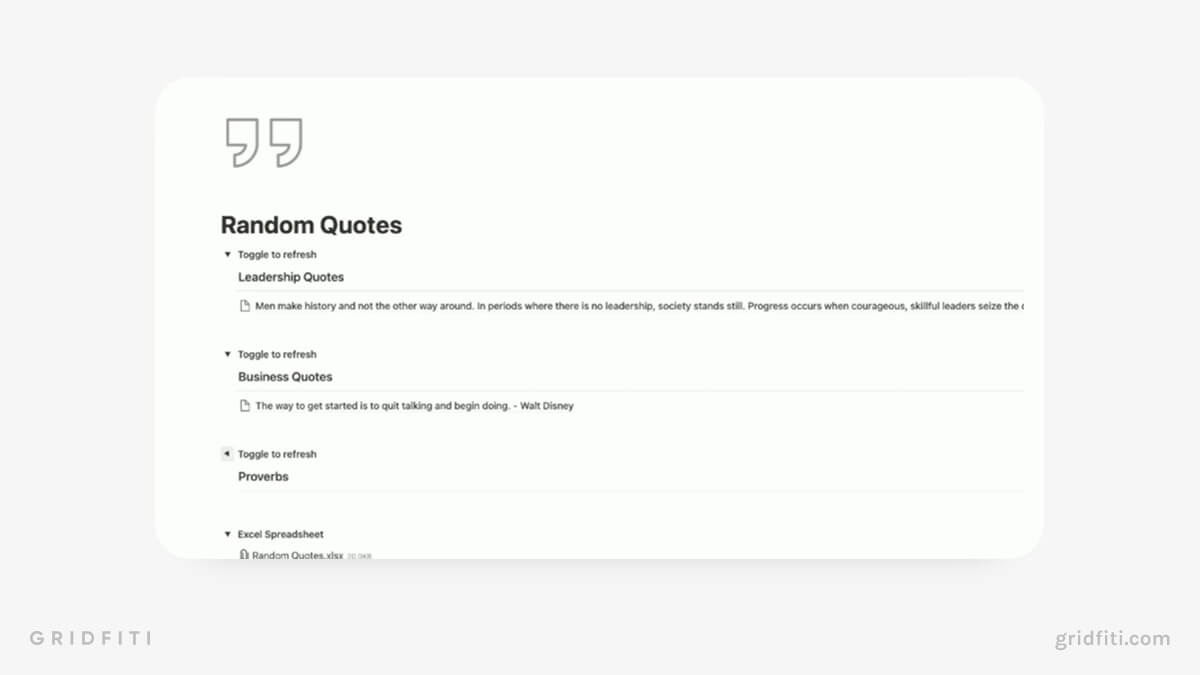 Minimalist Black & White Notion Book and Quote Tracker
Another great reading tracker template, store your favorite book quotes in a centralized database, and even get them served up in the main dashboard.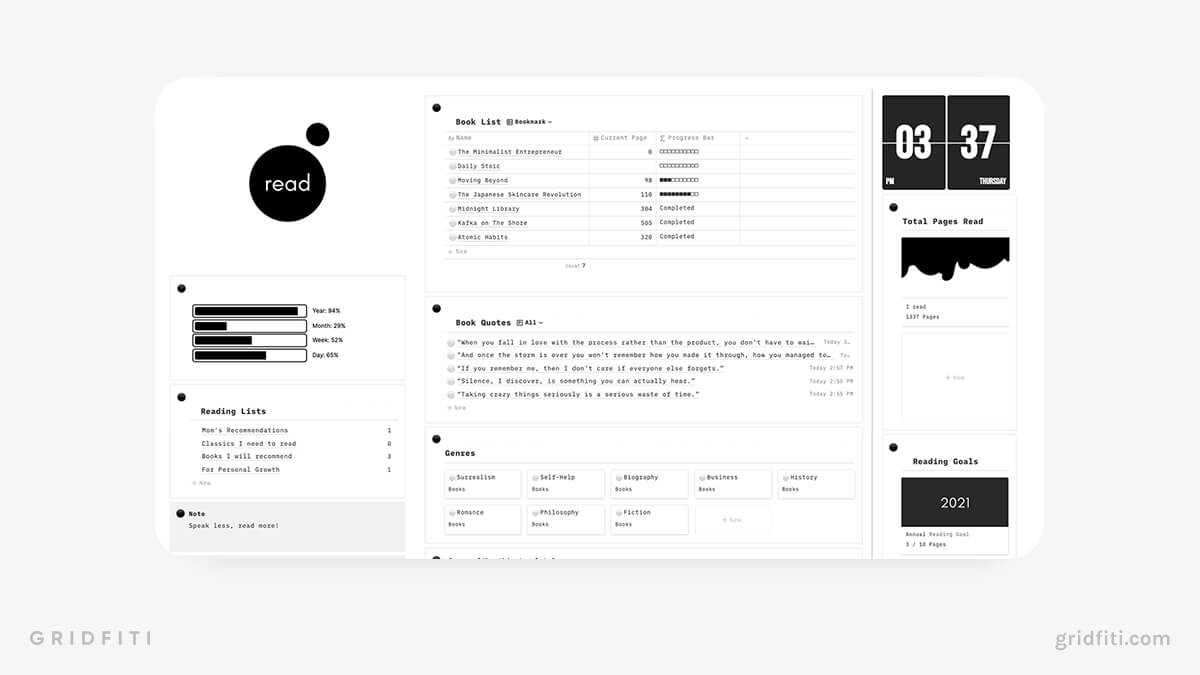 Notion Quote Widgets
If you want a more passive way to get your quotes – while making your Notion setup look great – integrate a quote widget in your page! Some quote widgets keep it simple and minimalist with black and white themes, and sans serif live text, while others serve up aesthetically pleasing pre-designed images. The best part? Most of these widgets automatically refresh quotes every day to keep things fresh. Add some motivation and extra sparkle to your setup with these quote widgets!
For more great widgets for your setup, don't miss our round-up on the best Notion widgets.
Customizable Minimalist Notion Quote Generator
This simple black and white widget lets you customize its appearance with font size, font style, light mode and dark mode, and even lets you specify the quote source. The widget goes off of live text versus images, so the appearance will always be sharp and consistent each day in your setup.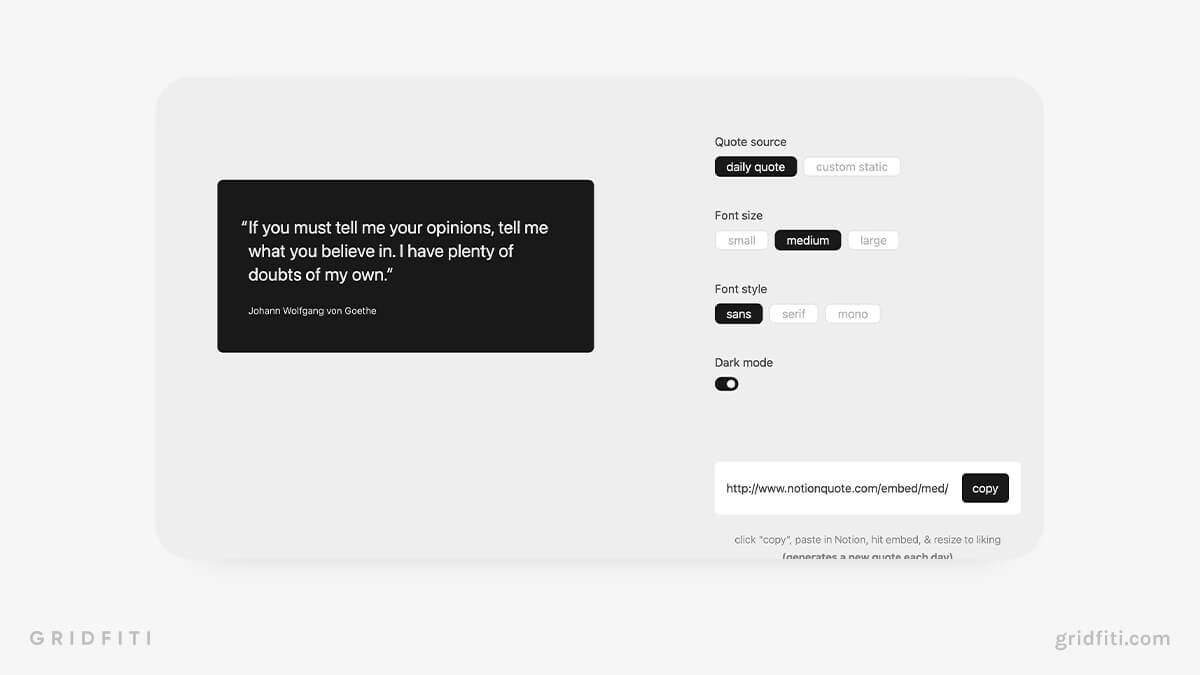 Indify Notion Daily Quote Widget
The Indify daily quote widget serves up aesthetically pleasing quote images from across the web! To embed this widget, copy and paste the link below into your Notion page, and select 'Create embed'. If on a given day you're not a fan of a certain quote, and want one that better suits your mood or aesthetic, you can easily toggle to the next one with the refresh button bottom-left.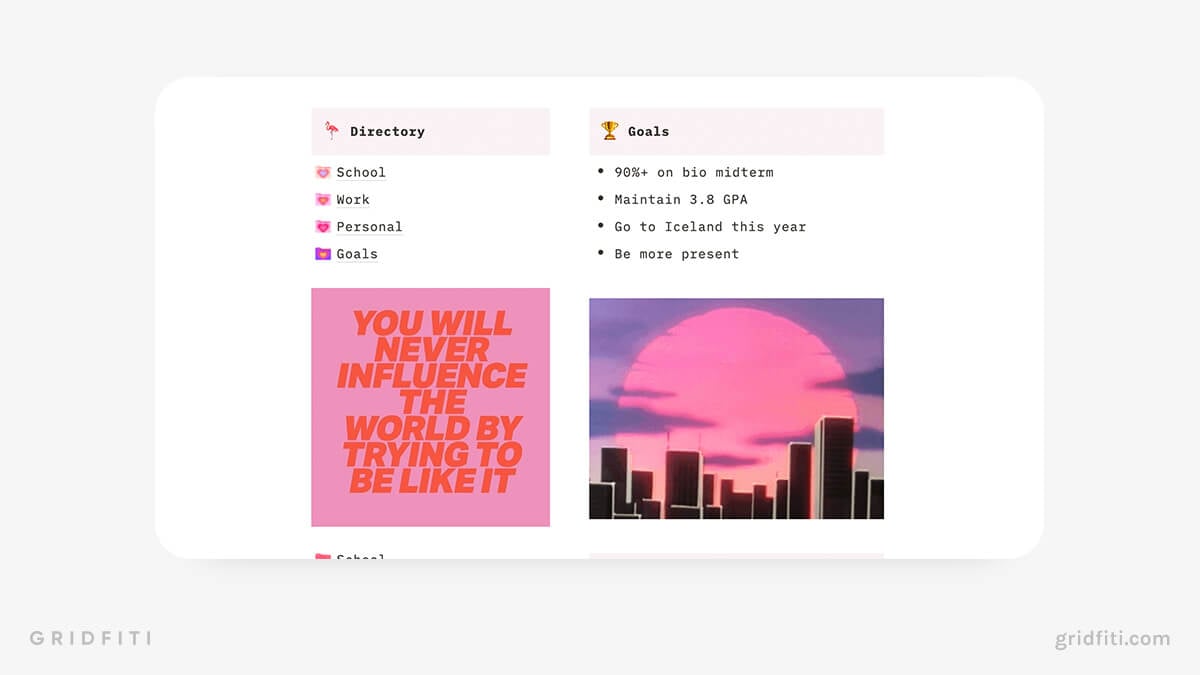 Stoic Notion Quotes Database Widget
With over 365 quotes inspired by giants like Marcus Aurelius, Seneca or Epictetus, get served up a stoic quote each day and put your day-to-day worries or doubts into perspective. This Notion 'widget' is technically a database, but draggable and compact to fit into any part of your page!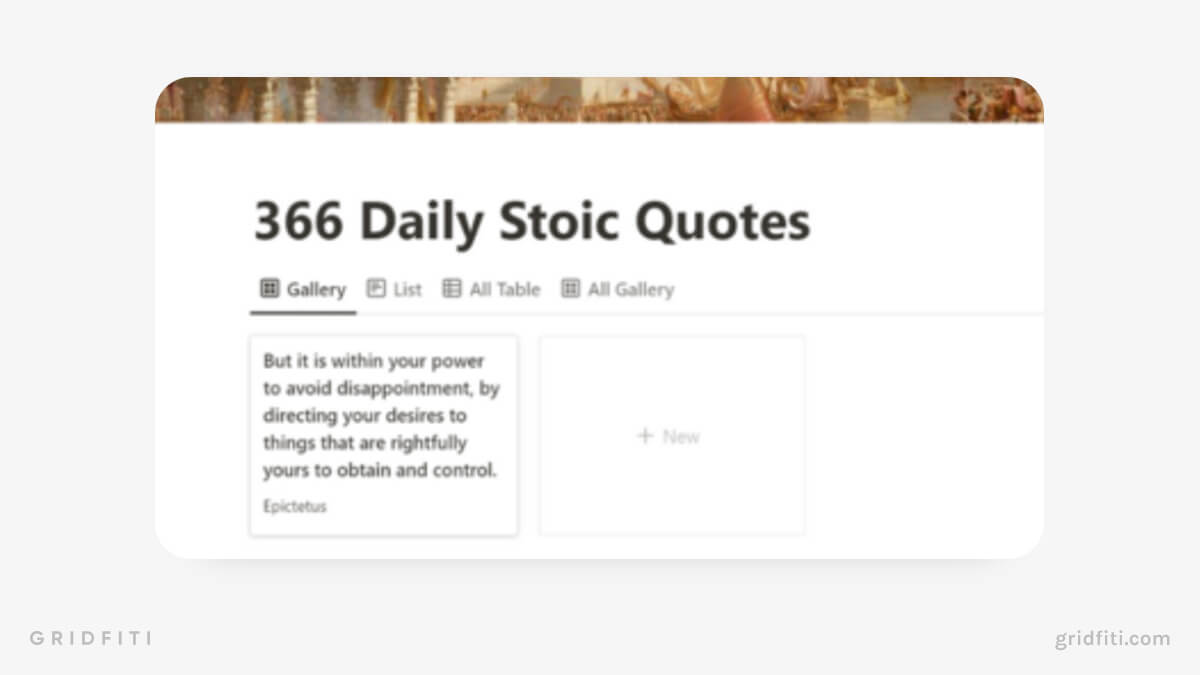 Simple Notion Quotes Widget Generator
Another simple quote widget similar to the first shared, this no frills embeddable widget lets you customize appearance (light or dark mode), font size, and even the types of quotes that appear – themes including wisdom, technology, friendship, inspirational, famous, or fully randomly generated.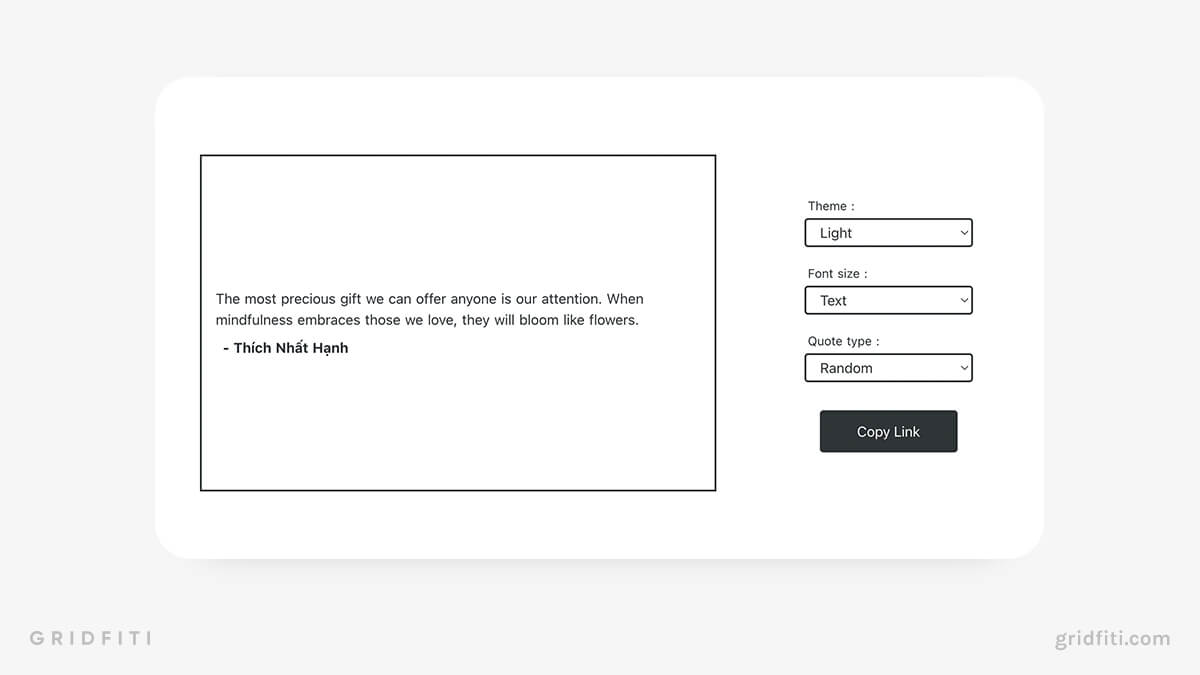 Notion Quote Cover Images
Looking to fully quote up your Notion setup? Add an aesthetically pleasing quote cover photo to the header of your pages to tie it all together. For more aesthetic cover photos and ideas, check out our full post on Notion cover images.
Limitless Minimalist Quote Notion Covers
Limitless's Notion cover pack is jam-packed with 60 minimalist cover photos, 50 custom cover photos, and most importantly, 30 quote cover photos! As an added bonus, you also get slick and colorful Notion icons and dividers.
Cover Photo Pack Available Here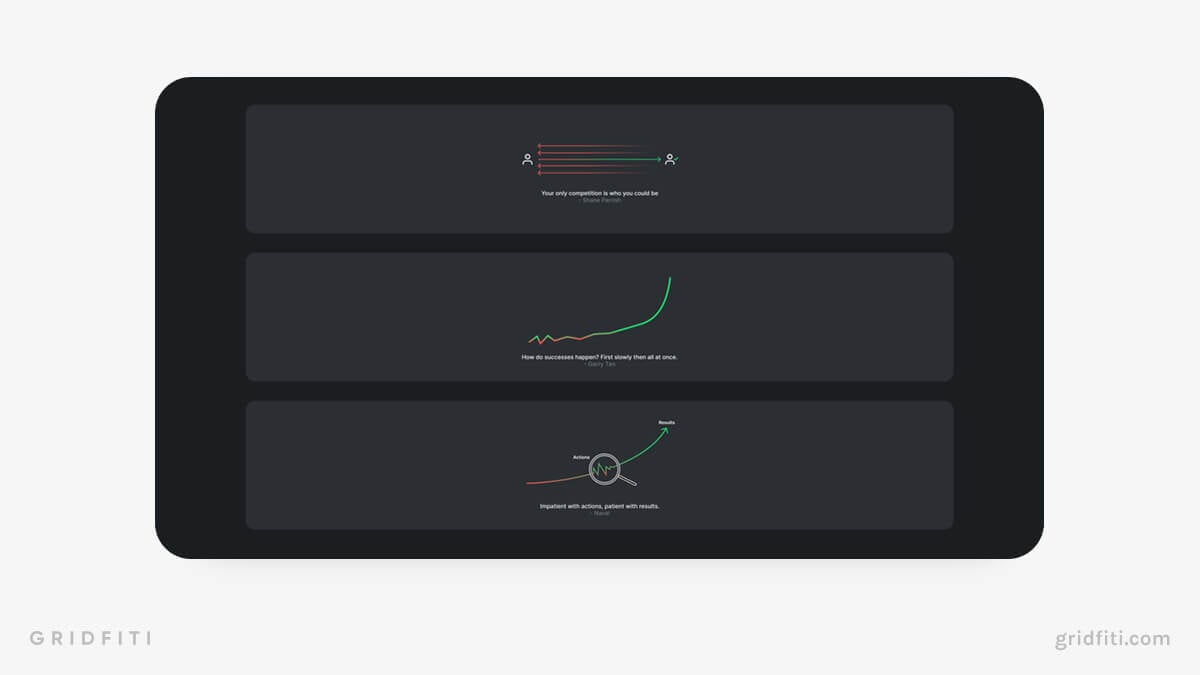 Simple Notion Quote Cover Pack
With options in both dark mode and light mode, keep it simple with these 10 clean, minimalist Notion covers with short quotes!
Cover Photo Pack Available Here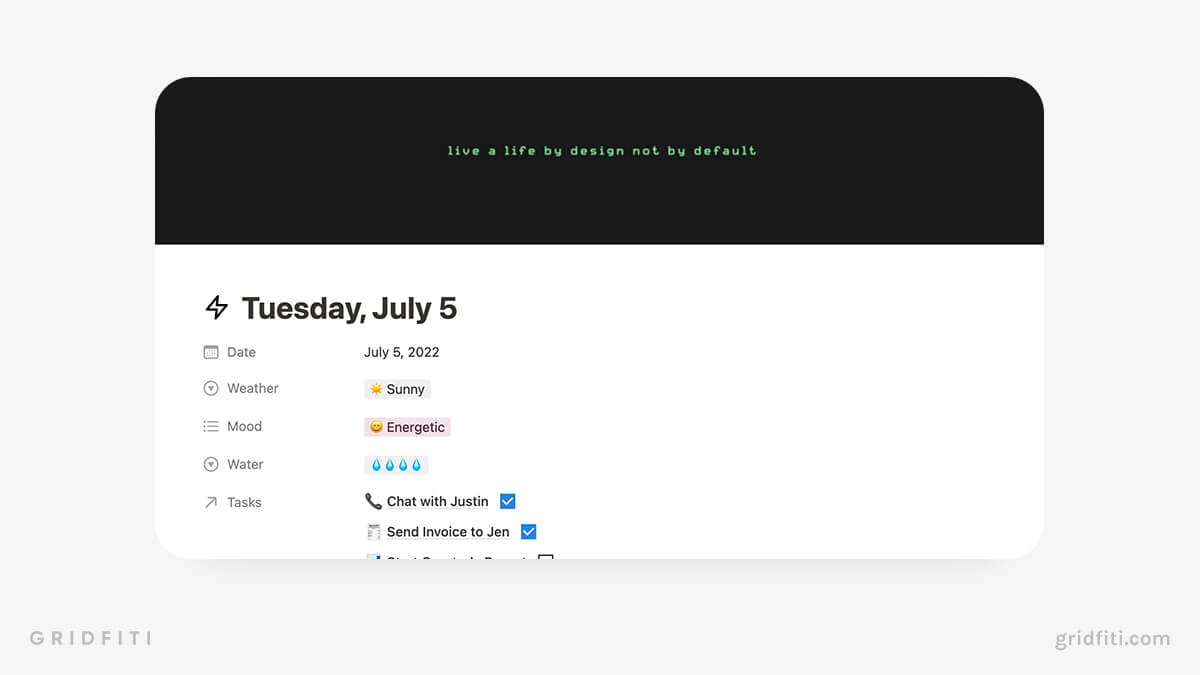 Template Above: The Ultimate Planner Dashboard
Aesthetic Pinterest Quote Headers for Notion
Looking for more quote cover photo or header options? Pinterest creators have shared several different aesthetically pleasing quote-centric covers ready to add to your Notion pages.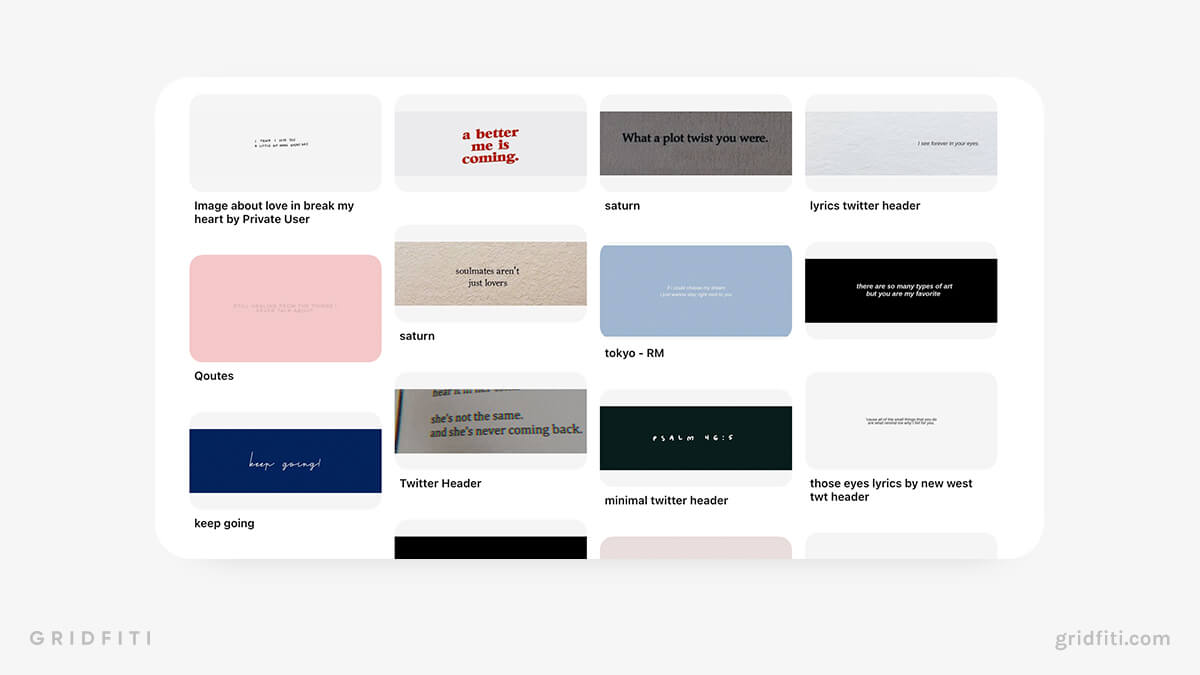 Lyric Quote Notion Cover Photos
Sometimes songs say it best. These cover photos, also on Pinterest, keep it aesthetic and colorful with quotable song lyrics.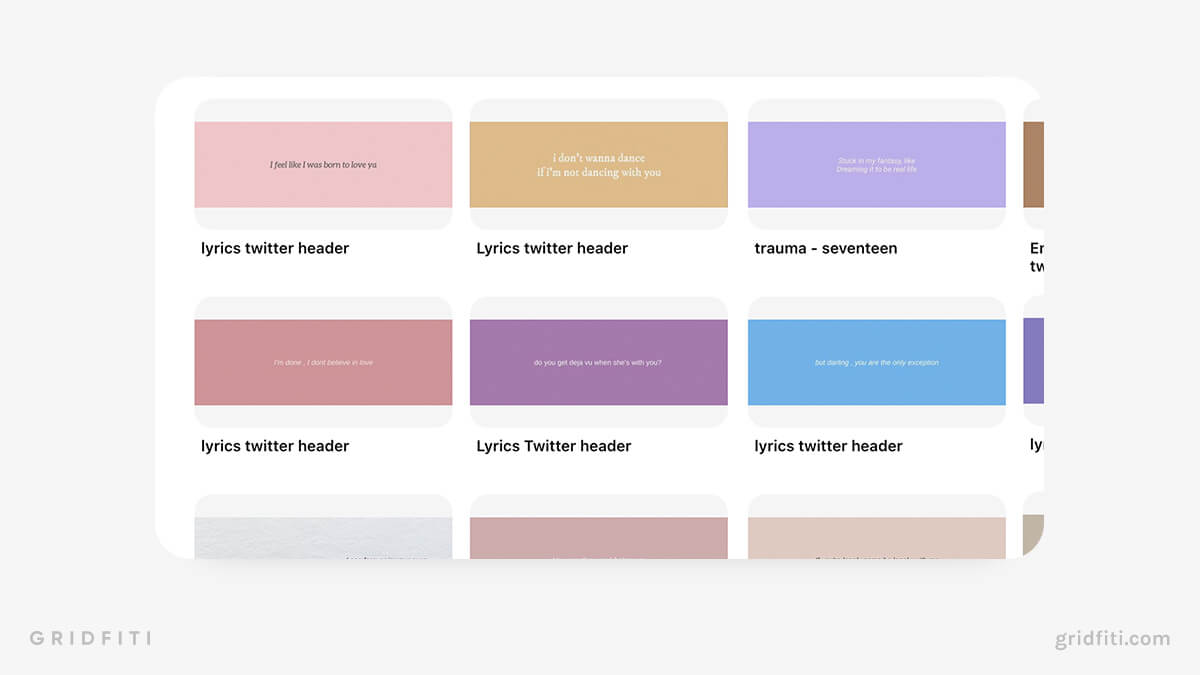 Which Notion quote add-ons do you see yourself using? Any other Notion quote templates, widgets, or cover photos to recommend? Let us know in the comments!
Gridfiti is supported by its audience – when you buy something using the retail links in our posts, we may earn a small commission at no additional cost to you. Read more about our affiliate disclaimer.