Whether you're counting down the days until the holidays, a birthday, retirement, vacation, end of exams, and anything in between — or even if you want to count down a few hours or minutes while studying or working out, having a countdown timer widget embedded right in your Notion workspace is convenient, and will add both form and function to your setup.
From simple minimalist widgets, to more customizable and themed designs, we've gathered some of the best Notion countdown widgets to get started with!
Note: To embed these widgets below, type '/embed' on your Notion page, and paste in the final widget link once you've generated it.
For more Notion-friendly widgets for your setup, don't miss our full round-up on the best Notion widgets.
---
Looking for more productivity tips and tools? Subscribe to The Flow — our quick, snappy, value-packed focus and recharge newsletter. Also, don't miss our several other Notion template round-ups and guides!
---
Simple Notion Countdown Widget
Made just for Notion, this simple countdown widget is clean and minimalistic, and lets you customize several components: the countdown title, whether you show days, hours, minutes, or seconds, dark mode or light mode, the widget background color, and even the color of each of the figures.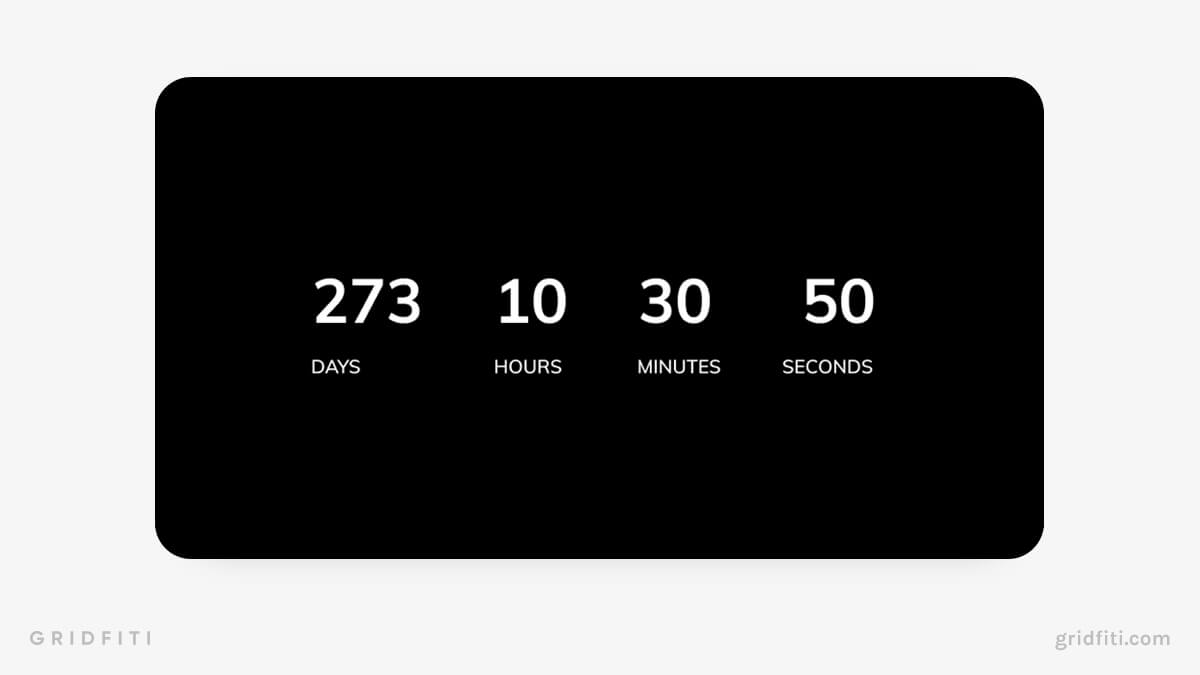 Aesthetic Countdown Widget
Indify is a toolbox with several different nifty embeddable Notion widgets to pick from – one of them being an aesthetically pleasing countdown widget! With their generator, create a timer to match your exact aesthetic, with several different appearance options – including the text, and background and text colors! Use your own hex codes to match your Notion workspace perfectly, or even pick from a few of Indify's pre-built color palettes. Feel free to use the hex codes from any of our pre-made aesthetic color palettes for a unique look!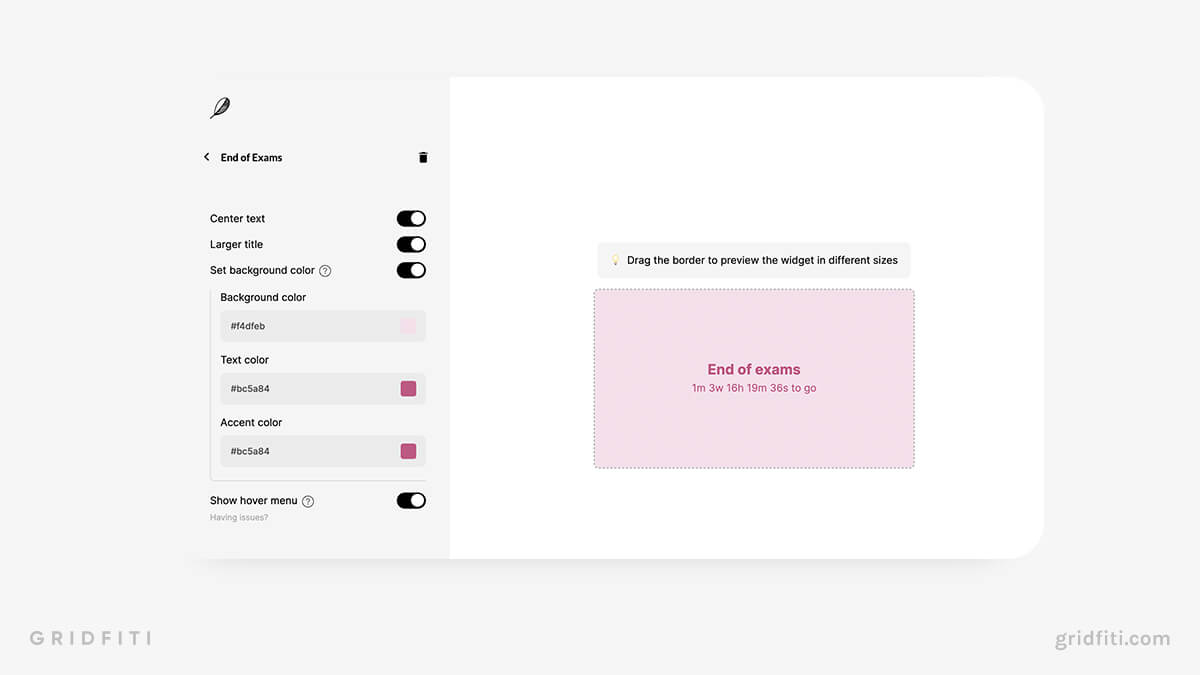 TimeAndDate Countdown Widget
TimeAndDate has been around for decades, serving up the most important, you guessed it, times and dates for holidays, events, sunset times, and more. They also have a free countdown timer generator to add to your Notion page! It's super customizable with several different appearance options from the size, to fonts, colors, background images, and more. The main caveat of this widget is that it's not ultra responsive to different widget sizes, and it has a bit of a dated appearance. However, with some tweaking and fine tuning, you might just be able to get your desired look!
When you've created your desired look, click 'Show HTML for Countdown Timer' button, then copy and paste the full code into an '/embed' block on your Notion page.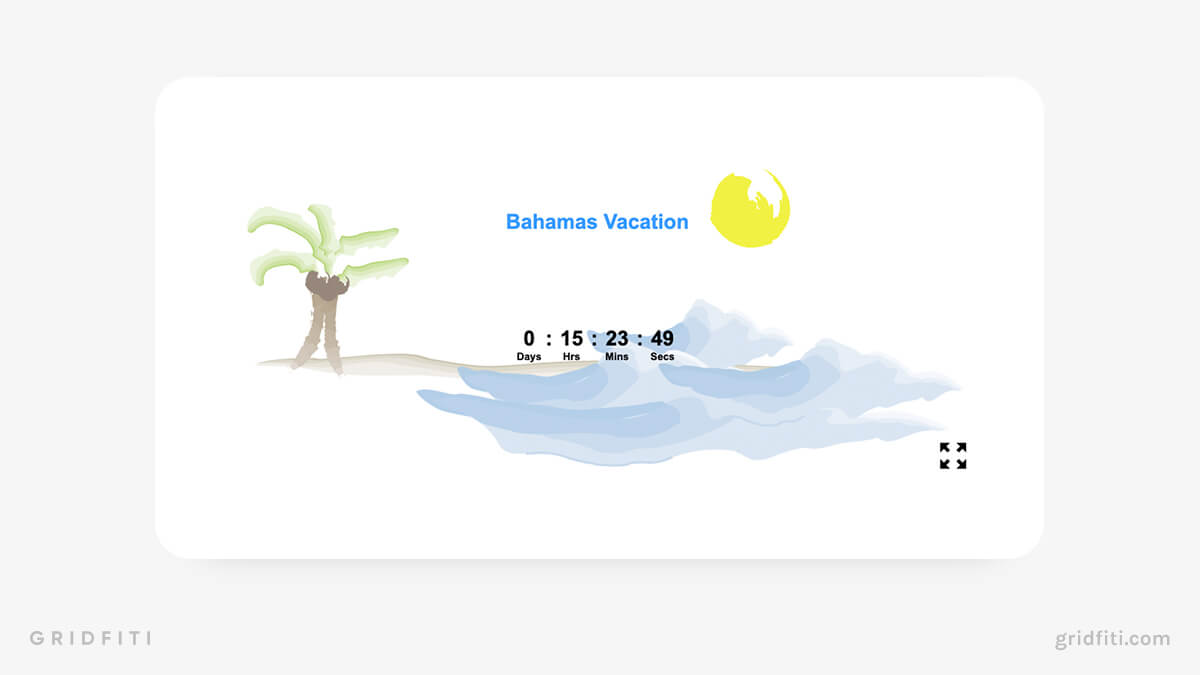 Gridfiti is supported by its audience – when you buy something using the retail links in our posts, we may earn a small commission at no additional cost to you. Read more about our affiliate disclaimer.