A tidy home is a happy home – but making the time and mustering up the energy to clean or do chores isn't easy. However, what if we told you that with the help of some pre-built systems, you can make cleaning and chores more manageable? Or dare we say, fun?
Whether you're wanting to manage chores on your own, with your family, or with your roommates, we've gathered the best Notion cleaning and chore templates for you to make it happen!
Want more Notion tips, tricks, and templates? Join our Notion mailing list below and check out our several other Notion guides and round-ups!
All-in-One Life OS Template with Cleaning & Chores Hub
Get your home spick and span with the cleaning and chores template integrated into the all-in-one Life OS! Easily organize all of your daily, weekly, monthly, and seasonal chores by rooms in your home, get automatic chore to-dos, and even assign different chores to family members or roommates. The best part? Your chores and cleaning tasks are seamlessly integrated into Life OS's home dashboard, serving up timely chore reminders.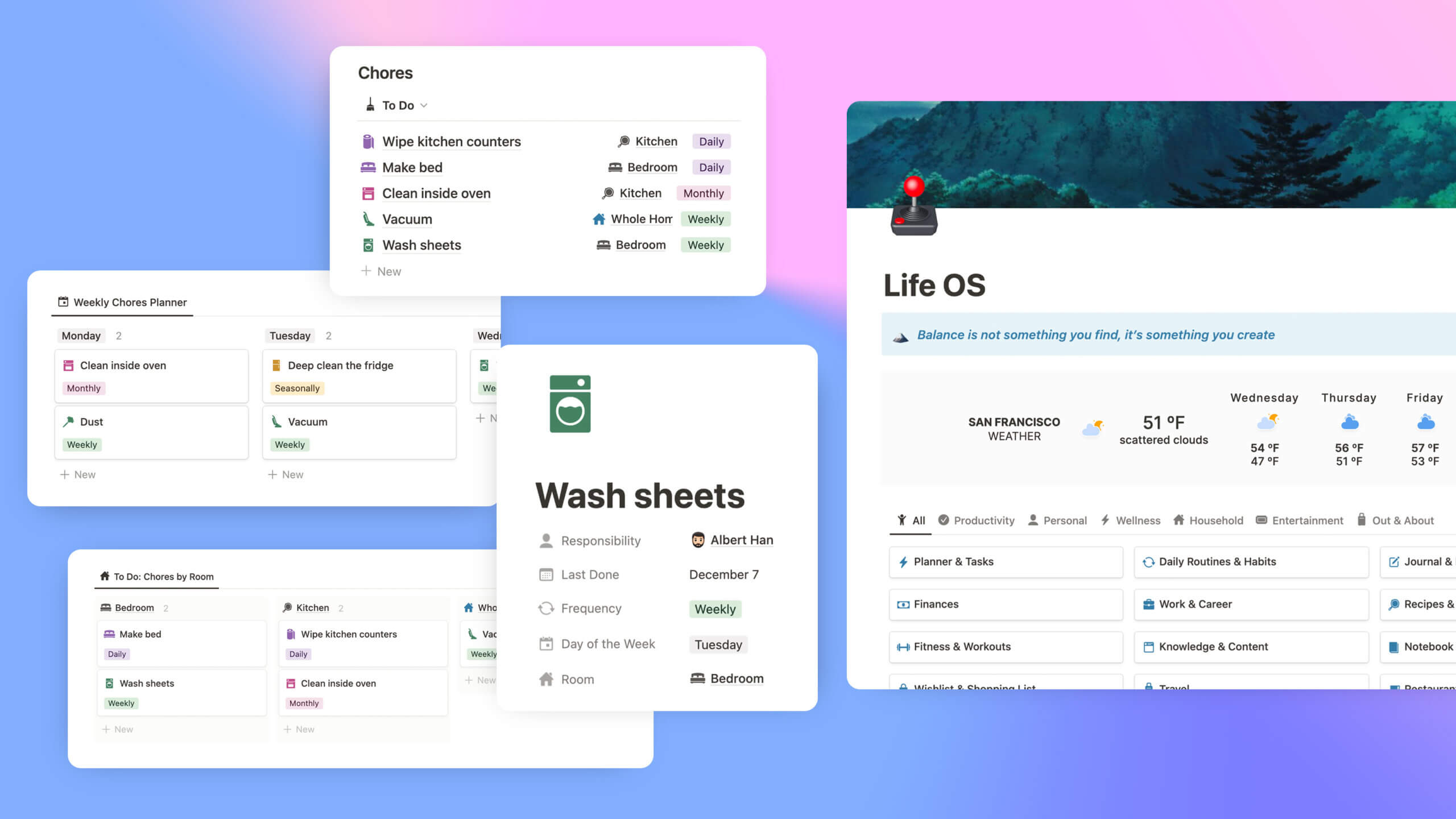 All-in-One Cleaning Hub Template
The Cleaning Hub is a jam-packed template with everything you need to keep your home sparkling clean. Whether you're cleaning by yourself or with the whole family, add cleaning jobs with visual instructions, link jobs to a shopping list, create a chores plan with multiple kids, monitor cleaning by room, and even track seasonal cleaning jobs.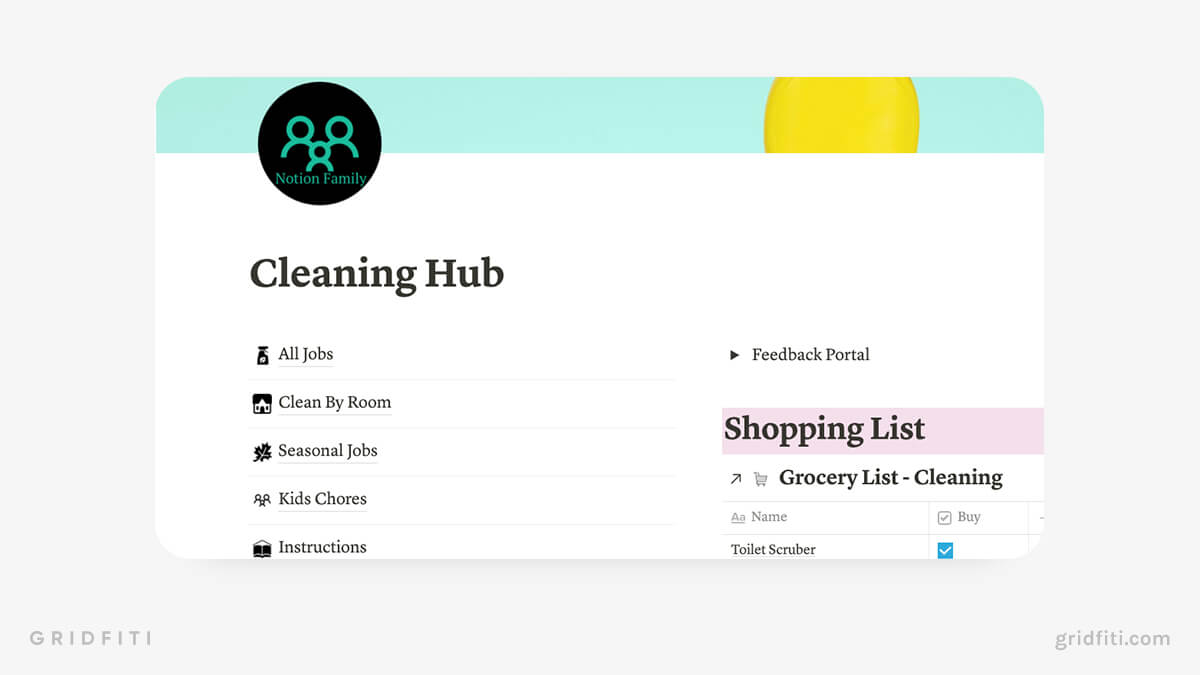 Roommate Hub with Chore Assignments & Recurring Tasks
Roommate Hub is a robust template to manage your entire household with roommates – and one of the biggest parts of keeping a good relationship with your roomies is keeping shared spaces clean and tidy. With the chores section of the dashboard, manage all shared chore assignments and recurring tasks, and ensure both you and your roommates are doing your part!
Template Available Here | Template with Added Meal Planner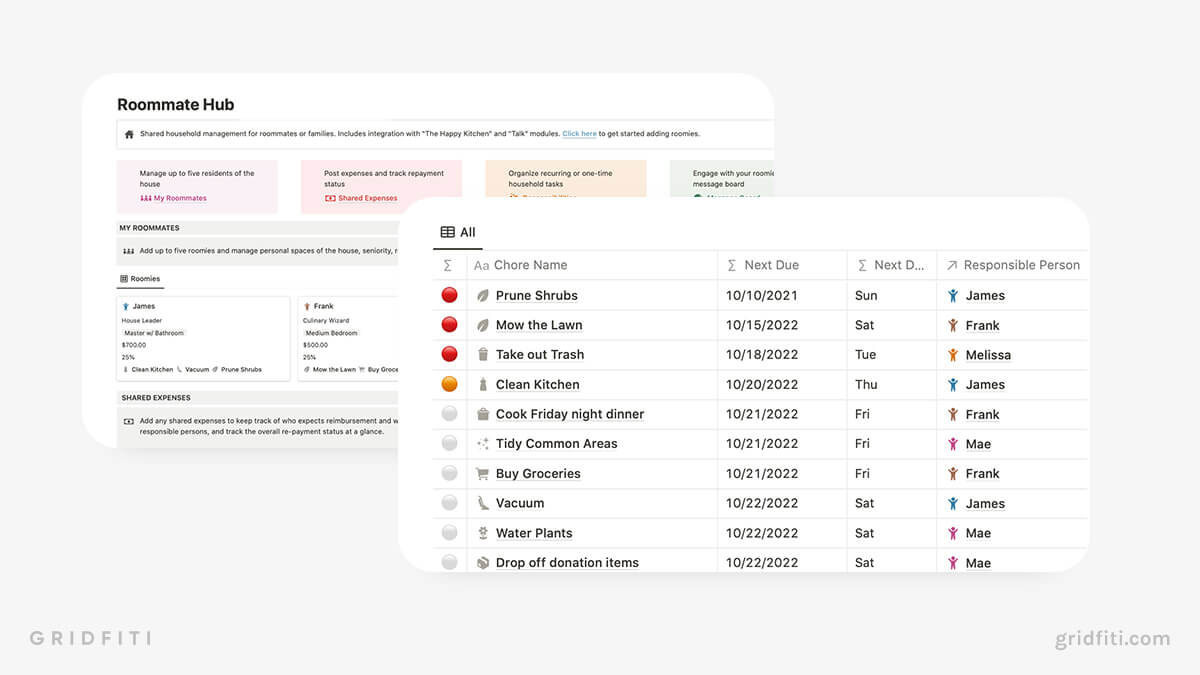 Cleaning Supplies Tracker Template
If you're tired of looking for cleaning supplies, or remembering which you need to buy, this is the template for you. Build a master database of all your cleaning products and equipment – and view the database by rooms and by use. You can also build a shopping list of cleaning materials you need to buy, and any supplies that are running low.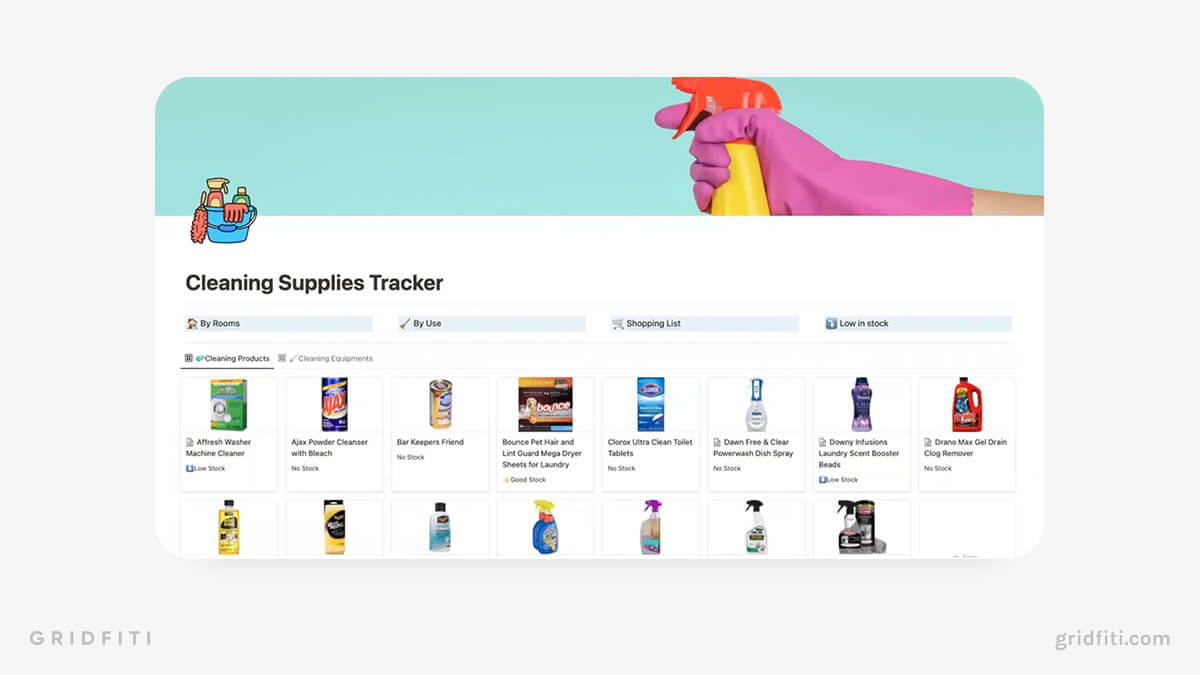 Aesthetic Chores & Cleaning Template
This simple and aesthetically pleasing cleaning planner is broken up room and by cleaning frequency! Get a daily checklist of cleaning tasks, as well as an easy-to-glance board view of cleaning tasks by days of the week. For less frequent house chores, there's even a monthly and quarterly view.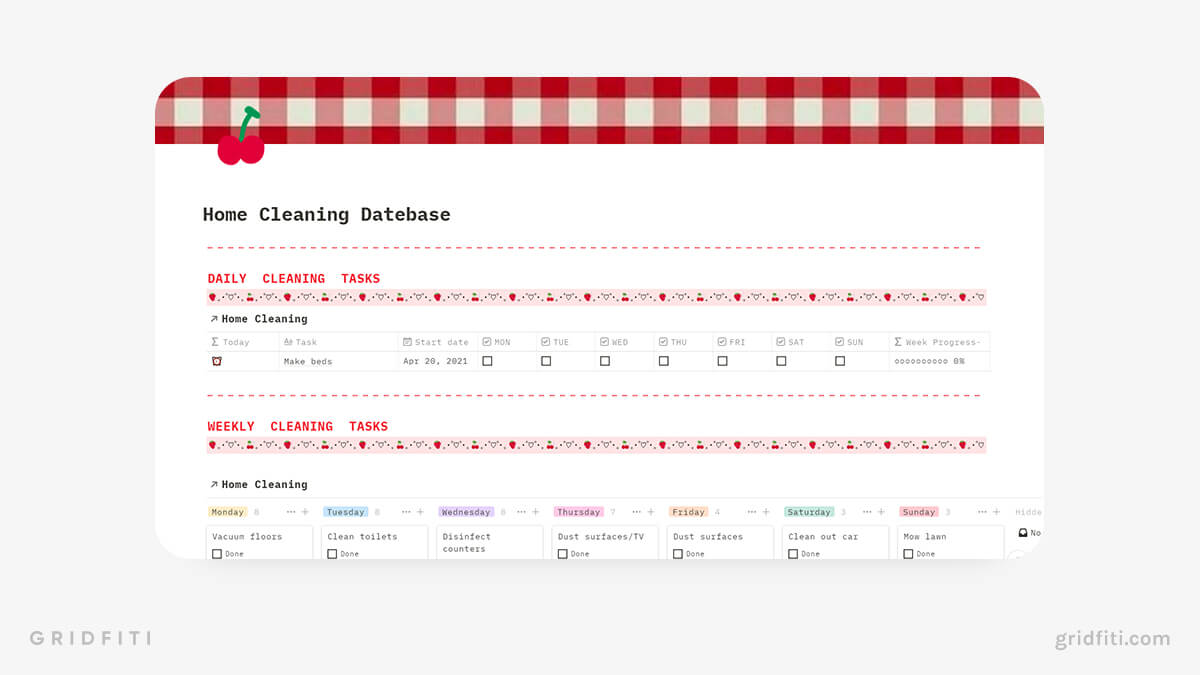 Airbnb Cleaning Checklist Template
If you run an Airbnb, or just want to run a tight, sanitized ship in your own household – this Airbnb cleaning checklist will ensure every nook and cranny of your home is clean and tidy. Based on Airbnb's 5-step enhanced cleaning process and tips from some of the top cleaners on the planet, draw from comprehensive lists and toggle sections to never miss a step in your cleaning process.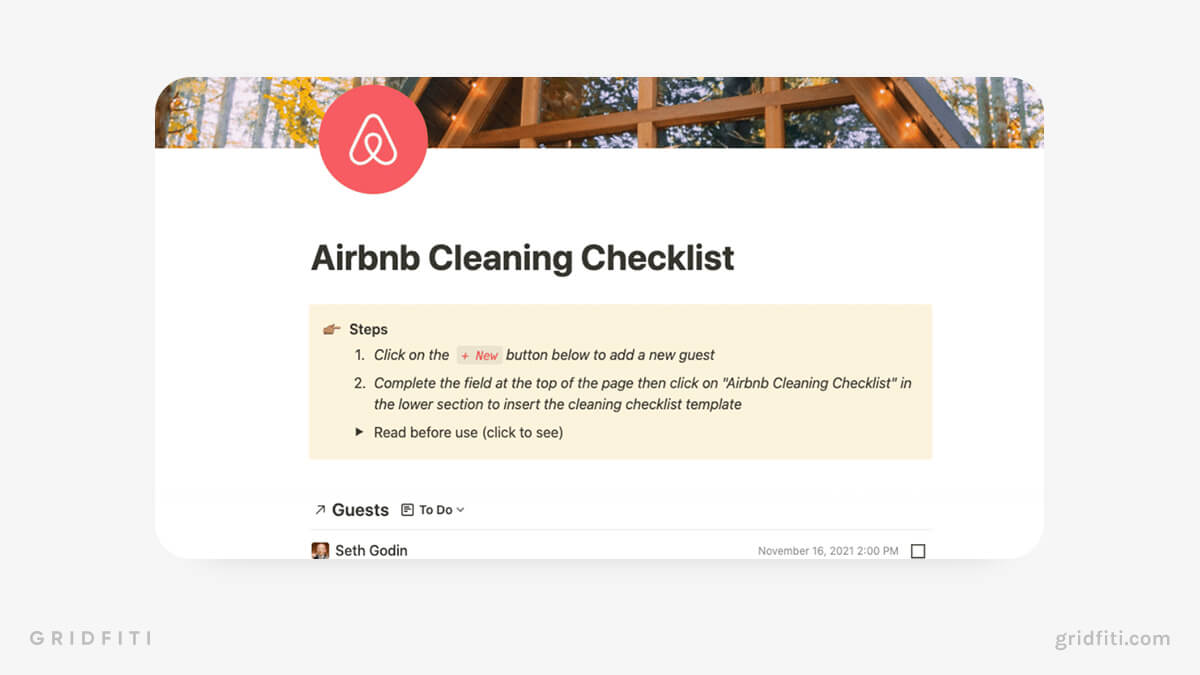 Simple House Cleaning Template
This cleaning template works off three main sections: daily checklist, a weekly checklist by home area, and refill section for cleaning supplies. Keep track of what you need to do day-to-day, whether making your bed or washing the dishes, get reminded and served up top priority weekly cleaning items, and even track supplies that are running low to make sure you've always got what you need to keep your home clean.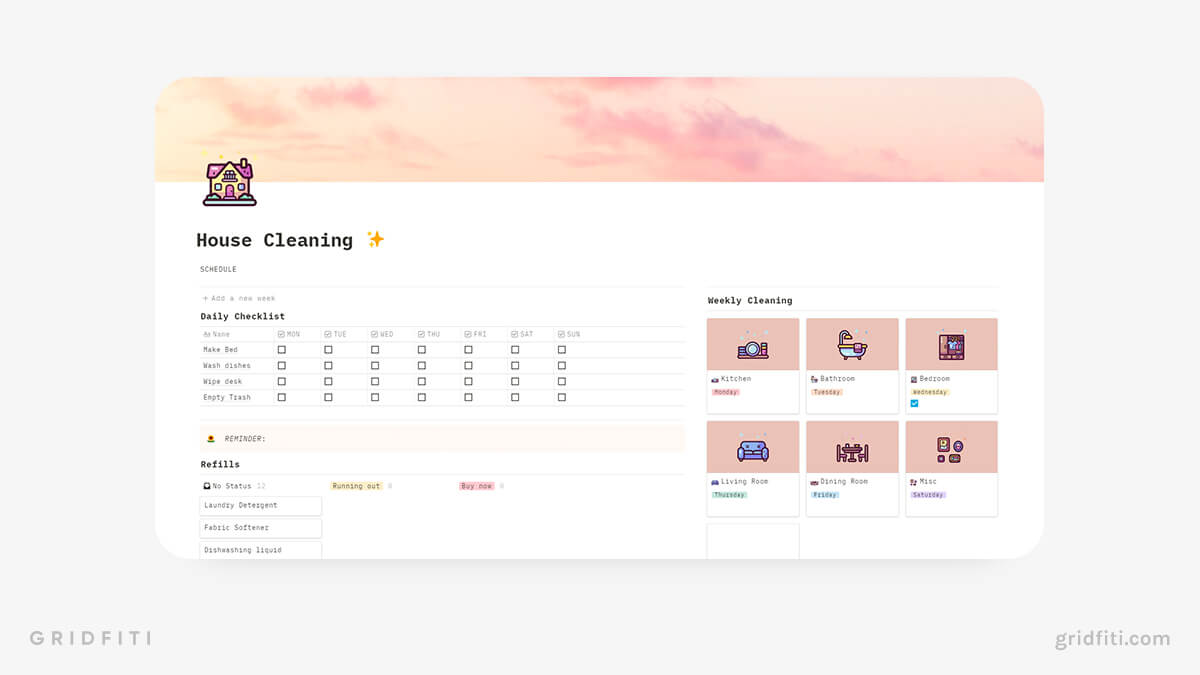 Simple Cleaning Checklist Spreadsheet Template
This simple template for house cleaning serves up 'to clean' tasks, and allows you to tag your cleaning tasks by frequency, day of the week, area of the home, and broader zone of the home.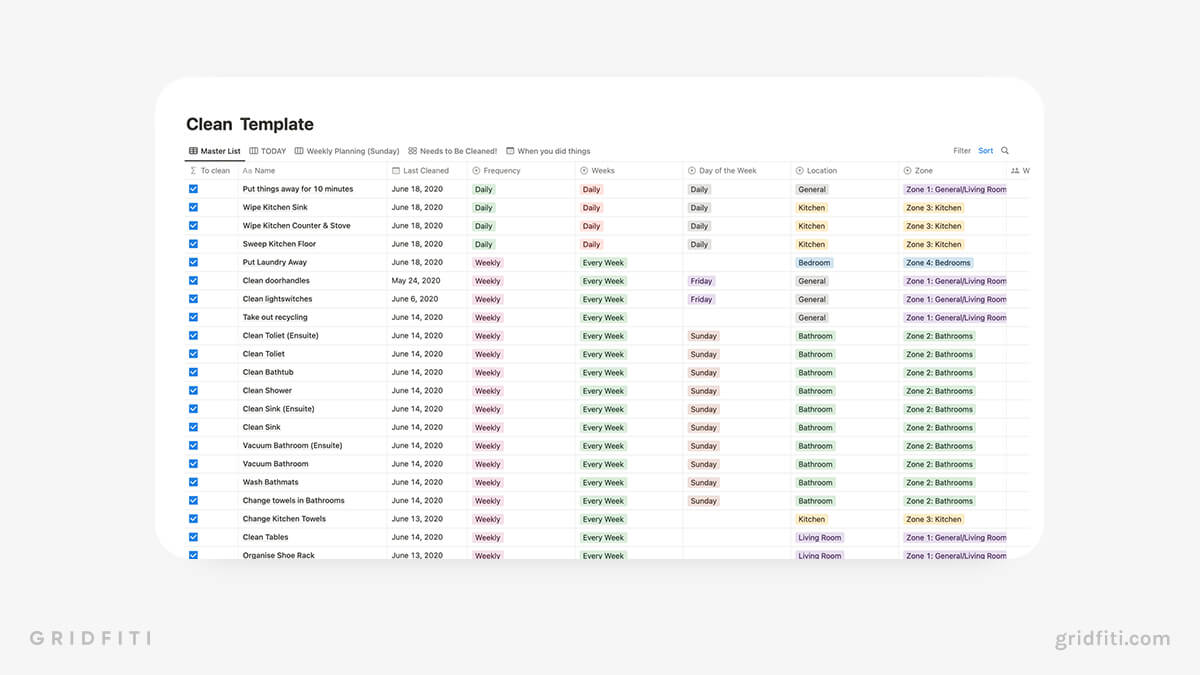 Simple House Work Spreadsheet Template
Based on the creator's own home, this basic spreadsheet template has cleaning action items by room and by sequence within each room!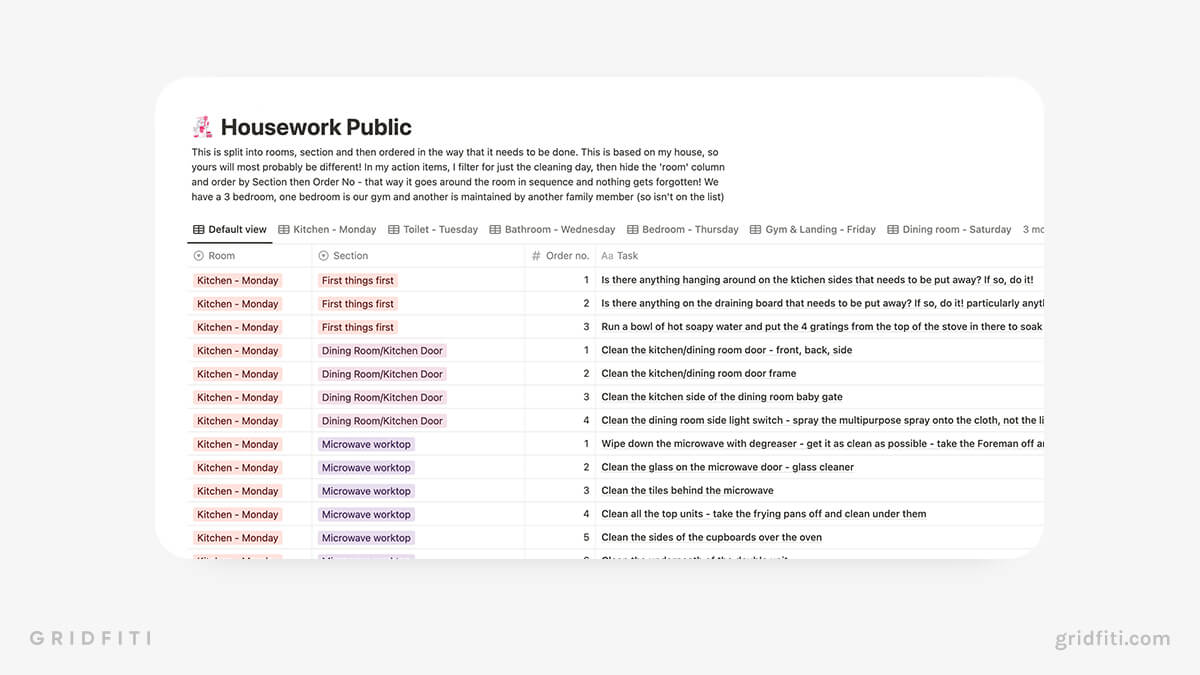 Which Notion cleaning template do you see yourself incorporating into your day-to-day? Any other cleaning or chore templates for Notion we've missed? Let us know in the comments below!
Gridfiti is supported by its audience – when you buy something using the retail links in our posts, we may earn a small commission at no additional cost to you. Read more about our affiliate disclaimer.