Anime-themed Notion templates are practically synonymous with aesthetic Notion templates, and there are a ton of great setups out there that are as beautiful as they are functional. To save you searching, from Studio Ghibli, Sailor Moon, and beyond, we've rounded up some of the best Notion anime templates for you to incorporate into your workspace!
---
Looking for more productivity tips and tools? Subscribe to The Flow — our quick, snappy, value-packed focus and recharge newsletter. Also, don't miss our several other Notion template round-ups and guides!
---
Anime Cafe Life Dashboard Template
Step into your virtual cafe each morning with this anime cafe-themed life dashboard template. With this dashboard, get an all-in-one dashboard view with simple sub-templates inside to track your habits, journal daily, jot down your goals and milestones, and more!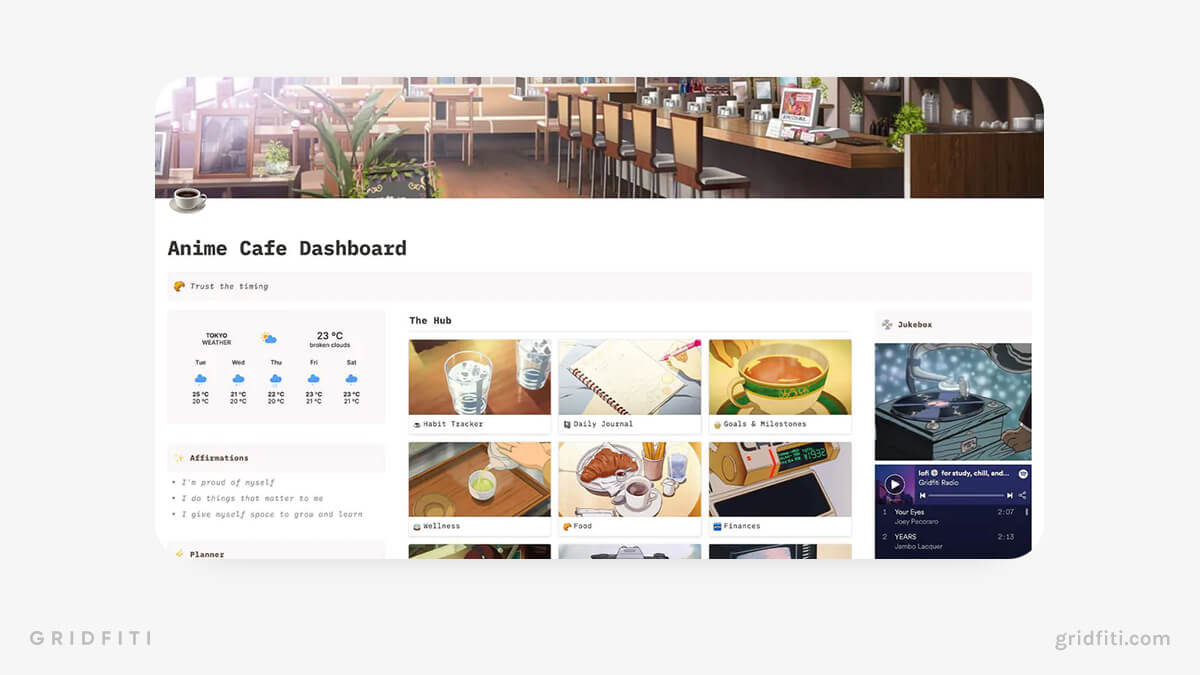 Aesthetic Green Studio Ghibli Notion Template
If you love both green and Studio Ghibli, this is the template for you. This anime-inspired template consists of a dashboard and micro templates – with peaceful visuals, quotes, and affirmations.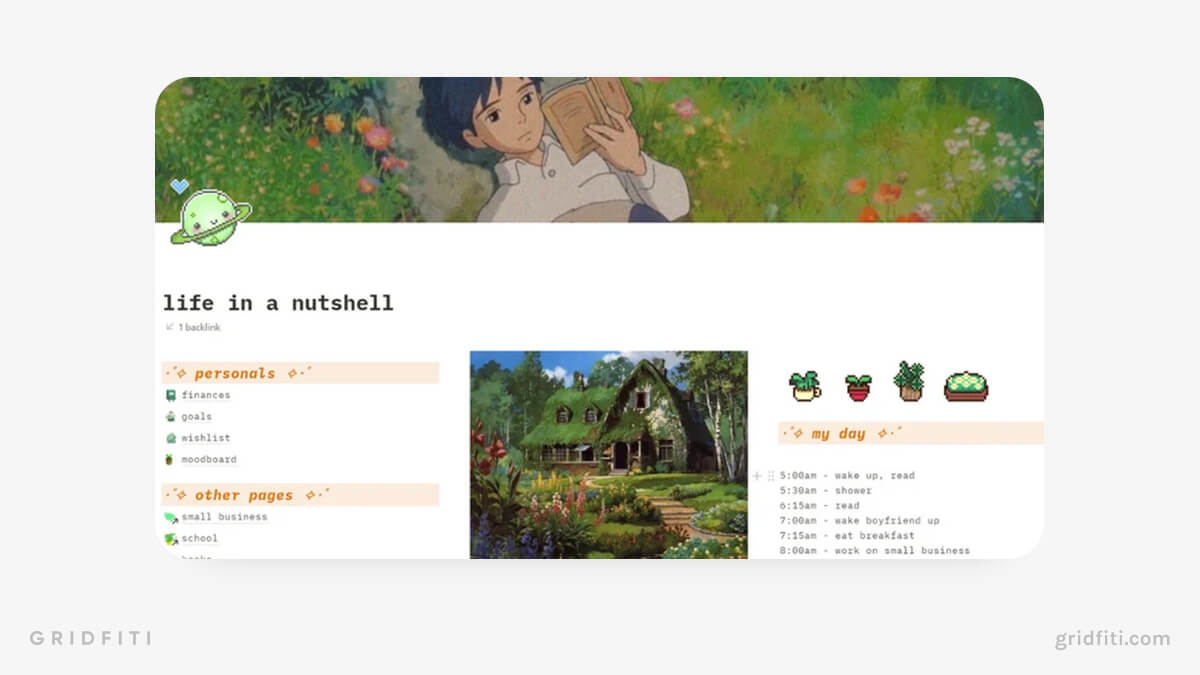 Student Anime-Themed Notion Planner & Life Template
Featuring an aesthetic theme with anime visuals peppered throughout, Student OS is the ultimate all-in-one workspace with 15+ templates in a centralized dashboard for everything you need for your academic life – both in and out of the classroom.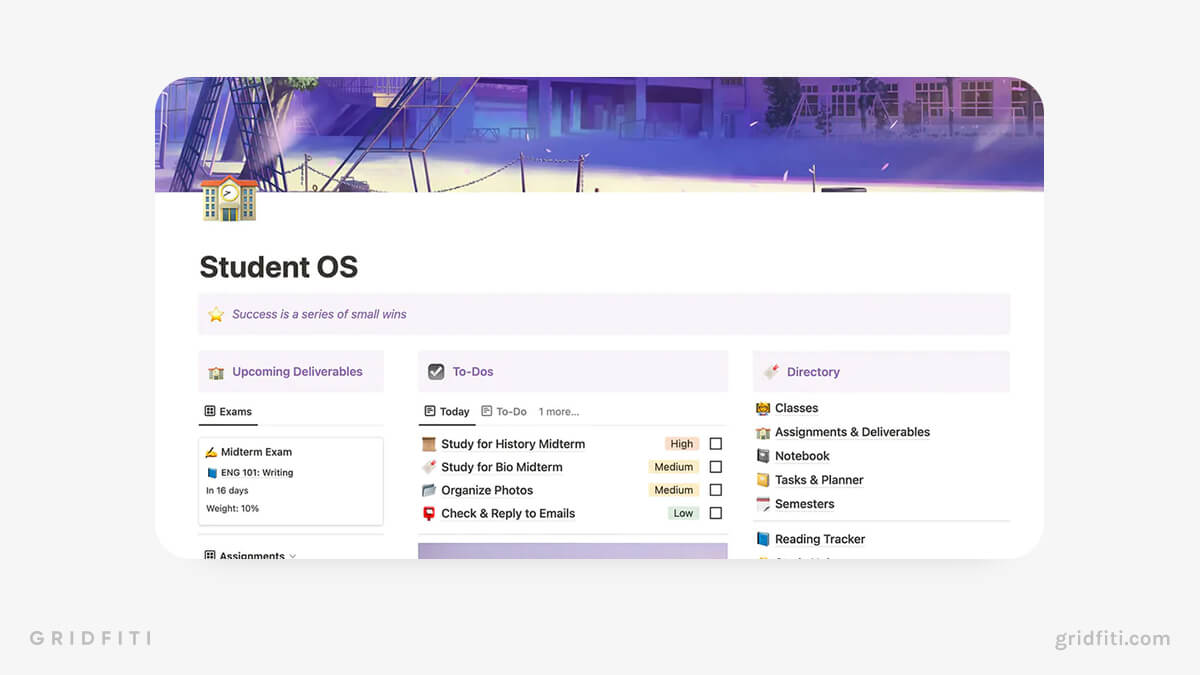 Sailor Moon Medical School Notes Template
If you're having trouble keeping track of all your medical school resources and notes, this simple Sailor Moon-themed dashboard has you covered with a rotations database and a centralized notebooks database for a ton of the different disciplines in medicine!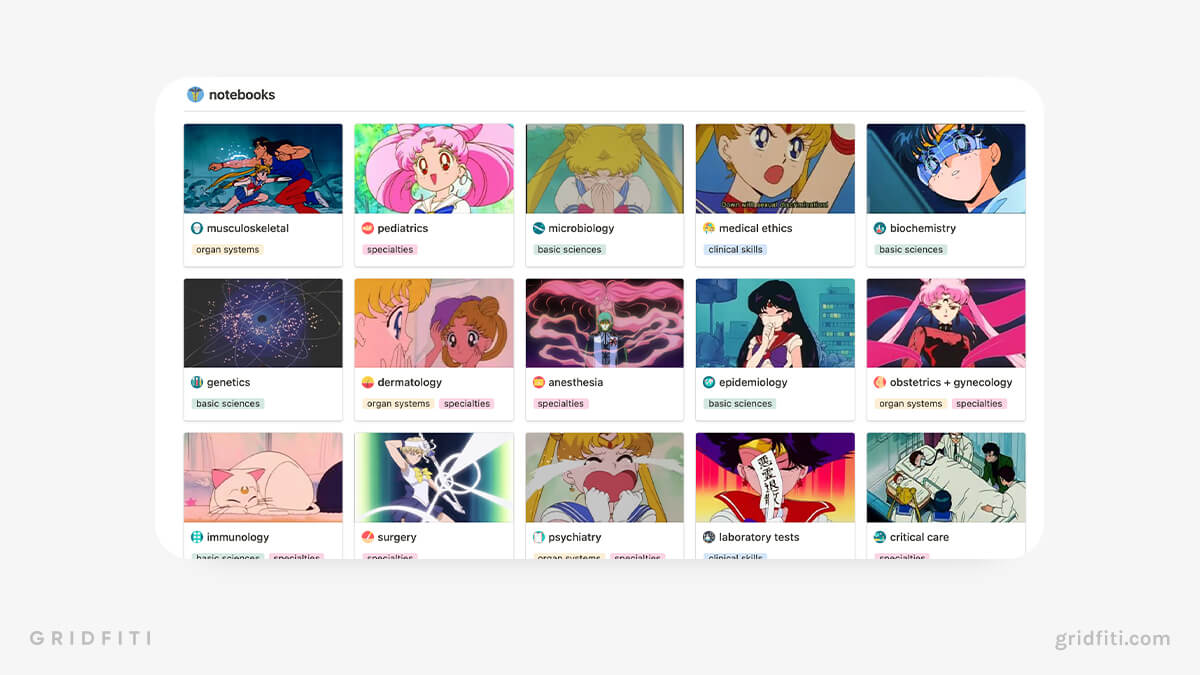 Cottagecore Student Studio Ghibli Notion Template
Another Studio Ghibli-themed template, except this one features cottagecore visuals and earthy tones! This template was designed specifically for students, with a main dashboard, budget sheet, recipe cards, chore chart, date night ideas, and so much more.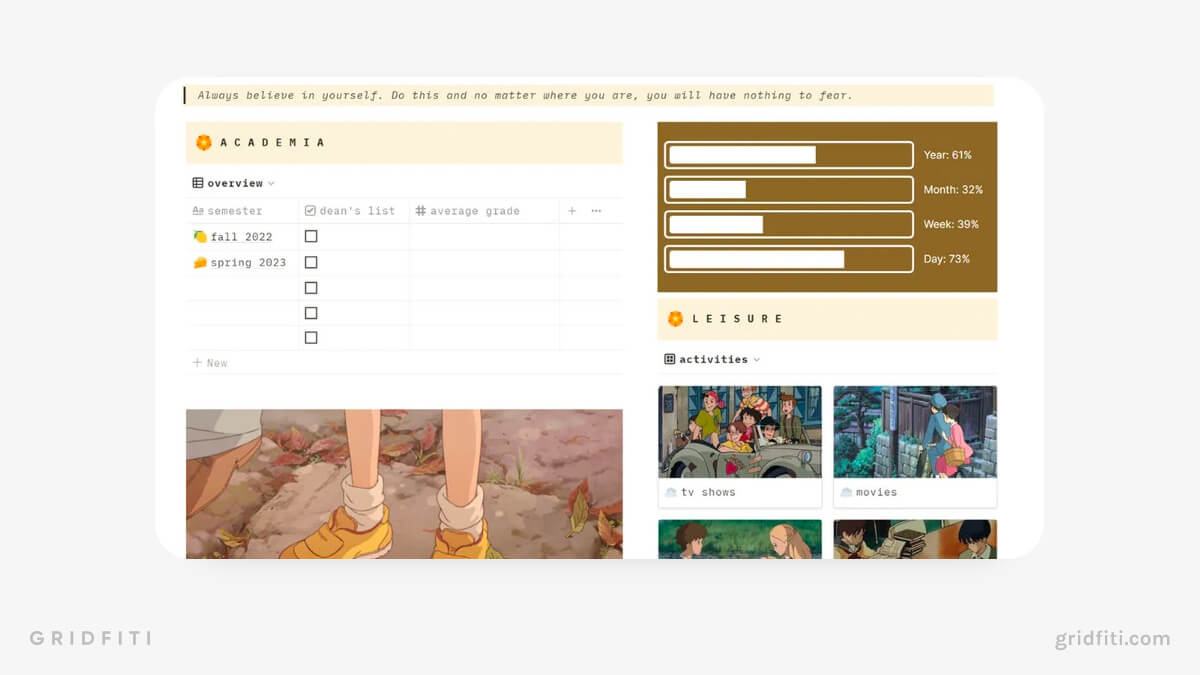 Dark & Monochrome Studio Ghibli Dashboard Template
We've seen a ton of Studio Ghibli-themed templates with colorful and tranquil visuals – but this dashboard takes a different approach. Featuring dark and black and white visuals across a ton of different types of templates and pages, this dashboard is perfect for any anime and dark mode lover!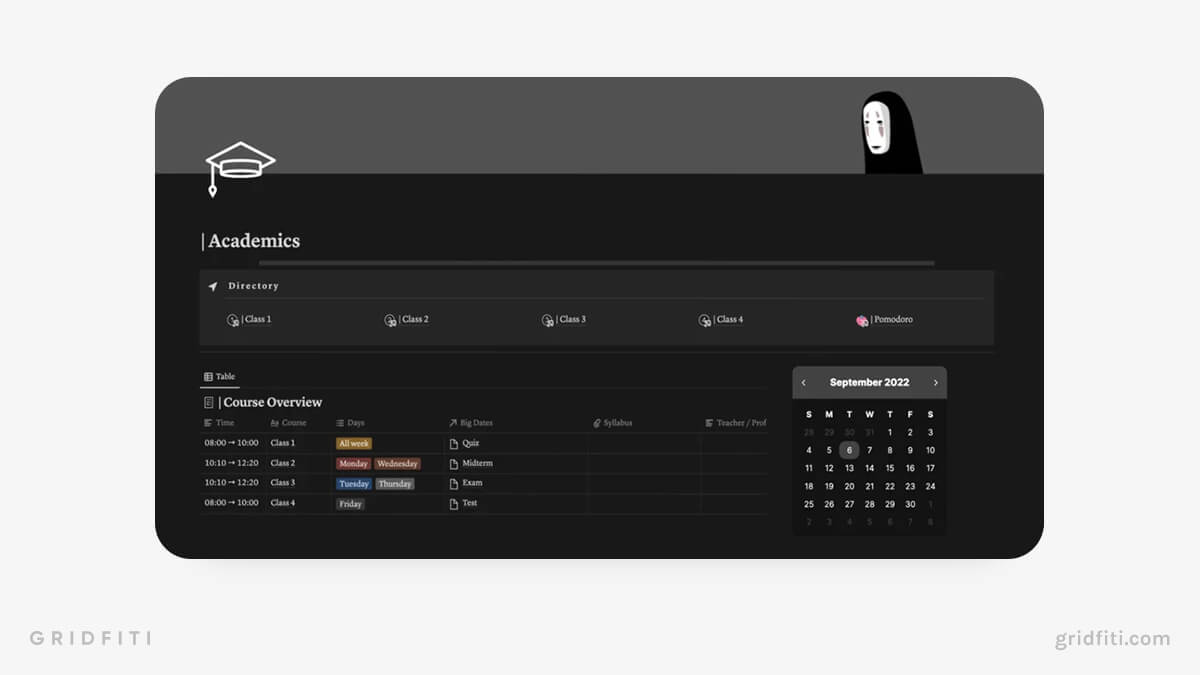 Studio Ghibli Planner Dashboard
Visualize and plan your life with this Studio Ghibli-themed dashboard! Featuring over 10 pages and databases, plan everything from academics to leisure, all under one aesthetically pleasing roof with cute Totoro and Ghibli visuals.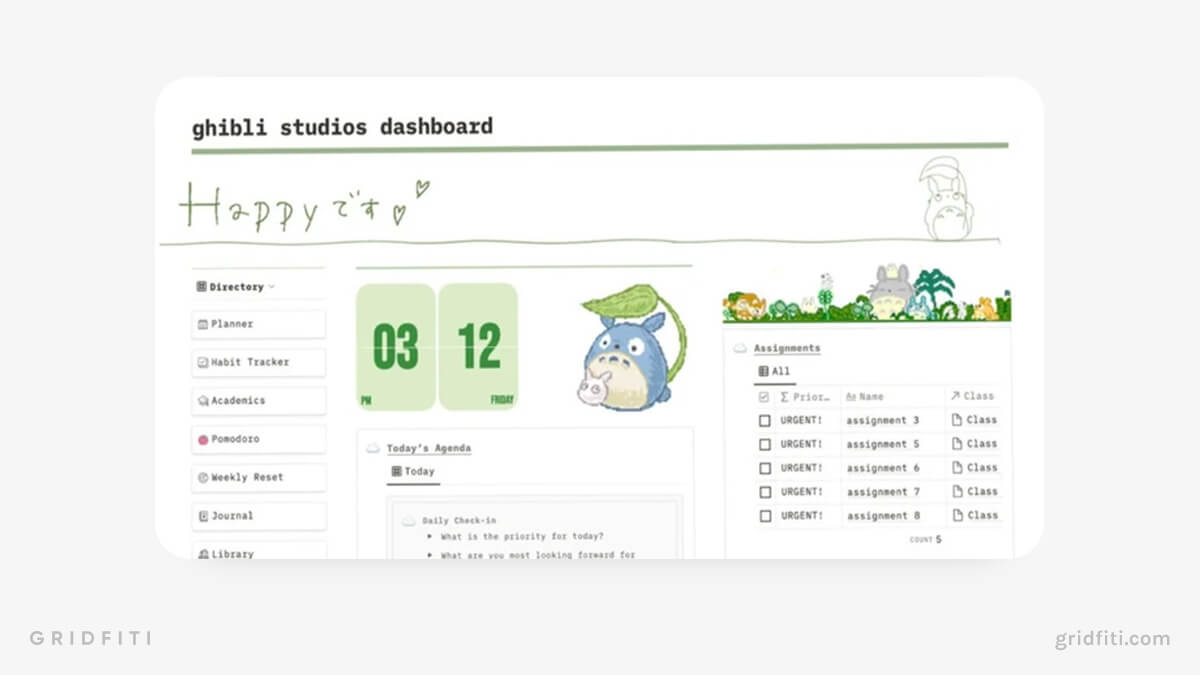 Studio Ghibli-Themed Finance Tracker Template
Get your finances right with the Ultimate Personal Finance Dashboard by yours truly! Track your income, expenses, and so much more under one roof with several aesthetic and tranquil anime visuals included throughout.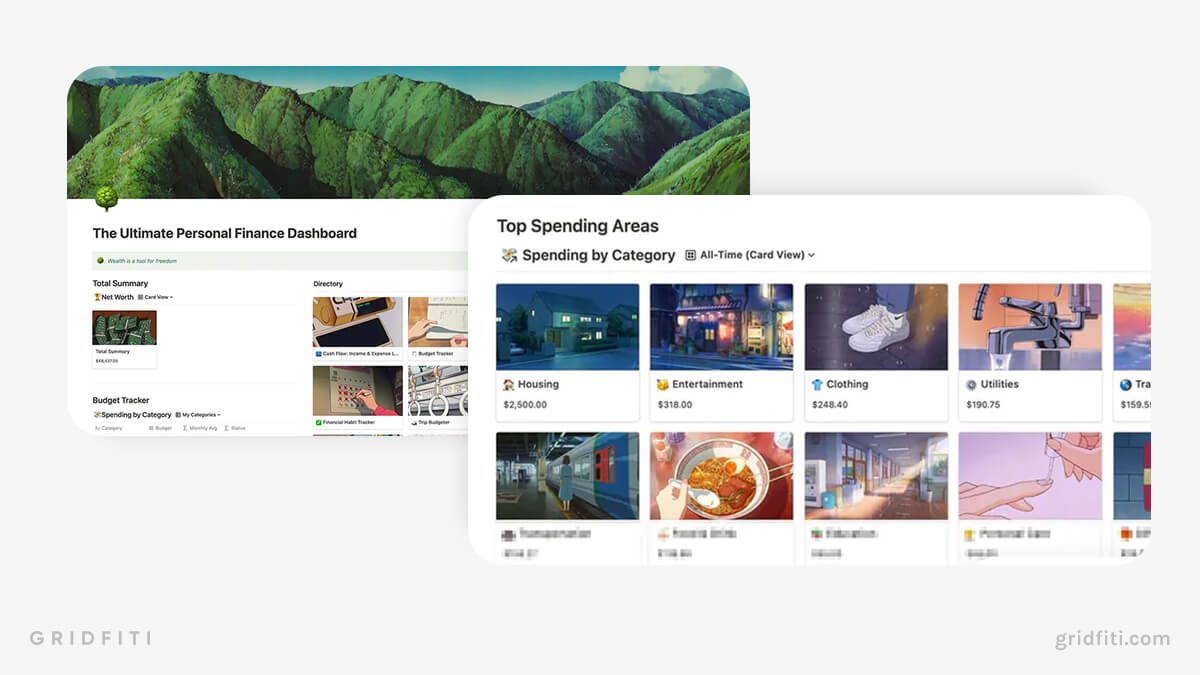 Watch List Tracker Template for Anime Shows & Movies
Make a smart, robust, and actionable watch list library for all of your favorite anime movies and TV shows with this template! Featuring anime-themed visuals, organize everything you want to watch, have watched, and are currently watching – and even organize them by streaming service.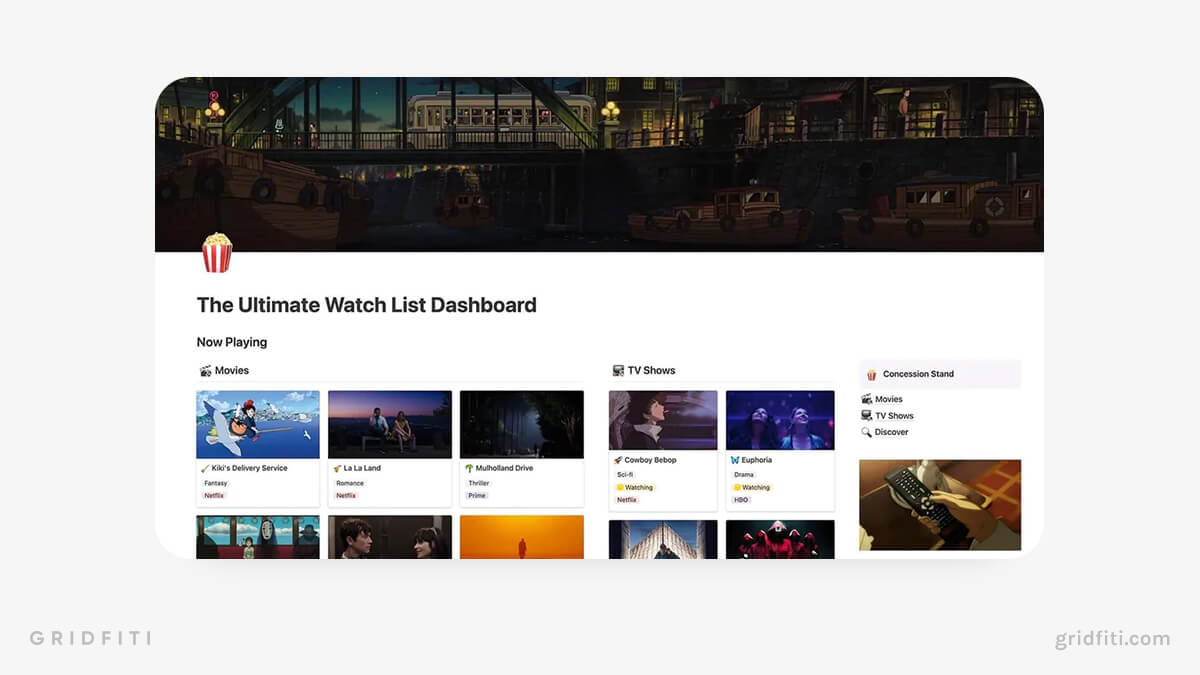 Anime Show Tracker Template
Track all of your anime shows – and even create a weekly schedule of ones currently airing – with this template! You can even create a list of your favorite characters and anime, and rank them. Not sure what to watch? Get a randomized list of anime from your plan-to-watch list in the template.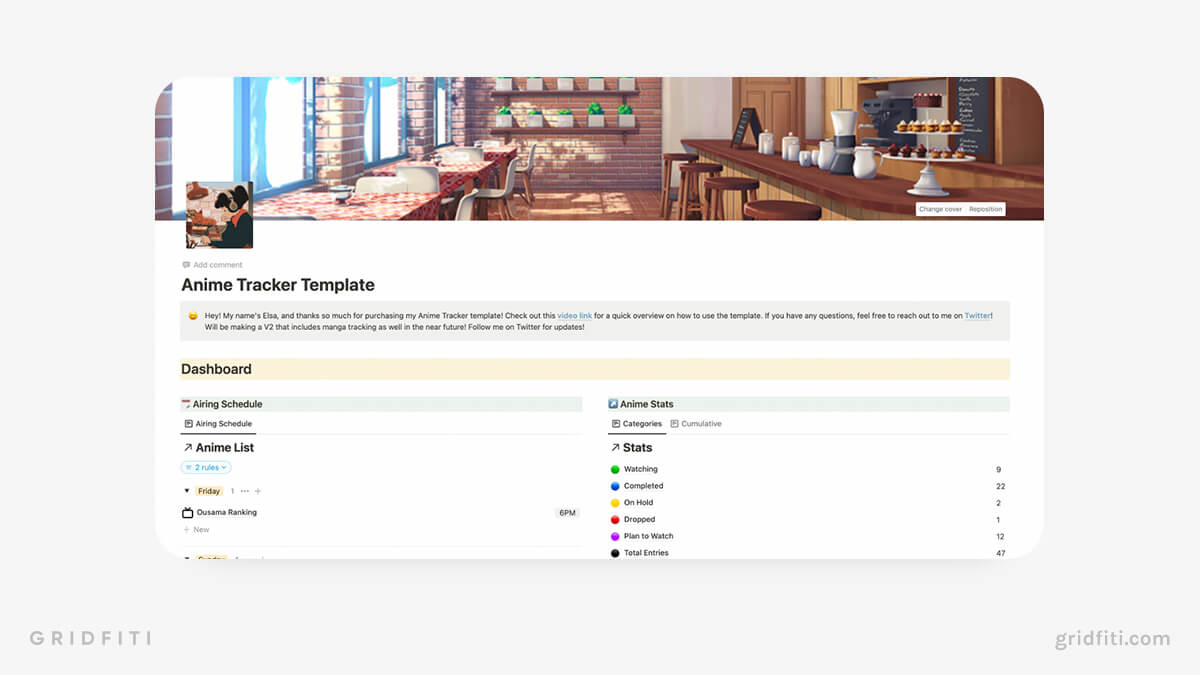 Anime-Themed Habit Tracker
Create great habits, and stick to them with this anime-themed habit tracker template by yours truly! Track your habits each day and each week with a checkbox system, and even see the several pre-built habit categories with aesthetic anime covers and thumbnails.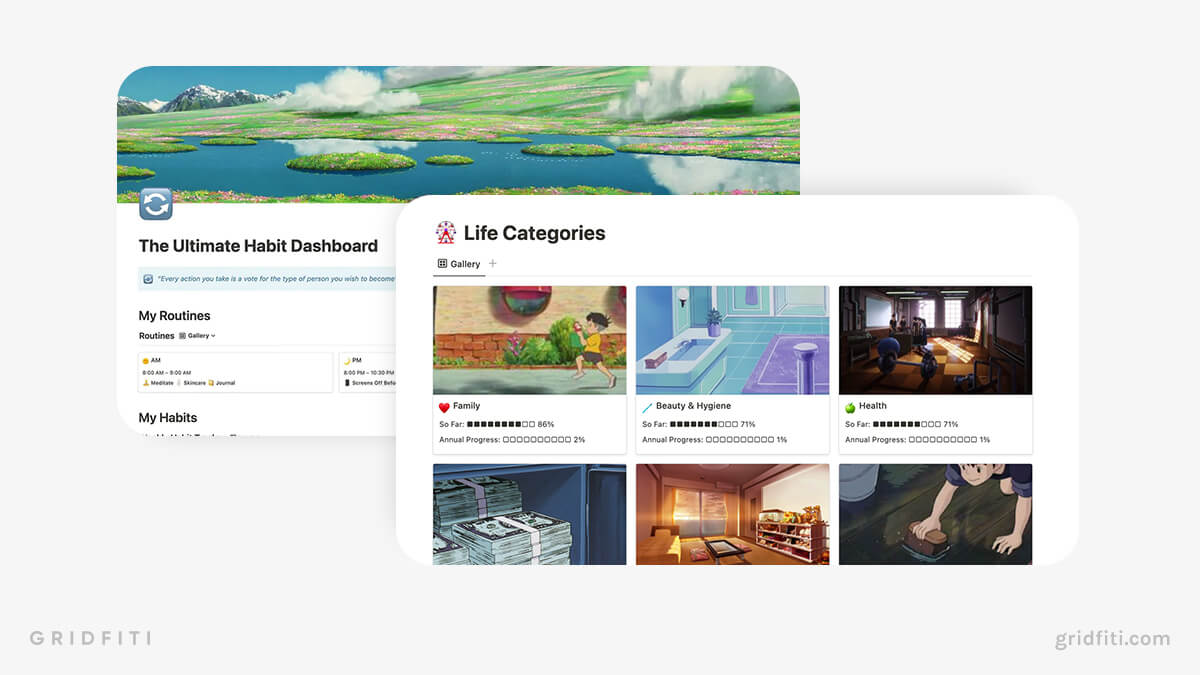 Anime-Inspired Book Tracker Template
This free anime-inspired Notion template lets you organize your books into digital 'shelves'! Featuring aesthetic images throughout, create your perfect anime-themed library right in Notion.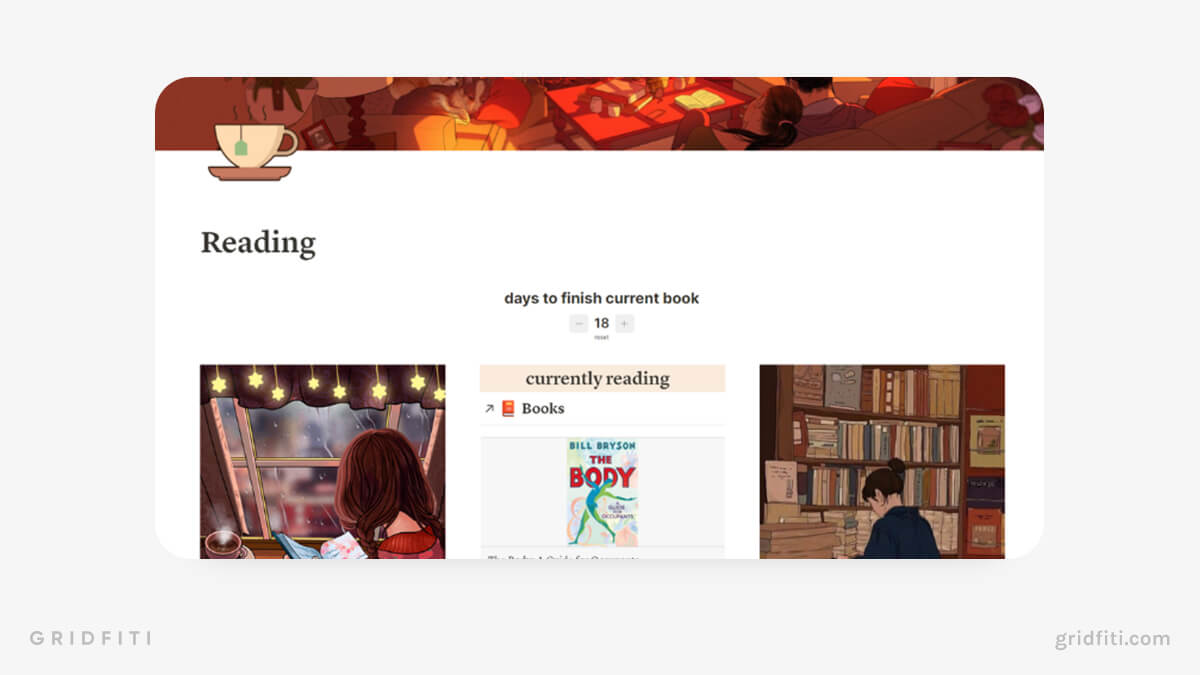 Which Notion anime template is your favorite in the list? Any others we should add? Let us know in the comments below!
Gridfiti is supported by its audience – when you buy something using the retail links in our posts, we may earn a small commission at no additional cost to you. Read more about our affiliate disclaimer.