Putting Cinestill and Portra next to each other is like a modern day analog clash of titans.
Both film stocks have gained fame due to their premium quality, unmistakable color reproduction, forgiving exposure latitudes, and more. What seem like film stocks that are leading the analog photography renaissance, there's no question that these two often get compared with each other.
If you're at the crossroads of choosing between these two film behemoths, we've got a guide of Cinestill vs. Portra help you, as we dive deep into the characteristics that make these film stocks what they are. Check out our comparison of all of Cinestill's major film stocks against Kodak's Portra line!
Want more film photography tips? Join our mailing list, and check out our several other film photography guides.
Cinestill Film Stocks
Cinestill is made up of their holy trifecta of film stocks 800T, 50D, and BwXX – soon to be joined by their highly anticipated 400D film stock.
The popularity of the brand arises from their 800T film stock, which is a converted cinematic film emulsion achieving quite the unique look in photos. Beyond 800T, their suite of other films offer up shooting styles for scenarios from daylight, to ultra fine grain, to black and white.
Let's dive into the nitty gritty of each – and ultimately, how they stack up compared to Portra further on.
If you're looking for film similar to Cinestill, read our blog post outlining the our favorite Cinestill alternatives! If you're looking to achieve the Cinestill look with your digital photos, here is a round-up post of the best Cinestill presets for Lightroom.
Cinestill 800T
Starting it off with Cinestill's most popular film, Cinestill 800T brings cinematic converted film to the masses. Being made from converted Kodak Vision3 500T cinematic film, the process involves the removal of an anti-static 'Remjet' layer. The removal of this is what leads to 800T's dreamy glowy halation around light sources – you can see for yourself through the many Cinestill 800T photos out there!
The look of Cinestill 800T comes from the tungsten balance of the film. It's made so that when pointed at warm colors, the film converts to cooler tones with a blue tint. Combine that with the iconic halation, and you've got yourself the coveted Cinestill 800T look.
Check out Cinestill 800T: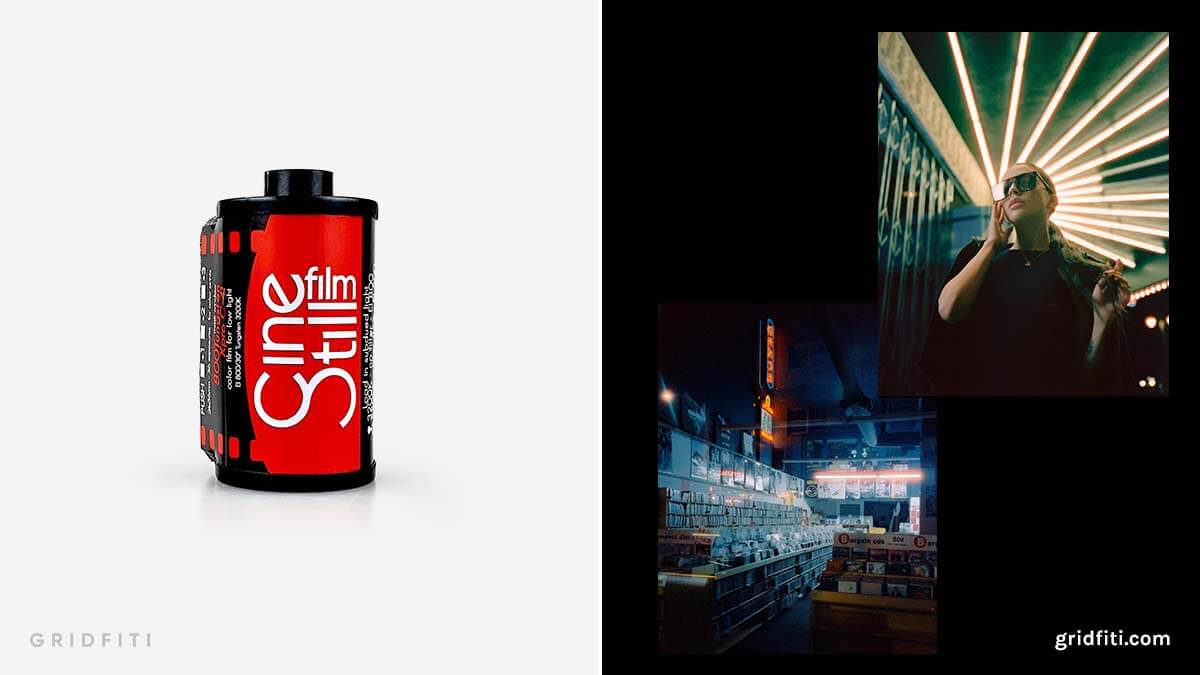 Images via @jancsn and @trmpendelton
Cinestill 50D
Second in the line of Cinestill films is Cinestill 50D. Where 800T is balanced for tungsten light and colors, 50D is balanced for daylight colors. You'll notice a more realistic color reproduction with this film stock, as its goal is to capture real daylight colors.
With 50D, colors are pronounced and combined with a lovely soft contrast, and Cinestill claims it's the sharpest and finest color film stock in the world – mostly due to that ultra low, ultra fine ISO of 50. What does this get you? Low grain, and incredible detail retention making for remarkable high res images.
Check out Cinestill 50D: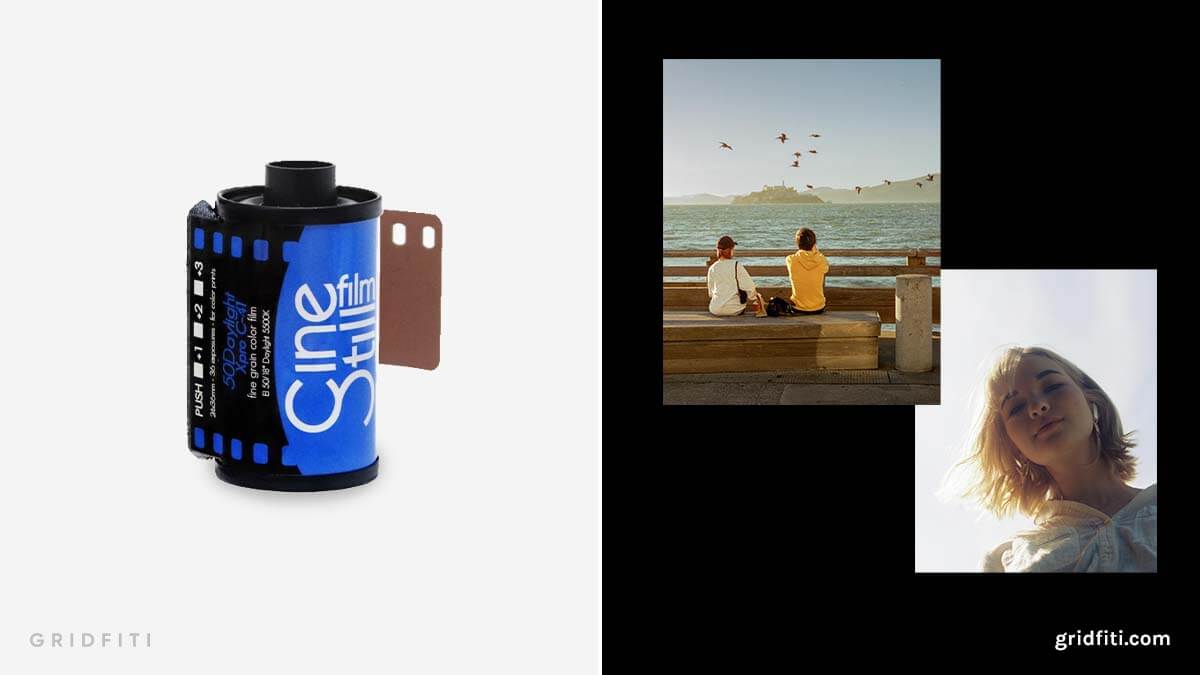 Images via @josh7185 and u/pictorialtheory
Cinestill 400D
Cinestill 400D is the latest addition to the Cinestill family, which is still in its pre-production and crowd-funding phase.
400D sits at a midpoint between the high ISO 800T, and lower ISO 50D. Cinestill is betting on this one as their all-purpose daylight film, meant to capture everything from portraits, to landscapes, and beyond. With the film stock being balanced for daylight (just like 50D), but with more sensitivity to light from its 400 ISO rating.
The colors of this film come out naturally, yet on the cooler blueish side – with similar soft contrast just like 50D. It all starts to feel like a comparable film stock to Kodak Portra 400 (which we'll get to soon).
Cinestill 400D is still in its crowd-funding phase, but should be available to the public soon. You can sign up for notifications here to be the first to know when it's released!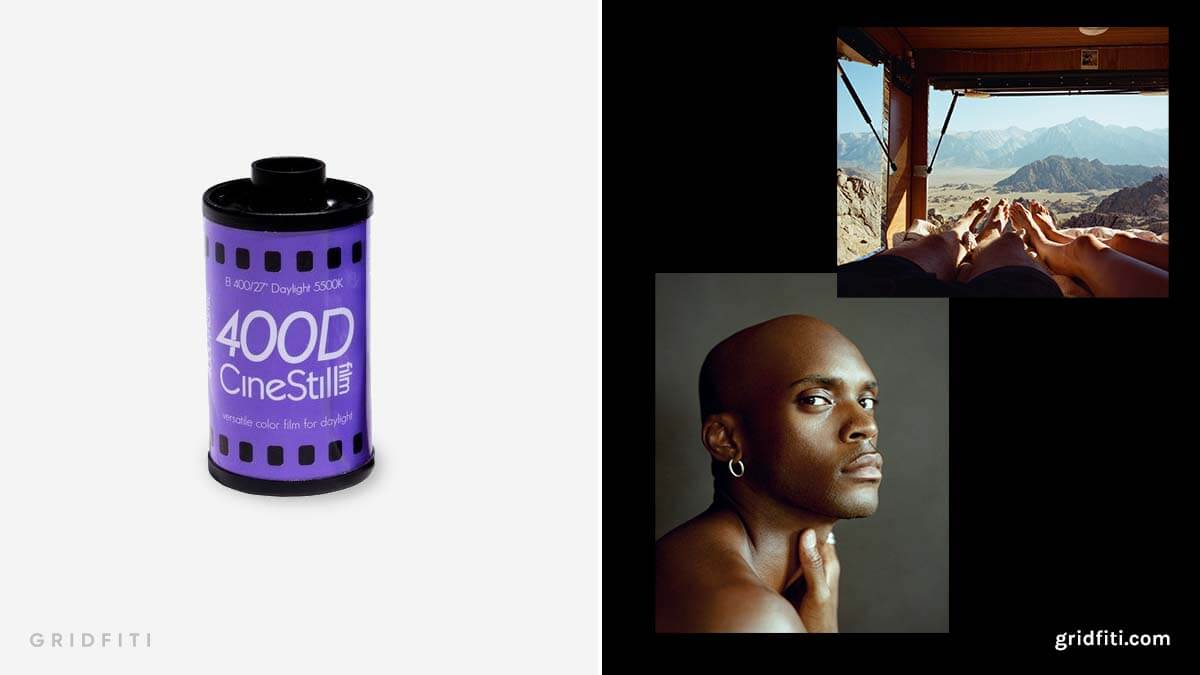 Images via @christineturek and @aidan.klimenko
Cinestill BwXX
Cinestill BwXX is the panchromatic black and white negative film option. It's made from Eastman Double-X cinematic film, which has been used to capture famous movies such as Schindler's List, Raging Bull, and The Lighthouse.
It's an incredibly versatile film in terms of exposure latitude – so much that Cinestill doesn't even provide a fixed box speed to it! They do however give a suggestive ISO rating of 200-1600, which allows you to shoot in a multitude of light settings.
The film reproduces images with rich blacks and remarkable sharpness – you can see some of the demos in the sample photos below, or you've probably already seen it in the movies mentioned above!
Check out Cinestill BwXX: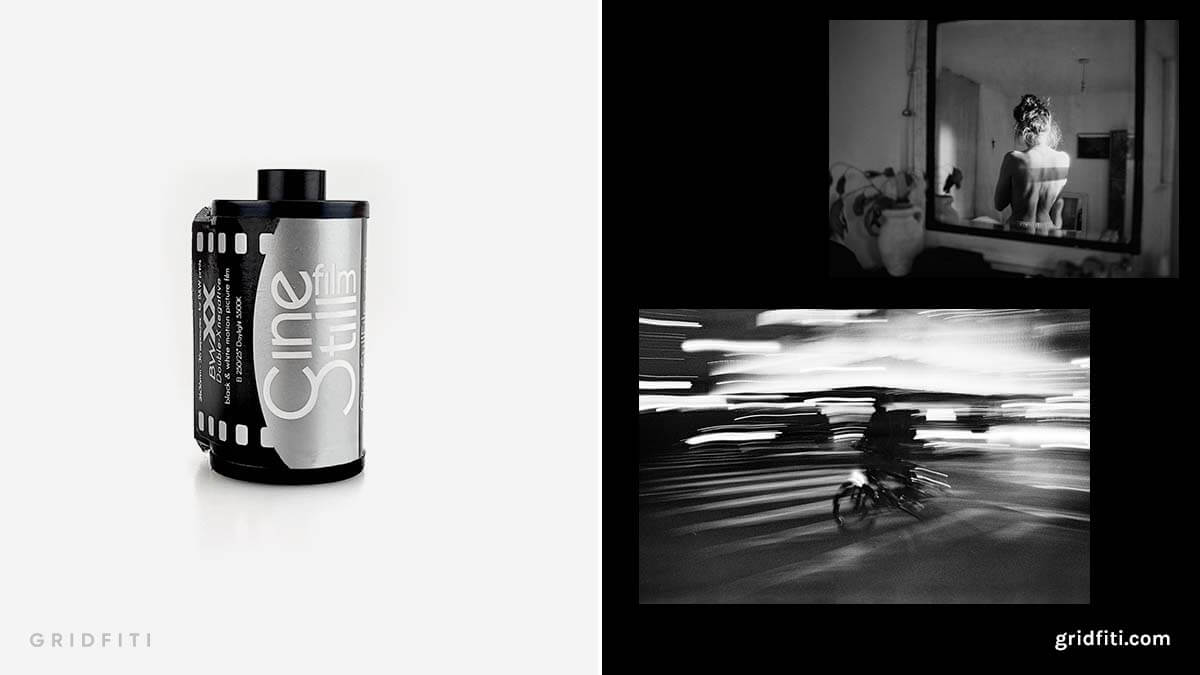 Images via @love.errs and @ev.ers
Kodak Portra
Where do we even begin with Kodak? A brand that is synonymous with film – covering a wide range of use cases from professional to novice use, and from still to motion picture.
Kodak's most popular line is Portra, which comes in 3 ISO levels of 160, 400 and 800.
Known for its iconic warmth, forgiving exposure latitude, and use cases spanning portraits, landscapes, and everything in between, the Portra line is Kodak's most versatile offering
How do Cinestill film stocks stack up against comparable Kodak products? Let's dive in and see.
As the popularity and price of these films rise, check out these affordable alternatives or Portra 400 presets to your favorite Portra film stock.
Kodak Portra 800
Kodak Portra 800 sits on the higher end of ISO. We look at it as the most comparable Kodak film to Cinestill's 800T due to their matched box speeds – but the way they capture images is far from matched.
Portra 800 creates saturated and punchy warm tones, with soft contrast and a subtle grain (even at the level of 800). The 800 speed also provides great exposure latitude, allowing you to shoot a stop or two either over- or underexposed, along with accommodating high shutter speeds, letting you capture action and movement.
Where Cinestill 800T might have similar ISO capabilities, the difference here is really in the way they both capture color. 800T's tungsten balance will transform warm tones into cool tones, whereas Portra will accentuate those warm tones.
The exposure latitudes of both film stocks are forgiving, allowing you to shoot in both daylight and nighttime settings – and those 800 speeds also allow for fast shutter capture!
Check out Kodak Portra 800: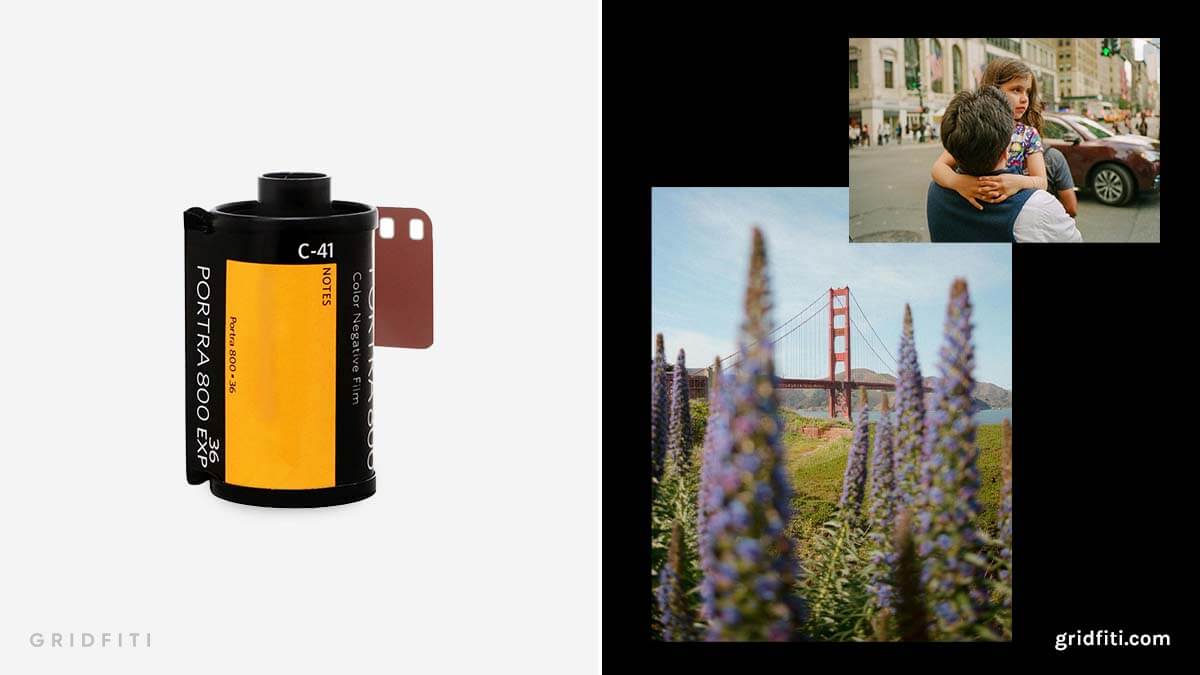 Images via @the_colorblind_cowboy and @portra_papi
Kodak Portra 400
Kodak Portra 400 is at a midpoint between Portra 800 and 160. The 400 speed makes it Portra's all-purpose contender, as it's ISO is low enough to mitigate grain but high enough for shooting in low light.
Portra 400 comes with the warm and punchy tones that we love with the Portra name. Its exposure latitude is widely forgiving, enabling you to shoot one or two stops underexposed for deeper shadows and contrast, or overexposed for a brighter airy feel.
Portra 400 would be the most comparable film to Cinestill's 400D. Both films are designed to capture in daylight, but also offer capabilities in low light. Cinestill 400D creates more true to life tones, whereas Portra will amplify those warmer tones.
Want to take the Portra 400 look to your digital photography? Check out these Portra 400 Lightroom Presets.
Check out Kodak Portra 400: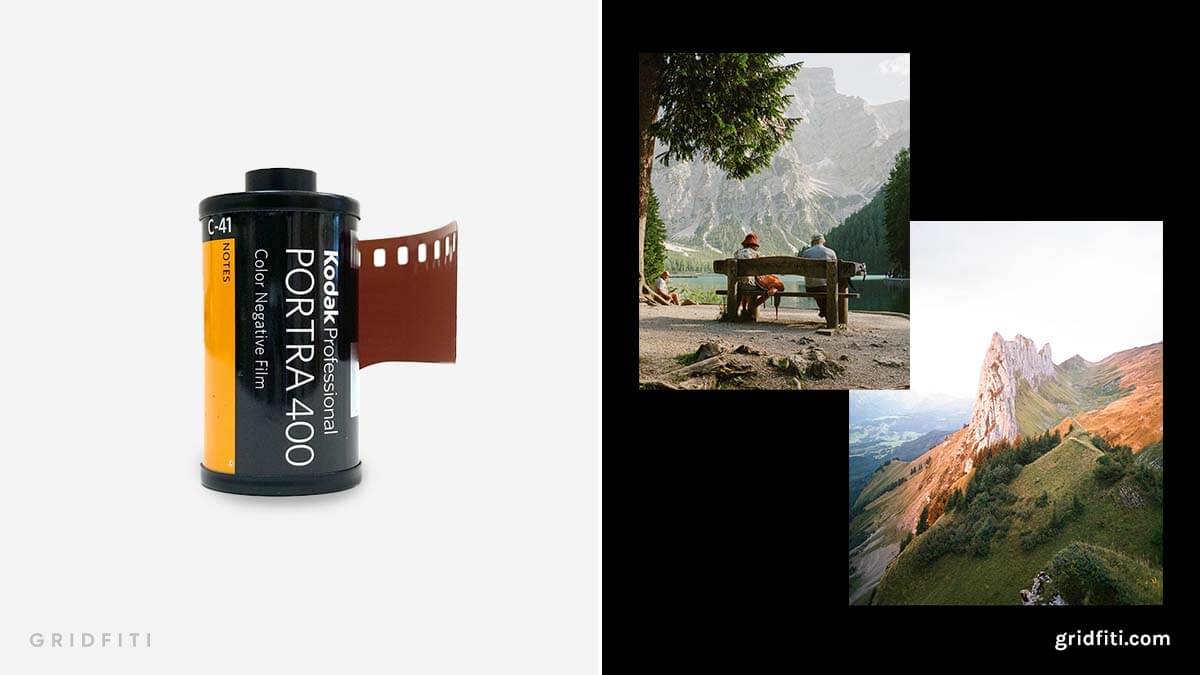 Images via @negativesbytom and @arthurlitau
Kodak Portra 160
Kodak Portra 160 is situated at the lower end of the speed spectrum at ISO 160. It's meant for bright days, direct sunlight, and ultra fine grain.
Metering this film at box speed brings out the best of it – vibrant colors, proper dynamic range, and highlights and low lights all intact. This would be the film stock with the least exposure latitude as you'd need to meter it just right to unlock its proper abilities.
We view Portra 160 as the most comparable to Cinestill 50D. Both films are low ISO, have fine grain, and made for detailed daylight shooting. The main difference here would be the color reproduction of both films. Portra 160 would achieve real, true to life colors with warm tones heightened, whereas Cinestill 50D would lean towards changing those warm tones to cooler blues with accentuated reds.
Check out Kodak Portra 160: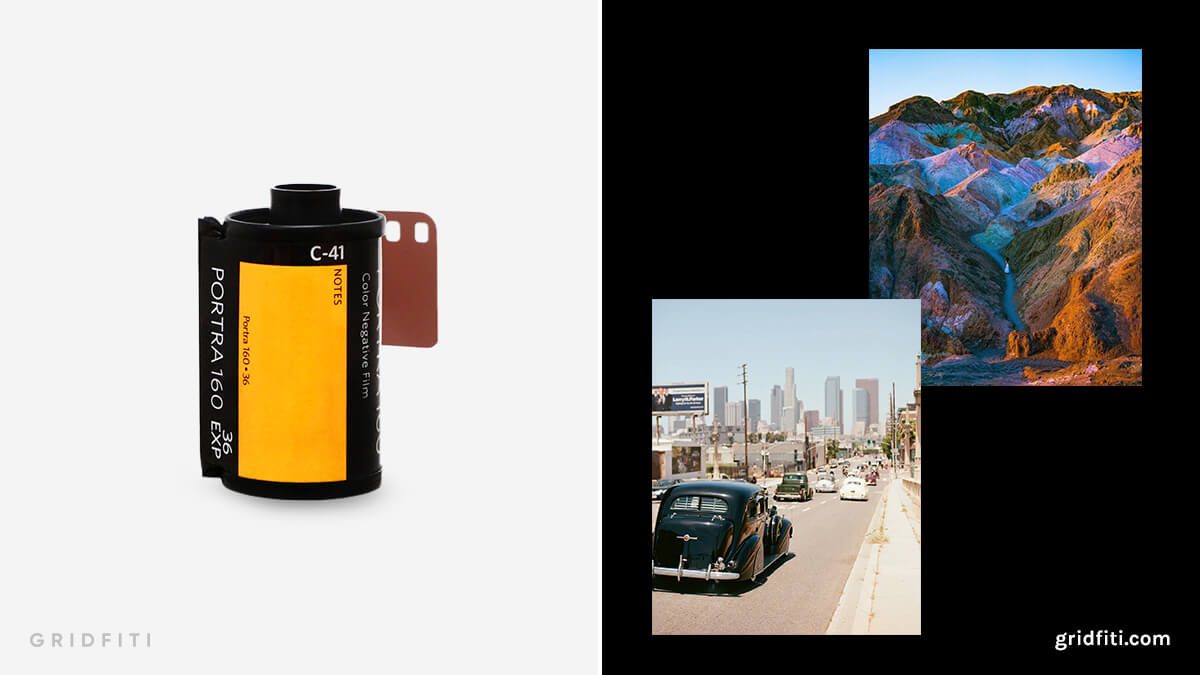 Images via @la_reflections and @bretcurry
Kodak Tri-X 400
Kodak Tri-X is Kodak's go-to black and white film stock. While not directly a part of the Portra line, Tri-X is widely referred to as Kodak Portra's black and white cousin which makes it fitting as the comparable film to Cinestill's BwXX.
Where BwXX excels in exposure versatility, Tri-X 400 tones it down a notch to the box speed of 400. However, don't let this deter you, as the exposure latitude on Tri-X is quite forgiving, also allowing you to over- or underexpose to achieve brighter or darker images (just as you would with Portra). The 400 ISO provides slight grain, but not as much as you'd see in the higher rated shooting from 800-1600 with BwXX. Overall, Tri-X is a versatile black and white film and a worthy Kodak competitor to Cinestill BwXX.
Check out Kodak Tri-X 400: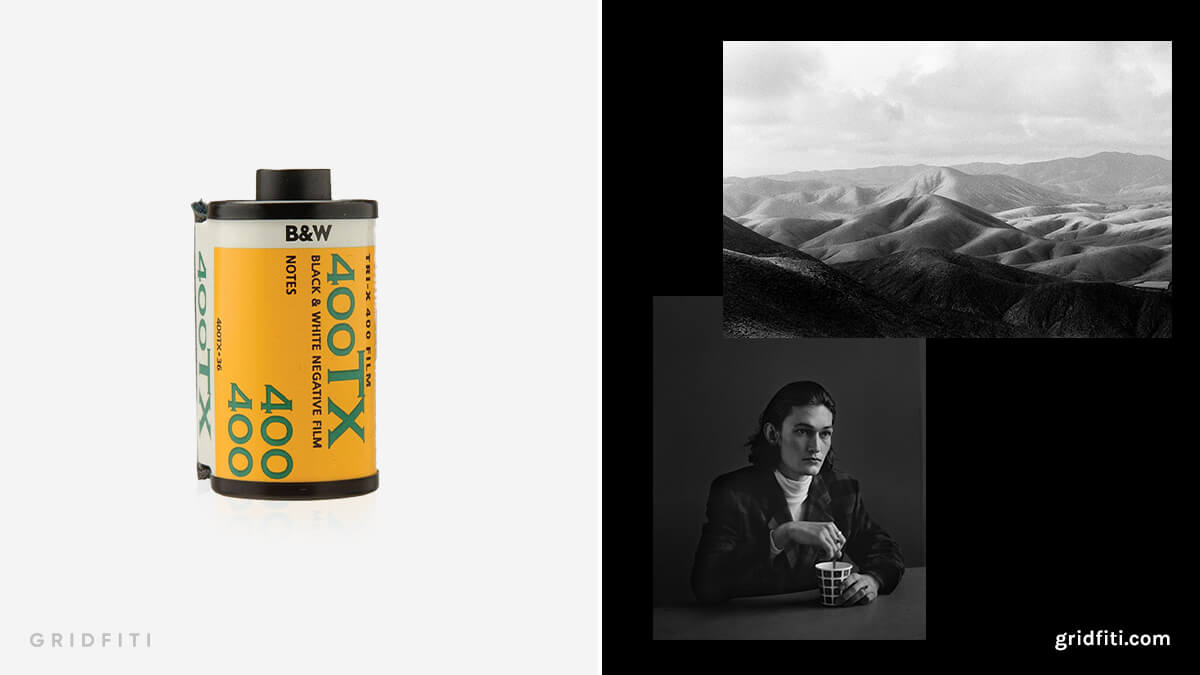 Images via @craigflemingphoto and @chrismscholl
Are you team Cinestill or team Portra? Which one of these films will you go shoot with? Let us know and tag us in your Cinestill or Portra photos on Instagram @gridfiti!
Gridfiti is supported by its audience – when you buy something using the retail links in our posts, we may earn a small commission at no additional cost to you. Read more about our affiliate disclaimer.