Cinestill in all its converted cinematic film glory has risen to the ranks as a top film stock for photographers. With their current offerings of Cinestill 800T, 50D, and upcoming 400D, these film stocks have become famous for their unmistakable color reproduction, signature halation, and overall adaptability with conditions.
Being one of the top film stocks of choice does come with its own cons, mostly being the rising costs and decreased supply. So, what does one can't stomach a pack of Cinestill 800T? Or if the local store just can't seem to keep up with stock and demand for 50D? Fear not – we've gathered some of the best Cinestill alternatives to accommodate your cinematic film needs!
Looking for more Cinestill content? Check out all of our Cinestill posts here!
Table of Contents
Want more film photography tips? Join our mailing list, and check out our several other film photography guides.
Ref
Cinestill 800T Alternatives
One quick look at Cinestill 800T sample photos, and you'll notice why there's such an allure behind the film stock. Created from converted Kodak Vision3 500T Cinematic film, the tungsten balancing of the film reproduces unmistakable blues and hues when pointed at warm tones, and the removal of the Remjet layer in the cinematic film results in a magical glowing halation around light sources. It's a hard film stock to replace, but here are a few that are alternatives in those scenarios where you aren't packing a roll of 800T.
Decide you want to go with 800T at the end of the day? Check out the current prices and stock:
Reflx Lab 800T
The fullest alternative to Cinestill 800T comes from up-and-coming film producer Reflx Lab! Made from converted Kodak Vision3 500T 5219 motion picture film with a removal of its cinematic Remjet layer, you'll see lots of similarities to the Cinestill tungsten and halation look! Reflx Lab 800T uses the same C-41 chemistry as most color negative films, and is meant to be a cost-effective, accessible cinematic film solution to Cinestill. You'll notice a lot of the similar cooler tungsten-balanced tones of Cinestill, with slightly softer contrast. We think this film stock has great potential to be a frontrunner Cinestill 800T alternative!
If you're looking for more examples, here is a blog post we published that showcases sample photos from Relfx Lab film!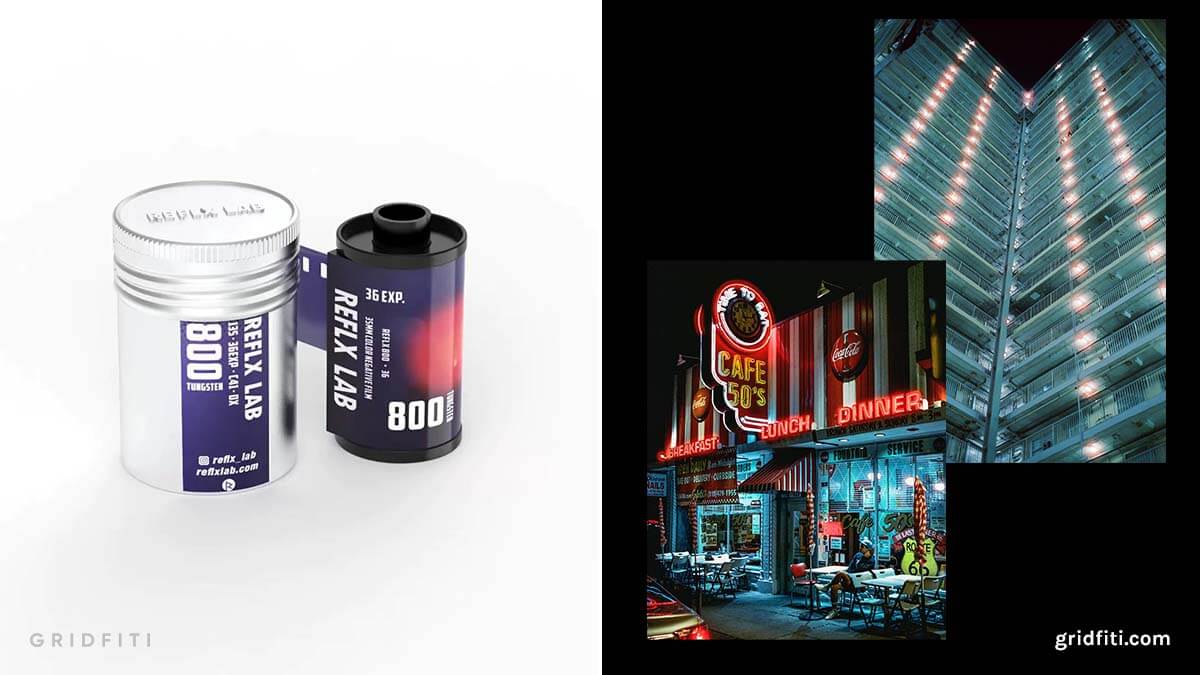 Images via @yung35mm and @tahusa
Reflx Lab 500T
The second Reflx Lab contender is its 500T film stock. It's made from the same converted 5219 motion picture film but with a twist, that Remjet layer not removed and still there! What does this mean, exactly? Similar tungsten-balanced colors – just minus the signature halation glow and less saturated cooler tones.
Just a heads up that Reflx Lab 500T does require a different ECN-2 developing process, which isn't widely found in many developing labs. Check with your go-to lab to see if they accommodate this film stock's development process!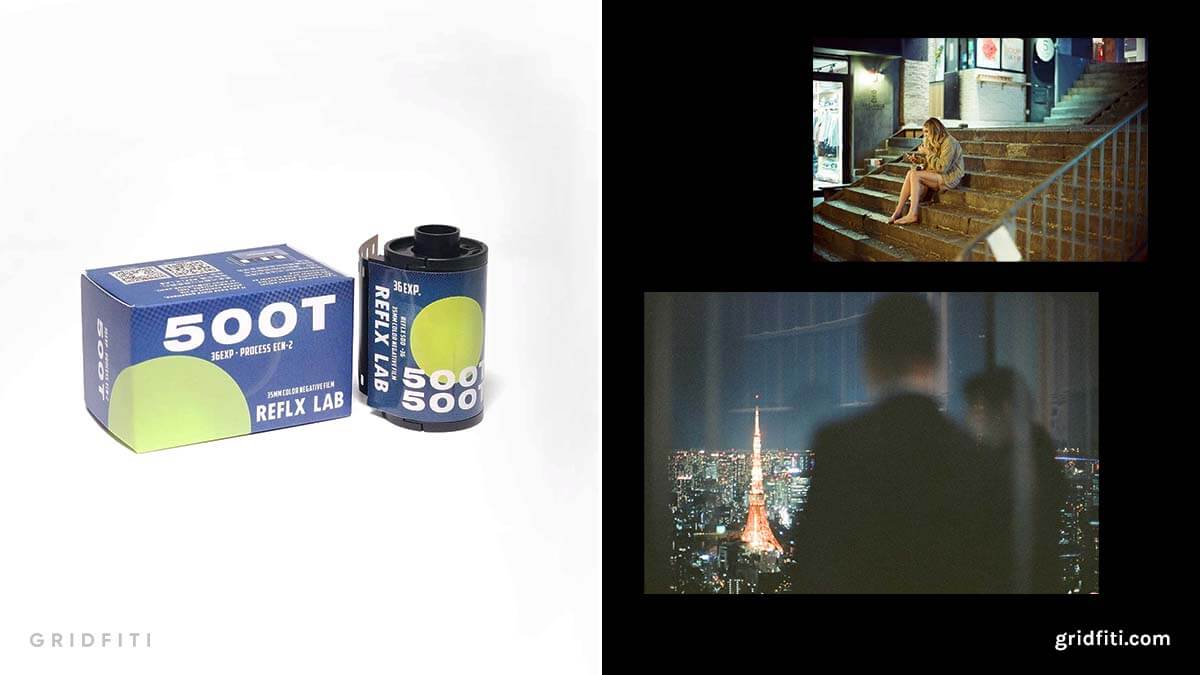 Images via Reflx Lab
Lomography 800
Lomography 800 has gained popularity by becoming a notable competitor to Kodak Portra 800. Lomo 800 is known for its beautiful color reproduction with punchy contrast – it definitely packs more vibrancy than Cinestill's more muted tungsten-balanced tones.
That 800 speed gets you both daylight and night time versatility, with a tried and trusted wide exposure latitude. Because of this, feel free to over or under expose this film one to two stops to get darker or brighter colors with accentuated contrast!
Check out Lomography 800: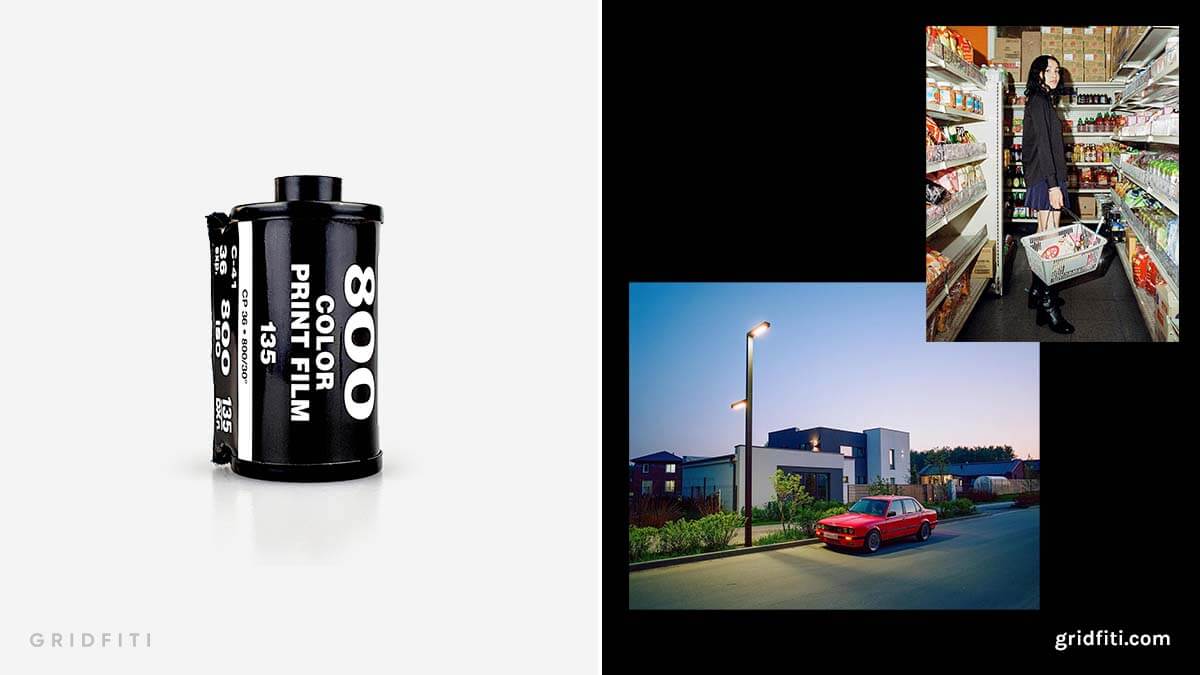 Images via @nikita_sursin and @tofetakes
Cinestill 50D Alternatives
Cinestill 50D is a daytime variant of Cinestill's 800T. Where 800T is balanced for tungsten light, 50D is balanced for daylight – and Cinestill claims that it's the sharpest and finest color film in the world.
This is due in part to the very low ISO of 50, which results in extremely fine grain and no loss of detail and information. Colors are pronounced differently than its 800T counterpart, while still being on the cooler side with less harsh tones and contrast.
Check out Cinestill 50D's current price and stock:
Reflx Lab 250D
Reflx Lab not only produces tungsten-balanced cinematic film conversions, but also daylight-balanced ones too! Enter Reflx Lab 250D – a color negative film with the Remjet layer still intact (meaning no halation). 250D produces a balanced color palette with cool blues and warm gold tones. Contrast is calmer, and details are rich in highlights while still being retained in low light and shadows. It's also a much finer grain solution compared to the 400 speed Cinestill 50D alternatives.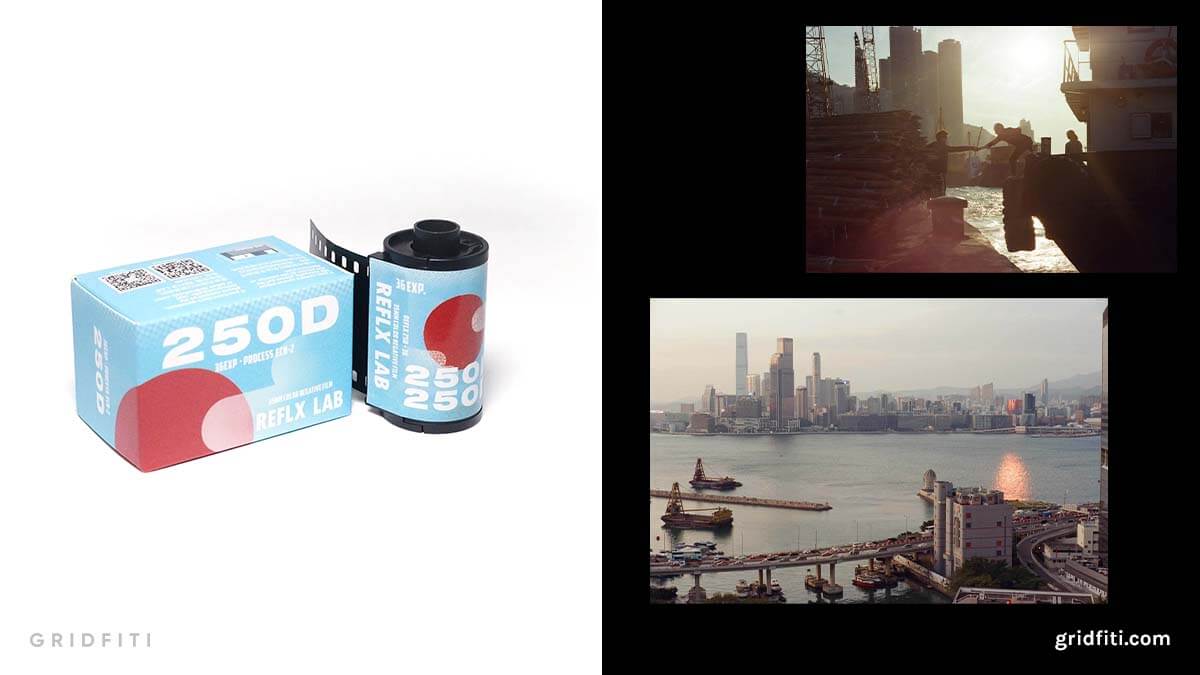 Images via Reflx Lab
Fuji Pro 400H
Fuji's famous Pro 400H film stock is designed and emulsified for portraits and landscapes in mind. The colors are beautiful, and lean towards blue-green tones. The tones are slightly muted and provide a bright airy feel – while recreating skin tones superbly! Most portrait films lean towards warmer hues in skin tones, whereas Fuji's blue-green tint complements a wider spectrum of skin tones with more flattering color reproduction. 400H is also preferred for its flexible exposure latitude, with colors clear in the highlights and details still kept in shadows.
Check out Fuji Pro 400H: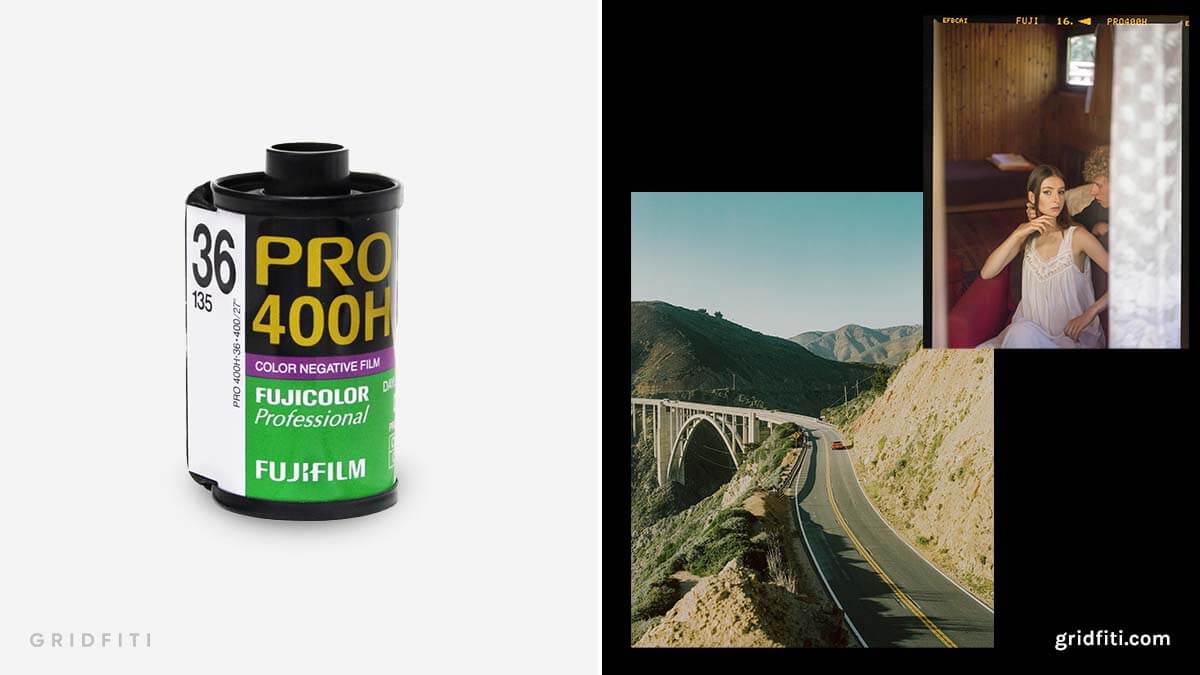 Images via @dorianloganmeyer and @itsjobruh
Kodak Ektar 100
Kodak's Ektar 100 is a flat-out professional grade film known for its fine grain from that 100 ISO rating. Lots of detail is captured and retained, making it a favorite for landscape photographers. As lovely as the high quality capture is, 100 ISO is limiting in low light scenarios – so metering needs to be perfect. It's a great alternative to Cinestill 50D due to its finer grain and detail qualities.
Wondering how it compares other Kodak films, like Portra? Check out our blog post comparing the differences between Ektar 100 and Portra 400 & 160!
Check out Kodak Ektar 100: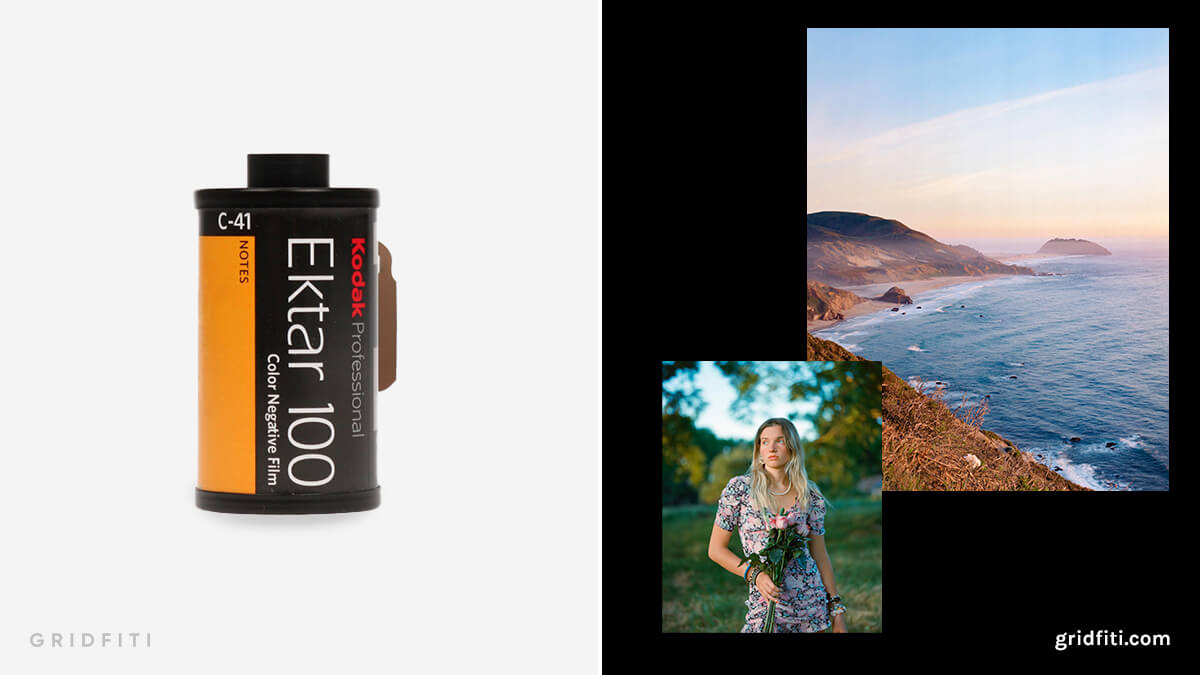 Images via @benjcorcoran and u/Tokyotrav
Cinestill BwXX Alternatives
Cinestill BwXX is a very interesting panchromatic black and white negative film. Converted from Eastman Double-X cinematic film, BwXX is a high quality film with versatile exposure latitude – so much that it doesn't even come with a box speed! Cinestill gives it a suggestive ISO rating between 200-1600.
BwXX comes with rich blacks and exceptional sharpness – you can see some of its results in films like The Lighthouse, Raging Bull, and Schindler's List! Just an FYI, that this requires Cinestill's D96 chemistry to develop.
Check out Cinestill BwXX's current price and stock:
Kodak Tri-X 400 Black and White Film
Tri-X 400 is Kodak's premium black and white film stock, and also a great alternative to Cinestill BwXX. It's widely referred to as Portra 400's black and white cousin due to its 400 speed and wide exposure latitude. The 400 ISO gets you fine and balanced grain, while creating deep blacks with retained details in highlights. The contrast is on the higher end with Tri-X, but that's the essence of this film – dramatic shadows and low light shots!
Check out Kodak Tri-X 400: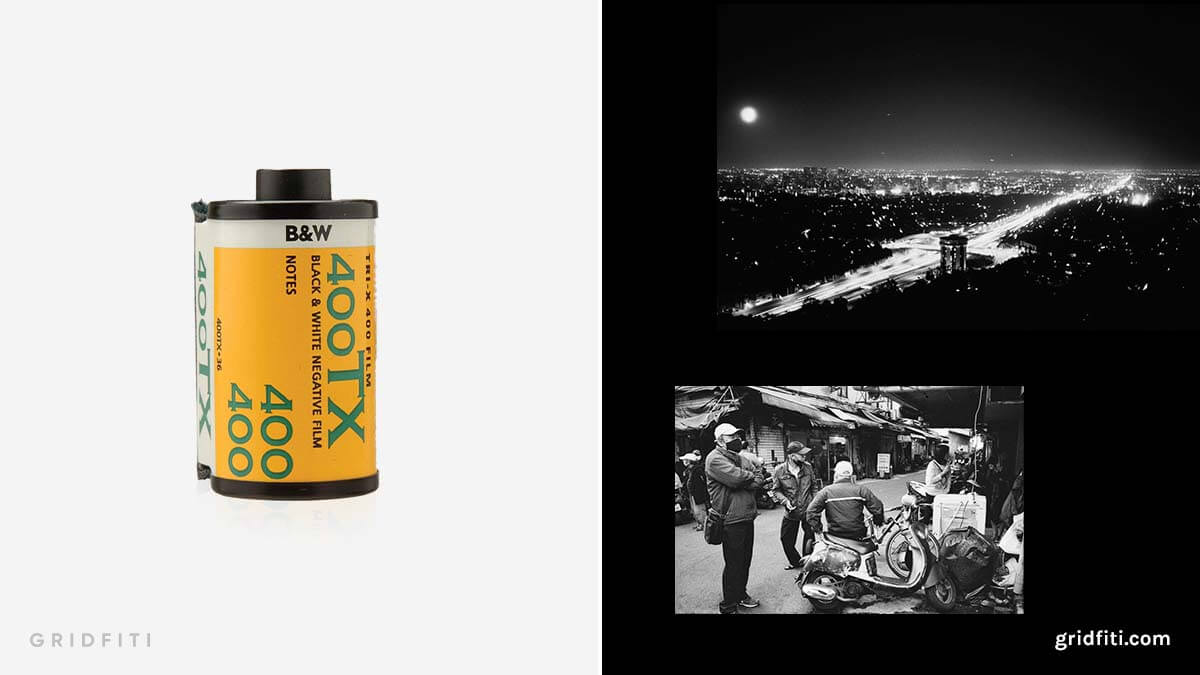 Images via @raulazzaretto and @haus.danst.haus
Ilford HP5 Plus Black and White Film
Lastly, we come to Ilford HP5 Plus 400 – a modern go-to for black and white film photography, and a worthy competitor to Cinestill BwXX. Tri-X 400 sports deeper contrast, whereas Ilford retains great detail in both low light settings and shadows. The mid-range ISO of 400 allows you to shoot in an array of lighting settings while keeping grain levels low. The exposure latitude is real forgiving as well – making this a well balanced film for your black and white shooting needs!
Check out Ilford HP5 Plus 400: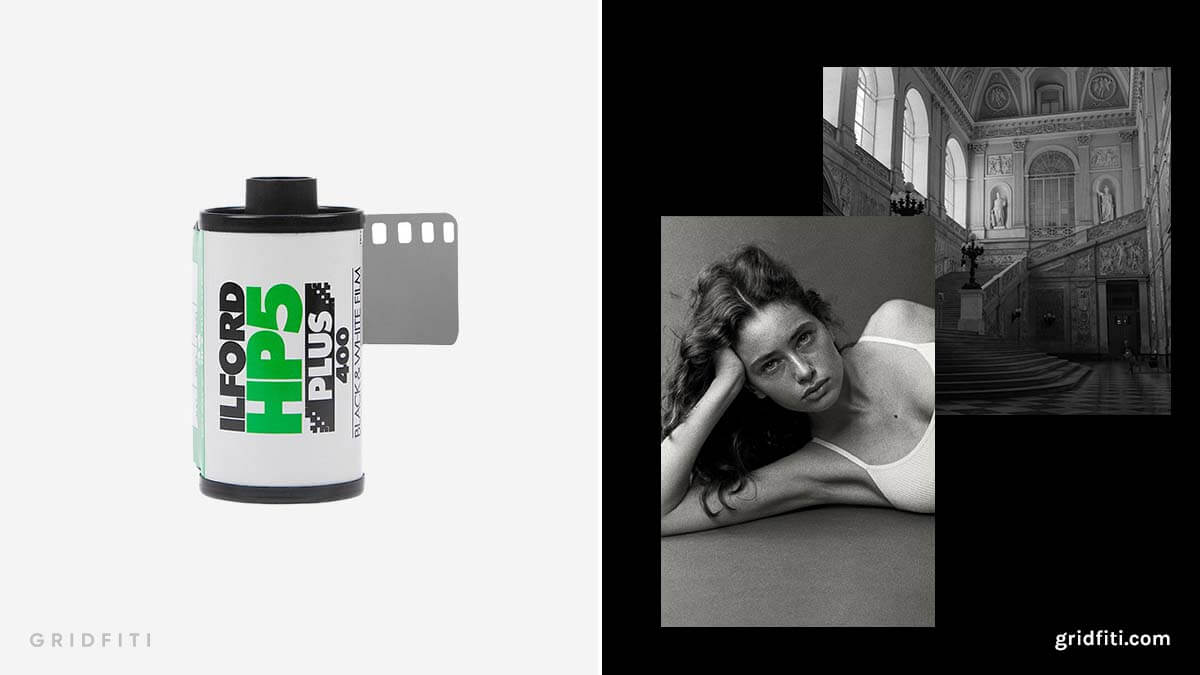 Images via @raulazzaretto and @byfer39
Which one of these Cinestill alternatives are you most keen to try? Are there any you're shooting with already? Let us know in the comments below!
Gridfiti is supported by its audience – when you buy something using the retail links in our posts, we may earn a small commission at no additional cost to you. Read more about our affiliate disclaimer.