Note-taking apps can save the day when it comes to managing your time and thoughts. Whether you're a student, teacher, or someone needing help staying on top of their day-to-day, finding a note-taking app that matches how you operate can save a few headaches. Note-taking apps that you can customize to fit your style can help you stay motivated to study, make notes, and track your to-dos.
We've rounded up 12 of the best and most aesthetic note-taking apps for both desktop and mobile to help you figure out which one works best for your brain!
Want more digital decor and productivity tips? Join our newsletter!
Notion – Cross-Platform
Notion is one of the largest and fastest-growing note-taking apps, with over 20 million people logging on to manage tasks, to-do lists, projects, and much more.
Gameify your life, track your spending, manage your wardrobe, make a nutritional plan — Notion offers unlimited opportunities for boosting productivity. Plus, the recently launched Notion AI makes switching tasks, correcting grammar, and translating content a breeze.
Personalize your dashboard with community-created templates, which offer endless options making your Notion aesthetic. You'll find thousands of pre-made themes available, ranging from kawaii Studio Ghibli-inspired themes to moody dark academia dashes to quaint cottage-core designs.
Want to make your Notion completely unique? Check out our guide to learn how to customize your Notion database to fit your aesthetic. Notion is super accessible, and with no shortage of personalization options, it's one of the best aesthetic note-taking apps.
If you want a turnkey solution for your note-taking needs, we've curated the best Notion note-taking templates to get started!
Price:
Basic: Free
Plus: $96/year or $10/month
Business: $180/year or $18/month
Get the App | Notion Note-Taking Templates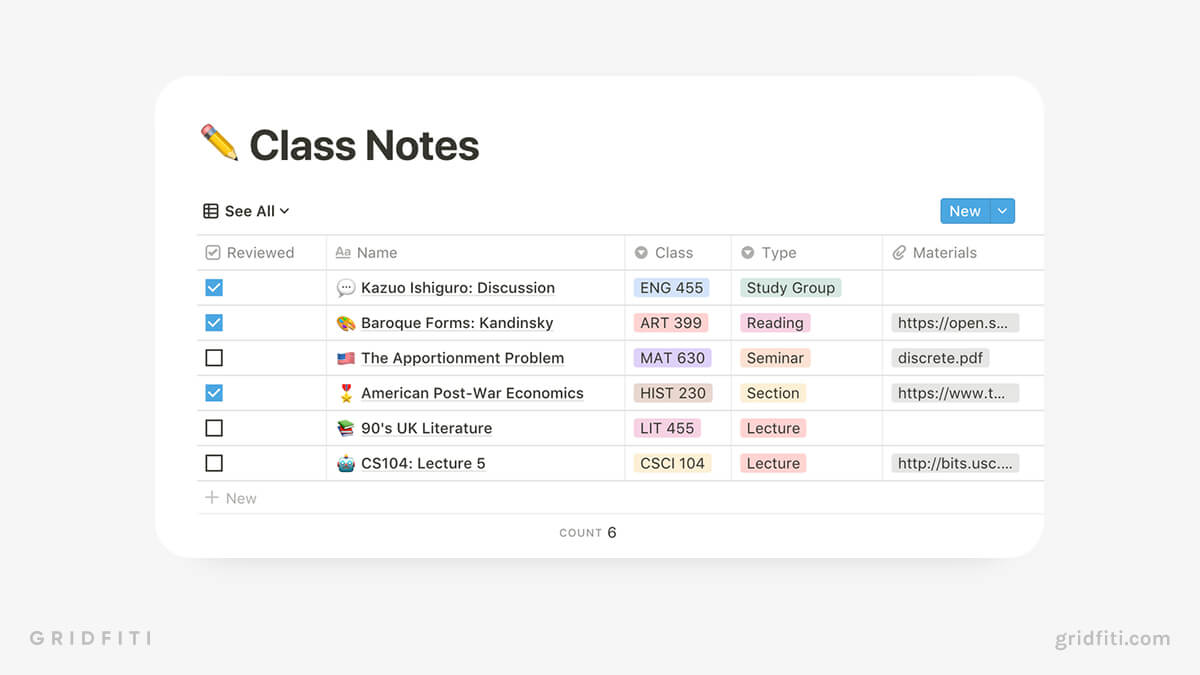 GoodNotes – Cross-Platform
Take notes on the go with GoodNotes. Voted as iPad App of the Year for 2022, GoodNotes lets you create and search handwritten notes, annotate documents, and organize your docs into folders and sub-folders. Share your notes with your other devices, and collab on documents with others by sharing to web.
But what about making your GoodNotes aesthetic? Transform your notebook with PDF templates, digital stickers, and custom covers. Combine different sticker sets, covers, and notebook templates to create a bespoke aesthetic for your planner, journal, or to-do list.
In April 2023, GoodNotes launched its template store, a long-awaited feature that gives users access to even more personalization options. Just like Notion, GoodNotes' templates are user-created, with a seemingly infinite number of paid and free stickers, themes, and covers. Fall back in love with jammin' in your planner with GoodNotes!
Price:
Basic: Free
Limitless: $9.99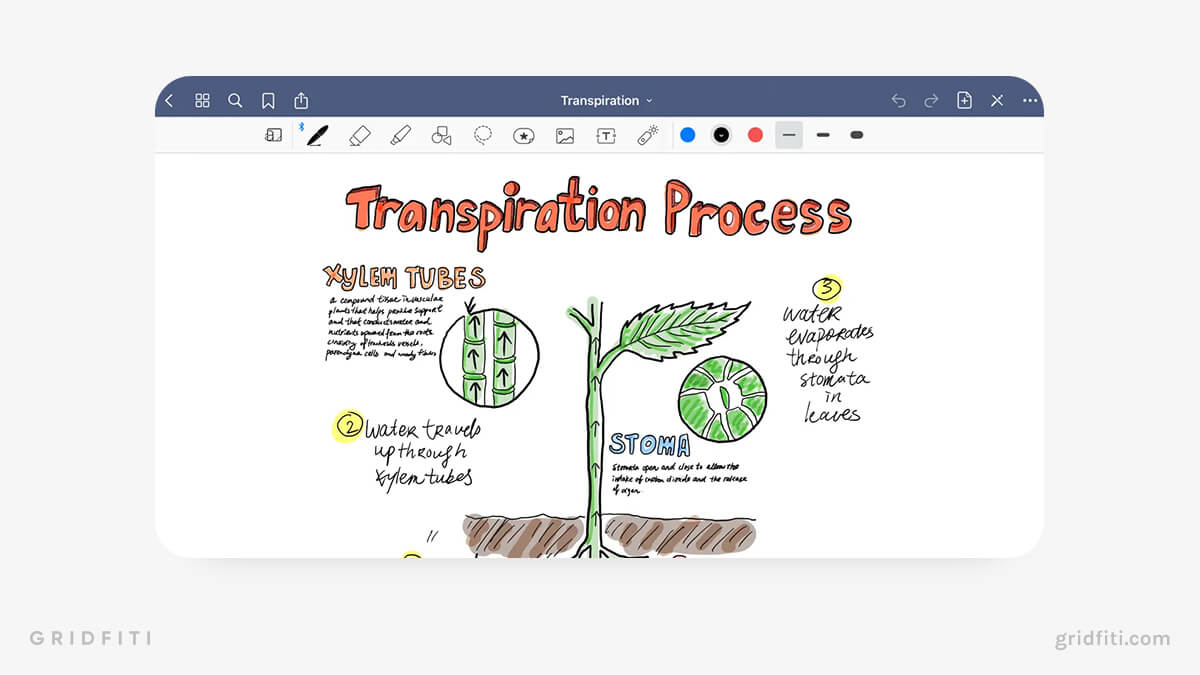 Google Docs – Cross-Platform
Google Docs is a rudimentary note-taking app that looks a little dull at first glance — but there are a surprising number of ways you can jazz up a boring Google Doc! You can personalize Google Docs on your own by changing the background, adding custom fonts, embedding videos, and more.
Or, check out some of the paid and free aesthetic Google Docs templates designed by fellow users. Access sophisticated resume templates, pastel digital planner pages, and even chic business card designs!
Price: Free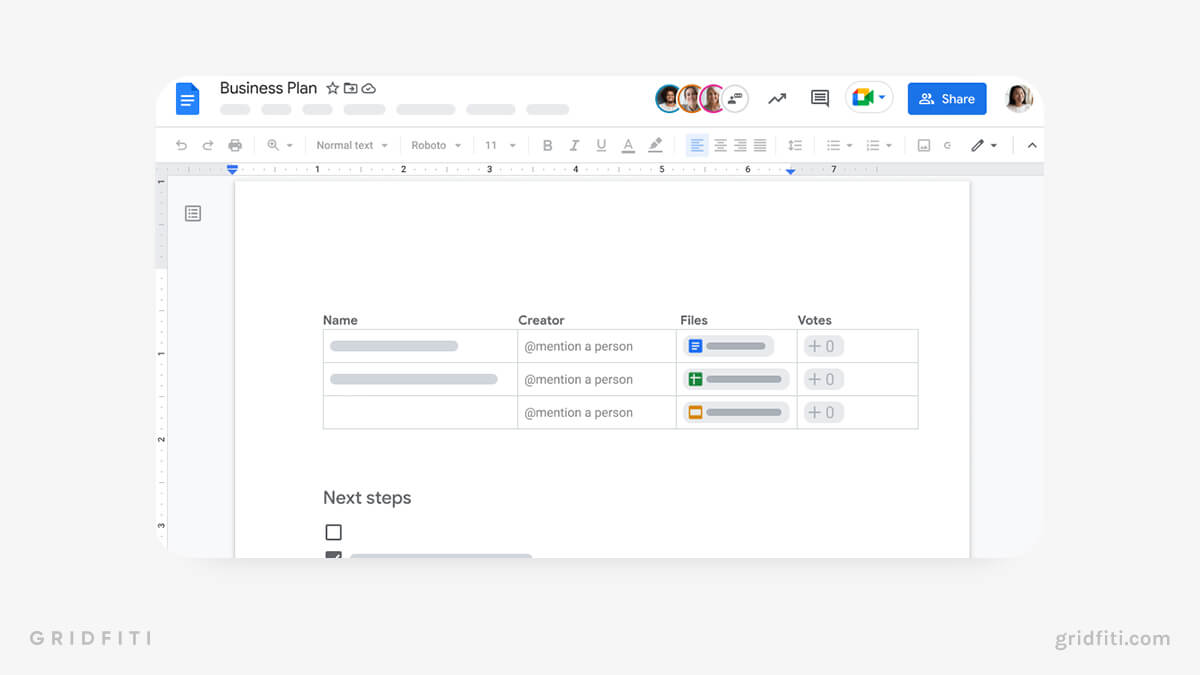 Notability – iOS & macOS
Like GoodNotes, Notability is optimized for iOS and macOS and is one of the best-selling note-taking apps on the market. Write, annotate, share PDFs, convert handwriting to text, record audio, and draw on a digital canvas. Notability is an all-encompassing app ideal whether you're designing your next masterpiece or cramming for finals.
Notability offers paid and free community-created templates, many of which are available in the Notability Gallery. Download planner pages, study templates, calendars, and vibrant stickers for extra flare. You can even keep your kids (or yourself) occupied with coloring pages!
Can't pick between Notability and GoodNotes? See what we think in our post GoodNotes vs. Notability – A Definitive Comparison!
Price:
Basic: Free
Plus: $12.99/year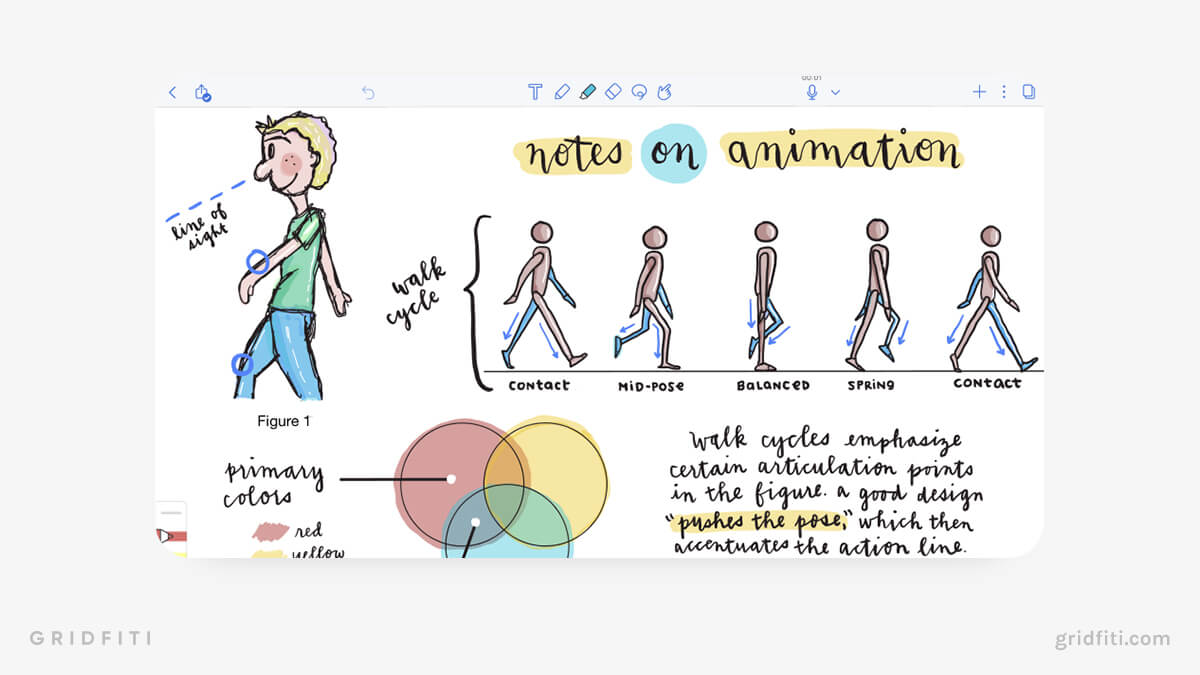 OneNote – Cross-Platform
OneNote organizes your notes into notebooks, with the freeform ability to click and write anywhere you want in a page. Divide each notebook into sections with individual pages and subpages for maximum organization.
Doodle, add charts, insert tables, and more, all in a familiar interface that resembles OneNote's sister app, Microsoft Word. OneNote works on iOS and Android. It's free to use, but some features, like additional storage and formatting options, are only available with a Microsoft 365 subscription.
Make OneNote match your aesthetic by adding custom fonts (desktop only), inserting images, adjusting the color and background of pages, and adding rule or grid lines to your pages. Office Add-ins offers useful extensions like spell-checkers, emoji keyboards, and business tools.
Page templates are available in the desktop app, and you can download stickers from third-party retailers like Etsy and import them into your OneNote pages.
Price:
Basic: Free
Microsoft 365 Personal: $6.99/month or $69.99/year
Microsoft 365 Family: $9.99/month or $99.99/year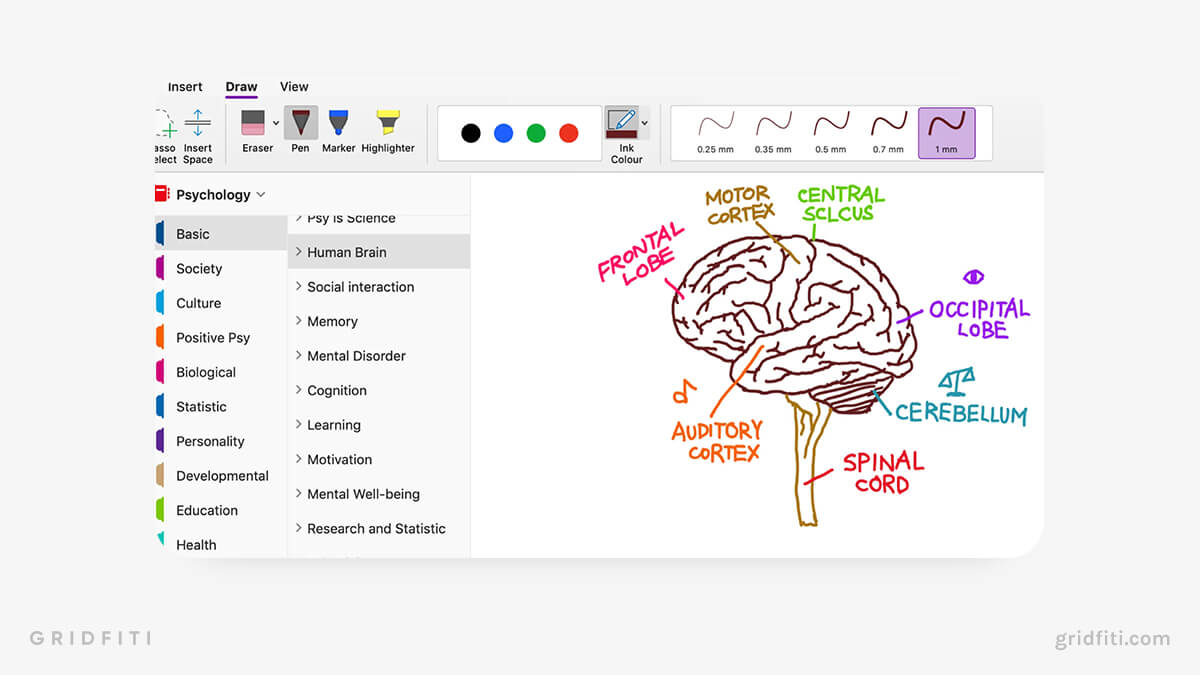 Screenshot via Curtis Chan
Obsidian – Cross-Platform
Connect the dots between your notes and stay organized with Obsidian! Obsidian is unique as it lets you make links between your notes and visualize their connections through interactive mindmap graphs.
Create canvasses where you can embed webpages, brainstorm ideas, and create diagrams all in one space. Obsidian is available on multiple platforms, including Windows, macOS, Linux, iOS, and Android.
There are several ways to make the Obsidian note-taking app aesthetic — browse community themes, and add plug-ins for everything from focus mode to sorting tables to calendars.
Price: Free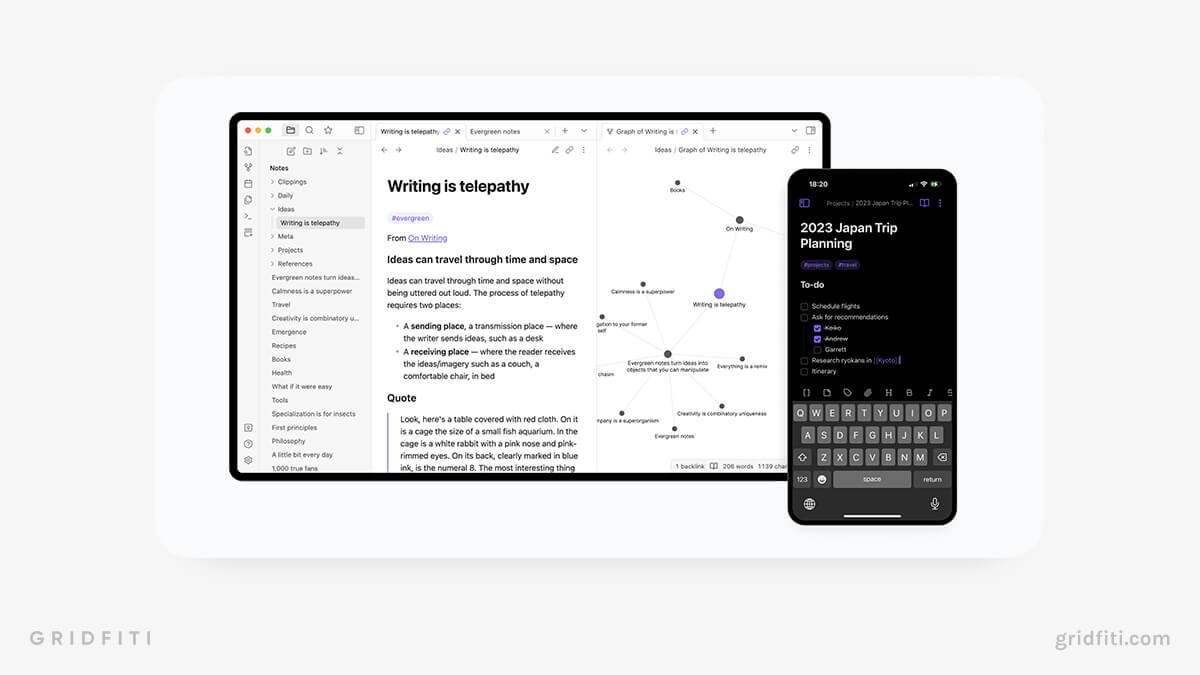 Simplenote – Cross-Platform
Simplenote is a note-taking app that'll match any minimalist, monochromatic aesthetic. Sync your notes across devices, tag important memos, and share to-dos with others. Back up your notes and go back in time to see recent revisions.
Simplenote is cross-platform and available for macOS, Windows, Linux, iOS, and Android. It also has an externally accessible API, so you can integrate Simplenote with several other apps.
Price: Free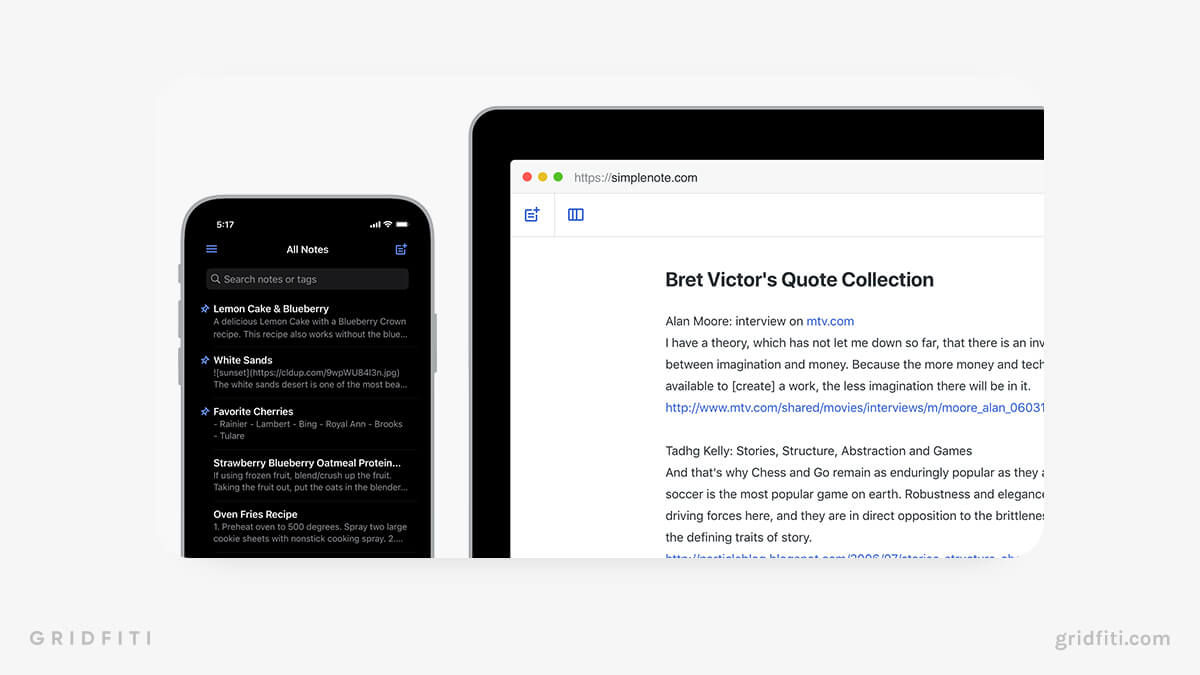 Bear – macOS & iOS
Bear allows you to make clean, distraction-free notes using Markdown syntax for formatting and structure. Organize your notes by creating tags and sub-tags. Keep your sensitive documents safe by encrypting them with Face and Touch ID.
Seamlessly sync your notes across devices using iCloud so you always have your essential memos to hand. Share and export notes in HTML, Markdown, and PDF format. Bear even supports exporting to email and iMessage.
Over a dozen vibrant themes, several typography options, code syntax highlighting, and Dark Mode let you use Bear in a way that suits your style. Bear is available for macOS and iOS.
Price: $1.49/month or $14.99/year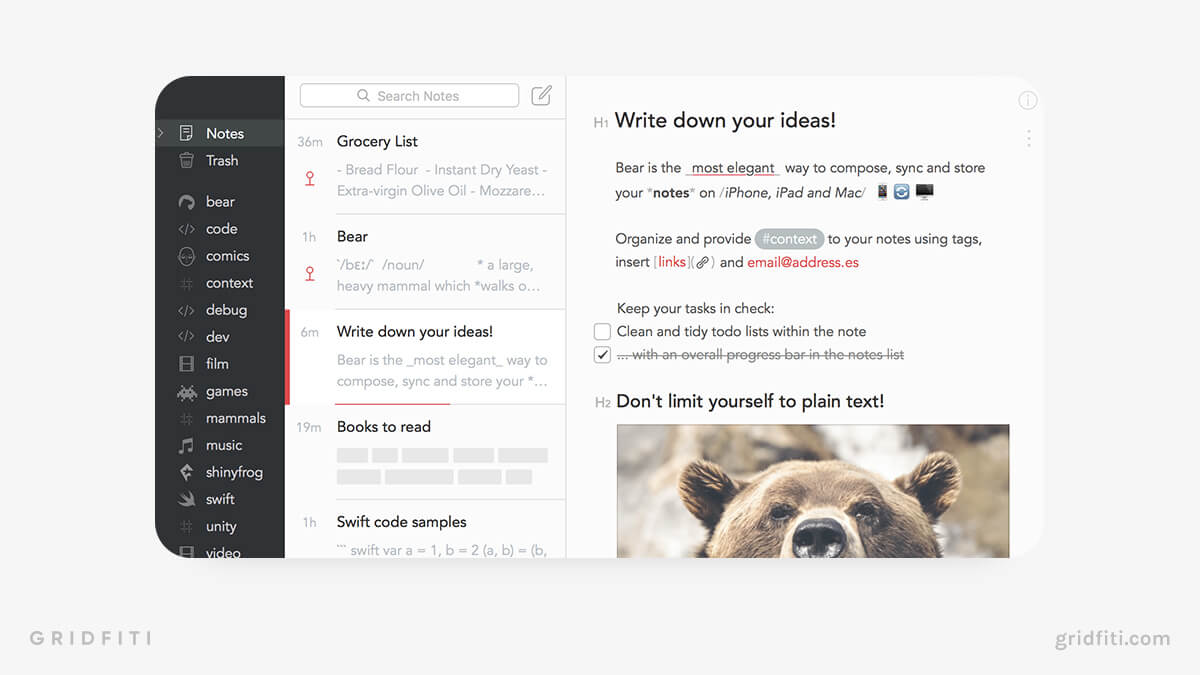 Nota – macOS
Nota is another minimalist Markdown note-taking app that streamlines organizing to-do lists, journals, planners, and second brain setups. Nota lets you edit multiple selections simultaneously and uses intelligent assistance to make note-taking quicker.
Notes you create in Nota can be managed from any app that works with plain-text documents, including Finder and Dropbox. Personalize Nota by color-coding highlighted text, adding custom intelligent-assisted completions specific to your work, and running custom scripts.
Price:
Personal License: $49.99 (beta) or $99.99
Business License: $75/year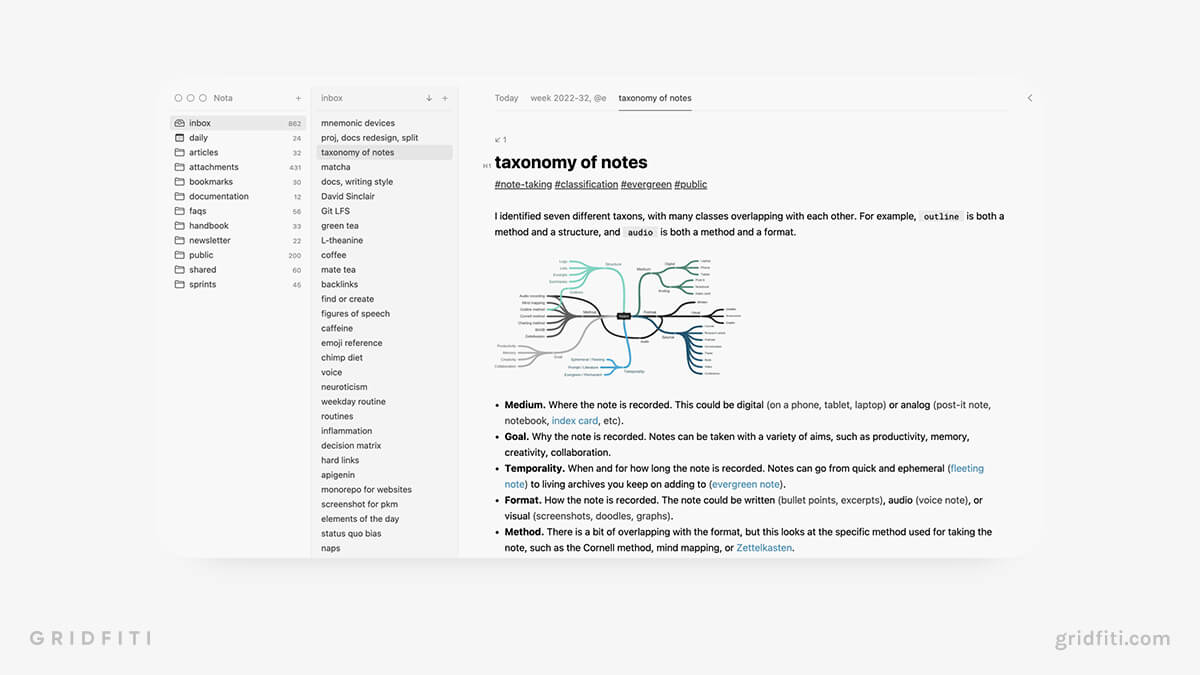 Niki: Cute Notes App – Android & Chromebook
For those who adore cuteness wrapped in functionality, Niki, self-dubbed the cute notes app, is your perfect match. Decked out in a kawaii aesthetic, this notepad app isn't just visually pleasing, it's also locked to keep your notes safe with a password. Niki takes the pastel theme to heart, promising to add a dash of charm to your Android device or Chromebook. Niki is for anyone who wants a cute notes app, with a playful mix of fun and utility!
Price: Free, with in-app purchases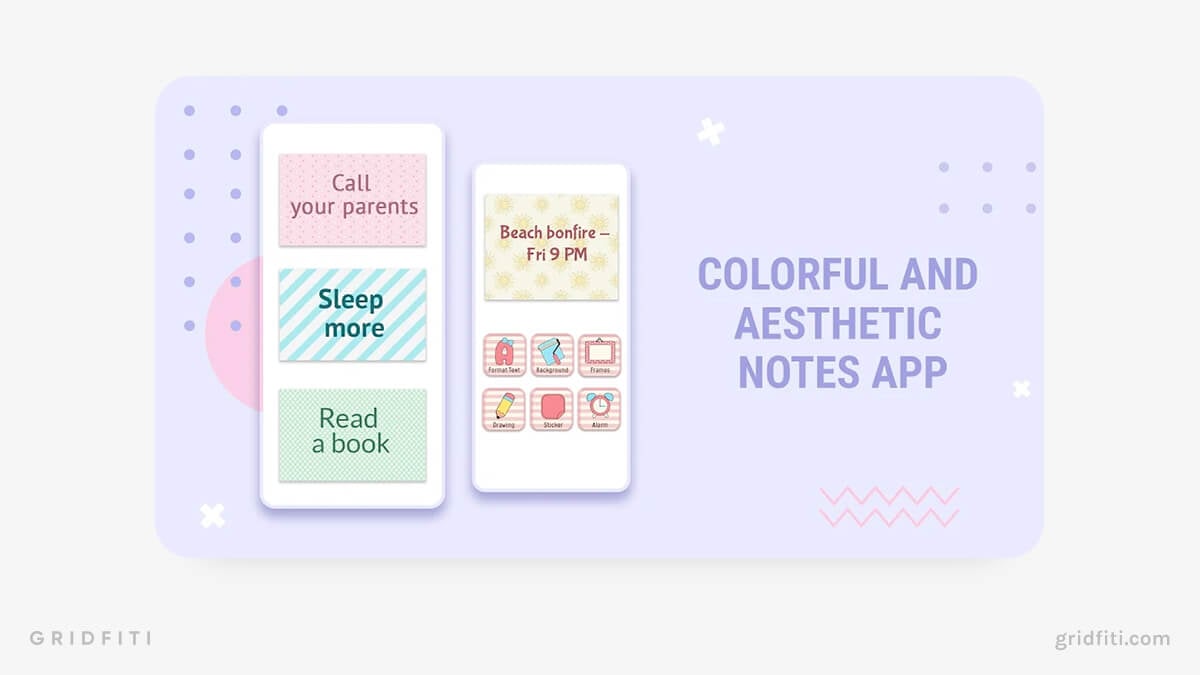 Amanote – Desktop
Students, teachers, and professionals that struggle to stay organized will love Amanote. One of the best note-taking apps around, Amanote lets you view course material and notes side by side and highlight sections in colors for an aesthetic touch.
A unique feature of Amanote is its practice mode, which hides parts of your notes so you can test your memory. You can also annotate slideshows, videos, and PDFs. Once you're done taking notes, export them in PDF or Word format.
Make your Amanote pages aesthetic by color-coding your highlights, inserting images, and toggling dark mode.
Pricing
$7.99/month*
$59.99/year*
50% discount available for students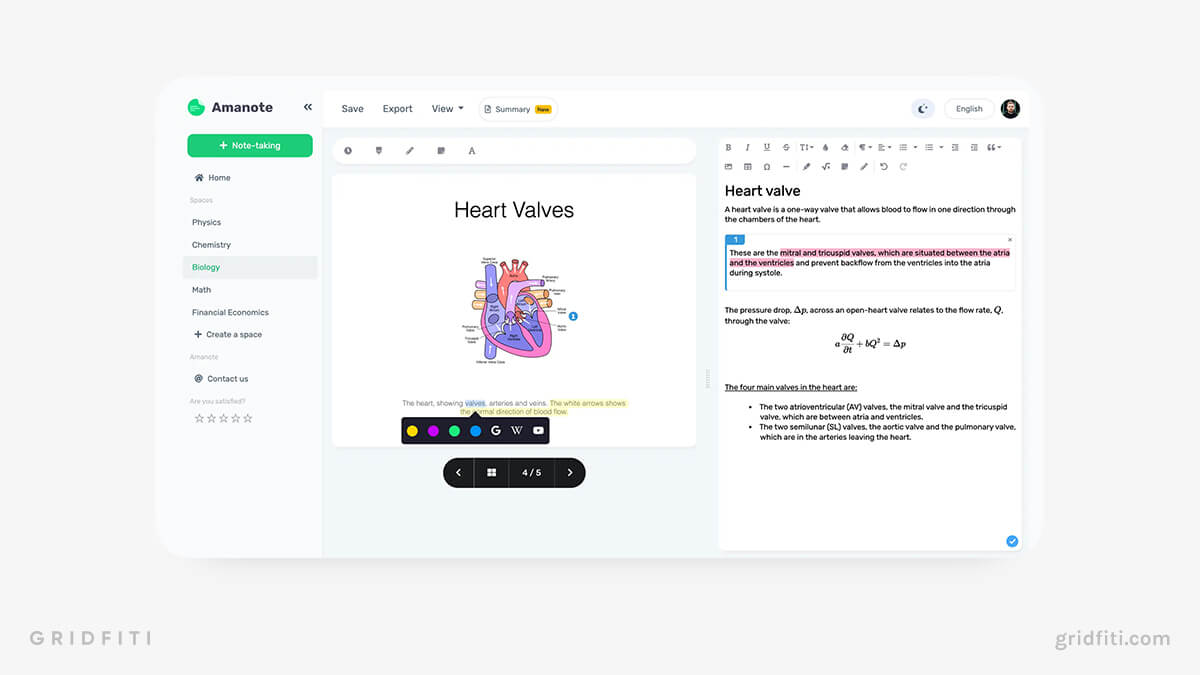 Roam Research – Cross-Platform
Roam Research has revolutionized note-taking for many by allowing users to create mindmaps of connected ideas and notes. Bi-directional links enable you to connect notes, visualize those connections in a graph, and link old notes with new notes seamlessly.
Roam's sidebar allows you to create notes and bring up notes alongside your current work, which is perfect for research and study. Roam supports Markdown syntax, making it easy to add formatting elements to plain text.
Add tables, boards, and interactive elements to Roam notes. One of the most exciting customization options of Roam is CCS themes, which allow you to personalize every element of your interface (with a little web design know-how). Roam Research is available for Windows, Linux, macOS, and iOS.
Price:
Pro: $15.99/month or $186/year
Believer: $500/five years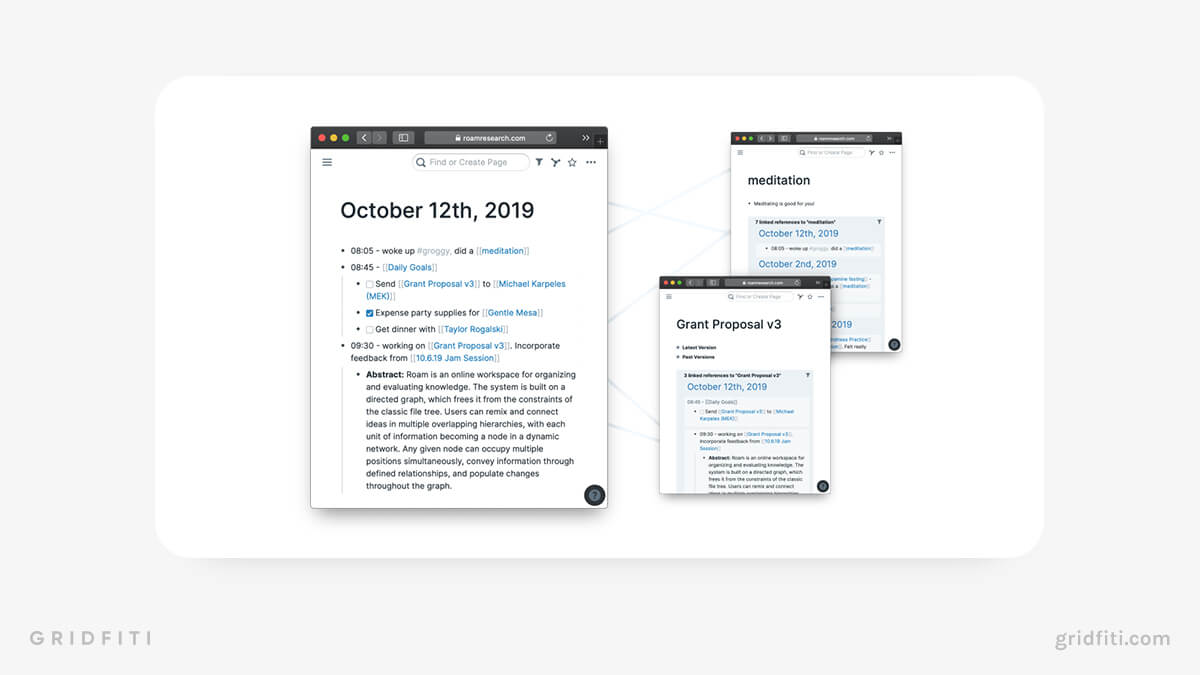 Scrivener – Cross-Platform
Writers primarily use Scrivener for long-form projects like novels, research papers, and screenplays, but you can also utilize it for note-taking. Compose notes in any order before fitting them together in a way that makes sense to you. Open research alongside your current notes, whether it's a PDF or a webpage.
Scrievener's corkboard feature allows you to see different ideas as index cards, with each card attached to a different page or section of notes. When you move an index card, it transfers all associated pages with it. When you're ready, export your finished notes in PDF, Microsoft Word, or plain-text formats. Scrivener has so many features that writers and creatives in all fields are sure to find it helpful.
Scrivener is great for building an aesthetic workspace. Its fully customizable interface lets you personalize the overall design of the app, including fonts, text colors, and background colors. Download Scrivener themes produced by other users, or build your own from the ground up. Scrivener is available for Windows, macOS, and iOS.
Price:
Standard License: $59.99
Educational License: $50.99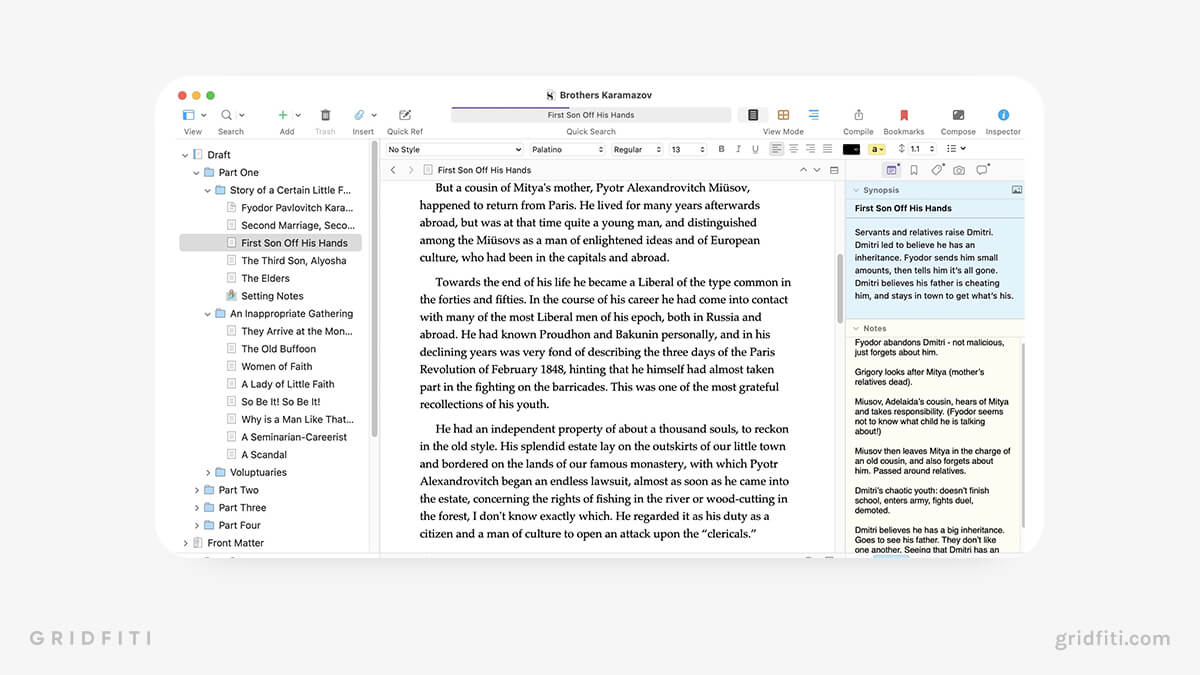 Which online note-taking app has revolutionized the way your work and personal life? Let us know in the comments!
Gridfiti is supported by its audience – when you buy something using the retail links in our posts, we may earn a small commission at no additional cost to you. Read more about our affiliate disclaimer.