Online timers are valuable tools for tracking your work hours, keeping yourself motivated, and analyzing your daily activities. But is your current online stopwatch giving your pause for thought? If your current time tracker is really ticking you off, check out these aesthetic online stopwatch timers and videos!
Looking for more timers to use? Check out our round-up posts of the best online timers and videos to use:
Want more digital decor ideas and aesthetic tools for productivity? Join our mailing list!
Aesthetic Online Stopwatch Timer
Whether you're trying to maximize your productivity with timed sessions or learning how long you spend on chores, online stopwatch timers are handy tools. Here are a few of our favorite aesthetic online stopwatch timers so you can spend your time wisely.
Toggl Track
Toggl Track is one of the best online stopwatches around, with countless was to keep up with your personal and professional life. Start by answering few usage questions, and Toggl Track will set you up with a personalized workspace.
Integrate your calendar and plug-ins to save time and simplify your work when you're in the flow. Share your workspace with your teammates, import data, track projects, and mark hours as billable — Toggl Track is ideal for billing clients and collabing with coworkers.
Features and highlights
Personalize Toggl Track based on your needs
Add teammates to collab on projects
Tag and color code your timestamps for better insights
Create projects complete with billing options and client details
Integrate tools, including Google Calendar
Toggl Track app for iOS or Android and extension for Google Chrome
Pricing
Free: for up to five users
Starter: $10 per user per month*
Premium: $20 per user per month*
10% off when purchased on an annual subscription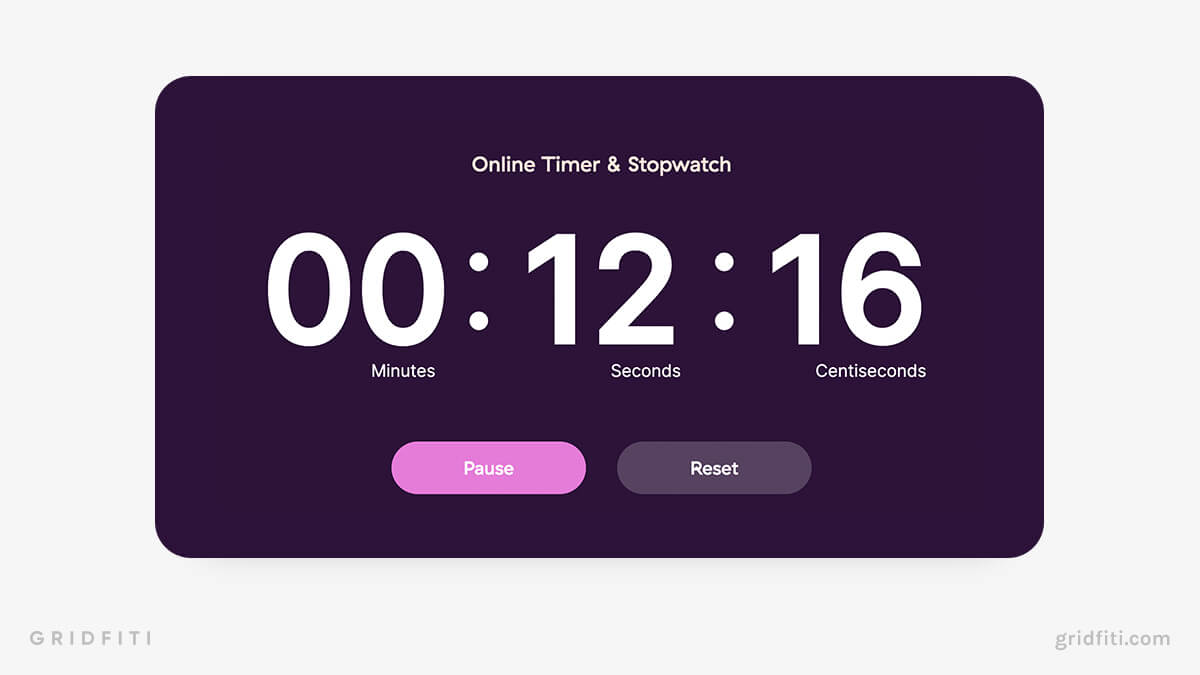 vClock
vClock is a clock, stopwatch, timer, and alarm all in one. This simple but effective online time tracker has several customization options, like changing the clock color, toggling night mode, and choosing from 21 alarm chimes.
Specify an interval for your timer and use vClock to track your next work interval. vClock is embeddable on websites, so you can monitor the time without leaving your workspace. Save your configurations by adding links to your favorites so you set up your timer from scratch.
Features and highlights
Includes a clock, stopwatch, timer, and alarm
Choose from 5 color schemes and 21 alarm chimes
Save your settings by adding links to your favorites
Embed vClock on websites, like Notion
Pricing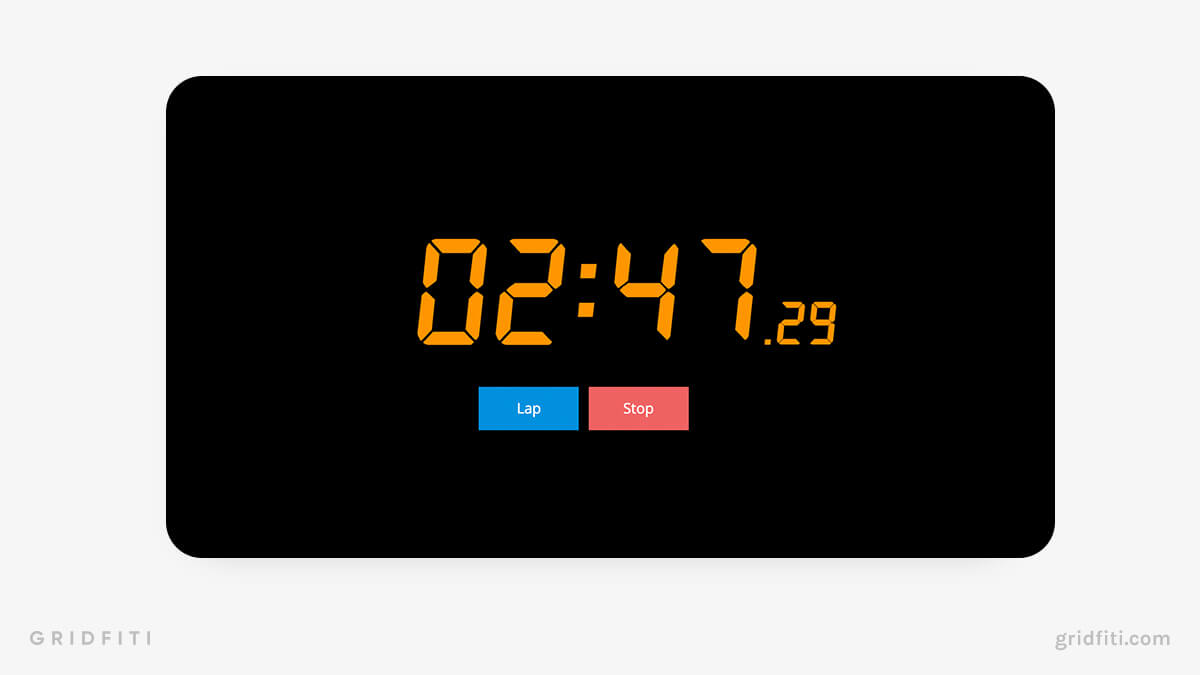 Flip Stopwatch
Add a splash of color to your next Pomodoro with the Flip Stopwatch. Use color wheels to pick the background, panel, number, and text color for this straightforward timer.
Choose from six fonts and personalize each number panel's corner style and radius. You can even edit Flip Stopwatch's code to make custom changes. Flip Stopwatch is embeddable on websites like Notion.
Check out the Flix Online Flip Clock by Flocus if you're searching for an aesthetic, embeddable clock for your Notion dash!
Features and highlights
Use color wheels to adjust all timer elements
Choose from six fonts
Edit Flip Stopwatch's code for even more customization
Embed Flip Stopwatch on websites
Pricing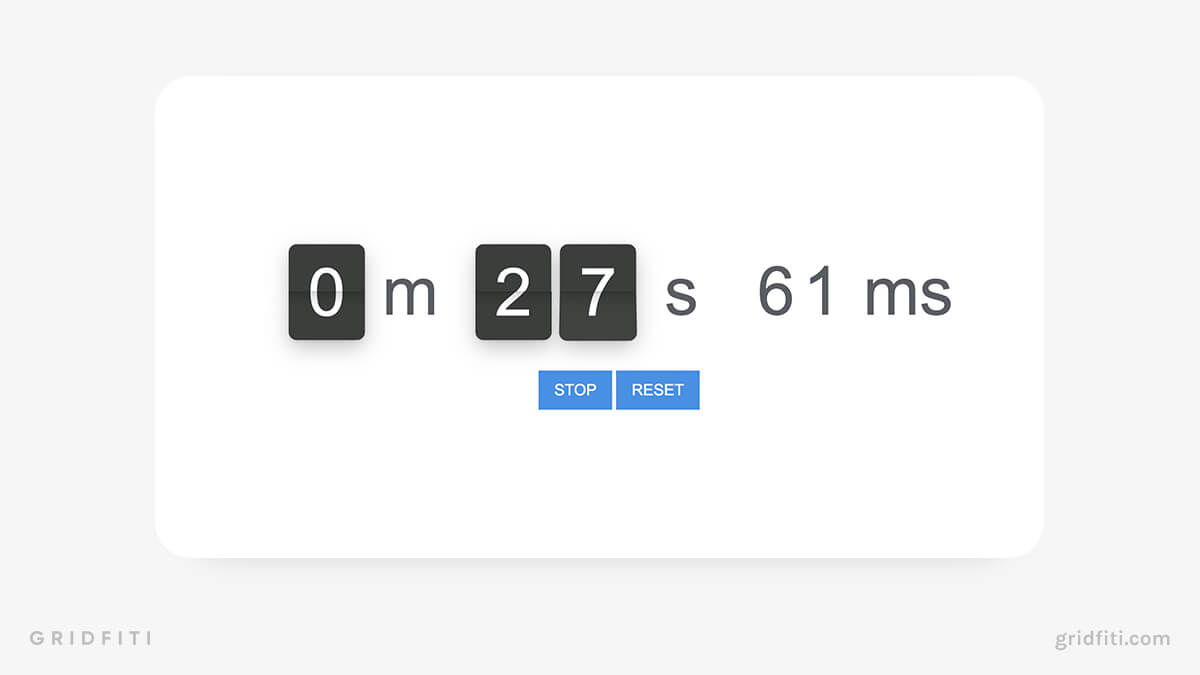 Tab Timer – Minimalist Stopwatch
Tab Timer – Minimalist Stopwatch is an online stopwatch with a straightforward stop/start timer, with the current time displayed at the bottom. Plus, there's a countdown and alarm function.
You'll find several customization options on Tab Timer – Minimalist Stopwatch. Pick from your preset themes or select the background color with hex codes. Or, take customization a step by using an image URL for the background and a YouTube clip as an alarm chime. Tab Timer – Minimalist Stopwatch is embeddable in Notion.
Features and highlights
Simplistic timer with clock, alarm, and countdown features
Customize the timer's background color using hex codes
Pick from four preset themes
Personalize your background with image URLs and alarm chime with YouTube clips
Save custom themes by favoriting the URL
Embed Tab Timer on websites
Pricing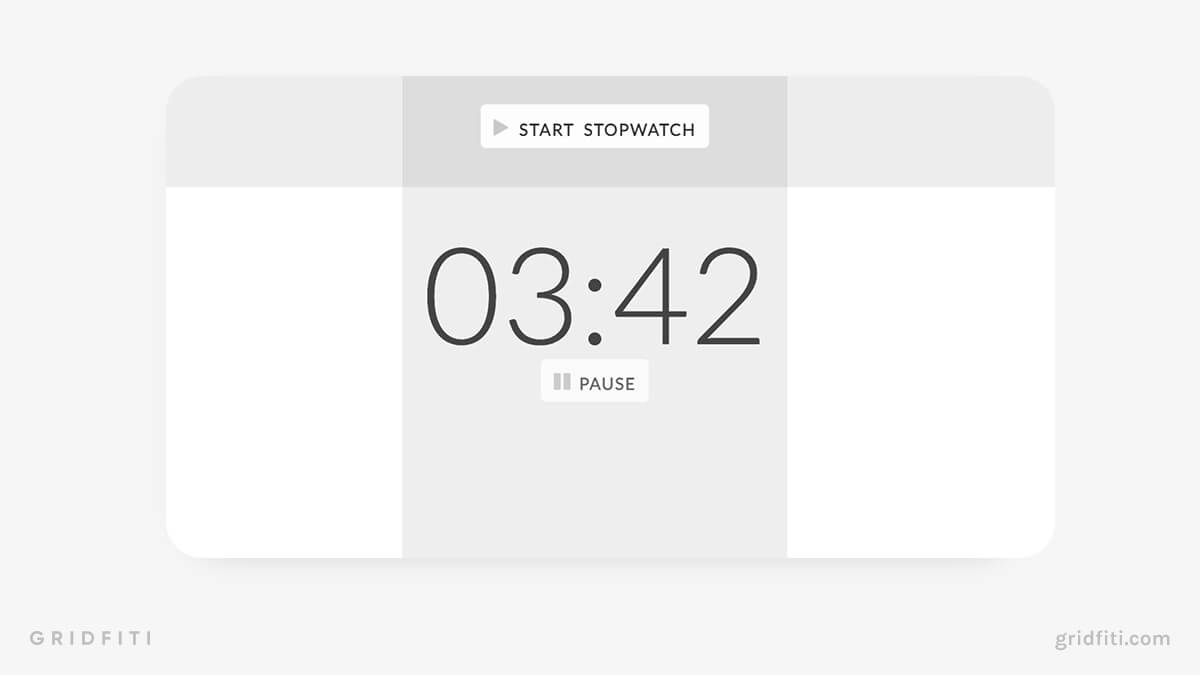 Amazing Timer
Amazing Timer is an aesthetic timer that's great if you want a start/stop online timer with an aesthetic background. You'll find over 45 hi-res images, which you can set as your background. Create a free Amazing Timer account to embed your personalized timer on websites.
Features and highlights
Simple stop/start timer
Set the timer's background to one of 45+ images
Create a free account to embed custom timers on websites
Pricing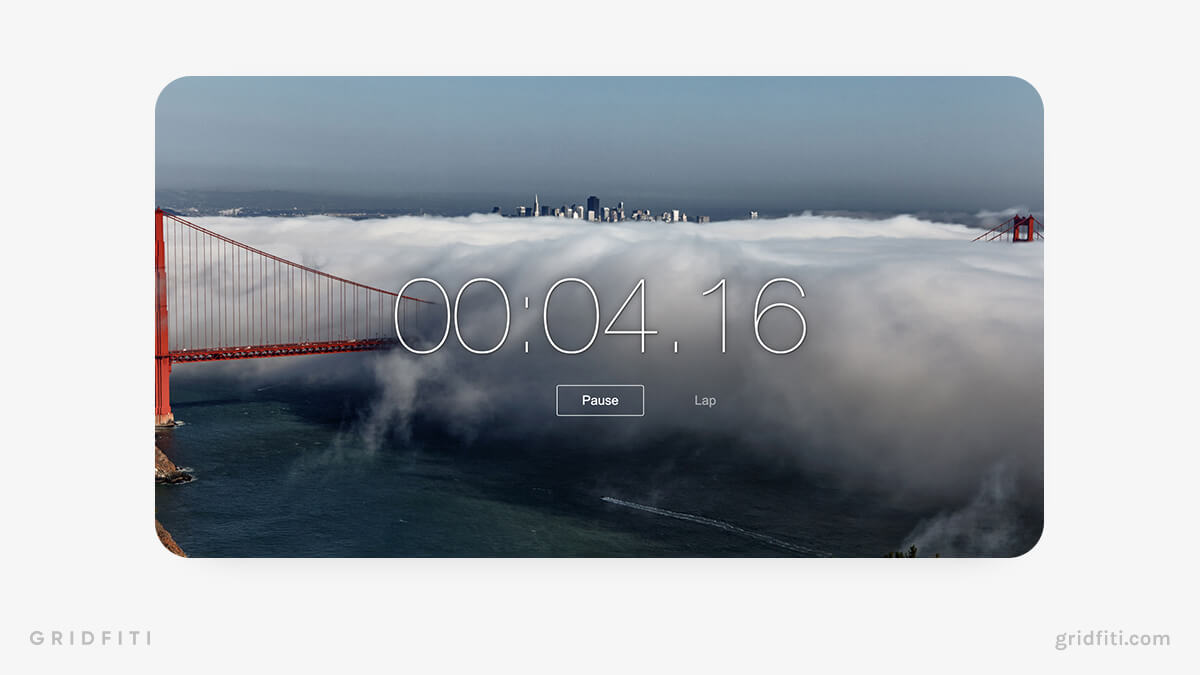 Timer.net Stopwatch
If you're looking for a classic stopwatch aesthetic, look no further than Timer.net. Timer.net is simply a traditional yellow stopwatch on a white background.
Use the timer function to track your Pomodoros, with customizable intervals down to the second. Timer.net is available in over two dozen languages. Copy the Timer.net link to create website embeds.
Features and highlights
Classic stopwatch design
Track your Pomodoro sessions with the timer function
Available in dozens of languages
Embed Timer.net on websites
Pricing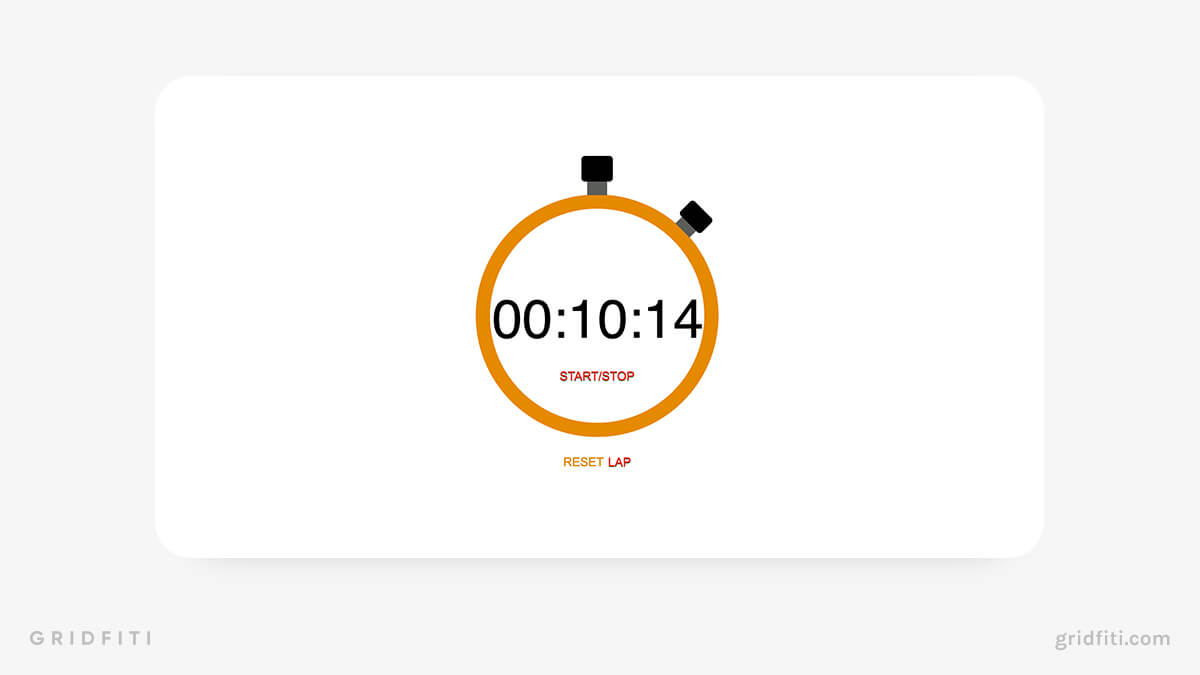 Built-in Google Stopwatch
The built-in Google stopwatch is perfect for timing something quickly without any thrills. Just type "stopwatch" into Google, and a basic stopwatch and timer will appear as the snippet.
Features and highlights
No-thrills stopwatch and timer
Built-in to Google as a snippet
Pricing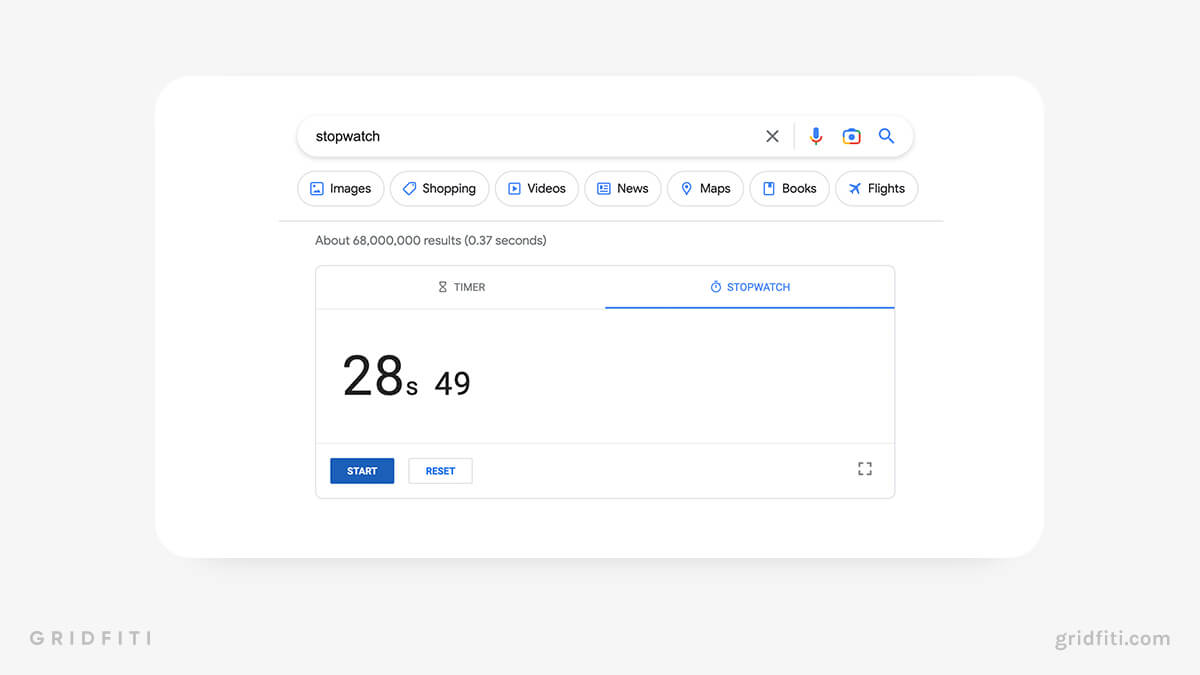 Bonus: Pomodoro Timers
Check out our unique Pomodoro timers to supercharge your next study session! Customize the lengths of Pomodoros, short breaks, and long breaks.
The Minimalist Pomodoro Timer features 13 backgrounds, with themes like Snowy Forest and Tokyo. The Aesthetic Pomodoro Timer has 12 backgrounds to match aesthetics like dark academia and minimalism.
Toggle whether a lo-fi Gridfiti Radio playlist from Spotify and receive browser notifications when your timer finishes. Make an account on the Aesthetic Pomodoro Timer to sync your timers and themes across all your devices.
Features and highlights
Two aesthetic timers, specifically for Pomodoro
Edit the length of your breaks and Pomodoros
Select from 25 themes across the two timers
Toggle on/off a Gridfiti Radio playlist from Spotify
Sync timers and themes across devices on Aesthetic Pomodoro Timer
Pricing
Go to the Minimalist Pomodoro Timer
Go to the Aesthetic Pomodoro Timer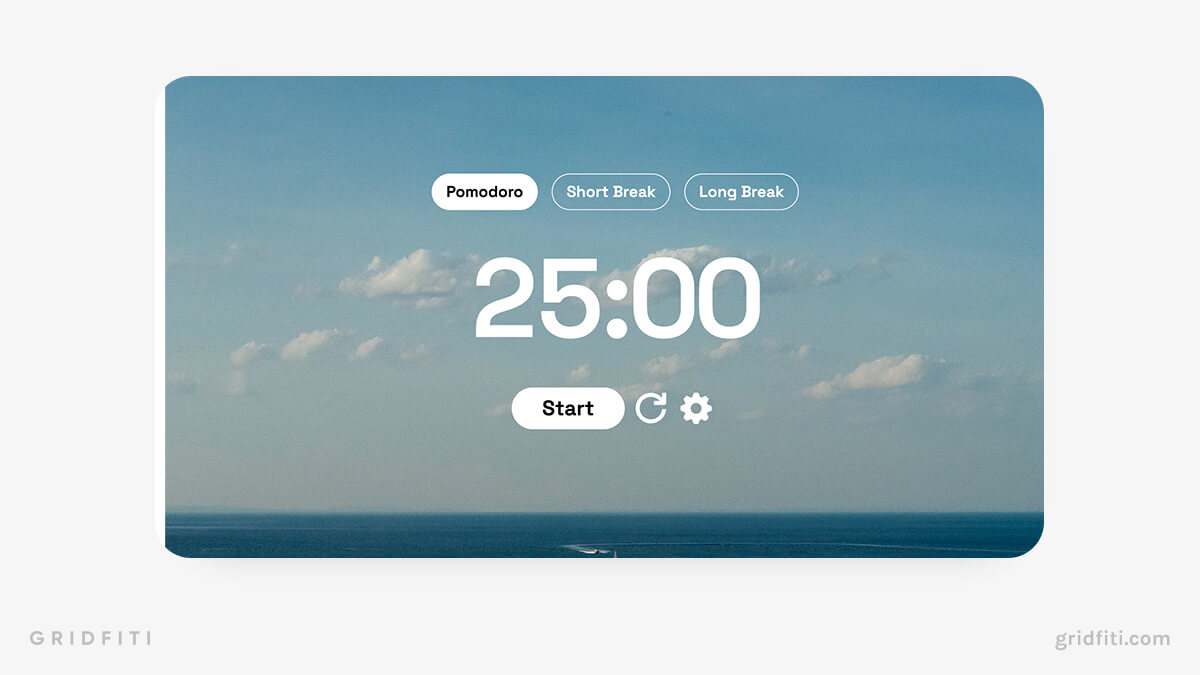 Aesthetic Stopwatch Timer Videos
Looking for an alternative to websites with online timers? You'll find plenty of convenient stopwatch videos on YouTube suitable for timing your daily activities. Plus, YouTube videos are embeddable, making these timers ideal for your Notion dash.
Scroll down to see some of the most popular YouTube stopwatch timers.
Black & White Stopwatch Digital Clock
The Black & White Stopwatch Digital Clock perfectly fits any minimalist or monochromatic aesthetic. One of the best features of this timer is its lengthy run time, which is two hours.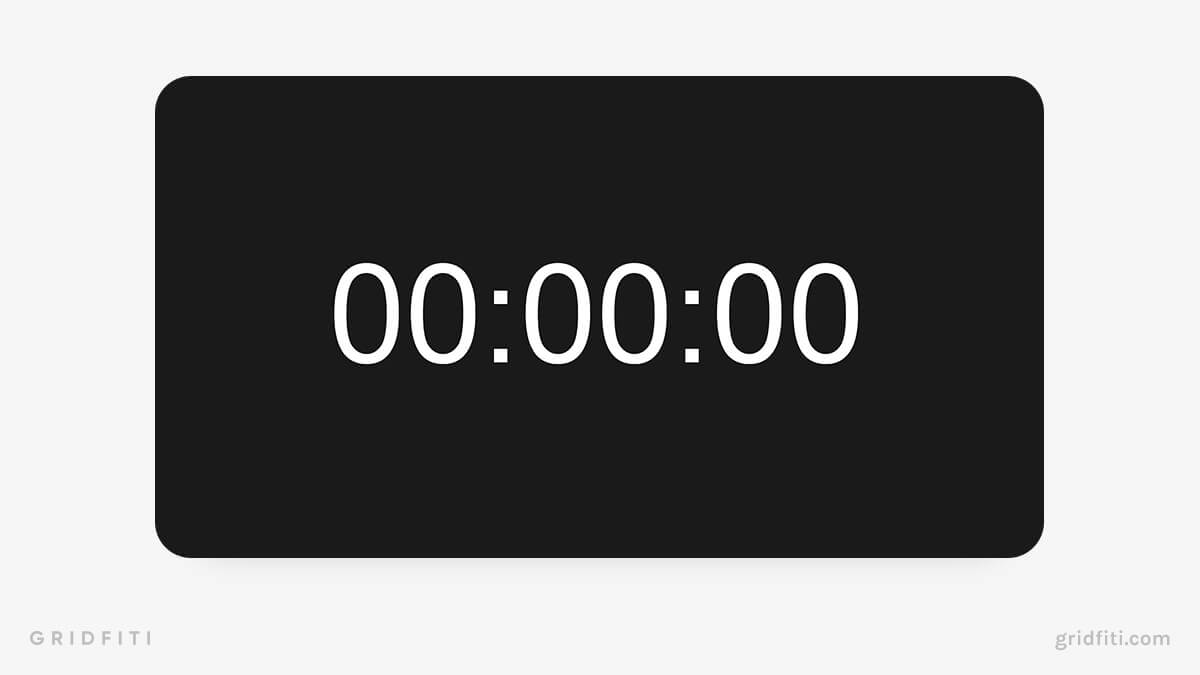 Bold Count-Up Timer (1 Hour)
This timer is highly accessible thanks to its black-and-white color scheme and large bold text. The timer counts up to an hour and includes milliseconds for precise time tracking.
Animated Digital Timer
This hour-long timer is one of the most unique, with an original fall-down animation. As the timer progresses, its digits become increasingly colorful.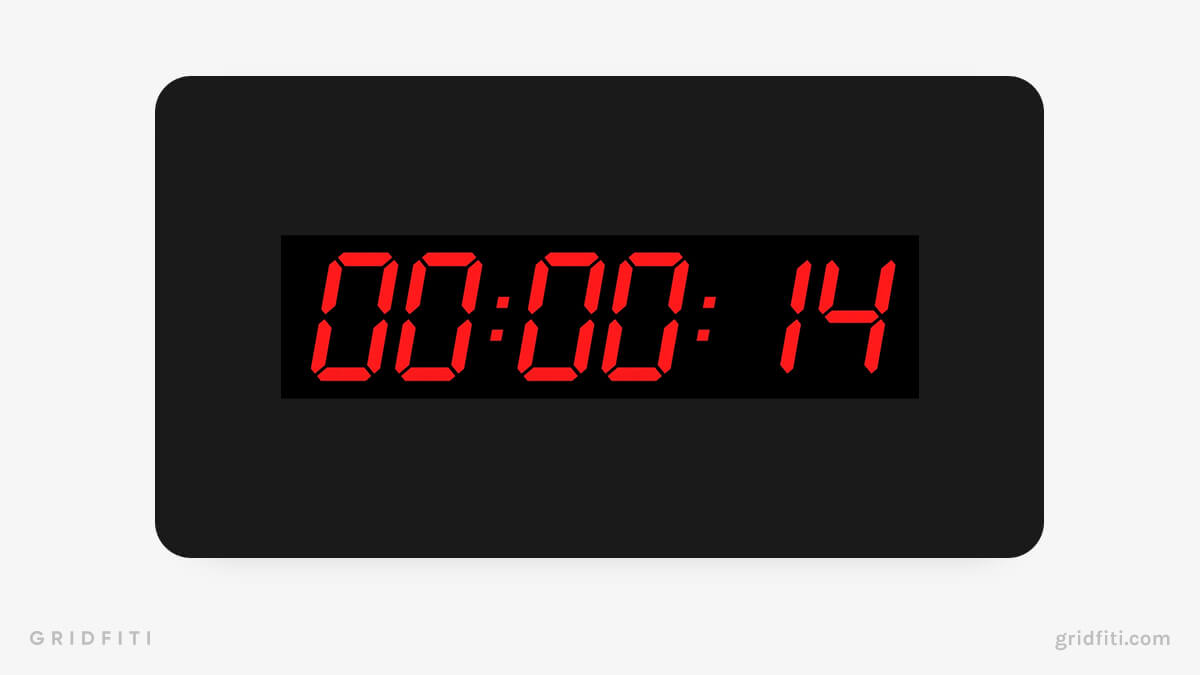 Did we miss your favorite aesthetic online stopwatch timers or video? Let us know in the comments below!
Gridfiti is supported by its audience – when you buy something using the retail links in our posts, we may earn a small commission at no additional cost to you. Read more about our affiliate disclaimer.