Ambient sounds and background music help cut out distractions so you can get down to some serious studying. Ambient music can boost brain function and reduce stress. Meanwhile, background noises like cafe sounds can make us feel like we're in a shared workspace. Nature sounds can also even improve productivity and soothe anxiety.
We've rounded up some of the best ambient sound and background noise websites so you can get straight into deep work with the ultimate laid-back soundtrack!
Want more student resources and tips? Join our mailing list!
myNoise
myNoise boasts a collection of hundreds of background and ambient sounds. From thunderstorms to Tibetan singing bowls, myNoise has one of the most comprehensive collections of non-distracting noises for studying or relaxing.
Plus, all sounds on myNoise are highly customizable. Want more bird sounds in your primeval forest mix or wind in your winter walk? Adjust each noise level to suit you.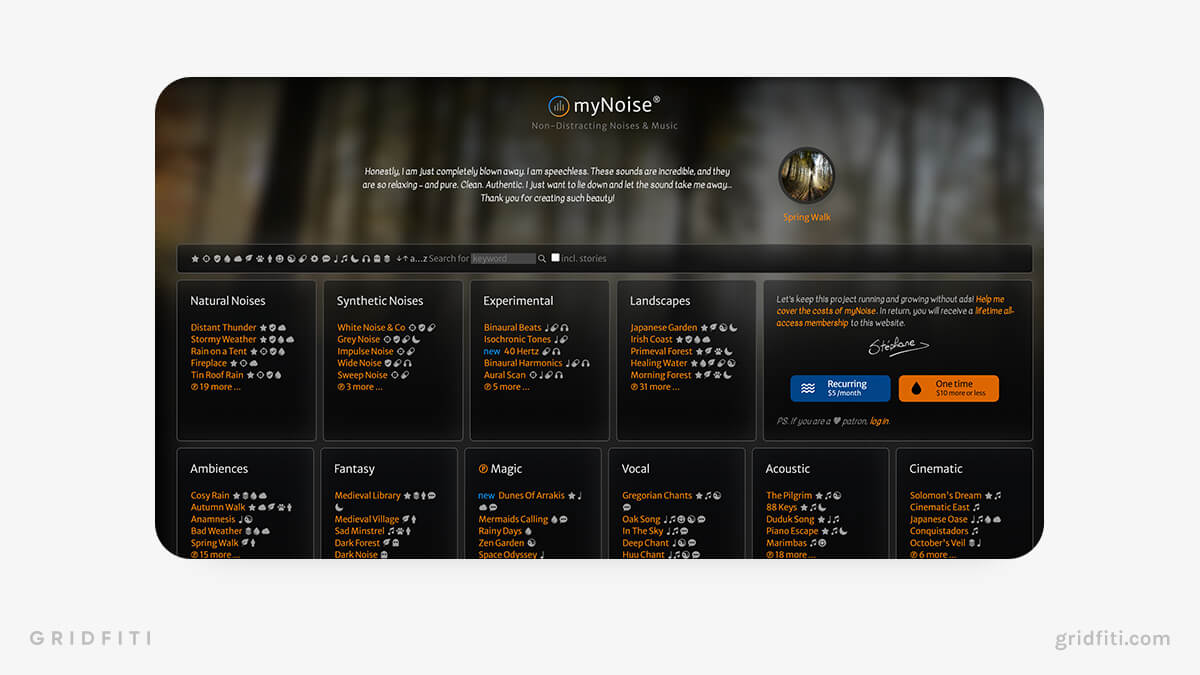 Calmy Leon
From the makers of MyNoise.net, Calmy Leon is a straightforward site that wastes no time diving into an ambient soundscape. This site layers a constantly changing dynamic sound over a tonal static noise, creating unique background noise that calms the mind.
Choose between static noises like ocean waves or wind noise and dynamic sounds like ocean sounds or zen channel. Sliders at the bottom of the screen let you adjust the dynamic/static balance. You can also change the brown noise/white noise spectrum, which is ideal if you have tinnitus.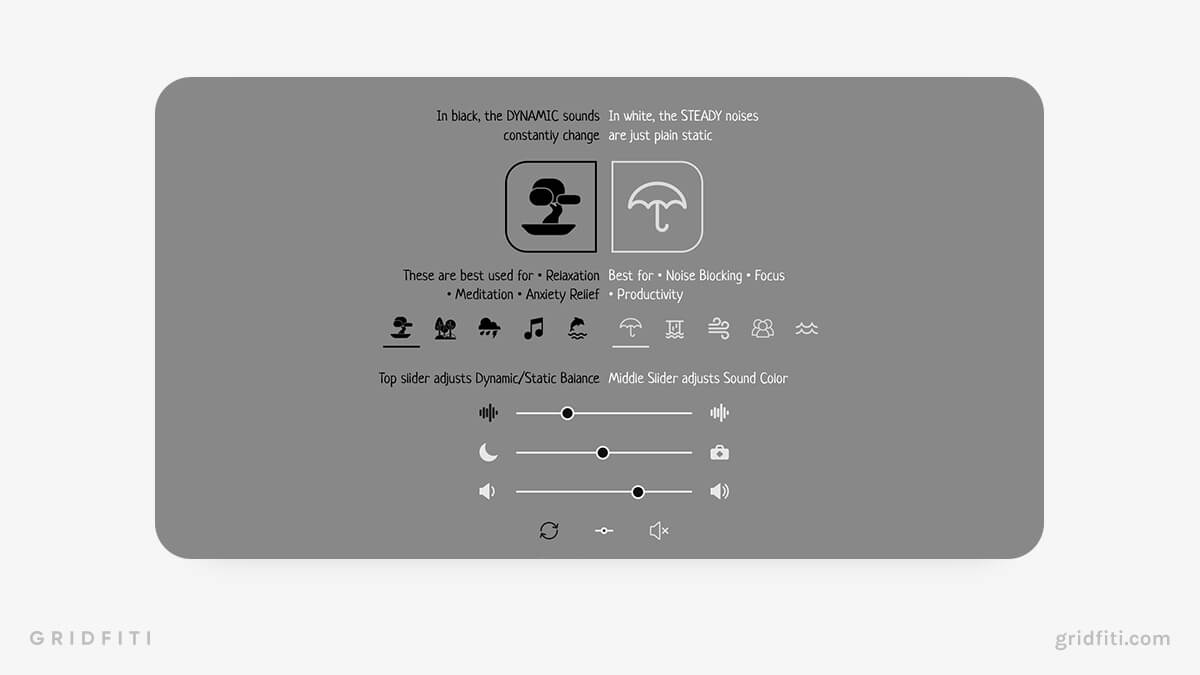 Noisli
Noisli lets you curate your background noise by layering different sounds on top of each other. Noisli's slick, minimalist design makes picking sounds simple. Click on the thundercloud, forest, or wind icons to add them to your background sounds. Save and share your playlists with your friends if you've found the perfect mix.
Noisli has a Chrome extension and app that lets you listen to pre-made playlists without visiting the website. The extension also has a built-in timer so you can track your Pomodoro intervals.
Check out the 6 Best Pomodoro Extensions for Focus if you're searching for new and inventive ways to track your workday.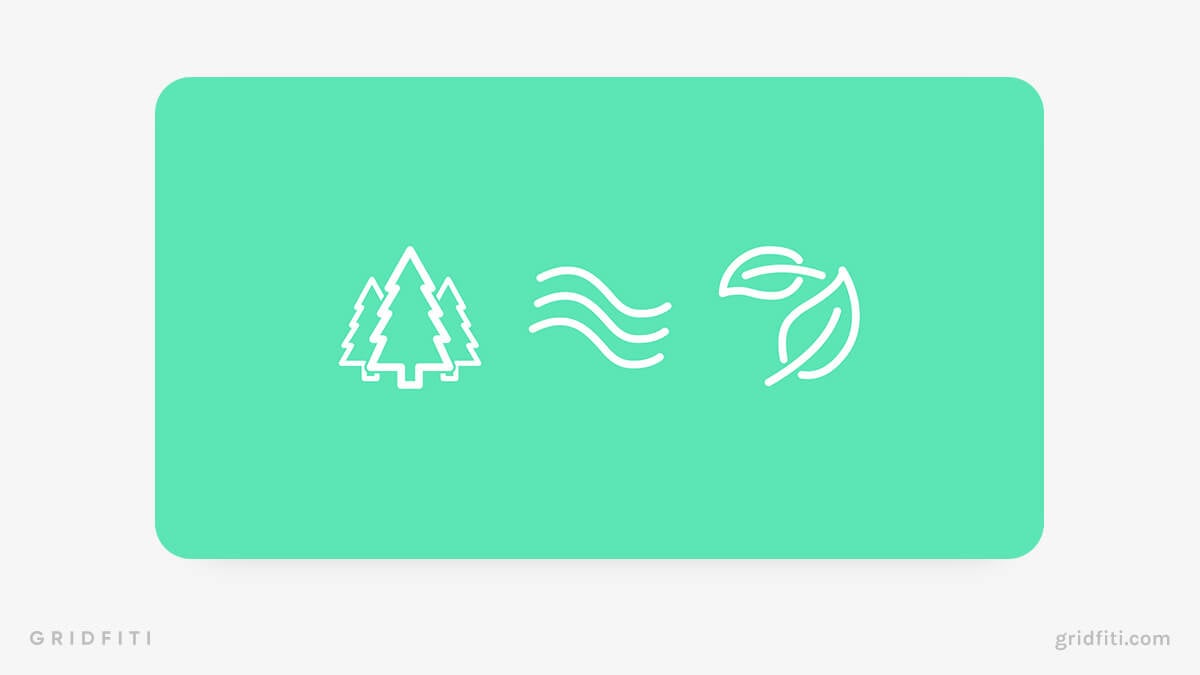 A Soft Murmur
A Soft Murmur is similar in design to Noisli, with simple icons that let you layer ambient sounds. You can also create, save, and share mixes or listen to pre-curated soundscapes.
A Soft Murmur also has some extra functionality that makes it stand out. The timer function lets you stop ambient noises automatically after a set interval or let them gradually fade out. The timer function is perfect if you're trying to get to sleep or setting a Pomodoro timer. The Meander function gently raises and lowers sounds in your mix creating a soundscape that feels alive.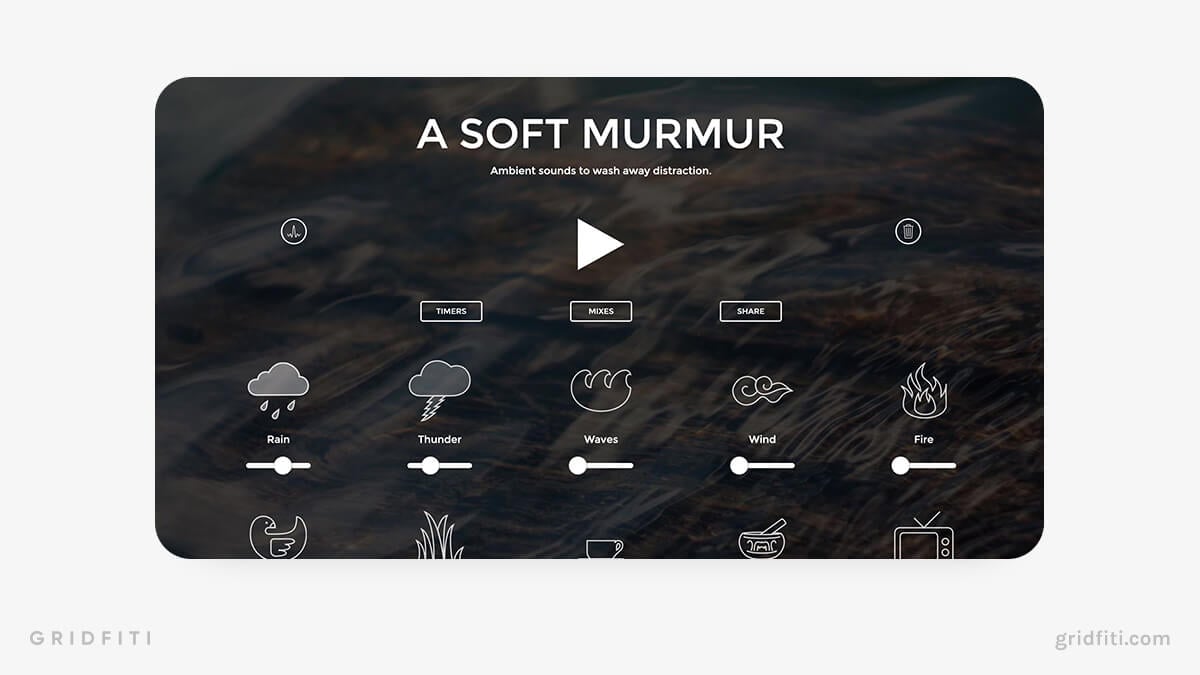 Moodil
Moodil is another site that uses minimalistic icons to layer sounds. It's very similar in design to Noisli and A Soft Murmur. You can create your own playlists, save your favorites, and share them with your friends.
One of Moodil's biggest perks is its wide range of sounds that aren't locked behind a paywall. Check out the "top lists" to see the most popular mixes on Moodil if you don't fancy making your own.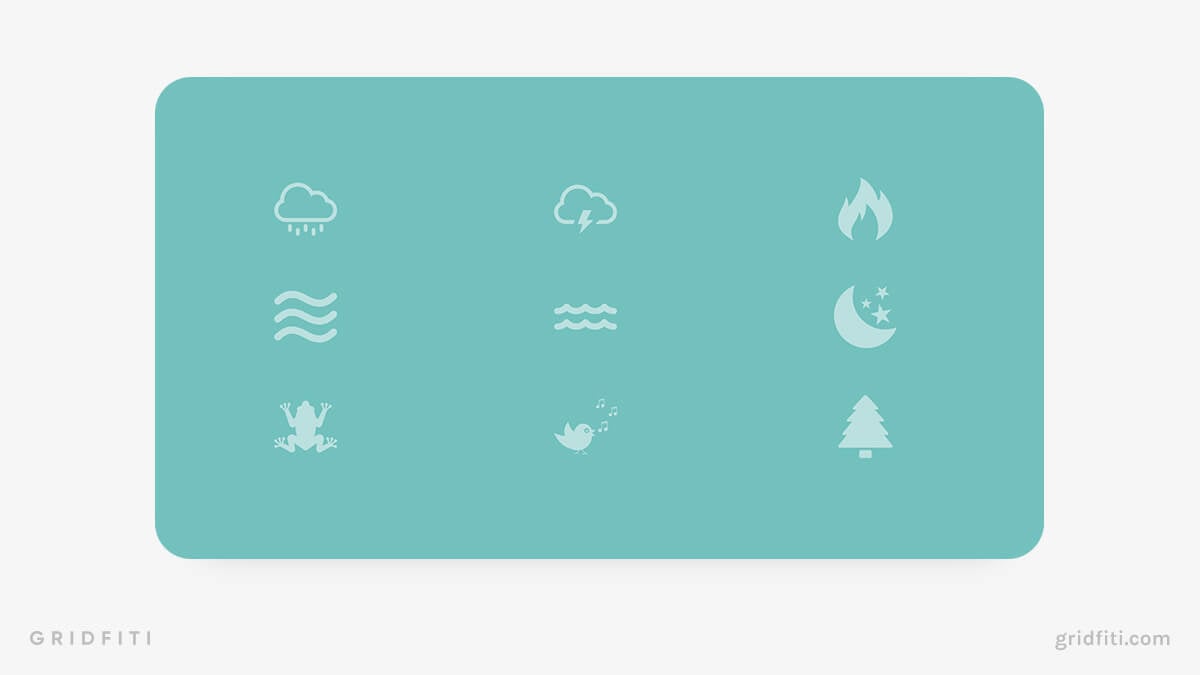 Noises Online
Noises Online stands out due to its audio quality and customization options. All sounds on Noises Online come from myNoise, which are both run by the same person. Noises Online is considered a less cluttered alternative to myNoise.
Noises Online's interface is super simple; click on pictograms to add a noise to the mix, and click them again to lower the volume. Change the tone and liveliness of your noise mix to find just the right background for your next study session.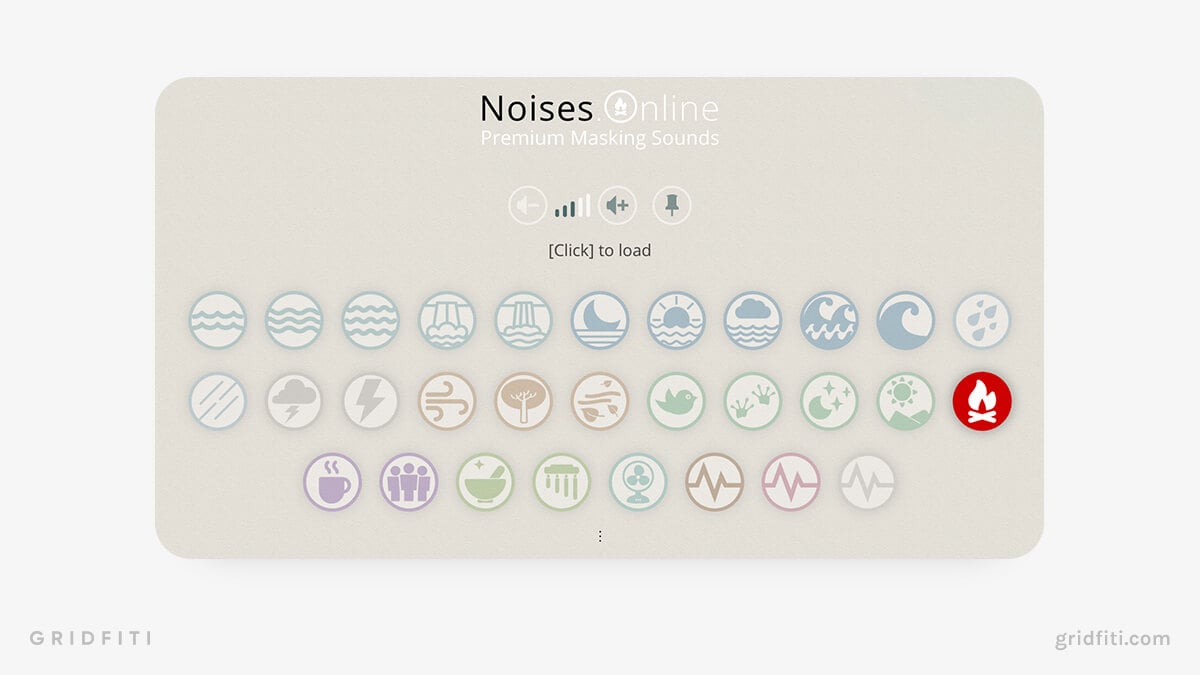 Coffitivity
Coffitivity is ideal if you're working from home and miss the hustle and bustle of a shared workspace. Coffitivity creates playlists that mimic the sound of busy cafes, from campus cafeterias to Brazilian bistros.
Coffitivity has a macOS app that works offline so you can listen to your favorite cafe sounds straight from your desktop without an internet connection.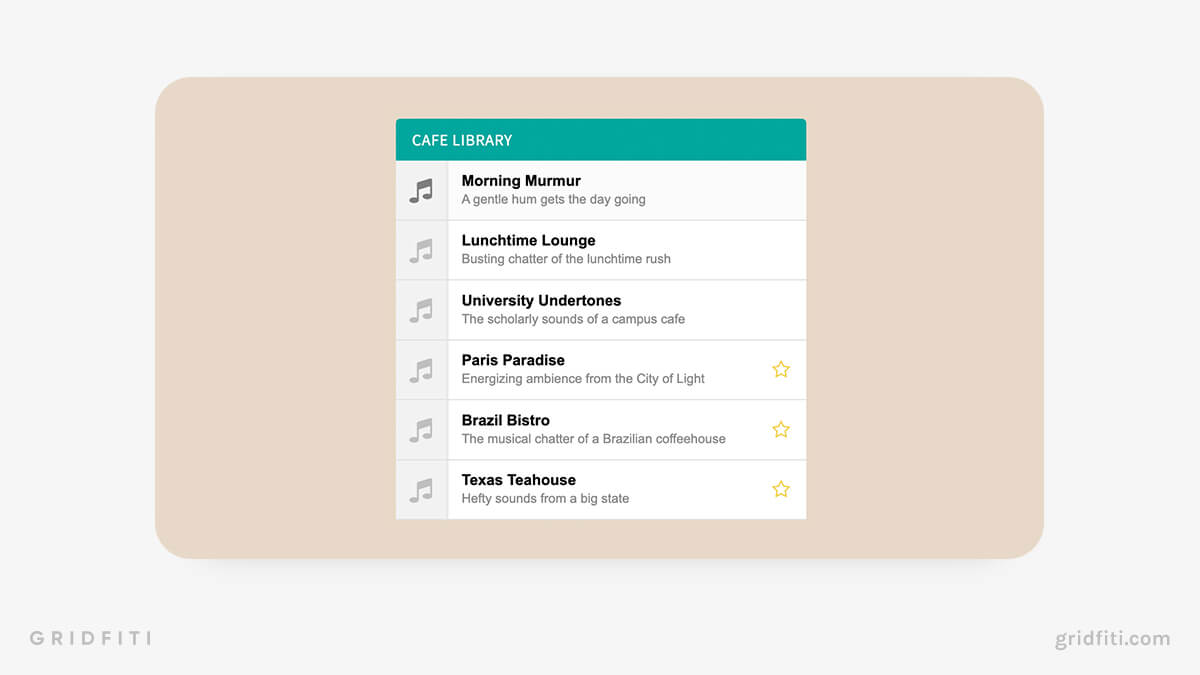 Generative.fm
Generative.fm is an ambient music generator that never gets old. Generative.fm creates unique playlists, with every performance on the site completely unique.
You can listen to Generative.fm all day and never hear the same music. No song breaks ensure you won't have to break your concentration — perfect if you're planning long study sessions right before finals. With over 50 hand-crafted generators, Generative.fm is paradise for ambient music lovers.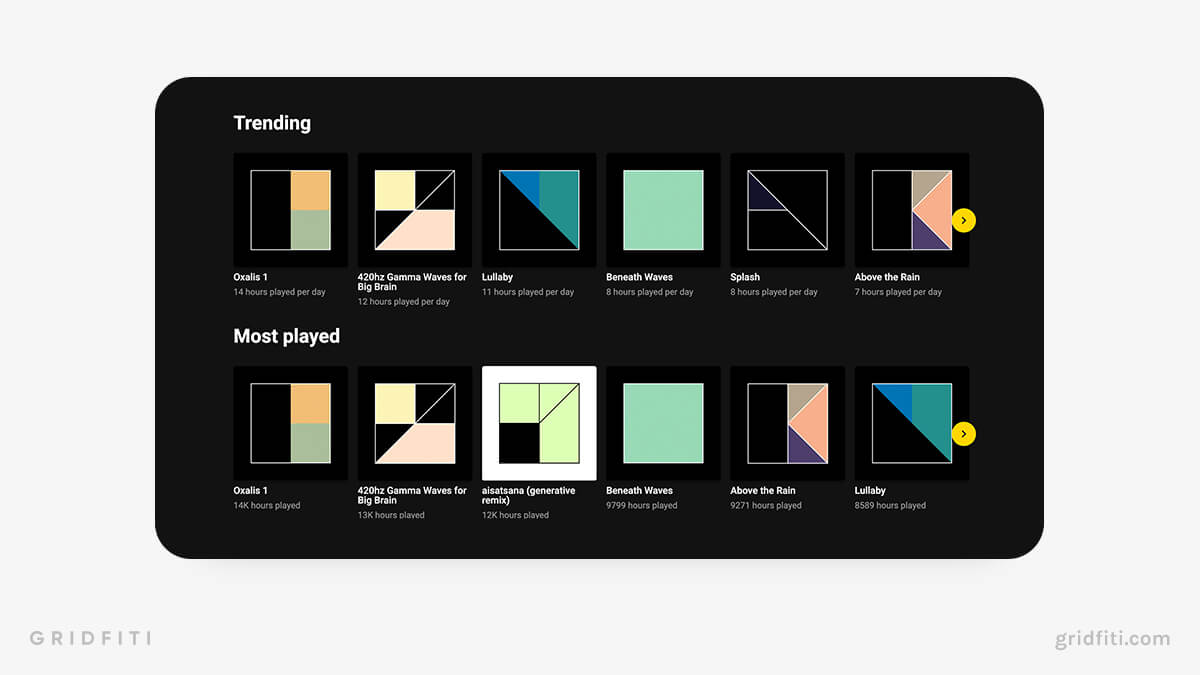 Focus@Will
Focus@Will is a service devised by music producers and neuroscientists to provide a personalized music experience tailored to your brain. Focus@Will states its most active users achieve a 200% to 400% increase in focus time.
Focus@Will starts by making you take a quiz to determine which channels are best for your brain type. As you use Focus@Will, you can skip songs that you find distracting. Skipping songs helps Focus@Will's algorithm work out which future songs will improve your focus and enhance learning.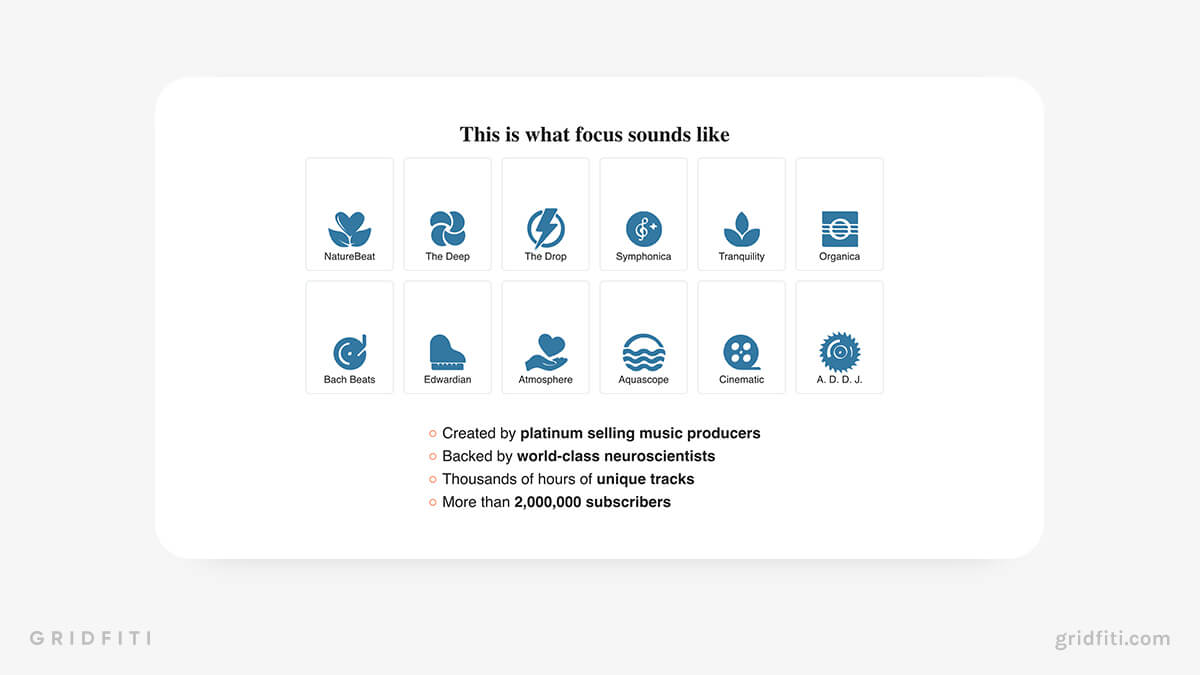 YouTube Videos & Playlists
YouTube is one of the best places to find background and ambient music for study. You'll find dozens of playlists complete with visuals to help you stay in the zone and relax.
Many of these playlists are several hours long, so you won't need to worry about switching up your background sounds mid study session.
Check out these YouTube ambient music background sound videos:
Ambient study music on YouTube:
Background noises for study on YouTube: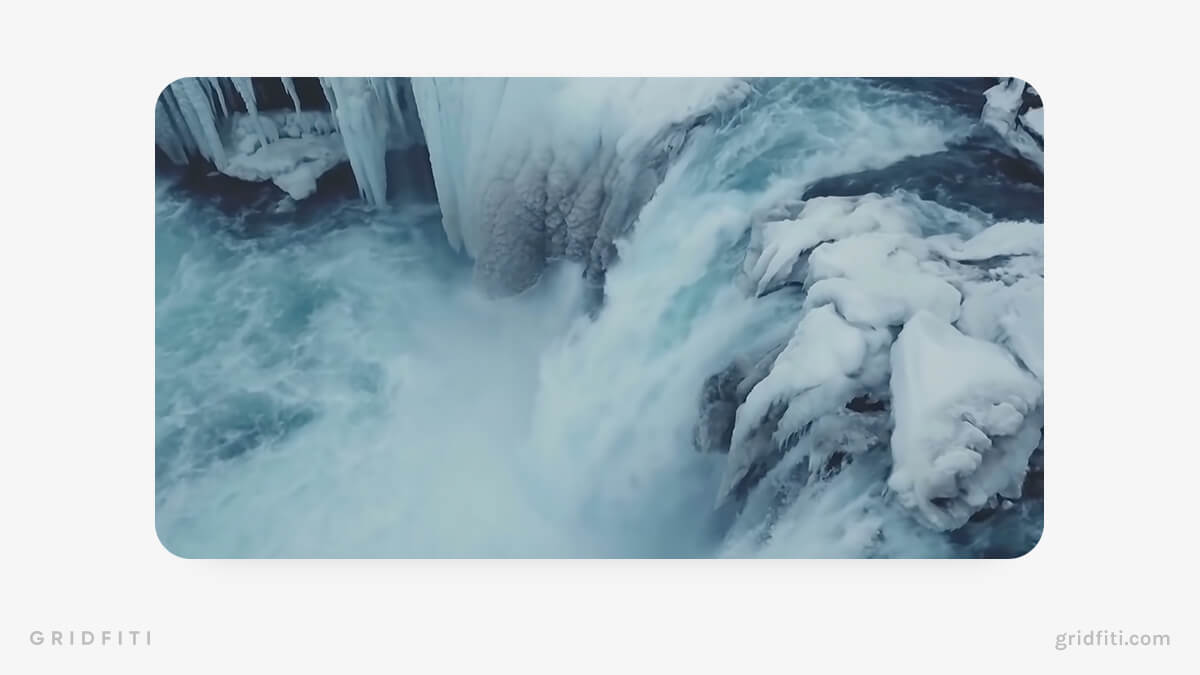 Spotify Playlists
Spotify's user-created and self-curated playlists are an excellent source of top-quality ambient music and background noise playlists. Pick and mix your favorite tracks from different playlists to create the ultimate soundtrack for your study sessions – and make sure to Like your faves to save them!
Check out these ambient sound and background noise playlists on Spotify:
Ambient study music on Spotify:
Background noises for study on Spotify: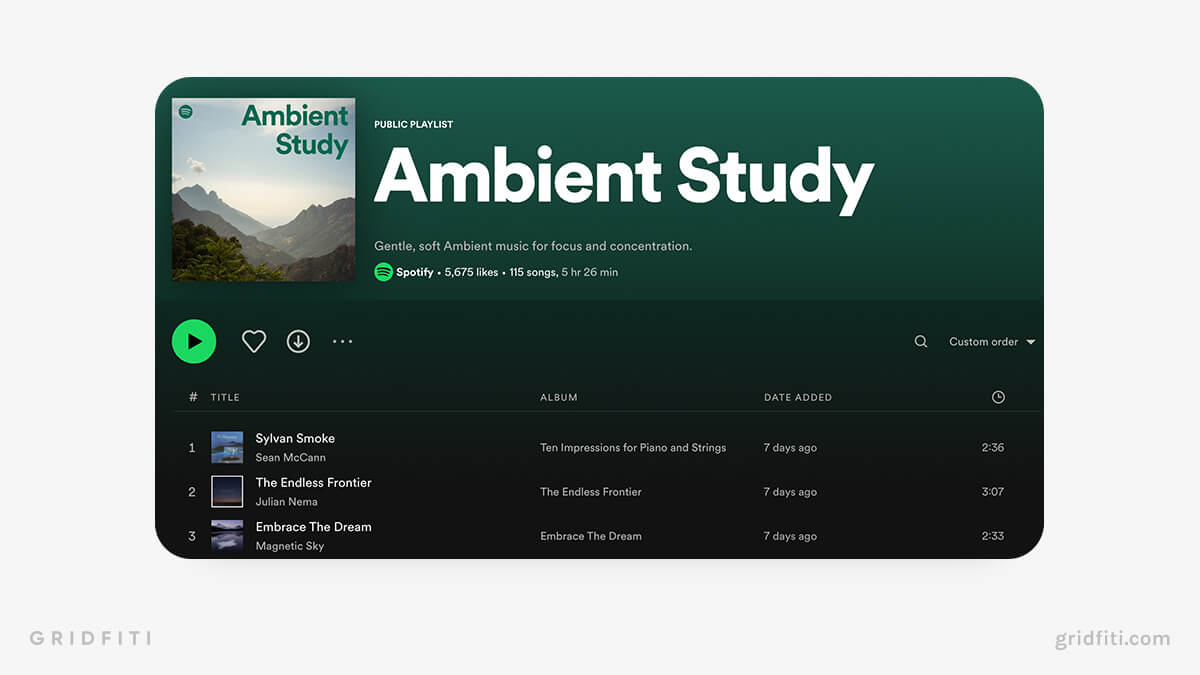 Did we miss your go-to site for ambient music and background noises? Let us know in the comments below!
Gridfiti is supported by its audience – when you buy something using the retail links in our posts, we may earn a small commission at no additional cost to you. Read more about our affiliate disclaimer.