Weather widgets for Notion are awesome if you want to keep up to date with the forecast from your dashboard or you're planning a trip in Notion and want to know which days will be the sunniest.
We've rounded up 5 of the best weather widgets and included instructions on how to add them to Notion. Scroll down to find out how to make tracking the weather a "breeze"!
---
Looking for more productivity tips and tools? Subscribe to The Flow — our quick, snappy, value-packed focus and recharge newsletter. Also, don't miss our several other Notion template round-ups and guides!
---
Notion Weather Widgets
Here's the lowdown on our 5 favorite Notion weather widgets and how much they cost.
Indify's Weather Widget
Indify's Weather Widget is simple and super accessible. Pick your location, whether you want Celsius or Farenheit, and the number of days you want to be forecasted (from 0 to 7). Change the size and shape of Indify's Weather Widget by dragging the borders in the widget editor.
Currently, Indify's free weather widget only shows the days of the week. With an Indify Pro subscription, you can display dates, severe weather warnings, and extra weather information, like humidity, wind, UV index, etc.
After signing up on Indify's website using your email, you can access all the widgets Indify has to offer, including clocks, calendars, countdowns, and more.
Pricing
Basic – Free
Pro – $8/mo monthly or $7/mo yearly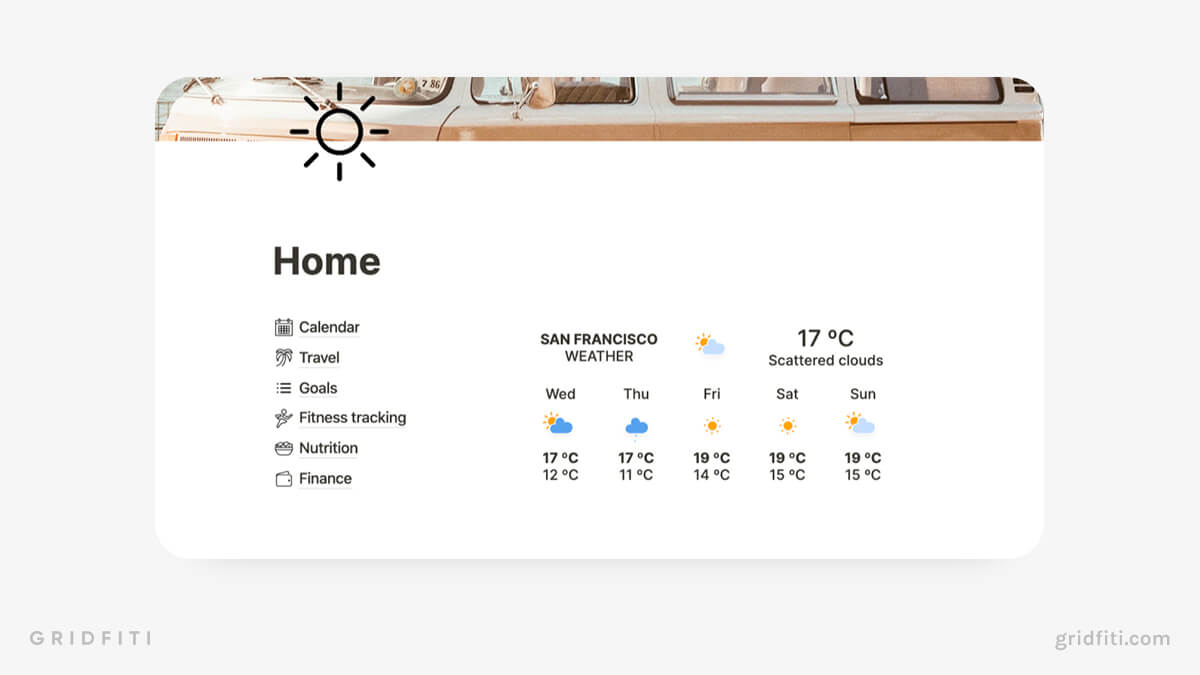 WidgetBox's Weather Widget
WidgetBox's Weather Widget comes in 3 different designs. The Weather Round and Weather Square themes show the current weather and temperature, while the Weather With Forecast widget displays a 5-day forecast in a board view. You can also select your preferred unit of measurement.
WidgetBox's design features make it one of the best aesthetic weather widgets. You can customize the colors of the icons, background, text, and border.
WidgetBox's Weather Widgets Basic plan gives you 5 free widgets, including calendar, button, and quote widgets. Note that WidgetBox's Weather Widgets are custom, so you'll need to subscribe to the Pro plan to get access.
Pricing
Basic – Free
Pro – $1.99/mo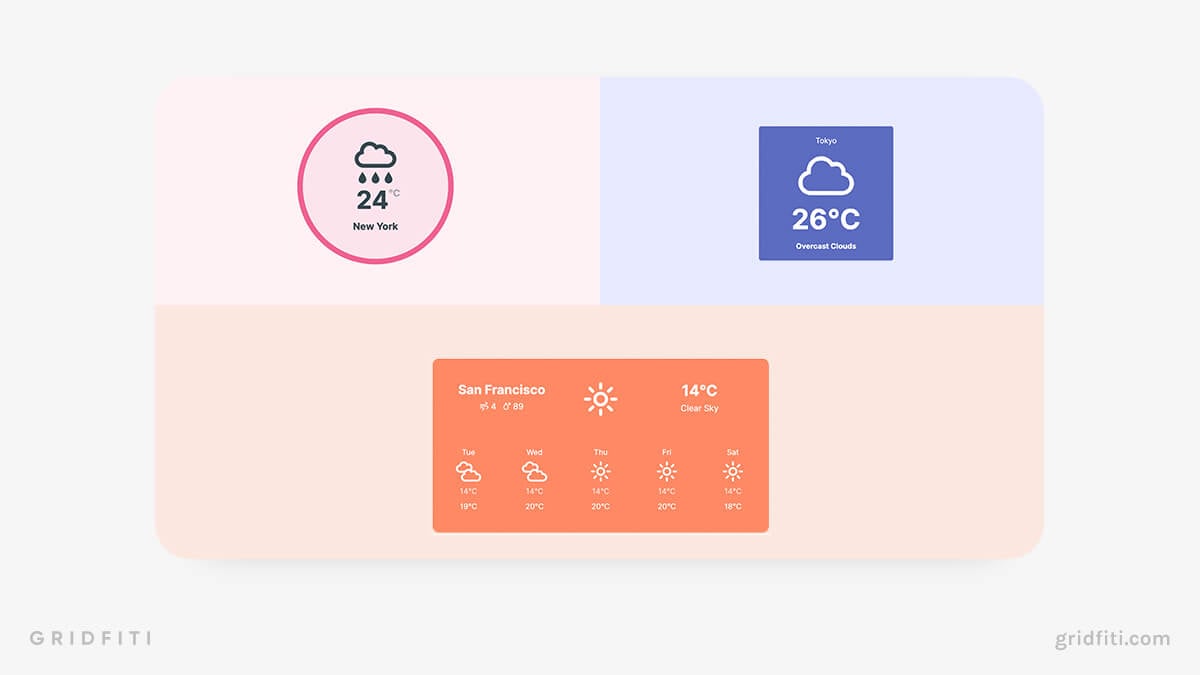 WeatherWidget.io
WeatherWidget.io is a highly aesthetic weather widget with tons of customization options. Start by choosing a location, language, and unit. Then, choose from dozens of fonts, 3 different icon sets, and whether you want 3, 5, or 7 forecast days.
Themes let you change up your widget's background — options include fall leaves, retro sky, and metallic. Or, go fully unique and pick individual accent, text, and icon colors using LaTeX equations. Drag the widget's border on the right-hand side to adjust its format.
WeatherWidget.io provides a preview of what your widget will look like so you can get the design just right.
Note: the installation for this widget is different from the others on the list. You'll need to generate an embeddable URL using Apption.co. (See our installation tutorial below for step-by-step instructions.)
Pricing: Free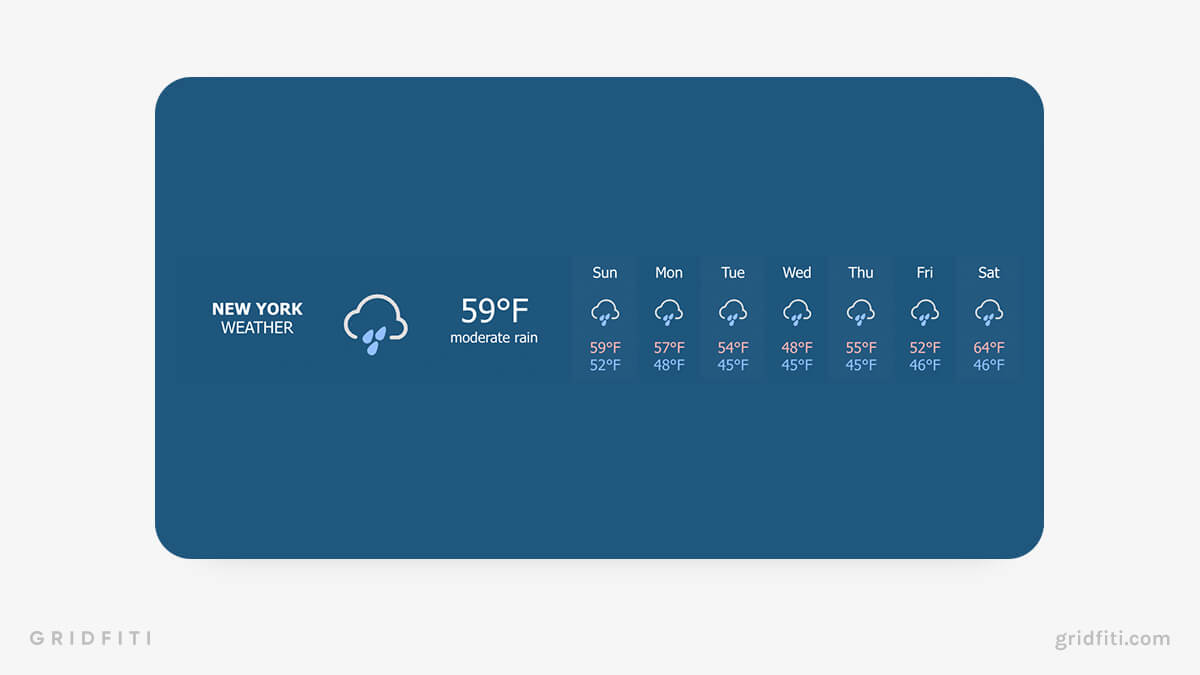 TheWeather.com
Powered by Meteored, TheWeather.com's weather widget provides loads of customization options for your widget's format, content, and style. Choose 1 of 6 widget designs ranging from a small, minimalistic view to a complete view with wind speed, pressure, and humidity.
This widget is available in over 12 languages and has individually customizable units for temperature, wind speed, pressure, and rain. You can also add and remove content from your widget, including sunrise/sunset, snowline, pressure, etc.
Over 20 icon designs, 7 different fonts, and a LaTeX equation color picker make TheWeather.com one of the best aesthetic weather widgets for Notion.
Pricing: Free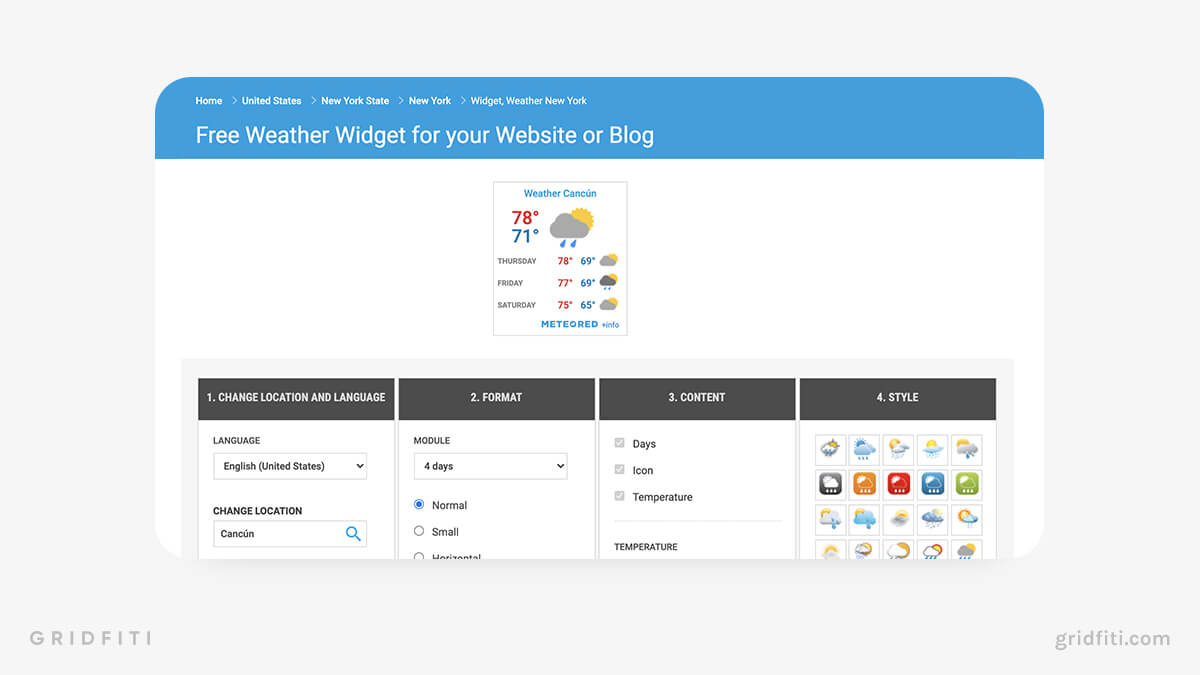 Windy.com
Embed a full weather map widget on Notion with Windy.com. Switch your map between radar or satellite, and change the zoom to show the weather across your city, state, country, or continent. Windy.com's widget displays a 5-day forecast as default.
Add various layers to your weather map depending on your preferences. Set your widget to display the air quality, cloud cover, snow coverage, and lots more. Drop a marker on the map to see the stats for a specific spot.
Adjust the width and height of your widget so it fits your Notion page perfectly. Plus, you can toggle on map markers, pressure isolines, and a spot forecast.
With Windy Premium, you gain access to 10-day forecasts, forecast updates 4 times a day, 1-hour forecast steps, and a whole lot more.
Pricing
Basic – Free
Premium Annual Subscription – $18.99
Premium Buy for One Year – $29.99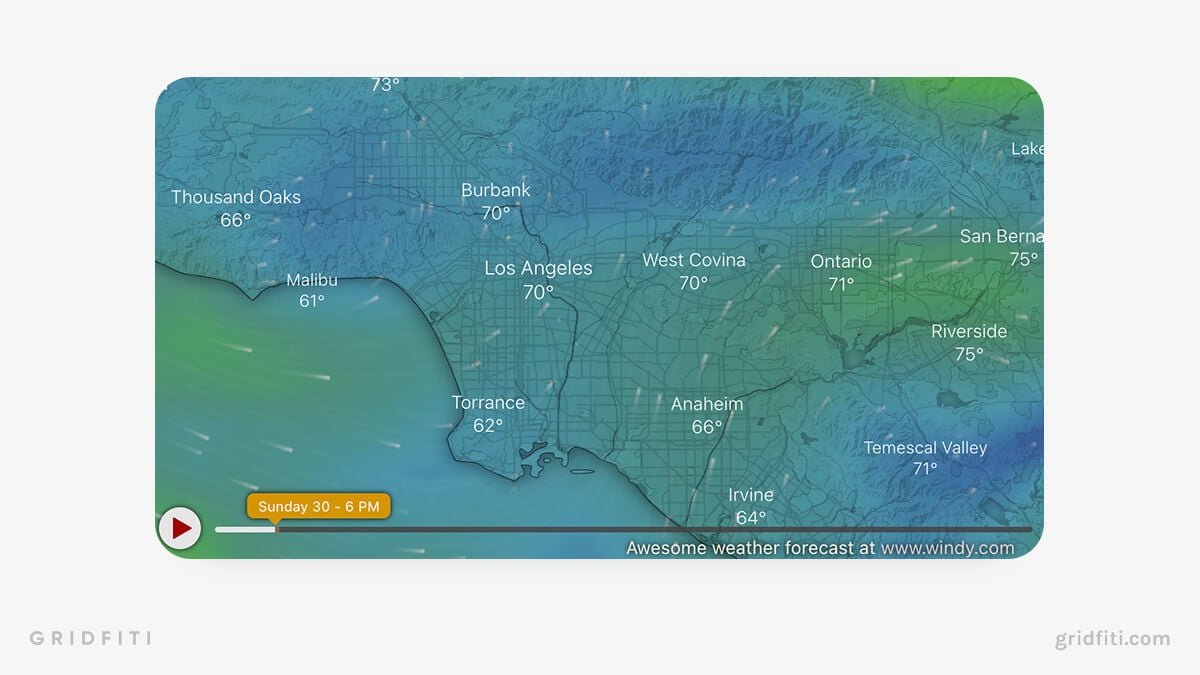 How to Add Weather Widget to Notion
New to Notion? Adding a weather widget to Notion couldn't be simpler:
Go to the widget website
Create and customize your widget
Copy the URL embed code
Paste the embed code into Notion where you want your widget
Click "Create embed" from the dropdown
This method works for all Notion weather widgets in this list except WeatherWidget.io.
To create embeddable URLs for WeatherWidget.io, you'll need to use Apption.co to generate a Notion widget embed. Here's how:
Create a widget in WeatherWidget.io and click "GET CODE"
Copy the HTML code
Sign up for a free Apption.co account
Navigate to your Apption.co dashboard and click "Embeds"
Paste the HTML into the "HTML code" block
Click update and copy the "apption.co" URL generated in the field at the top of the page
Paste the link into your Notion and click "Create embed"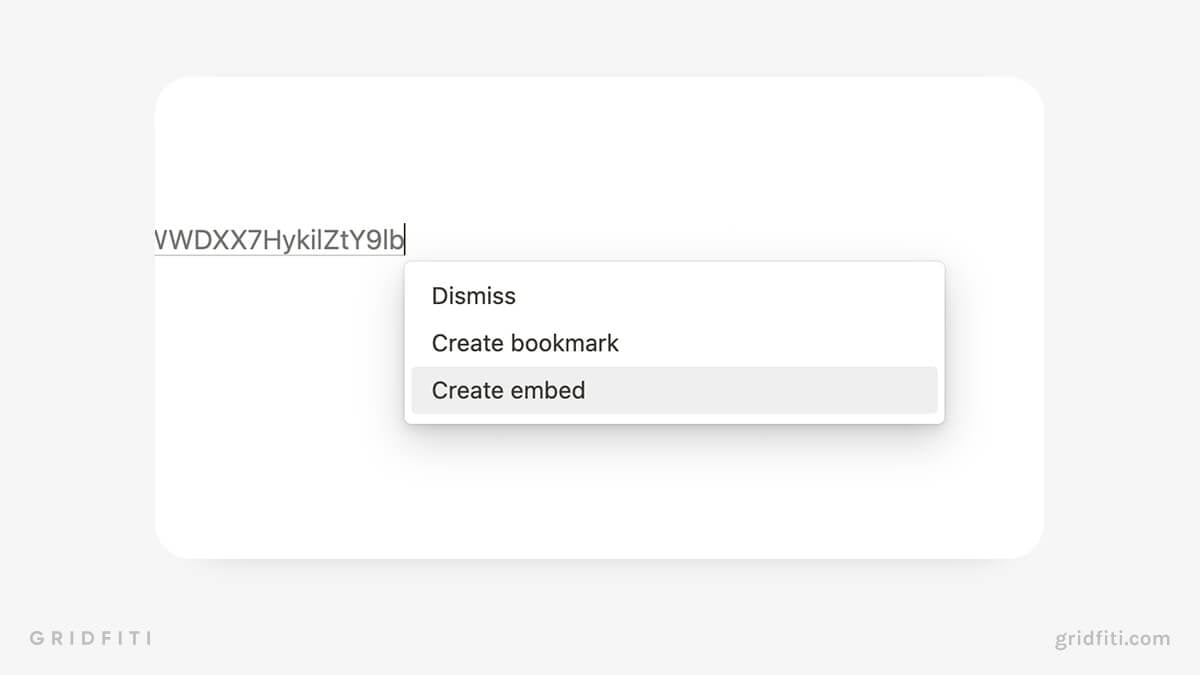 Did we miss your favorite weather widget for Notion? Let us know in the comments below!
Gridfiti is supported by its audience – when you buy something using the retail links in our posts, we may earn a small commission at no additional cost to you. Read more about our affiliate disclaimer.