If you're working in tech or at an early stage company, you're no stranger to the agile development process. In these environments, anything that can improve efficiency and quality for your team's projects is always welcome – and agile helps you do just that.
Notion is one of the best places for teams to work together and get more done with kanban boards, robust databases, rich collaboration features, and more – but it can be daunting and time consuming to build your own agile system from scratch.
Thankfully, some amazing template creators have already done the hard work for you – and we've gathered some of the best Notion agile and scrum templates for your team to use! Let's check them out.
If you dig these templates, check out our round-ups on Notion templates for startups, project management, and product management too.
Want more Notion tips, tricks, and templates? Join our Notion mailing list:

Sign up for Notion here! Free for personal use, students, and educators.
Notion Agile Scrum Dashboard Template
Build better products, and ship them faster with the robust Notion Agile Dashboard! This template equips you and your team with all the tools you need to create and deliver top tier software engineering or development projects. Improve your product quality, customer satisfaction and flexibility, reduce your risks, and so much more with this fully integrated agile dashboard.
Related Post: Notion Templates for Coding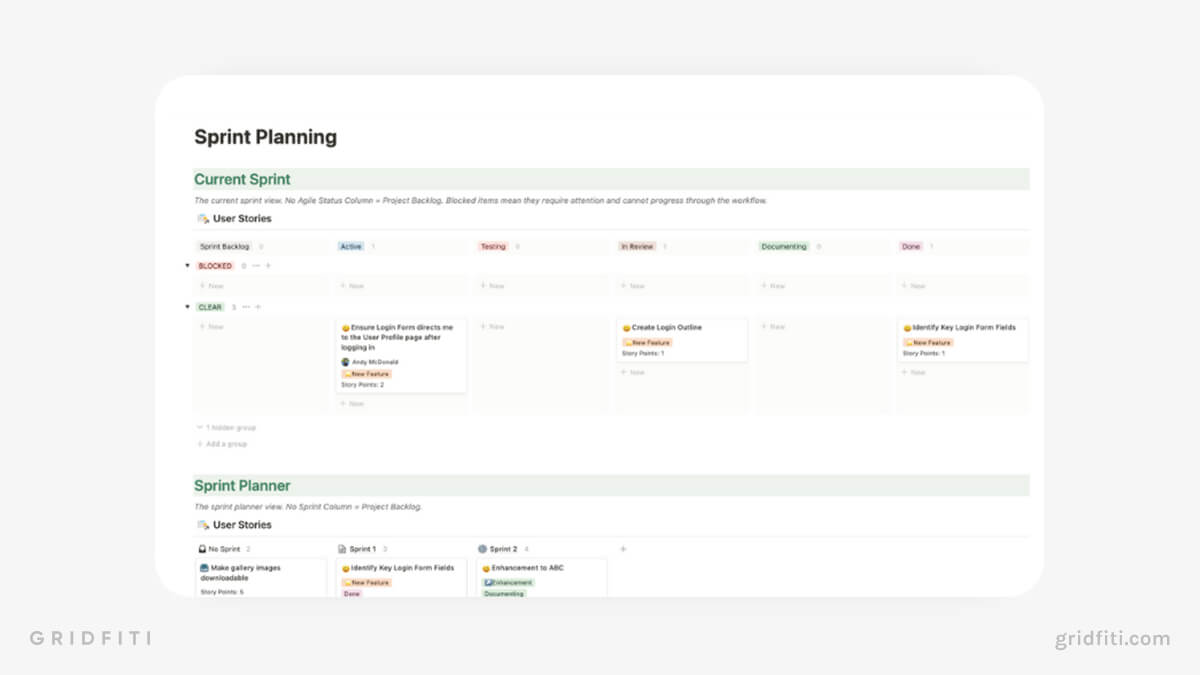 Agile Project Management Template for Teams
Sporting a Jira-like setup, this project management template is made for teams wanting to incorporate an agile workflow into their project management. With a 25-property master database for tickets, an advanced backlog section, robust sprint planner, epics planner, knowledge base, and client-ready ticket form, this is the perfect all-in-one agile system for teams to get more done.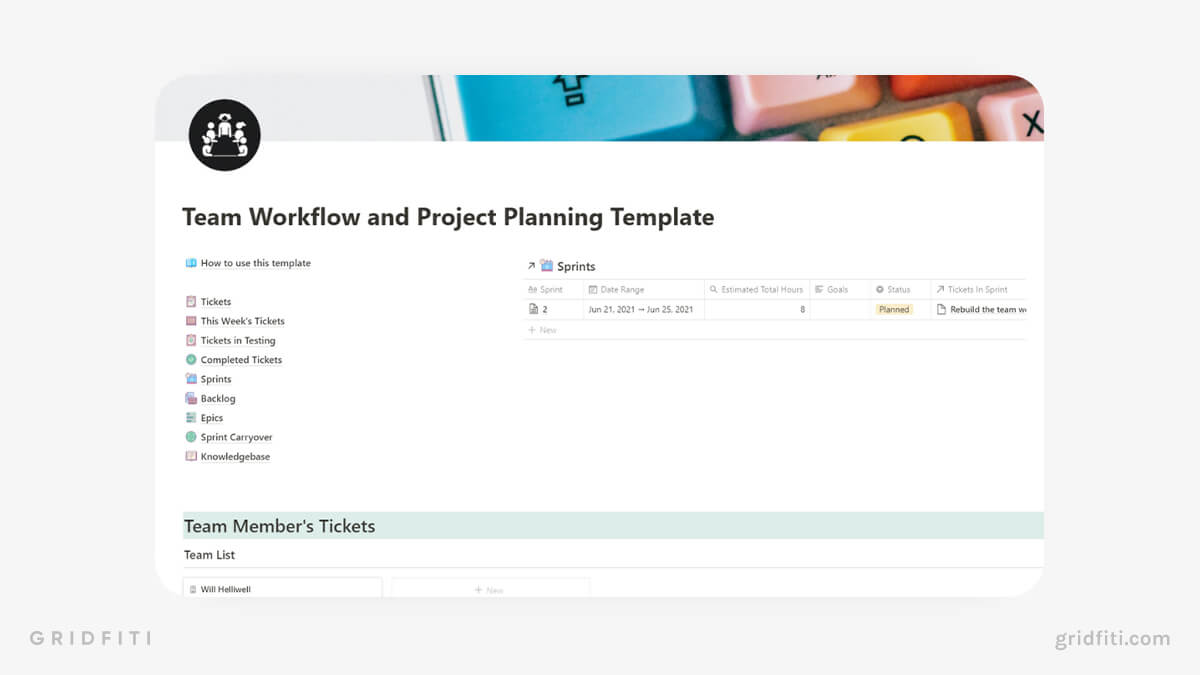 Jira Alternative Notion Scrum Template & Dashboard
This template really uses the best of Notion's capabilities to create the perfect Jira alternative. Jira is robust but missing flexibility, and Trello is simple but almost too simple – this template allows you to take advantage of scrum's flexibility in a fully customizable dashboard. Monitor your development sprints, manage and prepare all of your tasks in the board, automatically calculate sprint velocity from complete tasks and epic progression in percentage, track bugs, and so much more with Notion Scrum!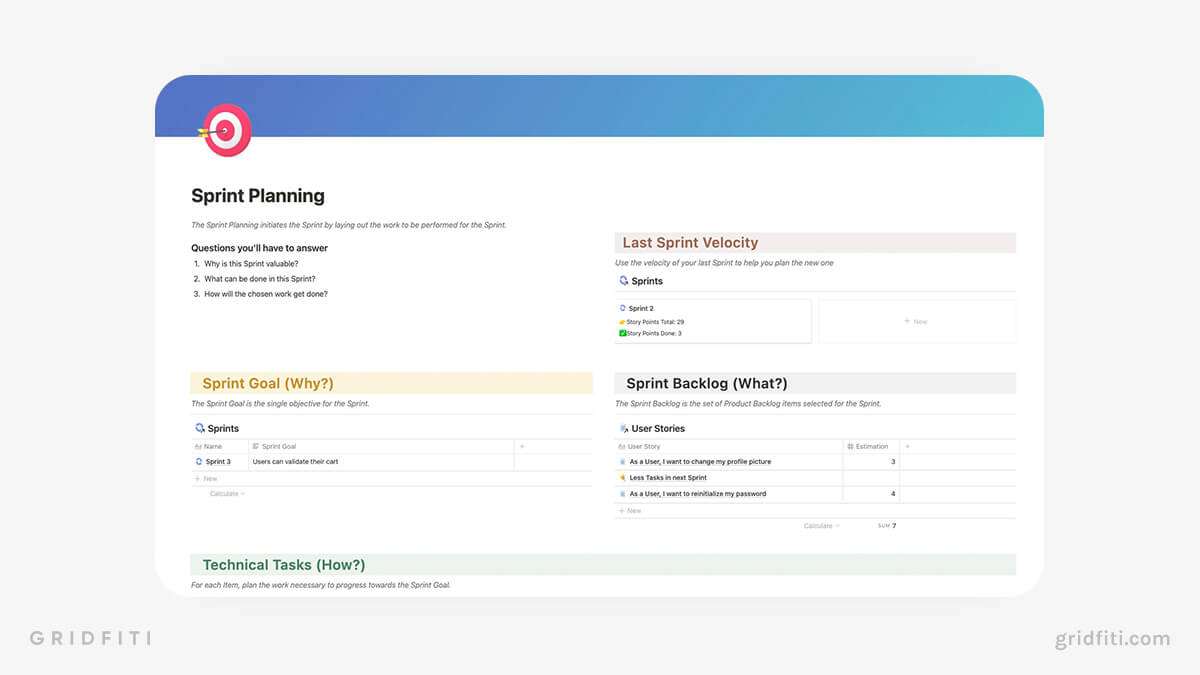 Notion Scrum Development System
With over a dozen templates built in, take your scrum workflow to the next level with the Notion Scrum Development System template! The template creator has taken their past experience of developing products with a scrum workflow – and has packed it all into this one Notion system with a business model builder, target customers, defining personas, and writing requirements. Once the foundation is set, get your team moving with roadmaps, backlog planning, and sprint management!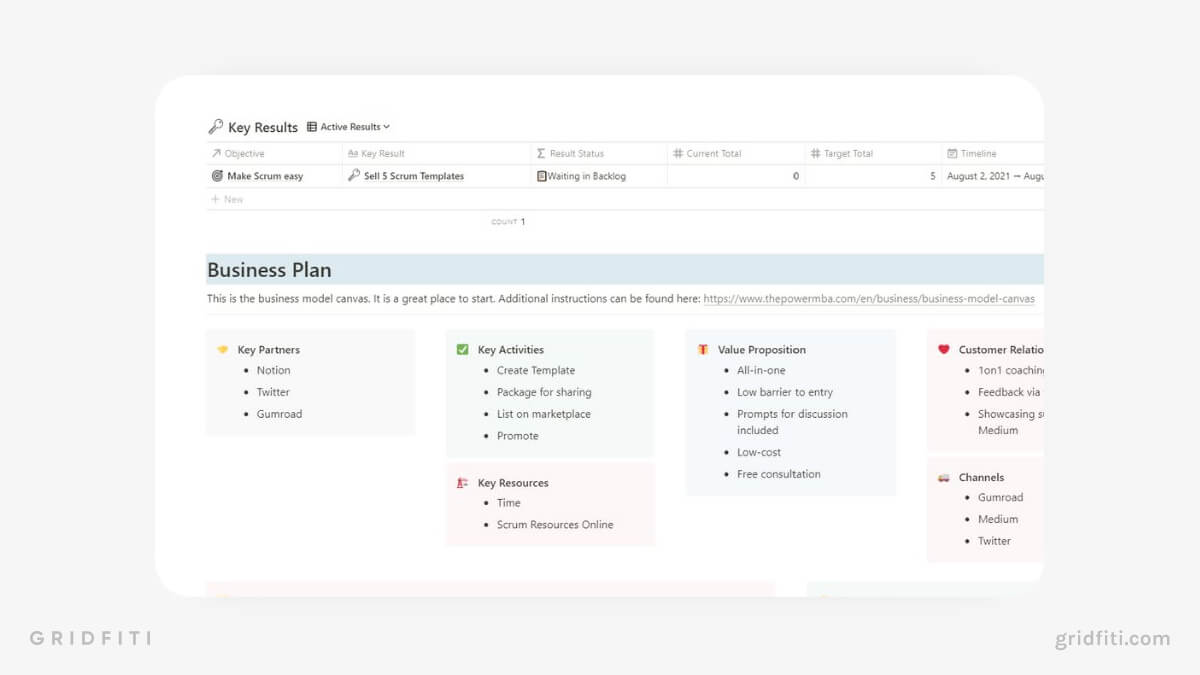 Agile Team Organizer Notion Template
Agile Team Organizer is an all-in-one tool for Notion for managing any remote and agile team. Manage all your team members as well as  every chapter, squad, task, and message reporting, and so much more with this team-ready template!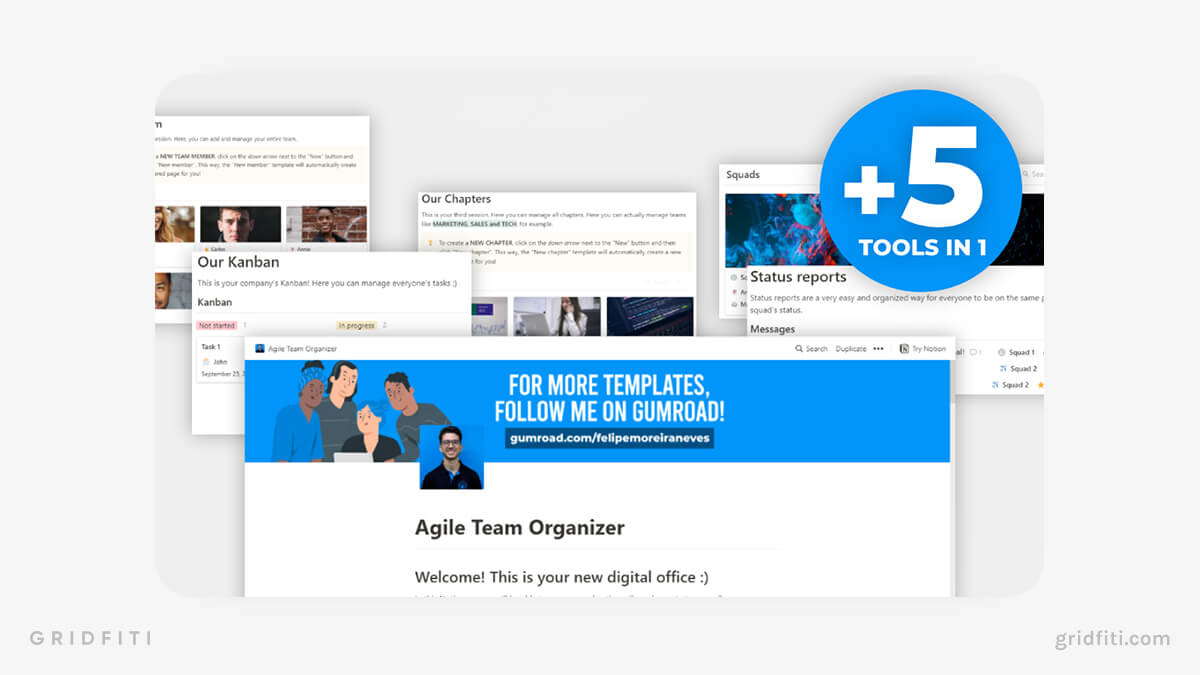 Scrum-Based Project Management System
This scrum-based project management system covers the bases for anybody wanting to streamline their workflow! Use Notion's timeline database view to see scrum epics, get an overview of user stories and tasks to be done, see grouped user stories in the scrum board, manage and analyze sprints, track time spent on tasks, and see it all in pre-built root wiki page.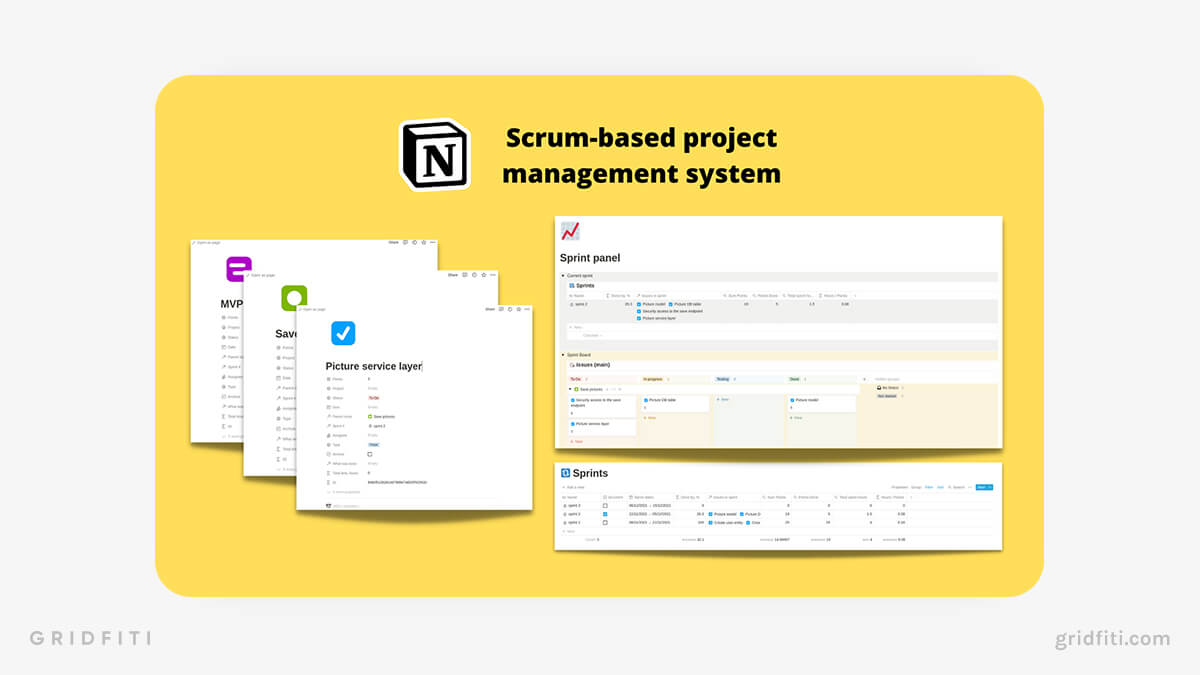 Simple Notion Scrum Board
Dubbed as a Jira replacement system, this template sports a board for daily stand-ups, as well as dedicated databases for epics and user stories! Categorize your tasks with 6 priority levels ranging from blocking to minor, and get a full overview of your in progress projects with the kanban task board!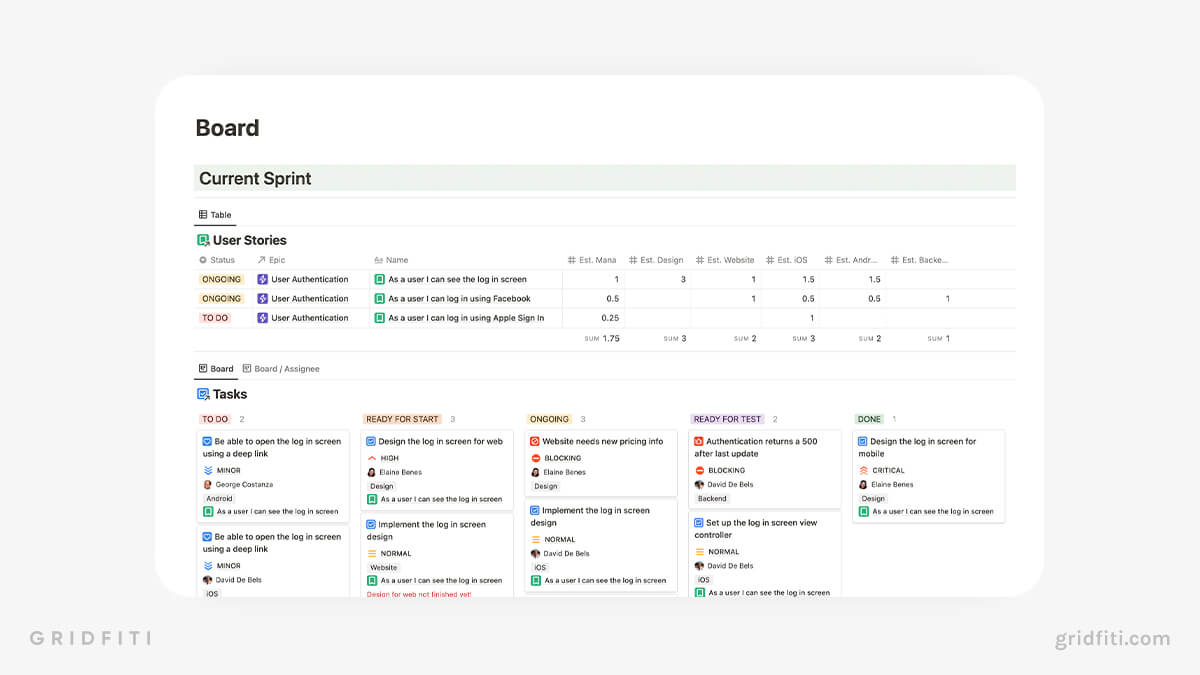 Which Notion scrum templates do you see yourself or your team using? Any other templates to recommend? Let us know in the comments below!
Gridfiti is supported by its audience – when you buy something using the retail links in our posts, we may earn a small commission at no additional cost to you. Read more about our affiliate disclaimer.