Looking for a basic website builder that's affordable and easy for beginners to use? Notion is one of the best no-code platforms, and with a Notion website template, you can build your personal or business website in minutes — no web design skills needed!
That said, if you're looking to create a robust site that's optimized for search engines and includes all the analytics data you need, you may want to look beyond Notion for these advanced features. But if you're looking to put together a simple (but significant) website or landing page you've come to the right place.
To get you started, here are some of the best Notion website templates and site builders available! As well as some Notion website examples for inspo.
Interested in adding a custom domain to your Notion workspace? Check out our step-by-step guide to using a custom domain with Notion!
---
Looking for more productivity tips and tools? Subscribe to The Flow — our quick, snappy, value-packed focus and recharge newsletter. Also, don't miss our several other Notion template round-ups and guides!
---
Table of Contents:
All-in-One Notion Website Templates
If you're a jack or jill of all trades, you'll want a website highlighting your many skills and achievements. Scroll down for our top all-in-one notion website template picks!
The Ultimate Notion Website Kit – 7 Theme Pack
Whether you're looking to create an online resume, a simple portfolio website, or even an engaging landing page, The Ultimate Notion Website Kit has everything you need. This template pack includes 7 different themes and also integrates with popular Notion-friendly website builders, including Fruition and Potion.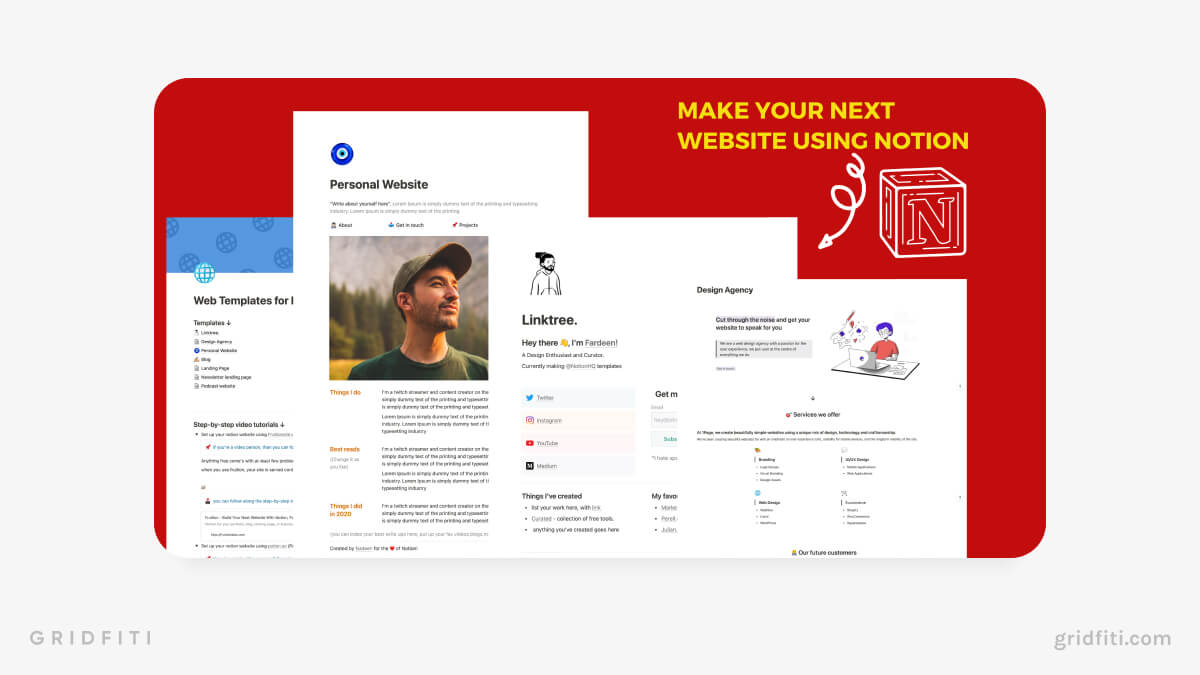 Basic Notion Website Template Pack
This is a basic minimalist website pack built for creators, freelancers, students, or small businesses looking to create their online presence using Notion. Choose from 6 templates designed for a range of different use cases: personal websites, landing pages, blogs, help centers, resumes, and link in bios!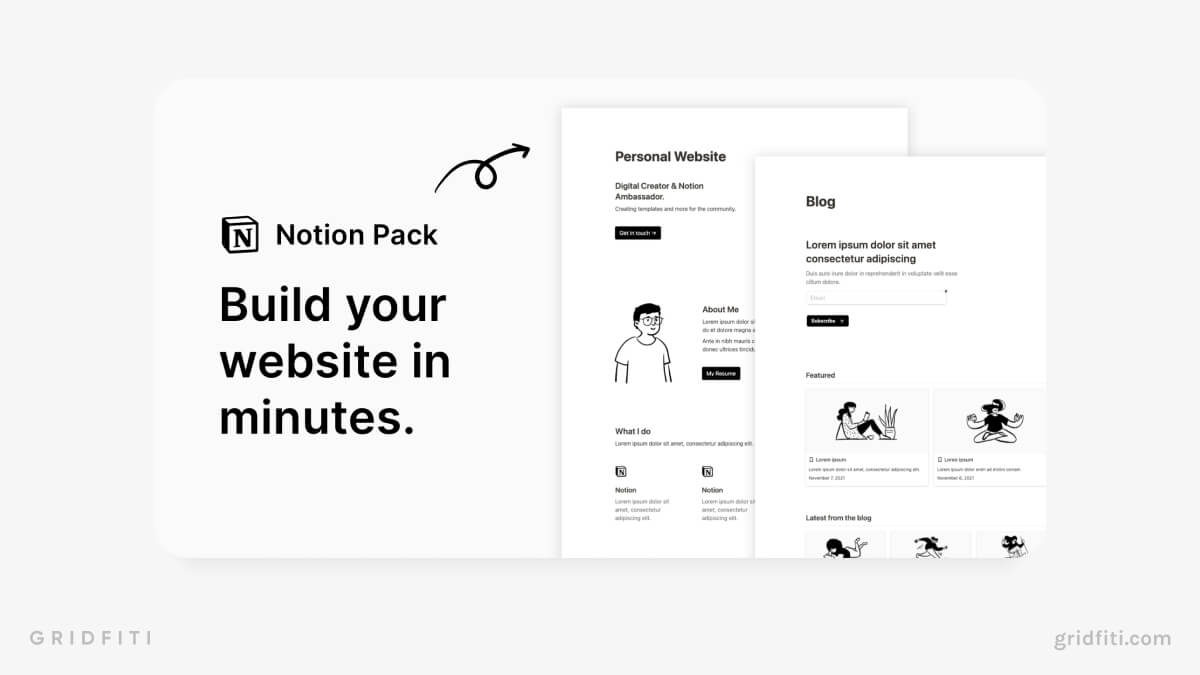 Notion Personal Website & Portfolio Templates
Whether you're an artist, web designer, or marketer, you'll need an online space to showcase your biggest and best projects. Check out these Notion personal website and portfolio templates that make designing your domain a breeze!
Zenith — Portfolio Website (Built for Super)
Zenith lets you build a website in a few clicks using Super's slick editing system. Perfect for consultants of all kinds, Zenith provides templates for your homepage, portfolio, about, and more — no coding needed!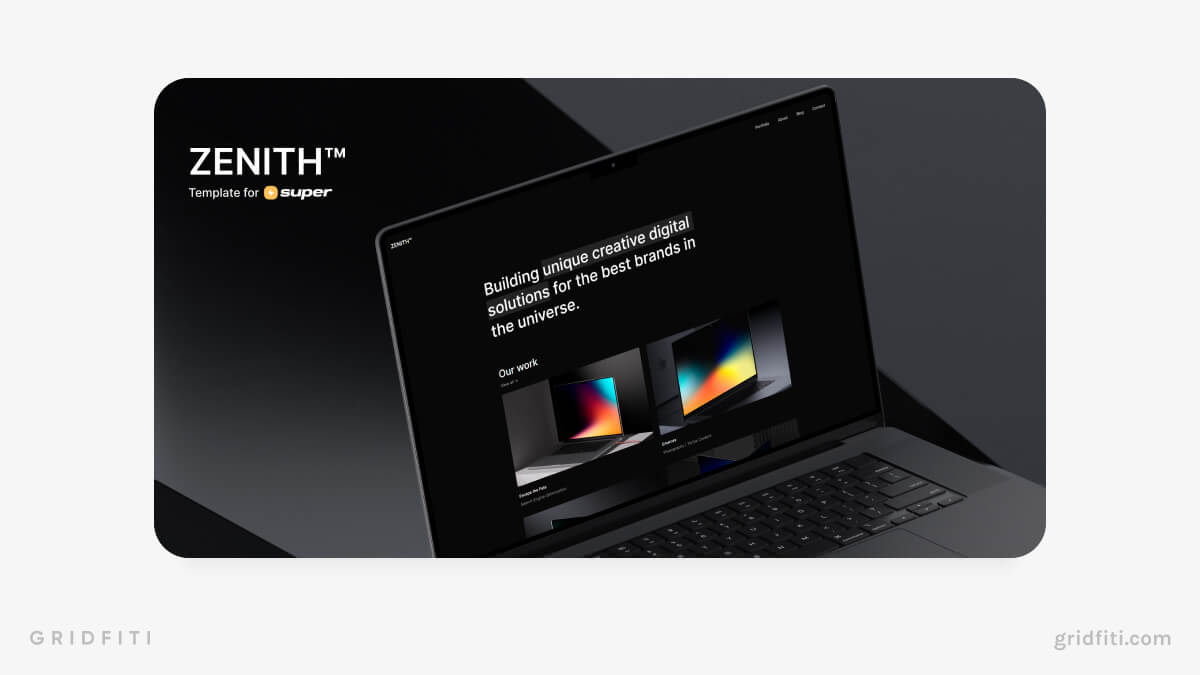 Notion Website Templates for Digital Creators
This pack includes 3 beautifully designed, flexible Notion website template sets designed for the Super website builder — made for creators looking to create a portfolio, share their projects, and even write blog posts!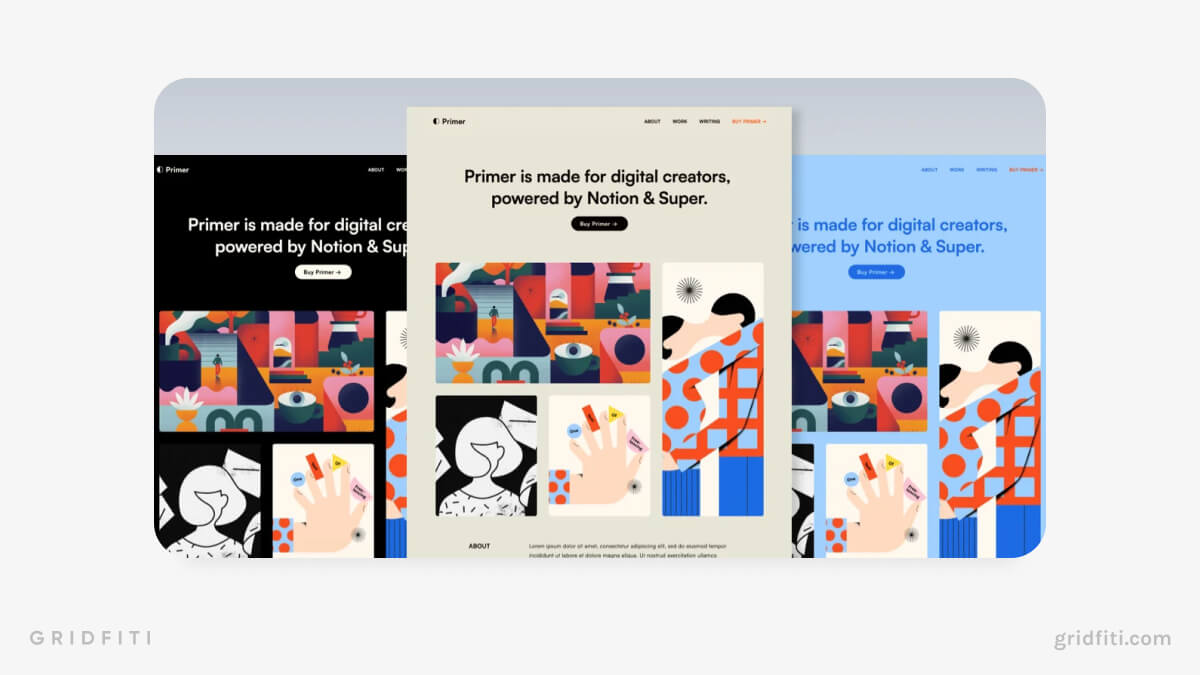 Minimal Notion Website Template
For a more understated look, use this minimalist Notion website template that resembles a modern resume template. A minimalist site with lots of airy whitespace will keep the focus on you and your work!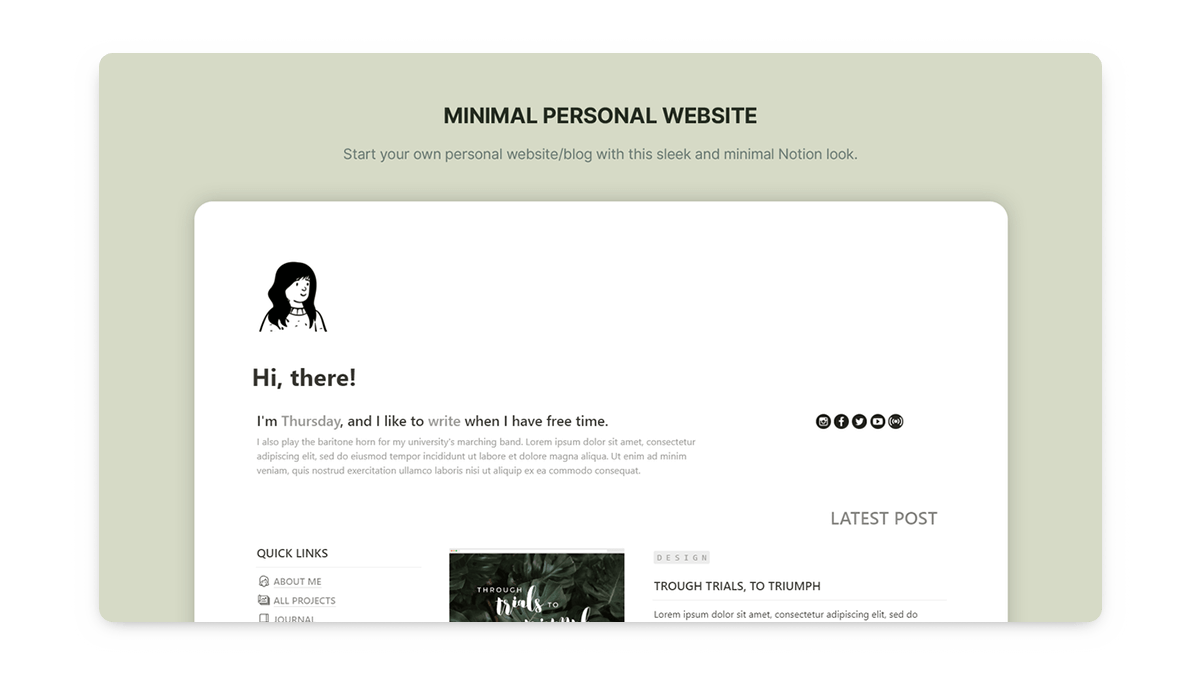 A Gorgeous Feminine Website Template for Notion
Ideal for a personal website or portfolio, Elle Woods is a one-page Notion website template that features a luxurious and elegant design. The template uses an aesthetic color palette of delicate grays and soft pinks to give it a feminine touch.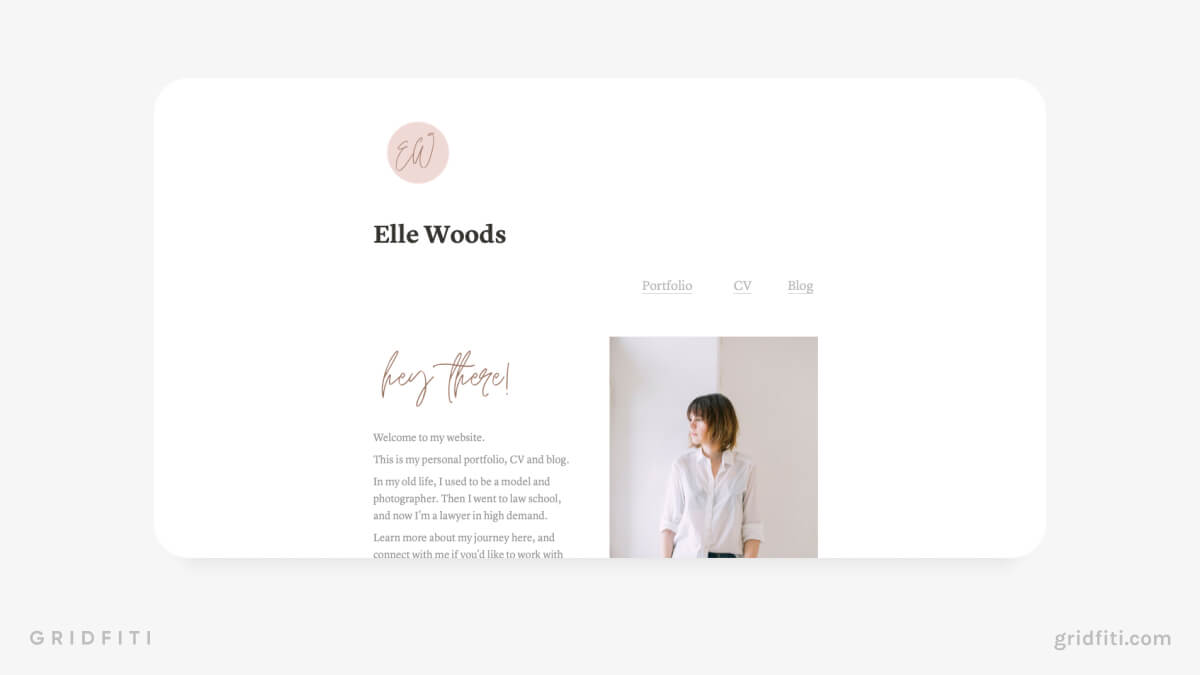 Notion Personal Website Template
Looking to create a simple website to showcase your work and experience? Check out this simple Notion personal website template that lets you to add a homepage, about section, blog page, project page, and more!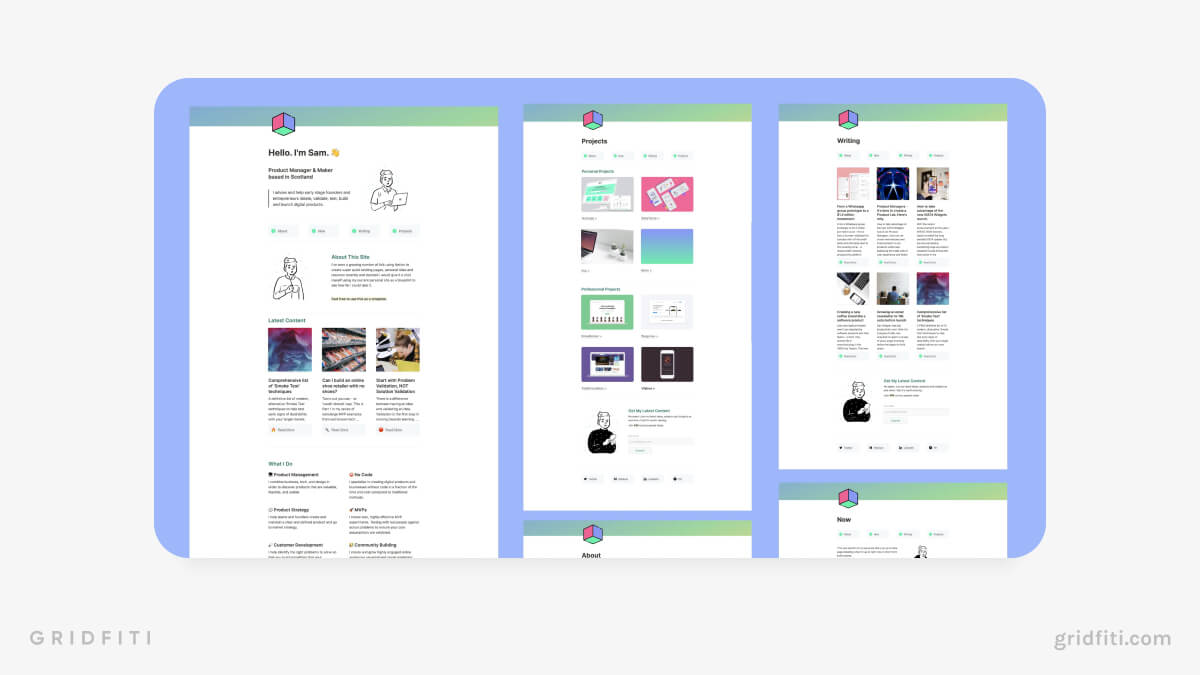 Simple Portfolio Website
This simple but effective free Notion portfolio website features customizable buttons, banners, and a Contact Me form — everything you need for your fledgling business or personal portfolio!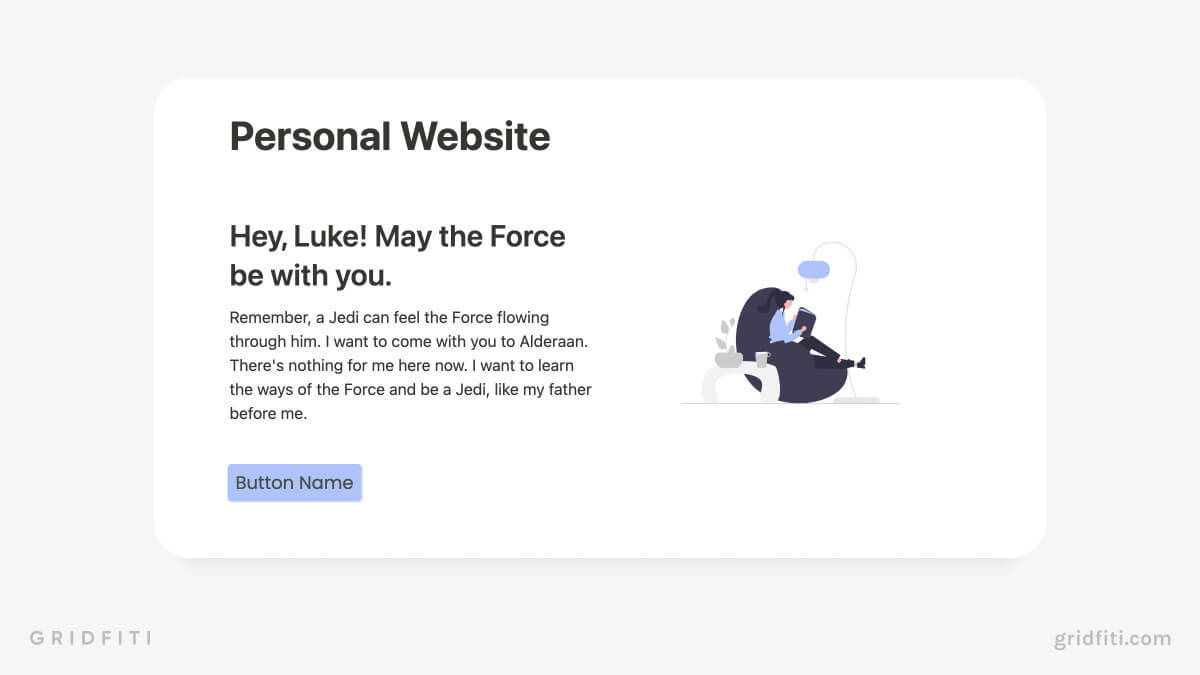 Professional Personal Website
Another free no-frills Notion template, Professional Personal Website lets you add spaces for your experience, quick links, about me, contact me, and much more!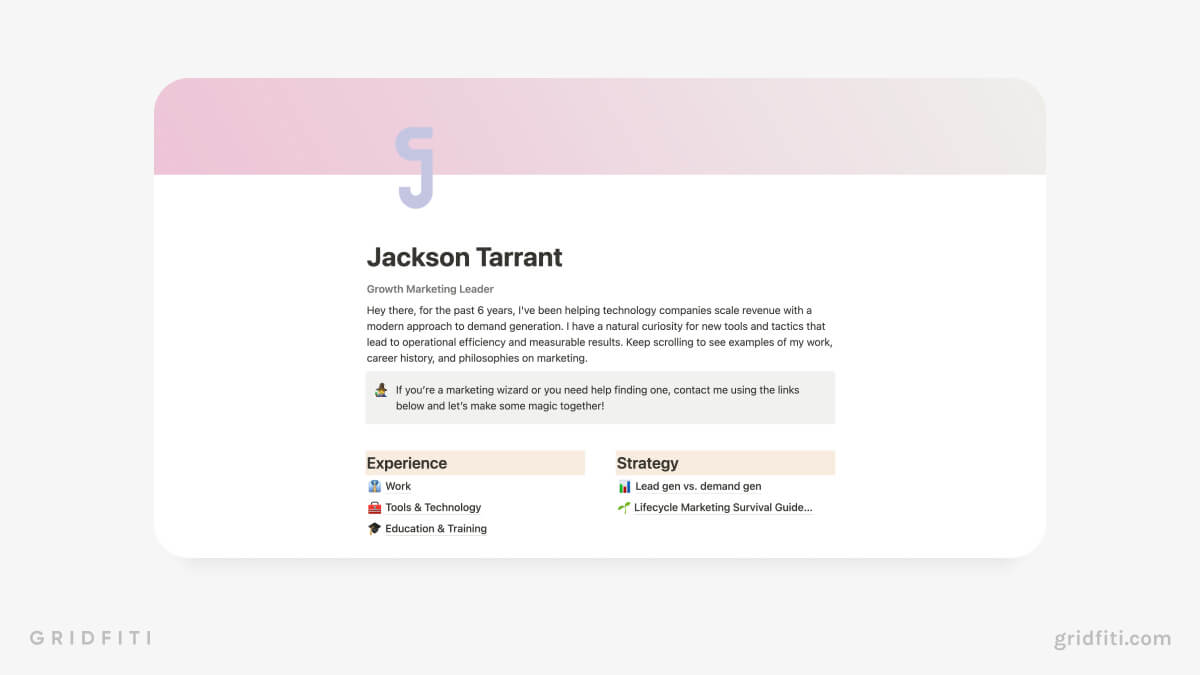 Notion Link in Bio Template
Check out Notion Link in Bio Template if you're looking to build an aesthetic link hub website or basic landing page that includes all your main links. Customize color combos and layouts with unlimited linking capability. Plus, it's compatible across devices and has a straightforward interface to help you set up your site in seconds.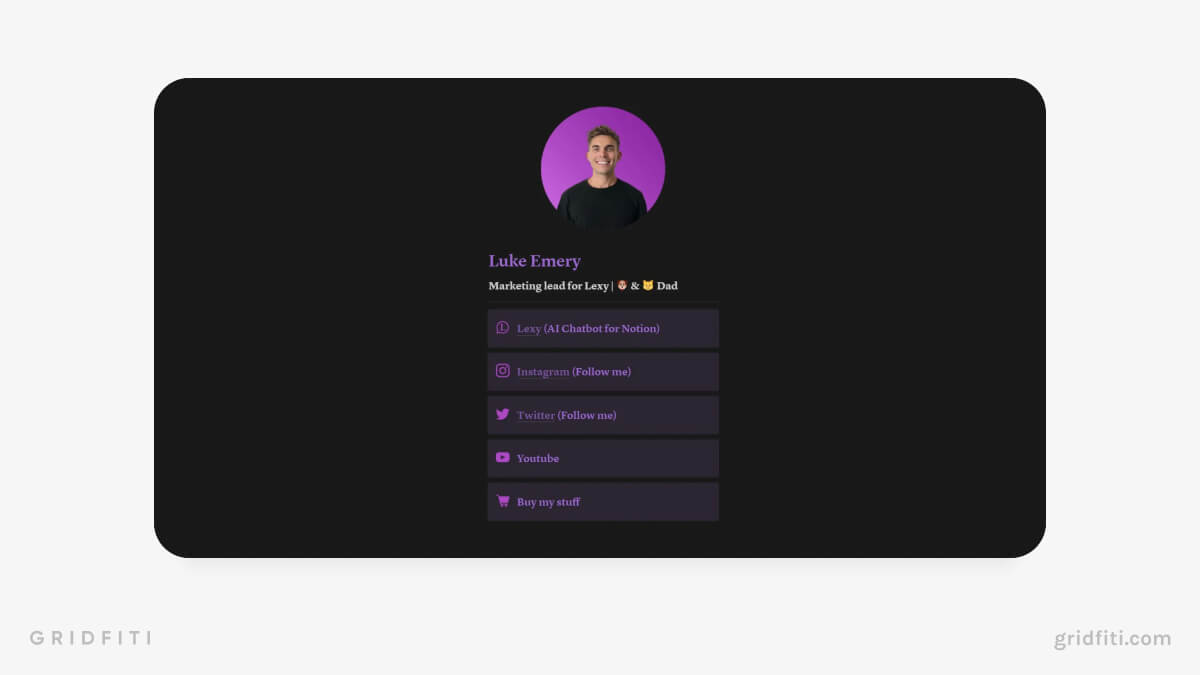 Notion Blog & Company Website Templates
Save time and money making your business' website beautiful with these top Notion blog and company website templates!
Minimalist Notion Website Templates for Super
With this beautifully minimalist trio of Notion website templates, easily create that dream blog or portfolio in conjunction with Super.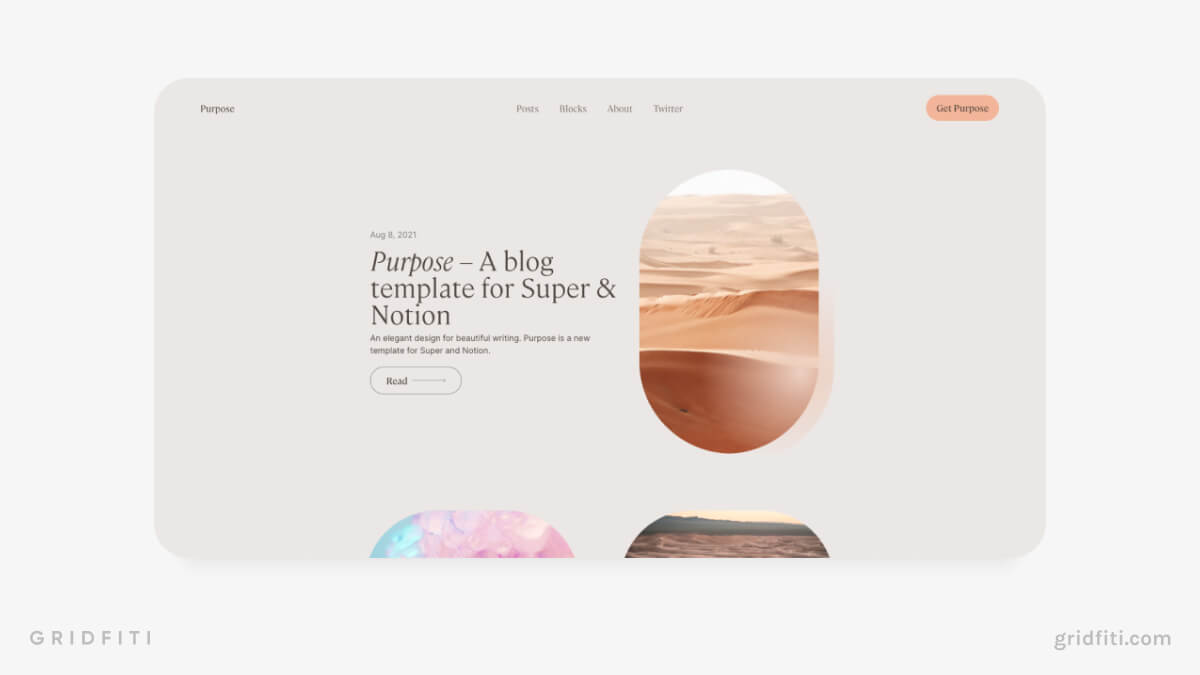 Cluster – Notion Documentation Website Template
If you're creating help docs, design systems, resource libraries, or onboarding docs – Notion is one of the best places to build, display, and seamlessly update them. Use Cluster on Super to easily beautify your Notion documentation.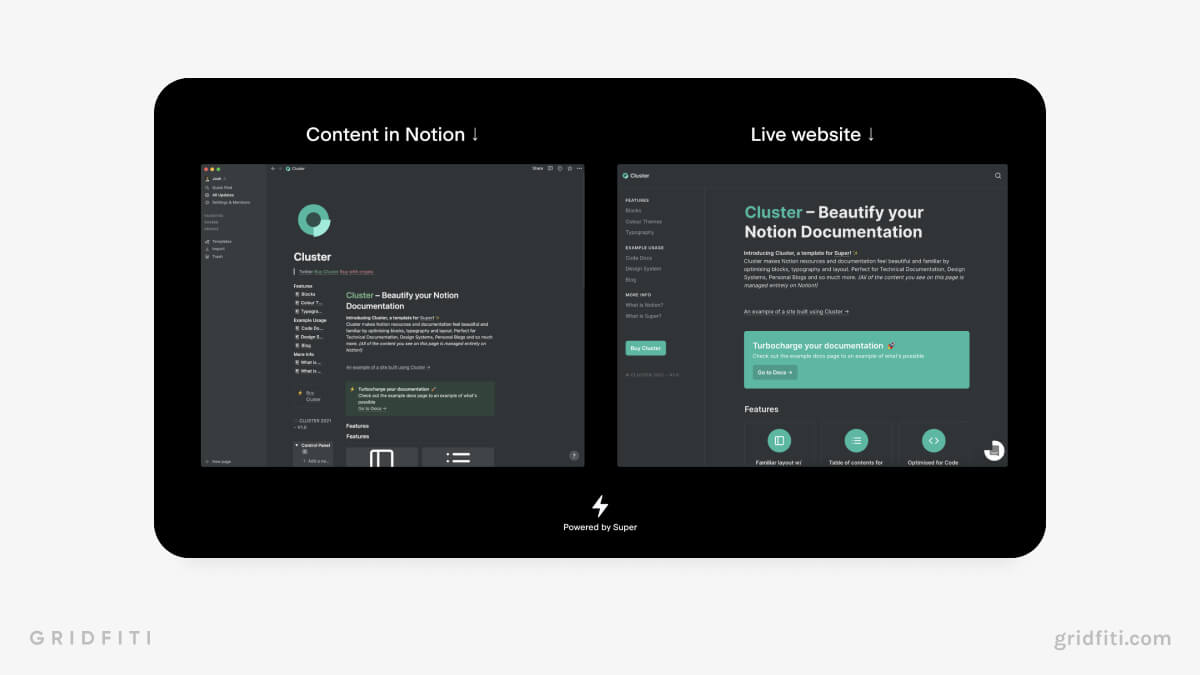 Ora – Minimal Blog Template for Notion & Super
Ora is a gorgeous, clean Notion blog website template for Super – featuring light mode and dark mode, three homepage layouts, a blog post page, an about page, and custom color themes and typography. The template even offers a custom minimal gallery of blog cards, powered by Notion's linked databases.
For more blogging templates, check out our full round up of Notion blog templates!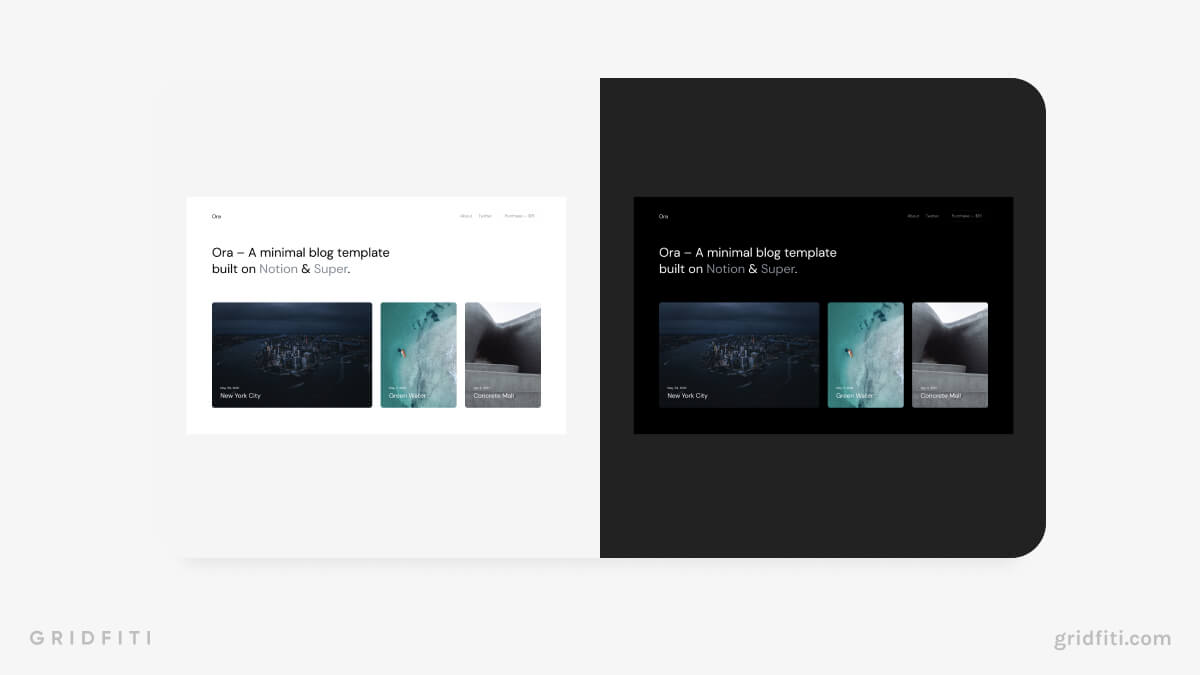 Best Notion Website Builders
Want to take your Notion site to the next level with analytics, SEO, and more no-code design options? Find our favorite Notion website builders below!
Super – Notion Website Builder
If you're looking to take your website seriously and build it in a way where you can customize your URLs, optimize for SEO, increase site speed, and more, then Super is the way to go for any Notion-based personal or business site.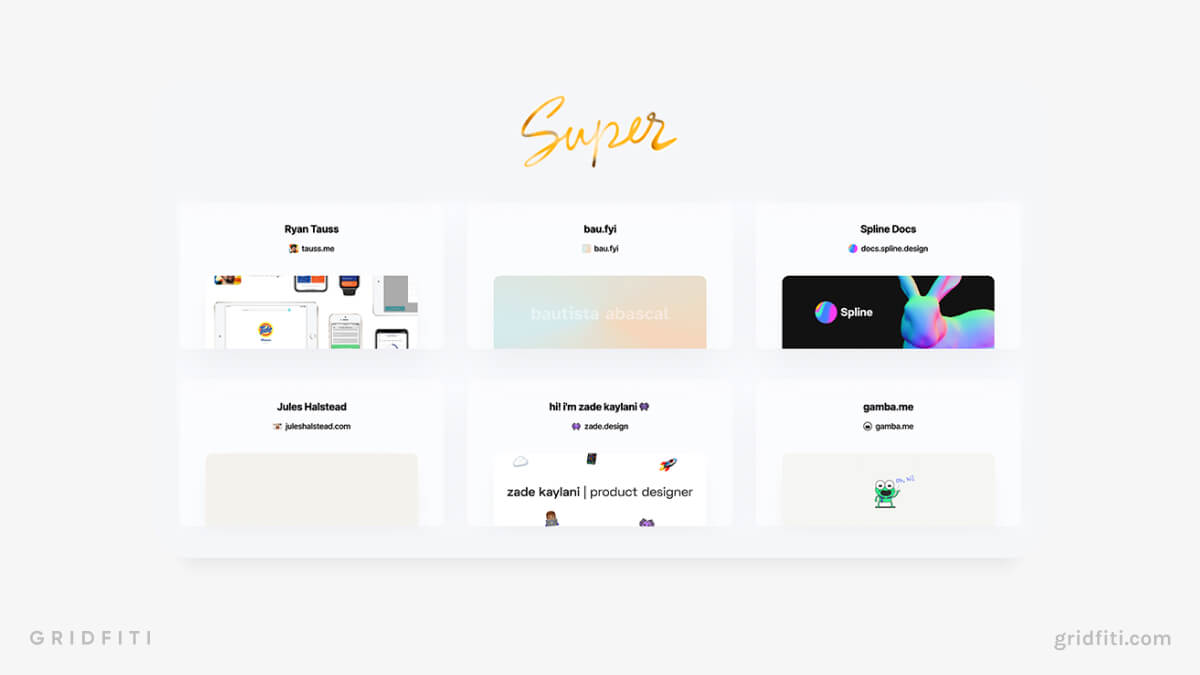 Potion – Custom Notion CMS Website
Create a custom website in minutes with Potion as your Notion website builder. If you're already using Notion for everything else in your life, Potion will be best suited for you — especially if you're looking to optimize your site for SEO and create a speedy website where you can customize everything from your domain and site styling!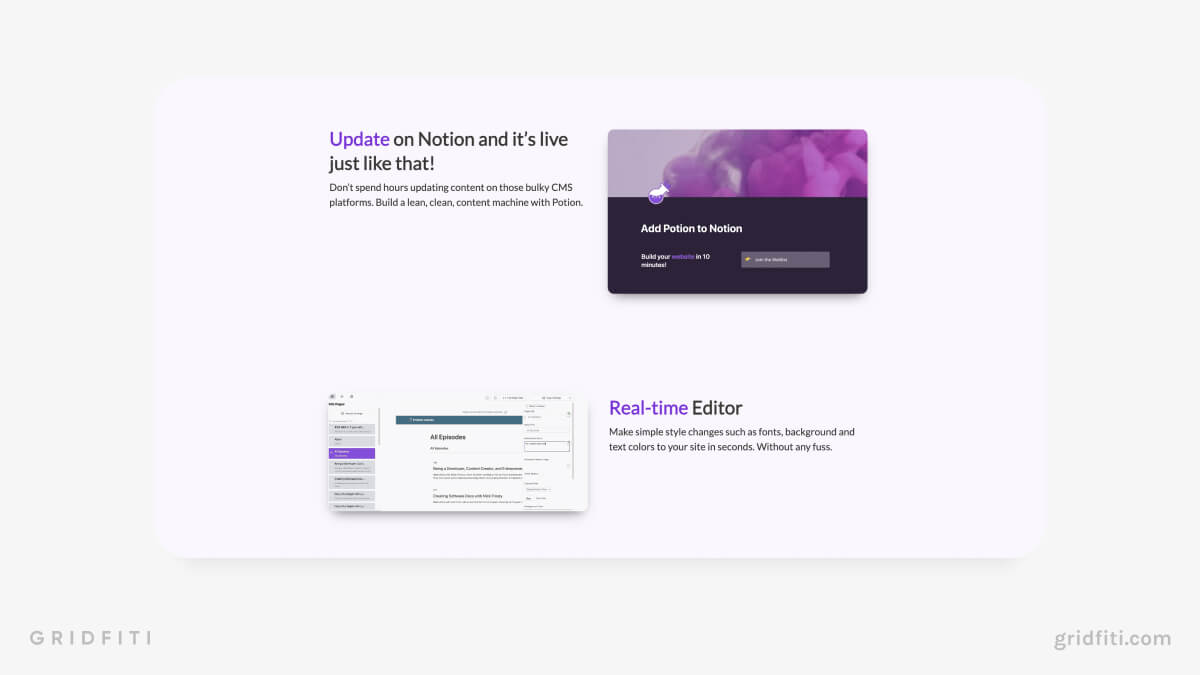 Popsy
No need to learn coding with Popsy. Notion's block-based platform lets you seamlessly add buttons, images, code blocks, and more without getting in over your head. Pick from various pre-made templates to get a jump start on building your ideal website. Use drop-downs, toggles, and sliders to further customize the font, colors, backgrounds, etc. directly from the sidebar.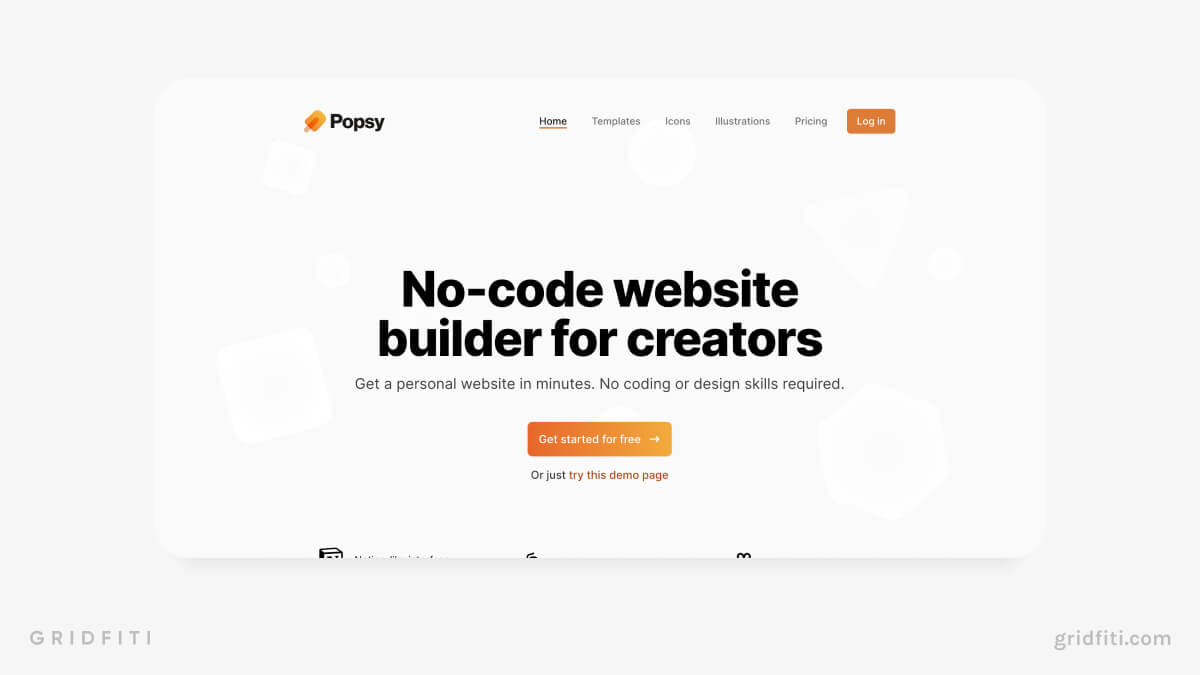 Simple.ink
Simple.ink lives up to its name — you can generate your own website with a custom domain in a minute flat. Paste your Notion page into Simple.ink, choose a domain name, and voila! Your webpage is live. Any changes you make to your Notion page will auto-update on your live site to save you any unnecessary editing.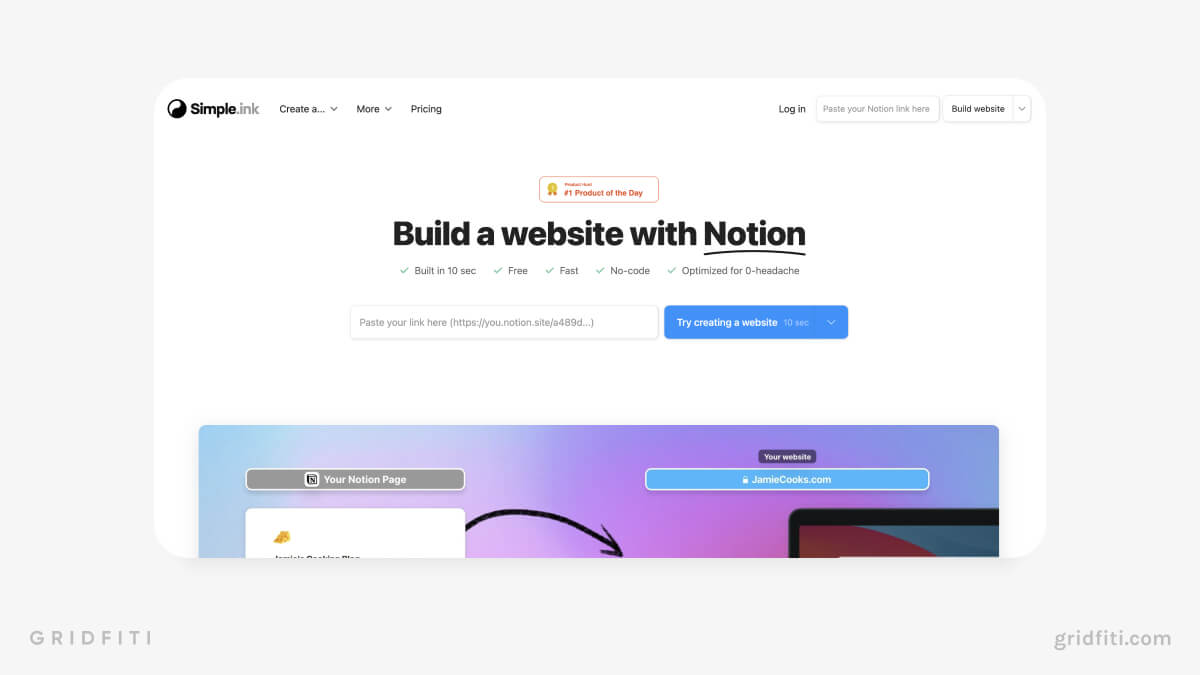 Fruition – Custom Notion Website
A free and open source toolkit to build a website with Notion. If you're looking to bootstrap your site, you can use Fruition to build your site and optimize it with pleasing URLs. It takes a bit more time to set-up, but it's completely free!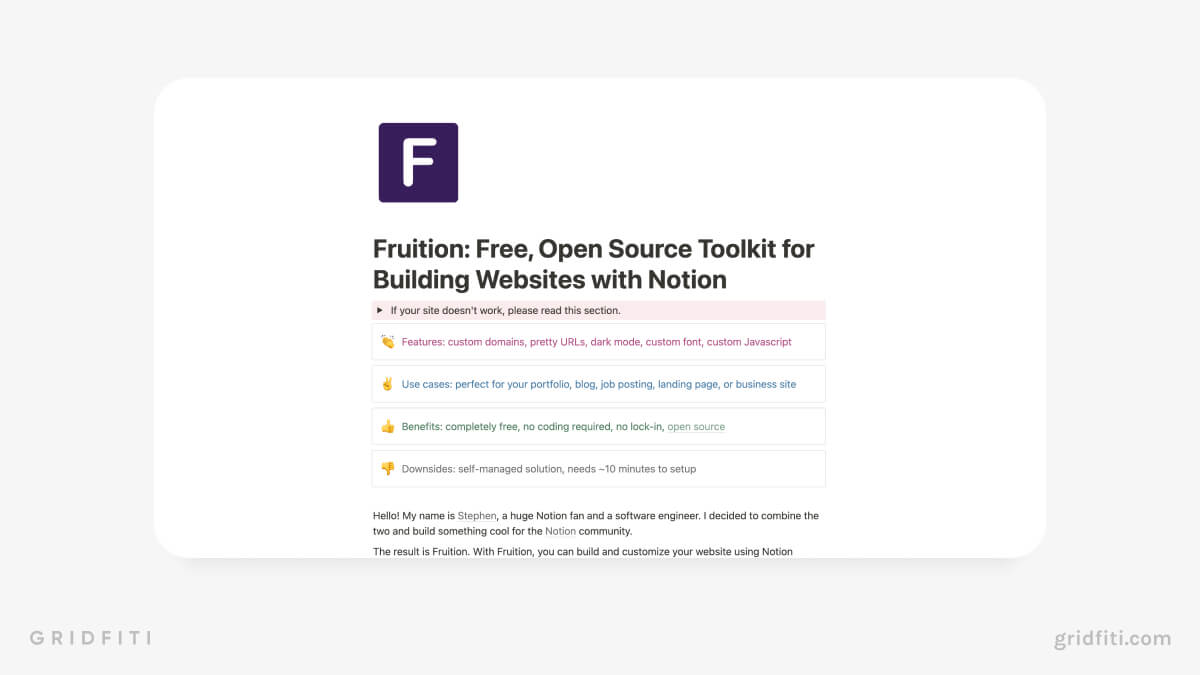 Examples of Notion Websites
You can use Notion to create almost any website you'd like – from a portfolio or personal website to showcase your work, all the way to a landing page or resource page to help guide your users. Here are some of the best Notion website examples that you can use as inspiration!
Notion Landing Page Website
Built with Super
For more options, check out our full round-up of the best Notion landing page templates!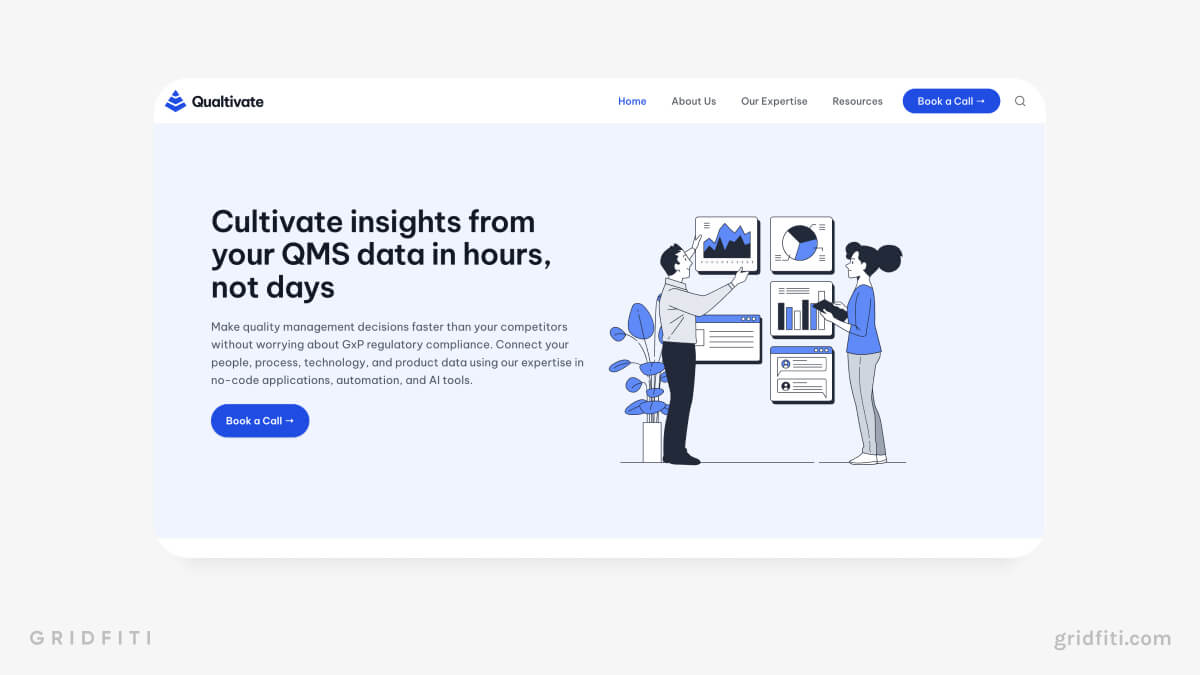 Notion Portfolio Website
Built with Super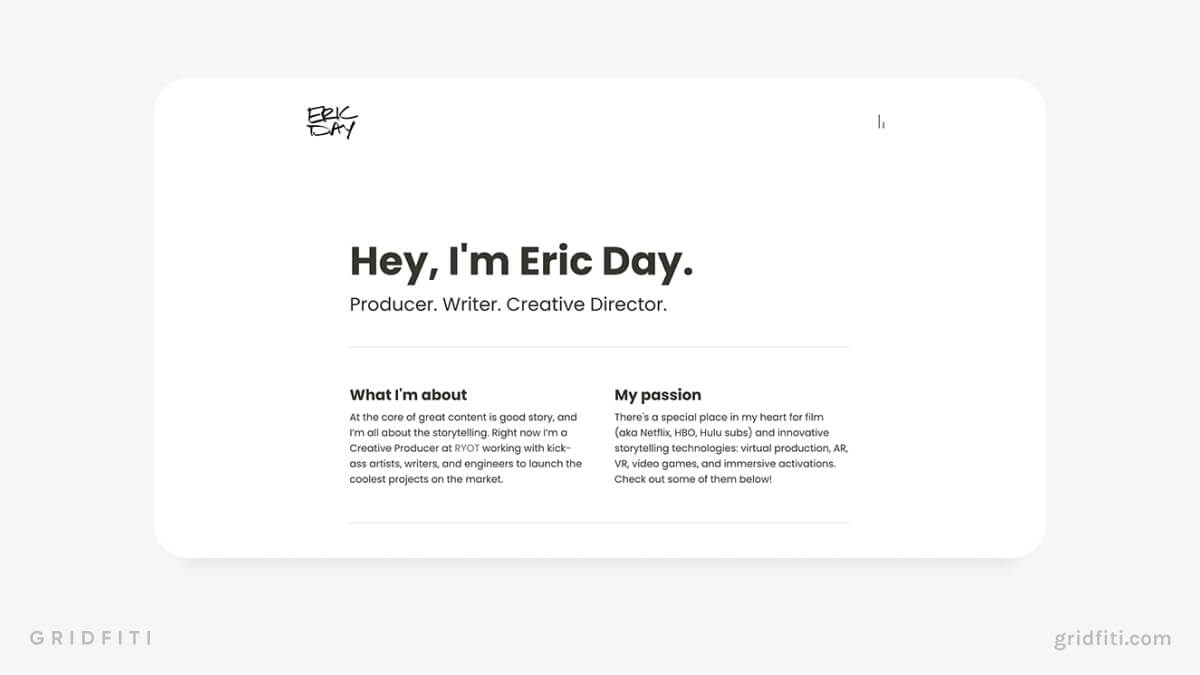 Notion Business & Product Website
If you're looking for more templates for your company, check out our full round up post of the best Notion business templates!
Built with Super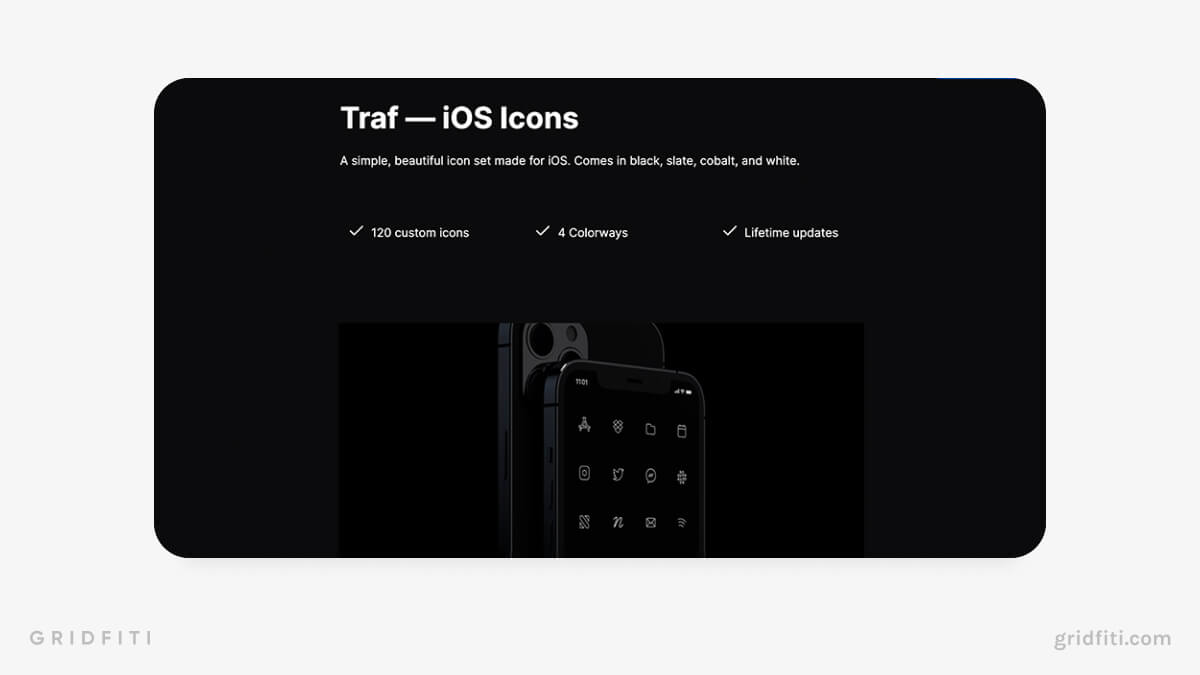 Notion Personal Website
Built with Fruition
Notion Documentation & Resources Page
Built with Super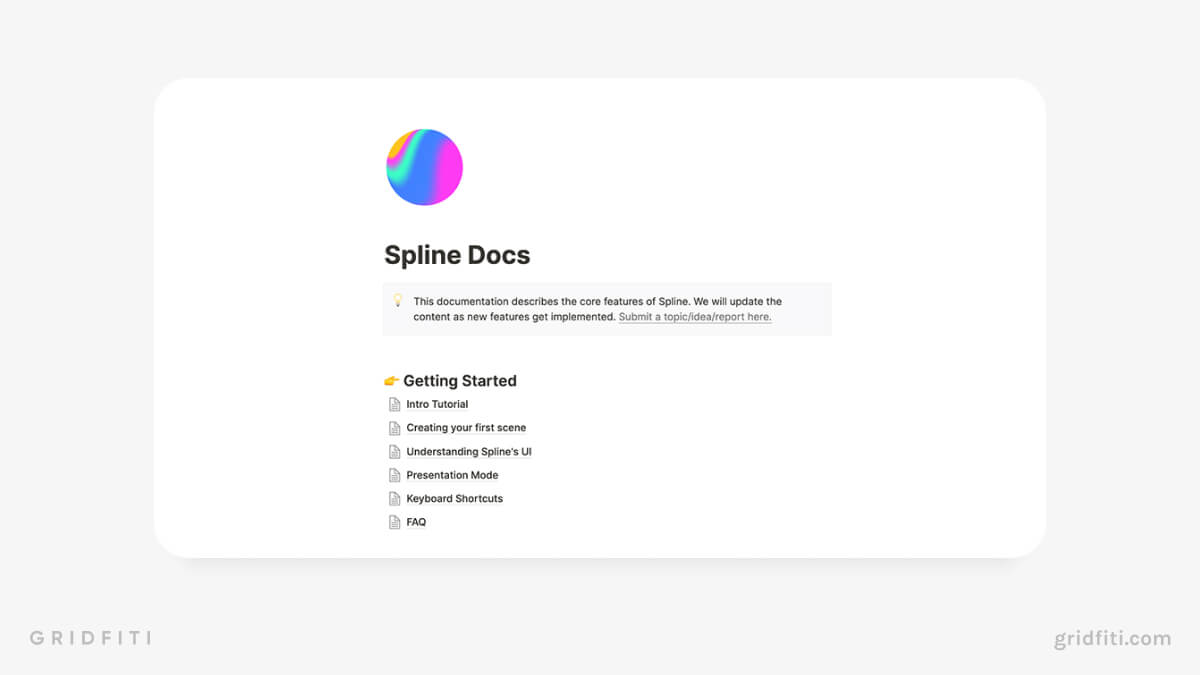 Notion Blogging Website
Built with Super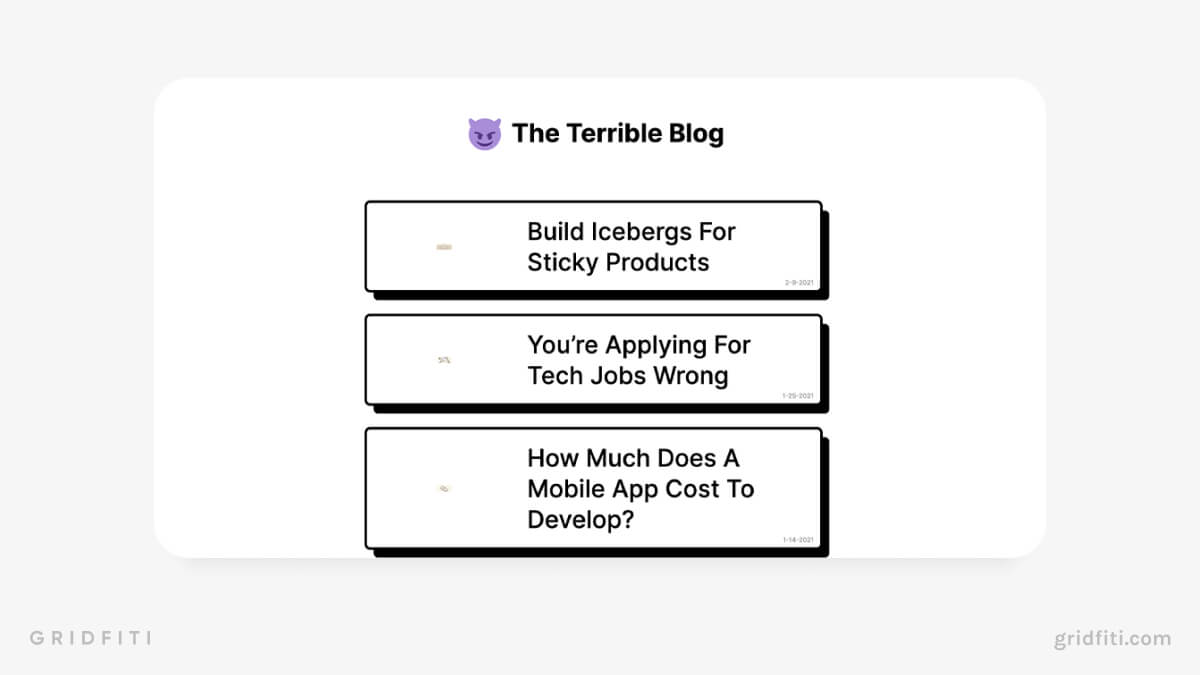 Notion Guide
Built with Fruition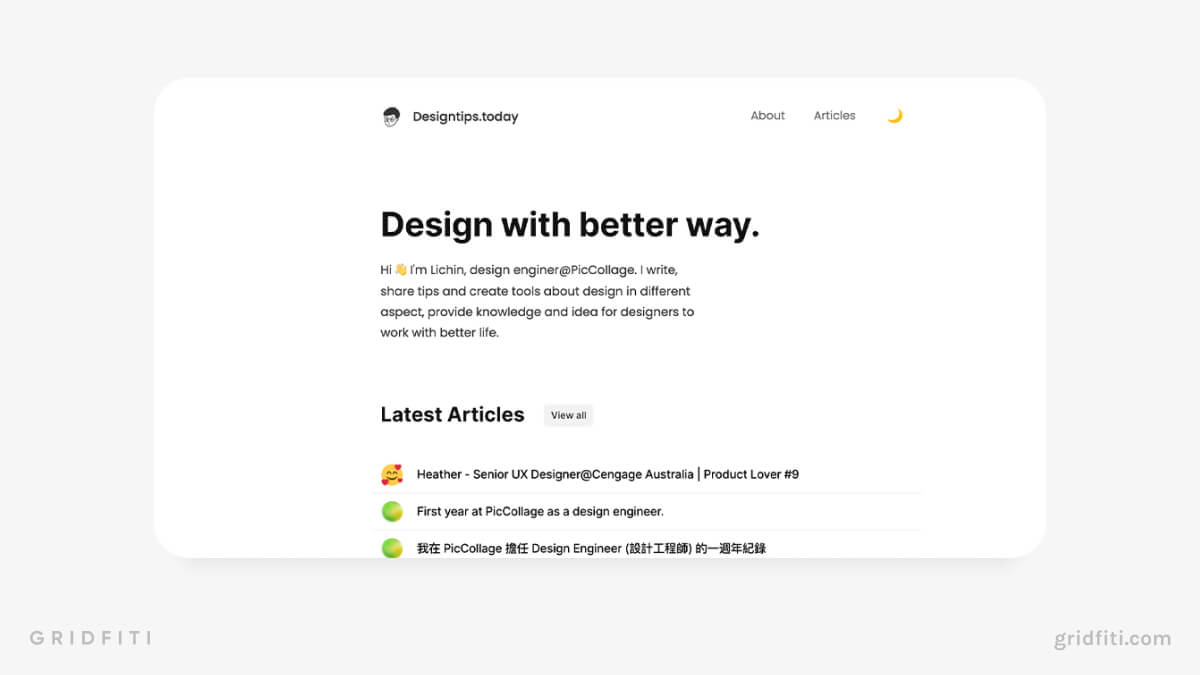 Notion Hiring Website Page
Built with Super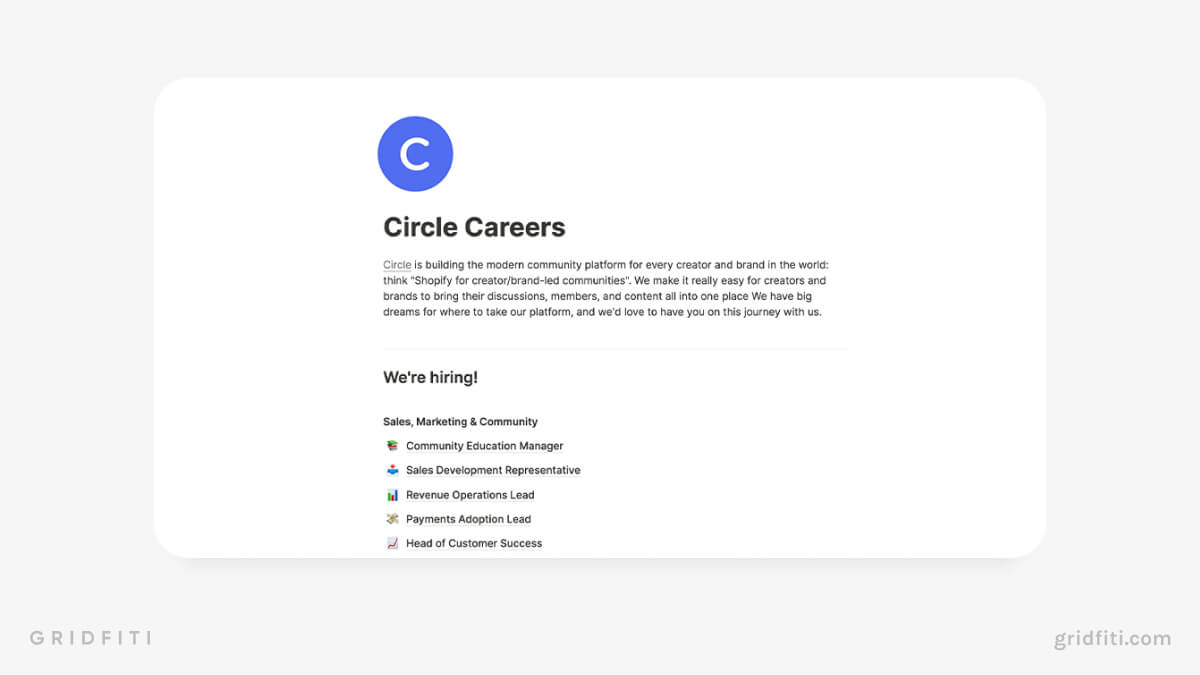 Have any other suggestions for great Notion website templates to use? Let us know down in the comments below!
Gridfiti is supported by its audience – when you buy something using the retail links in our posts, we may earn a small commission at no additional cost to you. Read more about our affiliate disclaimer.