In med school, there are so many topics, notes, resources, projects, and jobs to keep track of. The good news is, Notion offers a flexible, fully customizable workspace for you to store, track, organize, and manage everything in your academic life – and there are some great pre-built templates out there made just for med students.
We've gathered some of the best Notion medical school templates for you to start using, and make the most of your med school journey – let's check them out!
If you're on the hunt for more templates for your academic journey, we've got a full round-up of some of the best Notion templates for students!
Want more Notion tips, tricks, and templates? Join our Notion mailing list below:
Get the all-in-one Life OS template, the only Notion template you'll ever need — with over 25 integrated templates built in.
Student OS: All-in-One Notion Student Template
Looking for a one-stop shop for your studies? Student OS by yours truly houses over 15 pre-built templates in a centralized dashboard! With an assignment planner, automatic grades tracker, classes database and planner, digital notebook, study zone, jobs and internships tracker, and so much more, customize this template and make it the hub for your med school journey.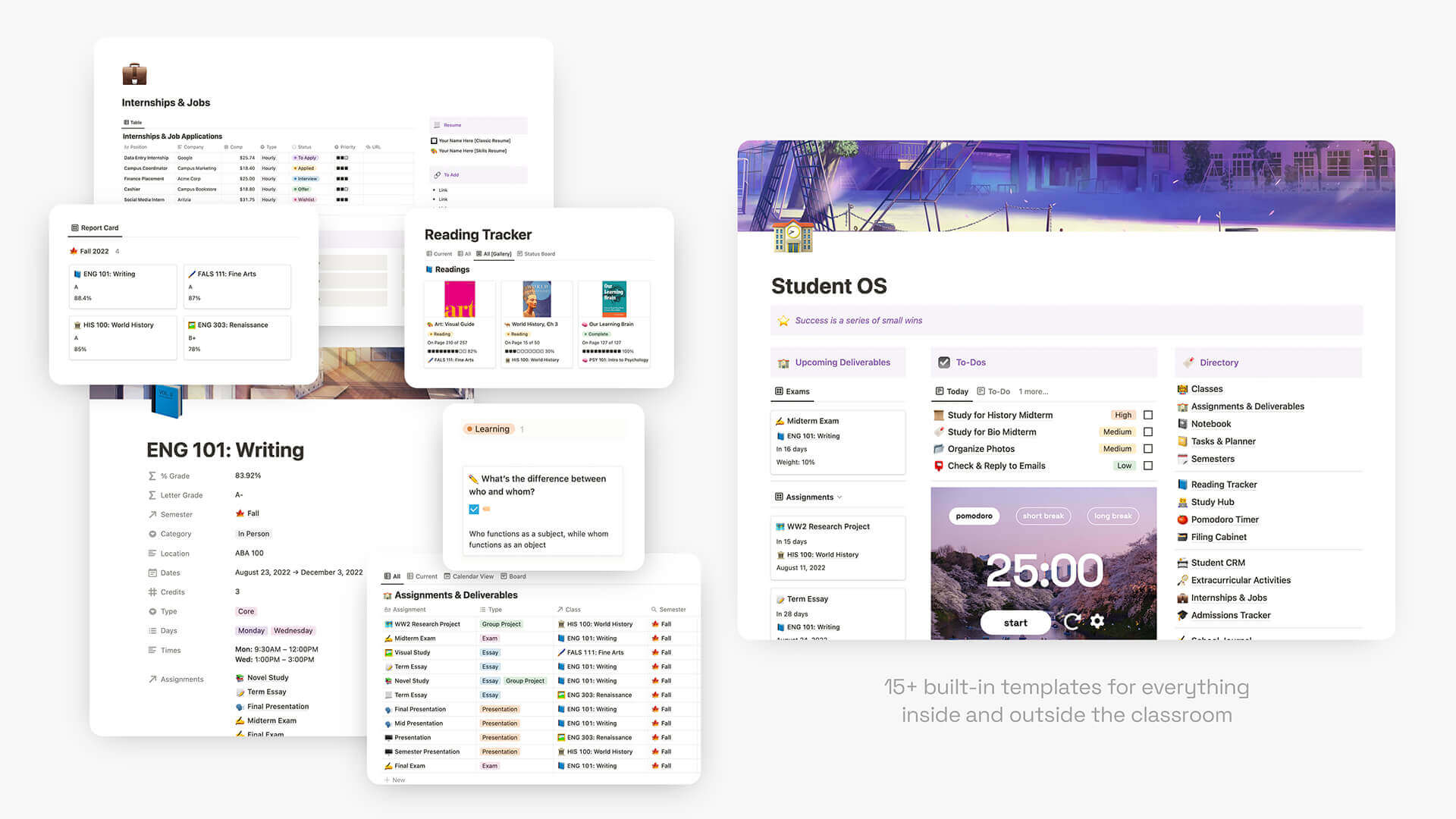 Simple Aesthetic Medical Student Template
With this simple medical school dashboard, track your placements, applications, and residencies, put together your CV, journal your wellness, and review your tasks all in one template!
Related Post: Best Notion Journal Templates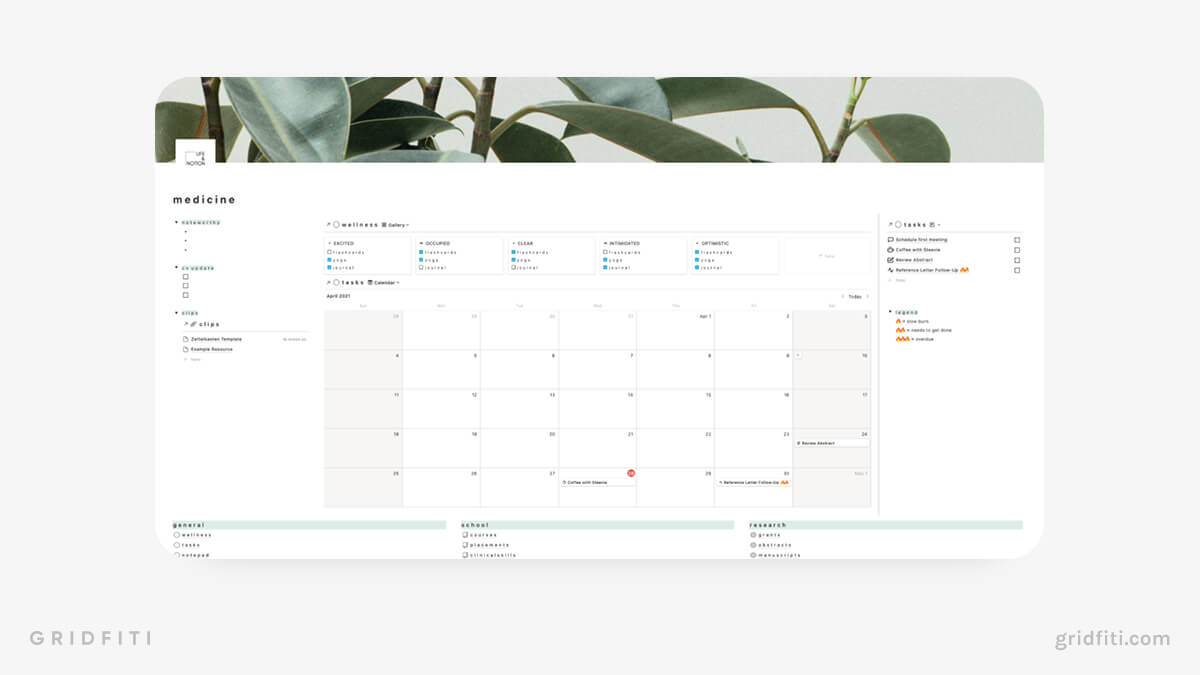 USMLE Step 1 Notion Dashboard Template
This medical school dashboard has a calendar and resources database to help you ace your USMLE! The calendar is customizable and includes all chapters of First Aid and several NBME self-tests to drag put together your study schedule. The resources database includes a checklist for study videos as well as their runtimes (and corresponding First Aid chapters).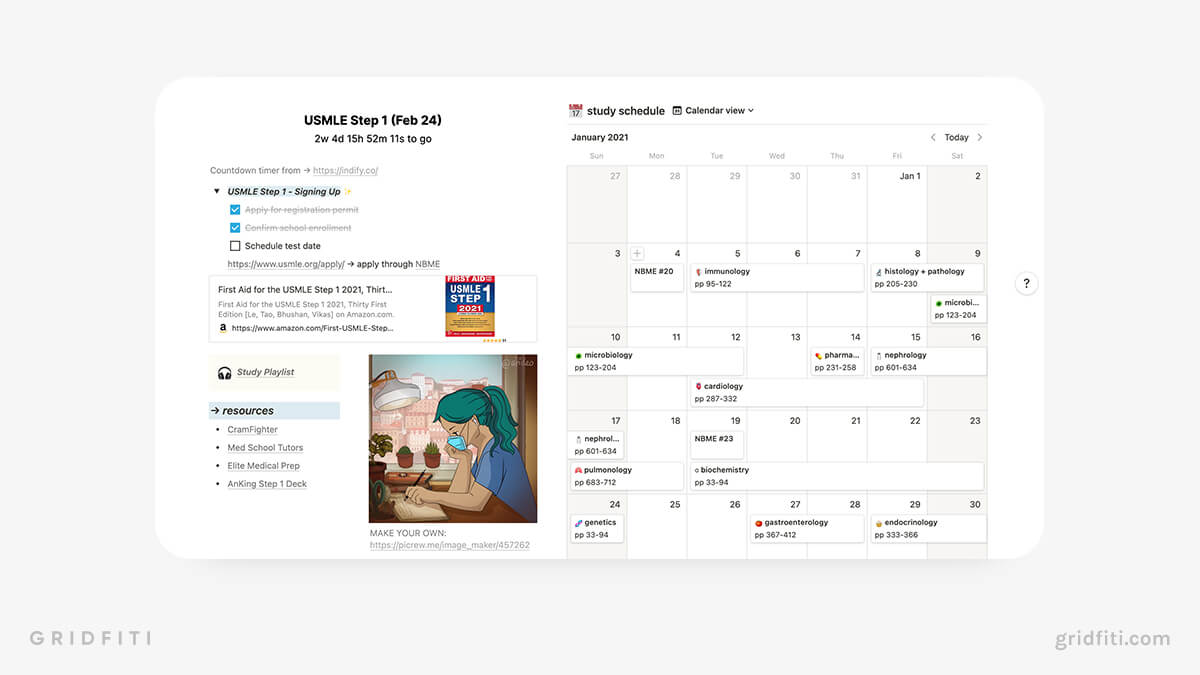 Medical School Dashboard Template
Created by former medical students, this template was designed to help you master the pace and volume of content you receive in med school! Create an efficient workflow, study content from lectures with active recall, create an interactive to-do list, schedule tasks, and more.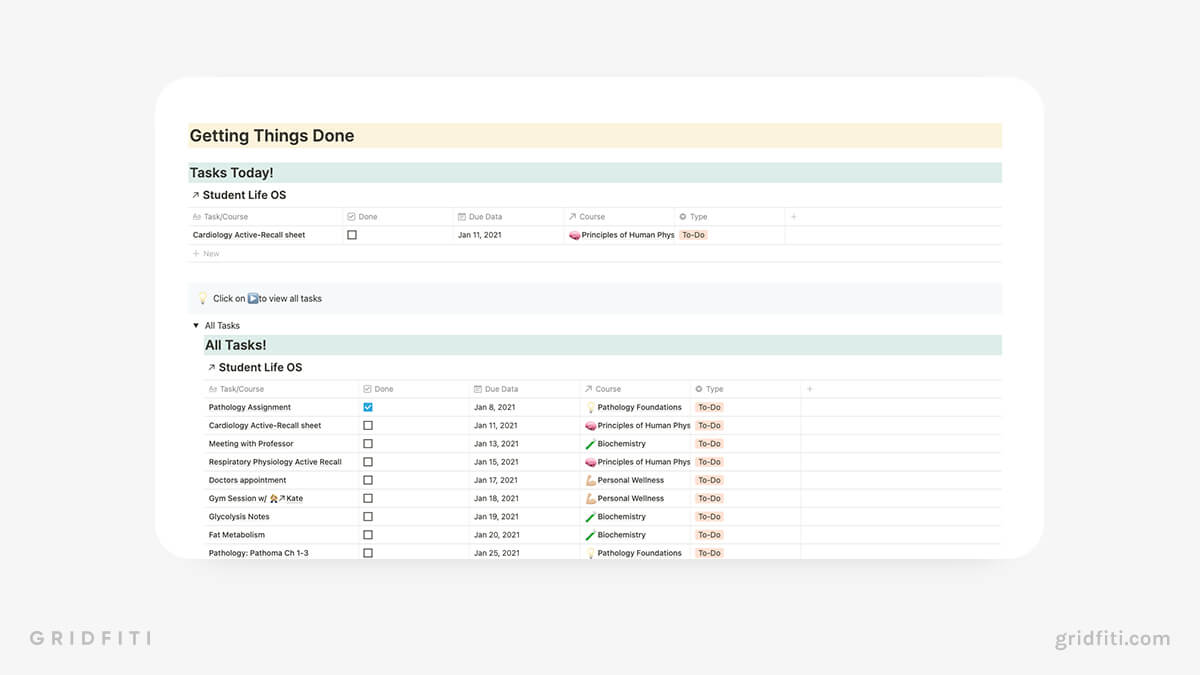 Notion Medical & Surgical Study Template
The Medical Study Template was put together by a surgical registrar after years of trial and error in the field, to help you grow from medical student to medical professional! Based on space repetition and active recall principles, the template's flexible database is a home for you to revise and master all of your topic notes.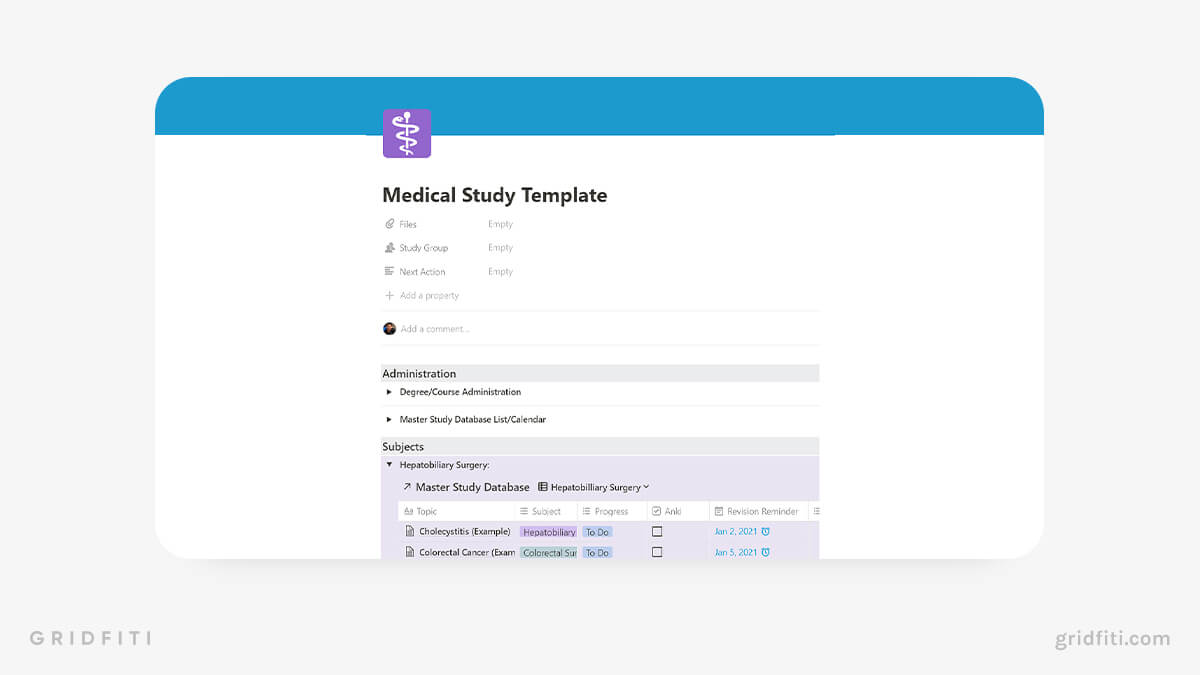 Aesthetic Medical School Notes Dashboard
Having trouble keeping track of all your resources, notes, and projects in med school? This aesthetically pleasing dashboard has two main components: a rotation database with blocks for standard divisions of clinical rotations (with room for important dates and contact info) and a centralized notebooks database for several different disciplines in medicine!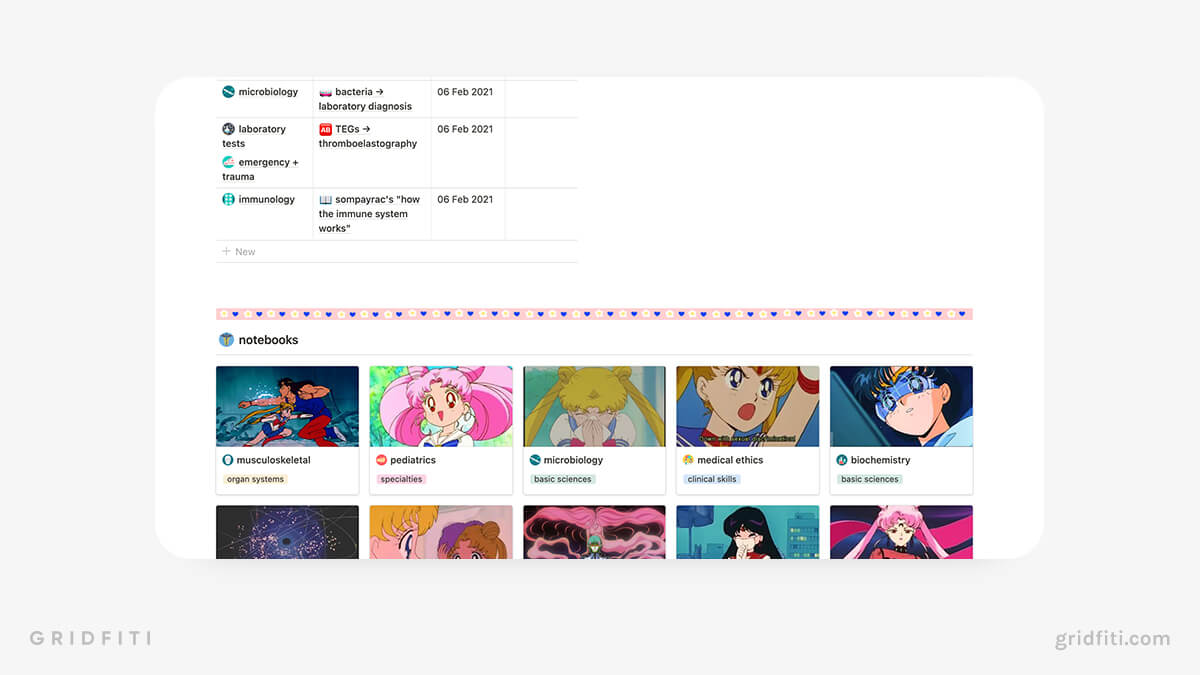 Simple Medical School Template with Active Recall & Spaced Repetition
With this simple template, create a syllabus table for several subjects, build a study schedule in calendar video, and review all your topics using spaced repetition and active recall methods!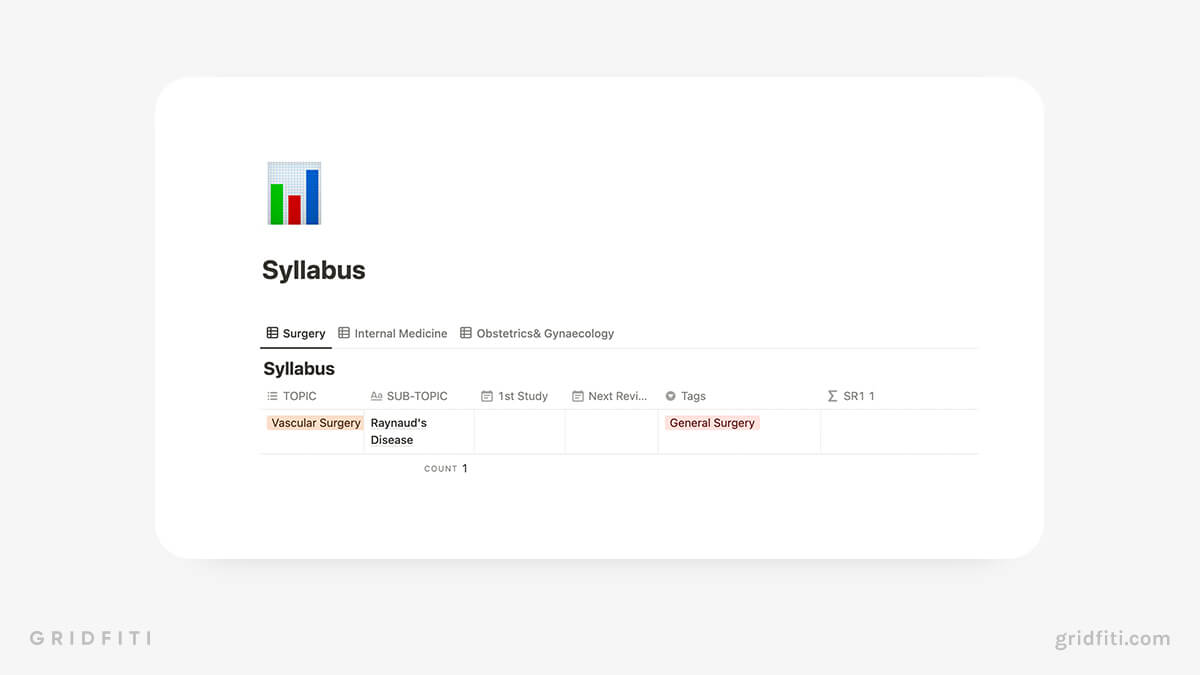 Simple Medical School Study Planner
Building off of a master tasks database, review your med school topics, takeaways, and questions along with supported learning materials.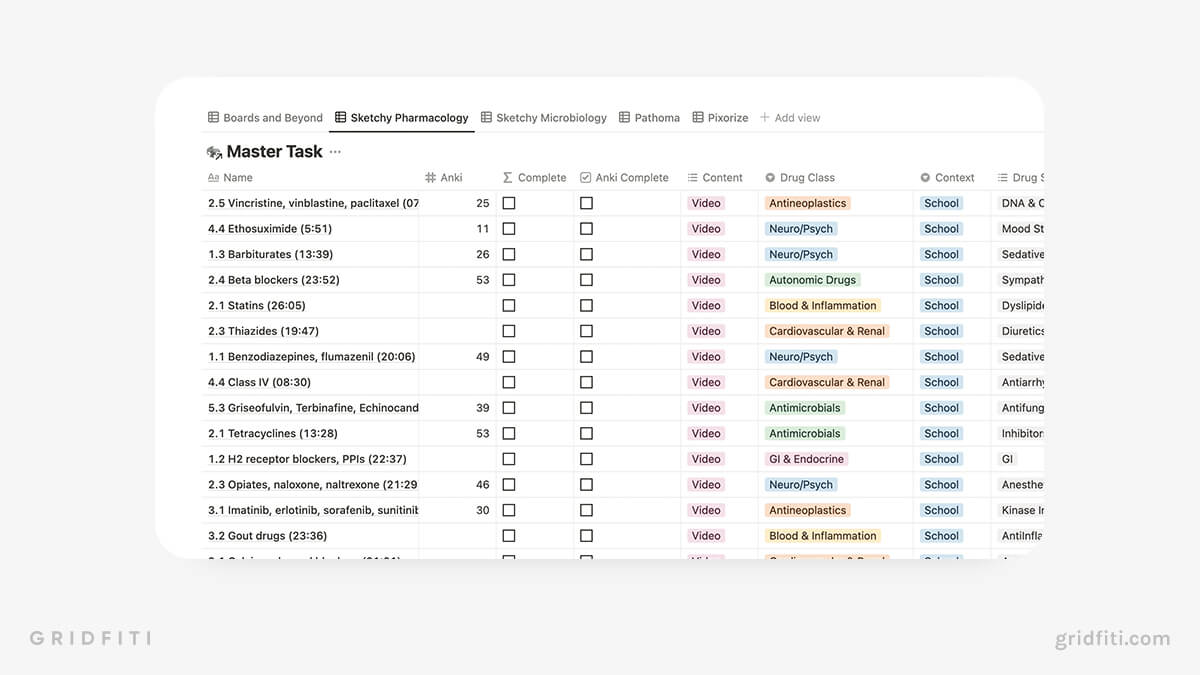 Which Notion medical school template do you think you'll use for your studies? Any other Notion templates for med students to recommend? Let us know in the comments below!
Gridfiti is supported by its audience – when you buy something using the retail links in our posts, we may earn a small commission at no additional cost to you. Read more about our affiliate disclaimer.