Anyone who works in HR knows there are many so hats to wear. From recruiting, to hiring, onboarding, training, and managing, Notion is a great platform to organize and streamline all these functions in one place.
From job application trackers, to employee databases, and everything in between, we've gathered some of the best Notion HR templates for you to use solo or with your team!
Helping with a job search? We've published round-ups recommending Notion resume templates & Notion job search templates!
---
Looking for more productivity tips and tools? Subscribe to The Flow — our quick, snappy, value-packed focus and recharge newsletter. Also, don't miss our several other Notion template round-ups and guides!
---
Continuous Performance Management System Template
This template provides an all-in-one system for organizing and monitoring your employees to set them up for success! Designed to be a replacement for premium software (which come with hefty monthly fees), this system will help identify surface issues before they become deeper issues, bring your team together, and collect employee feedback on what's going well and what could be improved. Additionally, centralize HR to-dos, your company directory, weekly updates, follow-ups, and lots more.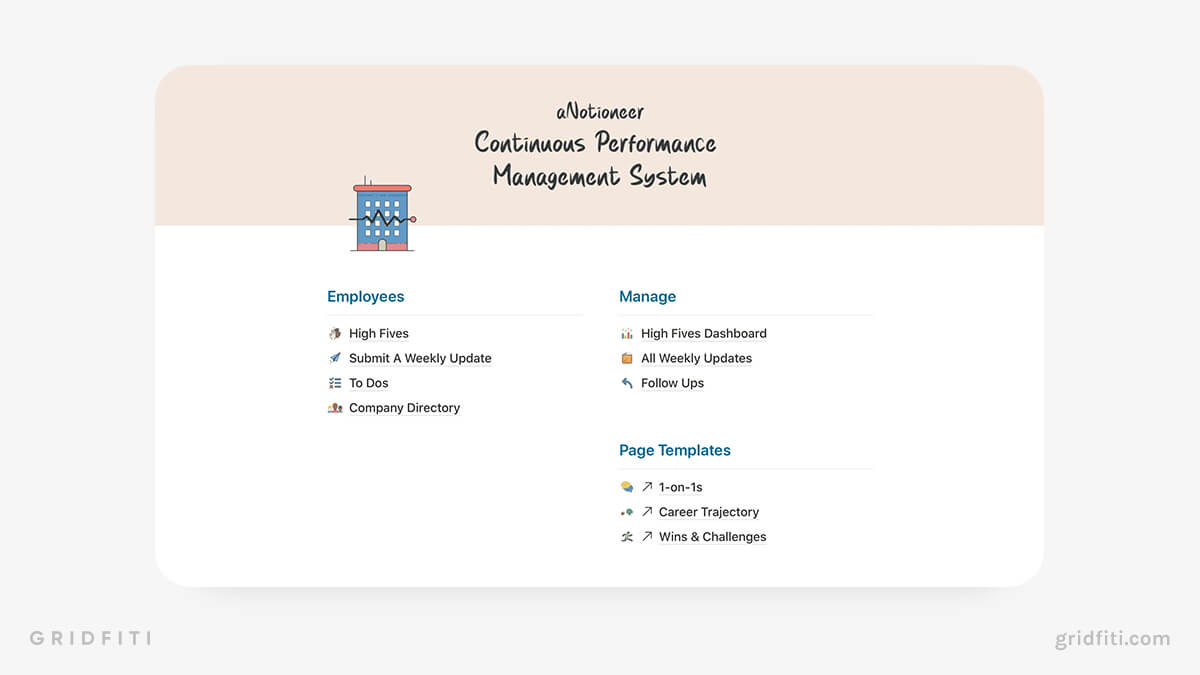 Hiring OS
Based on state of the art hiring methods, Hiring OS is an all-encompassing hiring template for HR professionals to recruit great talent. On the candidate side, the template offers a beautiful job board, allowing them to apply right within the job description. On the company side, monitor all openings, create candidate profiles, manage all stages of the interview with in-depth notes and tags in the database, and so much more. This template essentially replaces Workable, Trello, and any other (very pricey) applicant track system – no subscription required!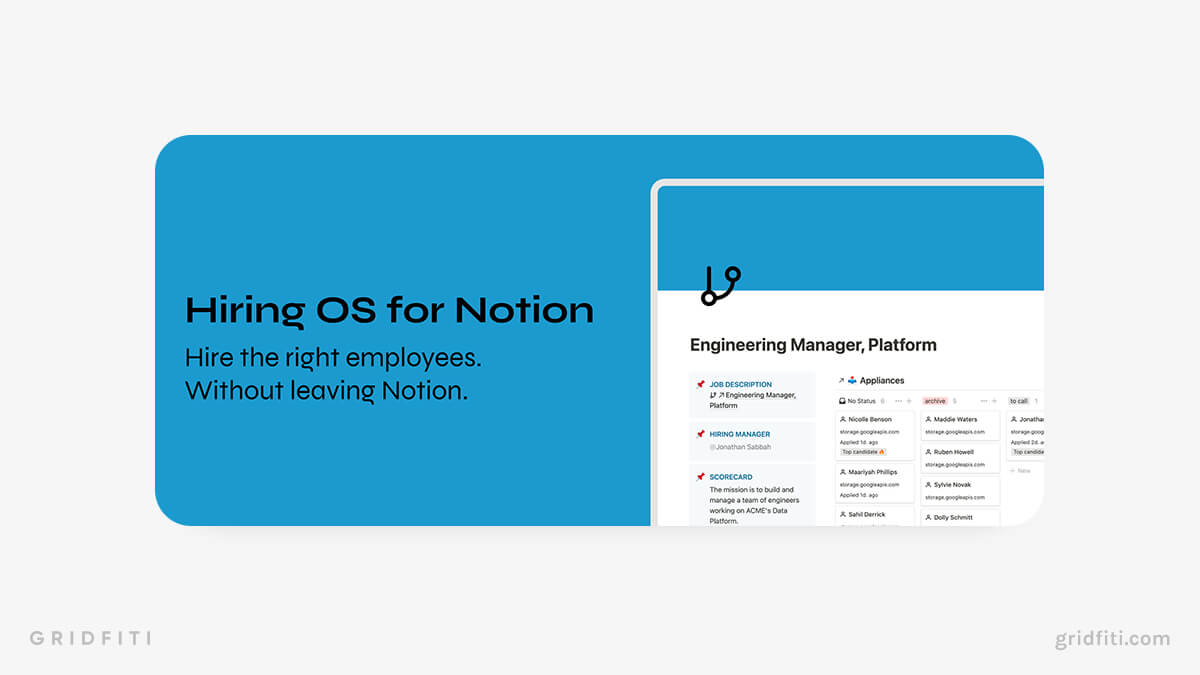 Notion HR Template Bundle
The Notion HR Template Bundle is the perfect starter pack for any HR team looking to get set up in Notion. The bundle is jam-packed with over 20 templates, including an applicant tracker, job interview question bank, employee information database, HR project planner, new hire checklist, employee training page, and so much more!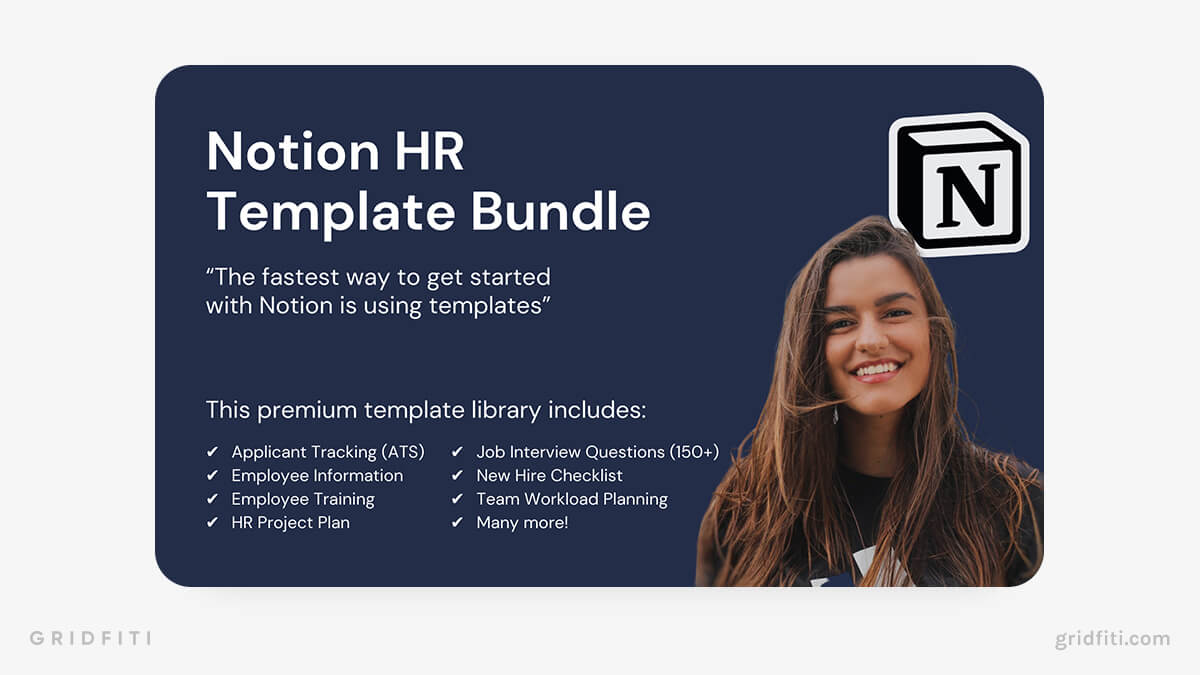 Notion Employee Onboarding Dashboard & Checklist
Onboarding can be tricky, especially in remote environments; however, it's a key step to make employees feel prepared, and like they're a part of the team. Created from experience, this template is designed to create a tiered schedule for newcomers to break up the onboarding process into smaller chunks – with onboarding tasks for the first day, first week, or first month. With this template, organize these tasks in the board, keep track of progress, and tick all the boxes with a pre-onboarding checklist!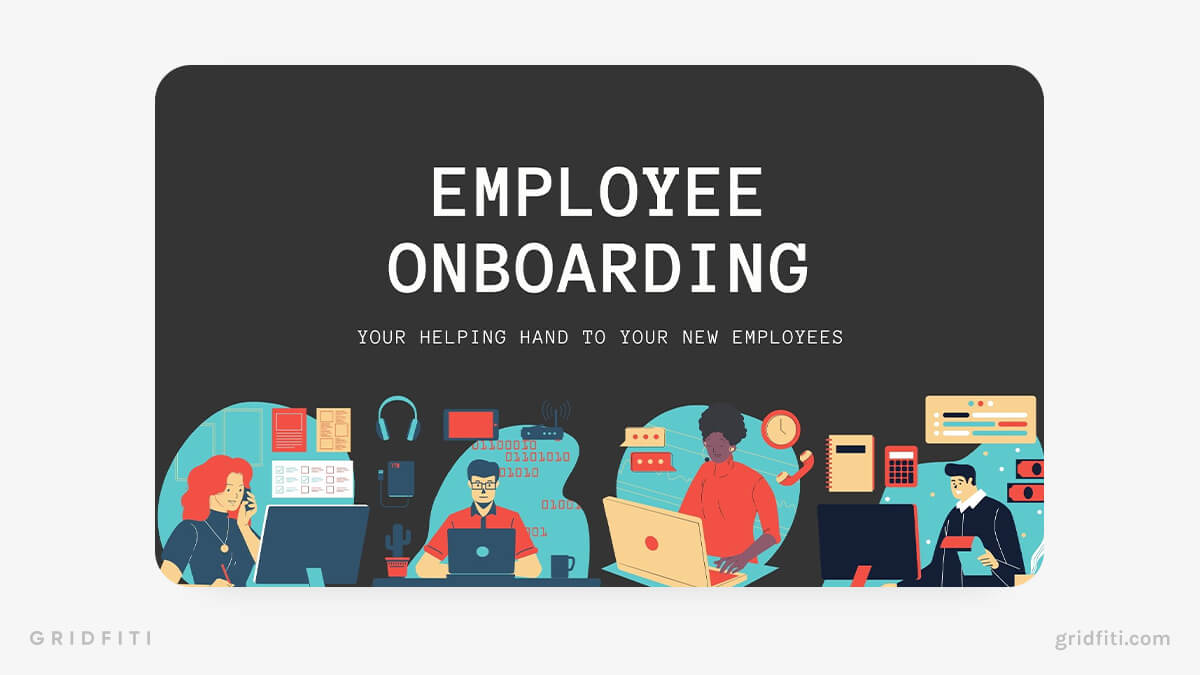 Simply HR – All-in-One Human Resource Management System
Simply HR is an HR workspace created to simplify the complexities of HR! It's a slick, minimalist template, and includes a full HR workspace with a company directory, employee handbook, hiring manager, payroll manager, expense manager, along with HR resources, an employee-facing board, and so much more.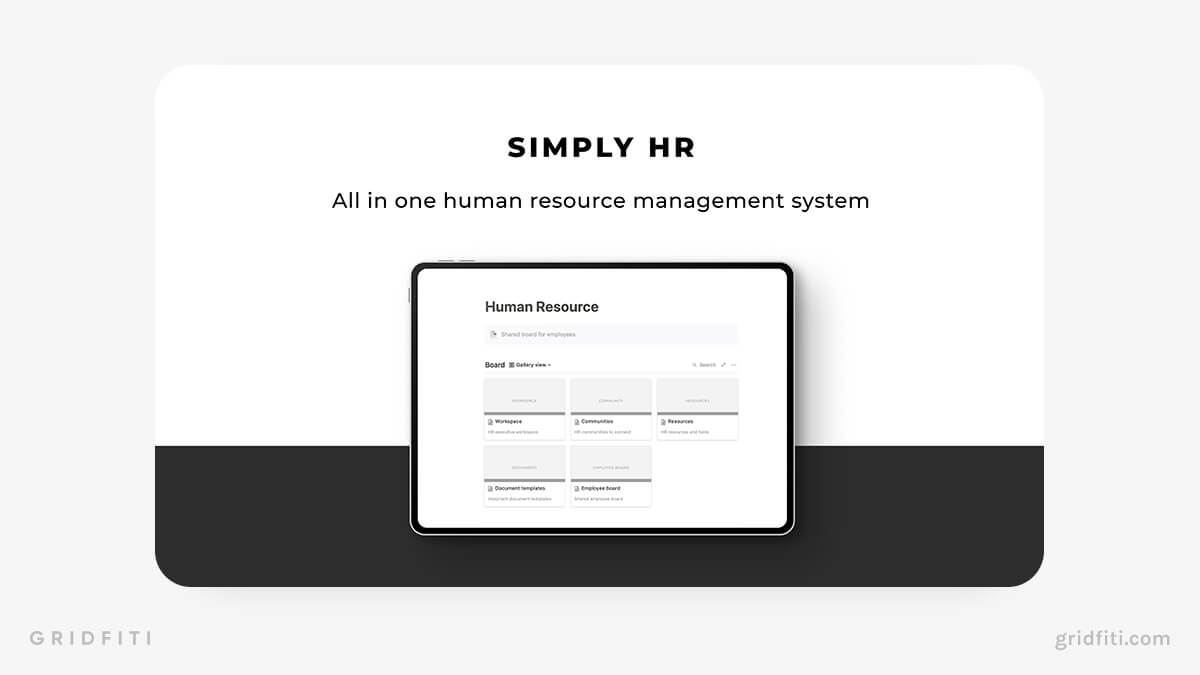 Notion Applicant Tracking System Template
With this template, create your very own custom recruitment system right in Notion! Built by a certified software trainer, the ATS template includes 5 customizable databases housed in a single dashboard – saving you dozens of hours attempting to build your own ATS.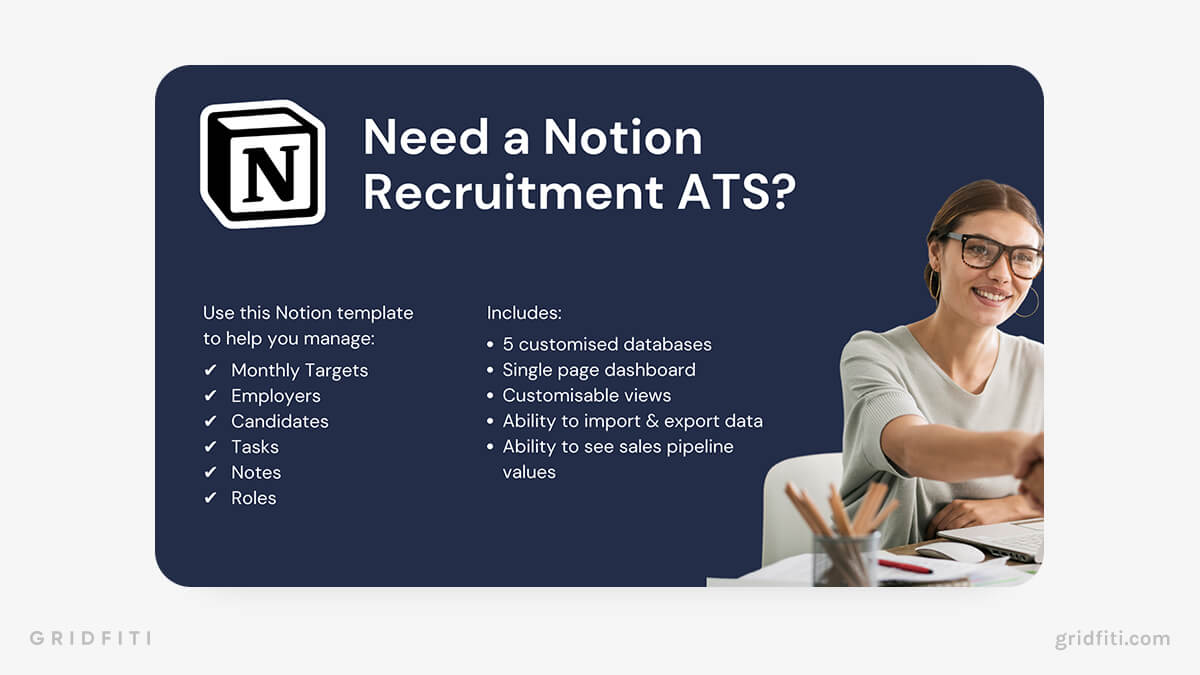 Employee Onboarding OS
Centralize and optimize your employee onboarding system in a single dashboard! Featuring 30+ modules, a customizable dashboard, templates for 1:1s and meeting notes, an onboarding process checklist, wiki, and so much more, get it all under one roof with Employee Onboarding OS.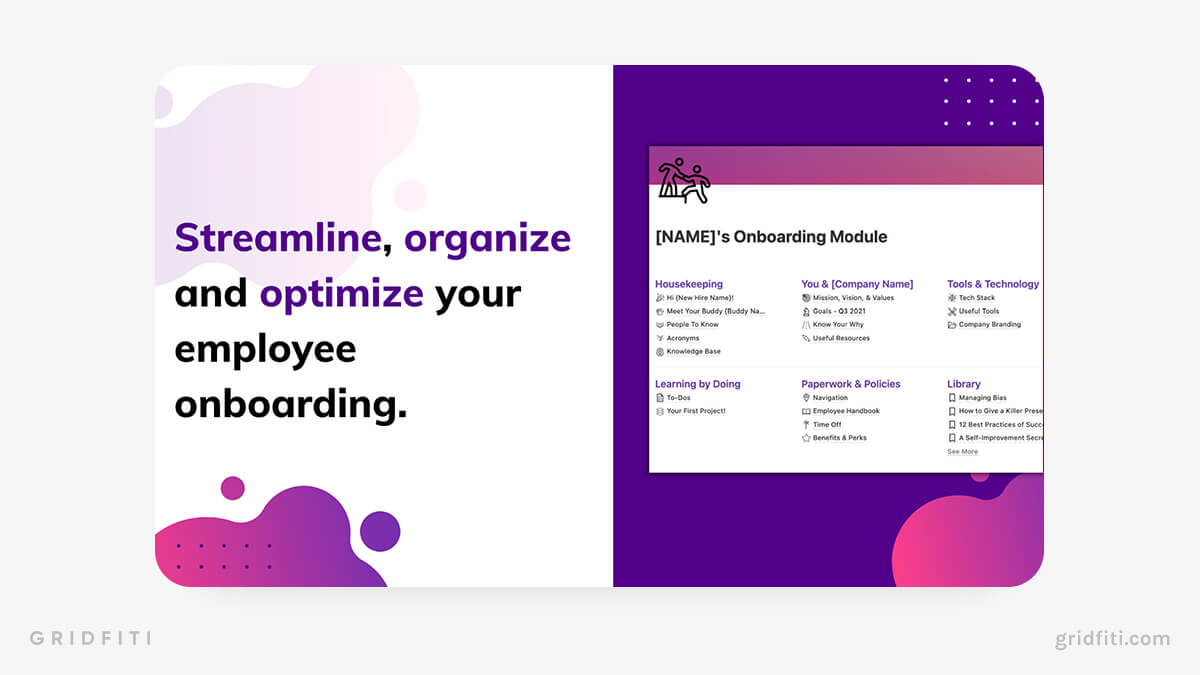 Notion Recruitment CRM Template
When recruiting, there are so many people to track and manage. With Notion Recruitment CRM, store candidate contact information, track statuses in the job application process, set future contact dates, tag contacts by roles, and link associated tasks all in one spot.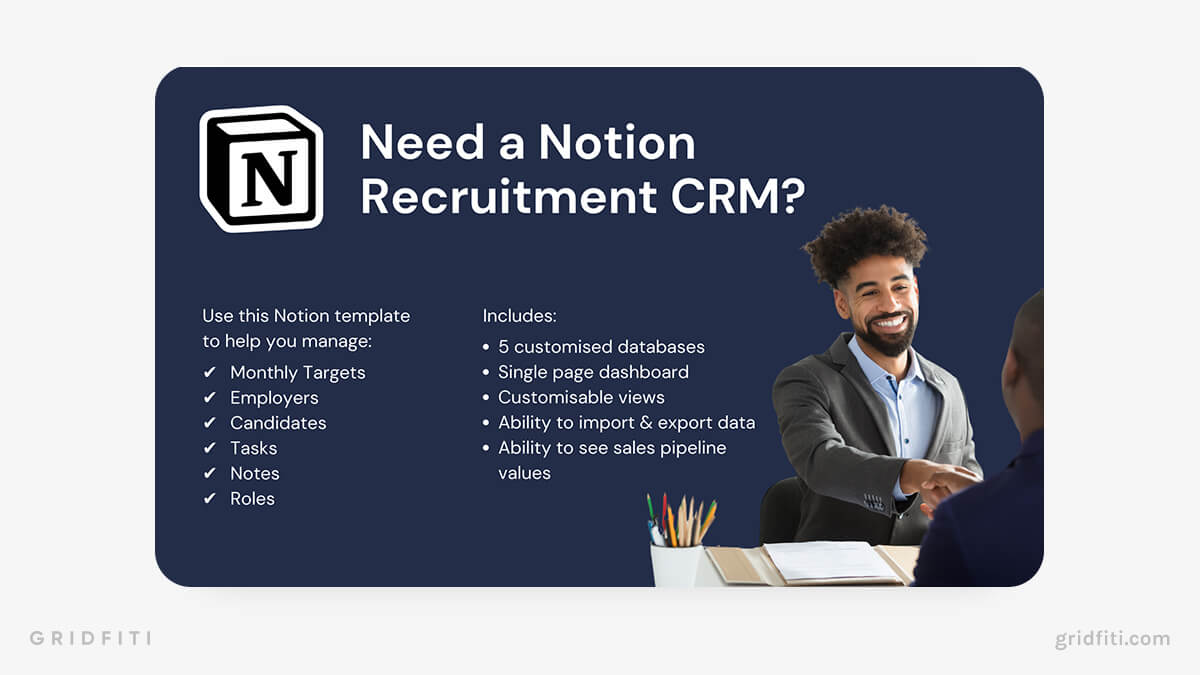 Notion Job Description Template
Store all your job descriptions right in Notion with this template! For each job description, create and store detailed summaries tasks, responsibilities, and qualifications for the role.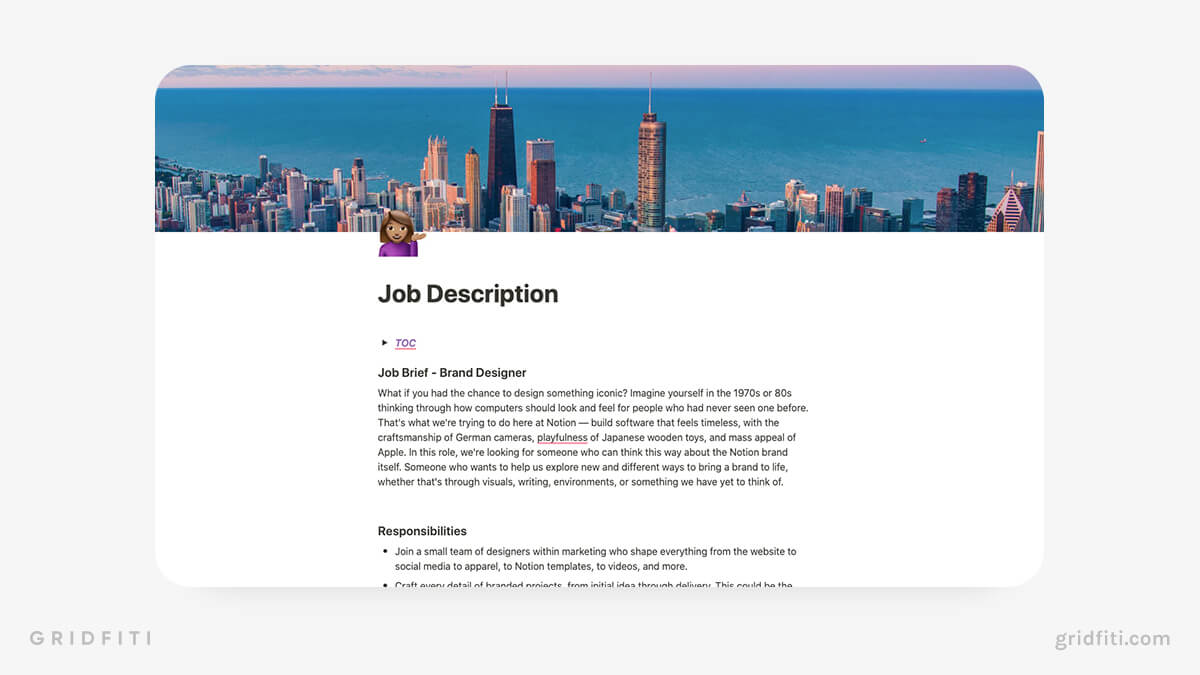 Notion Performance Review Template
Whether you conduct your performance reviews annually or biannually, organize all your performance reviews in a central database with this template! Track your reviews per employee, days since past reviews, past and current employee goals, and scores by various criteria.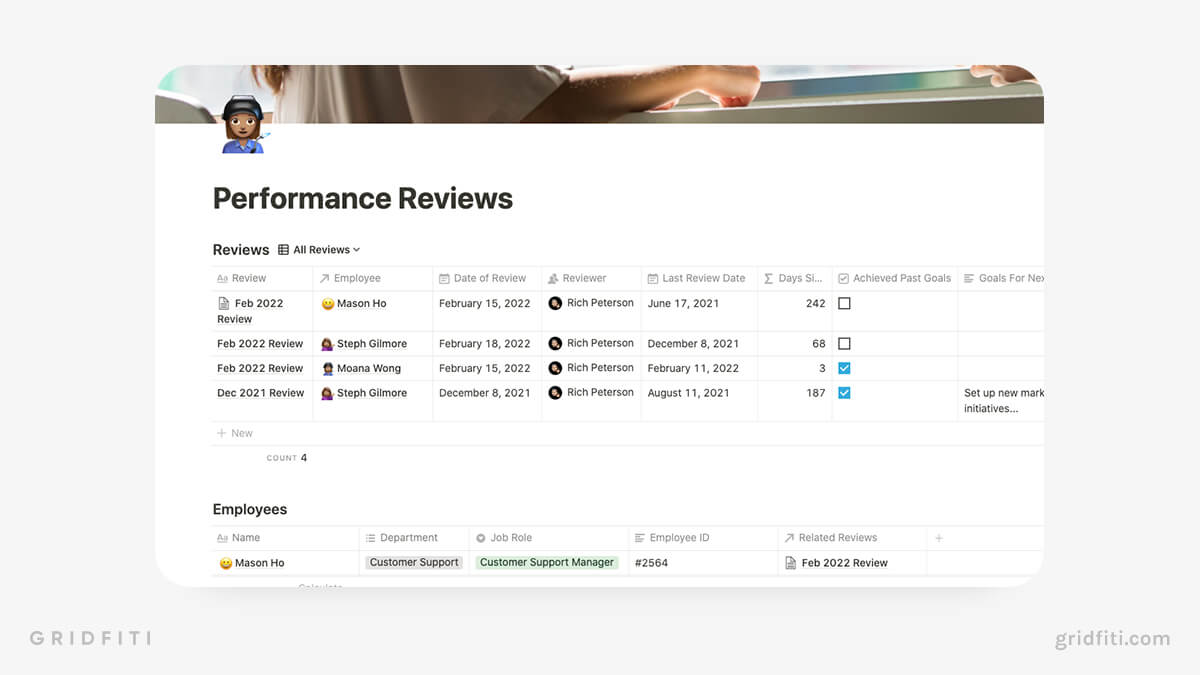 Notion Employee Training Management Template
Set your team up for success by streamlining your employee training programs and schedule. With two central databases, Training and Staff, track your programs by department, role, status, staff to attend, dates, relevant resources, notes, and more!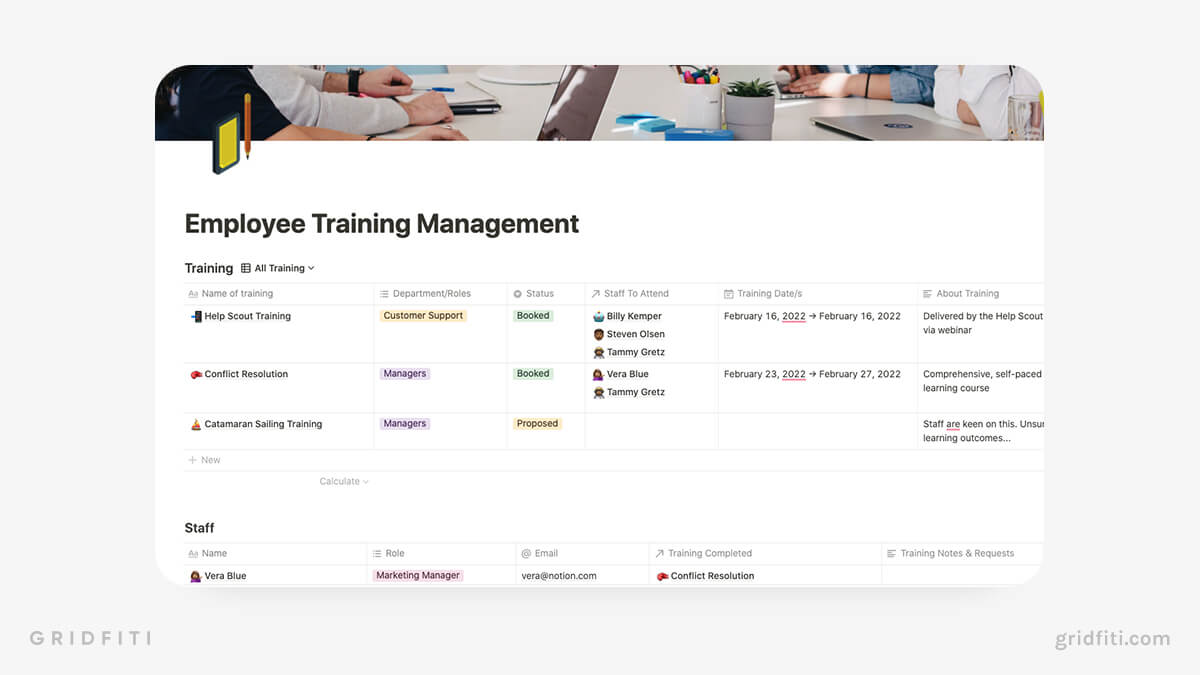 Notion Job Interview Database Template
Organize your several interviews all in a single database. Track each candidate and their role, the interview date, who conducted the interview, and ultimately – the questions you asked them and how they responded!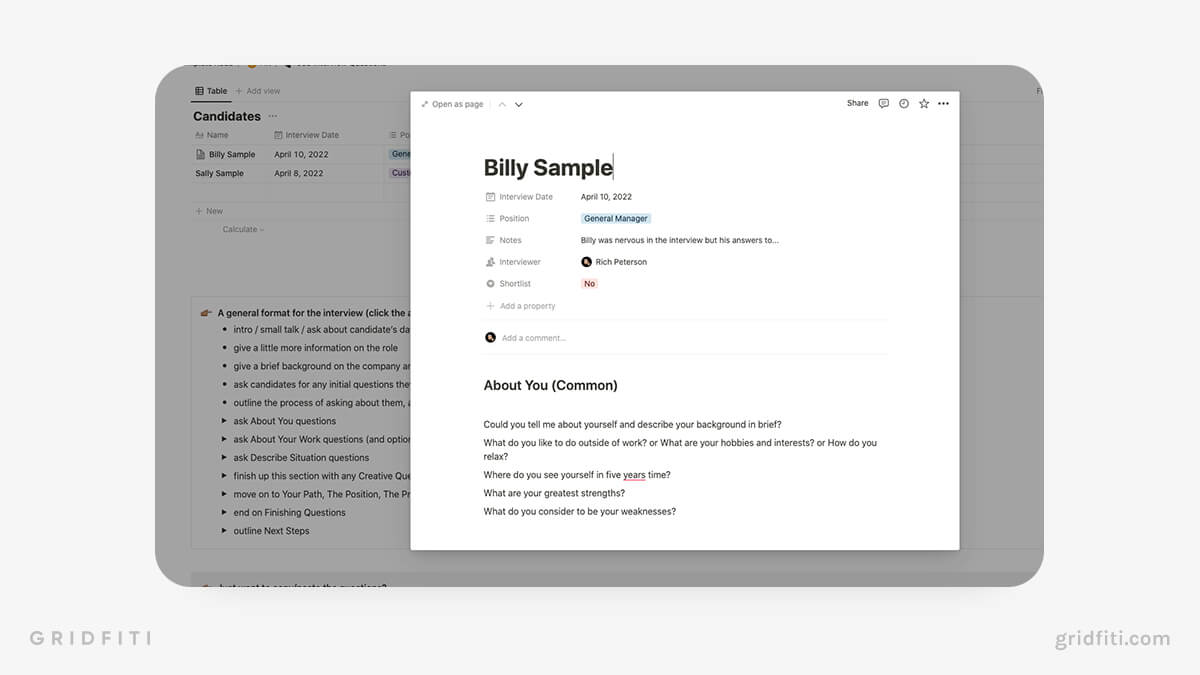 Notion New Hire & Manager Checklist Template
The time between hiring a new employee and them starting can go by quick. Skip the scrambling before their arrival and standardize your onboarding process with this customizable manager's checklist template with action items and high priority tasks!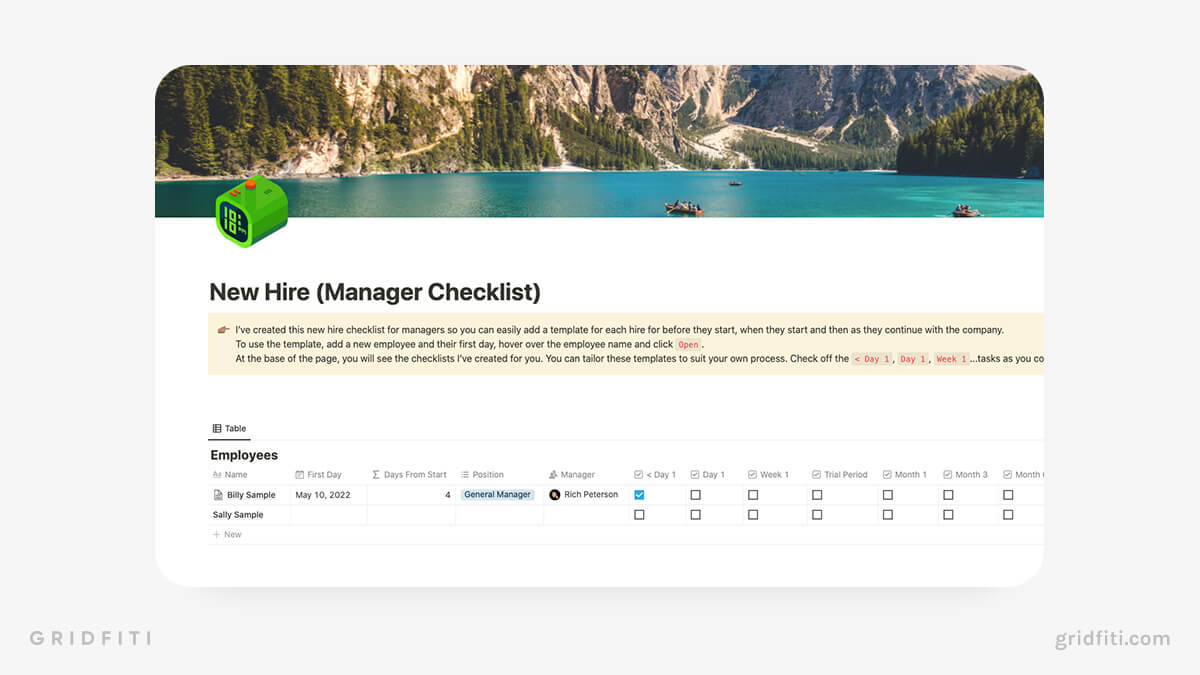 Notion Interview Questions & Evaluation Template
Get to know your prospective employees and track all of your interactions with this interview template! Log information about the candidate, the questions you asked them (with sample questions provided), the stage of the recruitment process they're at, ratings, notes, and more!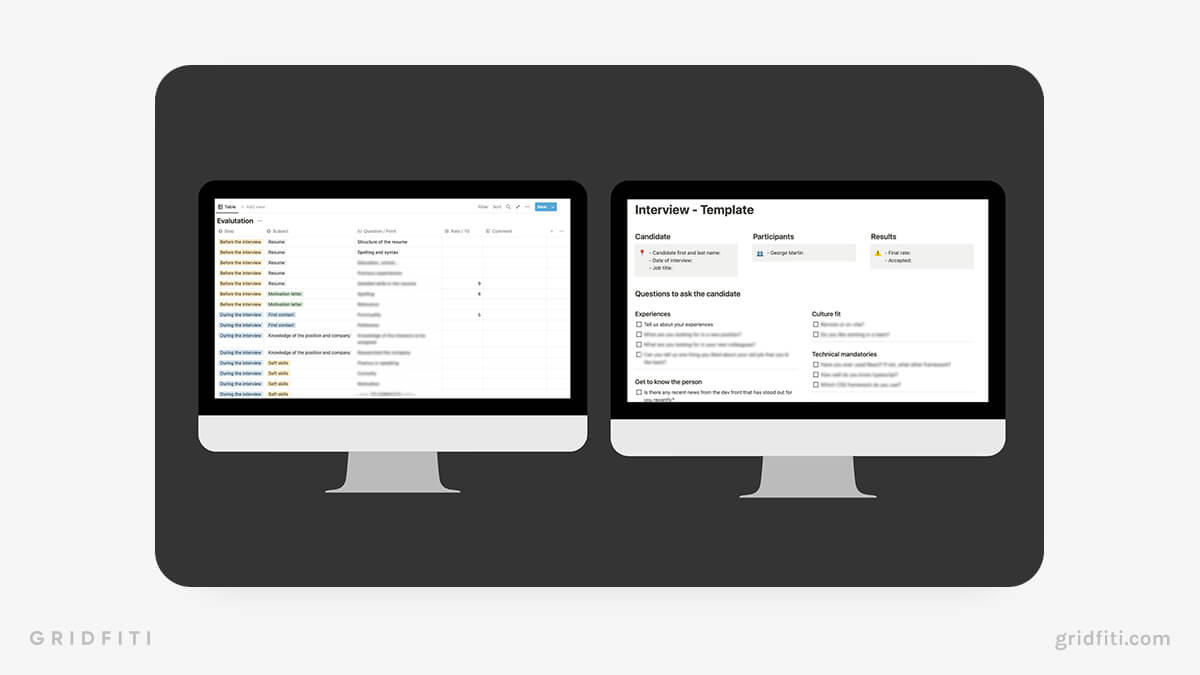 Onboarding & Management of Your Dream Team Template
Plan and assemble your dream team in one place! Store your job board with open roles and descriptions, manage the entire recruitment pipeline, and build a team CRM with your roster of rockstars.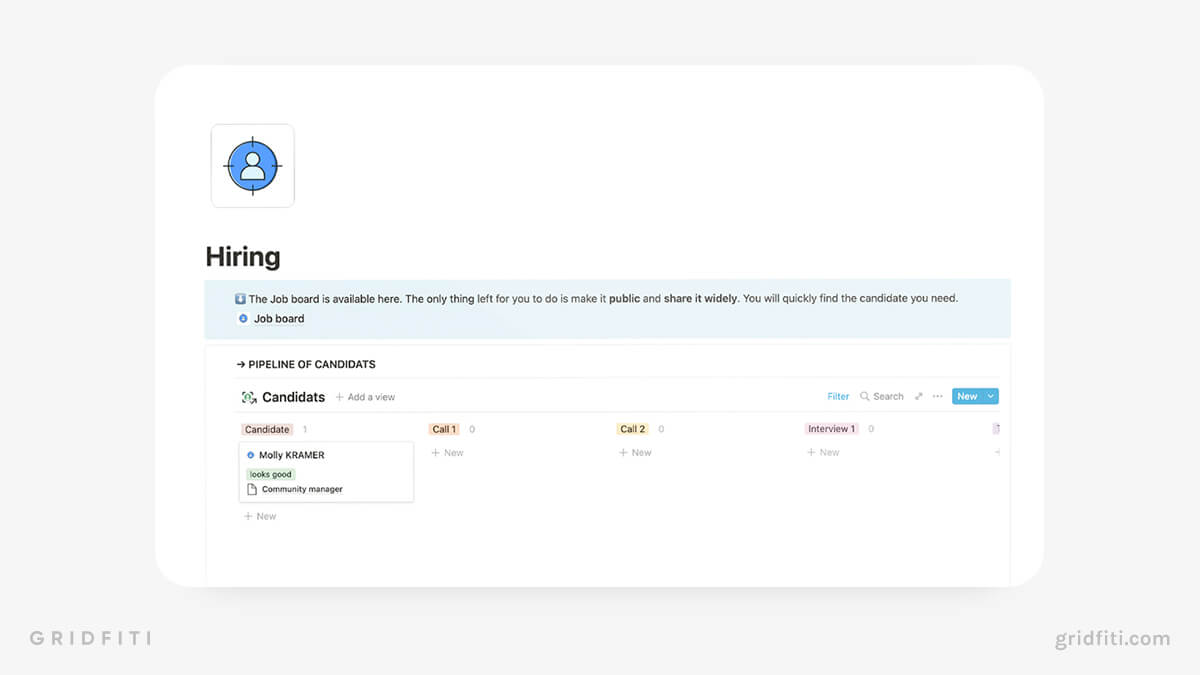 Notion Employee Handbook Template
With this template, create a simple employee handbook wiki so all your employees are on the same page. Share your company's mission, provide information on benefits and payroll, and outline policies on attendance, harassment, and safety.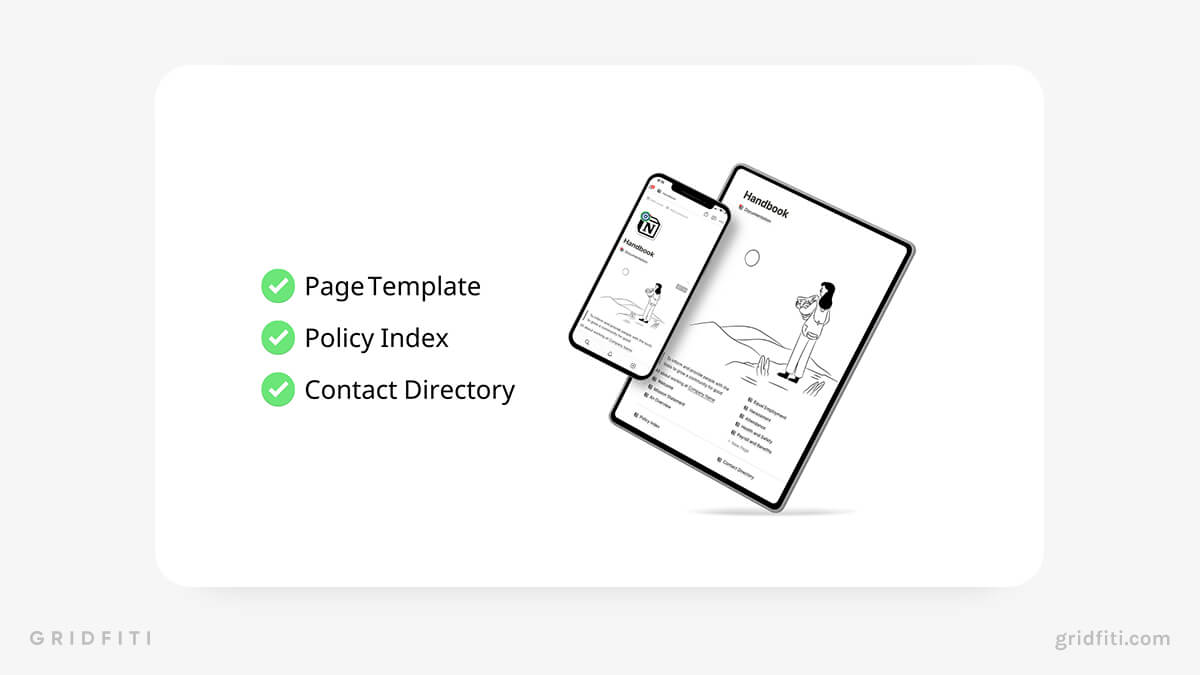 Notion Employee Directory Template
Great for remote teams, this template will help you store all of your employee information in one place, and ultimately help them collaborate better together! Based on best practices from McKinsey, employees can add more color about who they are with a dynamic 'about me', and share the best ways they work with others by answering several key prompts.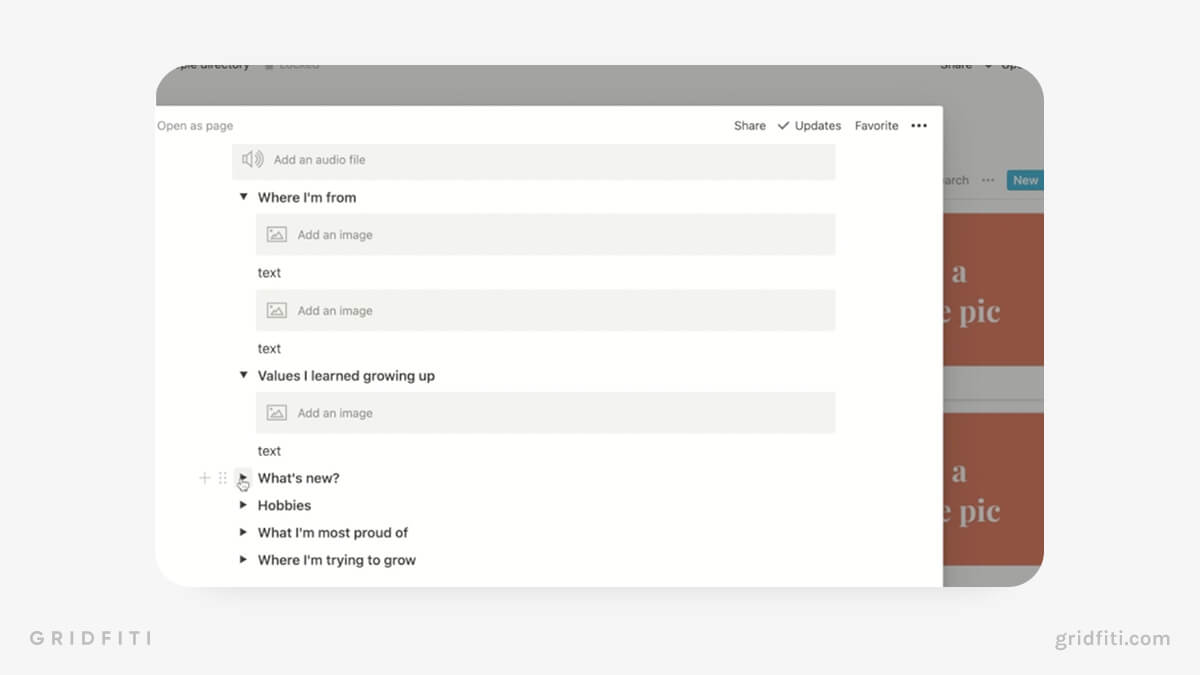 Which Notion HR templates do you plan on using at your company? Any other templates for HR professionals or recruiters to recommend? Let us know in the comments below!
Gridfiti is supported by its audience – when you buy something using the retail links in our posts, we may earn a small commission at no additional cost to you. Read more about our affiliate disclaimer.