One of the most oldest and trusted photography brands out there, Fujifilm has spent almost a century putting out camera technology ranging from cameras, to photographic film, printers, and even medical imaging tech!
When thinking of film, Fujifilm is a name mentioned in the zeitgeist, and there's a reason for that – they've laid out a history of loved film stocks, some of which are still used today, from Superia to 400H, Neopan, and Provia – the Fuji look is unmistakable!
However, obtaining the Fuji look has become challenging due to rising costs, limited stock, and discontinued lines. Lightroom presets offer a solution by recreating the beloved Fuji film characteristics. This is where Lightroom presets come in – thankfully the same loved behaviors and colors that are created with Fuji films can be recreated through the use of custom presets! Check out our selects for the best Fujifilm Lightroom presets to get you going.
If it just so happens you're after the coveted Fuji X100V look, don't miss our full round-up on Fuji X100V Lightroom presets to emulate the look of some of the camera's recipes!
Want more Lightroom preset guides? Join our mailing list below, and check out our several other preset round-ups.
Fuji Pro 800Z Lightroom Presets
Fuji 800Z is known for capturing skin tones with true-to-life colors in all situations from low light, to daylight, or mixed settings. This preset pack from Daily Creativo does just that, with its vibrant yet calm 800Z look.
Grain with 800Z is noticeable due to its high ISO, but this is a preferred look that photographers go for – and is reflected within the preset's grain levels. It's as simple as downloading, applying, and rendering your images quickly into Fuji Pro 800Z. The pack comes with 4 presets for both Lightroom desktop and mobile – check it out!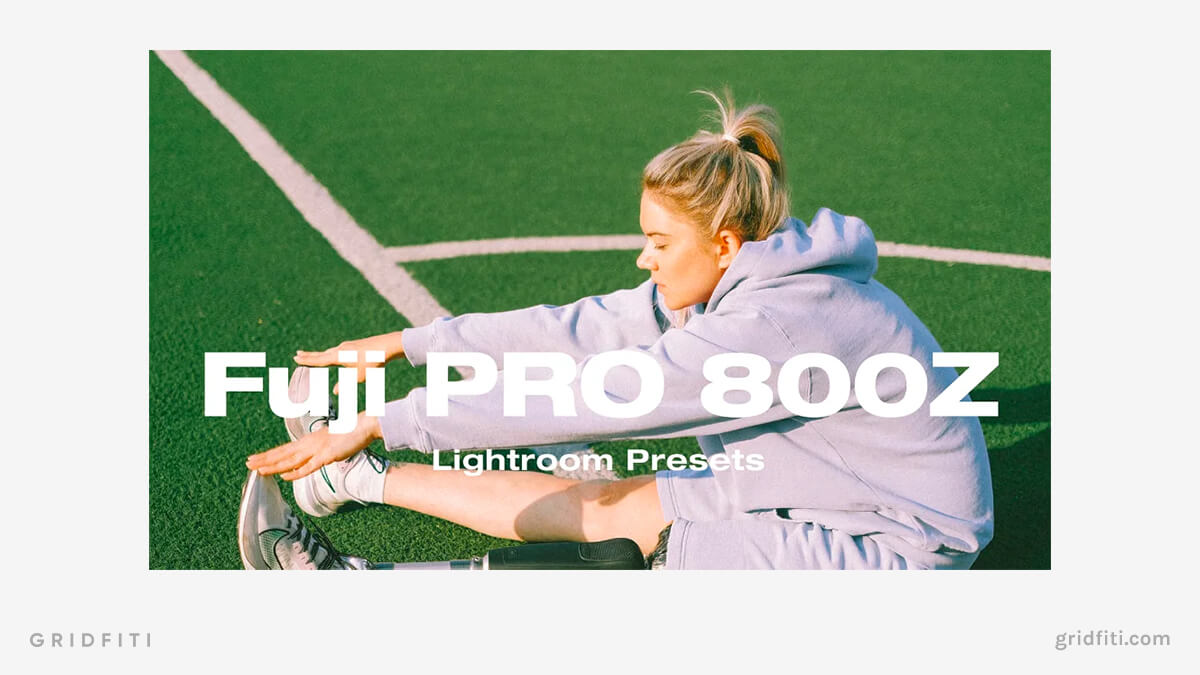 Fuji Pro 400H Lightroom Presets
Known for its fine grain, blueish-green tint, and exceptional skin tone capture, 400H is one of Fuji's most famous film stocks. Those beloved features of 400H are all recreated in this preset package, which is made for mobile and desktop Lightroom. The pack is designed to be a simple solution to transforming your images to 400H, designed to easily adjust the film amount and enhance your image – not transform it to the point of no return. Check out colorituals's Fuji Pro 400H preset!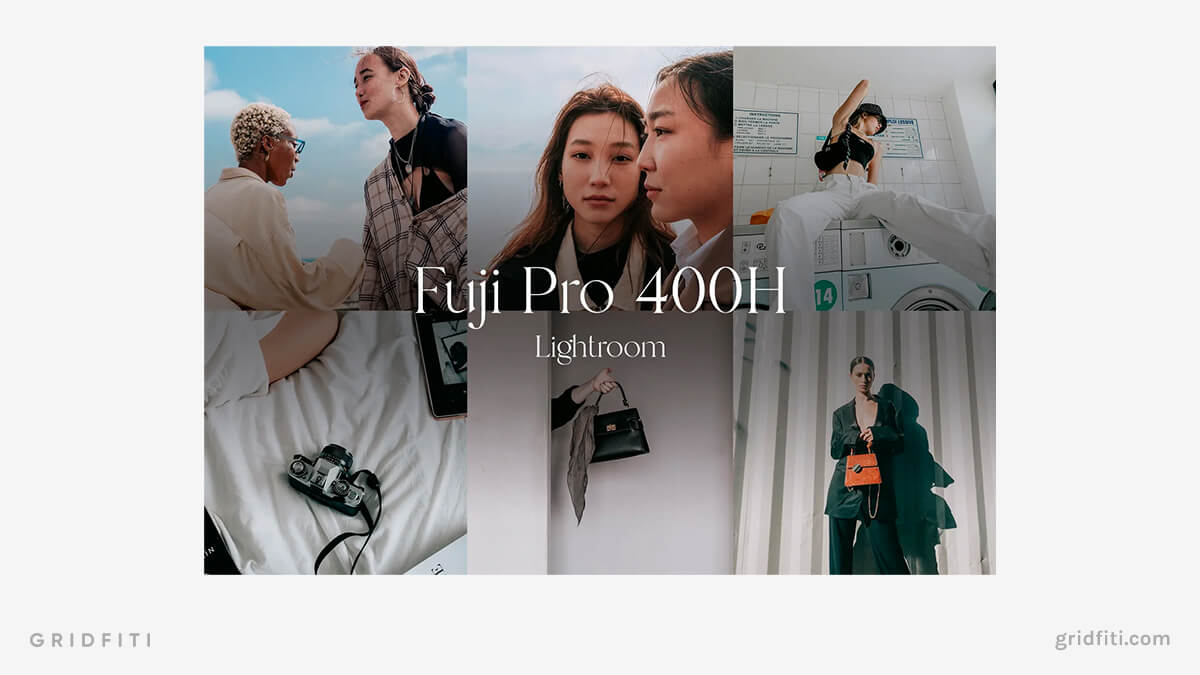 Fuji Superia Bundle
Fuji's Superia films stocks are known for their punchy (yet not overdone) saturation, contrast, and being an amazingly balanced film for portraits. Daily Creativo recreated that look with their Superia bundle. It comes with presets for Superia Reala 100, which leans towards being brighter but not too saturated, while maintaining Fuji's blue and green tones. It also comes with Superia X-TRA which is the staple Superia film – featuring vibrant tones, non-blown out skin tones, and vivid yet natural colors. Apply these presets to get Superia film looks with your digital photos!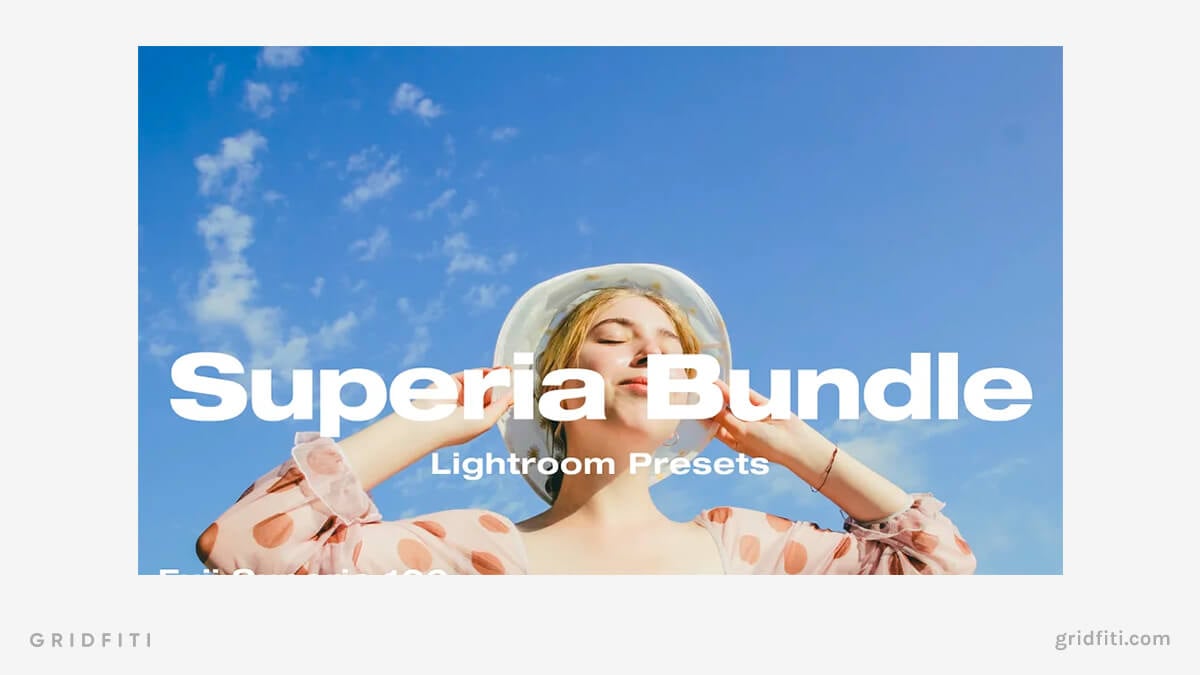 Fuji-Inspired Presets
A simple approach to recreating the Fuji look, this preset pack from Bruna Bersch comes with a set of 3 Fuji-inspired presets designed for Lightroom desktop. They're made to give any photo that unique look inspired by famous Fuji films. Put one of these on your digital images, use the adjustability sliders, and achieve your desired Fuji look!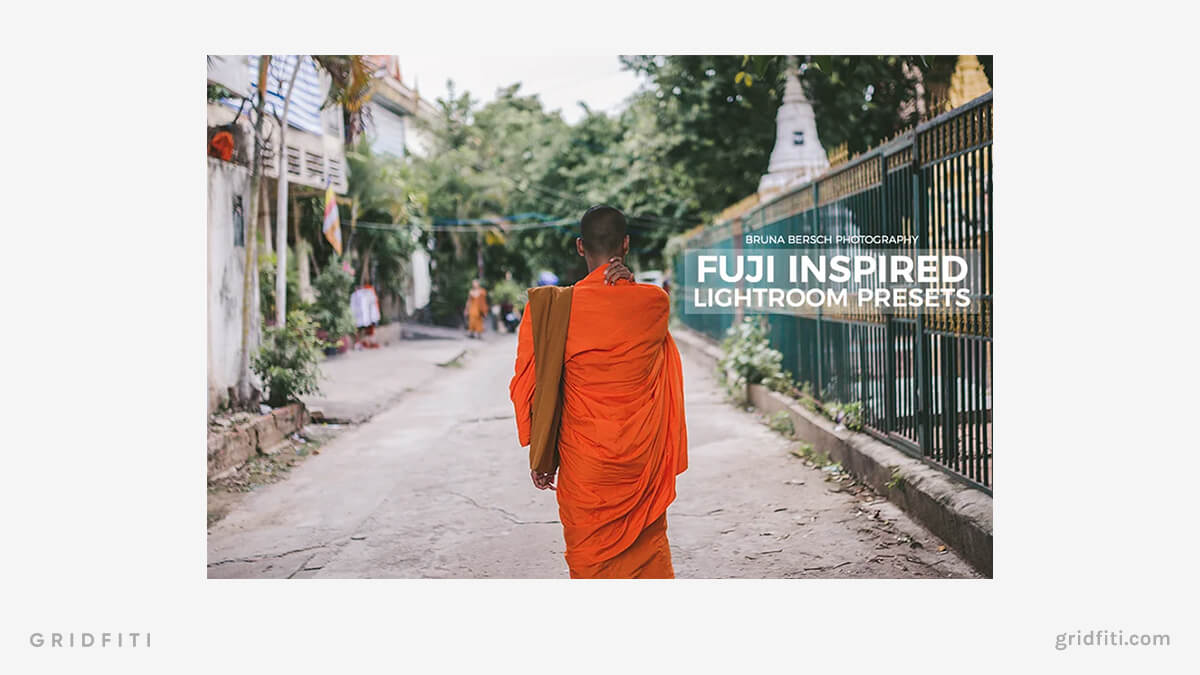 Bright Vibrant Fuji Lightroom Presets
This Fujifilm preset pack from City Turtles is one of the most expansive ones yet! It includes several Fuji looks inspired by 400H and Superia, with pushed options to create contrast or grain. The tones within the presets feature bright and vibrant colors, which are versatile between portraits, travel shots, and even indoor studio shots. They're easy to use and even come with a tutorial. The edits applied don't touch your exposure or white balance settings – so it's suitable with any RAW image you give it!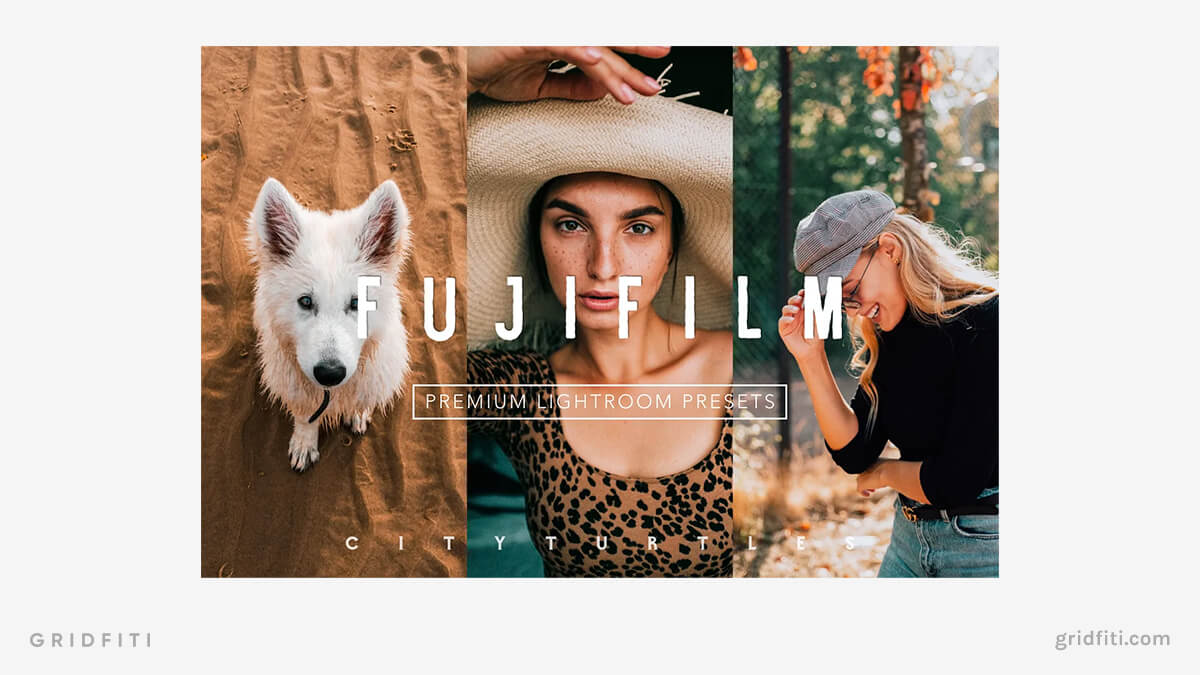 Fuji Provia 100F Preset
Fuji's Provia is famously known as one of Fuji's slide films (with Velvia being the other). When it comes to this film stock, you can expect extremely fine grain, great color vibrancy, and deep contrast; that look is clear within these 11 presets for Lightroom mobile and desktop. Professional edits that are easy to use and fast to render – get the Provia look on your photos with this pack!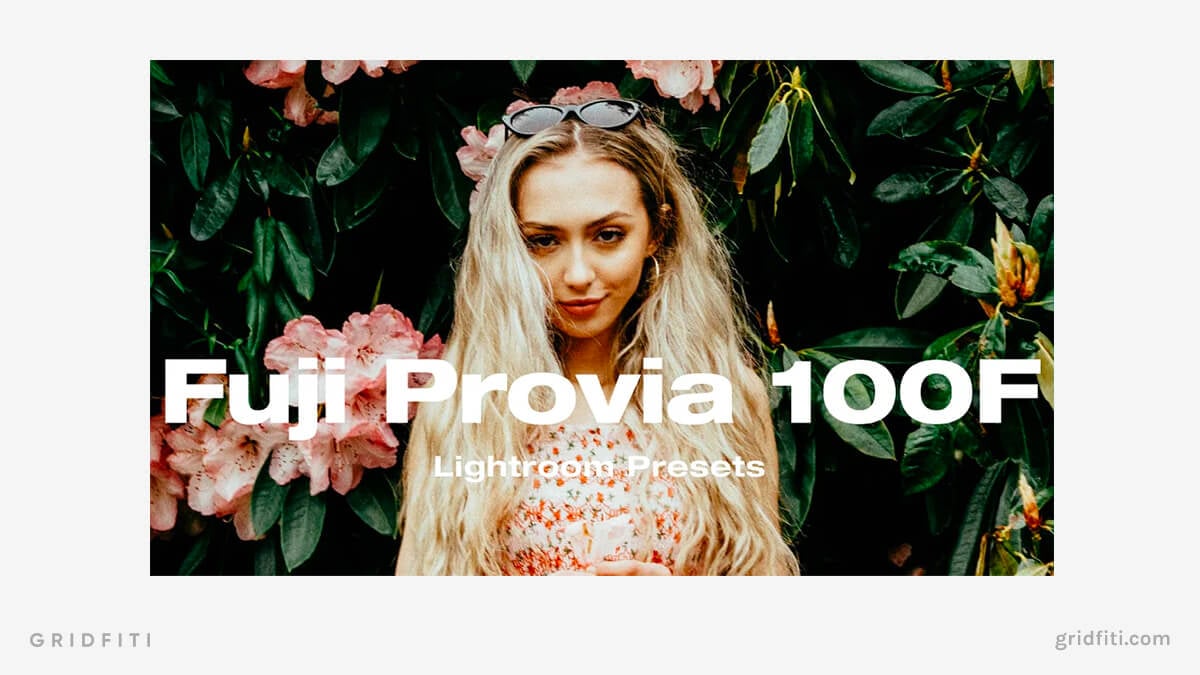 Fuji Neopan 1600 Black & White Preset
A Fuji black and white preset has entered the room – introducing Fuji Neopan 1600, which is a film known for its versatile black and white capture, rich contrast with balanced highlights, and a high grain textured look from its 1600 ISO. This look is effortlessly recreated in this preset. Use it on your portraits, landscapes, objects, and everything in between to get the Neopan 1600 look to your liking!
Looking for more presets like this? Check out our round-up post showcasing the best black & white film presets for Lightroom!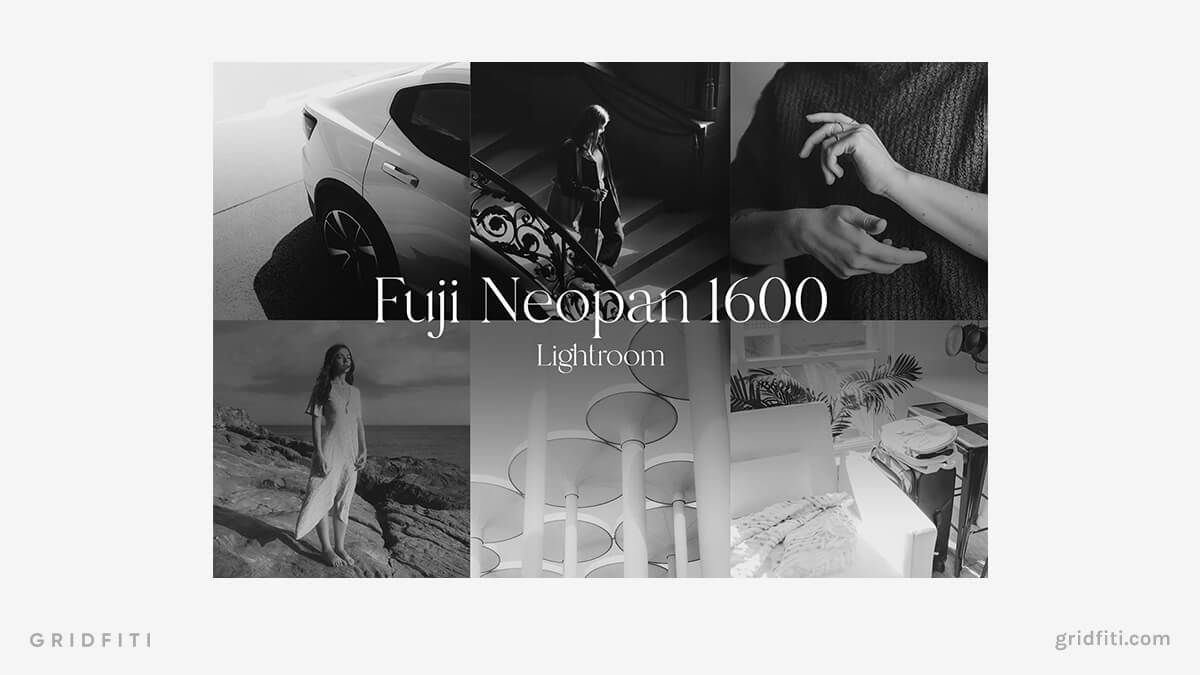 Fuji Superia 800 For Lightroom
Another Superia addition, this simple Superia 800 preset is created to apply that saturated, blue-green tint and airiness to your images. The tones in this particular preset are also slightly muted, dark and moody compared to what you'd see in real Superia images – the general idea here is for the film tones to be applied to images without compromising the high quality of digital images. We think this is a great midpoint of enhancing your digital photos with the film look, but not taking away from the sharp quality of digital.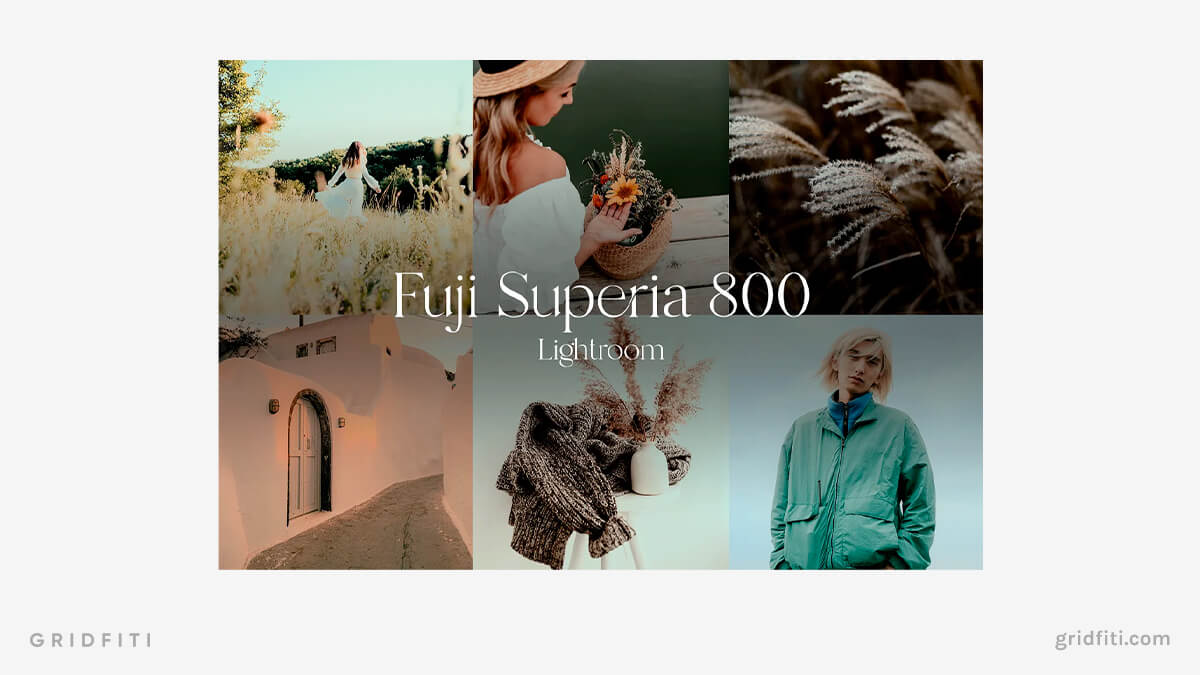 Fuji Presets Only Bundle
This Fujifilm preset bundle includes 10 presets for both desktop and mobile. The goal is to recreate the look of Fuji film stock while maintaining the sharpness and details of your digital image. There is a focus on increasing shadows, which gives your photos an overall darker tone that can create a moody vibe. These presets are suitable for anything from portraits to lifestyle photos!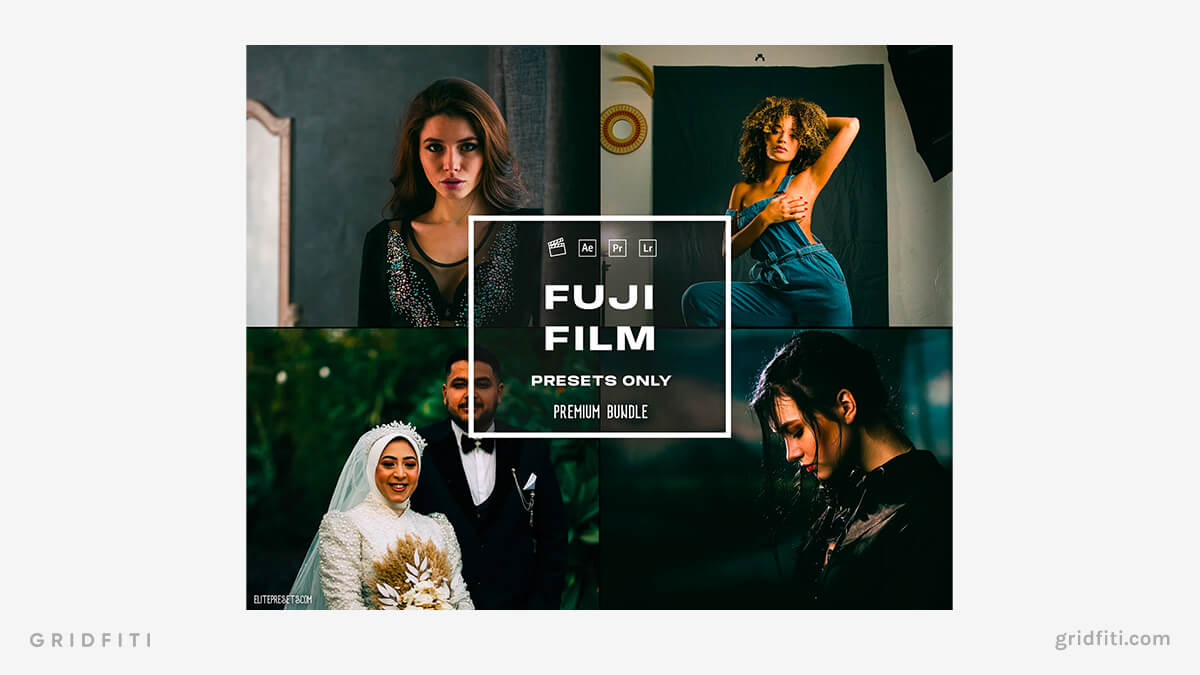 Island Film Presets (Fuji Inspired)
We love this fully loaded pack of 6 Lightroom presets and 5 tools to enhance your coastal photos, whether they're beaches, mountains, cliffs, or lush forests. The presets (which are heavily inspired by the color recreation of Fuji film stocks) bring a unique filmy look to your photos with beautiful color grading that cools down your photos and accentuates warmth. Try them out on your pics!
For more presets like this, check out our full round-up of the best beach Lightroom presets!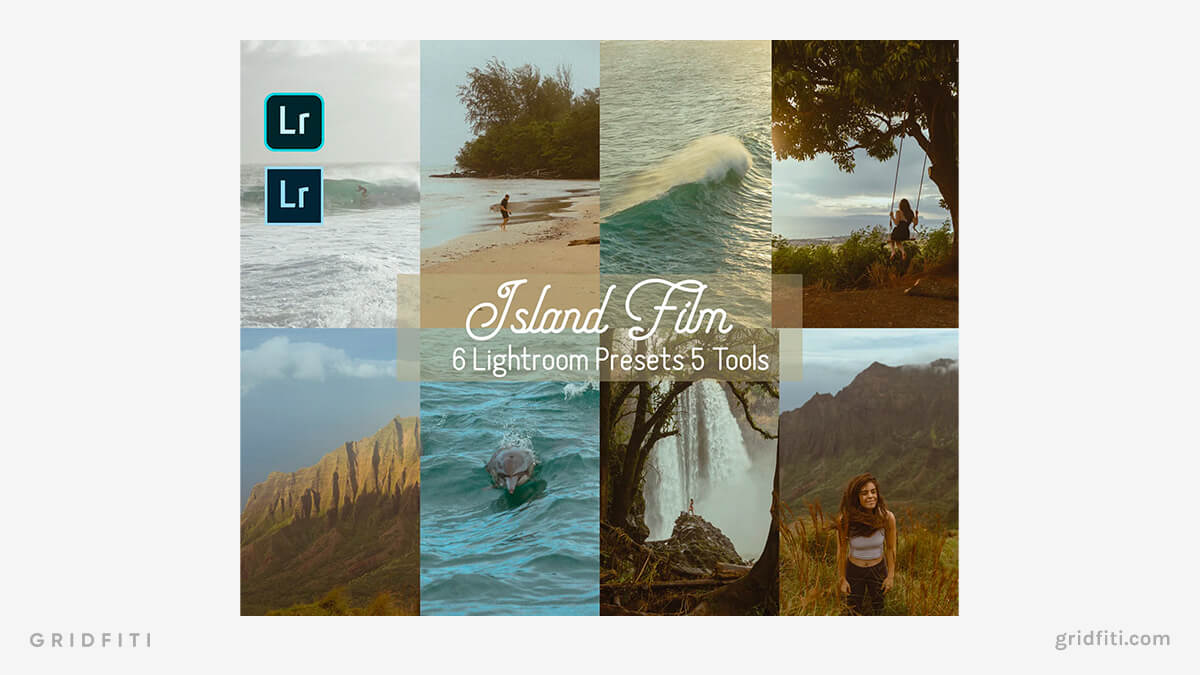 35mm Film Preset Pack
This is the maxed-out 35mm preset pack of your dreams! Choose from the 15 presets designed to give your photos a classic film look with subtle color shifts and grain. Many of the edits contain color styles reminiscent of Fuji's blue-tint and true-to-life look. They work great with any photos, but the magic we find here is with portraits, where skin tones receive subtle color adjustments, but not overdone! There's even a disposable camera look for your photos with flash!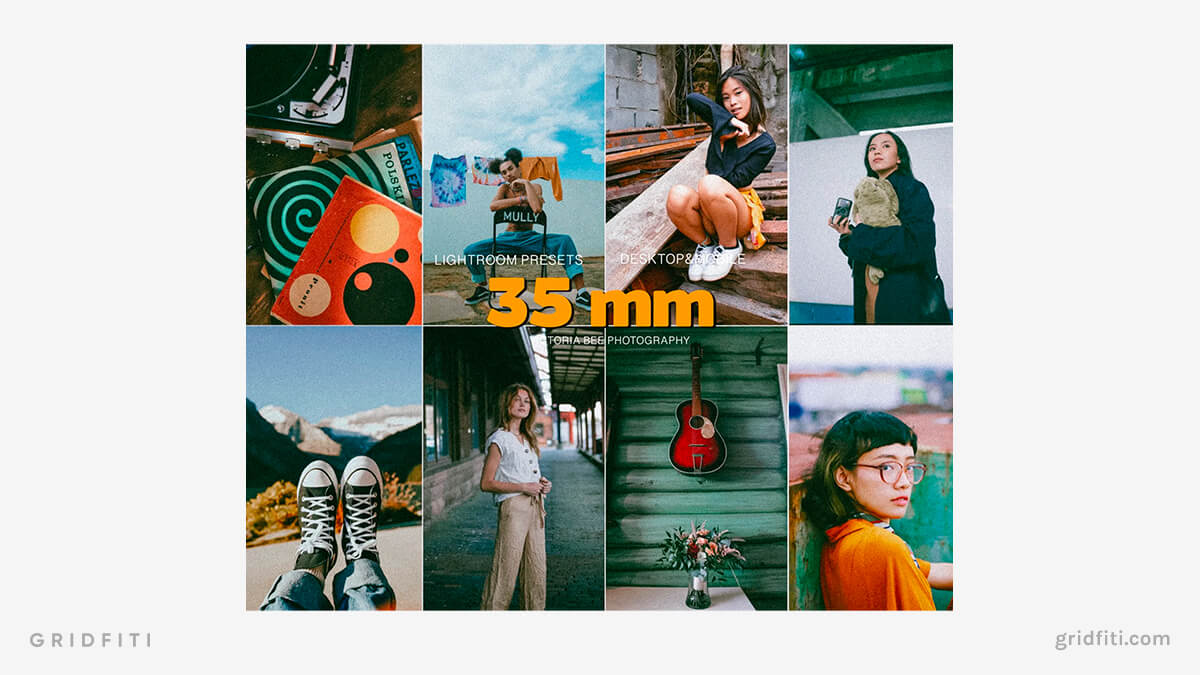 Free Fuji Presets
If you've checked these Fujifilm presets and aren't sure which one to get, check out a few of these free Fuji preset options below to try before you get one of the premium options!
Free FujiColor 400W Preset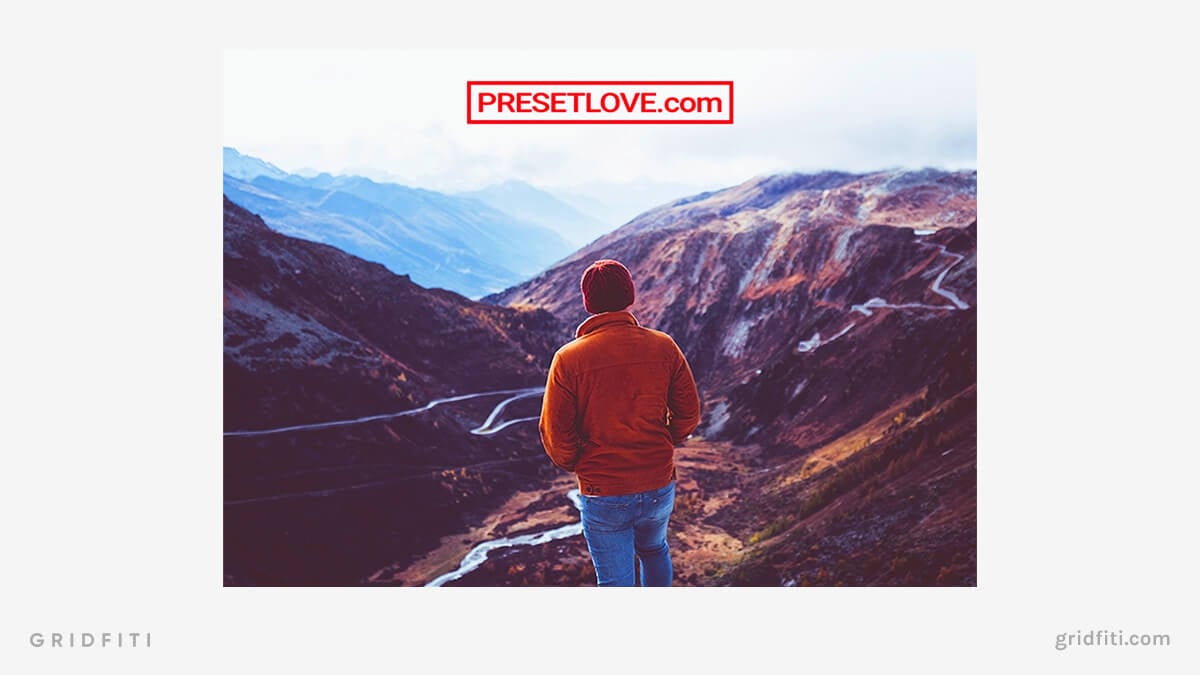 Free FujiColor 400 C Preset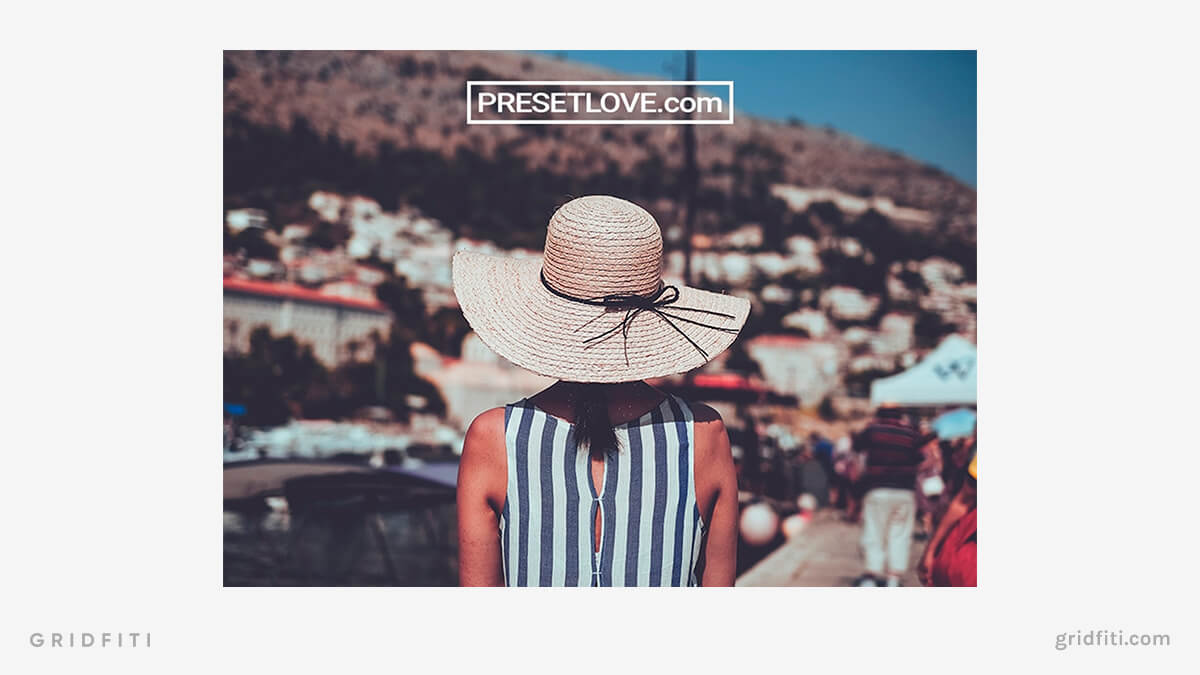 Free Fujifilm Neopan Preset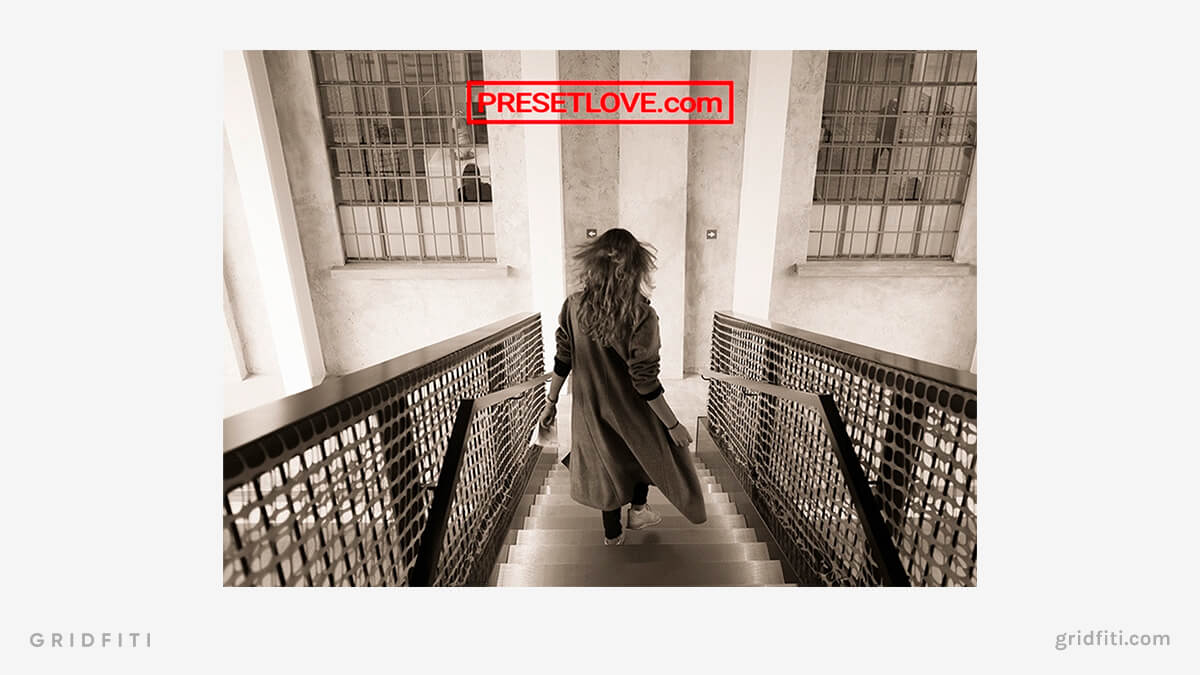 Free Vibrant Fuji Preset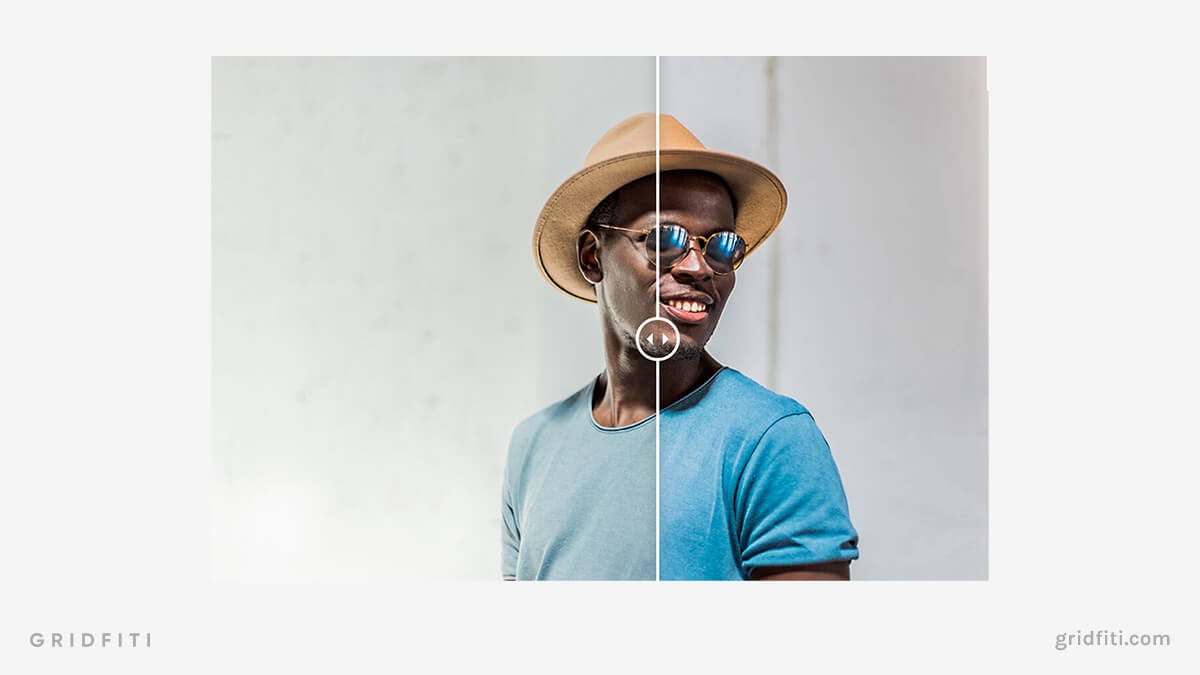 Free Fuji Warm Preset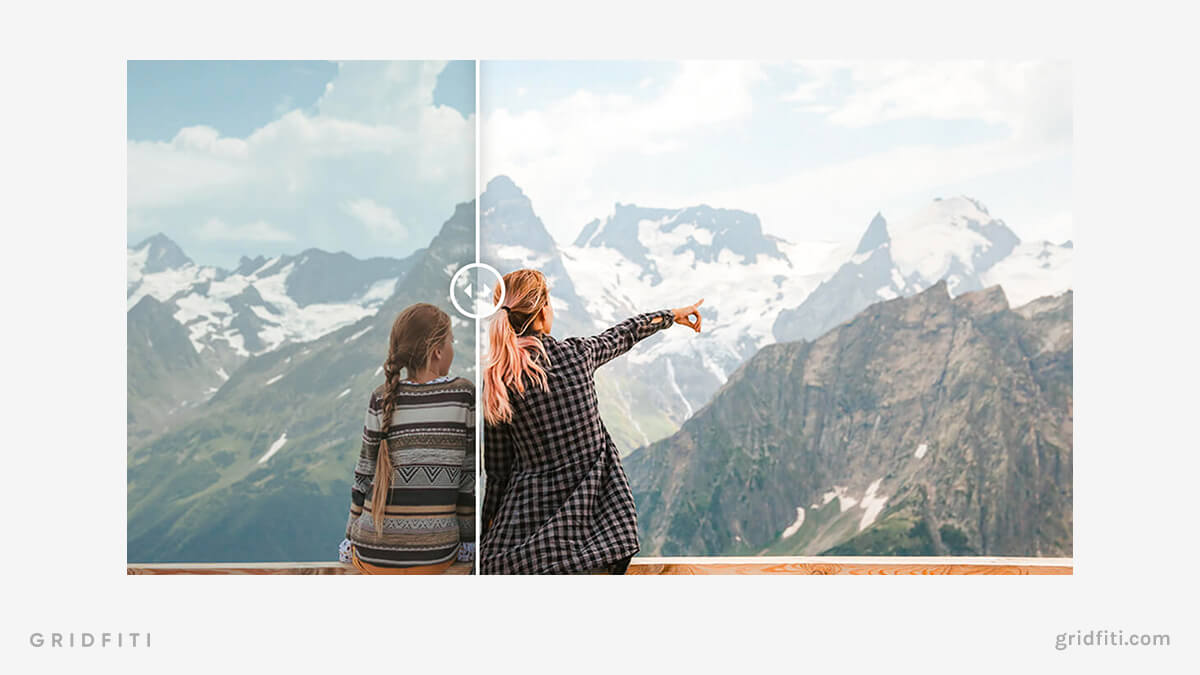 Free Fuji Portrait Preset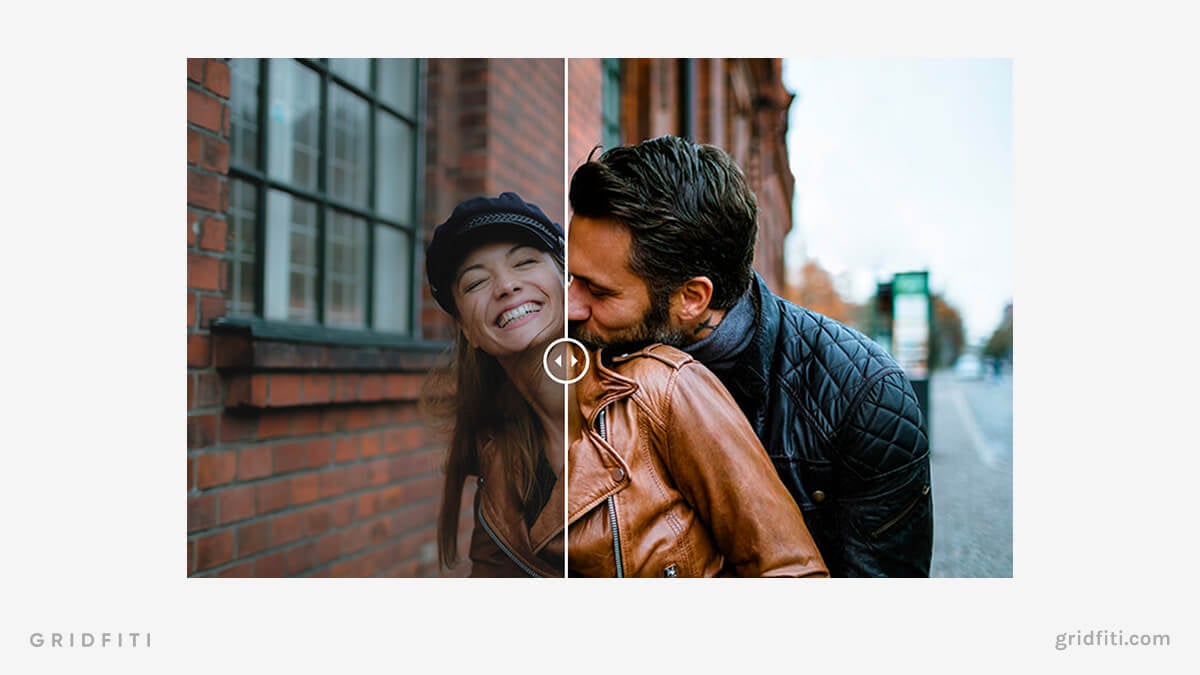 Which one of these Fujifilm presets is your favorite? Are there any essential Fuji presets we're missing? Let us know in the comments below!
Gridfiti is supported by its audience – when you buy something using the retail links in our posts, we may earn a small commission at no additional cost to you. Read more about our affiliate disclaimer.