The Fuji X100V has taken the internet and photography world by storm. Thanks to TikTok, it's become a wildly popular choice for both photographers and casual shooters due to its compact form factor, versatile fixed lens and – drumroll please – built-in camera presets!
The X100V's popularity also unfortunately means that it's near impossible to find at the moment (without paying and arm and a leg for resell) – but what if we told you you could recreate many looks the camera takes with photos you take on your existing camera, or even your phone?
We've gathered some of the best presets that emulate the same look that the X100V applies to its photos. These presets will allow you to edit your photos in post, no matter what camera captured the photos. Check them out for yourself!
Interested in any other Fuji film stocks? Check out our post for the best Fujifilm Lightroom presets.
Want more preset guides and tips? Check out our several other preset blog posts, and join our newsletter!
Provia (Standard) Preset
The Provia profile on any Fuji camera comes as the starter color profile, which is applied to your photos right out of the box. Named after the famous slide film, it's known for its natural color reproduction and soft contrast. This Fujifilm preset pack contains 50 presets, including the coveted Provia color profiles — which you can apply to photos taken on any camera! It's as simple as loading your photos into Lightroom, adding the preset with one click (or tap), then adjusting it to your liking!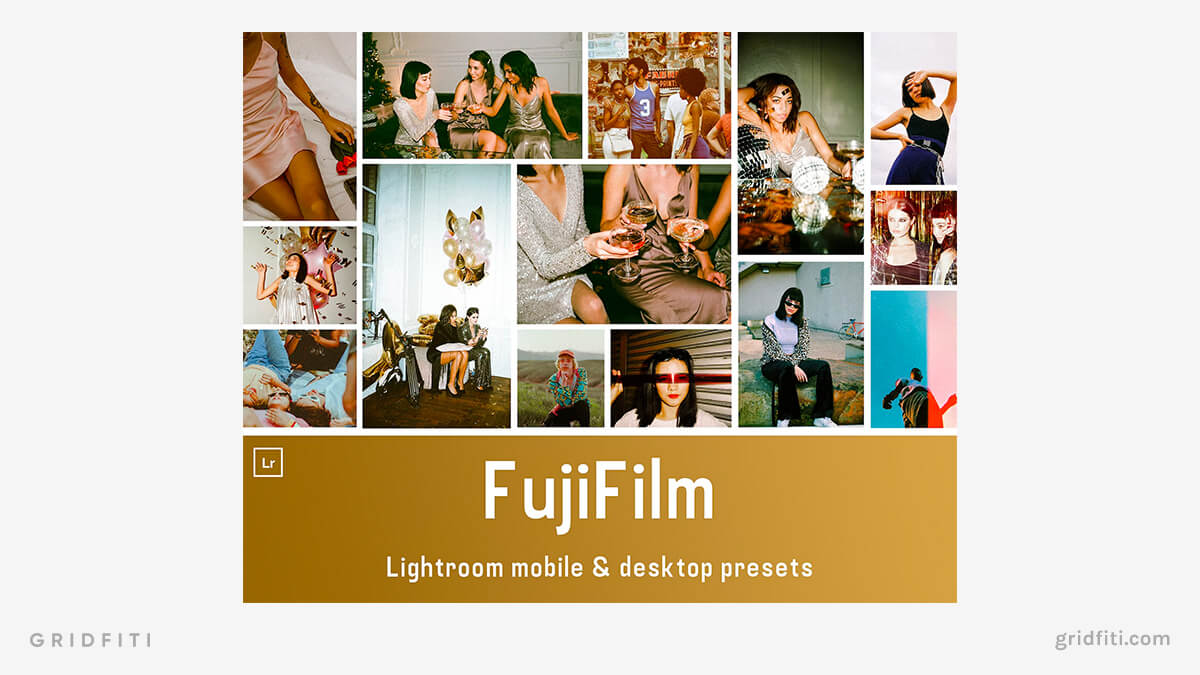 Velvia (Vivid) Preset
Another color profile on the Fuji X100V is Velvia, named after the famous Fujichrome Velvia film stock and coming with boosted saturation and punchy contrast. You can also achieve the Velvia film look through this preset pack! Use it on photos of portraits, landscapes, cityscapes, and more. The secret sauce here is using it on imagery with lots of colors and a mix of shadows for the dramatic Velvia effect to take form.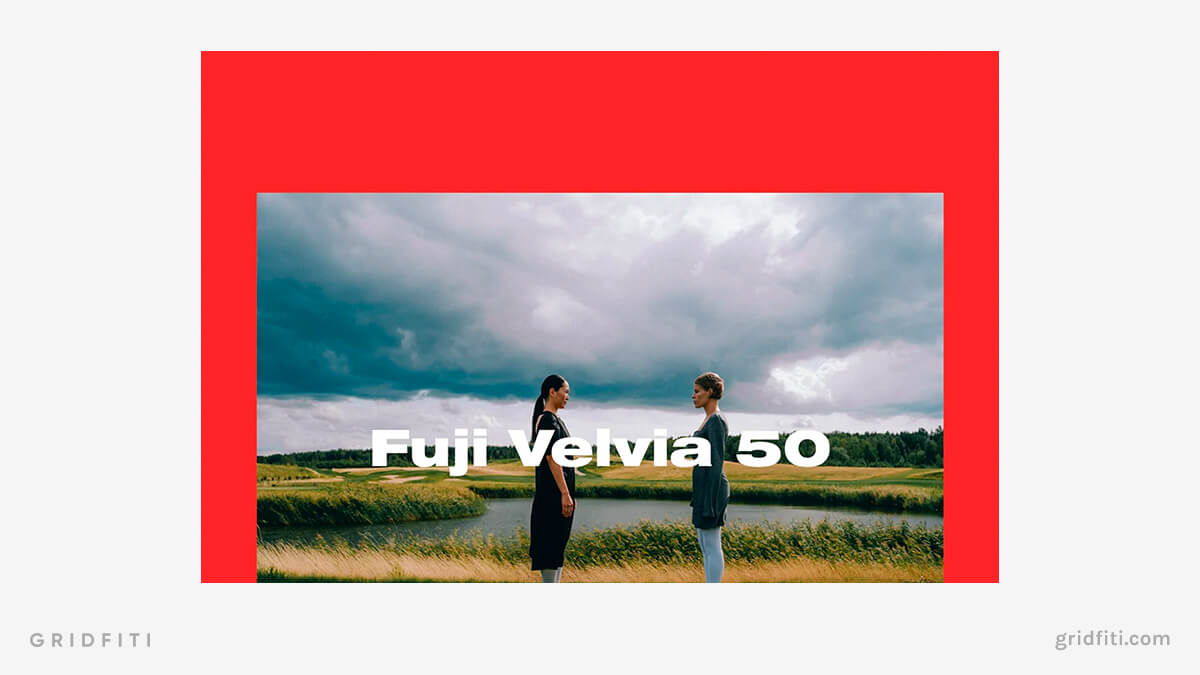 Astia (Soft) Preset
Fuji's Astia film stock was known for its use in fashion photography and is also a color profile used in the Fuji X100V. It did a great job at capturing the details of portraits, ensuring that skin tones appear true-to-life – and also emits a subtle soft glow. This Fuji Astia preset pack will get you this look as well! Applying it to digital photos might not fully get you the filmic look out of the box – so adjust grain and clarity levels to unlock that look as you edit.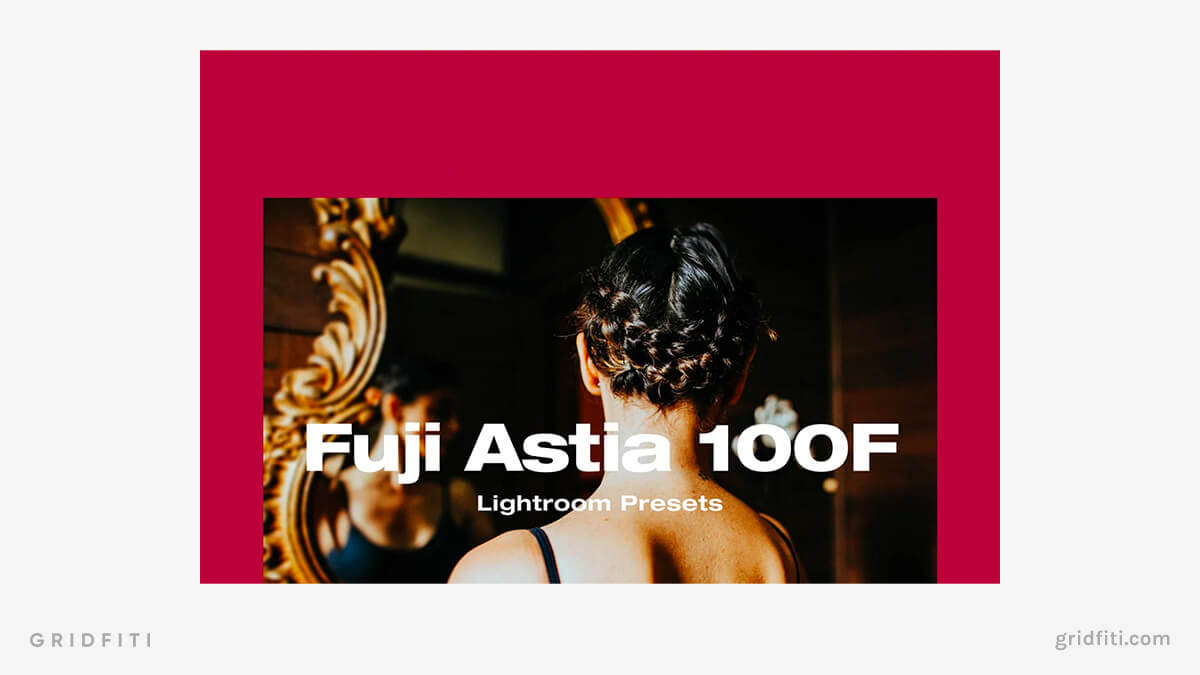 Fuji Classic Chrome Preset
Whenever you hear 'Chrome', it's most definitely referring to slide film stocks that were produced by film companies. Kodachrome, Fujichrome, you name it! The aim of slide film is to emit beautiful vibrancy with dynamic range, so that's what the Classic Chrome color profile in Fuji cameras tries to do. Try these Fuji Classic film presets out for yourself and transform your photos!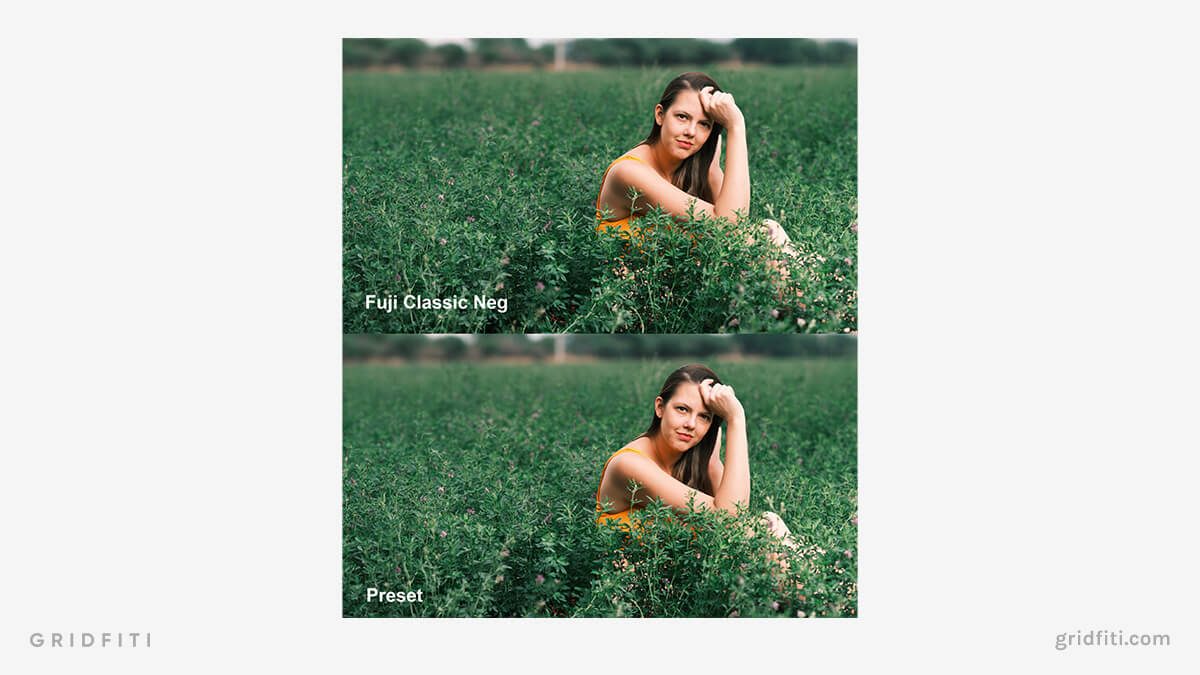 Eterna Preset
Eterna refers to Fuji's famous cinematic film conversion. It's known for its slightly muted tones and soft glow around light sources — and that effect is recreated really well through the current Fuji camera film simulations. This Eterna preset should unlock the cinematic film look with your digital photos as well. It applies a beautifully balanced color grade, which keeps the highlights in tact while respecting shadows as well. Give it a try!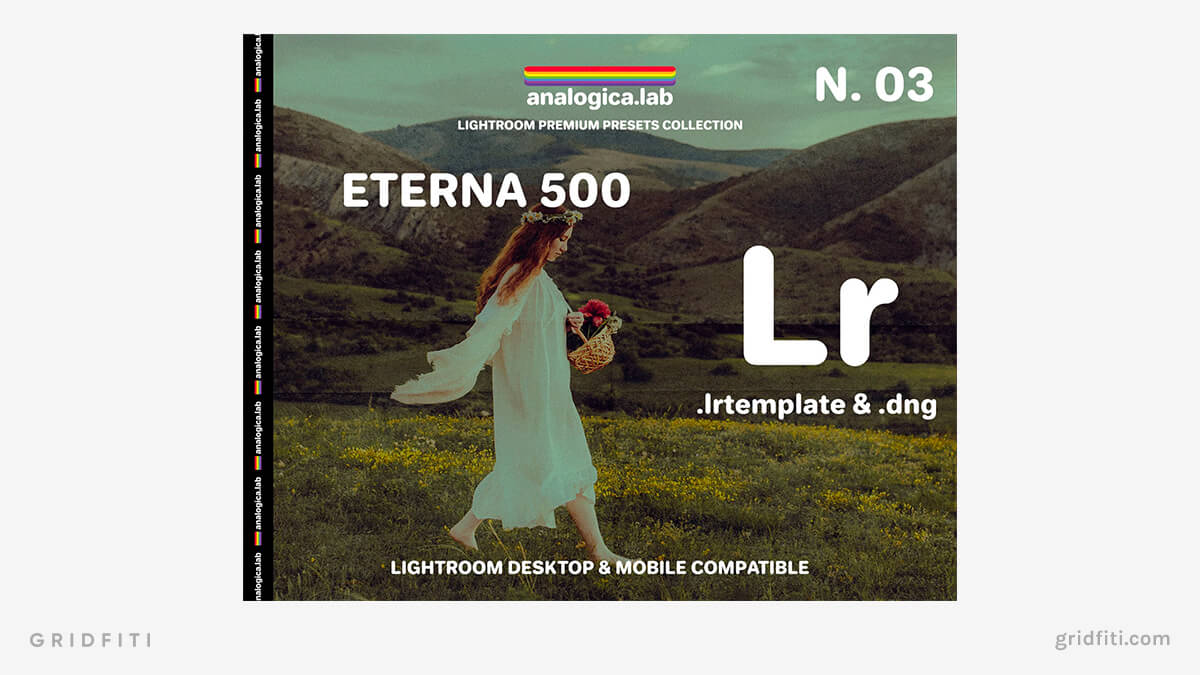 Acros Neopan Preset
Fuji's Neopan Acros refers to the company's famous black and white film stock! Known for its beautiful balance of blacks, whites, and grays – with deep rich contrast and details retained within highlights. The 100 speed version of the film stock is known for its fine grain and wide range of capture in lighting settings. This Fuji simulation look can be easily recreated with this Neopan 1600 preset pack. It comes with higher grain (noted by its 1600 ISO), so if you're after the Acros 100 look, you can always lower the grain levels to your liking.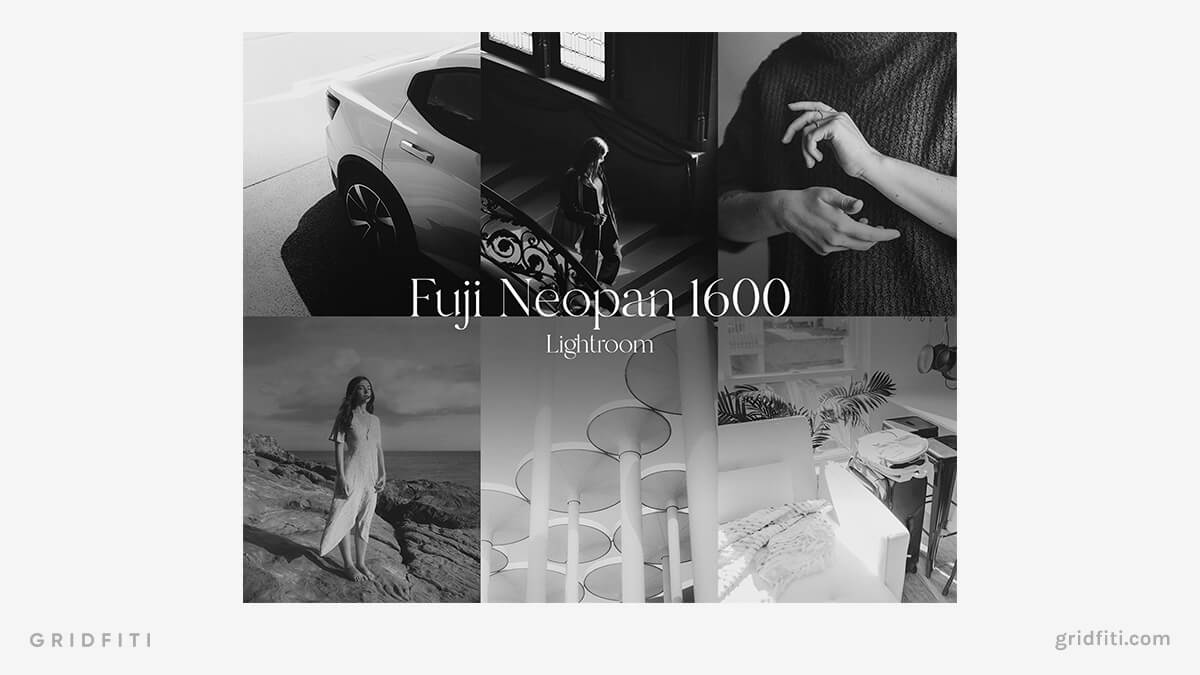 Fuji Sepia Preset
The Fuji X100V comes with a Sepia film simulation out of the box – and you can easily recreate that look using this Matte Sepia preset pack! Commonly used in portraits, landscape, and still life photography, give your photos a vintage, old-world feel with a sepia look.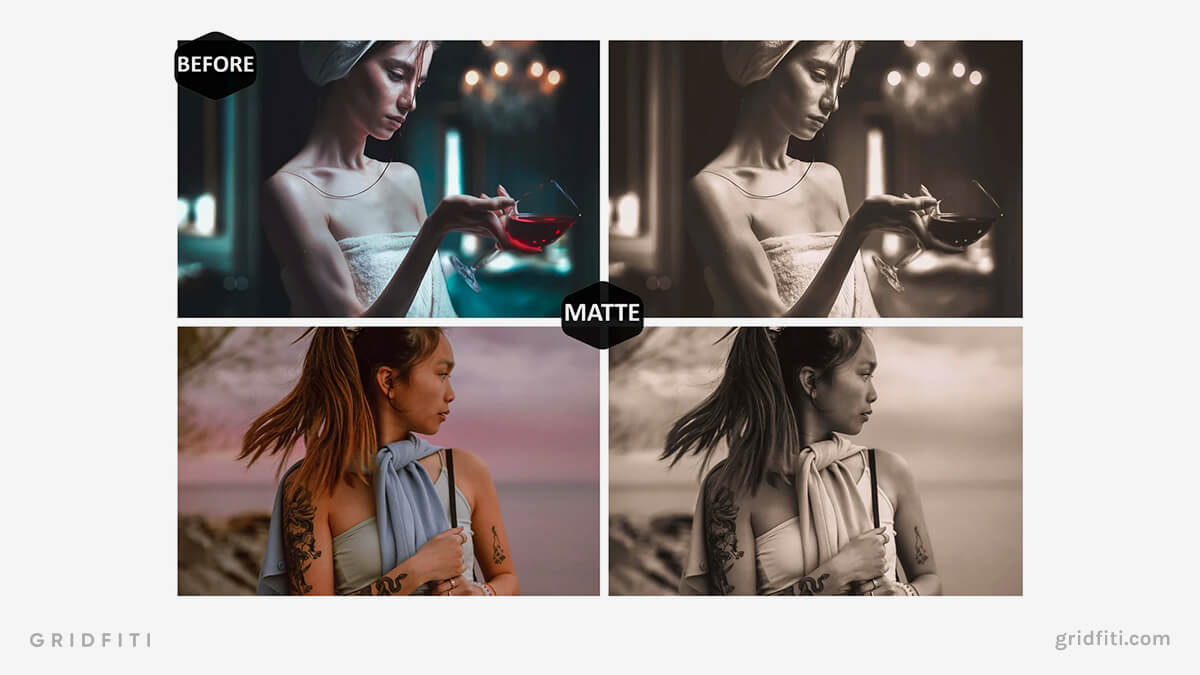 What do you think of these Fuji X100V presets? Are you going to try and recreate the coveted camera's color profiles with your photos? Let us know in the comments below!
Gridfiti is supported by its audience – when you buy something using the retail links in our posts, we may earn a small commission at no additional cost to you. Read more about our affiliate disclaimer.