Looking to add a moody and dramatic touch to your photos? Check out our list for the best moody Lightroom presets! Whether you're a pro or amateur, these presets will help you define a cohesive dark and moody look with low effort.
These preset packs are designed to work with a variety of photos, from landscapes to portraits to street shots. Enhance the natural beauty of your photos with a touch of darkness and moodiness. Choose the preset that best suits your needs and start your moody editing adventure!
Want more preset guides and tips? Check out our several other preset blog posts, and join our newsletter below!
Signature Dark & Moody Presets
For those looking for a mysterious dark and moody allure, this signature dark and moody preset pack is designed with outdoor nature and indoor neutral toned photos in mind. With 20 Lightroom desktop and mobile presets, these edits encompass a darkened aesthetic that pairs perfectly with increased contrast and deepened blacks. All of this is blended with a warm and creamy overlay to bring an evocative moody look to your photos!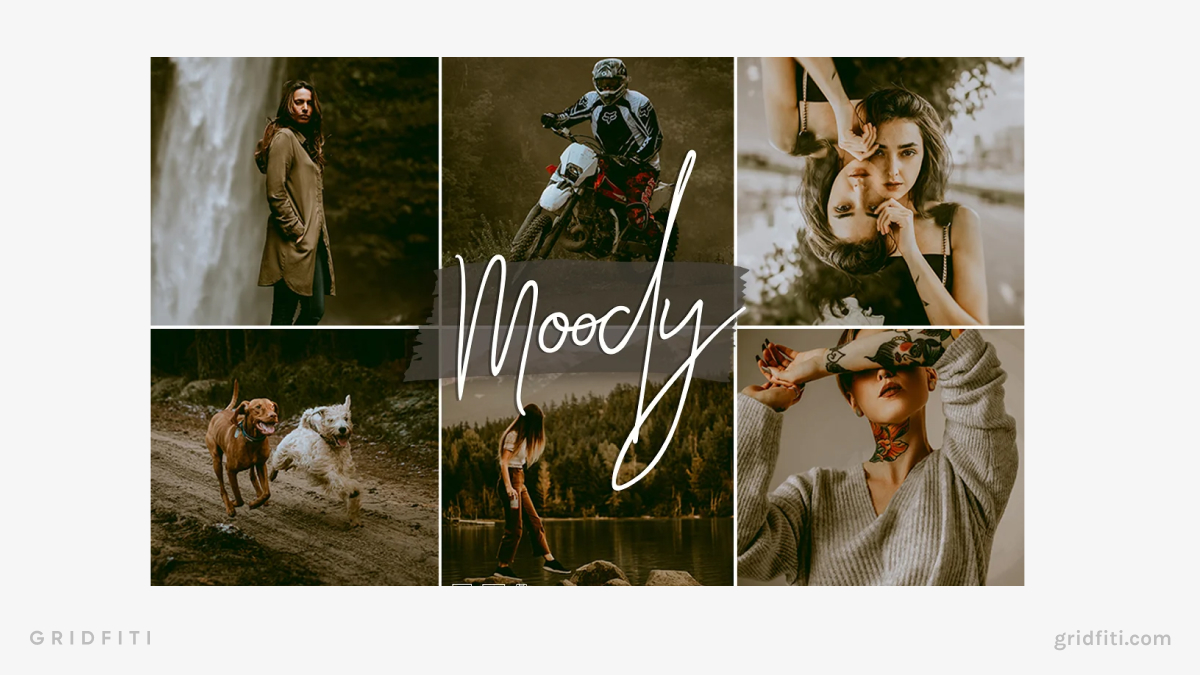 Dark & Moody Presets by GALOR6E
Dive into a sleek yet dark and moody vibe with this preset by GALOR6E. Just one straightforward mobile preset is enough to achieve a neutral dark aesthetic tailored for photos with subdued saturation. It's the perfect enhancement for portraits and outfits, lending a moody yet stylish touch to each shot.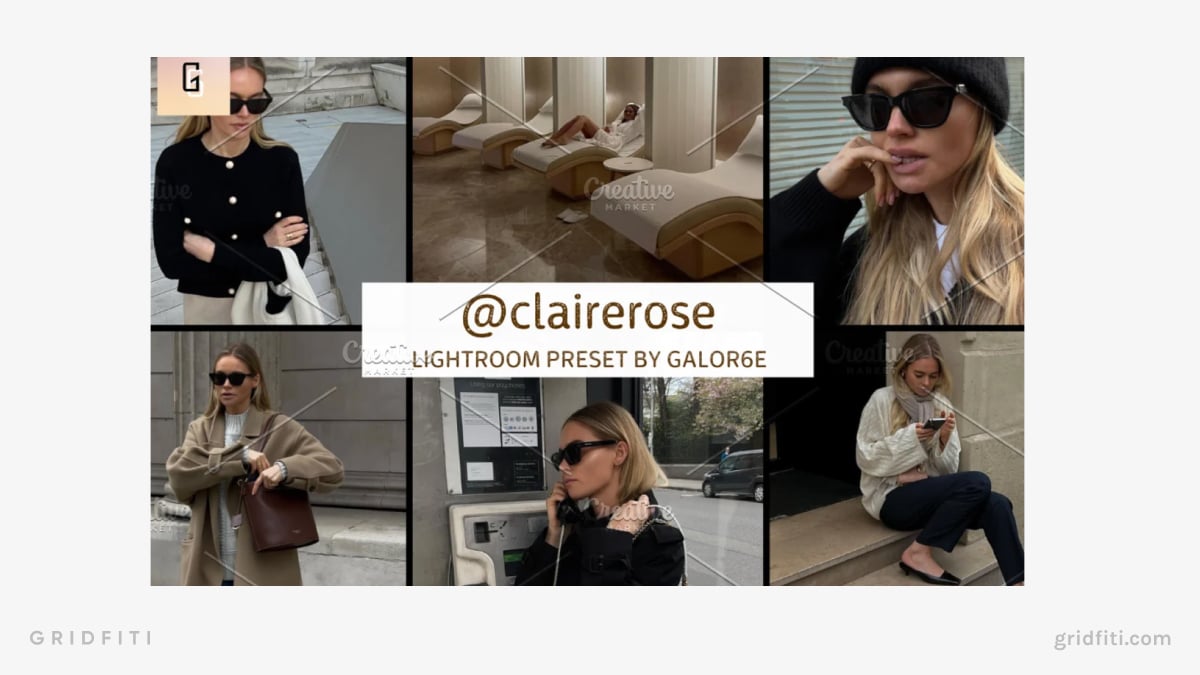 Dark Aesthetic Presets
Unleash a captivating mood in your photos with these dark aesthetic presets! This pack includes 10 presets for Lightroom desktop and mobile. Crafted for lifestyle and portrait shots, these presets create a nuanced dark look, emphasizing rich blacks and greys, all while preserving warmth and earthy tones. It's a transforming preset pack that's designed to elevate every shot.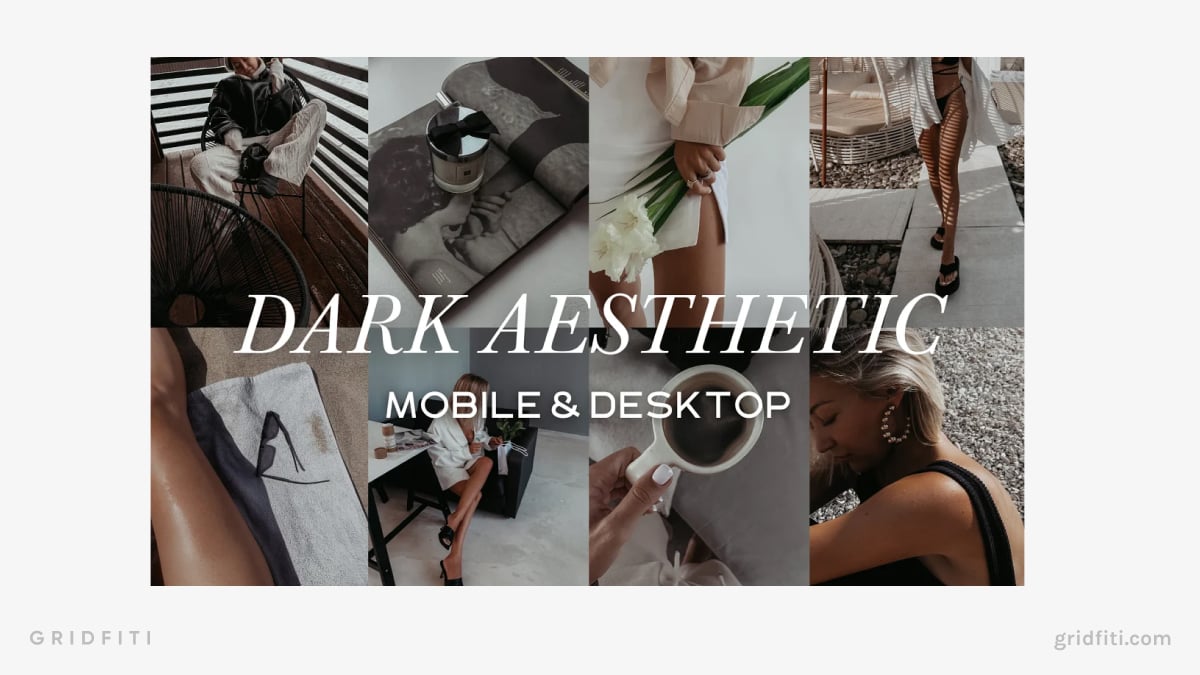 Pro Moody Love Presets
These Pro Moody Love presets come with a collection of 5 presets for Lightroom desktop and mobile. Crafted for weddings and engagements, these presets infuse those cherished memories with a dark overlay, while enhancing the warmth and natural tones of the skin. They highlight the details of a wedding dress and suit, ensuring every photo shines.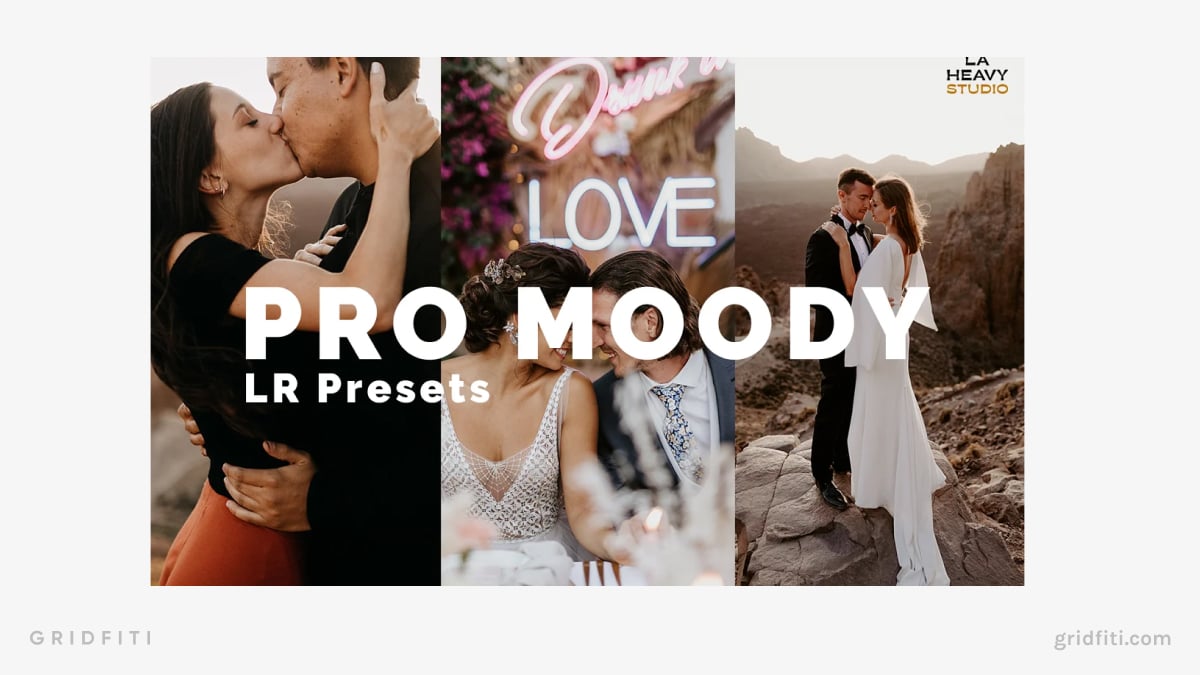 Star Girl Moody Presets
The Star Girl Moody preset pack consists of 10 versatile presets for Lightroom desktop and mobile. These presets are a portrait and lifestyle photographer's dream. They envelope your photos in warm and neutral tones. Whether you're shooting with flash, vibrant night scenes, or lively party pics, these presets enhance the luminosity while adding a dark, mysterious overlay.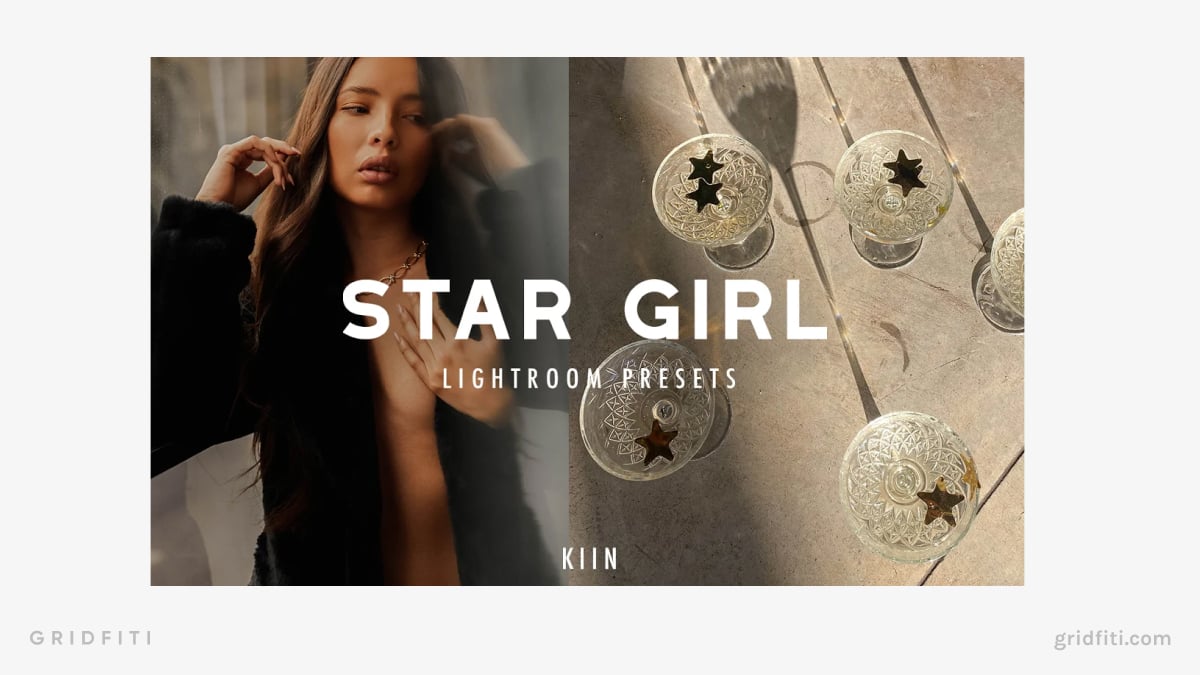 Dark Street Presets
Take your street photos up a notch with these Dark Street presets — a collection designed with the urban heartbeat in mind. This pack comes with 10 carefully crafted presets for Lightroom desktop and mobile. Taking inspiration from the night in the city, this set blends cool, neutral and dark tones, primarily highlighting the allure of nighttime street photos!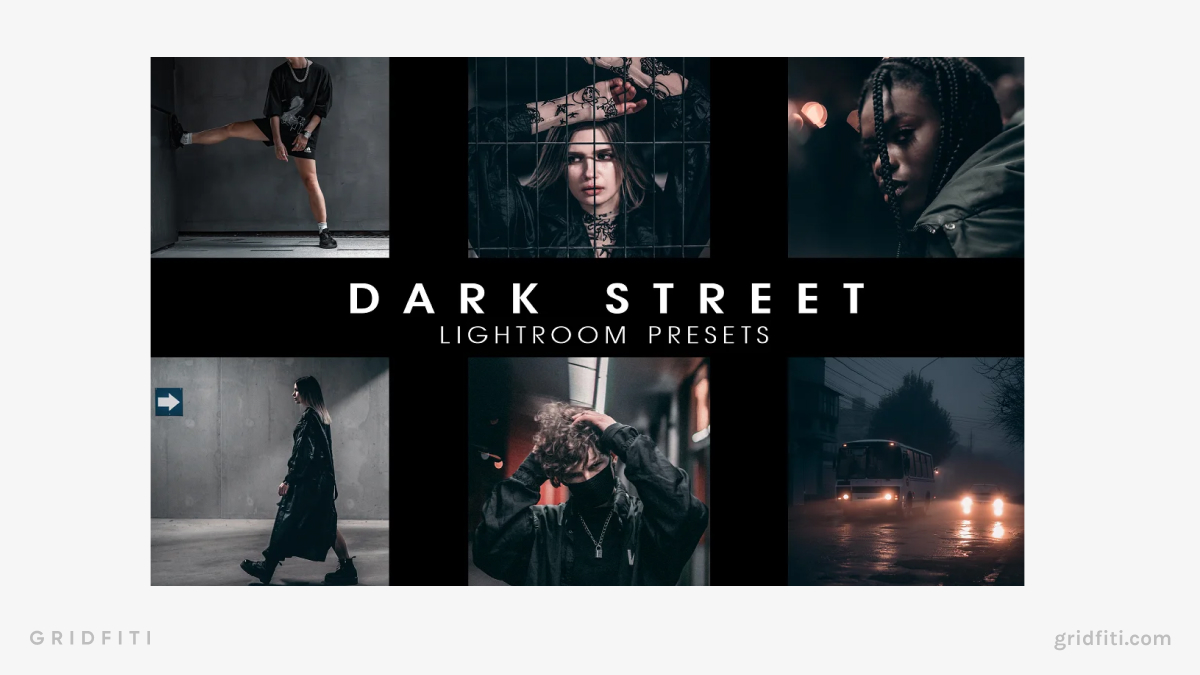 Moody Black Presets
Immerse yourself into a moody black atmosphere with this preset pack with 10 Lightroom presets for desktop and mobile. This pack specifically darkens and desaturates all elements, leaving earthy tones and skin tones untouched. The result? Portraits infused with a moody ambience, ensuring your subject stands out in a bold way.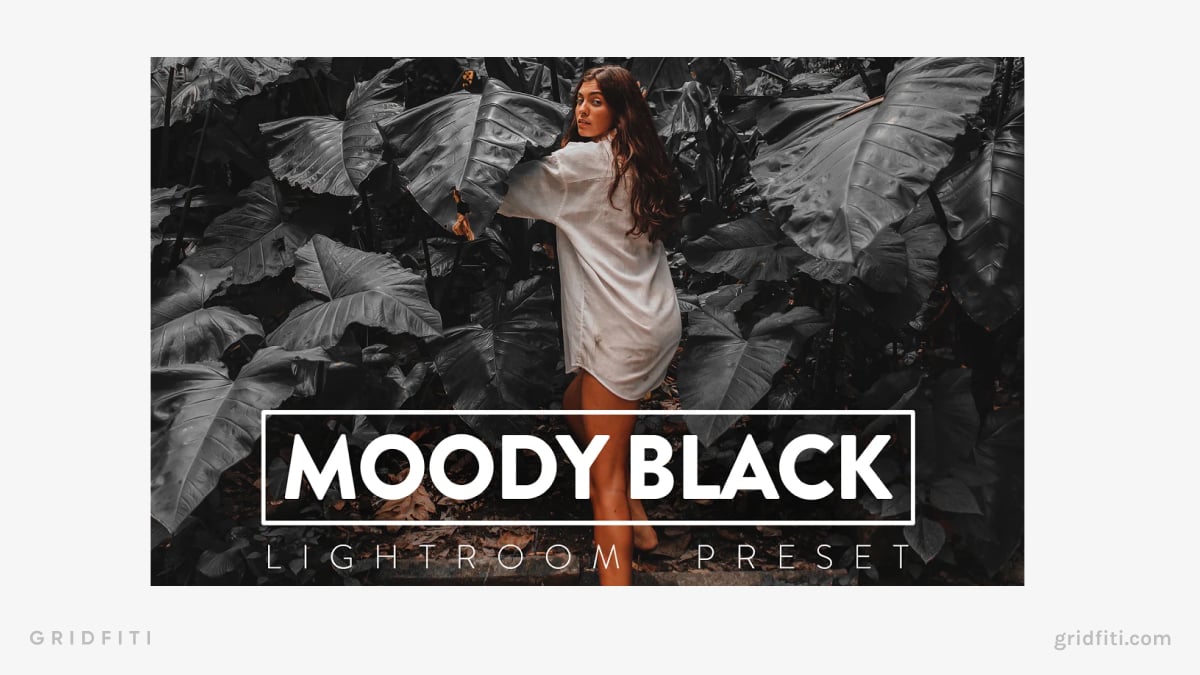 Grey Dark Aesthetic Presets
These grey dark aesthetic presets are designed to grace your photos with a pristine neutral grey look. This set comes with 10 presets for Lightroom desktop and mobile. They suit darker subjects, whether that's outfits, architecture, or furnishings — ideal for showcasing cityscapes, chic outfits, and just everyday capture. Give your photos the perfect neutral moody vibe they need!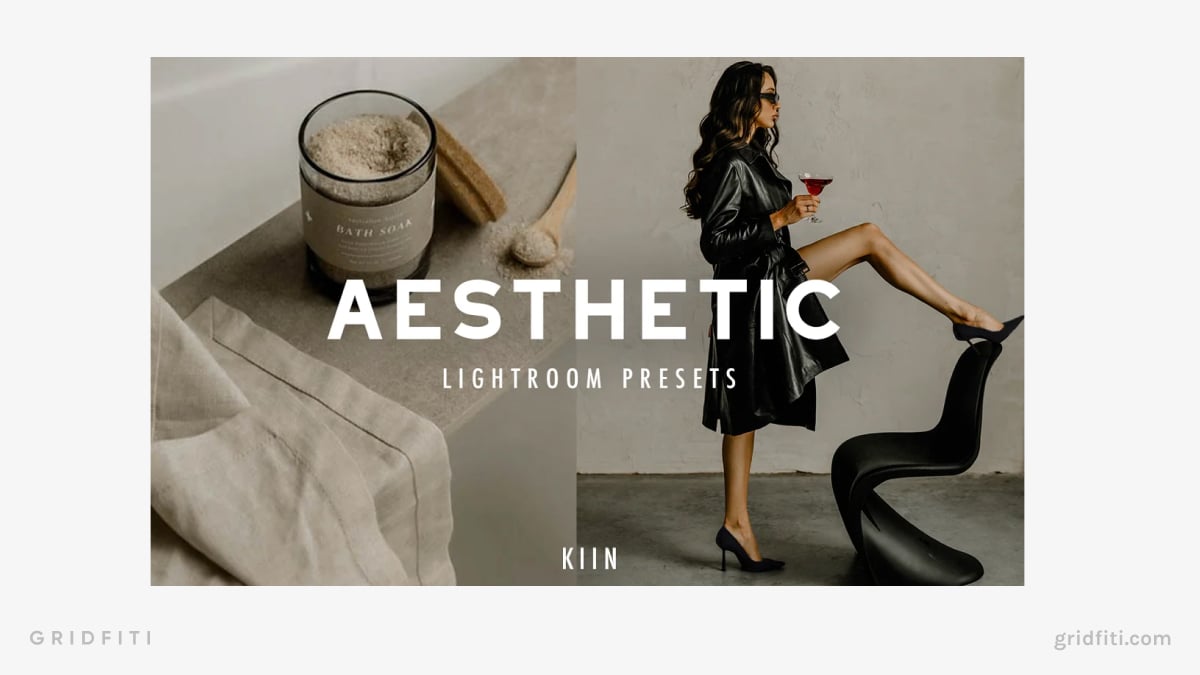 Rich Dark Mobile Presets
Unlock the nuances of your photos with these Rich Dark mobile presets for Lightroom. These presets brings a professional and cohesive dark finish to your photos. Tailored for everything from travel photos to captivating portraits and blog updates, these presets will desaturate and deepen the blacks, while maintaining a touch of warmth.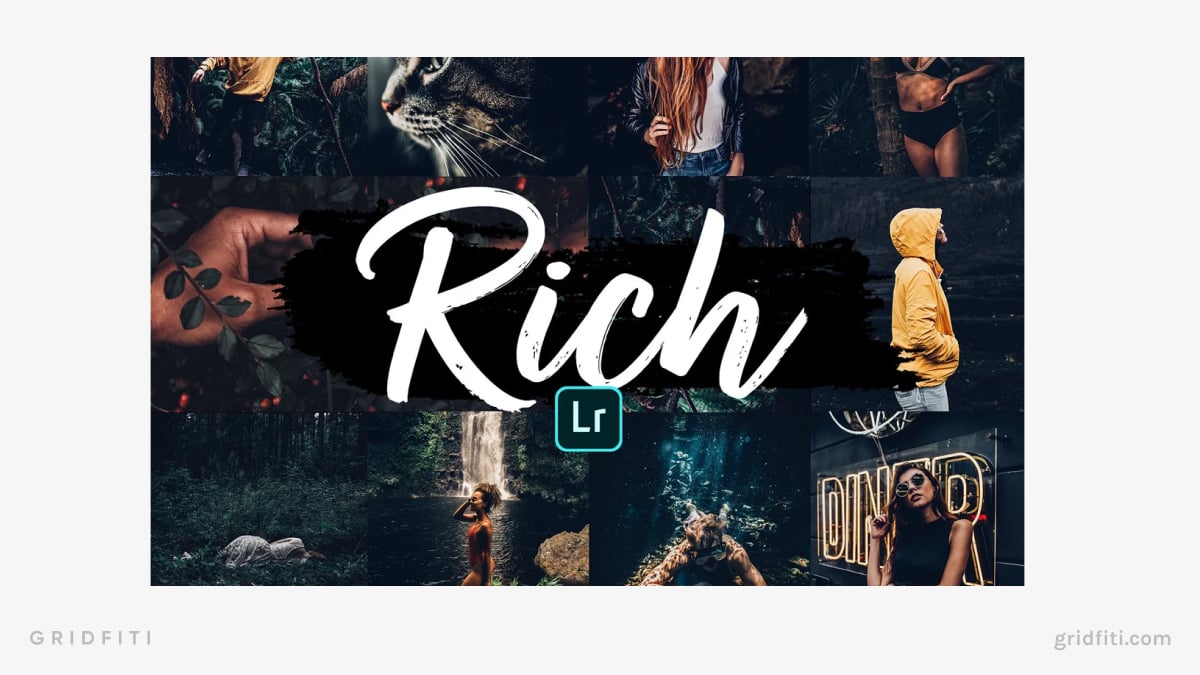 Black Tones Presets
Elevate your portraits with these Black Tone presets. This expansive collection of 60 presets for Lightroom desktop and mobile is crafted to desaturate most hues and intensify the blacks and contrast. The preset creates an almost monochromatic look, yet the aesthetic lies in retaining the vibrancy of outfits and skin tones.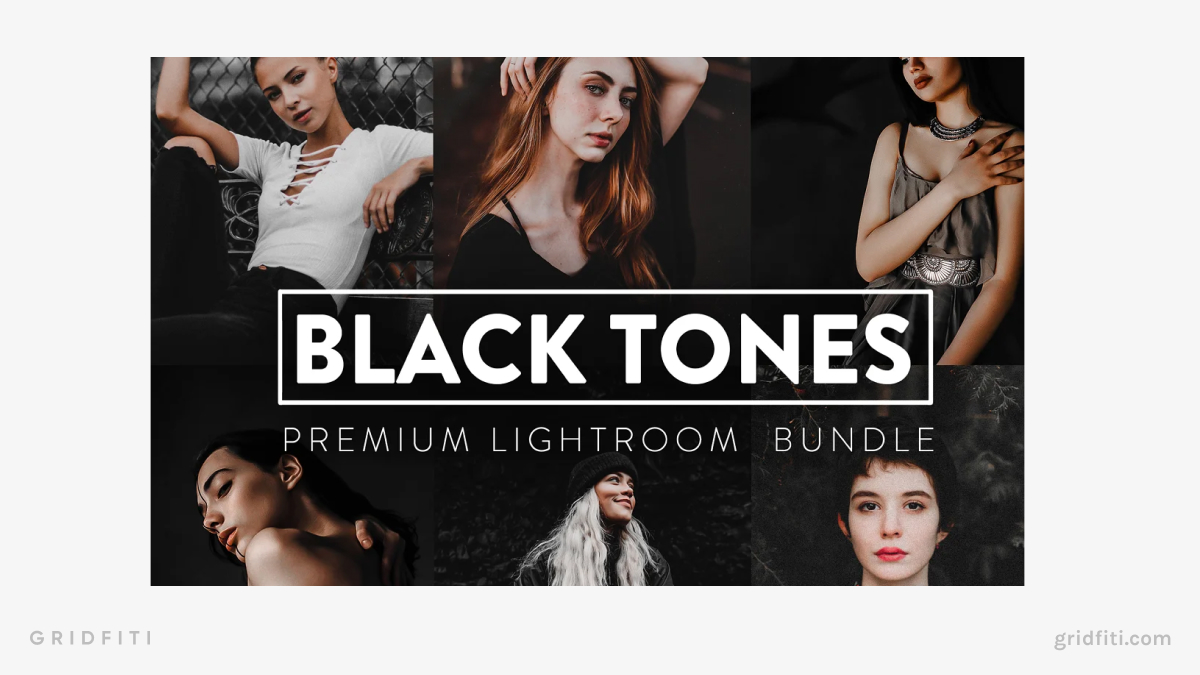 Warm Moody Presets
Capture the essence of your moments with these Warm Moody presets for Lightroom desktop and mobile. These 10 presets infuse your photos with a deep contrast, painting them in rich and warm hues. By balancing a darker mood with warm undertones, these presets will elevate anything from travel shots to portraits and nature, ensuring a distinct moody vibe.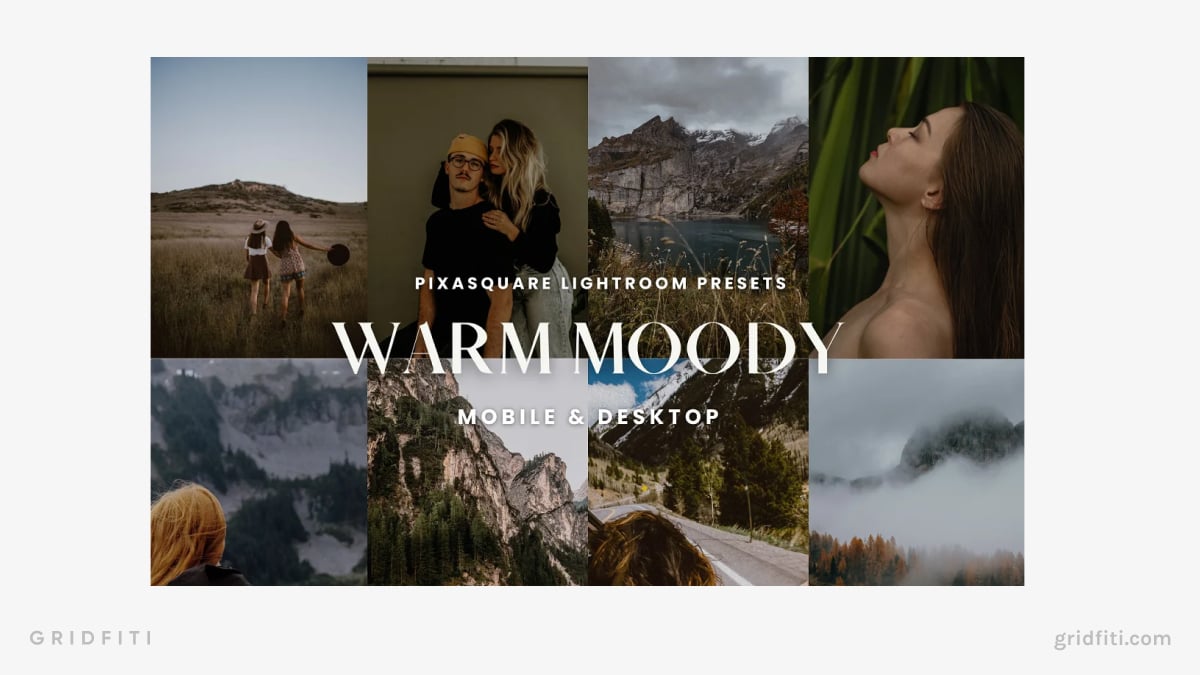 Deep Moody Presets
Unveil the beauty of your nature photos with these Deep Moody presets curated for the wilderness. With 16 presets for Lightroom desktop and mobile, the set crafts a deep and atmospheric ambiance for landscapes. Whether it's the silence of a dense forest or vastness of open fields, these presets unlock the earthy colors of nature. The darkening of tones while accentuating highlights create a dramatic contrast in your photos!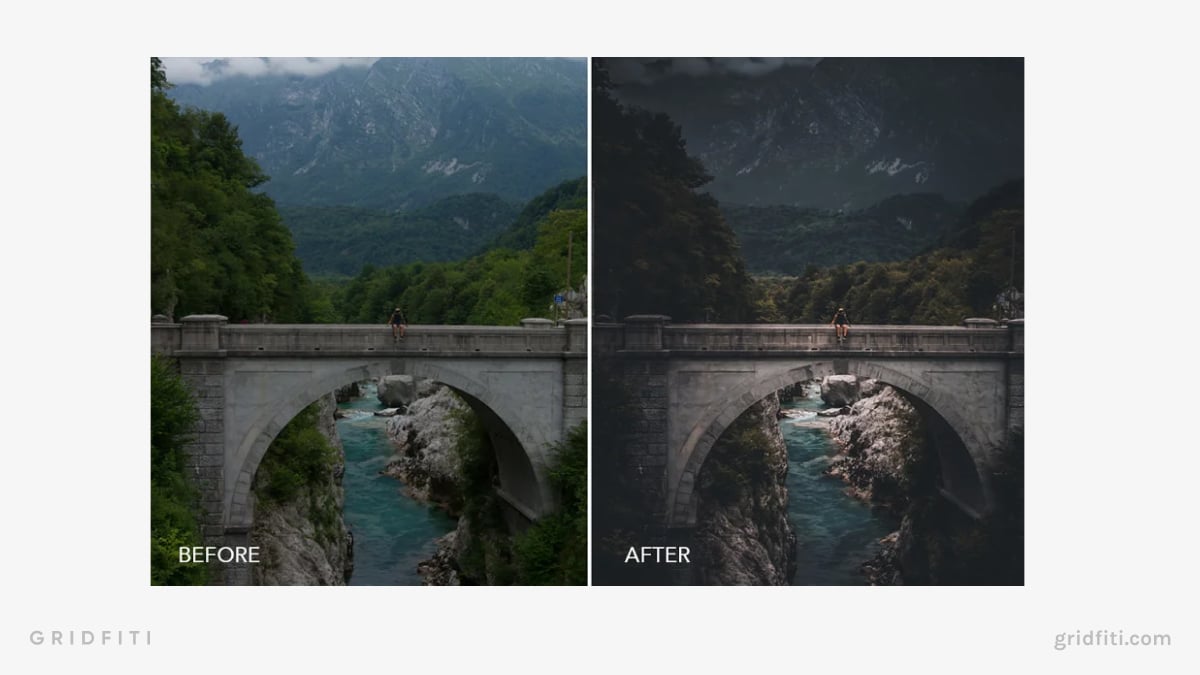 Moody Portrait Presets
Elevate those portrait shots with these Moody Portrait presets. These 10 presets for Lightroom desktop and mobile are created for portraits and lifestyle photographers in mind. Add a cinematic allure to your photos, characterized by moody, faded blacks. Even amidst this deep moody look, these presets ensure a color balance and preserves natural skin tones, resulting in shots that are emotive and true to life.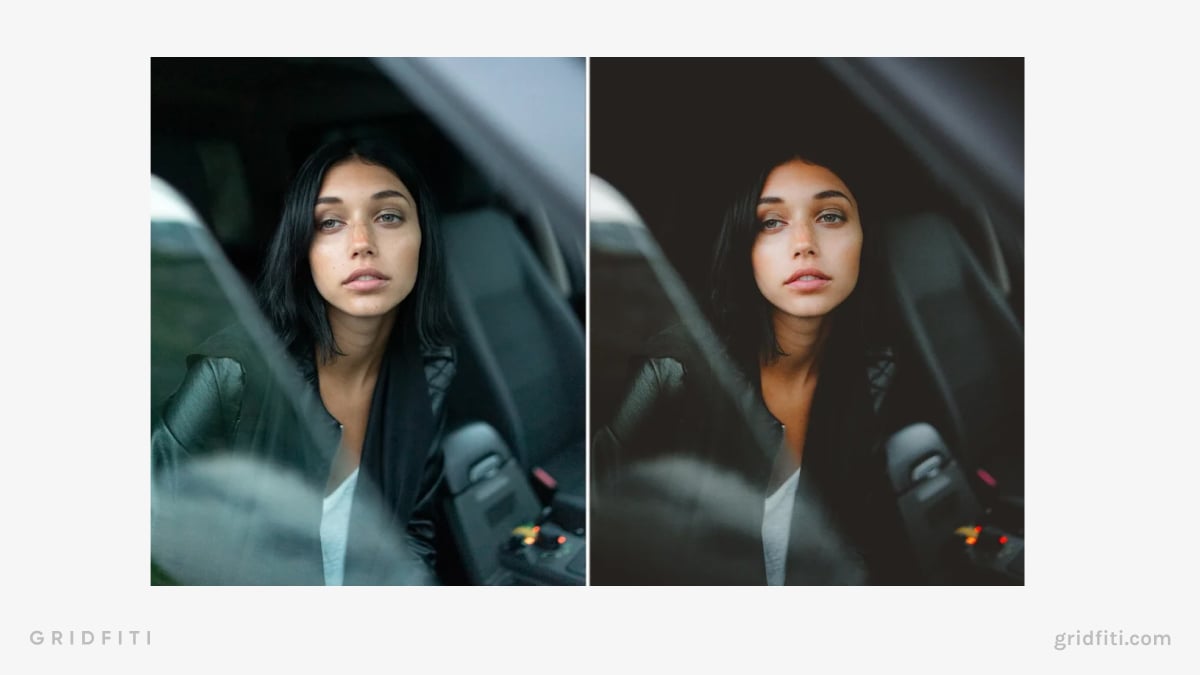 Black Forest Moody Presets
Add a moody, deep dark green touch to your photos with this set of 5 Lightroom mobile presets. Created primarily for outdoor photographers, they capture and enhance the earthy tones in your photos. Whether you're wandering through a forest, taking a leisurely hike, or simply documenting your travels, these presets can make your photos resonate with a moody nature vibe.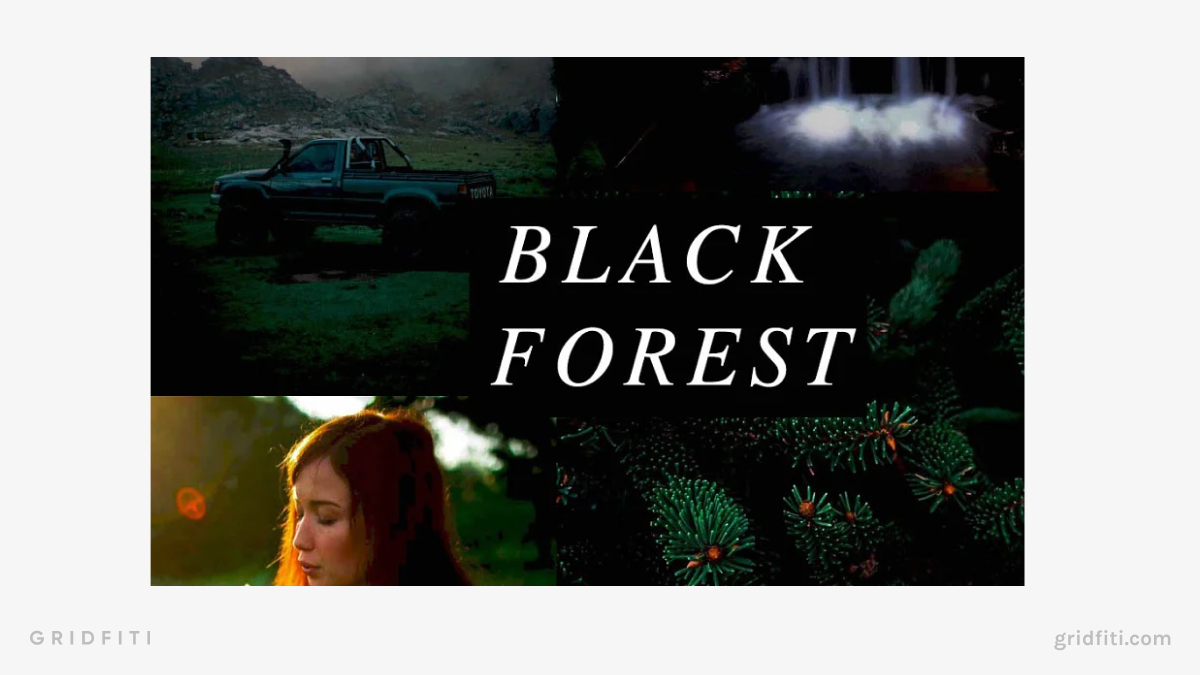 Soft Blacks Moody Presets
Step your photos up a notch with the Soft Blacks moody preset pack. The collection comes with 15 presets for Lightroom desktop and mobile which are crafted to enhance indoor, city, urban and portrait photos. They elevate contrast and shadows, lending a tasteful darker vibe to your photos. If you're looking to maintain a consistent, dark and moody look with your photography, these presets will do just that!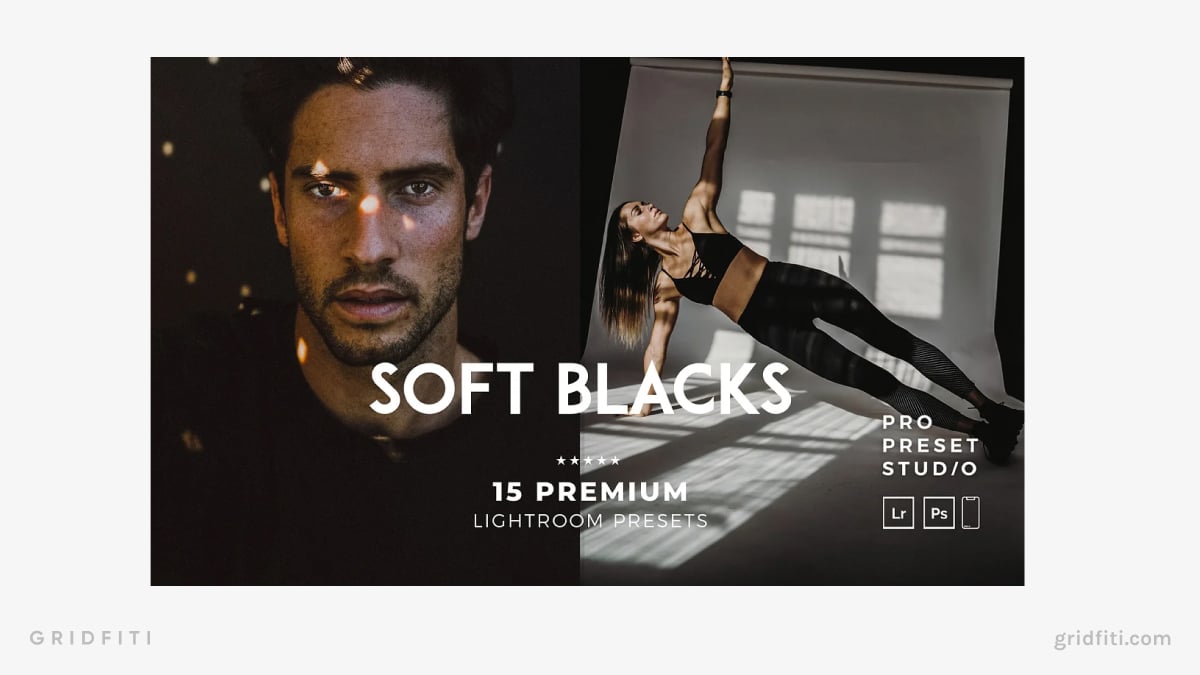 Noir Moody Lightroom Presets
Bring the look of noir to your photos with these 15 presets for Lightroom desktop and mobile. A sophisticated dark look created by lowering the exposure, increasing the blacks, shadows, contrast and adding a soft fade. There's no going wrong with a little bit of moodiness created by these Noir presets – give them a try on your photos!
Looking for more moody black filters for your photos? Here is our round-up post featuring the best black presets for Lightroom!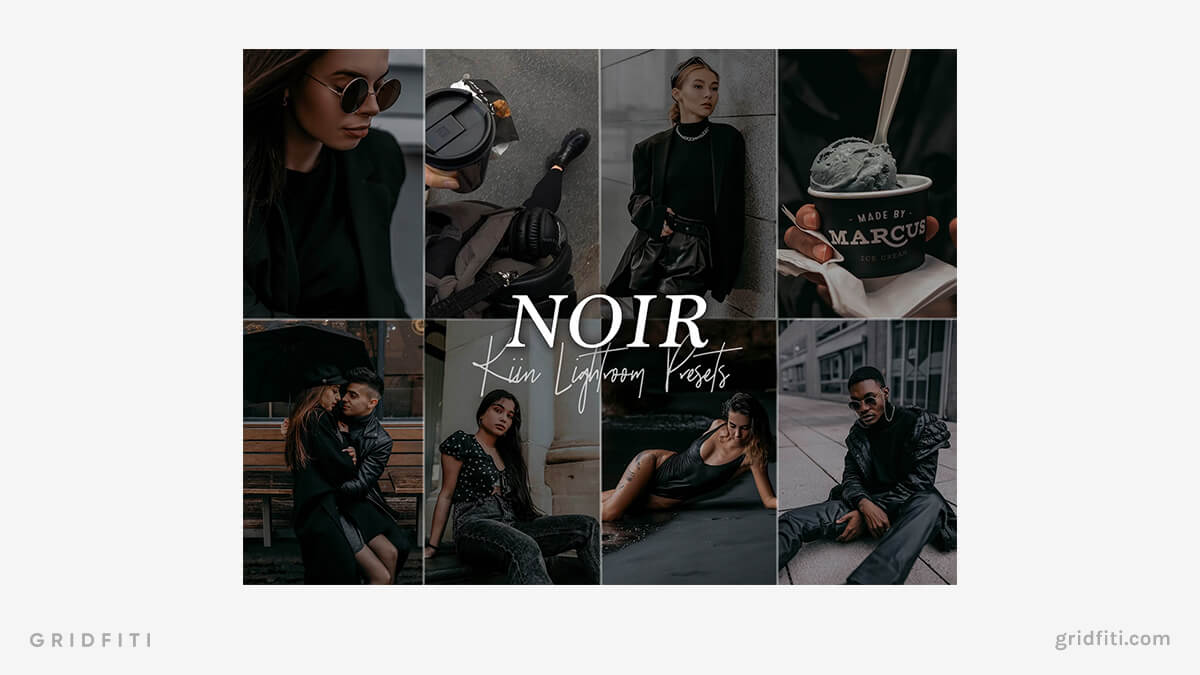 Dark Nude Moody Presets
These Dark Nude moody presets for Lightroom emphasize the warm tones of your photos. With 15 presets for desktop and mobile, you can take your photos in a darker, moodier direction without completely blacking them out. These presets will enhance the warm tones of your photos without overdoing the darkness, making them perfect for portraits and lifestyle shots. Give them a try!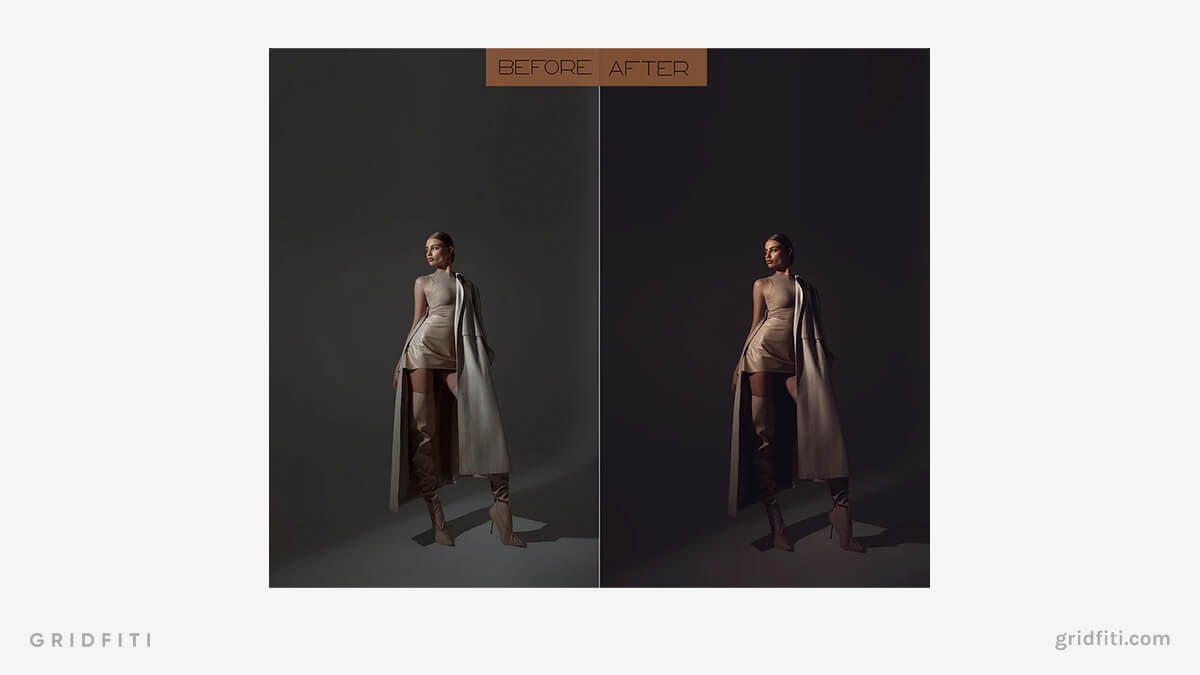 Dark Aesthetic Studio Lightroom Presets
Even bright, well-lit studio portraits can be given the dark and moody treatment! Check out these dark aesthetic studio presets, with 15 options for desktop and mobile. A clean and professional solution for photos that contain lots of whites and brightness, it takes the exposure down a notch, emphasizes the browns, golds and skin tones, and brings it all together for a beautiful minimal dark look. Give it a try with your studio pics!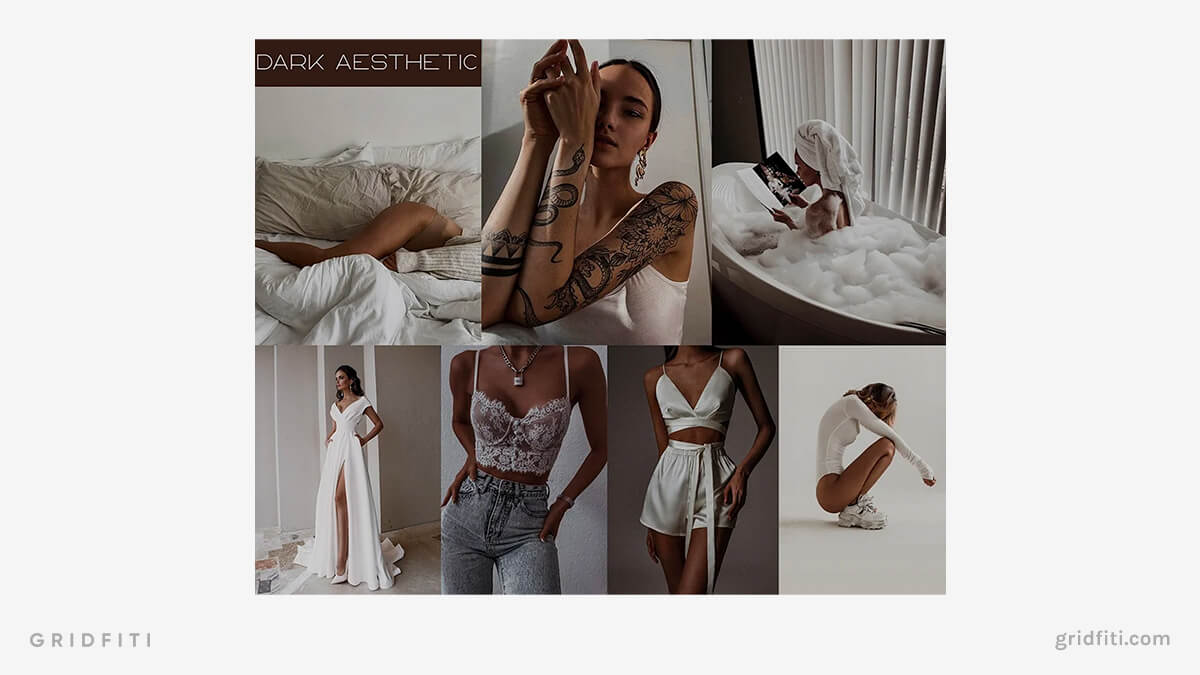 Aesthetic Dark Film Lightroom Preset
This dark film Lightroom preset pack offers a nostalgic option, with 8 presets for both desktop and mobile. The presets will give your images a moody, nostalgic look by slightly darkening them — and adding a lot of grain and a little bit of blur. Get an overall film aesthetic with a dark and moody look with this pack!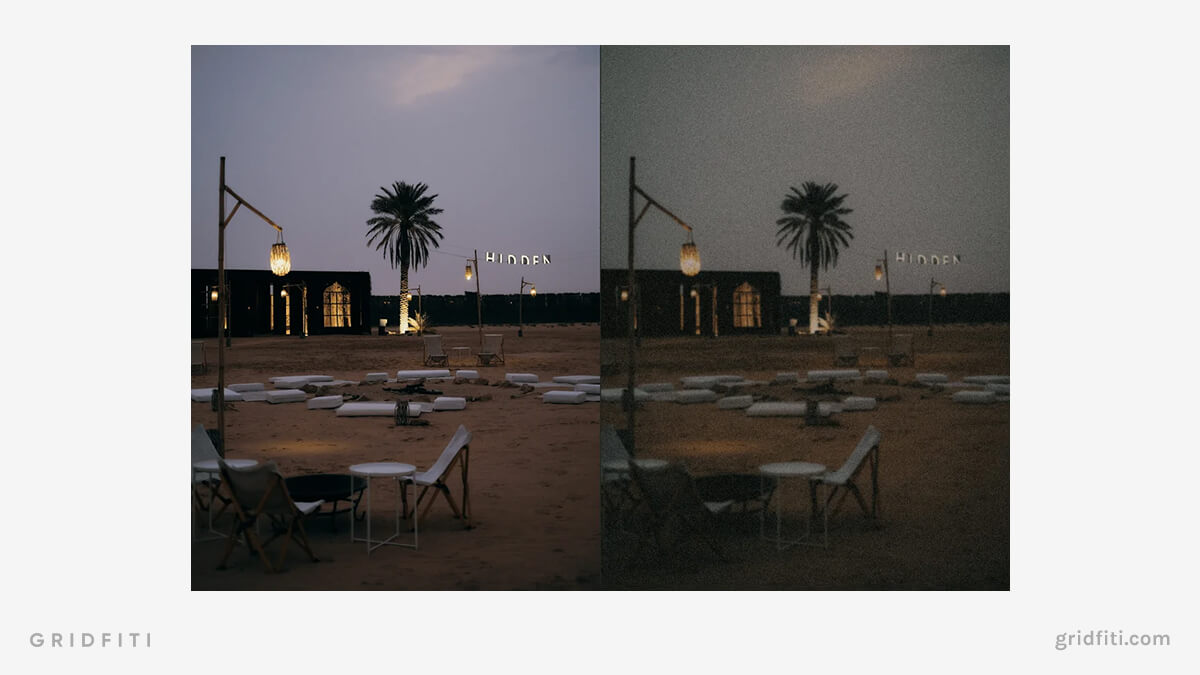 Dark & Moody Lightroom Preset for Weddings
This Dark and Moody Lightroom preset pack has been specifically created for weddings and portraits, it includes 32 premium presets for desktop that will add a rich, warm and dark aesthetic to your images. The presets will give your photos deep blacks, and a cozy, vintage look by using subtle fade and grain, rather than harsh, sharp dark looks. Transform your photos with a moody yet inviting look by using this pack!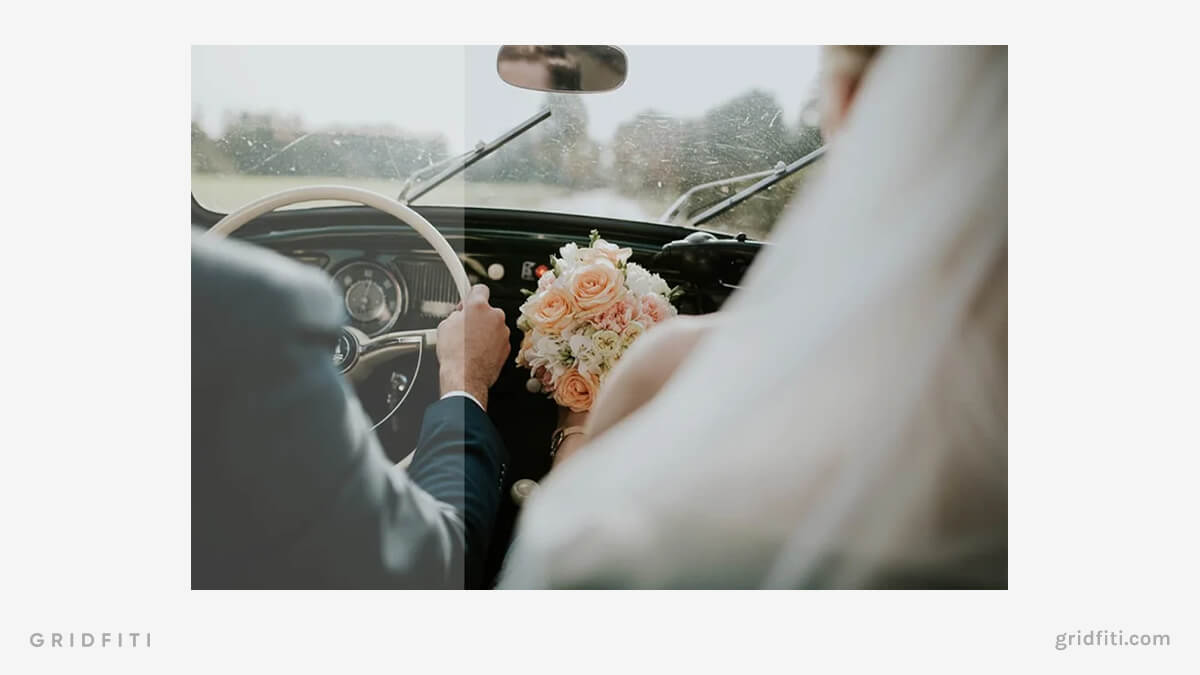 Moody Traveler Lightroom Presets
Combining the moody vibe with travel photos seems like a tale as old as time. Try out these 5 moody traveler presets for Lightroom desktop and mobile on your photos of grand landscapes, beaches, waterfalls, and forests. They're perfect for adding a tasteful darkness to muted-toned travel photos.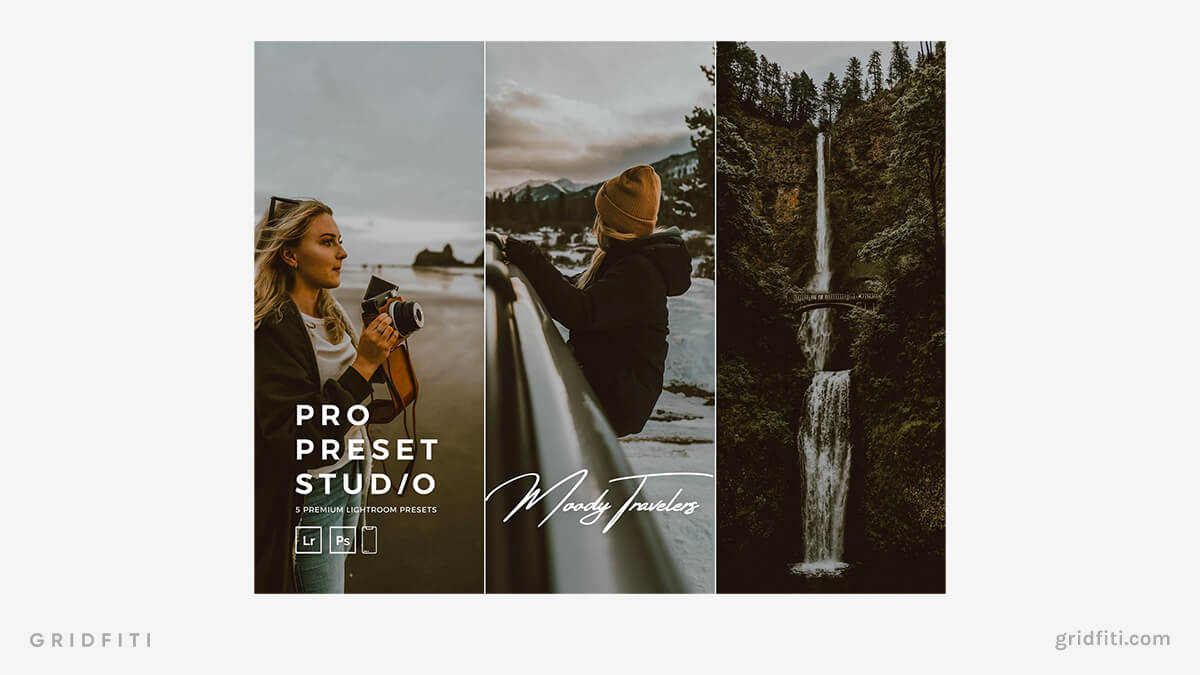 Vintage Moody Lightroom Presets
Add a pinch of vintage vibes to your moody photos with these vintage moody Lightroom presets. Packed with 10 presets for mobile and desktop, these presets take your photos in a darker, moodier direction, with warm tones as the focus. The slight fade in the shadows gives off the vintage look of older film photos – try it out on your own pics! For more presets like this, check out our full round-up of retro and vintage presets.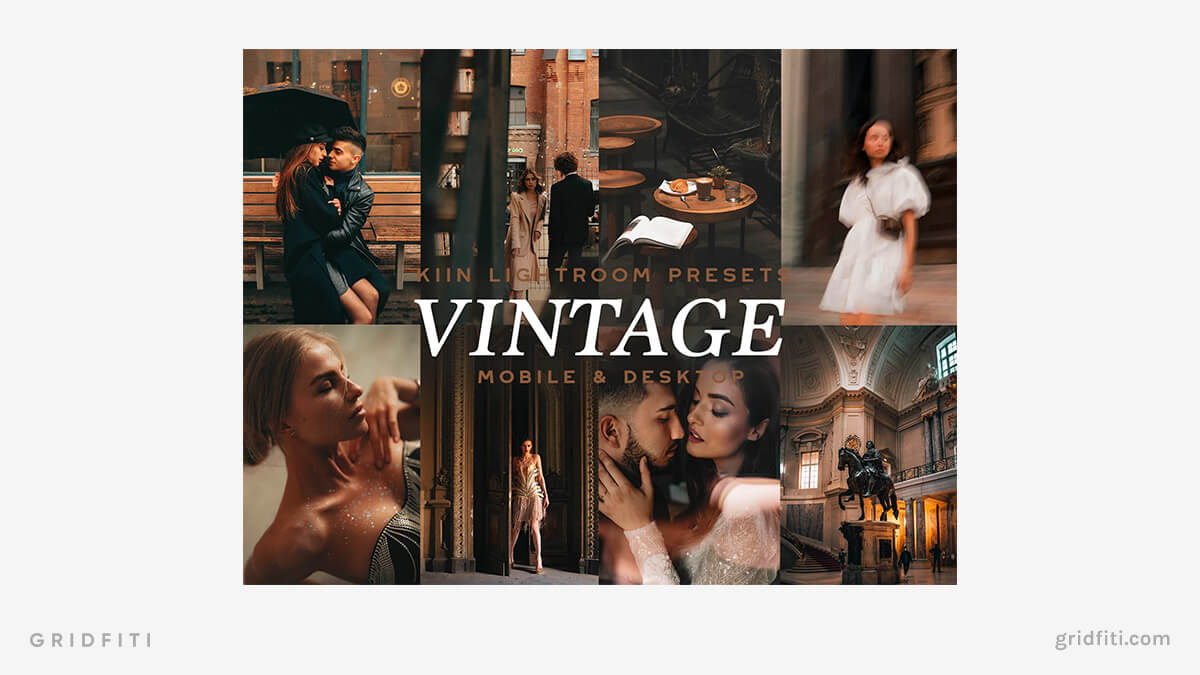 Stillness Moody Lightroom Presets
Most moody Lightroom presets are associated with muted, darker aesthetics. However, this preset pack departs from that. Check out the Stillness Moody preset pack with 10 presets for desktop and mobile. The noticeable look here is that it creates a sense of moodiness with a light and airy feel, whether it's on indoor shots, photos of nature, or portraits in well-lit, minimal spaces. Give it a go to transform your photos with a bright, moody vibe!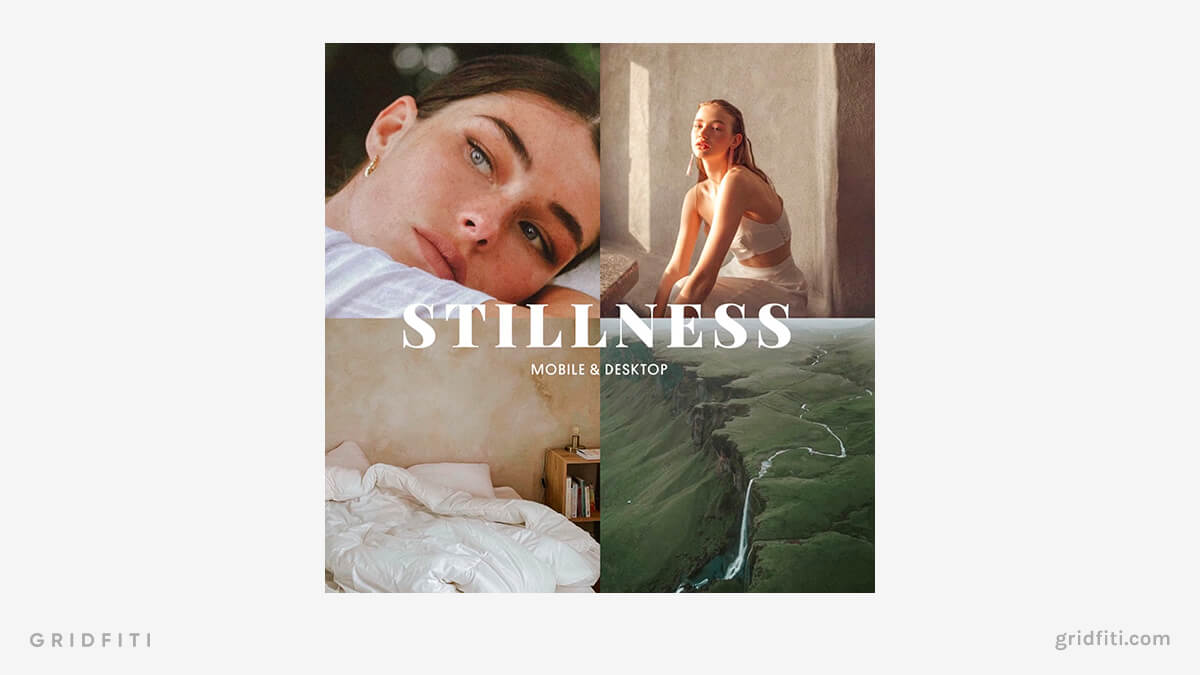 Aesthetic Moody Lightroom Presets
This aesthetic moody preset pack comes with 5 dark presets for desktop and mobile. It treats your photos to a minimal dark look, with increased blacks and shadows, while other tones are still in tact. Combine that with a soft textured look, and you'll get a smooth yet moody look for any of your lifestyle shots!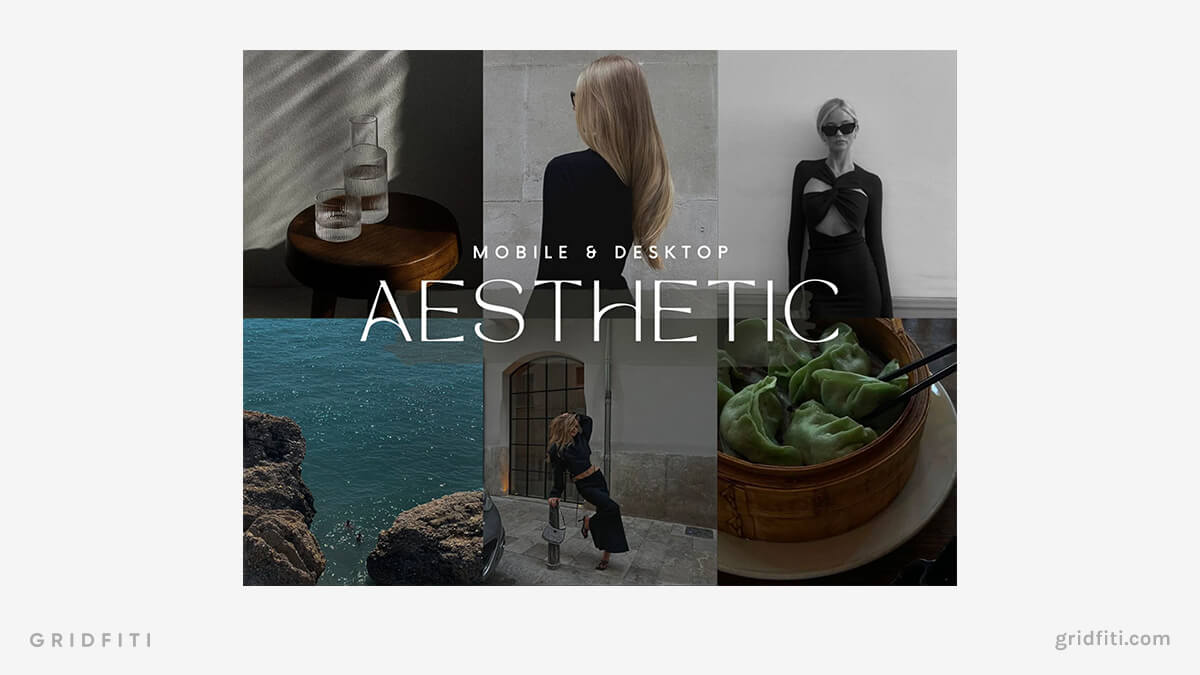 Dark Aesthetic Moody Presets
The perfect moody aesthetic for lifestyle and fashion photos, check out this Dark Aesthetic preset pack with 16 presets for desktop and mobile! Your overall tones will be muted while shadows and contrast are lifted. Use it on photos of monotone outfits or items against bright backdrops and see the dark aesthetic take form!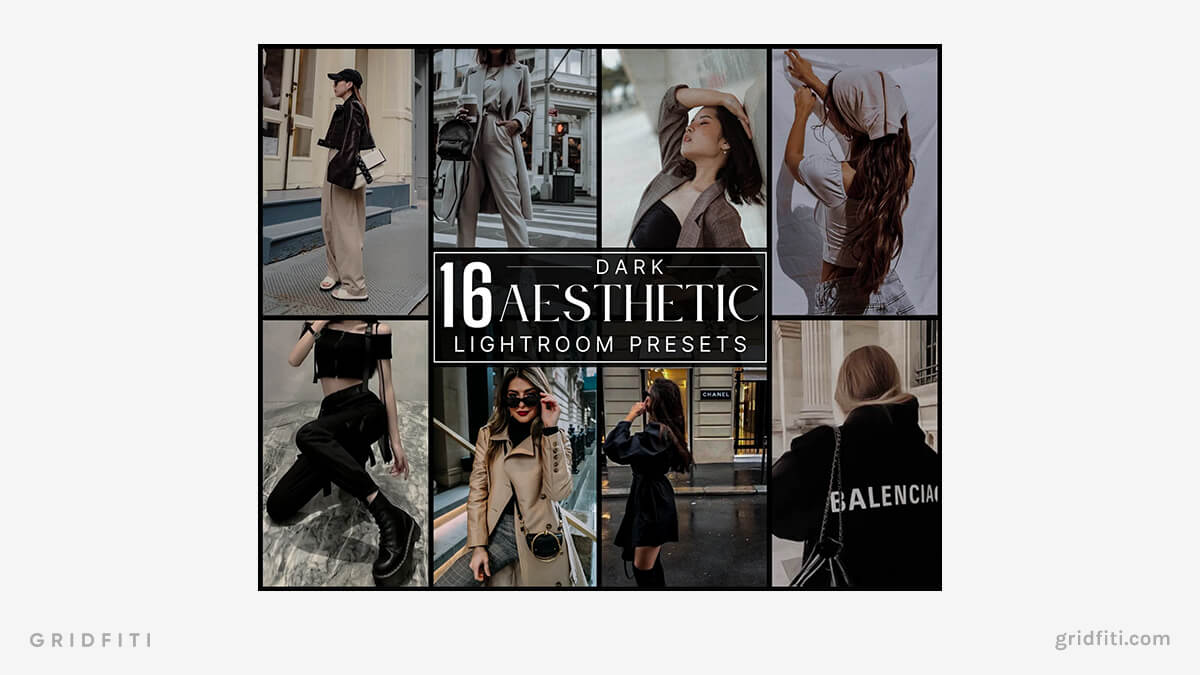 Folk Scenery Moody Presets
Bring the look of moodiness to the forest with 10 of these Folk Scenery Moody Presets for desktop and mobile! Moody presets are often set towards monotone photos, but the magic of this set is its adaptability to nature and scenic shots. Its color grading adds a smooth darkness — with adjusted softness, shadows, and tones to achieve a calming and moody nature scene.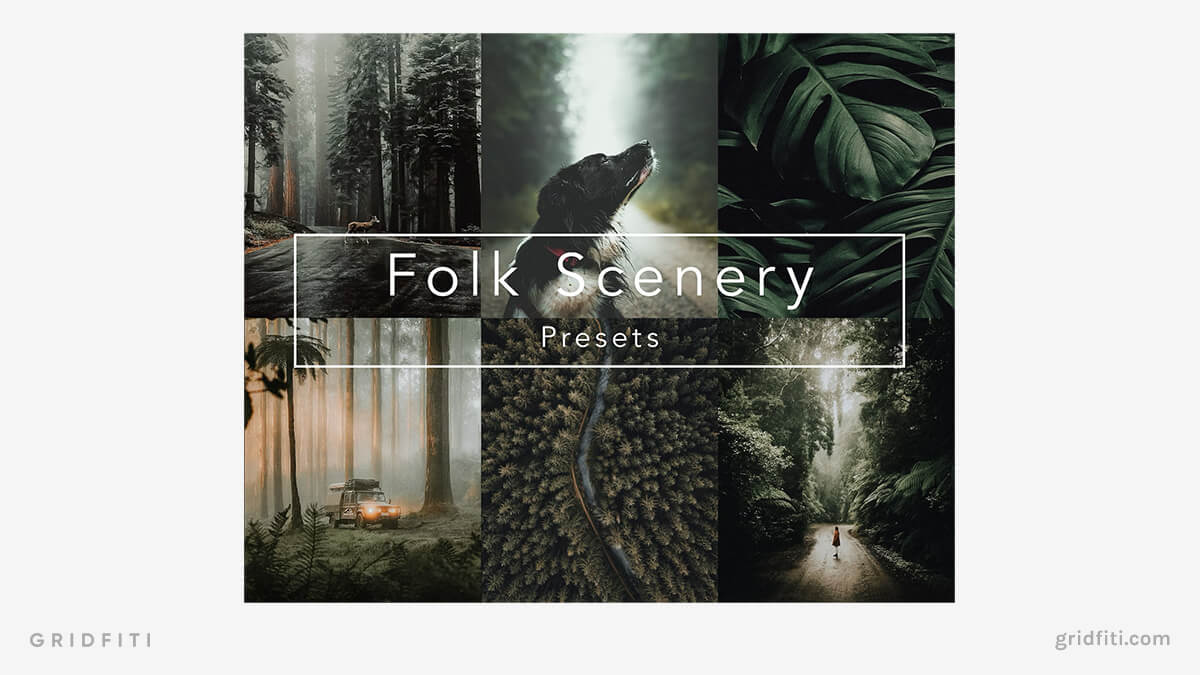 Rustic Moody Lightroom Presets
Not all moody presets have to be dark! This rustic moody preset pack comes with 10 presets for desktop and mobile. They're perfect for scenes with beiges, browns, oranges, and overall earthy tones. Warm tones are enhanced while shadows and highlights are balanced to create a lovely, relaxing, rustic look!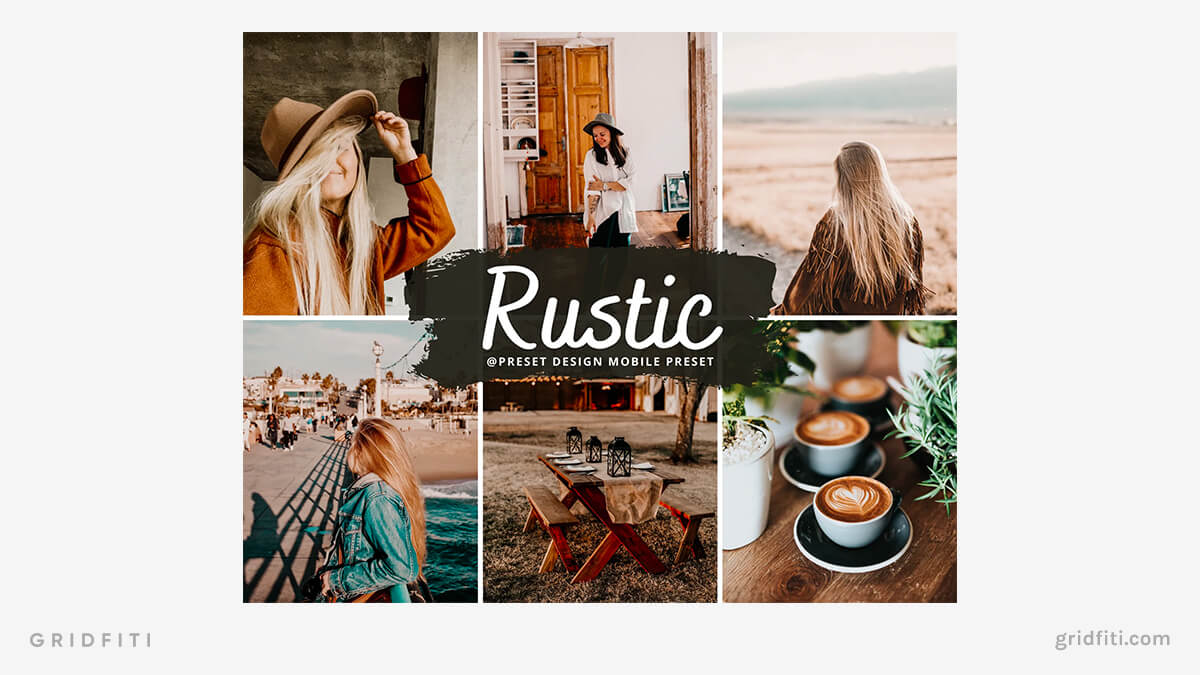 Free Moody Presets
Not sure which moody aesthetic preset to go with? Give these free moody presets a try to get an idea of the style of editing you prefer!
North Landscapes Free Moody Presets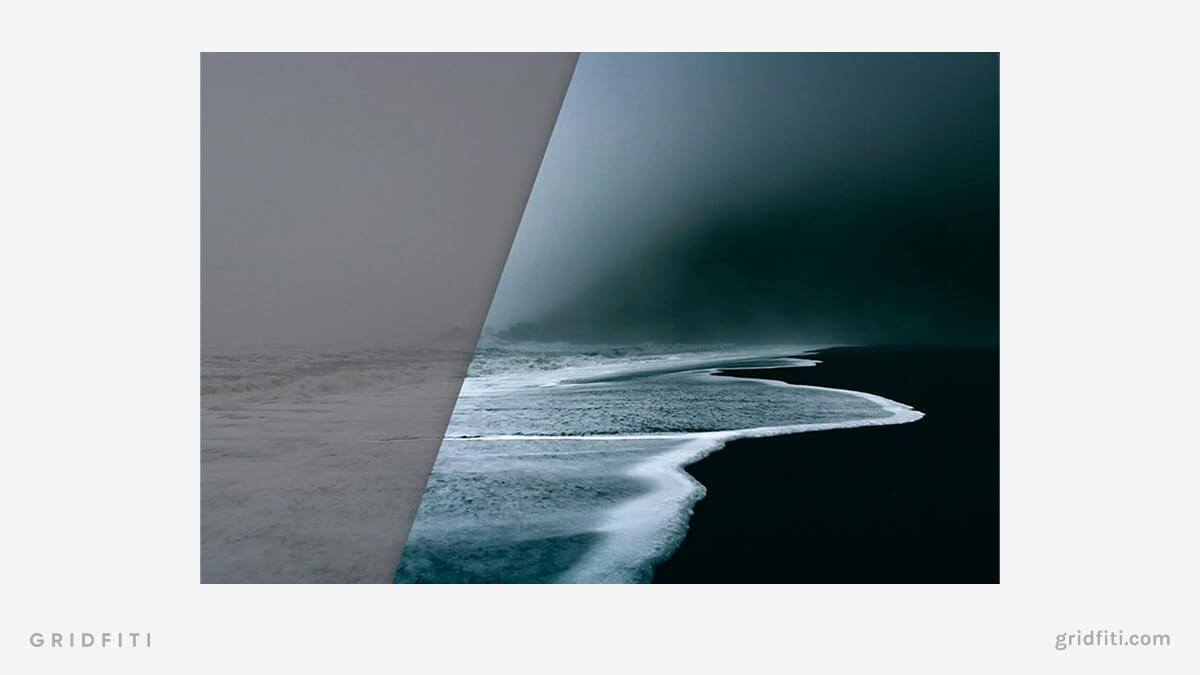 Free Faded Moody Lightroom Preset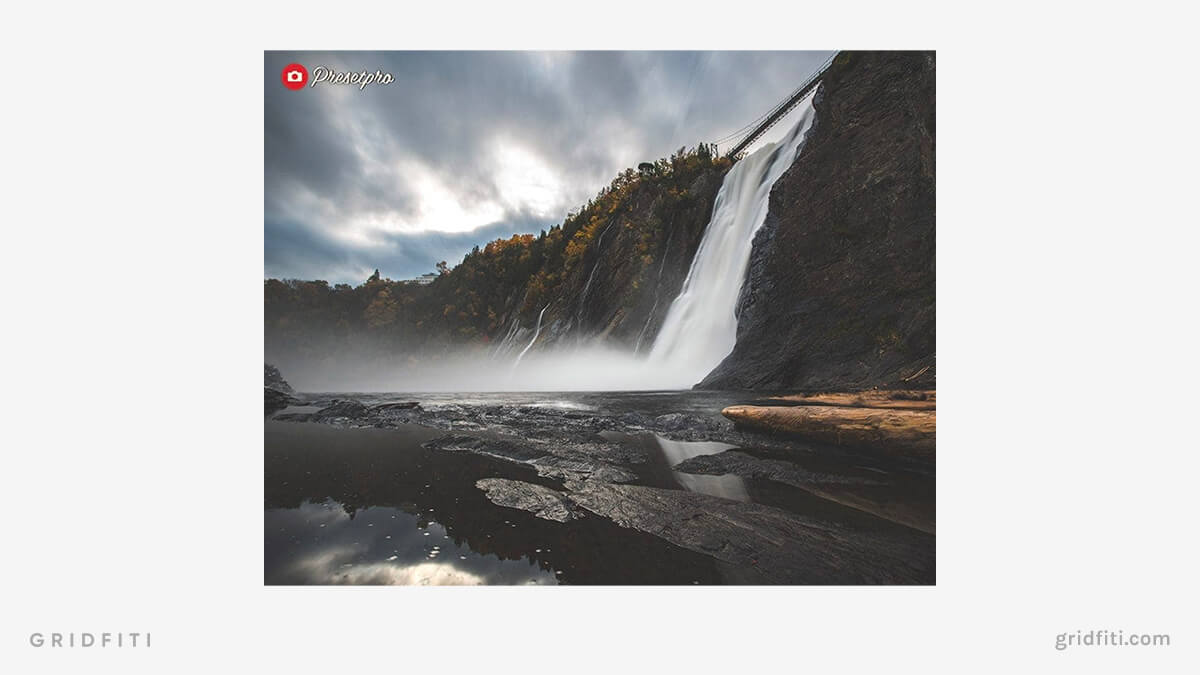 Free Moody Desaturated Preset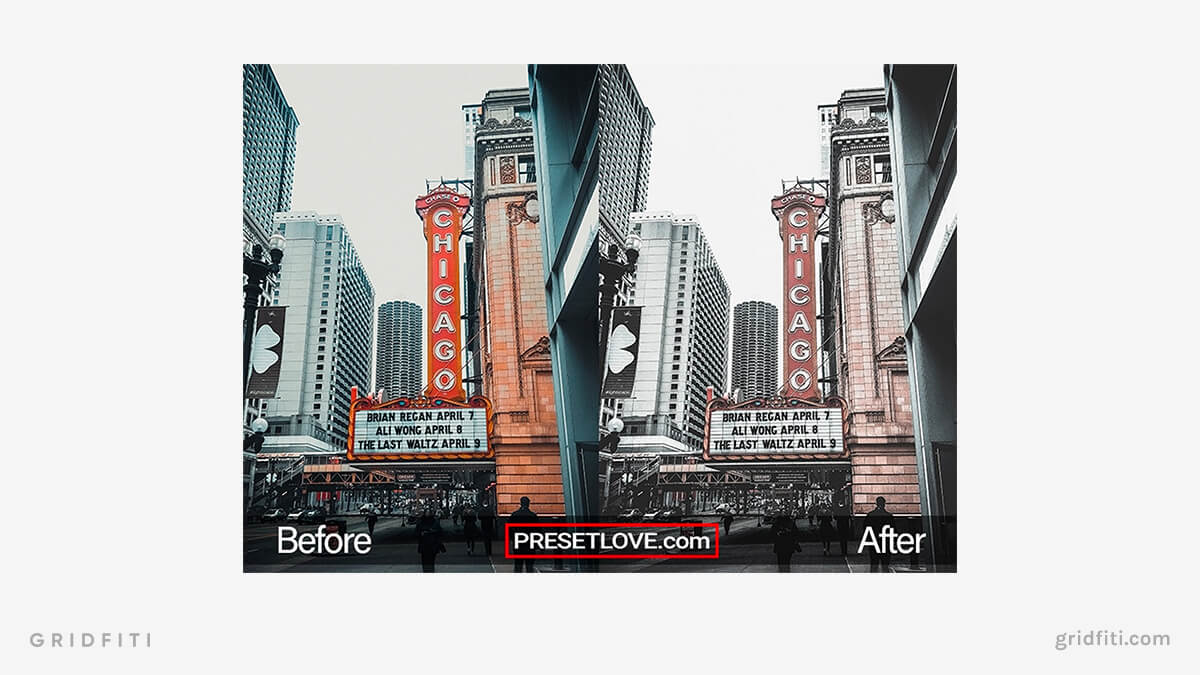 Which one of these moody Lightroom presets is your favorite? Let us know in the comments below!
Gridfiti is supported by its audience – when you buy something using the retail links in our posts, we may earn a small commission at no additional cost to you. Read more about our affiliate disclaimer.