We've seen the curated feeds of photographers in the form of high saturation, bright and airiness, or pastel colors – but have you ever seen a smooth, rich dark aesthetic theme?
Darkening your photography aesthetic can result in looks of moodiness and sophistication. From portraits, to places, to objects, black and dark styles can be achieved in your photography through the many custom Lightroom presets out there – check out our guide to the best black Lightroom presets to get started!
Want more preset guides and tips? Check out our several other preset blog posts, and join our mailing list below!
True Black Lightroom Presets
A preset pack that will literally strip your photos of most vibrant colors – this True Black Lightroom preset pack comes with 10 presets for desktop and mobile. Applying these to your images will aesthetically remove your images of any distracting colors, while keeping skin tones and other complementary tones intact. The result is a dramatic dark look, which creates richness and moodiness with the blacks of the image. Give it a go if you plan on darkening your images to this level!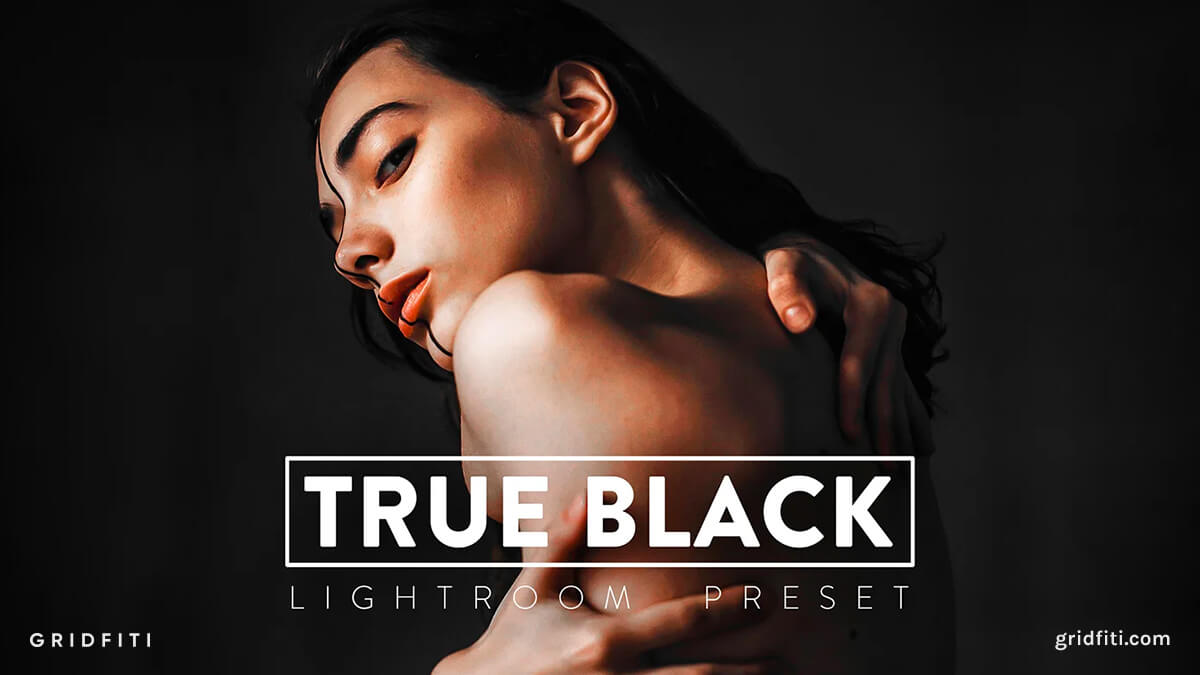 True Black – Dark Portraits & Automotive Photography Preset Pack
This preset pack contains 25 presets for mobile and desktop Lightroom. It's especially designed for automotive photos, portraits, or both combined! You'll notice a nice warm glow and hints of yellows, combined with deep blacks and contrast – with a subtle fade in the edits to bring the look all together. We think this is the perfect preset for any product or lifestyle photos that you want to add a moody flare to.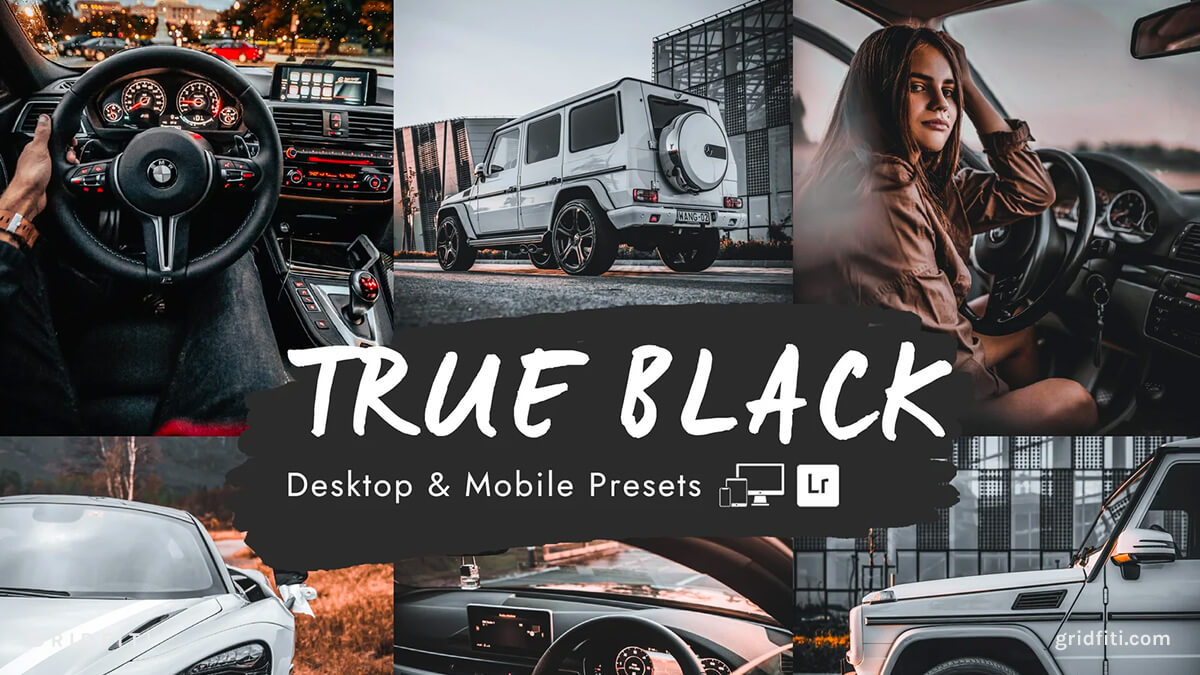 Film Noir – Dark Mobile Lightroom Presets
Film Noir gives us more of a vintage film approach to a dark Lightroom preset. What you'll find in this pack is 3 mobile Lightroom presets locked and loaded to transform your dark images into a filmic aesthetic, where the shadows and contrast are heightened. Most dark presets will be in favor of the blacks in your images, but the filmic approach with this preset still respects other tones. This preset pack is a great quick solution to have on-the-go with your phone – it'll achieve the black & dark aesthetic with a vintage look, while ensuring you don't lose other tones in your image.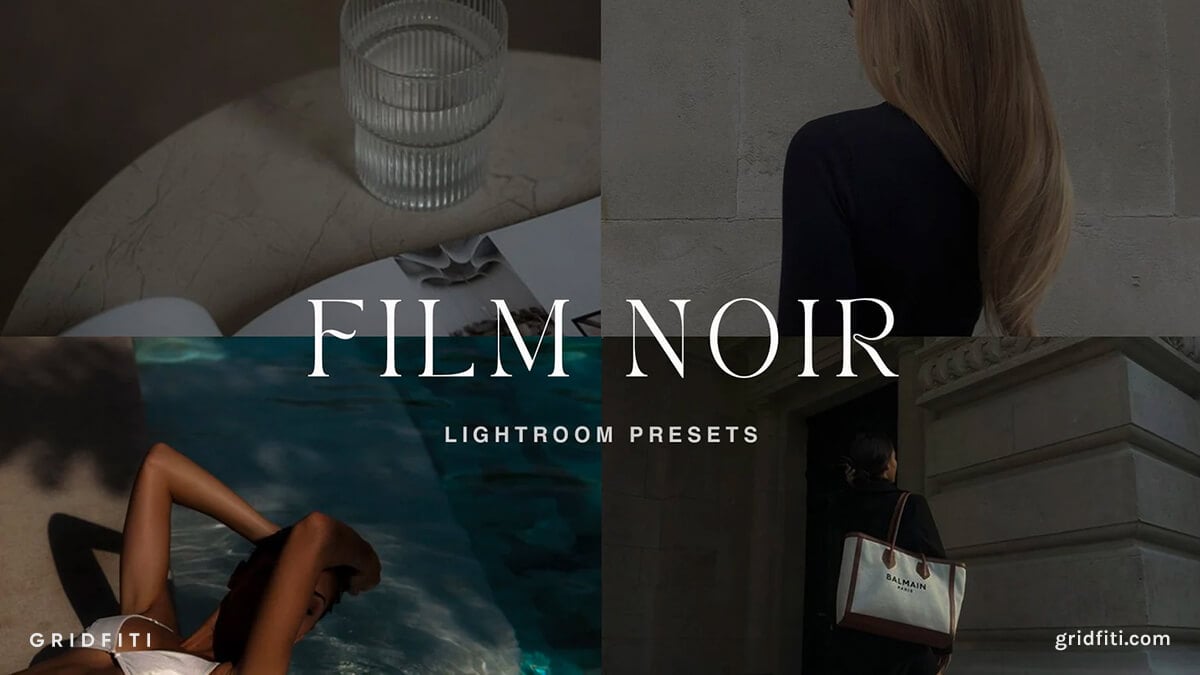 Noir Lightroom Presets – Desktop & Mobile
The Noir Lightroom preset pack comes with 15 presets ready for desktop and mobile. This is a great preset bundle for lifestyle and portrait photos, as it enriches blacks with a slight blue tint and overall reduction in saturation. It's moody, it's minimal, and it'll complement any photo with the primary color as black – whether that be a black coat, black road, or black surroundings.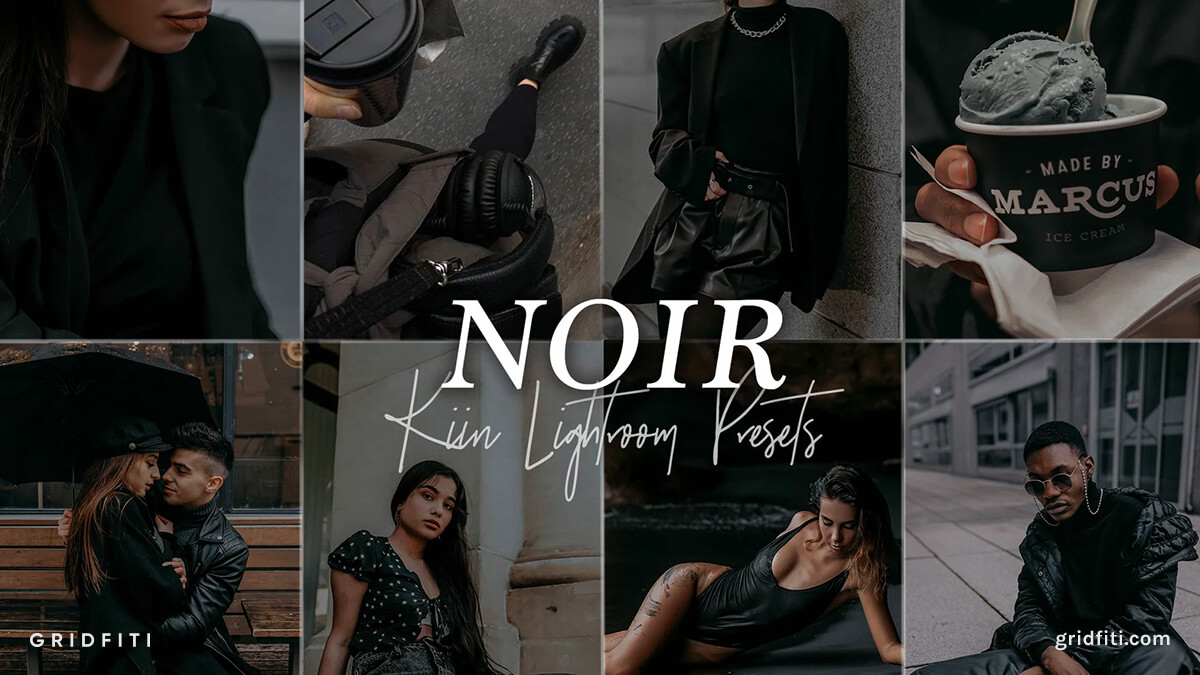 Aesthetic Black Film Lightroom Presets
Another filmic option, this black film Lightroom preset pack comes with 8 presets for desktop and mobile. The look here is to slightly darken your images to create a moody, nostalgic look – with a high amount of grain and subtle blur. This preset will give your images an overall film aesthetic, while keeping true to the dark look!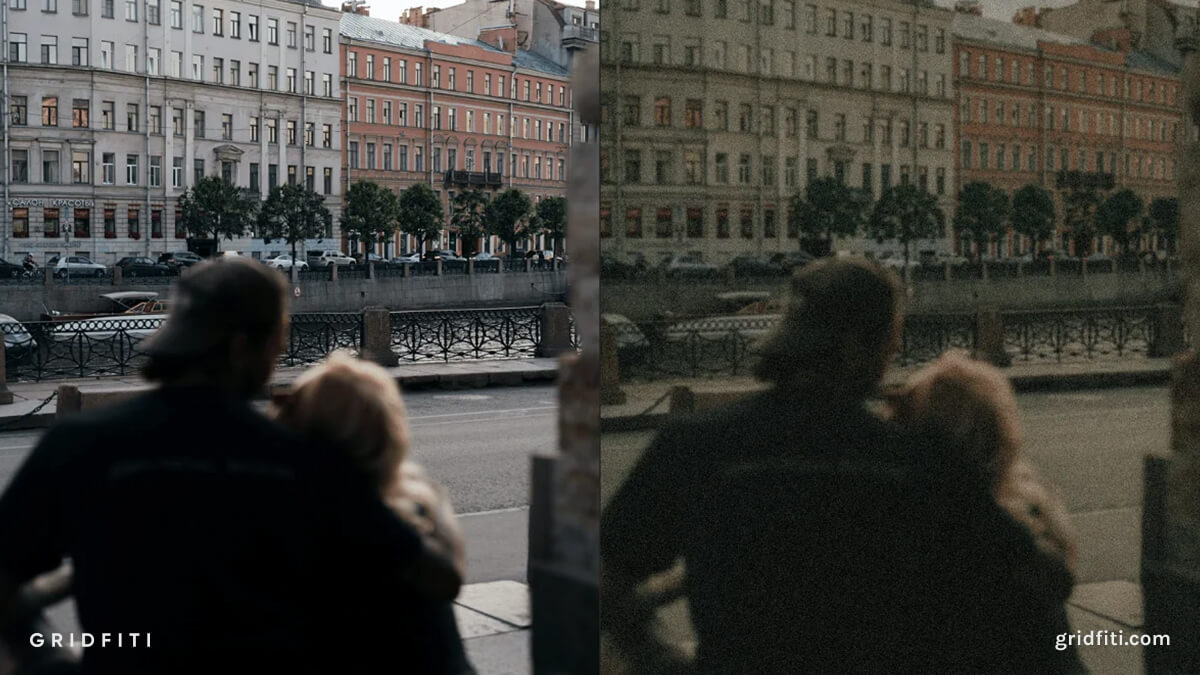 Majestic Black Lightroom Presets
Where most dark moody presets add slight fade to images, the Majestic Black Lightroom preset pack leans into embracing the blacks in your photo, coming with 7 presets for desktop and mobile. It's another preset that works best with images containing a lot of black subjects or accents already, and will create a more dramatic dark look. Check it out, apply it, adjust it, and it's done!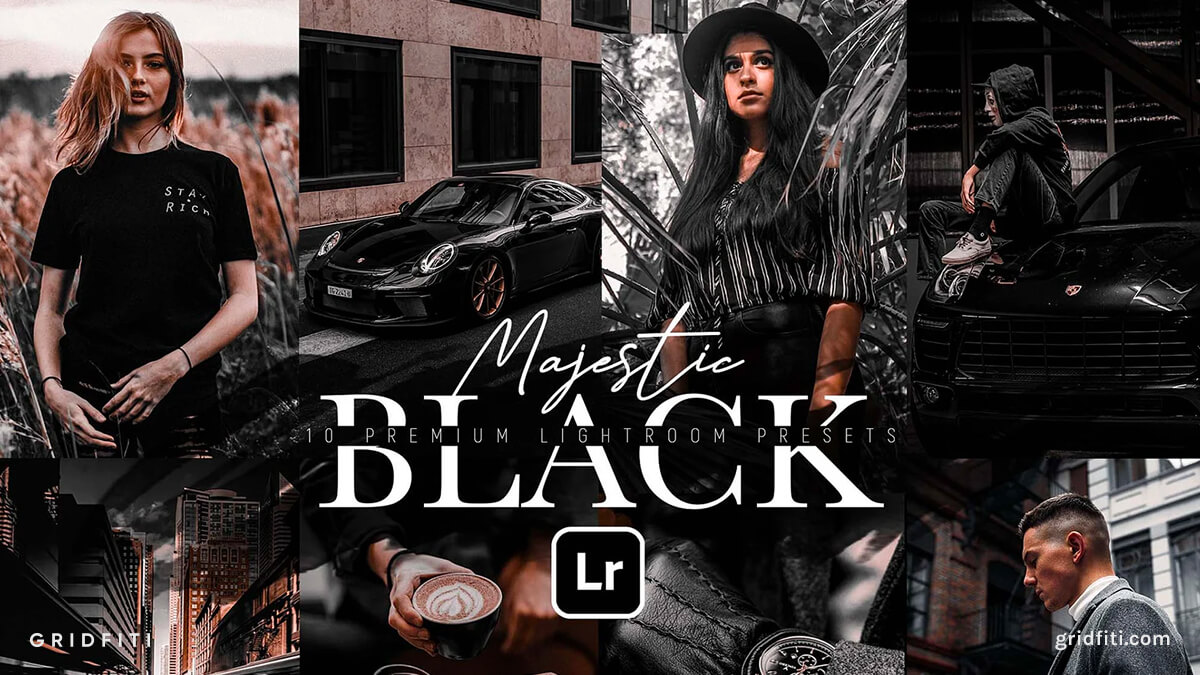 Dark & Moody Lightroom Presets for Weddings
This Dark and Moody Lightroom preset pack was designed with two things in particular in mind: weddings and portraits. It comes with 32 premium presets for desktop, which are designed to add beautiful dark and warm tones to your images. It'll give your photos rich blacks with a cozy aesthetic, as opposed to harsher, sharper dark looks. The subtle fade combined with subtle grain will give your photos a moody yet vintage look as well! Check out this preset pack to get your photos looking dark and moody – yet cozy.
For more filters like this, read our round-up post showcasing the best dark & moody presets for Lightroom!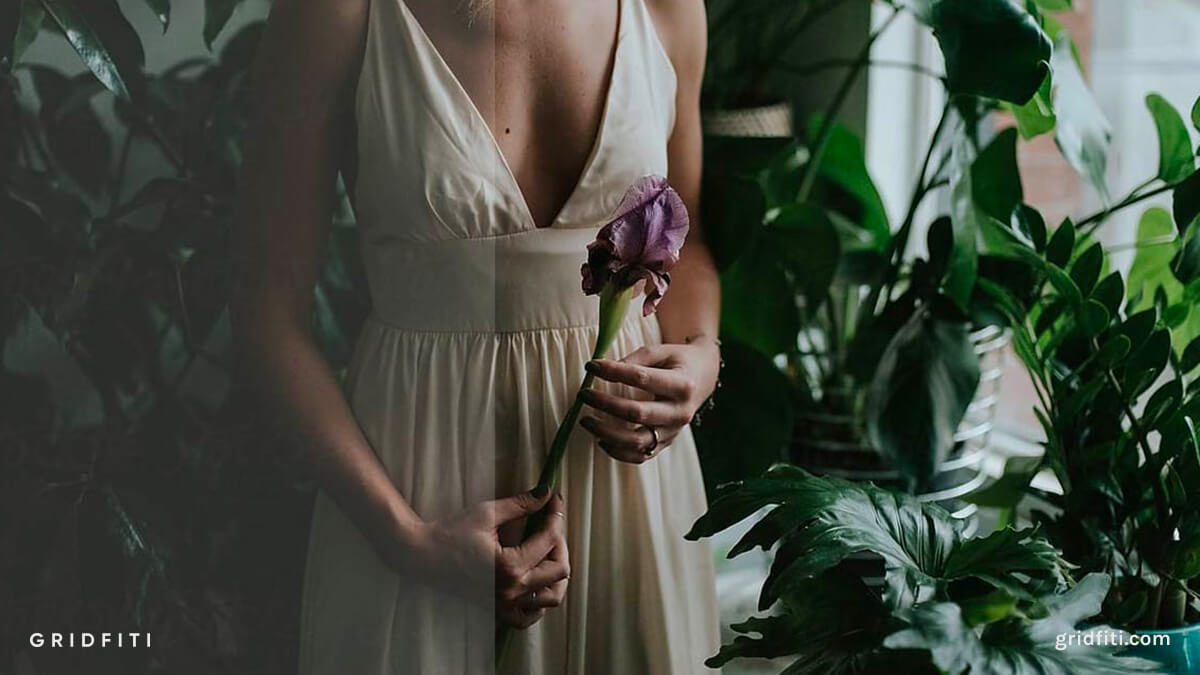 Black Tea Lightroom Presets
The Black Tea preset pack comes loaded with 21 presets for Lightroom on desktop, along with 10 Lightroom brushes as well – and are made specifically to enhance portrait photos. The presets will darken your shadows and lowlights, but still retain details in other colors and highlights. There's a lovely fade to the presets, along with added warm tones which accentuate the dark look. Overall, we think this is a great go-to dark preset for portraits!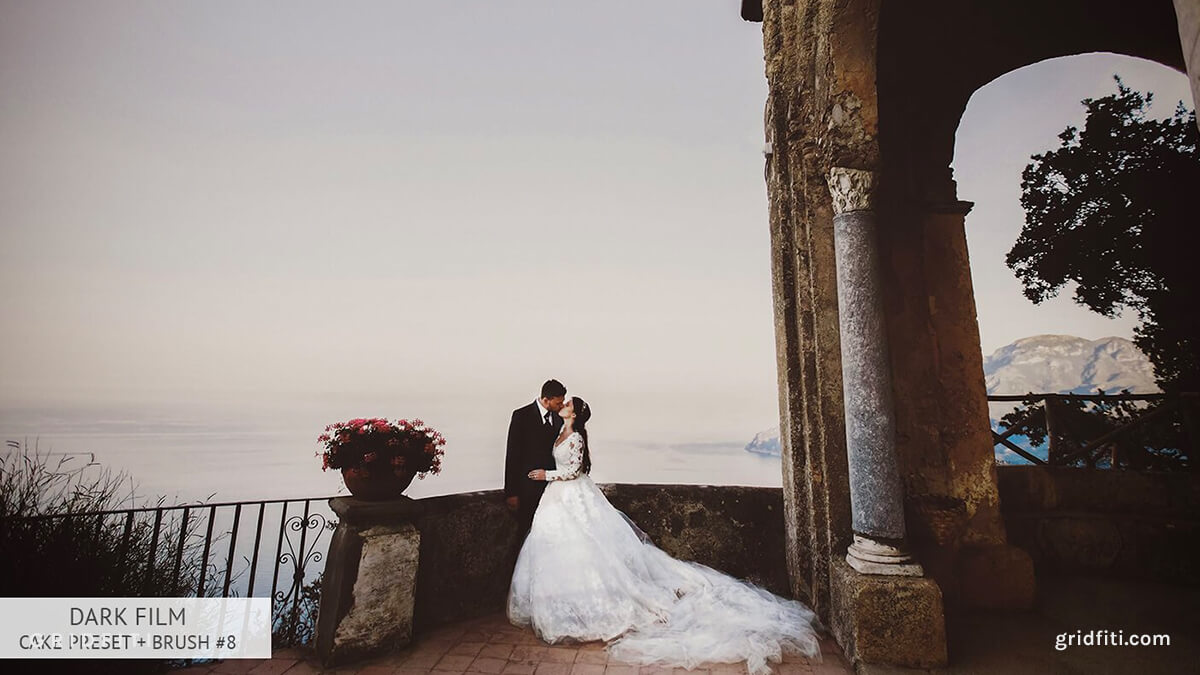 Which of these dark or black Lightroom presets are your favorites? Are there any that you think should be added to the list? Let us know in the comments!
Gridfiti is supported by its audience – when you buy something using the retail links in our posts, we may earn a small commission at no additional cost to you. Read more about our affiliate disclaimer.