It's hard to keep track of all the different restaurants and cafes you get recommended, or even ones you see on your FYP or in vlogs – so why not centralize them in a Notion database? Instead of jotting them down in your notes app, you can organize your eats and drinks in a Notion database, create restaurant wishlists, review your favorite spots, and log all of your meals you had out!
Whether you're travelling, monitoring reservations, or tracking allergy-free eats – we've got a Notion template here to suit your restaurant tracking needs.
Want more Notion tips, tricks, and templates? Join our Notion mailing list below and check out our several other Notion guides and round-ups!
Date Ideas Planner with Restaurant & Bar Tracker
Organize your date ideas and leave ratings so that you know where and where not to go for your next outing! Whether you're going on a solo date, a date with friends, or a couples date – use the planner to track all of your experiences!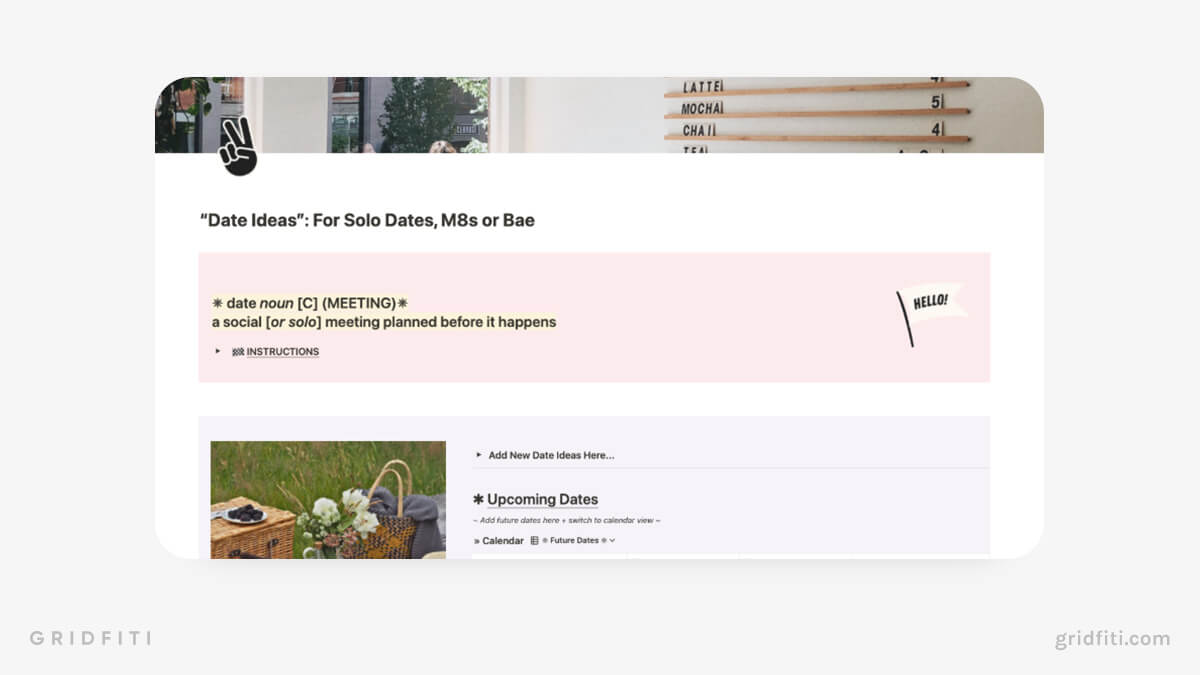 The Ultimate Travel Dashboard with Restaurant Tracker Itinerary
It can be overwhelming going to a new city or country with several food recommendations from friends and family. Use the Ultimate Travel Dashboard template by yours truly to organize your trip's eats and drinks. Built into each trip page, create a seamless restaurant itinerary and add it to each of your travel days so you can focus on enjoying food, drinks, and atmosphere instead of panic scrolling Yelp and Google reviews.
Track restaurants, bars, and cafes, whether or not they take reservations, notes of what to order and whether you've got a reservation – and even get served up a visual card view to quickly filter different types of spots based on meal (breakfast, lunch, dinner, and more).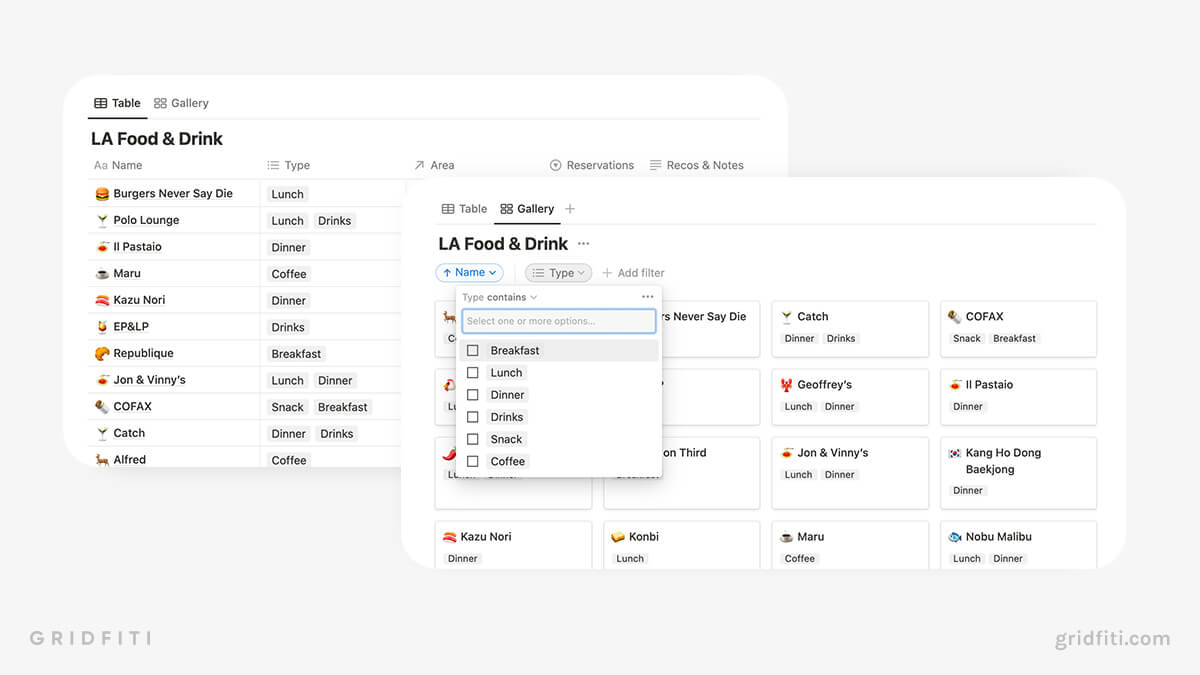 Restaurant Reviews Template
Are you a foodie who's always looking for the next best place to eat and recommend to friends and family? If so, this restaurant reviews template is the one you'll want for your Notion workspace! Create restaurant lists, add personal reviews, set ratings, and more into an organized database.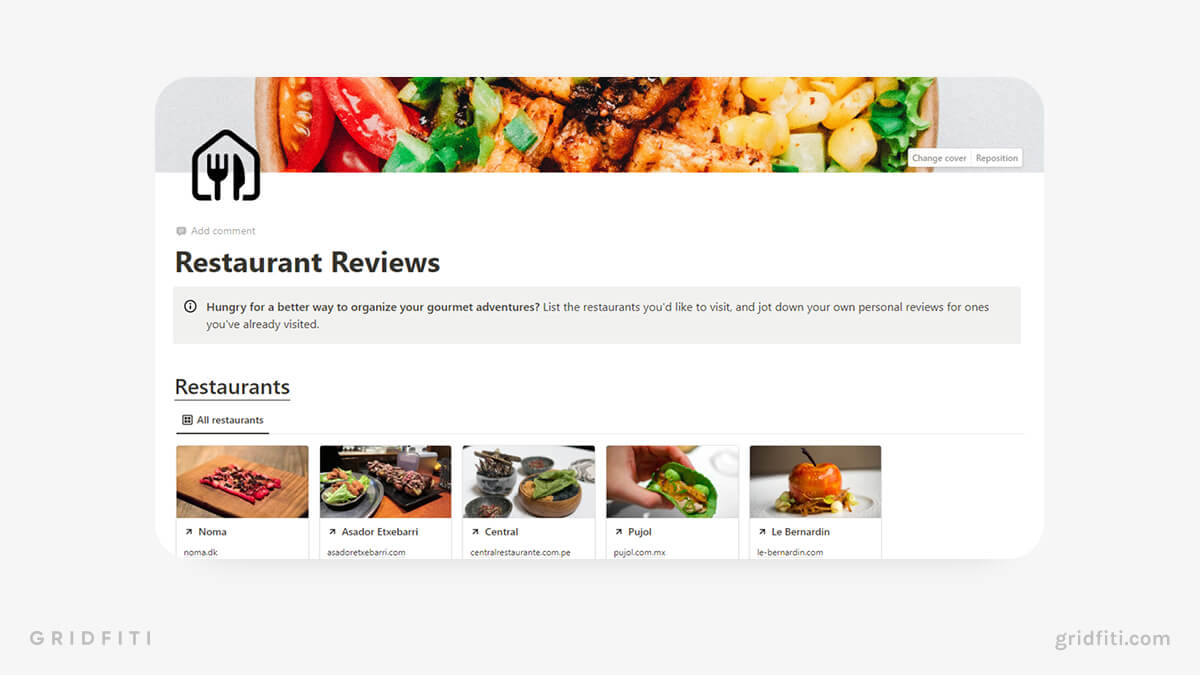 Notion Allergy Dashboard Template
If you have any allergies or food intolerances, you know the struggle when it comes to making sure you're served food that doesn't put you at risk of a reaction. This allergy dashboard is the one-stop shop you need to track your favorite allergy-free restaurants – as well as allergy symptoms, doctors appointments, and more.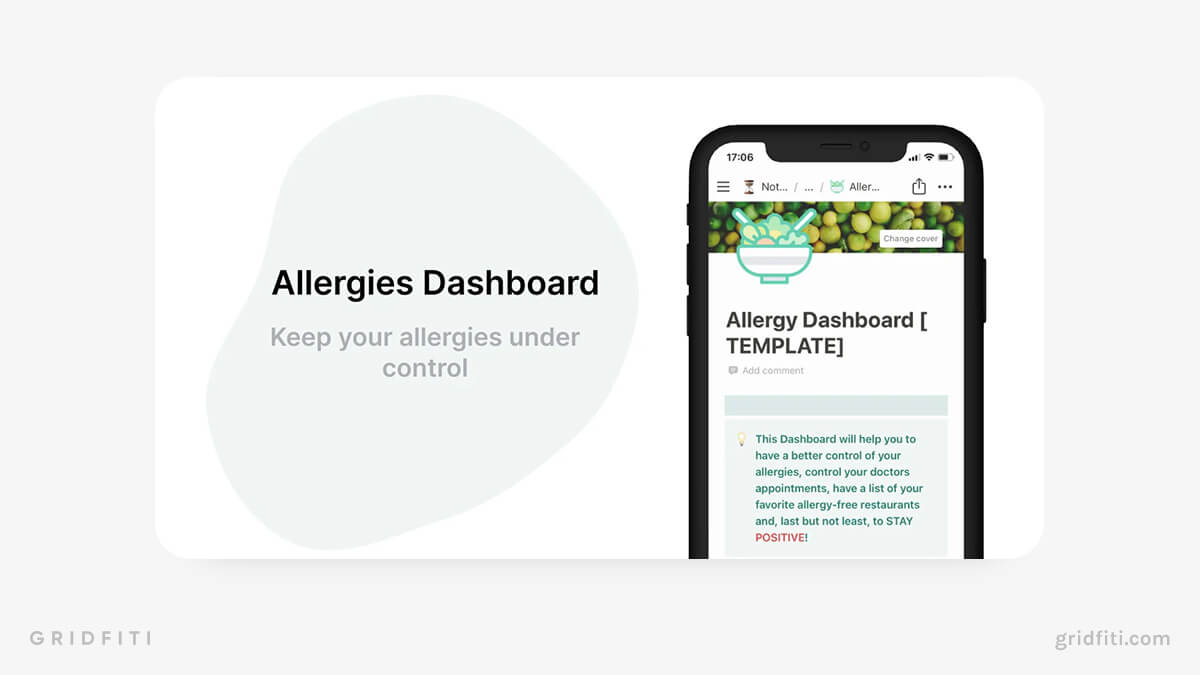 Minimalist Cafe Review Template
This is a must-have for any coffee lover that wants to track their cafe adventures, or just wants to relive their caffeinated experiences. Never forget a great coffee shop again, or re-visit one you didn't love with this template! Get a full visual database of coffee shops by name, location, price, date, and rating.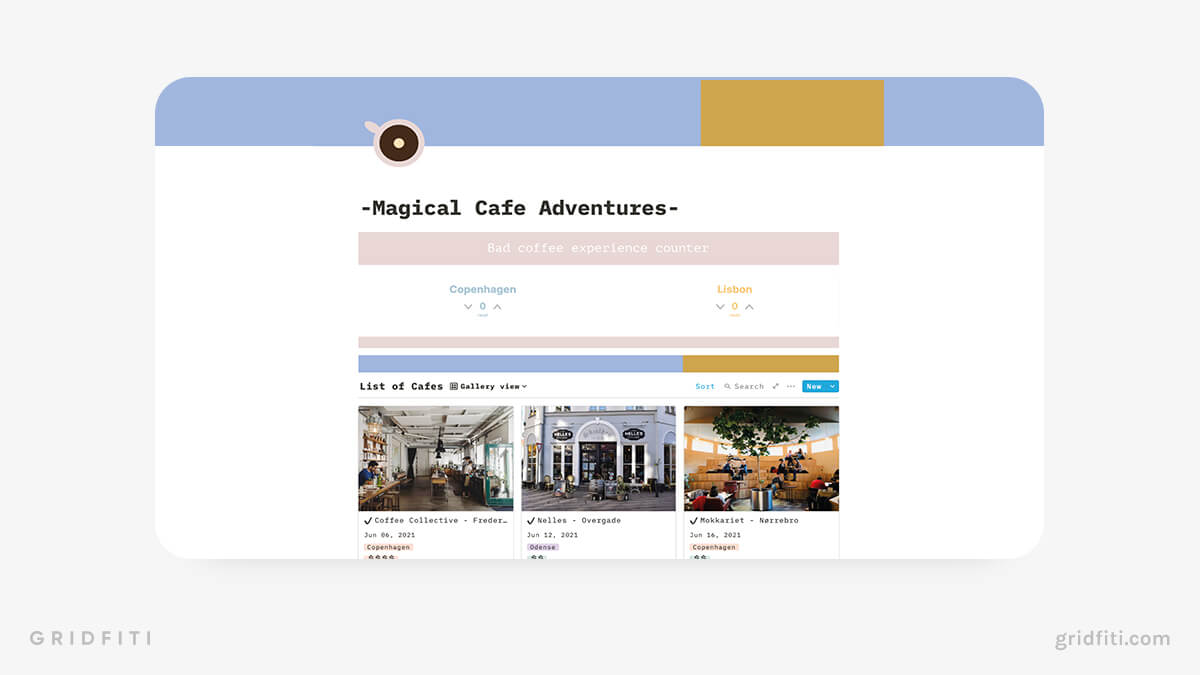 Travel Template with Restaurant Reservation Tracker
Places get booked up quick, and if you aren't planning your travels ahead and making reservations, you'll be experiencing FOMO on good eats and fun activities. Save yourself from the last minute slim pickings and use this restaurant reservation tracker to call ahead and secure your spot at some of the best places in the world!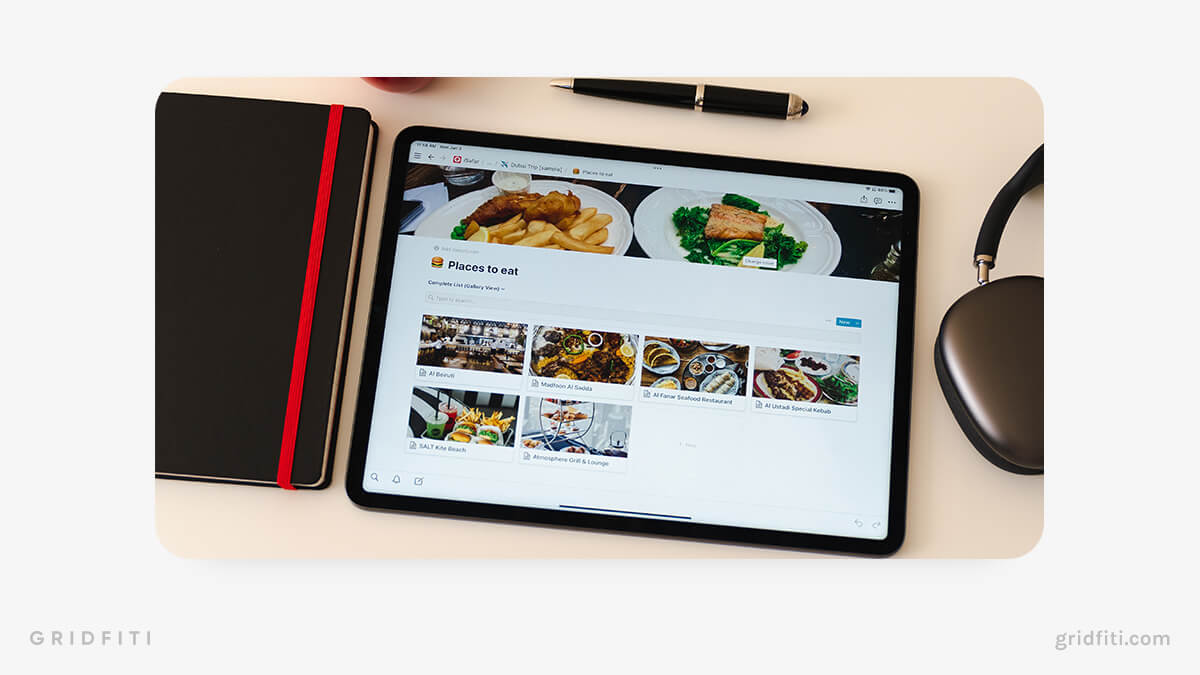 How do you keep track of the restaurants you visit? Which Notion restaurant template are you using? Let us know down in the comments below!
Gridfiti is supported by its audience – when you buy something using the retail links in our posts, we may earn a small commission at no additional cost to you. Read more about our affiliate disclaimer.