The word rustic comes with the charm and warmth of rural or cottage living. Editing your photos with a rustic aesthetic can involve things like desaturating colors, adding contrast, and adding hints of warmth in color temperature. The overall vibe you get is a comforting, almost vintage look that evokes feelings of warmth and nostalgia.
When it comes to applying rustic aesthetics to your photography, there are plenty of preset options to choose from. Whether it's a weekend at the cottage, a canoe on the lake, or a warm cup of coffee in the forest, check out our list of the best rustic presets for Lightroom!
Want more preset guides and tips? Check out our several other preset blog posts, and join our newsletter!
Rustic Aesthetic Presets
Get that perfect rustic look for your photos with these 10 presets for desktop and mobile. There's a mix of a vintage, moody and bohemian editing with these presets through the use of color temperature adjustments, softening of the textures, and rich contrast. Try them out with your rustic photography!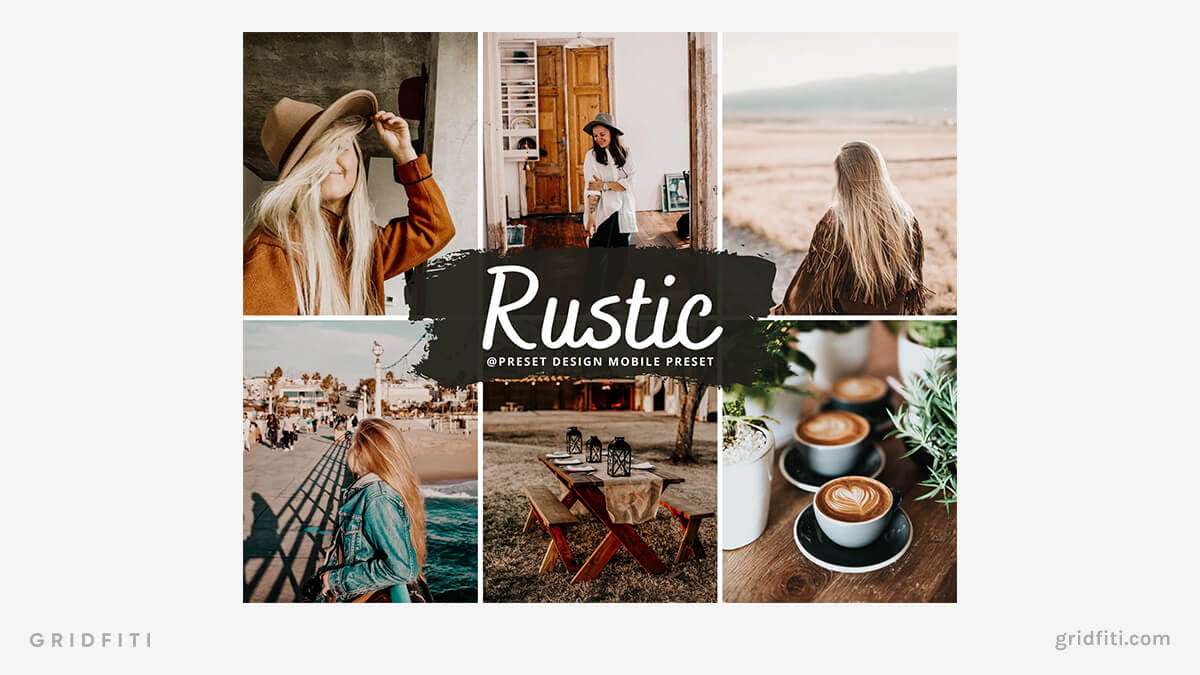 Rustic Fields Presets
Have any photos taken in fields, forests, or featuring nature in warmer tones? Try out these 10 Rustic Fields presets for desktop and mobile to enhance those photos with a warm and cozy vibe. There's a lovely muted tone approach with the edits, while the color enhancements still focus on warm tones. A slight fade is added to tie the look together with a vintage feel – try out these presets with your photos!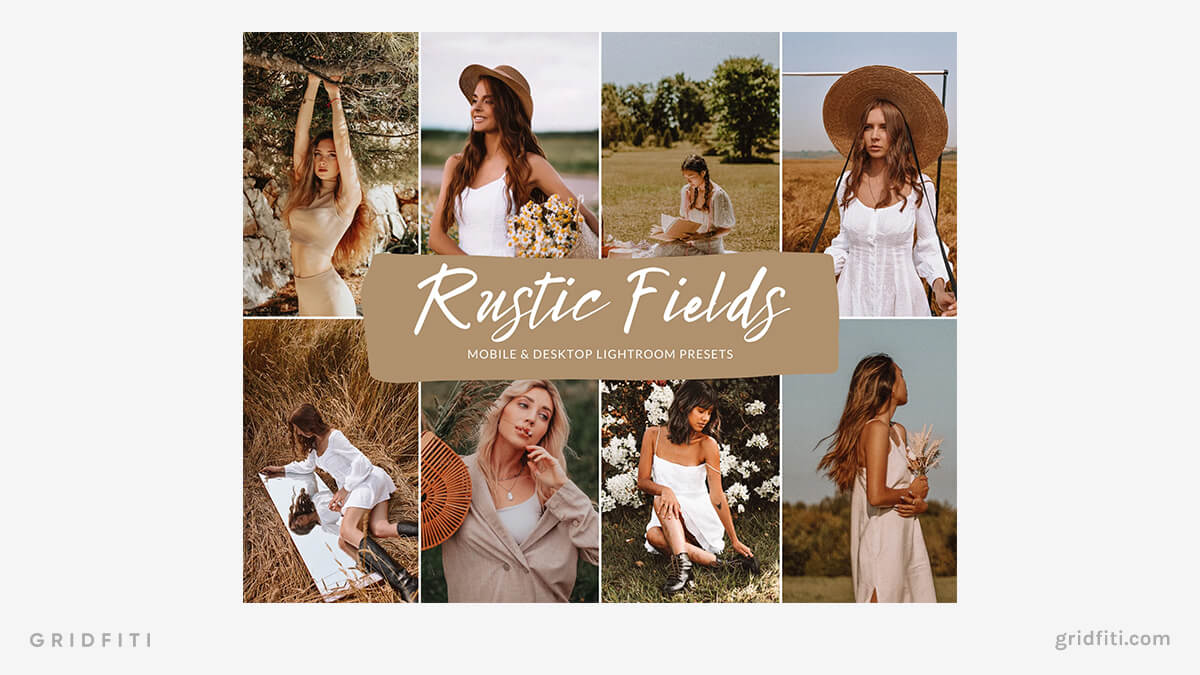 Rustic Mood Presets
Get the moody rustic look with your photos using these 10 presets for desktop and mobile! There's a distinctive moodier approach to these presets. Tones remain warm but slightly muted, along with shadows being increased and then a fade mixed with a grain texture to make the photos feel nostalgic. Try them out with any of your rustic-style photos at the farm, in nature, or anywhere you choose!
Dig the moodier look? Check out our post for the best dark & moody aesthetic presets for Lightroom!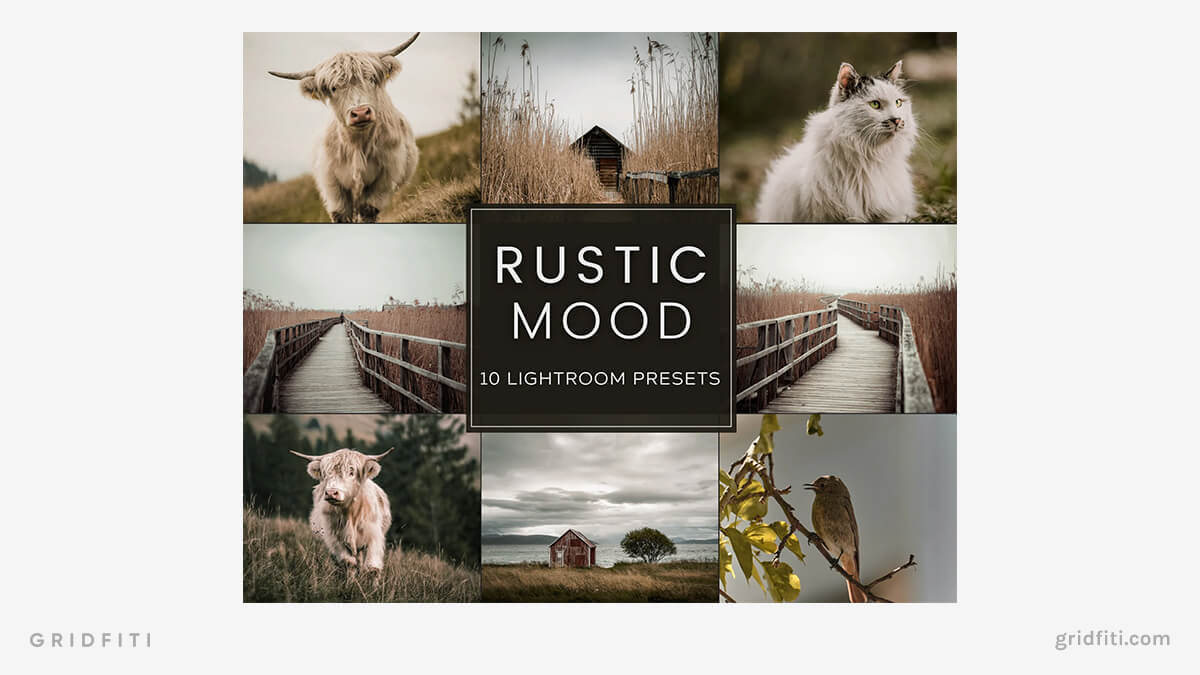 Cocoa Aesthetic Presets
Bring the sophisticated cocoa look to your day-to-day lifestyle photos. Whether they're portraits, your outfits, or decor, this 10-preset pack adds subtle hints of brown and warm color adjustments to give a creamier pastel look with rustic overtones. It's perfect for an influencer type of look, your blog photos, or just anything you want to achieve a consistent look with!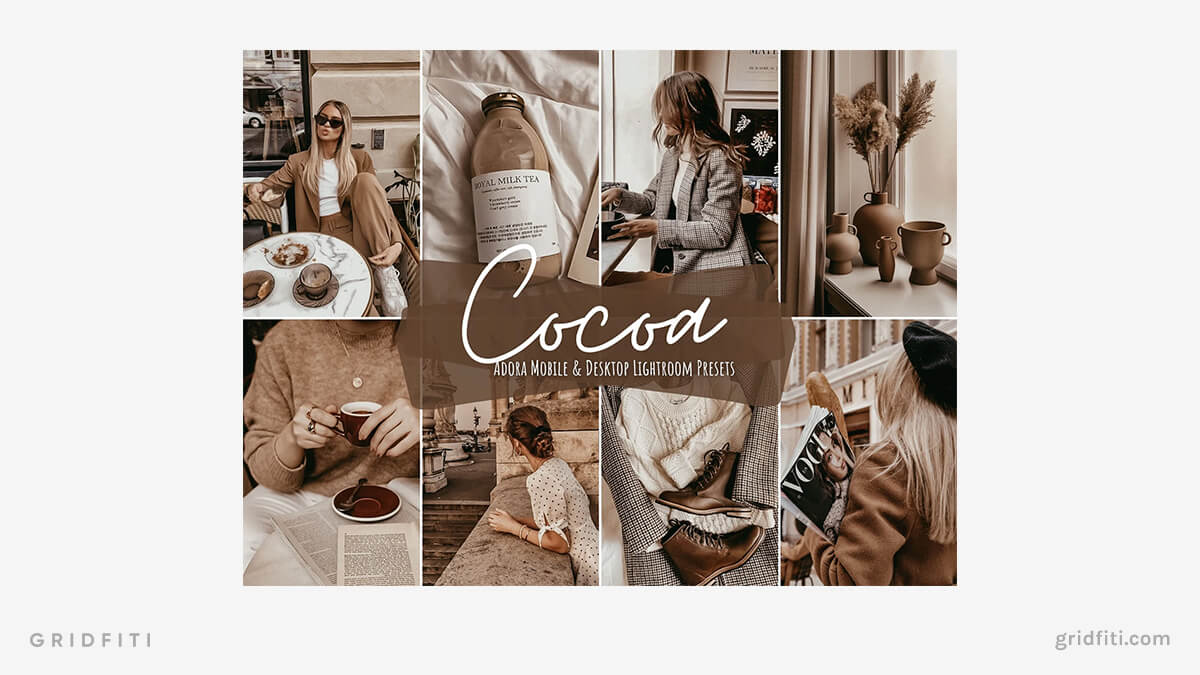 Rustic Fall Presets
This pack's 8 presets for desktop and mobile bring a lovely warm look with all the color adjustments in the right places. They're built for the colors and warmth that the fall season brings. Whether you're capturing the fall foliage, an evening at the cabin, or a hike in the woods, try out these rustic fall presets to unlock that Fall look!
Want more fall preset options? Check out our post rounding up the best fall Lightroom presets.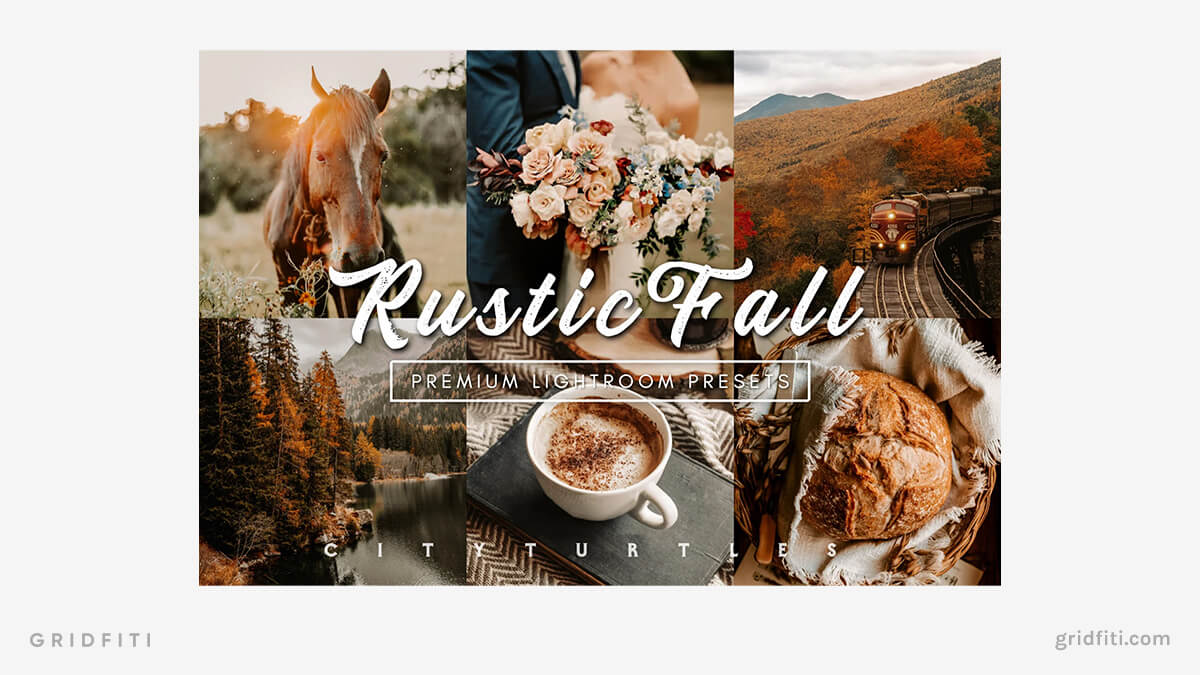 Minimal Rustic Presets
We love a minimal approach with the rustic aesthetic. Check out this rustic minimalist preset pack, which contains 10 presets for desktop and mobile. These presets are designed to give the perfect color and lighting adjustments to rustic-style photos that are minimally captured. Whether they're photos in an empty field, isolated portraits, or objects on a table – give them the perfect rustic look with these presets!
Vintage Rustic Presets
Get your photos looking rustic but with a vintage feel! Check out these 10 presets for desktop and mobile that add a sophisticated rustic look, focusing on the blacks, browns, and beige tones. All of that, combined with subtle faded blacks, adds a nice vintage touch that ties the look together.
Check out our full round-up of vintage Lightroom presets for more options like these!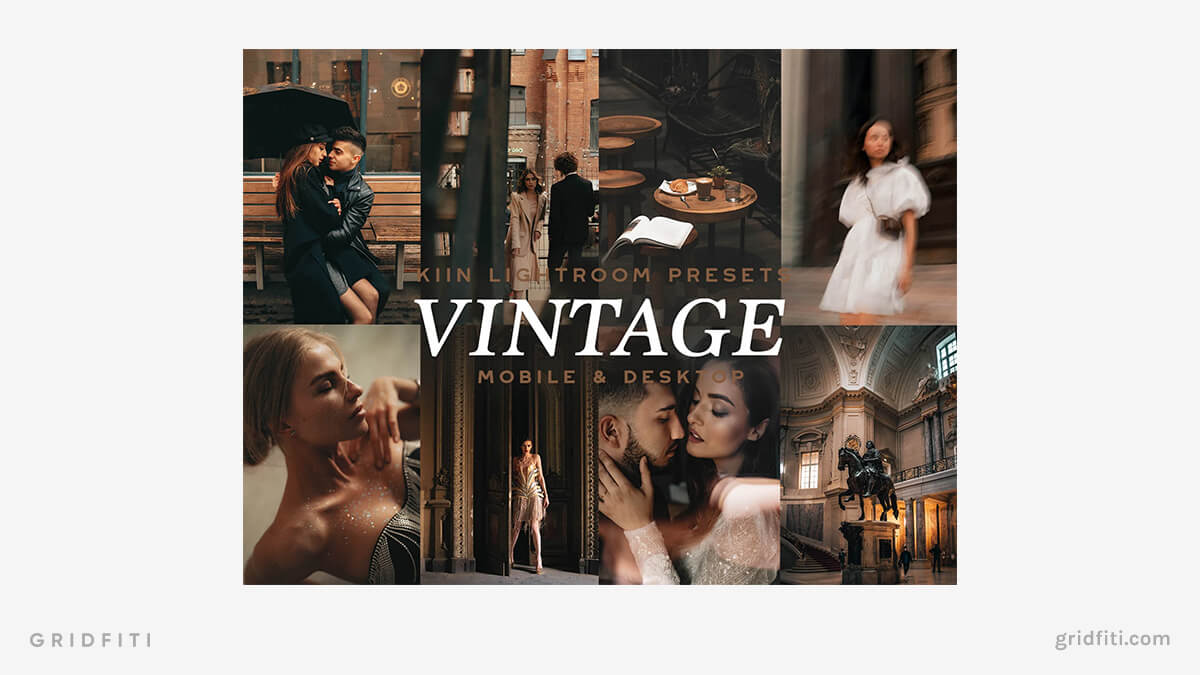 The Great Outdoors Presets
Elevate your outdoor shots with this Outdoor preset pack containing 120 presets designed to add a rich rustic aesthetic to your outdoor photos. The tones reflect that of a rustic vibe, but applied to color temperatures of all kinds! Choose from edits that would apply to scenes in a Safari, Iceland, underwater, or tropical locations. There's plenty to apply to your photos!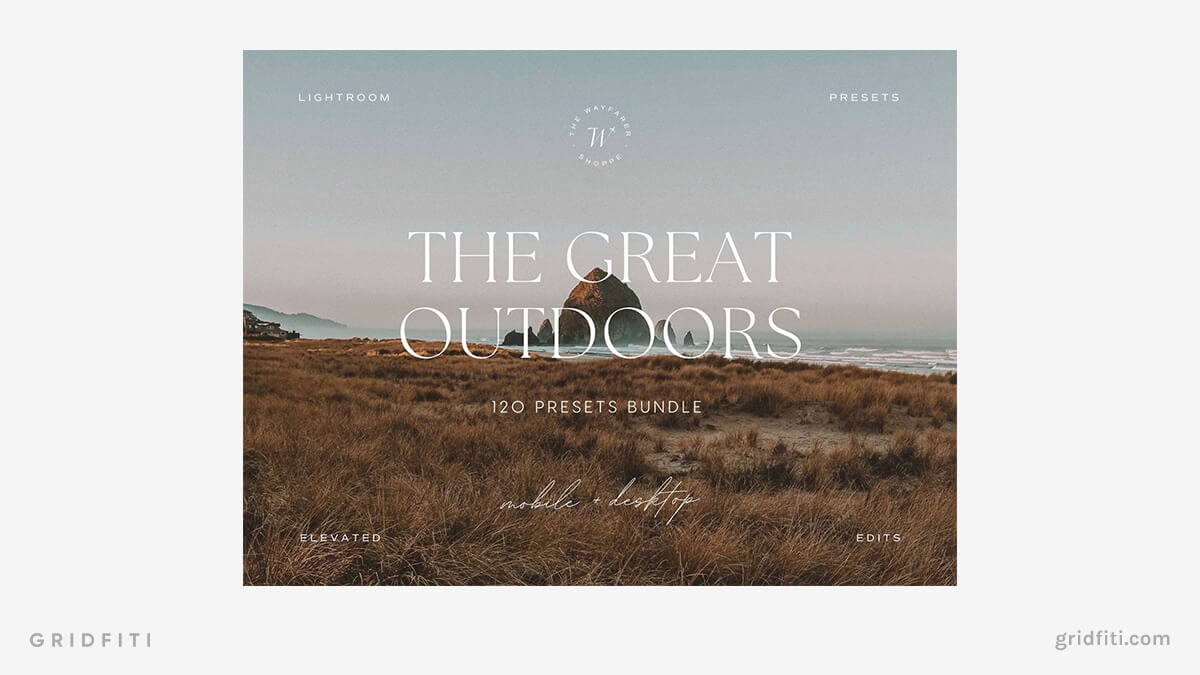 Moody Earthy Presets
Get that moody look with beautifully enhanced Earthy tones. This 17-preset pack for desktop and mobile is perfect for portraits in nature. There's a lovely warm and green tint cast over photos, while lighting is balanced with a soft haze and fade. It emits a dreamy glow look, but with a subtly rustic aesthetic. Try these presets out with your photos!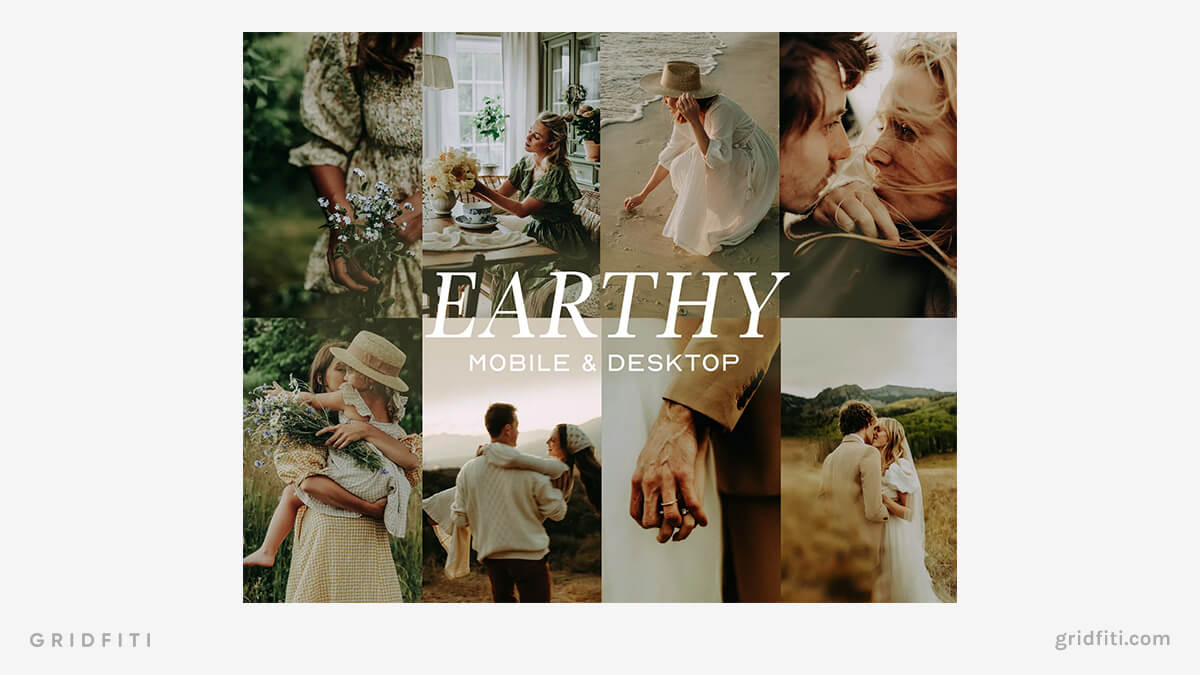 Rustic Cottagecore Presets
We can't write about rustic presets without one that is built around the cottagecore aesthetic. Check out these 10 presets for desktop and mobile to elevate your nature photos with a lovely rustic yet moody look. The greens, browns, and whites are all enhanced to transform your photos into the perfect cottagecore aesthetic.
Check out our full list of cottagecore Lightroom presets for more!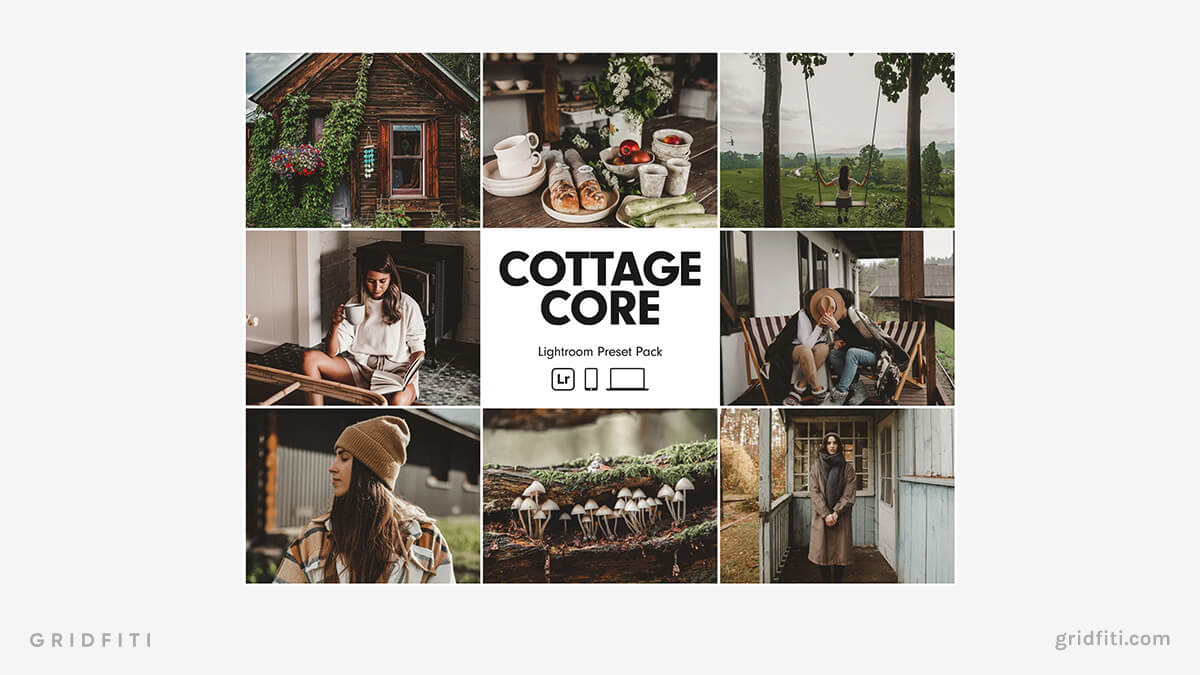 Free Rustic Presets
Not sure which of these presets to start with? You can always test out your rustic editing with some more simple, free options! Check out a few of these free rustic preset options to get started.
Free Rustic Vibe Preset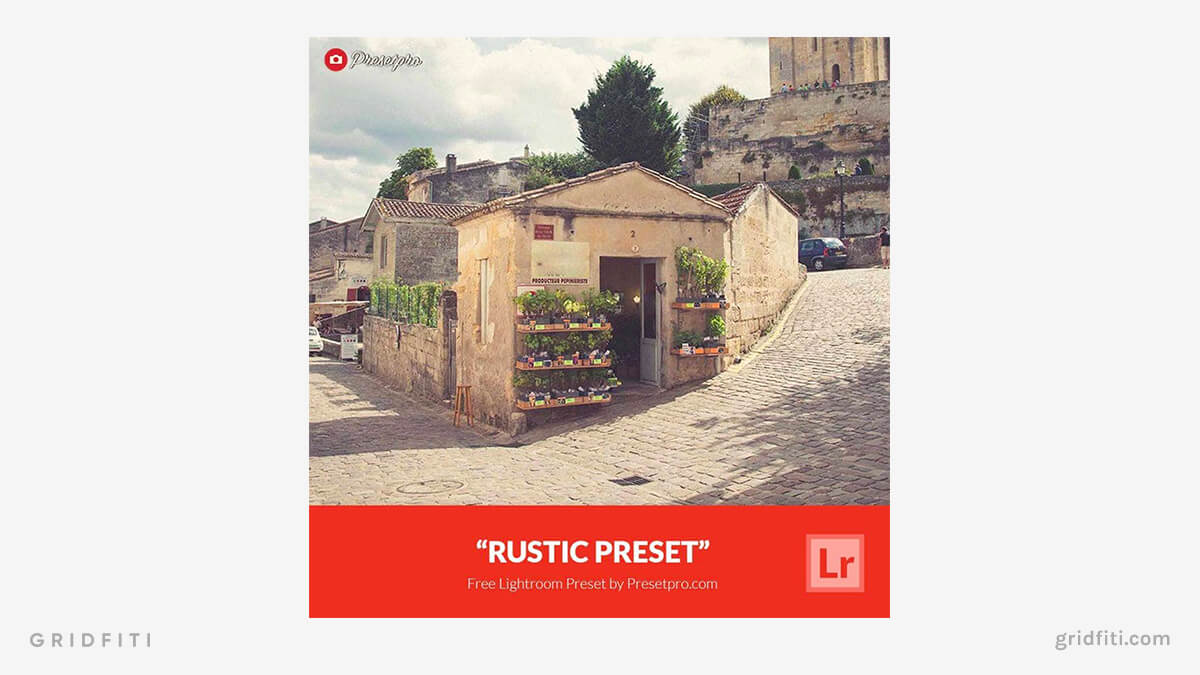 Rustic Vintage Free Preset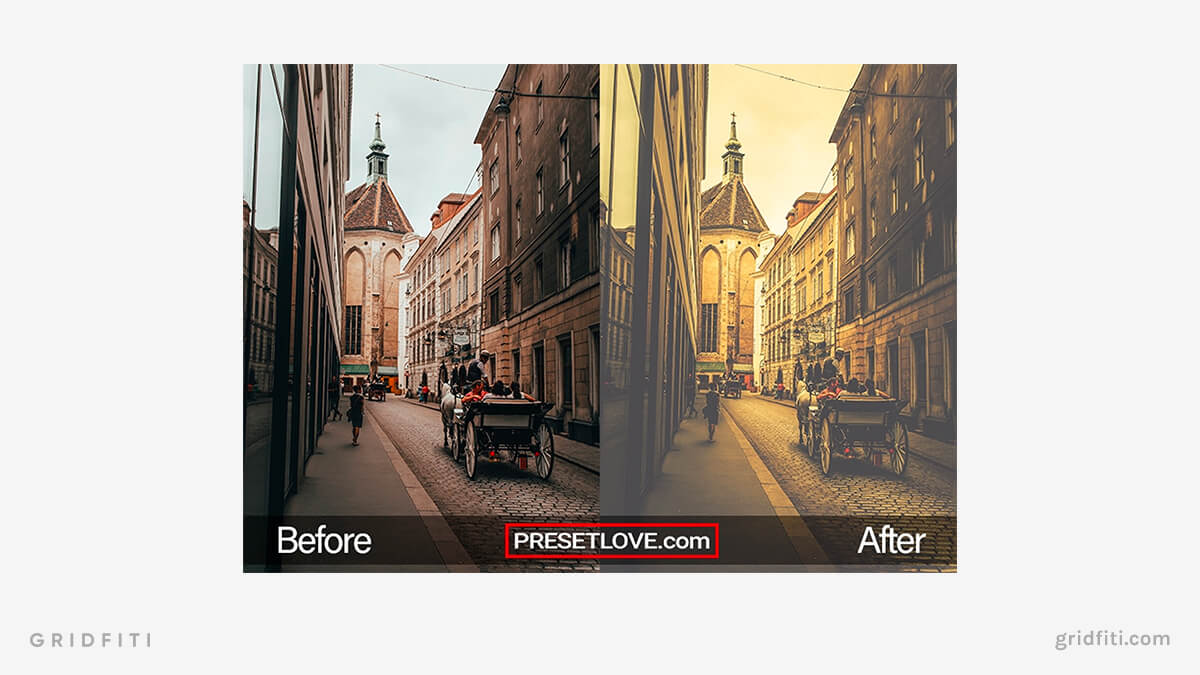 Warm Vintage Free Presets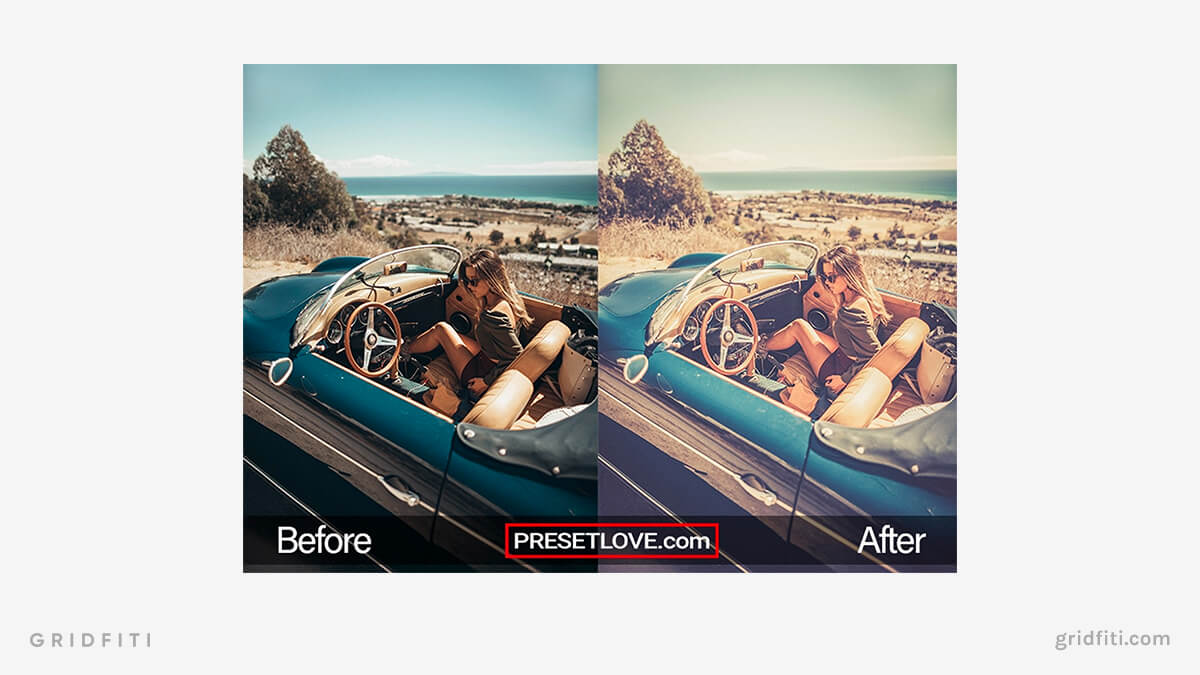 What do you think of these rustic presets? Are there any you think we should include? Let us know in the comments below!
Gridfiti is supported by its audience – when you buy something using the retail links in our posts, we may earn a small commission at no additional cost to you. Read more about our affiliate disclaimer.