Manage your lesson plans and keep your kids focused with online classroom timers for students. Timers are essential to any teacher's arsenal, from tracking short breaks to timing pop quizzes.
We've rounded up 14 of the best online and video classroom timers to help you add some fun and focus to your classroom activities!
For more online tools like this, don't miss our round-ups of online stopwatch timers, online countdown timers, and online clocks.
Want more digital decor ideas and tools for productivity? Join our mailing list!
Online Classroom Timers
Tired of traditional timers that aren't engaging for kids? Check out these nine online classroom timers with aesthetic themes and unique countdowns!
Flocus Minimalist Timer
Provide a calming atmosphere for your pupils with the Flocus Minimalist Timer. Track Pomodoro intervals, or set a longer timer for a group activity or reading session. Pick from thirteen minimalist gradient and landscape themes and four alert sounds. There's also a built-in Spotify playlist from Gridfiti Radio if you want to treat your class to some tunes!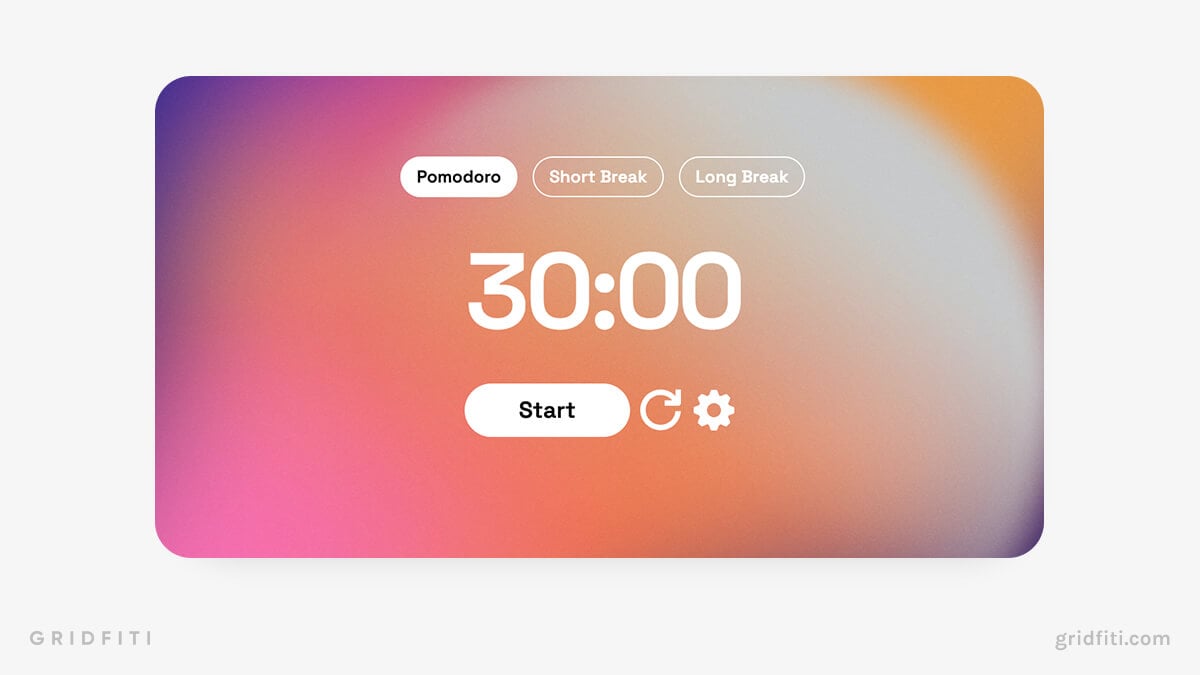 Lava Lamp Sensory Timer
It's easy for kids to feel under pressure when they see a timer ticking down during an assignment. So, opt for something a little different with the Lava Lamp Sensory Timer. Instead of a plain old countdown, your students can enjoy a hypnotic lava lamp blob moving fluidly around the screen. Plus, you can turn a countdown on and off in case your students need to know how much time has elapsed.
For more timers like this, check out our full round-up on visual and sensory timers!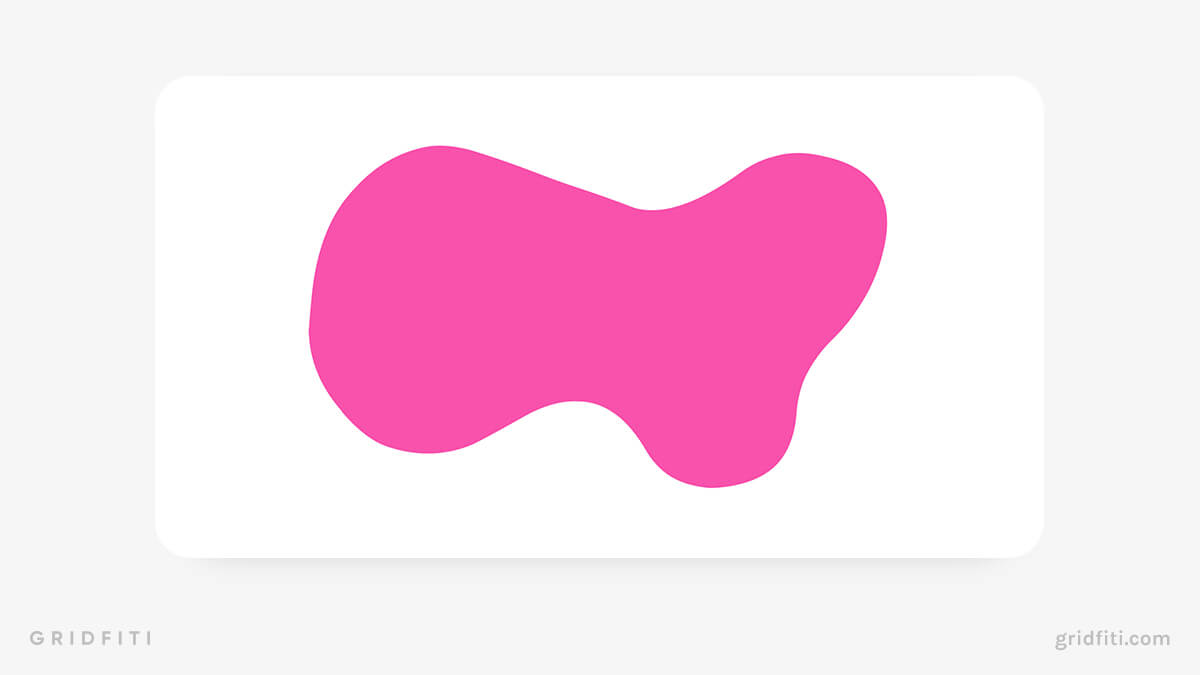 Time Timer
If you're searching for a traditional countdown for your classroom, check out Time Timer. Use this classic egg timer for any class project, and hit the button on top of the timer to stop the clock early.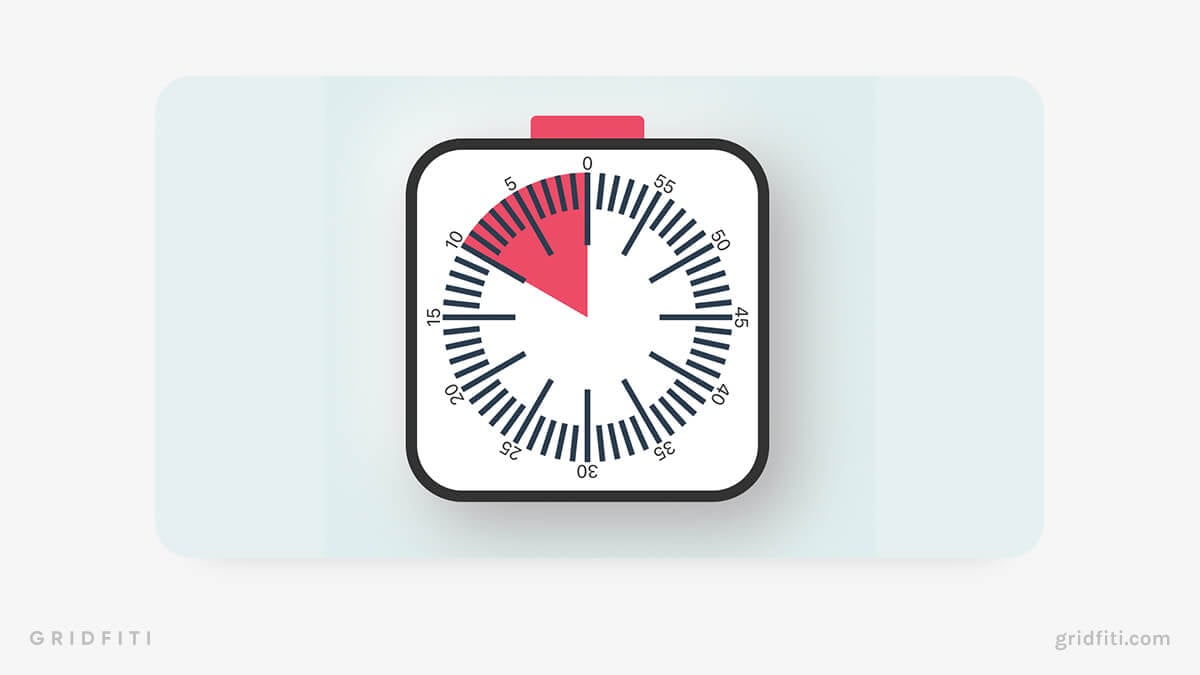 Egg Timer
Looking for a large, clearly visible timer for your next lesson? The Egg Timer fills your screen with a straightforward countdown. If you want to jazz up the Egg Timer, pick from seven themes, including Sunset, Dot Matrix, and Digital. Set special parameters, like morning warm ups, to help prepare your kids for a day of learning.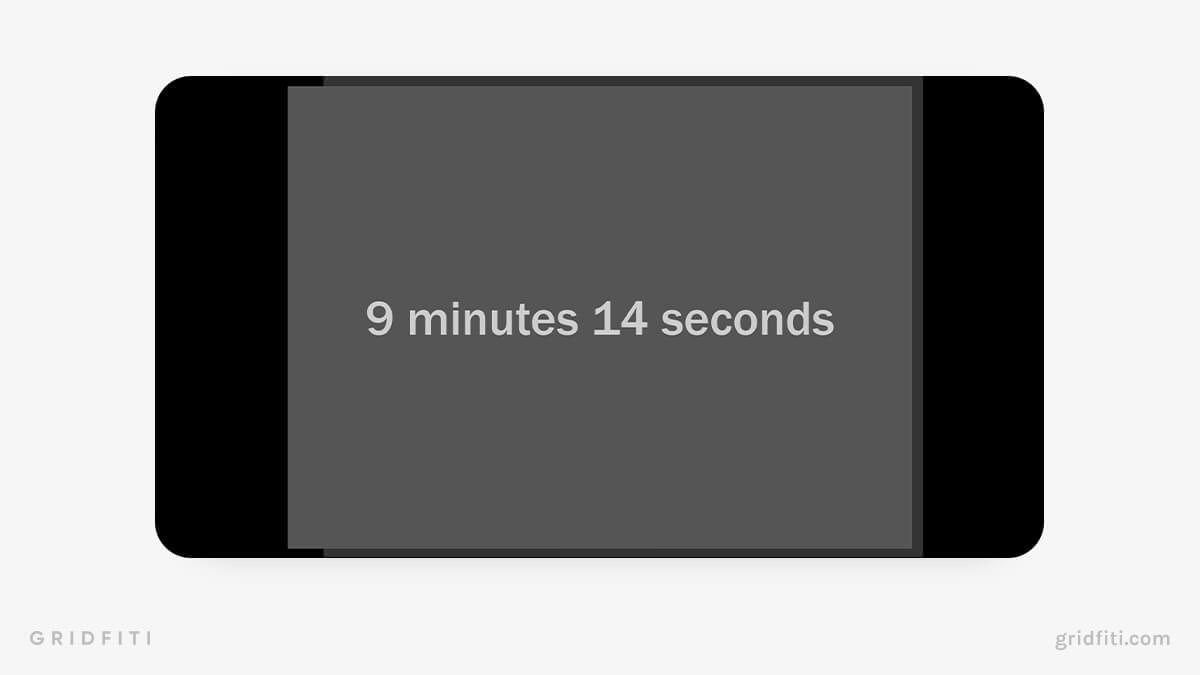 Simple Online Timer & Stopwatch
The Simple Online Timer & Stopwatch is a no-thrills timer ideal for monitoring past classroom activities. Give your timer a name, and keep tabs on past countdowns, including the start time and date. Import them to CSV for your records. Set timers to the second, and pick from 11 alarm sounds.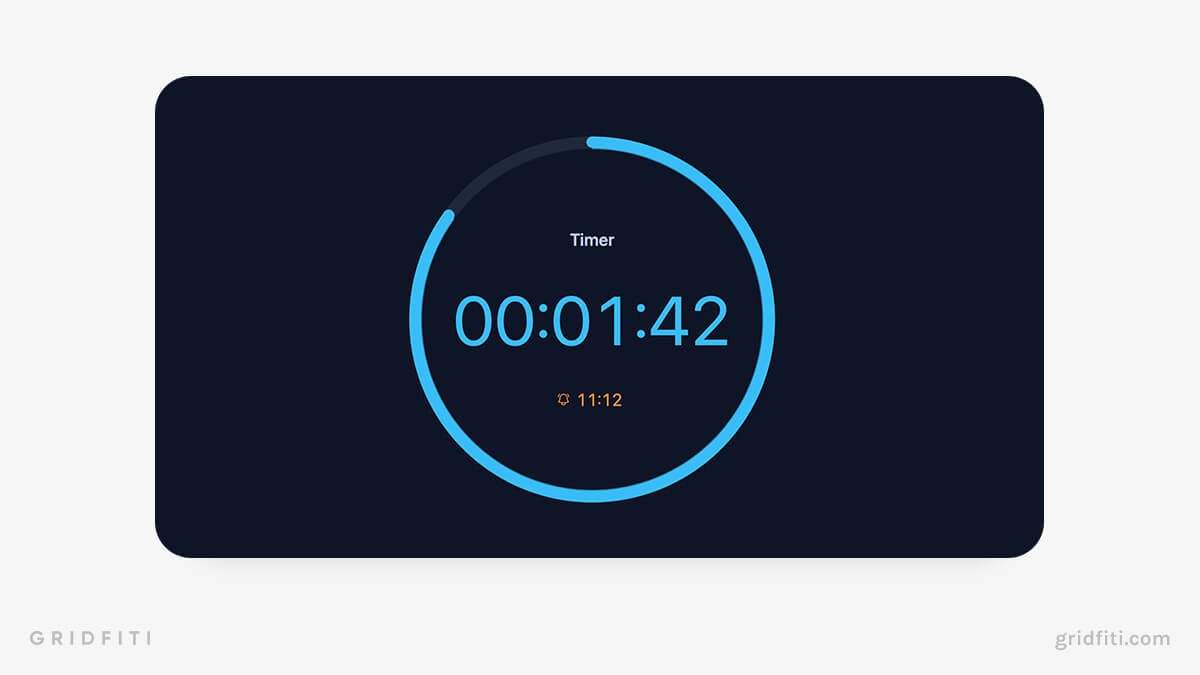 StudyWithMe Pomodoro Timer
Find a theme that fits your classroom aesthetic with the StudyWithMe Pomodoro Timer! Avoid distractions with the Minimal Black background, or add a splash of natural vibrancy with the Tokyo Sakura theme. Customize your Pomodoro timer and choose from four alert sounds. Create a free account and sync your settings across devices.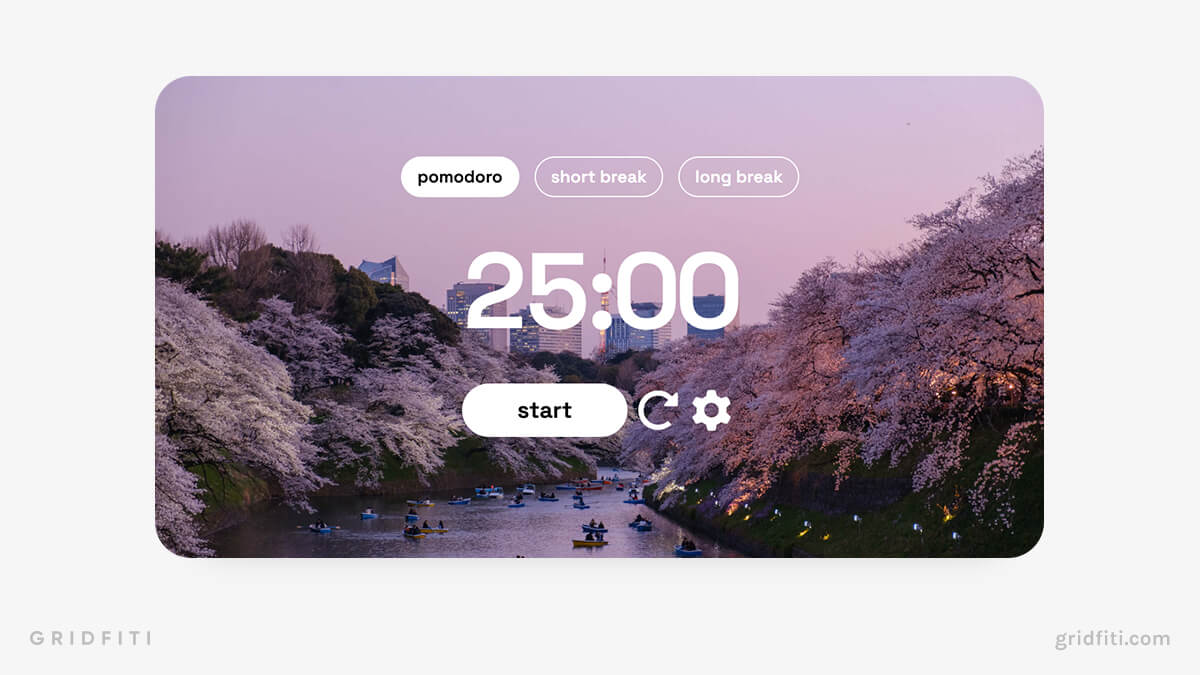 Shapes – Classroom Timer
The Shapes – Classroom Timer is great for teaching young kids about shapes while timing activities. You'll find eight brightly colored shapes available, with fully customizable timers down to the second. Set the timer to fullscreen to minimize onscreen distractions.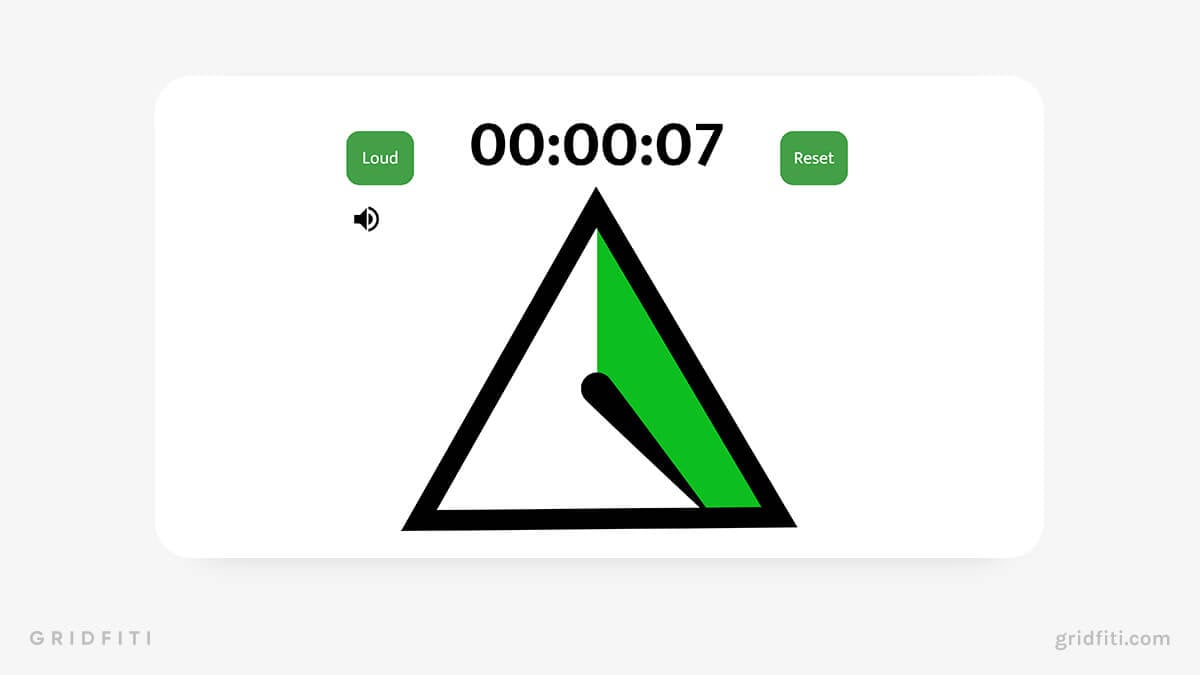 Pomofocus
If you're searching for a timer where you can track your stats and to-do's, look no further than Pomofocus. Jot down your class assignments, estimate how many Pomodoros you expect the task to take, and save repeating tasks as templates.
Receive visual reports with graphs on how much time was spent focusing on particular assignments. Pomofocus is also super customizable, with individual color schemes for Pomodoro and break intervals, as well as five different alarm chimes.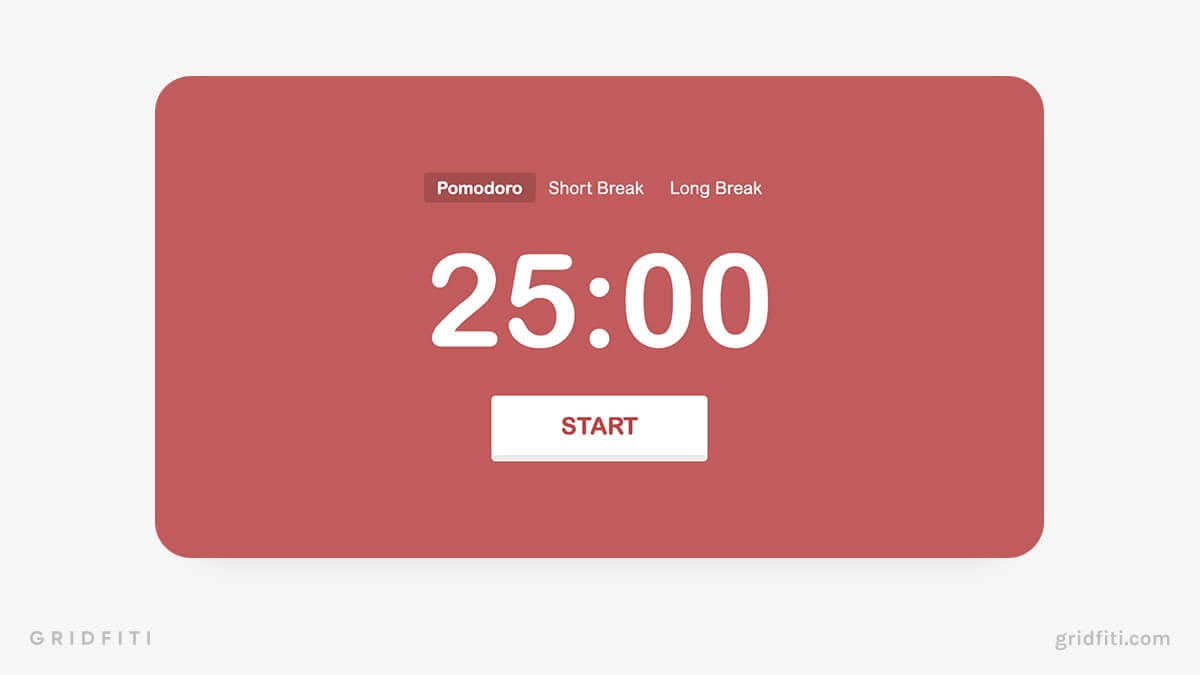 Visual Clock Timer
Visual Clock Timer specifically designed to help with classroom time management. The large clock face ensures starter activities don't eat into your classroom time. Plus, it's a useful learning tool for teaching students about telling time.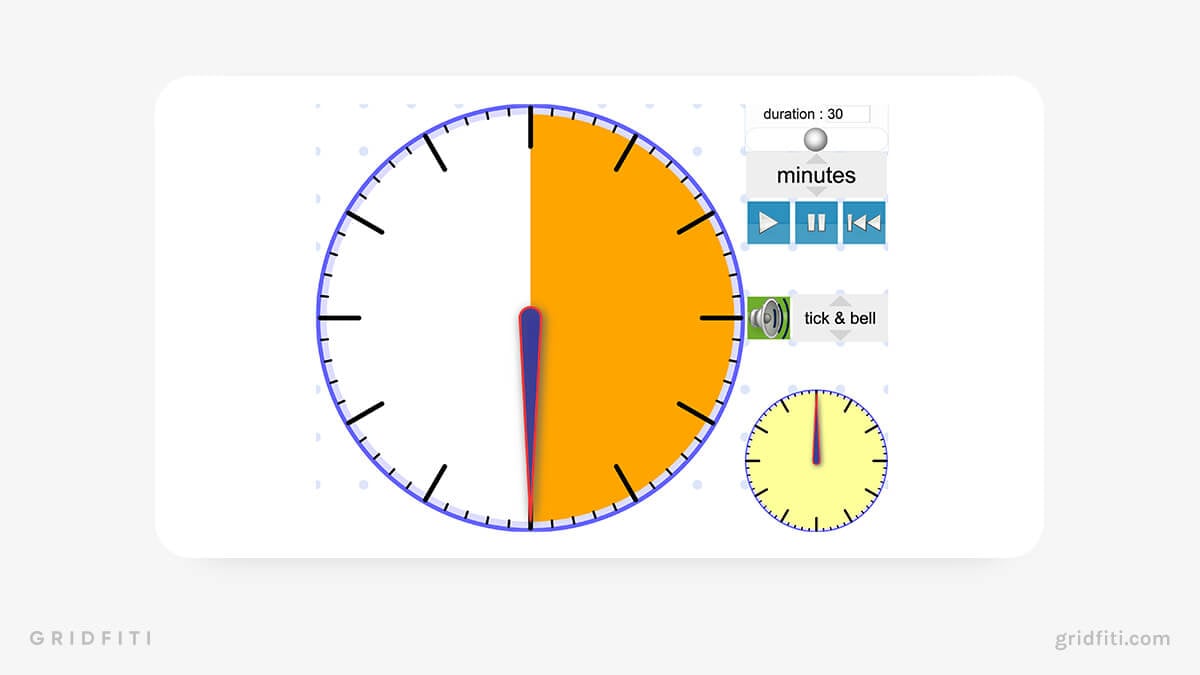 Classroom Timer Videos
Youtube is chock-full of memorable timers to try out in your classroom. From hilarious animations to relaxing natural backgrounds, here are a few of our favorite visual classroom timer videos!
Under the Sea – 15 Minute Countdown Timer
Dive headfirst into your next class project with the Under the Sea – 15 Minute Countdown Timer. Cute animated fishies swimming across the screen accompany this 15-minute countdown. Keep your little ones focused and see if they can identify any of these eye-catching sea critters!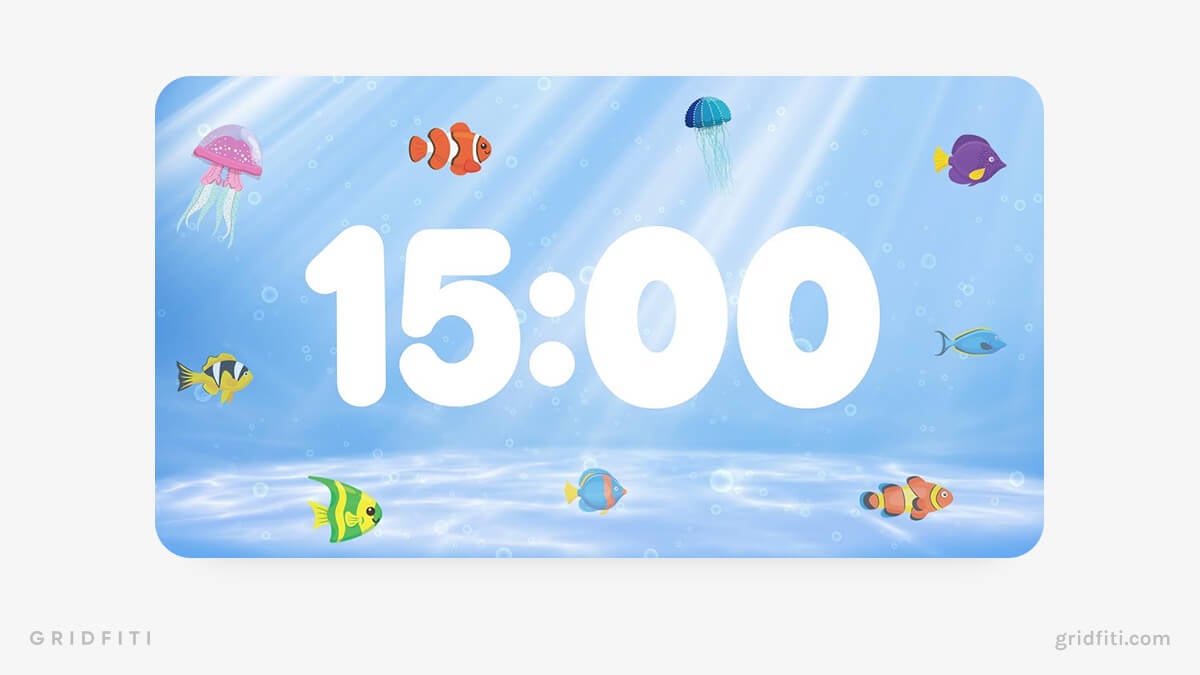 Jellyfish Timer – 30 Minutes
Enjoy jellyfish gently drifting in the ocean deep with the Jellyfish Timer – 30 Minutes. It's an excellent timer for keeping kids calm, with soft classic piano playing in the background. Perfect for laid-back classwork or free time.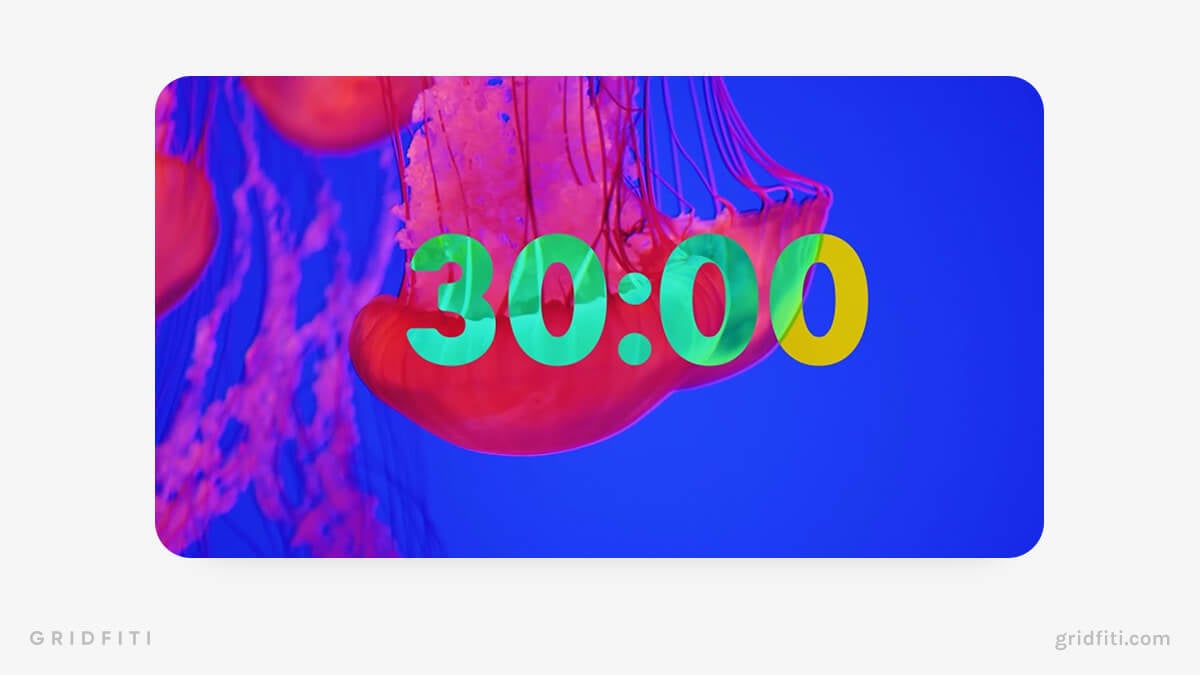 Walking Duck – 20 Minute Timer
Your pupils are sure to love this adorable waddling duck timer. Watch as an animated duck struts its stuff to Django Reinhardt-style jazz guitar. This wacky animation is one of the most entertaining ways to set a 20-minute timer for your pupils.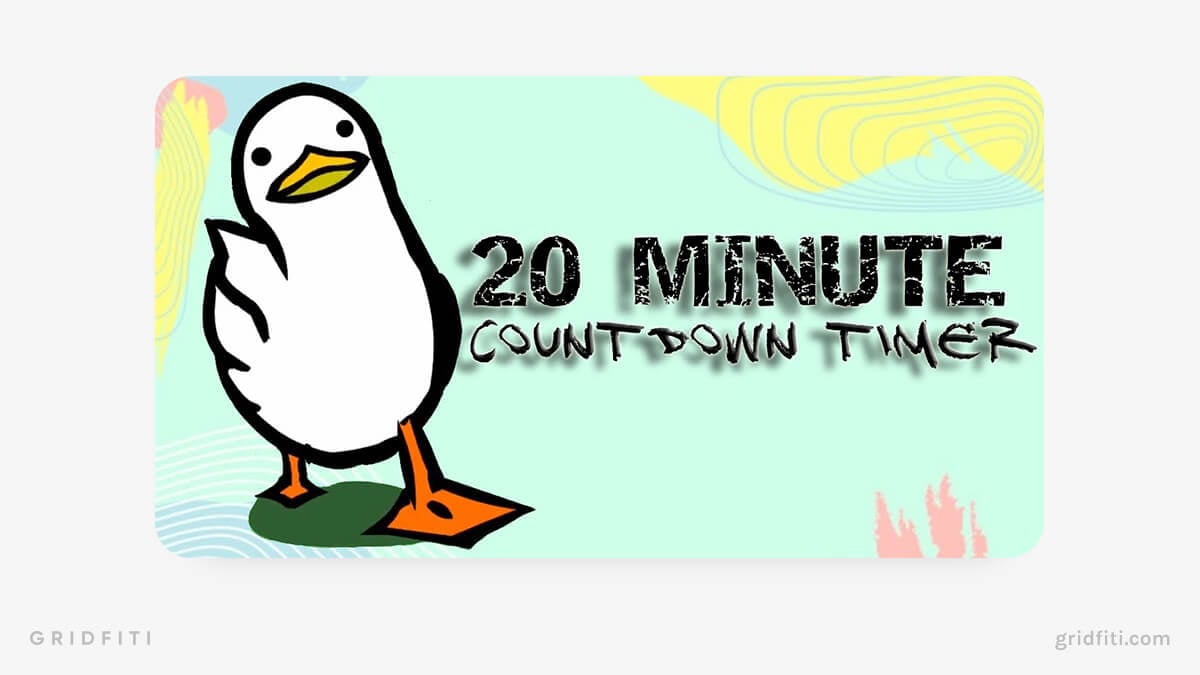 Nintendo Switch – 25 Minute Timer
Use this Nintendo-inspired timer and switch up your next classroom countdown. A Nintendo Switch frames a 25-minute timer in the center of the video. Vibrant drawings of dogs, books, and cameras surrounding the Switch are sure to spark your students' creativity!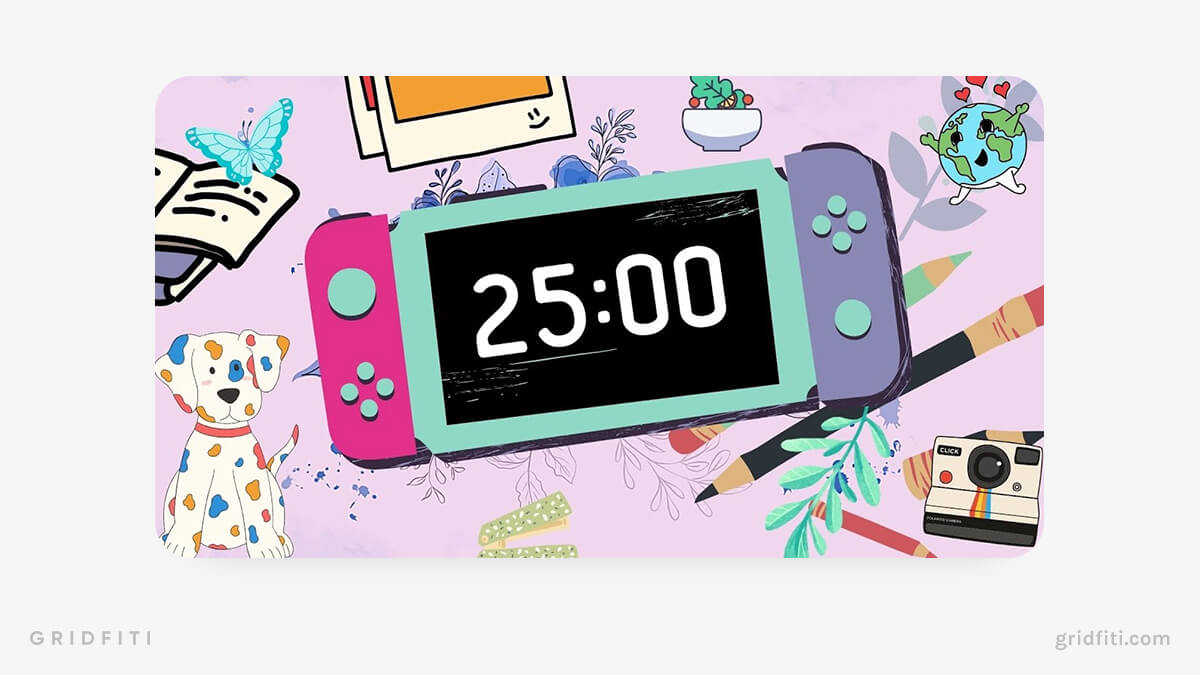 Donut – 4 Minute Timer
Cascading colorful donuts set to an upbeat tune will get your student's toes tapping. A four-minute countdown is perfect for starter activities and short breaks. Just don't play this delicious-looking timer right before snack time!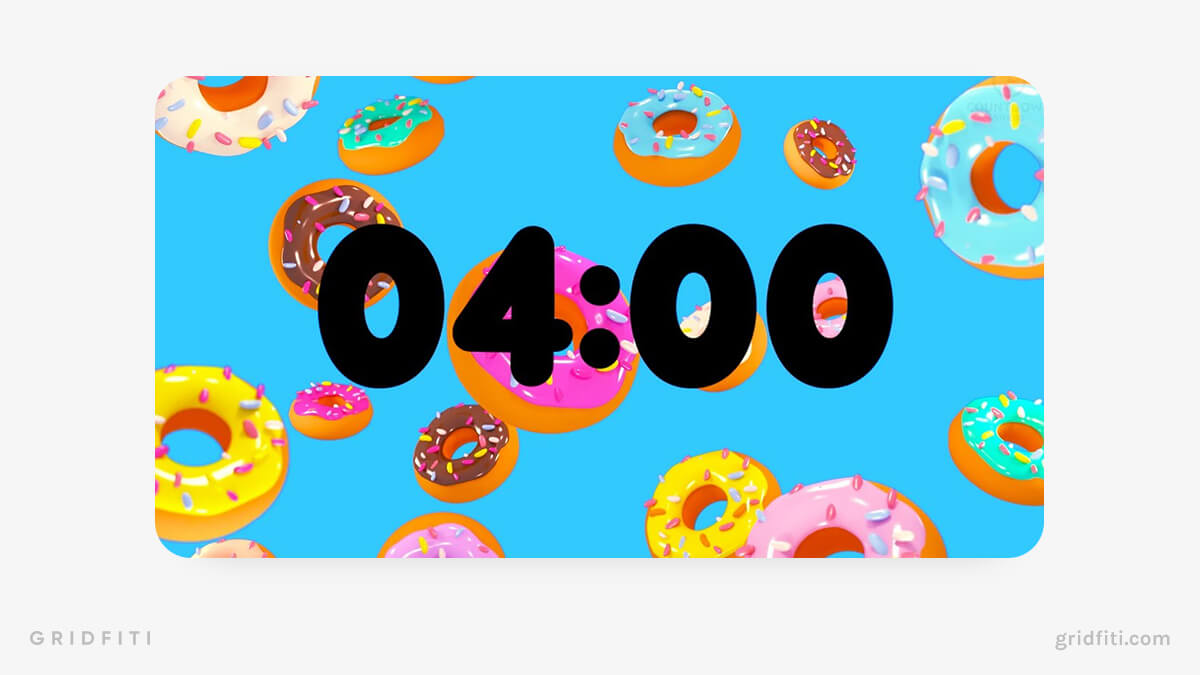 Which of these timers did your students love the most? Let us know in the comments below!
Gridfiti is supported by its audience – when you buy something using the retail links in our posts, we may earn a small commission at no additional cost to you. Read more about our affiliate disclaimer.