The past few years have gotten people to disconnect and embrace a simpler way of life surrounded in nature – often flocking out to national parks, camping sites, and of course, a warm and cozy cottage. One way to capture the essence of this nature and cottage vibe is through photography, and one way to one-up your cottage photos is with Cottagecore Lightroom presets!
What's Cottagecore, you ask? Think everything that comes with spending a cozy weekend out in the wilderness at the cottage. An aesthetic that can transfer you to a dreamy, pastoral, wonderland. Anyone loves a warm cottage vibe – and that can most definitely be achieved in your photos with one-touch editing! Check out our curated list of the best Cottagecore Lightroom presets.
Want more preset guides and tips? Check out our several other preset blog posts, and join our newsletter!
Cottagecore Preset Pack
We love the approach to a warm, vintage, almost mystical look that these Cottagecore presets create. Between the 10 preset options for desktop and mobile, there's a noticeable texture and color grade across the pack. From a warm overall tint to the edits, green, brown, and gold tones are accentuated beautifully while given a grainy treatment on a slight fade. Try them on your cottage pics or any photo taken in nature!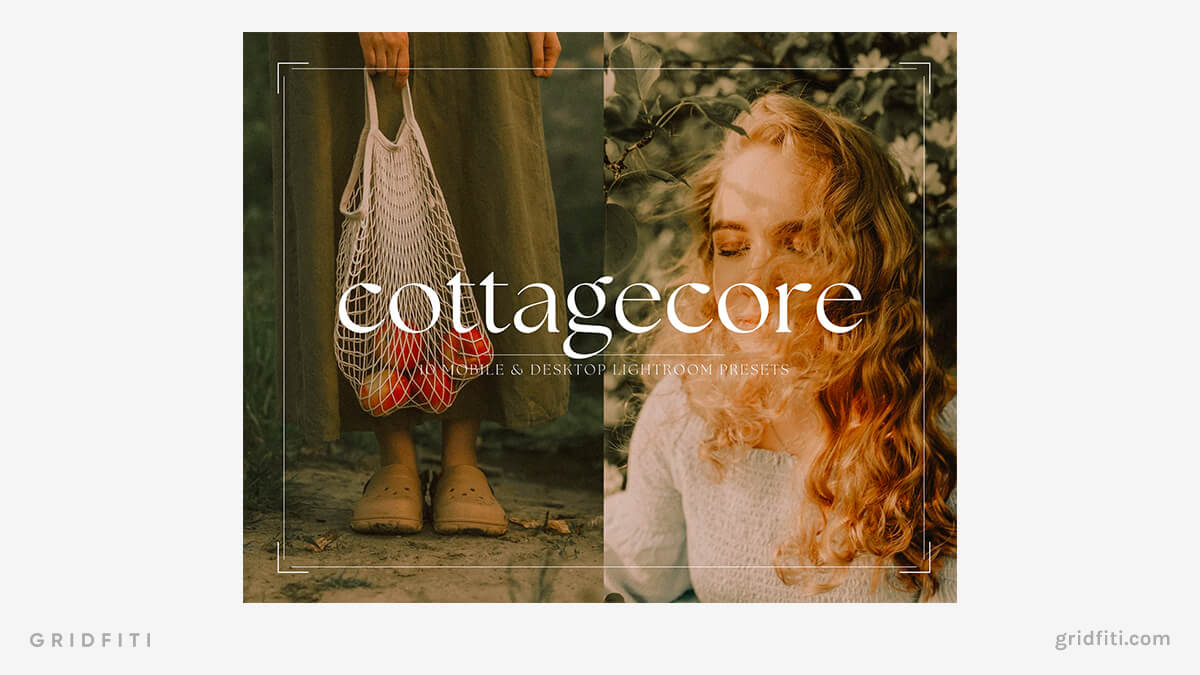 Vintage Cottage Vibes Presets
The demos for these Vintage Cottage presets give off a warm and nostalgic 90s vibe! The edits from the 10 mobile and desktop presets will have your cottage photos feeling like something found in the 80s or 90s! This is due to the color treatment that resembles film, along with the softening and grain that's added to the texture.
Check out our full list of vintage Lightroom presets for more!
Rustic Fall Presets
We couldn't talk Cottagecore vibes without a little bit of that rustic look! Check out these lovely Rustic Fall presets. With 8 presets for desktop and mobile, you can achieve the perfect warm and rustic look that you'd associate with cottage vibes! The notable features here are rich browns faced against contrasting oranges, reds, and yellows. Definitely give them a try with any of your photos, whether they're captured in the cottage, nature, during fall, and more!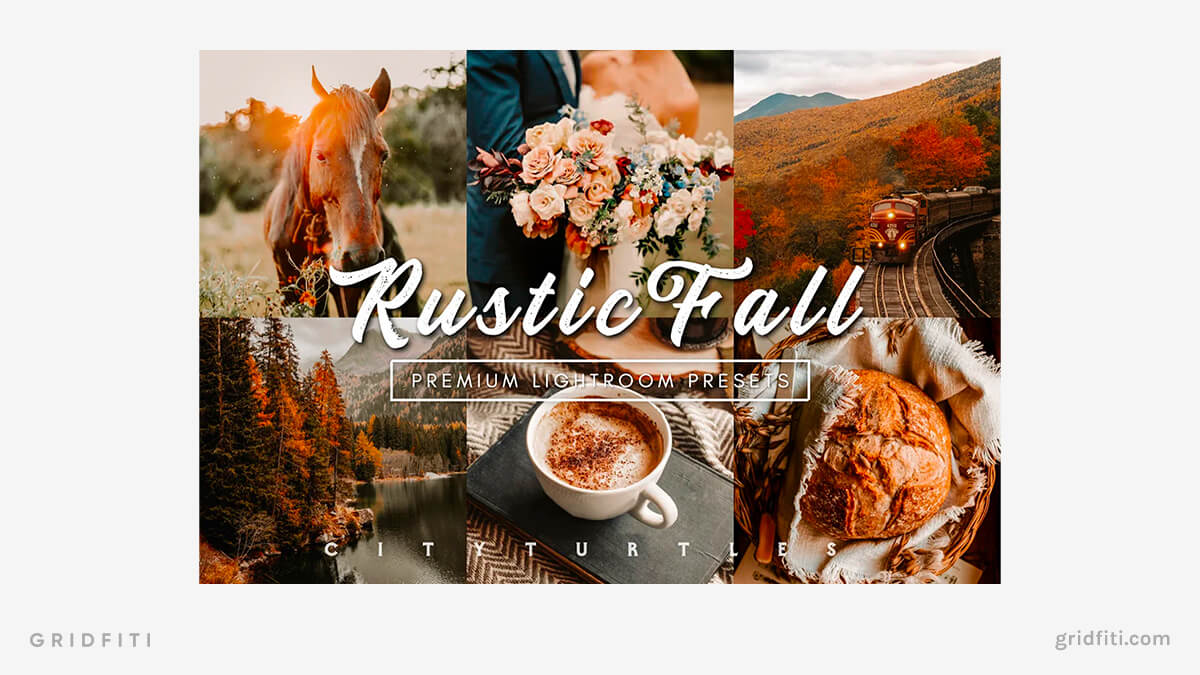 Bright Cottagecore Presets
Bring a soft light and airy vibe to your cottage pics with these Cotttagecore mobile Lightroom presets. Choose from the 22 presets that soften up the overall colors of the photos with a calming haze and brightness added. They're perfect for cottage or outdoor photos that feature lots of Earthy tones and are abundant in light. Try them out with your pics of a cottage weekend!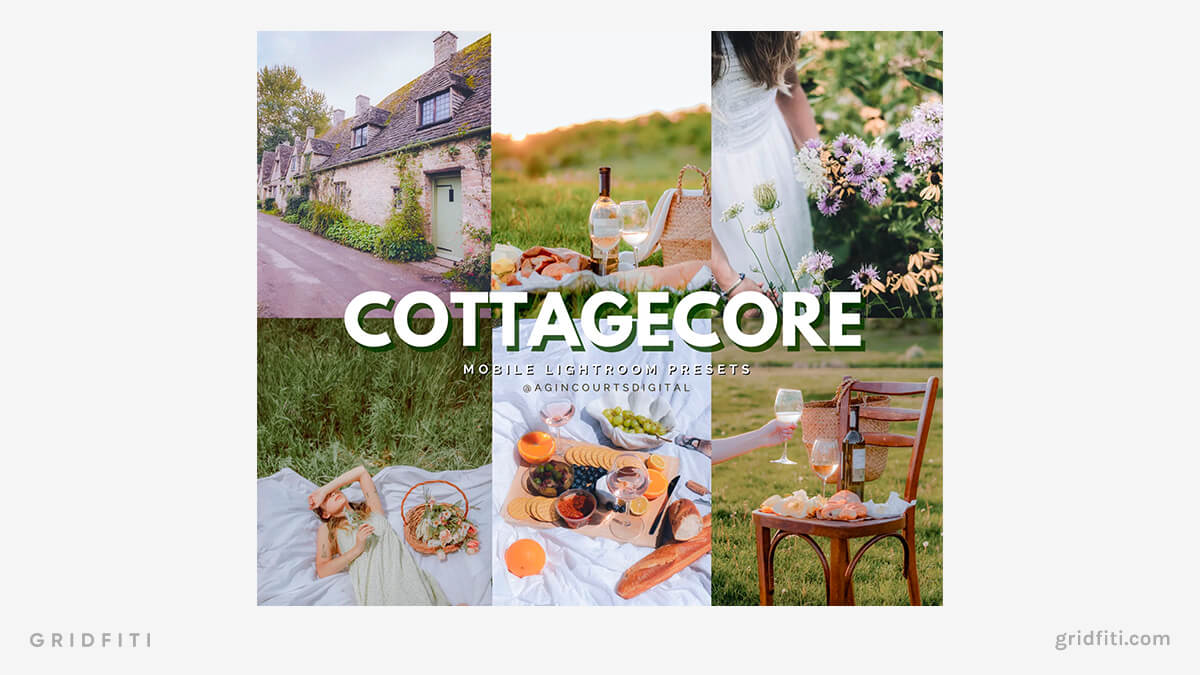 Cedar Moody Green Preset
Bring a subtle moody and warm vibe to your photos with a single click using these Cedar Lightroom presets. The package with 5 presets for desktop and mobile is carefully crafted to accentuate the earthy colors you'd find in a forest or cottage setting. There's a lovely filmy texture to it with a subtle fade in the blacks. Try them out for your Cottagecore photos!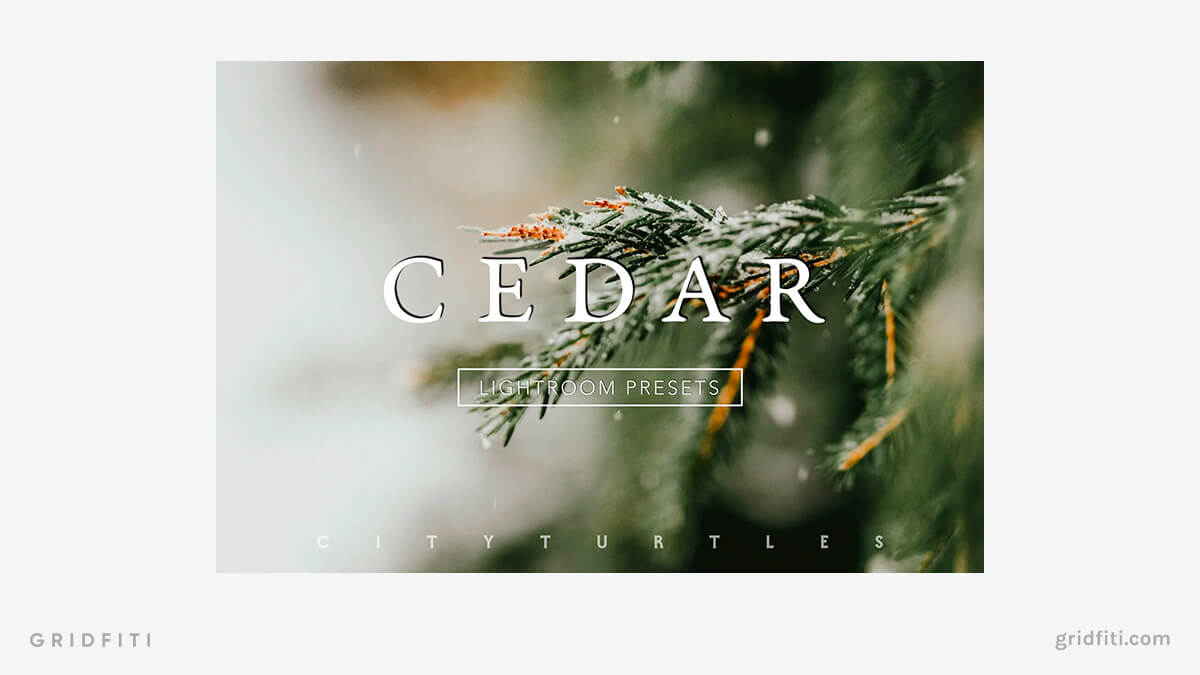 Green Cottagecore Presets
Bring a Cottagecore aesthetic with vibrant colors and softness, almost looking like something out of an anime! Check out these 10 mobile presets, which will treat your photos with boosts in vibrancy for green and earthy tones, while adding a soft haze to have your photos feeling dreamy, yet calming.
For more in this realm, don't miss our full round-up of green Lightroom presets!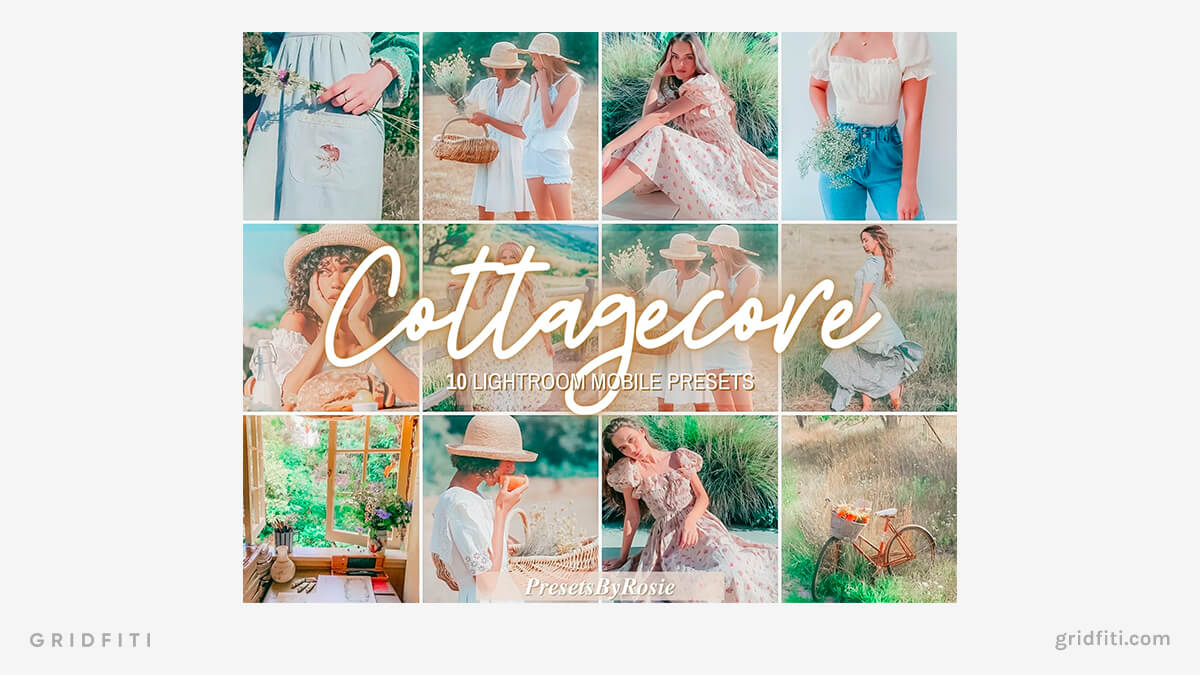 Earthy Tones Presets
We can't talk Cottagecore vibes without mentioning the overall Earthy tones that surround cottages! From greens to browns to beiges to oranges, this is a preset pack that focuses on enhancing the colors found in nature and around the cottage. The mentioned earthy tones are adjusted to give a bold look to your photos, while contrast and sharpness are heightened to complete the look! Give them a try and adjust them to your liking with those cottage pics.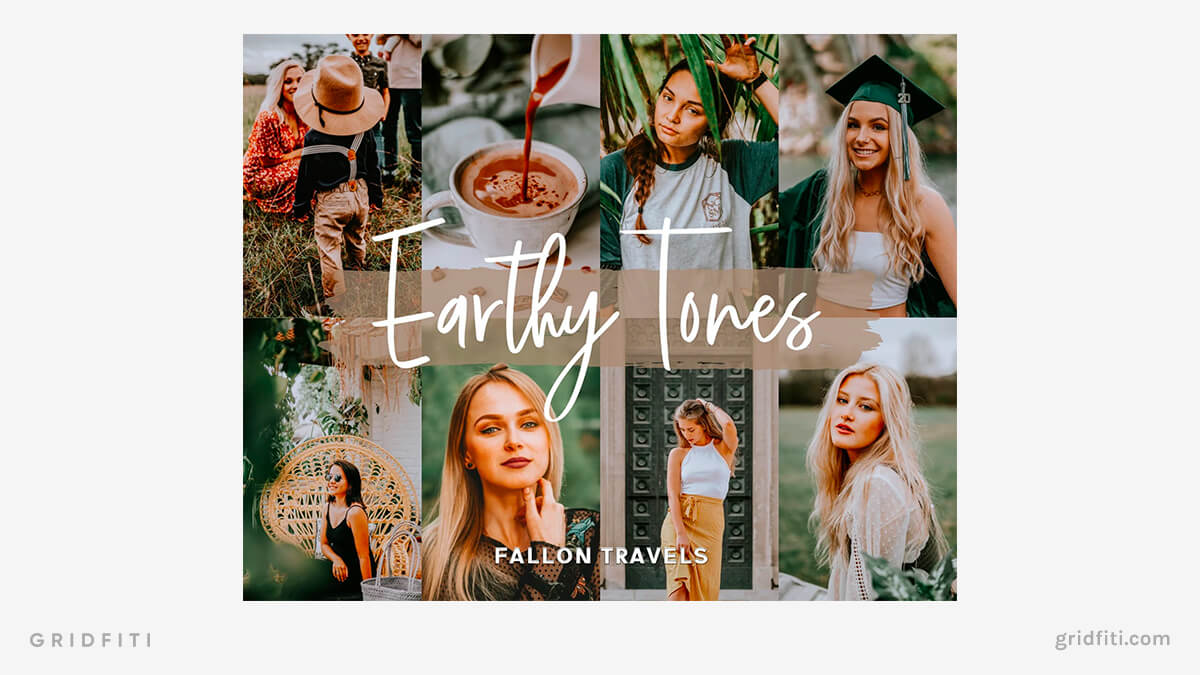 Cozy Hygge Presets
Hygge refers to the quality of coziness and comfortable that can create feelings of contentment or well-being. Of course, the Cottagecore aesthetic brings up this sensation of hygge! And that's what these cozy hygge mobile presets set out to do. There's an overall bright look to these photos, which bring out the warm and earthy tones of your photos – while sharpening the details. They're perfect if you're trying to edit portraits, interior photos, or just any photos of your space!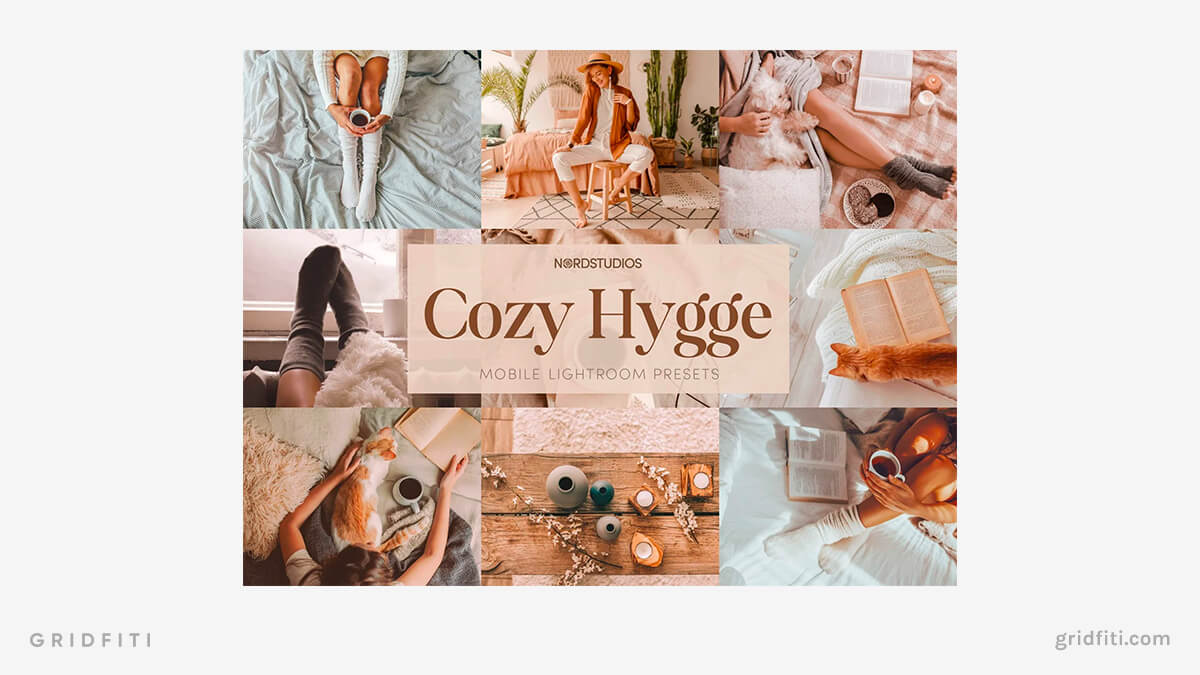 Moody & Gold Presets
Bring a dark and moody aesthetic to your Cottagecore pics with this Moody Gold premium Lightroom preset pack! Containing 7 presets for desktop and mobile, this pack will darken and add mood to your photos taken in nature. Black and warm golden tones are enhanced, while contrast is exaggerated. It's a departure from the usual bright look that comes with Cottagecore, but still a unique preset option for your nature photos.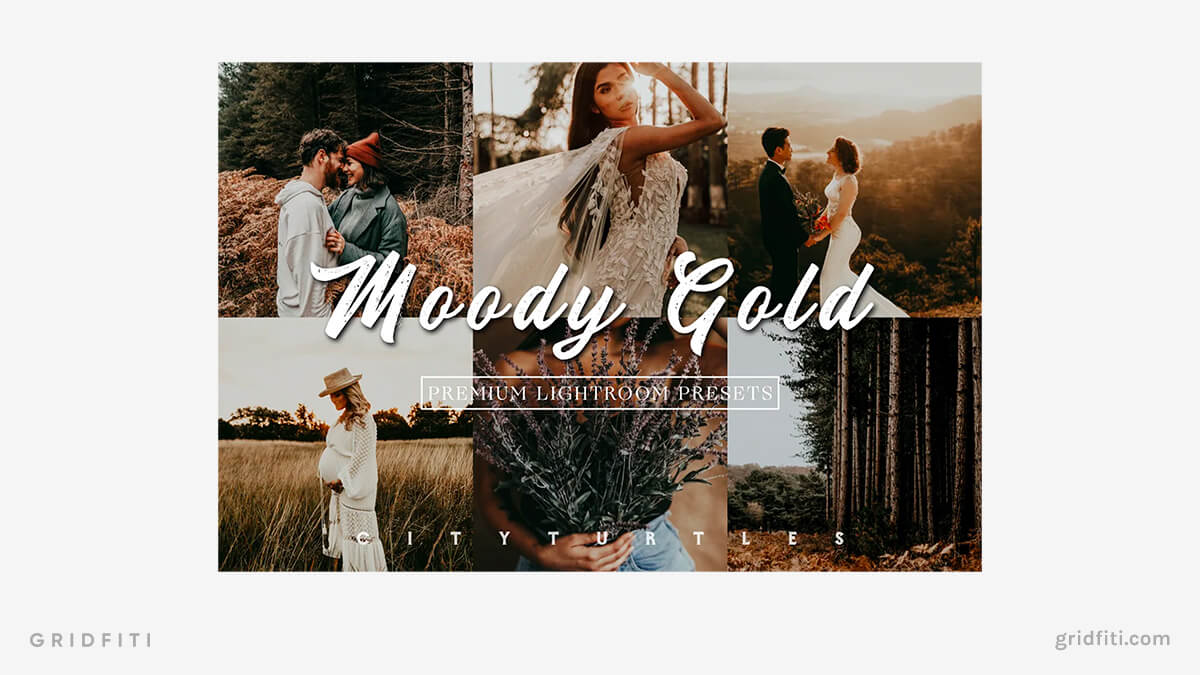 Warm Cottagecore Presets
These 5 presets for desktop and mobile bring an incredibly clean, surreal aesthetic treatment to Cottagecore presets. The edits are clean and ethereal, containing adjustments in warmth, sharpness, and highlights. One standout feature has to be the rich gold overlay among edits, bringing an overall warm look to any photo you apply it to!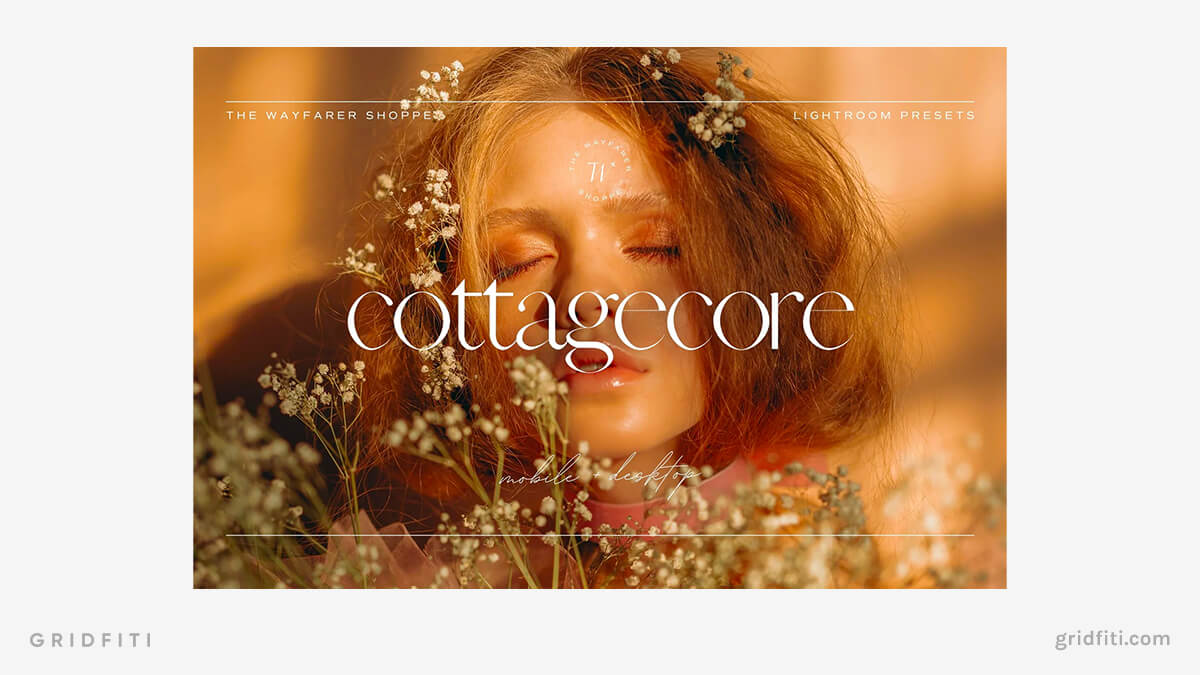 Free Cottagecore Presets
Unsure which Cottagecore Presets to try out first? If you need help exploring some options before making a commitment, give these free Cottagecore preset selections a try!
Dark Cottagecore Free Preset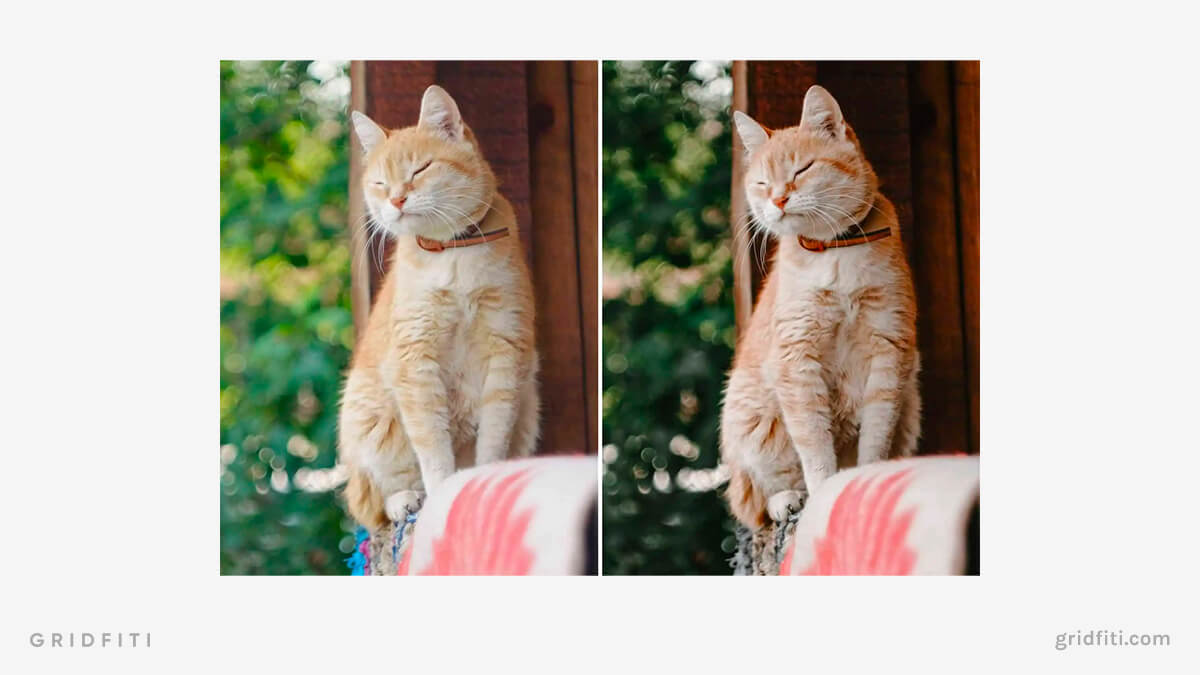 Vintage Cottagecore Free Preset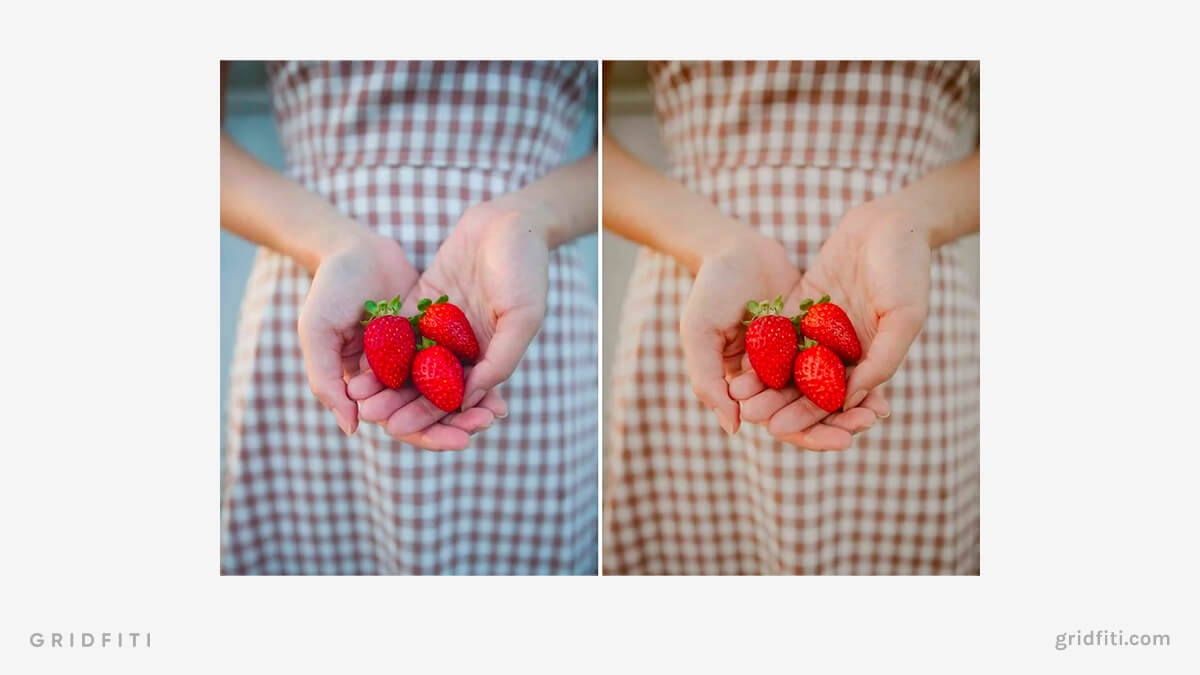 Free Cottagecore Preset Pack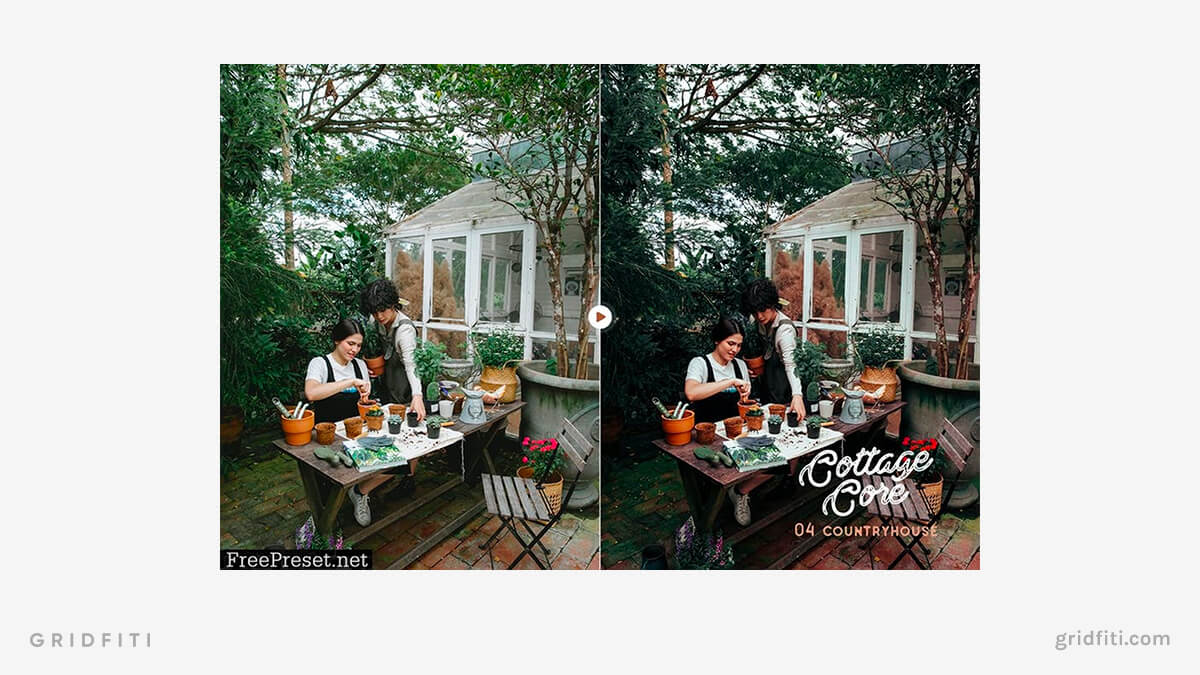 What do you think of our Cottagecore preset options? Are there any others that we're missing? Let us know in the comments below!
Gridfiti is supported by its audience – when you buy something using the retail links in our posts, we may earn a small commission at no additional cost to you. Read more about our affiliate disclaimer.