The fall season brings out the best in colors, textures, feelings of coziness, and warmth. Capturing all of this in photos is one thing, but editing them to bring out the best of the season is another.
From the oranges, reds, and browns of the fall foliage to cozy outfits and cottage outings, if you're taking photos of these, look no further than our list of curated fall Lightroom presets to edit these photos to your liking. Whether you're just having fun capturing the coziness of fall or you're looking to have a more professional and sophisticated look, these autumn and fall Lightroom presets will help you get there!
Want more preset guides and tips? Check out our several other preset blog posts, and join our mailing list below!
Golden Fall Lightroom Presets
Add a touch of gold and warmth to your fall photos through these 8 presets for desktop and mobile which are designed to capture life, family, nature, and more. The presets are color graded to work perfectly with the tones of fall, from yellows to reds to oranges. Give them a try and watch the nicest warm tones shift your photos.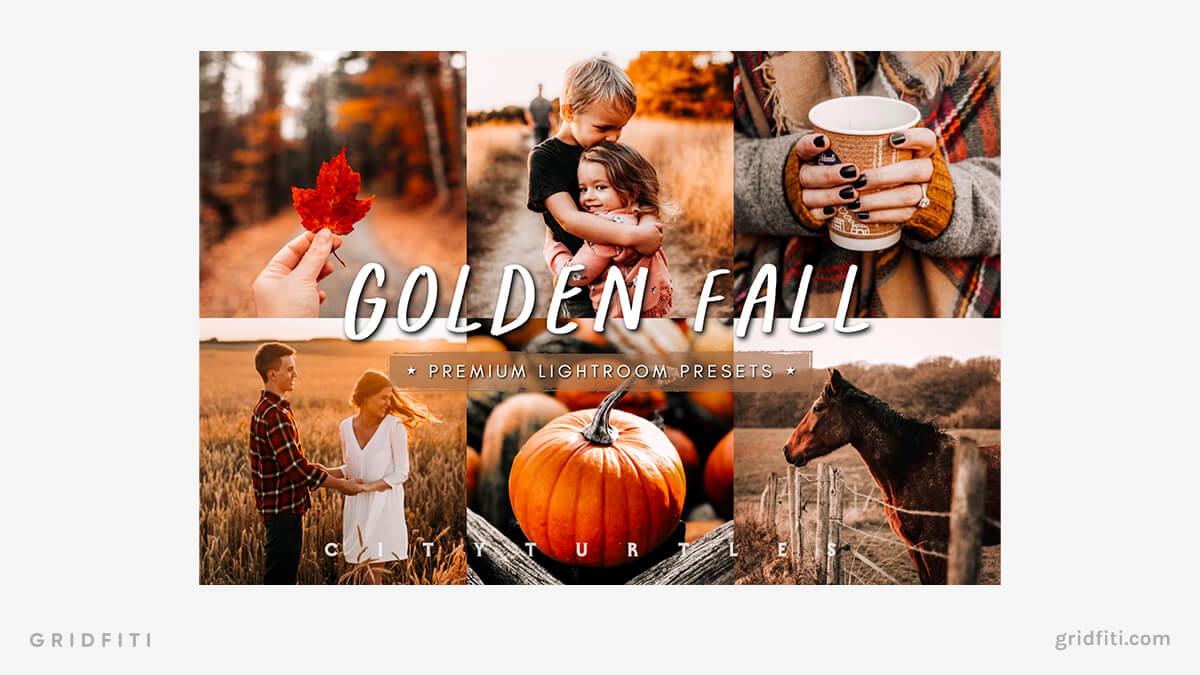 September Lightroom Presets
September is synonymous with comfort, warmth, and the colors of fall foliage. Bring the aesthetic look of September to your photos with this 10 preset pack for desktop and mobile! From pumpkins to cornfields to forests to a warm mug of coffee – bring that September and fall warmth to your photos!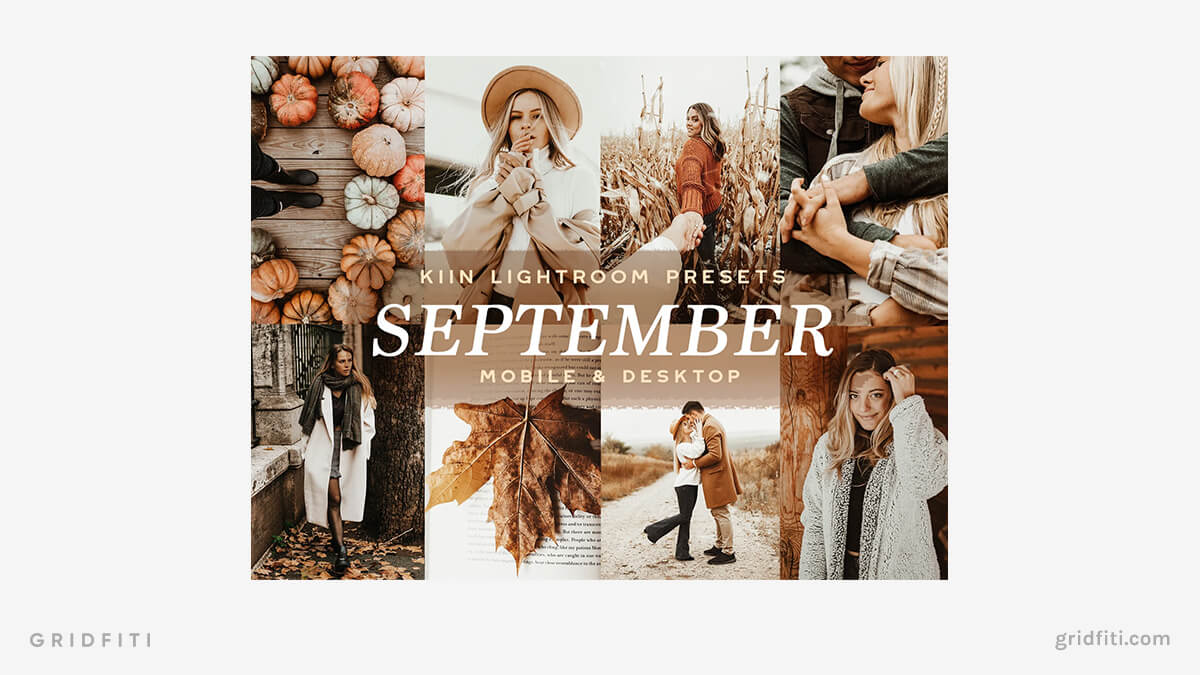 October Rust Lightroom Presets
We love the earthy and foliage colors of brown and orange that decorate the landscape in fall – and that's exactly what this October Rust preset pack aims for with its editing! Pick from the 10 presets that highlight and enhance the oranges and earthy tones of your photos. Whether they're the inside of your warm fall cottage or the orange of pumpkins and leaves, this October Rust look will do the trick!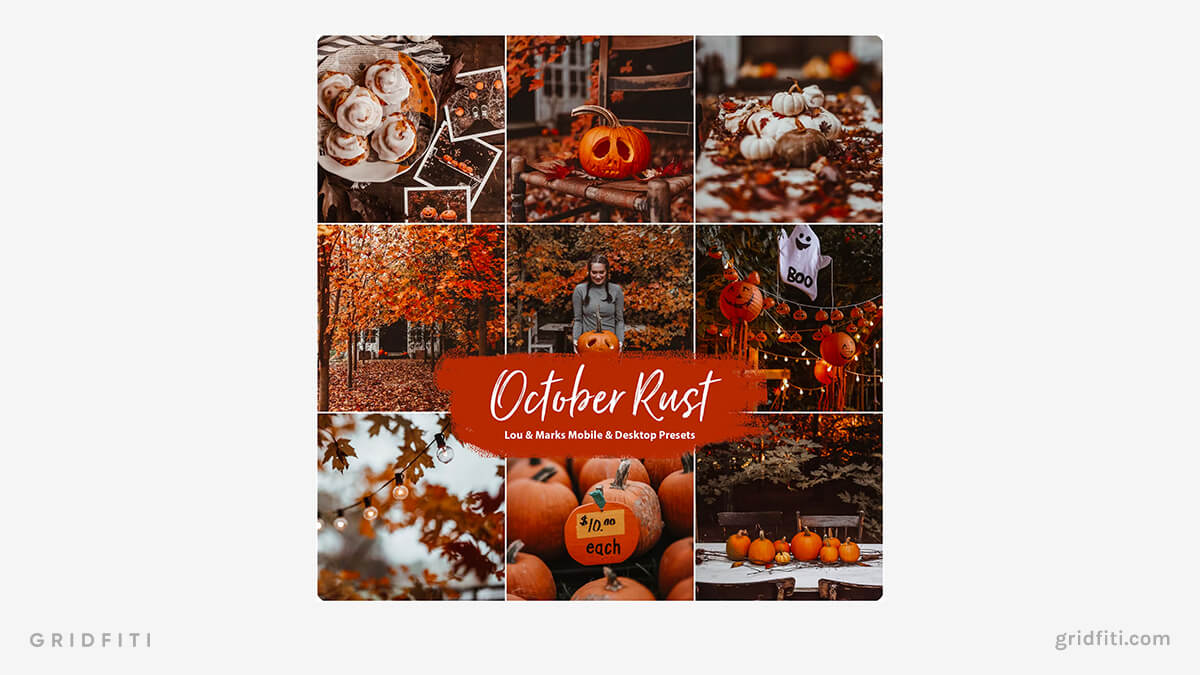 Harvest Lightroom Presets
The colors of a fall harvest get you into a warm and cozy mood, so that's what this Harvest Lightroom preset pack sets out to do! Aiming for the cottage or barn aesthetic, these 10 presets for desktop and mobile bring out the best of barn and cottage settings. Try them on photos of the harvest of the season, a warm fireplace, or your cozy outfits!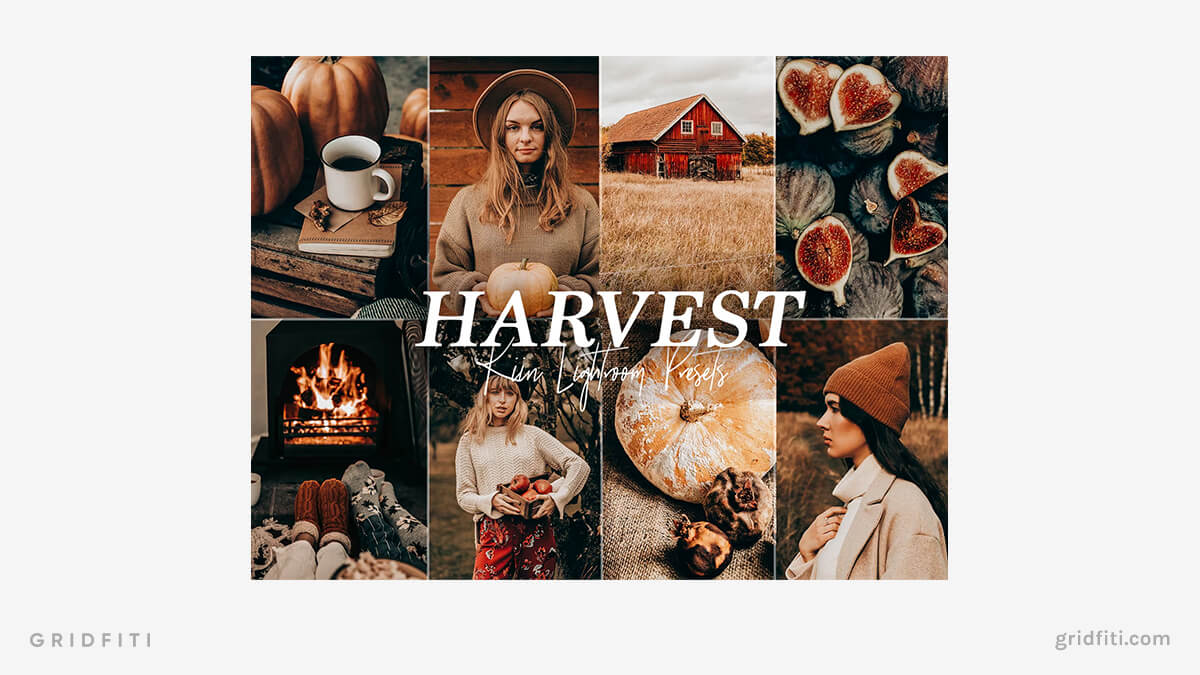 Pumpkin Spice Fall Lightroom Presets
Of course there's a preset pack named after pumpkin spice! This pack contains 10 presets for mobile and desktop which bring out the tones of your fall photos to turn into a warm cozy cup of comfort just like a pumpkin spice latte. Most preset edits contain fades to shadows and blacks whereas this one keeps the blacks intact to create a sharper look. Give it a try with your Fall pics!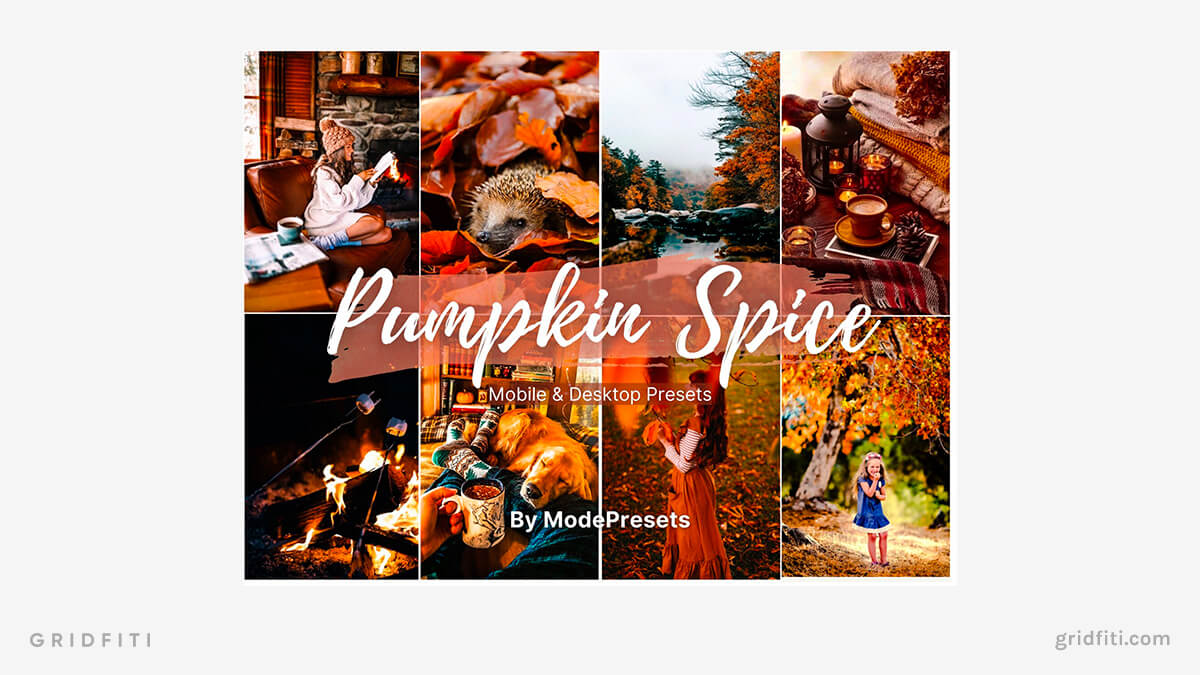 Light & Airy Fall Cinnamon Presets
When light and airy presets meet fall colors, we get this Cinnamon preset pack! Choose between 5 premium presets for desktop or mobile. These presets are designed to work with photos in bright and minimal environments. Highlights and exposure is increased a tad bit, while fall colors are the focus of the edits. Adding softness and a slight faded overlay, the Cinnamon preset pack will create that light and airy look we know and love.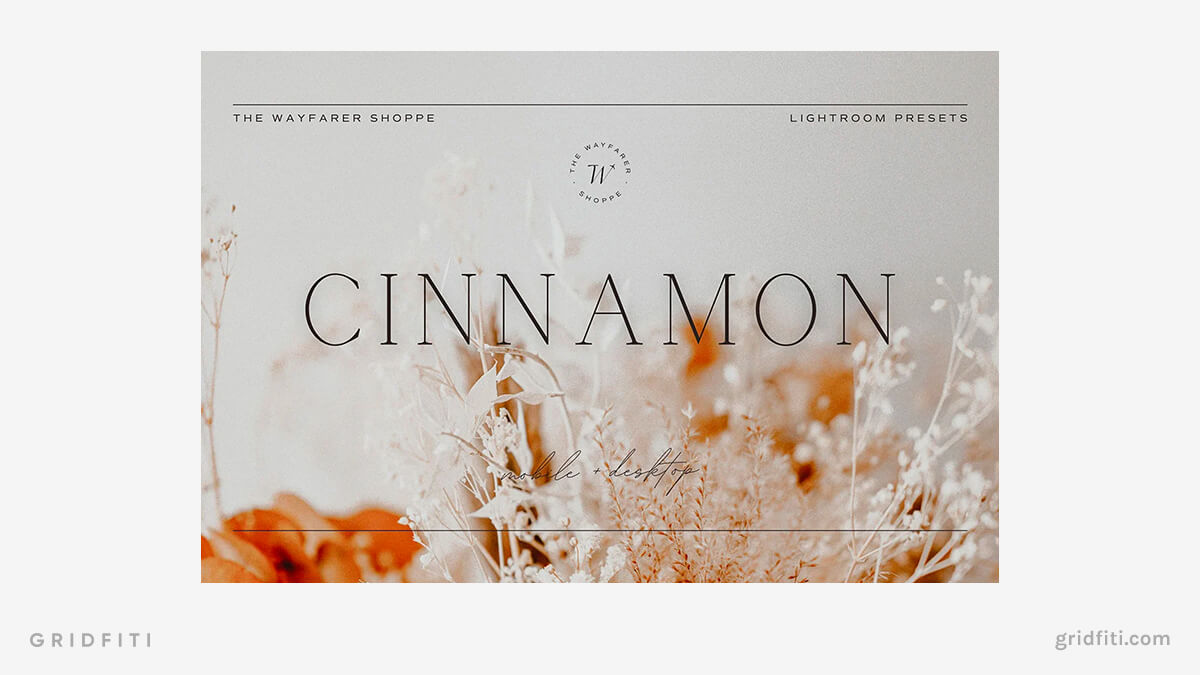 Pumpkin Pie Fall Portrait Presets
Transform your photos with these beautiful Pumpkin Pie presets! Choose from 5 unique presets for desktop and mobile. The edits are carefully crafted to create a sophisticated, clean finish. The balance of warm color grading, softness, lighting, and shadow finishes will make your fall photos look picture perfect!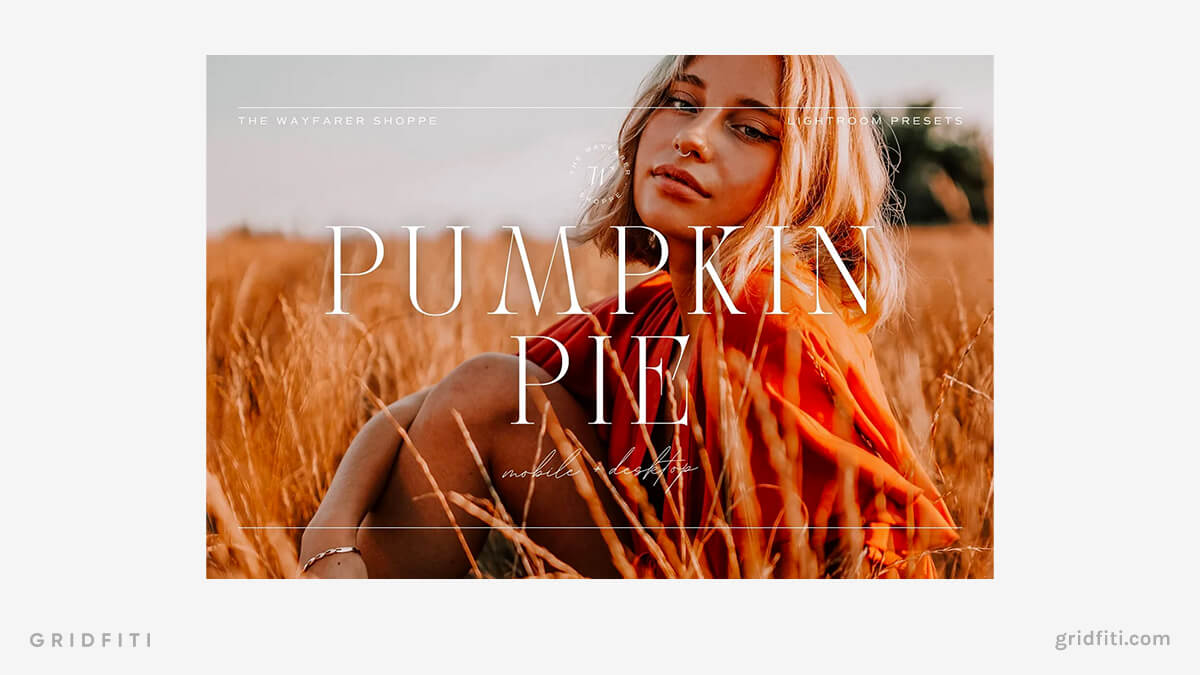 Halloween Lightroom Presets
Turn the tones of Fall up a notch with these Halloween Lightroom presets. Moody blues and blacks combined with contrasting yellows and oranges – the goal of these Halloween presets are to add a spooky and aesthetic Fall look to your photos – give them a try!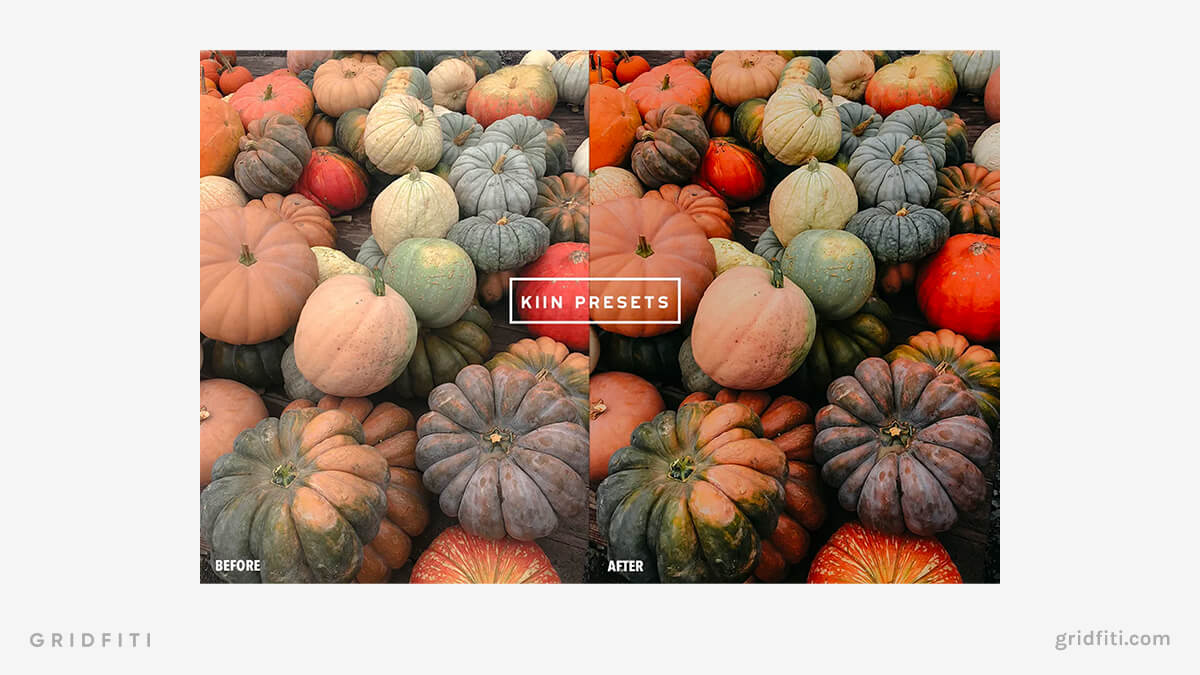 Fall Outfit Presets
Fall is the best time of the year for fashion – from the layering options, to the colors, to the overall cozy aesthetic. Add some oomph to your fall fit pics with this aesthetic fall outfit preset pack! Whether you have a warm brown jacket, a scarf, leather boots, or are editing photos for your blog – these presets are sure to elevate your fall outfit pics!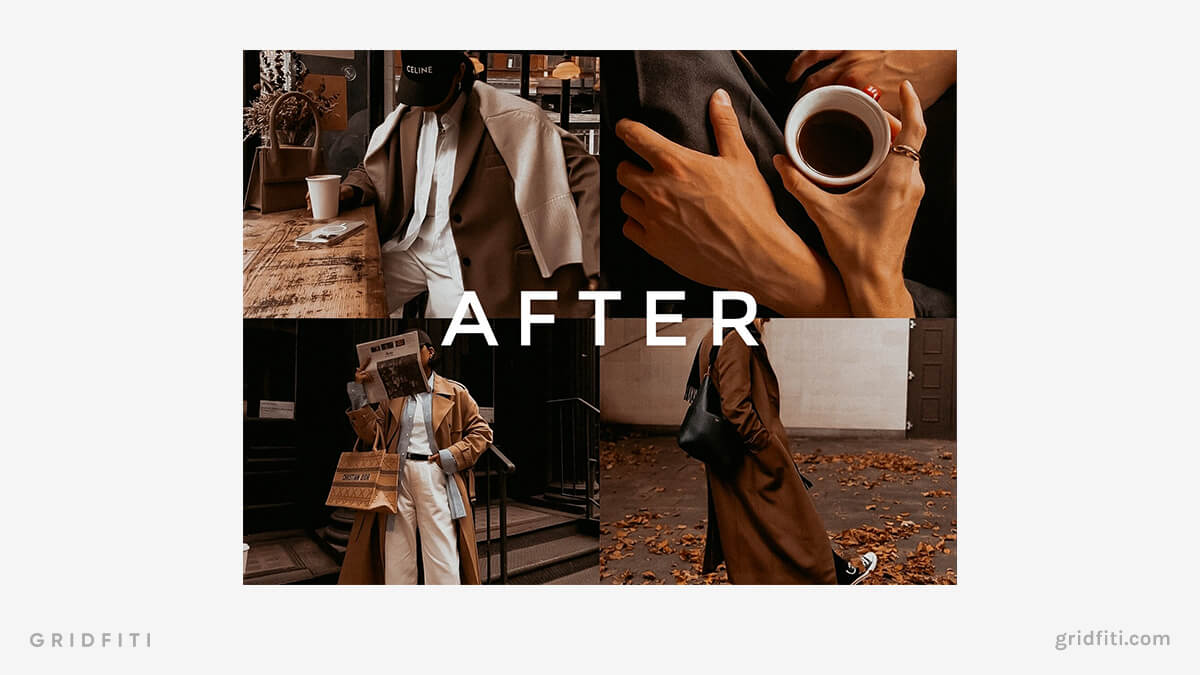 Aesthetic Autumn Presets
Bring a clean aesthetic look to your Autumn pics! While most presets focus on fall in the wilderness, these presets are made to edit your indoor decor our outfit in the Autumn season! From the warm decor of barns, cottages and buildings, to the fall outfits you have on – bring this clean look to your fall pics!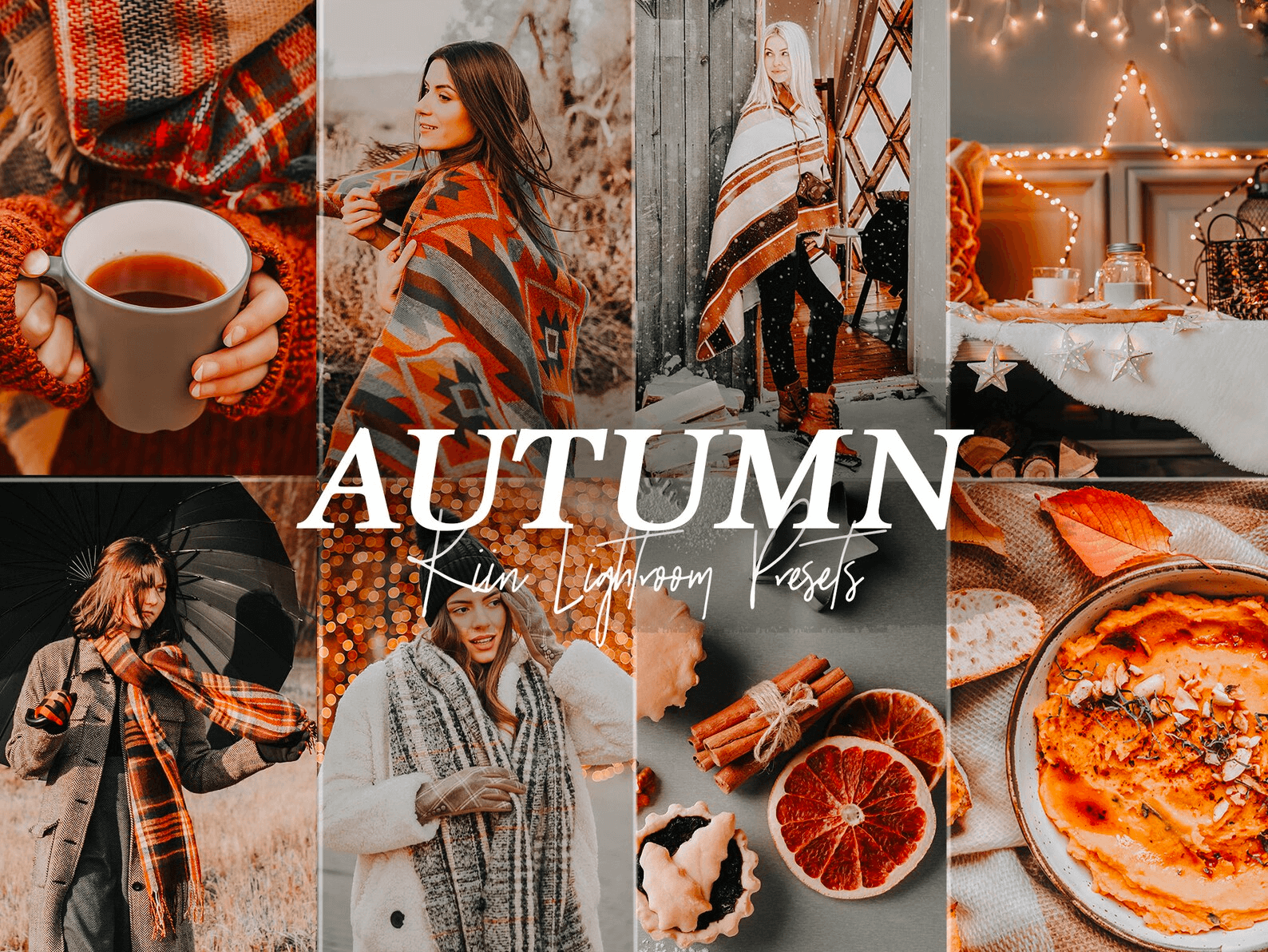 Free Fall & Autumn Presets
Not so sure about where to start with those fall edits? Check out a few of these starter free fall preset options allow to tinker with and get your editing feet wet!
Free Film Fall Preset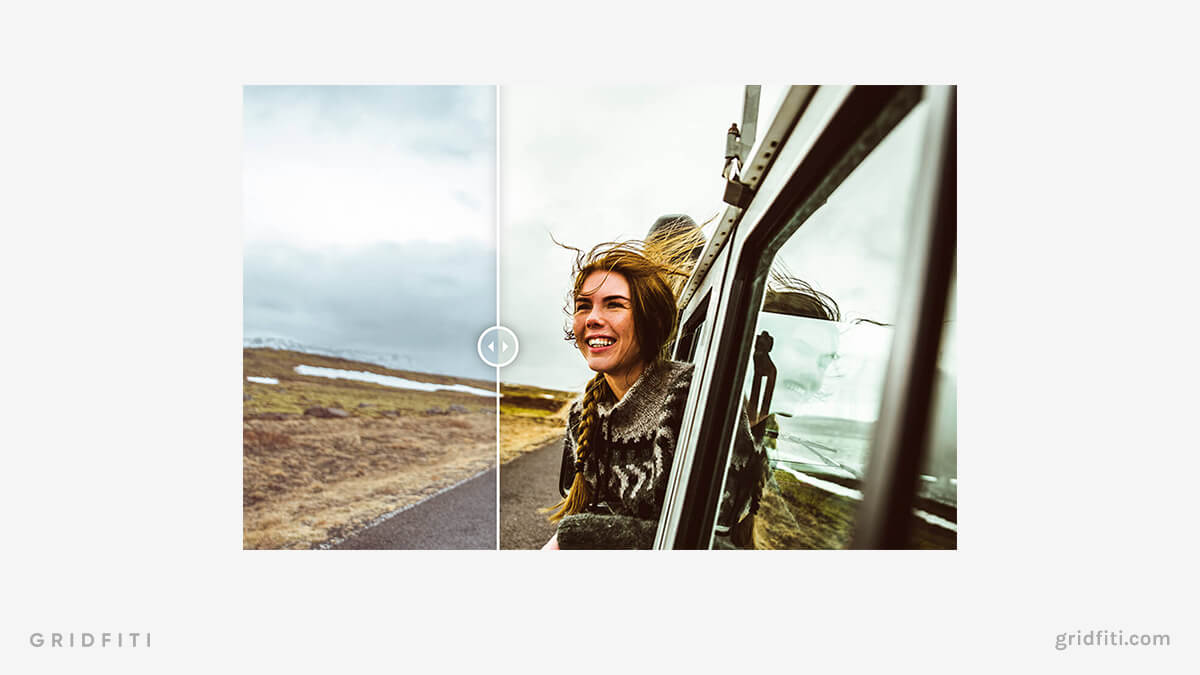 Free Soft Fall Preset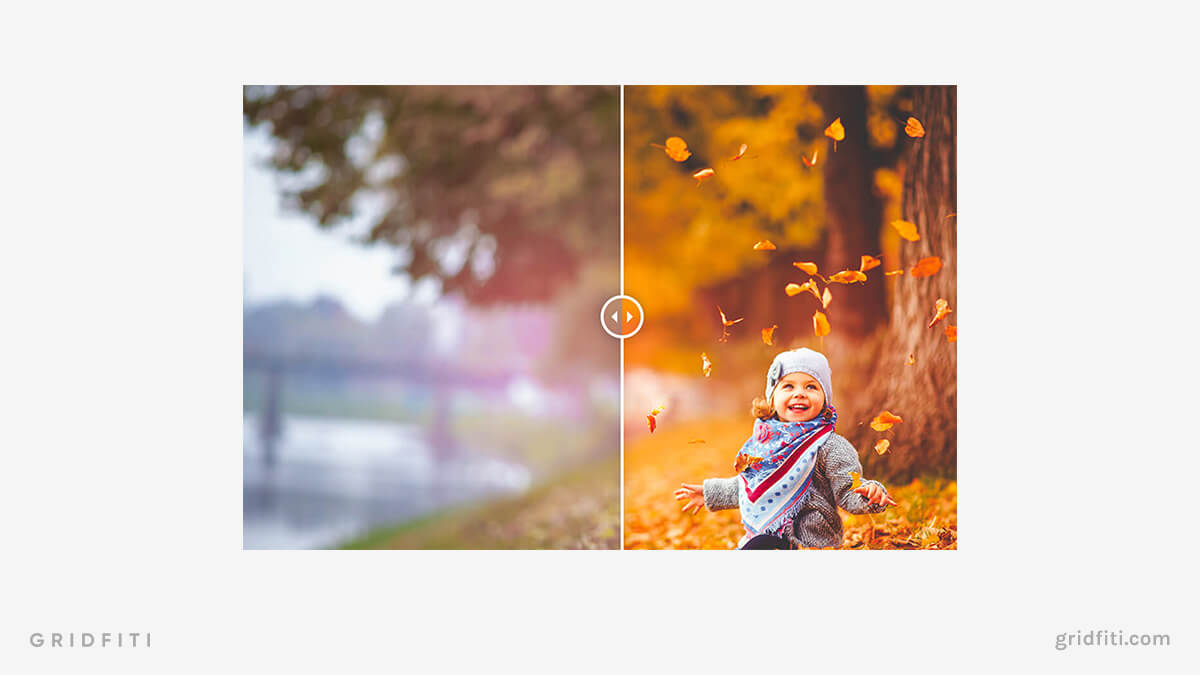 Free Fall Portrait Preset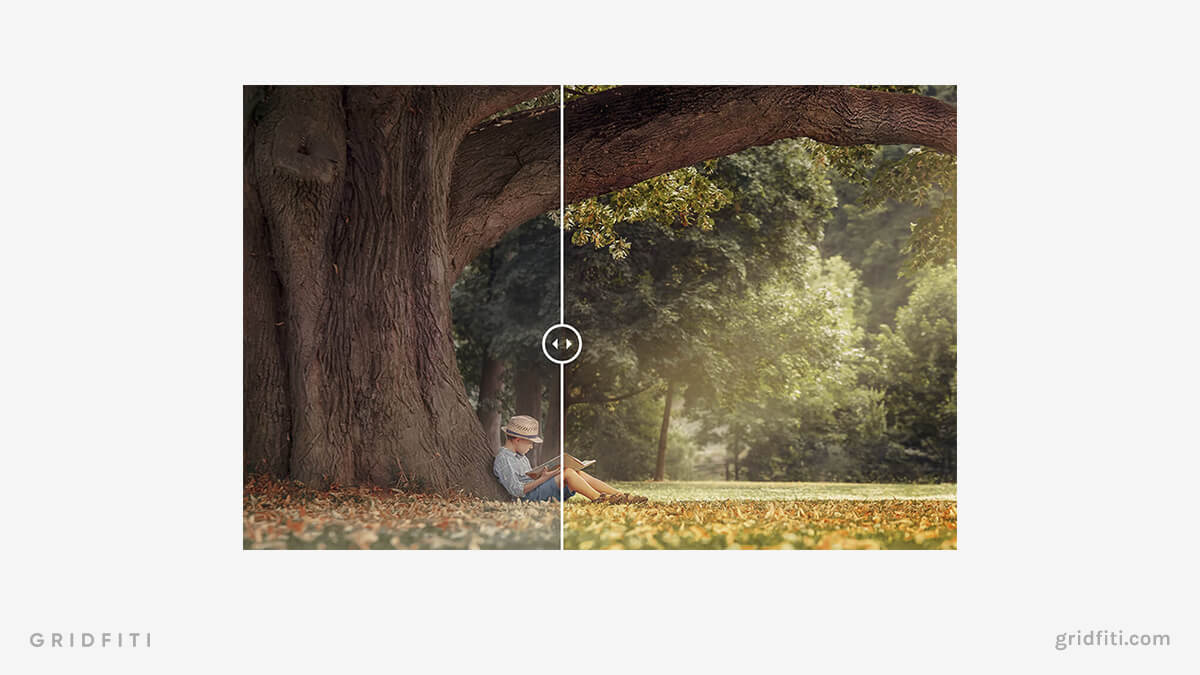 Free Autumn Landscape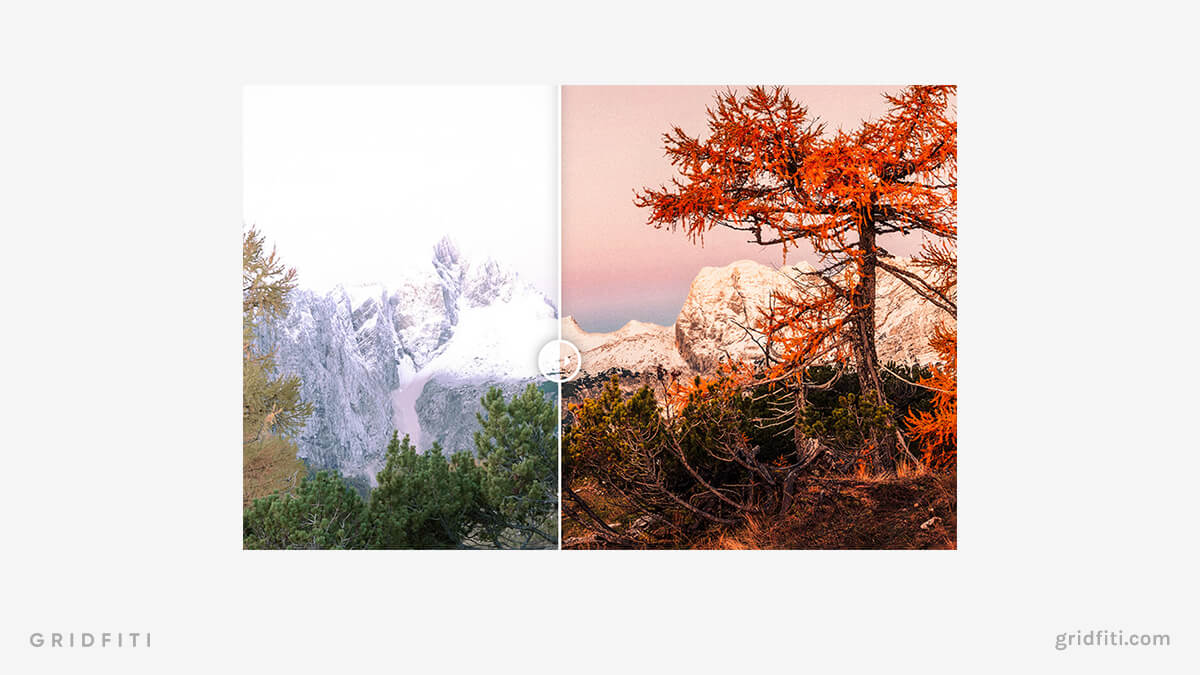 Which one of these Fall presets are your favorite? Are there any you'll use on your Fall pics? let us know in the comments below.
Gridfiti is supported by its audience – when you buy something using the retail links in our posts, we may earn a small commission at no additional cost to you. Read more about our affiliate disclaimer.