Whether you're looking to launch your own home baked goods business, or want to present your restaurant's menu in the best light possible, photographing food comes with its share of creative planning and execution – but what about the editing process?
Thankfully, with Lightroom, you can edit your food photos like a breeze. Check out our list of curated food presets to elevate your photos of a variety of food types.
If your aim is to make your food photos visually appealing, whether you're shooting in a kitchen or a studio, and whether the food is colorful or has a consistent tone, these food presets will help you achieve that goal!
Check out our curated list of the best food Lightroom presets. Bon appétit!
Want more preset guides and tips? Check out our several other preset blog posts, and join our newsletter!
Tasty Food Presets
We've all seen it – the clean and bright studio setup to capture the quickest of recipes. Now bring that familiar Tasty by BuzzFeed look to your food photos with this pack of 10 presets for desktop and mobile. The edits include a burst in brightness and saturation for the many type of foods you want to photograph. Make your food look mouthwatering with these Tasty presets!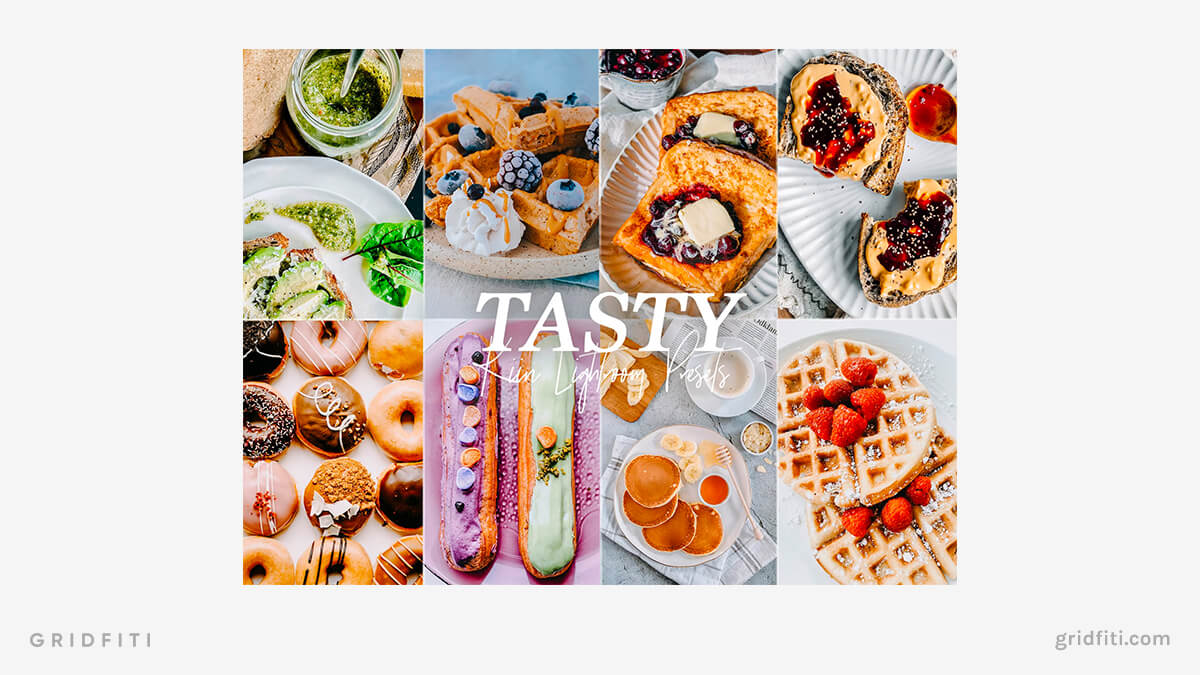 Moody Food Preset Collection
Take the brightness and vibrancy down a notch and give your food photos a moody aesthetic with this Moody Food preset collection. Use these 10 presets for desktop and mobile to bring a look that's rich in tones with a natural vibrance that will make your food photos stand out from the rest!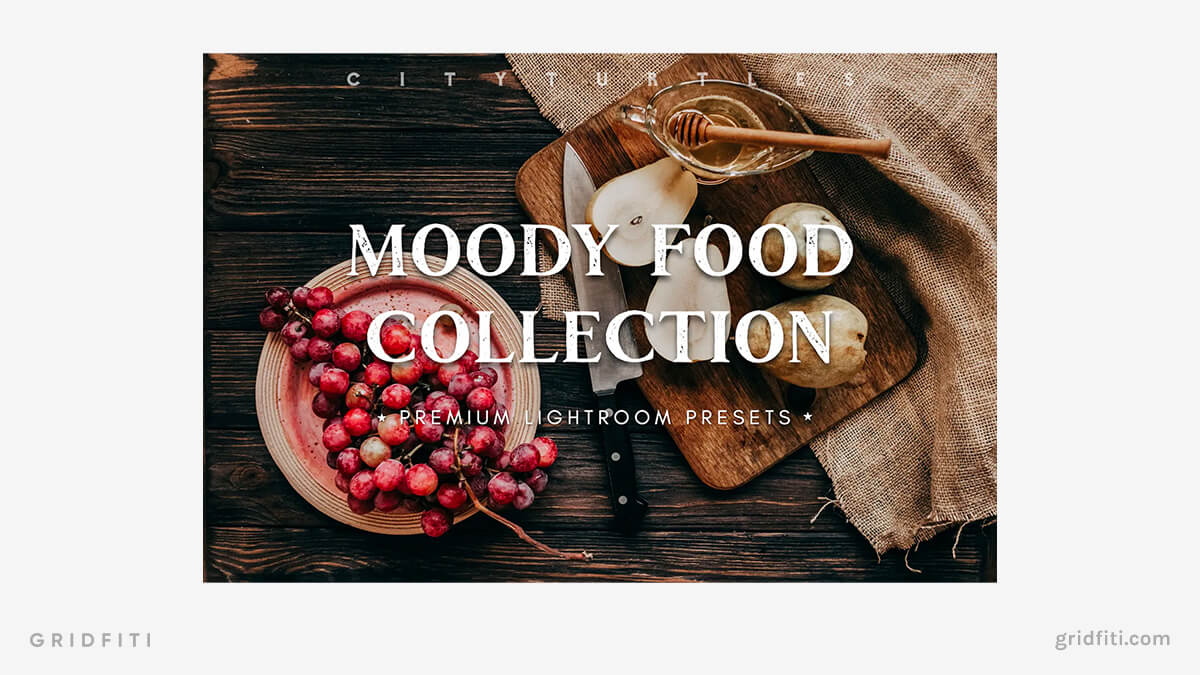 Pretty Food Lightroom Presets
Pretty up your food photography with these Pretty Food Lightroom presets. Containing 10 presets for desktop and mobile, these presets will elevate your food photos to look professional and straight out of a magazine. The aim here to to create a sophisticated look that brings out the best in textures and color with your food photos and its setup. It works great for bright looks or a dark aesthetic – try them out yourself!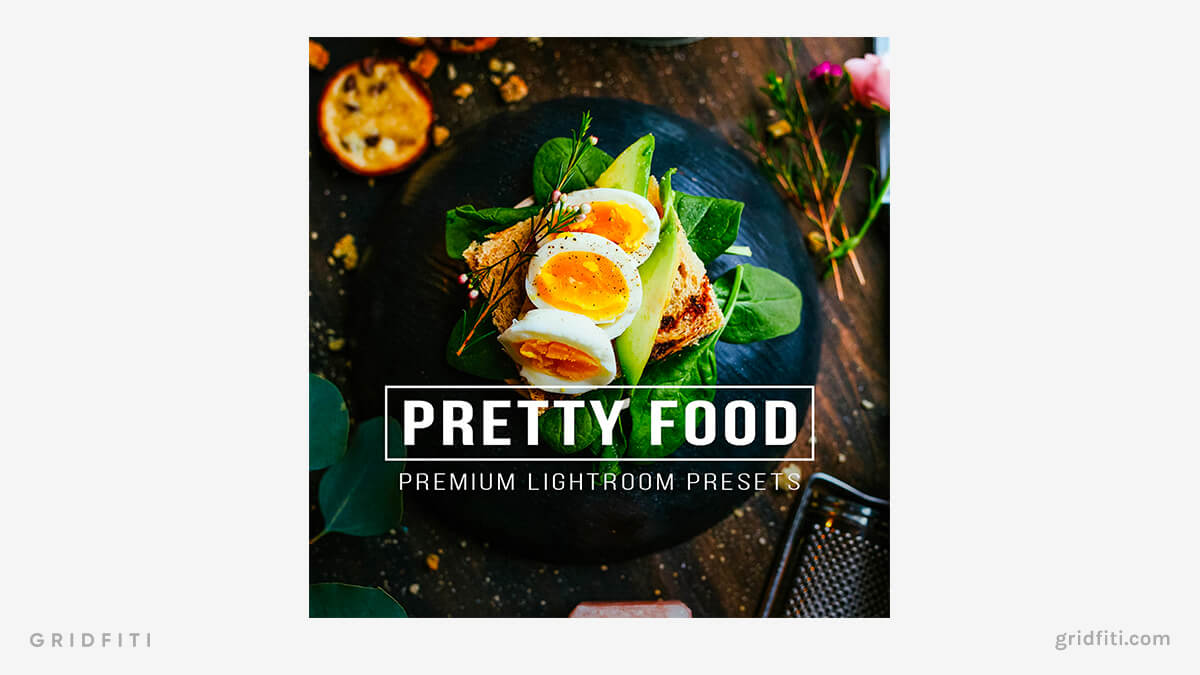 Bright Bakery Lightroom Presets
Brighten up your bakery photos with this beautiful preset pack containing 10 edits for desktop and mobile. The general theme among these edits is to brighten up the lighting of your photos with a focus on enhancing red, yellow and pink tones. It's meant to give a light and airy feel to photos of your baked cakes, cupcakes, pies and more!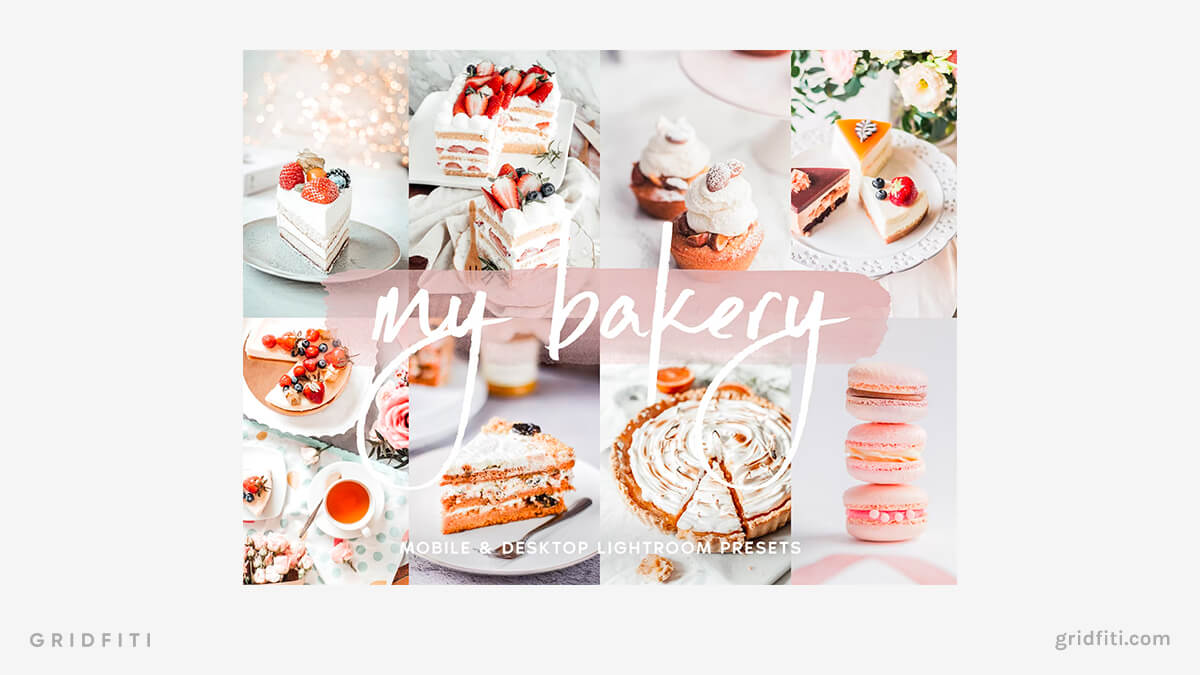 Gourmet Food Presets
These Gourmet Food Lightroom presets will be the pièce de résistance for your food photography. Choose from the 10 preset options for desktop and mobile and watch your photos look as if they're out of a Michelin star restaurant. The edits involve a clean brightening, effect where the focus is the saturation of your food and the sharpness of the details. These are best to use on white plating and with closeup shots!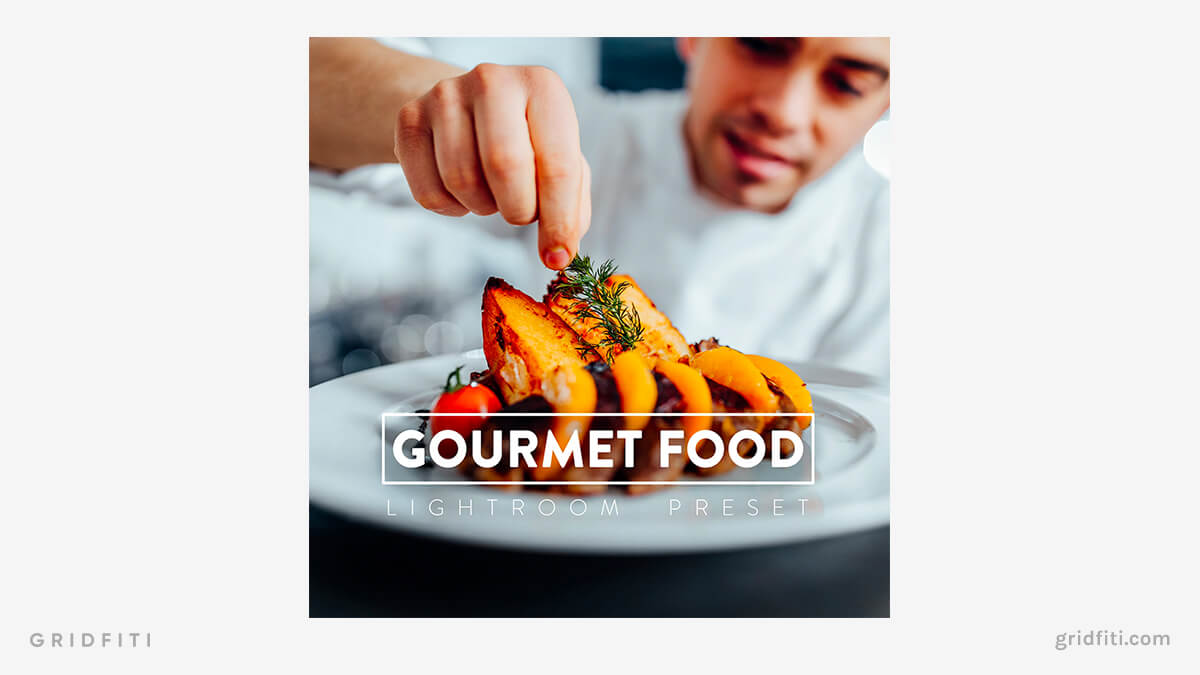 Rustic Food Presets
Give your food photos a natural and earthy aesthetic with this Rustic Food preset pack! The 10 presets will add an edgy rustic look that emphasizes earthier tones like browns and beiges. Obviously other colors contained in food will be boosted in saturation, but the focus of these presets is to bring a warm and cozy, yet sharp look to your food photos. Try the pack out!
Looking for to incorporate rustic aesthetic in more of your photos? Check out our post on the best rustic presets for Lightroom!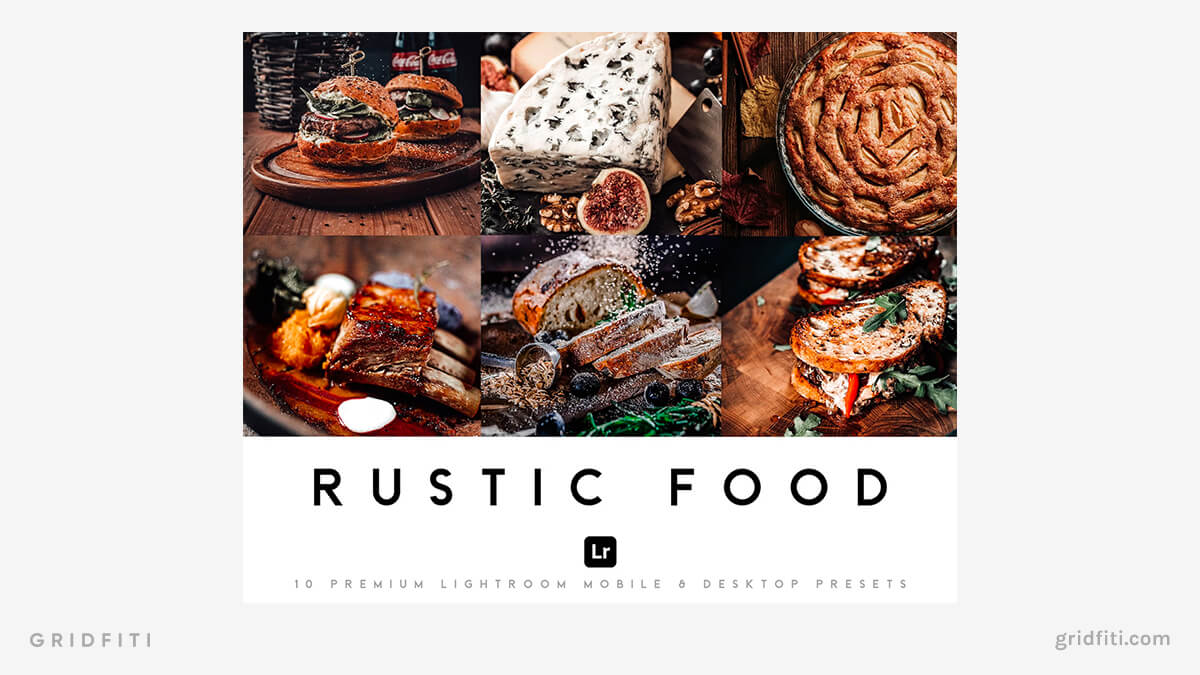 Dark Food Presets
We love a dark and moody aesthetic! Now bring that look to your food photography shots. These 10 presets for desktop and mobile will elevate your photos into a rich and dark look. They're perfect for photos captured in a darker lighting set-up. Using presets that create contrast in darker settings can result in an overall more sophisticated look for your food photos. Why not try them out for yourself?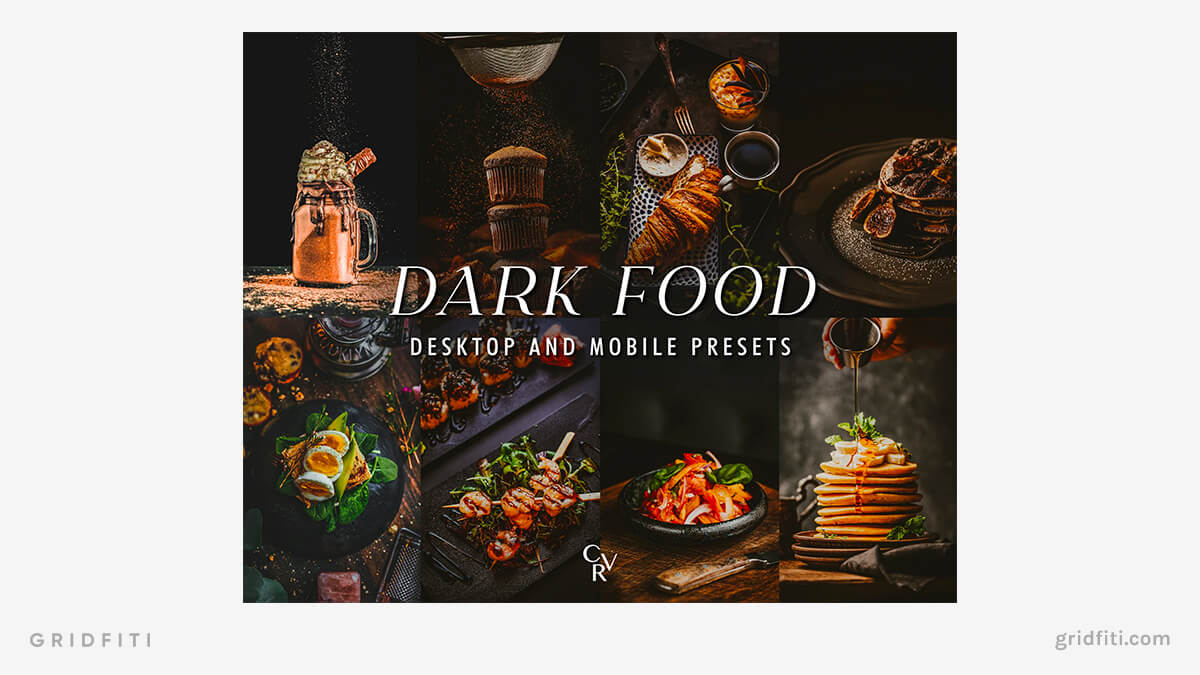 Bright Food Presets
Another simple preset pack that punches up the exposure and vibrancy of your food photos, these 10 mobile presets are meant to be a quick solution to on-the-go photo capture with your phone. They work best in photos that contain a lot of white decor and plating, along with colorful food. Give it a go with your food pics!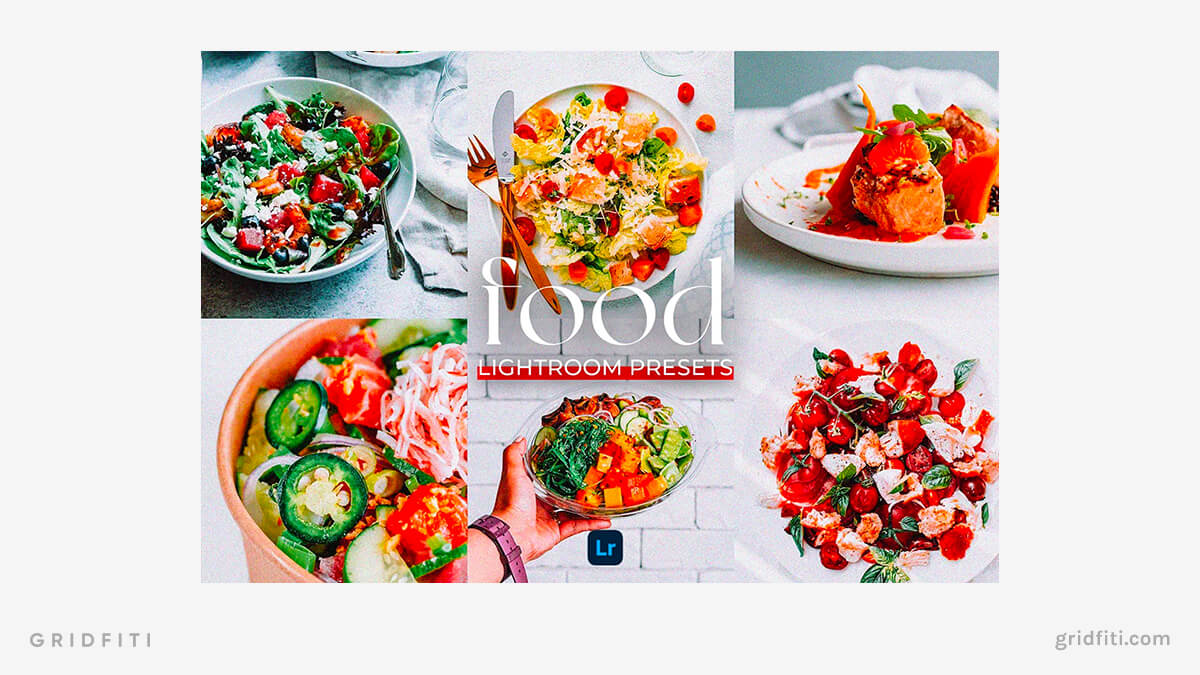 Moody Bakery Presets
Mute the tones of your bakery photos down to this calm and moody aesthetic with this 8 preset pack. The presets give your baked food photos a subtly muted color grade with an emphasis on brown, yellow, and gold tones. The whole look is tied together with a softness and fade to create a filmic look. Give it a go with your bakery photos!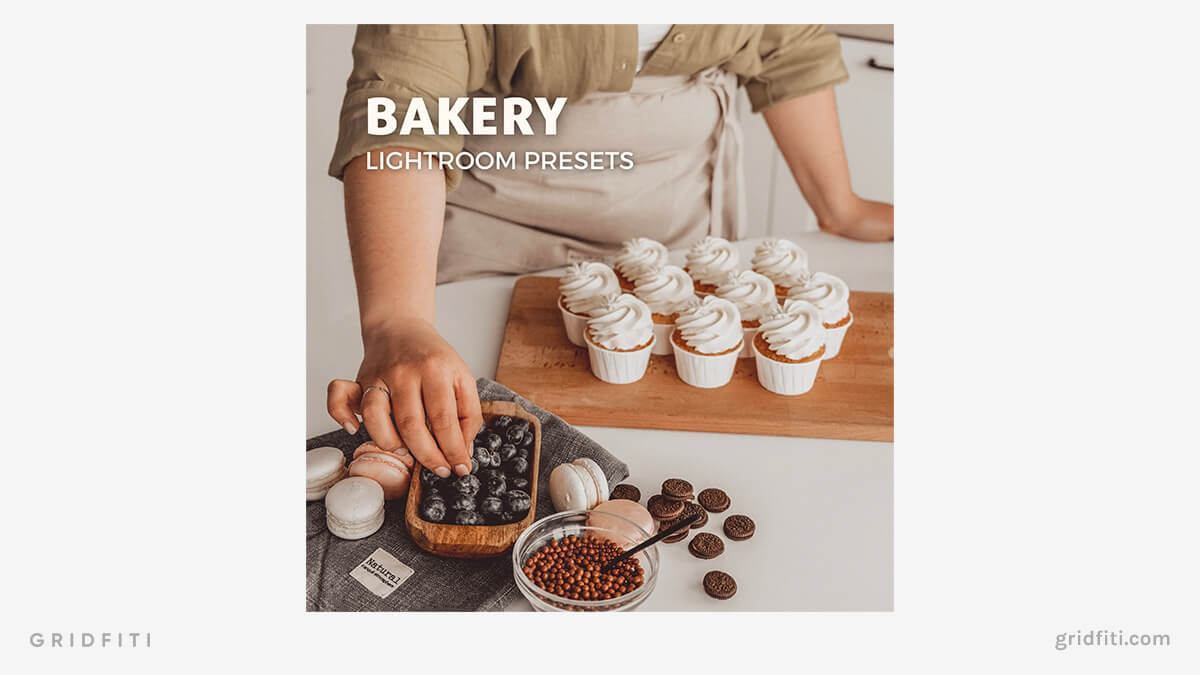 Food & Warmth Presets
Add warmth and coziness to your food pics with this preset pack. They're designed to darken your brown and black tones with a softening effect to create a warm look with deep tones. Use it on photos of your baked goods, breads, buns, and more!
Free Food Presets
Who said you can't have your presets and eat them too? Try out these free food presets to get a sense of your distinct style before you invest in premium preset packs.
Free Contrast Food Preset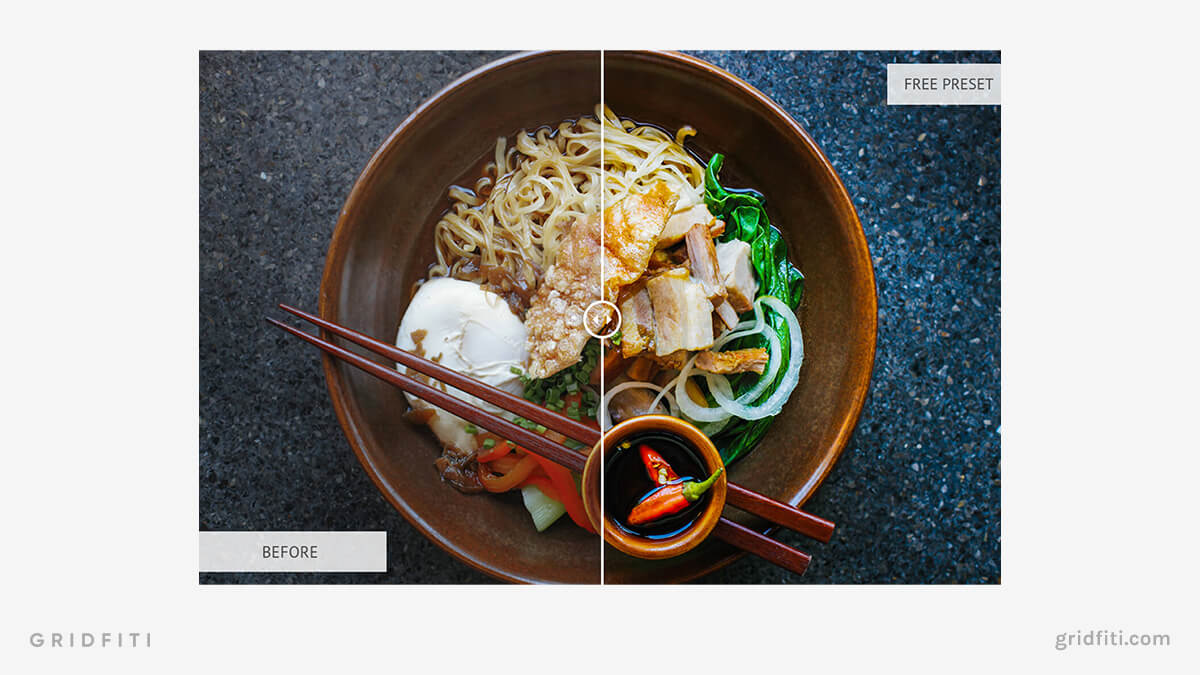 Free Saturation Food Preset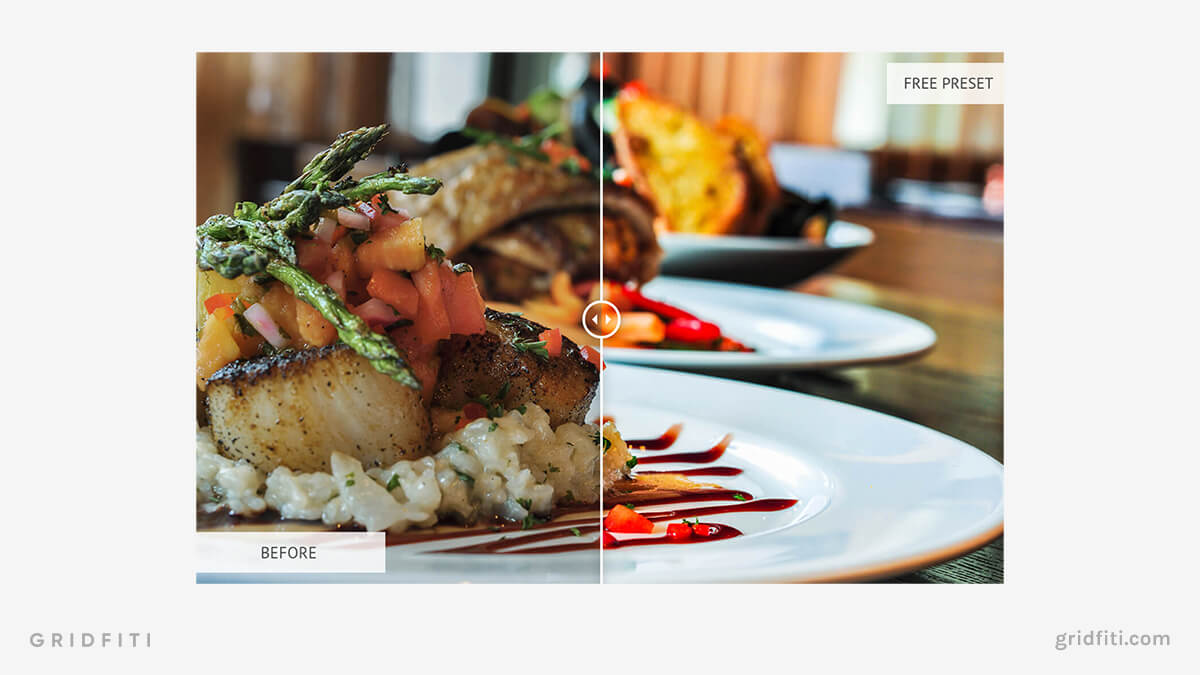 Free Warm Food Preset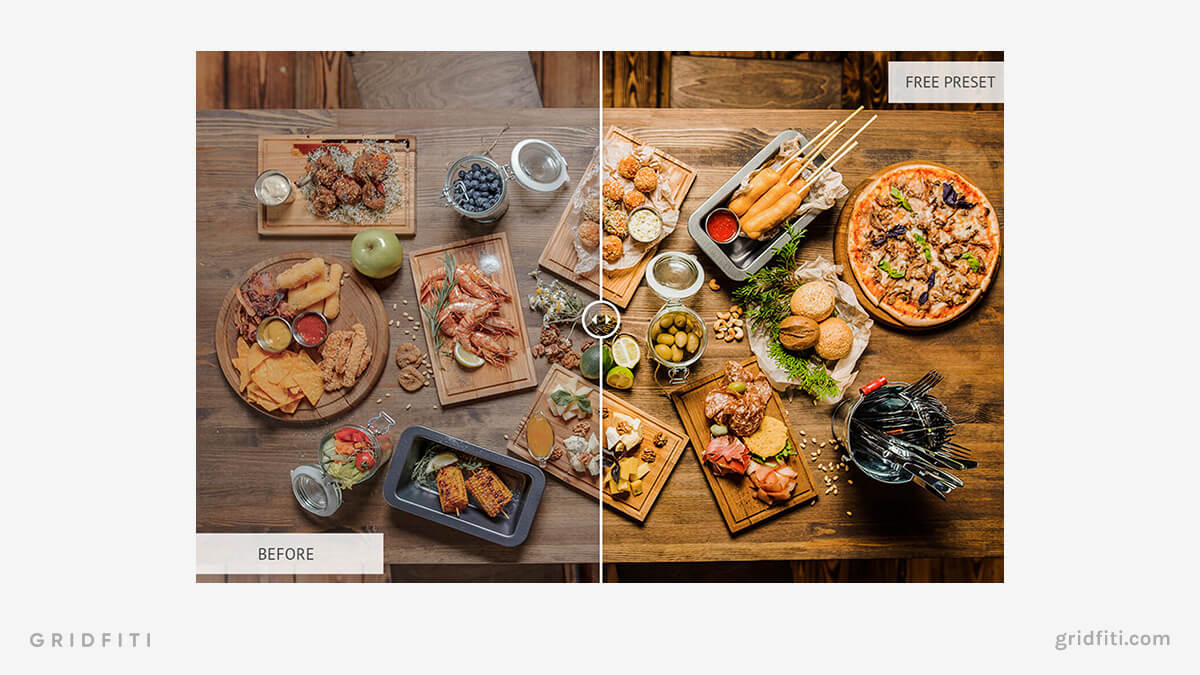 Free Pastel Food Preset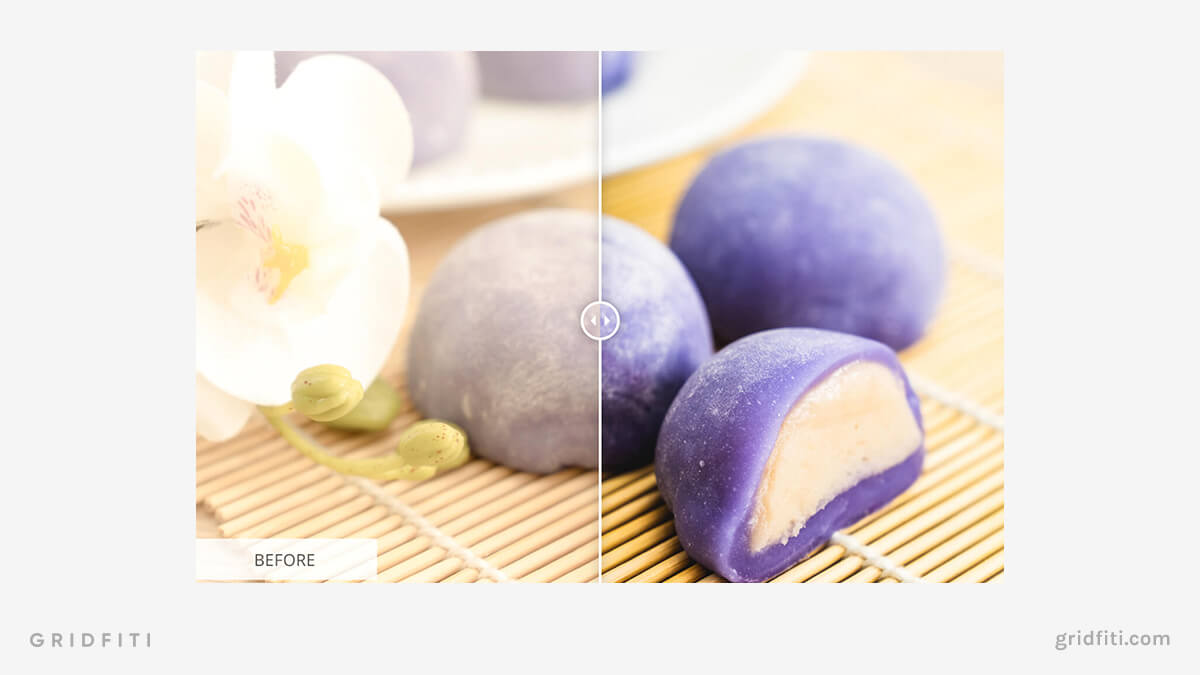 Free Rustic Food Preset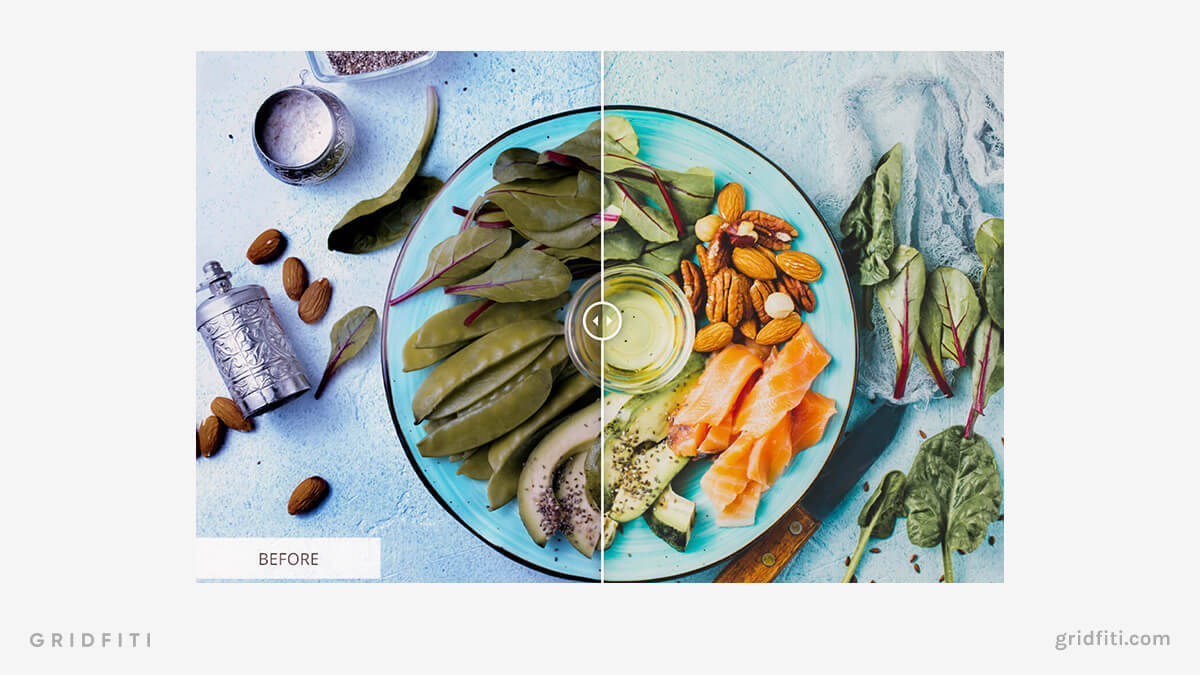 Which of these food presets will you use in your food photography? Are there any you think we should include in our list? Let us know in the comments below!
Gridfiti is supported by its audience – when you buy something using the retail links in our posts, we may earn a small commission at no additional cost to you. Read more about our affiliate disclaimer.