When it comes to job-hunting, first impressions matter – and what better way to get off on the right foot than a beautifully-designed resume? With the amount of competition out there, creating a clean resume that speaks for itself is a sure-fire way to stand out amongst the crowd.
With Notion, you can create a modern, beautiful resume that will make you wonder why you ever used Word or Google Docs in the first place.
To help you pick the right template, we've outlined the best Notion resume templates and digital CV templates to best prep you for your job hunt.
Looking for templates to help with your job search? In our recent blog post, we've rounded-up our favorite Notion job search templates!
---
Looking for more productivity tips and tools? Subscribe to The Flow — our quick, snappy, value-packed focus and recharge newsletter. Also, don't miss our several other Notion template round-ups and guides!
---
All-in-One Notion Resume Template Pack
This resume template pack by yours truly features two core resume templates: 1) an all-in-one, classic resume design with a modern minimalist twist, prioritizing your past experience with 9 drag-and-drop sections, and 2) one for the creator – putting your skillsets and work front and center along with rich media, awards and achievements, and more.
This pack includes these essential combination-style resume layouts in a total of 48 variations: with a black and white minimalist theme, along with 7 different color themes and 3 different typeface options for all resumes. These resume templates look great in both light mode and dark mode, and include steps for sharing a live URL or PDF export to your future employer! The resumes even include room for your very own Notion avatar, with instructions on how to get one.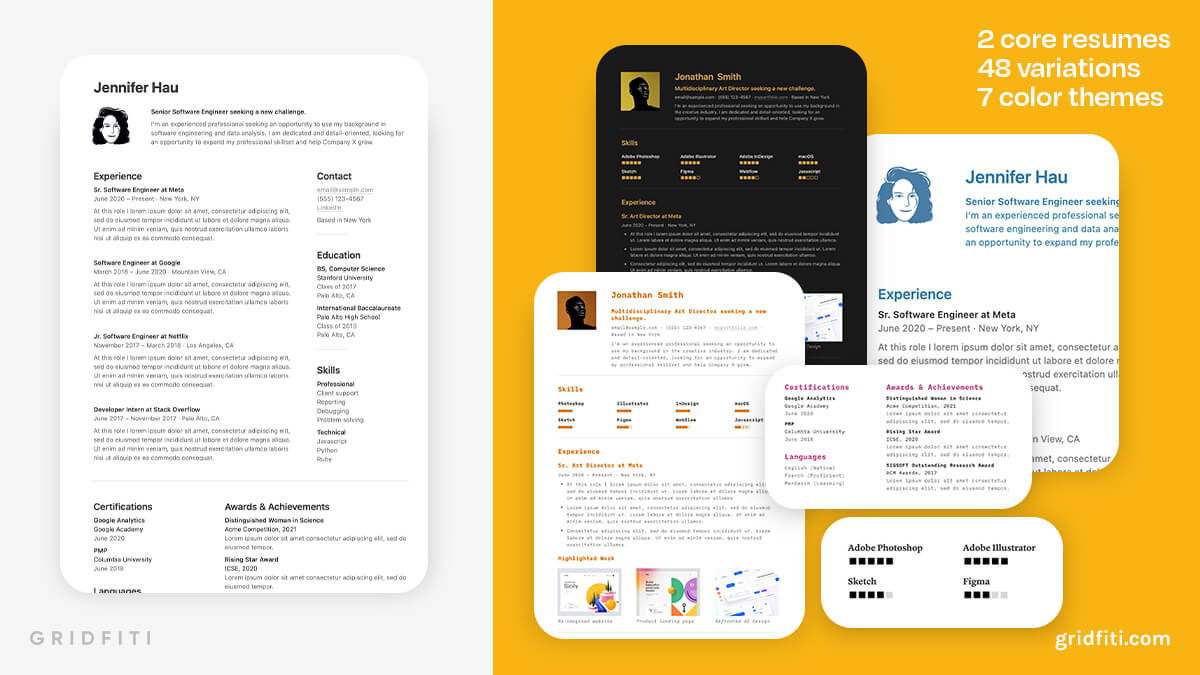 Aesthetic Resume & CV Template for Notion
Elevate your on-paper credentials with this aesthetic, yet functional, Notion resume template! Easily create your resume within your Notion workspace, and even spiff it up with one of the multiple color schemes available. Once you're done, easily share it directly with your prospective employer, or publish it to your Notion website!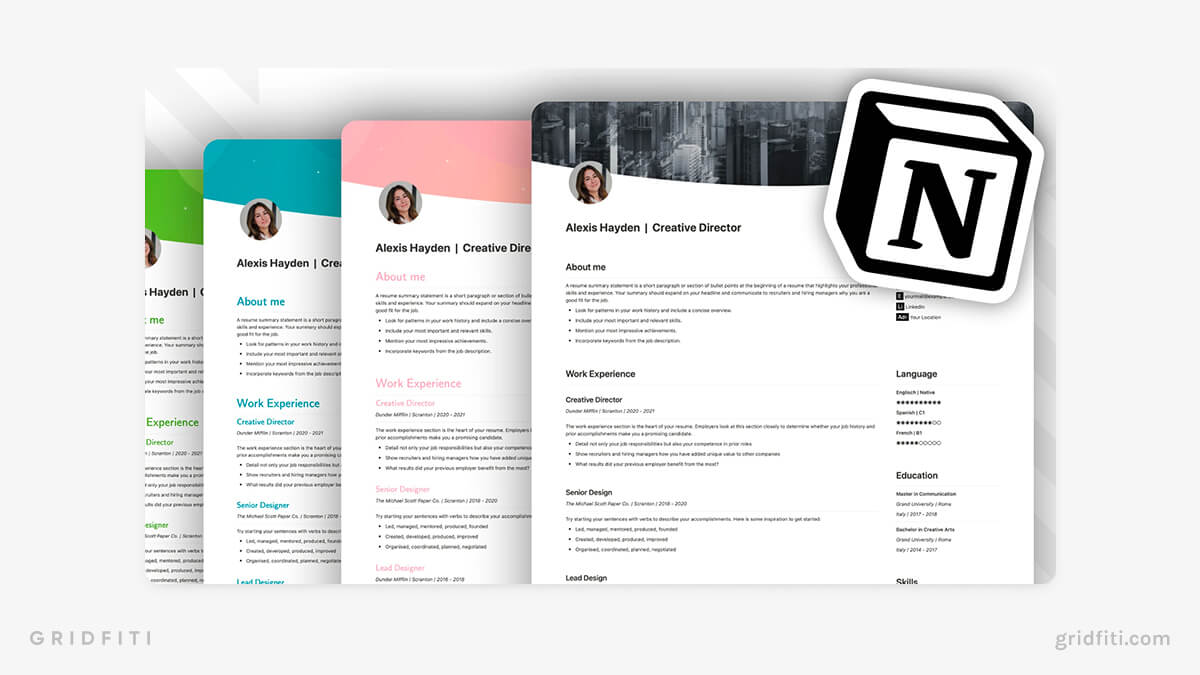 Limitless Notion Resume & Profile Templates
Choose from four different profile resume templates – including a LinkTree-style layout, an ultra minimal layout, a work and social layout, and an advanced sectional layout. Include links to your social media, along with links to any projects that you want to show off.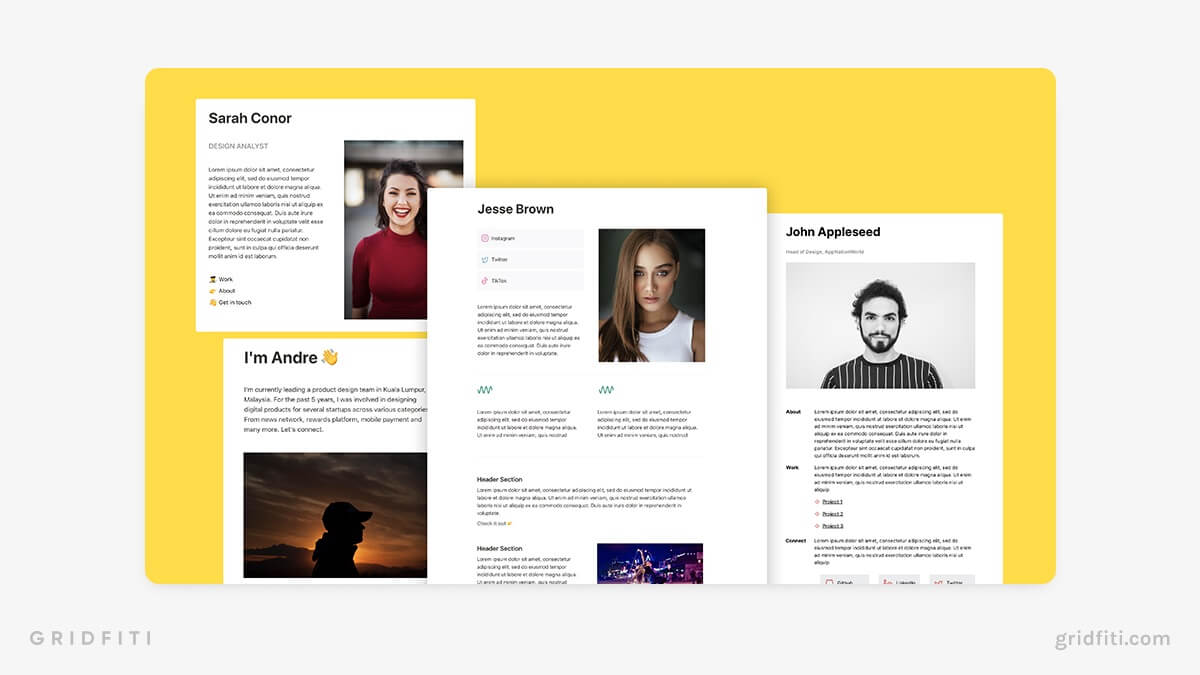 Unique & Simple Notion Resume Template
This resume template is perfect for applying within any creative industry. Kick the boring Times New Roman Word docs to the curb here and add character to your resume with this template – sporting mono-style type, emojis, and even a Notion-style avatar. This unique look will grab any hiring manager's attention.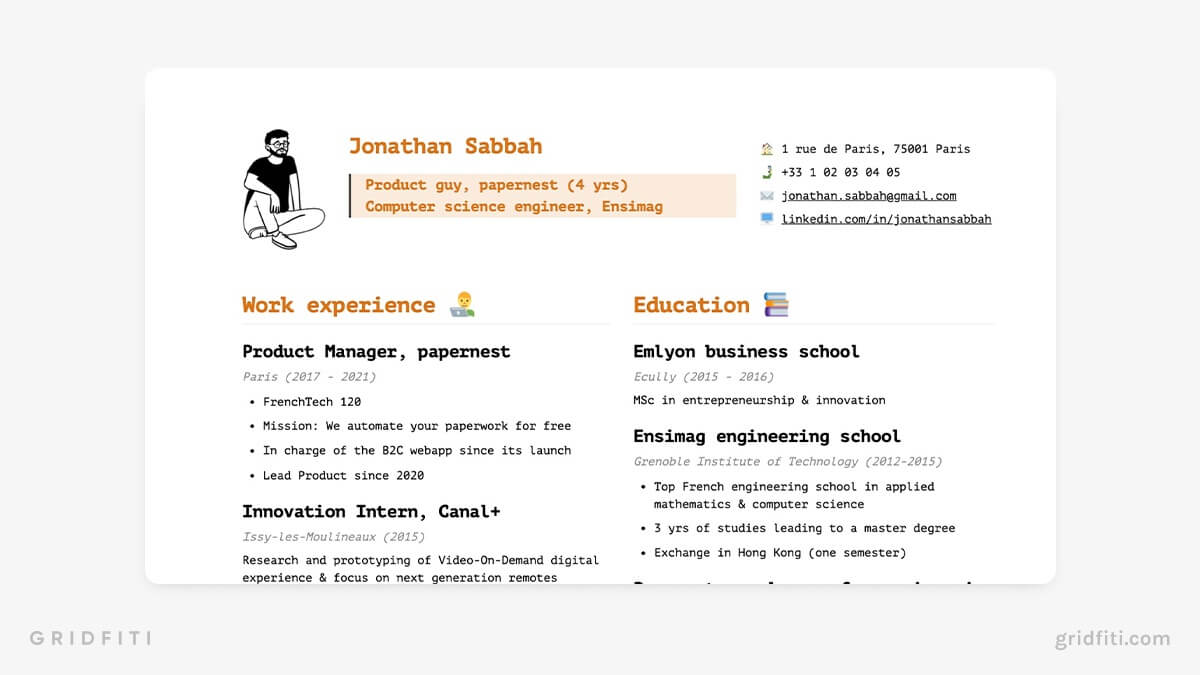 Simple & Beautiful Notion CV Template
Another simple resume and CV template – keep the focus on your past experience with this minimal layout. Add a splash of color with a headshot, or even highlighted text for your profile.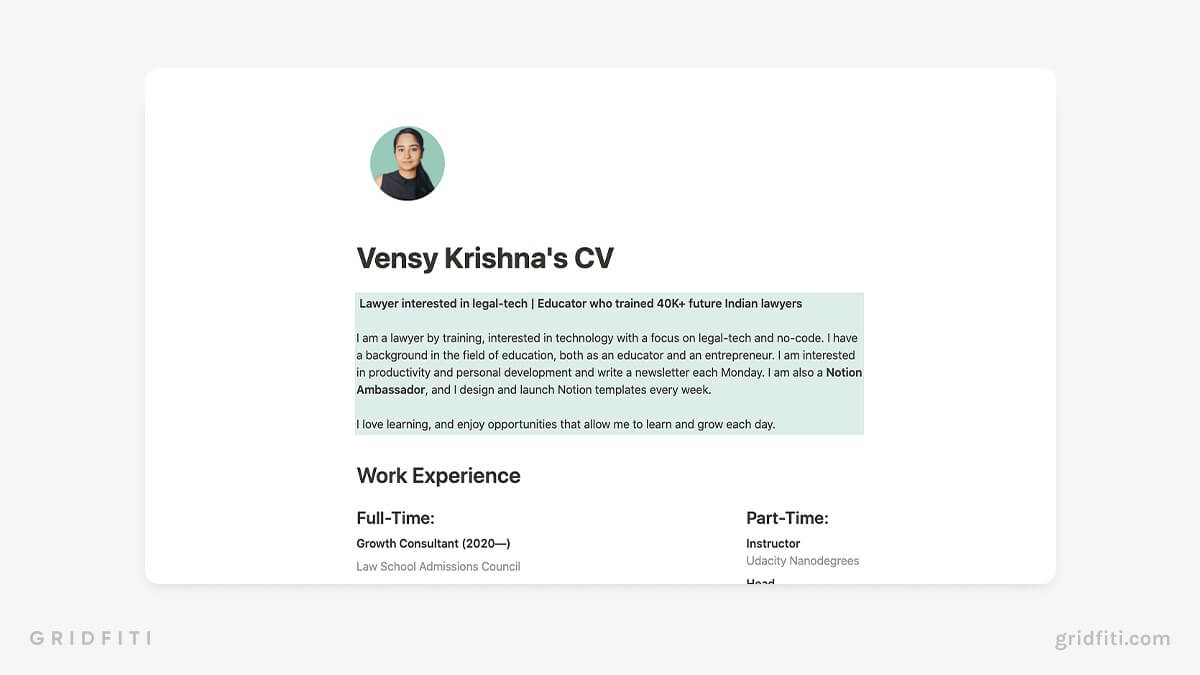 Minimalist Notion Resume Template
Let your experience and skillsets do the talking with this minimal Notion resume template. Stick to the basics and keep it clean – highlighting your previous experience and a profile intro.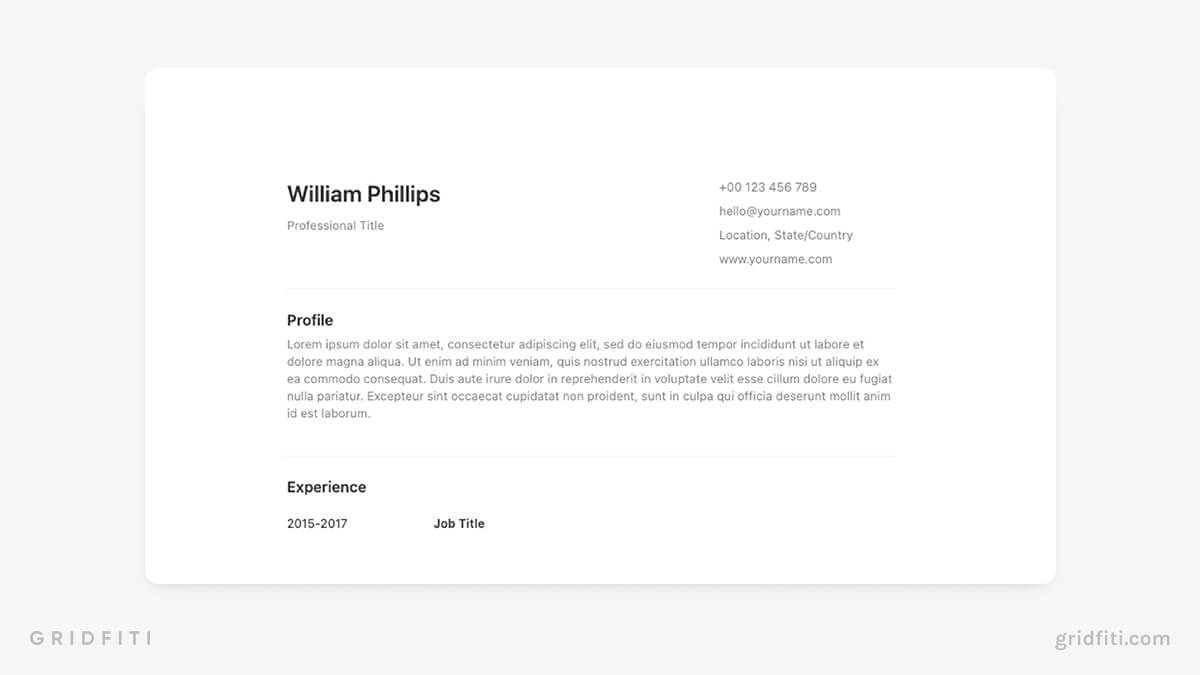 Notion Portfolio Template & Job Applications Tracker
Did you know you can create a website with Notion? Use a portfolio template to create a Notion website that you can fully customize to embed forms, adjust page layouts, and create blog posts to showcase your skills to future employers. Creating a Notion portfolio is a great way to show off your technical skills, while exhibiting your past projects.
Templates Available: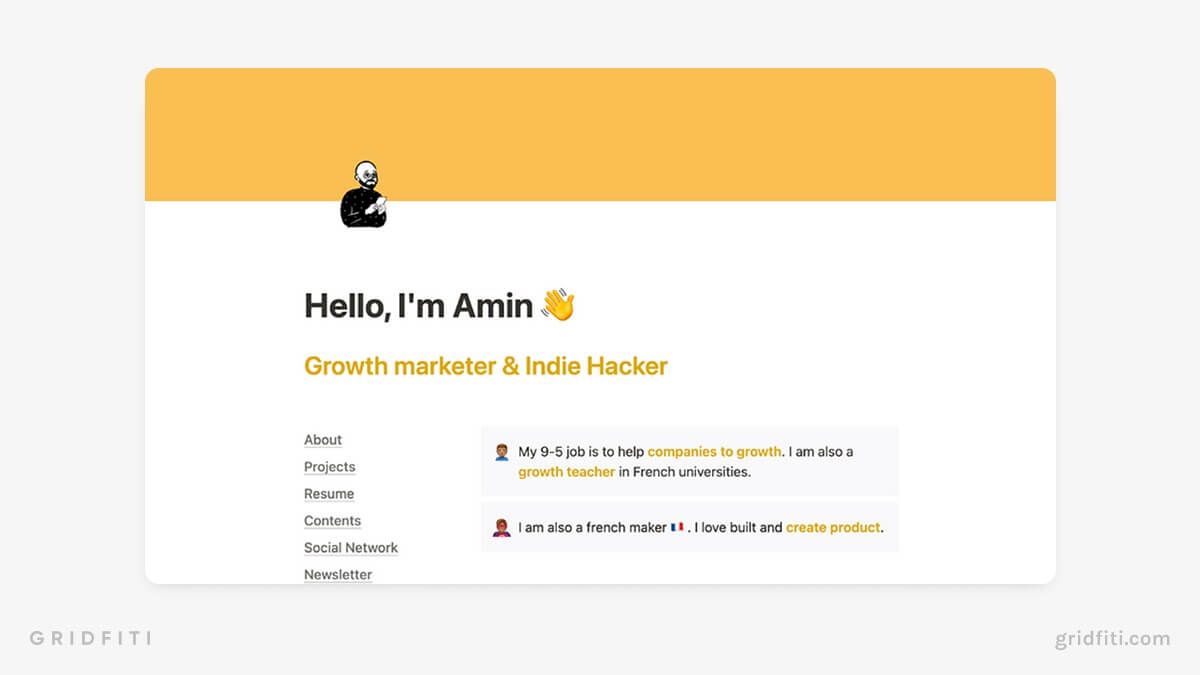 Serious Resume & CV Template for "Important Jobs"
For a more serious job inquiry that just wants to see the essentials – this simple resume template is the one for you! The template gives you everything needed to build a strong one-page resume/CV directly within Notion.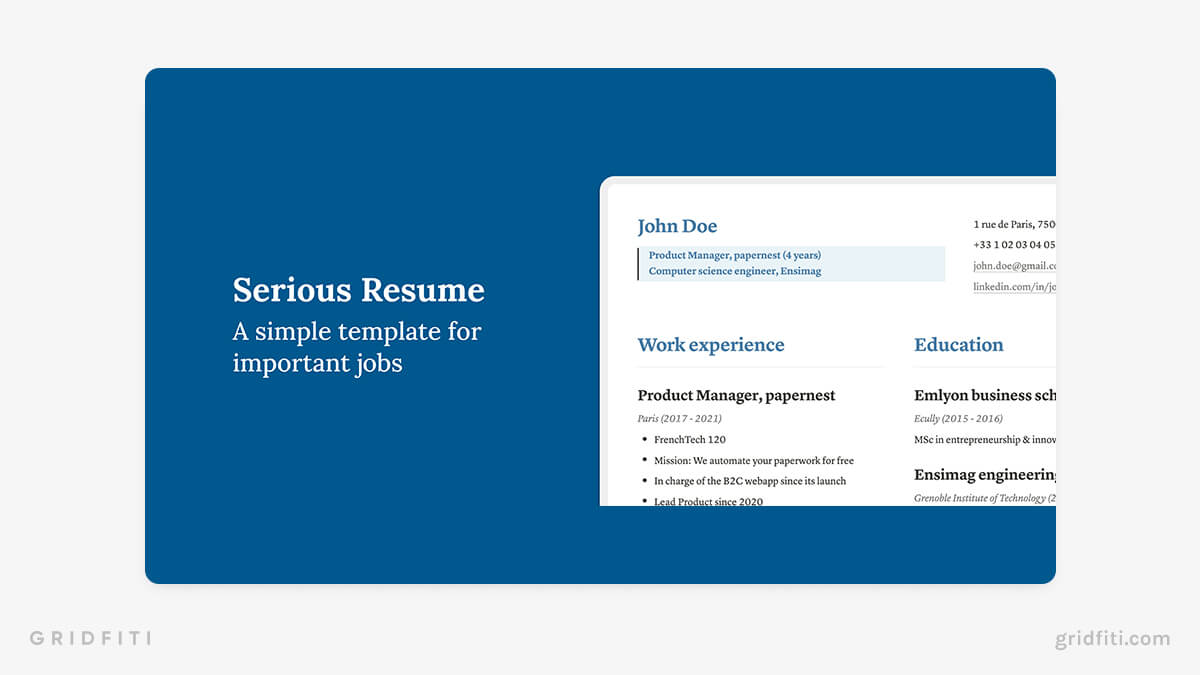 Tech Industry Resume Template for Developers, Designers & More
Developed by an experienced hiring manager in the tech industry, with this template you'll get the perfect resume outline to land a job as a web developer, software engineer, data scientist, product manager, designer, and beyond! Create a stand-out resume in minutes and get the job of your dreams.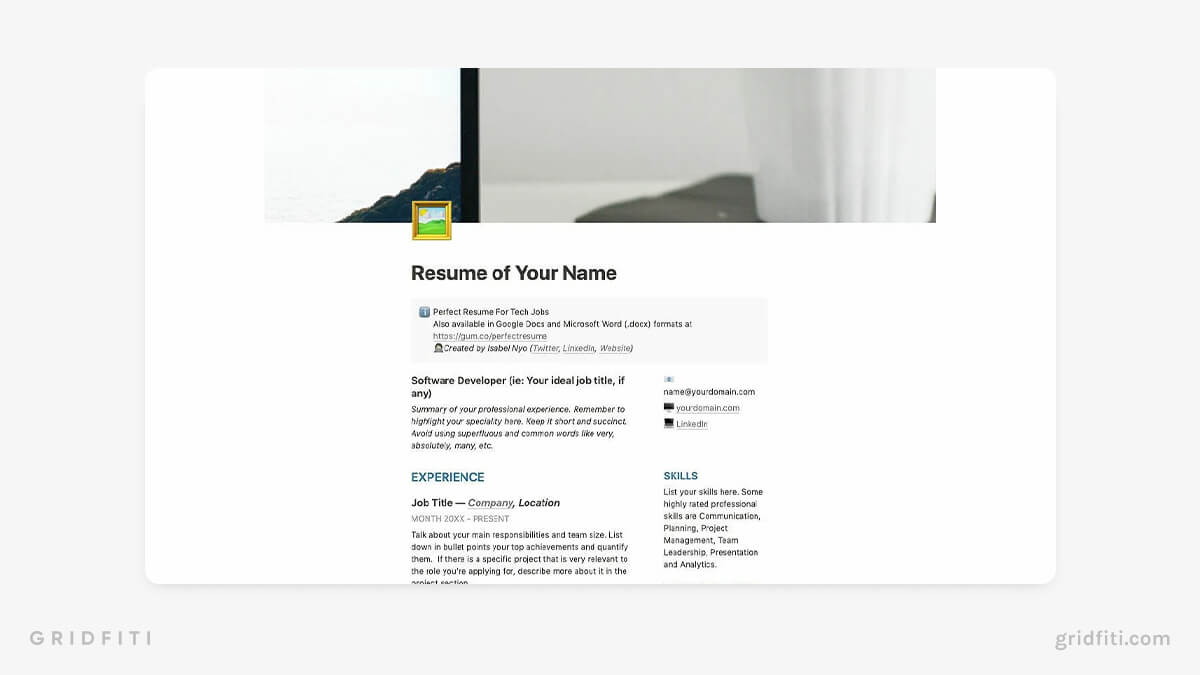 What Notion CV & resume template are you using? Do you have any other recommendations for templates to use? Let us know in the comments below!
Gridfiti is supported by its audience – when you buy something using the retail links in our posts, we may earn a small commission at no additional cost to you. We only recommend products we would use ourselves and recommend to our friends and family. Read more about our affiliate disclaimer.