It's no question that having the right morning routine will set you up for success in your day, both physically and mentally. Everyone's morning routine looks different, and there's no such thing as the 'perfect' routine – but there are a few things you can do to make the start of your days feel and look great.
If you have the time and desire to start building a routine, we've rounded up some ideas for an aesthetic morning routine list. Created to be inspo, and not comparison – mix, match, and take what applies to your day-to-day!
Want more aesthetic content and day-to-day inspo? Join our mailing list!
1. Let Natural Light In
Brighten up your mornings by opening your blinds to let as much natural light in as you can. It's easy to sleep in and stay cozy in darkness, but your body will quickly adjust after a bit of light!
If you don't have the luxury of abundant natural light in your place, it's worth considering getting a sunrise lamp that simulates a sunrise for you to wake up to.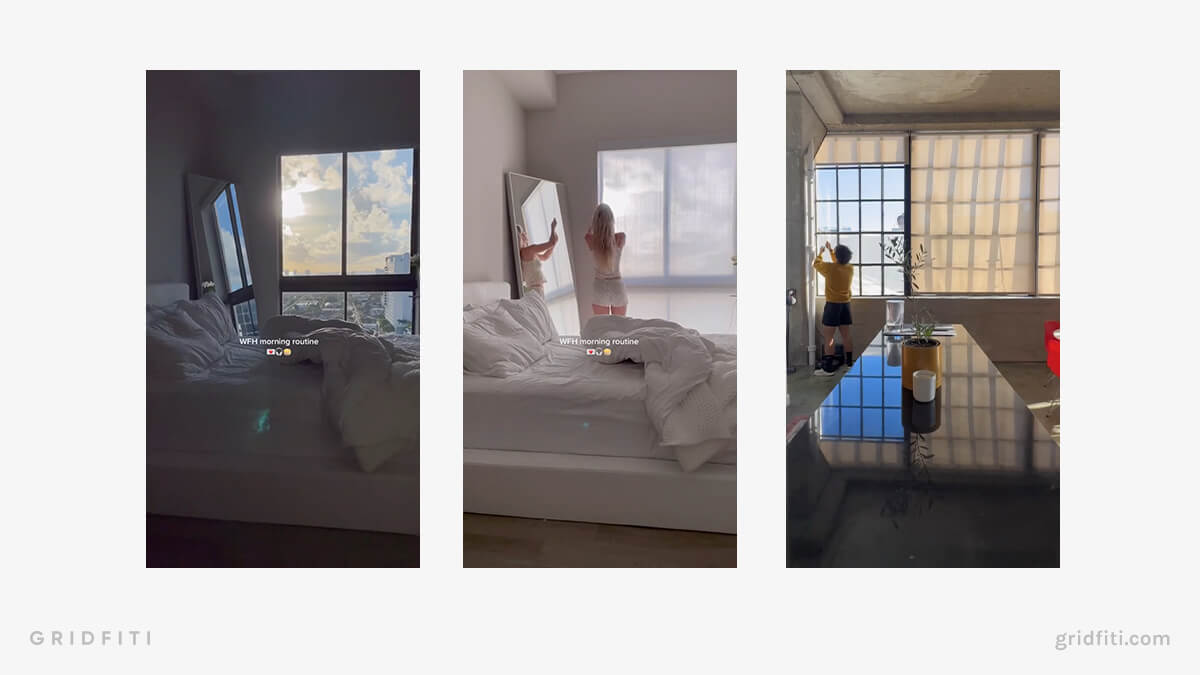 Frames via @julianlina and @brookelmason
2. Make Your Bed
There's nothing aesthetic about a messy bed. Take two minutes and start your day off right by making your bed. You'll thank yourself when you roll back into a luxe, already-made bed at night.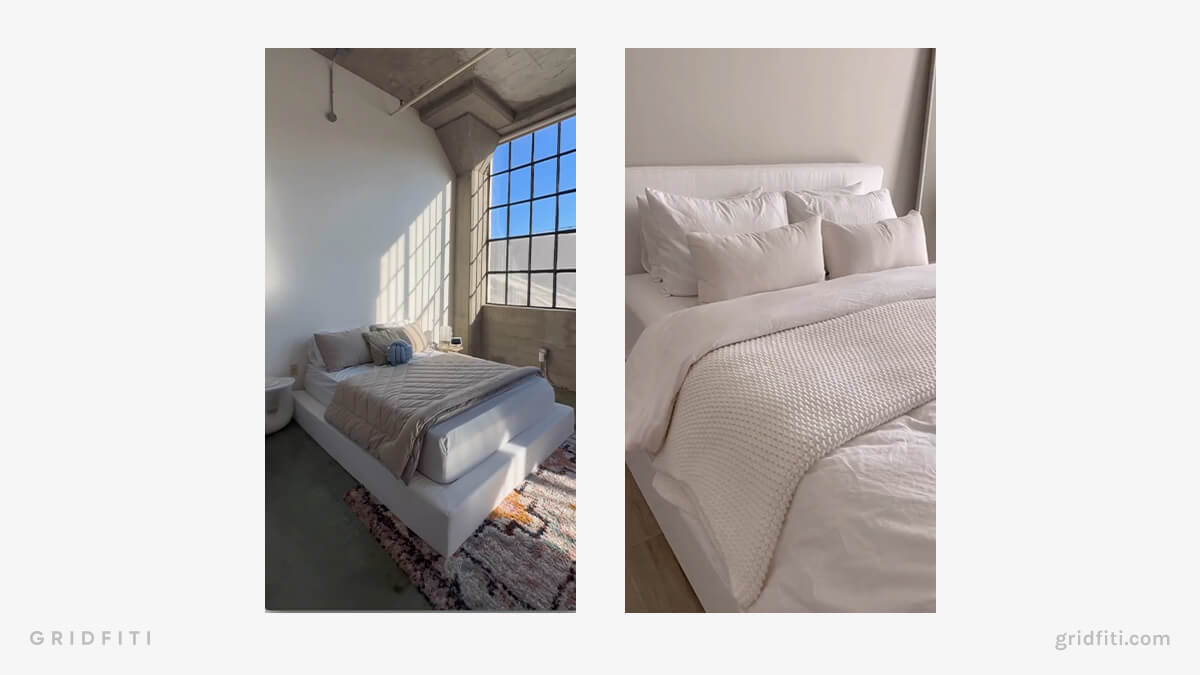 Frames via @julianlina and @brookelmason
3. Follow Your Hygiene Routine
Hygiene is huge when it comes to building a healthy and aesthetic morning routine. Taking care of yourself should always be a priority – and it starts with having a good skincare, dental, and shower routine.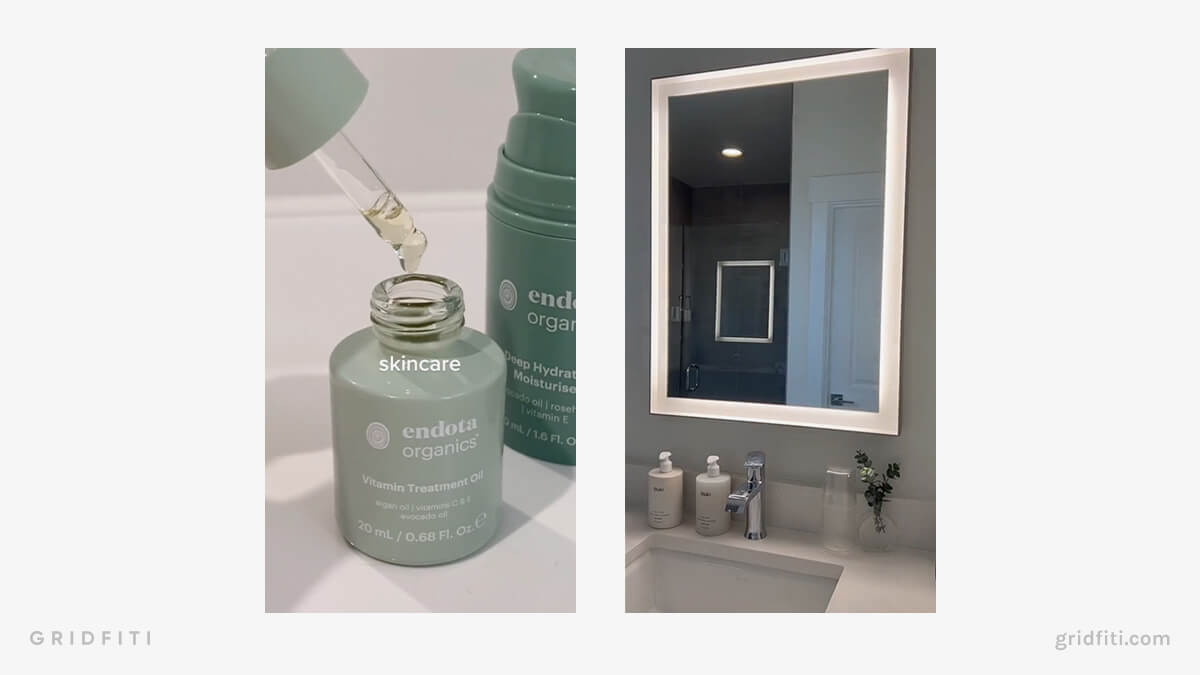 Frames via @kaelimaee and @_becstewart
4. Tidy Up & Get Organized
Now that your bed is made, if you have time – try decluttering your living space by putting dishes away from the dishwasher or drying rack, running the vacuum, or running a load of laundry. A large part of an aesthetic living space is having a tidy living space, so declutter and organize your home whenever you can!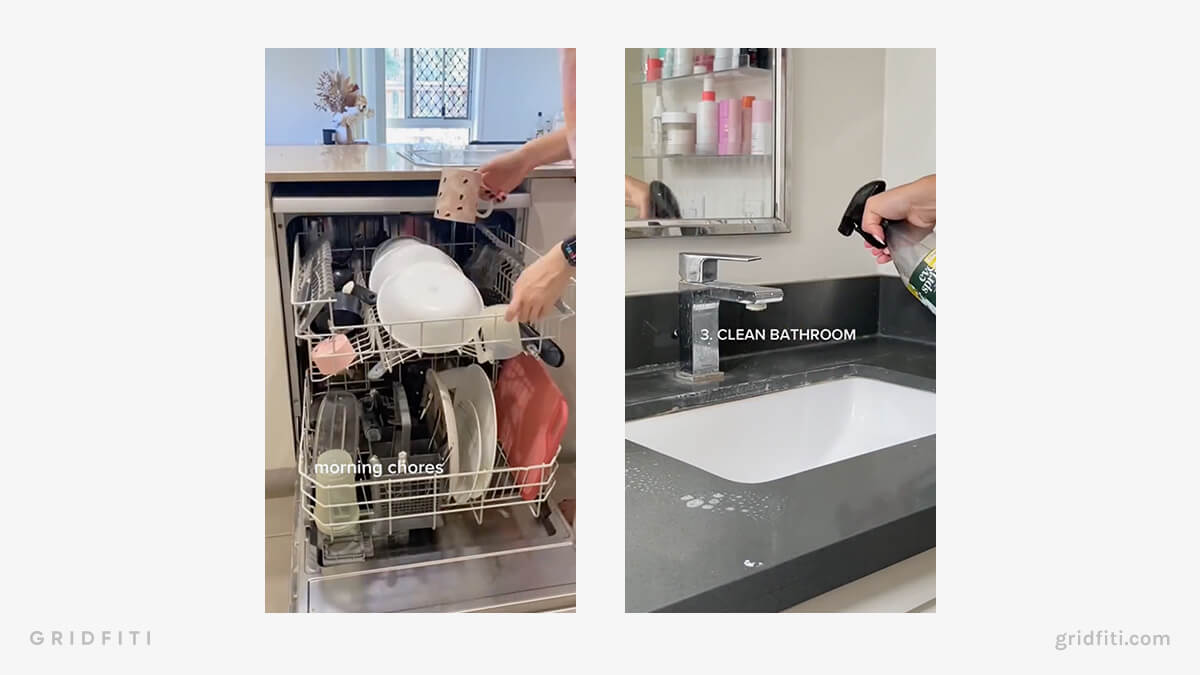 Frames via @_becstewart and @kirra.mov
5. Get Dressed
The act of changing from the clothes you slept in to anything else has a funny way of completely changing your energy and mindset. Even if you're working from home, you'd be surprised how much of a difference changing into clothes that you would wear to an in-person meeting or office will do for your productivity. Try it out yourself!
Whether you're going for a walk, heading to the gym, meeting a friend for a coffee, or going into the office – make sure you dress into something that you're comfortable in and feel the best in.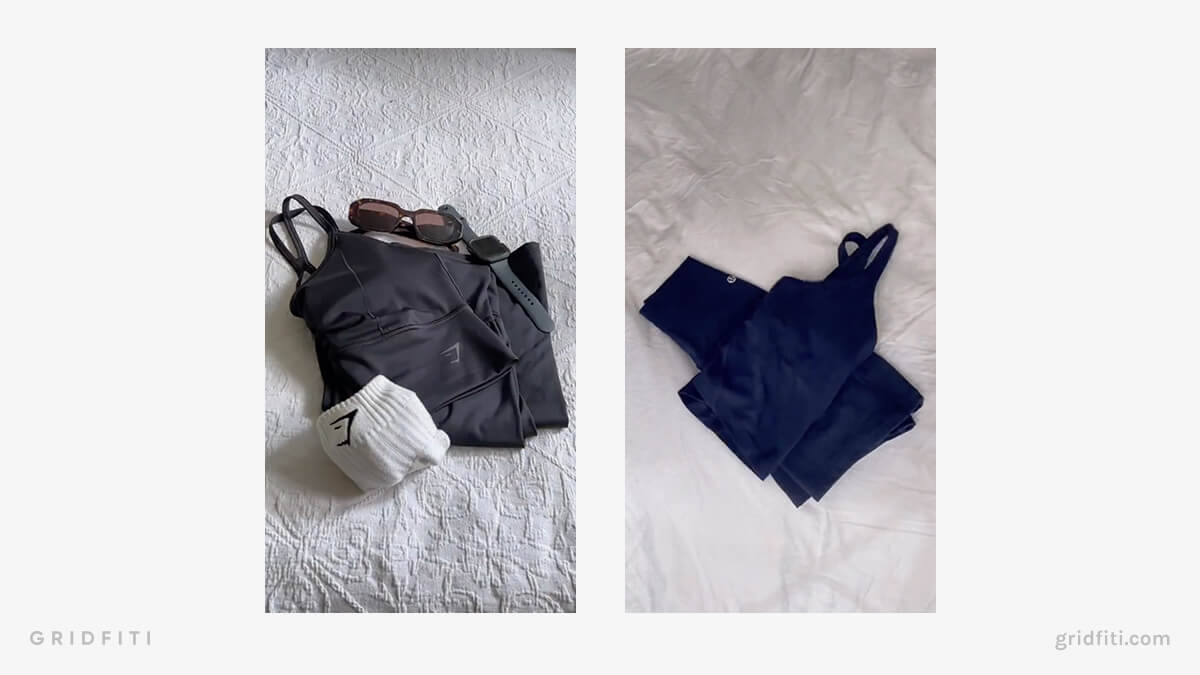 Frames via @brookelmason and @mariee.aes
6. Get Out for a Walk
Often described as "free therapy", going out for a walk first thing in the morning can do wonders for both your mind and body.
Get a head start on closing your rings and get those early morning steps in. Go for a hot girl (or hot boy) walk to start off your day – and watch your mood elevate. That early dose of fresh air and vitamin D makes all the difference for your mental and physical wellbeing!
Frames via @_becstewart (video 1, video 2)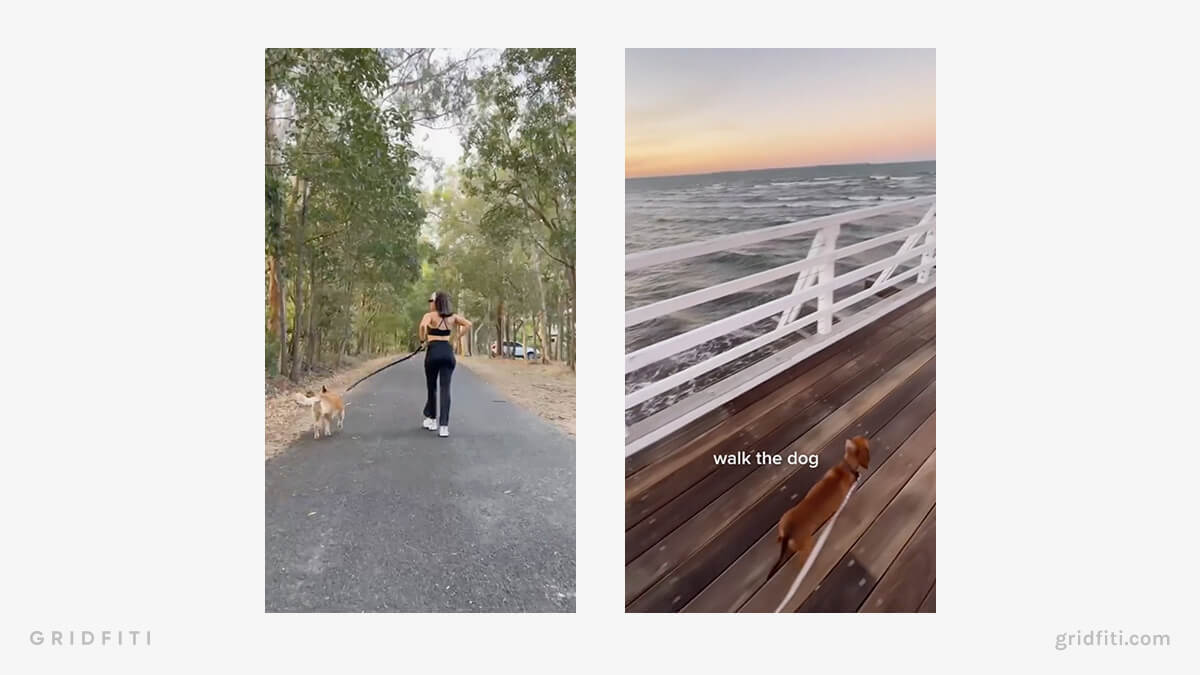 7. Open an Aesthetic Background or Screensaver
Set the vibes right by setting up an aesthetic background video or screensaver on your computer or even TV. Add some color to your mornings and make your place feel as great as it looks.
Popular picks in many aesthetic vlogs include clock screensavers – such as the Aura Clock Screensaver or Flip Clock Screensaver, offering cute design along with function.
Get Started: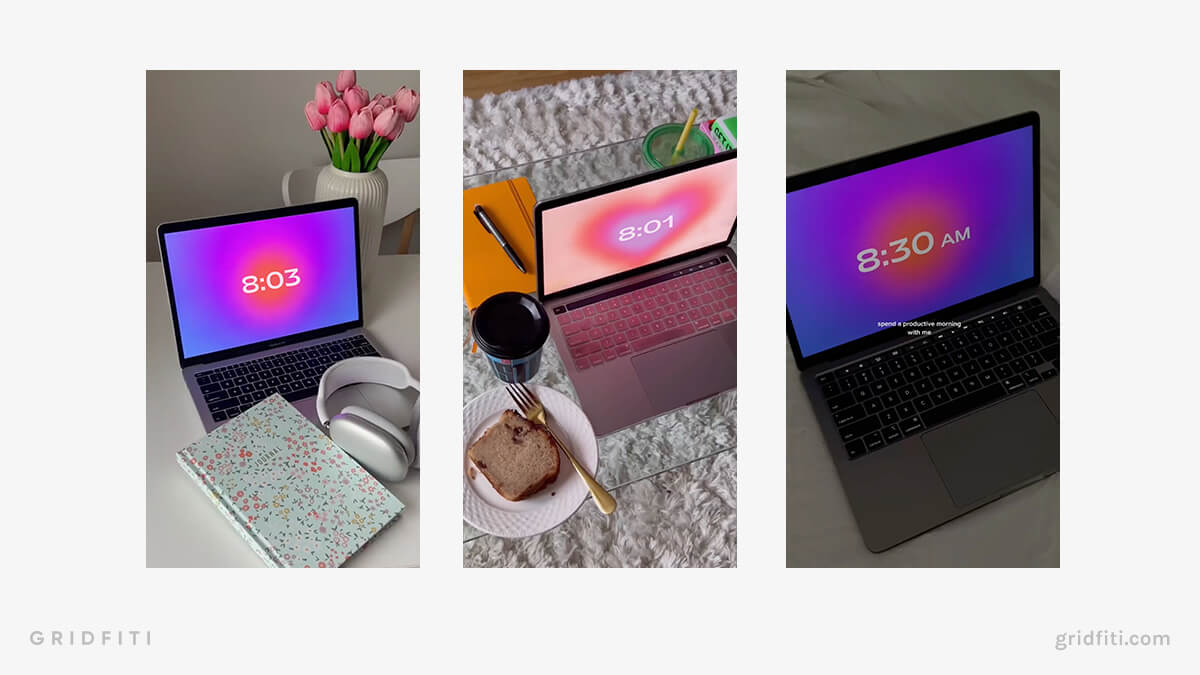 Frames via @valentynaap, @kirra.mov, @geminivlogss
8. Read a Self-Development or Motivational Book
For most of us, the first thing we do when we wake up is check our phones and scroll through our social feeds. Break this habit and mix in a morning read to get you motivated and inspired.
There are plenty of amazing books out there – so whether you want to read non-fiction or fiction to get your brain going, it'll be miles better than infinitely scrolling through your feeds!
Get Started: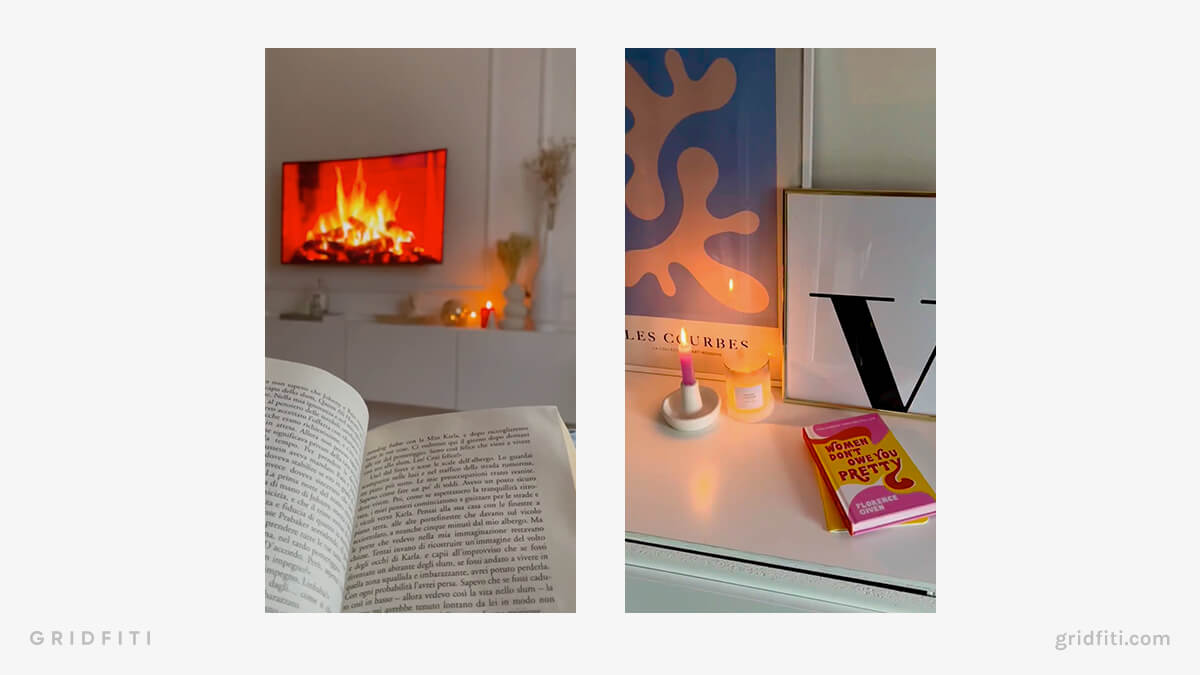 Frames via @_becstewart and @valentynaap
9. Journal Your Thoughts & Affirmations
Get everything off your mind, show gratitude, and set your intentions for the day right from the moment you wake up by simply journaling. It's incredibly refreshing to make some time in the morning to write out your thoughts – and if you don't have much time, dedicate five minutes to bullet out what you're grateful for with the Five Minute Gratitude Journal!
Get Started: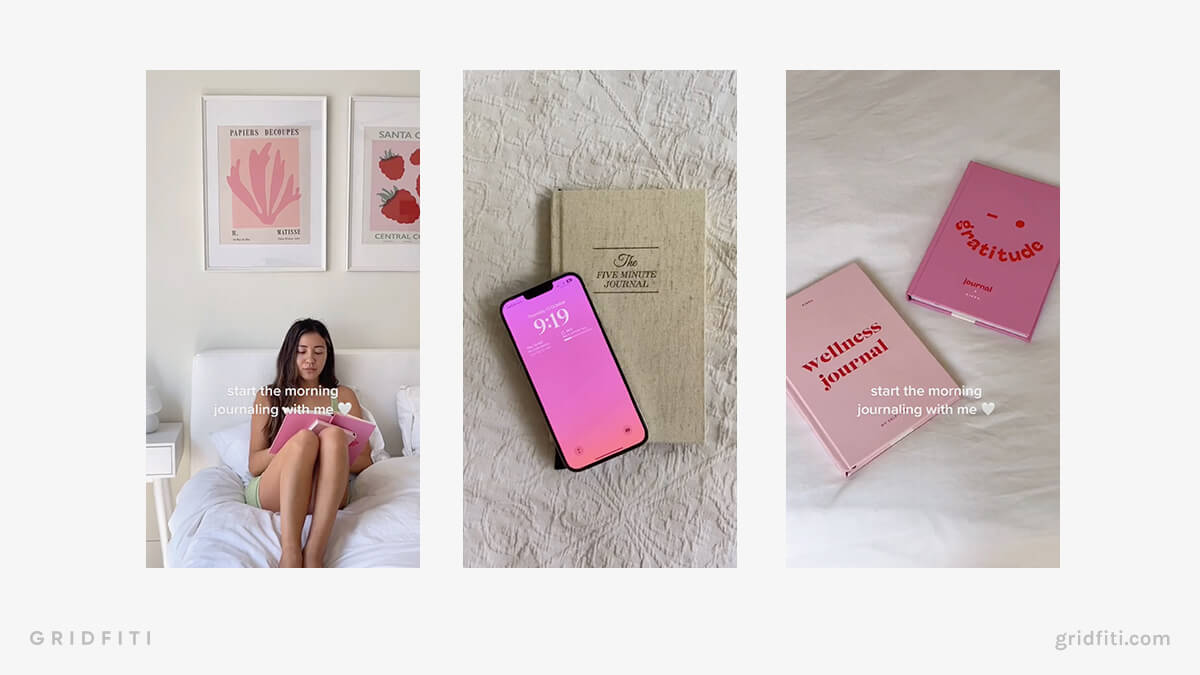 Frames via @julianlina, @kirra.mov, @_becstewart
10. Make an Aesthetic Breakfast
Breakfast is the most important meal of the day, so why not spend some time making it delicious, nutritious, and aesthetic at the same time.
It can be as simple as oatmeal with some fresh fruit, or you can go all out and make an eggs with sides. As long as you're getting a meal in to start the day, it'll give you enough energy to get to lunch. To really make your breakfast aesthetic, choose your favorite plates and cutlery – and depending on the meal, add fruit or veg to add some color!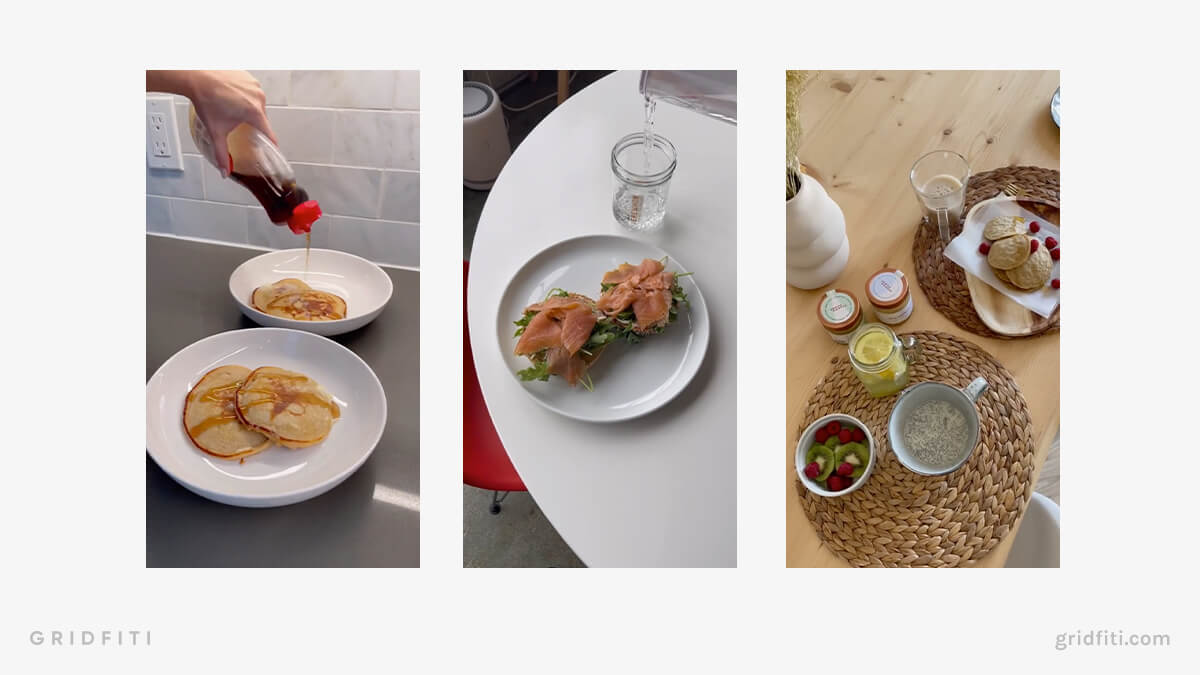 Frames via @julianlina and @brookelmason
11. Drink Water
Proper hydration is not only aesthetic, but essential for a healthy life. Use an aesthetic glass or a fancy water bottle to stay hydrated – you'll want to get some water in you after a full night of sleep without it!
Try to aim for at least a gallon of water (4 liters) a day and if you have trouble remember to drink, use an aesthetic widget and app like WaterMinder to send you notifications throughout the day!
Get Started: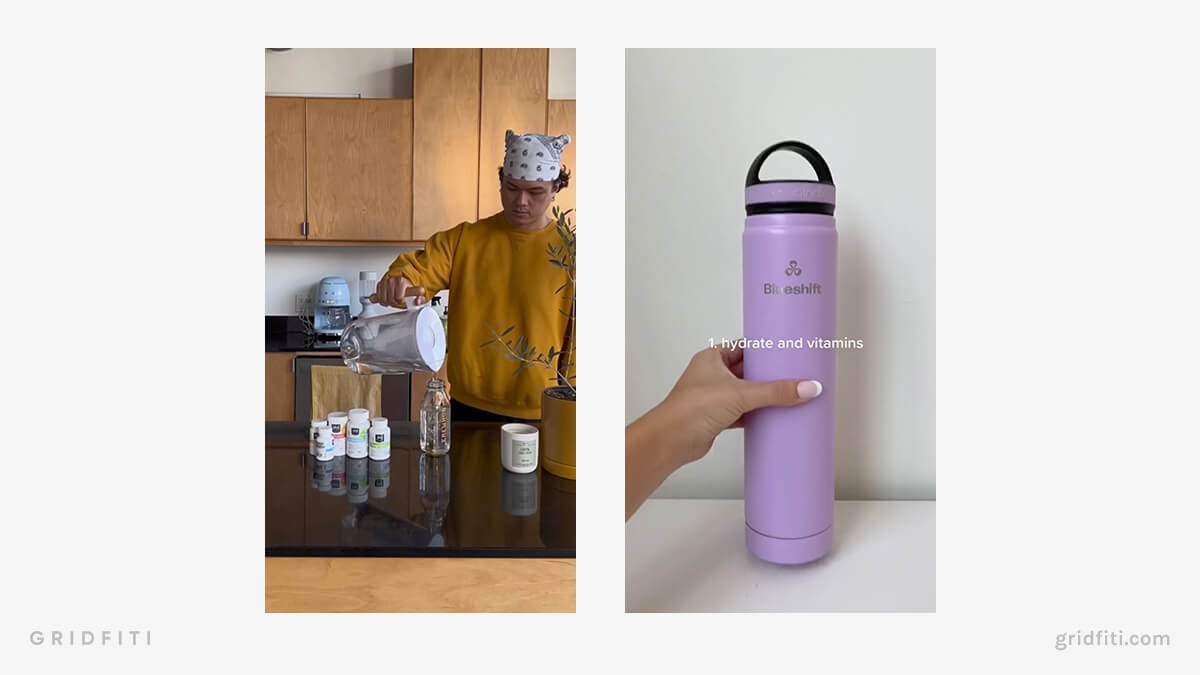 Frames via @kirra.mov and @julianlina
12. Make a Morning Beverage
Sometimes the process of making a morning beverage is what gives you the energy, but a bit of caffeine doesn't hurt either. If you're a coffee lover, either your kitchen coffee machine or your local coffee shop is your best friend – so go grab yourself one.
If caffeine isn't your thing, start off your morning with some green juice or a fruit smoothie of your choice to feel refreshed and rejuvenated for the rest of your day!
Get Started: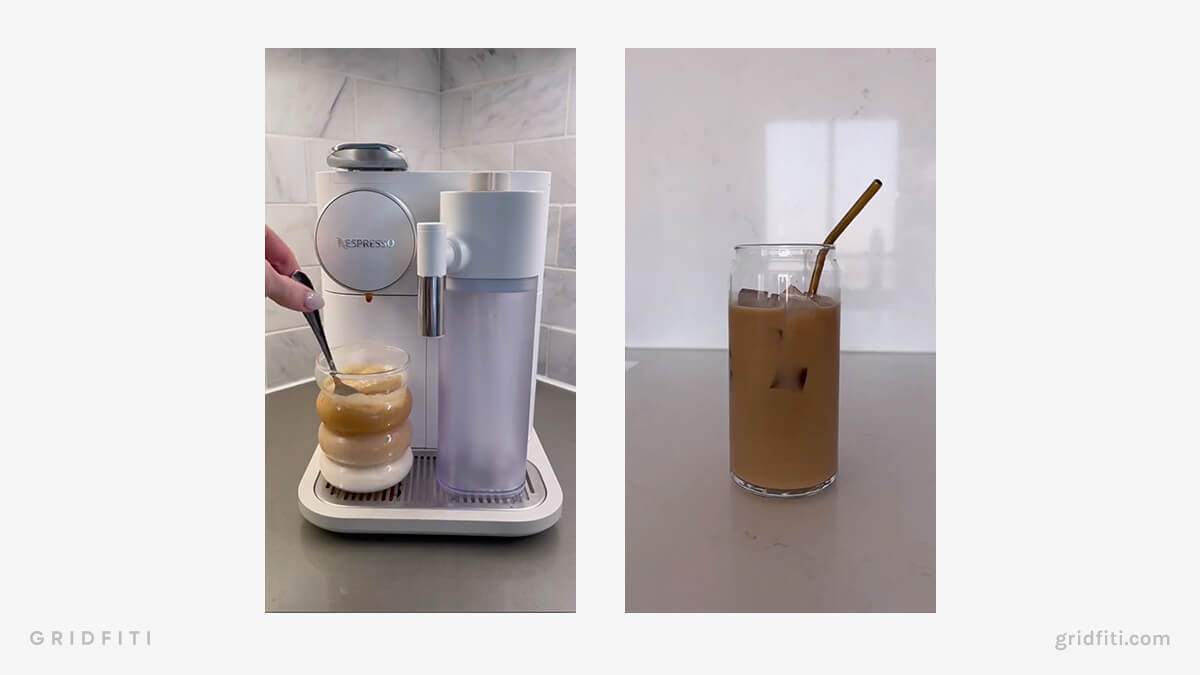 Frames via @yazghotb and @kaelimaee
13. Stretch Your Body & Exercise
A bit of a hack to feel like you've accomplished something right after you've woken up is getting active and mixing in some sort of physical activity in your morning!
The intensity of the workout is up to you, but there's something about putting on a nice workout set and breaking a sweat. Whether it's morning yoga, a strength bootcamp class, or a morning jog around the neighbourhood – you'll feel good after and you'll be happy to know that you did something for your future self!
Get started with a fitness class, yoga, run, or any favorite exercise!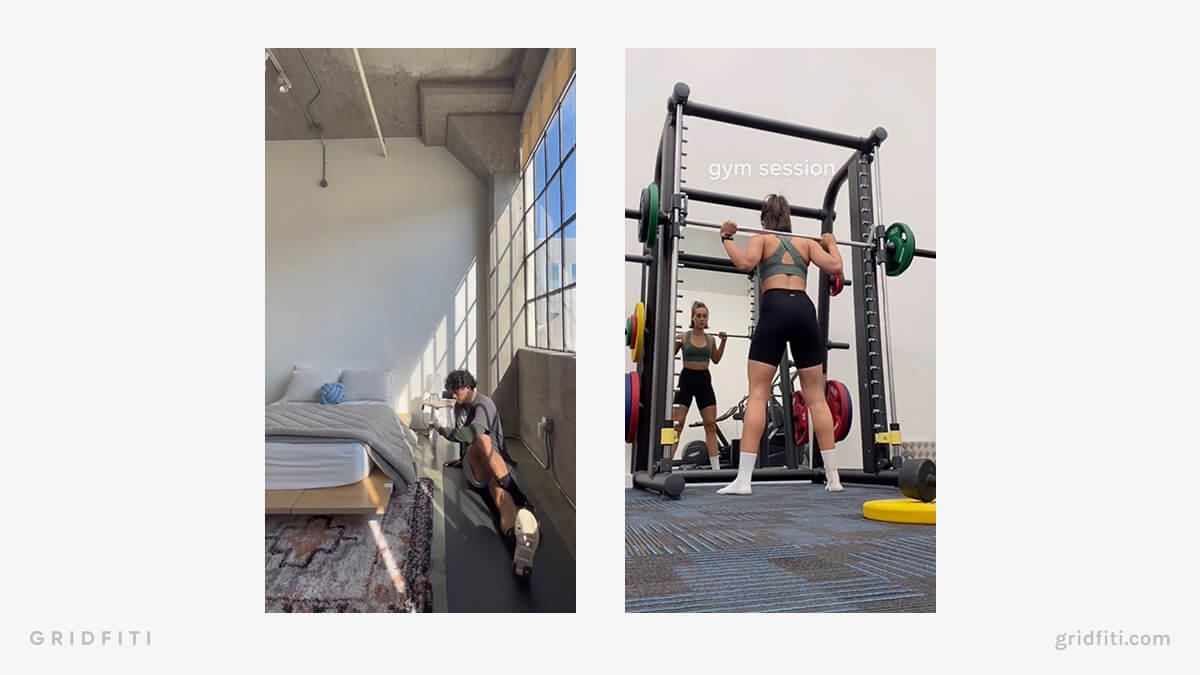 Frames via @julianlina and @_becstewart
14. Light a Candle
Set the morning mood right with an aesthetic candle. A great smelling candle is the perfect addition to any space – and what's not to love about having your favorite scent float through your home when you wake up?
For both looks and function, pick a candle that suits your aesthetic and one that goes with your home decor to perfect the morning.
Get Started: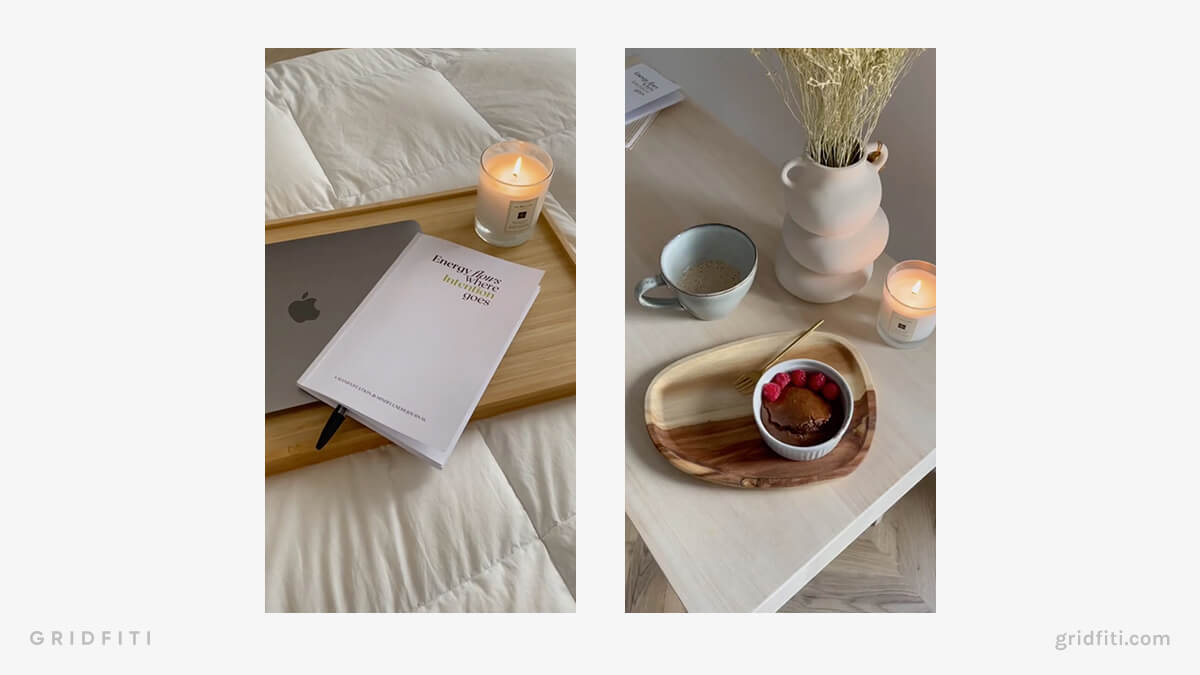 Frames via @anastasiya.lazurko (video 1, video 2)
15. Play Aesthetic Music & Relaxing Sounds
Some days you might want to play your favorite upbeat artist like Taylor Swift or Drake to really wake you up – but sometimes, something more relaxing just hits better. For those mornings where you want to keep your mind focused and relaxed, play some chill and soothing music like lofi, or artists like FKJ and Khruangbin.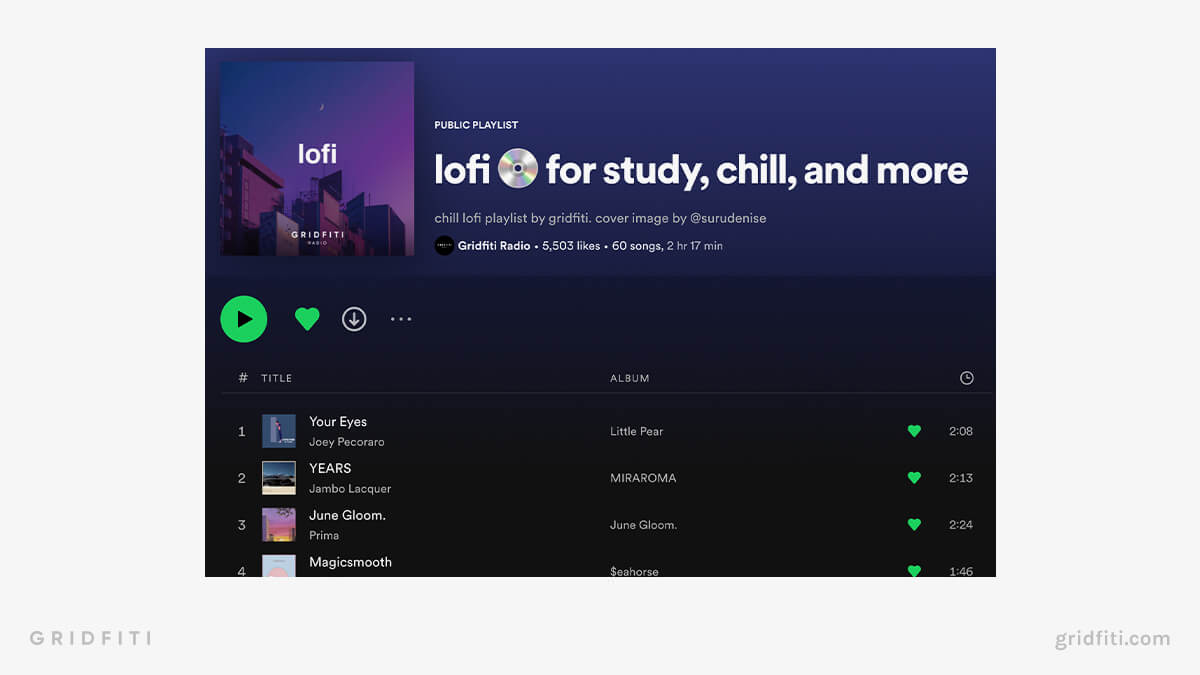 16. Listen to Your Favorite Podcast
If music just isn't the vibe for you but you like to have something playing during your routine, listening to a podcast is your best bet! There are so many great podcasts out there to listen to, and whether you're after self-help content, or more chill and conversational podcasts like Emma Chamberlain's 'Anything Goes' – there are so many options to choose from!
Get Started: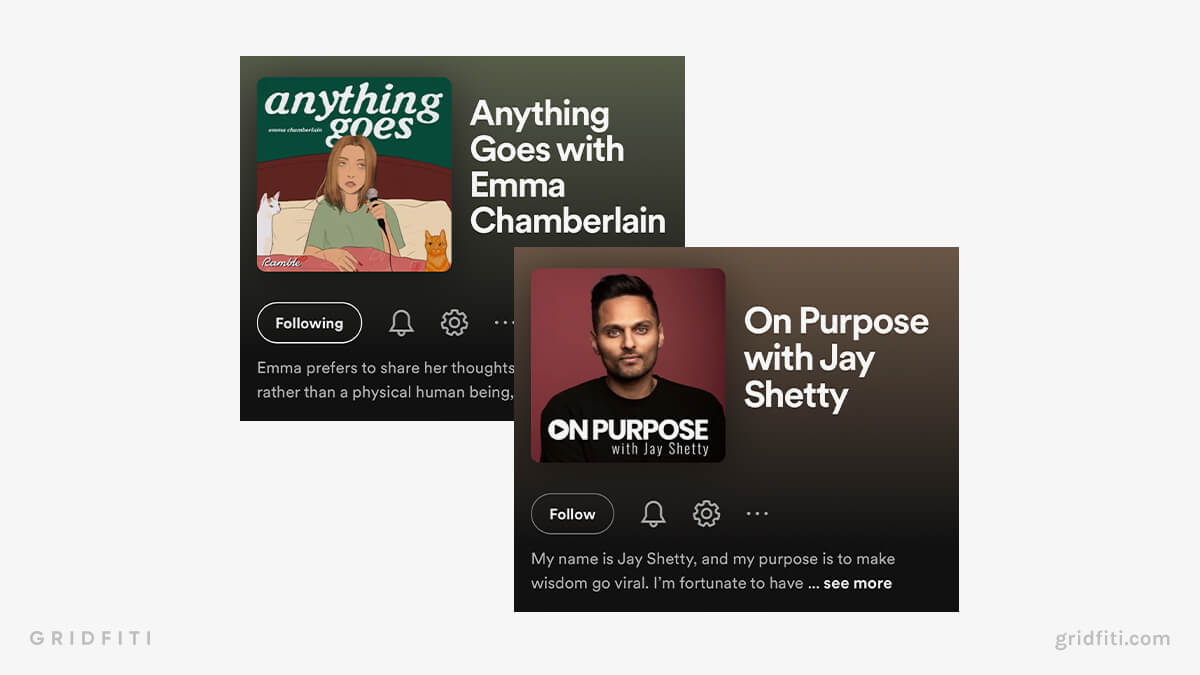 17. Plan Your Day & Create a To-Do List
Failing to plan is planning to fail – and a lot of anxiety can stem from having some uncertainty in your day. Even for the days that are less eventful, having an idea of what your day, week, or even month looks like will help you prepare and declutter your mind.
Taking some time in the morning to plan your day, write out tasks, and figure out what you're looking to accomplish will make a big difference in your productivity – and also will serve as a reminder so you don't forget what needs to be done.
If you enjoy writing things out, there are tons of templates you can print out to use from Etsy. If you're into digital planners, you can use apps like GoodNotes or Notion and one of the many templates offered to schedule out your day, month, year!
Frames via @_becstewart @kirra.mov (video 1, video 2)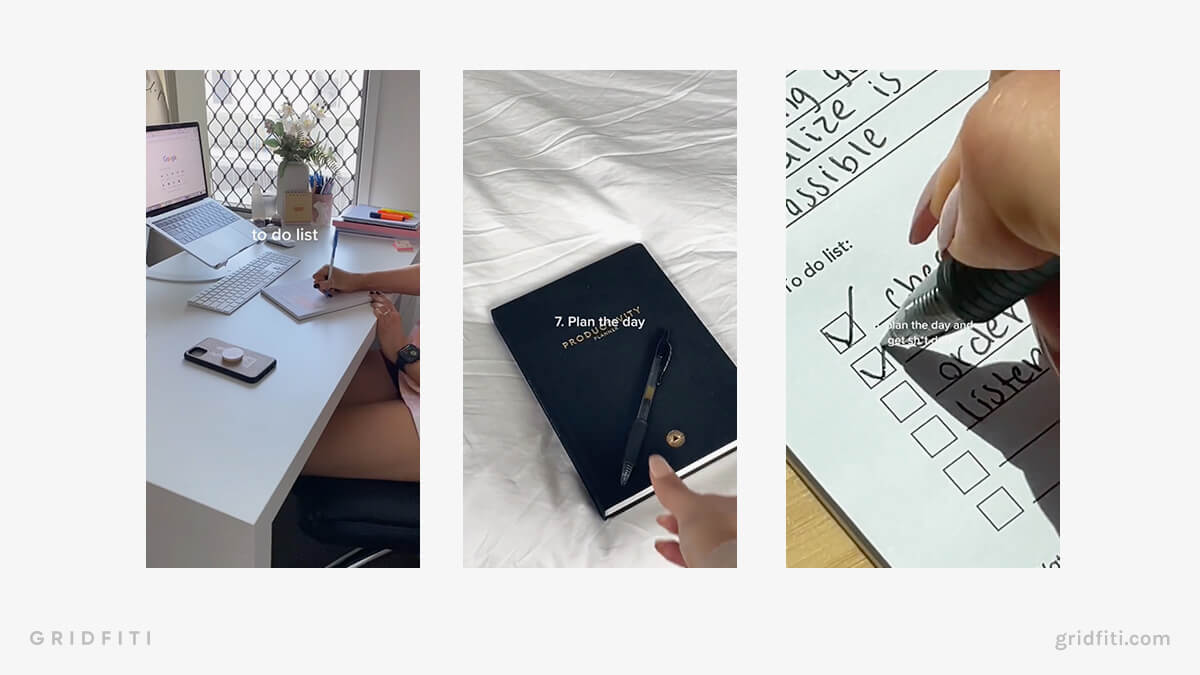 18. Taking Care of Your Plants
Stepping up to your plant parent duties and taking a bit of time in the morning to check in on your plants will add some fulfillment to your morning. Adding greenery to your home and personal space is aesthetically pleasing – and to keep your plants alive and thriving, make sure you're watering them and providing them with the necessary care needed.
If you need help organizing and tracking all your household plants, check out these Notion plant tracker templates!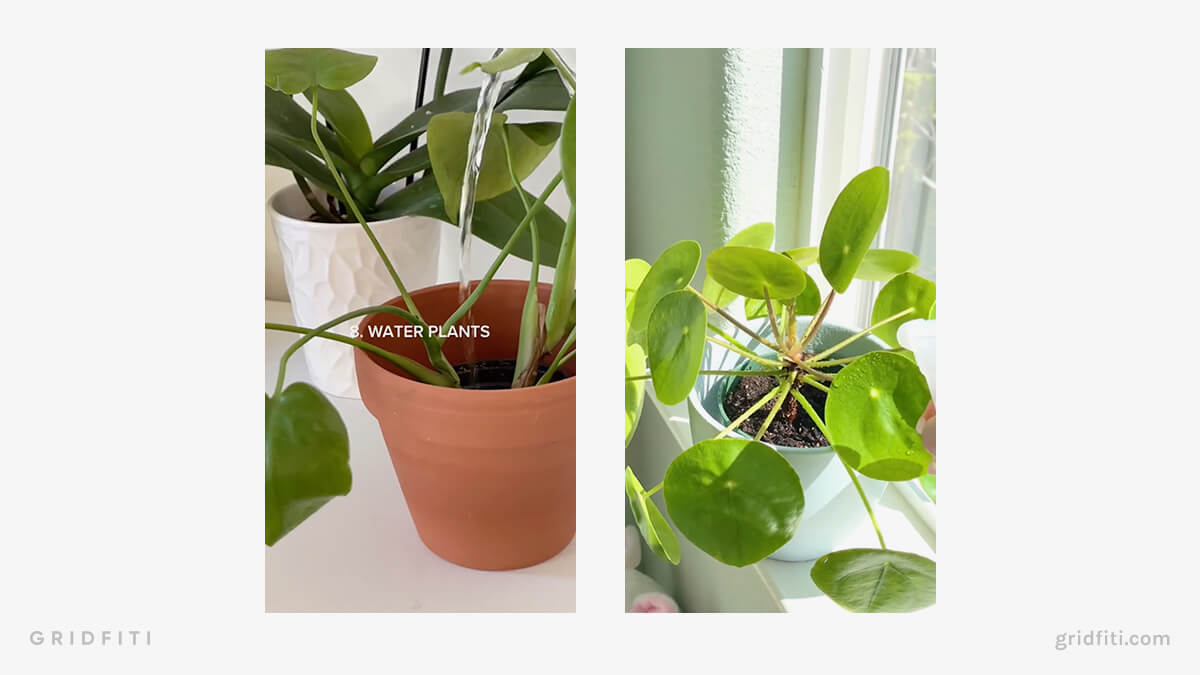 Frames via @kirra.mov and @lnparkx
19. Working from Home
With remote work now so popular and almost an industry standard for many lines of work, an aesthetic desk setup goes a long way. If part of your morning routine revolves around work, you'll need an aesthetic desk setup and a minimal workspace to be productive from!
If you're looking for a change of scenery, it's nice to mix it up every now and then and work from a cafe, library, or even outdoors if the weather is nice.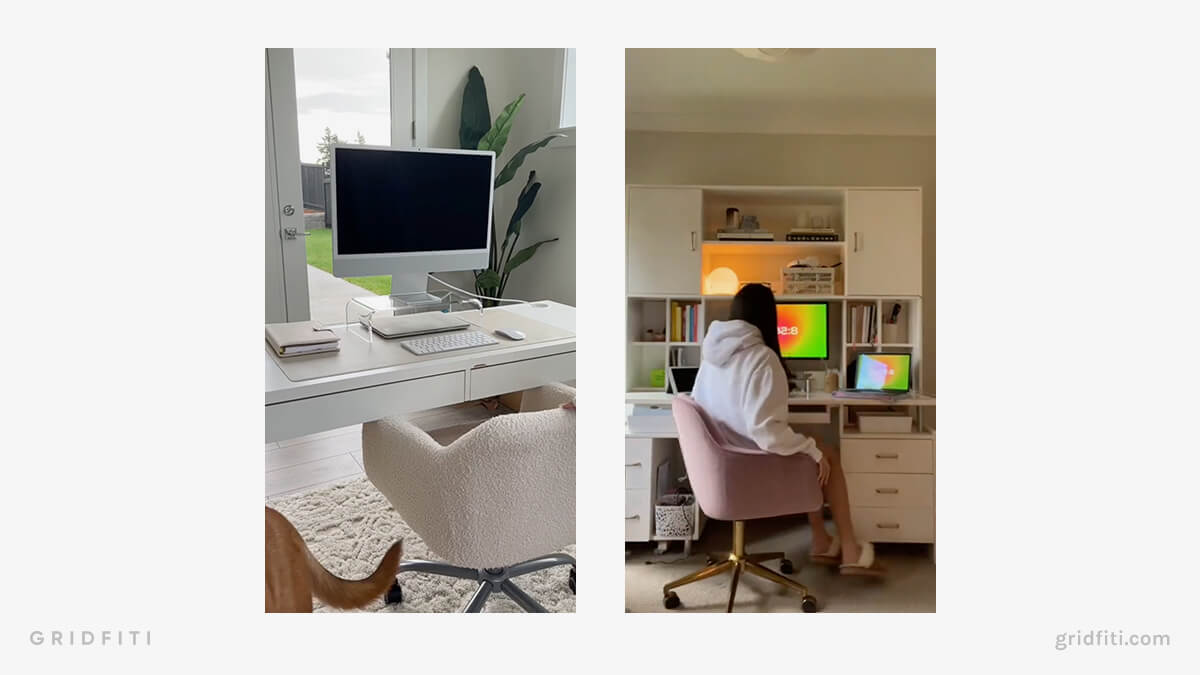 Frames via @oliviamaebarness and @kaelimaee
20. Pack an Everyday Bag or Tote
Pack the essentials and bring part of your morning routine along with you the rest of the day. There's no worse feeling than heading to the gym or out for a walk and realizing that you left your headphones or water bottle at home. Create a checklist and pack your everyday bag each morning so you'll never have to think twice about what you might've forgotten!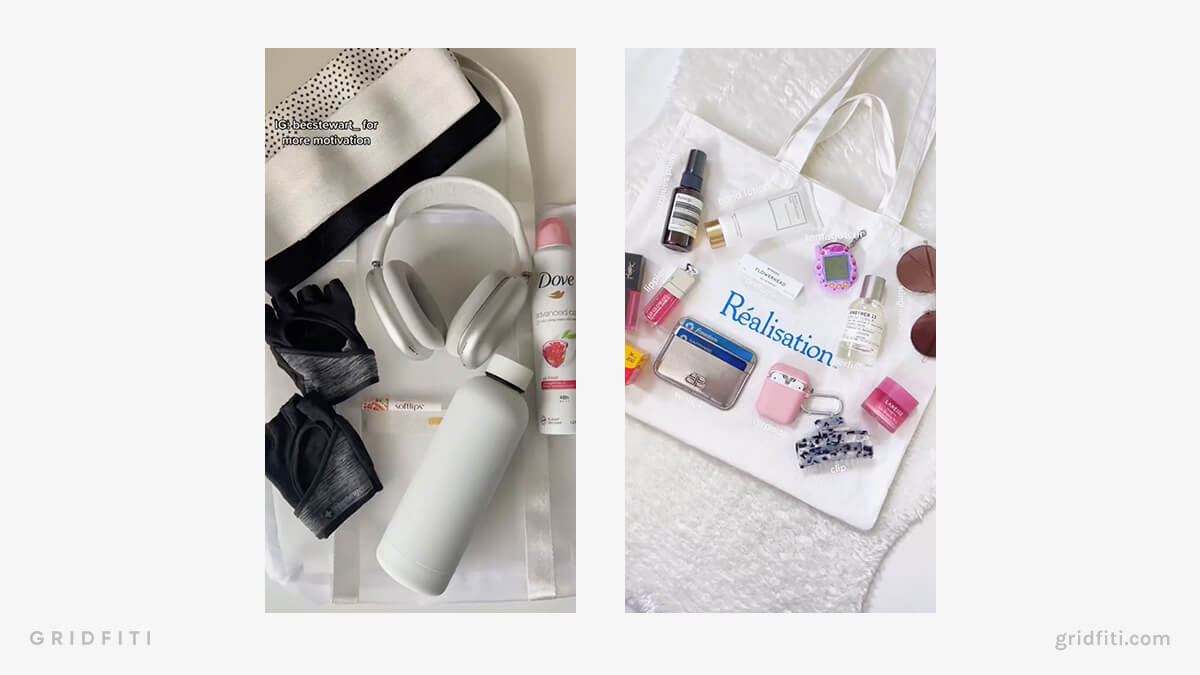 Frames via @_becstewart and @lnparkx
21. Morning Meditation
Clear your mind the moment you wake up with a morning meditation routine to start the day. Whether it's a couple of minutes or a longer guided meditation, you'll feel more relaxed, present, and at peace throughout your day by adding this to your morning routine!
Get Started: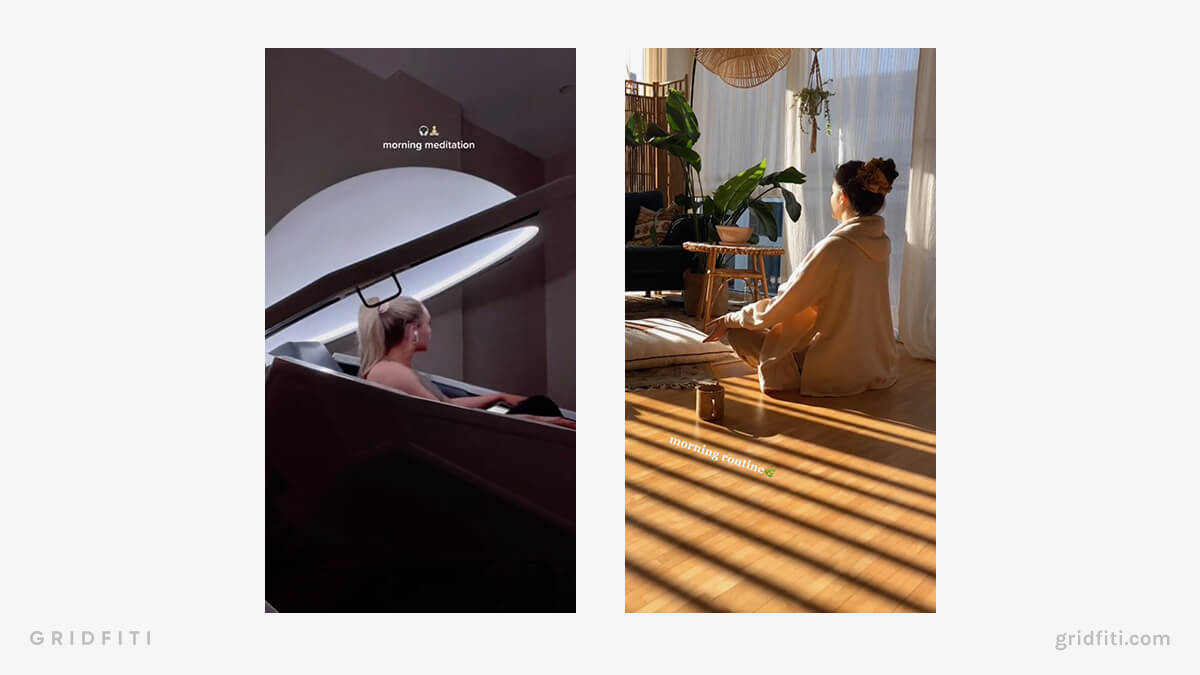 Frames via @ayla.eulalia and @juliabrads
What does your aesthetic morning routine look like? Is there anything that you would add to the list here? Let us know down in the comments below!
Gridfiti is supported by its audience – when you buy something using the retail links in our posts, we may earn a small commission at no additional cost to you. Read more about our affiliate disclaimer.