It's that time of year again: the air is crisp, the hot chocolate's flowing, the lights are twinkling — and if you're you've got some festive photos to share, it's time to break out Lightroom and get editing those holiday-ready photos!
Whether you're editing family Christmas photos or holiday fit pics, there are tons of poppy presets out there specifically designed for the holiday season. From warm and cozy tones, to crisp bright looks with festive pops of red and green – we've gathered the best Christmas presets for Lightroom for you to get started!
Want more preset guides and tips? Check out our several other preset blog posts, and join our mailing list below!
Festive Bright Christmas Presets
If you like light and airy holiday photos with a pinch of saturation in the reds and greens, this festive bright Christmas preset pack is for you! Whether it be a cozy red sweater, the greens of your Christmas tree, or the combine reds and greens of mistletoe – check out this preset pack to give your photos a true festive feel!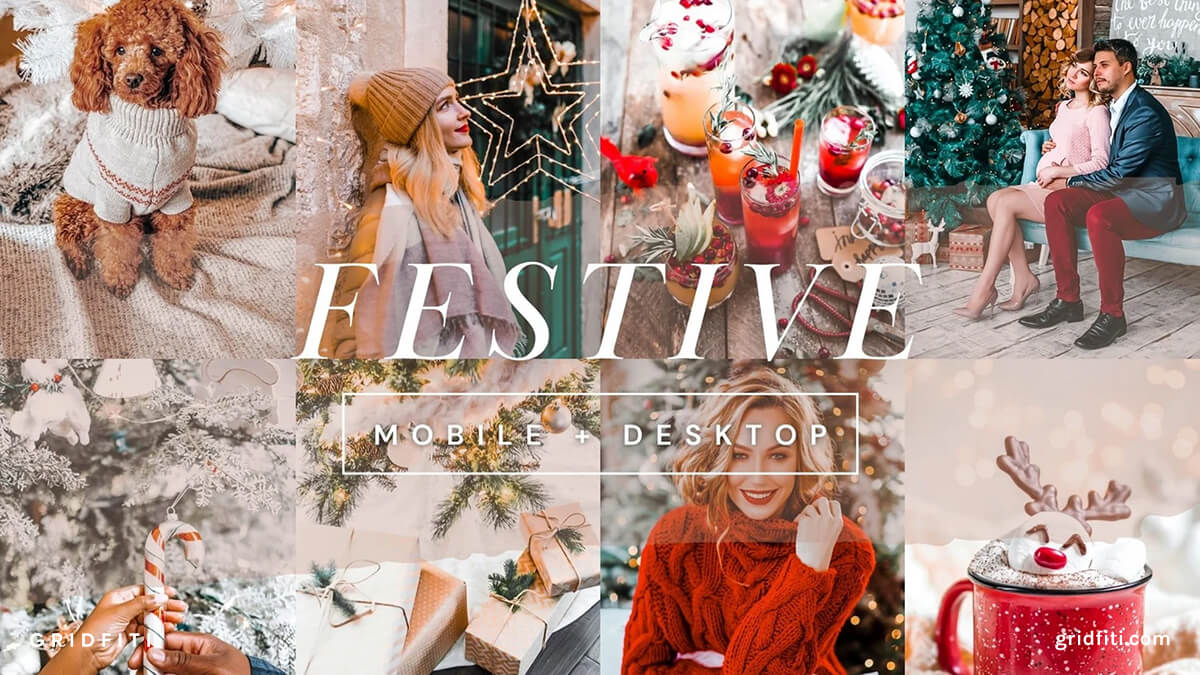 Christmas Lights Red & Green Holiday Presets
This "Christmas Lights" Red & Green preset pack is a bright take on holiday presets. It's made mostly to enhance the reds and greens of your holiday images – with some increased exposure and highlights, along with punchier contrast. Give it a go in any of your images with Christmas red and green!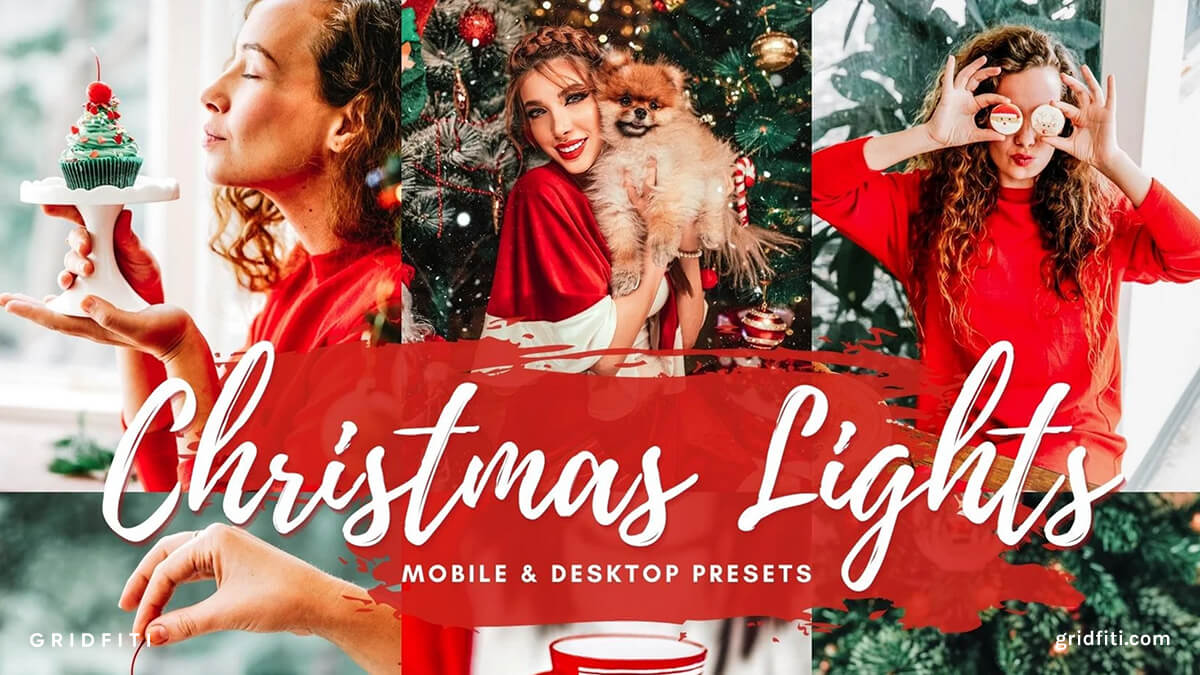 Christmas Preset Mega Bundle
This behemoth of a Christmas Lightroom preset bundle comes loaded with 100 presets! Choose from an array of presets catered to portraits, decor, lights and anything you'd find within your holiday season. It's as simple as downloading the pack and trying which preset works best with your images. The optionality of this pack will really let you transform your Christmas photos to your liking.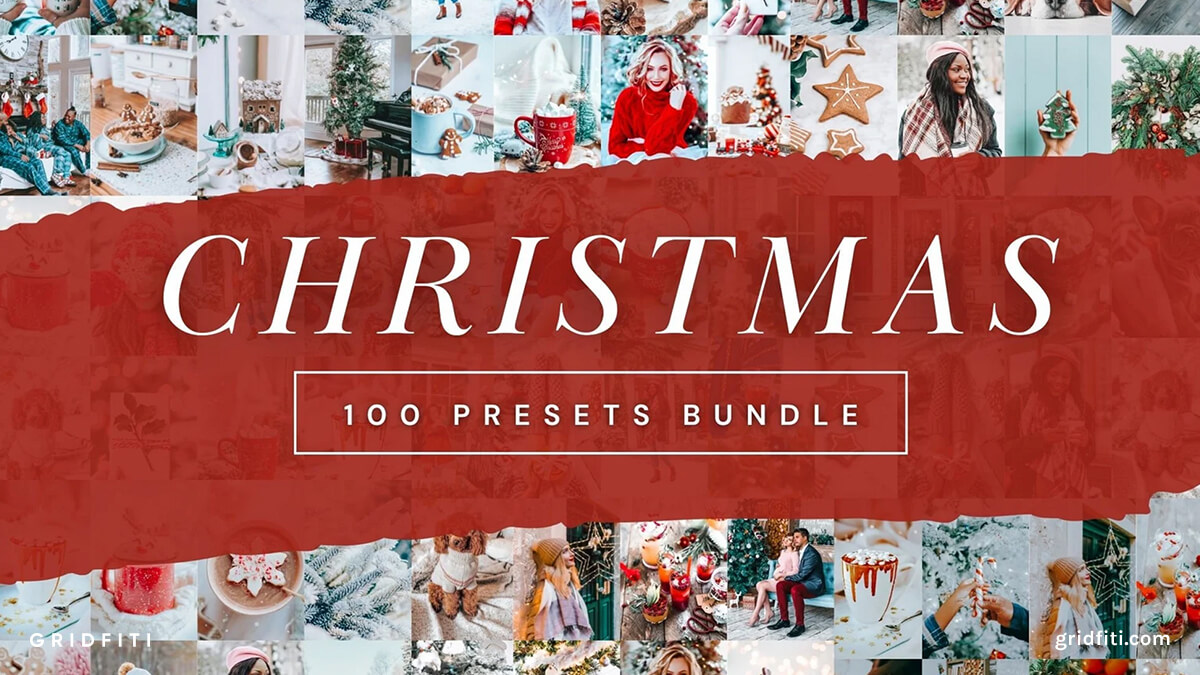 Noël Aesthetic Christmas Presets
This sophisticated and aesthetically pleasing Christmas preset pack has a finely balanced warm and cool color palette. Theres a slight fade on the shadows, which all together makes a nice cozy and calming Christmas look. Photos that feature warm tones, browns, beiges, and oranges will be accentuated by the color treatment of these presets!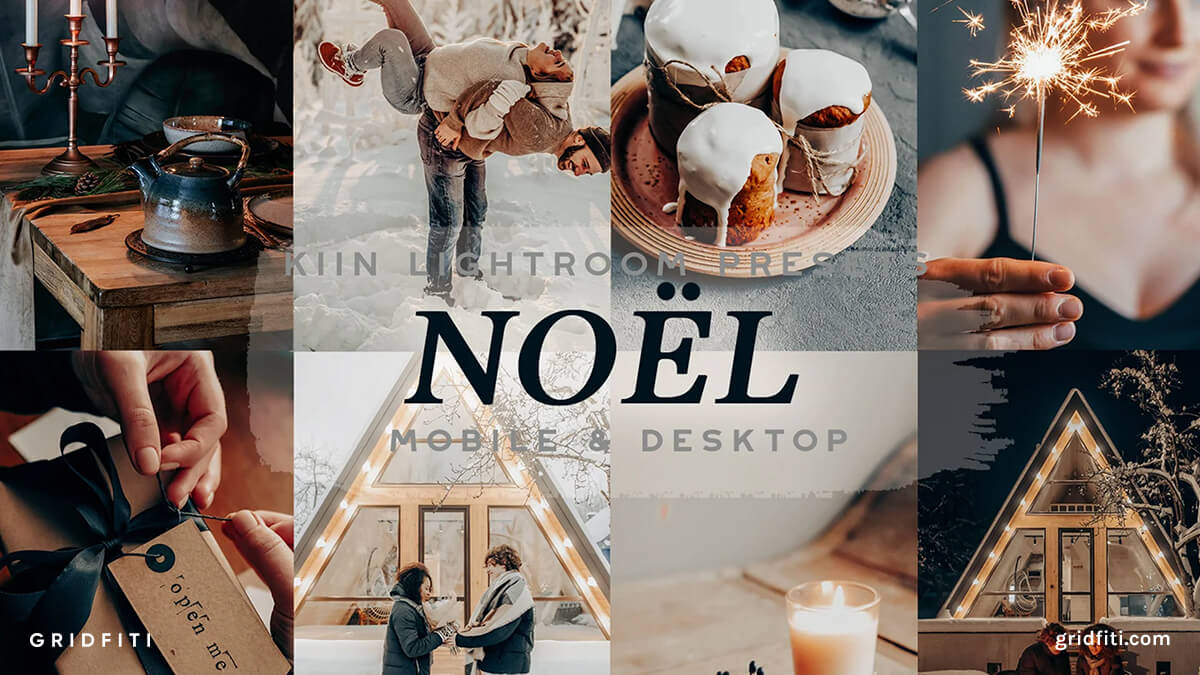 "Xmas" Lightroom Preset Pack
The Xmas Lightroom pack has pared it down to really emphasize two festive colors: white and red! Give your photos a candy cane-like aesthetic through this preset – put on your favorite red sweater, take photos in the snow or against a white backdrop, and let these presets do all the work!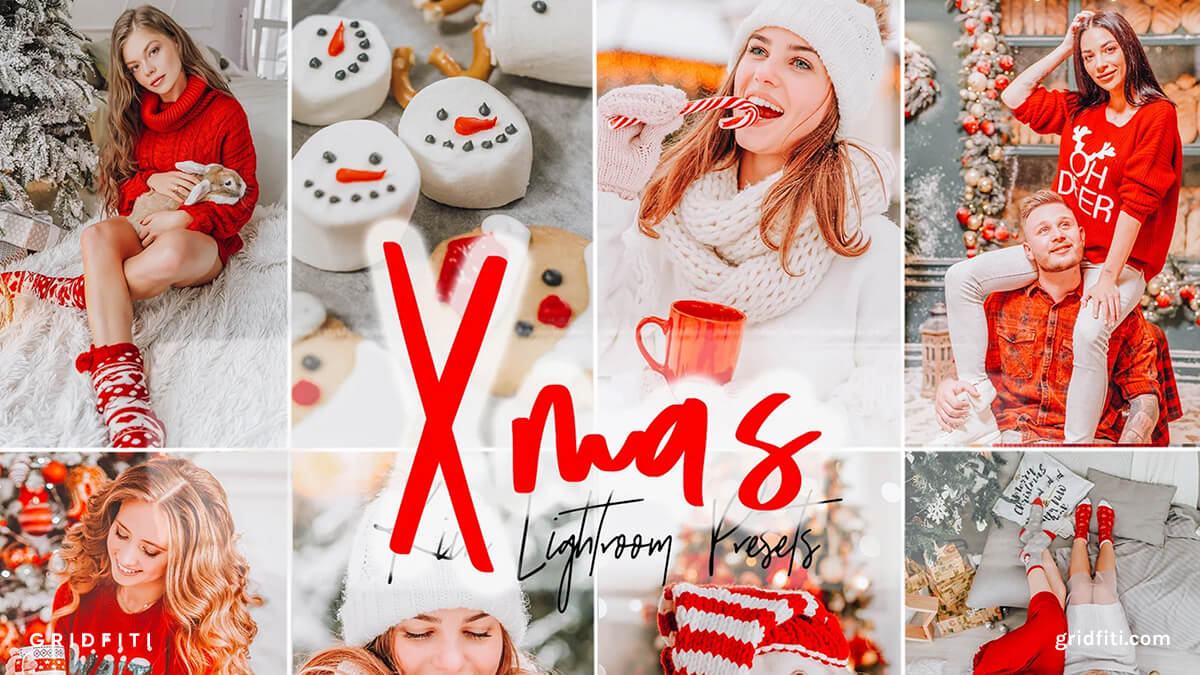 December Moody Holiday Preset
Add a moody yet warm look to your holiday photos through the "December" Christmas preset pack. The presets feature a warm cast and slight fade to your images. To no surprise, warm tones are favored in these presets – so anything from Christmas lights, to candles, to warmer toned outfits are the way to go for this moody Christmas preset pack – check it out!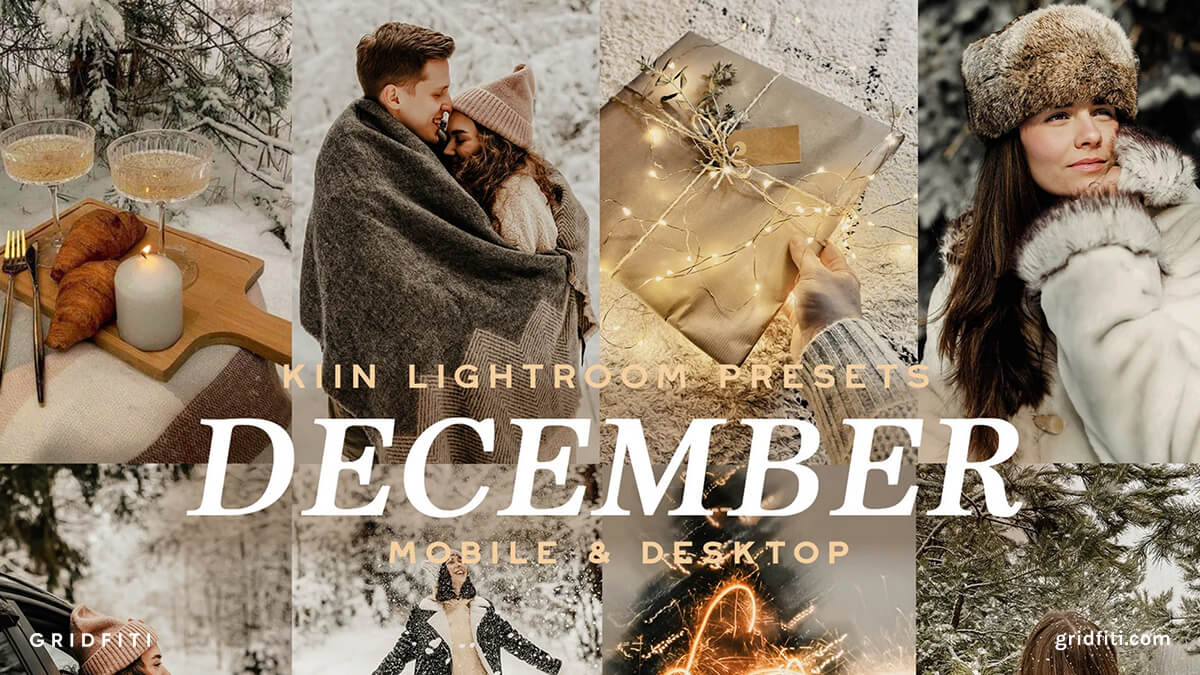 Cozy Christmas Presets
While many Christmas preset packs are brightened and saturated, this preset pack takes a calmer approach – with warmer tones, deep shadows, and slightly muted tones. The result is a warm and cozy photographic look on the eyes, made perfect for those relaxing Christmas mornings. Check out this Cozy Christmas Preset Pack!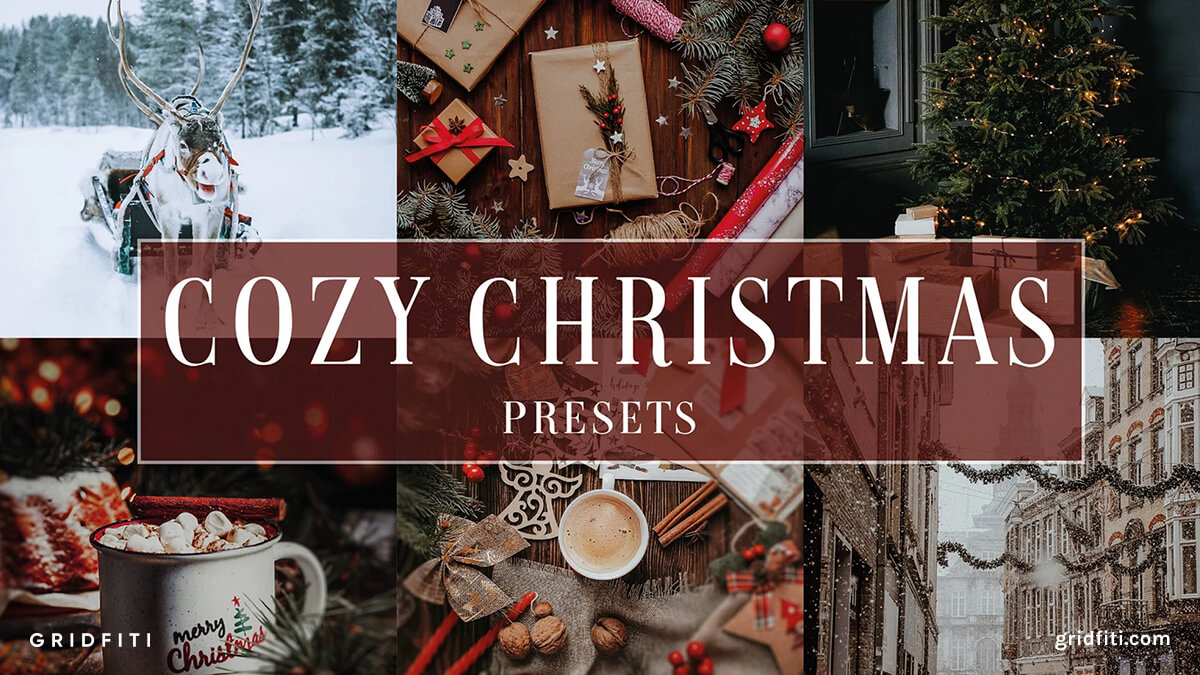 Bright Snow Christmas Presets
These bright and snow-ready Christmas presets will add some festive sparkle to your shots! Perfect for captures of family fun or snow-covered scenes, give your holiday photos a lively feel by bringing out the vibrancy of the season.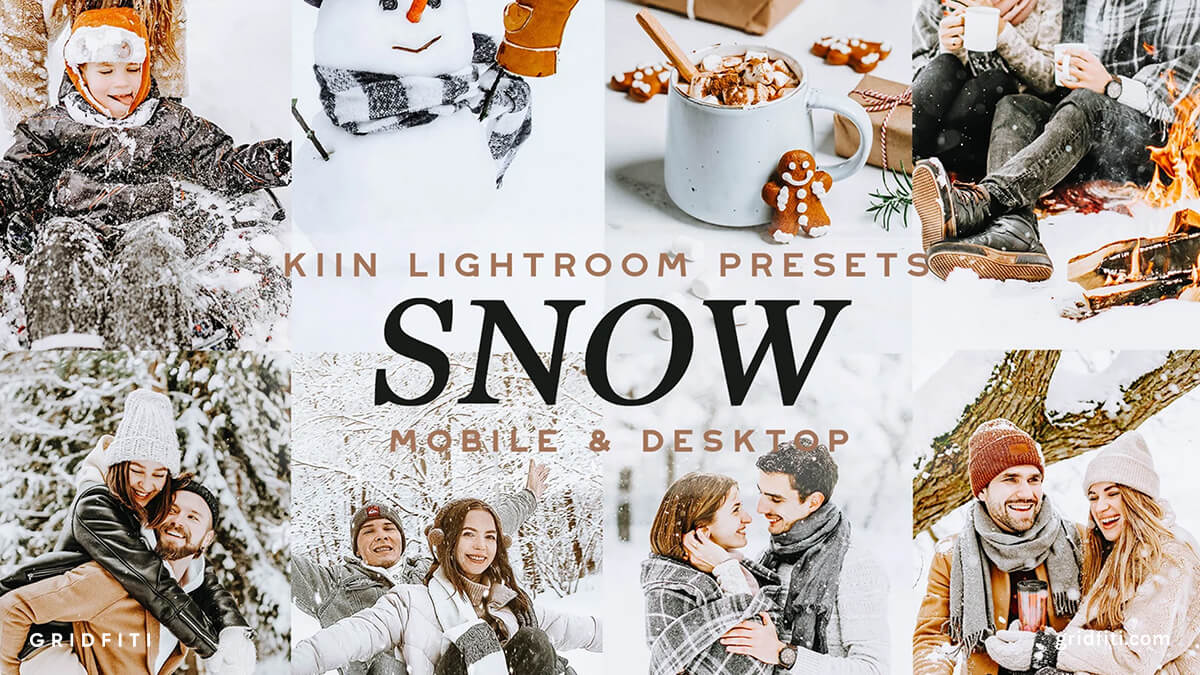 "Mulled Wine" – Moody Christmas Presets
These Christmas presets are a fun and festive way to add some of that warm and cozy mulled wine flavor to your photos! The "Mulled Wine" Christmas preset pack will give your holiday photos a comforting and inviting feel – perfect for capturing the comforting atmosphere of the holiday season.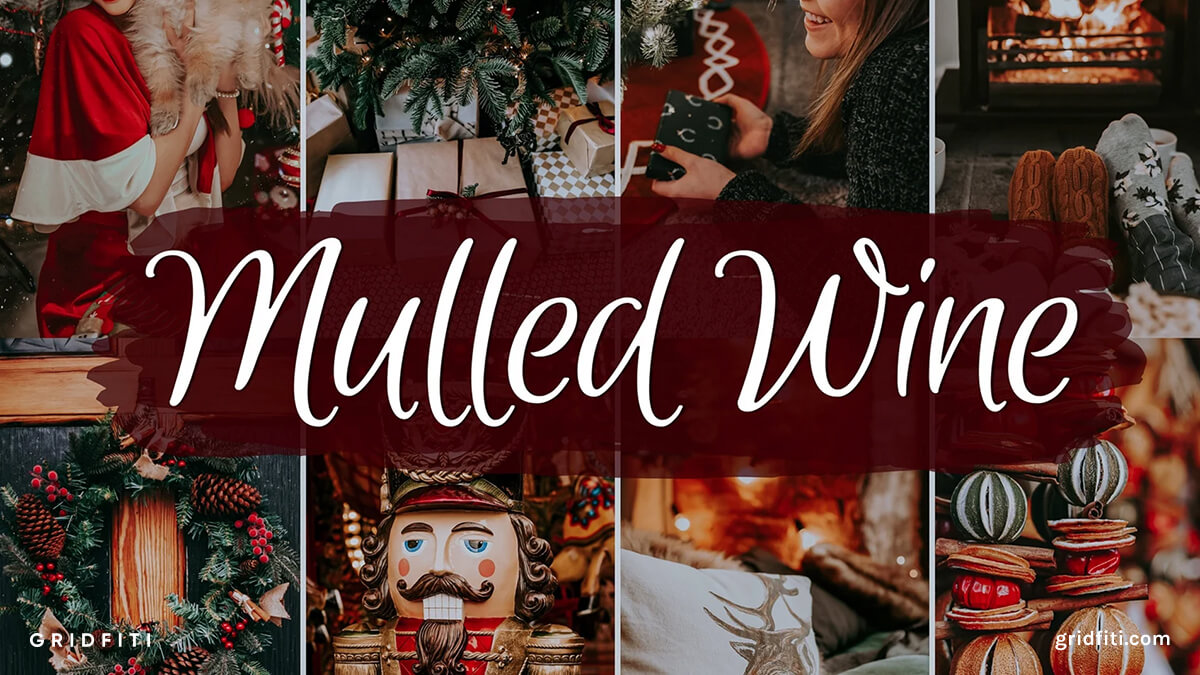 Golden Warm Christmas Presets
These golden Christmas presets are an easy and elegant way to add some festive sparkle to your photos! Whether you're taking pictures of your loved ones, decorations, or holiday feast, these presets will add a warm, glamorous glow to your snaps.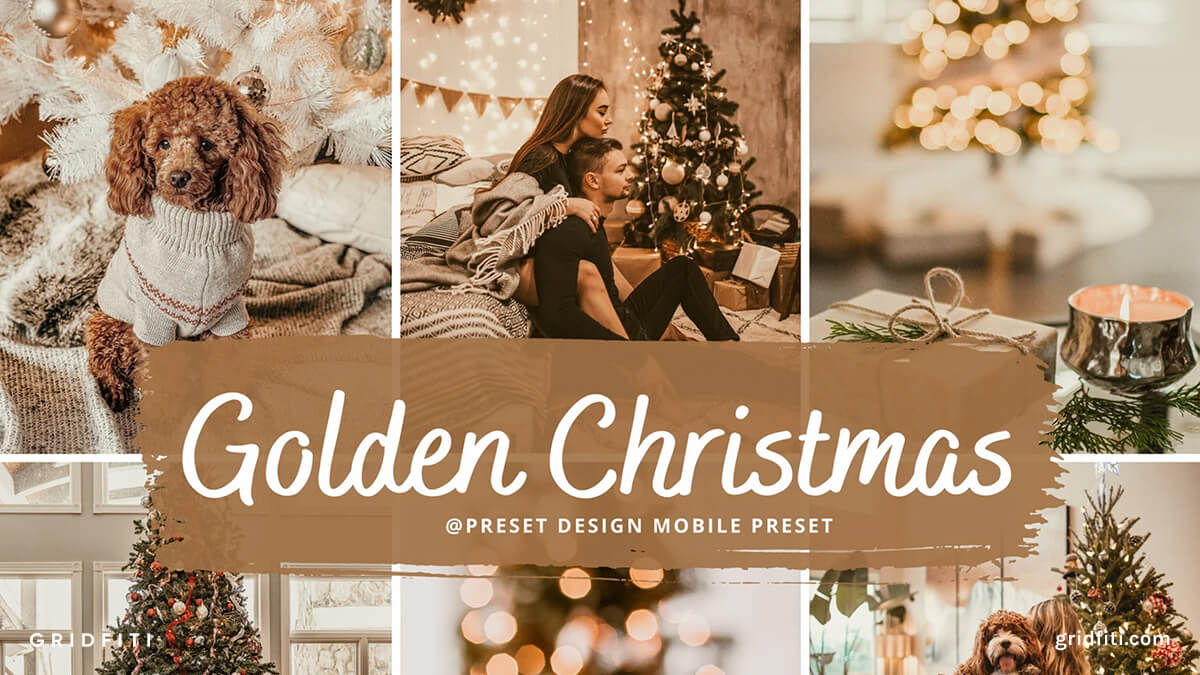 "Mistletoe" — Rustic Warm Christmas Presets
If you're looking for a cozy, somewhat vintage vibe for your holiday photos, then these rustic Christmas presets are the way to go! Whether you're snapping pictures of a snowy landscape, crackling fireplace, loved ones, or a cabin in the woods – the "Mistletoe" Christmas preset pack will add a warm, earthy feel to your photos.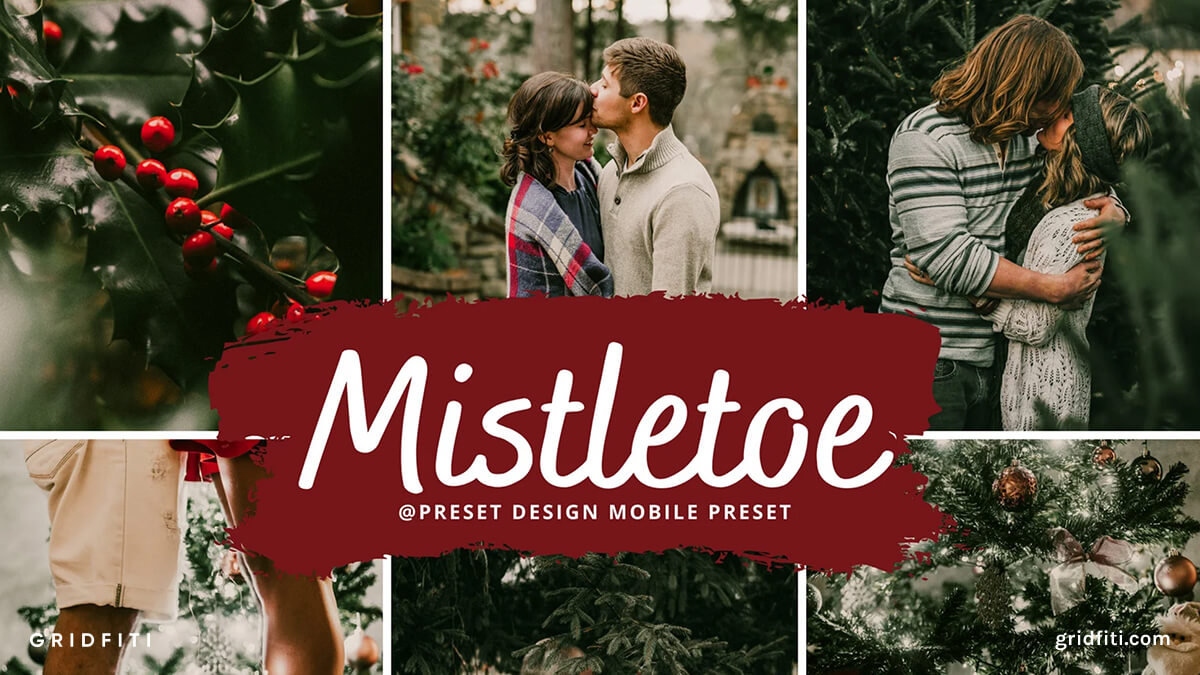 Rustic Cool Christmas Presets
Combine the warm rustic tones of Christmas with the cool and refreshing tones of the winter season, and what do you get? A stunning, ethereal look that's perfect for capturing the beauty of the holidays! Whether you're taking pictures of snow-covered trees, frosty landscapes, or holiday portraits, these rustic cool-toned rustic Christmas presets can help give your photos a crisp yet cozy feel.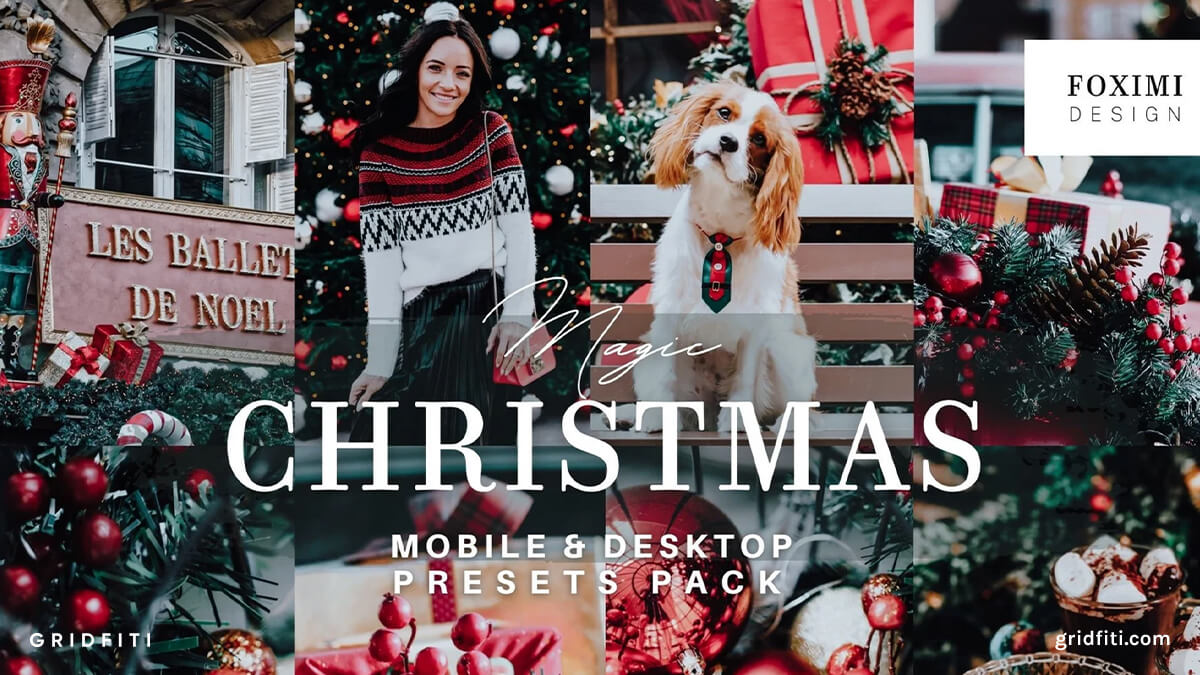 Gingerbread Warm Christmas Presets
Gingerbread is a classic flavor of the season – so why not incorporate it into your holidays photos as well? The Gingerbread Christmas preset pack is sure to add a touch of warmth and sweetness to your festive snaps, just like a gingerbread cookie!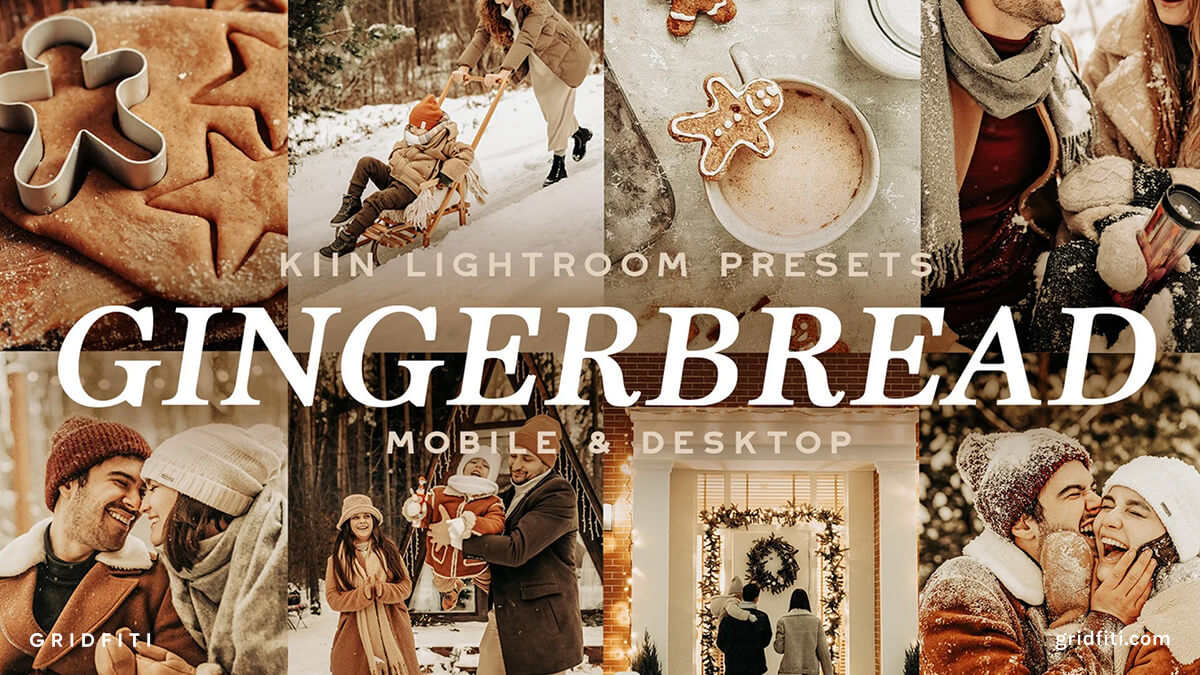 Neutral Blogger Christmas Presets
Add a warm, chic look to your photos for the holiday season! Transform your holiday snaps into blogger-ready posts with these neutral creamy presets. The holiday season can be a colorful one, and if you're looking to keep your feed's theme cohesive with a sophisticated minimalist look, this Christmas preset pack is the perfect pick to tone things down and keep it classy.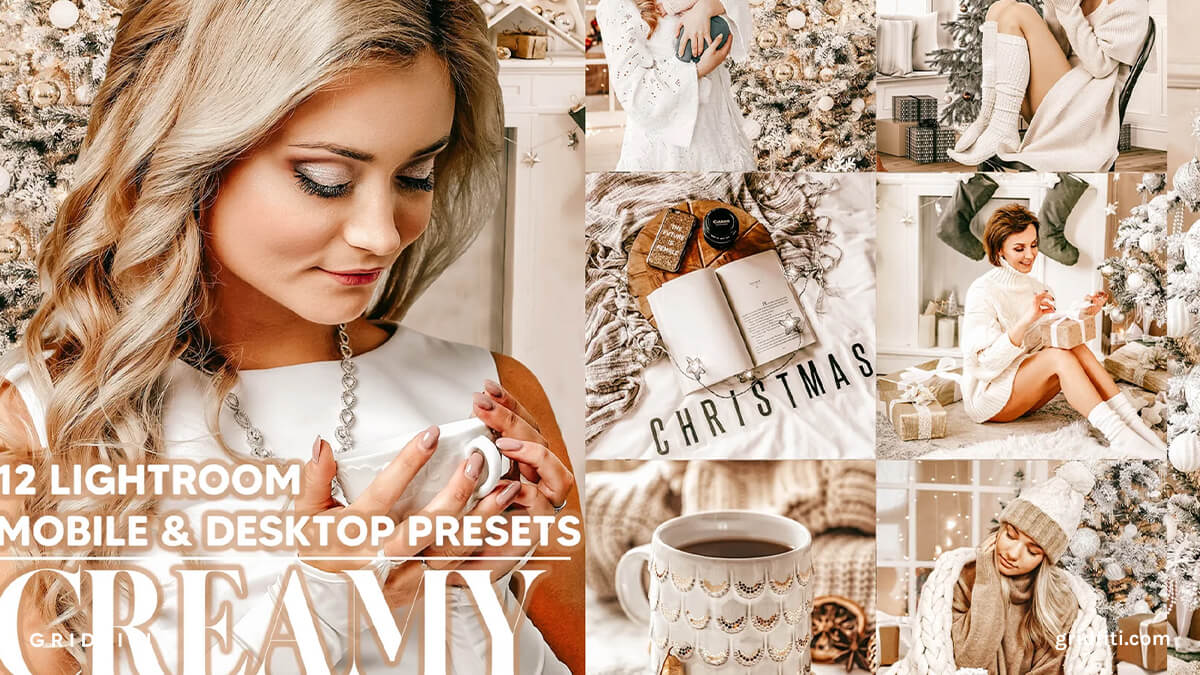 Which Christmas presets do you see yourself using? Any other presets you're loving for the holidays? Let us know in the comments below!
Gridfiti is supported by its audience – when you buy something using the retail links in our posts, we may earn a small commission at no additional cost to you. Read more about our affiliate disclaimer.