Physical clocks are becoming less and less prominent simply because of how easily accessible our phones and computers are – but there's a certain appeal to having the time displayed in a tangible piece, where less screen time might mean less distractions.
Lots of desk clocks have functions beyond time-telling too – displaying weather, custom text, or even custom LED images. If you're on the hunt for a timepiece for your setup, we've got you covered – here are our picks for the best desk clocks, for both tabletops and walls!
Want more desk setup and home office ideas? Join our mailing list to get inspo straight to your inbox 📮
Wooden Desk Clocks
Lean into those natural vibes and add some warmth to your setup with a wooden clock. Whether you're looking for something to hang on the wall, or something smaller that sits on your desk, there are a ton of options – along with different tones of wood.
Where to start: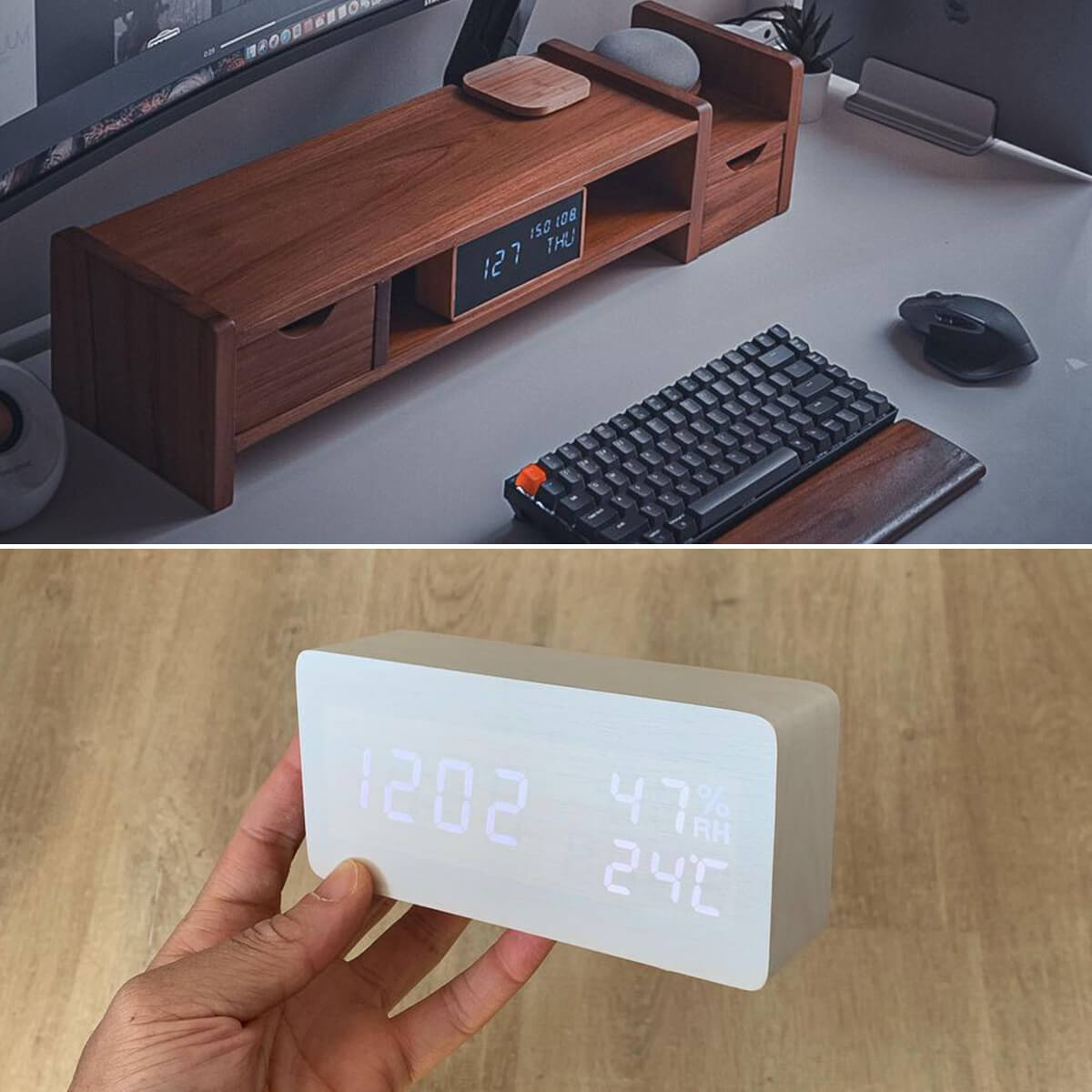 Images by @feriktantomi and @byseanbrown
Colorful Desk Clocks
If you're looking to add a splash of color to bring some energy to your day, or are simply wanting to match your color aesthetic – adding a vibrant clock is a simple way to do just that.
Where to start: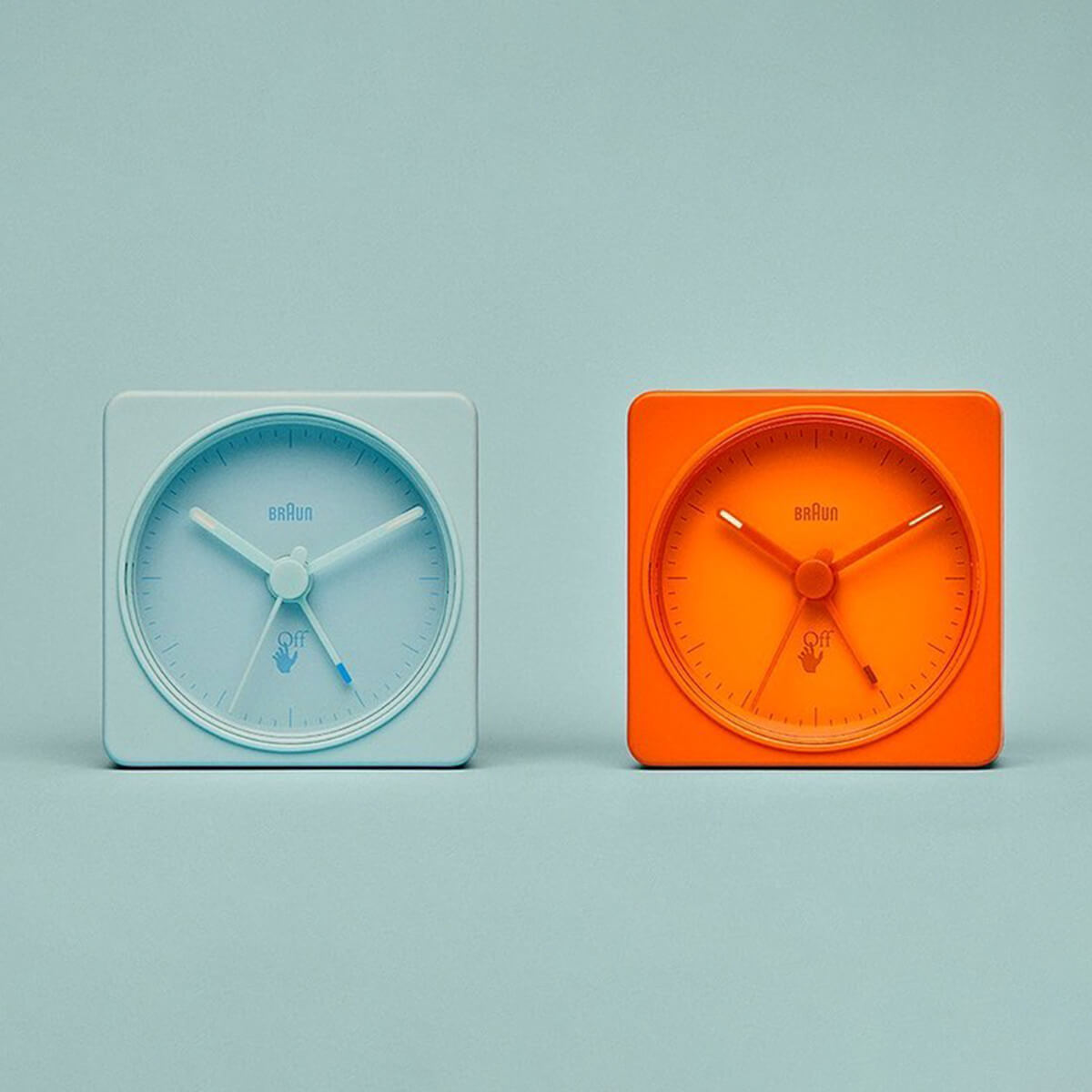 Images via Highsnobiety
Minimalist Desk Clocks
Add time to timeless designs with these minimalist desk clocks. A subtle touch to any desk setup that will give your workspace a modern feel while keeping you punctual in your day-to-day.
Where to start: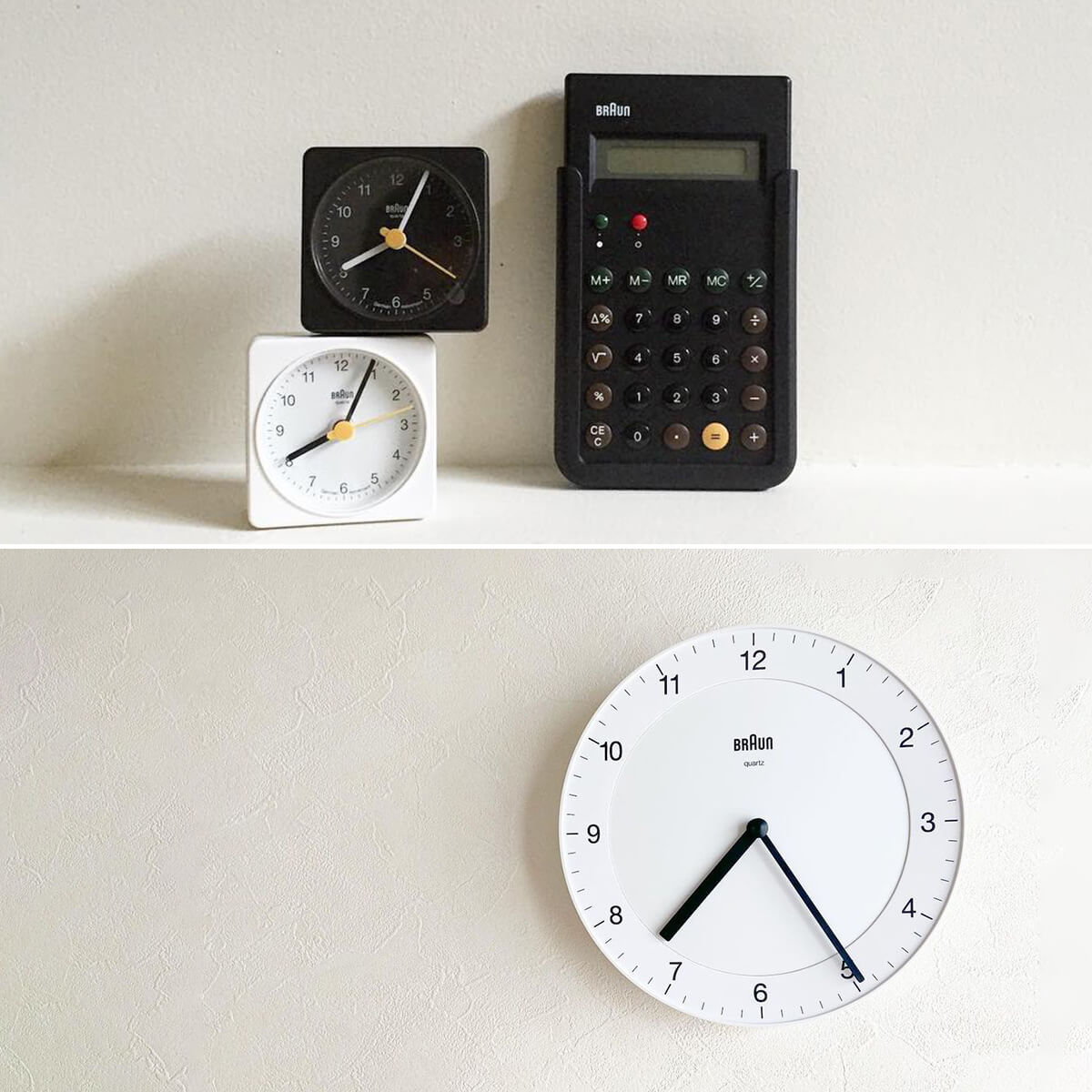 Images by @hachi.yon and @i_am_po._.oq
LED & Digital Desk Clocks
8-Bit Pixel Art LED Tabletop Clock
This retro, 8-bit inspired clock is a unique fixture for any desk. Playing off a vintage TV design, this clock does way more than just display time – it also has a built-in Bluetooth speaker, shares the weather, and most noteworthily, displays custom pixel art from your phone.
Where to start: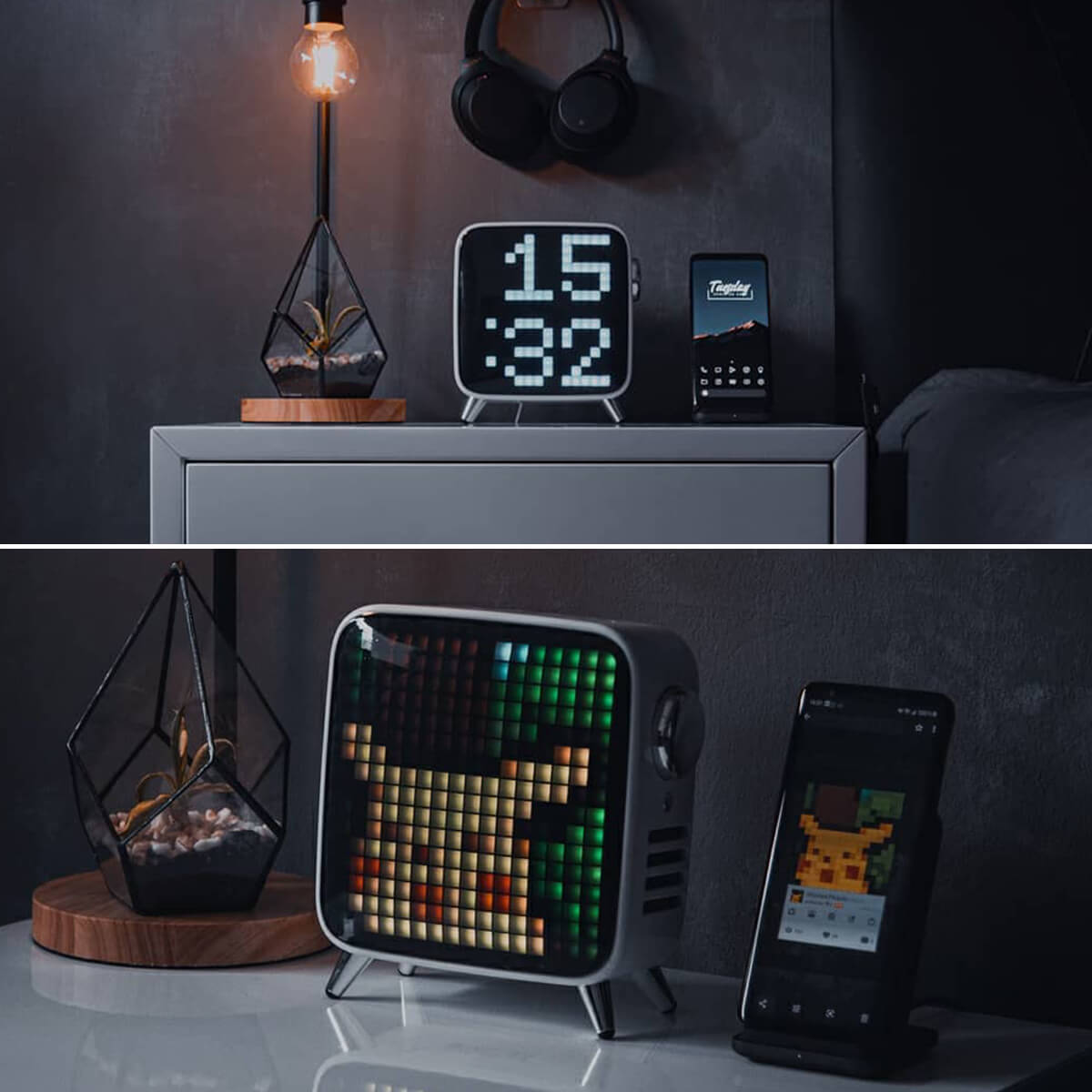 Images by @thericebucket
LED Digital Wall Clock
Serving as both wall art decor and a functional time-telling piece, this LED digital wall clock offers a neon look that looks great in almost any modern tech setup.
Where to start: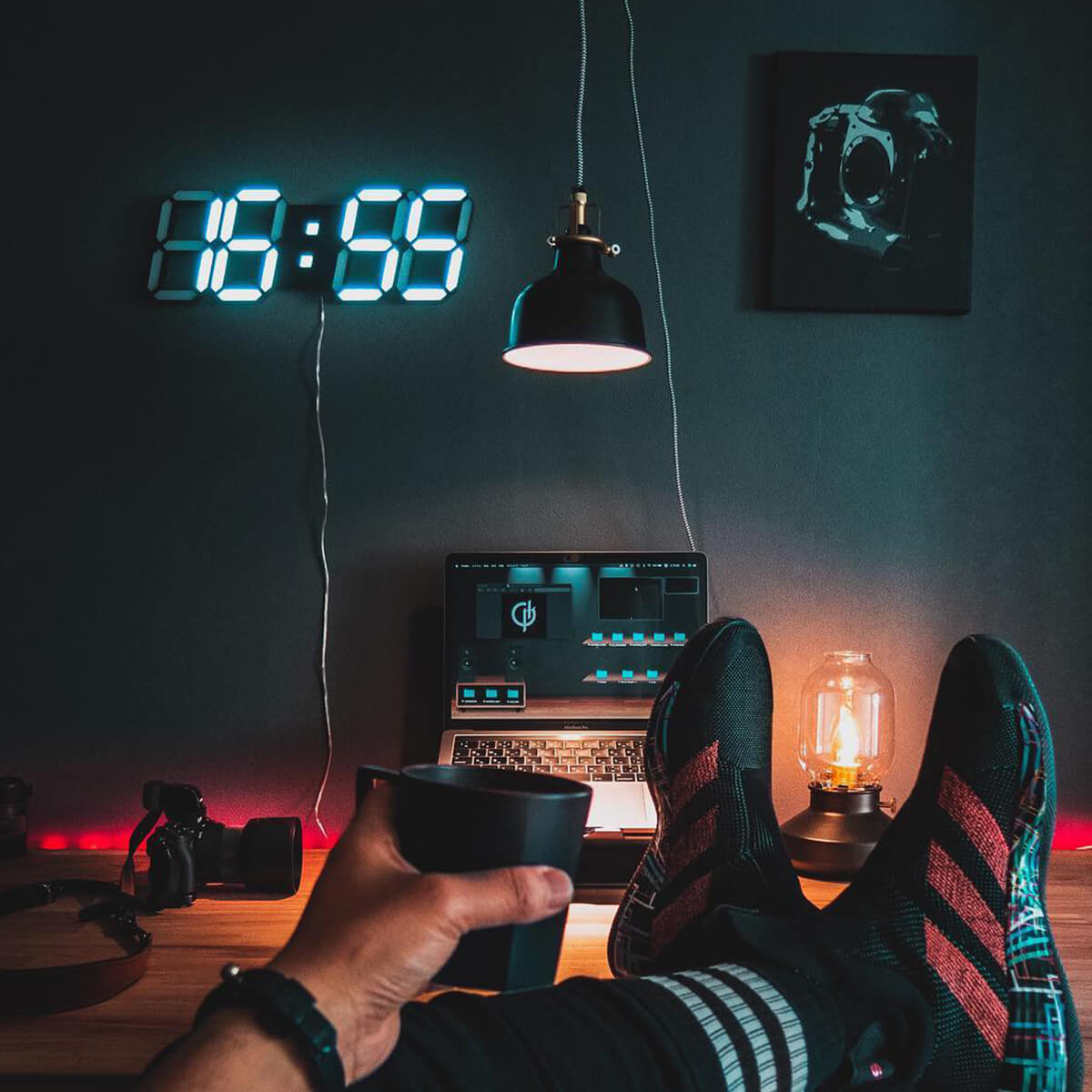 Image by @omi_kim
LED Word Clock
If you're tired of staring at numbers all day, an LED word clock is just what you need – a unique clock design that offers a refreshing way to track the time.
Where to start: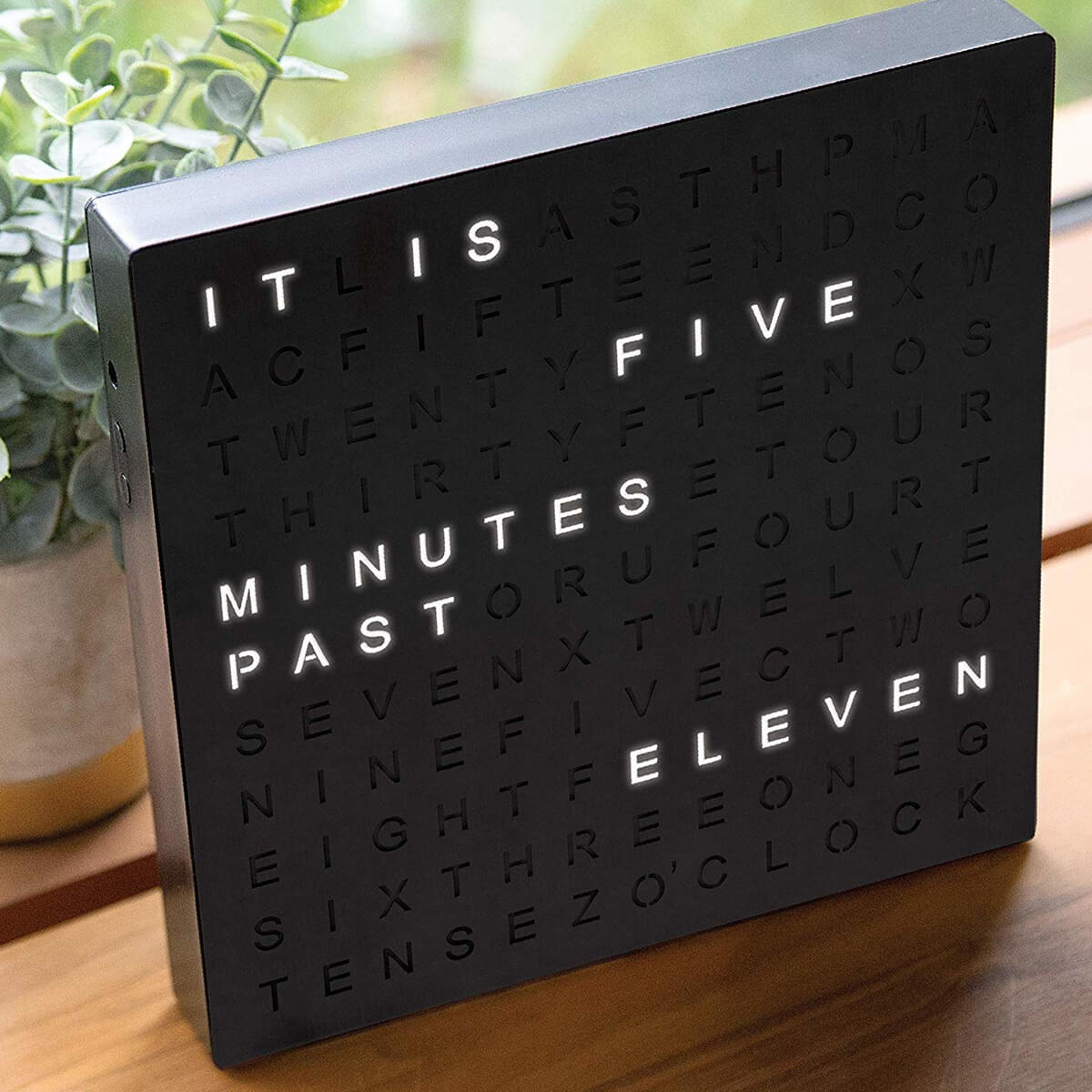 Image via Sharper Image
Luxury & Hypebeast Desk Clocks
Complement your other hypebeast essentials with a streetwear-inspired or designer deck clock.
Where to start: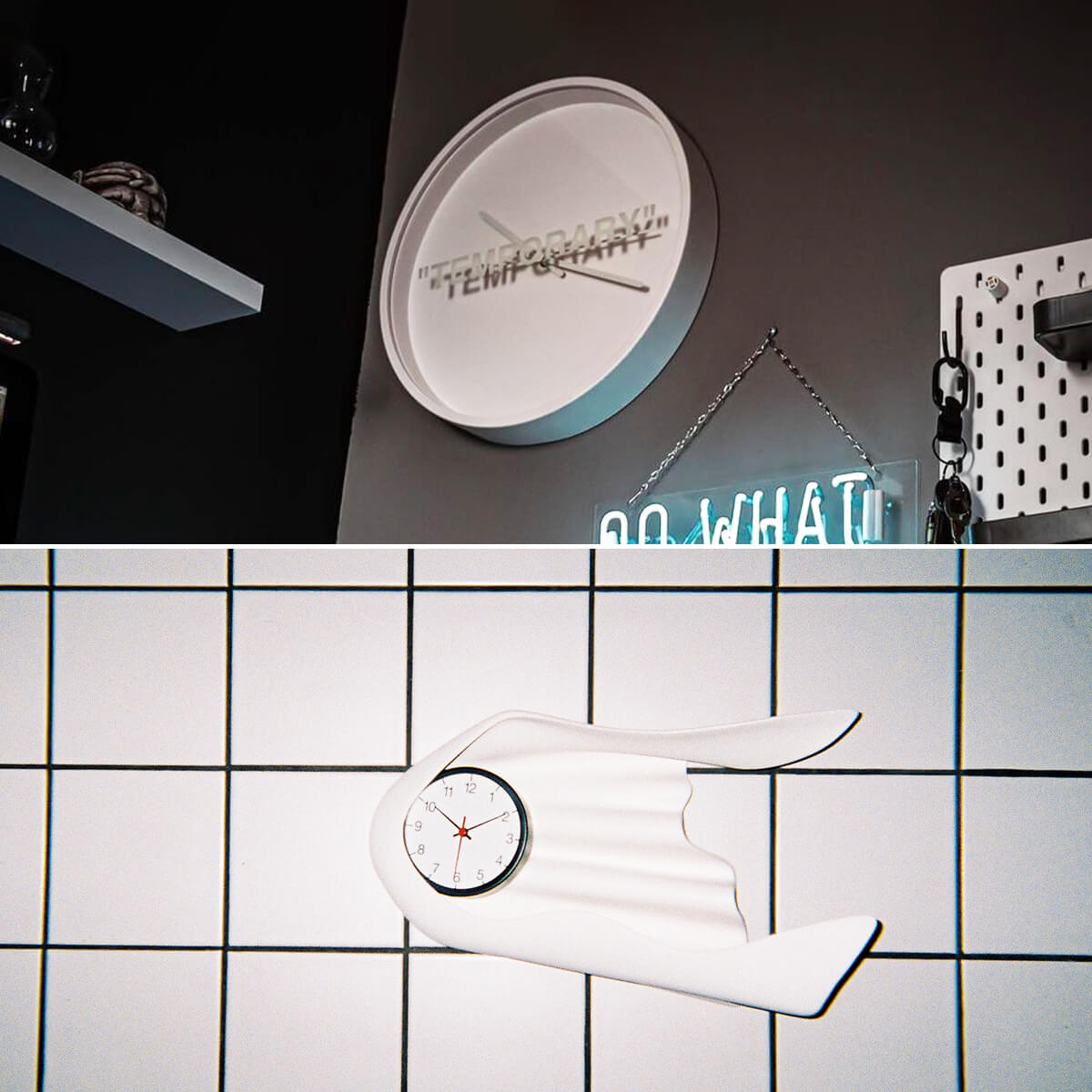 Images by @natevietz and IKEA
Smart Desk Clocks
If you're looking for a device that can do it all, from controlling your LED lights, to changing your thermostat and queuing up Spotify playlists, pick up a smart hub to also serve as your timekeeper.
Where to start: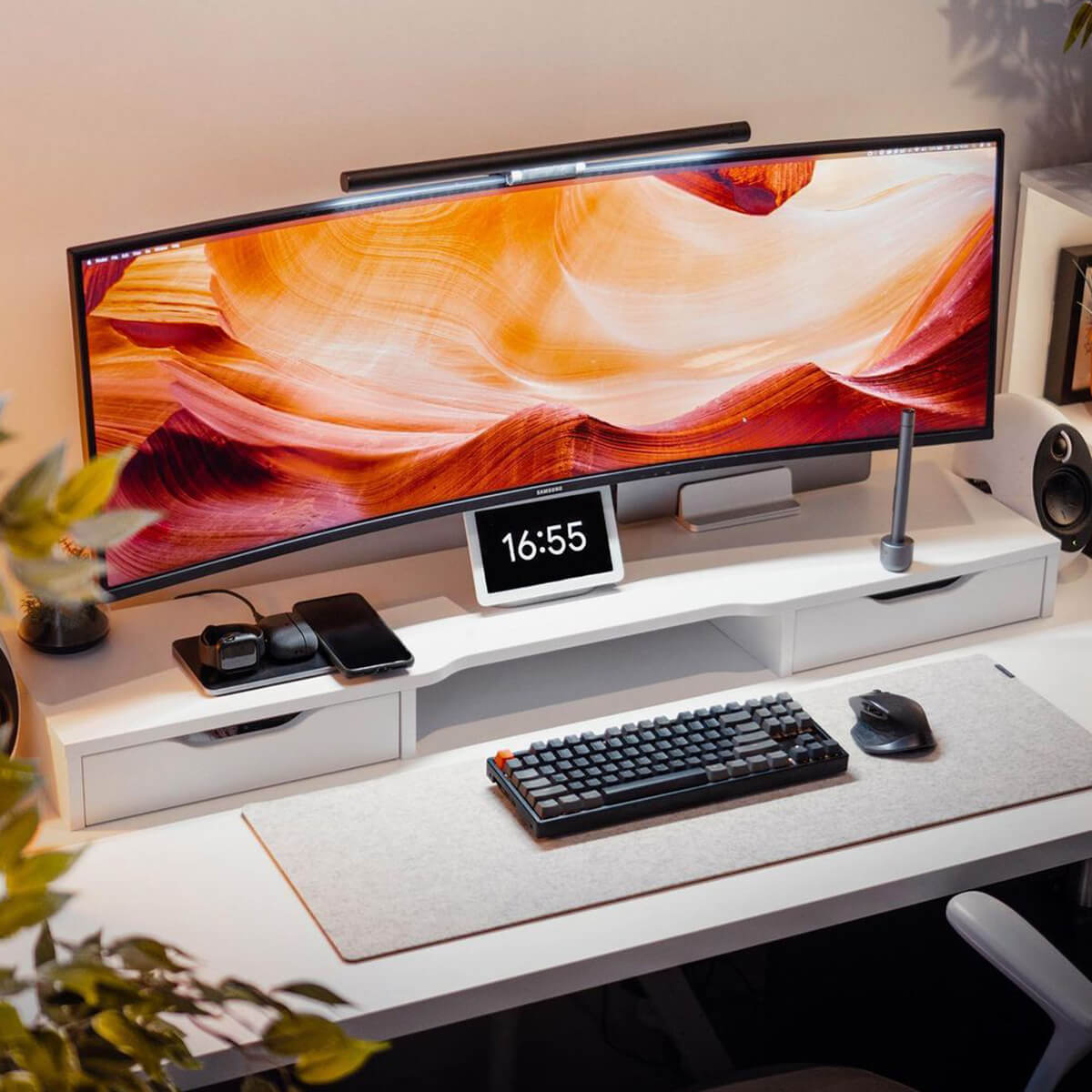 Image by @feriktantomi
Aesthetic Desk Clocks
If you're looking for a time-telling mainstay for your aesthetic desk, there are plenty of options. Ranging from large LED digital clocks, to mirrored display clocks, to anime-inspired aesthetic sunset clocks, there's a something out there for any aesthetic.
Where to start: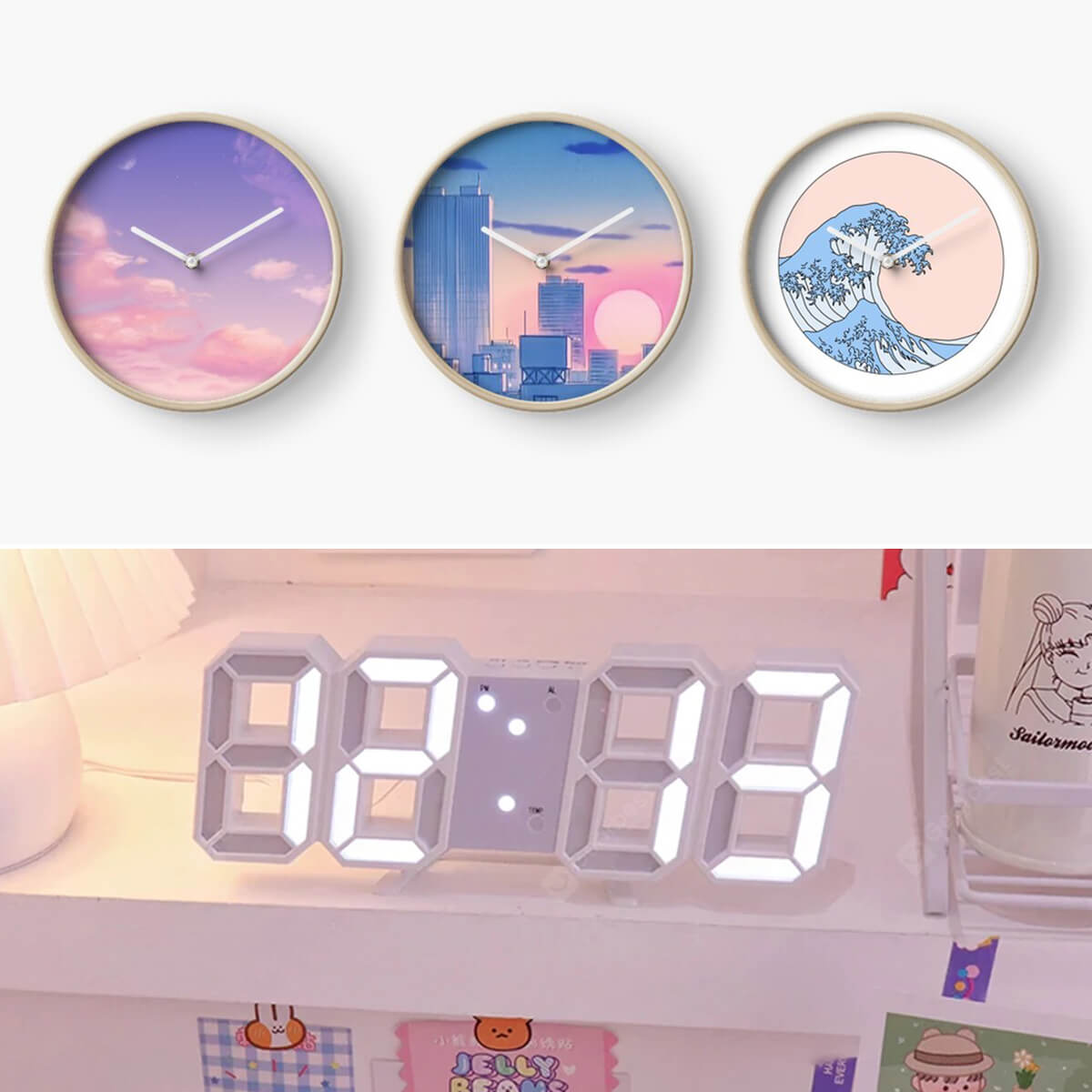 Images via RedBubble and Pinterest
Gamer Clocks
Any minimalist gaming setup could use a complementary timepiece to top things off. We love the LaMetric clock for battlestations – besides telling time, it has a ton of apps letting you display your YouTube subs, Twitch online/offline status, your agenda for the day, a one-word quote, and even includes Spotify integration to bump those gaming playlists.
Where to start: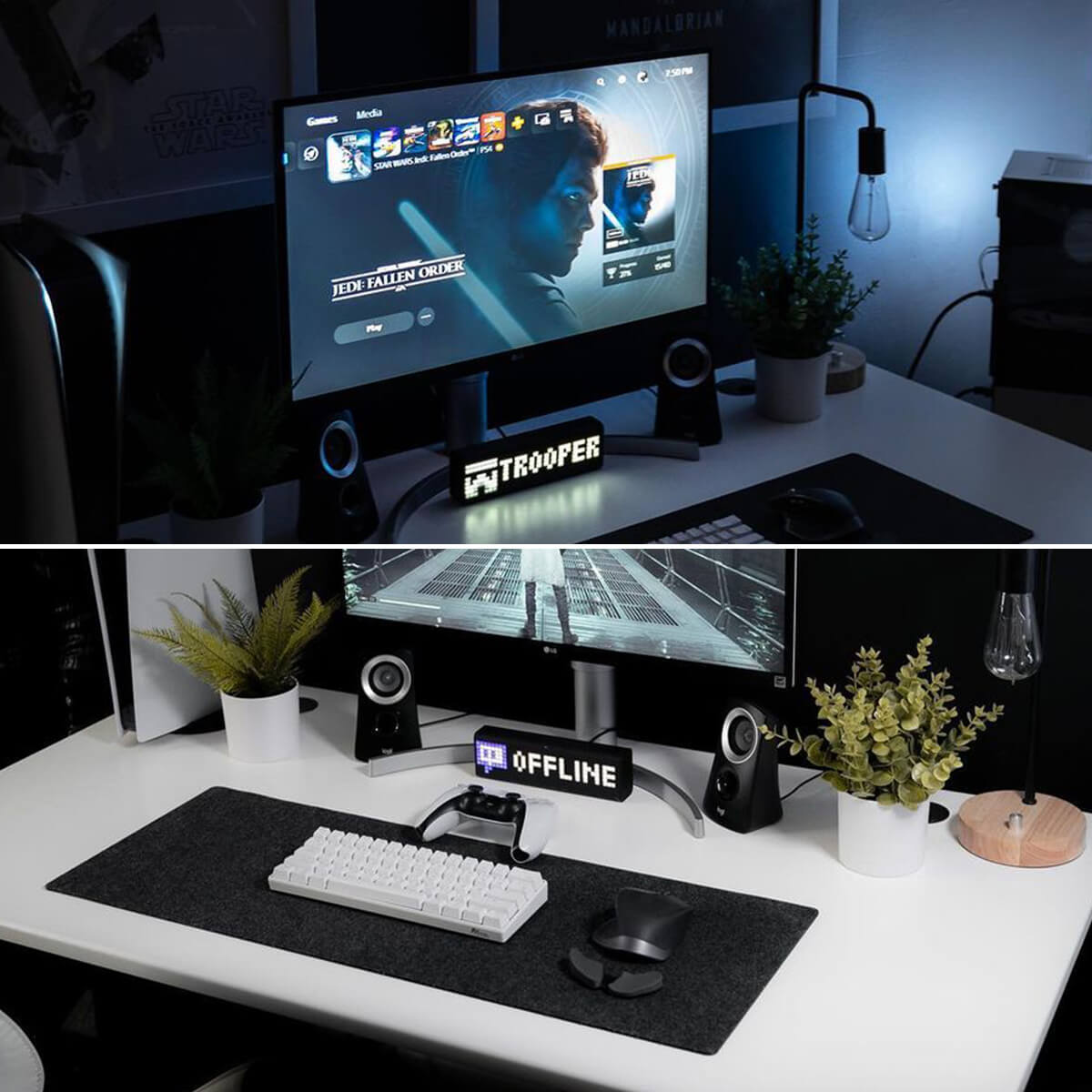 Images by @thespenceryan
Retro Desk Flip Clocks
Kick it old school with a retro-inspired mechanical flip clock. Even for a modern desk setup, flip clocks add that sense of personality and nostalgia your workspace may be craving.
Where to start: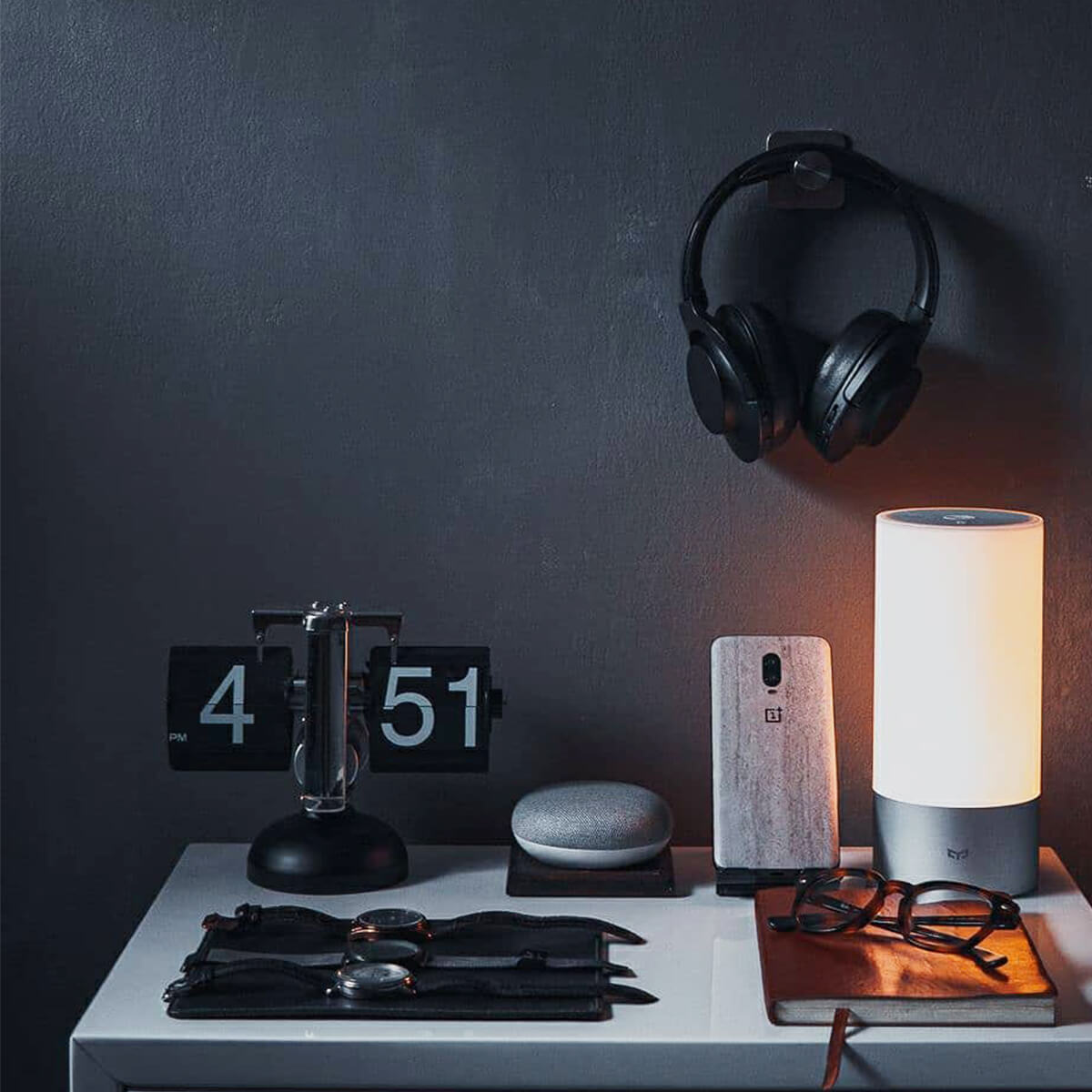 Image by @thericebucket
Mac Clock Screensavers
If you don't have enough room for a desk clock offline, bring one online with a minimal clock background screensaver.
Where to start: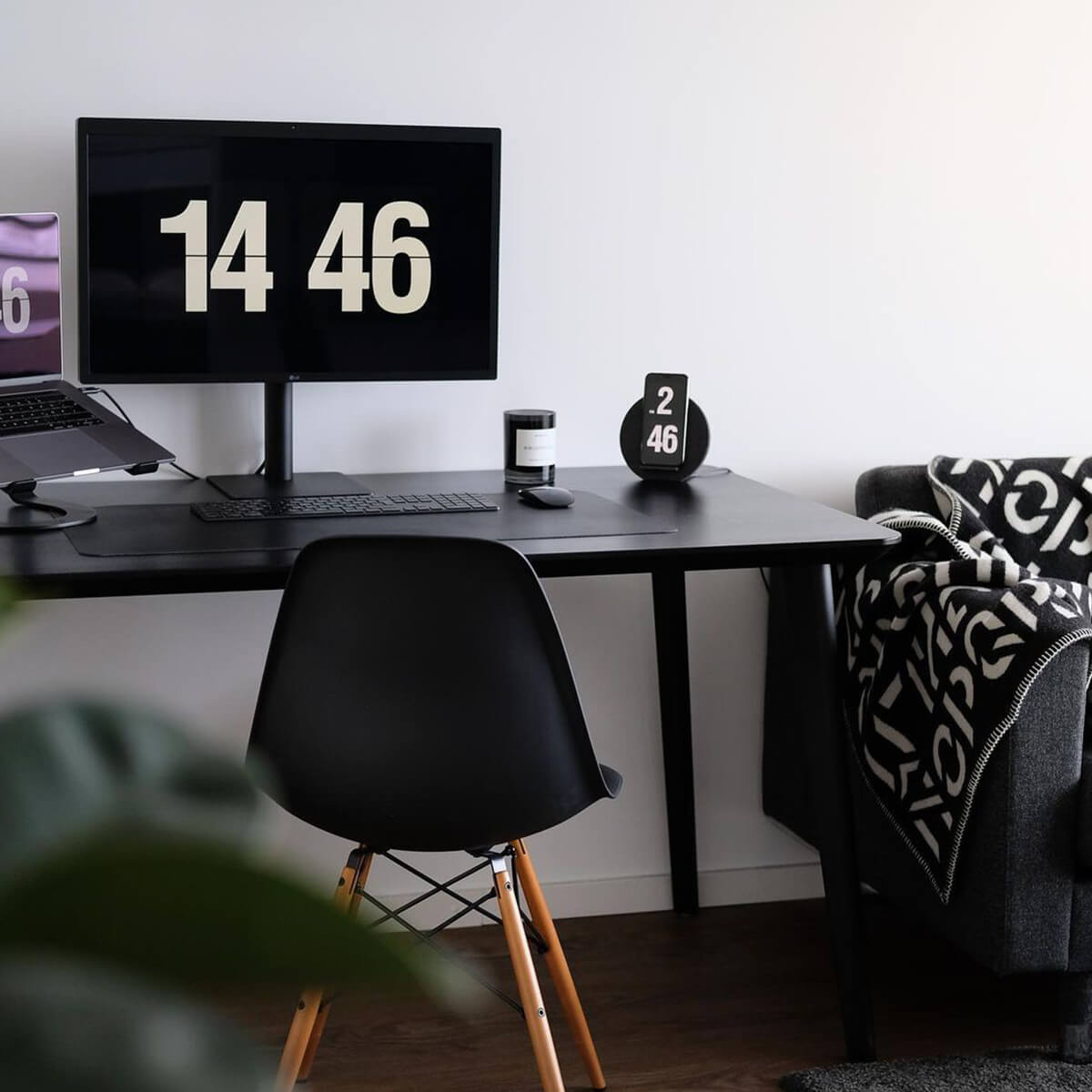 Image by @maxrusso.design
Bonus: Desk Timers & Countdown Clocks
While not actual time-telling clocks themselves, desk timers and countdown clocks are a noteworthy essential for staying on track. Popularized by Korean and Japanese #studywithme influencers, these timers are perfect whether you're a making use of the pomodoro technique for studying, or have deadlines to hit for work.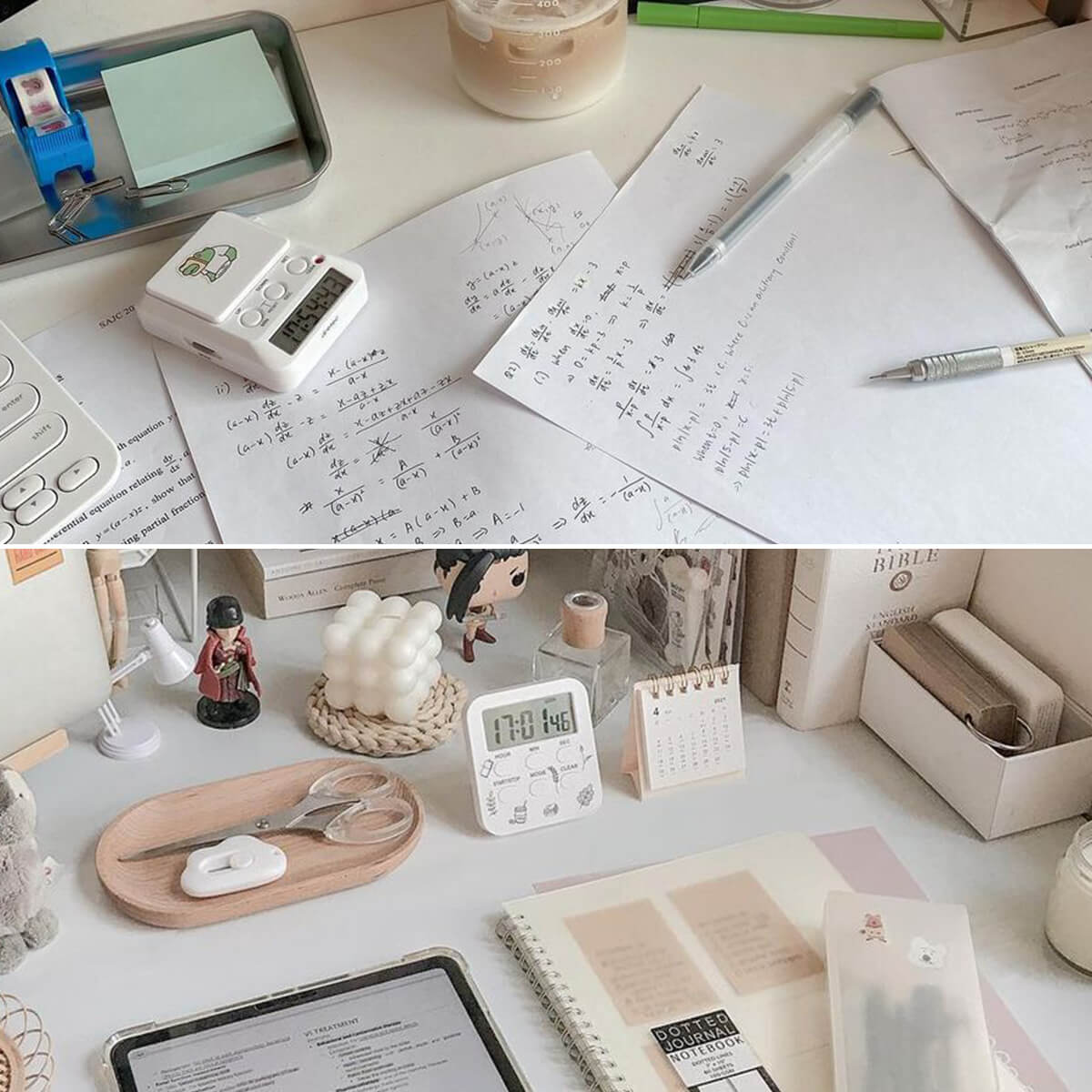 Images by @studytostudie and @anngyeom
Which style of desk clock is your favorite? Let us know in the comments below! If you've got a unique desk clock of your own you want to share, make sure to tag us at @desktours and @gridfiti on Instagram. For more workspace inspo, follow our home office ideas Pinterest board!
Gridfiti is supported by its audience – when you buy something using the retail links in our posts, we may earn a small commission at no additional cost to you. We only recommend products we would use ourselves and recommend to our friends and family. Read more about our affiliate disclaimer.