Capturing and editing real estate photography can create a make or break scenario in getting your home sold or rented. It all boils down to how they're captured, but more importantly, how the editing recreates the space in photos.
Getting the lighting, coloring, and even considering features like HDR can be tricky – so we've gathered a list of the best real estate presets to get you going!
Whether you're preparing photos for a home sale listing, Airbnb rental property, or you just want some beautiful photos of your home, check out our curated list with some of the best real estate presets for Lightroom!
Want more preset guides and tips? Check out our several other preset blog posts, and join our newsletter!
Real Estate Presets – Natural, HDR, Flash & More
Bring an all-encompassing look to your indoor and outdoor real estate photos with this preset pack that's meant to accommodate spaces of all kinds! The pack includes 11 professional presets developed with the creator's years of experience with real estate photography. They're designed to work with natural light, HDR, and flash photos – just be sure to capture those photos at wide focal lengths and use lens correction when editing!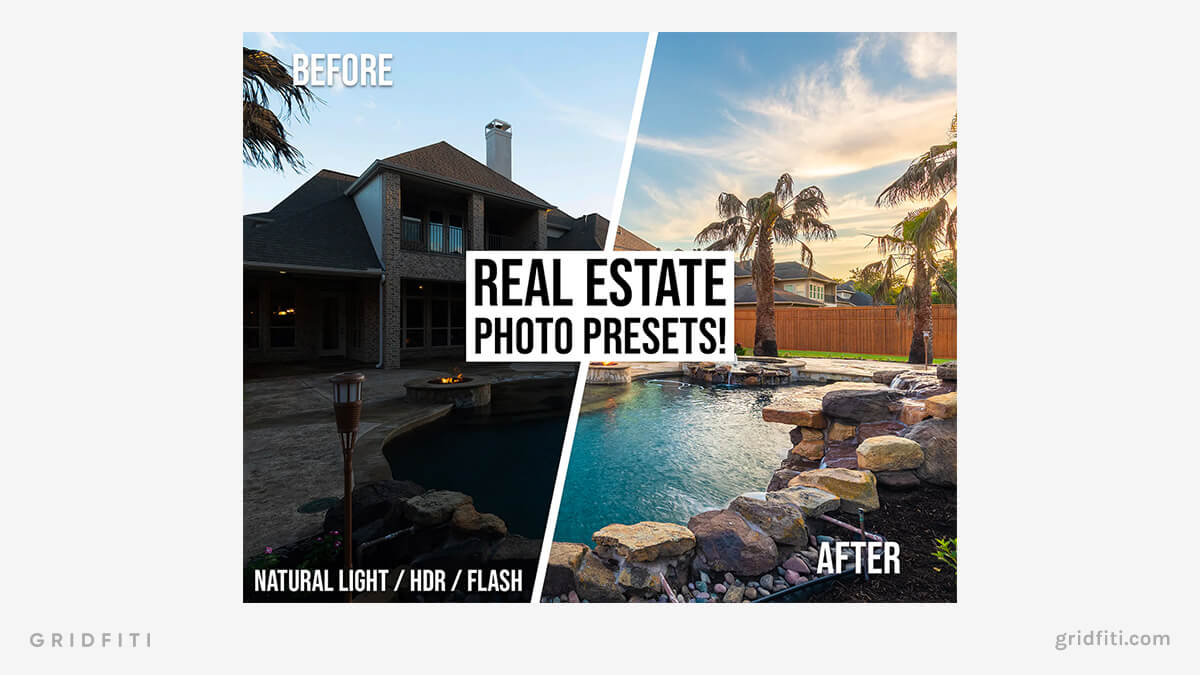 Real Estate Presets for Airbnb & Home Decor
There's definitely a distinctive 'Airbnb look' when you browse the platform – and thanks to presets, you can bring that look to your listing photos! This Airbnb-focused real estate preset pack comes with 8 presets for desktop and mobile and its focus is to elevate your Airbnb listing photos. There's certainly a light airiness to the edits – making your interior look clean and spacious. The preset also applies beautiful tones to enhance features and details like wood floors, plants, artwork, and more. Give it a try with your next Airbnb listing!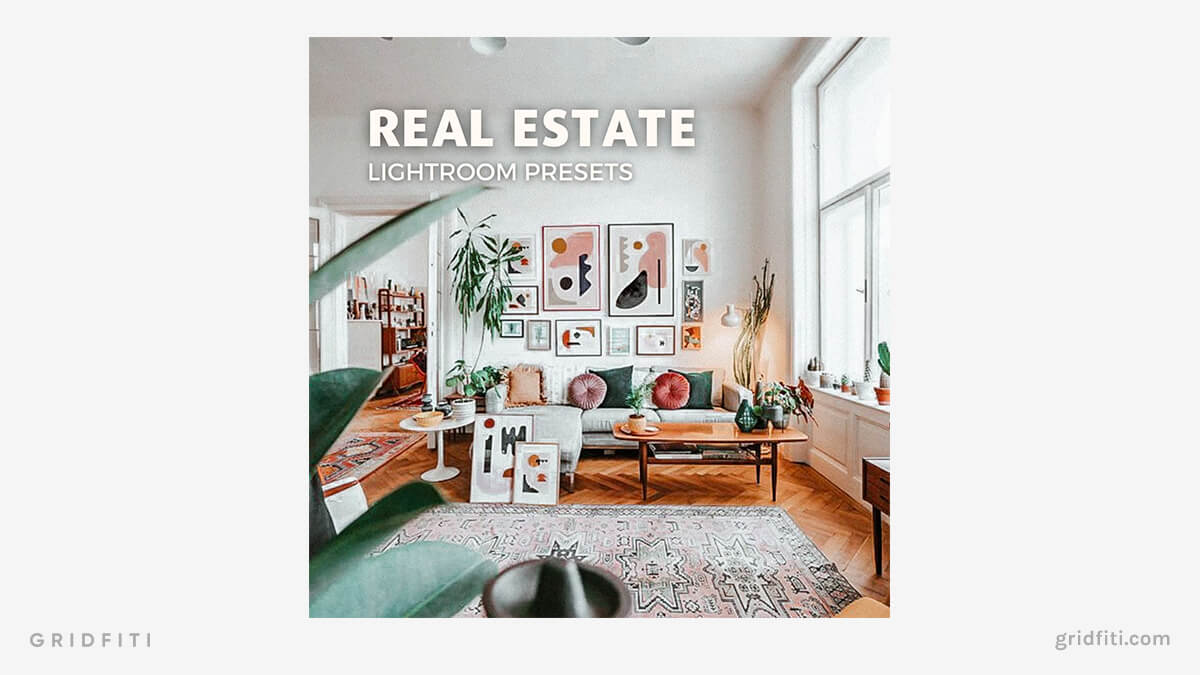 Premium Real Estate Presets
Use these three simple presets for desktop and mobile to give your real estate photos a premium look! The aim of these presets is to be a quick solution to your real estate photo editing, with a focus on interior shots. This preset enhances earthy textures and tones like browns, beiges, and more – as well as provides a nice amount of contrast.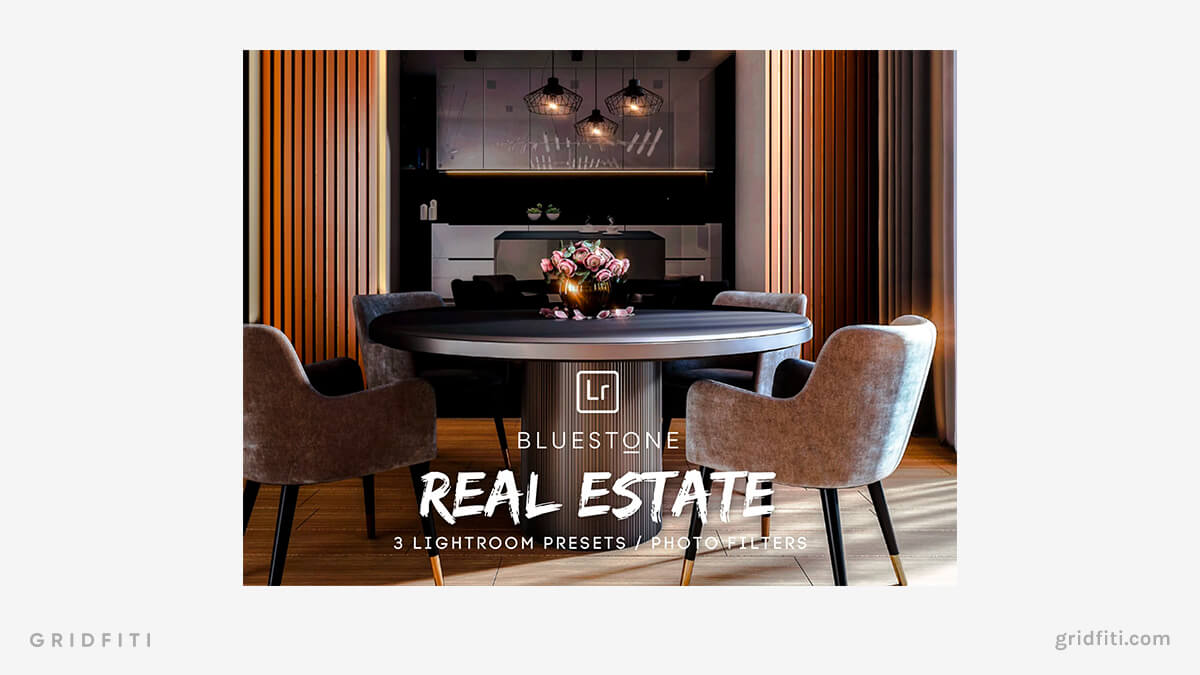 Airbnb Stay Presets
These 15 presets for desktop and Lightroom will bring a clean and calming aesthetic to your Airbnb photos. The goal of these presets are to brighten, sharpen, and enhance the colors of your listing. There's even a specific 'window view' preset that will balance out the exposure of very bright window views with the darker interior exposure. Give these presets a try with your Airbnb listing shots!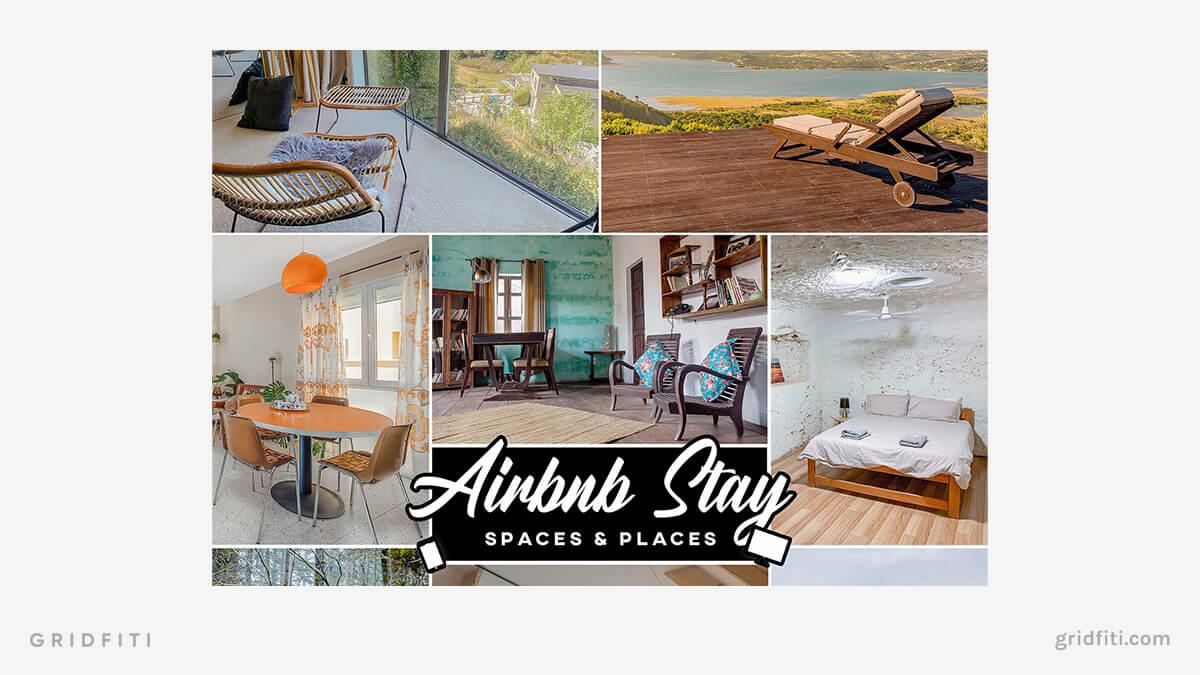 Real Estate Interior Presets
Elevate your interior real estate photos with this 10 preset pack for desktop and mobile. Your interior shots will look bright and clean, with a mix of saturation adjustments that bring out the best of your interior decor, making the colors richer and the lines clearer. Give it a try with your interior photos!
Looking for more interior photo editing options? Check out our list of some of the best interior and indoor Lightroom presets!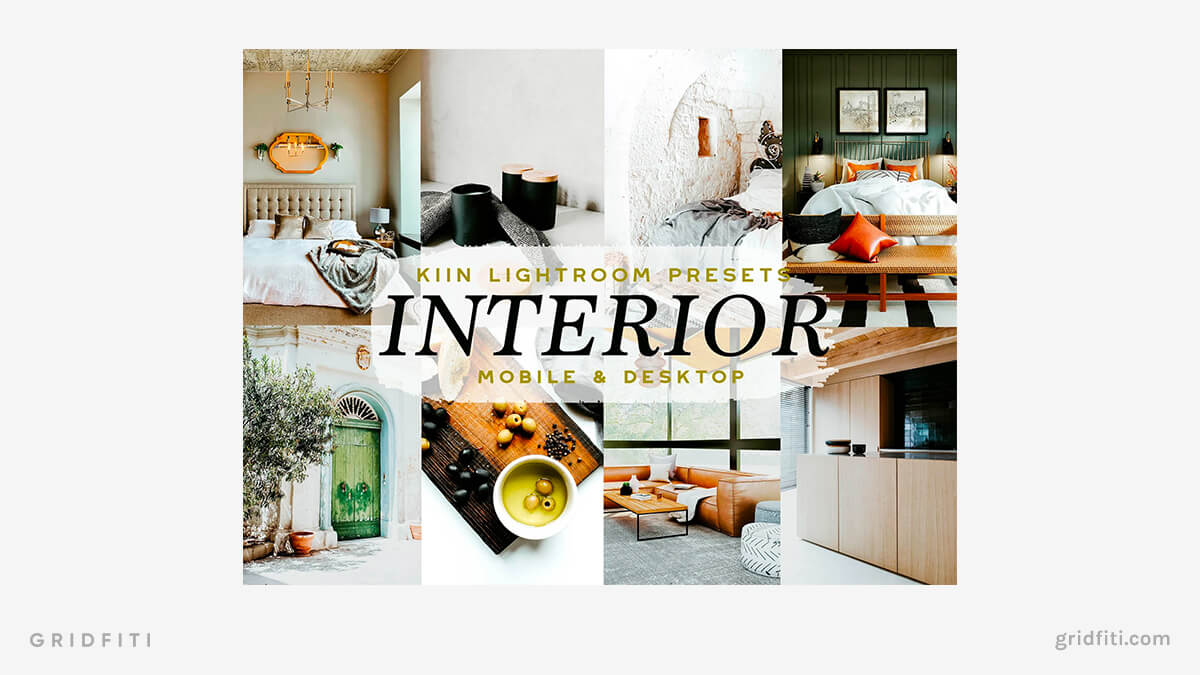 Real Estate Exterior Presets
Enhance the look of your exterior real estate photos with this pack of 10 presets for desktop and mobile! The color grading will saturate colors often found in the exterior of your home like greens, blues, whites, and browns. The presets work to give a subtle HDR effect – making the foreground and background elements all exposed properly. Give these presets a try with your exterior real estate shots.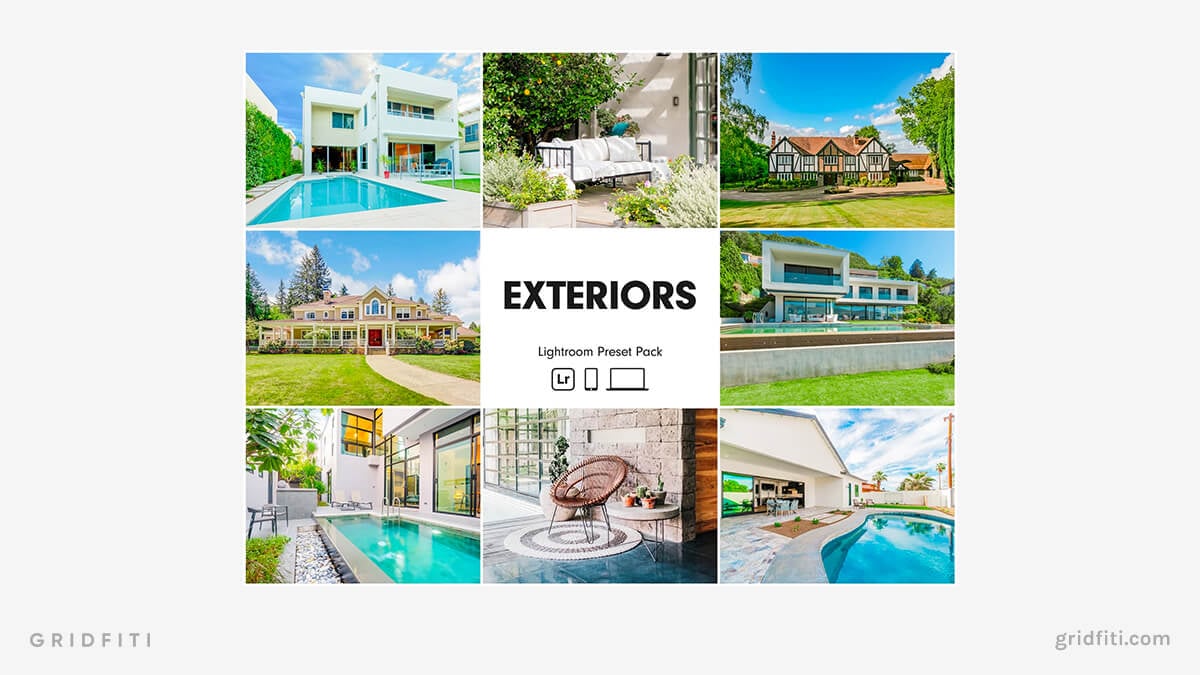 HDR Real Estate Preset Pack
Take your exterior real estate photos up a notch with this jam-packed 40 preset pack! It also comes with 10 custom Lightroom brushes to perfectly tweak your real estate edits. The edits include a perfect balance of highlights with shadows, and a vibrant color grade making for a perfect HDR look to suit all real estate photo needs!
Looking for an HDR look for your other photos? Check out our round-up of HDR Lightroom presets.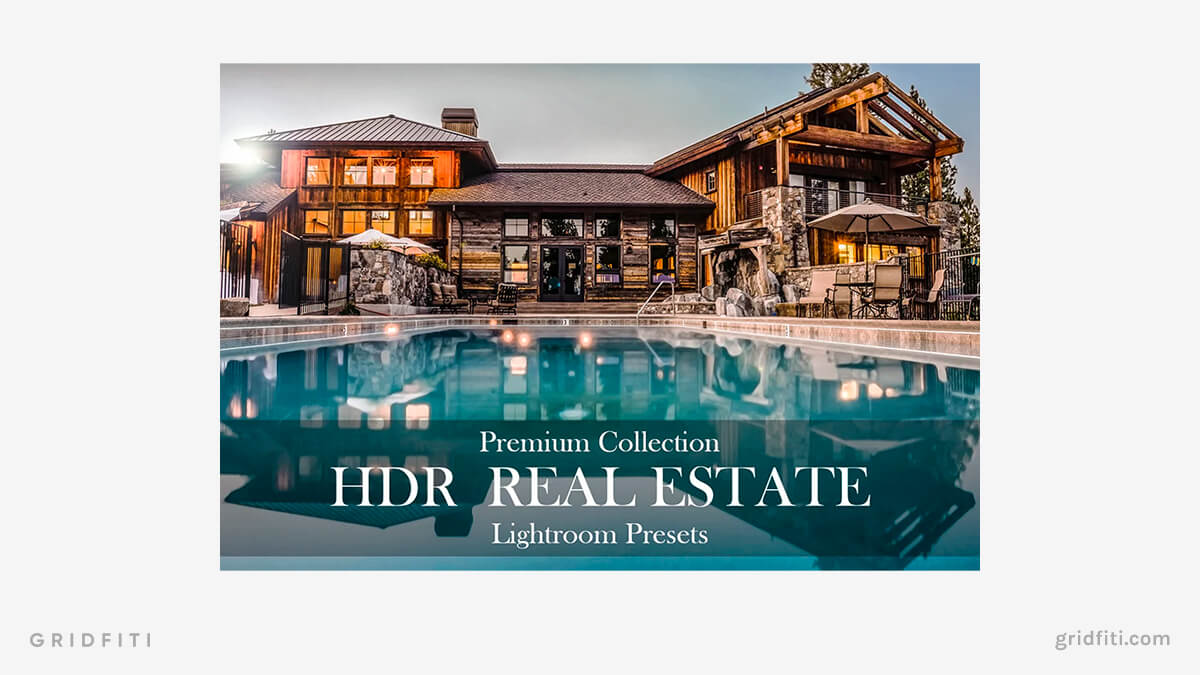 Premium Interior Photography Presets
Get your interior photos in your real estate listing to pop with this pack of 40 Lightroom presets for desktop! The set is designed to accommodate interiors of all kinds, from living spaces, to kitchens, to bedrooms. Choose from the expansive set of presets to accommodate the look of your space for all sorts of lighting, colors, and textures you find in interior photos.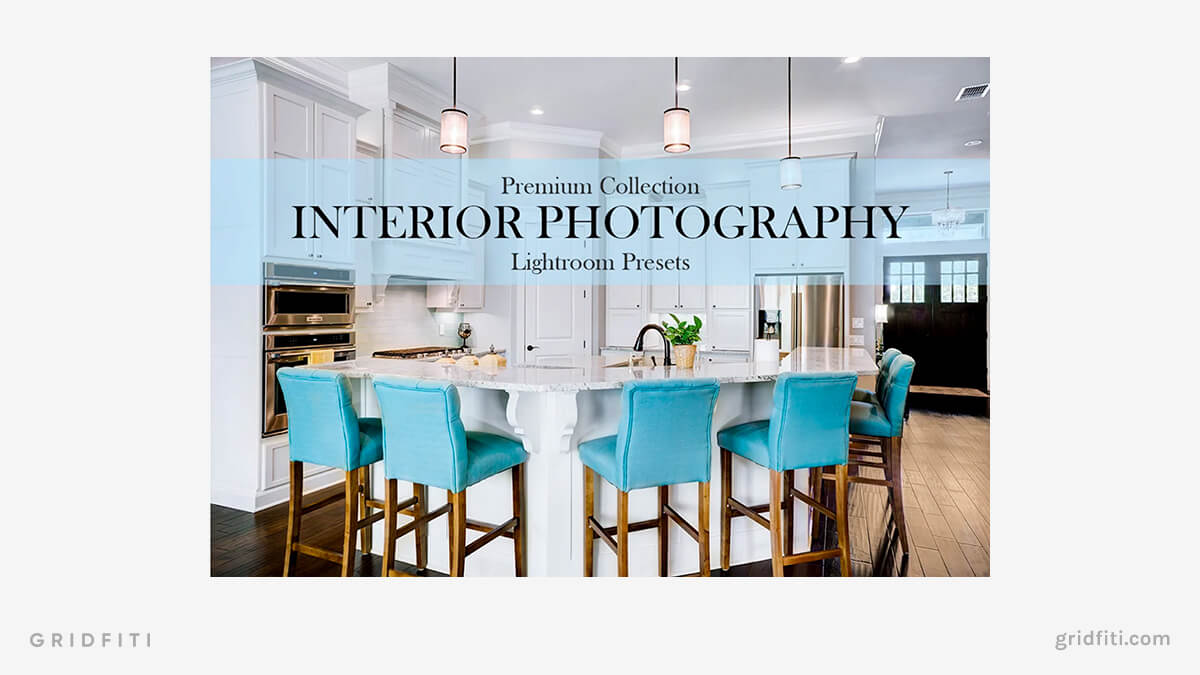 Cozy Interior Presets
Bring a sense of warmth and coziness to your interior shots with 40 of these presets for desktop. The color grading in these edits work best with wood and rock textures – think the browns, grays, and golds you'd find within these materials. They're perfect for cottages, wooden decor, or anything interior photo you want to look warm and cozy!
Looking for cozy presets for the cottage? Don't miss our list of cottagecore Lightroom presets.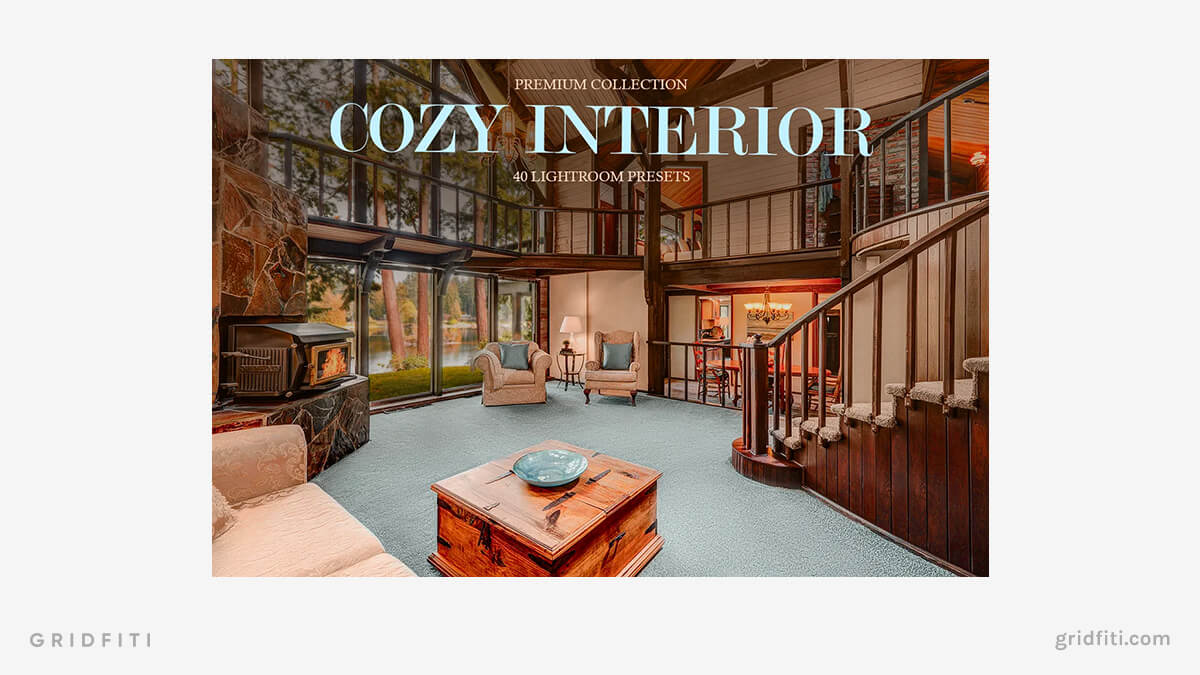 Light & Airy Real Estate Presets
Mute your tones and add a light and airy look with this pack of 12 studio level presets! These presets are designed to create a bright, simple, and minimalist look with your interior shots. They work best in environments that are already quite bright and contain lots of neutral colors in them. Use these presets to create a cohesive look in your interior shots!
Want the light and airy aesthetic with your non-real estate photos too? Check out our full post for some of the best light and airy Lightroom presets!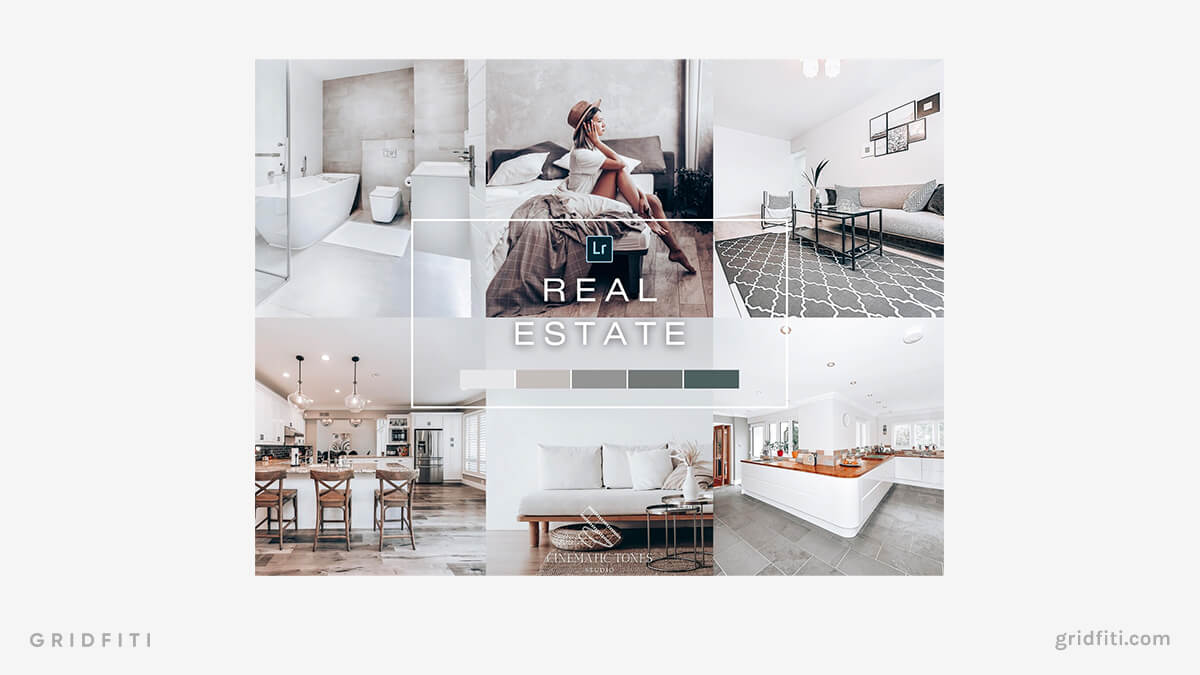 Free Real Estate Presets
Not sure which presets to start with? Try out some of these free Real Estate presets to test the waters before grabbing a premium preset pack!
Free Highlight Real Estate Preset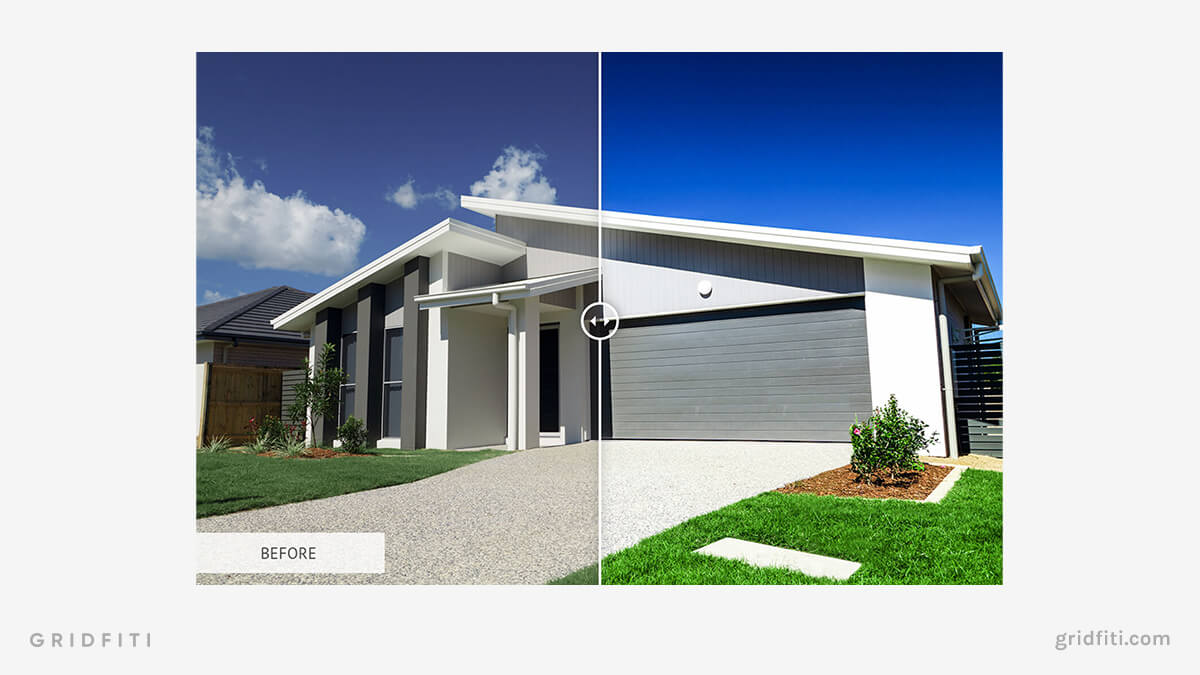 Free Contrast Real Estate Preset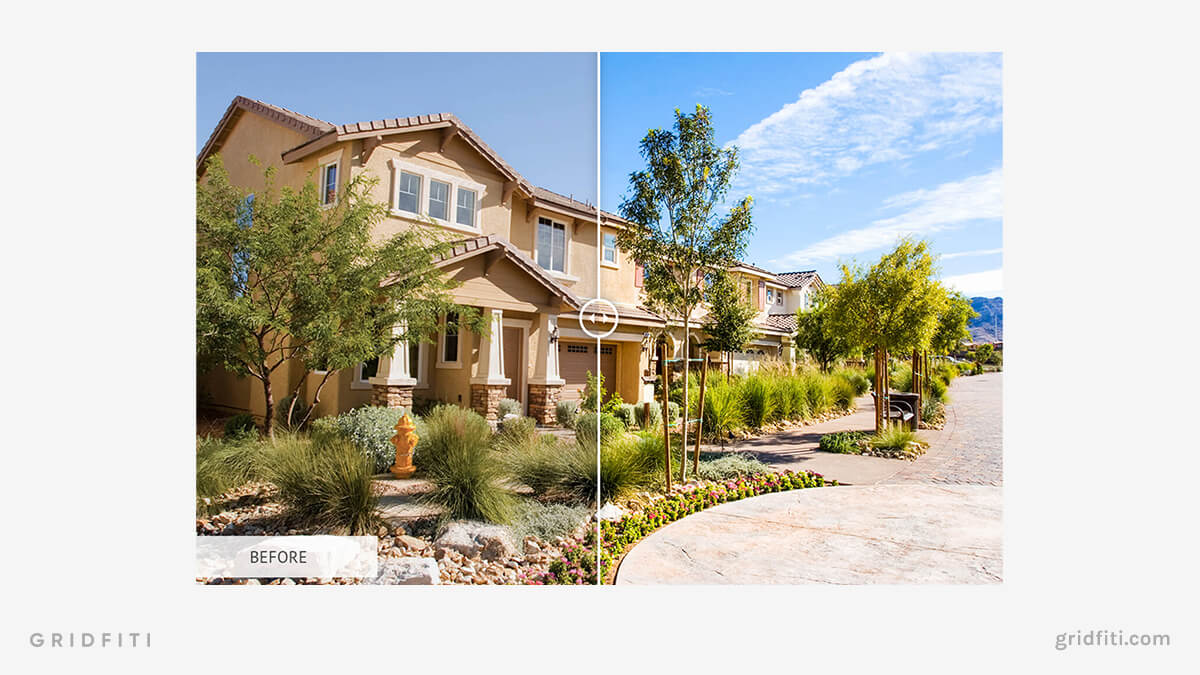 Free HDR Real Estate Preset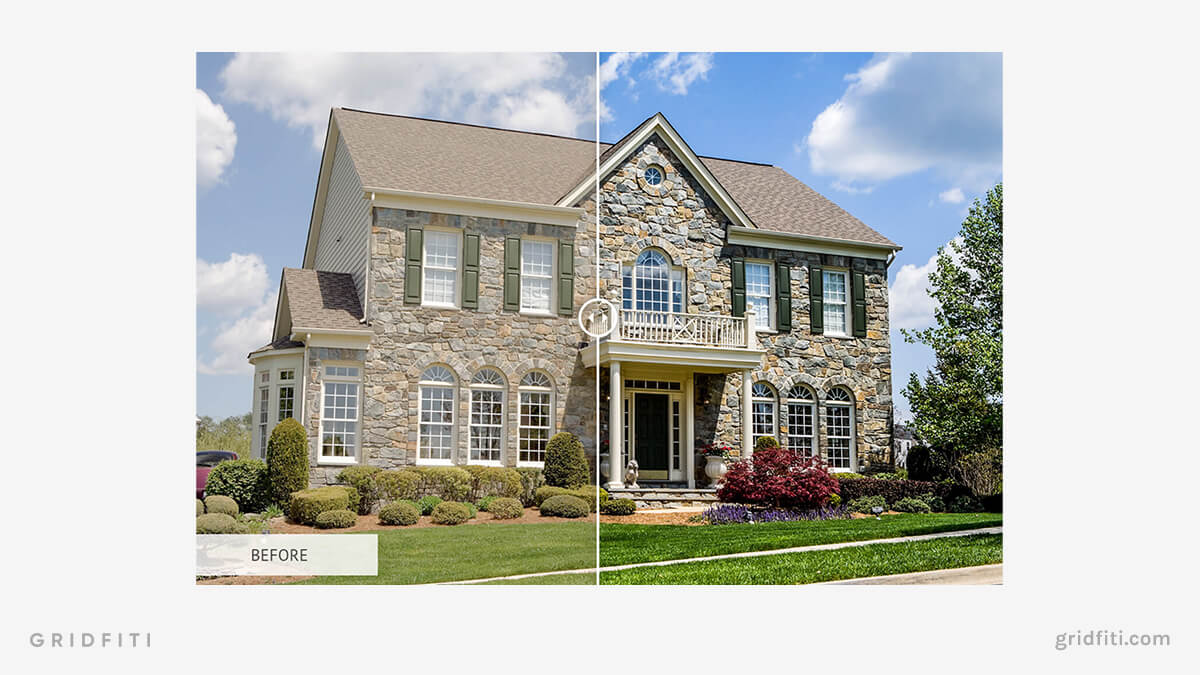 Free Soft Indoor Preset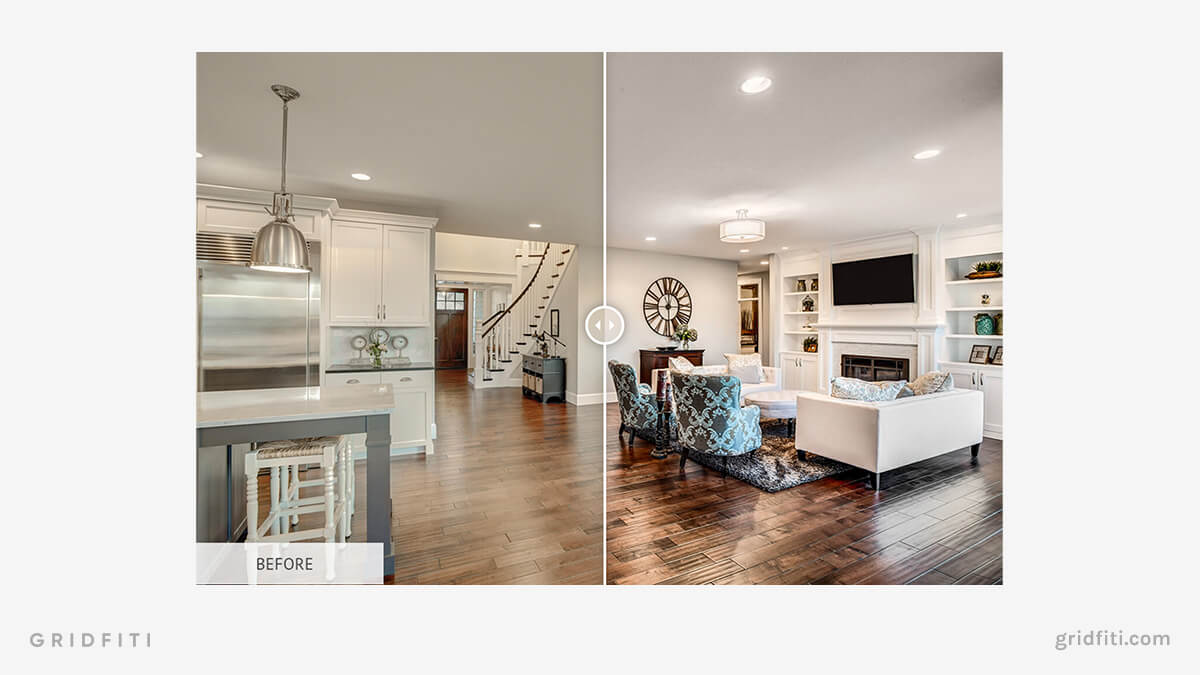 Free HDR Medium Preset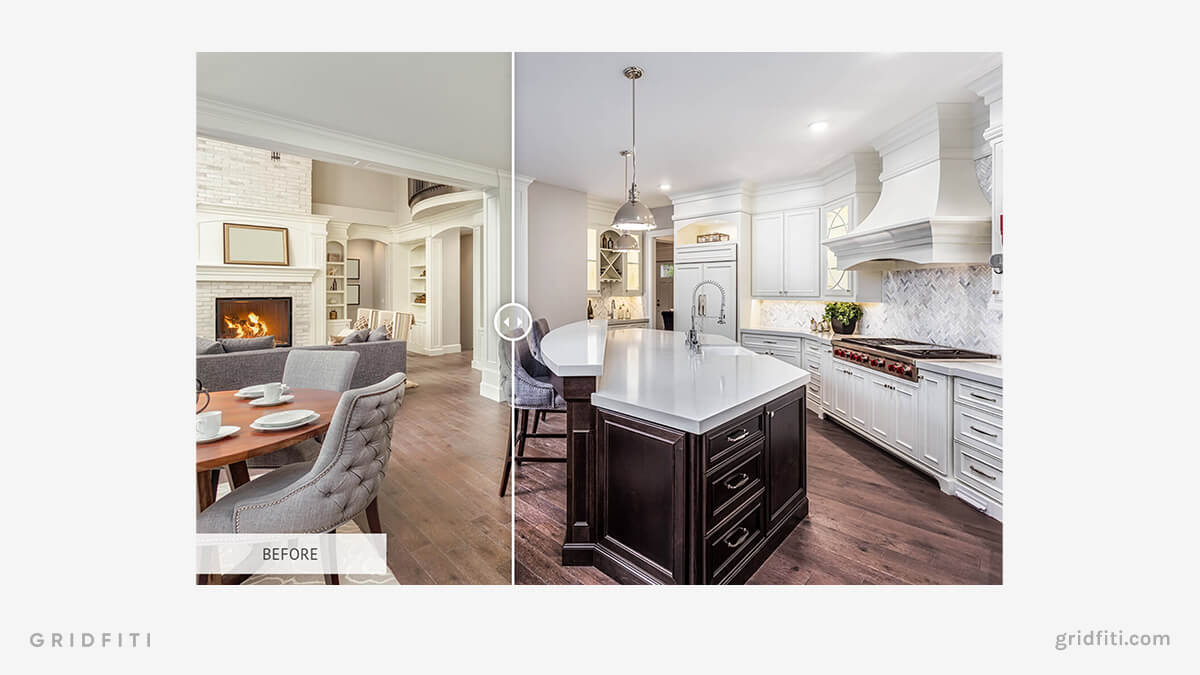 Which one of these preset packs will you use with your real estate photos? Are there any you think we're missing? Let us know in the comments below!
Gridfiti is supported by its audience – when you buy something using the retail links in our posts, we may earn a small commission at no additional cost to you. Read more about our affiliate disclaimer.