From longtime ecommerce veterans, to those who are just starting out – producing your products and getting them out in front of your customers is one thing, but making sure they're photographed and edited properly is another!
There are many things to take into account: do you want your photos taken on a white backdrop or in a dark setting? Do you want pops of color or something minimal and soft? No matter the case, product photography presets can help you add that extra 'oomph' to make your product photos stand out! Check out our picks for the best product photo presets to get started.
Want more preset guides and tips? Check out our several other preset blog posts, and join our newsletter!
Photo Product Presets
Need a pop of saturation with your highlights and contrast in check? Try out these Photo Product presets! Perfect for photos of your products whether they're against a white or neutral backdrop, or if they're among props, decor, and more. These presets add a pop of color with a slightly faded treatment. It's just a matter of applying which preset works best, adjusting it to your liking, and then get to selling those products!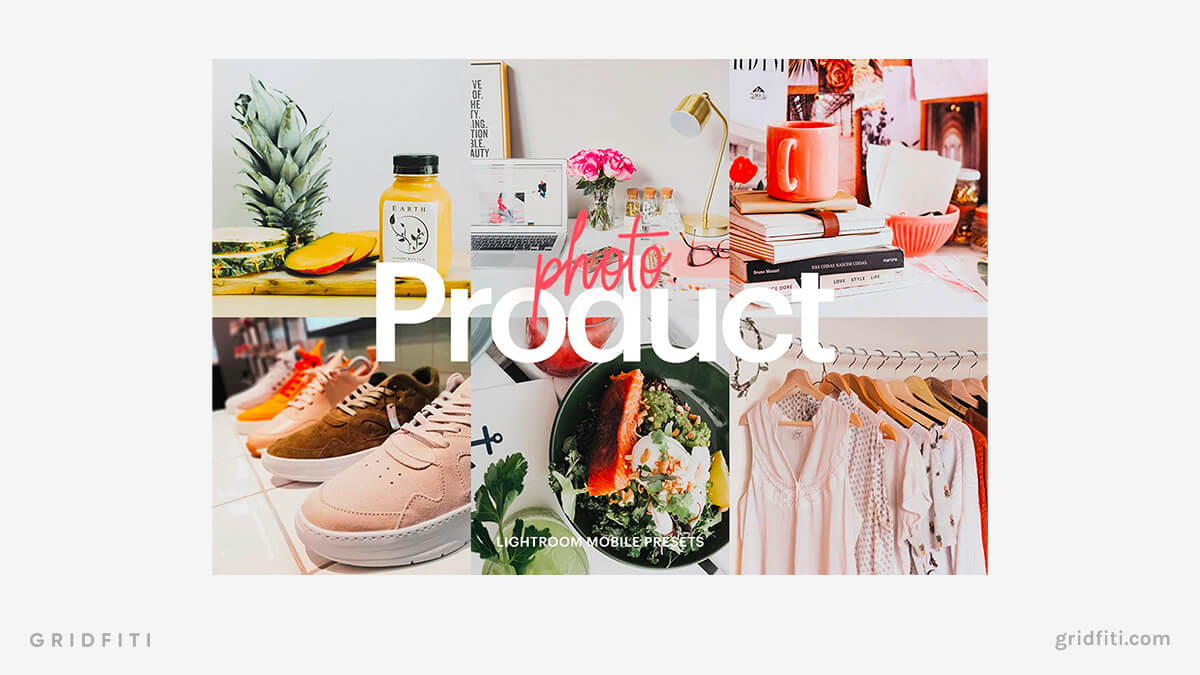 Vibrant Product Photo Presets
You want vibrancy? We've got the preset pack just for you! Check out these vibrant product photo presets that take the colors of your photos and turn them up a notch! The vibrancy is increased but tastefully so it's not overdone. Some photos may experience overbearing saturation, so just make sure you play with the saturation and vibrancy meters in Lightroom to get your photos just right. Use it on photos of outfits, shoes, or anything that contains lots of colors!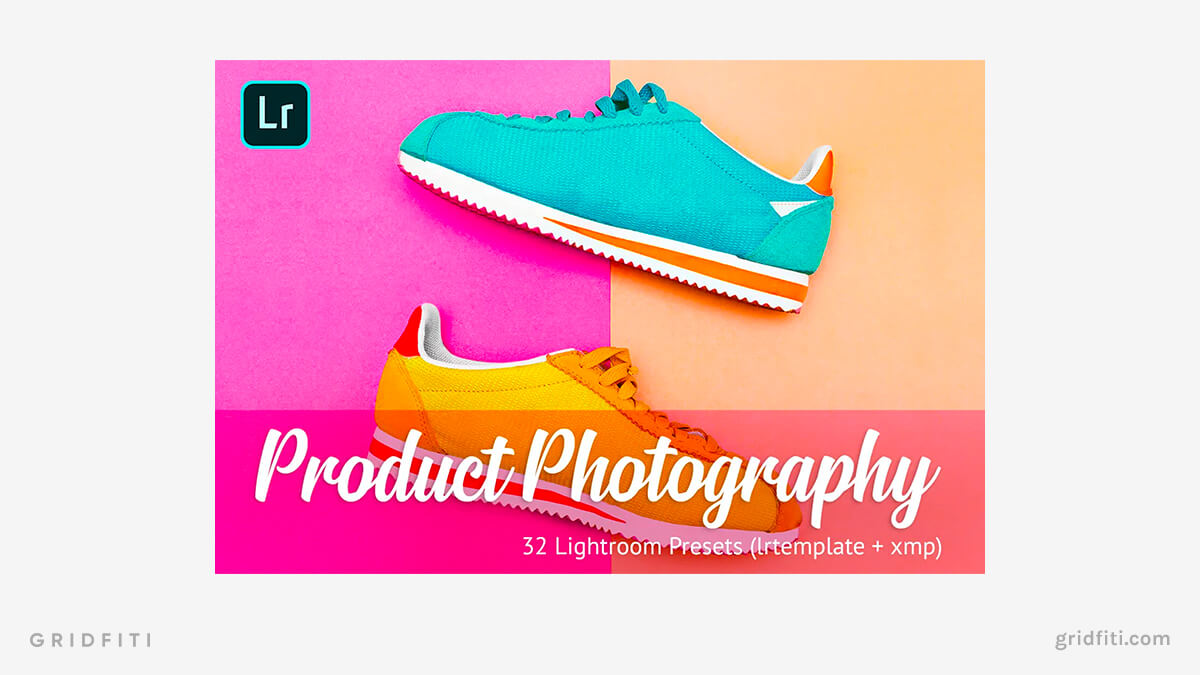 Light & Airy Product Photos
Like the light and airy look? Why not add it to your product photos? These product photo presets aim to increase the brightness in your photos with a soft airiness to it. There's a hint of warmth added, but you can adjust this temperature to be cooler if you please. These presets are perfect for photos of dark or warm products taken against white backdrops or in bright white environments. The look of minimalism and calm is created effortlessly with your products!
For more options like these, check out our full round-up of light and airy Lightroom presets!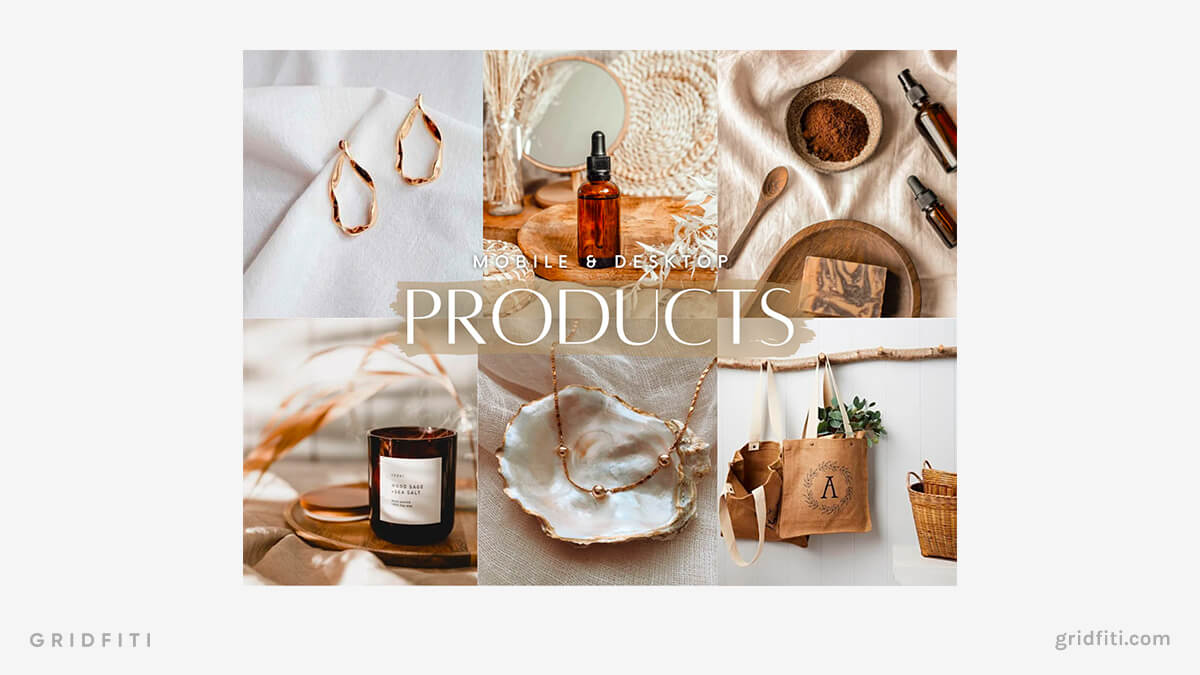 White Background Presets
Of course, you'll have a few product photos taken on white backgrounds, so use a preset pack that caters to exactly that. These presets are designed to bring out the colors and details of your products while being captured in a bright setting on a white backdrop. It's as simple as that! Sharpness, lighting, shadows, and contrast are all balanced well – try these out with your product photos!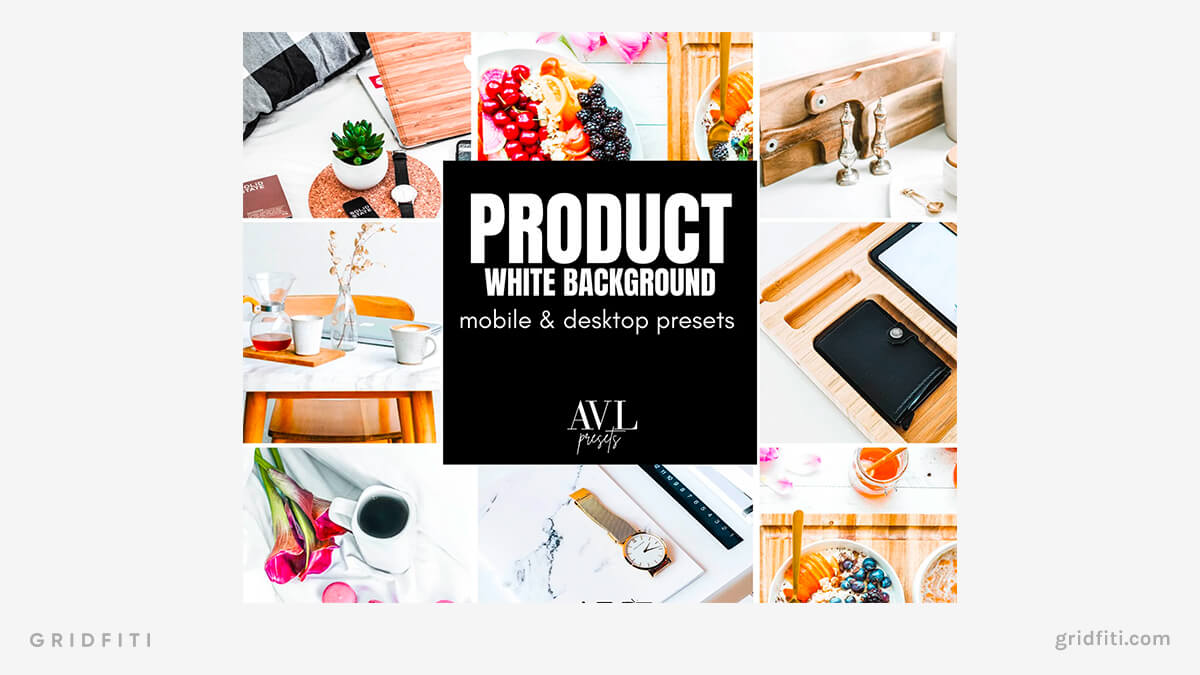 Dark Product Photo Presets
While most presets focus on being bright, these presets focus on making your photos dark. Try out the dark and moody aesthetic with your product photos. The idea here is to capture your photos next to dark tones, or in darker lighting and create a sophisticated, sleek look with rich blacks and complementary tones. These presets work with products that are darker colored in nature – they don't need to be only black; dark reds, browns, blues, or even silver and bronze tones look great!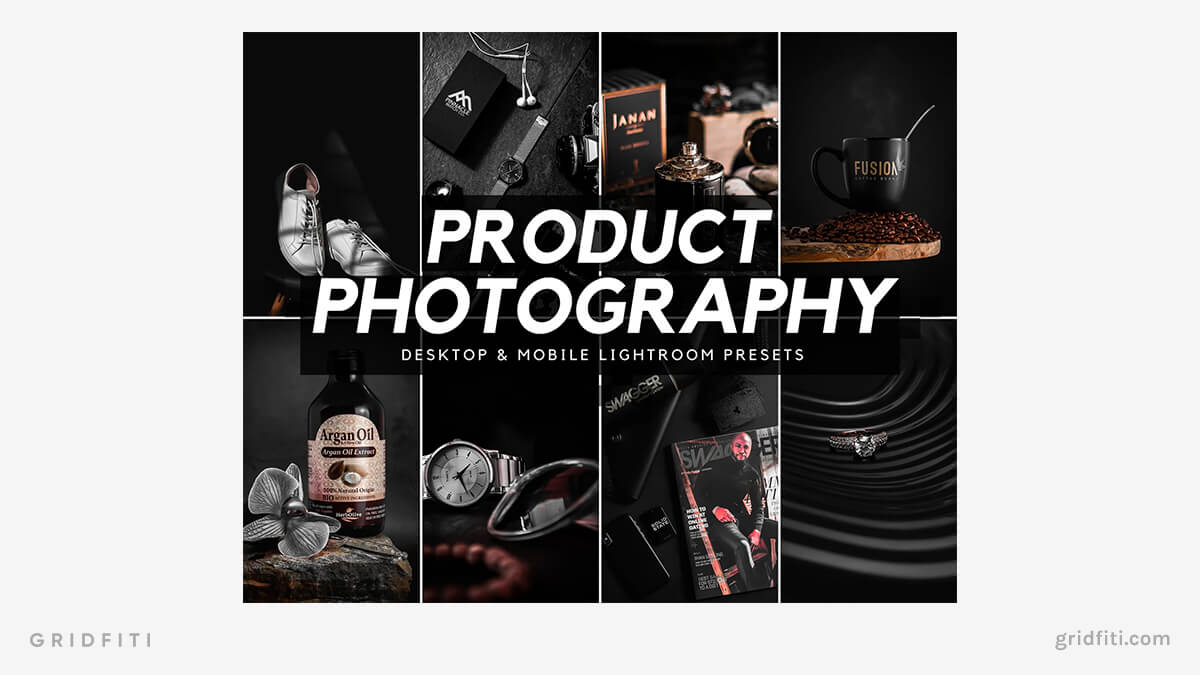 Colorful Product Presets
If your products are colorful and you want them to be captured and edited beautifully against colorful backdrops, then this is the product photo preset pack for you. A simple and clean approach to editing colorful product photos, these presets balance out the tones so your products are not lost in the saturation – there's a respect for lighting and shadows that have the photos feeling colorful yet true-to-life. Use them on your product photos!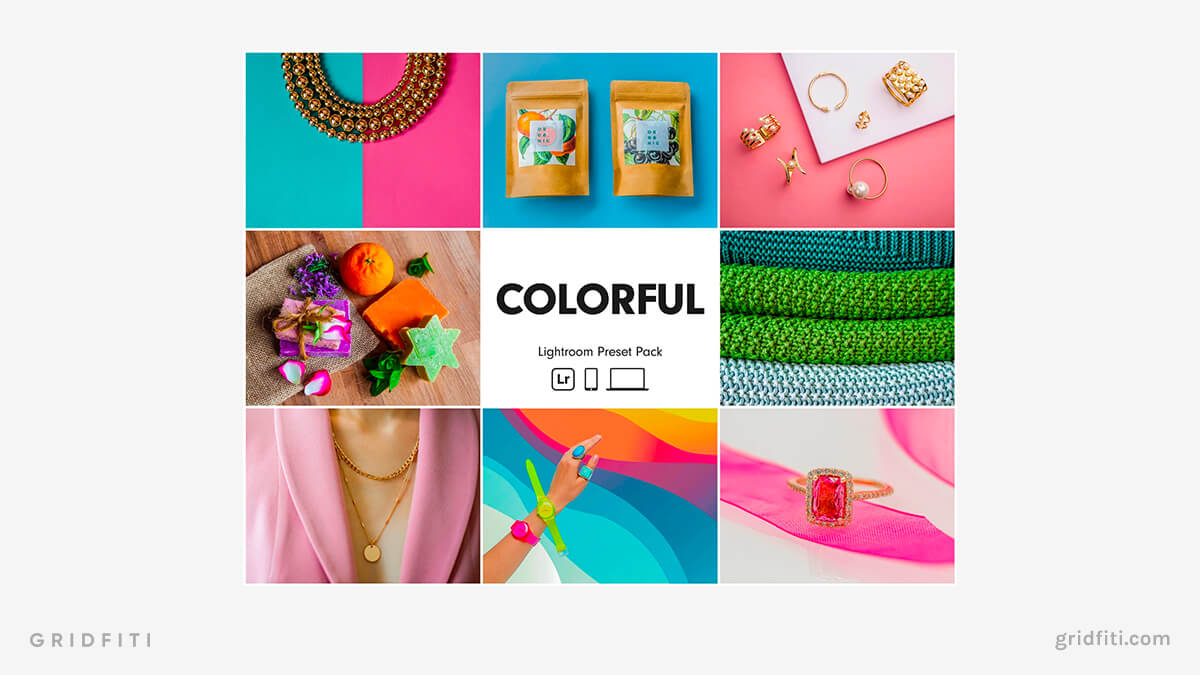 Warm Product Photo Presets
Add some wam and rustic vibes to your product photos. These presets are perfect for products that you'd want around a nice and warm living room or a cozy cottage setting. From candles to sweaters to bronze and gold decor – the theme of these edits is to make warm tones the center of the photos while brightening up the photo with some soft texture treatments. Try it out on your product pics!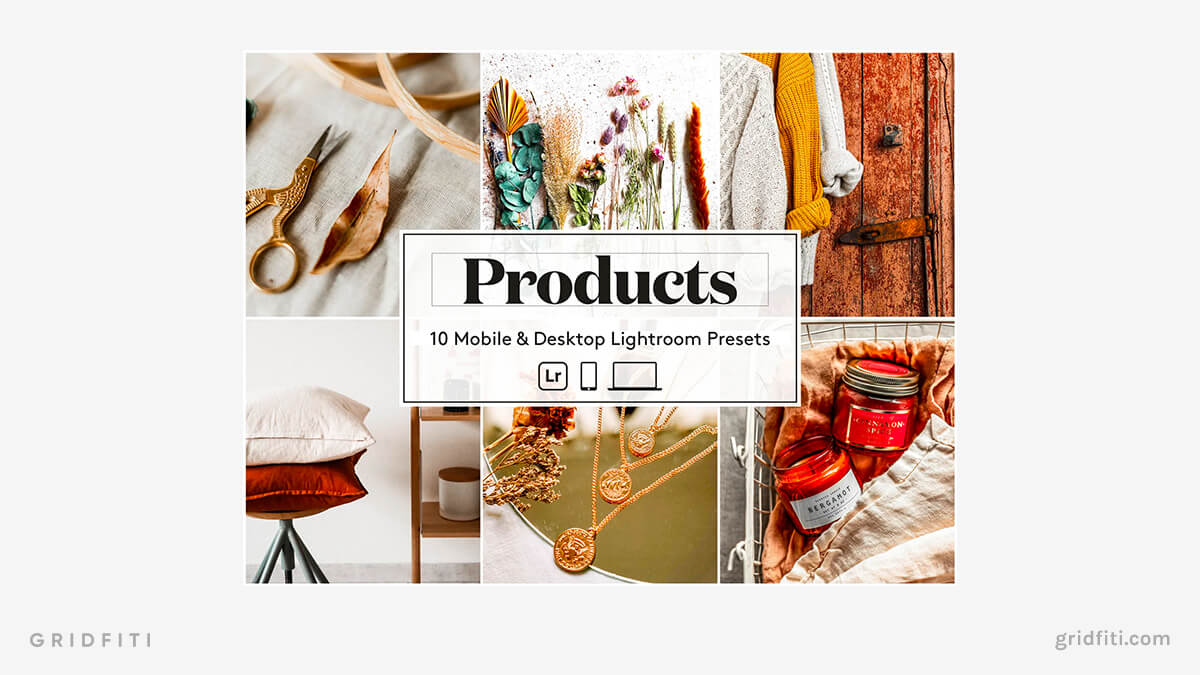 Flatlay Product Presets
You can't have a product photoshoot without a few flatlay photos! Check out these flatlay product photo presets to achieve just that. These presets offer a bright yet contrasted treatment to your photos. The sharpness is increased so you can see the finer details, but the photos feel soft and calming overall. Make your products the focus in flatlays with these presets!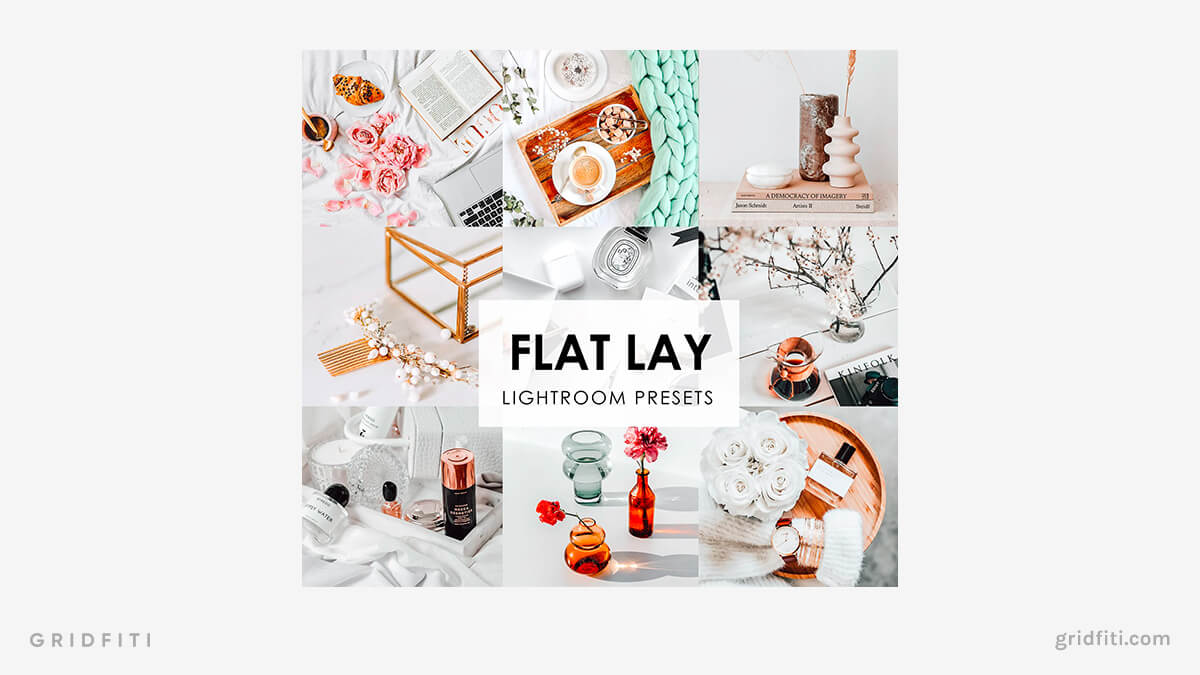 Poppy Product Presets
Give your product photos a pop with these Lightroom presets! These edits differ in the way that they're bright with a hint of vibrancy, but also retain a soft pastel look. They're great with photos containing light pinks, blues, yellows, or greens. Get a feeling of calmness with these product presets applied to your photos!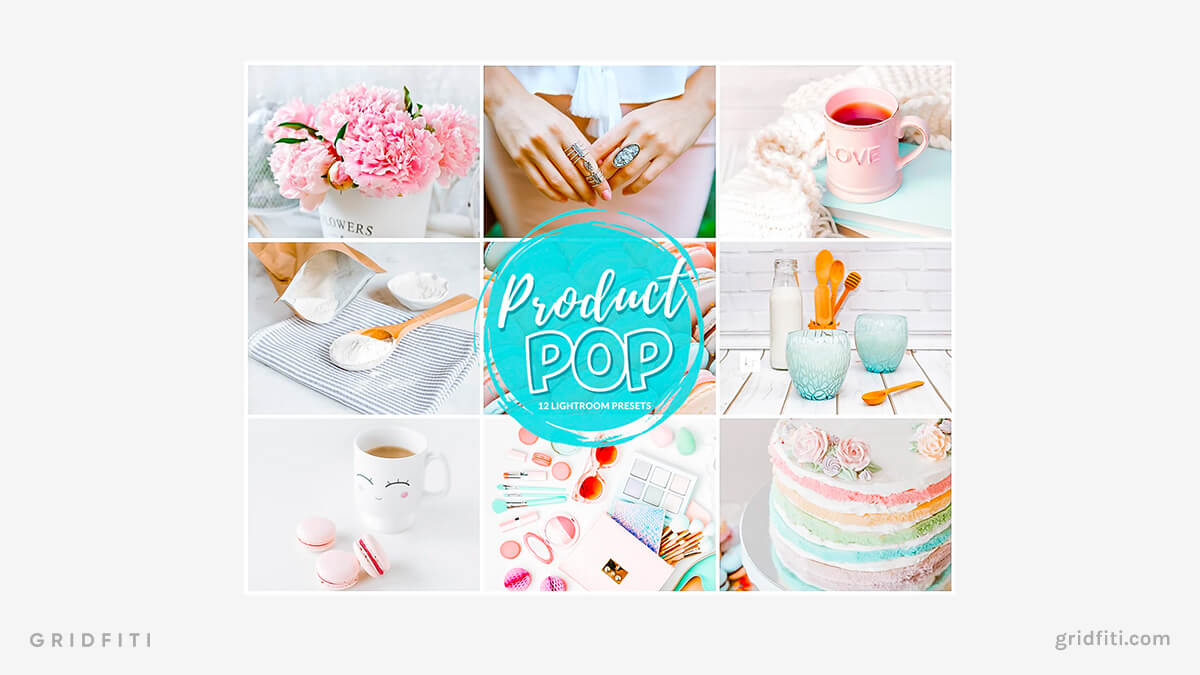 Grey Neutral Product Presets
Bring a grey and neutral look to your product photos! These grey product presets work perfectly with products that are neutral-toned. This can range from greys to whites to beiges. The editing style desaturates the tones a bit while adding warmth to the oranges and yellows. Use it on photos of minimalist pottery, beige outfits, concrete decor, and everything in between.
Check out our full list of grey Lightroom presets for more presets in this realm.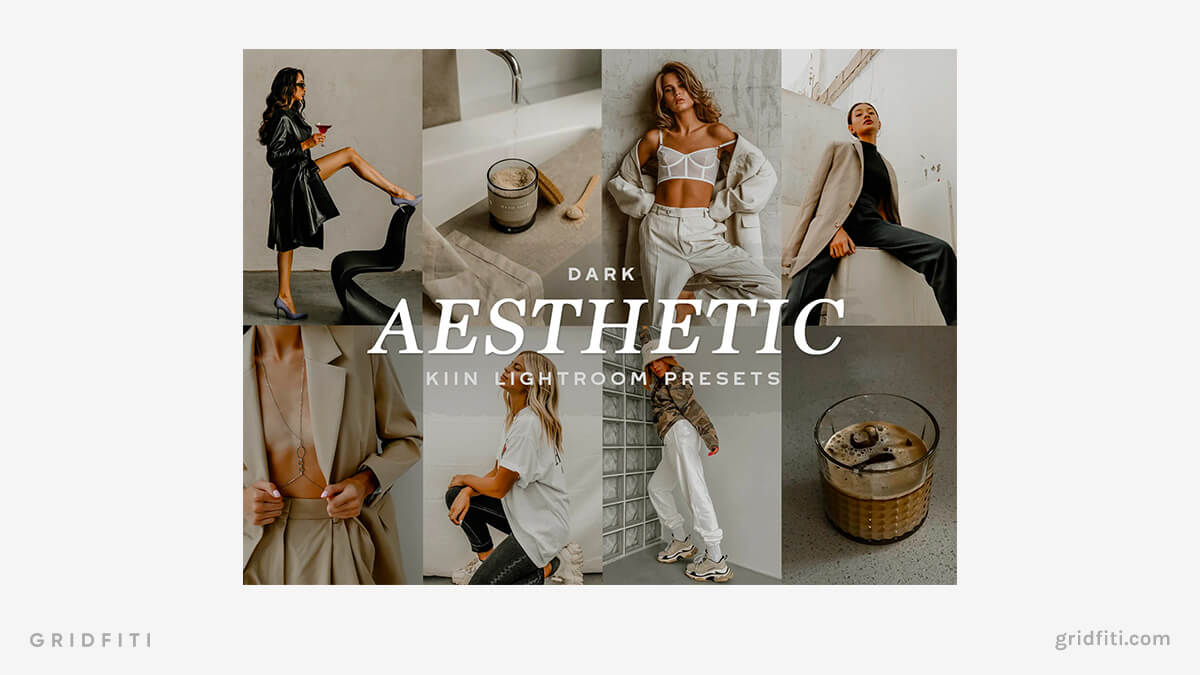 Free Product Presets
Wanna try out your product photo editing without reaching into your wallet? Check out a few of these free product preset options to test out the waters!
Free Matte Product Presets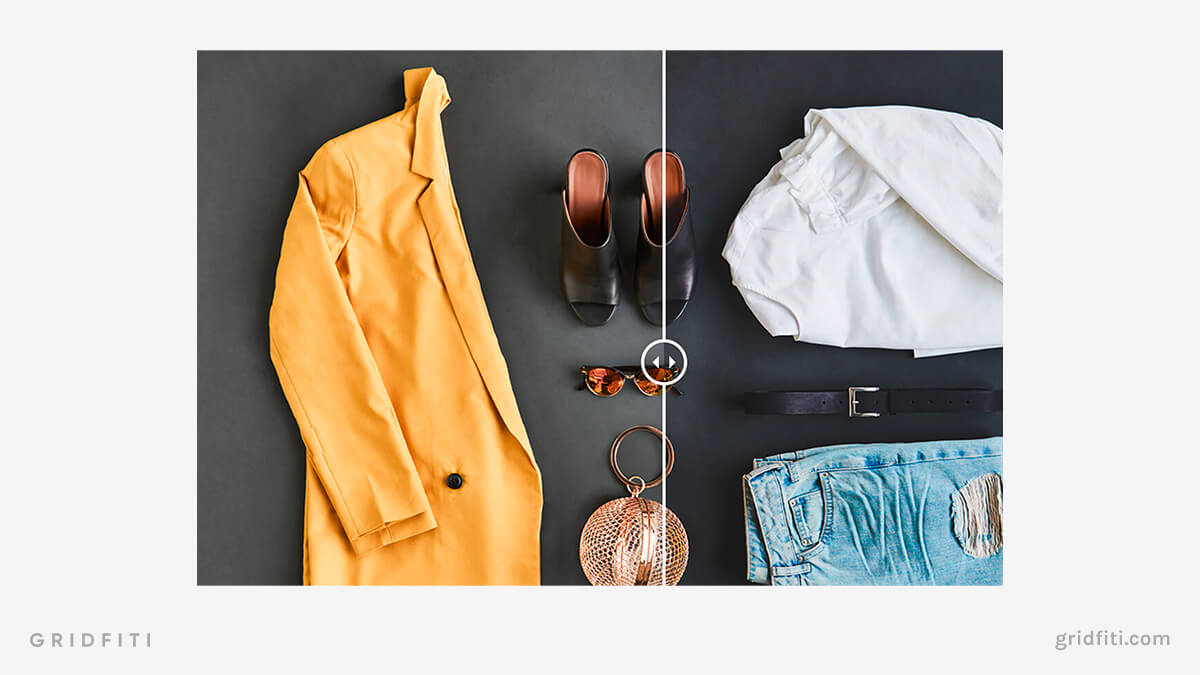 Free Lighten Product Preset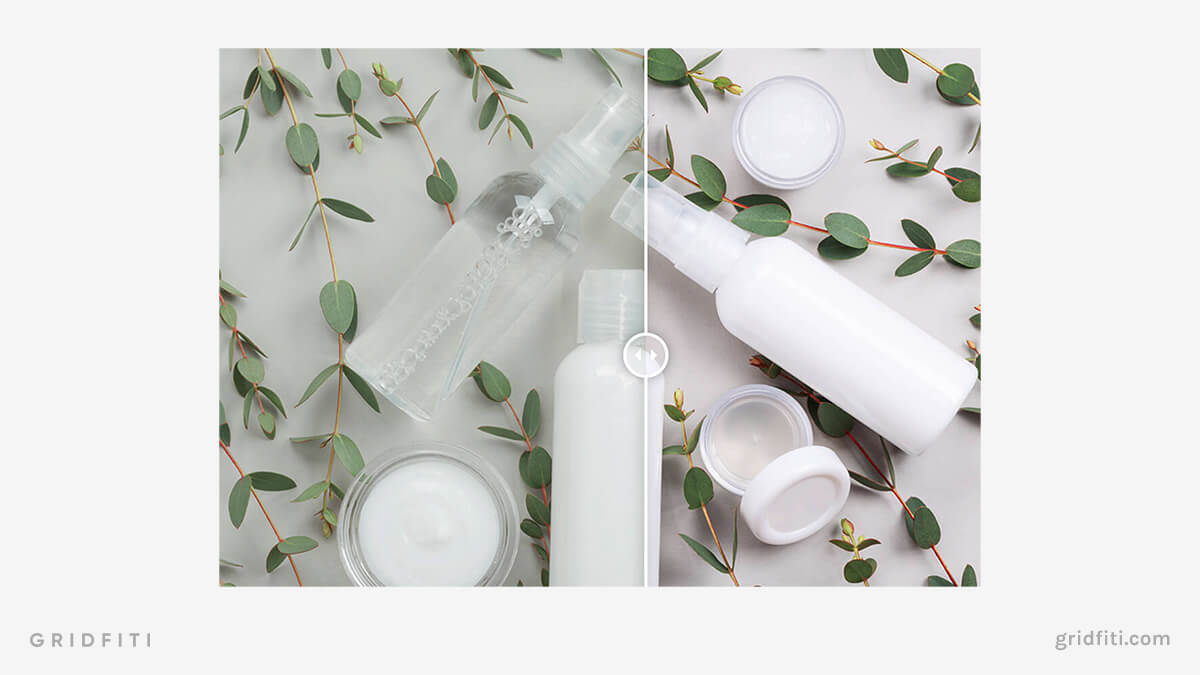 Free Olive Product Preset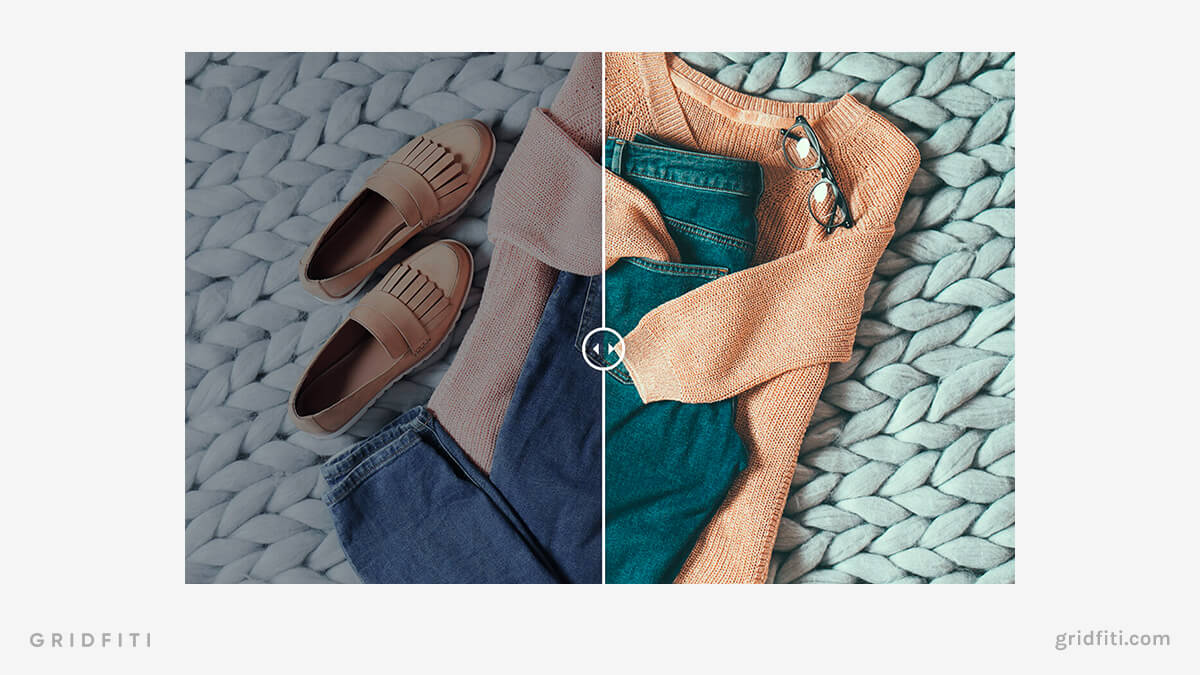 Free Dark & Warm Product Preset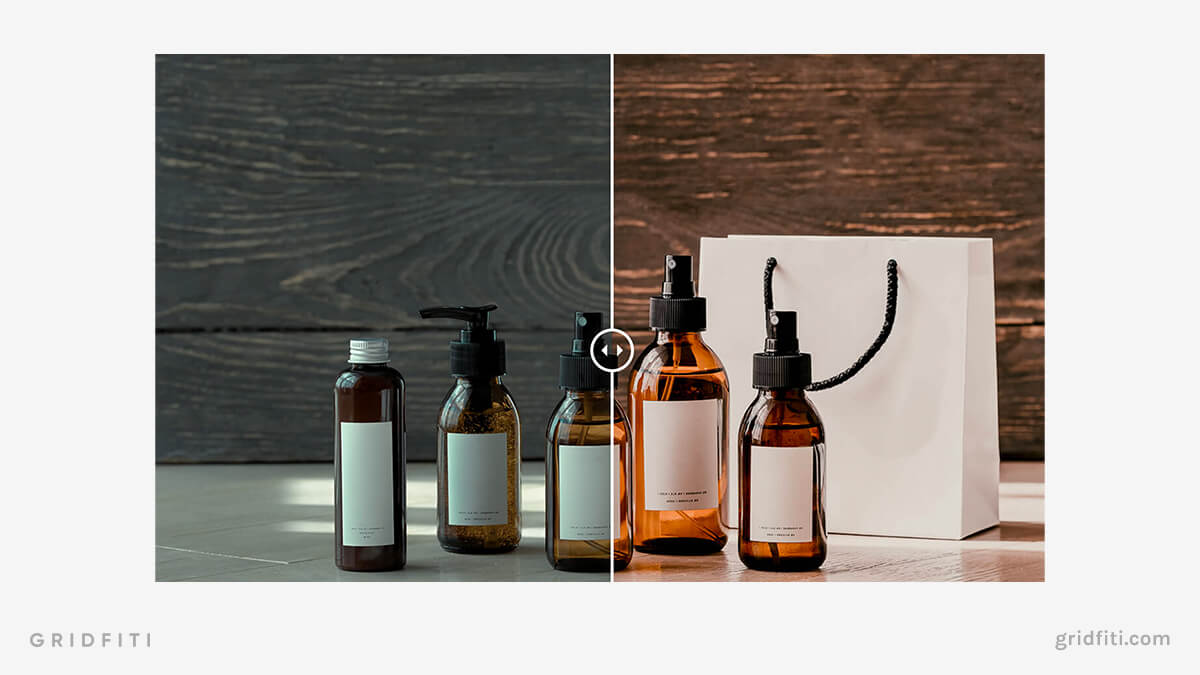 Free Detailed Product Preset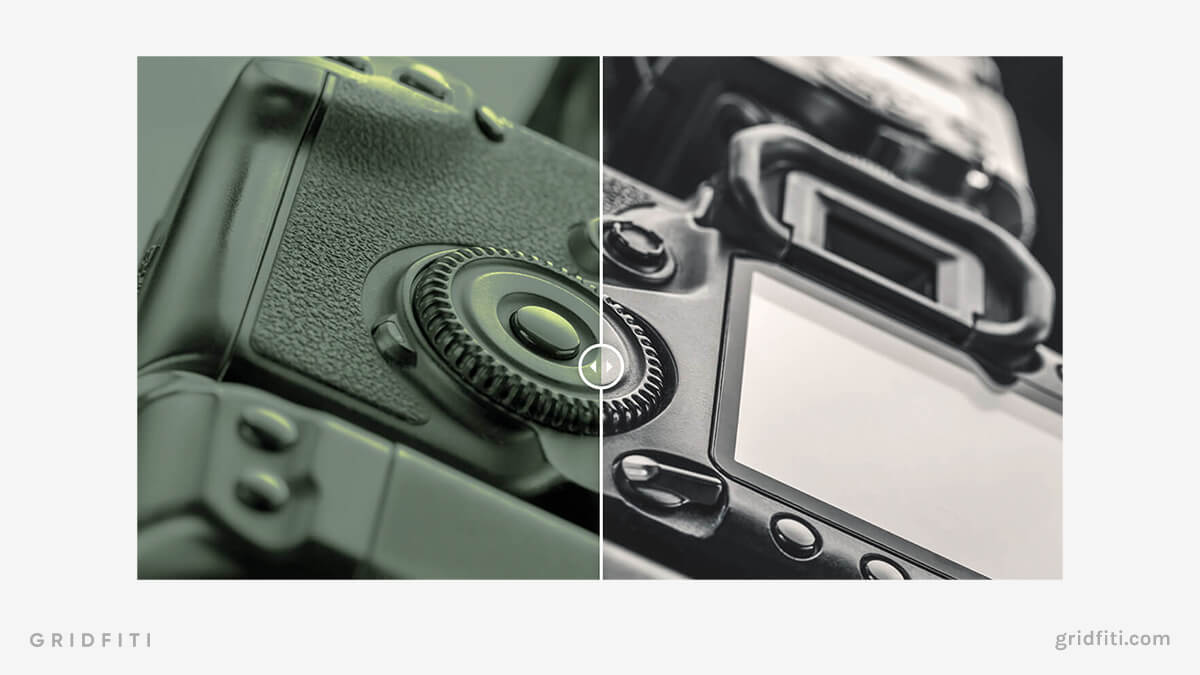 Which product Lightroom preset do you plan on going with? Are there any others you think we should include? Let us know in the comments below!
Gridfiti is supported by its audience – when you buy something using the retail links in our posts, we may earn a small commission at no additional cost to you. Read more about our affiliate disclaimer.