Pet owners and anyone who loves animals, it's time to elevate your pet photography game! Capturing your four-legged furry friends is no walk in the park – between their energetic movements, getting the perfect picture can become quite tricky! But fear not, for we've got a solution to make your pet photos truly stand out: Lightroom presets made specifically for your dogs and other pets!
We'll walk through how Lightroom presets can streamline your editing process while also adding some flare and style to your pet pics. Check out our list of the best pet and dog presets to take your pet portraits to the next level!
Want more preset guides and tips? Check out our several other preset blog posts, and join our newsletter below!
World of Pets – Dog Presets
Let's kick it off with this loaded World of Pets preset pack, containing 9 presets for desktop and mobile! These presets are built with the natural colors of pets in mind, including exposure, texture, and shadow adjustments to enhance the quality of your pet pics! All results work great with each photo.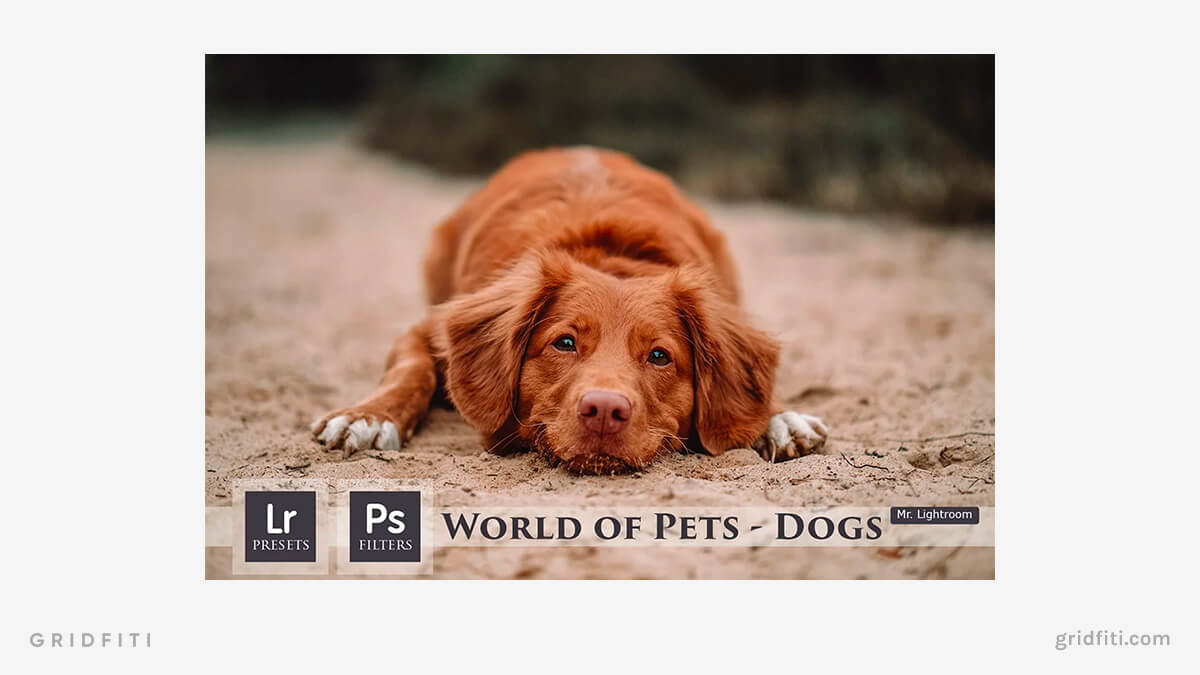 Furry Friends Preset Bundle
Explore this fully loaded 100 preset pack bundle for your furry friends! You heard that right – 100 presets for desktop and mobile to provide you plenty of options to choose from that work with pets of all shapes, sizes, and colors! Save time editing, create a consistent look, and elevate your pet photos to the next level with these presets.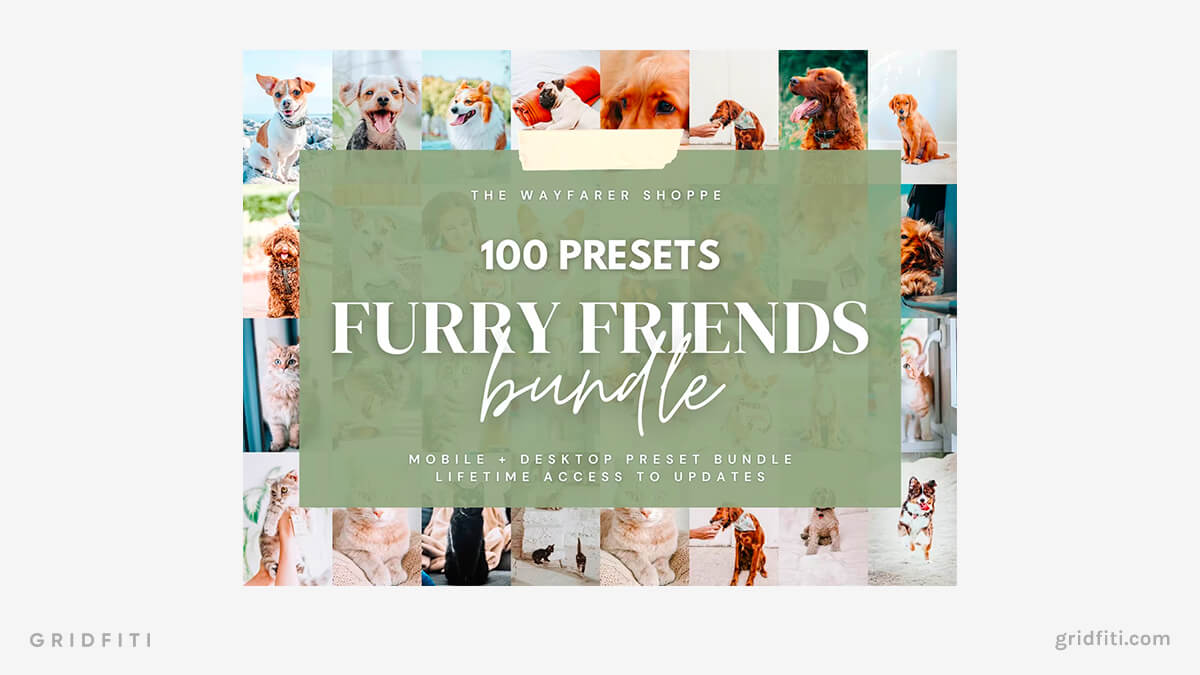 Rustic Dog Presets
We all love the rustic look, so why not apply it to your pet portraits? These 10 presets made for desktop and mobile will perfectly complement your dog and pet pics that contain rustic tones. This can be anything from browns and oranges, to dark greens and beiges. The presets come with lovely exposure adjustments and softened texture, creating a very clean and warm aesthetic.
Looking for more rustic looks for your photos? Check out our full list of rustic Lightroom presets for more options!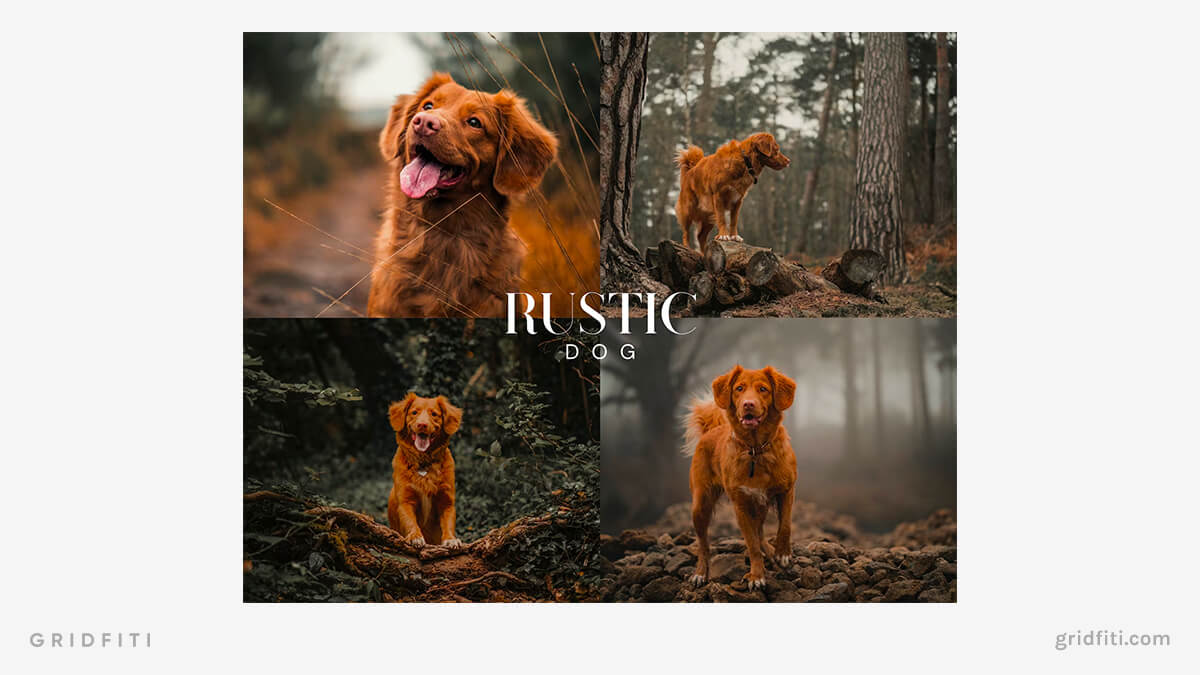 Moody Dogs – Mobile & Desktop Presets
Bring a moodier and faded vibe to your dog photos with these 10 mobile and desktop presets! The noticeable adjustments with these edits aim to reduce saturation, keeping the browns and golden tones rich, while adding a subtle fade to the images to create a moody vibe. Try it out with your pets in the house, out at the park, or anywhere you see fit!
Looking for more moody presets? Try out these dark and moody Lightroom presets!
Dogs, Cats & Animals Presets
Within this preset bundle, you get 30 different Lightroom presets for your dog photography or any of your favorite animals! Whether they're indoor or outdoor photos, in studio or natural lighting, the wide variety of presets here are curated to work with animals of all kinds no matter the colors or textures!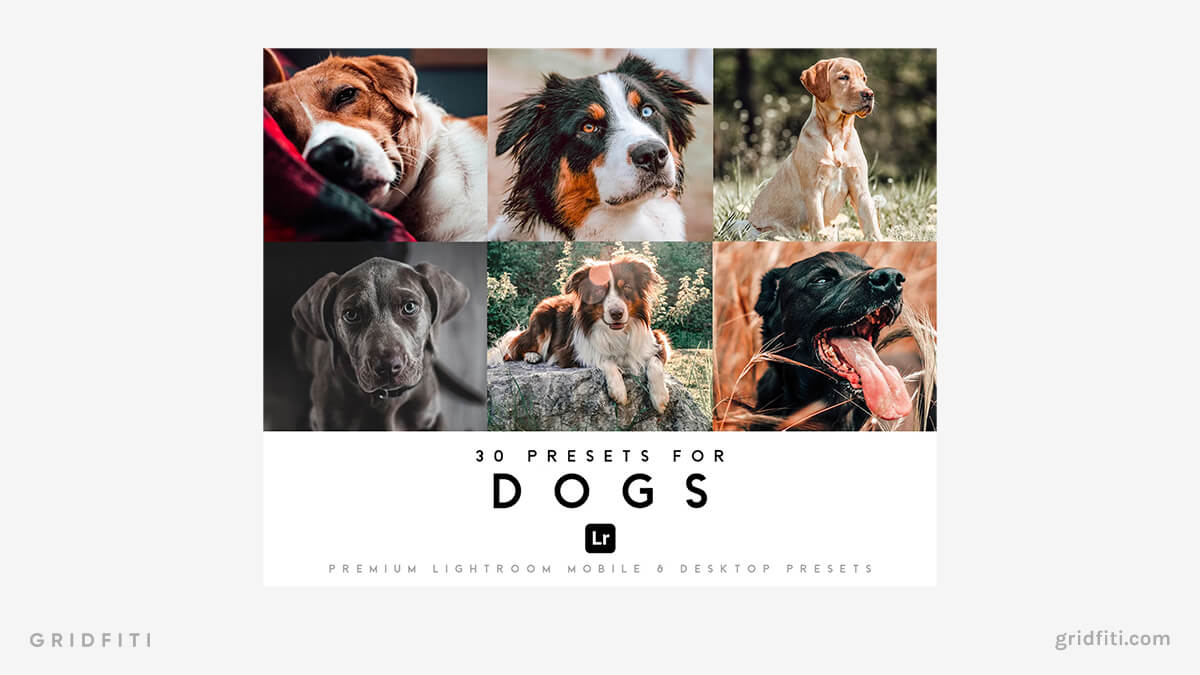 Pet Lovers Preset
Calling all pet lovers! This 5 preset pack for desktop and mobile offers a lovely, vibrant mix of editing solutions for your pet pics. The focus here is on lifting the exposure and whites to create an airy feeling, and then adding a splash of vibrancy to bring out the colors of your pet's fur or their outfits and surroundings! Give these presets a try on those pet portraits.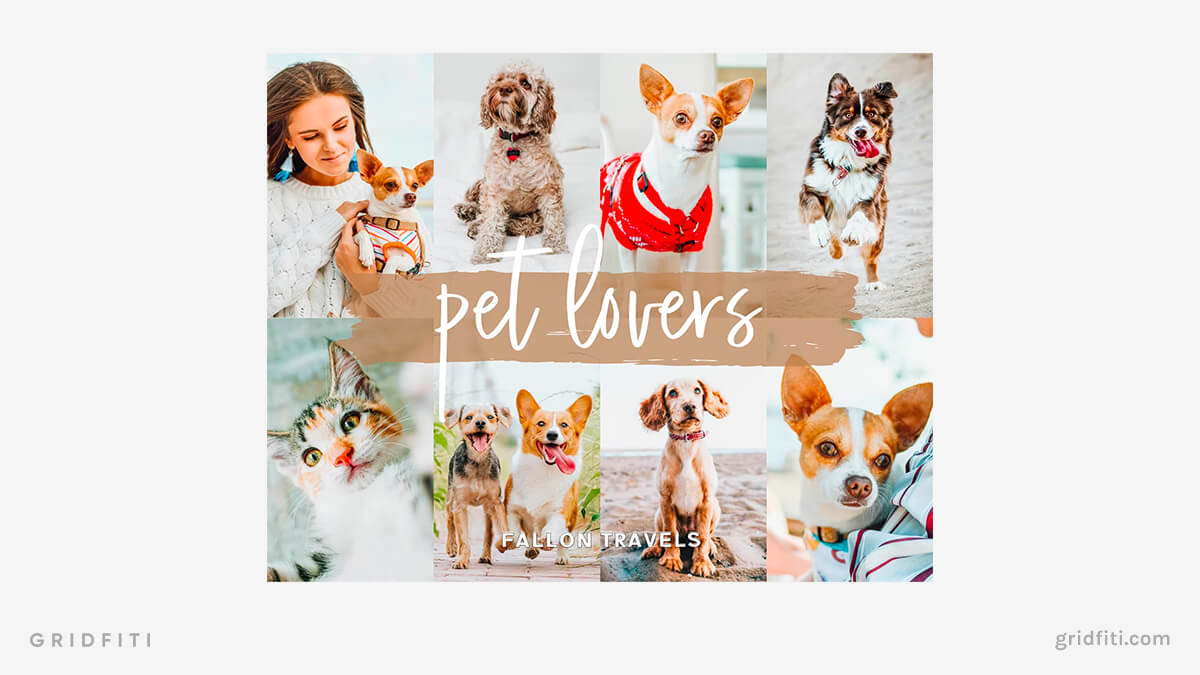 Black Dogs Presets
Darkening the shadows of your photos can result in a look of moodiness and sophistication, so why not bring that to the photos of our beloved black pets? Check out this 15 preset pack for desktop and mobile, focusing on creating contrast between your black pets and bringing out the richness in their fur. You can adjust the lighting to create a bright and vibrant look or a darker, moodier vibe.
If you're looking for other black presets to work with, check out our list of black Lightroom presets!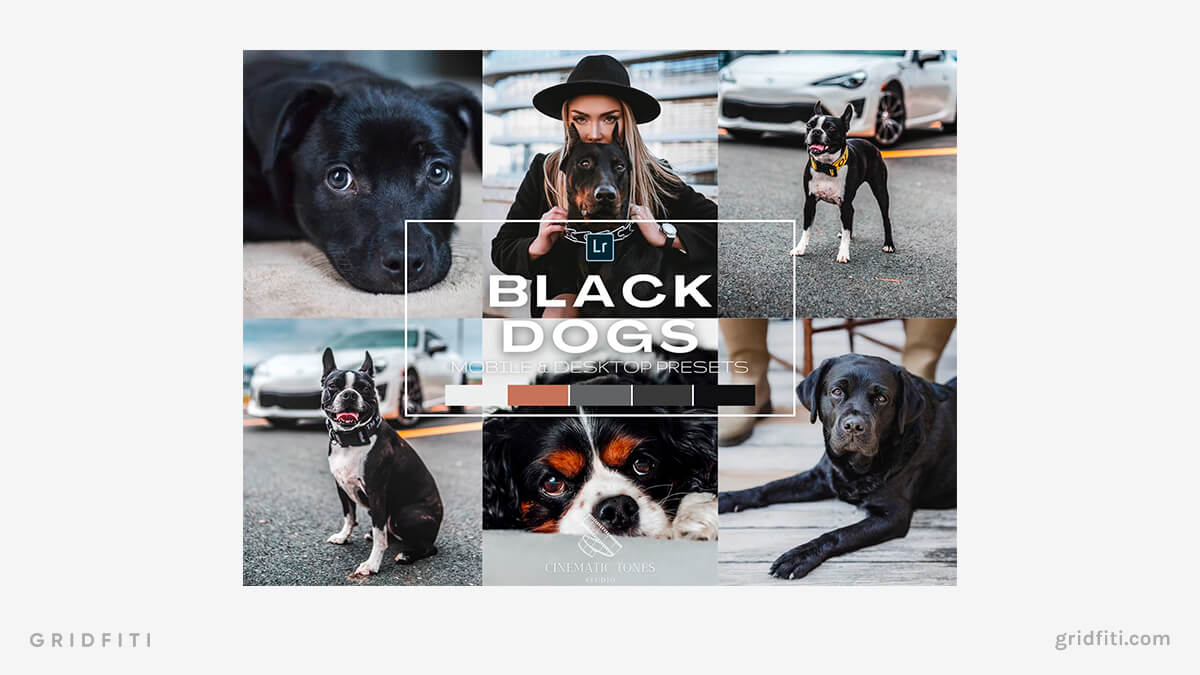 Goldies Dog Presets
Get the Goldies preset pack containing 15 presets for desktop and mobile to edit photos of your golden pets! From golden retrievers, to orange cats and everything in between, these presets are designed to enhance warm fur complexion. Besides the color adjustments, there's a fine-tuned enhancement on brightening up photos along with softened textures. Give it a try with your golden fur family!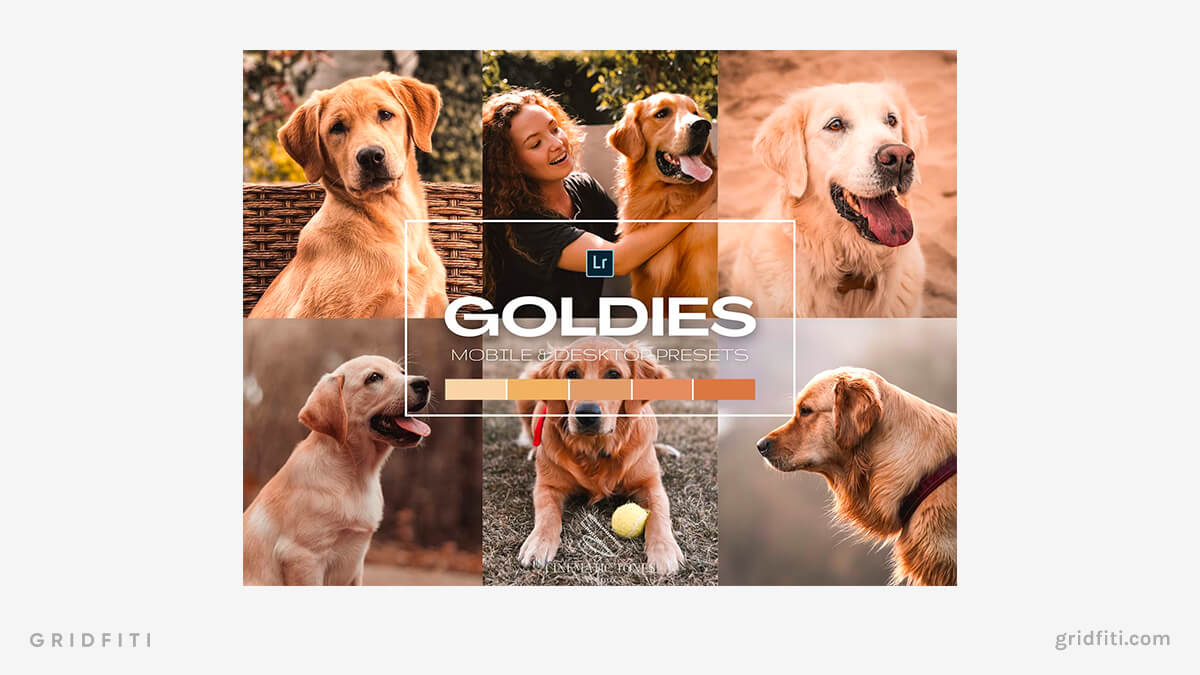 Pet Photography Preset Collection
Bring a mellow, moody vibe to your pet pics with this robust pet photography collection containing a total of 60 mobile and desktop presets! These presets will soften up your photos with a minimal edit subduing the tones. There's a subtle fade added with lifted shadows to create a vintage vibe, as well. Choose from the wide variety of options to get those pet photos edited!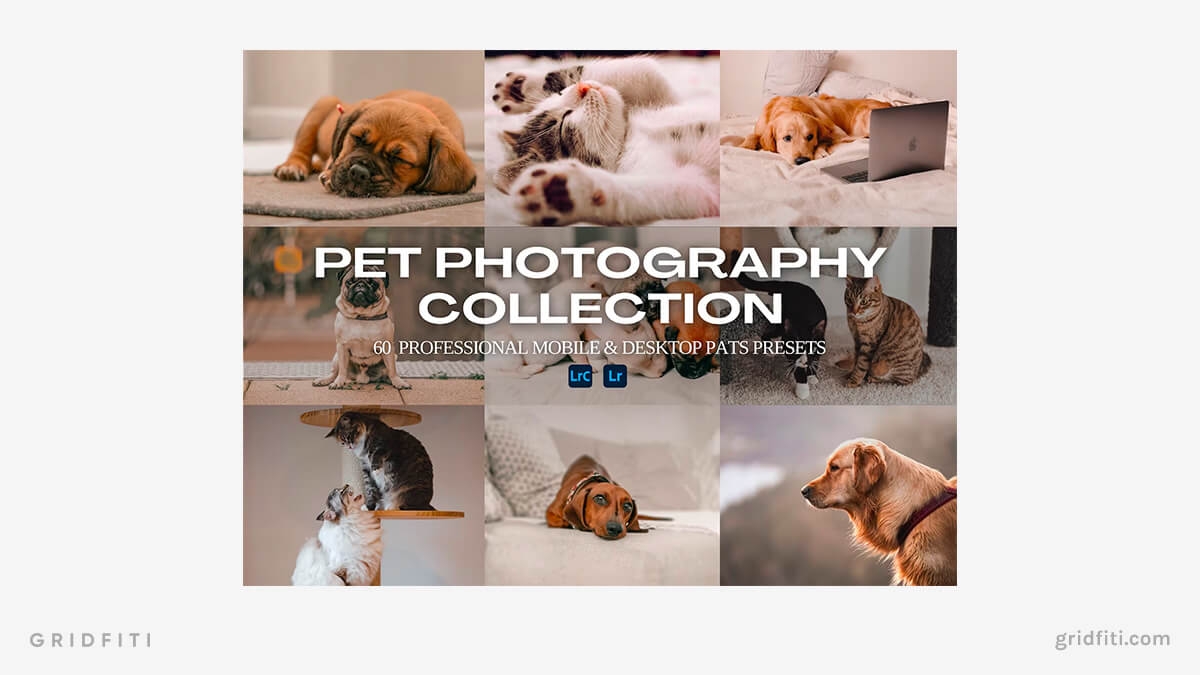 Bright & Airy Pets Presets
We often see bright and airy aesthetics in portraits or lifestyle photos of people, so why not take the same approach with your pets? Check out these 10 presets for desktop and mobile to brighten up and bring life to your pet photos! These are ideal for photos that are well lit, in bright and minimal environments. The presets create a calm feeling and bring out your pet's best!
Want more bright and airy options for your photos? Take a peek at our bright and airy Lightroom presets post!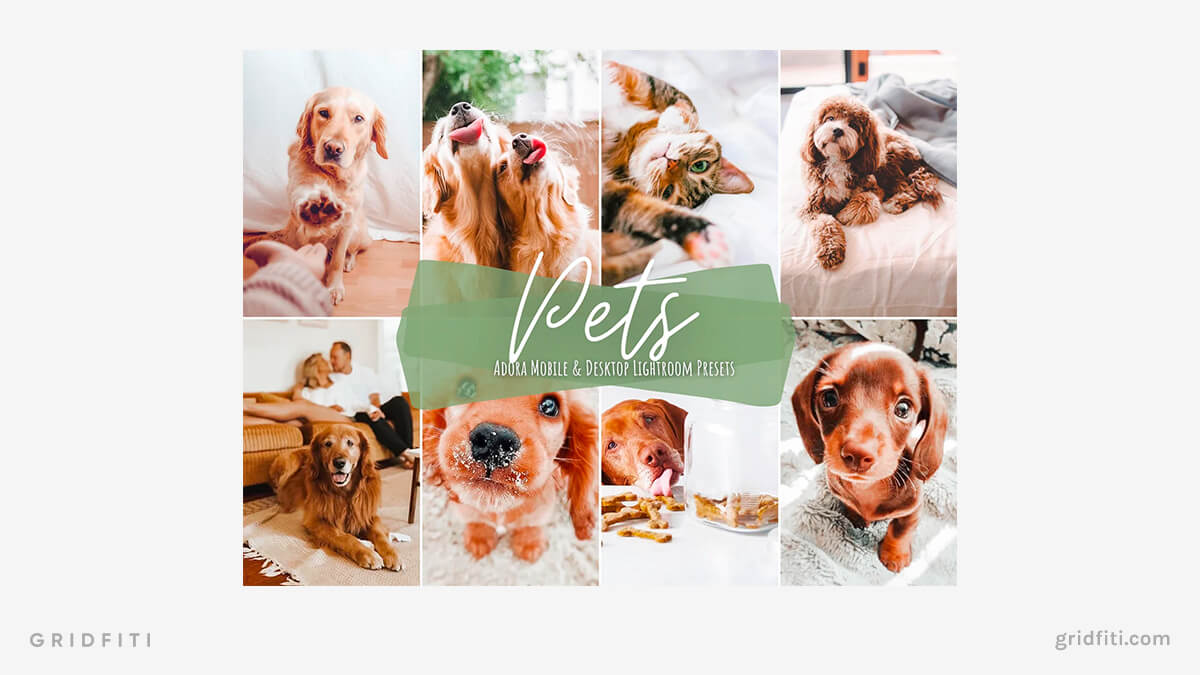 Free Pet & Dog Presets
Not sure which of these dog and pet presets to start with? Check out a few of these free preset options below to test out your editing before you invest in the premium packs!
Family Pet Free Preset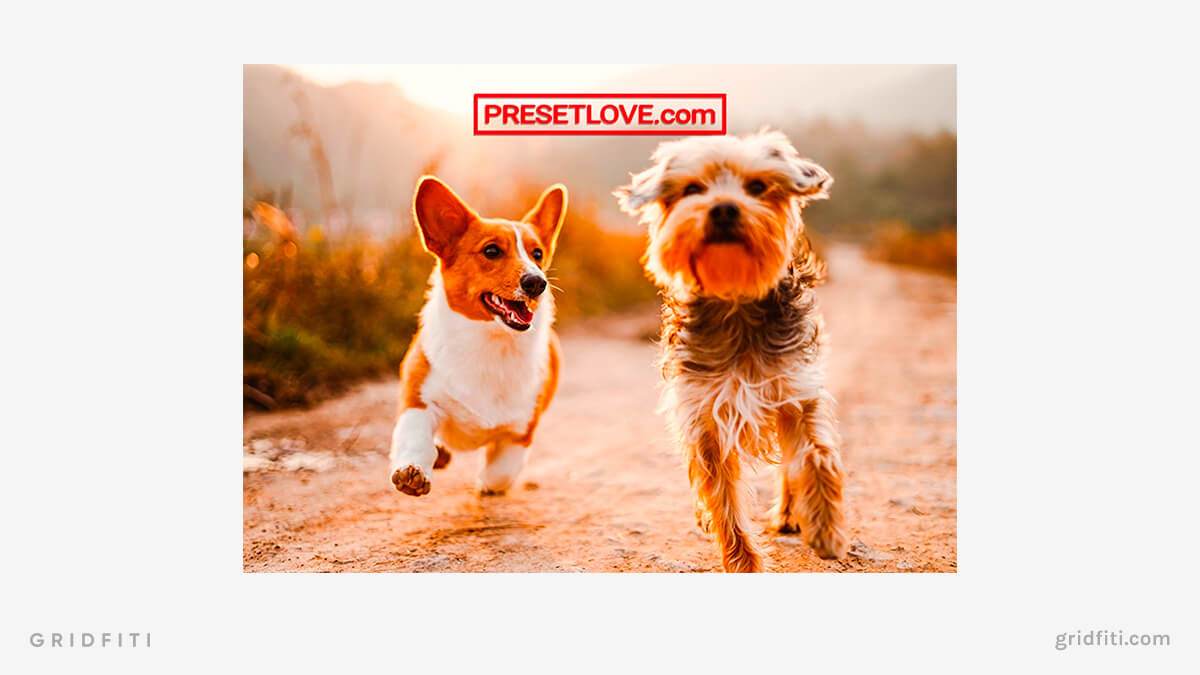 Forest Free Pet Preset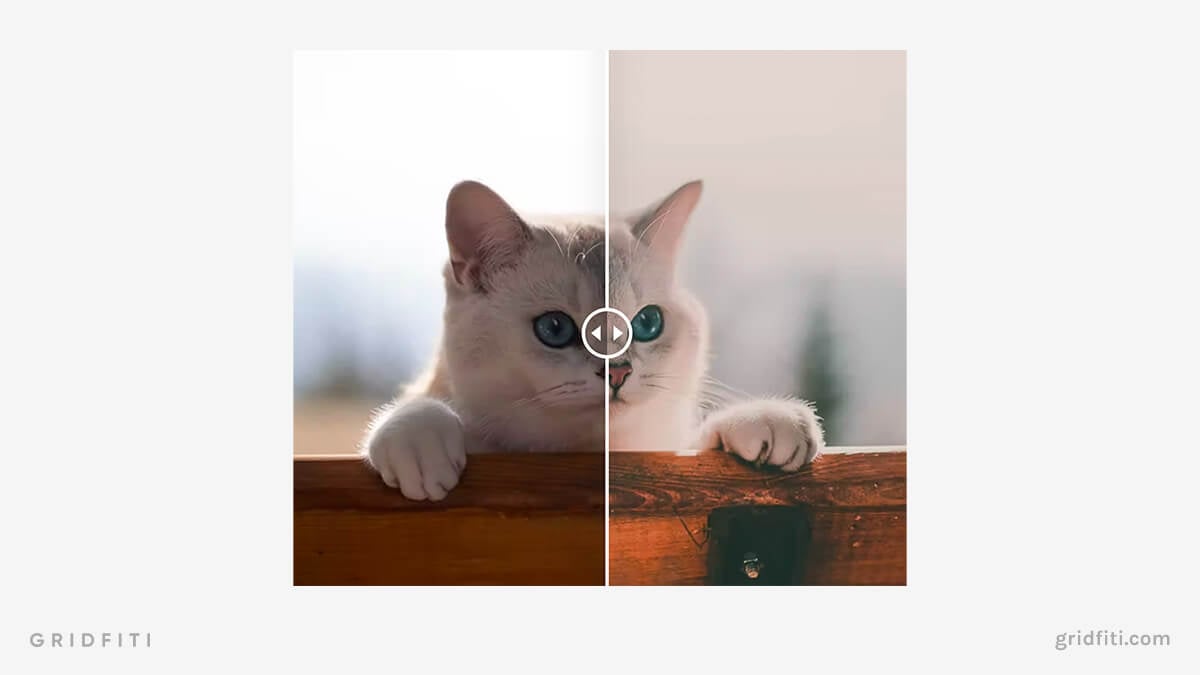 Cozy Free Pet Preset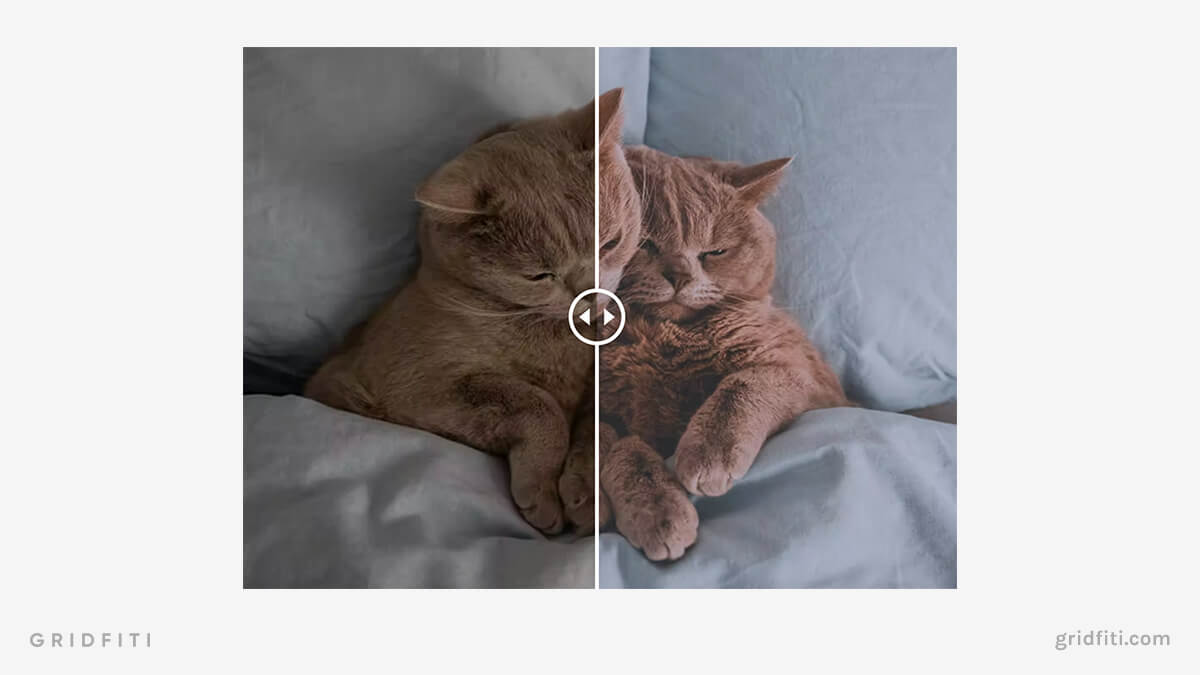 Which one of these dog and pet presets are your favorite? Are there any you think we should include? Let us know in the comments below!
Gridfiti is supported by its audience – when you buy something using the retail links in our posts, we may earn a small commission at no additional cost to you. Read more about our affiliate disclaimer.