Capturing sports is one of the most demanding forms of photography out there. You need to be quick, agile, and explosive with your capture. Capturing is one thing, but editing the photos is a whole other ball game (no pun intended). You're faced with making sure that elements like exposure, sharpness, noise, and color balance are all done properly.
If you're struggling to figure out where to begin with editing your sports photos, look no further than our list of sports presets for Lightroom. There's an assortment of preset packs made for different types of sports and aesthetics that can be easily mixed and matched to get your desired result. Check out our picks for the best sports presets!
Want more preset guides and tips? Check out our several other preset blog posts, and join our newsletter!
Table of Contents
All-in-One Sports Lightroom Presets
Sports Photography Lightroom Presets
Step your sports photos up a notch with this Sports Photography Preset Pack for Lightroom. This pack's 9 presets for desktop and mobile are designed for sharpness and desaturation in colors. Experience increased clarity and reduced highlights, ideal for dynamic moments on the field. From skateboard stunts to horseback action to football plays. Get the edge your sports photos need!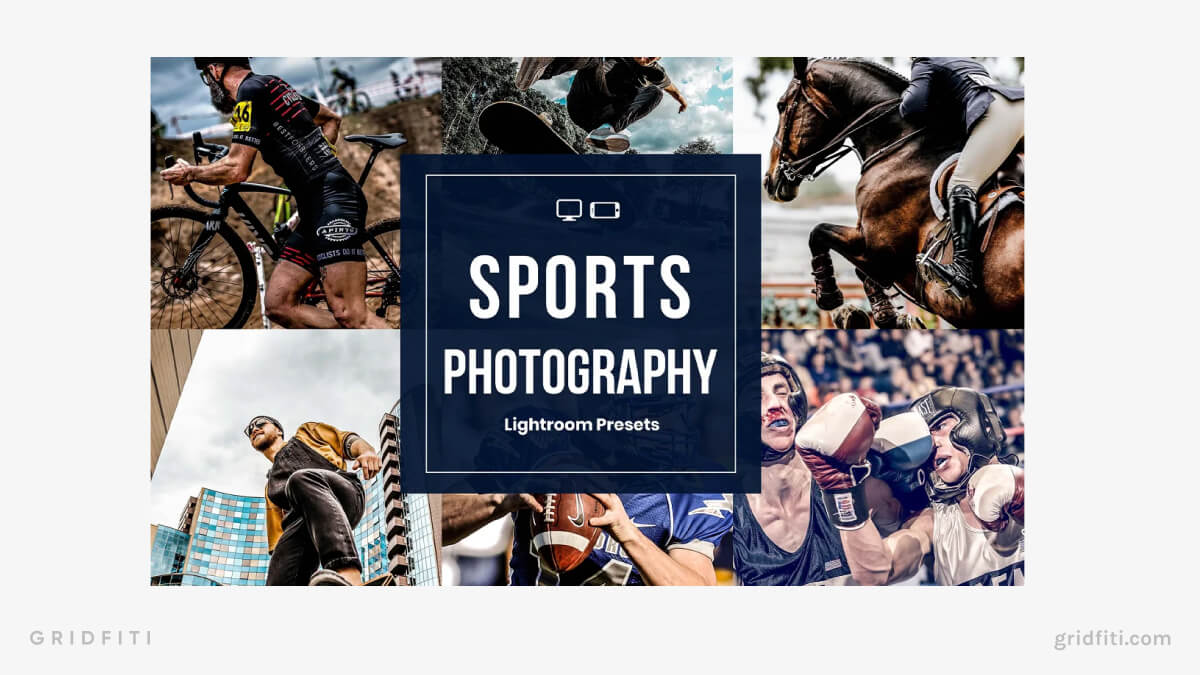 Sports Color HDR Presets
Bring a professional, elevated look to your sports photos with these Fitness presets! There are 25 presets to choose from and their aim is to give a sophisticated, editorial look to your photos. While other sports preset focus on capturing the actual sport, these are more for studio-based portraits that emphasize the athlete. The preset options are designed to work with colors, lighting conditions, and sports of all kind!
Looking for more fitness editing options? Check out our round-up of fitness Lightroom presets.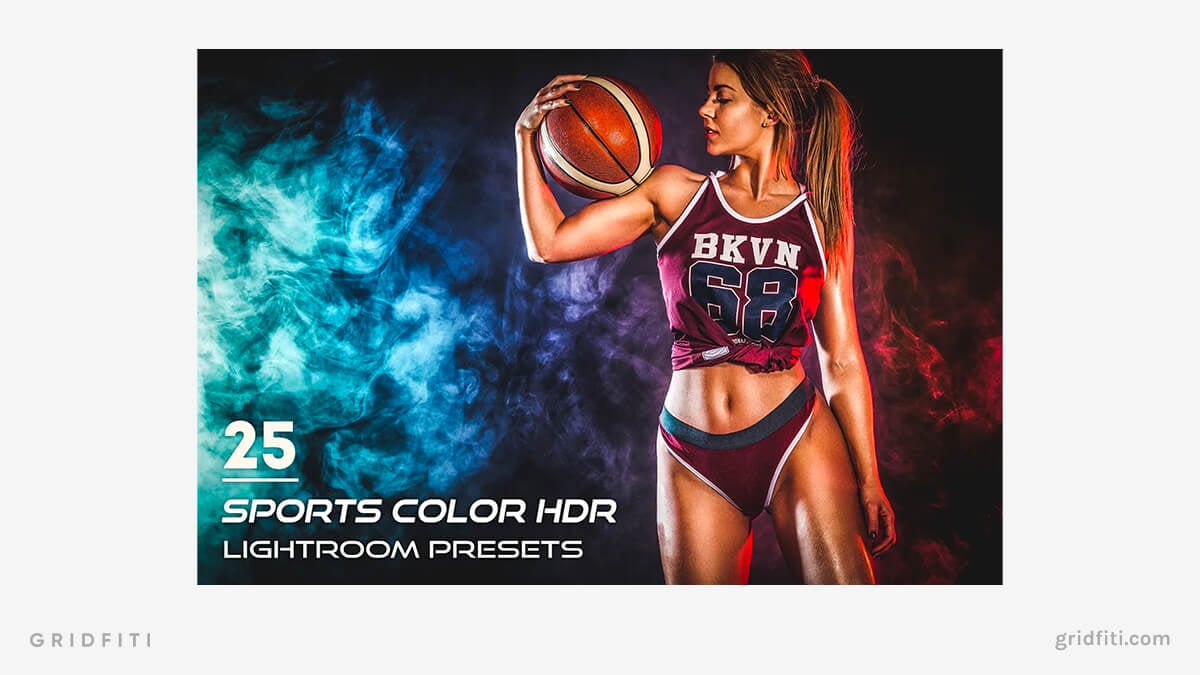 Sports Collection Preset
Check out this expansive sports collection, boasting 86 presets for Lightroom desktop and mobile! This set is designed for enthusiasts of any sport, from football to basketball to baseball and beyond. What sets these presets apart? A rich and moody ambiance without compromising on saturation, bringing out the perfect essence in any sports moment.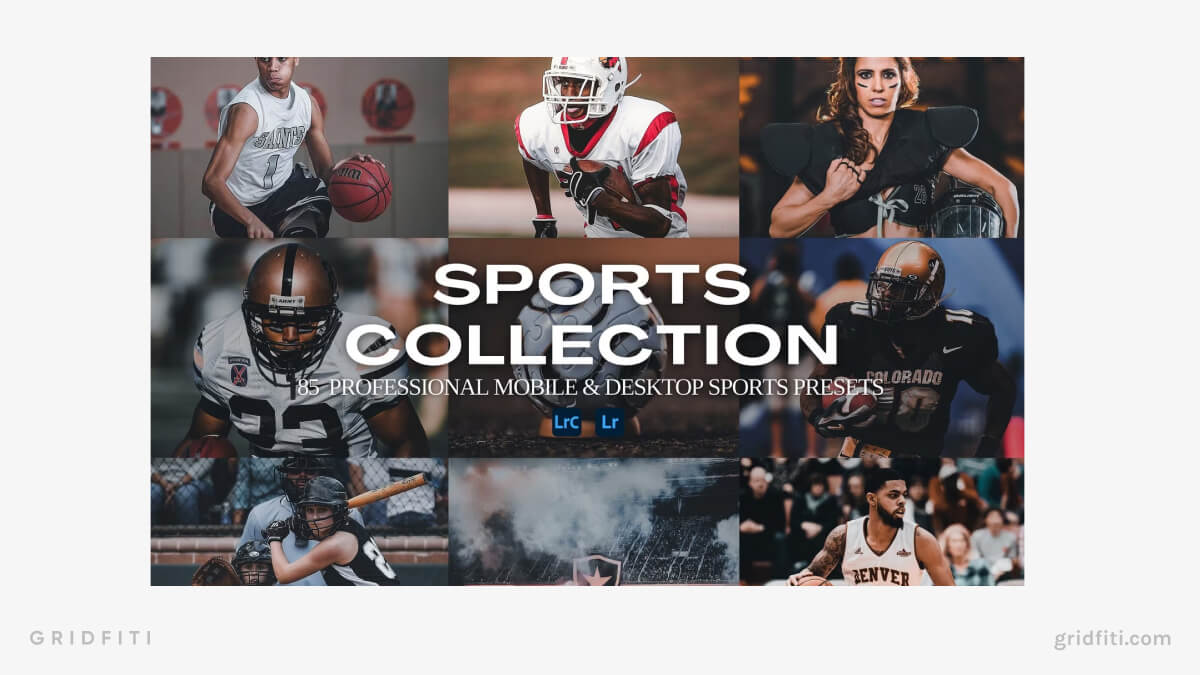 Sports Addict Presets
Bring a balanced look in terms of exposure, sharpness, noise reduction, contrast, and color grading to your sports photos with this all-purpose Sports Addict preset pack! The pack includes 20 presets that span all types of different sports and settings – it's just a matter of picking and choosing which works best with your photos and tweaking it to perfection. Try it out with your sports photography!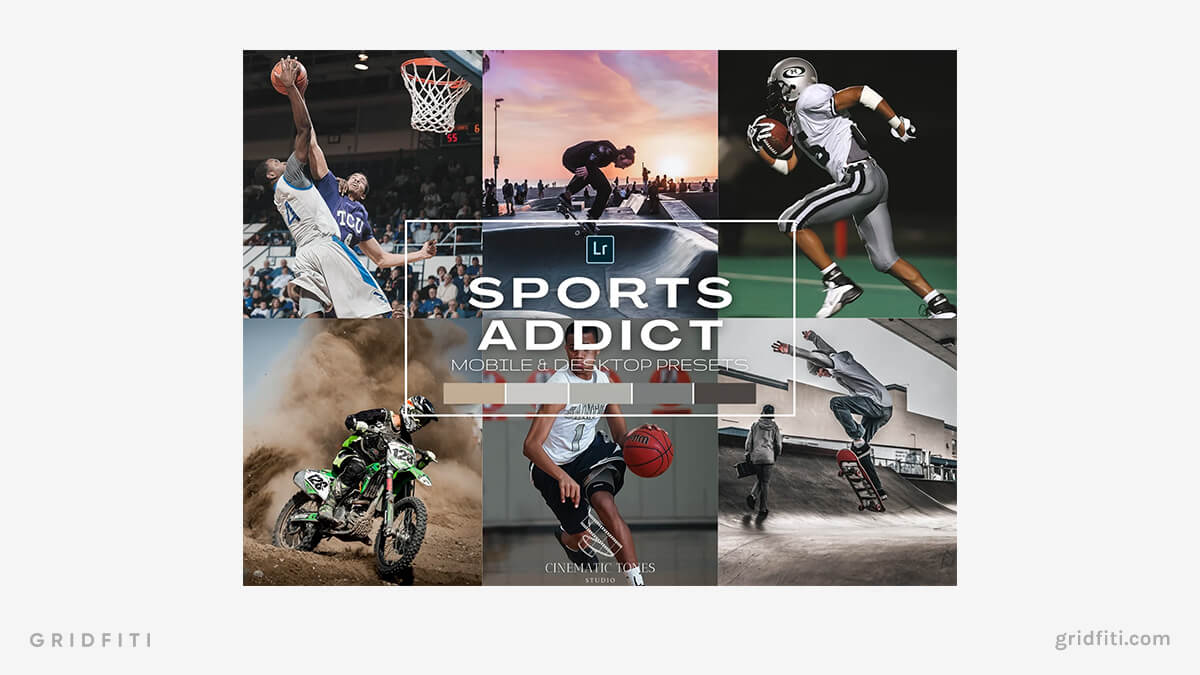 Sports Day Presets
Give your sports photos a clean and simple edit with these Sports Day presets for Lightroom desktop and mobile. 10 different presets will let you edit your game day photos, fitness photos, athletic pics, and more. Bring a cohesive edit across your photos that focus on adding dramatic contrast, lowering the highlights, and adding a few touches of saturation in the tones.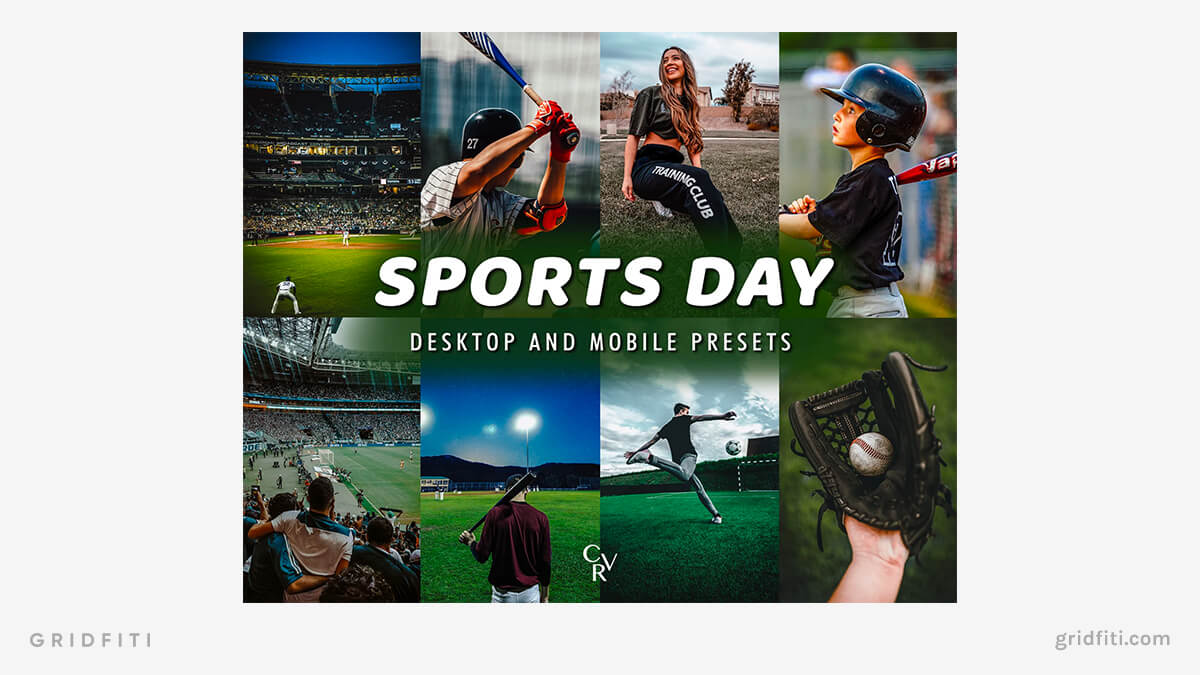 Varsity Presets
These 5 varsity presets for desktop and mobile bring a multi-use set of presets that work across sports and mostly gym photos. They're crafted to be subtly desaturated while shadows are accentuated with dramatic vignetting and sharpening. Perfect for fitness photos or any photo where you're trying to emphasize physique.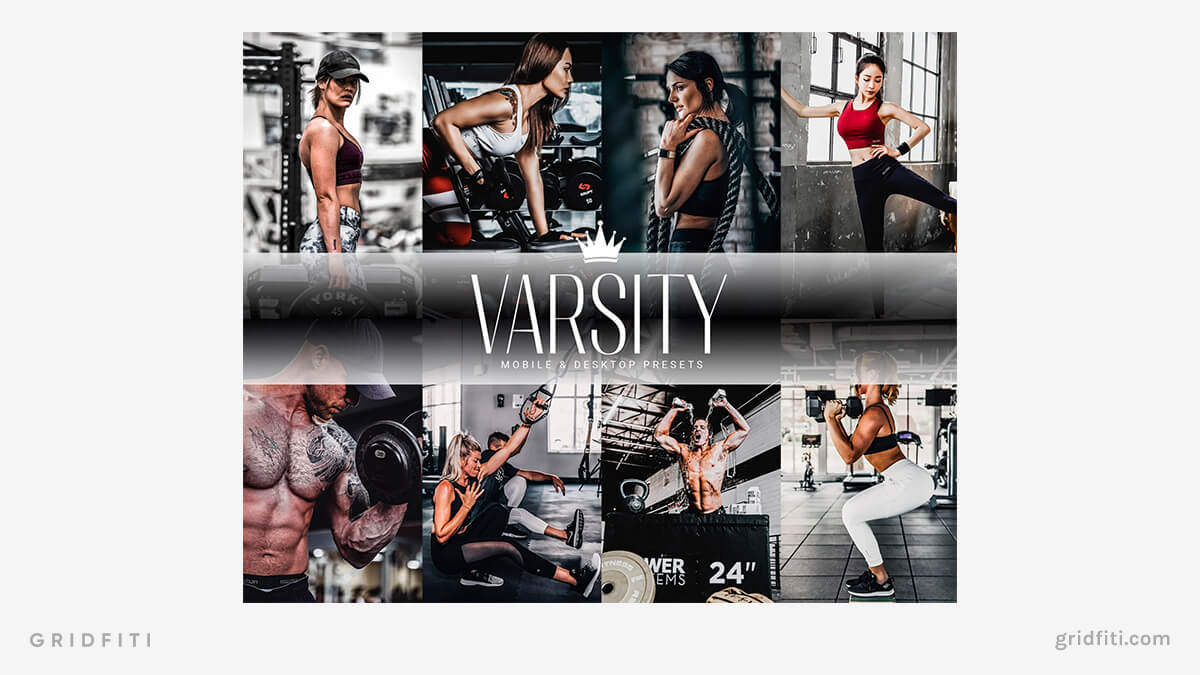 Champions Presets
Bring a punch of saturation and sharpness to your sports photos through this Champions preset pack! The 15 included presets for desktop and mobile are designed to sharpen up your photos, reduce noise, up the contrast and take the saturation up a notch! Photos containing colors in jerseys, fields, and gear will all be given a punch of color. Bring your sports photos to life with these presets.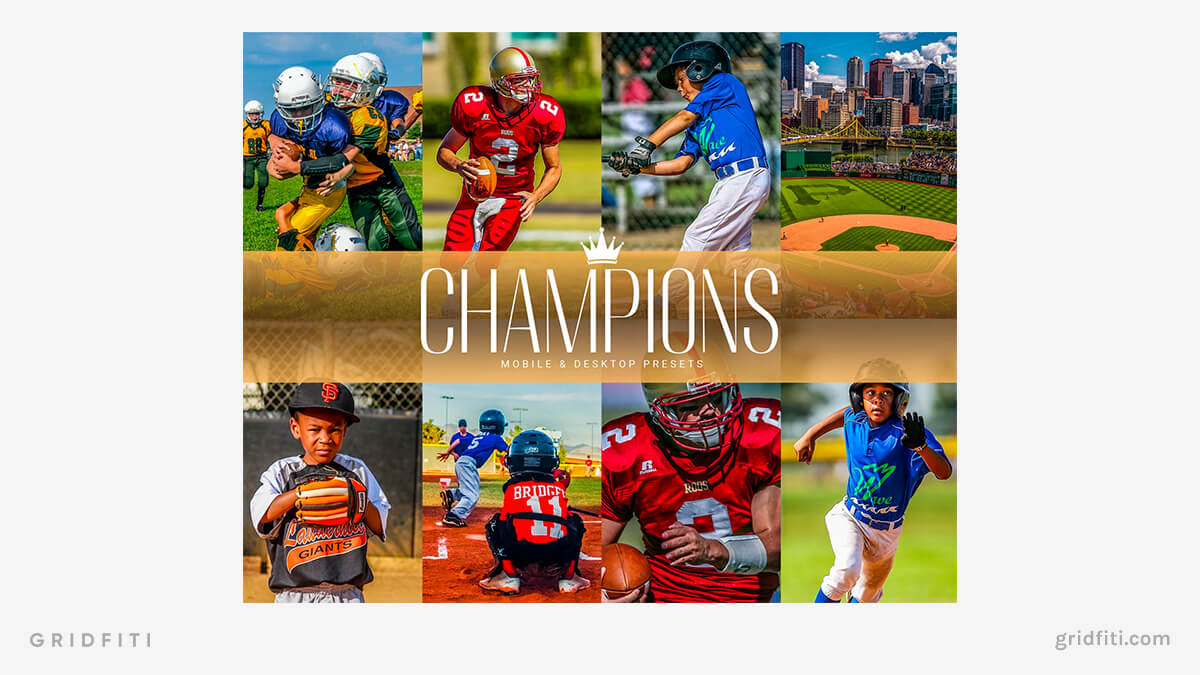 Game Day Presets
Give your game day photos an edge with these 10 presets for desktop and mobile. They're designed to be versatile and work with capturing portraits, crowd shots, and actual game play shots. Choose between the different preset options to see which color grade works best for the photo and tweak it all to your liking!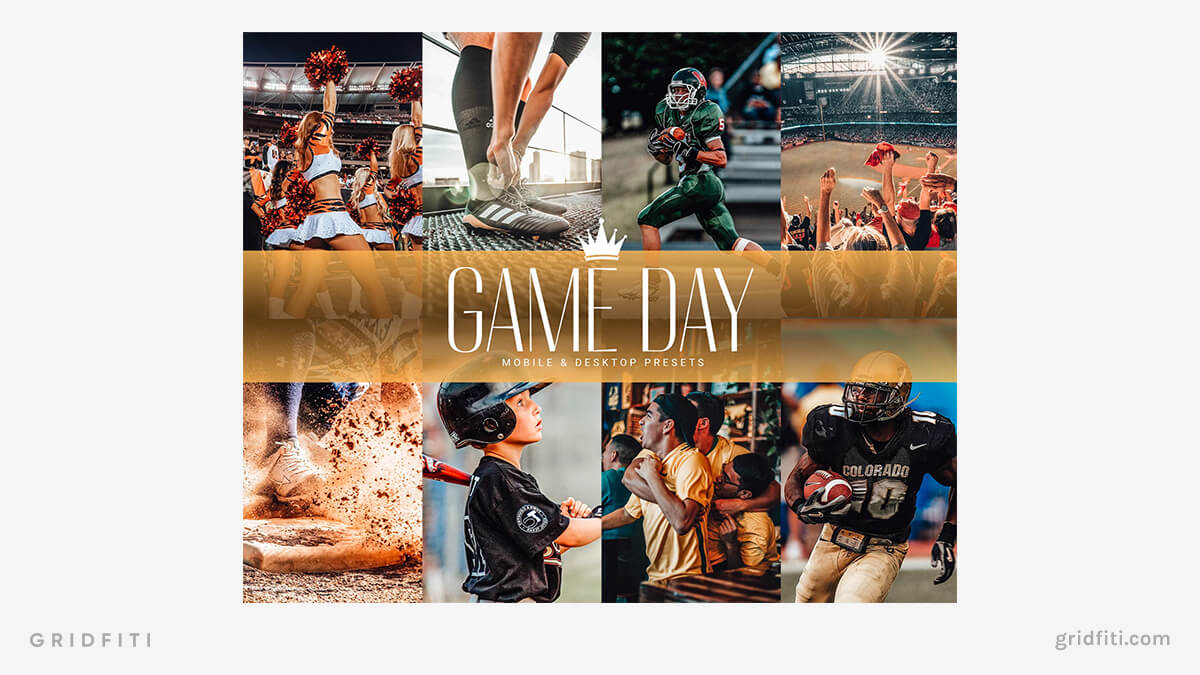 Football Lightroom Presets
Football Sports Lightroom Presets
Capture the thrill of the field with these Football presets for Lightroom desktop and mobile. Featuring 9 custom presets, this collection is crafted to recreate the intensity of sport. Perfect the vibrancy of jersey colors while the turf looks lush and rich. The adjustments in sharpness and highlights will make every tackle, pass, and touchdown leap out of the frame!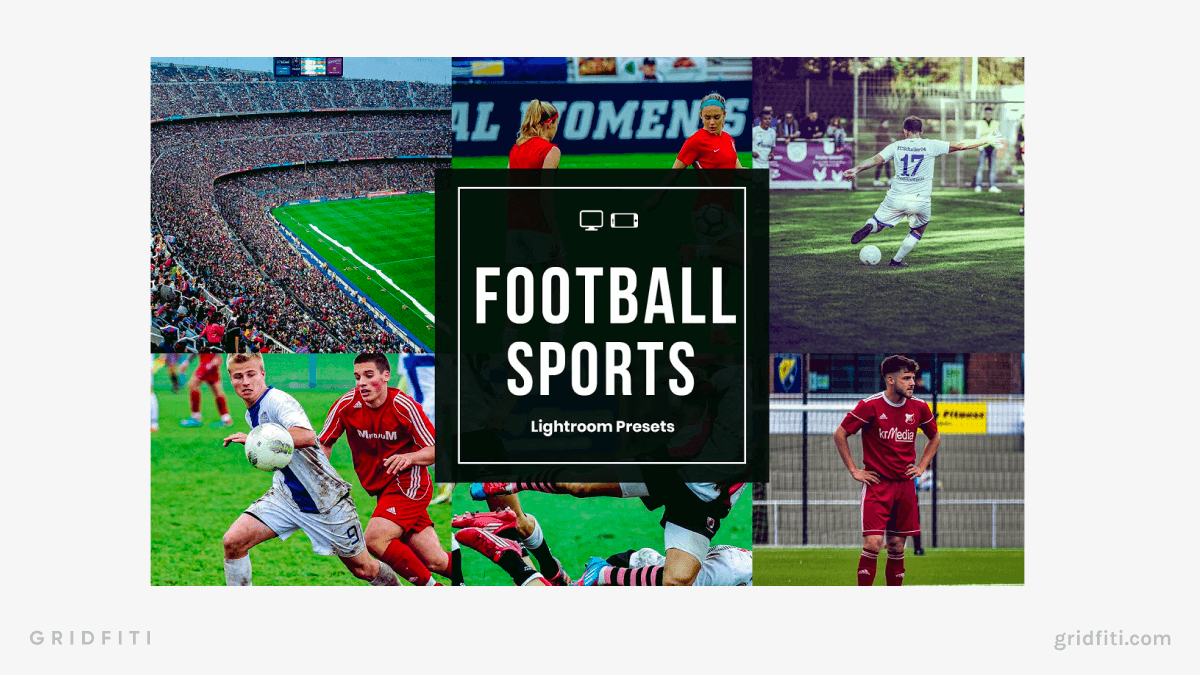 Dreamlike Football Lightroom Presets
See football in a light you've never experienced before with this unique Football Lightroom Presets Pack! This set comes with 6 presets for desktop and mobile. While most sports presets push for sharpness, this collection does the opposite and softens your photos — creating a dreamlike ambience. Whether adjusting for light, white balance, tones, or exposure, these presets bring a fresh and surreal look to every football play.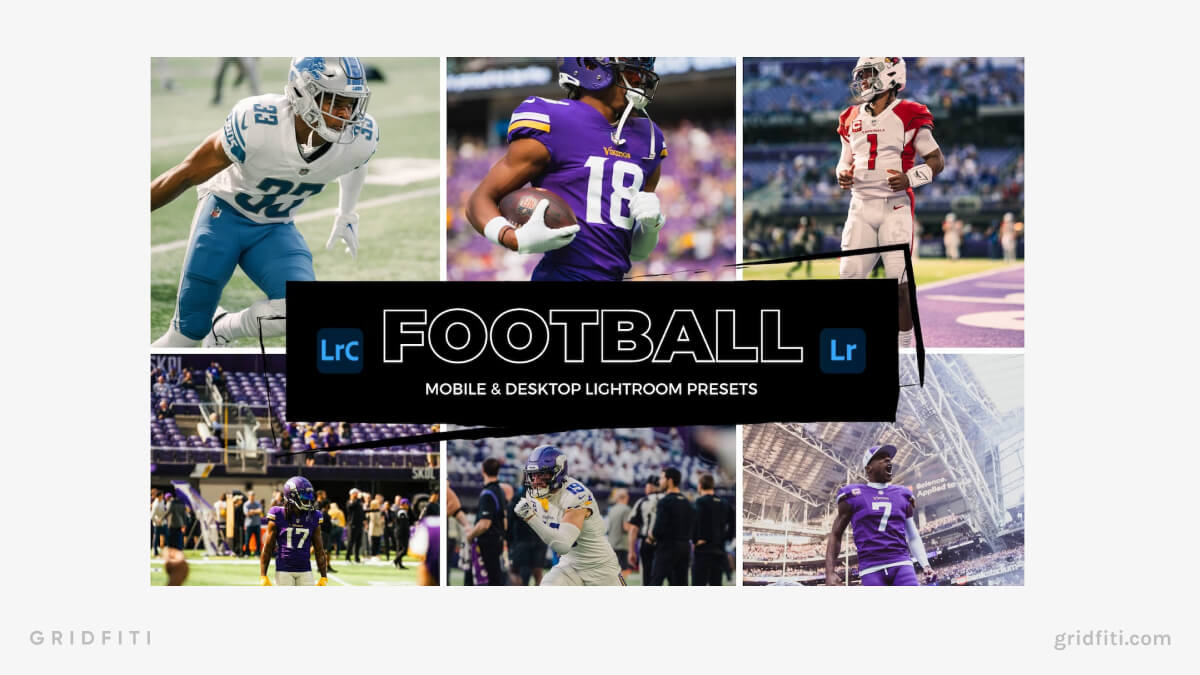 Vibrant Football Lightroom Presets
Step up your color game with this Vibrant Football Lightroom preset collection. With a set of 10 presets designed for both desktop and mobile, these edits amplify the already exciting atmosphere of the game. Bring a mix of bright and natural tones together — where the greens of the field, colors of the jerseys and the hues of the crowd come alive. Perfect for capturing and editing the energy of game day!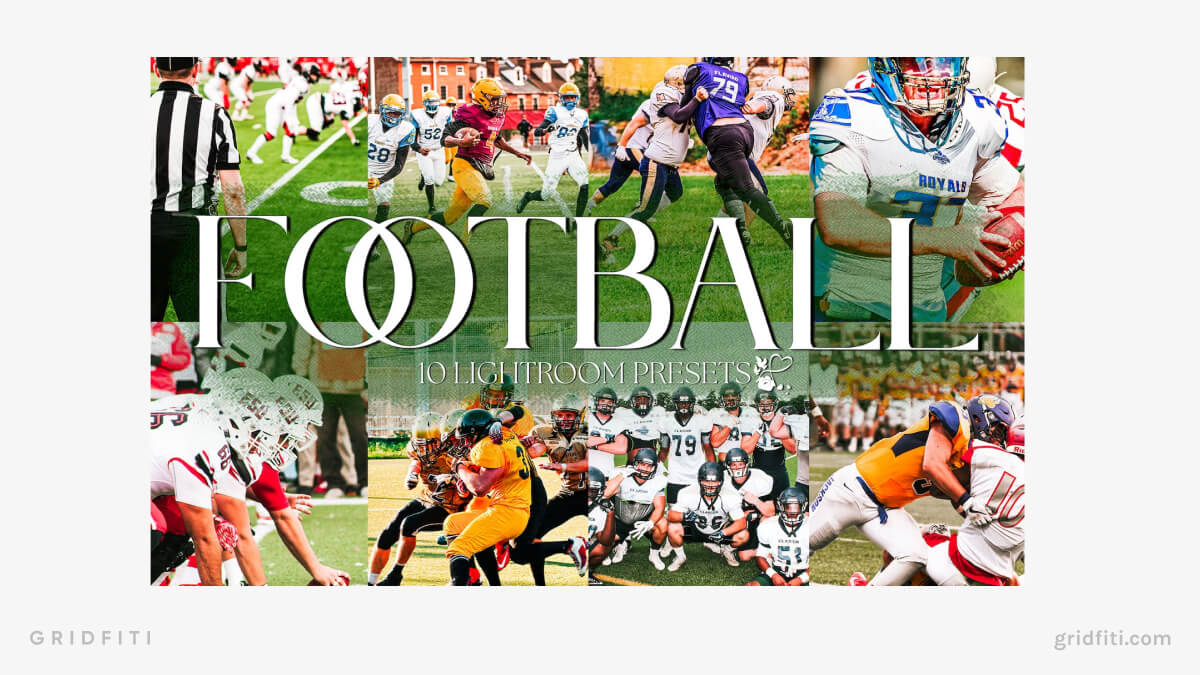 Kickoff Football Presets
Take your football photos to the next level with these Kickoff Football presets. This collection of 5 desktop and mobile presets delivers several enhancements to let your football moments shine. With options ranging from neutral, warm, and cool, to cinematic and black and white, this pack lets you define each play in your photos to the best degree.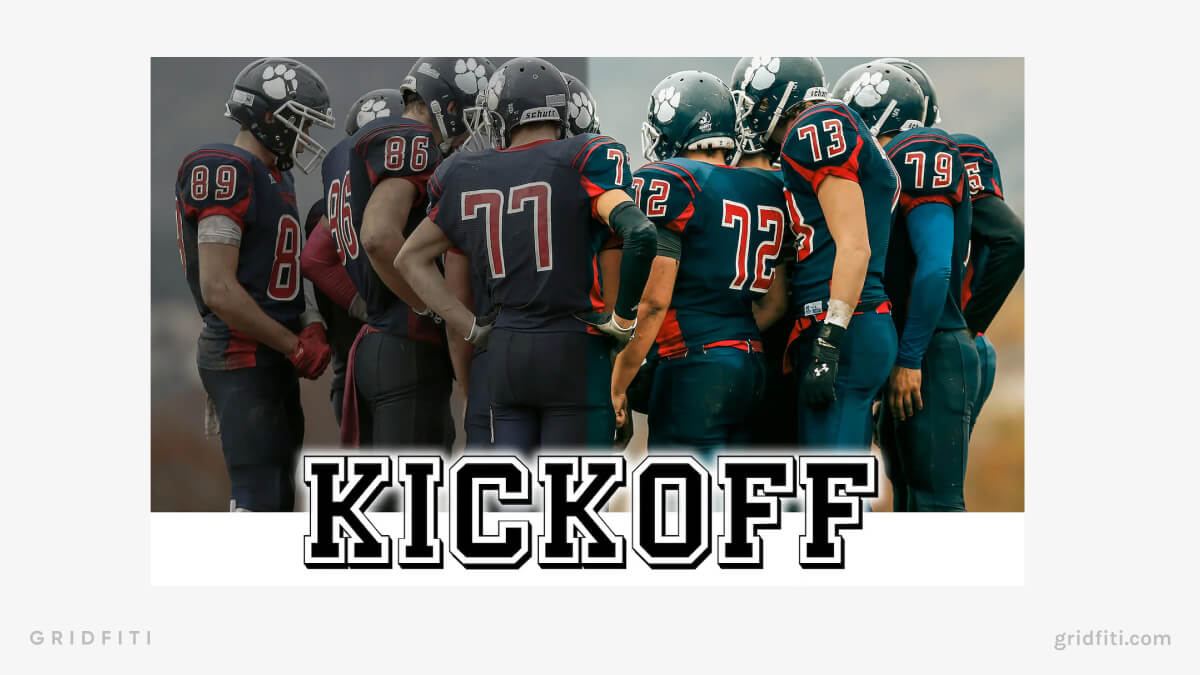 Basketball Lightroom Presets
Basketball Lightroom Presets & LUTs
Elevate those court captures with these Basketball Lightroom presets. Dive into a wide collection of 20 presets and a bonus 20 video LUTs, designed for both desktop and mobile. Drawing inspiration from iconic basketball ads, these edits will infuse your photos with a raw and gritty aesthetic and vibrant color pop. With specialized adjustments for skin tones, your players will always look their game-day best. Perfect for anything from action shots to sideline moments!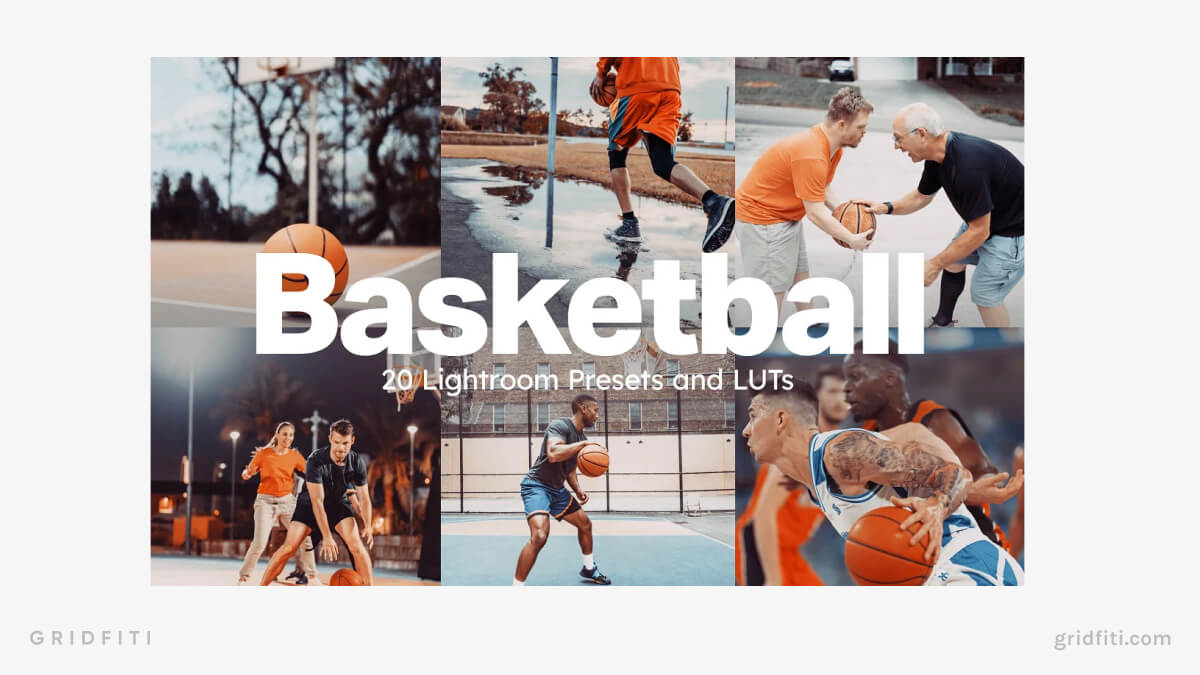 Moody Basketball Presets
Give your basketball photos a moody look with these 20 basketball presets for desktop and mobile. The tones are muted back while blacks are increased, contrast is added, and shadows are heightened. What you get is a dramatically black look to the overall edit. Try it out with your basketball pics or any other sports pics!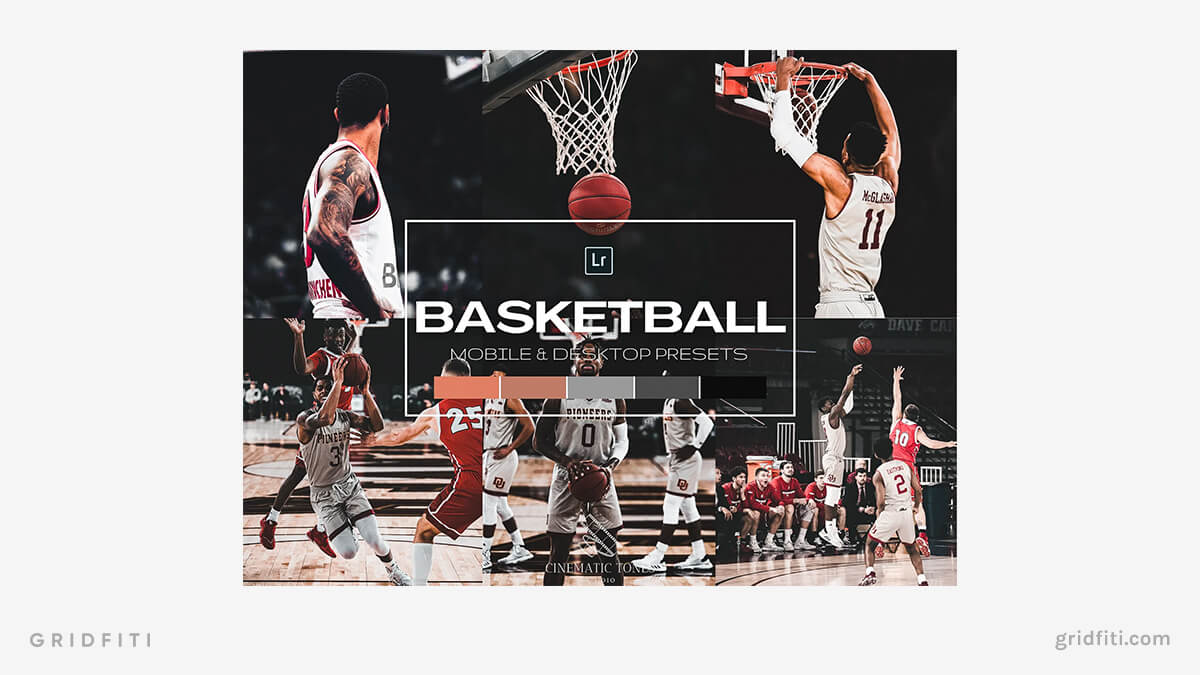 Basketball Action Lightroom Presets
Highlight the action in your game with these Basketball Action Lightroom presets. This collection boasts 10 carefully designed presets for both desktop and mobile, along with 10 additional Photoshop actions. Choose from a range of edits, from vibrant and clean to moody and muted. Whether you're a dedicated basketball photographer, a sports-centric blogger, or an athlete trying to document your own game, this pack has got you covered!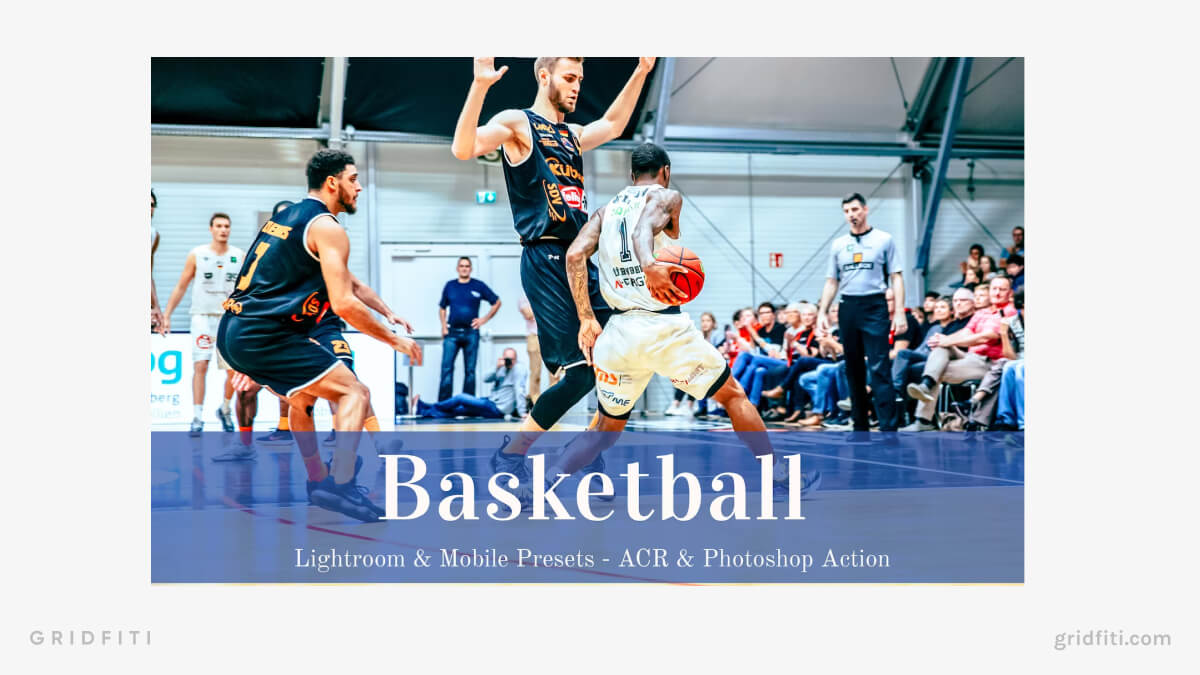 Dynamic Basketball Lightroom Presets
Elevate your basketball photos to cinematic heights with the Dynamic Basketball Lightroom preset pack. This set brings you 16 refined presets for desktop and mobile, designed to infuse each shot, whether indoor or outdoor, with a dynamic and filmic essence. With particular attention to enhancing sharpness in action-packed plays, this pack ensures your photos do justice to the game's intensity!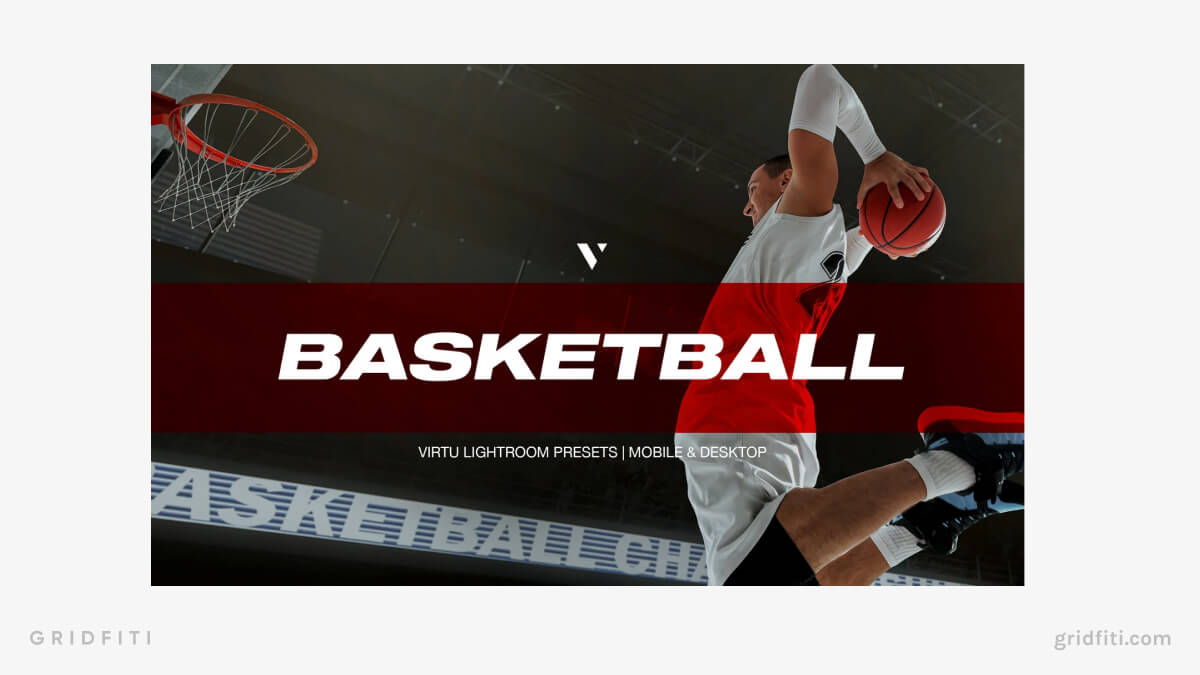 Dunking Lightroom Presets
For those perfect dunks and mid-air moments, this Dunking Lightroom preset pack will spotlight them all. This pack of 5 presets for Lightroom desktop and mobile transforms your basketball shots by amplifying the brightness and adding a splash of vibrancy. With a focus on warmer tones, these presets strike a balance, softening the clarity while boosting texture — which leads to dunking photo greatness!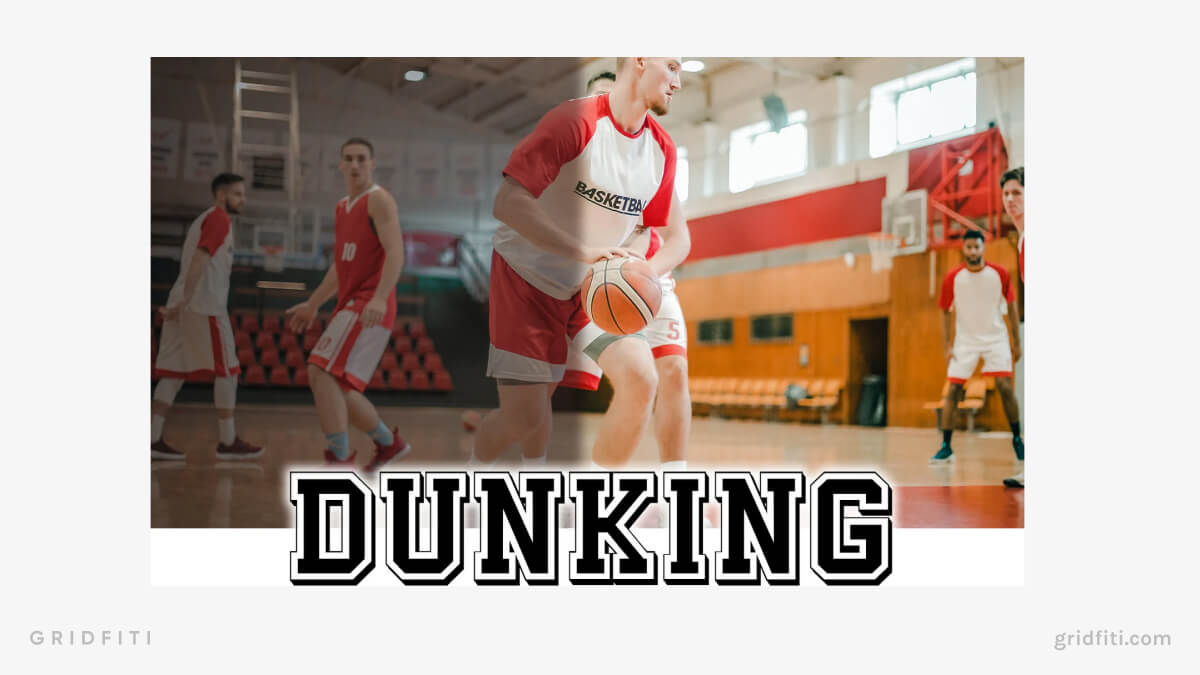 Golf Lightroom Presets
Golf Lightroom Presets For Mobile & Desktop
Take your golf photography to the next level with this custom set of 6 Lightroom presets for both desktop and mobile. Meticulously crafted to spotlight the gold tones and lush greens of the course, these presets will breathe life into every shot — from close-ups of the swing to wide vistas of the green. The combo of razor-sharp details with a hint of softened clarity ensures that every capture, from tee-off to putting, is perfected with style and grace.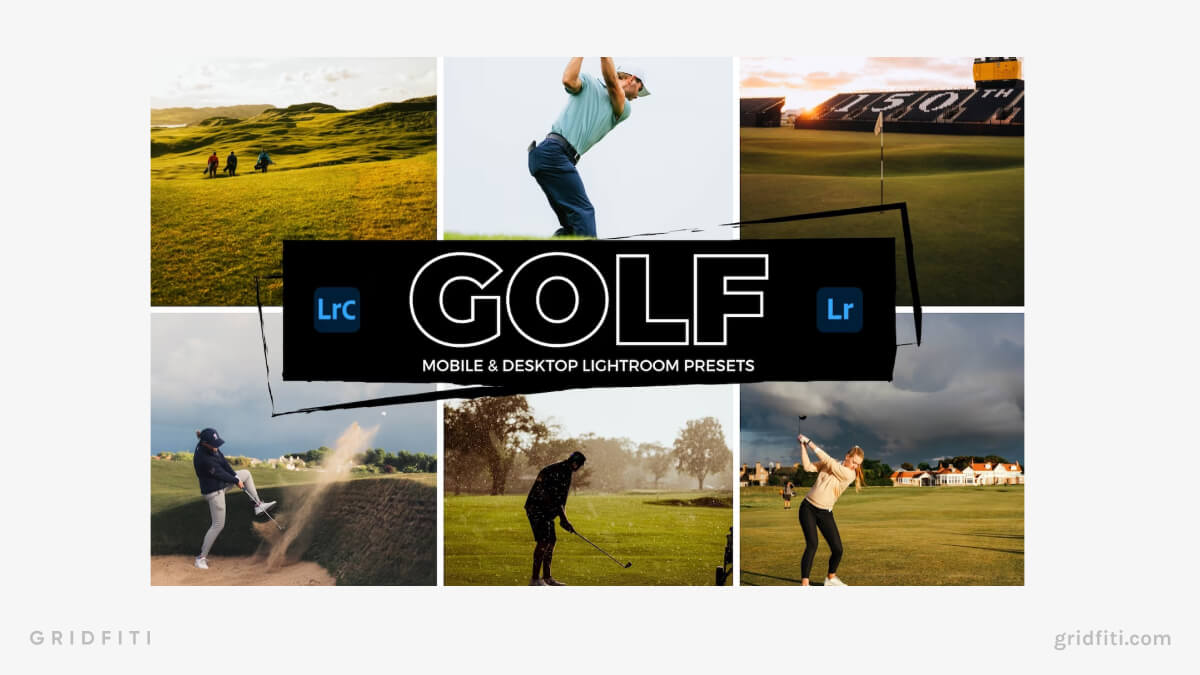 Golfing Presets For Lightroom
Unlock the beauty of your golf photos with these 7 Lightroom presets for desktop and mobile. Designed with precision, they elevate the greens of the course and the vivid blues of the skies, bringing on an inviting and vibrant look for the golf session. The blend of subtle contrast with enhanced sharpness guarantees that each shot, whether landscape or a close-up drive, is recreated with perfect clarity.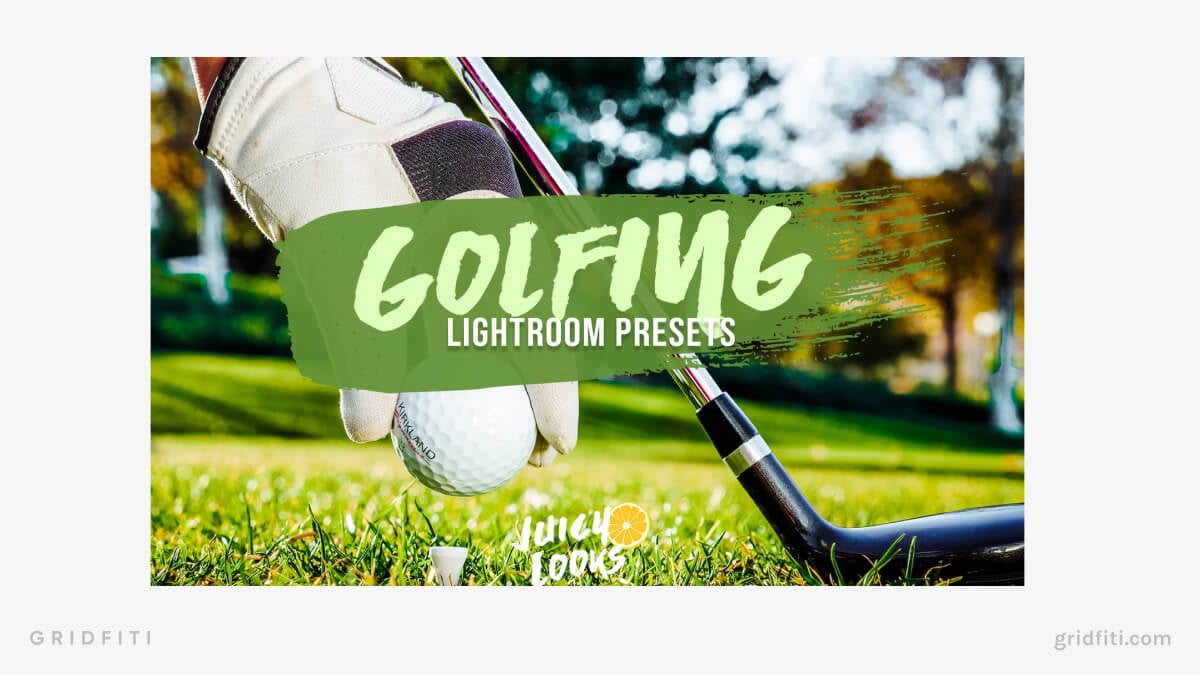 Driving Range Golf Presets
Get your mobile golfing photos just right with this singular, finely-tuned Lightroom mobile preset. Tailored for those candid moments on the driving range, it accentuates the blues of the sky, the fresh greens of the turf, and the crisp whites of the golf balls. All while ensuring skin tones are natural and vibrant. With its color grade leaning towards pastel green and blue hues, thanks to a gentle fade in colors, this preset will perfect the look of your days on the golf course.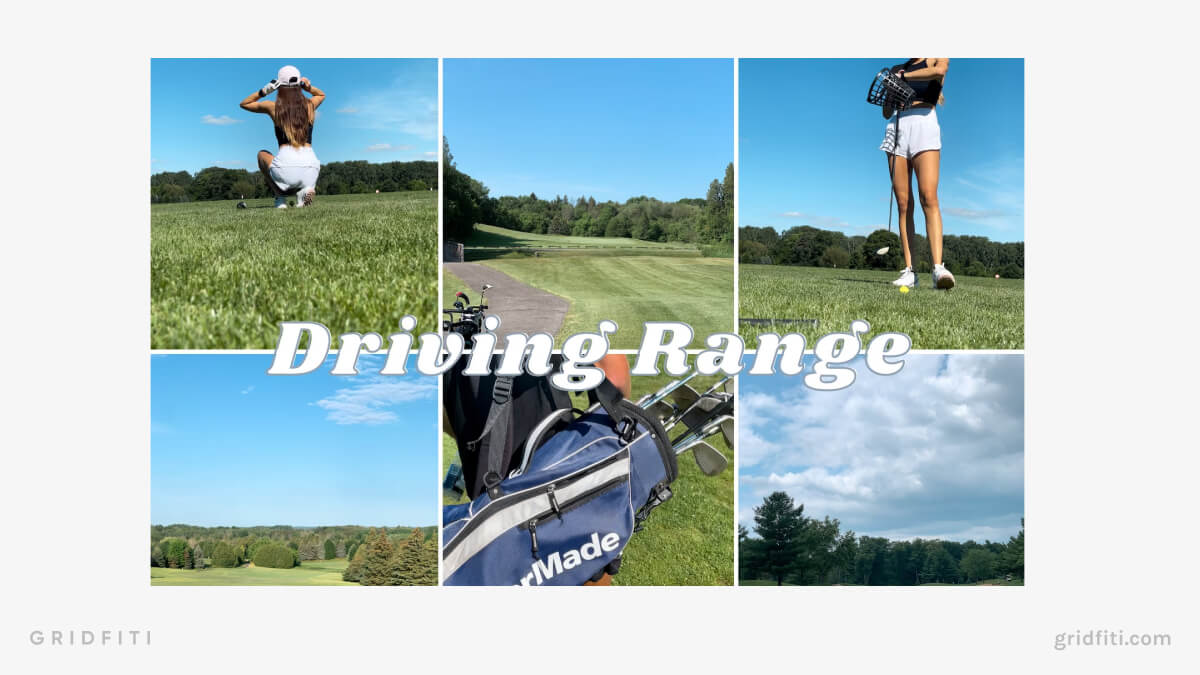 Fore Golfing Presets
For the golf enthusiasts, sports bloggers, or anyone analyzing their perfect swings, the Fore Golfing presets bring that needed touch of finesse to your golf photos. This set consists of 5 mobile presets that emphasize the rich greens of the golf courses, making them stand out perfectly. At the same time, they ensure skin tones remain naturally warm, recreating all your golf moment authentically.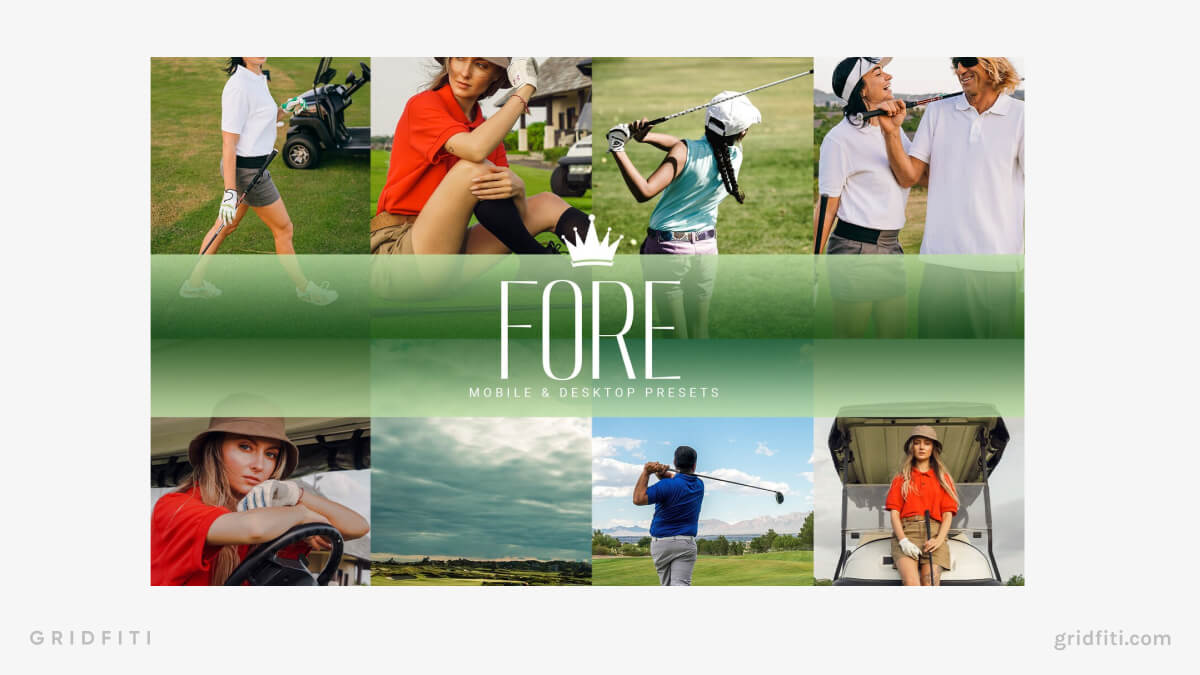 Baseball Lightroom Presets
Warm Baseball Presets
Capture the essence of golden sunlit baseball games with the Warm Baseball Presets collection. This pack comes with 10 Lightroom presets for desktop and mobile. Revel in the golden warmth of its color grading, where punchy reds and oranges come alive against vibrant greens of the grass. It's a preset pack that brings the perfect ambience of a summer baseball game!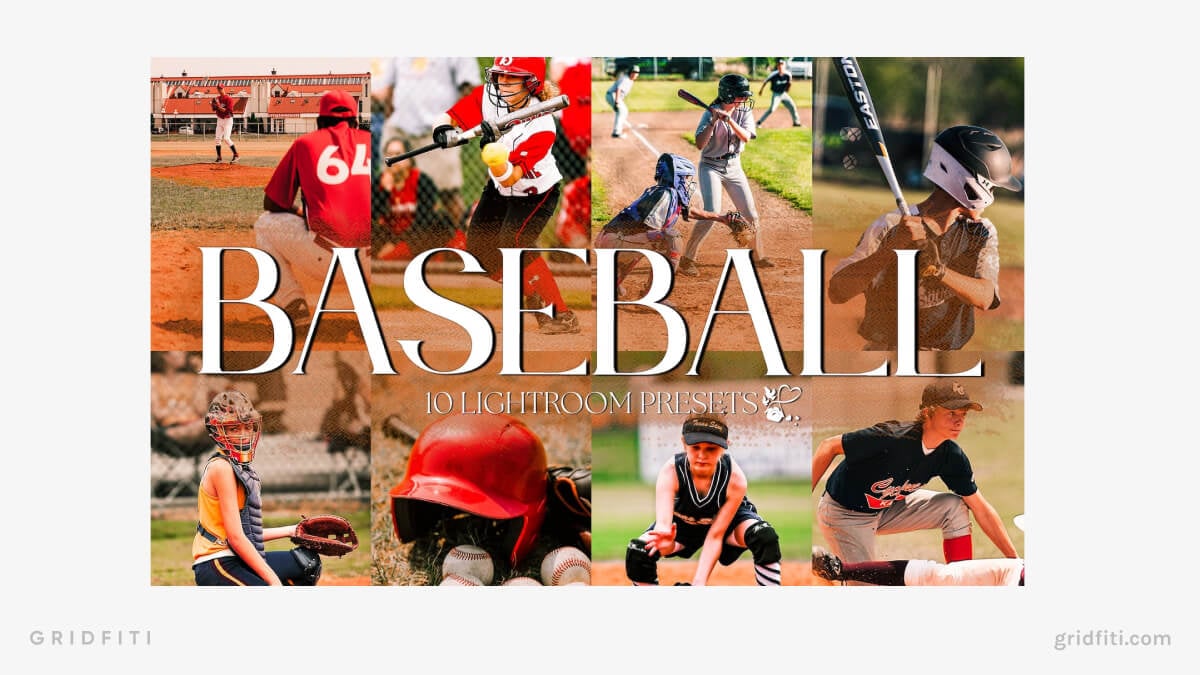 Home Run Lightroom Presets
Step up those baseball photos with the Home Run Lightroom presets. Whether you're capturing that powerful swing or the perfect home run, this pack of 5 presets for desktop and mobile has you covered. Ranging from neutral to warm, cold, cinematic, and even classy black and white. Each preset encapsulates the energy of the game in your photos!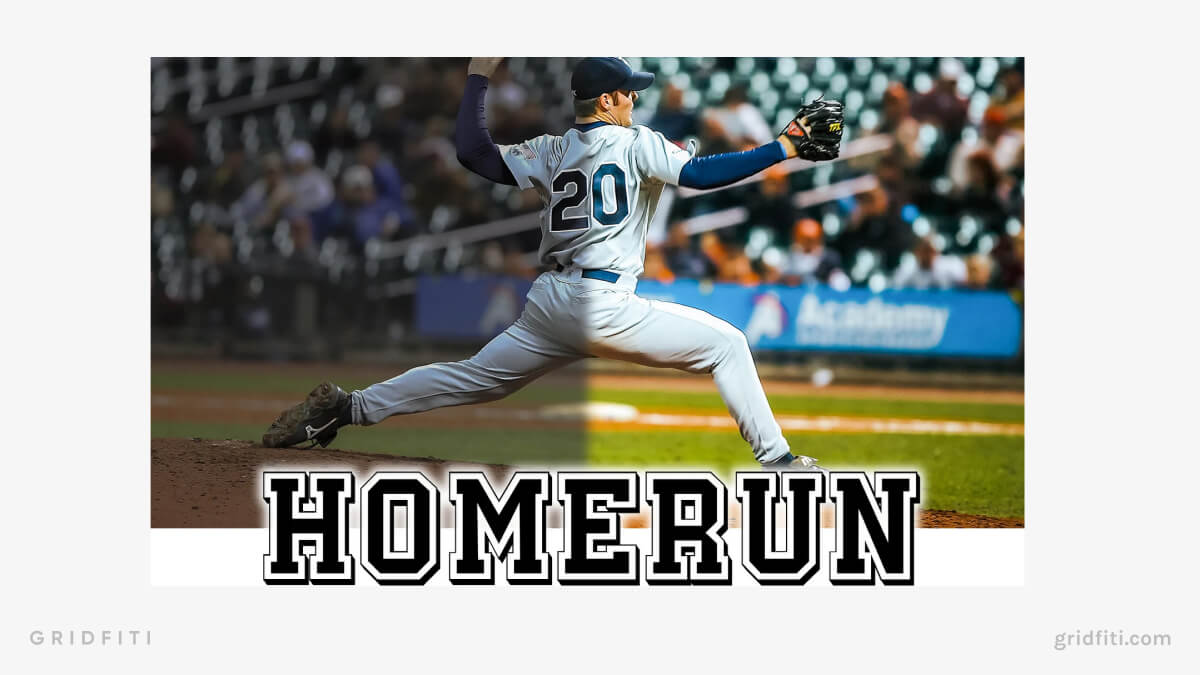 Baseball Turf Presets for Mobile
These Baseball Turf presets are designed to give a unique approach, defying the idea of washing out darker tones and instead, placing them center stage. This 9 preset pack for mobile preserves warmth and sharpness of skin tones, ensuring players reactions and emotions are vividly displayed. Capture every pivotal moment on the diamond and enhance them further with these presets!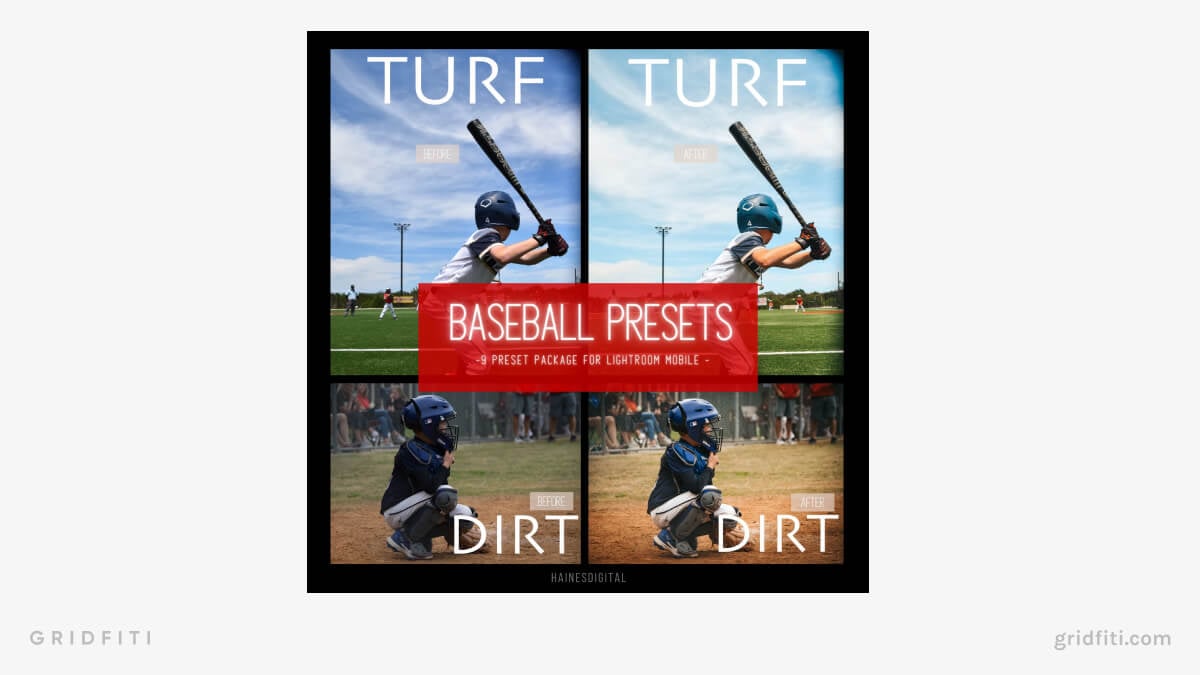 Other Sports Lightroom Presets
Olympic Sport Presets
The Olympic Sports Lightroom preset pack is created for any sporting spectacle! Whether it's an indoor gymnastic feat, swimming events or track runs, these presets will elevate your photos. Crafted by photographers who have brought Olympic events to life through their own cameras, these presets will give your photos the golden touch worthy of the Olympic stage.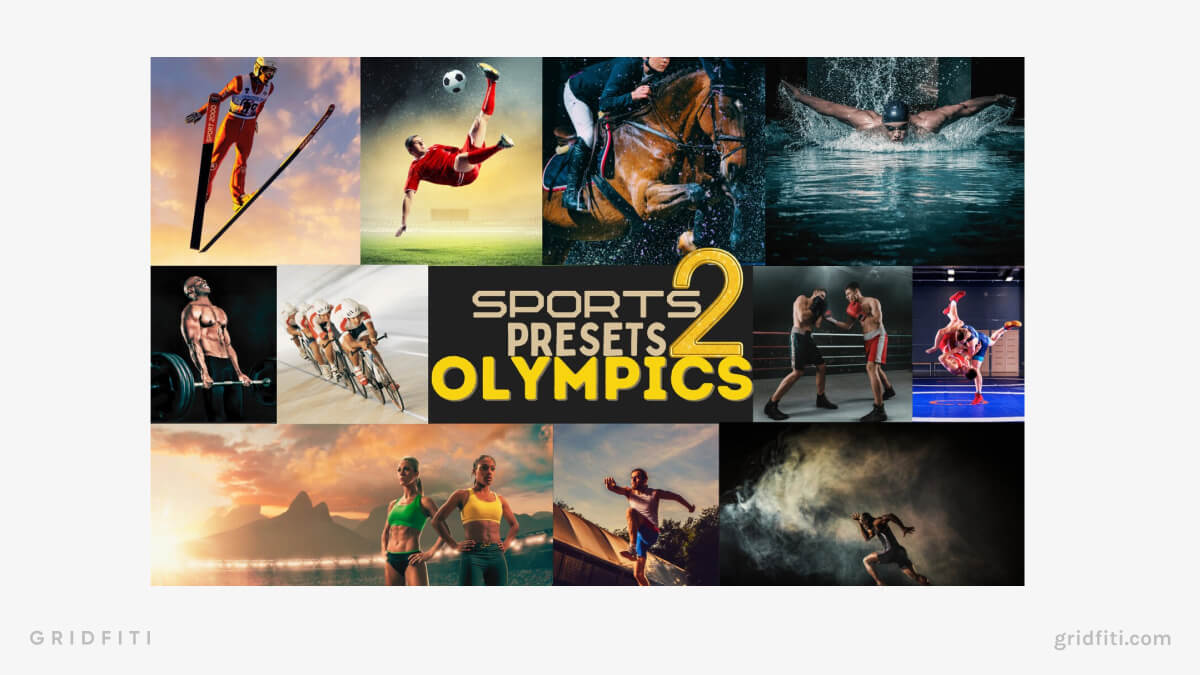 Icy Sports Presets
Capturing and editing icy and snowy sports comes with its own share of challenges. Check out these Icy Sports presets to tackle just that! With 5 preset options for desktop and mobile, the aim of these presets is to make the best of the conditions when capturing snow sports. This means that the whites of the snow, blues of the sky and the highlights and shadows in between are all edited to mesh together perfectly to create seamless, sharp and dynamic sport photos.
If you're looking for general presets for your snowy pics, check out our post for the best snow and winter presets!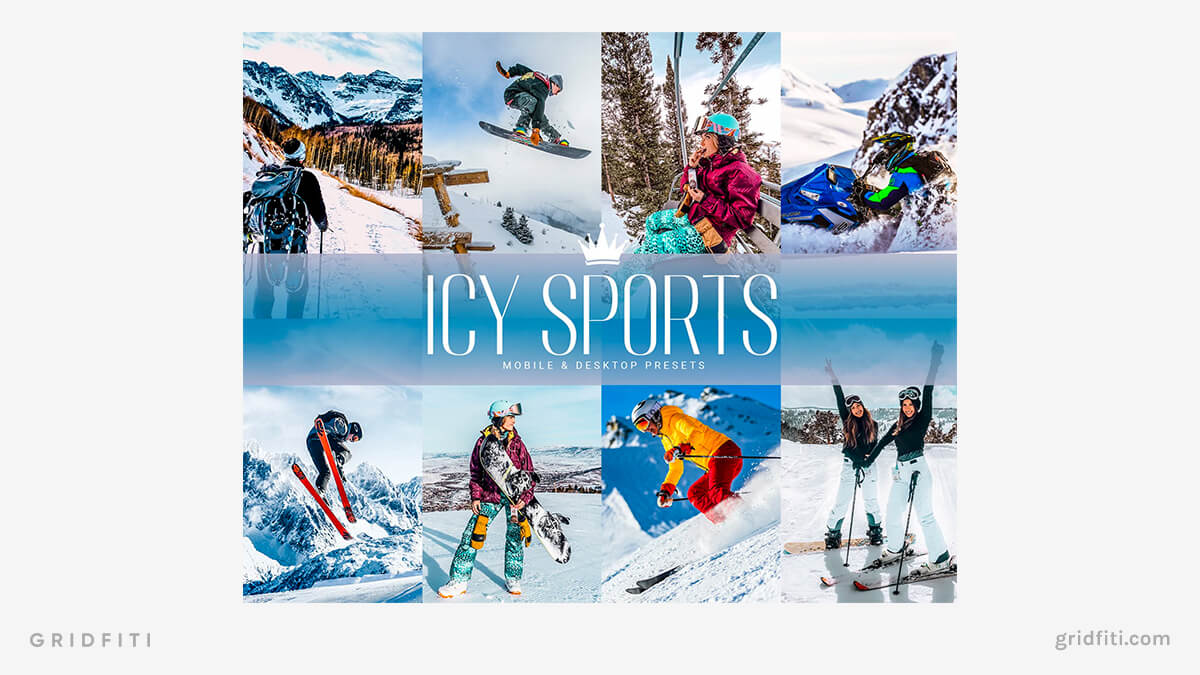 Fitness Lightroom Presets
Between each of these sports moments are those long hours that go into fitness and training, so here are a few options to edit those photos of you putting work in the gym!
If you're looking for more presets like these, check out our full round-up of fitness and gym Lightroom presets!
Gym Lightroom Presets & LUTs
Perfect those fitness photos with these Gym Lightroom presets & LUTs collection! Offering 20 designed presets for both desktop and mobile, paired with 20 LUTs, this pack transforms gym images with a dark and detailed aesthetic. Each edit casts a moody vibe, adding a dramatic and dynamic look. The presets are also tuned with warmth into the skin tones, emphasizing muscular definition, making every workout count!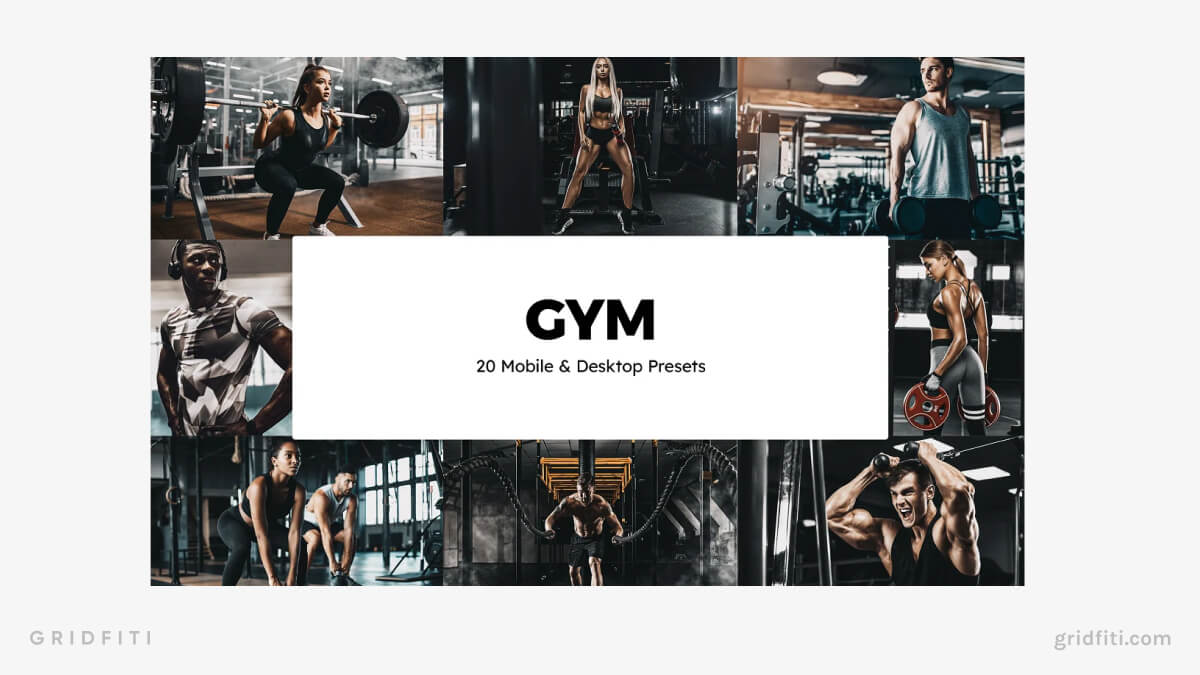 Sports & Fitness Preset Bundle
This comprehensive pack of 50 presets for Lightroom desktop and mobile will accentuate the finer details in your anatomy, capturing the shine and build in every muscle. With enhanced sharpness, lowered highlights, and increased contrast, these edits will take your fitness photos to perfection. Whether you're flexing or mid-rep, let your results speak for themselves!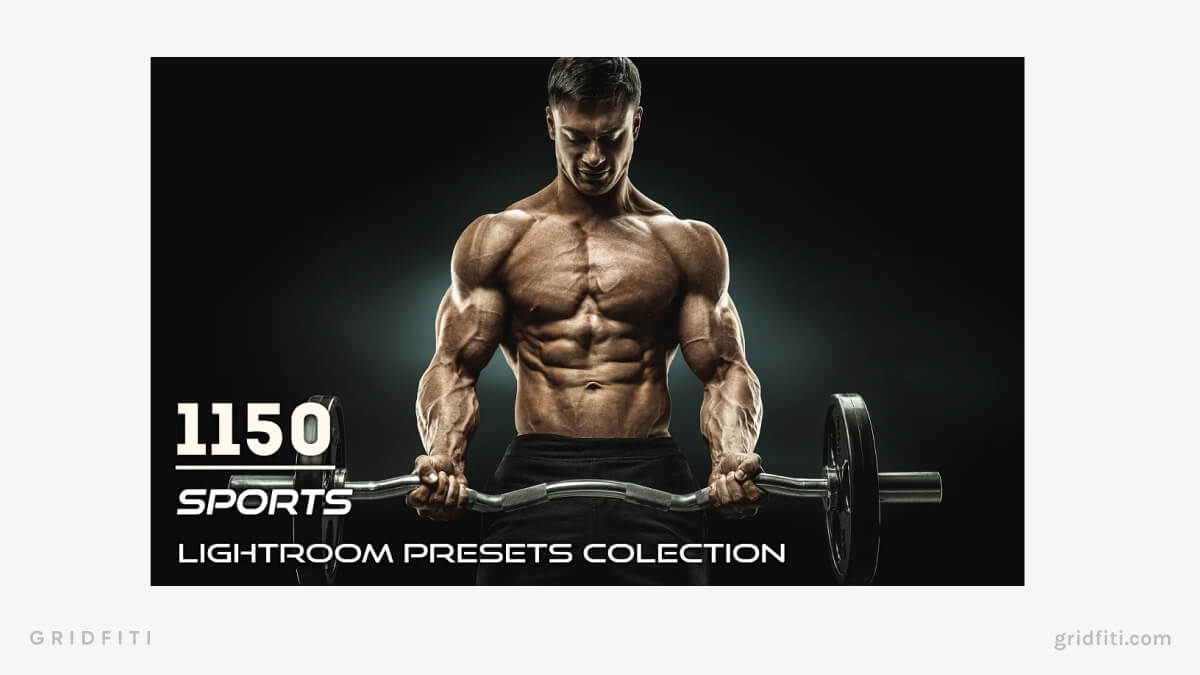 Free Sports Presets
So, you've captured your first set of sports photos, and you're eager to start editing them! But, if you're unsure where to begin and don't want to invest in a premium preset pack, we've got you covered. Here are some free sports preset options to help you kick off your editing journey.
Free Sharpen Presets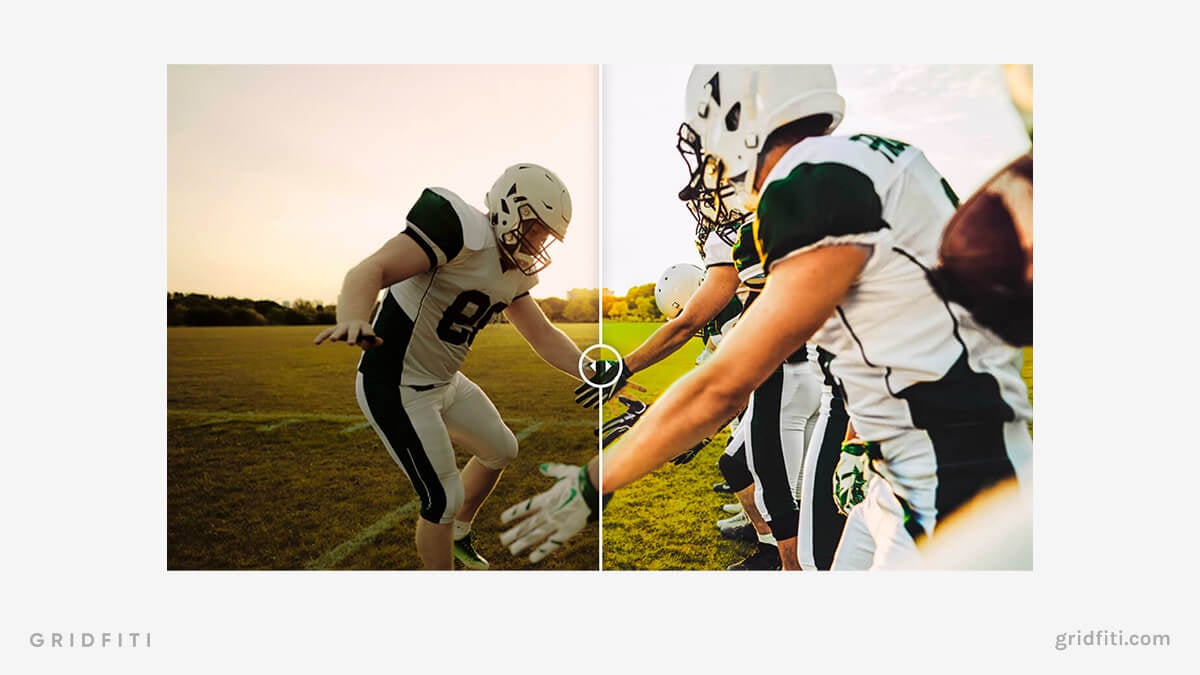 Free Active Presets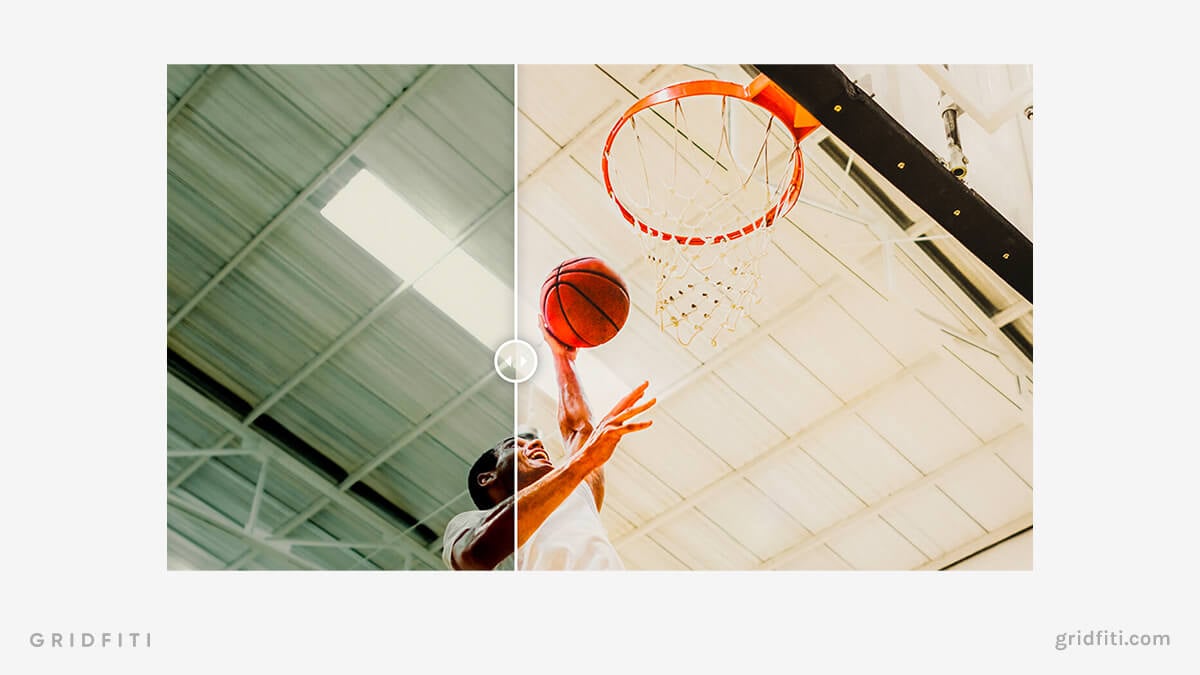 Free Cross Process Presets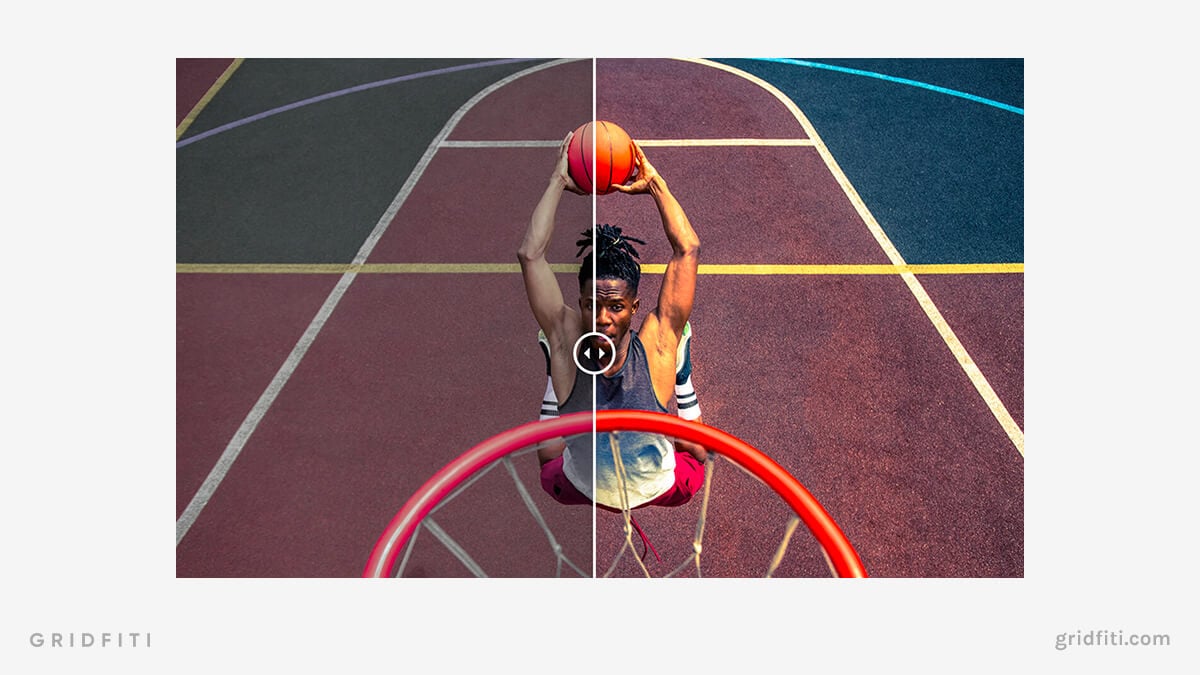 Free Filmic Sports Presets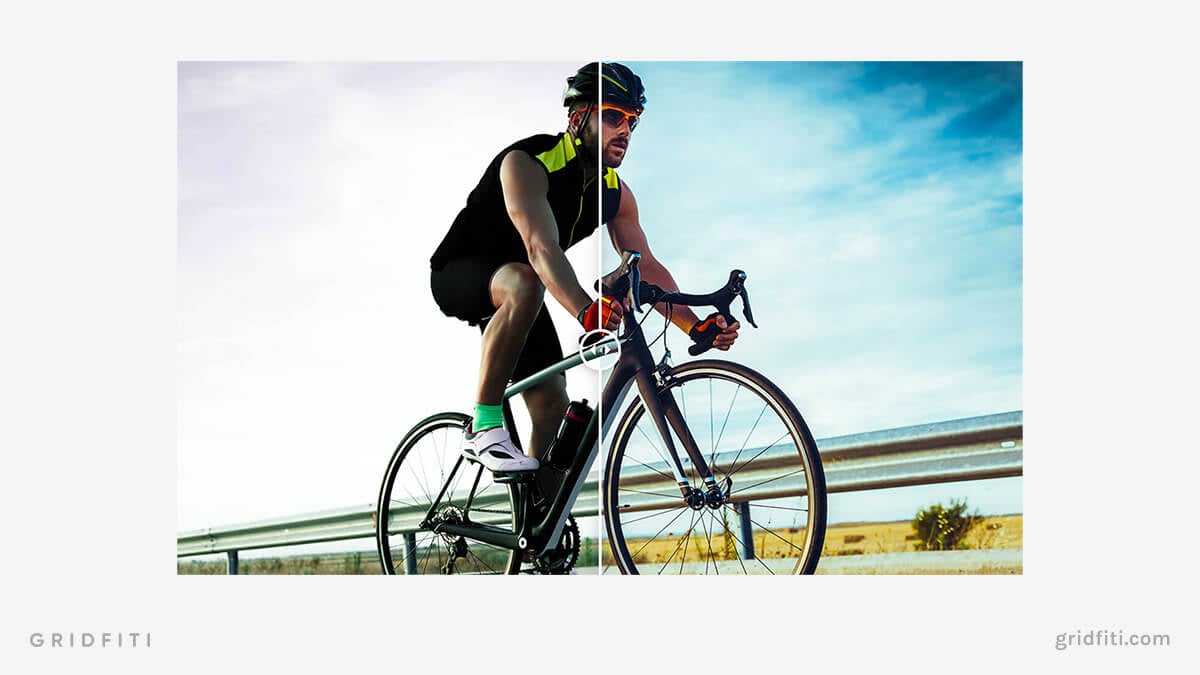 Aqua Sports Presets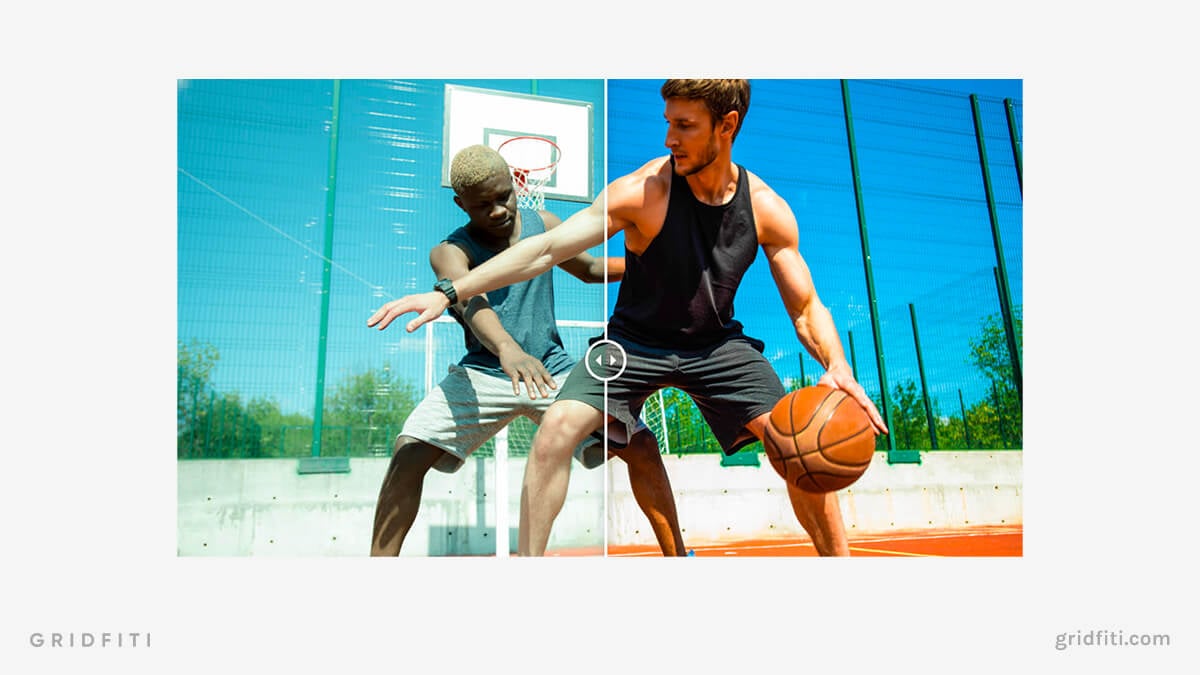 What do you think of this sports presets list? Are there any that you think we should include? Let us know in the comments below!
Gridfiti is supported by its audience – when you buy something using the retail links in our posts, we may earn a small commission at no additional cost to you. Read more about our affiliate disclaimer.