Are you a fan of the futuristic, neon-infused, dark and moody cyberpunk aesthetic? Do you find yourself capturing photos but unable to recreate this look?
Well, we've got you covered with our list of cyberpunk presets for Lightroom! Choose from presets inspired by our favorite cyberpunk movies, such as Tron, Blade Runner 2049, and The Matrix.
Each preset is crafted to accommodate different color grades, lighting settings, and aesthetic looks, such as a dark blue and red neon night look or a brighter yet moody post-apocalyptic look. Whether you're just getting your toes wet or know exactly the look you want, try out our picks for the best cyberpunk Lightroom presets to get started!
Want more preset guides and tips? Check out our several other preset blog posts, and join our newsletter below!
Urban Night Presets
Transform your urban photos into a Tron-like cityscape with these sweet Urban Night presets. These 10 presets take the color temperature of your photos to a cool blue and heighten the contrasting reds and golds. You'll get a clean Tron-like look to your pics – give it a try!
Do you want to elevate your urban photos? Check out our picks for the best urban Lightroom presets!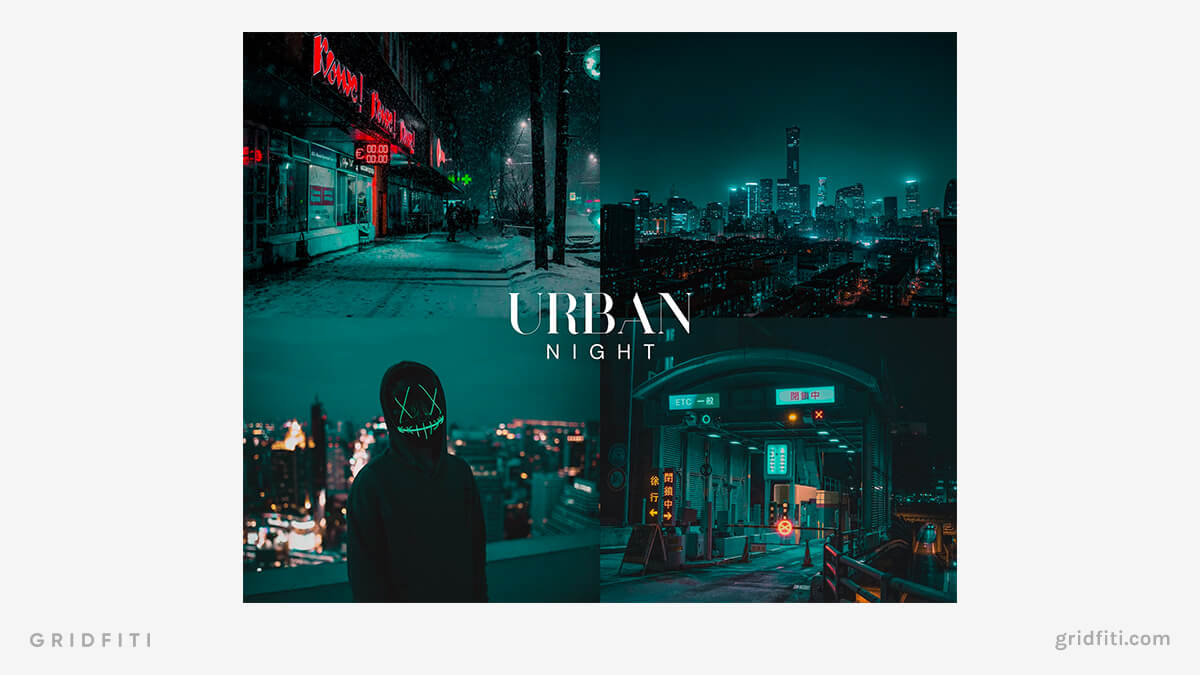 Neon Tokyo Lightroom Presets
Tokyo is synonymous with its neon night lights, so that's what this preset pack sets out to recreate! Choose from the single all-purpose preset that will transform your urban night photos with a cyberpunk aesthetic. Blues, purples, and reds are evident color profiles you'll notice in the edits – be sure to capture photos that contain sufficient light sources within the night time!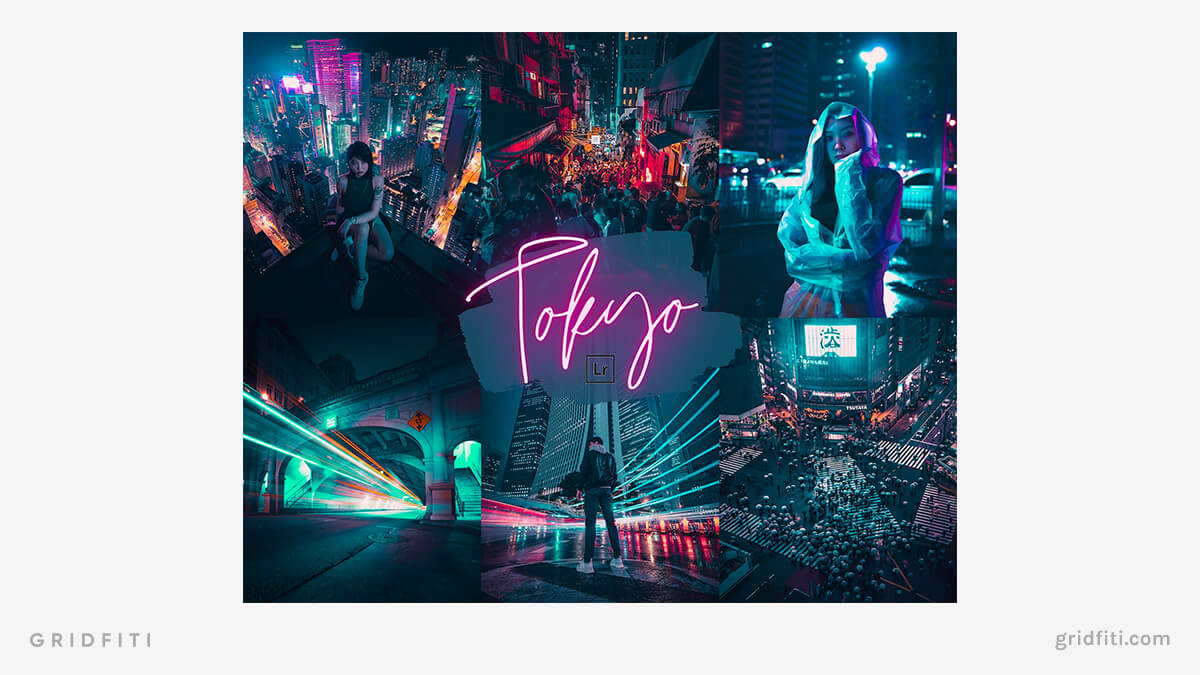 Neon Night Presets
This Neon Night preset pack comes with 10 options for desktop and mobile. The focus is on the contrasting tones of blue and red. The two colors pinned up against each other create a beautiful mesh of colors, even enhancing remaining tones like golds and greens. Use these presets in your neon pics to unlock a clean cyberpunk aesthetic!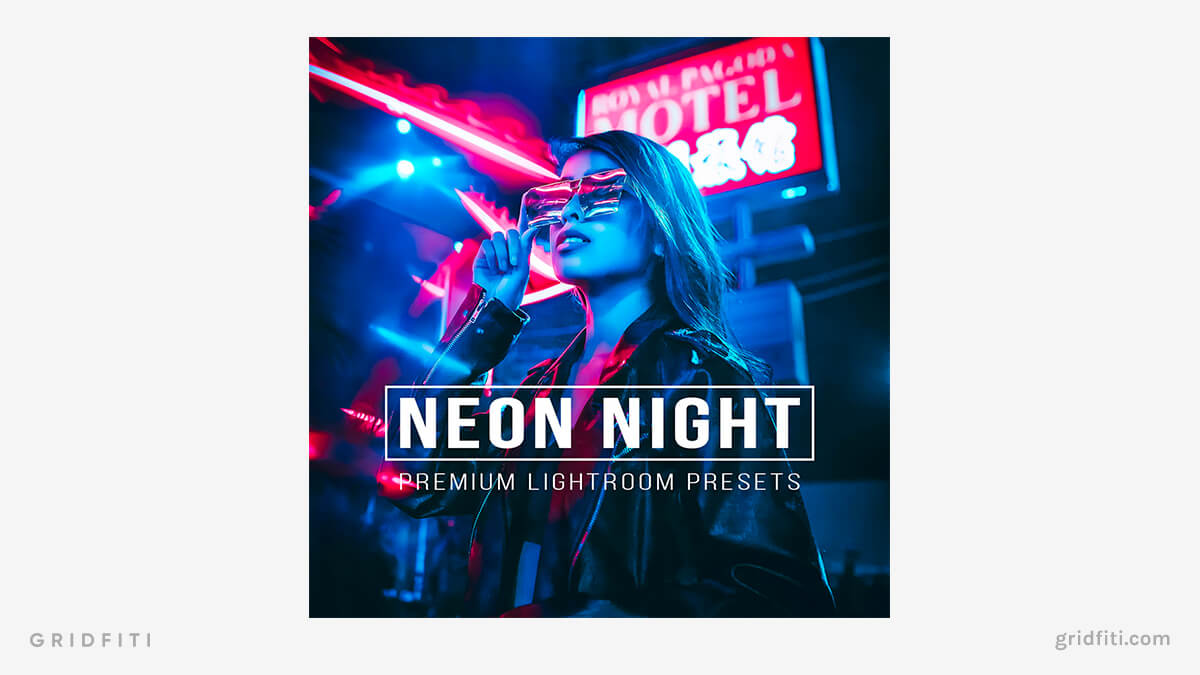 Cyber Matrix Aesthetic Presets
Not all cyberpunk aesthetics need to look Tron-like with blues and reds. This 10-preset pack takes it back to the blueprint with an aesthetic look inspired by The Matrix movies. Tones of green and yellow mixed with an overall cool temperature create an unmistakable cyberpunk look that'll make your photos look like they came straight out of the Matrix.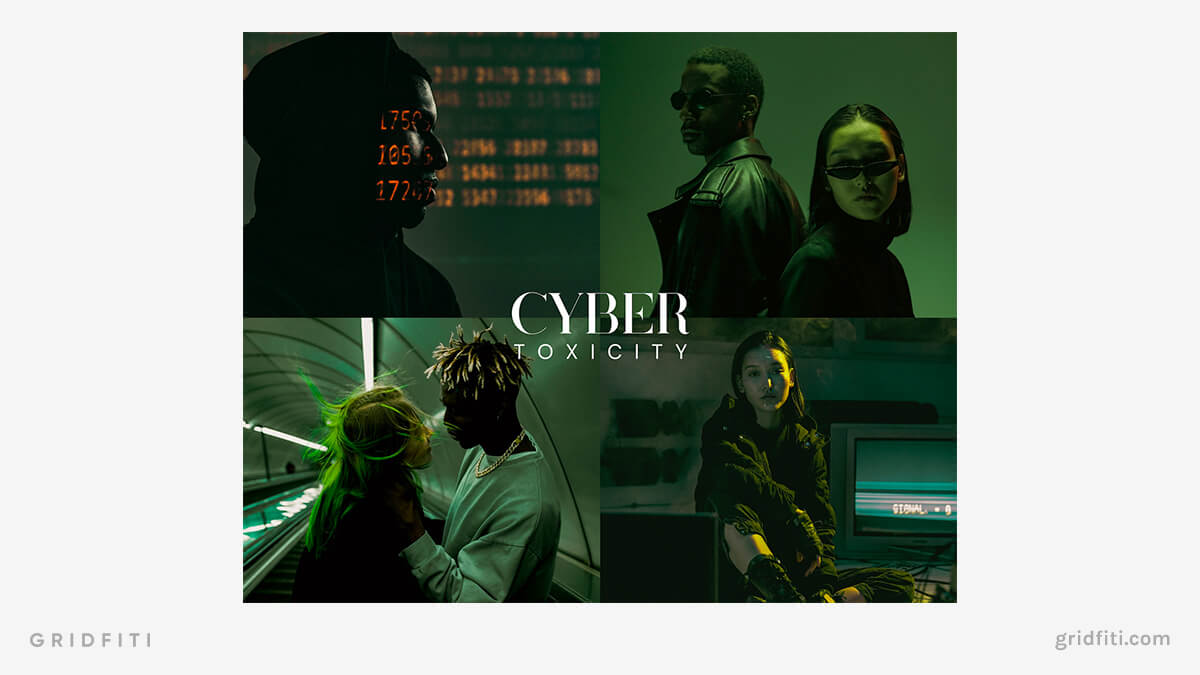 Cyberpunk Premium Presets
These 10 cyberpunk presets are inspired by some of our favorite Cyberpunk movies. They're designed to work with the colors of whatever photos you throw at them. Blues, reds, greens, purples – you name it! They'll work with your city shots or portrait shots – just be sure to capture some contrasting colors in your photos to watch the preset edits come to life!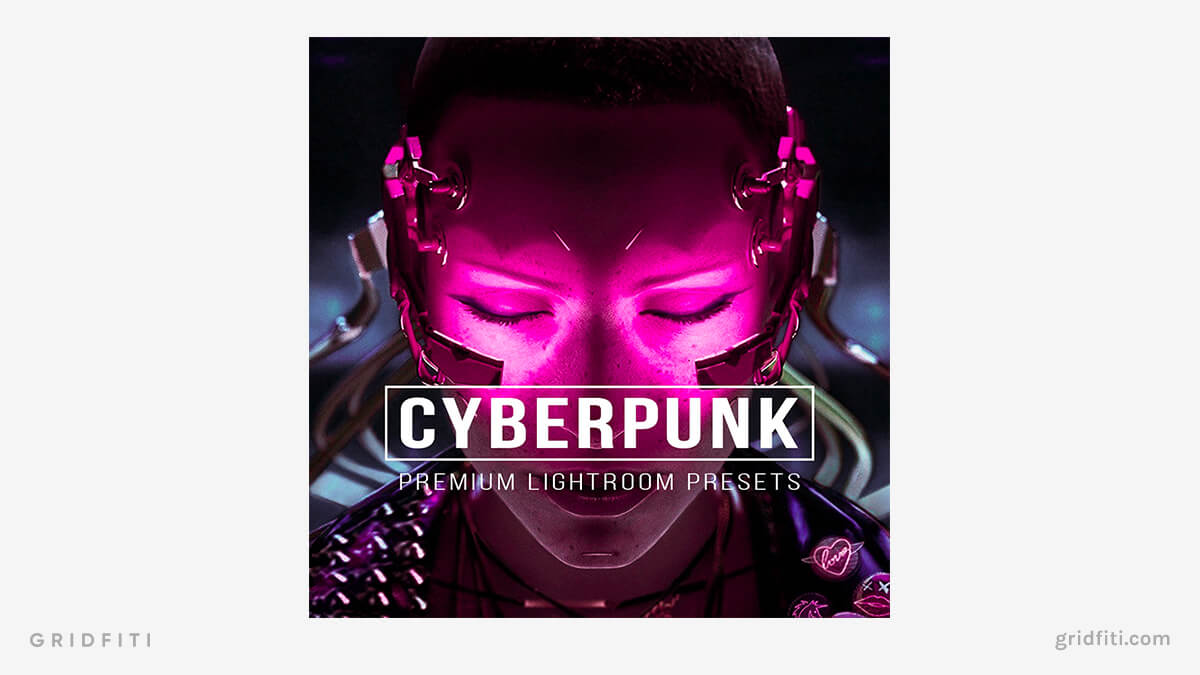 Futuristic Cyberpunk Presets
Combine a sharp editing texture style with a vibrant color profile, and you get this Futuristic Cyberpunk Preset pack. The pack comes with 5 presets for desktop and mobile and is best used for night photos with colored lights. One differing factor of these presets is their increased sharpness and clarity, so use them on photos where you want the details to also be the emphasis.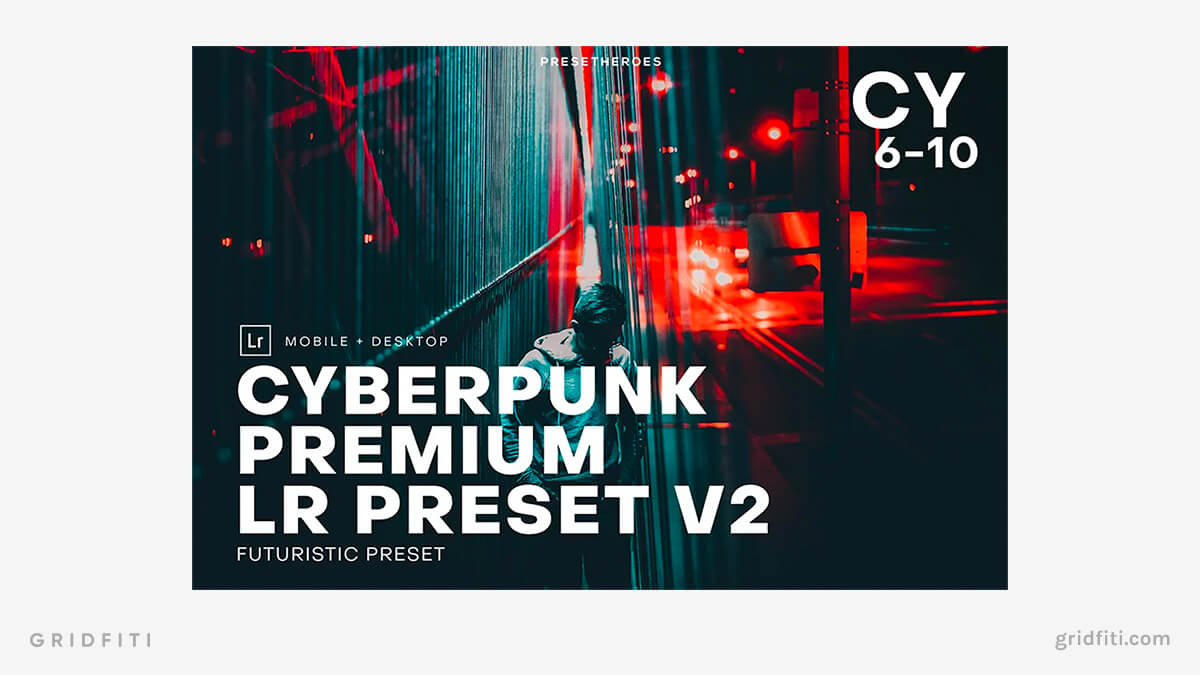 Cyberpunk Premium Lightroom Presets
These Cyberpunk Premium Lightroom presets come with 5 editing styles to choose from. These edits place more of a teal cast over the photos, which create a more approachable cyberpunk aesthetic as opposed to the strong blues we usually see. Check them out!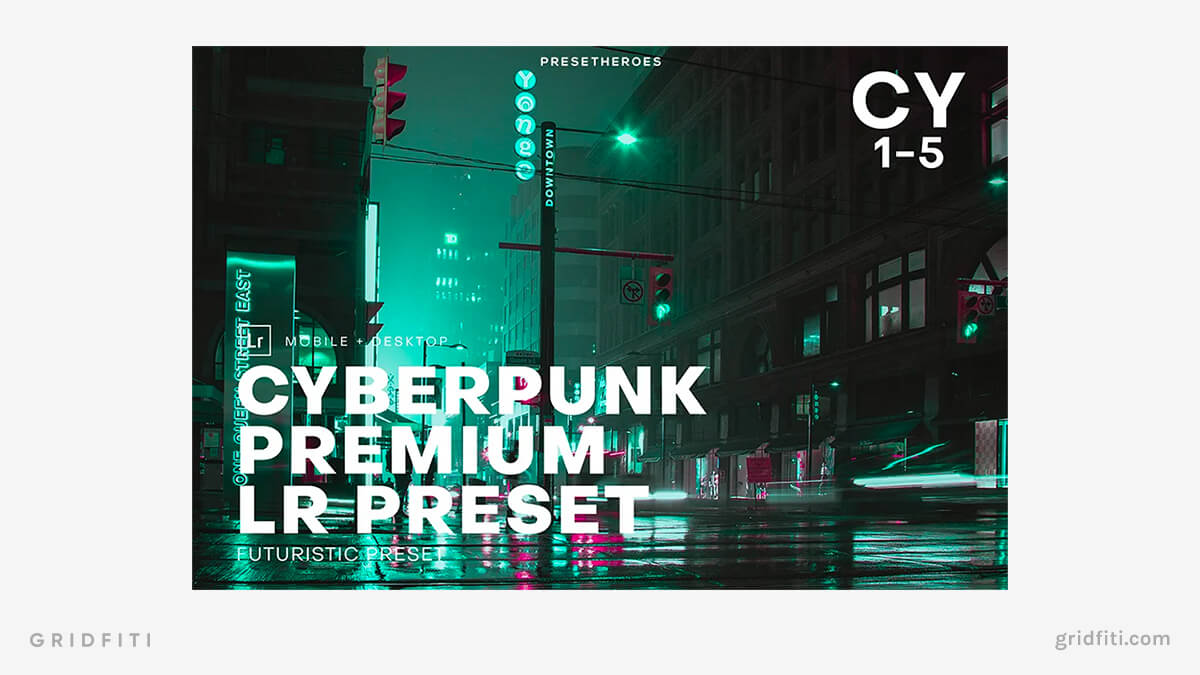 Night 2049 Lightroom Presets
We love the perfect mix of tones in this Night 2049 preset pack! The 10 presets for desktop and mobile give an expansive editing suite to accommodate different types of photos, whether they be portraits, city shots, or anything else in between. The goal of this is to create a soft and clean cinematic look reminiscent of something you'd see in Blade Runner 2049!
Apocalyptic Cyberpunk Presets
Not all cyberpunk pics need to take place at night with blue lights and neons! This single preset pack gives you a look into an apocalyptic cyberpunk aesthetic. The warm tones, softness, and desaturation create a futuristic wasteland look that you'd find within the cyberpunk realm. There's a special cinematic approach to this preset pack which we think you'd love with your photos!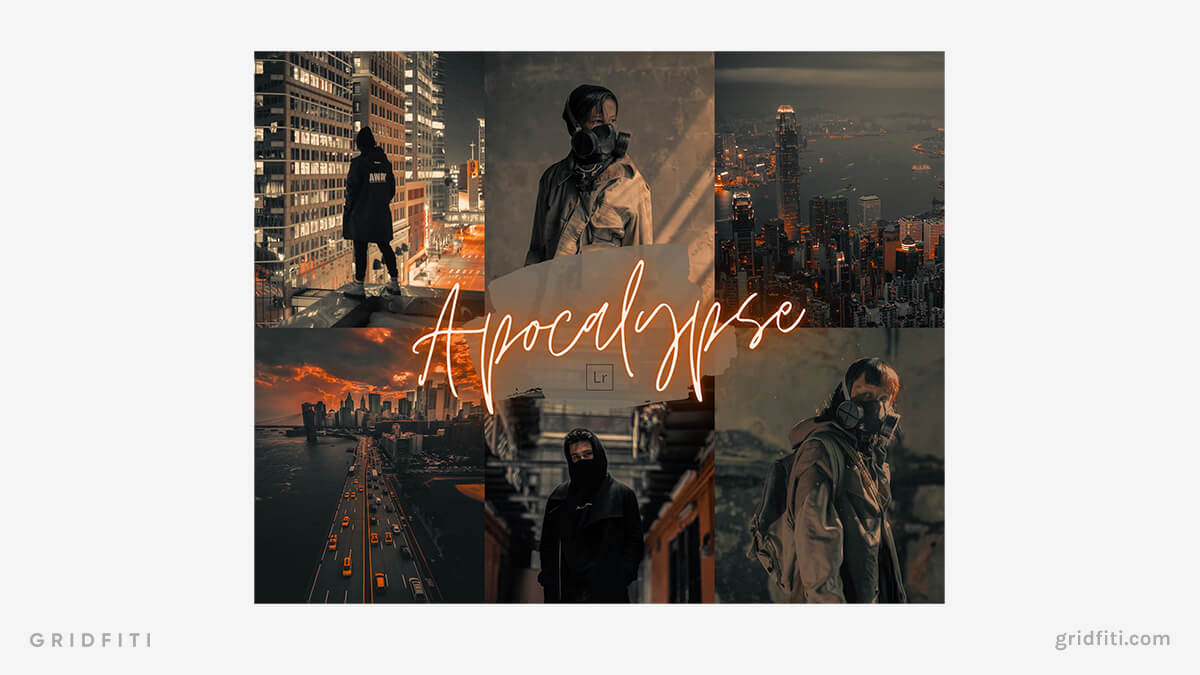 Manhattan 2049 Presets
Think Manhattan urban style with an added touch of cinematic futurism, and we get this Manhattan 2049 preset pack. Inspired by Blade Runner 2049, these 14 presets bring a dramatic color grade to your photos in the form of bold color casts. Choose from the blue, orange, or teal options and mix and match them with your photos of the city and its textures to unlock that cyberpunk aesthetic!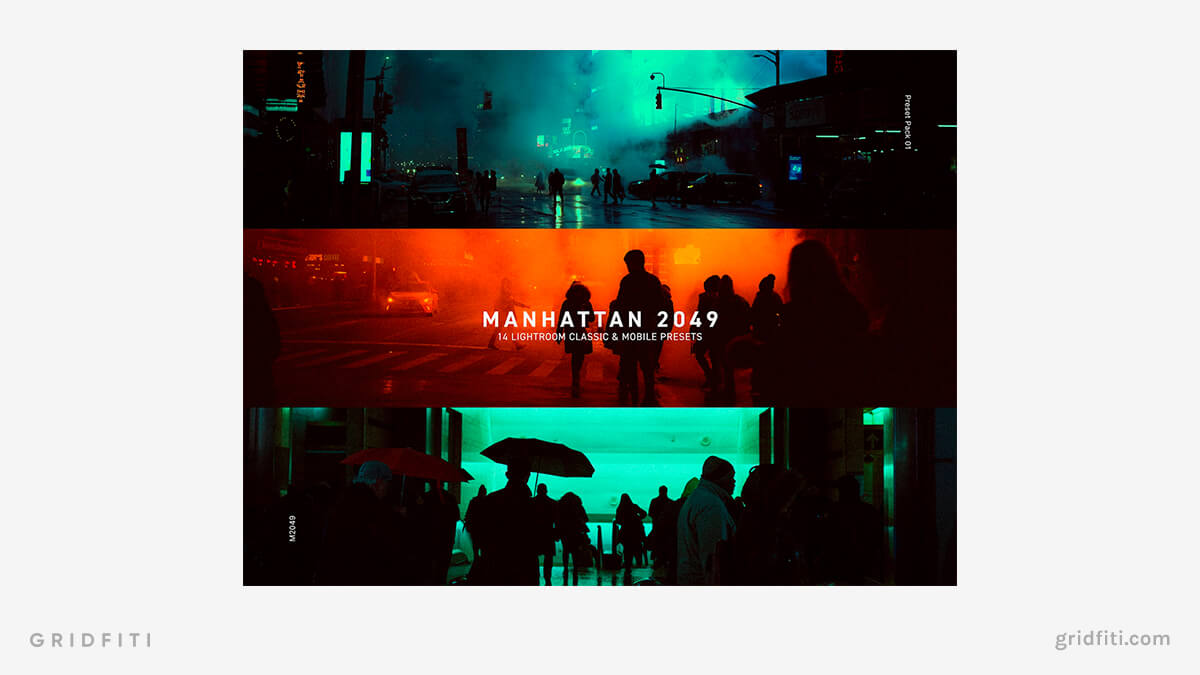 Free Cyberpunk Presets
Not too sure about which presets to start with? You can try these cyberpunk presets to get started with figuring out your editing style before committing to a premium preset pack!
Free Cyberpunk Lightroom Mobile Preset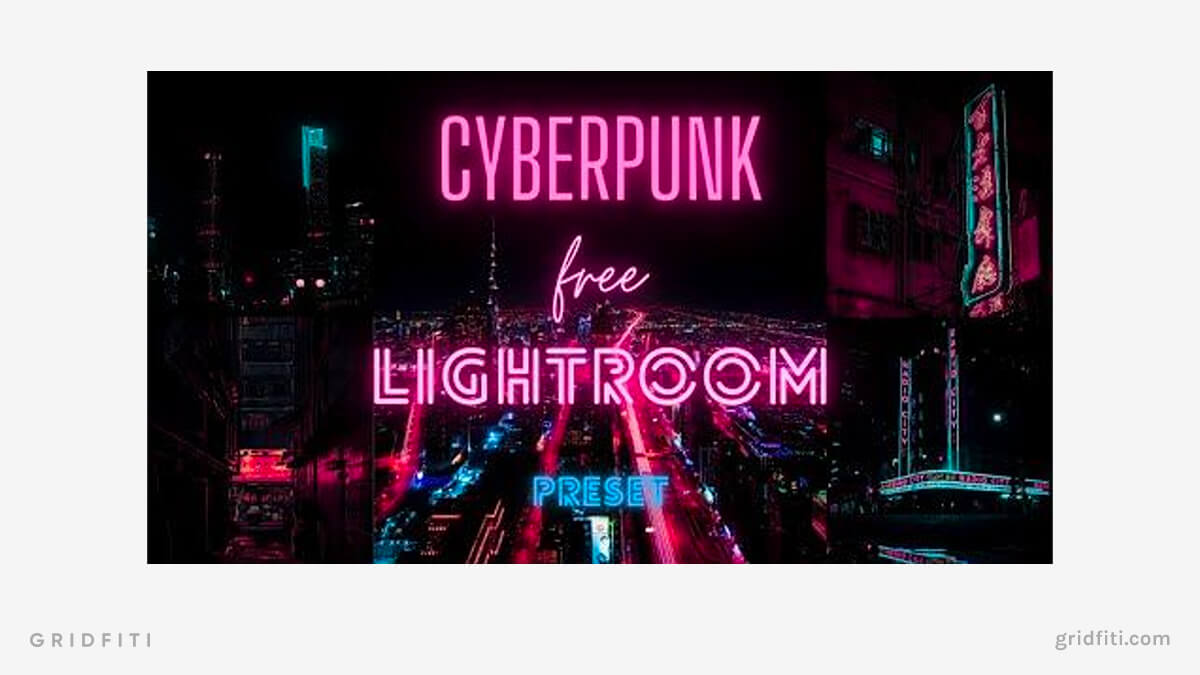 Free Cyberpunk Preset Pack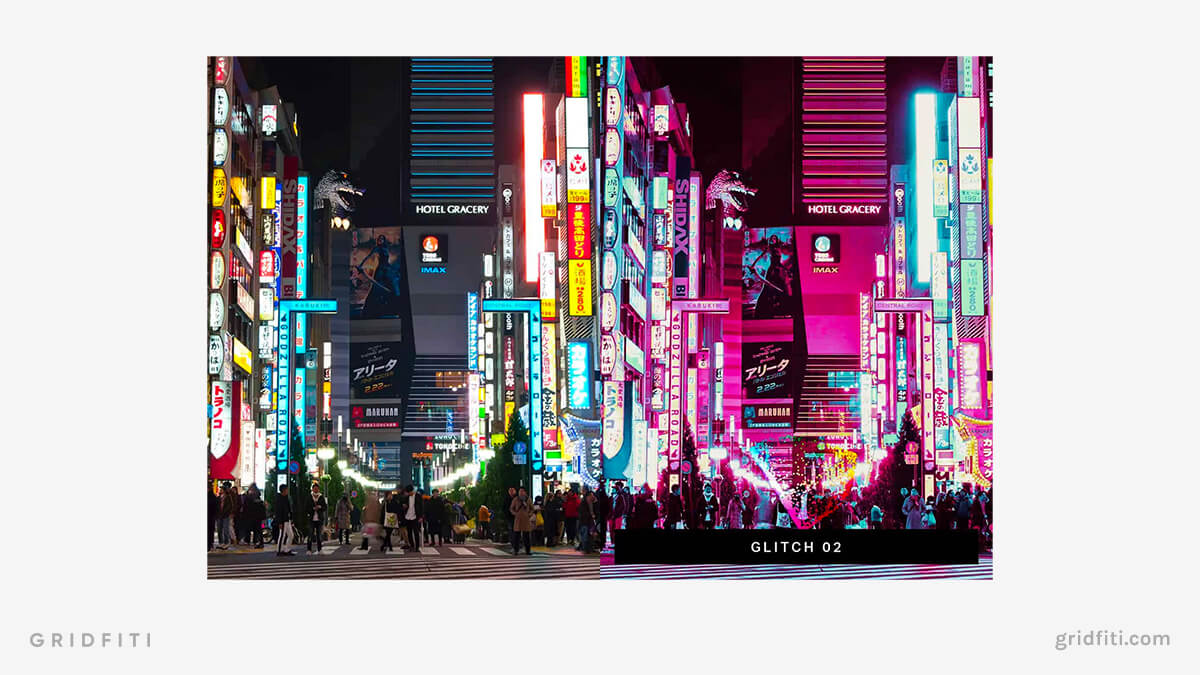 Which one of these Cyberpunk presets is your favorite? Are there any you think we should include in our list? Let us know in the comments below!
Gridfiti is supported by its audience – when you buy something using the retail links in our posts, we may earn a small commission at no additional cost to you. Read more about our affiliate disclaimer.