New York, New York. The Big Apple, the City That Never Sleeps, Gotham – no matter what you call it, it's one of the most adored cities on earth. Visited by over 60 million people each year, New York is a cultural capital of the world, and exudes an energy that you just can't find anywhere else.
This one-of-a-kind energy, hustle and bustle, and creative spirit the city radiates makes it a must-visit destination for any creative. So, when you're there, where should you go to capture the city and its iconic character?
If you're looking for the best places to photograph in NYC, look no further — we've curated an extensive guide of the best locations in the city to bring your camera.
Here are the types of spots we'll cover:
For each of these spots, get inspired by the unique perspectives and tips we'll share along the way, along with sample images from some incredible photographers (make sure to follow them to keep the creativity flowing!)
Whether you're visiting from another state, country, continent, or even if you're a local yourself, check out our curated list of the best NYC photography spots.
Want to keep up with more city guides and photography spots? Join our travel mailing list 📮
Under-the-Radar & Unique NYC Photography Spots
When you're photographing one of the most-photographed cities in the world, it can be tricky to find your own unique take on the city – this is where these spots come in. We'll point you in the right direction for the classic NYC photography spots further down, but make sure you don't miss these gems to get shots you won't find on a postcard.
Vessel
📍 20 Hudson Yards, New York, NY (Chelsea)
Put together a public plaza and Indian stepwell-inspired geometric design, and what do you get? Vessel. Some love it, some hate it, but there's no denying its symmetry and cascading form make for amazing shots. Situated right in Chelsea's Hudson Yards, Vessel has 16 stories, 154 flights of stairs, and 80 landings connecting its elaborate honeycomb-like structure. Shoot it from above, from below, or at eye level – either way, bring your best wide angle lens to capture it all!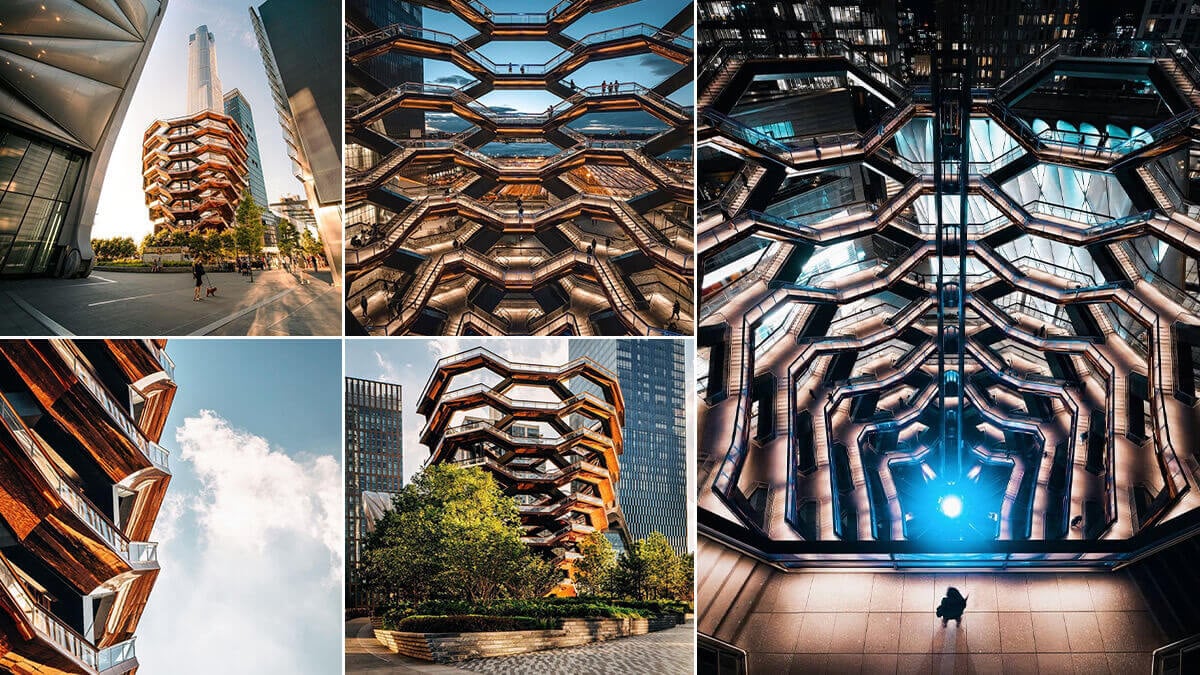 Photos by @jerometraveller, @joethommas, @demas
Squibb Park Bridge
📍 Middagh St, Brooklyn, NY (Brooklyn Heights)
We've heard about the Brooklyn Bridge, Manhattan Bridge, George Washington Bridge – but we gotta say, Squibb Park Bridge is slept on. After reopening in May 2020, this zig-zagging, picture-perfect spot offers stunning views and leading lines towards the Manhattan skyline. This spot is great at twilight, just as the bridge and city lights turn on, and natural light lingers.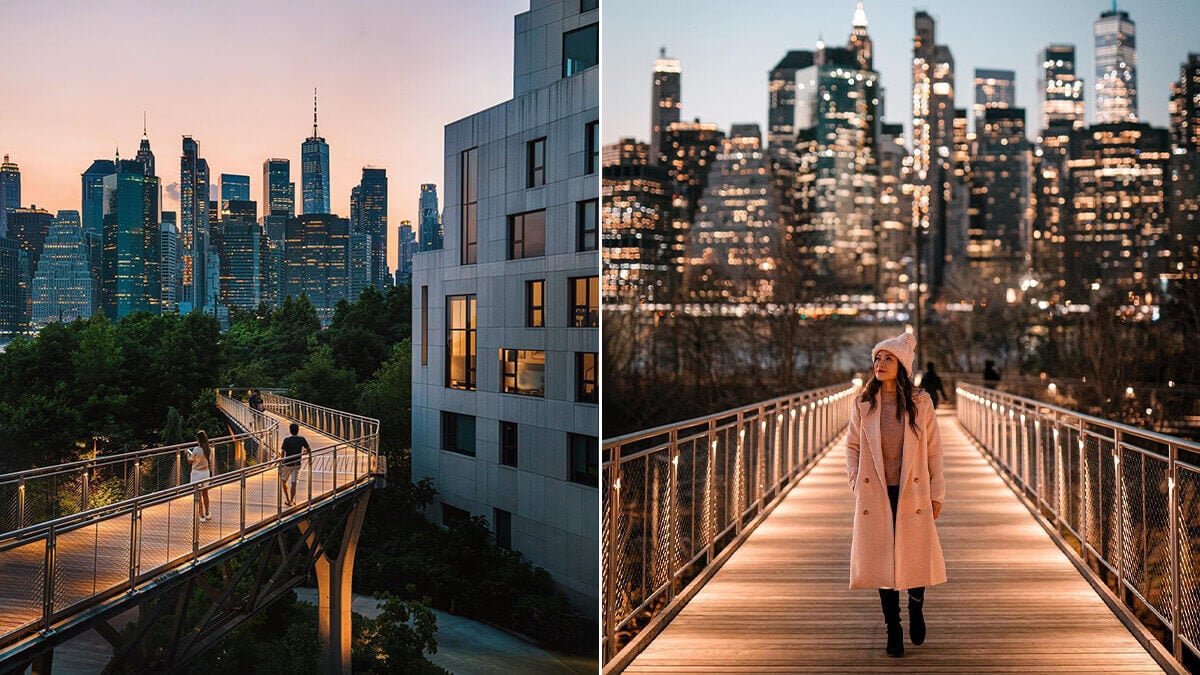 Photos by @joethommas and @tourdelust
Little Island @Pier55
📍 Pier55 in Hudson River Park @ West 13th St, New York, NY (Chelsea)
Making its debut in 2021, Little Island is an oasis just steps away from buzzy Chelsea and Meatpacking District. Hovering over the Hudson on 132 support structures, there are so many unique angles and perspectives to capture in this park.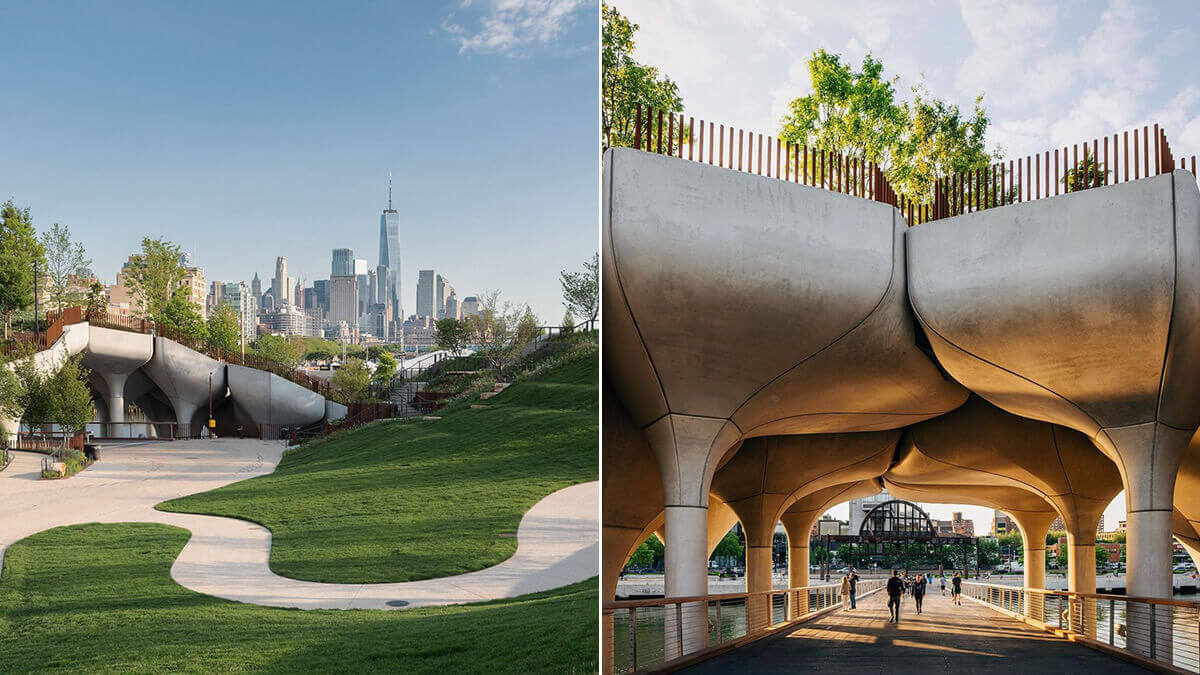 Photos by @michaelgrimmphoto and @joethommas
The Beekman, a Thompson Hotel
📍 123 Nassau St, New York, NY (Financial District)
Converted from an 1881 law office building, The Beekman in the Financial District revived the space to create a beautiful, opulent destination for guests. With a Victorian design, wide-open atrium, mesmerizing tiling, and a pyramidal skylight – there's really no shortage of textures and details to capture within this masterpiece!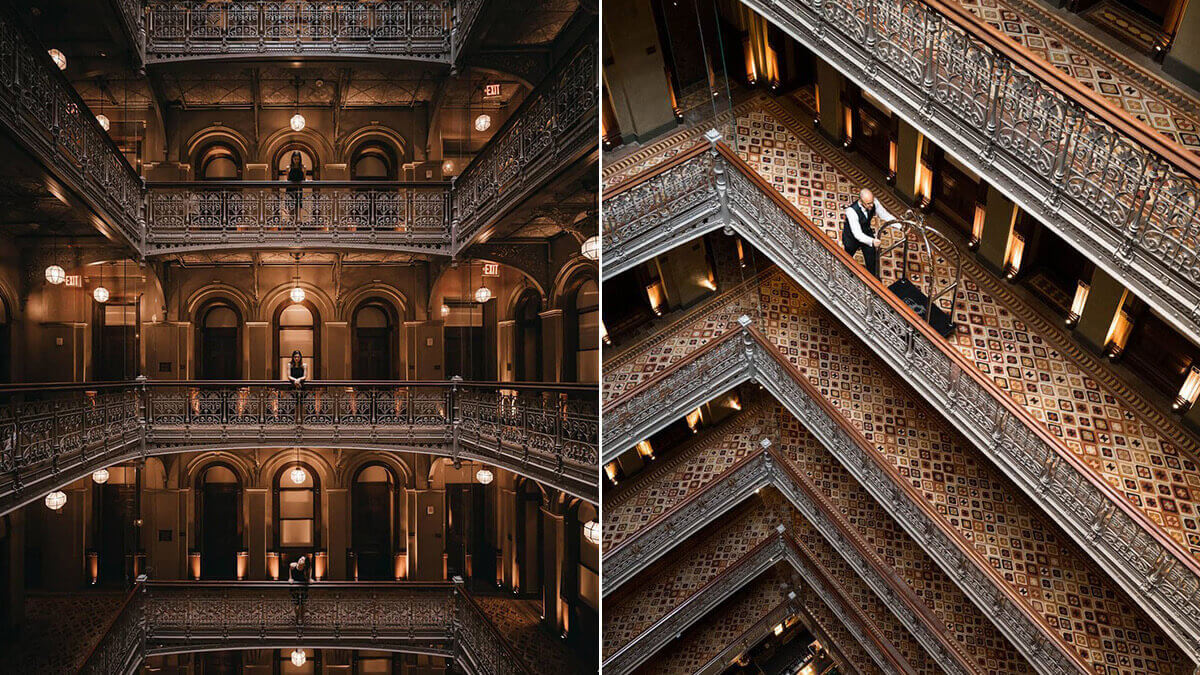 Photos by @michaelgrimmphoto and @joethommas
Two Bridges
📍 52 South St, New York, NY (Two Bridges)
Why just photograph one bridge when you can photograph two? And two incredibly iconic bridges at that. This under-photographed vantage point right by the bottom of South Street has a viewpoint of both the Manhattan Bridge and Brooklyn Bridge, giving lots of room to play with symmetry too.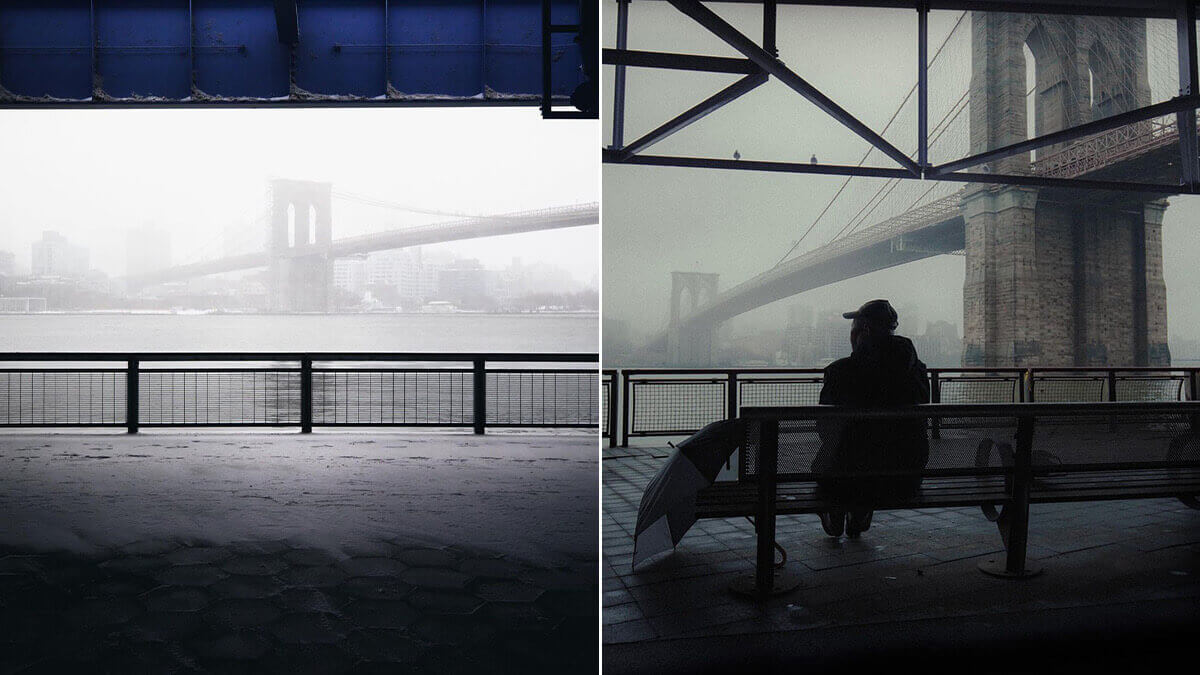 Photo by @alxvisual
Tear Drop Memorial – View of the Statue of Liberty
📍 51 Port Terminal Blvd, Bayonne, NJ
There are many ways to see and capture the Statue of Liberty – from the Staten Island Ferry, atop One World Observatory, or even from a helicopter, but one of the most unique spots to capture the New Yorkest of New York icons from is the Tear Drop Memorial in New Jersey! From this spot, you can capture the Statue against the Manhattan skyline, complete with the Empire State Building. It's about a 20 minute drive from Manhattan, but well worth the trip.
A telephoto lens is a must for this spot (we recommend a 200-600mm or 100-400mm) to get up close to the Statue, and of course get that sweet compression of the skyline. If you don't feel like lugging such a lens all the way on your trip to the city, you can always pick up a rental at B&H!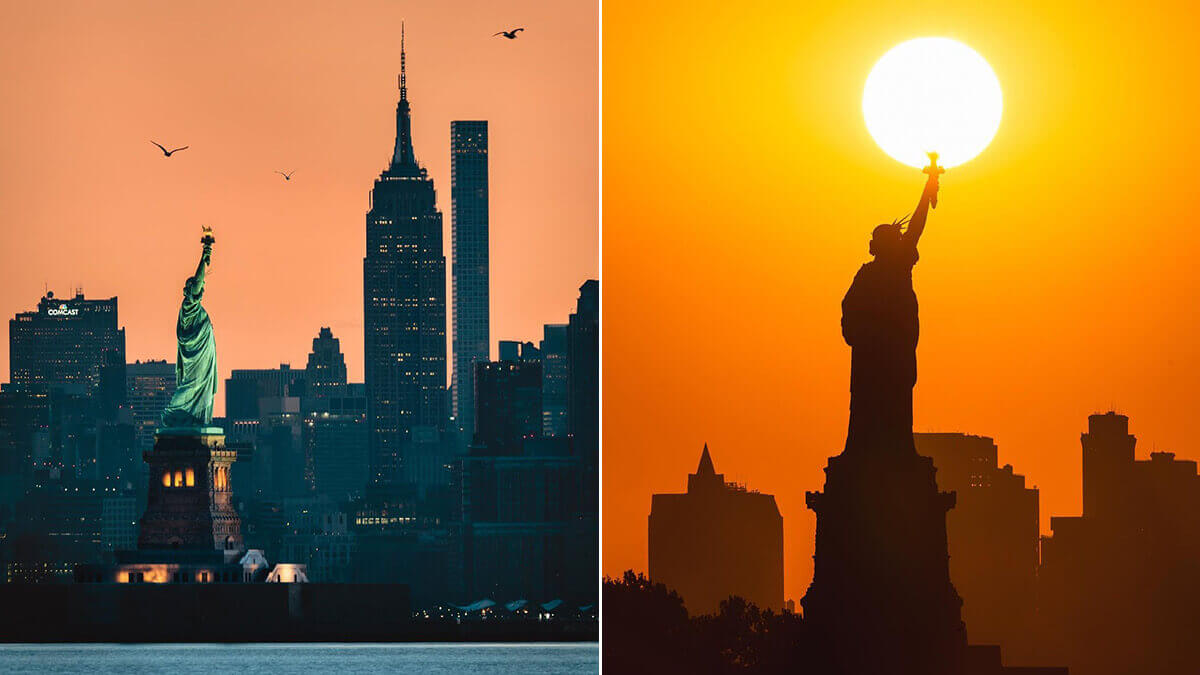 Photos by @joethommas and @snehshah
PUBLIC Hotel Escalators
📍 215 Chrystie St, New York, NY (SoHo)
Get some otherworldly portraits right in the PUBLIC Hotel lobby! Its symmetrical, neon-lined escalators are perfect for cyberpunk-inspired silhouette shots – not to mention the mirrored ceiling for some extra mind-bending.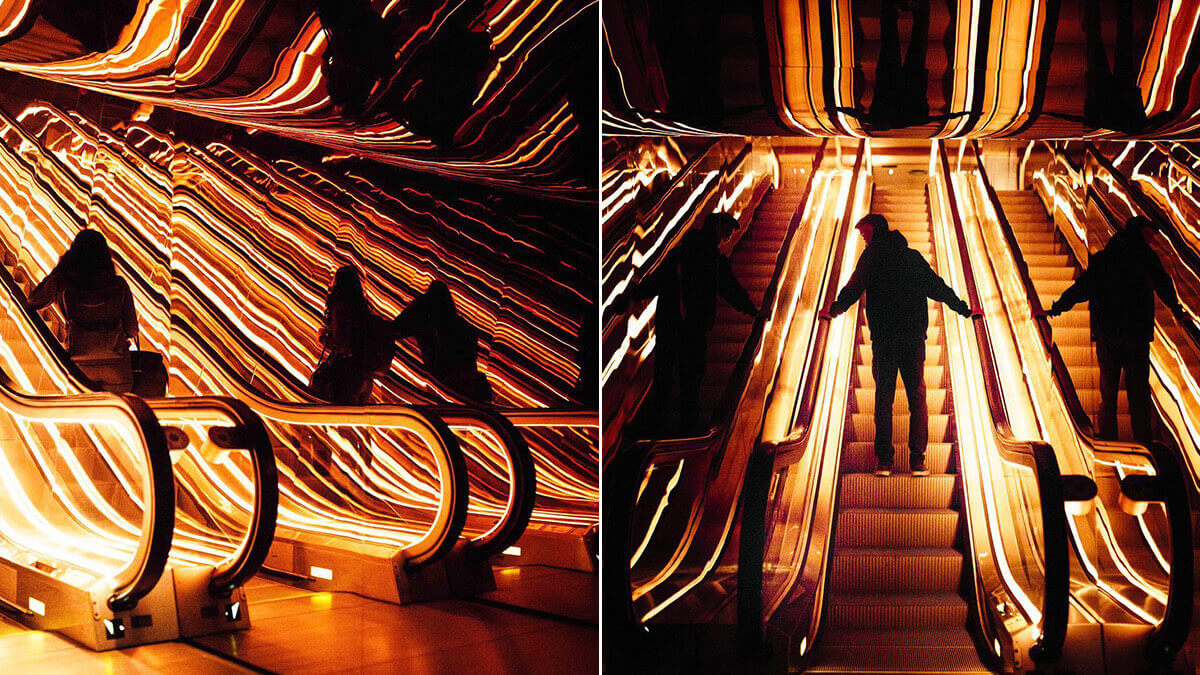 Photos by @edirenzo
Staple Street Skybridge
📍 9 Jay St, New York, NY (TriBeCa)
Originally built as a part of the New York Hospital in the early 1900s to connect clinics, this skybridge is the city's lowest to the ground, and is now a part of an 8,000 sq. ft. townhouse. On this quintessentially New York street, you'll get to capture the skybridge along with the city's famed fire escape-cladded apartment buildings.
Photos by @mindz.eye and @iwyndt
Fulton Center
📍 200 Broadway, New York, NY (Financial District)
Architecture lovers, get your 16-35mm ready! From its spiral staircase to its mesmerizing crisscross cone ceiling, the Fulton Center's interior has so much to photograph.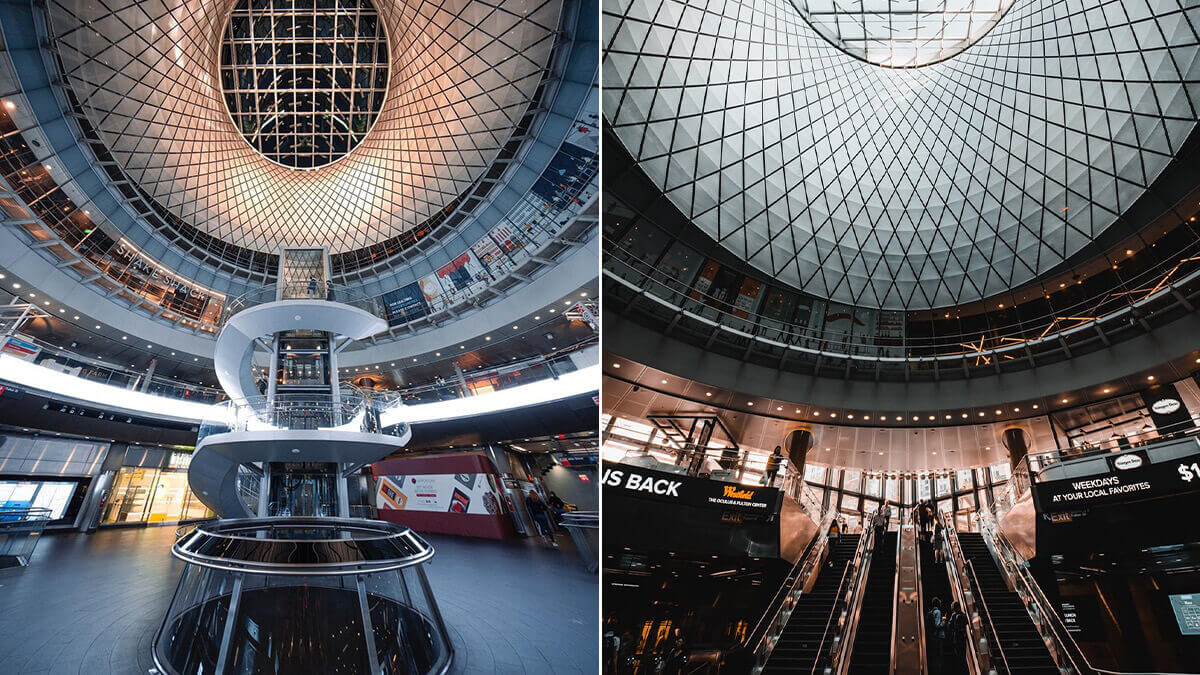 Photos by @jerometraveller and @yass.visuals
Classic NYC Photography Spots
DUMBO, Brooklyn Bridge, The Oculus, Grand Central, and more – we've got them all here. Sure, we've seen them photographed time and time again, but that shouldn't stop you from marvelling at these wonders and capturing them in your own unique way!
Here's some inspo for capturing fresh takes on these ultra-photographed NYC locations.
Staten Island Ferry
📍 Ferry Terminal – 4 Whitehall St, New York, NY (Financial District)
If you want to take a break from walking but not from exploring, hop on the Staten Island Ferry. Travel 25 minutes each way between Manhattan and Staten Island to enjoy views of the Statue of Liberty and Manhattan's southern skyline. With the round trip, you'll have plenty of time to both capture it all, and take it all in. The best part? It's completely free.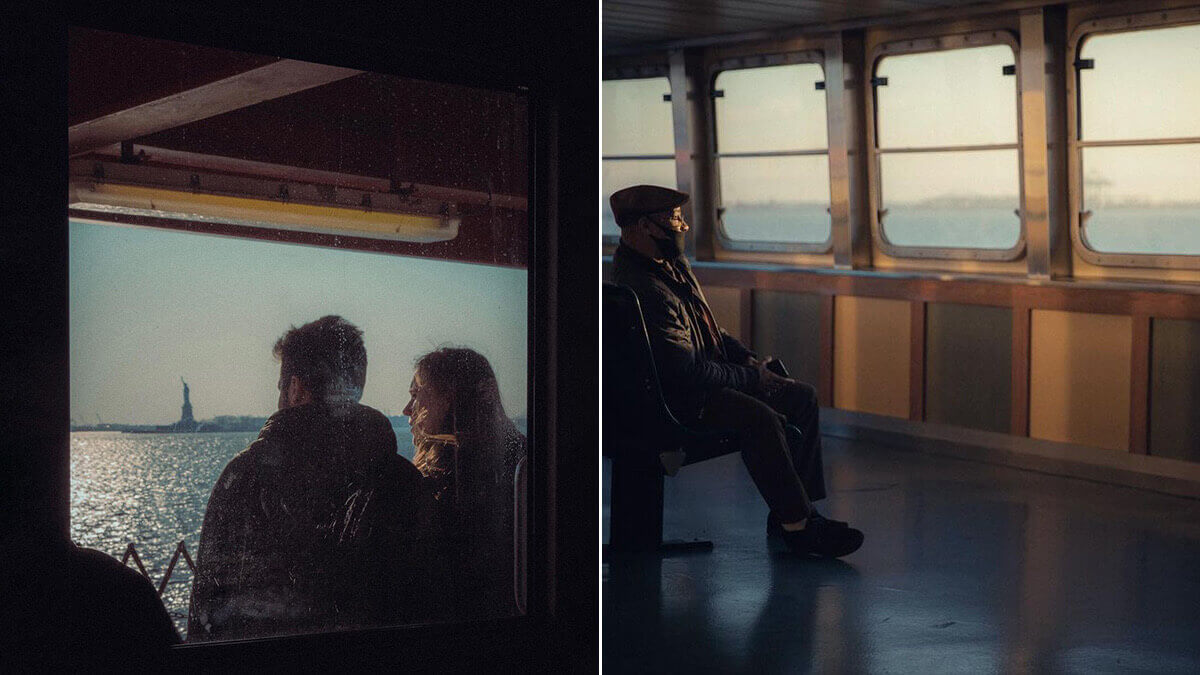 Photos by @billydeee
Radio City Music Hall
📍 1260 6th Ave, New York, NY (Midtown)
This near century-old iconic concert venue, and its equally iconic neon sign, provide the perfect atmospheric backdrop – especially in wintery, rainy, foggy, or nighttime settings. Don't forget to bring the right lens for low light to capture the vibes.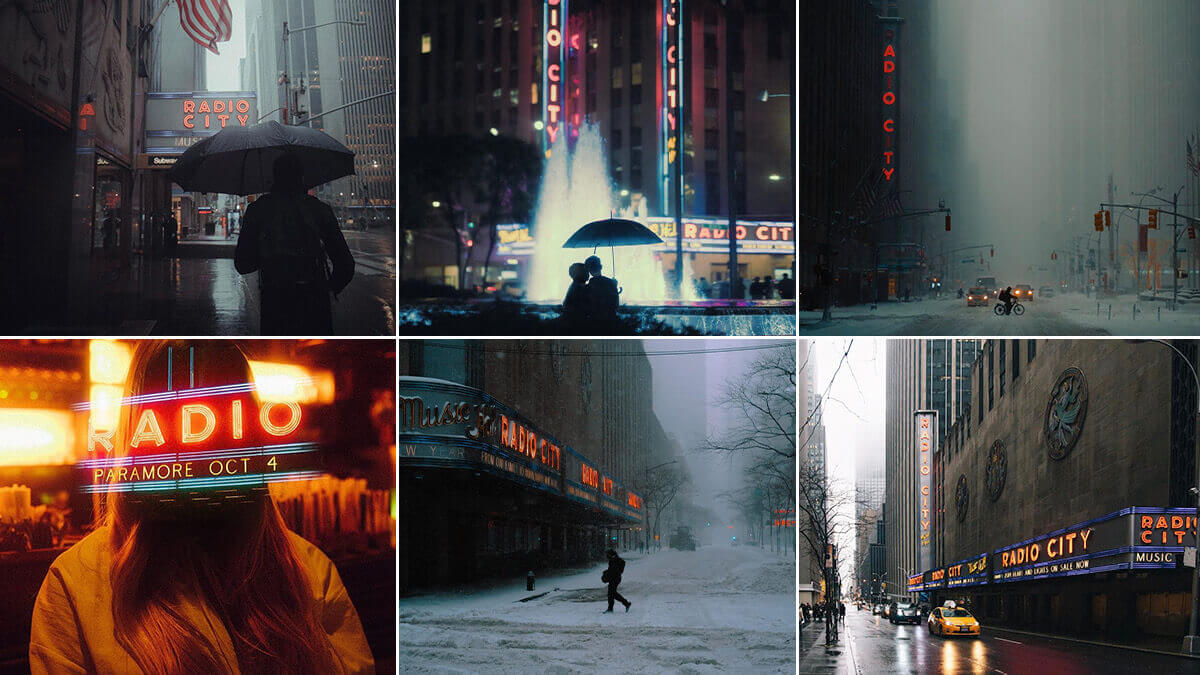 Photos by @billydeee, @raylivez, @arnaudmoro, @edirenzo
The Oculus
📍 33 Vesey Street, New York, NY (Financial District)
The City of New York was built at the heights of the 19th and 20th century, but The Oculus looks like a wonder straight out of the 30th century. Designed to resemble a dove taking flight, its pristine white finish will give your photos a clean, bright, and airy look. Capture it from the inside while admiring its white beams from both sides, or take a step to the outside pedestrian area to capture the structure in its Lower Manhattan habitat.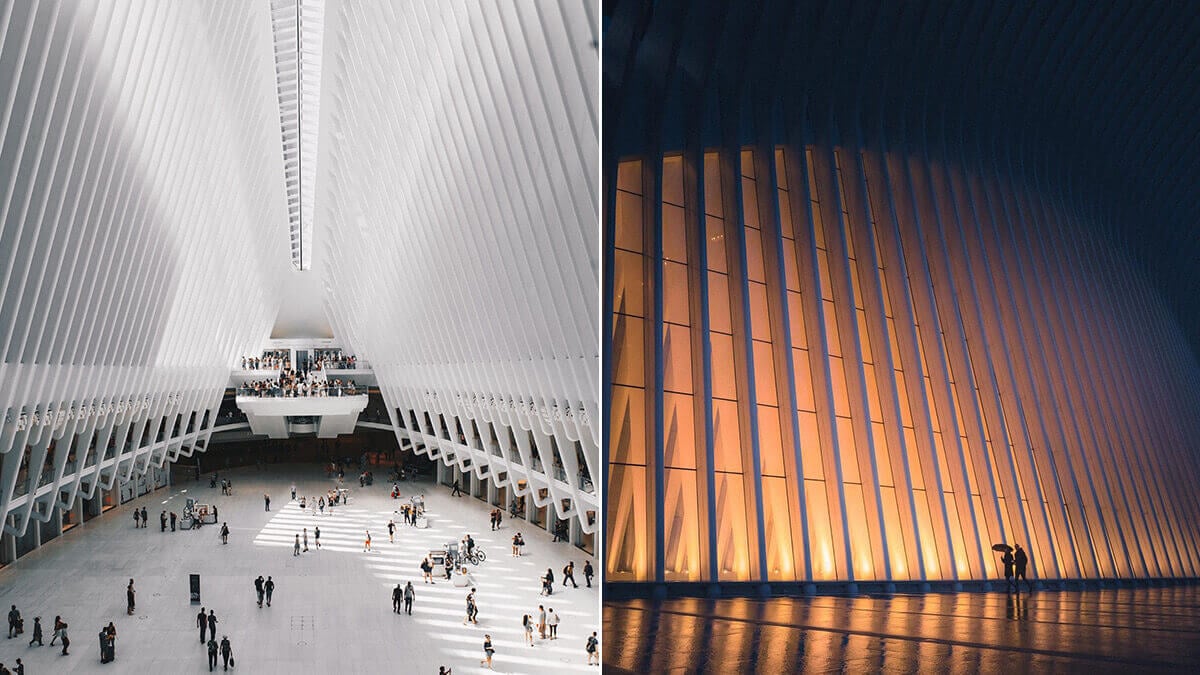 Photos by Ethan Hoover and @nickmillers
DUMBO Photo Spot – Manhattan Bridge View
📍 55 Washington St, New York, NY (Brooklyn)
As often as we may see it, you can't photograph New York without photographing the highly-coveted shot of Manhattan Bridge in DUMBO! In such a photographed spot, you might wonder how to make your shots stand out from the crowd. The best place to start is mixing up your lenses.
Tip: Even standing in the exact same spot, playing with different focal lengths from different lenses will help switch up your composition drastically – making your shots look and feel completely different than what you see all over Instagram. Make the bridge appear larger and grander with a telephoto's compression, or go wide and low to the ground, capturing Washington St's cobblestone texture in the foreground. To pick the right lenses for the occasion, don't miss our guide on the best lenses for travel photography.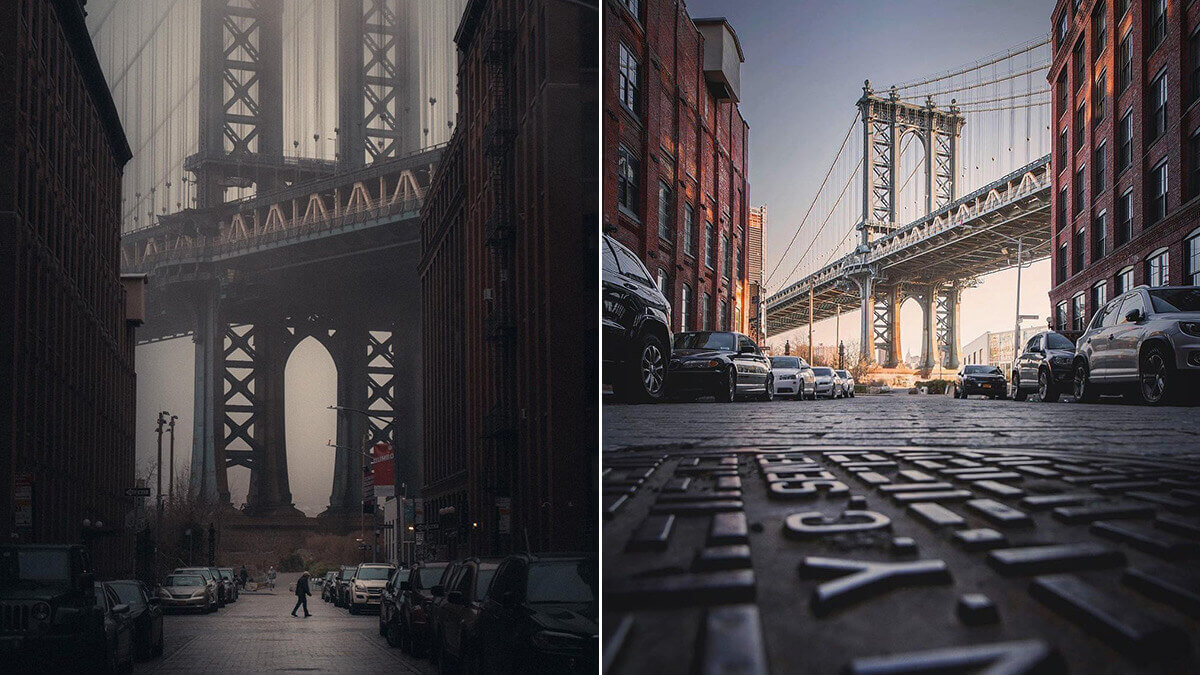 Photos by @nickmillers and @ssnnas
Manhattan Bridge
While DUMBO is one of the most-photographed places in New York, let's talk about the "MB" part, the Manhattan Bridge. This is one of the most versatile structures to shoot in NYC – you can capture it from below on the Brooklyn side, on the Manhattan side, and even walk along it for some great overhead shots of the city.
Under Manhattan Bridge – Manhattan Side
📍 Bottom of East River Greenway, New York, NY (Lower East Side)
You can't miss this under-appreciated side of the bridge. This spot on the Manhattan side offers the perfect canvas for killer composition – providing leading lines, natural rule of thirds, symmetry, and even sub-framing under the bridge's supports. You can bring a model, or play the waiting game for a passerby to line up the perfect capture. There are even tables and benches right on location if you want to sit down to review your shots or have a bite.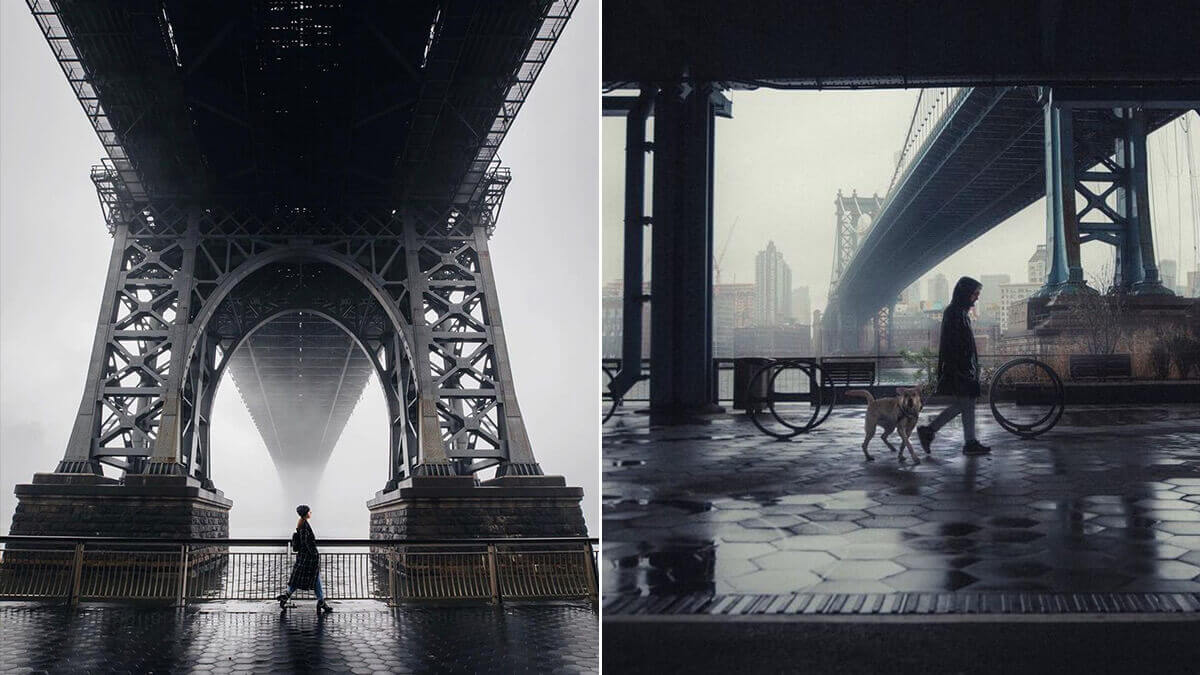 Photos by @oshimages and @billydeee
Manhattan Bridge Walkway
📍 Canal St & Bowery, New York, NY (Chinatown)
From this ultra versatile vantage point, you can capture so many views of the city – from overhead shots of Chinatown down East Broadway, to all the way down the East River along FDR Drive.
Tip: Use the various fencing along the walkway for some sub-framing!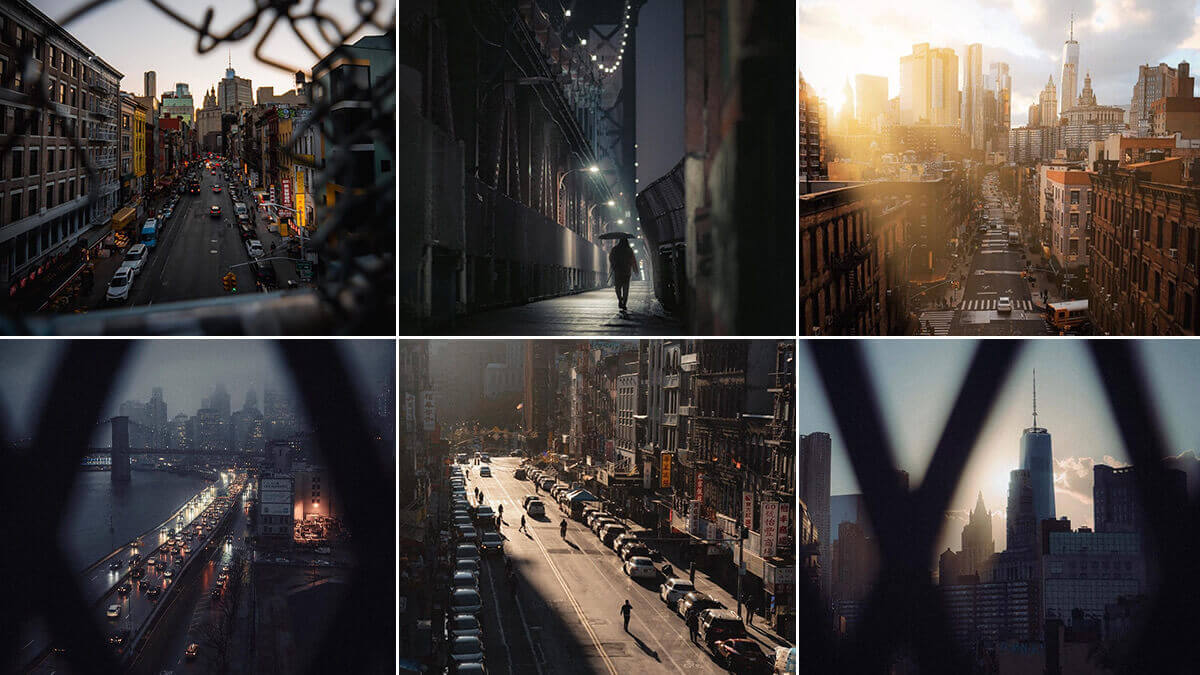 Photos by @yushi.95, @billydeee, @nickmillers, @raylivez
East Broadway in Chinatown
📍 88 E Broadway, New York, NY (Chinatown)
While you're in the area, don't miss East Broadway! Beyond its colorful facades, the underside of the Manhattan Bridge really helps you frame up the scene. This street is extra special at golden hour, letting you can capture long shadows of pedestrians and the fire escapes.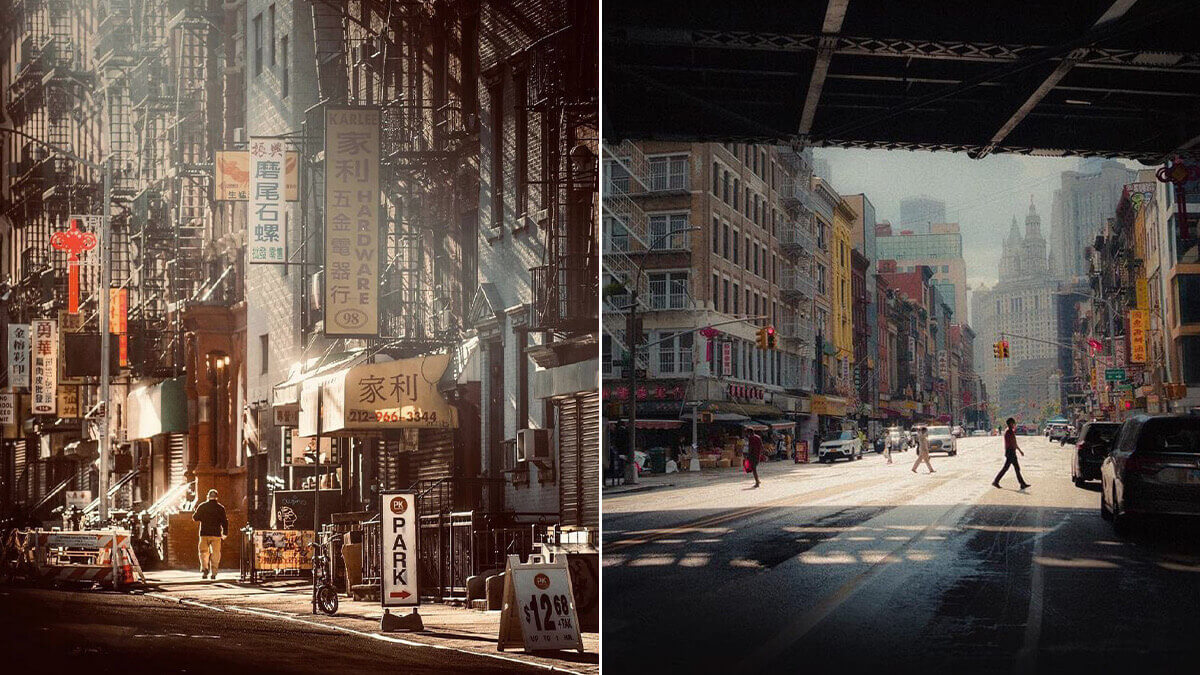 Photos by @ccphotojournal and @billydeee
Flatiron Building
📍 175 5th Ave, New York, NY (Flatiron District)
Situated at 5th and 23rd, the Flatiron Building is one of the world's most iconic structures for its dramatic, unconventional triangular shape. Capture it from the Flatiron Plaza in front of the building, or farther out at the intersection of 5th and 24th, and bask in the glory of this Beaux-Arts style masterpiece of NYC. Don't forget to step into Madison Square Park right behind you to grab a burger from the world's first Shake Shack!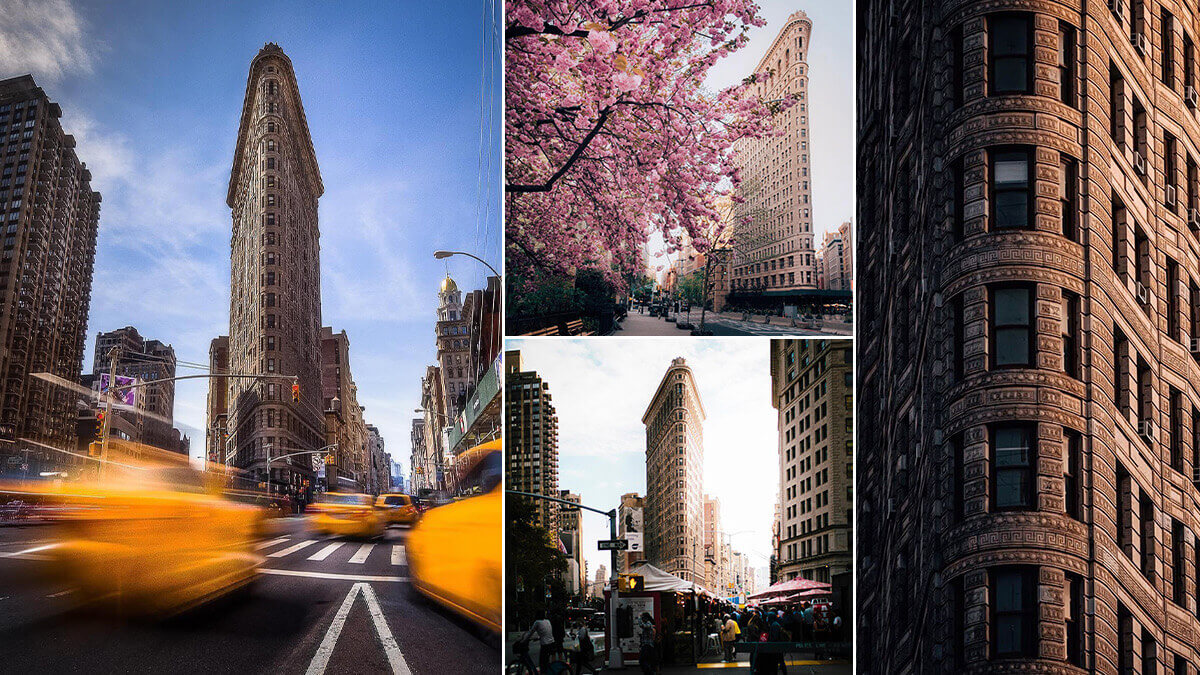 Photos by @mindz.eye, @joethommas, @edirenzo
Times Square & Theater District
📍 1 Times Square, New York, NY (Theater District)
Known as the Crossroads of the World, and the meeting point for thousands at the beginning of a new year, Times Square is as iconic as it gets. Decorated with billboards and neon signs as far as the eye can see, Times Square becomes a photographer's playground. You can capture it during sunset, or even capture the lights reflecting off the ground on a rainy day. The options for capturing Times Square are truly limitless!
Tip: Go early in the morning, or after hours to minimize crowds!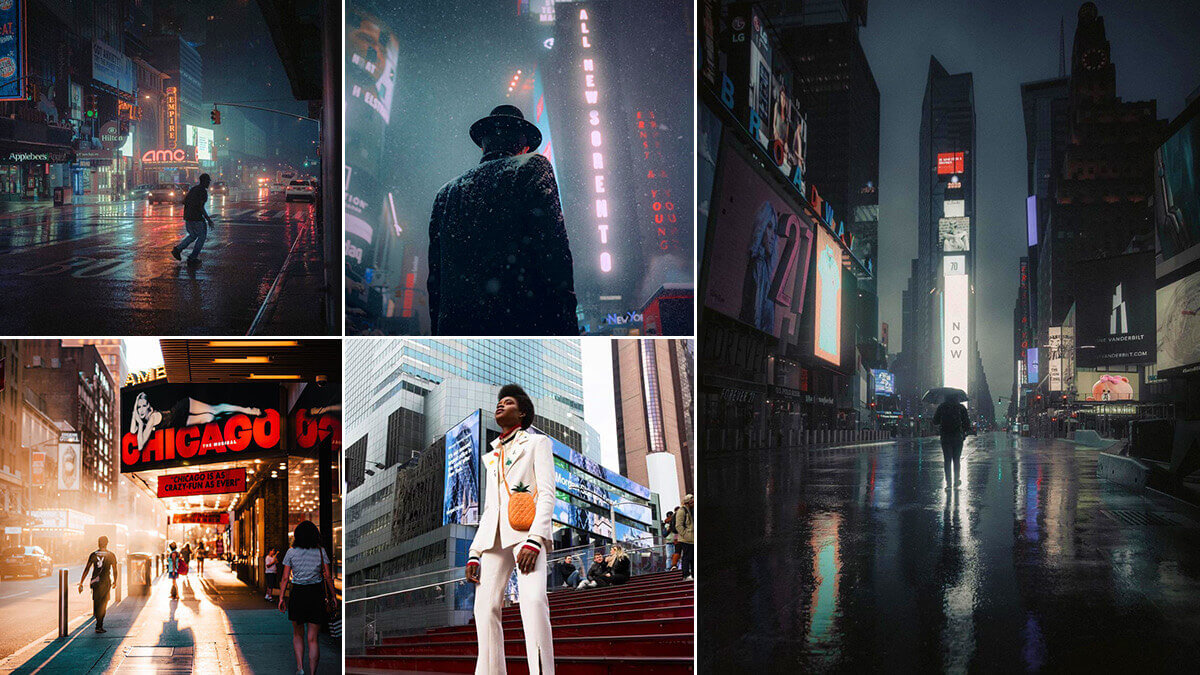 Photos by @billydeee, @edirenzo, @tinapicardphoto
Grand Central Terminal
📍 89 E 42nd St, New York, NY (Midtown East)
You've seen Grand Central's famed concourse in dozens of movies and shows, but day to day, this terminal is an essential transport hub right in the heart of Midtown Manhattan. Serving five subway lines and 750,000 visitors each day, Grand Central Terminal keeps the city moving – making it the perfect place to capture the hustle and bustle of New Yorkers being New Yorkers.
Tip: The always-moving foot traffic in Grand Central makes for a great place to capture a long exposure shot. Rest your camera on one of the railings, or bring along a compact tripod for a clean final product.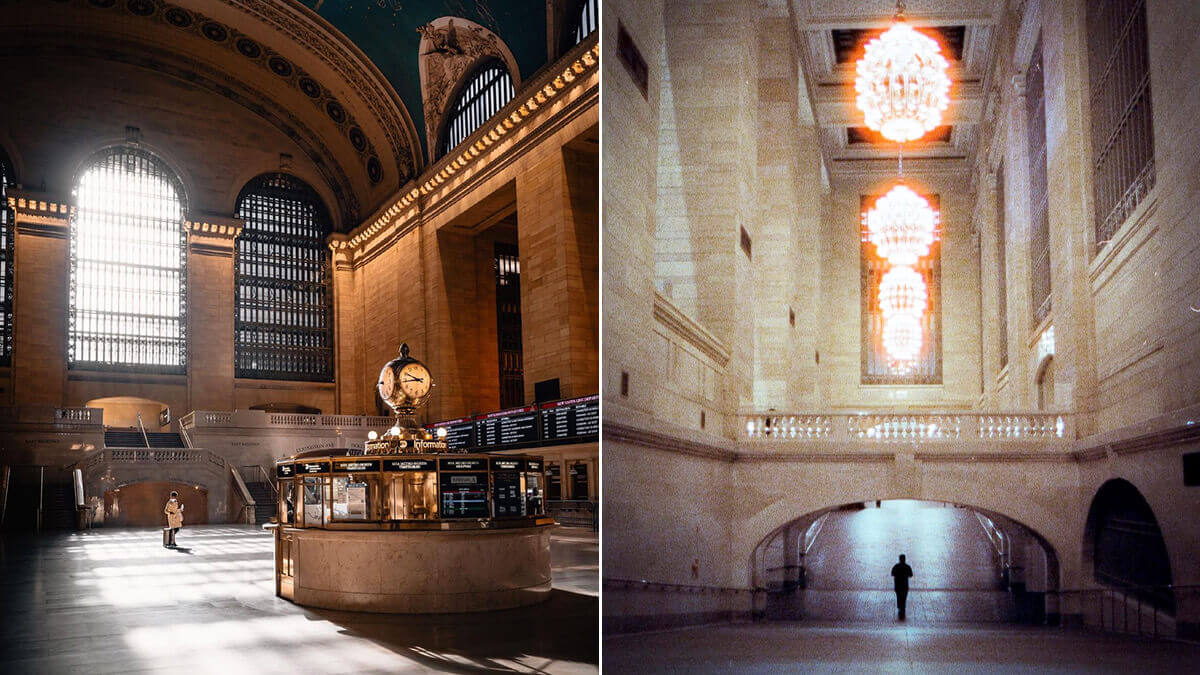 Photos by @joethommas and @billydeee
Streets of Harlem
📍 253 W 125th St, New York, NY (Harlem)
There's so much to this area in Upper Manhattan, but don't miss the Apollo Theater and the beautiful endless rows of brownstones along Malcolm X Boulevard. Don't forget the incredible street food the area has to offer too, if you're looking for a bite along your shooting adventures!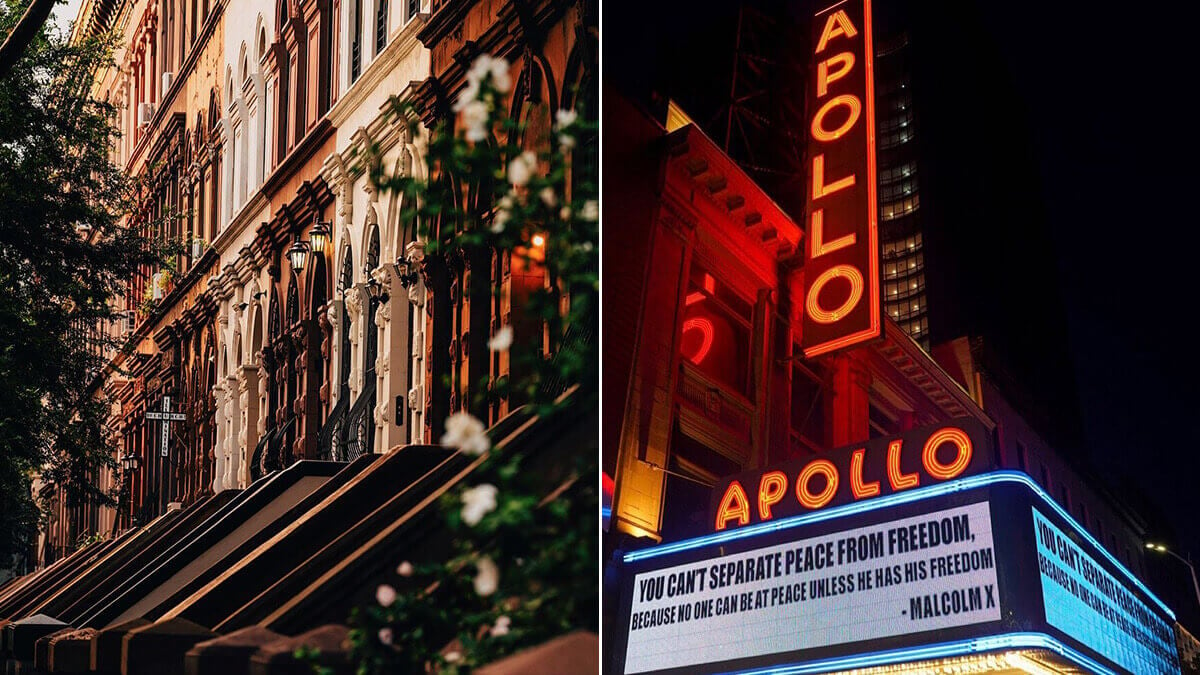 Photos by @joethommas and @apollotheater
Streets of SoHo
📍 135 Mercer St, New York, NY (SoHo)
Cobblestone streets, fire escapes, quaint shops, fashionable passersby – what more could you ask for? From Lafayette St, to Prince St, Mercer St, and beyond, you can spend hours capturing classic New York in this Lower Manhattan neighborhood.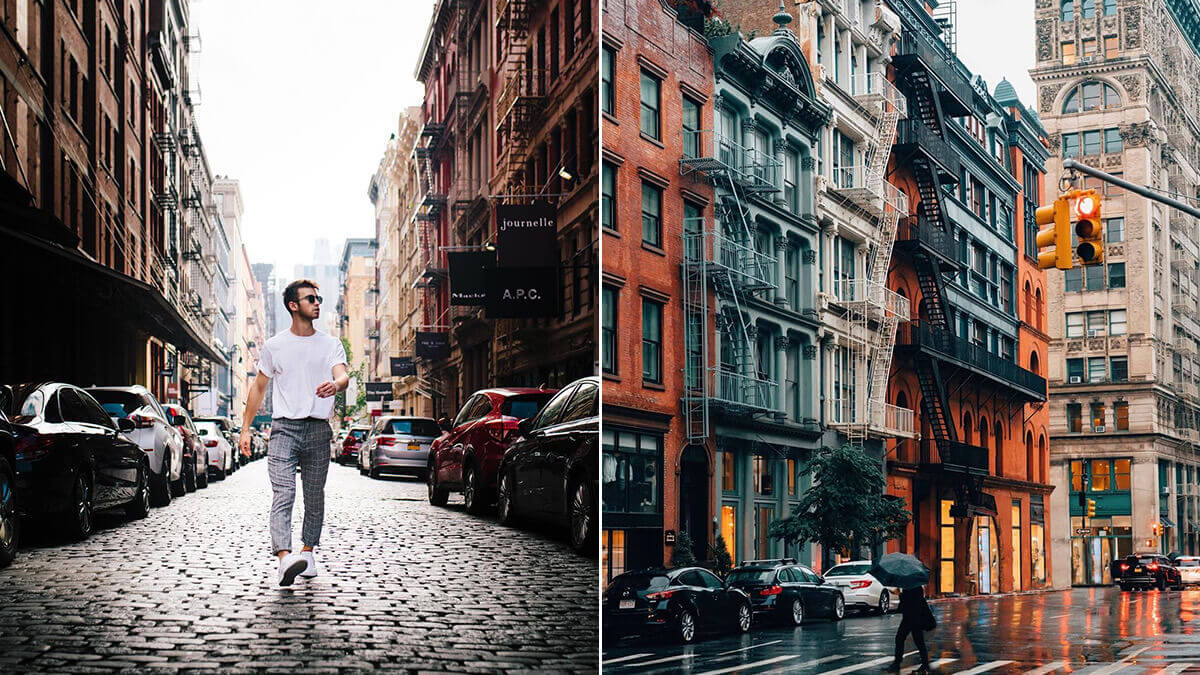 Photos by @edirenzo and @joethommas
Brooklyn Bridge
We can't have a list of New York photo spots without including the Brooklyn Bridge. Whether you're shooting from Manhattan or Brooklyn, check out the various vantage points and angles you can capture this world-famous structure.
On the Bridge
📍 Tillary St & Boerum Pl, Brooklyn, NY
If you're picking which way to walk the bridge, we recommend taking the subway to Brooklyn and walking the bridge to the Manhattan side for a scenic view! No matter which side you pick, make sure to go at any off-peak hours to avoid the crowds – it's well worth the 5 A.M. wakeup call.
Tip: Since this is another highly-photographed spot, make sure to play with different focal lengths and compositions to make your shot feel uniquely yours! A 24-70mm or even 70-200mm lens will give you lots of flexibility to capture lesser-shot angles of the bridge.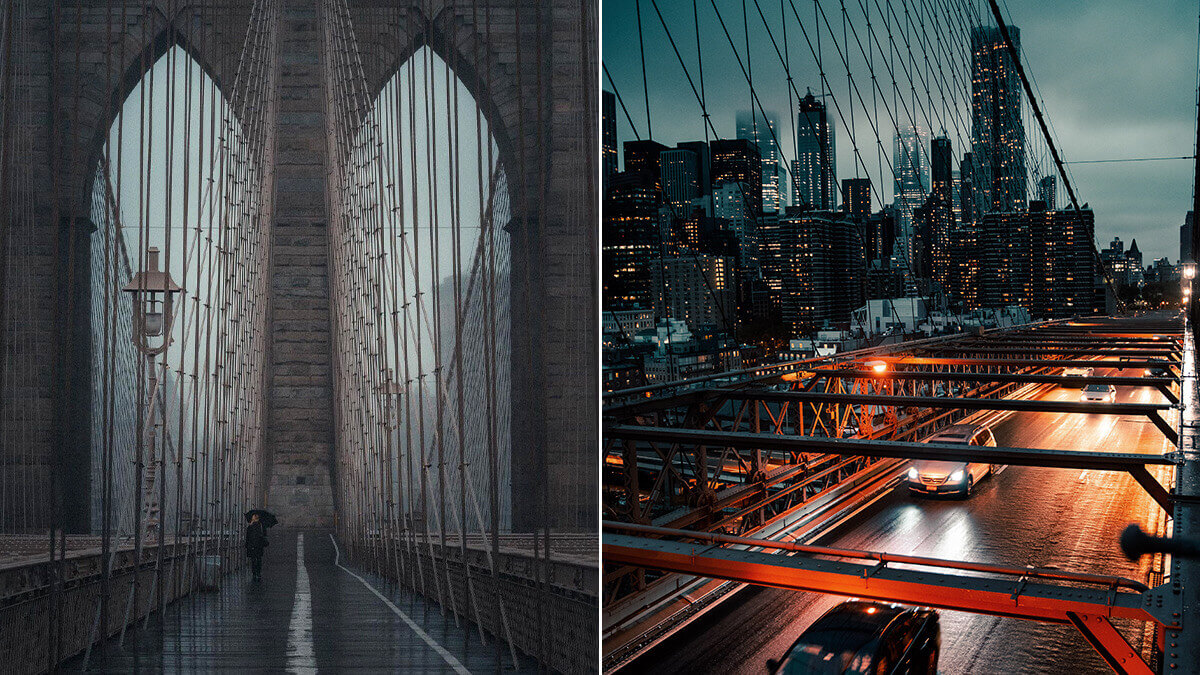 Photos by @ccphotojournal and Colin Lloyd
Manhattan Side
📍 52 South St, New York, NY (Two Bridges)
This spot's so nice, we listed it twice. You can also capture the Brooklyn Bridge from the Two Bridges historical district on the Manhattan side!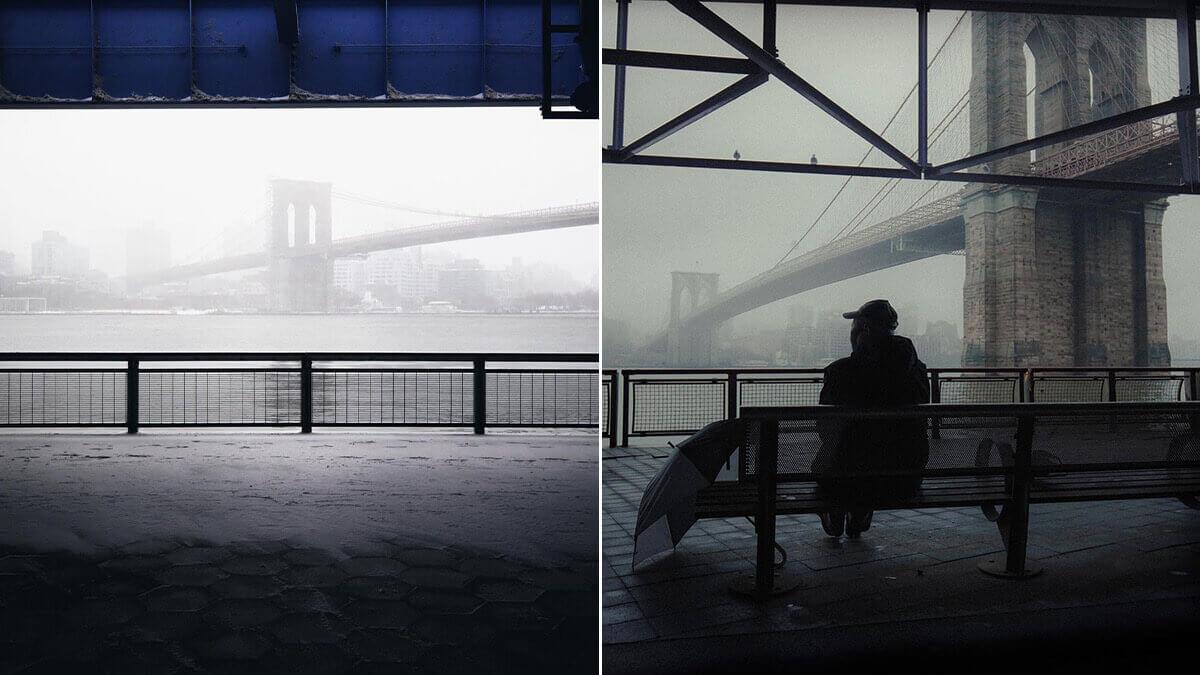 Photo by @oshimages and @billydeee
Pebble Beach
📍 65 Plymouth St, Brooklyn, NY
This is one of the most scenic spots you can enjoy a view of the bridge from, complete with the Manhattan skyline! This sandy enclave a lot less hectic than being on the bridge itself, so take some time to enjoy the view, and even set up a tripod for a nighttime long exposure. This is another one you'll definitely want to bring the right low light lens for.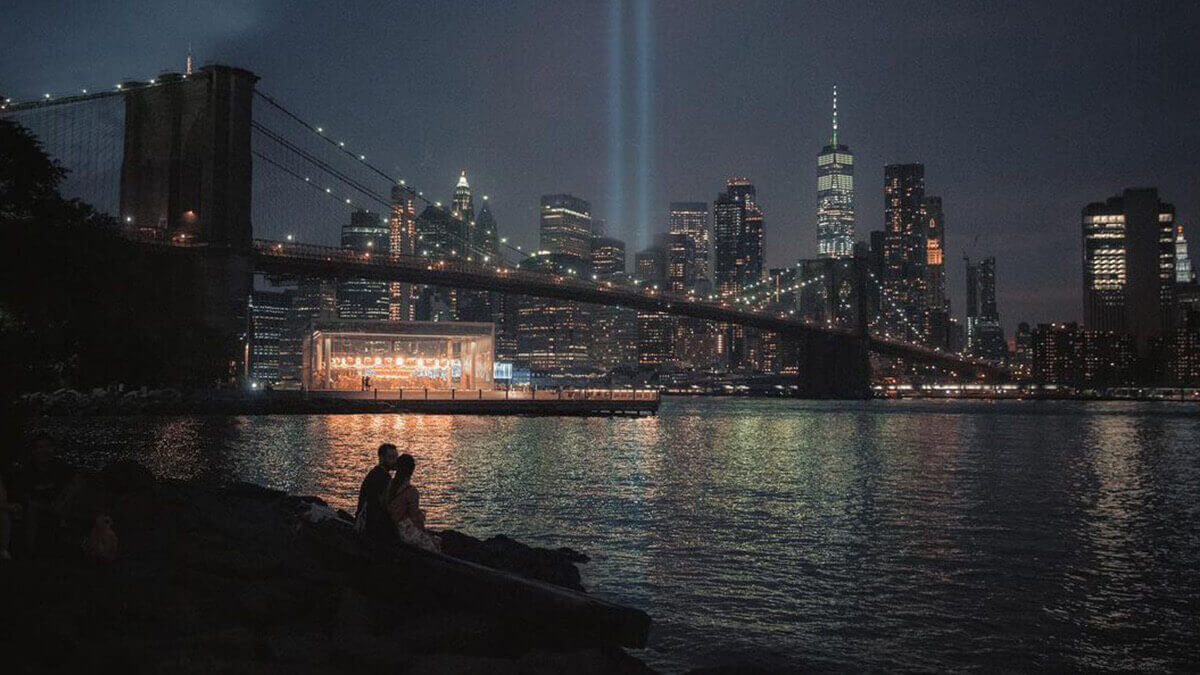 Photo by @billydeee
Old Pier 1 – Brooklyn Bridge Park
📍 334 Furman St, Brooklyn, NY
While you're in the area, just around the corner you'll find the scattered wooden pillars in the water at Old Pier 1, giving you more spectacular views of Lower Manhattan. This spot's great at blue hour as the city lights start to turn on – and the water and pillars in the foreground really help frame up the skyline in an unconventional way. Ease the shutter speed and watch the Hudson's water smoothen out before your eyes in a long exposure shot at blue hour!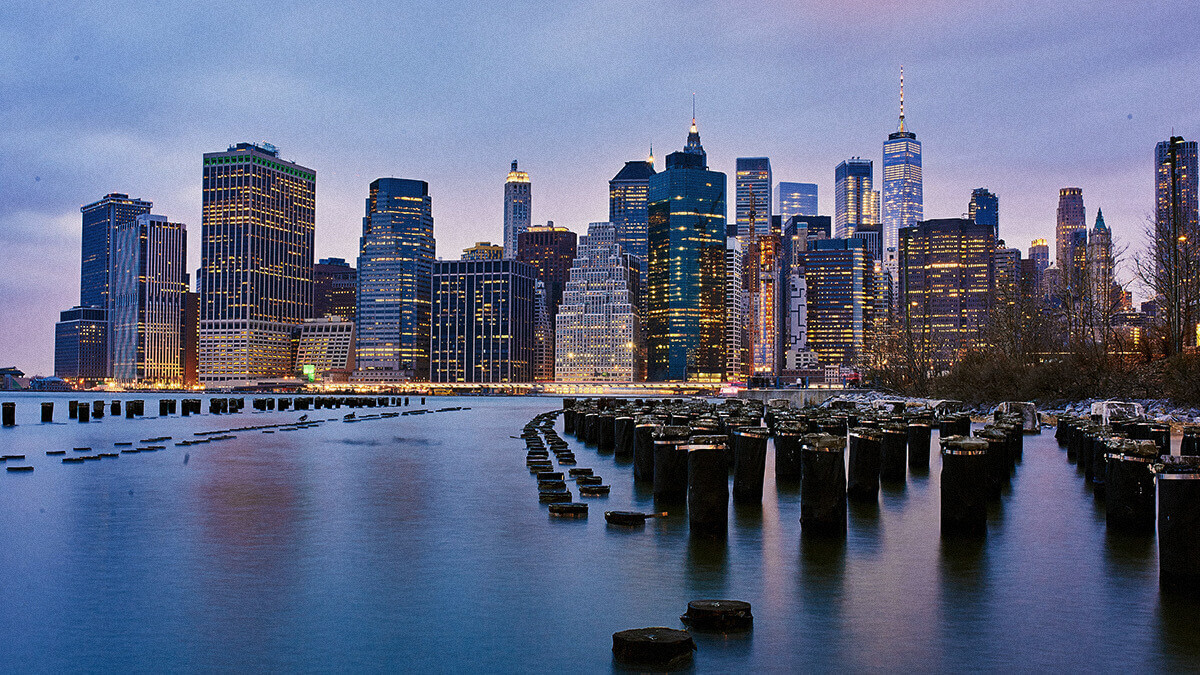 Photo by Mathew Schwartz
Central Park
📍 W 59th St & 7th Ave, New York, NY (Midtown)
Where do we start with Central Park? You could spend literal days photographing its 843 acres – but start with the tree-lined Mall, Bow Bridge, its wide-open meadows, and the arches by Bethesda Fountain (a perfect spot for sub-framing and employing the rule of thirds). There's no shortage of photo spots in the park, so you're bound to find new shots every time you return at any season.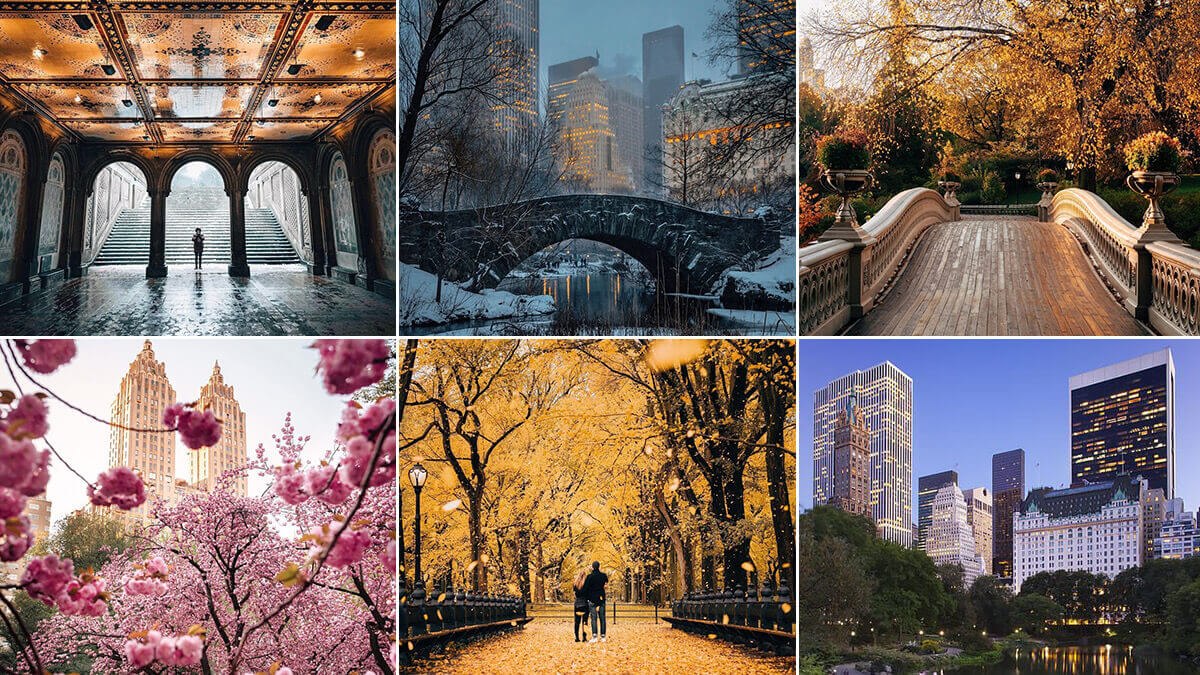 Photos by @joethommas and Brian Jannsen
Tudor City Bridge
📍 Tudor City Pl, New York, NY (Midtown East)
Tudor City is an apartment complex on the east side of Manhattan, named for its Tudor Revival architecture. What's great about Tudor City is its perfect view down West 42nd Street, looking west towards the Chrysler Building in the distance. This is also one of the main viewpoints where New Yorkers get to see Manhattanhenge – the four-time-a-year phenomenon where the sunset perfectly lines up with the center of the street!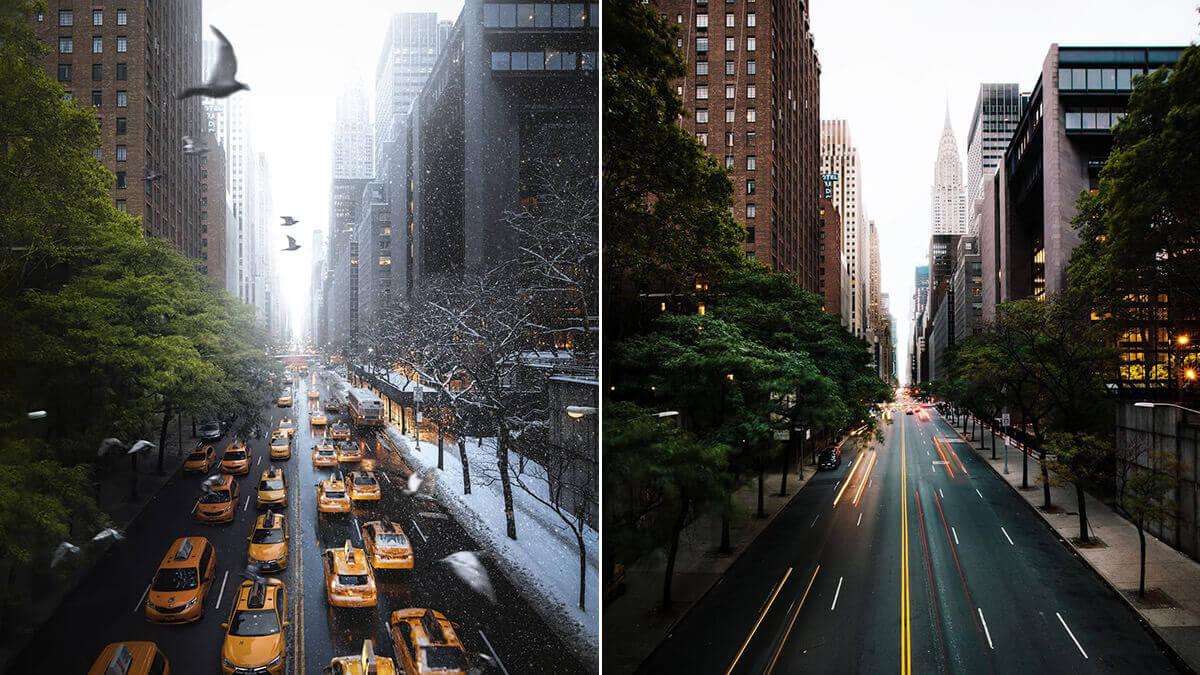 Photos by @ivvnwong and @edirenzo
Flushing Meadows-Corona Park
📍 Between Grand Central Pkwy and Van Wyck Expy, Queens, NY
You might've seen this spot in Men in Black as a UFO crashes to the ground, or Iron Man 2 as the center of the Stark Expo. Flushing Meadows-Corona Park is situated in the northern part of Queens and has lush gardens, blossoming trees, and most notably, the Unisphere – which was made for the 1964 World Fair. Capture the the enormity of the Unisphere at dawn, or just people-watch as Queens locals navigate through the park's paths and structures.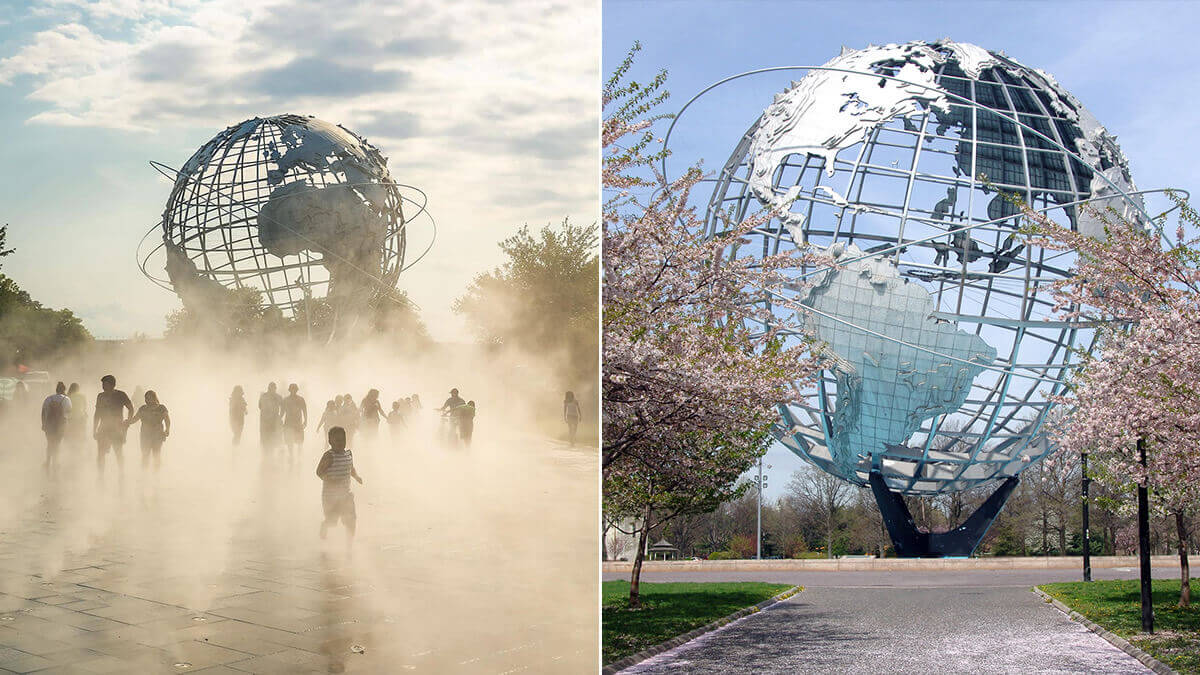 Photos by @rtanphoto and Time Out
Delmonico's
📍 56 Beaver St, New York, NY (Financial District)
Operating since 1837, Delmonico's at Beaver and South William Street is an iconic steakhouse. Situated at a 5-way diagonal intersection, its exterior makes for a classic backdrop for portraits or street candids. Whether it be on a foggy morning, rainy evening, or a snowy night, capturing the corner of this landmark building is a gift to your eyes and camera.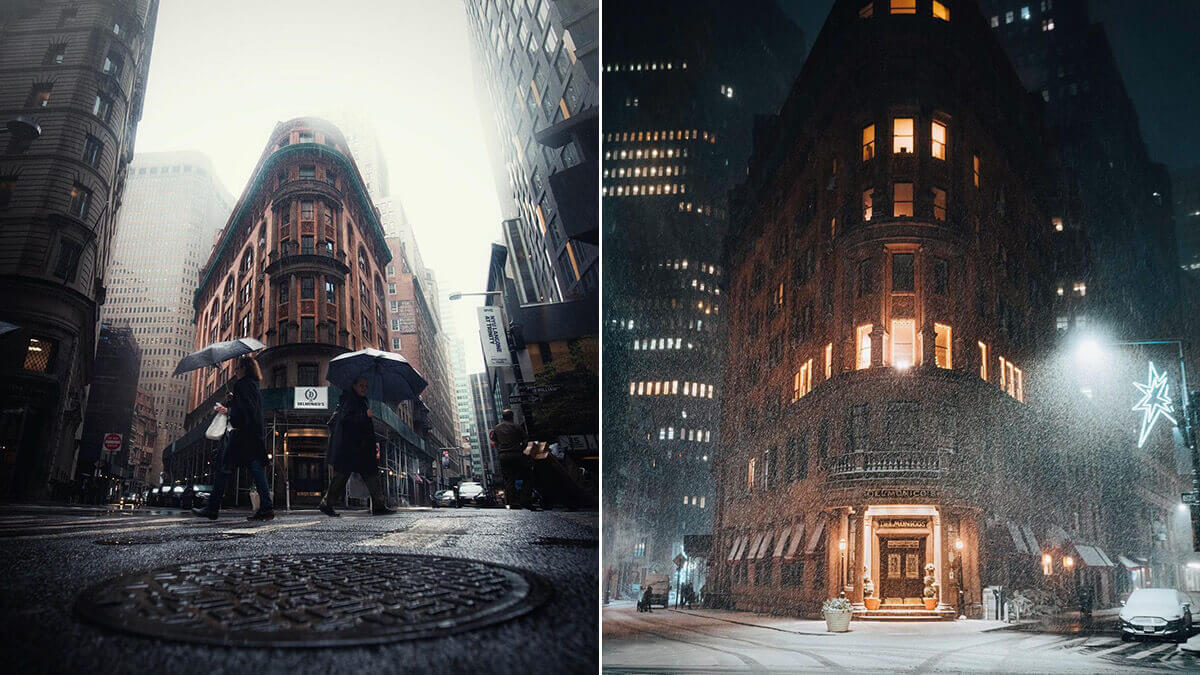 Photos by @billydeee and @joethommas
NYC Rooftop Photography Spots
One of the best ways to see New York is from above, amongst the hundreds of skyscrapers the city is famous for. From rooftop bars, to observation decks, here are our picks!
While a lot of these spots have generous camera policies, we recommend always calling the venue ahead of time (especially the bars) and making sure they're cool with larger cameras. In cases where you can't bring your camera, these views will still make for great shots for IG and TikTok from your phone!
Edge Observation Deck
📍 30 Hudson Yards, New York, NY (Chelsea)
This 100-story observation deck is a newer addition to the city's roster of sky-high vantage points. It's the highest sky deck in the entire Western Hemisphere, sporting a glass floor, champagne bar, and best of all: panoramic, unobstructed views of the Big Apple!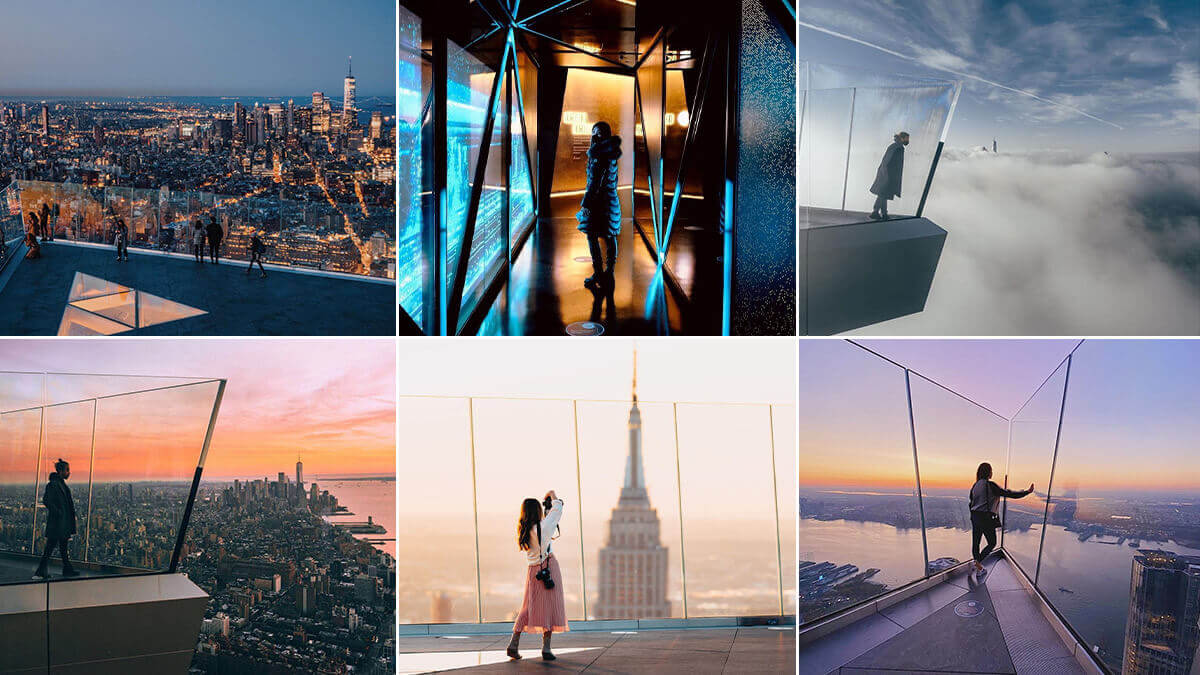 Photos by @joethommas, @nickl0ng, @maxloew, @freduccini, @unetourangelleanyc
Top of the Rock
📍 30 Rockefeller Plaza, New York, NY (Midtown)
One of the most iconic views of NYC, this spot is always recommended as an alternative to the go-to Empire State Building observation deck, since you can actually see the Empire State Building from the Rock! What's a view of NYC without the Empire State Building in it anyway?
Tip: Once you're done shooting from the observation deck, head inside to get some great views of the city framed up within the grand rectangular windows. Also, try to visit during a weekday at right at opening, when crowds are at a minimum.
Photos by Dan Calderwood and Micaela Parente
The Press Lounge at Ink 48 Hotel
📍 16th Floor, 653 11th Ave 16th Floor, New York, NY (Hell's Kitchen)
Come for the views and stay for the craft cocktails – The Press Lounge rooftop bar at Ink 48 Hotel cannot be missed! Known for its great views of the Hudson to the west, and Midtown to the east, The Press Lounge gives you great access to wide-open shots of NYC's cluster of skyscrapers.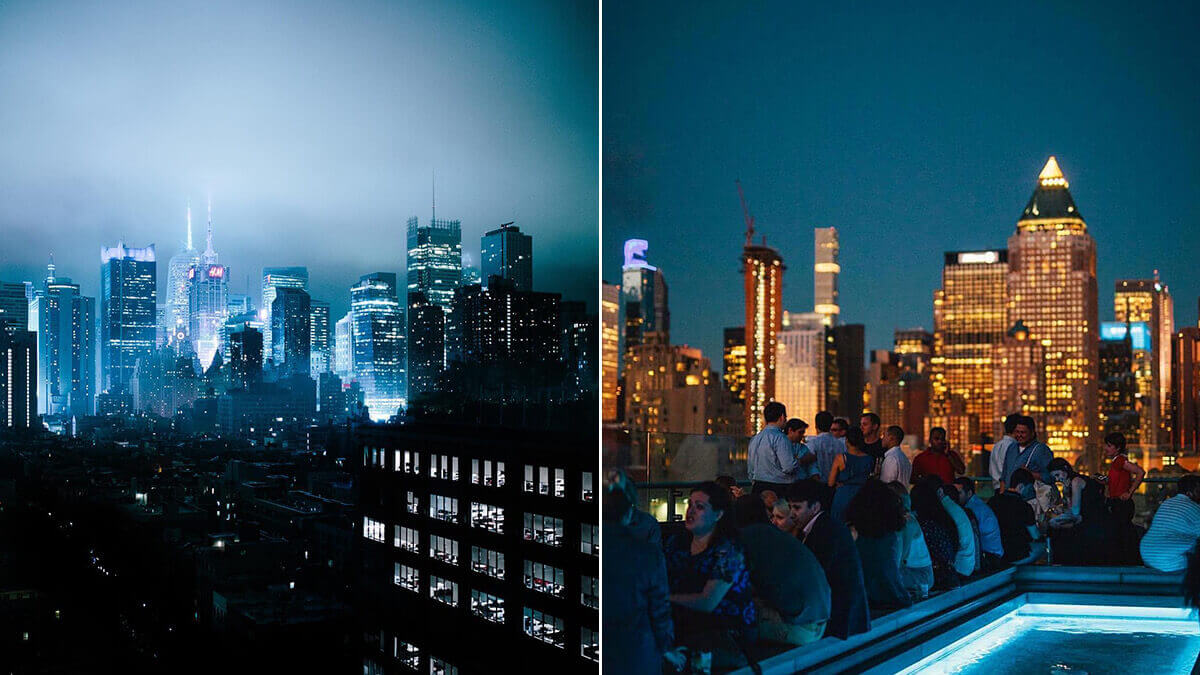 Photos by @edirenzo
Jimmy at the James
📍 18th Floor, 15 Thompson St, New York, NY (SoHo)
Where The Press Lounge will get you the Midtown views, Jimmy will get you the Lower Manhattan views! Located in SoHo, Jimmy at the James features an elegant contemporary interior and rooftop deck. Want to go for a swim while being adorned by views of the Freedom Tower? They've even got a pool lounge too!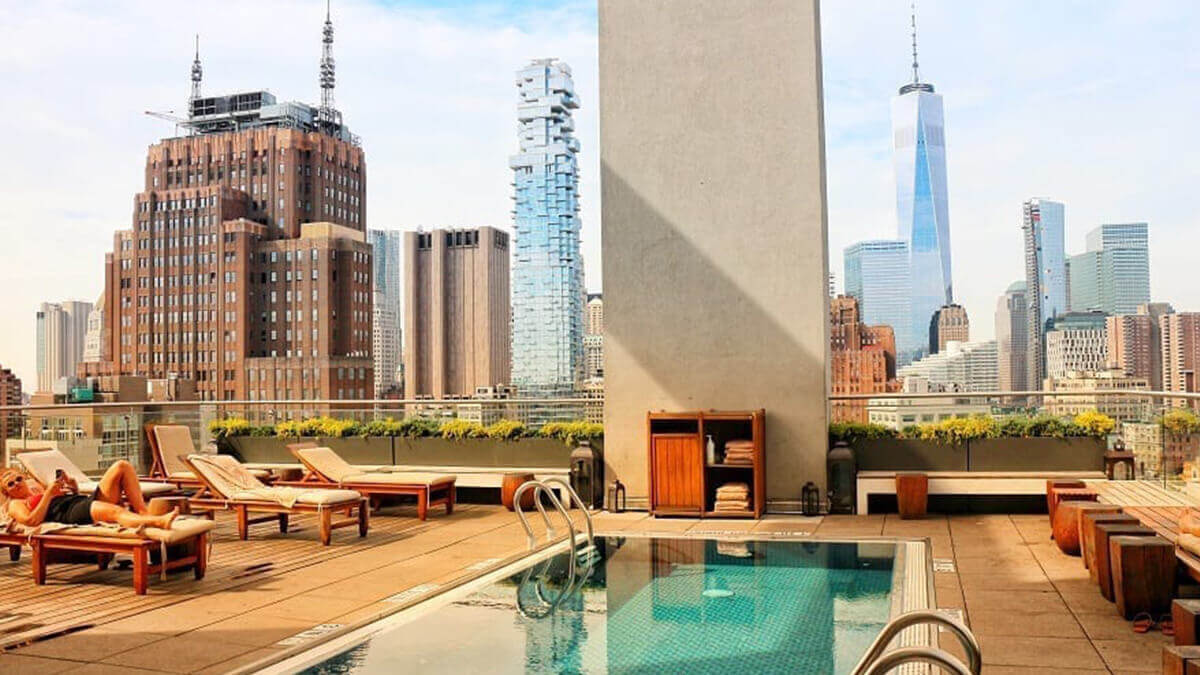 Photo by Jimmy at the James
The Roof at PUBLIC Hotel
📍 Top Floor, 215 Chrystie Street, New York, NY (SoHo)
While you're at the PUBLIC Hotel to shoot the lobby escalators, make sure to head upstairs for one of the best NYC rooftop views, at the aptly named The Roof. A mixture of earthy textures, lush foliage, and stunning views of Lower Manhattan to Midtown, this trendy bar's selection of drinks makes for a great evening as the sun sets on the city. Get your reservations for this one in early!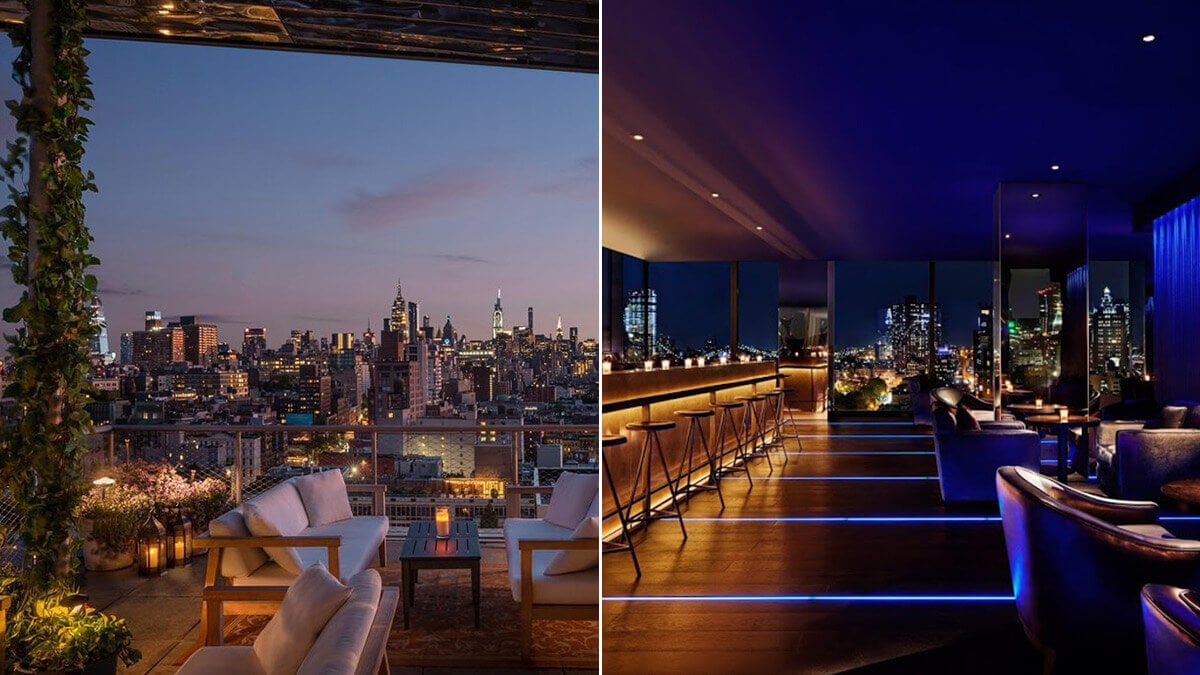 Photos by @publichotels
General NYC Photography Spots & Subjects
Sometimes, the ordinary things that surround us make for some extraordinary shots. No matter where you are in the city, you're bound to stumble upon any of these quintessential New York settings within a few blocks. Here are some of those classic NYC settings and subjects you'll find around the city, and ideas on how to capture them!
NYC Taxis
NYC's taxis have got to be the most recognizable ones on earth. Boasting the bright Empire State license plate yellow and found all across the city, there's a certain draw to capturing these people-movers in and around the city. Like cream cheese on a bagel, or pastrami on rye, the yellow taxis of NYC are symbiotic. Capturing them against the neutral tones of the city is a must!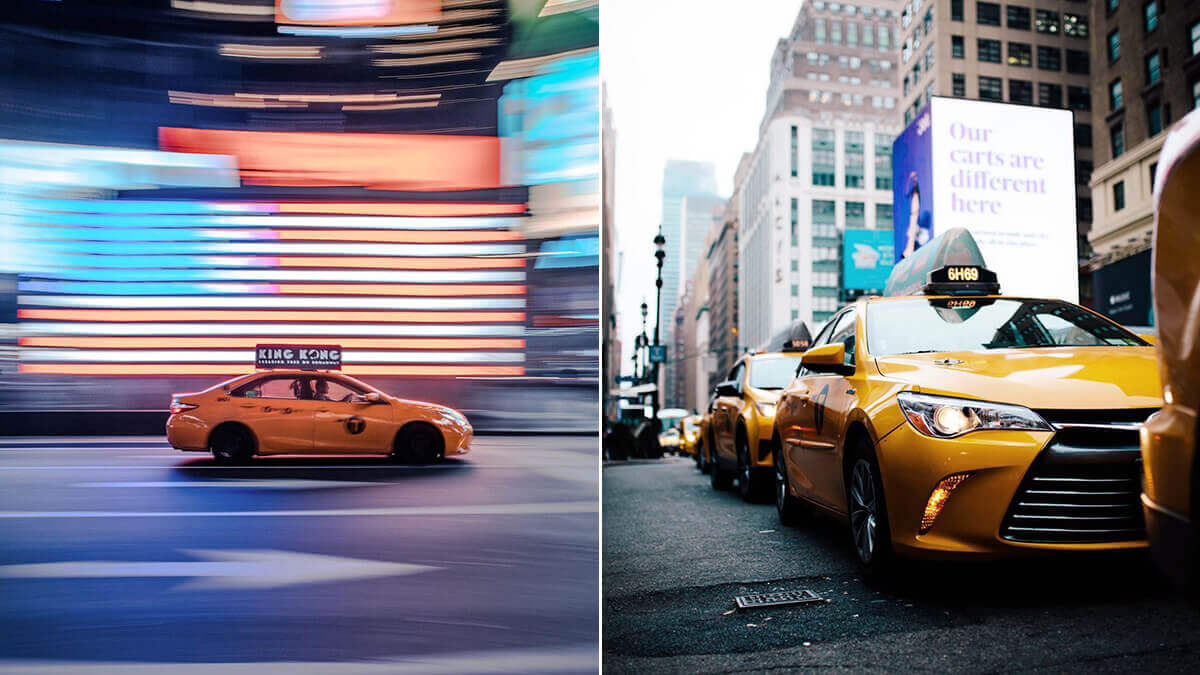 Photos by @jerometraveller and @edirenzo
NYC Subway
New York's subway system are the arteries that keep the city running. Known as the world's most intricate metro systems, NYC's subway has been in service since 1904 and has 472 active stations serving 27 subway lines. Each of these stations have their own unique designs that have spanned over the last 100+ years, taking inspiration from the surrounding neighborhoods and made by iconic infrastructure designers. Capture the essence of NYC by exploring the city through the subways, and capturing the trains and stations that make it great.
Tip: Subway cars and stations are a great place to play with sub-framing through the windows, and motion blur of the trains passing.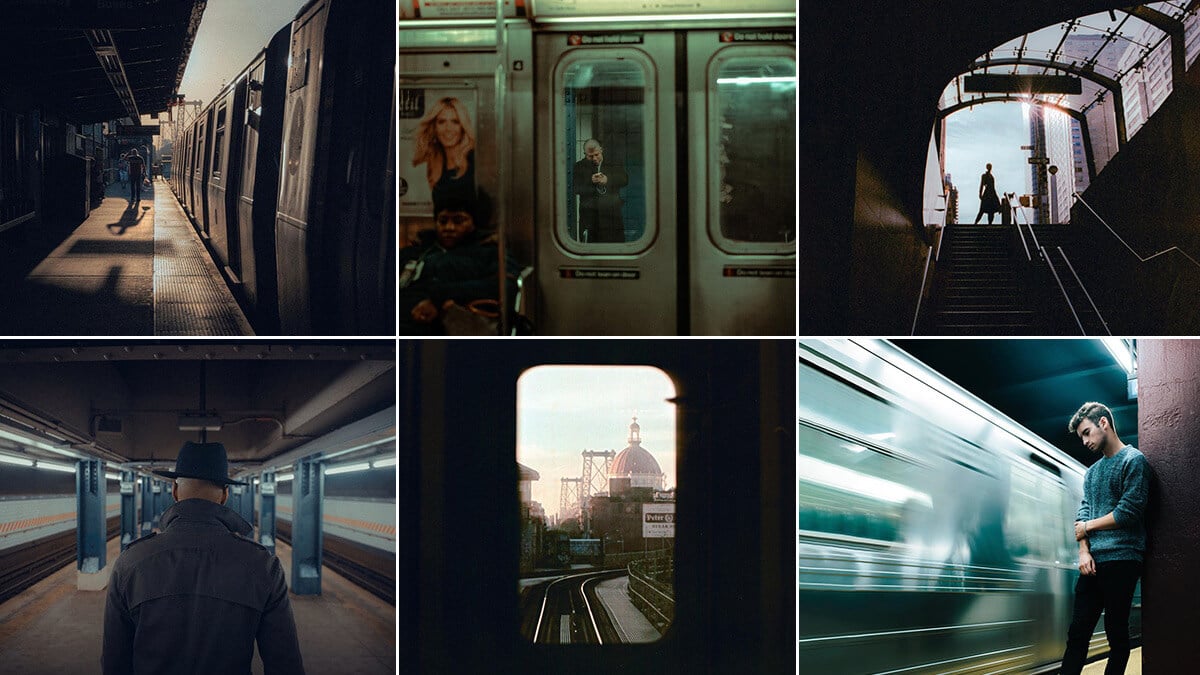 Photos by @billydeee, @alxvisual, @edirenzo
Alleyways & Side Streets
You've seen them in films from West Side Story to Spiderman, NYC's alleyways and side streets get a lot of love! Find the most picturesque contemporary settings in these side streets, often complemented by century-old buildings, murals, fire escapes, and more!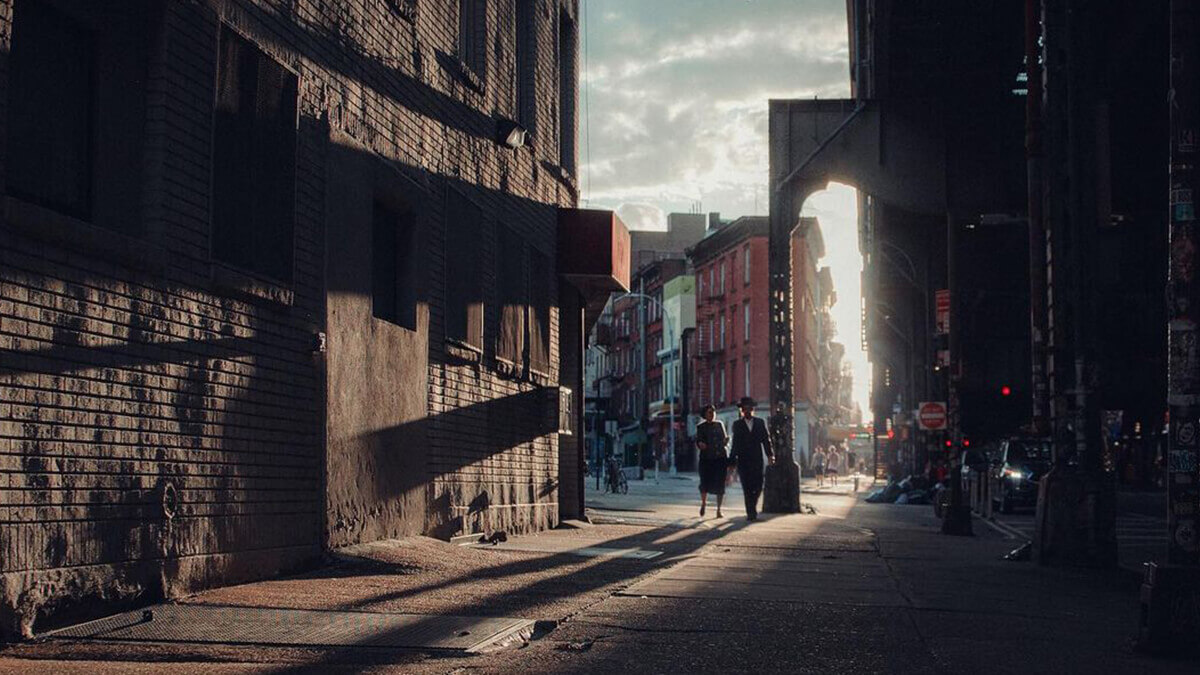 Photo by @billydeee
Steam Stacks
Last but not least, transport yourself to 20th century New York and find yourself a steam stack in the streets. You'll find these white and orange striped steam stacks all over the city, mostly nearby subway stations. Designed to guide high pressure steam away from underneath New York's service pipes to about 1,800 buildings, find yourself in an atmospheric dreamscape by capturing your subjects in front of these steamy backdrops!
Tip: Make sure to keep your distance, as the steam can be hot or pungent.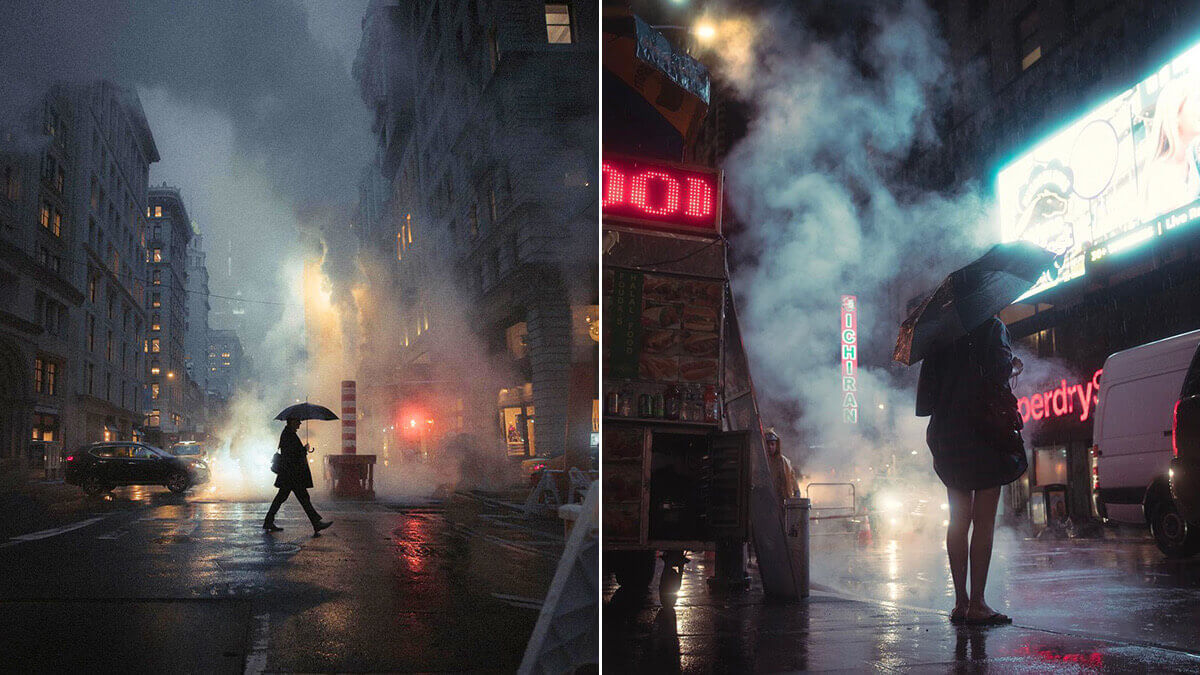 Photos by @billydeee
What's your favorite NYC photography spot? Any hidden gems we have to add to the list? Let us know in the comments below, and don't forget to tag us in your NYC shots on Instagram @gridfiti!