From the stadiums and festivals of the world, to the small concert halls and bars that host our local musicians – besides the artists, band members, and stage staff – we have beloved concert photographers to thank for capturing these artists in their element.
From the energy of the crowd, to an artist jumping in excitement, a concert photographer's bag of equipment needs to be capable of capturing this range of energy that reverberates at these shows.
So, what are the lenses that are mounted to their cameras in these moments?
You'd be surprised to hear that the lenses that make up a concert photographer's arsenal are quite simple. With a wide angle, all-purpose zoom, telephoto, and even some lenses for when you can't get that media pass – check out our picks for the best lens for concert photography!
Want more tips on camera gear? Join our gear and photography mailing list! 📮
16-35mm – Wide Angle Concert Photography Lens
Starting off at the wide end of the spectrum is the expansive yet versatile 16-35mm f/2.8 (17-35mm for some). At its widest focal length of 16mm, it can expand out and capture the farthest reaches of the room at a concert. Point it at the crowd and don't miss a single person, or get right up to the artist and capture the energy surrounding him. 16mm too wide for you? You can always punch in towards 35mm which will be more free of wide angle distortions. The low apertures of f/2.8 or f/4 (depending on lens model) will definitely come in handy in the darker settings of these concert venues.
Lens recommendations:
Sony: Sony FE 16-35mm f/2.8 G Master | Alt: Sony 16-35mm Vario Tessar f/4
Canon: Canon EF 16–35mm f/2.8L III | Alt: Tamron SP 15-30mm f/2.8
Nikon: Nikkor 17-35mm f/2.8 | Alt: Tamron 17-35mm f/2.8-4 OSD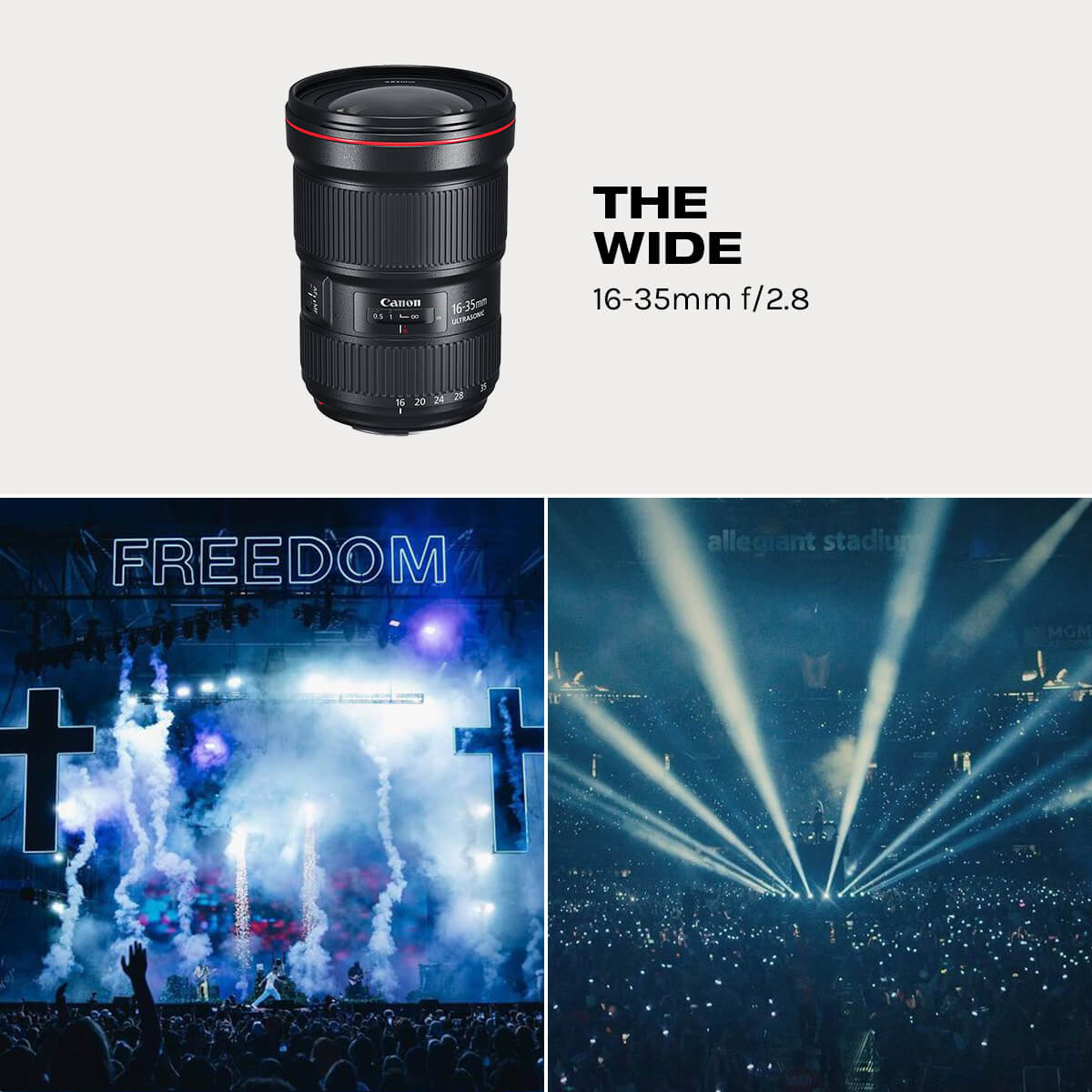 Images by @josephjshaw and @nainoalanger
24-70mm Lens – Versatile Concert Zoom Lens
The versatility of the 24-70mm lens will allow you to capture and adjust as you go! The big emphasis here is on the focal range of this lens. As concerts are high energy and fast-paced, this lens can adapt and capture whatever is thrown your way! Not to mention the f/2.8 aperture will allow you to capture it all in the low light settings of concert venues.
Lens recommendations:
Sony: Sony 24-70mm f/2.8 G Master | Alt: Sigma Art 24-70mm f/2.8 FE
Canon: Canon 24-70mm f/2.8 | Alt: Sigma Art 24-70mm f/2.8 (for Canon)
Nikon: Nikkor 24-70mm f/2.8 | Alt: Sigma Art 24-70mm f/2.8 (for Nikon)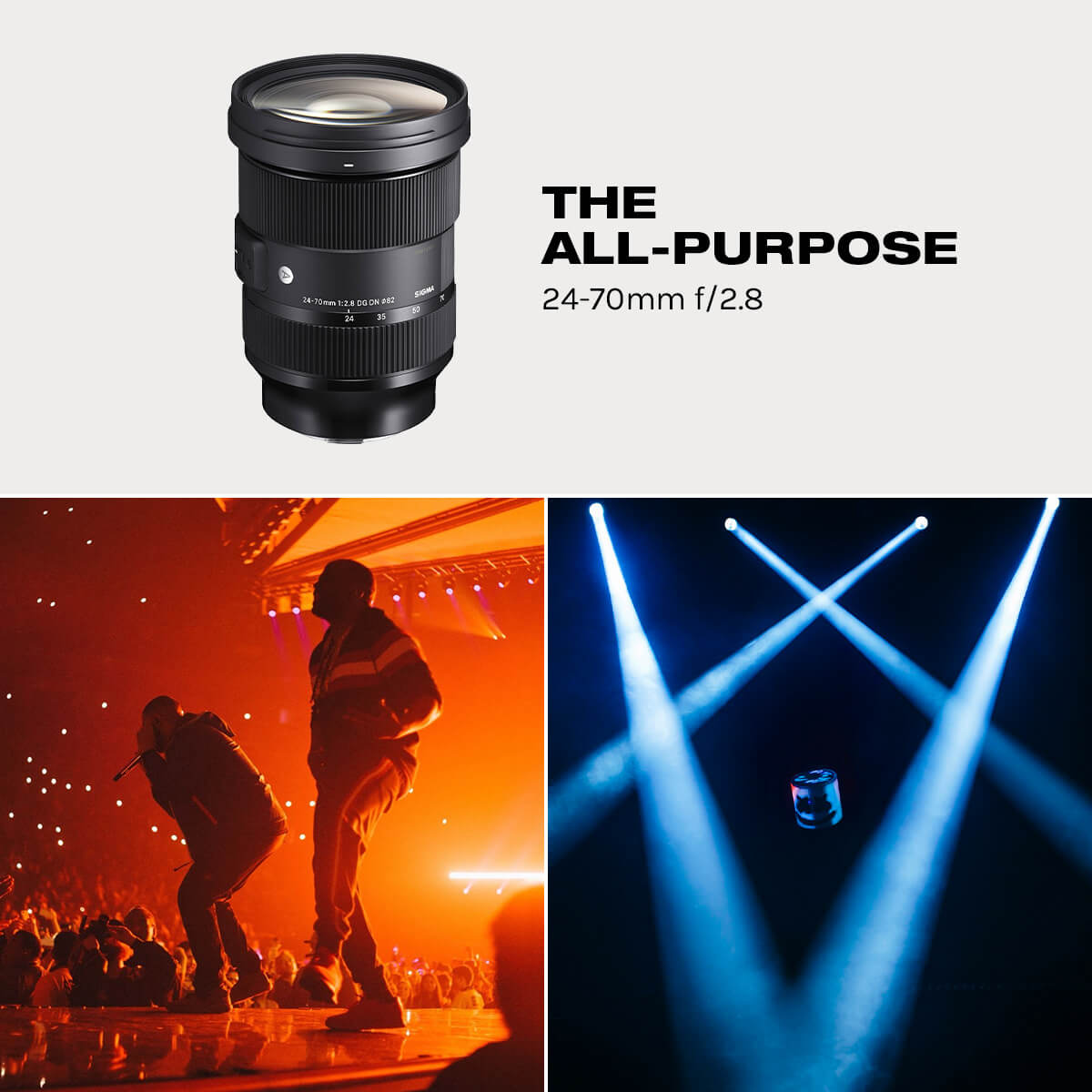 Images by @edirenzo
70-200mm Lens – Telephoto Concert Photography Lens
Concert photographers will find themselves in all areas of the venues, whether it be right in the pit, up in the nosebleeds, or from the back of the crowd. The 70-200mm lens allows them to really zero in on the artist and isolate them out from their surroundings. Capturing the fine details of the concert, the true intimate moment an artist is in their element, and more – the 70-200mm will let you reach in and capture it! Thanks to its f/2.8 aperture, you can get killer depth of field and
Lens recommendations:
Sony: Sony FE 70-200mm f/2.8 GM | Alt: Sony FE 70-200mm f/4
Canon: Canon EF 70-200mm f/2.8L | Alt: Tamron SP 70-200mm f/2.8 (for Canon)
Nikon: Nikkor 70-200mm f/2.8 | Alt: Sigma 70-200mm f/2.8 (for Nikon)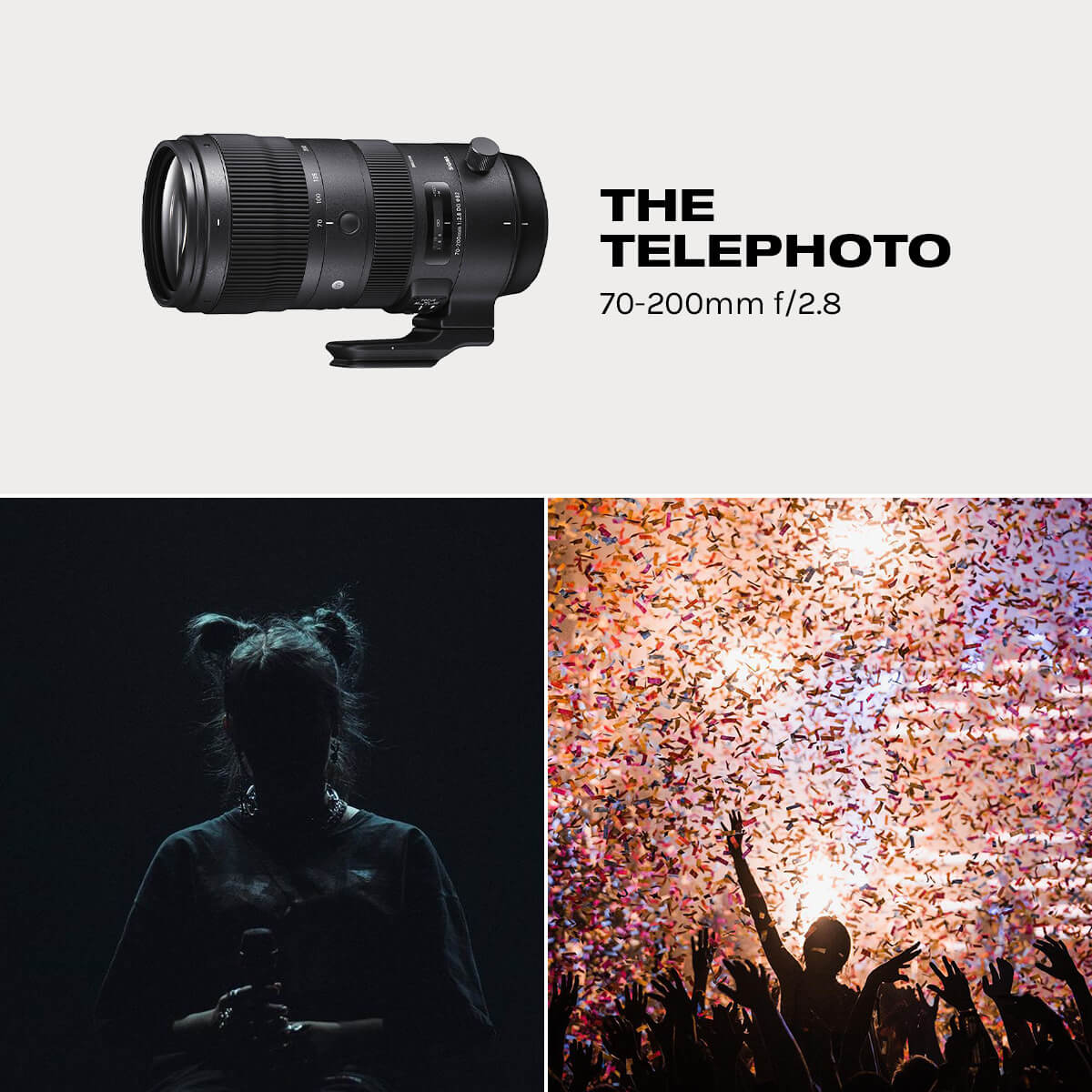 Images by @mattyvogel and @nick.le
Compact Lenses for Concert Photography (When You Can't Get a Press Pass)
One of the hardest parts of breaking into the concert photography scene is building your portfolio. How do you build a live music portfolio without a press pass? And how do you get a press pass without a portfolio? It's a frustrating vicious cycle.
There are tons of ways budding concert photographers have gotten creative to get into venues to start making a name for themselves, but not all of us want to lie our way in or Photoshop a press pass. So, a great place to start is bringing small, compact gear into the venue that meets camera requirements. From pancake lenses to smartphone lenses, here are our picks.
Pancake Lenses & The Nifty Fifty
For venues with focal length restrictions, but not necessarily restrictions on DSLRs, your best bet is going with a low profile pancake lens (typically wider focal lengths), or a "nifty fifty" (a cheap, compact 50mm lens).
These compact lenses pack light and pack a punch. Sure, you don't get as much flexibility with a prime lens – but you trade that for great low light performance, and just the chance of getting your DSLR in period. If you're lucky, we've heard some security guards don't even recognize cameras as DSLRs with these lenses on (but you didn't hear that from us).
Lens recommendations:
Sony: Sony SEL-20F28 E-Mount 20mm f/2.8
Canon: Canon EF 50mm f/1.8 Prime
Nikon: Nikon AF FX NIKKOR 50mm f/1.8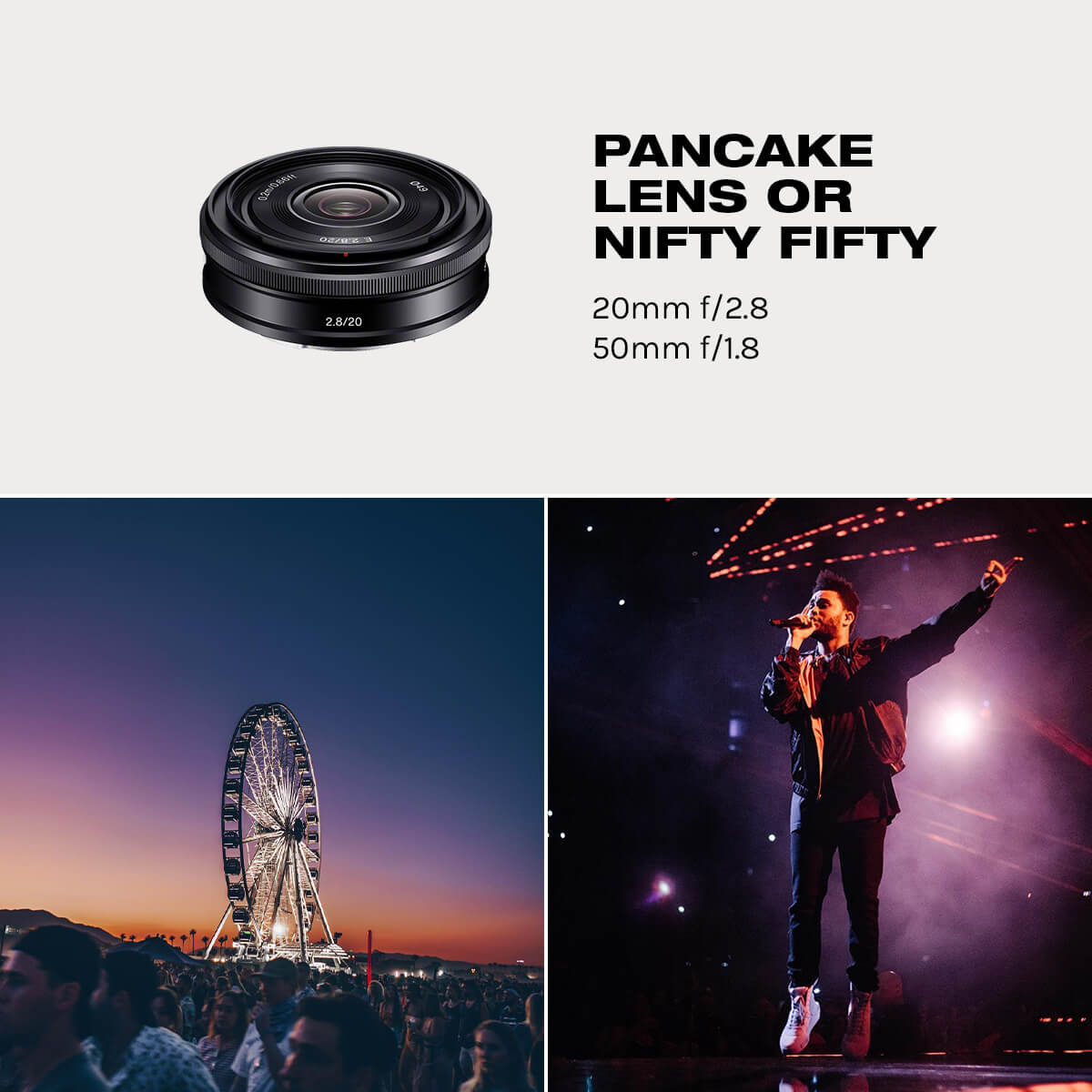 Images by @nick.le and @edirenzo
Smartphone Lenses for Concert Photography
Going to an ultra strict venue where they won't allow any detachable lenses, no matter how small? Fear not! Your smartphone can act as a great portable solution when paired with a smartphone lens.
There have been major strides made in the last few years for smartphone camera technology – the low light performance is incredible, and many of the latest phones like the iPhone 12 Pro allow you to shoot in RAW, giving you lots more editing flexibility after the show.
Moment Wide 14mm Fisheye Lens
Just as the 16-35mm lens captures more of your setting, this Moment 14mm fisheye lens is sure to provide similar capturing capabilities. Don't miss a beat with this wide lens for your phone – whether it be the entire audience behind you, or the stage set in front of you.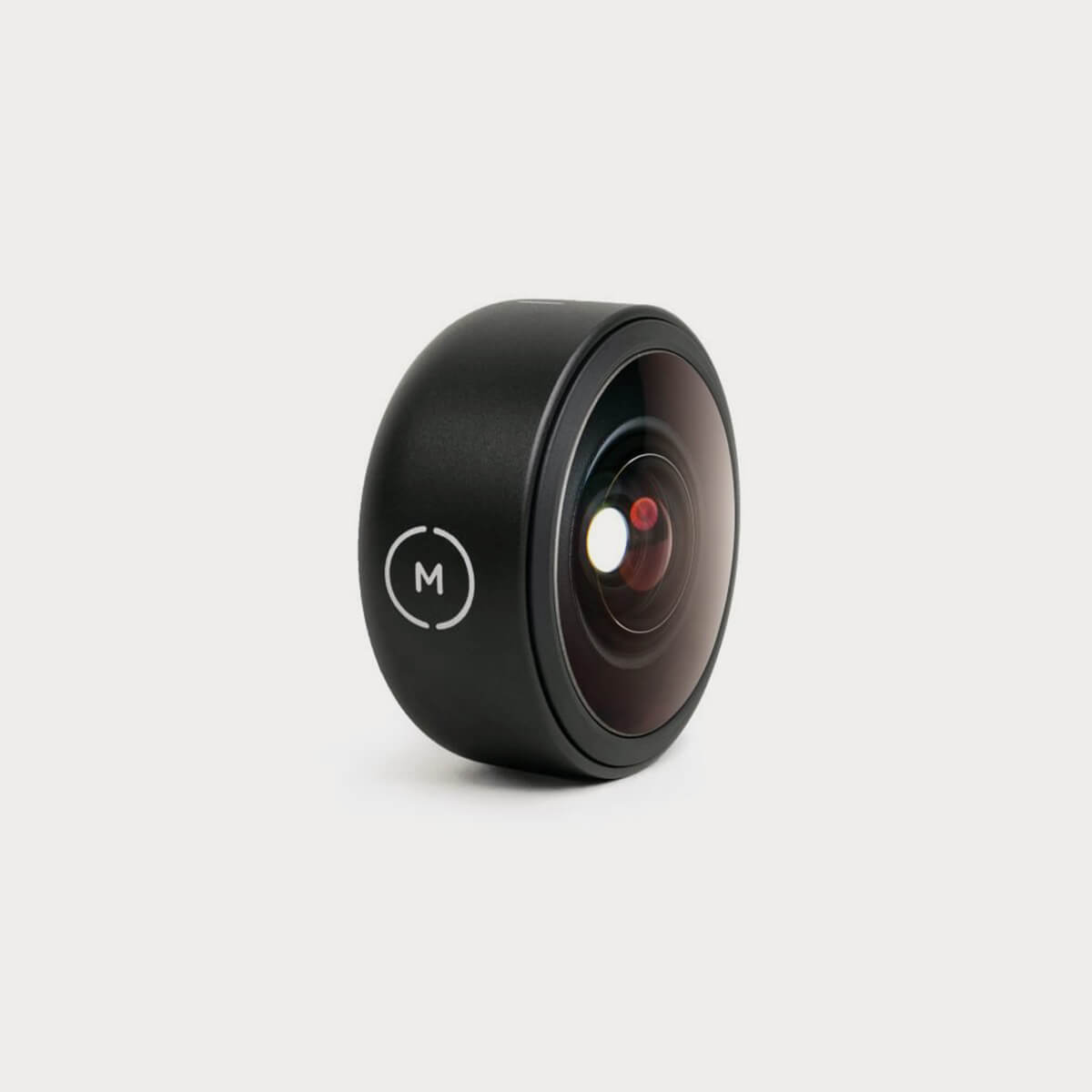 Moment 58mm Telephoto Lens
When it comes to smartphone cameras and their zooms, most are outfitted with a telephoto zoom that lack in sensor resolution – and let's not talk about the nasty grain and pixelation when you get into digital zoom. The Moment 58mm lens is sure to extend the optical zoom of your phone, while still making use of its main higher quality sensor. Use it to zero in on the artists on stage, or the finer details of the concert without sacrificing quality of image.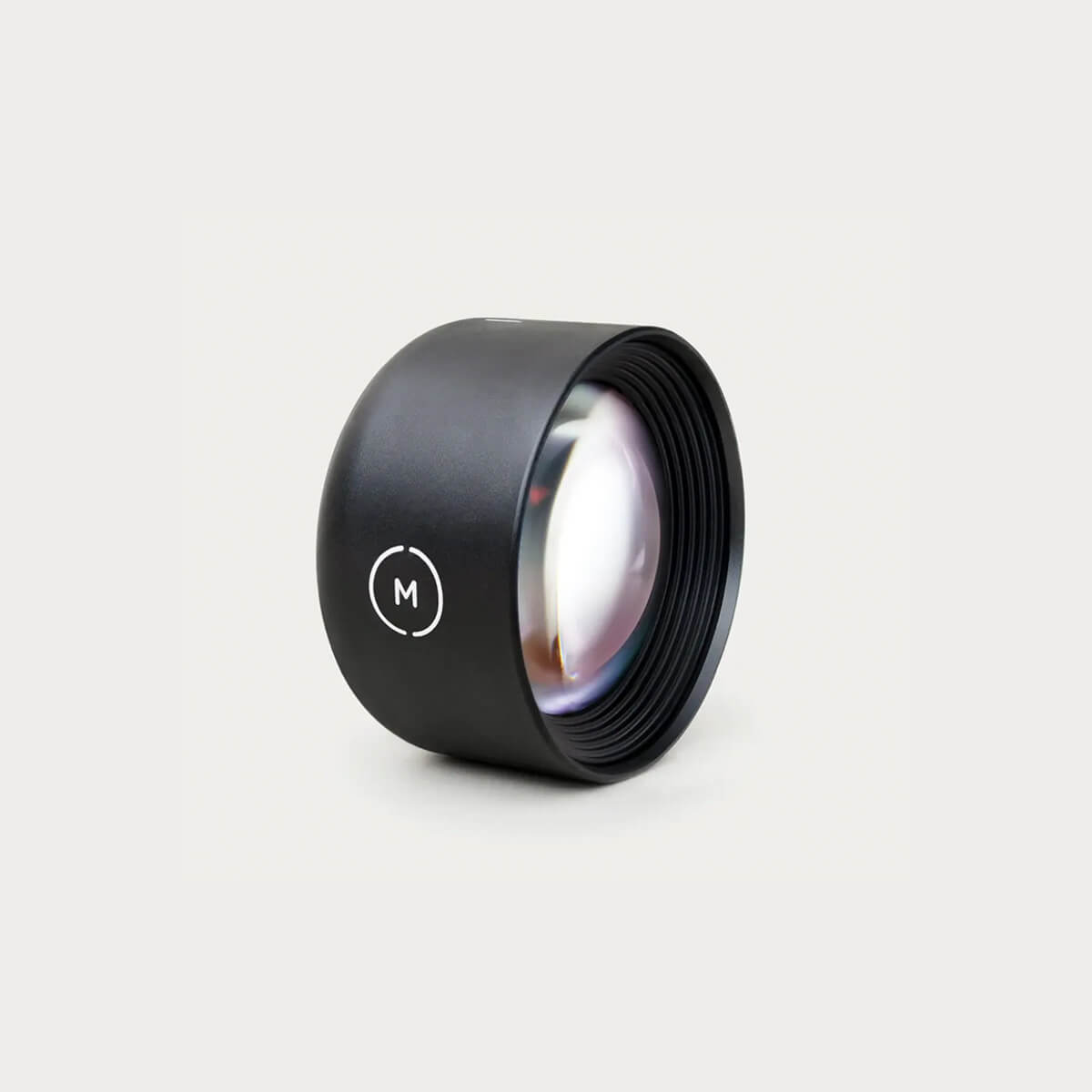 Moment Lens Mount Case
You'll need a case to help mount those moment lenses to your phone, so the Moment Lens Mount Case just does that – with a wide array of phone model selections as well!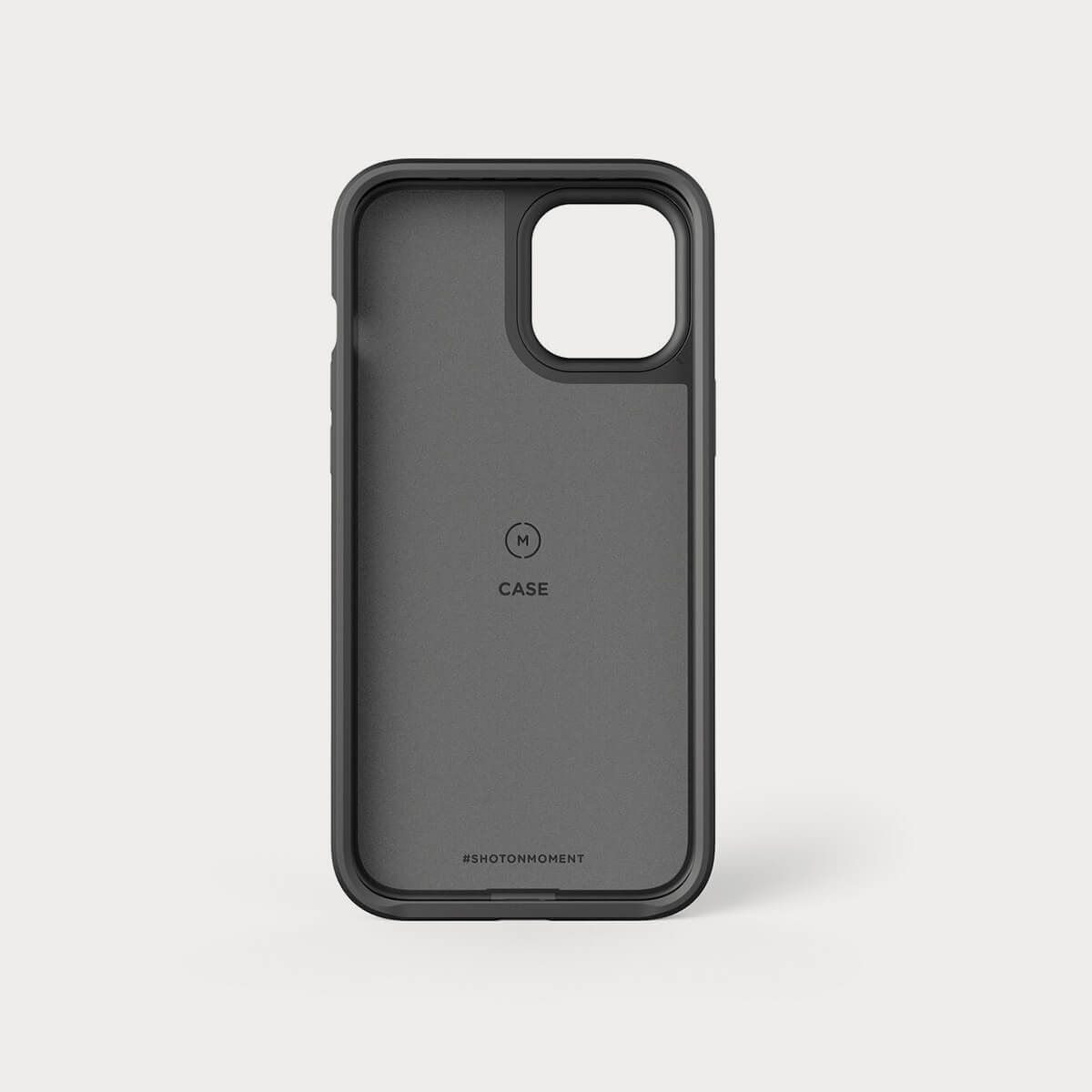 Are there any concert lenses you use? Are we missing anything? Let us know in the comments and follow us on Instagram @gridfiti and @gearspread to stay up to date with more gear tips!
Gridfiti is supported by its audience – when you buy something using the retail links in our posts, we may earn a small commission at no additional cost to you. We only recommend products we would use ourselves and recommend to our friends and family. Read more about our affiliate disclaimer.