From shooting exotic foreign cars in epic locations to capturing classic cars in your local city, photographing cars comes with its share of joy and excitement, but editing these photos can be a huge task to take on.
Whether you're looking for a minimal look, vibrant editorial feel, or a dark moody aesthetic, car presets for Lightroom will have an answer for you! Whether you're shooting for a client or as a hobby, check out our picks for the best car presets to edit your automotive photos to perfection.
Want more preset guides and tips? Check out our several other preset blog posts, and join our newsletter below!

Dark Aesthetic Car Presets
Elevate your car photos with these premium dark aesthetic Lightroom presets. These 10 presets for desktop and mobile will have your car photos looking clean, edgy and sophisticated– they're designed to darken the overall feel of your photos, while highlighting the vibrant features of your cars and adding an overall sharpness. Give it a go with your automotive snaps!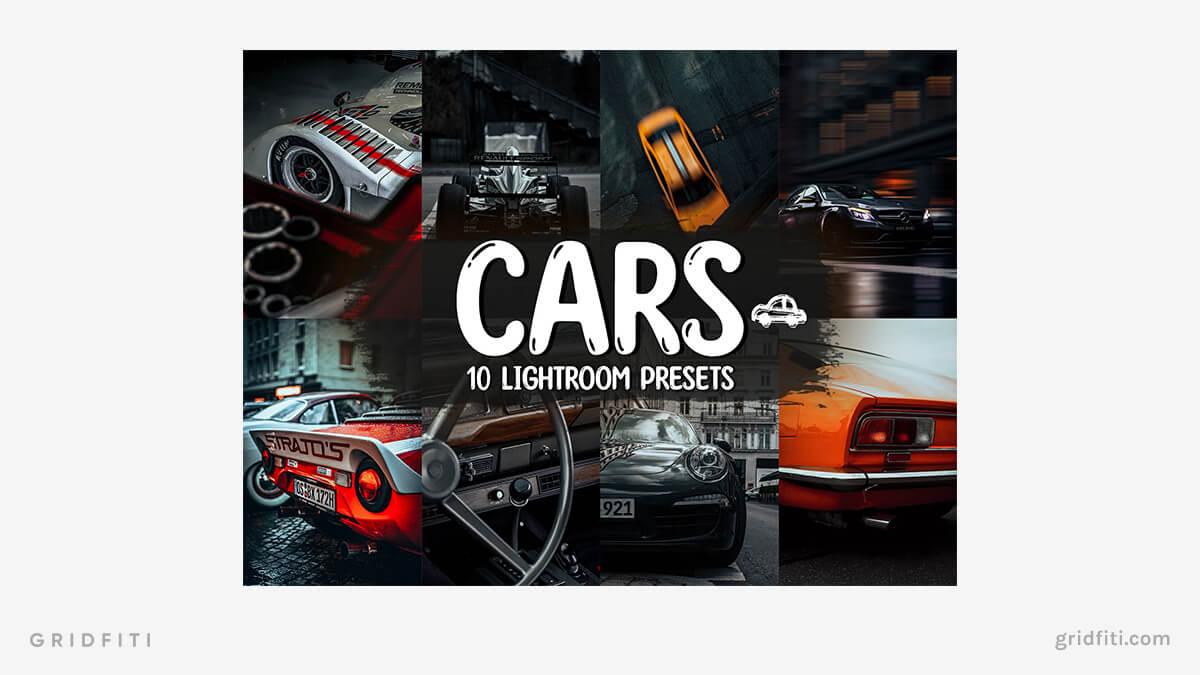 Ultimate Automotive Preset Bundle
This Ultimate Automotive preset bundle comes packed with 30 presets for both desktop and mobile. The advantage here is the optionality of presets to choose and apply with your car photos. Cars come in all sorts of different shapes, sizes, and colors and can be captured in a multitude of settings – so pick and choose which of these presets bring out the best of your photos!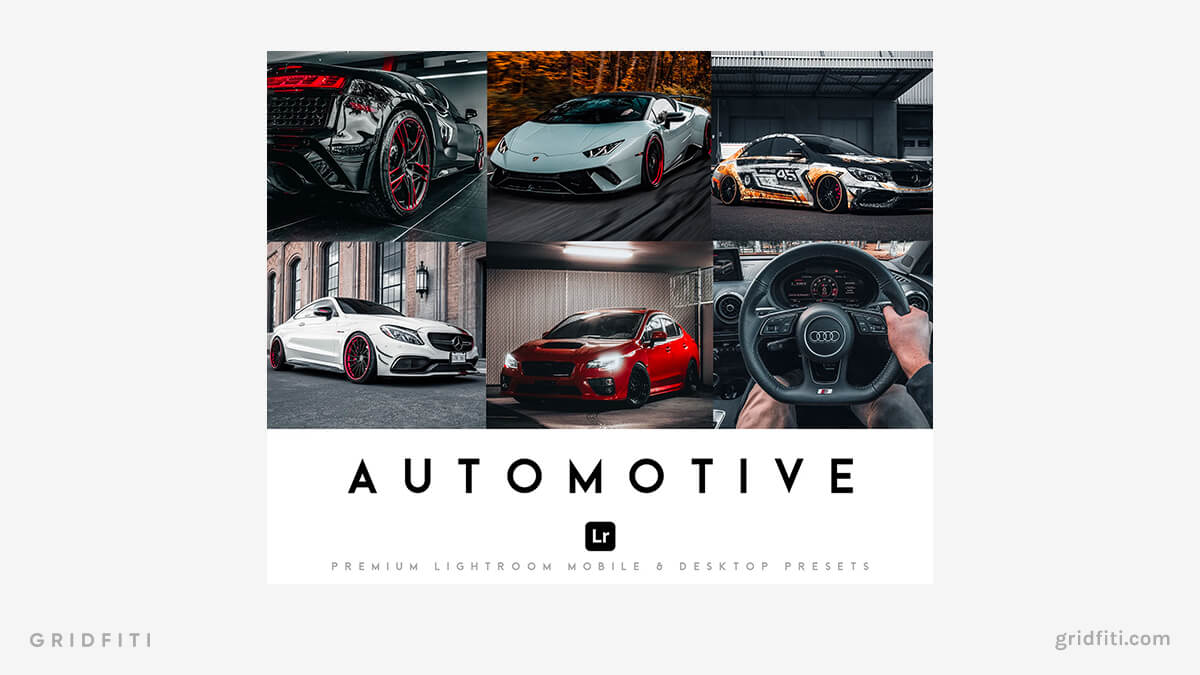 Clean Car Presets
This 25 preset pack is created to add a simple and clean look to your car photos. Without any fancy saturation bumps or texture additions, these presets simplify the beauty of your car photos. The color grading is subtle and natural, with minimal exposure enhancements. Your cars already look great – give them a subtle post-production push with these presets!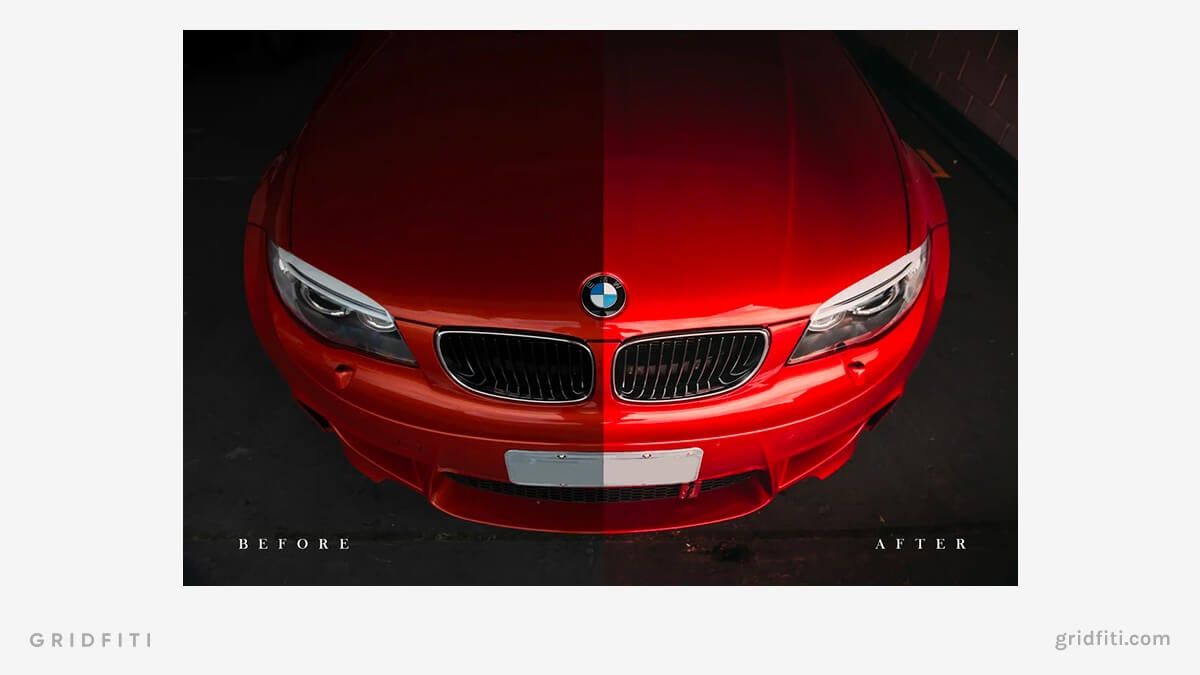 Black Tones Car Presets
Minimize the tones of your car photos with these black tones car presets. The idea with these 10 presets for desktop and mobile is to make the colors of your car the main focus, while darkening the environment around it. This works best with environments that have lots of gray and textures – such as concrete buildings and roads.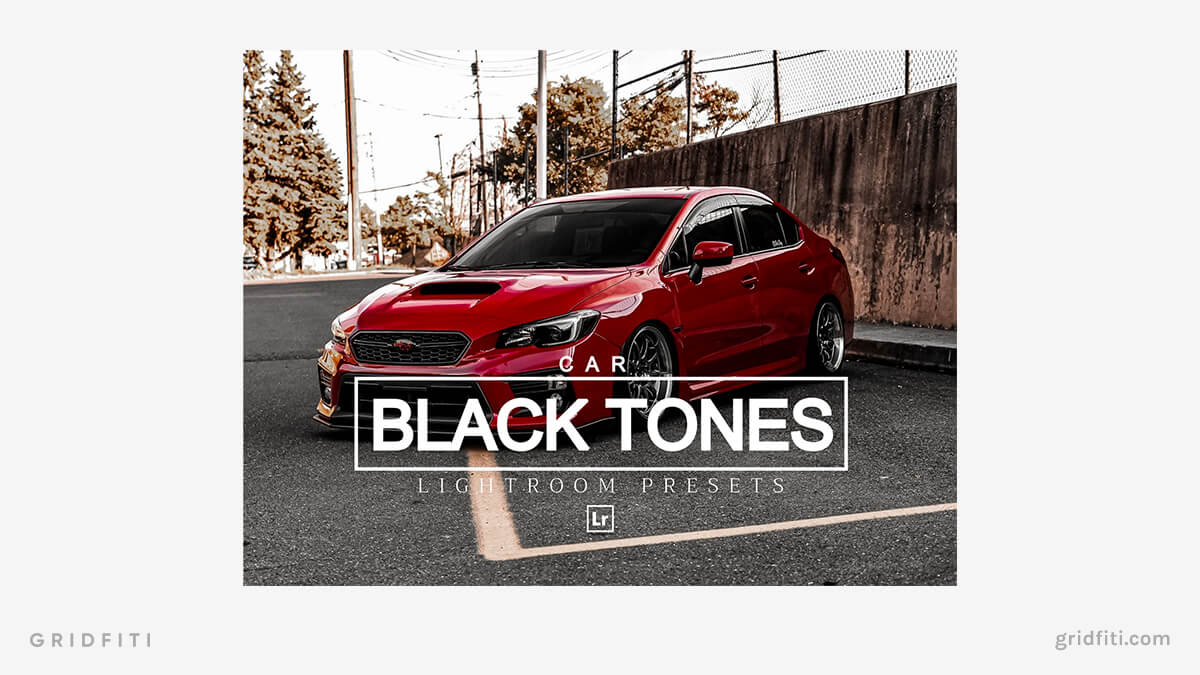 Chrome Cars Pro Presets
Add a pop of vibrancy to your car photos with this Chrome Cars Pro preset pack. This collection of 17 desktop and mobile presets are designed to enhance the look of your car photos by accentuating the details and adding some beautiful saturation. 10 of the presets are for exterior shots, while 7 are for car interiors – so you have several options to play with to get your car photos just right!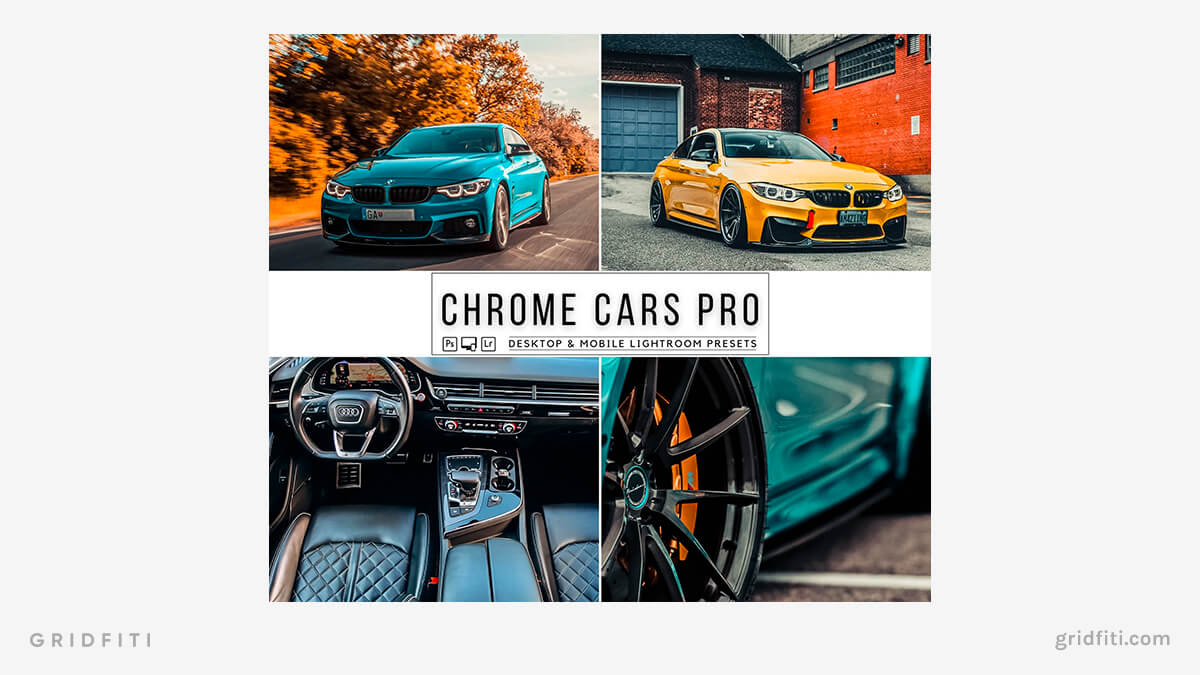 Automotive Desktop & Mobile Presets
These automotive desktop and mobile presets add an overall premium look to your car photos. The included 15 presets for desktop and mobile add a lovely balanced look to the photo edits – with natural tones, perfect texture and sharpness, and a soft glow to complete it all. These presets will have your car photos looking like they came from a magazine!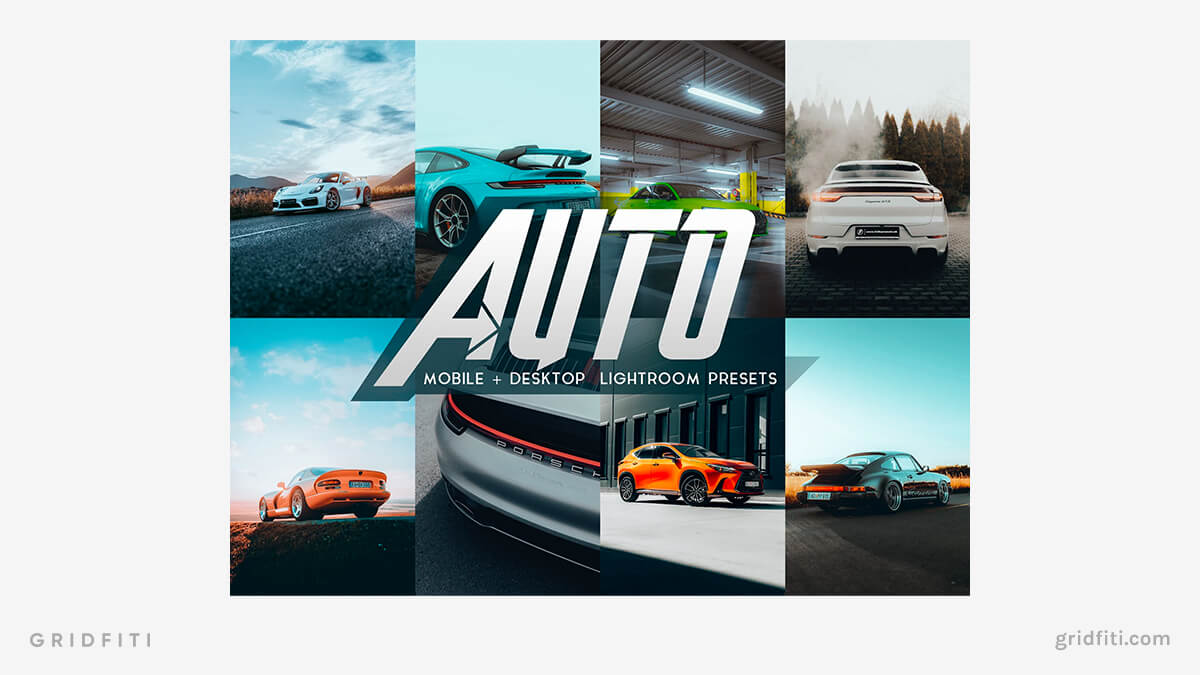 Cars Presets for Desktop & Mobile
This rich and dark aesthetic preset pack for cars comes with 15 presets for desktop and mobile. The presets tastefully darken your car photos, while keeping the focus on warmer tones. Capture your cars in minimal spaces, in nature, or in the city – and watch them get elevated through this preset pack!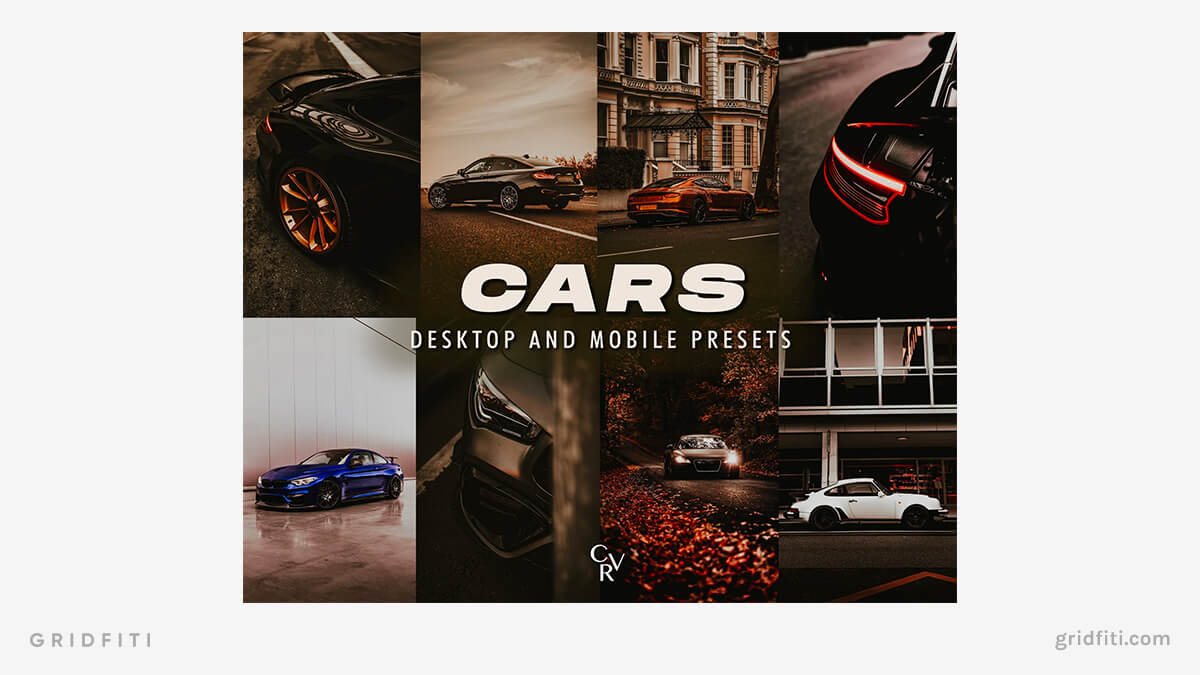 Pro Studio Presets for Car Photography
These 6 studio presets were made to perfect your classic car photography — designed to perfectly work with the colors and interior styles you'd find with classic cars. The color grading mixed with exposure enhancements and subtle fade on the shadows creates a perfect aesthetic to bring out the best of your classic car pics!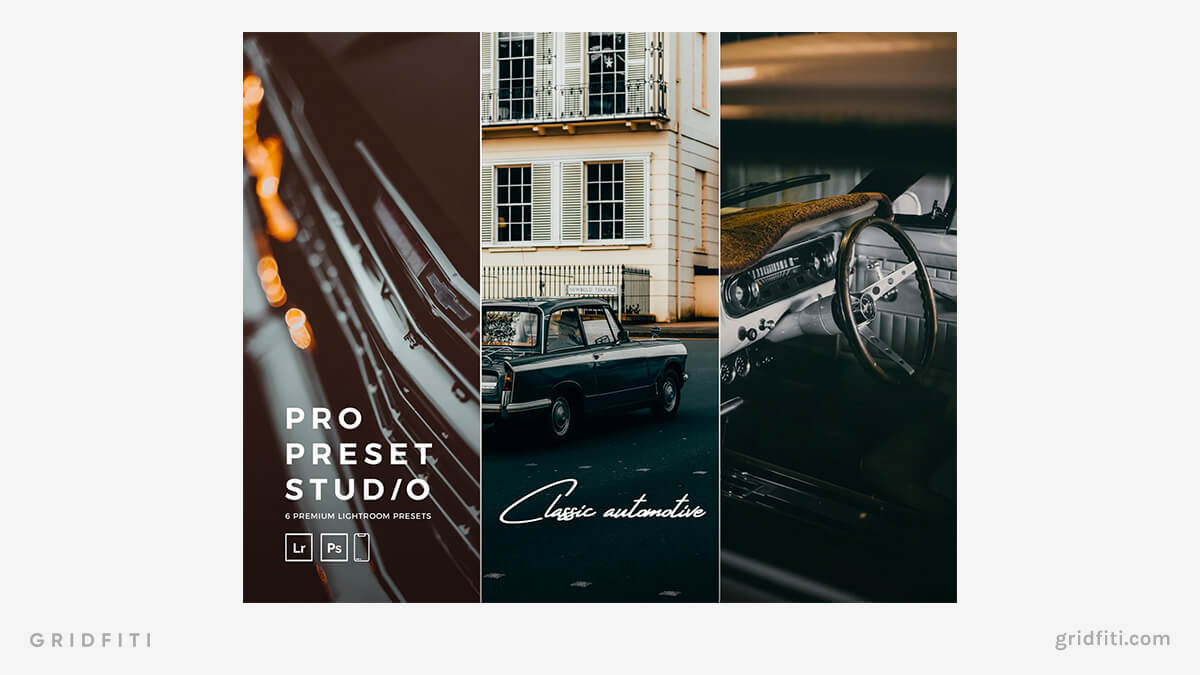 Soft Automotive Lightroom Presets
Combine a soft look with some vibrancy and you get this sweet 12-preset bundle for your automotive photos! These presets aim to create a high dynamic range look for your photos, where the car and backgrounds are exposed as best as possible. The boosted vibrancy works best with colorful cars – and the added softness adjustments make them look like a dream!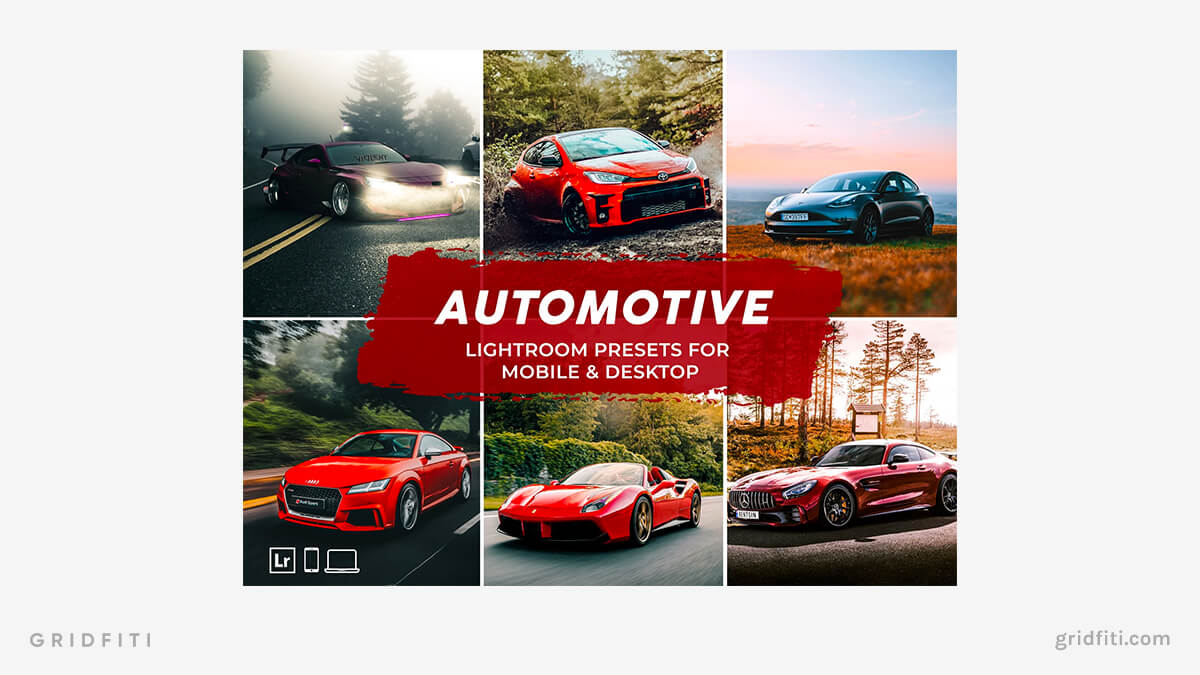 Dark Matte Car Presets
Add that matte black look to your car pics with these Dark Matte Lightroom presets. These 25 presets for desktop and mobile allow you to pick and choose whichever look works best with any car photos you have. These presets focus on toning down the colors of your photos, while adding some sharpness enhancements and a subtle dark matted look!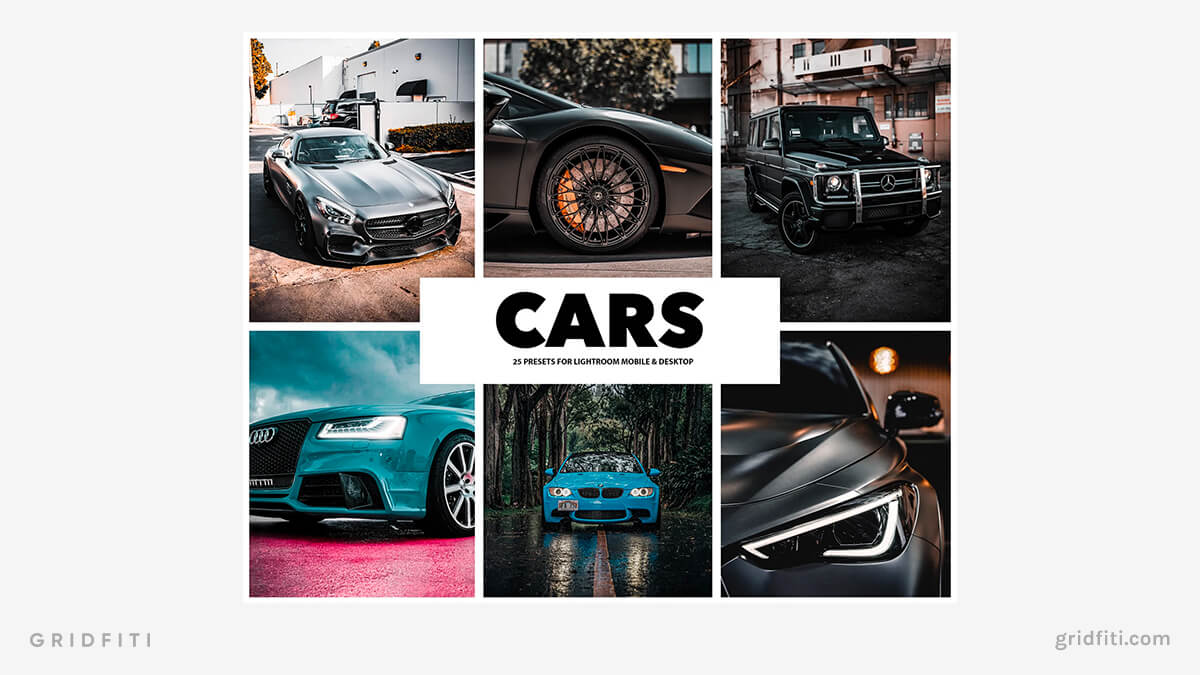 Free Car Presets
Not sure which of these car presets you want to start with? Before jumping into premium packs, we've gathered a few free car presets to test out on your photos!
Free Warm Car Preset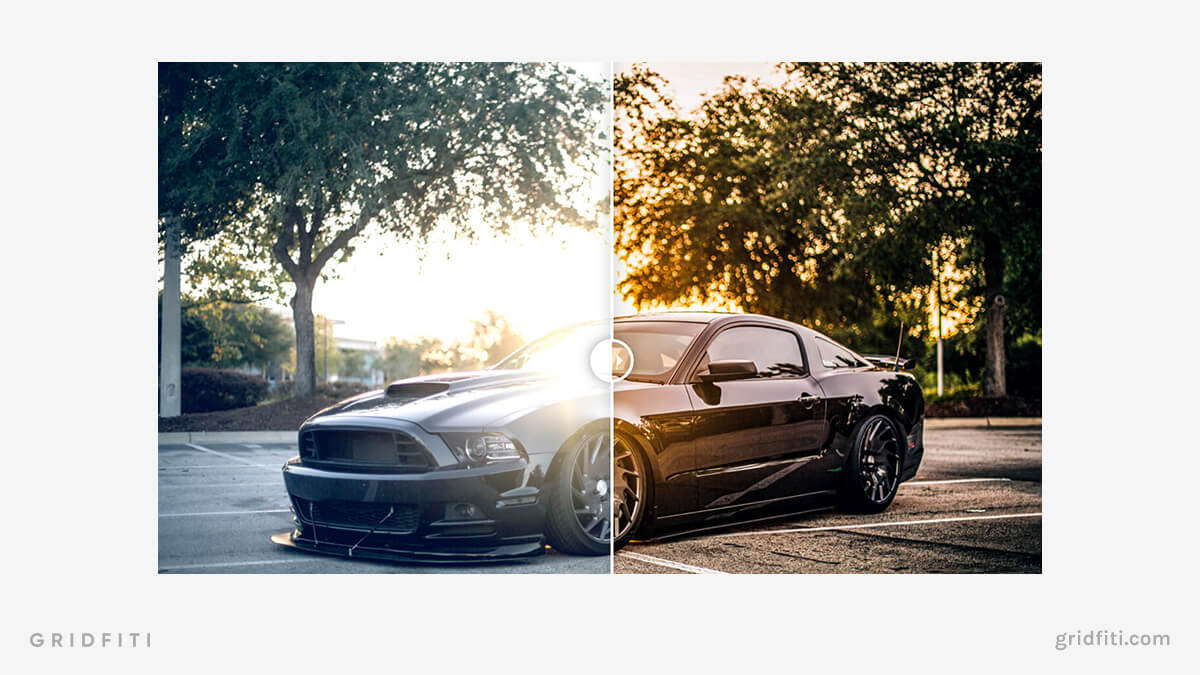 Free Cool Car Preset
Free Vibrant Car Preset
Which one of these car presets for Lightroom will you edit your pics with? Are there any we're missing? Let us know in the comments!
Gridfiti is supported by its audience – when you buy something using the retail links in our posts, we may earn a small commission at no additional cost to you. Read more about our affiliate disclaimer.