Planning and choosing a good TikTok thumbnail is often overlooked, but it can do wonders for your profile. Viewers won't see a thumbnail on their For You page, but whenever someone comes across and scrolls through your profile, thumbnails create a first impression of your overall content when all together in your feed. A great thumbnail (aka cover photo) also encourages people to tap through and check out some of your past videos, or even follow your page.
If you're looking to step-up your TikTok thumbnails and find ideas to boost the quality of your video covers, then you've come to the right place! We've created a guide to help you add a TikTok cover, plan a TikTok cover, and we even provided you with the best TikTok thumbnail ideas based on some of our favorite creators – so take a look!
Want more tips on thumbnail design and social media visuals? Join our mailing list!
How to Select & Add a TikTok Thumbnail
Selecting a TikTok cover isn't the most obvious prompt when uploading a TikTok video, so it is often forgotten. Here is a step-by-step to selecting a TikTok thumbnail and adding text to your TikTok cover when you're uploading your video!
First, tap the "+" button to create a TikTok video in the app.
You can now either choose to record a video within the app or upload a video of your own by tapping on the "Upload" preview on the right side of the red record button.
Once you've finished editing your TikTok video, you'll proceed to a screen with the title "Post" at the top and from here, you'll be able to add a caption, hashtags, links, and a TikTok Thumbnail Cover.
On the right side of the screen, you'll see a preview of your video and it'll say "Select cover" at the bottom of the frame. Tap "Select cover"
From here, you'll be able to select a frame in your video to have as your TikTok thumbnail cover photo.
You'll also be able to add text to your TikTok cover image with the different pre-set styles in the app. Drag the text box to wherever you'd like in your thumbnail frame, and you'll see a black overlay which indicates the crop boundaries. Staying inside these boundaries will ensure your text is visible in your feed.
Once you're done, tap "Save" and you'll be able to post your TikTok with a properly planned thumbnail.
If you'd like to use a custom font, you can use third party apps to edit your videos on your phone or computer – like Splice, Premiere Rush, iMovie, and more. Once you've edited your video and included your custom text in the title, you can follow the same steps as above to select that as your cover.
For typography ideas, check out our post featuring the most aesthetic fonts to use!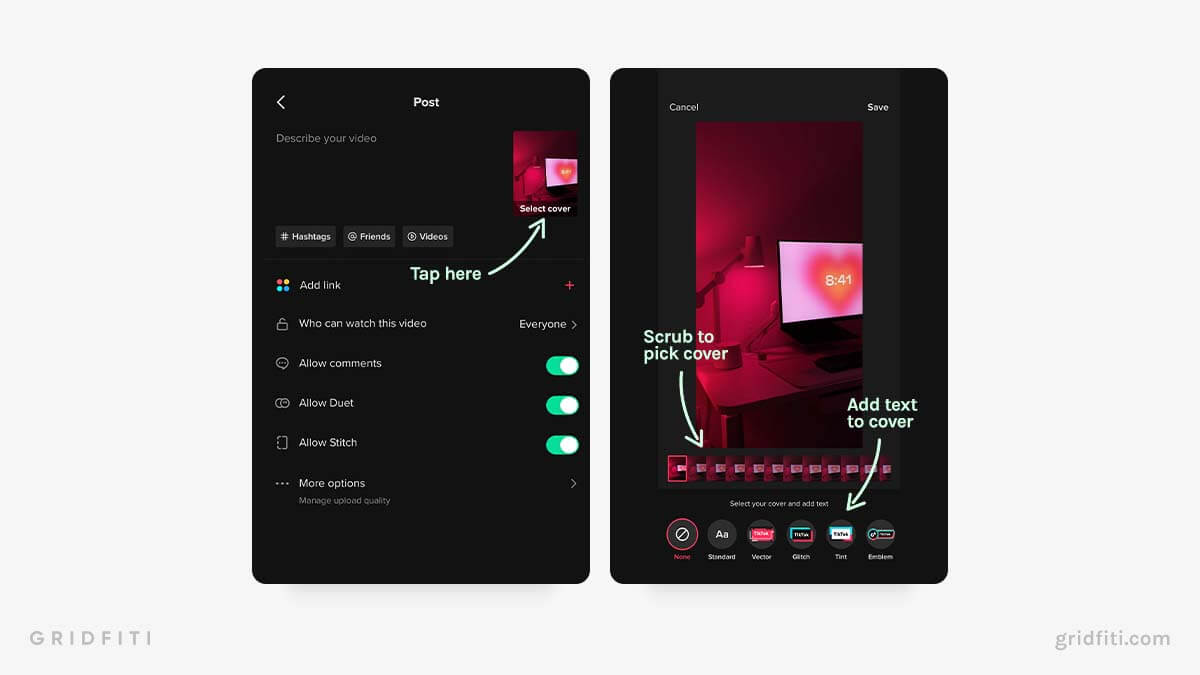 How to Change & Edit a TikTok Thumbnail / Cover Photo
Unfortunately after your TikTok video is posted, you cannot change or edit your TikTok thumbnail without having to delete the video and repost. This is why it's important to plan out the TikTok cover beforehand and making sure to select the cover of your choice before posting.
If you've accidentally posted your video without a cover or with the wrong caption, what you can do is:
Tap on the "Me" section in the TikTok app and navigate to your profile.
From your profile, you can click on the video you're looking to repost and tap the "…" on the right-hand side.
You'll be given a ton of options, but what you'll want to do is tap "Save Video" so that you can save the video to your camera roll and upload it again into TikTok without having to do all the edits over again!
Now this time when you're re-uploading, make sure you delete the video that you posted and then add in the video again with the proper TikTok cover photo and caption!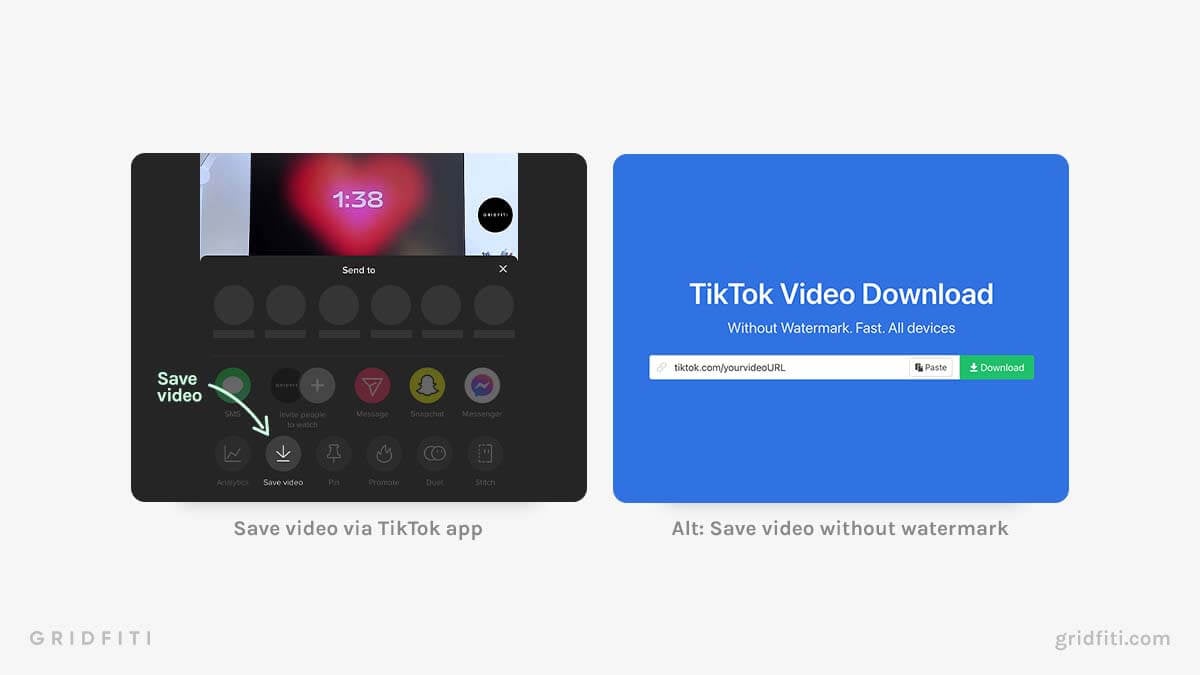 How to Make a TikTok Thumbnail / Cover Photo
Since you're unable to upload a photo or video in as a TikTok cover photo, the best way to make a TikTok thumbnail is to plan out your cover beforehand. Planning a TikTok cover photo before uploading allows you to record a clip that you know you want as your TikTok cover photo and then you will just need to make sure to include that clip into your edited video. Once the clip you want as your cover is included the video, you can easily select the video frame for your cover when you upload the video into the TikTok app.
Once you've got your final edited video, you can easily scrub and select the video frame for your cover when you're uploading your TikTok!
TikTok Cover Photo Ideas
There's no one-size-fits-all or secret formula for the perfect TikTok thumbnail, but here's some inspo from creators who have found success with consistent TikTok covers! Cohesiveness is the key to make sure that your cover photos flow beautifully in your feed, and ultimately draw people into your content.
Minimalist & Bright
Keep your feed clean, bright, and airy with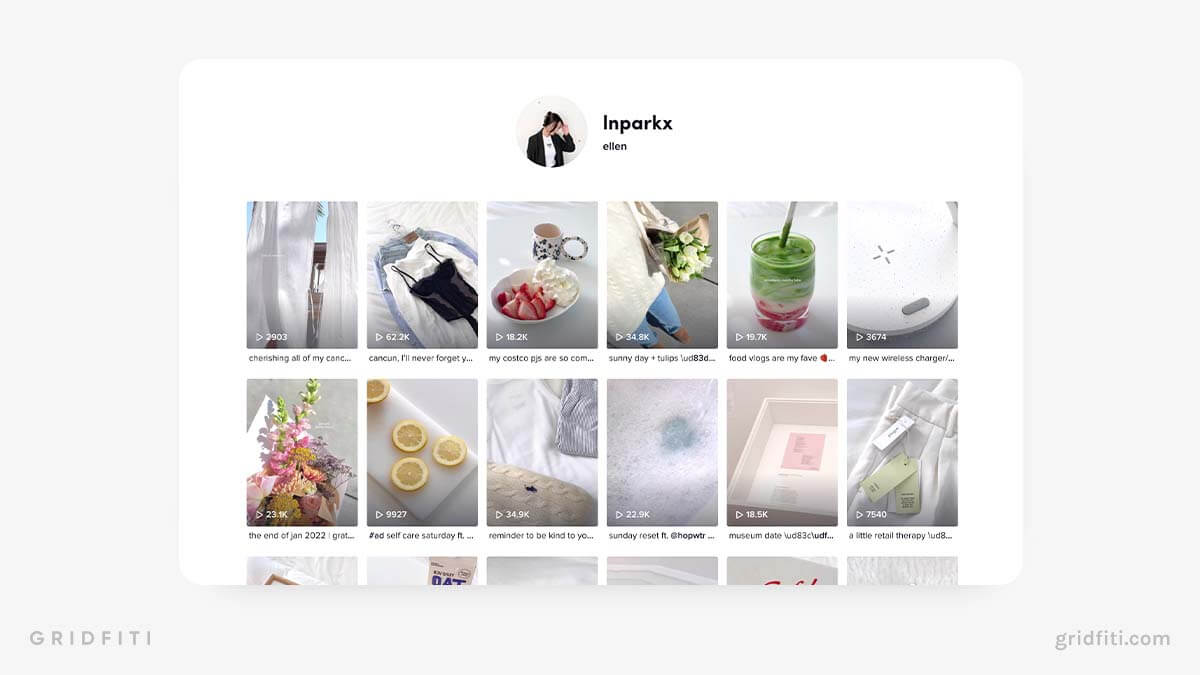 Minimalist Aesthetic Fonts
Having a minimalist feed doesn't need to mean leaving text out of your covers. Build onto that minimalist look by incorporating a clean and elegant typeface. Make the text white, and watch your profile turn into a cohesive feed, while stile giving your viewers some context of what they're tapping to.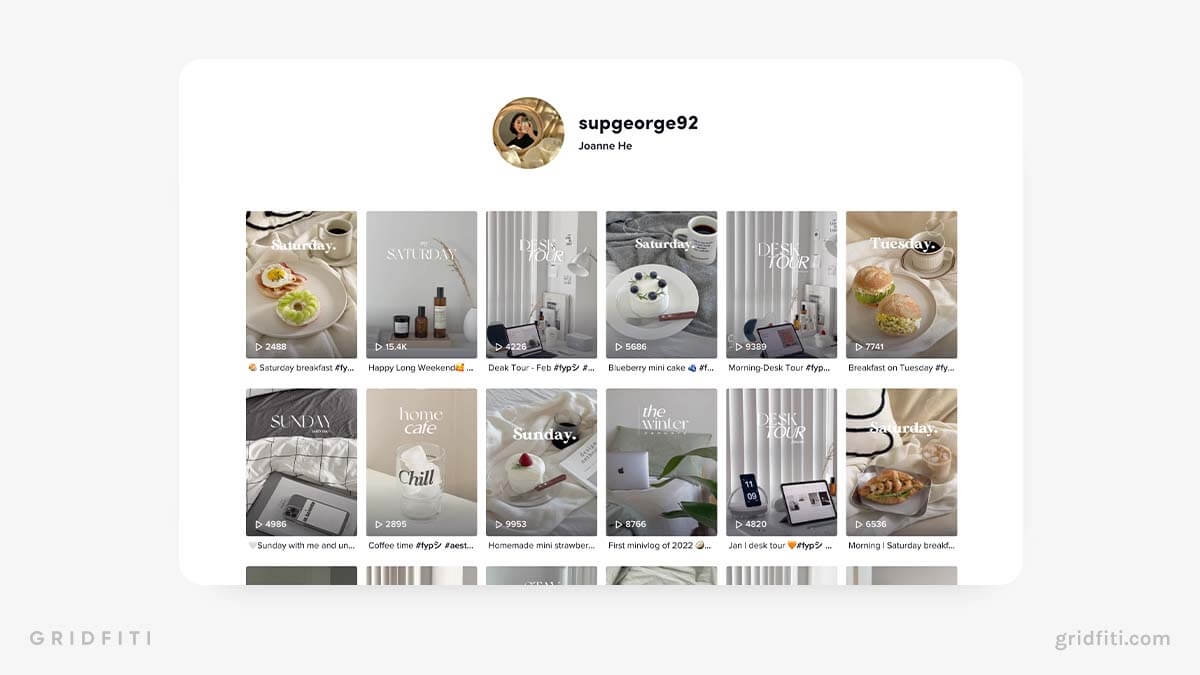 Colorful Aesthetic Fonts
For font and color palette ideas, check out our full round-up post featuring the most aesthetic fonts and aesthetic colors!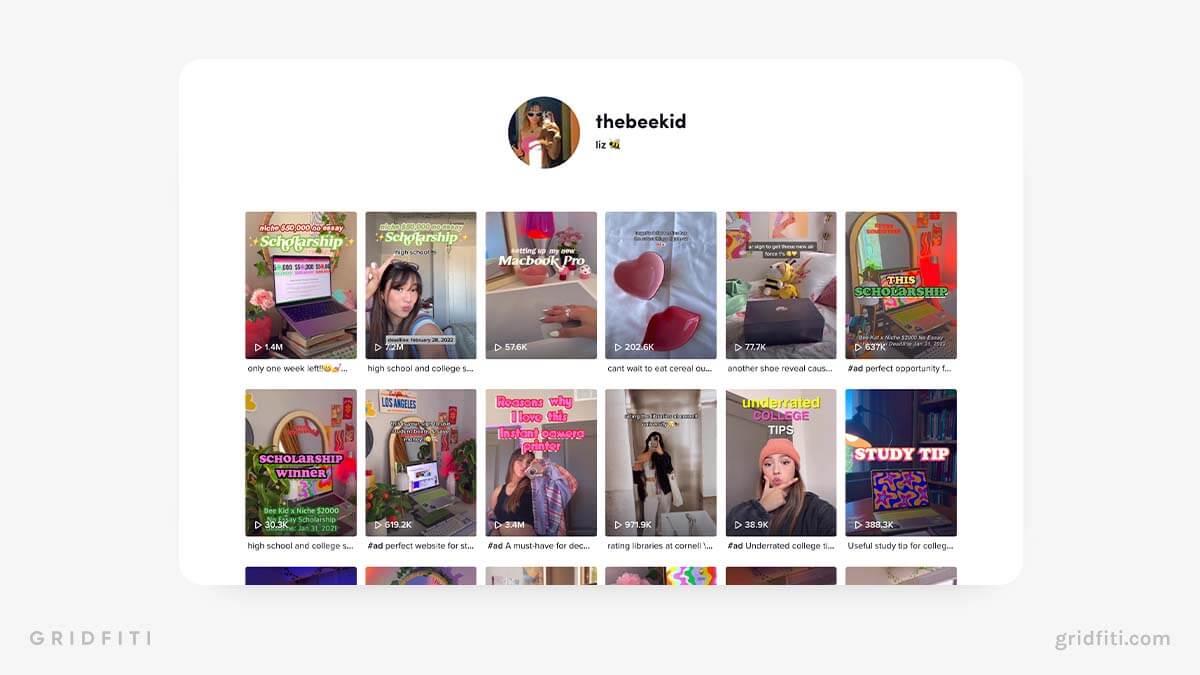 Including Your Face
It's no secret that faces grab attention – so it only makes sense to work them into your covers! Including your face also adds a personal touch to your content, and helps your audience to get to know you.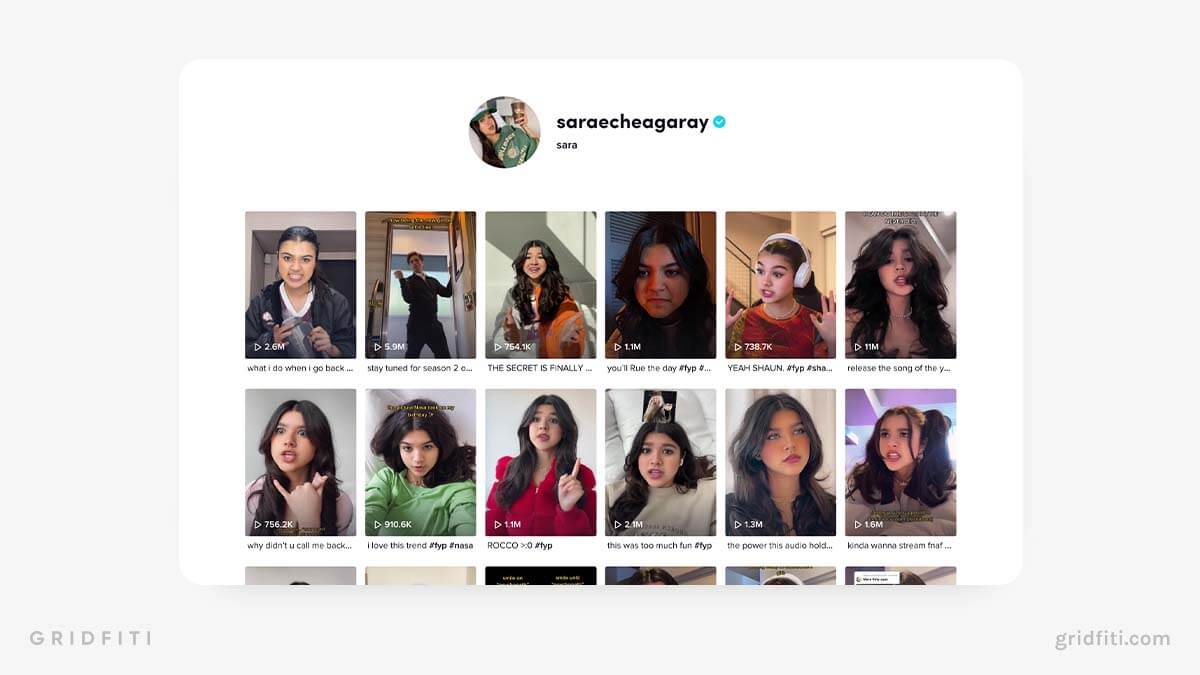 Attention-Grabbing Headline Text
Is your content less aesthetically pleasing and more story-based? Or do you have lots of videos that look the same and are hard to tell apart? Adding clear title text is a great way to help your viewers distinguish your videos and let them know what they're tapping on.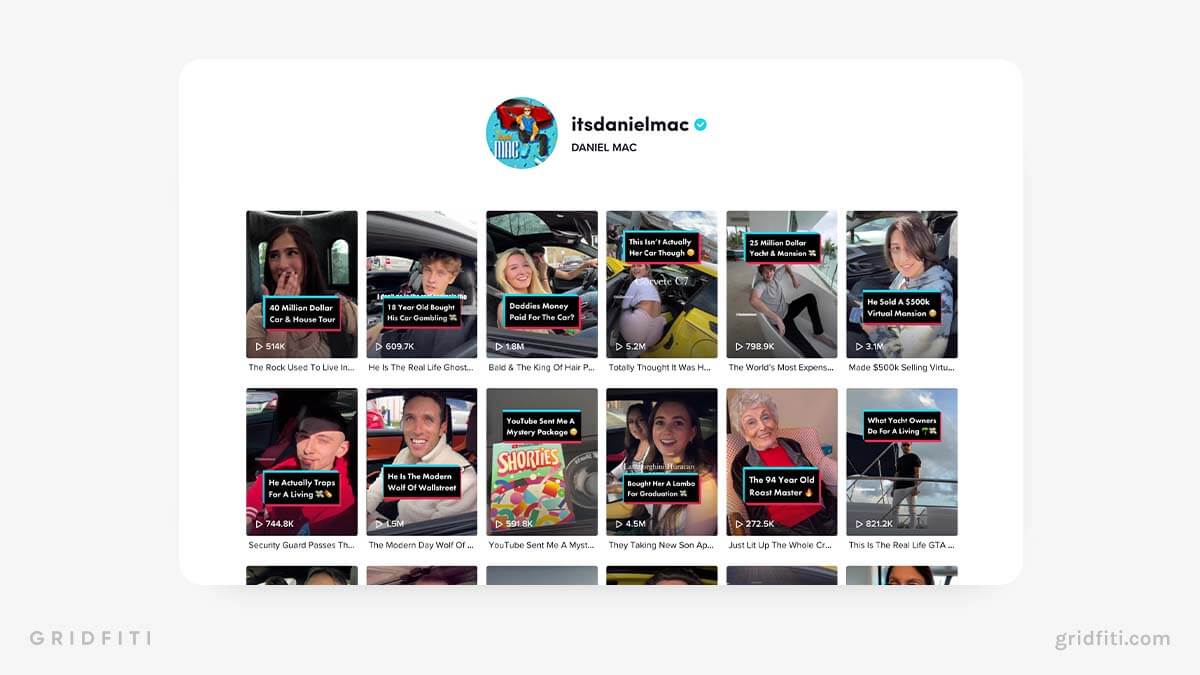 Beauty Shots & Close-Ups
Include your video's best shot for your thumbnail for that clickbait factor. In Newt's case, it's the ooey gooey cheese pulls – or the final beauty shot to amp up that appetite appeal to captivate viewers and have them tapping through. Using close-ups also helps viewers easily, and more quickly, take in what they're scrolling past.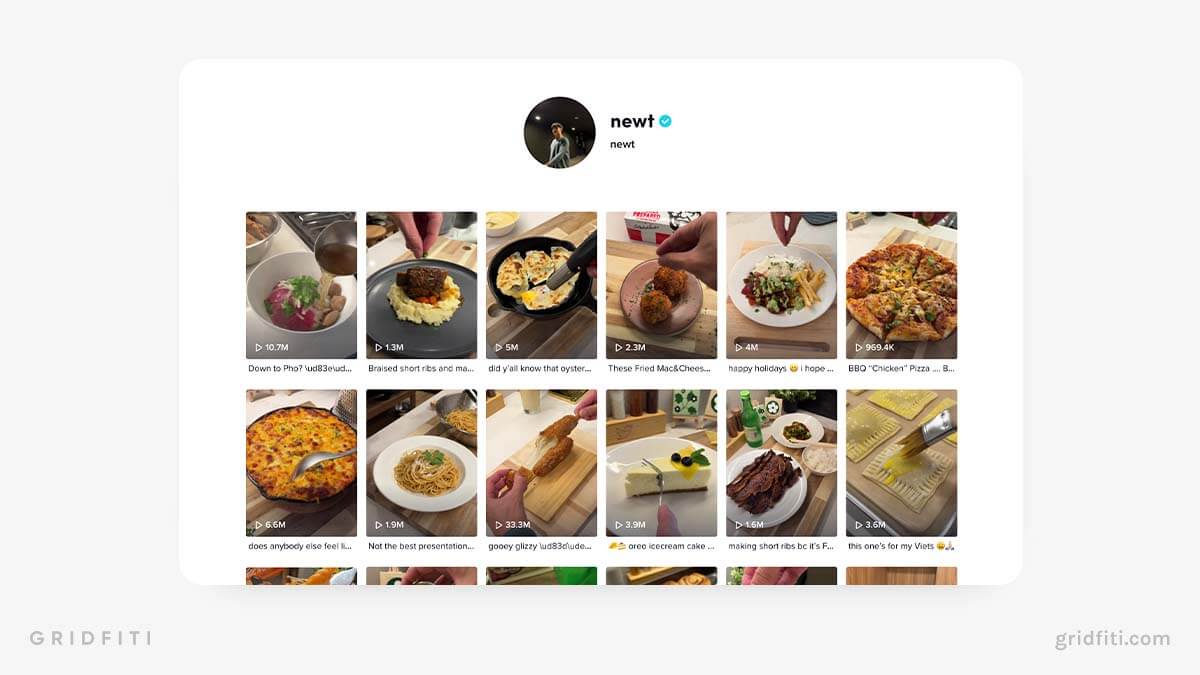 Simple Date Stamp Text
If you're a daily vlogger, using text to create a date stamp on each of your covers will make your feed feel like a video diary for your viewers!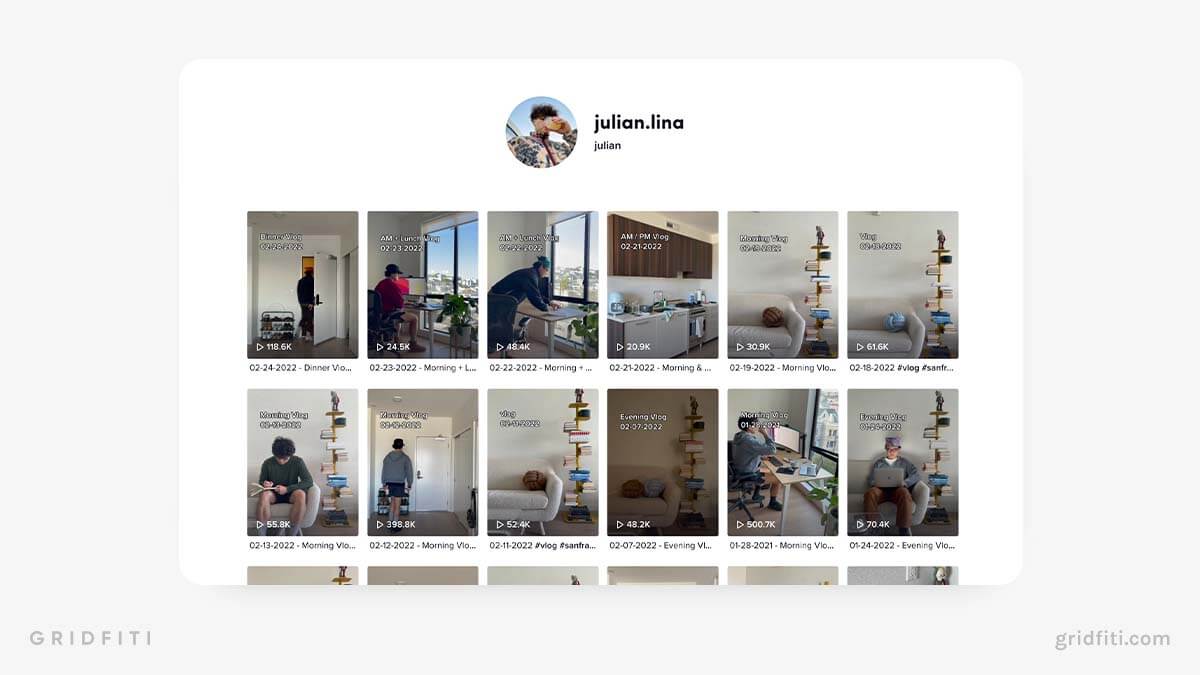 Short & Sweet
No need to beat around the bush – keeping it simple and straightforward with a 1-3 word headline will help your audience scan your feed, and tap through with intent!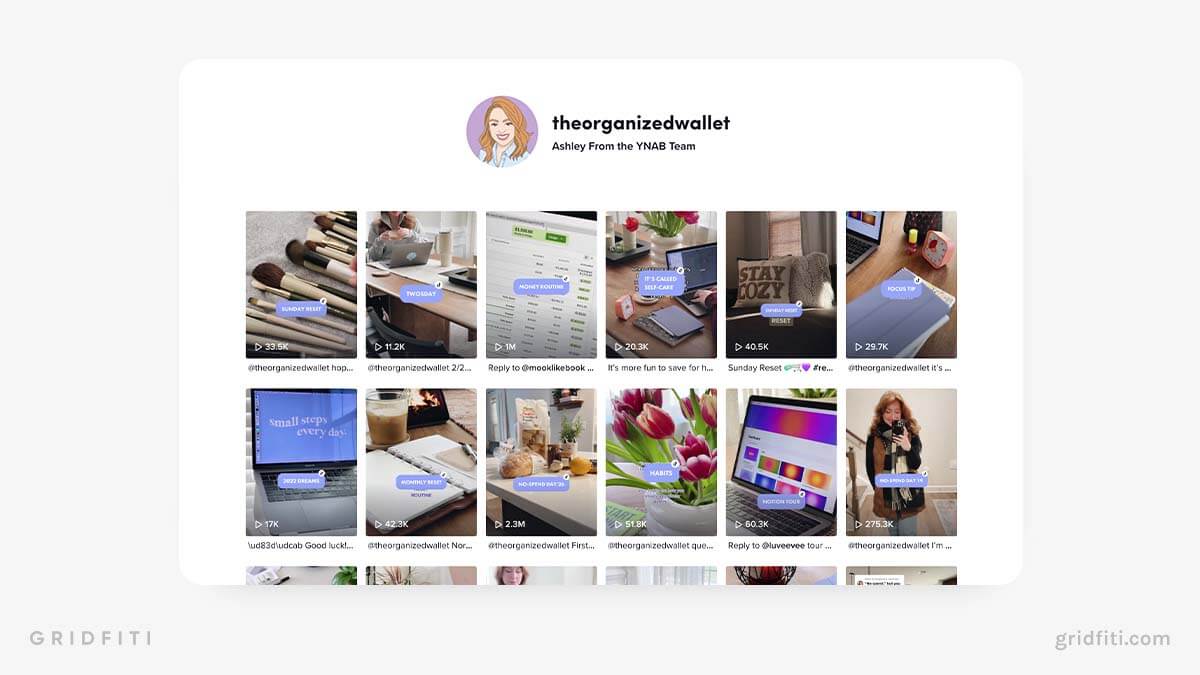 What's your favorite TikTok thumbnail idea? Are there any other TikTok cover ideas or thumbnail strategies that we're missing? Let us know in the comments!
Gridfiti is supported by its audience – when you buy something using the retail links in our posts, we may earn a small commission at no additional cost to you. We only recommend products we would use ourselves and recommend to our friends and family. Read more about our affiliate disclaimer.