Ben Brown is a talented filmmaker who resides in Cape Town, South Africa. He often travels the world documenting his journey with high quality vlogs. In addition to his travel vlogs, he has his "Visual Vibes" YouTube series which is usually a short travel film that he posts on his YouTube channel once in a while.
Ben Brown's camera gear is pretty advanced and you can tell that he has a variety of camera equipment to shoot the different types of videos which he creates. For his visual vibes series or his higher end videos, he will use his Sony FS700, while his vlogs will have footage mainly from Ben's Canon G7X camera.
What's in My Bag: Ben Brown's Camera Essentials
As a popular request, Ben's viewers often ask him what's in his camera bag, so he made this video to show off exactly what he carries to achieve the look and style of his videos. He says that his camera equipment definitely changes based on where he is going and what he is creating visually. Along with Ben Brown's camera gear, he showcases a lot of the typical work essentials and everyday gear that he carries around such as a book he is currently reading, portable skateboard, his Harmonica, or his drinking flask.
Ben Brown's Camera Body:
Canon 1DX Mark ii

 – A powerhouse of a camera and is used by other amazing videographers and photographers such as Rob Strok. Although it is fairly expensive, the Canon 1DX's camera capabilities are definitely worth it.
Canon 5D Mark IV

 – Another great overall Canon DSLR especially if you don't want to break the bank with the Canon 1DX Mark ii. Used by several professionals and takes amazing photos and video. One of the most popular cameras out on the market right now and for good reason.
Canon G7X Mark ii

– Ben uses the G7X as his vlogging camera and carries spare batteries so that it can last through his entire days. This is a camera recommended as a vlogging essential for those wanting to start a vlog on YouTube.
Sony FS700 + Shotgun Mic

Polaroid Camera
Ben Brown's Camera Lenses:
Canon 35mm f/1.4

– This is Ben Brown's favorite lens. The 35mm is a great focal length and amongst many photographers I've seen, they love using the 35mm. Another popular 35mm lens for the Canon DSLRs would be the Sigma 35mm f/1.4 Art which is used to capture some pretty sharp images.
Canon 70-200 f/2.8 Mark ii

Nikkor 20mm old school lens

Canon 24-70mm f/2.8 Mark ii

Canon 24mm f/1.4

Tokina 11-16mm f/2.8

Metabones Adapter

– This Metabones adaptor is used so that Ben can mount his Canon lenses on the Sony cameras. This is a popular adapter for those looking to attach their Canon lenses to Sony mirrorless bodies such as the A7 or in this case Ben Brown's Sony FS700.
What drone does Ben Brown use?
The Camera Accessories:
Manfrotto BeFree Carbon Fiber Tripod

 – This is the best tripod I've seen and is highly recommended amongst the pros. The Manfrotto BeFree travel tripod is super lightweight which makes it so easy to travel with and can carry basically any large camera rig with stability. I can see why Ben has this as his go-to tripod.
LED Light mountable on all of Ben's cameras

GoPro Hero Session

Canon Flash

Joby Professional GorillaPod

 – Since the Canon 1DX Mark ii and the Canon 5D Mark IV are fairly large camera bodies, the largest Joby GorillaPod is used by Ben Brown. Once again, the Joby tripods are basically industry standards for YouTube vloggers now.
Pelican Case – Ben Brown highly recommends the Pelican cases to store your camera equipment because of how durable they are and their lifetime guarantee.
Zoom H5 Microphone

– This is a popular microphone that I've seen carried by many professionals. The Zoom Mic is great to attach a lavalier mic or to have on its own to collect high-quality sound.
The Work and Travel Essentials: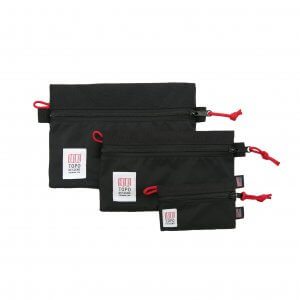 Portable Battery Charger

Seagate Hard Drives

– The Seagate hard drives are great to store video and photo files while being compact enough to carry around. I use something similar and mention it in my tech bag essentials blog post.

Wooden Travel Skateboard