In November 2022, Notion dropped the update we've all been waiting for: recurring database templates! Okay, so we may not have been waiting on this exact update. But recurring database templates are a great way to create automated, recurring tasks in Notion.
Scroll on to learn how to create repeating database templates in your Notion workspace, plus a few cool use cases and ideas to inspire your setup!
Want more Notion tips, tricks, and templates? Join our Notion mailing list below and check out our several other Notion guides and round-ups!
How to Use Notion Repeating Database Templates
Setting up repeating database templates in Notion is pretty easy. Not only can you create new repeating templates, but you can also edit existing templates to repeat — nifty!
Here's how to create repeating database templates in Notion:
Open the database where you'd like to add your repeating database templates.
In the top right-hand corner of the database, click the drop-down arrow next to the blue "New" button.
Create a new template, or choose which template you'd like to make repeating.
On the right-hand side of the template you'd like to make repeating, click the 3 dots (⋯).
Click "Repeat".
Choose from the following options: Repeat every day, every week, every month, or every year. Currently, there is no way to repeat templates on an hourly basis.
Once you select an option, you'll see additional customization options, which let you set:
a start date (e.g., "Start repeating on November 13, 2022")
a creation time and timezone for the new template (e.g., "Create a new page at midnight EST")
which days of the week you'd like to the template to repeat, if you're repeating weekly (e.g., "Repeat every Monday and Tuesday")
the cadence at which you'd like the template to repeat (e.g., "Repeat once every 3 months" or "Repeat once every 2 weeks")
After you've created your repeating template, don't forget to click "Save" in the top right-hand corner of the repeating template pop-up.
At the bottom of the repeating template pop-up, you can see when the next template is set to repeat.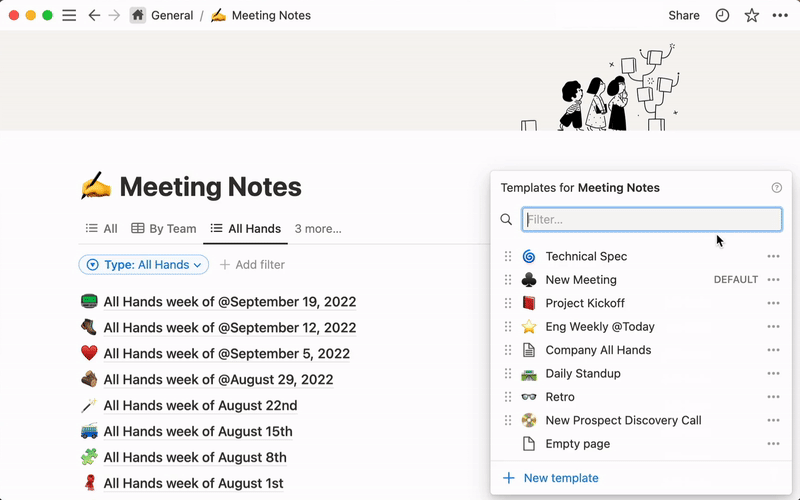 Notion Repeating Database Templates Use Cases & Ideas
Now that you know how to set up recurring tasks in Notion using repeating databases, you might be wondering, "What in the heck can I actually use this feature for?" We've got you covered with a few ideas!
Birthdays
Tracking birthdays in Notion? Create a new birthday template, and set it up to repeat every year. Don't forget to add a reminder to the "Birthday" date property so you never forget another birthday!
Recurring meetings
Set up a repeating template for recurring meetings. You may want to create separate templates for individual meetings, or create a more general repeating meeting template.
Journaling
Here at Gridfiti, we use love using Notion for journaling — but creating new pages for each day gets old fast. With a daily repeating template, you don't have to manually create a new journal entry ever again!
Reminders
Automate your reminders for spring cleaning tasks, quarterly reviews, and everything else with repeating templates in Notion. Just be sure to set up a reminder in your date property so you get pinged!
Routines
Using a Notion database to track your health and fitness routines? Repeating database templates can help with that! Simply set up a new
Related: The Best Notion Workout Templates for Your Fitness and Health
Time blocking and tracking
Got a time tracking database in Notion? Set up a repeating template to automatically create new time blocks for new days. Remember, Notion doesn't let you repeat templates on an hourly basis currently — depending on your setup, you may need to create quite a few repeating templates for this to work.
With Notion's new repeating database templates, the possibilities are endless! Whether you're creating recurring tasks in Notion, or you're using Notion habit tracking and journal templates for personal development, repeating database templates are a total game changer.
How are you planning to use this feature? Tell us in the comments below!
Gridfiti is supported by its audience – when you buy something using the retail links in our posts, we may earn a small commission at no additional cost to you. Read more about our affiliate disclaimer.